Visiting Iceland in Winter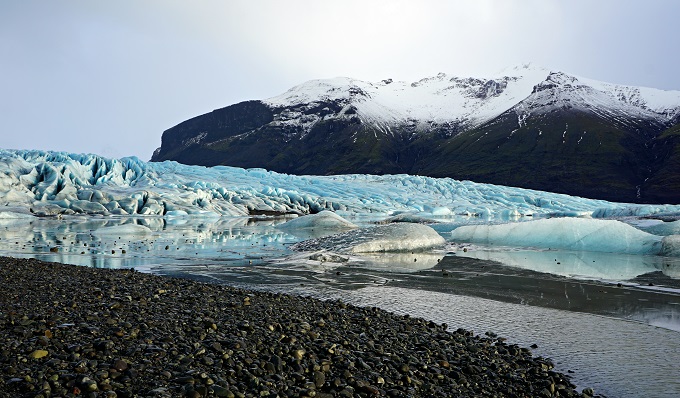 And yet again it was that time of year when I was keeping my eyes and ears open for a possible winter vacation destination. Usually we try to go South in winter to experience some sun and warmth; however, this year the Caribbean was not an option for us and we had been to Florida 3 times this year already, so we had to look for something new… As I was browsing through Groupon vacation sales website, my attention was drawn to an Iceland vacation package for just $599 with flights and hotel included. That was a deal that could not be beat, and as if Pennsylvania wasn't cold enough for us in February we went ahead and booked a trip to Iceland. Ready or not, here we come!
Preparation
Though this was the first time ever that we bought a vacation package through a travel agency, it really was not an organized tour – they just booked our flights and hotel in Reykjavik for the promised price but the rest was up to us. Having read about all the sights Iceland offers, I knew that the 3-night / 5-day package would not be enough for us to see everything we wanted to see, so I went ahead and extended the trip to a full week to give us some extra time for sightseeing.
As all the beauty of Iceland is in its nature, we had to rent a car to be able to get out of the city. With this comes its challenges. Iceland in winter can be absolutely unpredictable! Any travel forum you turn to, locals hand out warnings left and right about the dangerous conditions travelers experience in winter. And it is not just the cold and snow, it is the black ice on the roads, complete whiteouts, and gale force wind gusts that can blow cars off the road in an instant. Road closures are nothing unusual and can stop everyone's travel plans in their tracks. When traveling to Iceland in winter, you have to be ready to accept the fact that you might never make it to your desired destination near glaciers or the hotel you booked in fjords… If it is too dangerous, you will have to turn around and cut your losses.
To improve our chances and be safe while traveling with a baby, we decided to spend some extra (a LOT of extra) money to book a 4-wheel drive car with studded tires that would help us stay on the road with black ice and possible fresh, deep snow. Though the extra money really hurt our wallet (almost double the price of a regular rental which in itself isn't cheap in Iceland), we did feel much more secure knowing we will have a car as safe as they come out there. Taking that into account, I decided to take a chance and booked a hotel near a glacier lagoon which would take us on a 2-day road trip down Iceland's south coast. Hopefully our studded car will be able to take us out there safely if the weather cooperates!
Apart from the car and hotels, we also had to make sure we had all the appropriate clothing and gear to weather Iceland's weather! That includes thermal layers, waterproof and windproof outer layer (like ski pants and jackets), wool socks, warm winter boots, hats that can be tied to make sure the wind doesn't just blow them away, scarf, gloves etc. And another important accessory – crampons that would slip over the boots in case of icy walking conditions. A little extra attention to baby's accessories (like a thermal windproof ''stroller sleeping bag'', rain cover and snow boots) and we were ready to set sail for Iceland!
Reykjavik
Our flight left late Tuesday evening flying overnight and arriving in Iceland's capital, Reykjavik, at 6:30 in the morning. As check-in into our B&B wasn't until noon, we had quite a bit of time to kill. Sunrise in Iceland in February isn't until about 10AM so everything was dark and cold and we had nowhere to go. Exhausted after the long night flight we decided to try sleeping in the car until some daylight breaks and we can check into our room…
After what seemed like forever, the time finally came and we were happy to step into our B&B. Having unloaded the bags, freshened up a little and had something to eat, we (well, some of us) were ready to go and explore the town. While my husband decided to stay behind and enjoy his nap, me and the baby hit the town! A fact worth mentioning is that Reykjavik is the world's northernmost capital of an independent nation and, at the same time, the smallest capital of all the European countries. Everything in Reykjavik is easily walkable and the main sights are concentrated around the central part of Reykjavik. We started with heading down the main shopping streets of Laugavegur and Skolavordustigur. Apart from the usual souvenir shops with postcards, magnets, T-shirts and keychains, there were a lot of shops selling traditional Icelandic wool products – blankets, sweaters, socks, hats, scarves etc. And though I would have loved to buy one of their hand-made sheep wool sweaters or blankets, the enormous prices made me just walk on by. The simpler sweaters started at about $160 and up which was not a price I was ready to pay for a sweater no matter how much I liked it.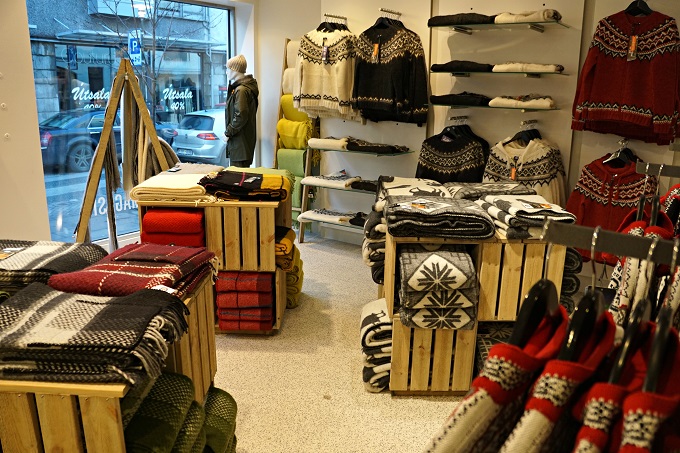 Having explored the squares and shopping streets we had arrived to Reykjavik's most recognizable landmark – Hallgrimskirkja church. It has been designed to resemble the basalt columns of Iceland's landscape.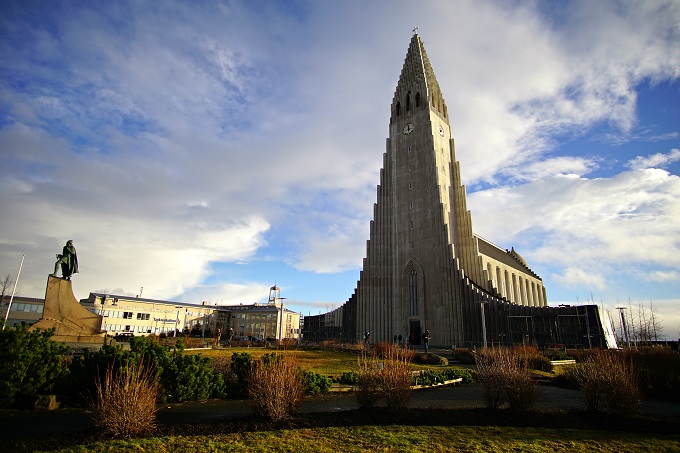 Though the exterior of this 73 meters tall (244ft) Lutheran church is pretty impressive, the interior is quite simple. However, the main attraction for tourists is the ability to get up to the church's viewing platform to see Reykjavik's colorful rooftops from up top. To top it off, Hallgrimskirkja is also one of the tallest structures in the whole Iceland.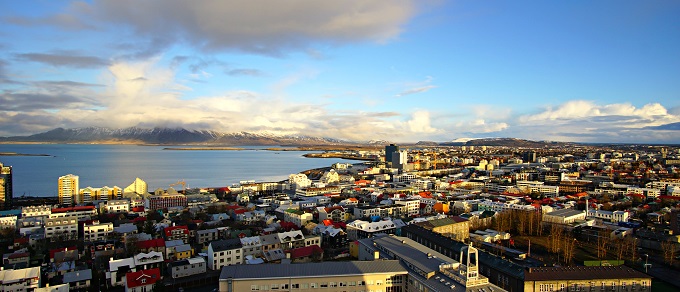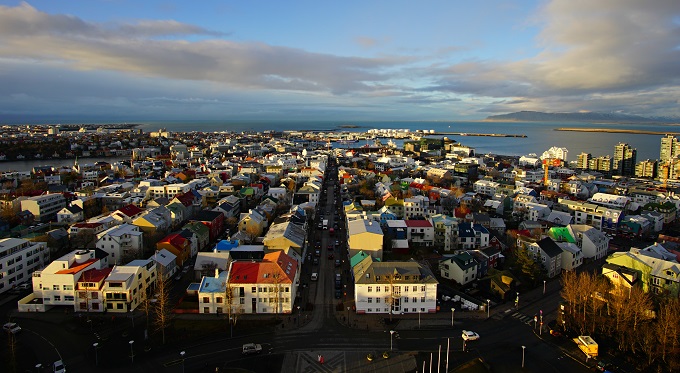 Having absorbed the panoramic views from the church we decided to head on to the harbor area to take a look at another popular spot – the 'Sun Voyager' statue. Sun Voyager is a dreamboat (Viking ship), an ode to the sun. It contains within itself the promise of undiscovered territory, a dream of hope, progress and freedom. But apart from its deep meaning, it just sits in a very beautiful location with Mt Esjan in its background and is worth seeing just for that.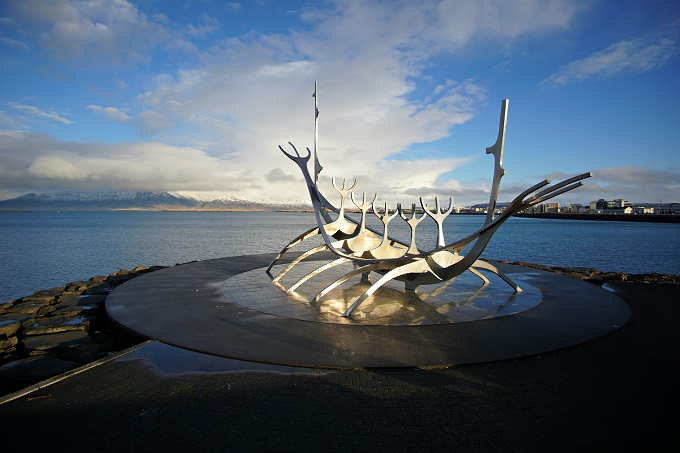 At this point I was left completely by myself – with my husband asleep back at the B&B and the baby having fallen asleep in the stroller during our walk to the statue, I was stranded and alone in a strange country and a strange city… Nevertheless, it would not keep me back and I kept pushing on to the next stop - the Old Harbor area. It is very picturesque with small fishing boats, big ships, coast guard boats, and various tour boats. Everything from tiny to enormous. Most of the whale and puffin watching tours in the summer leave from this harbor.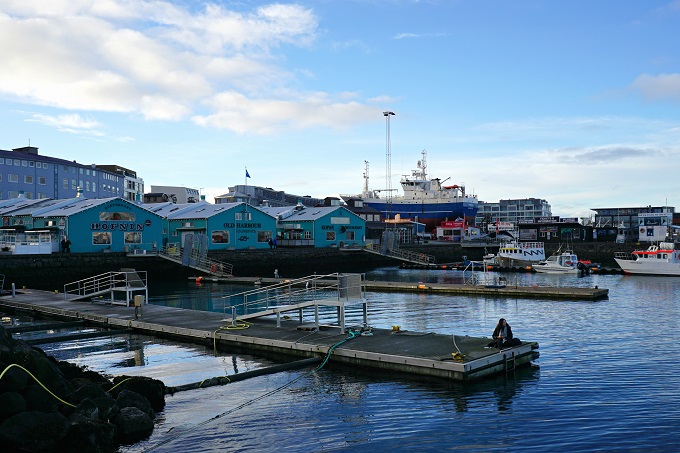 I browsed up and down the dock and decided to head on to my last stop of the day –Tjörnin. Tjörnin is a small lake in central Reykjavik. Most visitors to the city pass along its shore, as it is situated in the city center next to the Reykjavik City Hall and several museums. However, to me its attraction was the countless swans, ducks and geese who flocked the lake's shores waiting for some bread crumbs being thrown their way. During winters the lake freezes over, therefore, hot geothermal water is pumped in to defrost an area for the birds.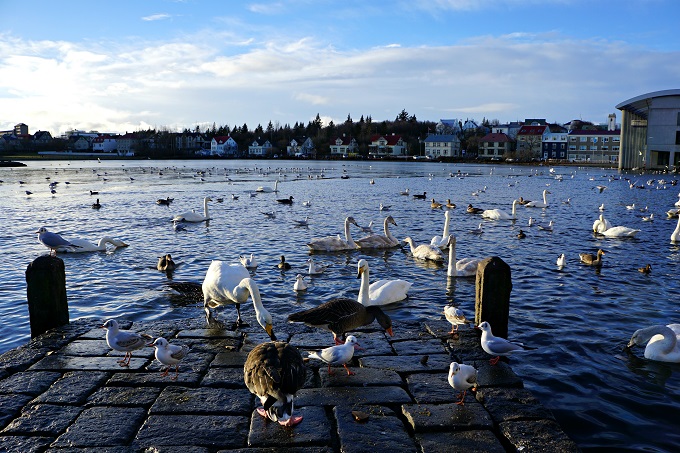 As it was approaching 4PM with the sun slowly disappearing down the horizon, it was time to head back to the apartment to wake up my husband and go dinner-hunting. Eating out in Iceland is worth a mention of its own. Food is ridiculously expensive!!! I had read about it before our trip, so we had packed a lot of snacks and were eating out just 1 meal a day. But even that added up to a lot of money. On average, a main course dinner at a café / restaurant will run about $30 – 35 per plate on the low end (with lobster, steak and such priced at $75 or more per plate). Even a cup of vegetable bullion soup at a roadside gas station café cost us $17, with a burger and fries going for about $20. That's almost $40 for a cup of soup and a simple burger at a gas station! But when in Rome… so we just paid the price and enjoyed our meal as the food was (for the most part) truly delicious.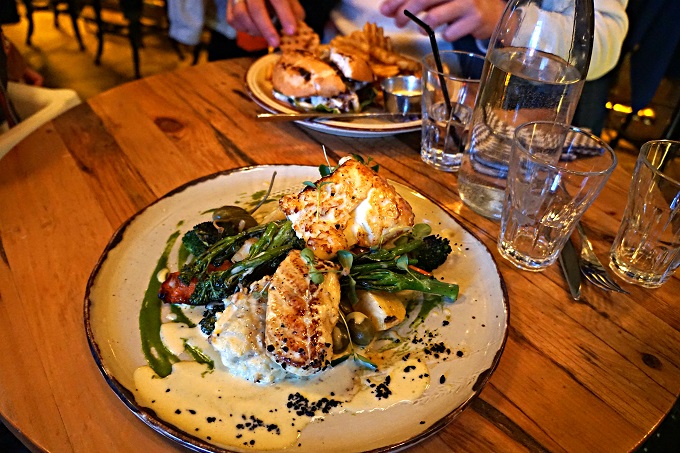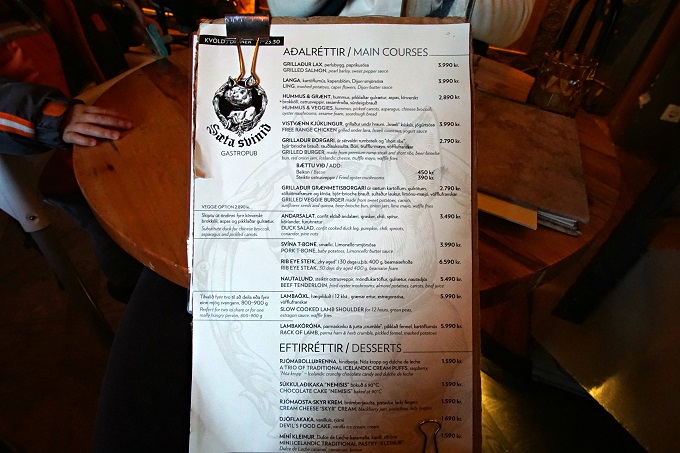 /1000 ISK = USD 8.83 = EUR 8.80/
No matter how tired we were after the long flight and even longer day that followed, there was another important sight we did not want to miss – Aurora Borealis or the Northern Lights! Icelandic meteorological station has great websites that show possible hourly aurora activity in different areas of Iceland, and during our first night in Iceland it said there might be auroras possible around Reykjavik. This was an opportunity not to be missed! So, I quickly researched best viewing spots within short drive from Reykjavik city area and off we headed to Grótta Island Lighthouse. Already upon approaching the area we noticed foggy white stripes in the sky and were discussing if those are just clouds or actually the auroras. After I set up my camera and took the first few photos it was clear – we had hit the jackpot and were looking at the Northern Lights!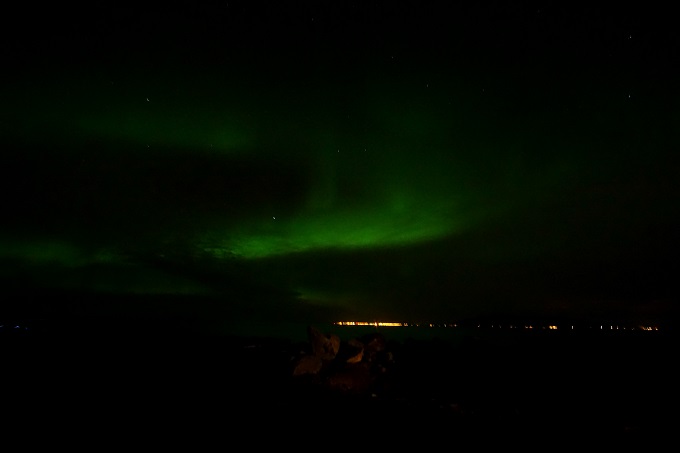 However, here I have to disappoint myself and many others - when you see auroras in real life, they aren't green or purple at all. They are faint white, almost looking like a foggy cloud. Sometimes you might catch a dot of green or purple here or there but they are nothing close to what you see in the photos. The discrepancy between the camera and the naked eye occurs because the specific cells that our eyes use to detect light at night also happen to be terrible at detecting color (at night), so basically – the camera sees them but we do not.
As soon as there was the word out that auroras can be seen by the Grótta Lighthouse, the tour buses started flocking in one after another with hundreds of tourists, so it was time for us to leave. There was nothing else we were interested in doing except head to bed to wake up refreshed tomorrow and ready for our drive South.
Down the South Coast, Eastwards
As driving in the unpredictable Iceland's weather conditions in dark isn't advisable, we got to sleep in a little. With sunrise being only around 10am we got up just in time to pack the car and head out as the sun started to come up. The road-condition website showed a decent drive – some clear areas and some mountainous areas with slippery roads and ice but still drivable. So off we went!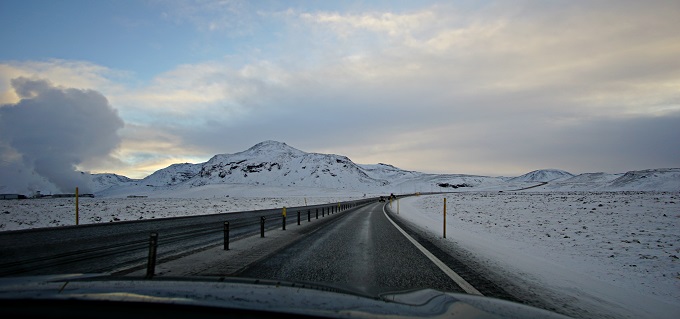 My main attraction for this trip was the Jökulsárlón Glacier Lagoon which was a 6-hour drive away and our furthest point to the East near the fjords. However, there was a lot to see along the way as well. We set our GPS for our first destination, the Seljalandsfoss waterfall. Upon approaching, it could already be seen from the main road. The waterfall drops 60 m (197 ft) and is part of the Seljalands River that has its origin in the volcano glacier Eyjafjallajökull. One of the interesting things about this waterfall is that visitors can walk behind it into a small cave. Even though I would have loved to explore it, it was winter after all and I had no desire to get soaking wet (and ruin my camera equipment). So we just walked around it and climbed up the wooden steps to take a look at the waterfall from the side.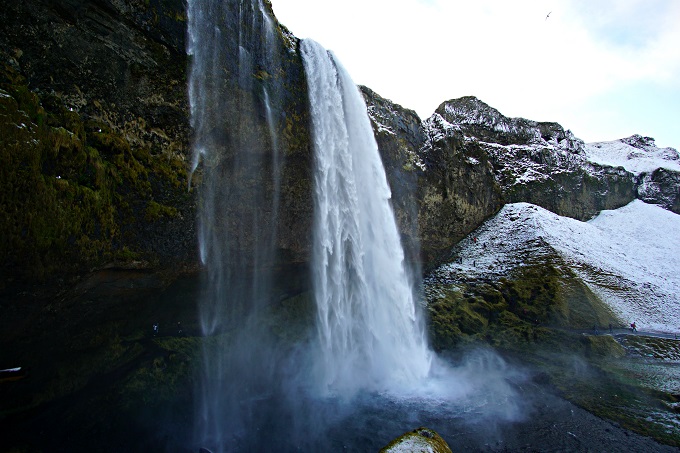 After having spent some time at Seljalandsfoss, we were ready to drive on to the next waterfall – Skogafoss. Though this waterfall is also 60m tall, it is much more impressive as it is wider with more water volume and is located in a beautiful setting of mossy green cliffs. There was even a full rainbow over the waterfall!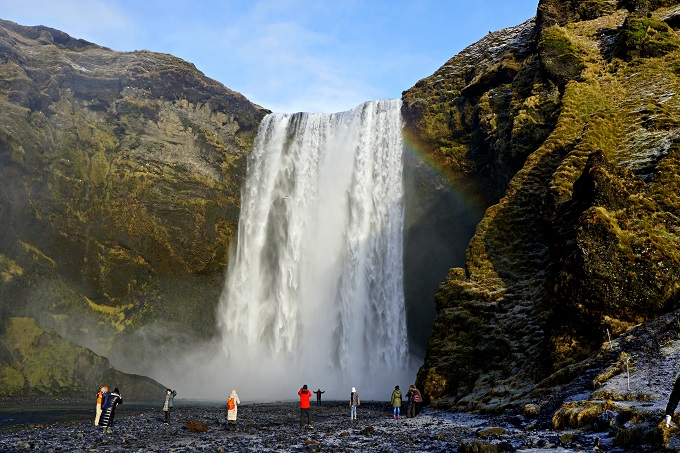 Though I had a few other sights along the way to explore, we started realizing that we might not make it to the Glacier Lagoon before the sun sets if we don't just push on. First of all, the daylight hours are very short with sun setting at 5PM. On top of that, getting in and out of the car to look at the sights takes forever each time and I never realized how much time is needed to dress up a toddler every time the car door is open (ski pants on, jacket on, gloves, hats, boots…) then undressing again as we get back into the car so he doesn't overheat… And the same goes for us as well. And this drill repeats at every attraction we want to stop at. So, the decision was made to drive straight for the Glacier Lagoon (which was still several hours away) and look at the remaining sights on the way back the next day.
However, being the nature lover that I am, I could not just keep driving on without any stopping. Around every corner there was something I wanted to take a photo of as the scenery was ever-changing. At one moment, we were driving along some fjords and glaciers, at another there were black sand (lava) fields to the horizon left and right; around another corner our eyes stopped at beautiful waterfalls or raging river rapids… You name it, it was there and of course I had to take photos!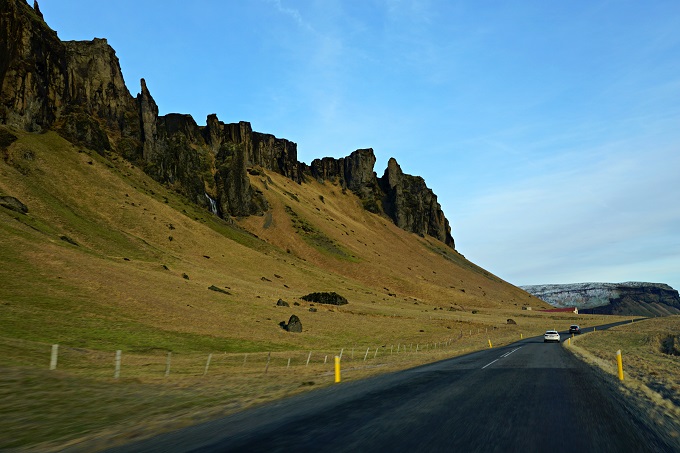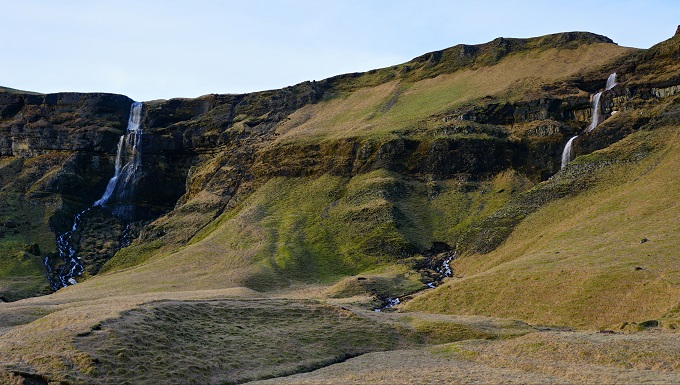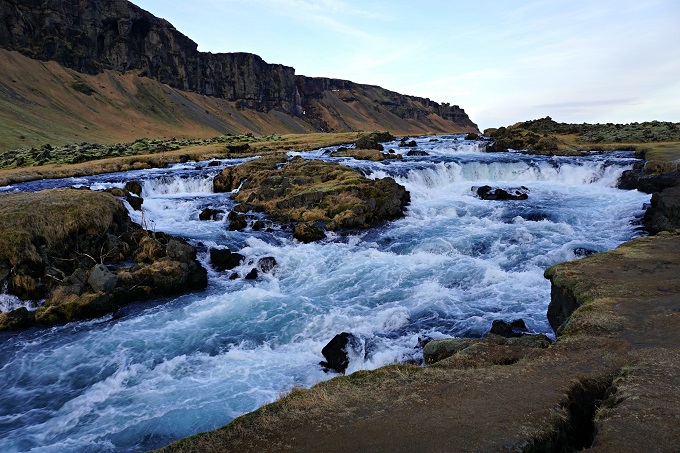 And how could I drive by without stopping to say 'hello' to these friendly Icelandic horses that had grazed their way almost right to the roadside. The Icelandic horse is a breed of horse developed right here in Iceland. Although the horses are small, at times pony-sized, most registries for the Icelandic refer to it as a horse. Icelandic horses are long-lived and hardy (with their fluffy coats and thick manes) to withstand the harsh winters.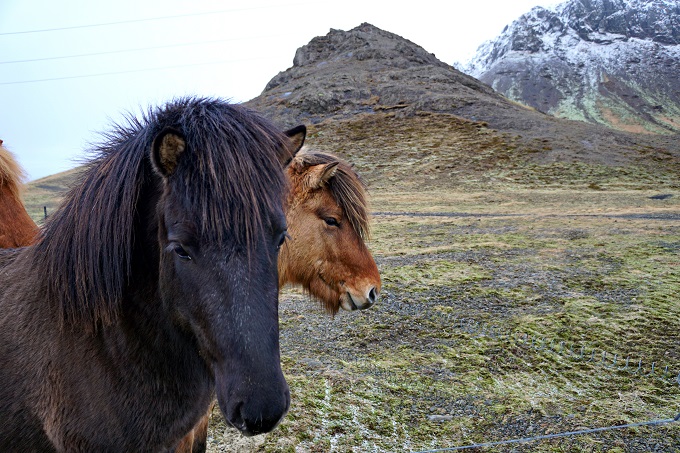 By this time the sun had already started to set and we did not have much time left if we wanted to make it to the lagoon. No more distractions and we made it to Jökulsárlón right after the sun had fully disappeared below the horizon and it was about to get pitch black within the next 20 minutes or so. I literally jumped out of the car without any scarf or gloves and just yelled at my husband as I was running to the lagoon: ''You get the baby, I will take some photos while there is still a glimmer of light!'' The sight of the glaciers in the lake was probably one of the most stunning sights I had seen! It was mesmerizing. The big ice blocks were luminous blue, some the size of houses and just peacefully sitting there, slowly making their way to the ocean… Jökulsárlón is considered one of the natural wonders of Iceland.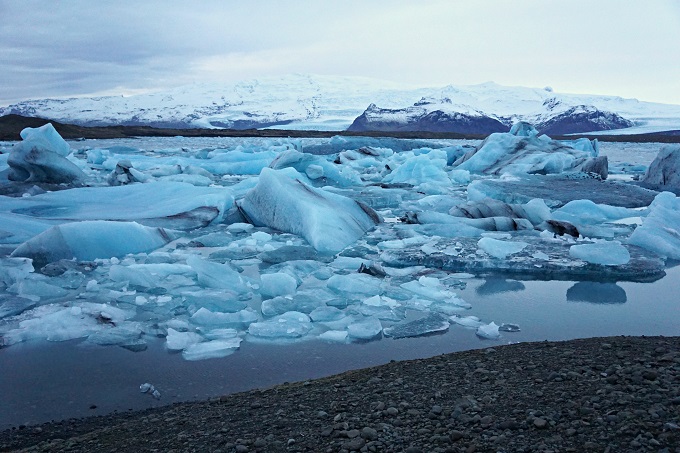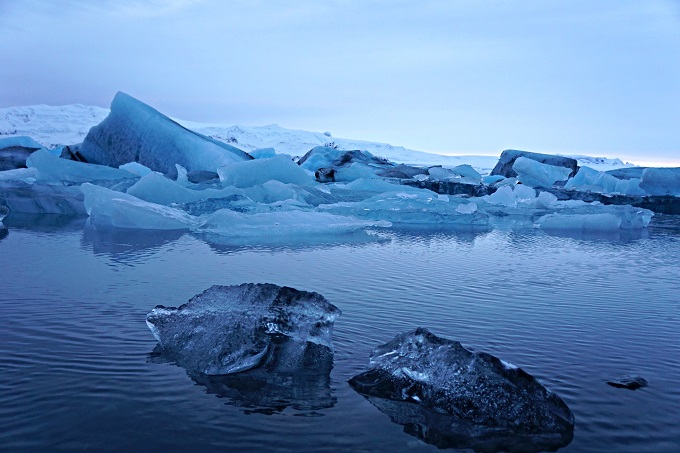 We spent as much time as we were given here wandering the lake's shore up and down before it turned completely dark all around and the wind started to pick up. Even though I didn't want to, it was time to say goodbye and make our way to the hotel. Though I had hoped to return to the Glacier Lagoon later in the evening to possibly spot the Northern Lights spectacle, the meteorological website showed a complete cloud cover with rain and zero chance of auroras so we just spent the rest of the night having another ridiculously expensive dinner at the hotel's restaurant and soon went to bed as everyone was tired from the long drive.
Both me and my husband were woken up at 2 in the morning by the loud sound of heavy wind gusts and rain hitting our room's window. It sounded like a tornado out there and we were wondering if we would be able to make our drive back to Reykjavik the next day or the weather would just be too much to handle. We listened to it for a while and hoping it would calm down by the morning went back to sleep.
Down the South Coast, Westwards
Upon waking up the next morning we realized that the wind gusts were still at gale force (or at least felt like it). However, when I walked downstairs to talk to the receptionist about or options, he said the weather was just fine for driving and nothing to worry about. So, we decided to stick to the plan and make the drive back to Reykjavik hopefully getting a chance to glance at the sights we missed the day before.
Our first stop of the day was Svínafellsjökull glacier. It could already be seen from the main road and can be reached via short drive on a pothole filled dirt track. Magically, the rain had stopped and the fjords and the mountains were blocking the wind. A short trail took us right to the edge of the glacier and it felt like we could almost reach out and touch it. We took the opportunity to take plenty of photos before it started drizzling again.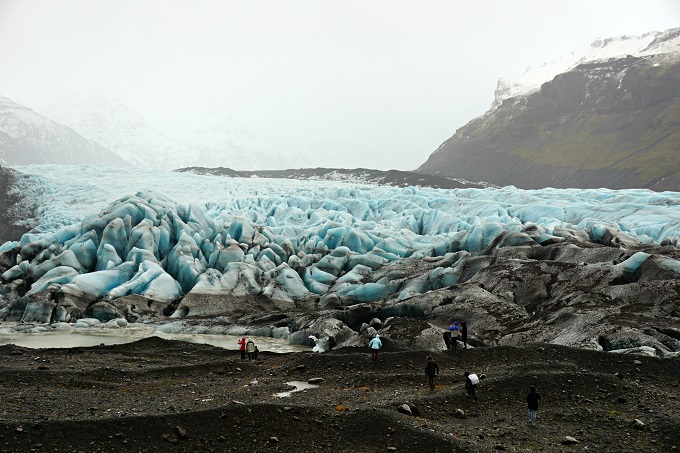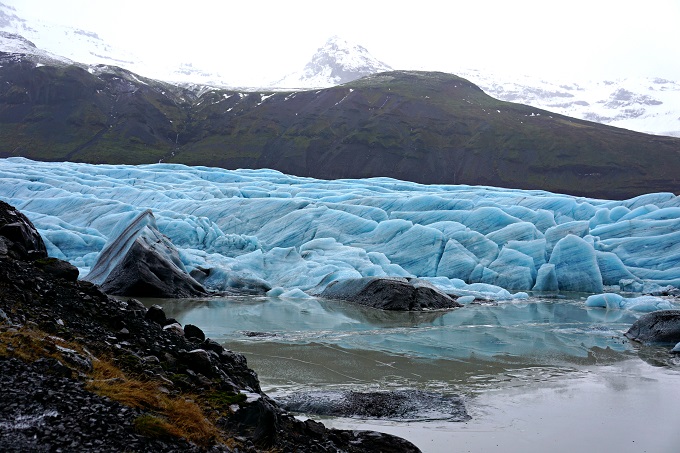 Just a short few minutes drive away from Svínafellsjökull, we entered Vatnajökull National Park. Our main goal was to see the impressive Skaftafellsjökull glacier which was much wider in size than the one we had seen just minutes ago. However, upon talking to the park employees we found out that it can only be reached by going on a 30-minute hike (one way). With the weather being very iffy we were debating if we would not be taking too much of a risk; however – when else if not now?!? So we decided to go for it as we can always turn back around if it comes to it. The mountains were shielding us from the wind again and the hike was very pleasant. The baby was also enjoying the hike (in his stroller) by pointing out the small waterfalls streaming down the mountainsides.
The last part of the hike was sandy and rocky so we had to ditch the stroller and carry the kiddo, however the view of the glacier and the mountains were so worth it! It was an amazing sight of blue glaciers, crystal clear lagoon, black lava sand, green hillsides and white snowy mountaintops!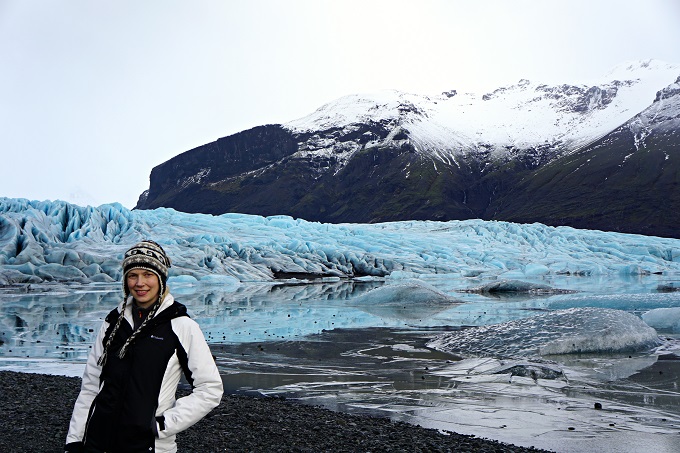 One of the things I would have wanted to do was go on a glacier hike which is offered by many tour companies. However, no-one under the age of 10 is allowed on the tour for safety reasons, so unfortunately, we did not get to enjoy this activity. But we did get to step on a piece of iceberg that had floated right next to the shore, so I can check that box!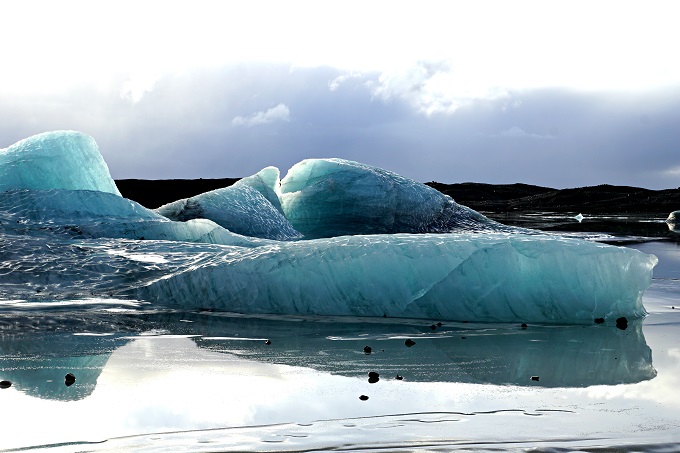 I don't even know how long we spent here admiring the beauty of the nature and taking photos but it sure did not feel enough. I could build a tent here and look at it all day long! But if we ever wanted to make it back to Reykjavik, we had to get moving.
As the weather had warmed up from the day before, the snow along the roadsides had melted and showed us a whole different scenery from what we had experienced yesterday. The melted snow had uncovered endless fields of black lava rocks covered in thick, green moss. It was so unreal and seemed like out of some magical fairy-tale!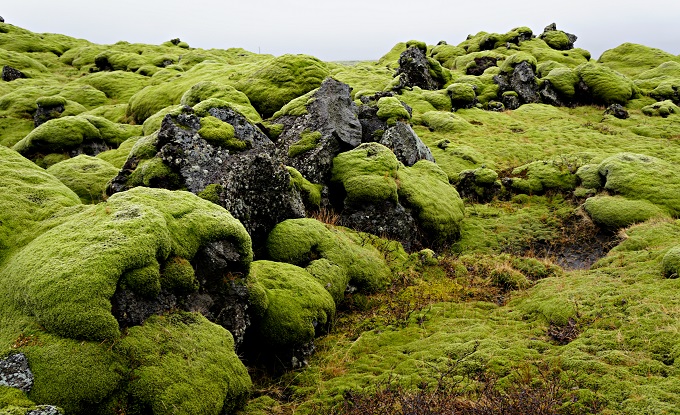 The warm weather made it for an easy drive and after a few hours we reached the town of Vík and its popular Reynisfjara beach. It is a pretty black sand beach with a pyramid shaped cliff of basalt columns called Gardar and a shallow cave. In the sea nearby lie the dramatic looking sea stacks called Reynisdrangar. Reynisfjara is nice for long walks; however, by now the weather had caught up with us and it was blowing and raining like crazy! There was no way we could walk anywhere and even making it to the beach just to take some photos of the basalt cliff was a challenge – the wind was so strong it was blowing the rain sideways right into our faces which felt like a thousand needles prickling at our skin. But as stubborn as we are, we did make it to the beach (along with many other tourists) and snapped as many photos as we could manage before quickly getting back into the car.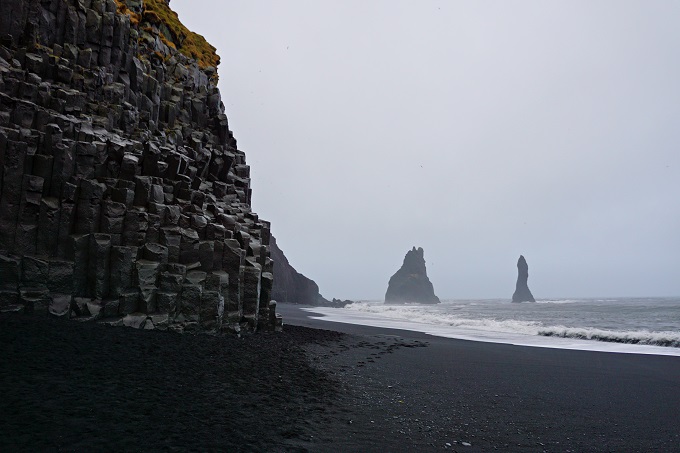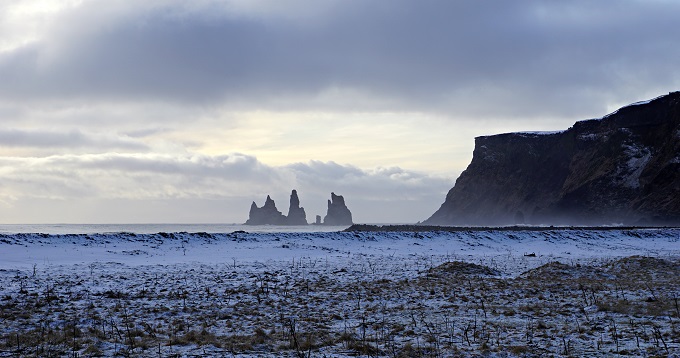 Though I had planned another sightseeing stop at Selfoss waterfall, it was too late into the day and combined with the gray, cloudy skies it just started getting too dark for us to make it to the waterfall in time. Besides, it was still raining so we opted for a stop at a roadside gas station to get some dinner instead, hopefully for cheaper than restaurant prices. Just for an insight - the baby got a cup of lamb bullion vegetable soup for ISK 1700 ($15), I got a hot dog for ISK 670 ($6) and my husband got a pita burger with fries for ISK 1970 ($17.50). It totaled $38.50 for a not-so-tasty random gas station fast food. But yes, it was cheaper than a restaurant and did fill us up enough to not be hungry anymore.
We reached our hotel fairly late and decided to think about tomorrow's plans…tomorrow.
The Golden Circle
After waking up in the morning, I turned to Iceland's meteorological website (which had already become a habit on this trip every morning). It showed clearing of the skies towards the highlands with just random scattered showers. So we decided to head out on the Golden Circle. The Golden Circle is an area that contains most tours and travel-related activities in Iceland and is a popular tourist route in southern Iceland, covering about 300 km (190 mi) looping from Reykjavík into the southern uplands of Iceland and back. It gives an opportunity to see everything from waterfalls to volcanic craters and erupting geysers.
Our first stop on this route was Þingvellir National Park. It is a site of historical, cultural, and geological importance. Iceland's first national parliament was established here in year 930, and the park also lies in a rift valley that marks the crest of the Mid-Atlantic Ridge and is the boundary between the North American and Eurasian tectonic plates.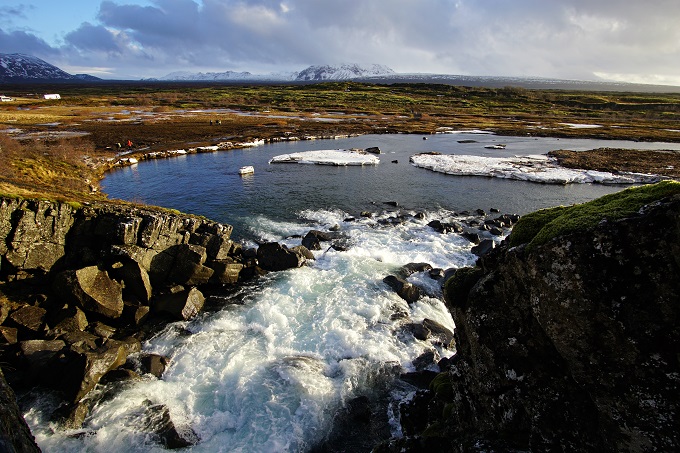 We did the short walk up to the spot where the parliament held its meetings as well as hiked to the near-by waterfall but were soon ready to head on to a more exciting place (for us) – the Geysir.
Geysir geothermal area has several hot springs that can be seen above the surface. The biggest attraction is the 'Strokkur' geyser which shoots hot water up in the air every 6-10 minutes. The fumes usually go 15-20m (50-65ft) high but can also reach 40m (130ft). During our visit, we saw Strokkur erupt several times, from just a few little ''burps'' (as some tourists called it) to full on eruptions.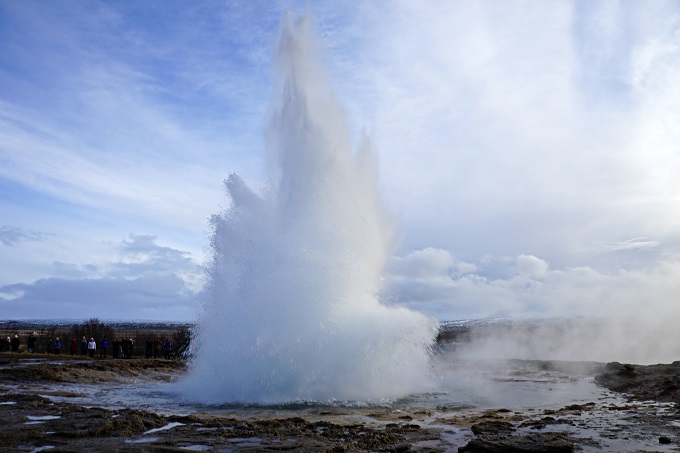 Here is my husband's great job of catching 2 eruptions one after another on a video! You can predict when the eruption is about to happen, as just before it the ground swallows the water and forms a big bubble that right away explodes and shoots up in the air.
But just to back up a little, I have to mention that the geothermal place got its name from another geyser named 'Geysir', just a few hundred feet away from Strokkur. Eruptions at Geysir could hurl boiling water up to 70 metres (230ft) in the air. However, eruptions were infrequent, and have in the past stopped altogether for years at a time, therefore, the main attraction for tourists now is its little brother Strokkur with reliable (though smaller) eruption at frequent intervals. Who knows, maybe one day some lucky tourists will get to experience the Geysir erupt again… have to say, I would not want to be standing next to it when it happens!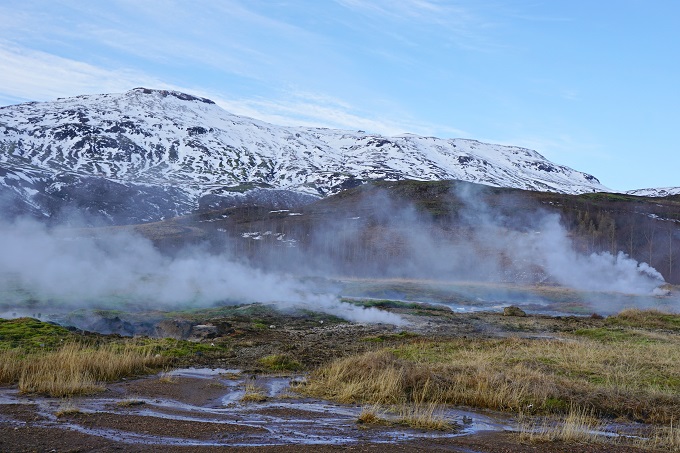 Just a short 10-minute drive from the geysers is another major Golden Circle stop – the Gulfoss waterfall. The open valley here made for a short yet very windy walk. But once at the waterfall, I was completely ''blown away''. It was so beautiful, falling down two stages of cascades into a canyon. It wasn't necessarily the height of the waterfall that impressed me rather than its setting and looks. It was just so different from all the other waterfalls we had seen on this trip with bright blue water and tall canyons on both sides. I am sure it looks evenly impressive in summer when the fields are covered with green grass contrasting with the bright blue water… And they say on sunny days there is a full rainbow covering the waterfall.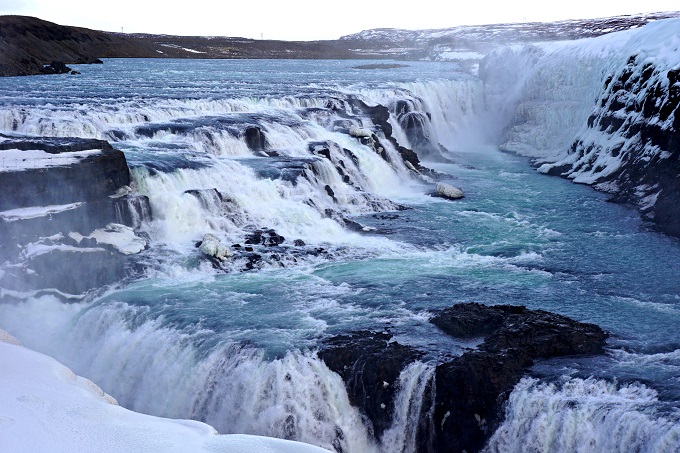 Having spent some time at Gulfoss it was time to move on to our next and last stop on the Golden Circle – a volcanic crater lake called Kerið. However, before we could even get there, I was yet again carried away by the beautiful landscape along the way and had to make my husband pull over for several photo stops (God bless his patience!). One can experience everything here – from green fields to snow covered mountain valleys.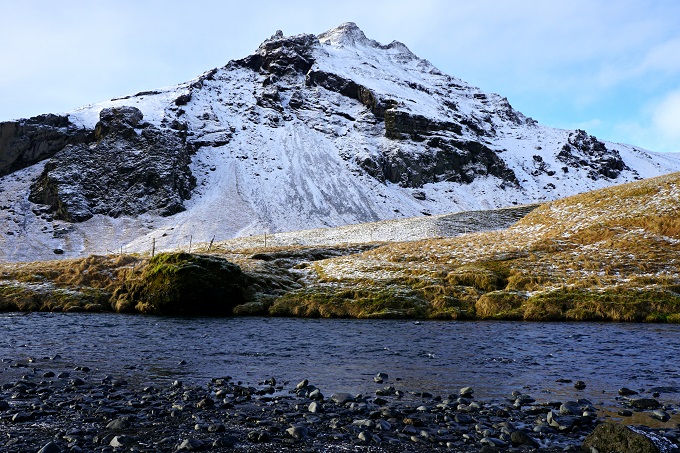 And of course, how could I pass the iconic view of Icelandic horses grazing in the field backed by the snow-covered mountaintop?!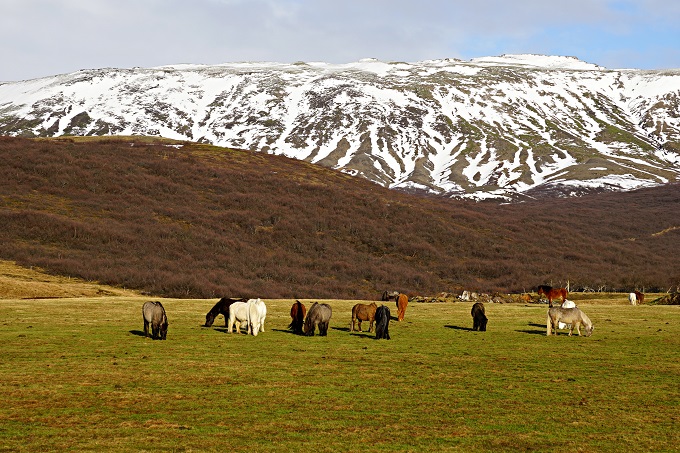 And I even managed to catch a photo of a horse fight!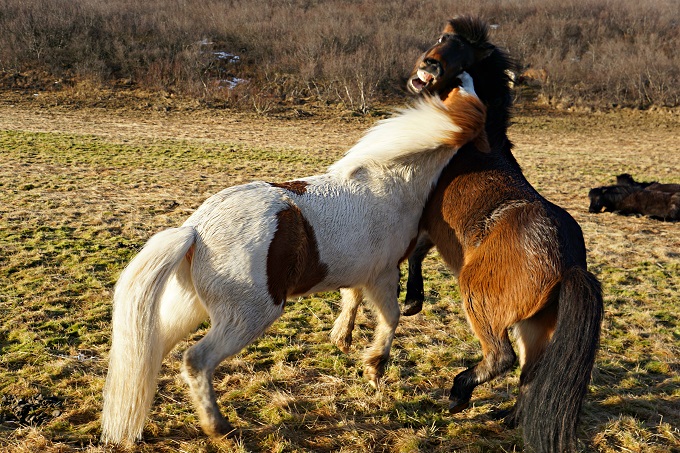 Despite all my little detours we eventually made it to the crater. The scenery here is a little different than most other places around Iceland as the area is composed of a red (rather than black) volcanic rock. Though the lake itself was frozen over during our visit, I would have loved to see its water which due to minerals from the soil, is an opaque and strikingly vivid aquamarine (looking almost artificial). Weather permitting it is possible to walk around the crater's rim seeing it from all sides, which we did. A long staircase also leads down to the crater's water; however, to me the view was more impressive from the top.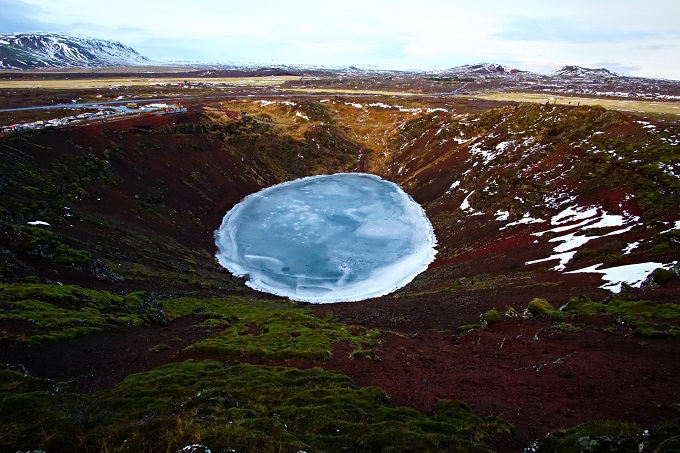 While taking our time slowly wandering around the rim and skipping rocks, I lifted up my eyes and noticed that the sun was just disappearing behind a snow-covered mountain painting the sky in various shades of pink and orange. It was literally seconds before all the colors were gone and the darkness took over.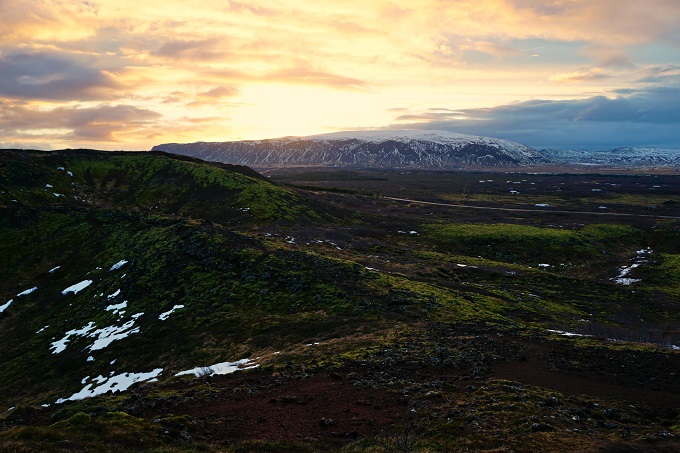 With Kerið crater being our last stop on the Golden Circle, the itinerary for the day was finished and all the boxes checked. All that was left was about an hour's drive back to our hotel in Reykjavik. The many days of long travels had exhausted us and the baby and I were both falling asleep. My husband (the driver) was keeping himself awake by talking to me about whatnot and I pretended to listen and maybe even responded something, but have to admit that I was too tired and half asleep to even remember what we discussed. I was just unconsciously trying to pretend to keep him company! However, we did make it to the hotel and our beds!
Geothermal Pools and Reykjavik
As this was the last day before our flight back home, we decided to take it somewhat easy. I did consider driving to Westfjords but (though beautiful) it would, however, have been another day of long car rides, so I opted to skip it to give my husband (and also the baby) some break from the car. Instead, we decided to visit one of Iceland's many geothermal pools. The most popular among tourists is the Blue Lagoon which is set in a very picturesque mountainous setting and looks like a huge bright blue water lake in the middle of a black lava field. Unfortunately, no kids under 2 are allowed here so we had to look for other options. Luckily, most of the other places are fully child friendly and have no problem with babies having some fun too. So we decided to visit Laugardalslaug Geothermal Pool complex right there in Reykjavik. Laugardalslaug is the city's largest pool with extensive facilities which include a 50m outdoor pool, outdoor children's pool and paddling pool, two waterslides, numerous hot tubs, steam bath, gym and mini golf course, as well as an Olympic sized pool. In comparison to the touristy Blue Lagoon where entrance fees start around $50 for plain entry (or $70 if you want a towel), the entrance at Laugardalslaug was just mere $7 per person. This is a place where locals go and it isn't geared towards tourists, that's why the prices are much more reasonable.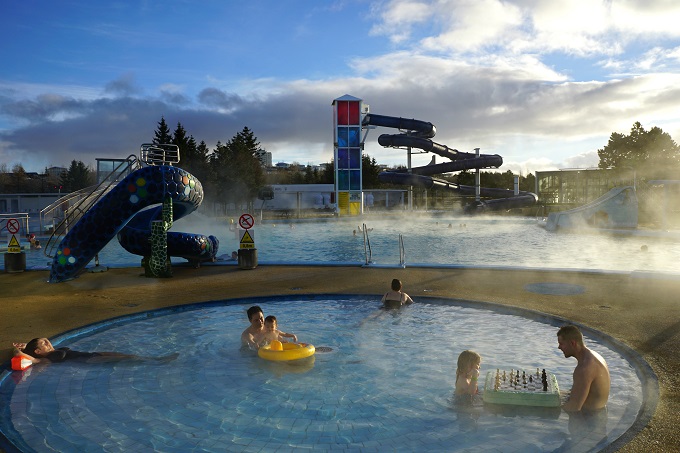 I have to admit that I was a little concerned about waddling in an outdoor pool in Iceland in the middle of the WINTER! Wouldn't I still be cold? And how about the baby? But we really did want to try it, and we are glad we did! All the pools are fed by underground hot springs and the water stays very warm even if it is freezing and snowing outside. And the hot steam rising from the water kept our heads warm as well. It was like being in a hot bath with water never cooling off. And there were plenty of other children enjoying themselves as much as the adults did. And if you want to sit in a pool or a hot tub and gaze at the stars you can sure do that here as the complex stays open until 10pm. I think it is definitely an experience not to be missed when in Iceland (no matter which geothermal pool you choose to attend)!
Feeling refreshed and energized we decided to go for a long walk around Reykjavik. As this was our last night here, it was time to hit some souvenir shops to get our traditional fridge magnets to add to our collection as well as buy some local cookies and candies to treat friends and co-workers with after returning home. On top of that, my husband got to see some of the sights he missed while I was exploring Reykjavik by myself on our first day here (as my husband decided to stay back and nap instead).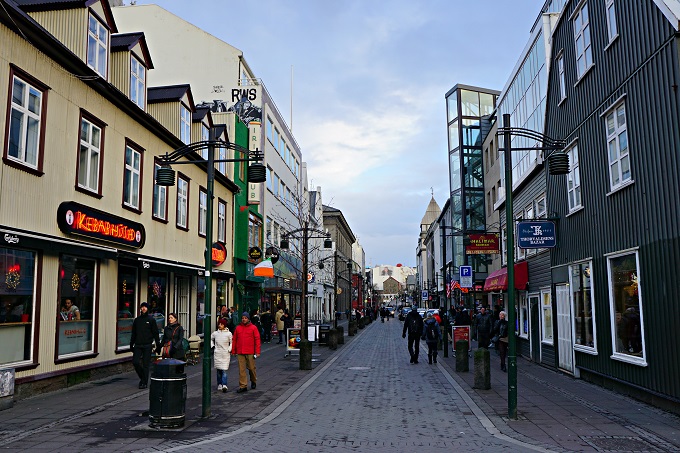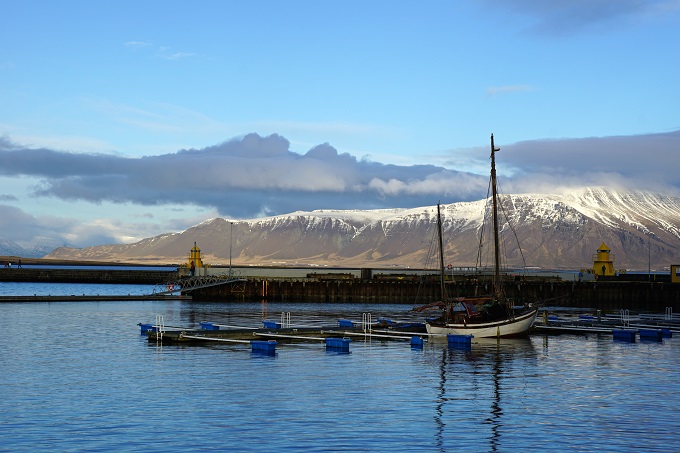 As the evening approached, it was yet that time again to look for dinner. We chose a place a little away from the main street hoping it would give our wallets a little break… but it really did not. And to top it off, the portions were miniature. My plate of pork belly, mashed potatoes with mushrooms and salad (for around $30) consisted of a 3'' long strip of meat, a teaspoon of mashed potatoes, 3 tiny mushrooms and a leaf of kale, ha ha! If I really wanted to, I bet I could have put all of my dinner on a tablespoon all at once. And mind you, I had to share that plate with a toddler who has an appetite of a horse sometimes! Oh well…
As it was getting late, we returned to the hotel to pack our suitcases and just relax a little and enjoy our last night in Iceland.
Reykjanes Peninsula
As our flight was leaving only at 5PM but the check-out at the hotel was in the morning, we had about half a day to explore and see whatever we wanted. I decided to visit a less traveled part of Iceland – Reykjanes Peninsula which is conveniently located right in the airport area. Though Reykjanes does not have such impressive attractions as glaciers or fjords, it does have a few interesting sights to take a look at when in the area.
Upon starting our little adventure, we quickly realized that today was much different from all the other days we had experienced in Iceland – the wind was so strong that the more powerful gusts kept swinging the car on the road, and trying to walk outside was a struggle to breathe as the powerful force of the wind literally kept shutting down our airways. So my planned visit to the Hafnarberg Sea Cliffs was crossed off the list as I did not think it would be very wise to try to stand on top of the cliffs above the ocean in this kind of weather. However, several other sights were still manageable so we pushed on.
The first one was the Bridge Between Continents. It is literally a small footbridge over a major fissure which provides clear evidence of the presence of a diverging plate margin. The bridge was built as a symbol for the connection between Europe and North America. As my husband chose to stay in the warm car (versus me braving the wind), I had nobody to take a picture of me standing between the two continents…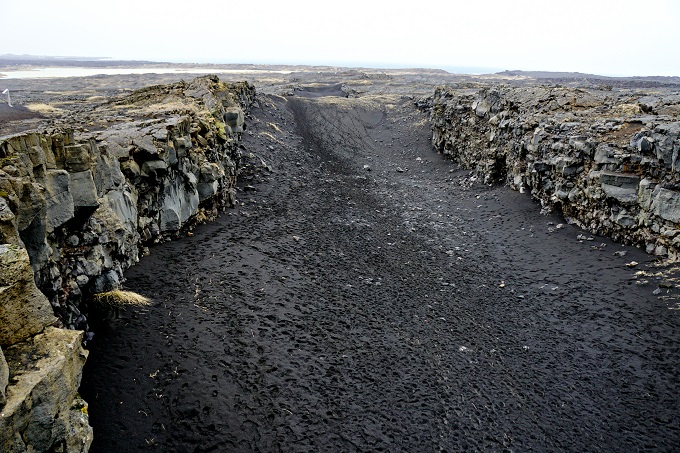 My next stop was Gunnuhver hot springs. A wooden deck leads to the viewing platform of this enormous steaming spring.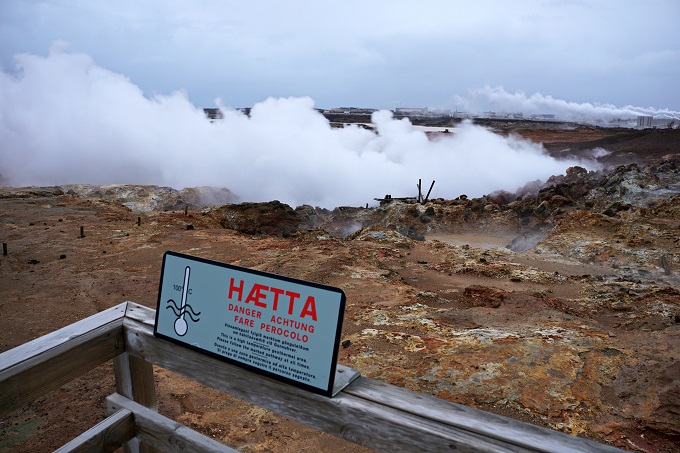 Just off the parking lot there are several warning signs for people to not step off the walking trail as the soil around here is burning hot and will melt your shoes right off leaving you with painful burns. Just looking at it I could never tell the soil was any different from other places around as there was no evidence of it being that hot apart from a few steamy spots rising in the air here and there…
P.S. Pay attention to the burnt wooden post... that's how hot the soil is.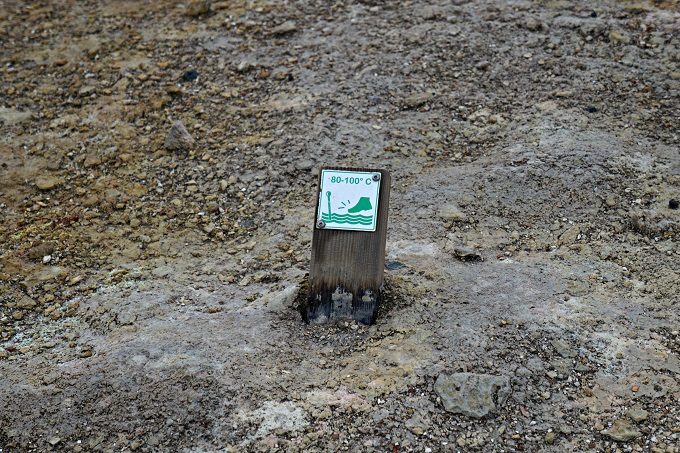 I also have to mention that the landscape in this part of Iceland was a little different with black lava sand and sharp lava rocks painting the slightly hilly scenery with almost zero vegetation. My husband said that if we had a spacesuit and took a picture here, we could totally make people believe we were on some planet from outer space.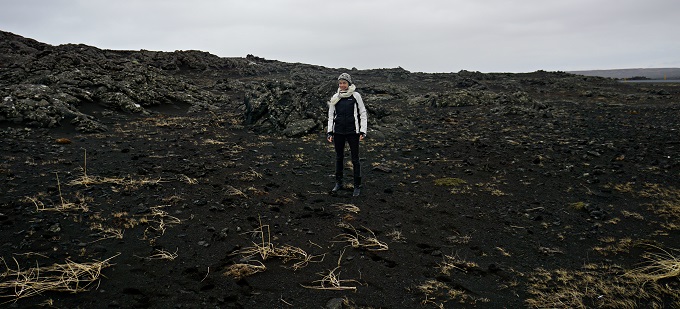 With a little time left before we had to return our rental car and go to the airport, we stopped by Garður Lighthouse which is just a 10-minute drive from the airport. It gives a nice view of the bay and on a nice day the beach can be walked up and down.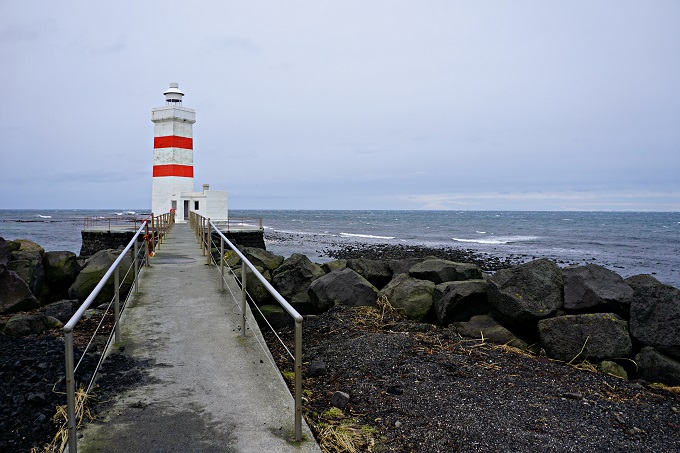 With the lighthouse being our very last stop of our Iceland adventure, it was time to bid farewell. The car return and airport check-in went smoothly and soon enough we were on a plane for our 5.5hr flight back home.
Afterthoughts
Looking back at our trip I have to admit that Iceland was very kind to us. Winter travelers have often been deterred from their planned itineraries due to bad weather conditions, but during our whole trip we did not get to experience any snowstorms, whiteouts or closed roads. The weather was at a very warm temperature for winter, staying above freezing all days and even getting as high as +8C (46F). That kept roads clear of any snow or ice. We could have easily been fine with a much cheaper 2-wheel drive rental car, but better safe than sorry.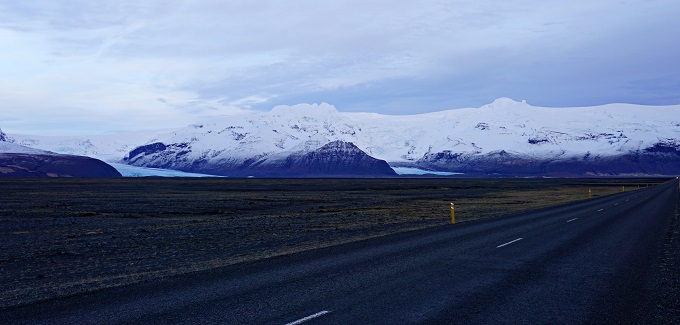 Also, the notorious gale force winds did not make their presence known (with very few exceptions) which we were totally OK with! And even if they did, they magically disappeared during our sightseeing.
Though Northern Lights were not necessarily the reason we decided to visit the country (which it is for many travelers), we were the lucky ones who got to experience them! One of the locals told us that due to the unusually warm winter it has made for foggy and cloudy skies this season, and he had only seen the auroras two times this year. Talk about getting lucky here!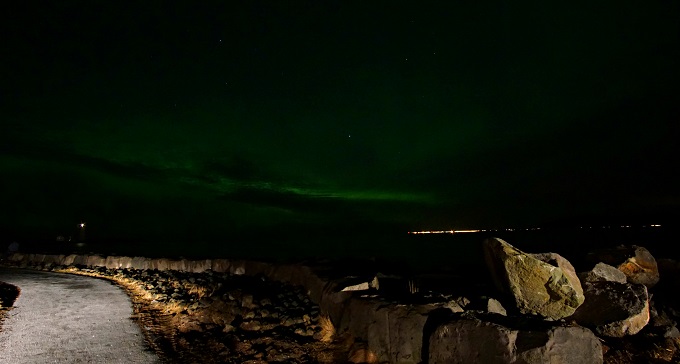 Another big plus for the warm weather was that we got to experience Iceland's landscape both snow covered and not. The snow-covered mountains, valleys and higher elevations gave us a good impression of the white Iceland but the lower elevations uncovered lava rocks grown over with green moss, black volcano sand and rocky fields, none of which we would have seen nor been able to experience had it been under the snow. So, to an extent I do believe that winter travelers might miss out on a few things if the winter that year happens to be really harsh.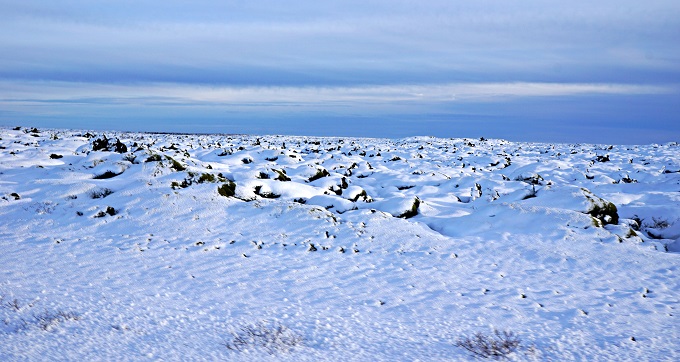 As far as other things go, I will say it as it is – Iceland IS expensive. Having been all over the world, this was probably the most expensive country I have ever visited. Yes, the flights (due to low cost airlines) are cheap to get here, and for the most part also the lodging can be found at more or less reasonable prices if booked early enough. But that's where it stops. Everything else will just put a solid dent in your wallet – the food (which I had already discussed before), the car rental prices, the entry fees, the tour costs… For example, a cost of a bus tour down the South Coast to Jökulsárlón Glacier Lagoon and back to Reykjavik will set you back ISK 36900 ($325) per person! A Golden Circle bus tour will cost you ISK 10500 (approx. $100) per person. Ice Cave hiking tour (which we really wanted to do!!!) will cost you $385 per person if you need a pick-up in Reykjavik, or $190 if you make your own way to the Ice Cave area near Vatnajökull. Unfortunately, Ice Cave is only allowed from 13 years and up which was the reason we had to miss it.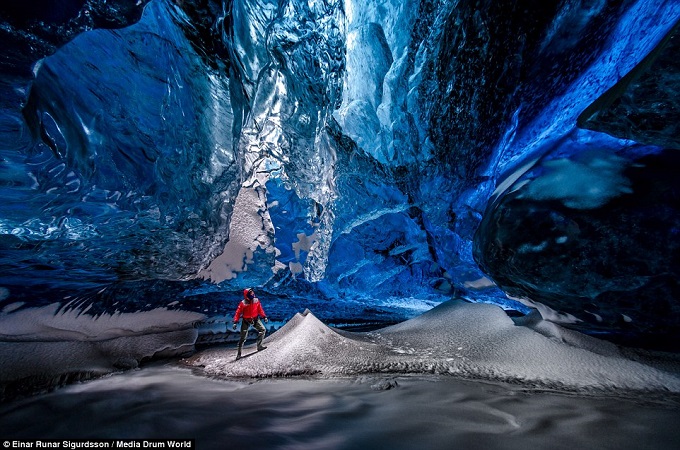 /Photo Credit: Einar Runar Sigurdsson/
Want to do a hike on the glacier? If you are one of the lucky ones who can make your own way to the glacier meeting point (wayyyyy out there!), it will only cost you ISK 9900 ($90) but if you prefer a hotel pick-up, it's ISK 19900 ($175) per person. And now add these prices together for a family of 2 or 3. We are looking at thousands just for a handful of sightseeing or adventure tours! Pretty crazy, in my opinion.
But when discussing all the hyped-up prices with the locals, I also understand where it is coming from. Iceland as a tourism destination has been discovered relatively recently, and with the low-cost airlines flooding in tourists, the demand often far exceeds the supply. So, what happens in situations like these? The prices keep rising, and they will as long as the demand is still there. Once it gets so expensive that people will just be forced to stop their travels here and choose another destination, it is then that the costs will become more reasonable. And as someone put it – with Iceland being so small but the rest of the world so big, there is no foreseeing a drop in demand in any near future… And to an extent it also affects the locals themselves. A guy we met was complaining that the cost of his favorite beer in a restaurant has gone up $6 (for the same size glass) since a year ago. So visit now if Iceland is on your list, as it won't get cheaper any time soon.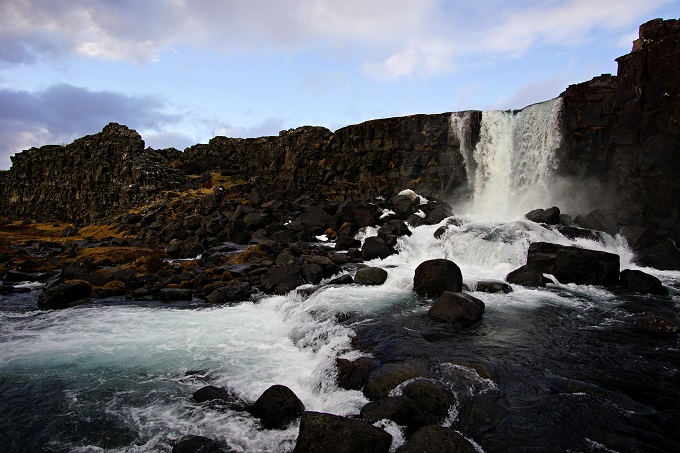 But just to be fair to Iceland, I will conclude by saying that I absolutely loved it! I liked it much more than I anticipated, and as my thing is nature and eco travel, Iceland offers plenty of that – floating icebergs, blue glaciers, steaming hot springs, lava fields, fjords, waterfalls and just plenty of open, untouched spaces and clean air! And thank you, Iceland, for not releasing your dreaded winter weather on us and letting us enjoy our vacation!
Now we are off to explore new horizons…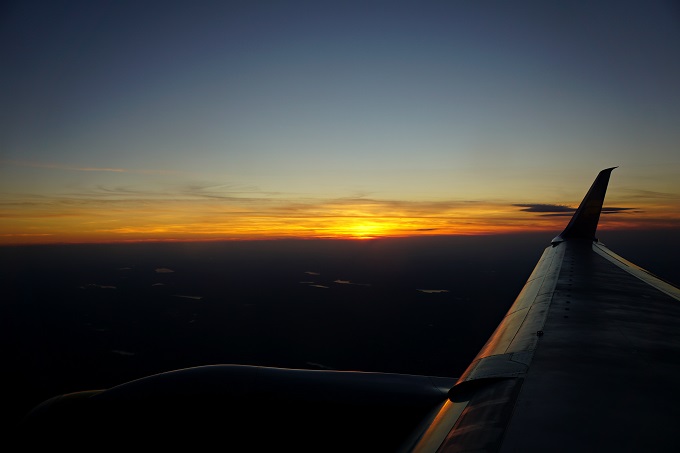 More photos from our trip can be seen in the following galleries:
Glaciers, geysers and waterfalls - Iceland