Up in the Sky - American Air Shows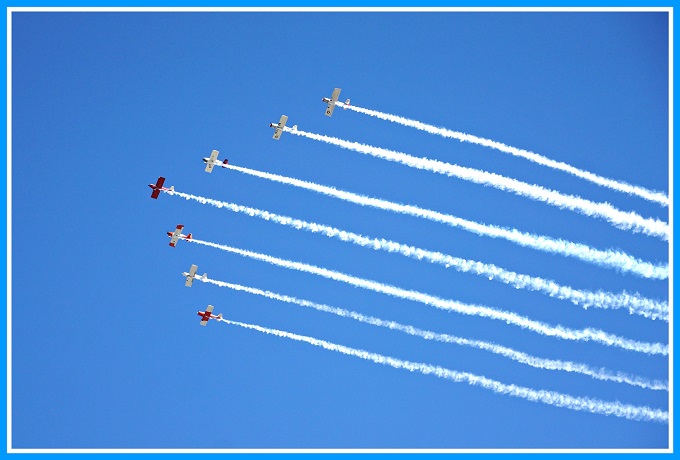 Usually, when someone mentions 'airplanes' or 'flying' the first thought going through many people's minds is simply a hop on a plane to go on that long-deserved vacation or take off on a business trip (along with long lines and annoying security checks at the airports). However, if we really think about it, flying (or aviation) is so much more - historic and vintage airplanes, war planes, fighter jets, helicopters, gliders, parachute jumpers, bomb carriers, cargo planes, search and rescue aircraft, and the list goes on and on… And with the USA having one of the strongest and largest military aircraft fleet in the world, it is no wonder there is a need and desire to show it off. It might come as a surprise, but there are major air shows happening almost every weekend somewhere in the US, be it Florida, California or New York. And so, one sunny October weekend we decided to brave the crowds and join the anticipated 250-thousand other spectators to attend one of these air shows – Thunder Over the Rock in Little Rock Air Force Base, Arkansas.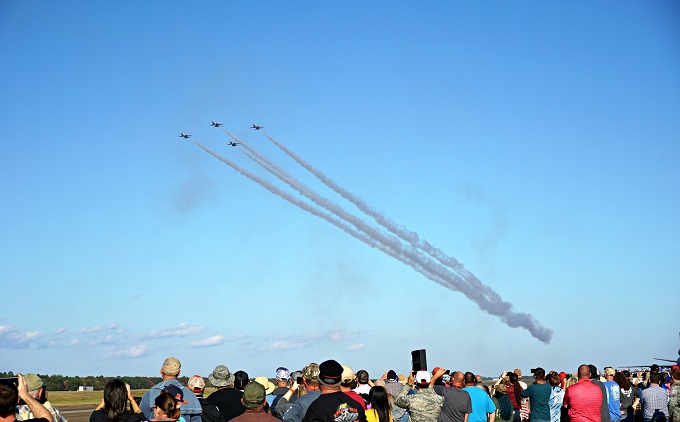 As this is not the first air show I've attended, I have a little bit of an idea of what to expect – lots of aerobatics and daring stunts, tricks performed with close flying upside-down airplanes, and lots and lots of noise! The show schedule is very busy with performances lasting from morning till late afternoon.
Military and combat demonstrations are always a great way to experience and see what military aviation is really all about. Little Rock is the home of the C-130 (military troop transportation aircraft), so during the Air Show they performed a combat demonstration of air drops of Humvees, 200 jumpers from the Army's 82nd Airborne Infantry unit as well as a demonstration of the container delivery system, which is a way the U.S. Air Force delivers supplies to ground troops in austere environments. There were nearly 300 parachutes in the sky, including heavy equipment and jumpers.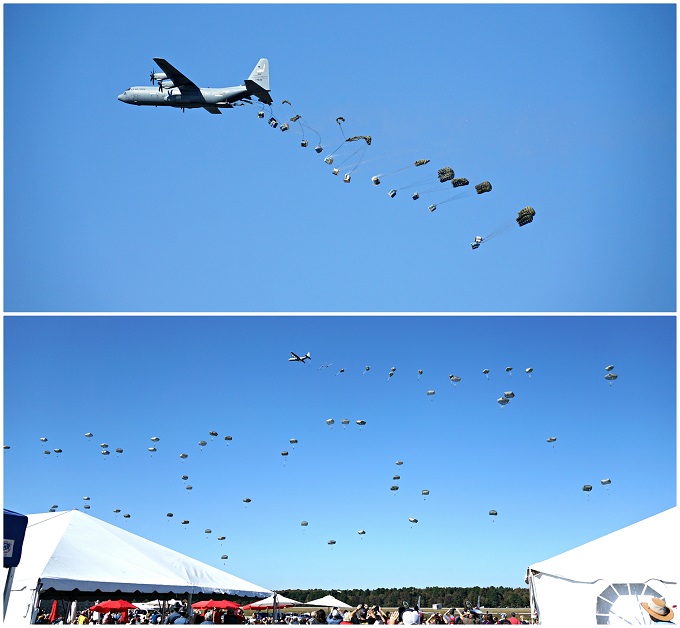 The highlight of the show was the U.S. Air Force Thunderbirds, the squadron of pilots flying red, white and blue F-16 Fighting Falcon fighter jets in precision formation. These pilots travel all over the world (including air shows in London and other parts of the world) showing off their unmatched skills.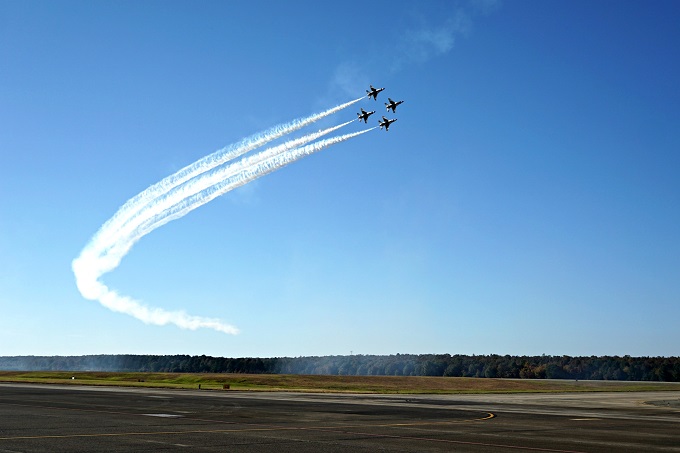 However, the air shows aren't all about just current military might. The Twin Tigers is a pair of pilots in identical, orange Yak-55 planes who travel to many air shows performing their close-flying precision aerobatics and stunts, and they were also invited to take part in Thunder Over the Rock.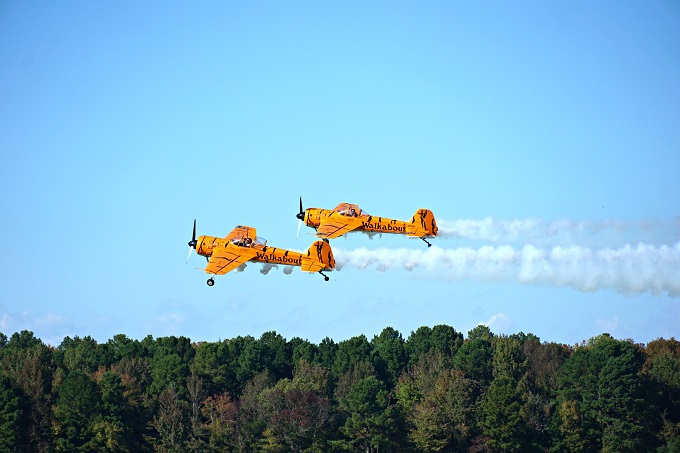 Another entertaining spectacle for visitors is the ''Tora! Tora! Tora!'' demonstration - a re-enactment of the Dec. 7, 1941, bombing of Pearl Harbor, complete with pyrotechnics and a wall of flames 500 feet wide. There was also a simulated dogfighting between German fighter planes and an American P-51 Mustang aircraft.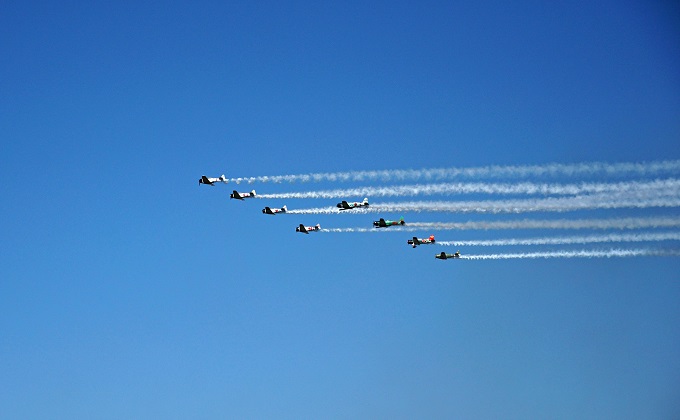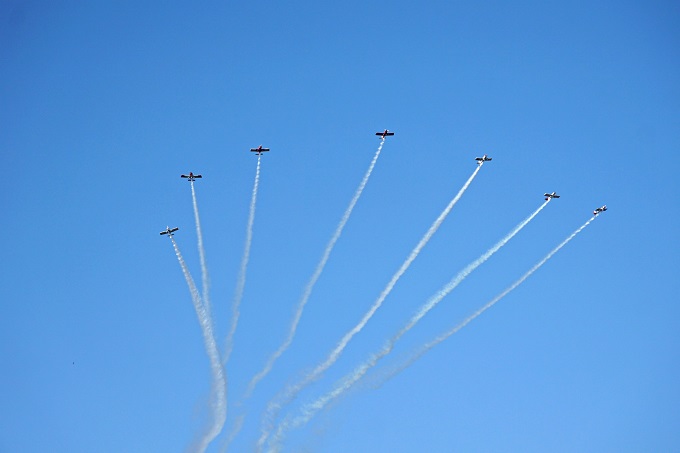 And the above named are just a few of the performances displayed during the Air Show – there were many more, each one as entertaining as the next, always keeping the spectators on their toes.
However, along with everything happening up in the sky, visitors could give their necks a little break and get a closer look at 60+ aircraft displayed on the ground, from war planes and helicopters to cargo carriers. Many of these were available for closer viewing by making them available for exploring – sitting in the pilot's seat, pushing a few of the many cockpit buttons, getting inside a helicopter, investigating the belly of a troop carrier or admiring the (unloaded) guns of a fighter jet…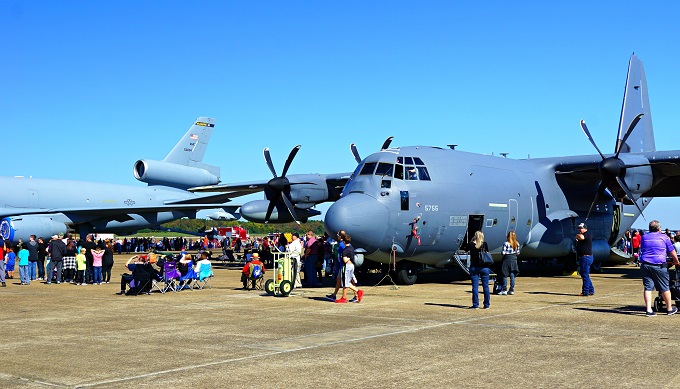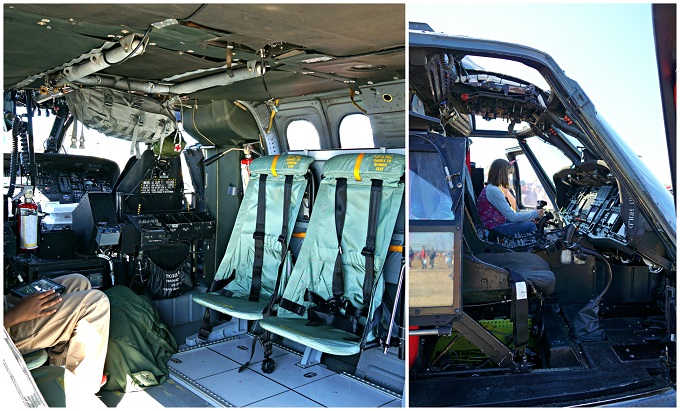 Though most of these activities required some waiting in line, the time was always passed quickly by watching the non-stop aerobatics up in the sky. It was like a never-ending entertainment for our 2 little boys who just could not get enough of it all.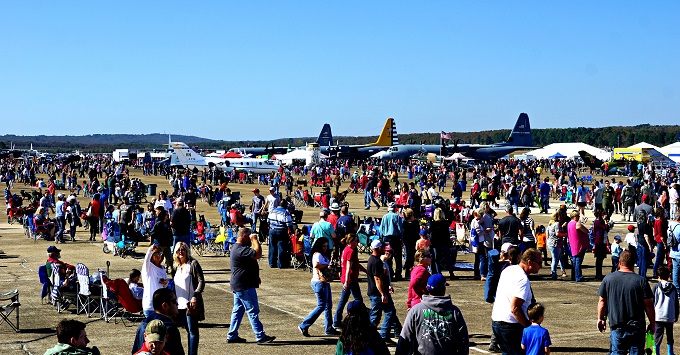 And though it might seem as if air shows are more of a ''manly'' thing, I would say that 70% of the attendees seemed to be families with children of various ages. And there is enough to do for both – while kids are more excited about the hands-on opportunities, adults get to appreciate the precise flying skills and stunts performed by the pilots. And as most of the air shows in the US are usually free of charge, it should be a must-see event for any visitor (foreign or local) at least once!