OUR FIRST RV ROAD TRIP - GEORGIA'S SOUTHERN CHARM VS COLORS OF THE GREAT SMOKY MOUNTAINS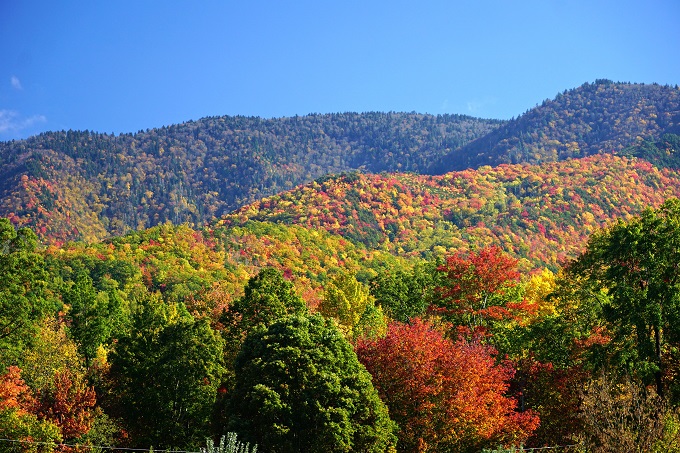 Going on an all-American RV road trip across the United States has always been a thought of ours even long before the kids came along. Now, with 2 rambunctious boys adding numbers to our travels, the idea of an RV just kept creeping back into our minds. Imagine how much more comfortable it would be if we eliminated all the need to pack and unpack at every hotel we went to every night? Imagine if all the necessities would be at an arm's reach, instead of trying to pre-plan and pre-pack for all the situations before we leave a hotel room for the day? And the snacks! Oh man, those boys are an endless pit, so instead of the usual dry, unhealthy car snacks (and the mess!!), we would always have access to a fridge throughout the day for healthy meals, fruits and veggies. Sounds too good to be true… but it's true! Yet like before, renting an RV just seemed so overpriced which was always a deterrent to us from the start. And just like that, we finally decided to buy our own RV instead. The second the boys saw it pull into our driveway, they were in love!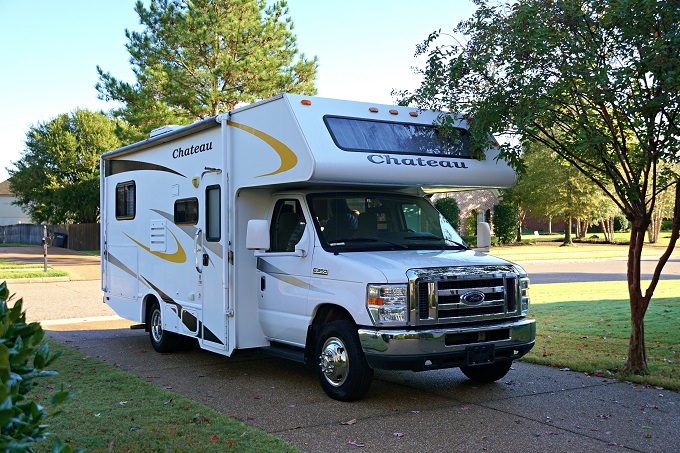 We wanted to test it out before the winter set in, so after a few phone calls and emails, we had reserved ourselves campsites for our fall week-long ''test-trip'' (as we called it) to Atlanta, Savannah, Tybee Island and the Great Smoky Mountains National Park.
Packing for an RV trip ended up being a tad more complicated than I expected. If on our regular trips I was a pro at managing to pack the suitcases in no time, then RV trips require much more. It is not just clothes that fit in the suitcase, but also bedding, towels, bowls, tools, cooking necessities, food, games and toys, cleaning supplies, outdoor stuff… It's basically like equipping a little house. Nonetheless, with the help of Google search and some Excel spreadsheets, I have got it down now as well! And eventually, on a crisp October morning, we were finally ready to set sail for our first RV adventure!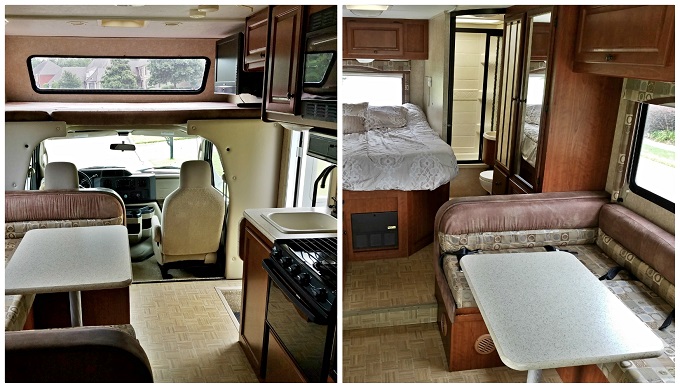 MEMPHIS TO ATLANTA
The first leg of our trip was a 400-mile (645km) drive to Atlanta where we would spend 2 days. To split up the long drive, half-way through we decided to make a stop at the U.S. Space & Rocket Center in Huntsville, Alabama. I have been to a number of NASA and Space centers and museums throughout the United States before; however, this would be a fun stop for all my men, both big and little, so the sacrifice was made… And I am glad we stopped! The complex here is huge and includes both indoor and outdoor exhibits as well as many interactive stations, movies, simulators, and several space-playgrounds for kids.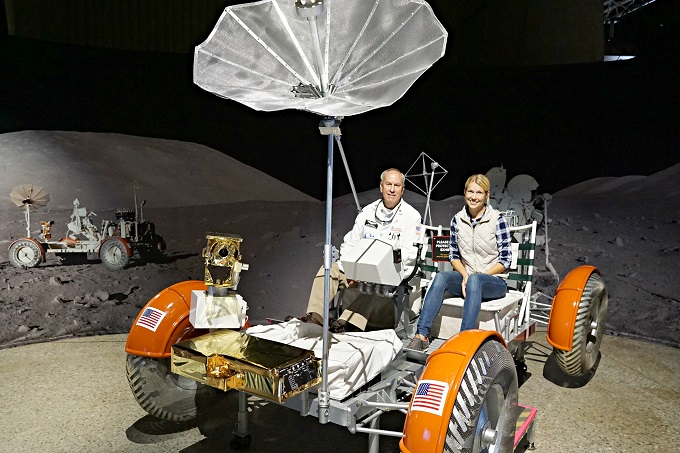 We got to sit in a car that has been on the Moon, climb into a command module of a rocket ship and watch astronaut zero gravity simulation training above all other things. This might probably be one of my favorite Space centers I have visited so far. And instead of the planned 2 hours, we actually spent almost 4 hours exploring the place.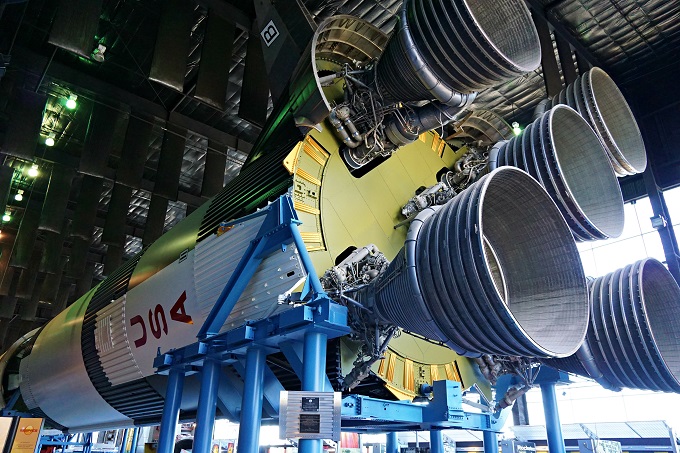 And my biggest fear of having to fight my way through huge crowds and worry about my children being swept away by masses of school groups was completely incorrect. I was quite shocked as to how few people were actually there - our kids were the only ones playing at the space-playground. I mentioned to the attendant how surprised I was about the lack of people and that it felt like we were the only ones at the museum. He said that over the past 2 weeks (school fall break weeks in Alabama and Tennessee), there were on average about 1,600 kids going through the playground area every single day and the day we were there was the first Monday everyone was back in school, which means we were almost the only ones there. I had no objections at all! I guess that is one perk of traveling with pre-school aged children – we are not obligated to use school holidays and breaks for our travels, which results in much less crowds.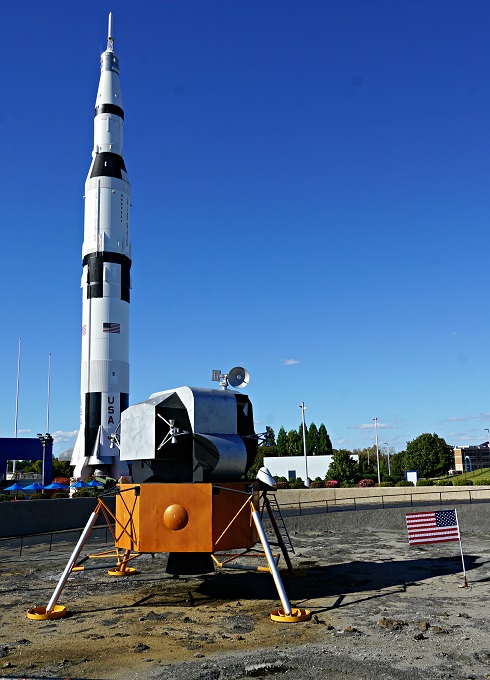 Although we could have spent even more time exploring, we were already way behind our schedule and it was becoming clear that we would reach Atlanta much after dark. Not quite what we wanted to do on our first day driving the RV, yet I just had to kick back and rely on my husband's skills navigating the beast through the dark (which he did flawlessly). Just as the boys were about to fall asleep, we finally rolled into our friends' driveway. For the first 2 nights, while staying in / near Atlanta, we had made plans to meet up with old friends of ours and stay at their place. Although the boys were a little bummed about not getting to sleep in the RV, the day had been so long that they were ready to fall asleep no matter where. We spent some time catching up with our friends and soon went to bed too.
As the morning light started shining though the windows, we were woken up by a tornado-like noise going through the house. Our 2 boys combined with our friends' 3 kids made it feel like the earthquake was coming! But they all had so much fun together! To avoid a complete destruction of the house, we decided it was time to head out and explore Atlanta instead. The main attraction of the day was a visit to Georgia Aquarium.
Until 2012, Georgia Aquarium was the largest aquarium in the world; however, its indoor Ocean Voyager exhibit is still the largest indoor aquatic habitat in the world and is the only aquarium in the world, outside of Asia, to house whale-sharks! We, of course, had to see it for ourselves!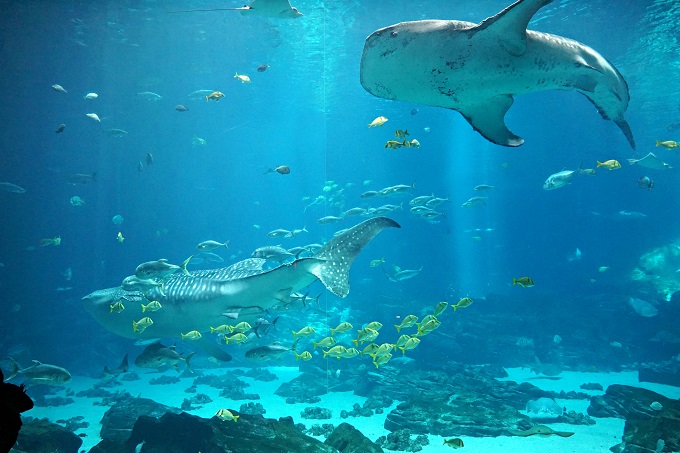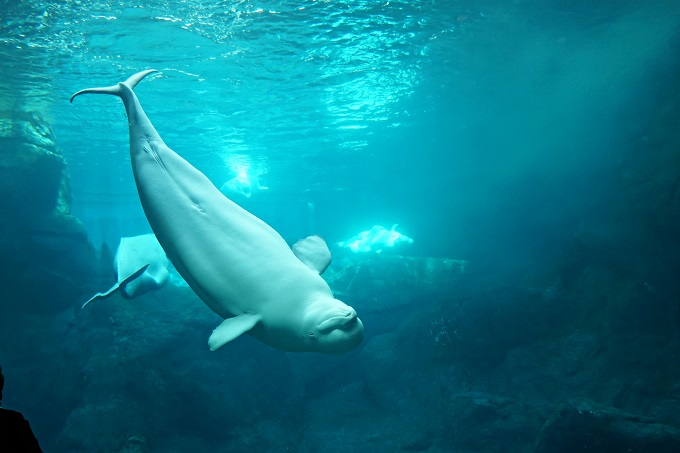 Apart from the main Ocean Voyager exhibit, there are quite a few others. The Cold Water Quest includes beluga habitat that is a cool 59 degrees (18 C) of the Arctic ice water! The Japanese spider crab habitat is the coldest with water temperature reaching mere 51 degrees (10C). The River Scout exhibit includes overhead aquariums which make up about half of the total exhibit's water volume. And Tropical Pacific barrier reef exhibit is one of the largest living reef exhibits in the United States.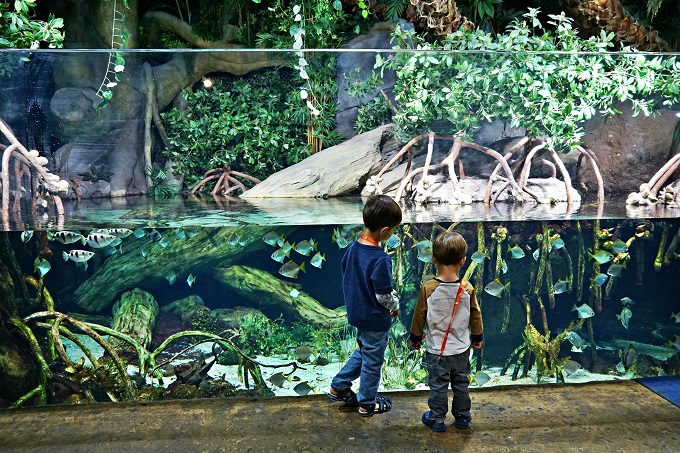 But that is not all. The Aquarium also features various shows and demonstrations throughout the day, including its main Dolphin Tales theater with 1,800+ seats. The music for this dolphin show was recorded by a 61-piece live orchestra at Sony Pictures Studios in Los Angeles. And although we were a little on the fence about spending 40 minutes waiting for the show to start, I sure am glad we waited it out as it was indeed very impressive. No photography or video recording was allowed, however.
Altogether, I think we spent about 4+ hours at the Aquarium enjoying life under the water. And although I was certain that such a famous place as Georgia Aquarium would certainly be full of people regardless of school holidays, I was quite surprised yet again – we had completely unobstructed access to all the exhibits with no crowds whatsoever.
As it was nearing late afternoon already, we did not have much time left to explore Atlanta, so we decided to just walk over to the Centennial Olympic Park to take in some views. The park was built by the Atlanta Committee for the Olympic Games as part of the infrastructure improvements for the 1996 Summer Olympics that took place here.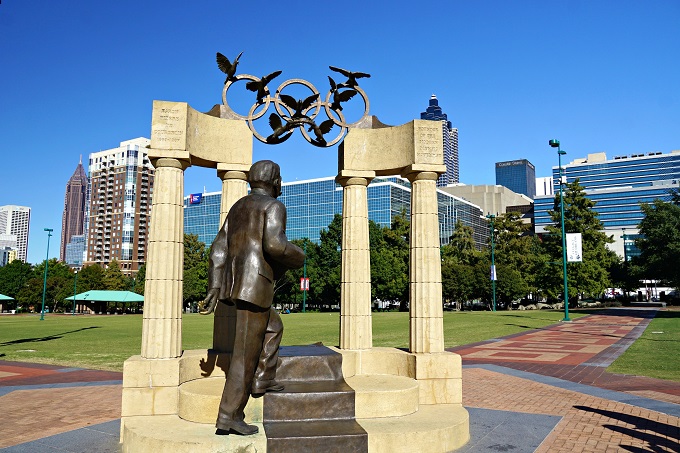 Although it was end of October, the boys could not resist splashing in the ''dancing'' fountains which, of course, eventually resulted in getting wet and cold, and cranky. That, however, meant it was time to head back home in search of some dry clothes and hot meal.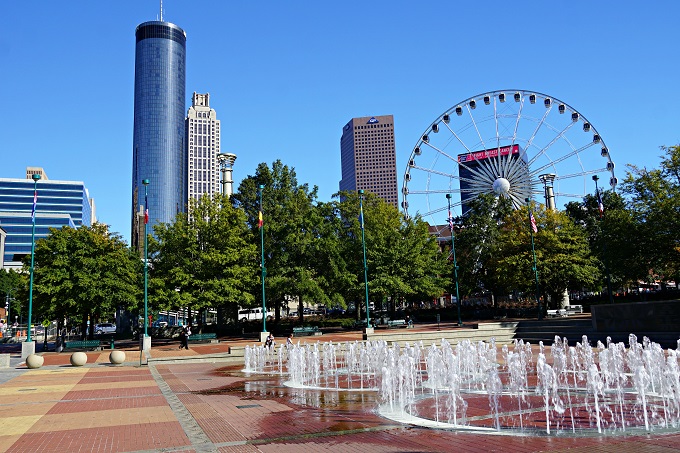 We spent another lovely night with our friends reminiscing about the times past, and when the morning came, we waved goodbye to our friends and their friendly pack of noble steeds, climbed into our RV and continued our journey.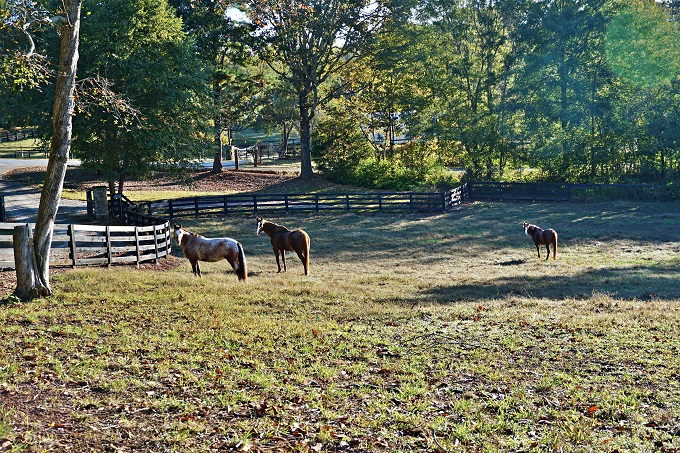 ATLANTA TO SAVANNAH
Our final destination for the day was Savannah, 290-miles (470km) away; however, I wanted to make a stop at the Southeastern Railway Museum (about an hour's drive East of Atlanta) for the boys. And which little boy does not love trains, right? Mommy gets cool points again! The museum here was actually much more fun than I anticipated, particularly because many of the trains here could be walked through in their entire length.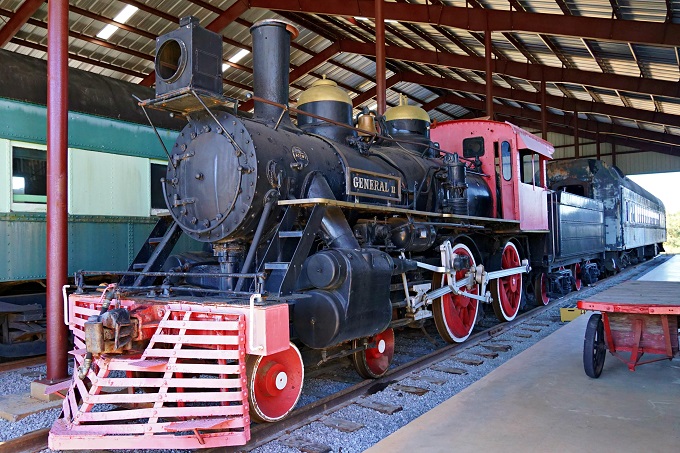 They are historic trains from mostly early 20th century with their original interiors and decorations. We could explore various trains' sleeper cabins, kitchens, dining halls, first class cabins, party decks, steam engine rooms etc. It was very interesting not just for the boys, but for the adults as well. It felt a little like a throw-back into history.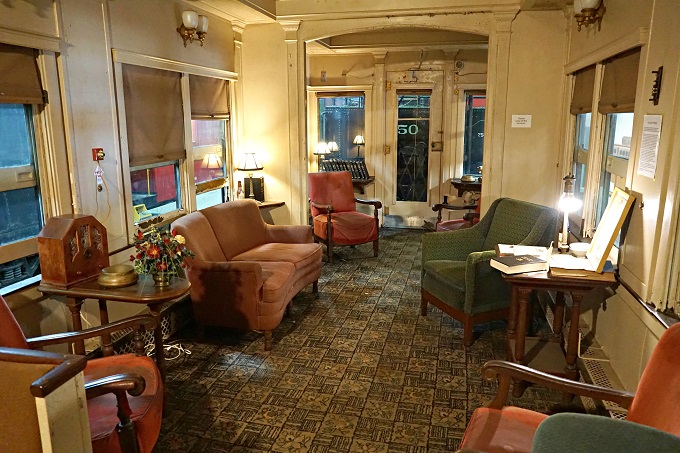 After we were done exploring all the trains and locomotives on exhibit, we also went on a little historic train ride that was provided right on the museum grounds. Overall, it was a fun stop on our long drive East.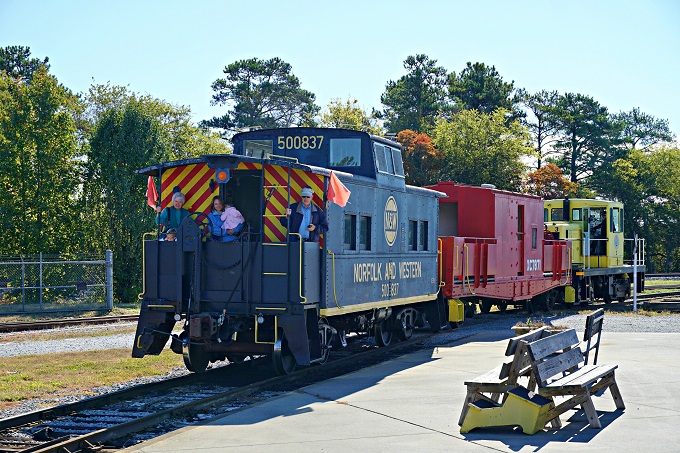 We reached our campground in Savannah long after dark. There was nothing much else left to do other than just light a campfire and enjoy a fresh palm tree breeze under the starred skies.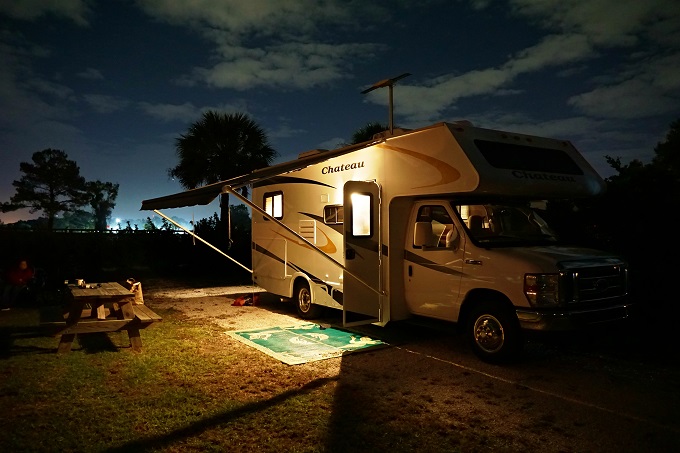 The next morning, while my husband was busy prepping some breakfast in the RV, the boys and I decided to go explore our campground property. It was so beautiful – hundreds of years old oak trees with hanging Spanish moss, several ponds and a lake, as well as petting zoo with goats, horses and some birds. The place is actually so scenic that they even host weddings in their restored historic barn.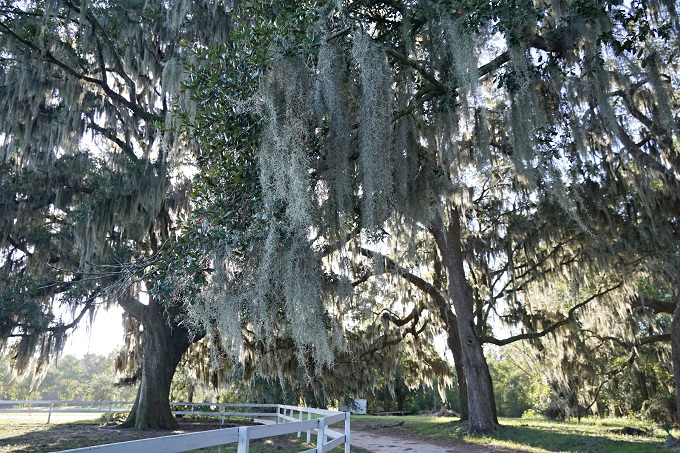 I let the boys play with the moss and they pretended it was their hair, and beard, and moustache, and they were carrying it and putting in piles all over the place. That is until about an hour later one of the fellow campers came up to me and said that Spanish moss is infamously known for having little bugs that crawl under people's skin and then itch like crazy.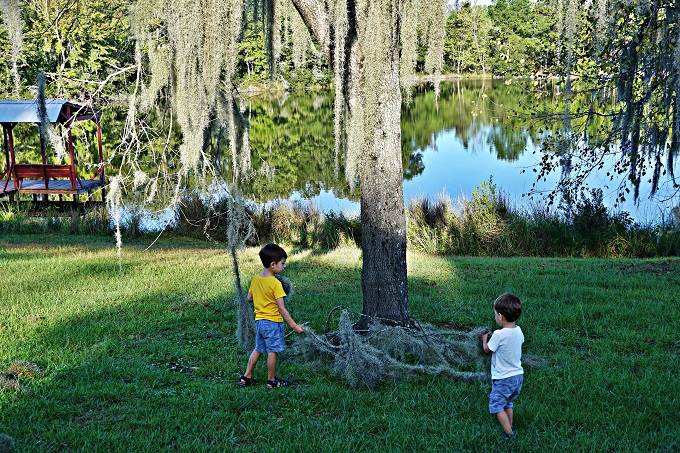 I made the boys drop all the moss right then and there and off to the shower they went – with lost and lots of soap!
In hopes of all the bugs being washed away, it was time to finally go explore Savannah. I had heard numerous times that it was a beautiful city, but in all our years of travels we had never happened to pass through it. So, this time we made a special effort to go see it. And it sure was quite unique! I was the most impressed with how green it was! Huge old oaks were lining all the streets.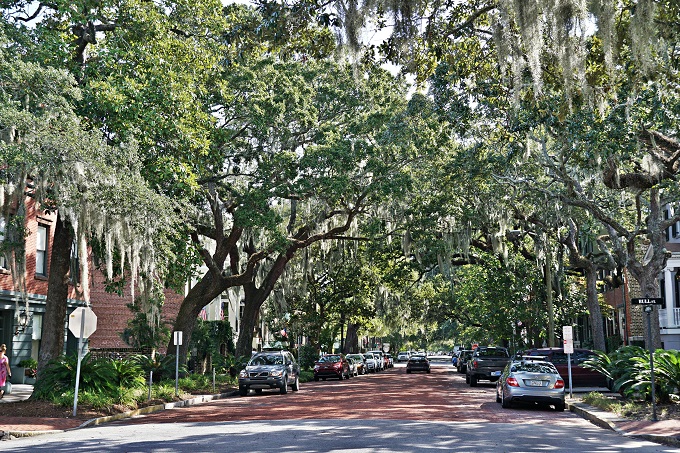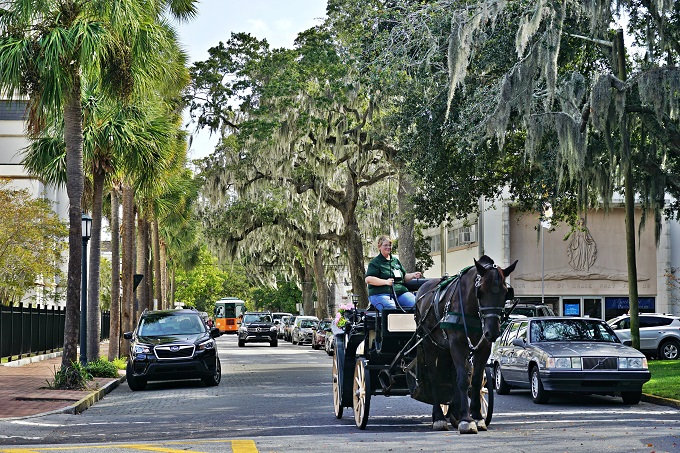 And even though the Forsyth Park is the most famous one, many, many more smaller parks and squares were scattered around every other block. They were also tastefully decorated with fountains and benches for people to sit on, many blooming flowers in garden beds and of course the oak trees with the Spanish moss again. And even plain old sidewalks felt like something special.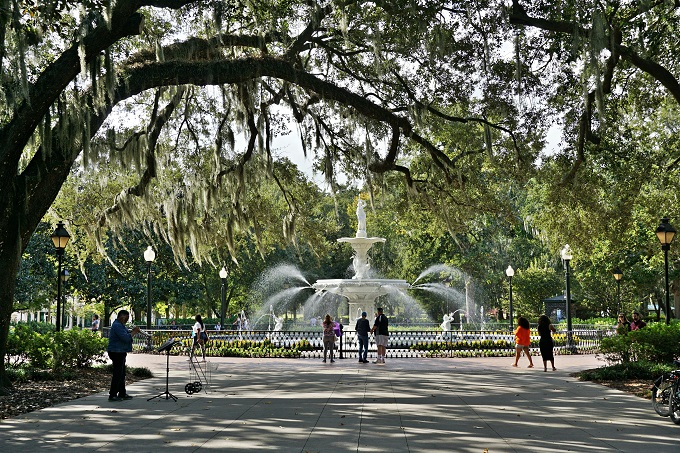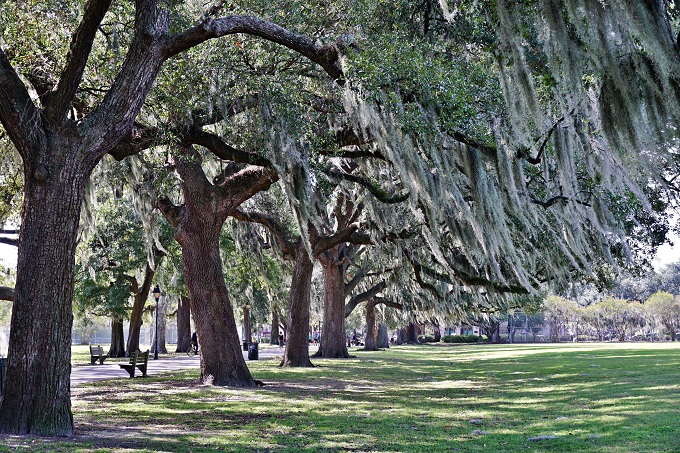 We decided that the best way to explore it would be on foot, so we spent several hours walking Savannah's streets up and down, admiring the greenery, the architecture and the laid-back scene. Once we became so hungry we could not ignore it anymore, we decided to walk over to the River Street which is famous for its restaurants, galleries and boutique shops. Although we did sit down for a meal here, this part of Savannah was definitely not my favorite – just too crowded and loud. The same could not be said about my two boys who were eyeballing ice creameries around every corner… Food and ice cream! I am sure they loved this part about the Savannah the most, haha!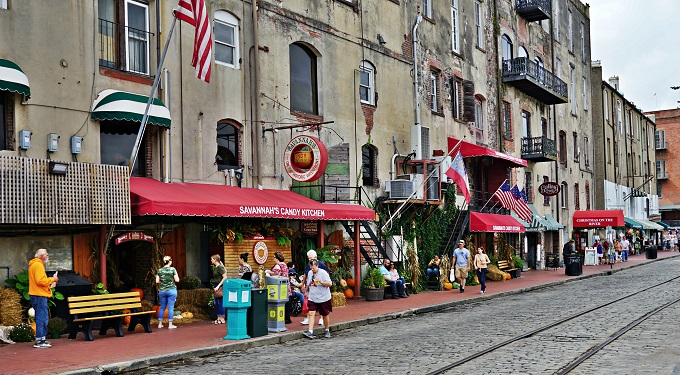 After our meal, we walked a while along the River Street, but I was eager to get back to the green part of Savannah that I enjoyed, so we decided to change course and get back to our RV while walking through Savannah Historic district again.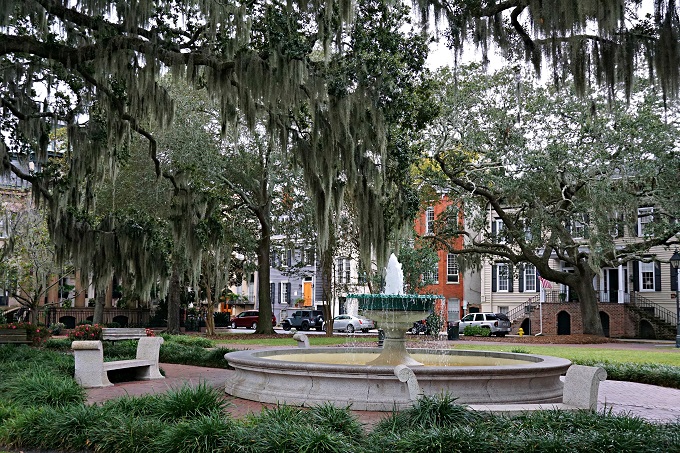 We spent another night at our beautiful campground, lighting a campfire and playing some ball games that we borrowed from the campground office.
SAVANNAH TO TYBEE ISLAND
Once the morning came, it was time to pack up and head on to our next destination. Although Tybee Island is only 17 miles (30km) away from Savannah, the check in at our campground there did not start until 1PM, so we had a few hours to kill until then. I had a few things on my list that we could see in between, and we opted to visit Savannah National Wildlife Refuge. Although the Refuge offers many activities (hikes, biking paths, ranger-led walks etc.), we were most interested in doing the 4-mile (6.5km) long Laurel Hill Wildlife Drive. It is a famous wildlife watching spot with marshlands all around and oases of ancient oak trees scattered about. I was a little worried if our RV might be too tall for us to be able to fit under the tree branches there but the ranger (hesitantly) thought we should be ok. So, we decided to go for it.
Once we turned onto the drive, we were surrounded by vast marshlands on both sides.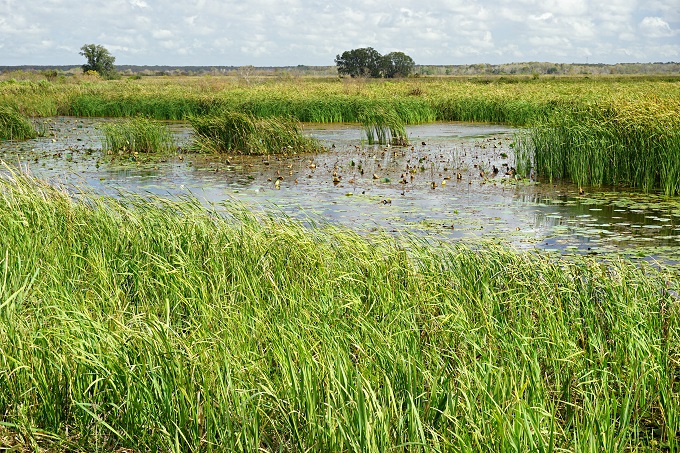 Now we just had to keep our eyes open for the wildlife – turtles, water birds, alligators – they all call this place home. And just after the first few hundred yards we saw a huge alligator sunbathing in the grass right by the roadside! He didn't even blink when our big rig stopped right next to him with me leaning out the window to take some photos.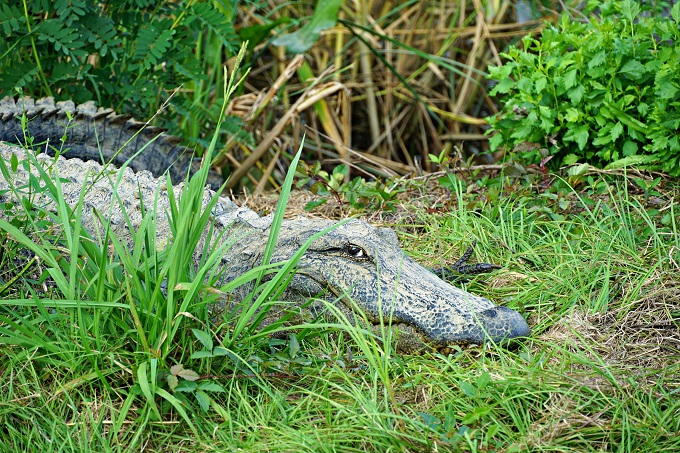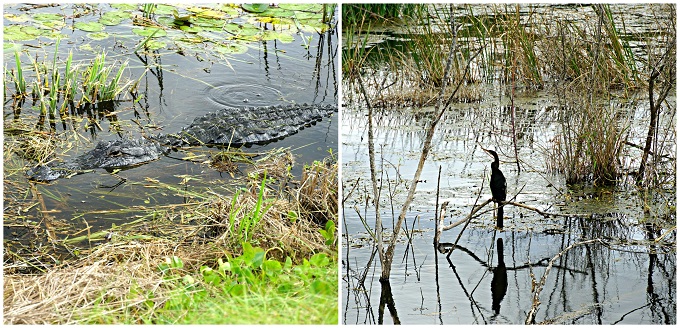 We saw several other alligators later on, as well as many water birds and turtles. And thankfully, we fit under all the tree branches just fine.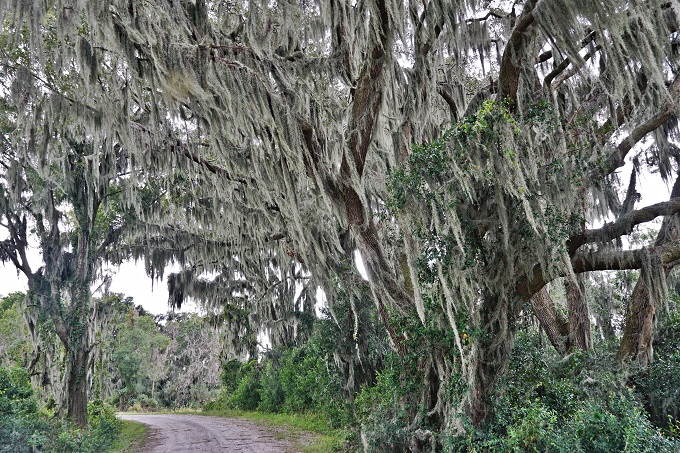 I would have to say that for nature lovers Laurel Hill Wildlife Drive should be a must-do when visiting Savannah and the near-by area. It is like a little, wild world of its own hidden right next to the hustle and bustle of a busy city.
Our timing was perfect, and once we completed our wildlife drive, it was time to head straight for Tybee Island to check into our campground and go explore the island.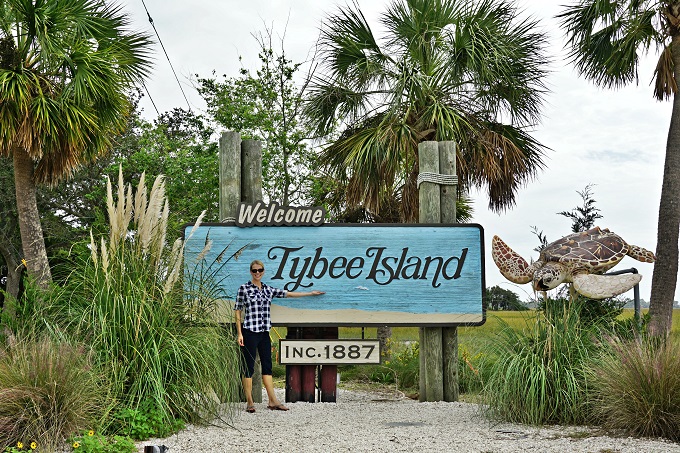 With an area of only 3.2 sq.mi., Tybee Island is easily walkable from one end to the other without the need for a car. Golf carts are actually the most popular mode of transportation here. But as we did not have access to such luxurious vehicles, we opted to walk. And why else would we come to Tybee Island if not for the ocean and the beach! And that is where we headed first.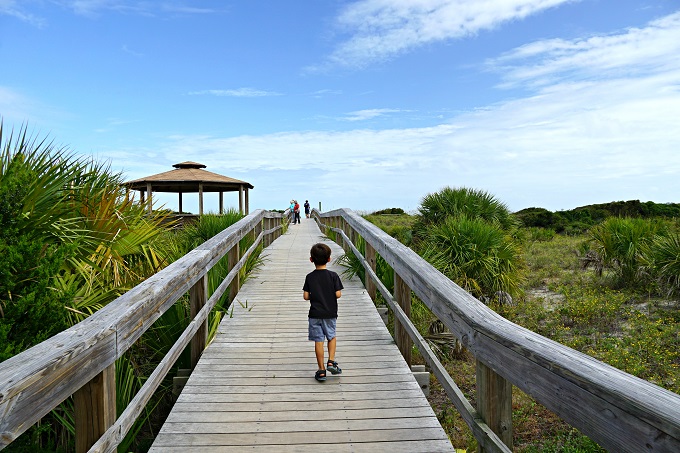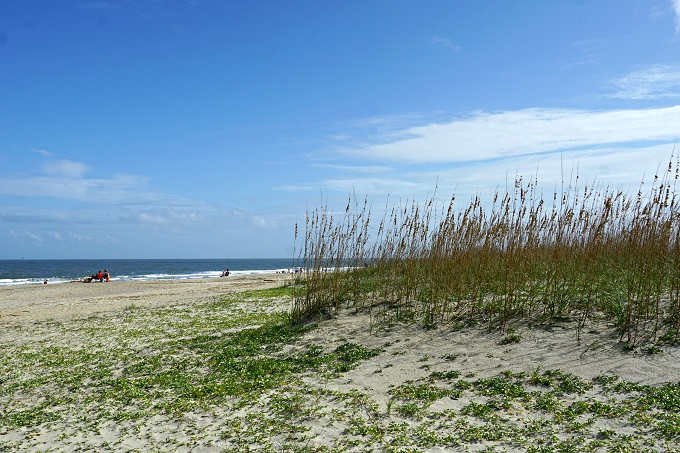 A neat wooden boardwalk led us over the dunes and straight onto the beach. Although we saw several people swimming, the water and air just felt a little to chilly to let the boys in. Besides, we did not have a change of clothes with us, so the decision was made to just play in the sand instead.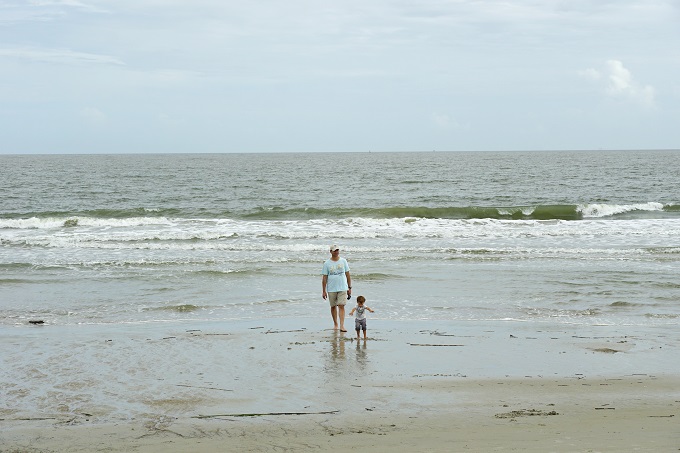 The time here was spent without any rush, and while the boys were busy digging sandpits with their newly acquired beach friends, I went for a walk looking for some seashells. There were so many of them washed ashore after the high tide that I was starting to get too picky.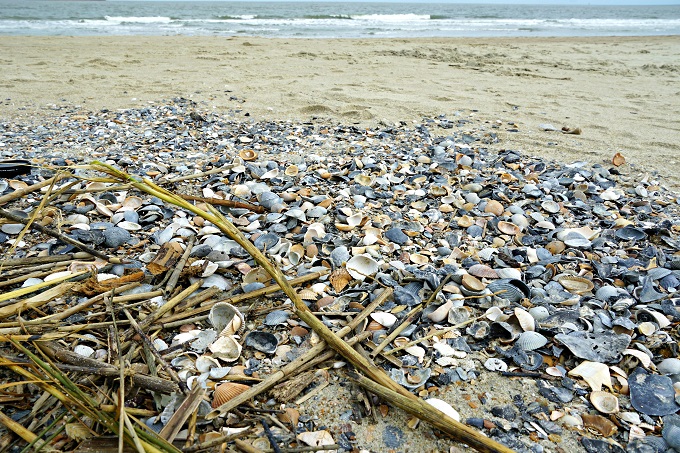 After about an hour, we gathered up the boys (who were covered in wet sand head to toe) to make the walk over to the Tybee Island Pier. It is the most popular area on the island with many restaurants, shops and bars around. The pier itself gave nice views of the beach all the way to the horizon, but it started to get very windy and cloudy there, so we decided to walk back and go find a restaurant for dinner.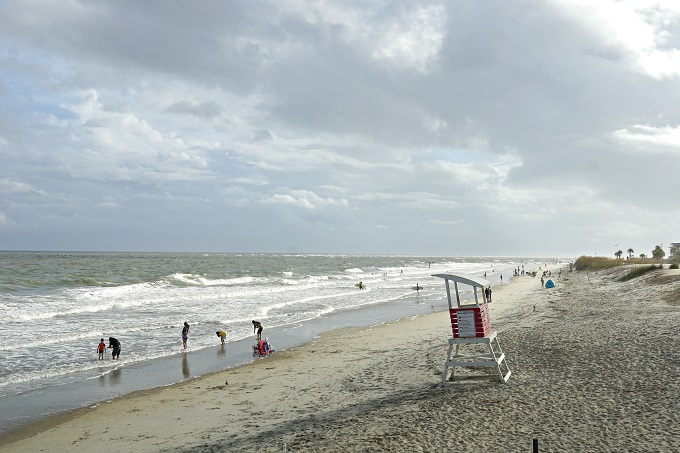 Just as we stepped into one of the restaurants, it started pouring like crazy outside! We sure were glad we were not out there walking! By the time we were done with our dinner, the rain had stopped; however, my husband offered to call a taxi to get back to the campground. I declined the idea and insisted that we should walk off our huge meals instead. The 2.7 miles (4.5km) to our campground sounded like the perfect distance to walk back enjoying the scenery. I did forget though, how quickly it got dark in the fall, and after we were only halfway back to our campground, it got pitch black all around us. Also, Tybee Island is not a big fan of sidewalks (or streetlights!), so we had to rely on our phone flashlights to save us from being hit by a golf cart (or a car)! Although a little extreme, yet we made it back safely and were welcomed by our RV's comfortable beds.
TYBEE ISLAND TO GREAT SMOKY MOUNTAINS NATIONAL PARK
This morning I realized that it is always good to have 'Plan B' when traveling. Although our original plan included going over the scenic pass of Great Smoky Mountains National Park, the huge windstorm the night before had blown down many trees on the road, and the rangers had shut down the whole mountain-pass between Tennessee and North Carolina until further notice. So, instead of trying to fit in any sightseeing, all we had to do was make a long 400-mile (650km) drive from Tybee Island to our campground near Gatlinburg, TN. It took us roughly 8 hours of pretty much non-stop driving (except gas station stops etc.), so the many games and toys I had brought for the boys finally came in handy. Also, the snack drawer and fridge got quite a bit emptier… During our drive we still had to cross the Smoky Mountains (at a different pass than originally intended), so we got a little glimpse into the fall colors and what's to come...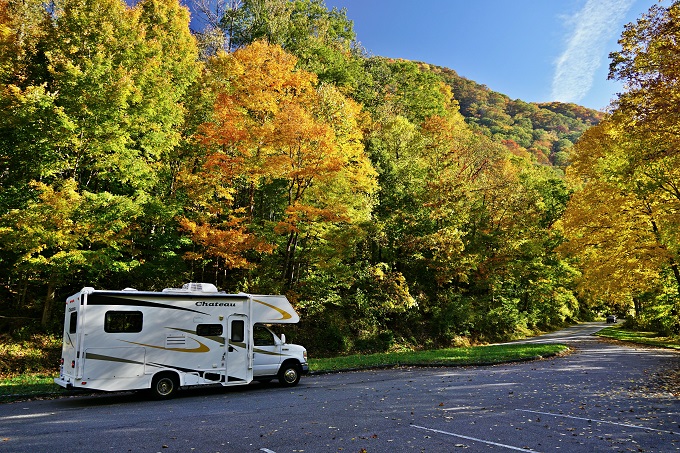 Luckily, it was still daylight by the time we reached our campsite, and knowing that we are traveling with small children, the check-in lady selected us a campsite right next to the playground. It was perfect, and while the adults spent the evening cozying up by the fireplace, the boys just ran off their energy swinging, sliding and climbing on the playground.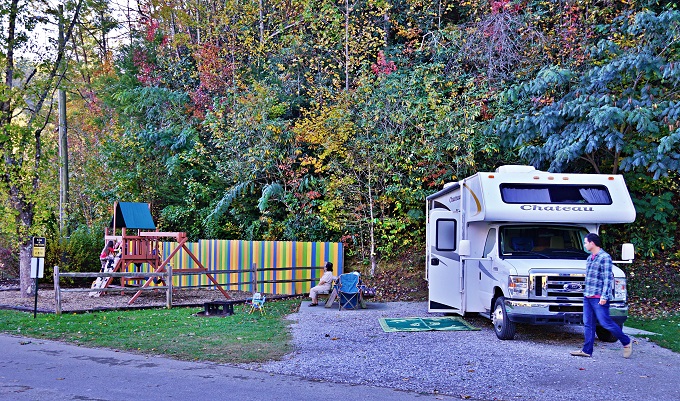 As the morning came, I found out that the park rangers had opened up the mountain pass to the visitors again. So, we unhooked our RV and headed up the Newfound Gap Road. This 31-mile (50km) stretch of mountain road is the only fully paved road in the park and the only one that travels through the park's center, with an elevation of 5,046 feet (1540m). It is one of the most scenic roads in Great Smoky Mountains NP, and undoubtedly most popular during the colorful fall foliage time.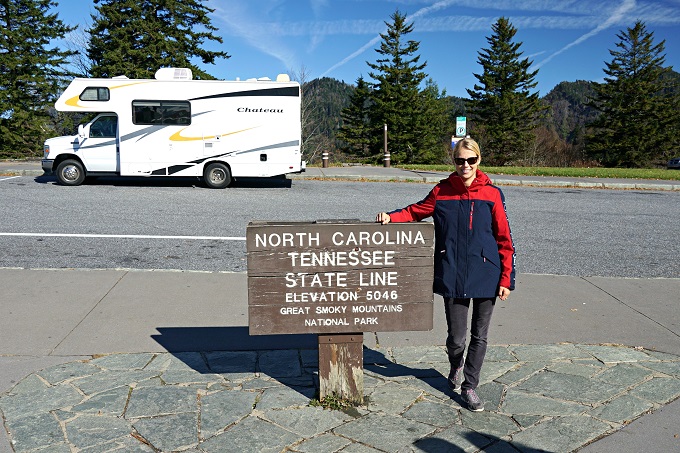 As we were traveling during a weekday, we really did not have too much trouble finding parking at various lookouts even in our RV. I am sure it gets much more crowded during weekends and holidays.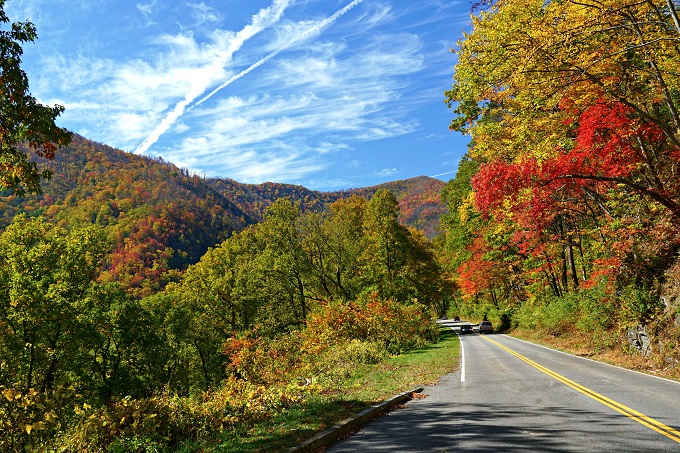 The colors changed depending on elevation, and we could also see that the huge windstorm 2 days prior had taken its toll and many areas of the park were quite bare with many colorful leaves blown off the trees.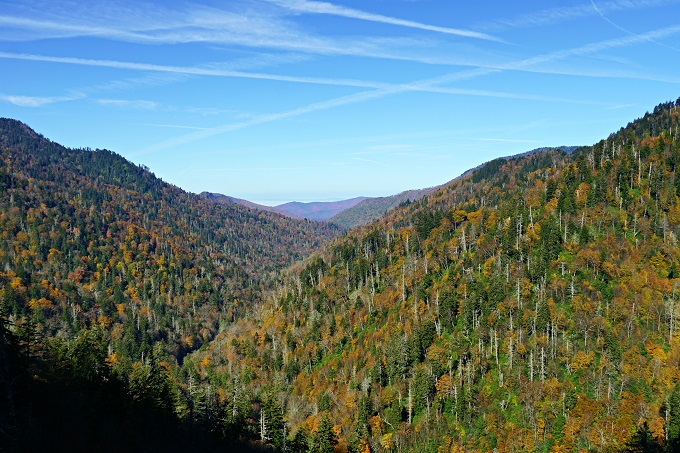 Nonetheless, it was still very scenic, and even on a clear day like the one we had, we could see the fog settling into the valleys of the mountains, and the mountain ranges by the horizon looked covered in blue-ish haze. I guess that's why it is called the ''Smoky'' Mountains.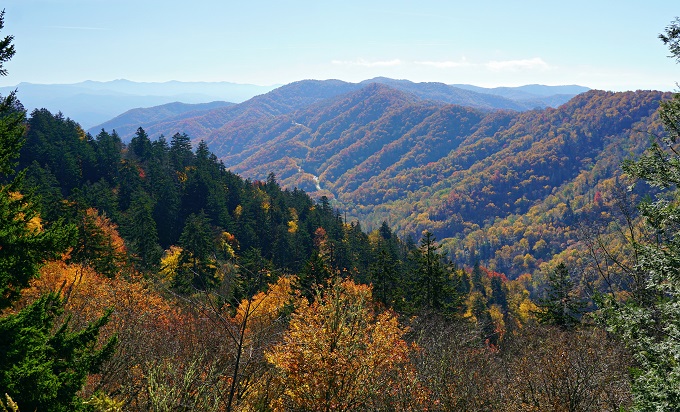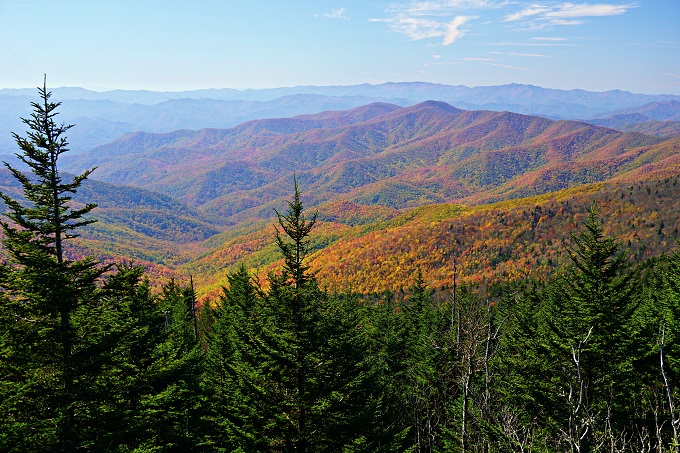 Having seen all the lookouts on Newfound Gap Rd, we took a turn-off for Clingman's Dome which is the highest point in the Smoky Mountains and the highest point in Tennessee at 6,643 feet (2025m). Amazing scenery could be seen already from the parking lot.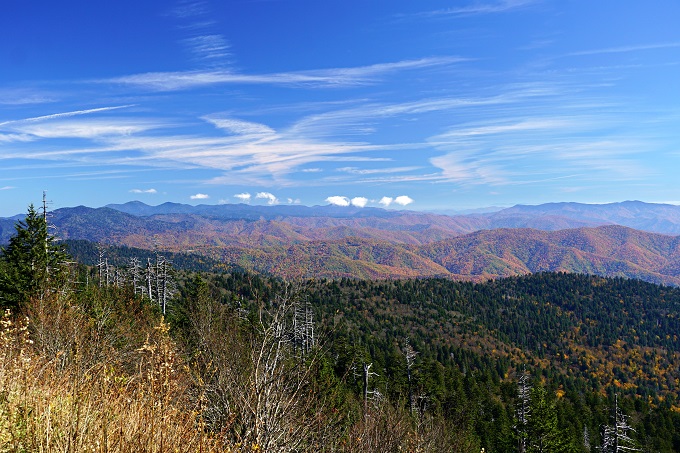 There is also a paved walking path to the lookout area, and although it is only half a mile long, it is fairly steep and quite tiring. Our 2-year old had to backpack it this time, but his ''big'' brother did the hike on his own. Once we reached the lookout tower, it gave complete 360-degree views of the Great Smoky Mountains National Park all the way to the horizon in all directions! What a view!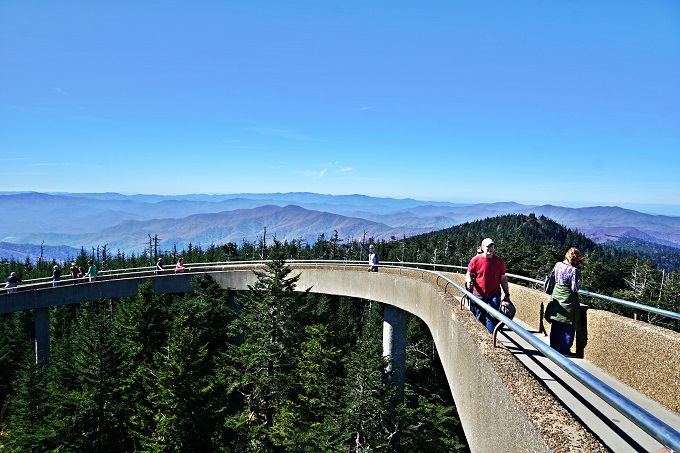 While at the lookout, we met a pretty shaggy looking person, who apparently was hiking the Appalachian trail. He said he had almost finished it and just had the last leg of the trail left which is really impressive as this marked trail extends 2,200miles (3500km) from Maine to Georgia. Clingman's Dome is the highest part / crossing of the Appalachian trail. On average, it takes 5-7 months to complete the full trail. Since 1936, more than 20,000 people have completed Appalachian trail in its entire length (most of them in their 20s).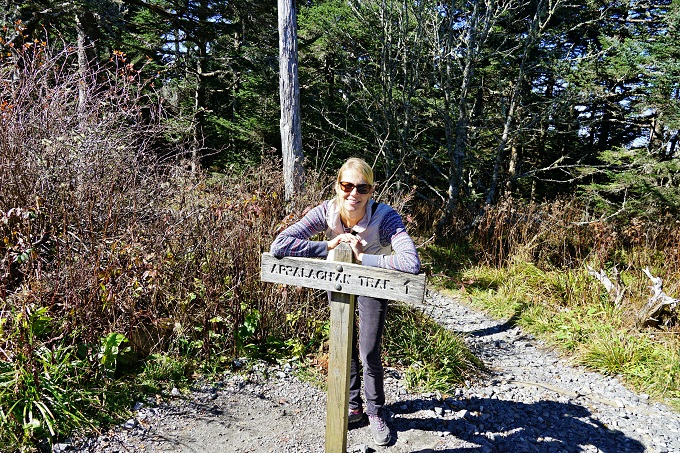 After we were done exploring the Great Smoky Mountains, we made the drive back down and into Gatlinburg. While looking for a spot to park our RV, most of the parking lots had big ''NO RVs OR BUSES'' signs at the entrance. Finally, one of them accepted RVs but instead of $10/day per car, they charged $30/day for RVs. The attendant lady was very kind and told us that because we have a small RV, if we can back it into a spot and get it to fit into the lines of a car parking spot, she will only charge us $10. And guess what, our 22' RV had no issues fitting into the side lines (with butt hanging over the grass), so we only paid $10!
Happy about our accomplishment (and savings), we set out to explore Gatlinburg. This neat little town nestled in the mountains reminded me a little of ski-towns in the Alps. There were log cabins and ski-lifts, cozy outdoor fireplaces and apple cider. And it was so festive! With Halloween and Thanksgiving approaching, every inch of the town was decorated with pumpkins, corn stalks, mums, scarecrows and hay bales.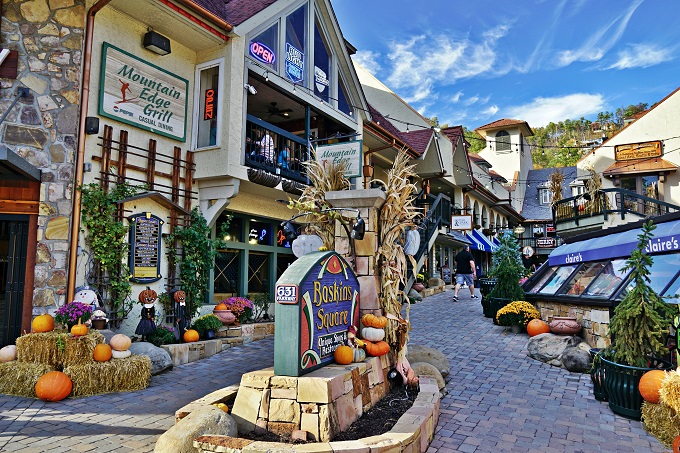 One of the local attractions we wanted to experience was the SkyLift. It takes visitors 500 feet (152m) up to the top of the mountain in a chairlift. The views were amazing and we could see the town of Gatlinburg down below with the Smoky Mountains in the background.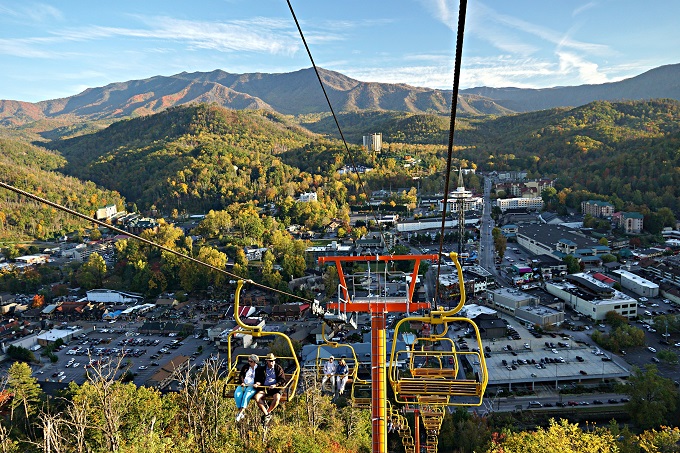 Once at the top, there is an option to walk across the SkyBridge which is the longest pedestrian suspension bridge in North America. We made sure we did not miss this experience!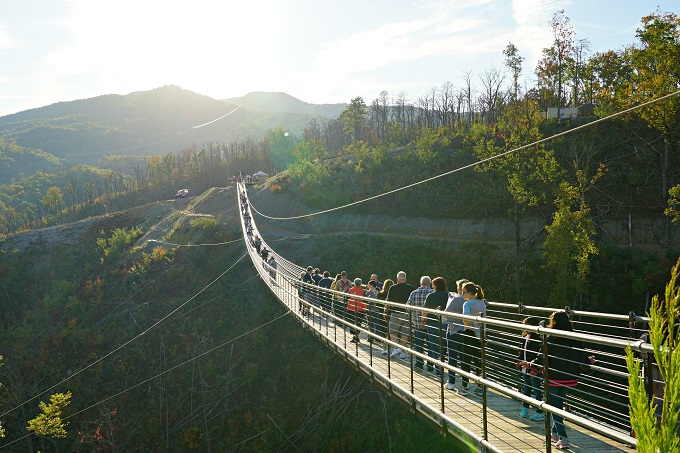 Having absorbed all the panoramic views, we took the chairlift back down and continued exploring Gatlinburg. As we were passing Hollywood Star Car Museum, my husband got so excited that I just could not say ''no'', so we went in. The museum is home to 40+ authentic vehicles featured in the best of Hollywood movies and TV shows. They are not replicas, but the actual cars used during filming. Just to name a few, there are cars from such movies as James Bond, Ghost Busters, Transformers, Batman Returns, The Fast and the Furious, Gone in 60 Seconds and others.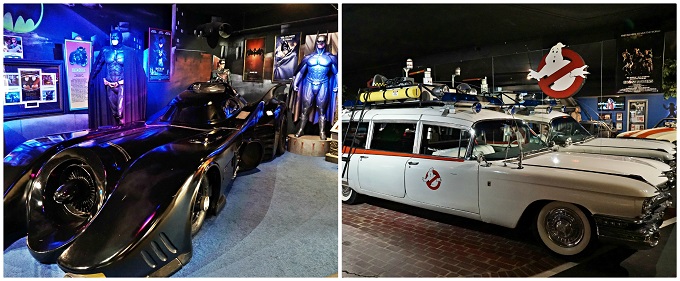 Once we were done with the museum and stepped outside, it had gotten completely dark. It was late, and it was time to return back to our campsite. The boys quickly fell asleep but my husband decided to step out and walk over to the campground office. Just a few seconds later he was back and whispered at me through the door: ''Come quick, there is a bear at the campground!'' I ran out and indeed, there was a huge black bear wandering around the main building patio. After a few minutes he disappeared in the bushes and then suddenly popped his head out from behind the playground fence right next to our picnic table. He was literally maybe 15 feet (4-5m) away from us and our RV. As we stood there completely confused (and amazed), the bear seemed to assess our picnic table situation, but as no food was left out, he decided to go back into the woods. The next morning, we walked over to the campground office and they said that the bear had eaten their decorations last night (pumpkins and corn) that were set up in front of the office. Apparently, there are 2 ''regulars'' here at the campground – the big bear we saw last night and a smaller more skittish one. I guess that's what you experience when you camp in the mountains!
GATLINBURG TO MEMPHIS
This was the last day of our trip, and before hitting the long road back home, we wanted to tire out our boys. A good option was a stop at Wild Bear Falls Indoor Waterpark right outside of Gatlinburg. And once we arrived there for their opening at 11am, we were the only visitors there yet again and could enjoy the whole place in peace. The waterpark ended up being perfectly suited for two little boys, as there was a lazy river, toddler splash pad area, heated pool for playing ball, and a splash zone with slides, water guns etc. My husband and I slid down the ''big kids only'' slides quite a few times and then relaxed in the steaming outdoor hot tub.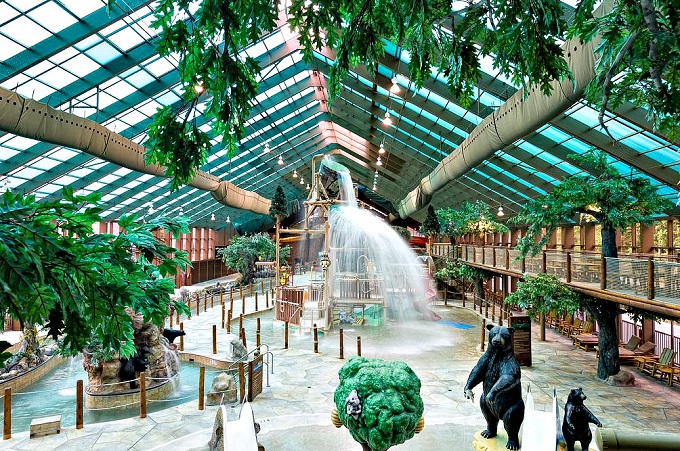 After all the water activities, everyone was hungry, so we made our way to a place recommended to us by many - the Apple Barn & Cider Mill. The food was indeed as tasty as advertised, and after the restaurant we walked into their store to buy some of their homemade jams, jellies, cider, apple pies and locally grown fresh apples.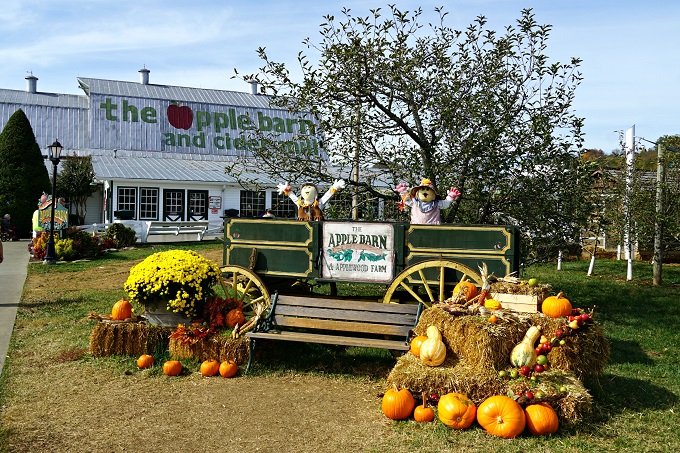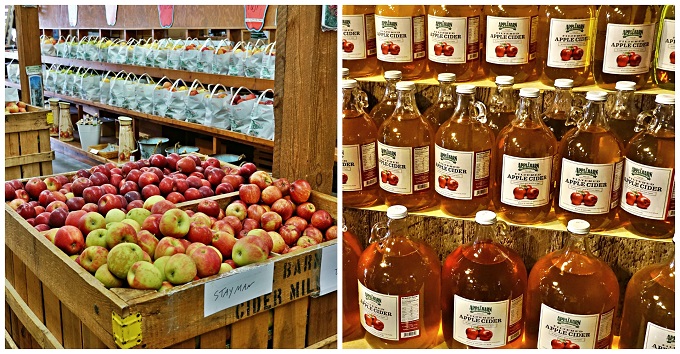 At this point, our first RV trip was pretty much officially over. All that was left was long 410 miles (660km) to drive back home.
People usually say that you either love or hate RV style travel, and have never done one before, we went out on a limb and purchased an RV before ever even traveling in one. Luckily, all of us really enjoyed our 'home away from home' and our little fall RV ''test-trip'' was a huge success. The boys are already asking when we will go camping again. Our next vacation is already booked and set; however, with the winter coming, we will give our little RV a well-deserved break until the spring comes, the sun shines warm and bright, and it is time to hit the road again!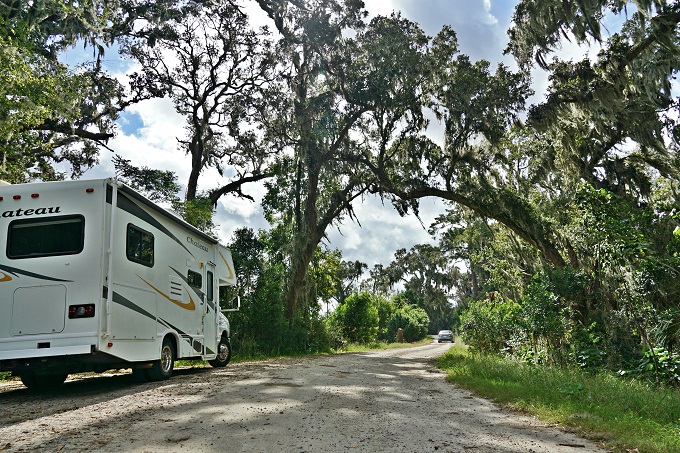 STATISTICS:
Miles driven: 1605 (2600km)
Gas costs: $382
Campgrounds: 7 nights total for $271.89
2 nights in Atlanta – free
2 nights in Savannah (Red Gate RV Park) - $107.95
1 night on Tybee Island (River's End Campground) - $57.60
2 nights in Gatlinburg (Camp LeConte) - $106.34
For comparison, I also sent an inquiry to the 2 most popular RV rental companies in the US just to see what this trip would have cost us had we chosen to rent an RV instead. As you can see from the CruiseAmerica quote below, the same size RV as ours covering 1600 miles (just like we did) would have cost us $1624.28 in rental fees plus $500 security deposit (totaling $2124.28). Of course, gas costs and campground fees need to be added to the total as personal expenses on top of the bare rental fee. Also, we would need to rent the RV for 9 days (not the actual 7 days we were on the road) because 1 day before the trip is needed for picking up the camper and packing it up, and 1 day after is needed for all the unpacking and dropping it off. However, I do understand that renting is the only option for many. That said, we are very happy with our own little house on the wheels and are looking forward to all the future trips to come!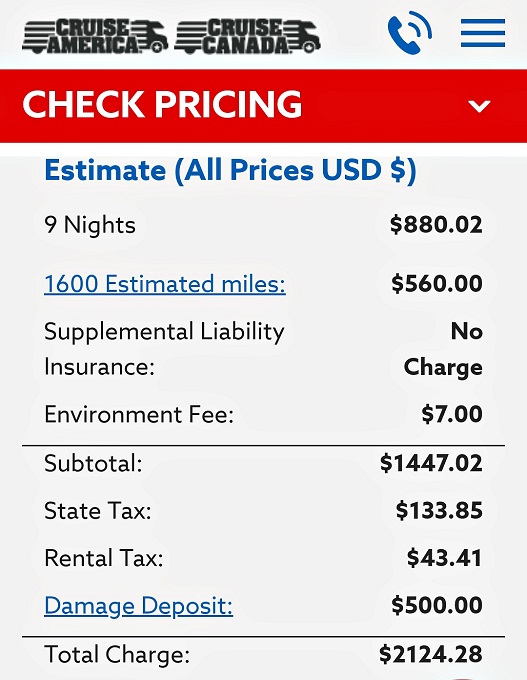 More photos of this trip can be found in the following galleries:
Great Smoky Mountains and Gatlinburg in fall