Mommy's diary of Caribbean cruising with 2 kids - 9-day Western Caribbean cruise on Norwegian Getaway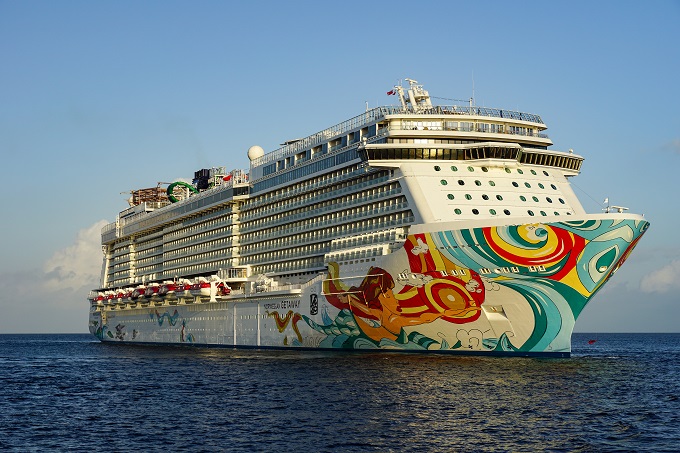 *42 days till cruise*
Going on a cruise wasn't really in the plans… well, it kind of was… but not really. My husband and I went on a cruise back in 2013 – childless and free, and we loved it! So, about a year ago we started kicking around an idea of trying to go on another cruise, but this time - with our two little boys. ''Free'' food, ''free'' entertainment, slides and swimming pools – basically, loads of fun at arm's reach. However, with as many trips as we had already taken this year, we scratched the cruise idea off the list as it just did not seem to be the most reasonable idea financially or time-wise. Well, curiosity killed the cat, right? In my usual fashion, just out of curiosity, I logged onto Norwegian Cruise Line's (NCL) website to see what is out there and they had some awesome last-minute Caribbean deals. I could book a last-minute cruise with a balcony stateroom for much cheaper than I could book a teeny-tiny windowless inside room on the same cruise a year ago. That's the benefit of last-minute flexibility. To my surprise, when mentioning this idea to my husband, he agreed to it without much hesitation. I didn't really expect that and now I am left wondering how (and if) he's going to make me pay for this later… For now, I just took his answer and ran with it. And while most people spend a year or more planning and booking their cruise vacations, I just booked one barely 40 days out. Time to dust off our flip flops.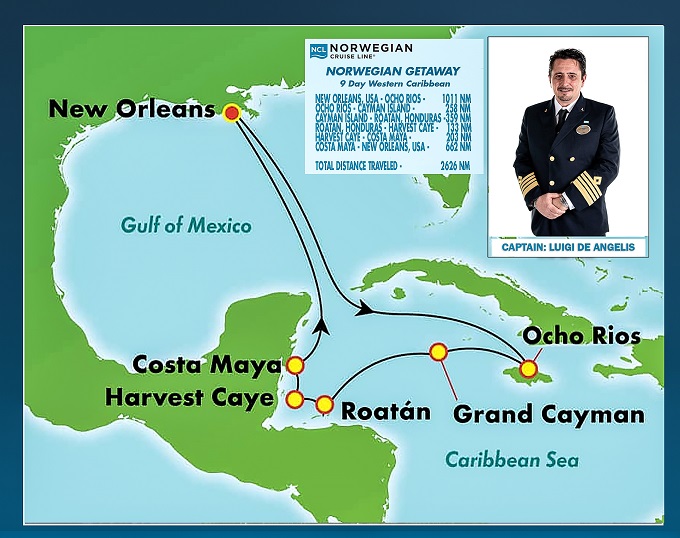 *38 days till cruise*
The past 4 days, since booking the cruise, have been spent trying to find tours and excursions for the islands our ship will dock in. All 5 of the islands on this itinerary are different from the ones we visited in 2013. On our first cruise (Eastern Caribbean) 7 years ago, we stopped in Puerto Rico, US Virgin Islands, Barbados, St Lucia, Antigua and St Martin. This time, we booked a Western Caribbean cruise with stops in Jamaica, Cayman Islands, Honduras, Belize and Mexico. I am not one to spend my whole trip on a ship, so getting off and seeing the islands is a must! I learned a long time ago that booking shore excursions through the cruise ship is a waste of money – local tour companies offer the same tours for sometimes half the price. It is just a matter of time and patience to do your own research and book with reputable tour operators. Besides, the cruise ship would charge a tour fee even for our 2 and 4-year old boys, while local companies almost always let small kids come along on a tour free of charge. And, I can proudly say that these past 4 days have been a success and I have reserved tours for all of the islands. If all goes to plan, it looks like my 2 and 4-year olds will join my husband and I to go swimming with stingrays in the ocean, snorkel at a reef, climb cascading waterfalls, explore Mayan ruins, hike into the jungle to see howler monkeys, and do some other less crazy things. Will they be up to the task? We just have to wait and see. I, on the other hand, could already smell the tropical breeze in the air... Just a few more weeks!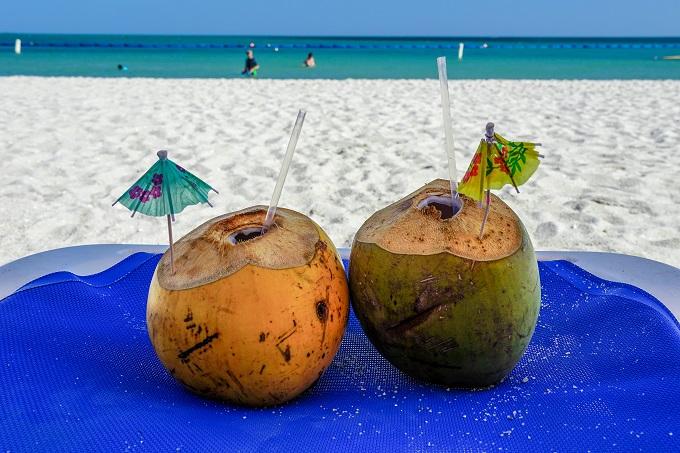 *17 days till cruise*
I have been pestered by NCL about their ''Upgrade Advantage'' bid program for the past few weeks. Basically, the program invites certain cruisers to participate in the bidding process for a chance to upgrade to a higher-category cabin for sometimes much lower prices than one would book them for originally. As we already booked a balcony room, I was very happy and had no interest in upgrading. However, my husband thought having an access to all the spas and saunas during these 9 days on the ship might help his sore, old muscles and bones. So, we decided to throw in our bid for the Spa Mini-Suite room. Bid options ranged from minimum $50 - $500. The higher your bid, the better chances you have of winning the upgrade. We bid $65, ha ha! As I said – I am very happy with our current balcony room, so if we don't get upgraded, I am happy either way; if we do – that's just an unexpected added bonus (at a minimal expense). Now we just wait to hear back from NCL.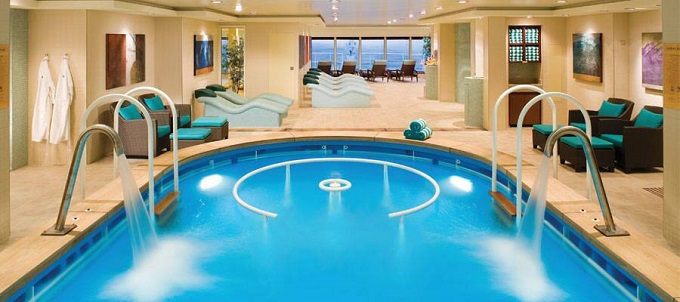 *1 day till cruise*
Yesterday afternoon we finally heard back that our cheapskate bid offer was not accepted by the NCL. I am secretly glad because it saves some money, and it (the Spa) is one less thing we need to try to fit into our schedules. I am sure we will have our hands full either way.
As it is about a 7-hour drive to New Orleans where our ship is scheduled to depart from, instead of leaving it to the cruise day morning, we decided to make our way towards New Orleans and spend a night at a hotel there the night before. Although a very late night (made it into New Orleans past midnight), we sure are glad that the long drive is behind us and we can start looking forward to our tropical vacation.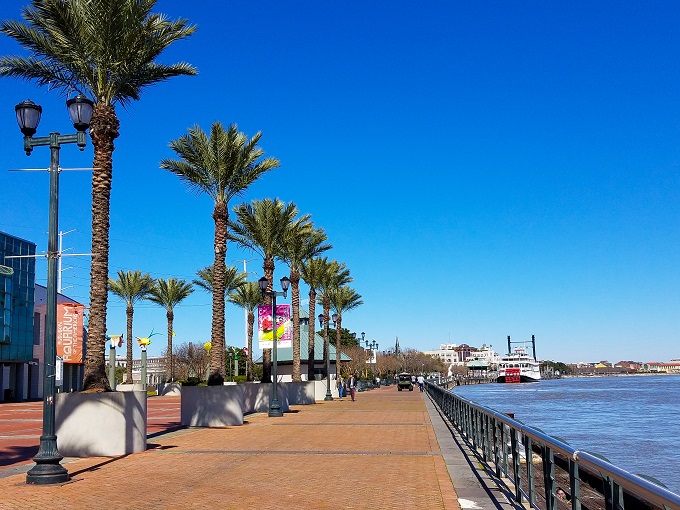 Day 1 – Embarkation and At Sea
Early in the morning, we received a mass text message from NCL informing passengers that check-in for the cruise will not start before 1PM and they are asking passengers not to come to the port terminal before this time. That gave us a few hours to spare in the morning. We parked our car at the cruise port car parking and decided to walk into New Orleans French Quarter to get some coffee and beignets at Café du Monde. We have made several extended trips to New Orleans before, so all the sights were well known and weren't a priority this time around. But it was still nice to have a long walk, enjoying sunny, warm weather (while it was sleet and wet snow back home).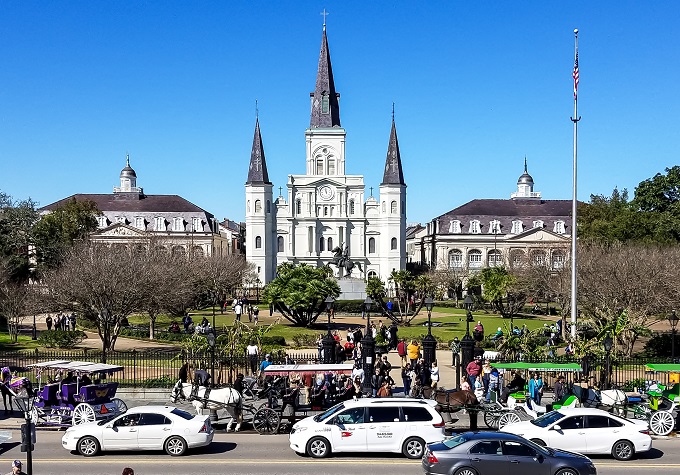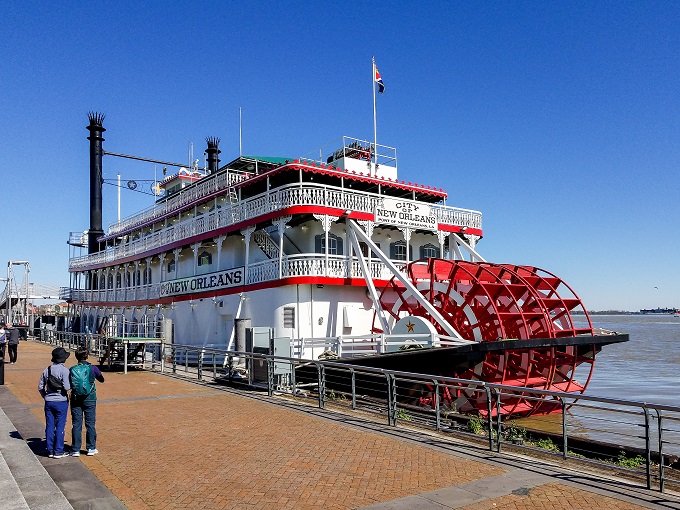 Beignets and coffee were just as delicious as we recalled them to be, and shortly after we were on our way back to the ship to finally start the cruise boarding process.
Unfortunately, this was one of those random times with endless hiccups – for starters, the ship could not make it into port last night due to bad weather and was 3 hours late. From there on, everything just went downhill. The people on the ship (due to late docking) were hours late disembarking, which meant people boarding could not get on. Everything got backed up, the lines were stretching out of the cruise terminal, down the street and into the Mall area blocks down! Over 4000 people were lined up to get through security, safety scans, boarding process etc. The whole thing seemed ENDLESS! We got in line at 1:16pm and stepped foot on the actual ship at 4:22pm. That was 3 straight hours of waiting in line, moving an inch per minute! I was amazed at how composed the boys stayed almost until the end. I think I would have lost it a long time ago if I was them!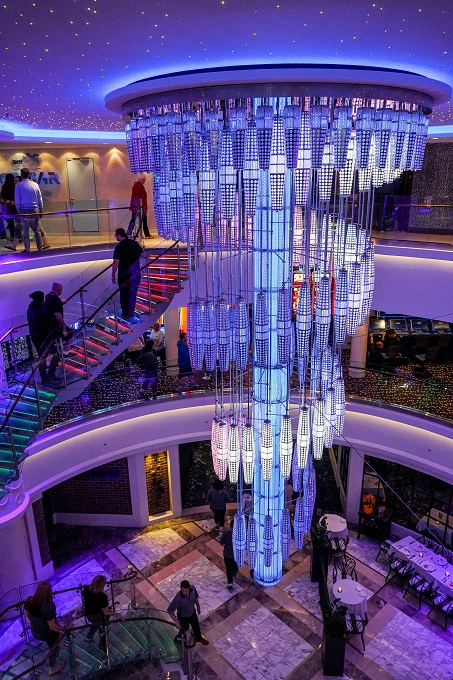 Once we actually got to the ship, everything was closed because we had to go to the mandatory safety drill, but afterwards we were finally free to go have dinner. We were definitely starving because our last (and only) meal was coffee and beignets at 12pm. We chose to try Shanghai's Noddle Bar. It was fun and the boys loved watching all the cooks prep meals in front of them.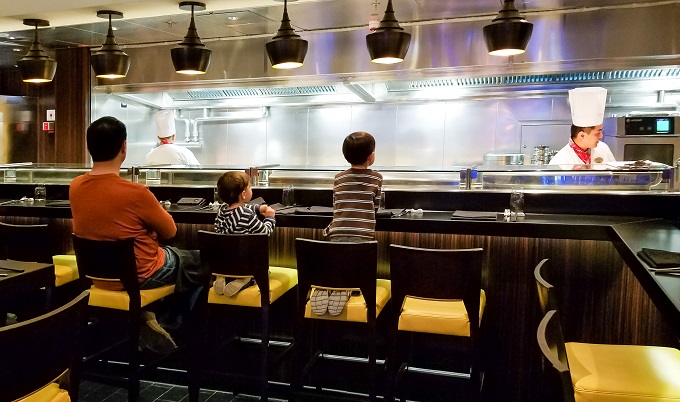 Once we returned to our cabin, we realized our bags were still not delivered. We talked to our cabin stewardess and she said that many bags were still being delivered from the port, and there were still people trying to board. It was 7:30pm! The ship was supposed to leave the port at 4pm, but at 7:30pm people were still standing in line to get on the ship! That was just crazy! This day definitely did not go as planned, at all. On the plus side, we definitely loved our balcony stateroom – quite a bit of space for a ship, and the balcony will definitely get a lot of use, especially as we get closer to the islands and can sit there spotting turtles and dolphins enjoying the Caribbean waters! The boys even brought their binoculars for this reason.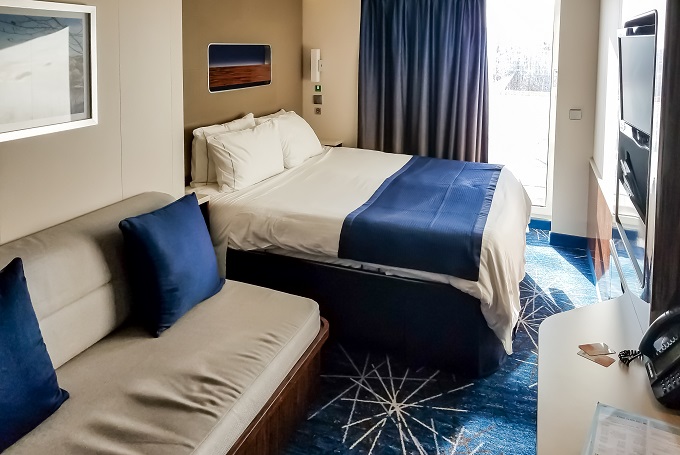 At about 8:30pm we finally left the port. It was already dark outside and New Orleans highrises were lit up.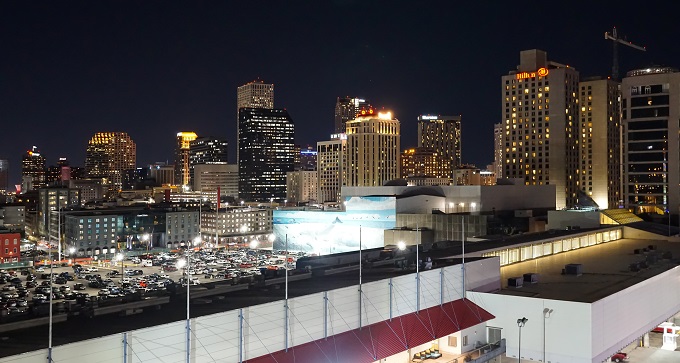 The boys were already in beds and we were exhausted. Hopefully we will have smooth seas and smooth sailing from here on out!
Day 2 – At Sea
Today was our first full day at sea, so we had all day to explore the ship, the restaurants and all the activities.
The morning started with a buffet breakfast. As a mom, I love buffets! They give lots of options to choose from, the boys can make their own selections, and we can get as much or as little of each food as we want. Also, getting something extra, or re-filling a cup, is just a few steps away with no need to wait for a waiter. As our boys are early risers, we got to the buffet before many other cruisers and could secure a table by the window!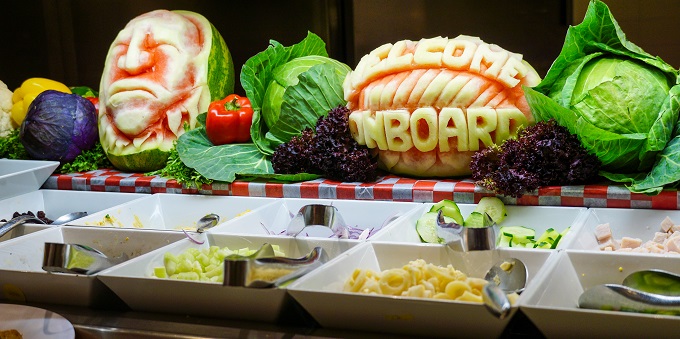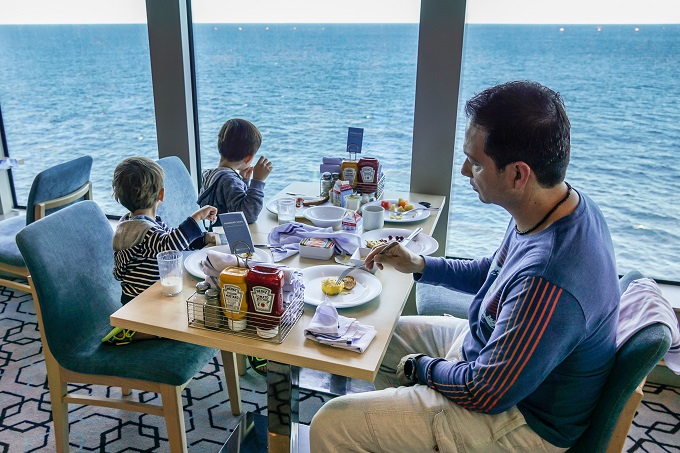 After breakfast, we went to explore the ship. Mini golf was a hit with the boys, as well as the Sports Complex, and we spent quite a while kicking around soccer balls and throwing basketballs. As Sports Complex is on the top deck (Deck 16), it is fully open, and I just hope we did not get sunburnt!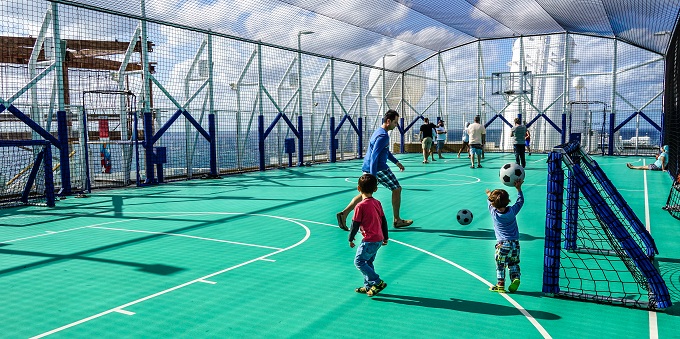 Later in the afternoon it had warmed up enough for us to let the boys try out the splash pad area. It has water only ankle to knee deep and it features small water slides, spray jets and other fun elements. They had a blast here! I am sure we will be back here many times again!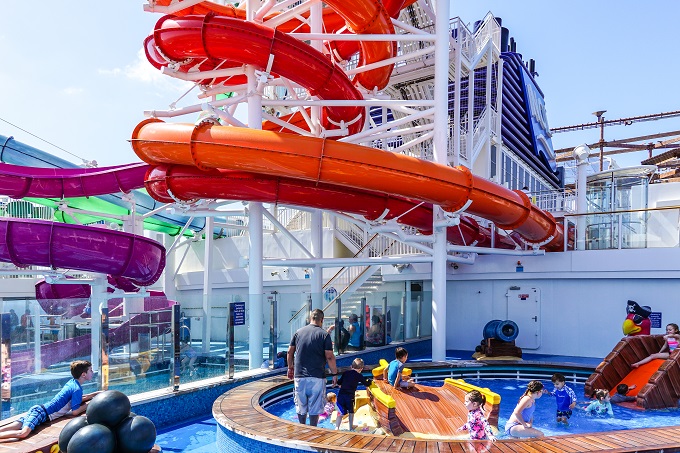 For the evening, we had reserved seats for one of the main events at the big Theater – Burn the Floor show. It is an hour-long Latin dance performance which tells a story through the rhythms of Rumba, Salsa, Tango and others. It was very fast-paced and spirited. Definitely one to take its spectators on a wild journey! However, nothing is that simple when you travel with kids. Our 4-year old had had too much watermelon during dinner, and he had to go pee 4 times during the hour-long show. I think my husband missed most of the performance because of all the bathroom trips. The 2-year old decided to crawl and sit on my lap for the rest of the show while plucking my hair and poking my eyes… yeah.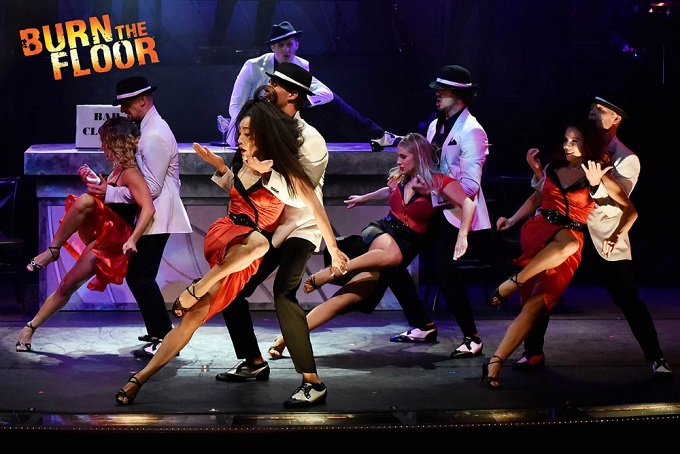 At the end of the show, the host introduced the cast, and the dance couples were from the UK, Italy, Germany, Argentina and Latvia!!! Who would have thought that I would be watching my fellow Latvians perform! Hopefully, I will get a chance to meet and chat with them here on the ship on one of these days.
With the little guy having fallen asleep on my lap during the show, and the older one acting sluggish as well, it was time to retire to our room and call it a night.
Day 3 – At Sea
Today was another lazy day spent on the cruise ship. Everyone, including the boys, felt tired and slept in a little, yay! We finally made our way to the breakfast buffet only after 9am. Afterwards, we decided to drop off our 4-year old at the Splash Academy – it is an activity center meant just for kids (3 years and up) and includes various organized events and themes for every day (under the supervision of the cruise childcare staff), as well as gives kids an opportunity to socialize and play with other kids their age.
As our 2-year old was too young for this, he stayed with us and we all went to play some ping pong and shuffle board, as well as walked around the ship's Waterfront walkways and checked out all the other activities available to guests. Although we still had 1 kid with us, man, it was so much more relaxing than having to chase after both of them!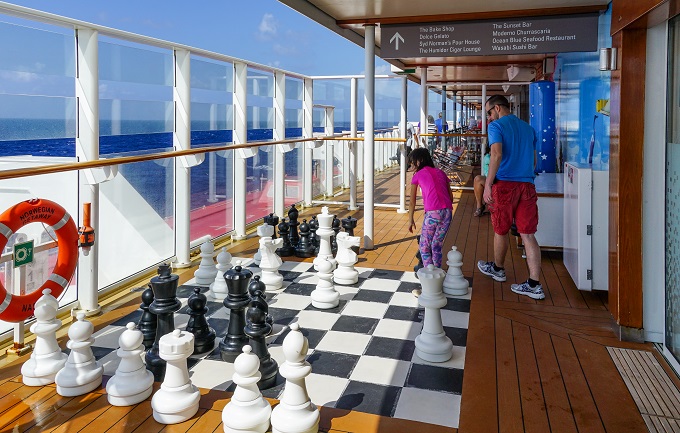 At noon, the Splash Academy event was over, so we went to pick up our eldest boy and then walked over to the kids poolside splash pad. As we had cruised our way into the Caribbean, the weather was very warm and there were a lot of kids here today to play with. This is where we spent the most part of the day, and I even got a few minutes to myself to suntan a little.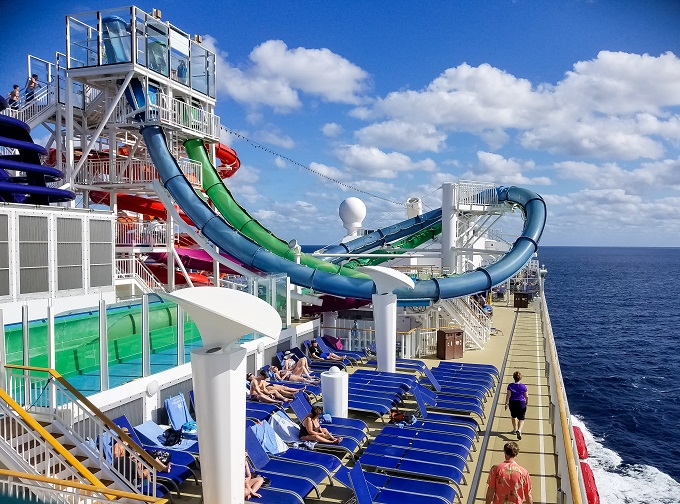 Tomorrow is supposed to be our first island day with a stop in Jamaica. We already have a tour booked for 8AM, so it is looking to be a very early morning. For that reason, we sent our boys to bed at 6:30pm, and honestly, they had no objections. They were tired. And after about 10 minutes of twisting and turning, they were both asleep. And I think I will follow their suit!
Day 4 – Ocho Rios, Jamaica
After 3 days at sea, we were very happy to step off the ship for at least a few hours. Today was our first island stop, and we were off to explore Jamaica – a place I have always had interest in seeing. Jamaica is a relatively large island with many places to explore – the coastline, beaches, mountains, coffee plantations, Bob Marley sites, waterfalls, and the list goes on and on. Unfortunately, when traveling on a cruise, the time given is very limited, so we had to pick and choose as to what was the most important thing we wanted to see. We chose (and pre-booked) to see 2 of the Top 10 Jamaica attractions – Secret Falls and Dunn's River Falls.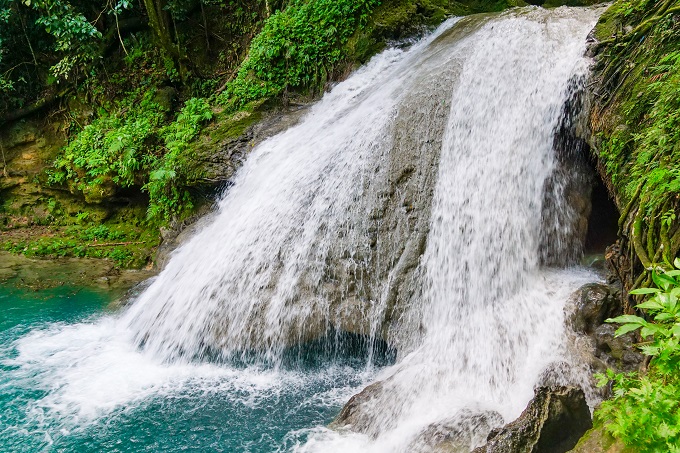 When getting off the ship, the cruise port felt like a marketplace – lots and lots of tour companies, taxis, private operators, all trying to offer their services. After a little search, we found our tour guide and besides us 4, there was only one other couple from the ship joining the tour, so it almost felt like a private tour.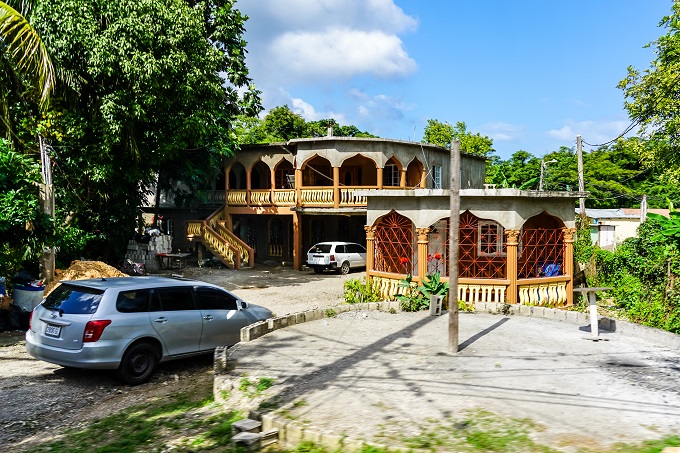 We started off with a drive to the Secret Falls. Along the way, the tour guide told a little bit about life in Jamaica, pointed out local schools, houses and churches, as well us showed us various plants and trees growing here. He even bought some Jamaican apples for us to try. They tasted (or looked) nothing like the apples we are used to, but we liked them!

High in the rainforest-cloaked mountains outside Ocho Rios, we reached the Secret Falls. There we were handed off to a local guide and started our wet and slippery walk up the cascades of the falls. I was not exactly sure what to expect here, but apparently this is the place where we are supposed to cliff jump into the pools below! It was definitely not a task for a 2-year old, so our guide offered to stay with him and wait (and watch). The 4-year old, however, refused to stay aside and insisted that he would jump too! And that he did indeed! Never even hesitated! Have to admit, we were very impressed!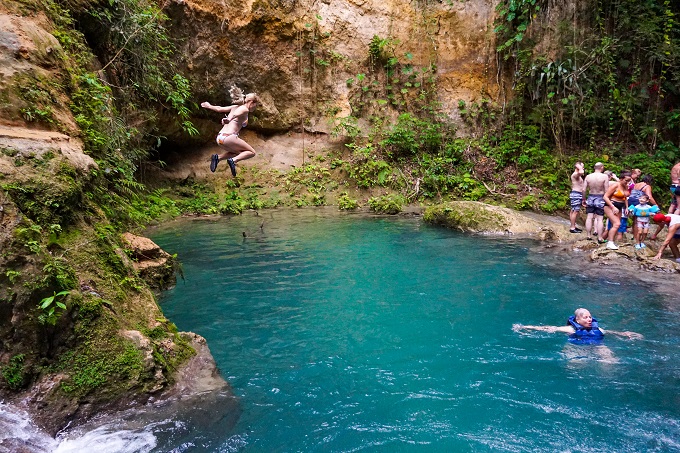 But oh boy, what took everybody by surprise the most was how cold this mountain river was once you actually jumped in it! It was almost like jumping from the 90-degree (30C) hot Jamaican air into a frozen pile of snow! Refreshing, for sure, but it was definitely not the type of water you wanted to linger around in.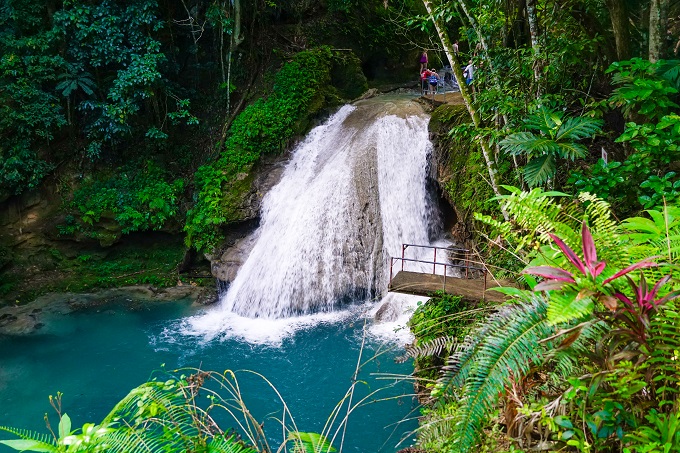 Altogether, there were 4 different places to jump, each of various height, as well as a Tarzan rope swing. I did 3 of the 4 jumps, as well as the Tarzan rope. My husband and big boy did 2 cliff jumps, and the youngest just watched us all and played in some water. It was definitely a fun experience!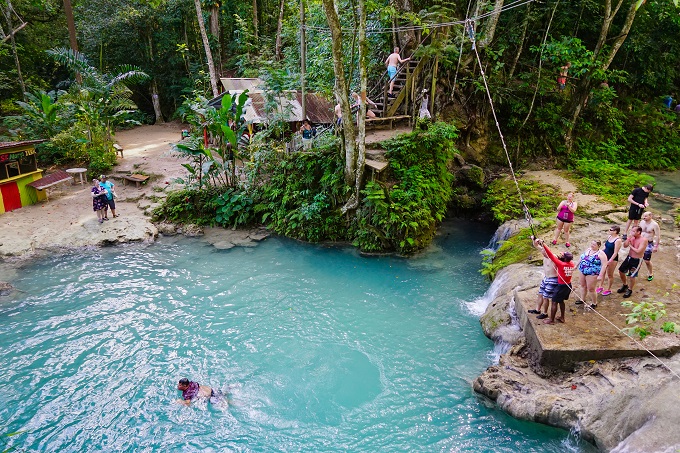 Our next stop was Dunn's River Falls. Encompassing 180 meters (590ft) of gently terraced waterfalls, Dunn's River Falls is one of Jamaica's most famous natural attractions, therefore, the most crowded. The falls tumble over rocks and limestone ledges into the sea. The thing to do here is climb the Dunn's Falls from bottom to top, which takes roughly 45mins. Although an option, we chose to forego this activity and simply enjoyed the falls by walking to various lookouts and wading into the cascade pools. The boys absolutely loved it and we even climbed some small stretches of cascades.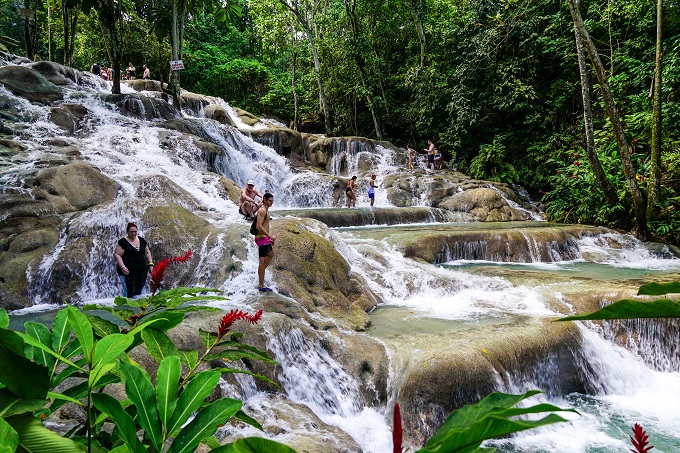 At the very bottom, the river and waterfall flow into the sea, so we made our way down and spent some time here letting the boys play on the beach. From the looks of it, this was also a popular spot to park various party yachts and catamarans.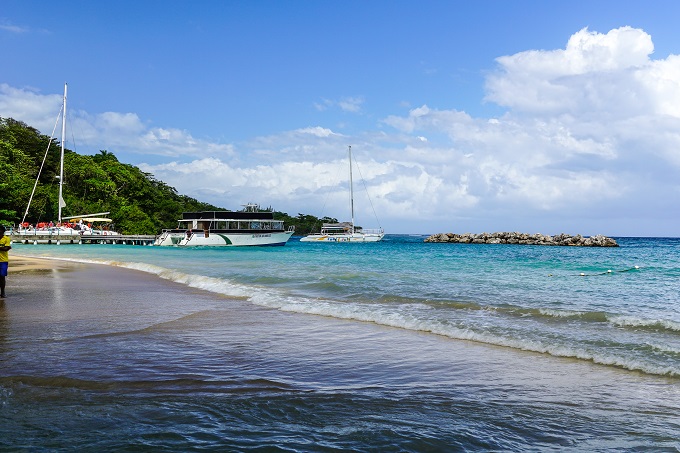 After about an hour and a half, we met up with the guide and the rest of the group again to head back. On the way to our tour bus, we were overcrowded by locals trying to sell us things. The boys got stuck on a little Jamaican drum set, and even got their names engraved, so we gave in and bought it for them. Now they have a fun Jamaican souvenir. With that, however, our first cruise stop was nearing the end. On the way back to the ship, the tour guide stopped at a local market to let us get out and shop for some souvenirs, as well as pointed us to a local café for some quick local bite to eat (chicken, rice, beans and pasta salad). After that, we were dropped off at the cruise port and bid farewell to Jamaica.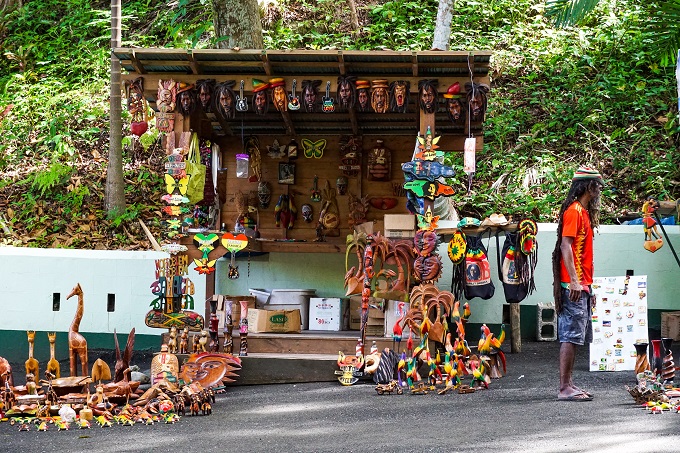 Unfortunately, Jamaica is one of those islands that is just much too big to explore in a day. However, I am glad we got at least a little insight into it and there is much more left for us to see if we return here one day!
Day 5 – George Town, Grand Cayman (The Cayman Islands)
This was a very early morning for everyone. With the ship scheduled to dock at 7AM, and our tour scheduled for 8AM, we had to get up at 6AM to manage to go get breakfast and then also catch one of the first tender boats to the island. The shores of Grand Cayman are too shallow for large cruise ships to pass, so a tender boat system is used to get passengers from cruise ships to the island and back. I have to admit, I really hate the tender boat system – it takes up a lot of extra time; it is stressful if you are on a time crunch; and often times it involves more lines and more waiting (not fun with 2 kids, at all)! Unfortunately, tender boats are the only option on some of the Caribbean islands, so we just had to go with the flow.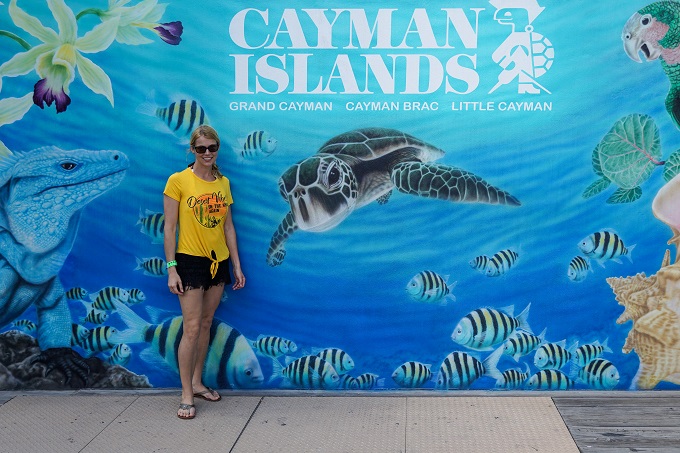 We were lucky to get on one of the first tenders, and made it right in time to check in for our tour. For this island, we actually booked a combination of 2 tours – ''A stingray swim and snorkel tour'' + ''Island sightseeing tour''. This would give us a fun activity to experience, as well as let us see the island itself.
We started off with a 25-minute boat ride out into the sea to a sandbar where the stingrays are. And this is not a reserve or a sanctuary. The sandbar is far out in the actual Caribbean Sea, and all the stingrays are wild. They can come and go as they please and no one can force or make them interact or come close to the tourists. They do like to linger around though, because tour guides occasionally feed them squid. And who doesn't like a free meal, right?! So, when they hear boats coming, they gather up expecting some squid.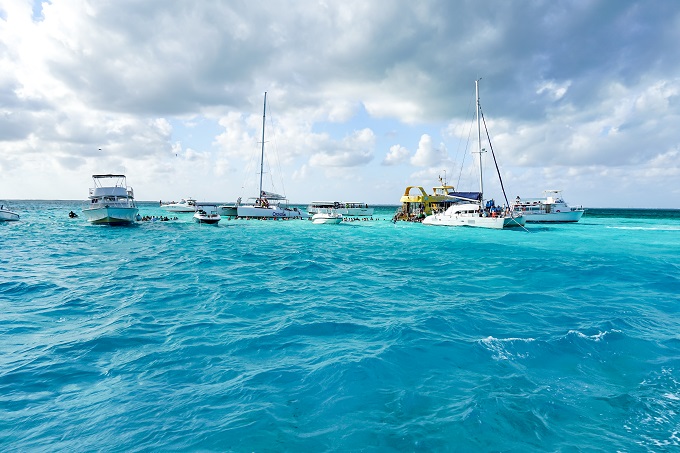 We had about 40 minutes to interact with the rays – we could take photos, snorkel and watch them underwater, feed squid and even give them kisses (for 7 years of good luck).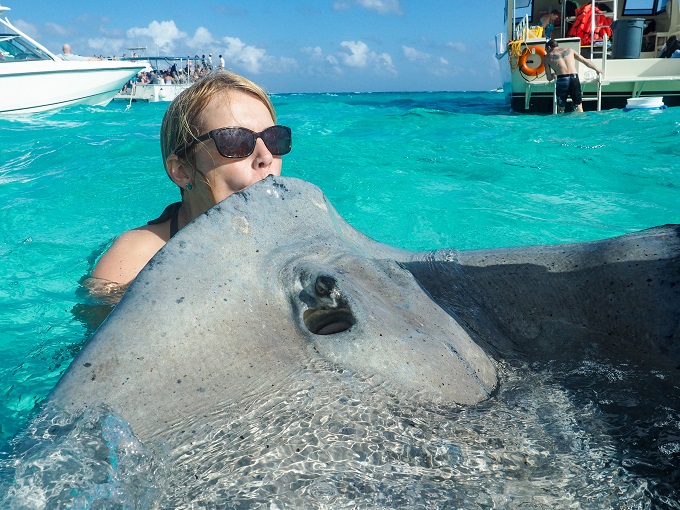 For my husband and I, this was not the first stingray experience – we swam with stingrays in Antigua a few years back; however, I booked the tour knowing it would probably be something the boys would love, especially the 4-year old (as he always asks to go to the 'Stingray feeding experience' at our Memphis Zoo). And I was right! The smile did not disappear from his face the whole time, and he just could not get enough.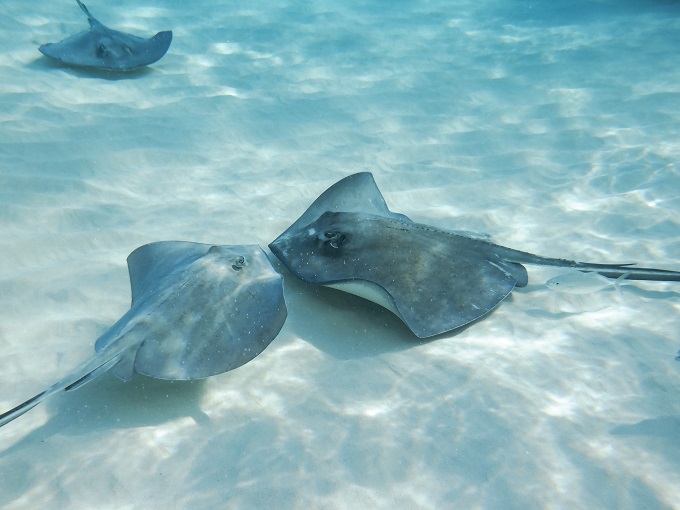 After the stingrays, we were taken to a coral reef for some snorkeling. There were many colorful fish here, as well as more stingrays. As the currents were very strong, our boys could not snorkel or swim and had to stay on the boat, so my husband and I had to take turns snorkeling. I guess I took too much time, and by the time I returned to the boat to give my husband his turn, the guide announced it was time to leave. Oops!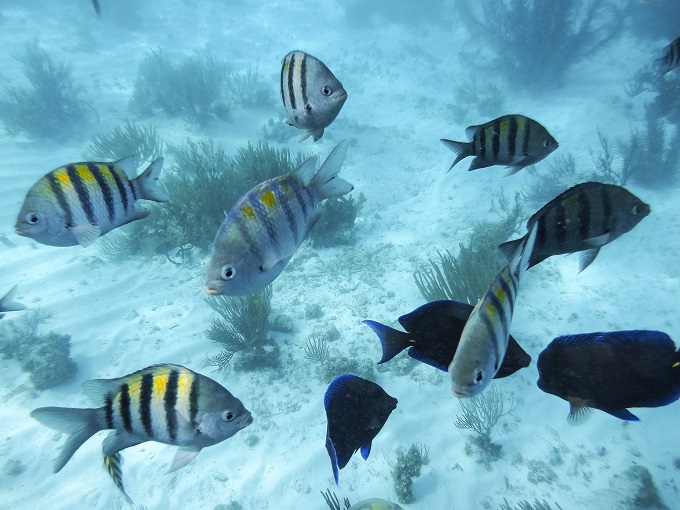 Upon returning back to the dry land, we were already greeted by the next tour guide who would take us on the island part of the excursion. One of the first stops was Hell. Yes, it is an actual name of the town, which also has a post office and for $1 you can get a stamp in your passport that says 'Hell'. Hell is actually the name of a group of short, black, limestone formations, about the size of a half of a football field. Viewing platforms are provided so tourists can see them (walking on the formations is not permitted). I guess someone thought this was what Hell must look like...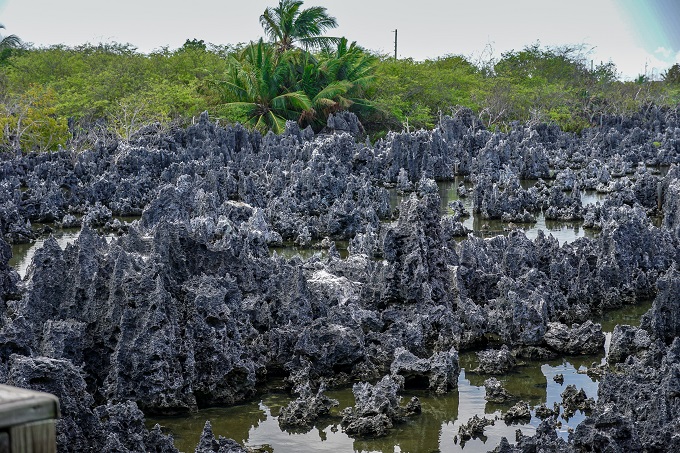 On our way back to the tour bus, our boys noticed a coconut man. Of course, that could not be passed, and they requested their daily dose of fresh coconut water! We had to get one on each island!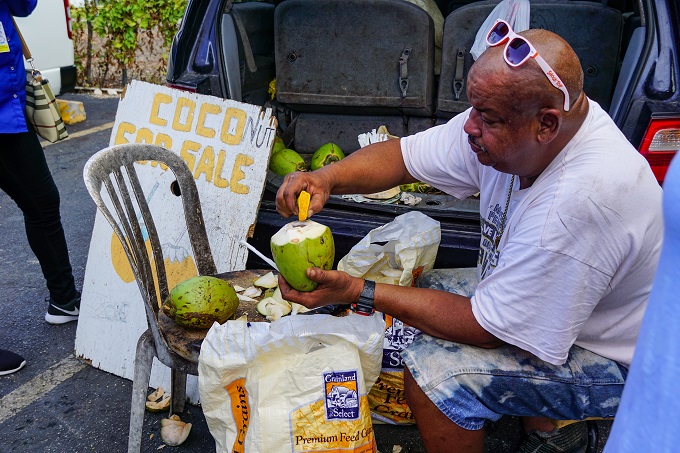 After a short stop in Hell, we headed on to the next attraction – the Turtle Center. It is a tourist attraction as well as a conservation center. They breed sea turtles to later release them into the wild. So far, the center has released about 36,000 turtles back into the sea, since 1968. The largest turtle at the facility is Sparky, a 70-year-old female that weighs about 550 pounds (250kg).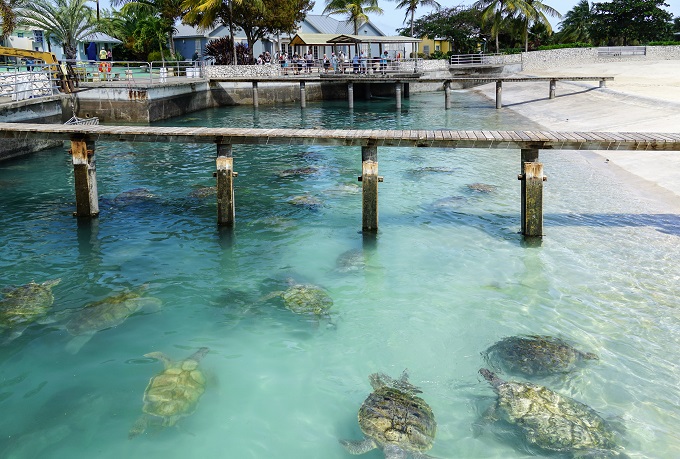 Its 23-acre property includes breeding facilities, hatchery, touch-pools, swim-with-turtles lagoon, as well as a souvenir shop, restaurant and a small waterpark.
The center, however, has also come under scrutiny for selling turtle meat. The supporters, however, argue that because the Center sells turtle meat legally, the illegal poaching has decreased which in return helps the wild turtle population.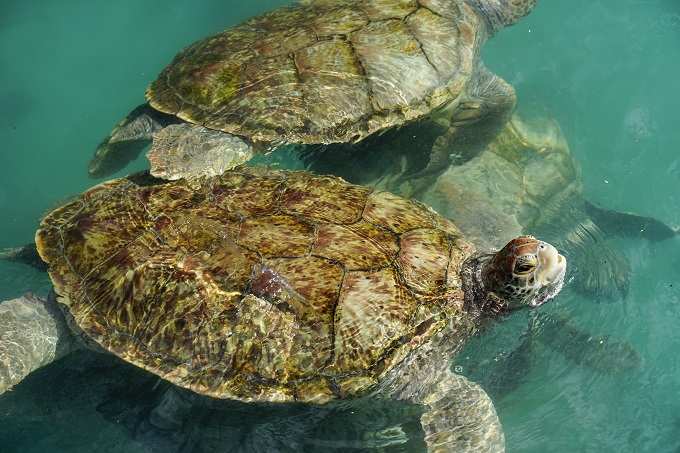 On a positive note, The Cayman Islands Department of the Environment released data showing that turtles released as hatchlings or yearlings from Cayman Turtle Centre decades ago, are becoming sexually mature and are returning as adults to nest on Grand Cayman's beaches. Between 1999 and 2003, the mean annual number of green sea turtle nests in Grand Cayman was only 16.4. There has been a dramatic increase in the number of green sea turtle nests on the island in recent years, reaching a high of 181 green sea turtle nests in 2012. Sightings of "living-tagged" nesting turtles have confirmed that some of these nests were laid by turtles released from Cayman Turtle Centre. So, I am sure they have a positive impact and their work is important.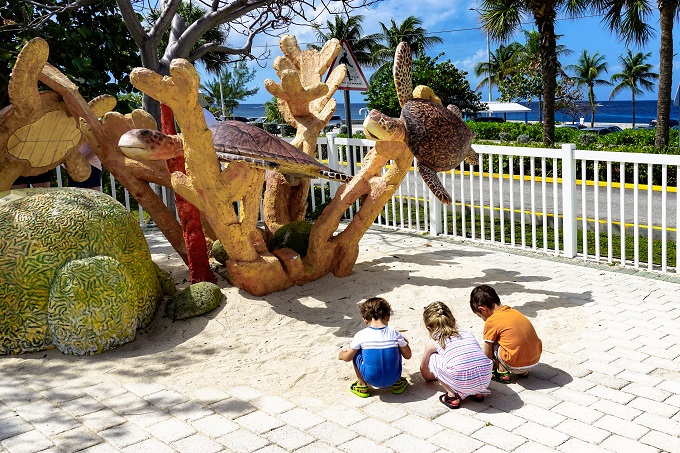 After the Turtle Center, there was only one more short stop to make – to see the famous 7-mile Beach. It was just like most other Caribbean beaches with white sand, turquoise water and palm trees. During the short 5-minute stop here, our boys managed to get themselves wet and sandy, so it was a good thing the tour was nearing its end.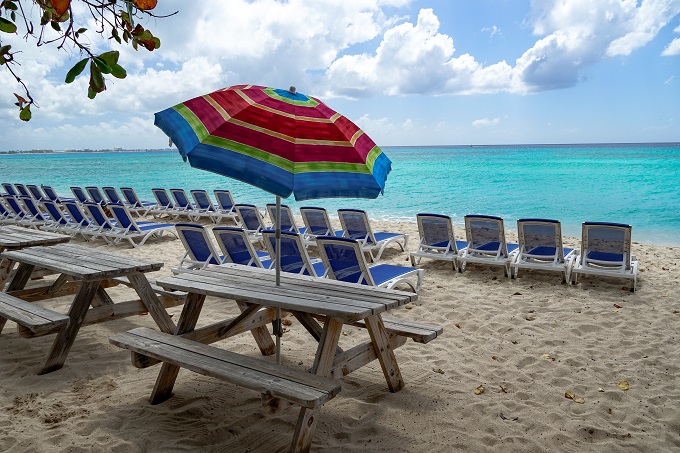 On the drive back to the port, there was quite a bit of traffic, and once we finally reached the port, there was no time left for shopping or browsing around, and we had to catch one of the last tenders back to the ship.
This had been a long, busy and exciting day, and after getting some dinner, we were all ready to call it a night.
Day 6 – Coxen Hole, Roatán, Bay Islands (Honduras)
In general, mainland Honduras is not considered to be a safe country for tourists due to gang activity, violent crime, drug trafficking and other offences; however, its off-shore island Roatán (40 miles (65km) from the mainland) is thought to be very safe, as long as general precautions are taken into consideration. The main attraction to Roatán is its location – it sits atop the world's second largest coral reef (right after Australia's Great Barrier Reef). The reef attracts many fish, and is world known for scuba diving. As we were told, this might soon become the #1 world's largest coral reef if the one in Australia keeps dying off at its current rate… Even the view from our room's balcony showed views of coral reefs right next to the ship.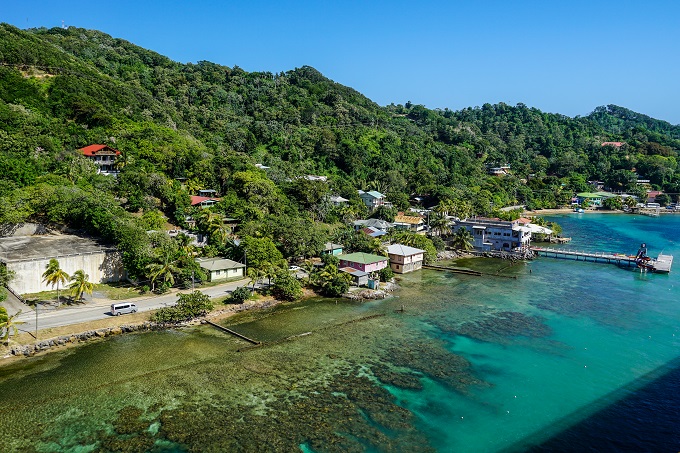 Unfortunately, with 2 small kids, scuba diving was not something we could do this time around. Instead, we chose to book an island tour to get to know a little more about life on the island and its people.
The tour started off with a drive through the island to reach the fishing villages of Oakridge and Jonesville. These old Caribbean fishing villages constructed on stilts over the water give a unique insight into the real Roatán. These villages still carry family names dating back to the days when Pirates made it their home!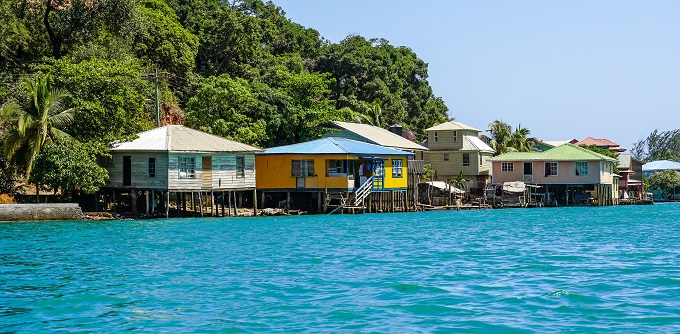 Here we boarded an authentic cayuco (a motorized canoe) that took us on an amazing journey along the village beaches and through narrow mangrove tunnels.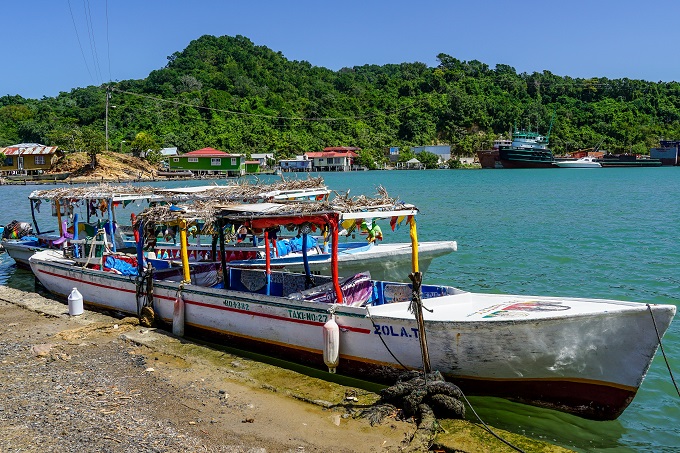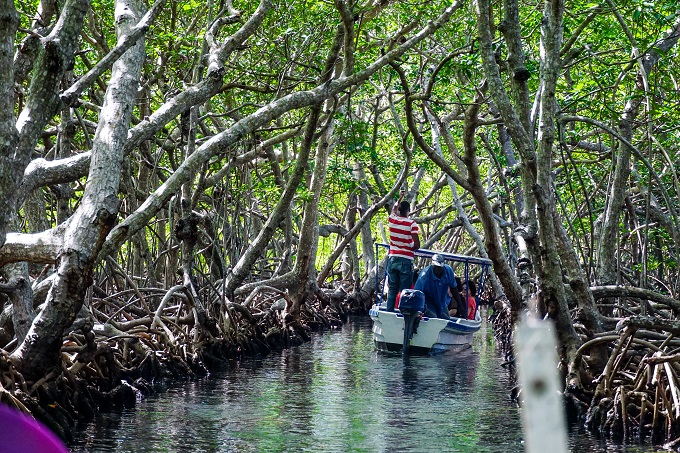 To me, the canoe ride was probably the highlight of our Roatán tour, as it was something very unique and different from what we had experienced before. Our youngest, on the contrary, decided that this would be a perfect time to take a nap! I guess it was the rocking of the boat that got to him…
After the boat ride, we headed off to the Iguana Farm. Here we got to feed and pet some friendly iguanas. It is estimated that there are about 3000 iguanas freely roaming around the property and iguanas are a protected species on Roatán.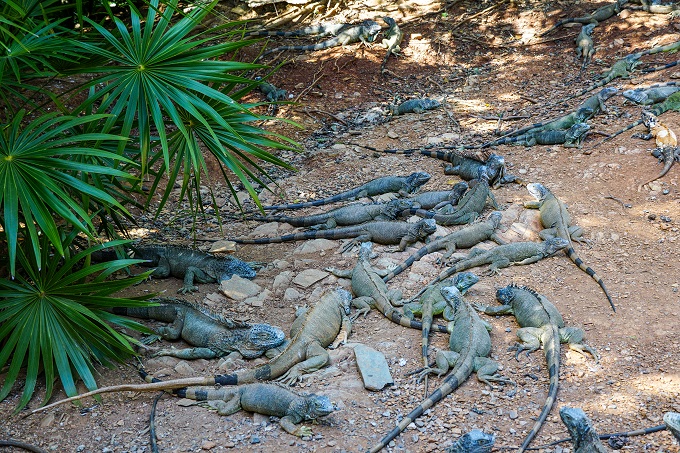 As we were walking around the property, we had to be very careful not to step on them as they were everywhere – in grass, on trails, on stair steps, in trees, under bushes…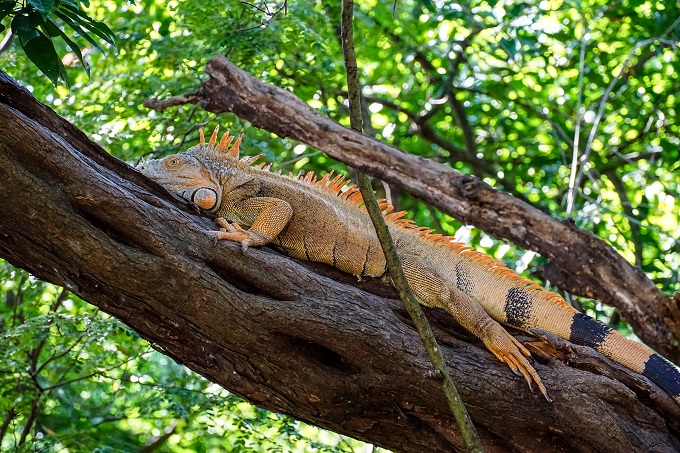 Our next stop on Roatán Island Tour was Monkey and Sloth Hang Out. It is a small family run animal sanctuary. What started out as a hobby many years ago, has over the years grown into a safe and loving environment for many animals. Here we got to interact, feed and hold parrots and monkeys; however, the highlight was meeting the adorable sloths, which are a native species of Honduras and live in the wild there.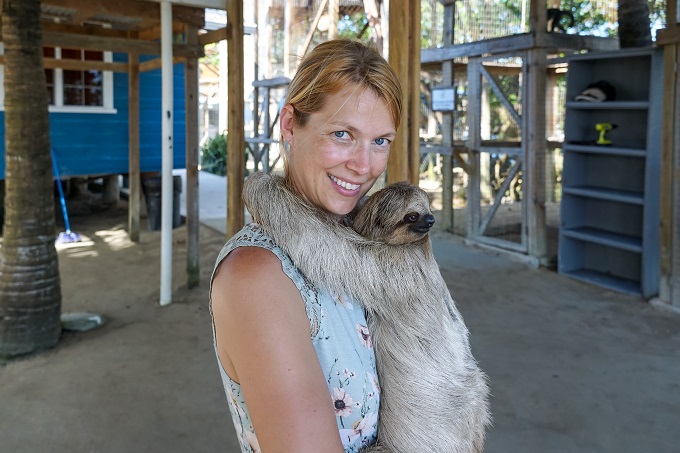 While it might be difficult to spot them in the wild, here we got to see them up close and even hold them. I even got to let a girl sloth, named Snow White, go back up in a tree (they are not caged and are free to roam).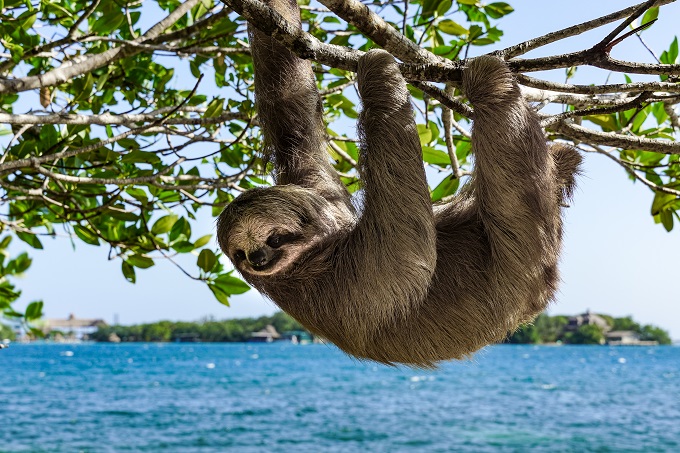 Once we were back on the ship, I asked my husband what he liked the most, and he said the sloths were pretty cute. The boys too enjoyed the monkey, iguana and all the other animal interactions the most.
On our way back to the port, the tour guide made a few little side-trips to show us several native local villages so we would have a better understanding of life there. Just like most of the Caribbean or Central America – the life is quite modest, and many houses are not even houses but shacks.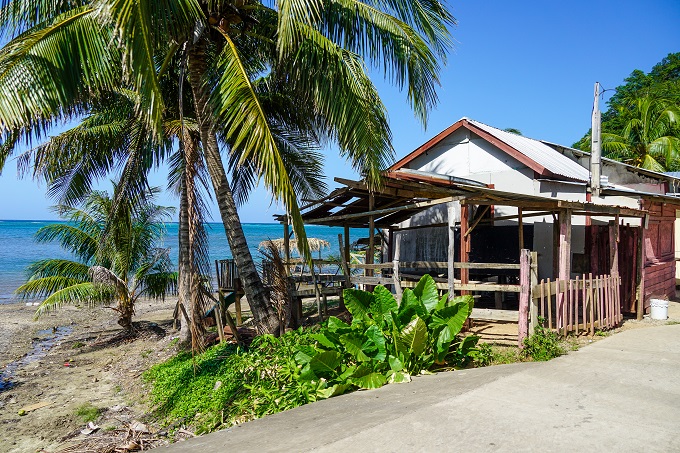 The minimum salary (monthly) in Honduras is $400 but many don't even make that. So, life can be pretty rough here. The two main sources of income are fishing and tourism. But even with all that, people are very friendly and there isn't even a prison on the island. If someone commits a crime that requires imprisonment, they are sent off to mainland Honduras.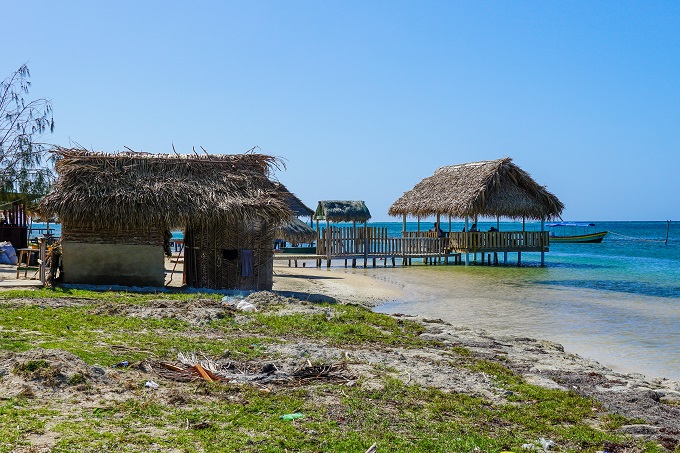 Once we got dropped off at the cruise port, we still had some time to shop and explore. So, we acquired some souvenirs and sat down for alcohol free piña colada and strawberry daiquiri (which mostly got absorbed by our boys).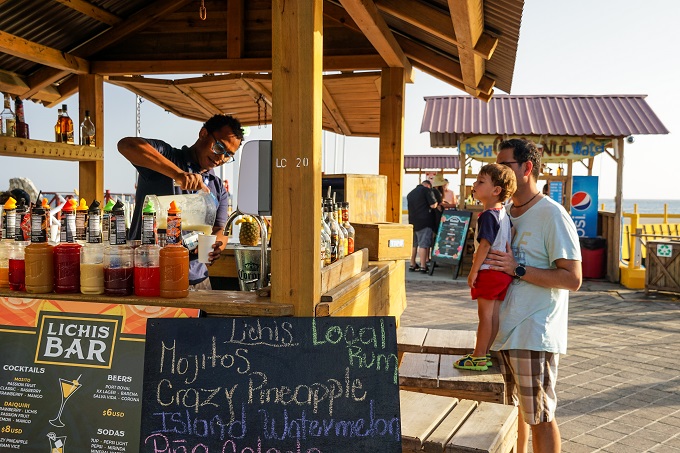 Afterwards, it was time to make our way to the ship to get some dinner, rest, and wake up in a new place tomorrow.
Day 7 – Harvest Caye, Belize
Although Belize has always been high on my list of countries to visit, on this particular trip this was the stop I was looking forward the least. Why? Because Harvest Caye (= key / island) is not really Belize, and to an extent, it is not even a real Belizean island. The island is solely owned by Norwegian Cruise Line and it was built to be a private resort for NCL cruise ship passengers.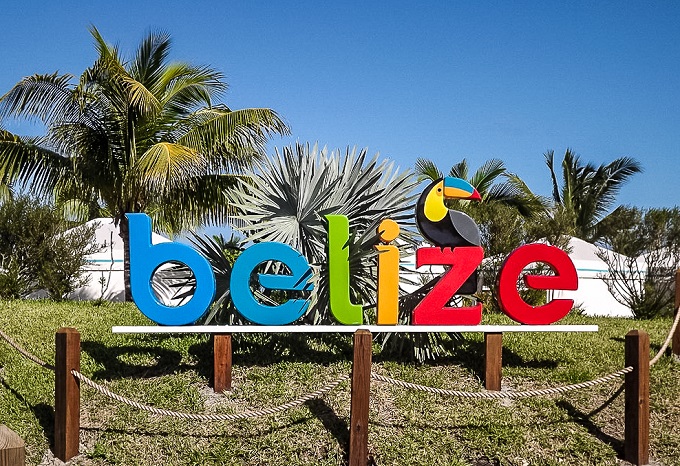 Those who want luxury and relaxation are in for a treat; however, those who want to experience Belize won't get it here. For that reason, we opted to book a boat tour that would take us off the island and into actual mainland Belize, so we would get to experience it at least a little bit.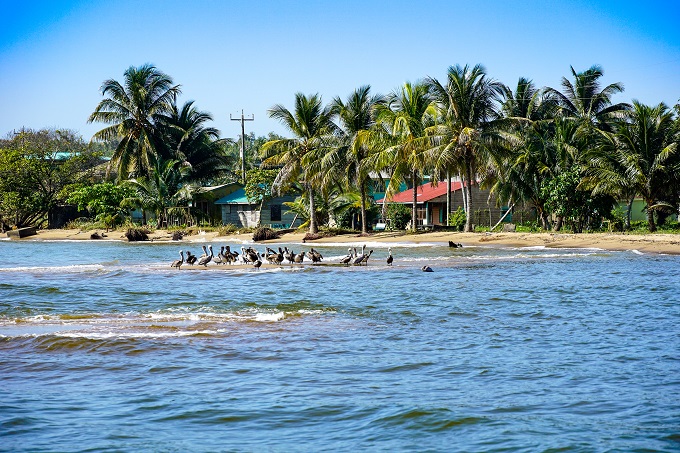 Because we were on Norwegian's private island, there were no independent tour operators, so we had to book the tour through the cruise line, which came at a hefty price tag, including the 2-year old! This was the only tour we took through the cruise line during the whole trip, and the only one where we needed to pay a tour fee even for a 2-year old.
The tour started with all of us getting on a boat and crossing the Caribbean Sea to mainland Belize to reach the Monkey River which is bordered by undeveloped, wild rainforest. It is called Monkey River for a reason – the jungle around it is a habitat for howler monkeys whose screeching voices can be heard from afar. And already at the very start of the river, our guides spotted 3 monkeys into the tree canopy and stopped the boat, letting us all watch them for a while.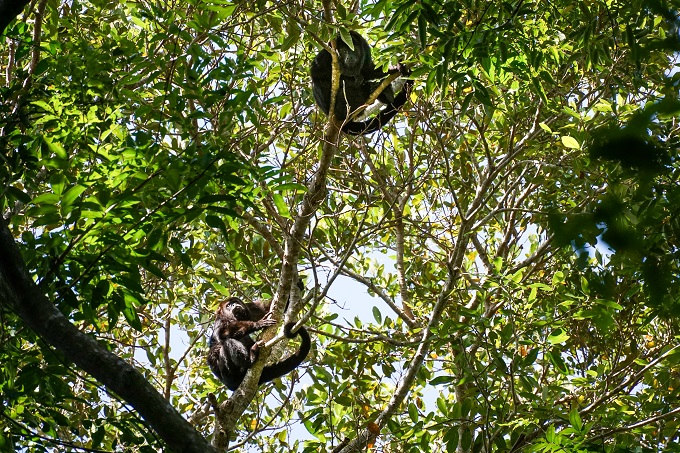 Apart from the monkeys, we saw a lot of other wildlife along the river banks, like iguanas, turtles, crocodiles, and also many land and water birds. After about 45 minutes of cruising, the guides stopped the boat and we went on a short jungle hike, where we saw more monkeys, spiders and even a boa constrictor, as well as got introduced to various plants and trees growing in Belizean rainforest.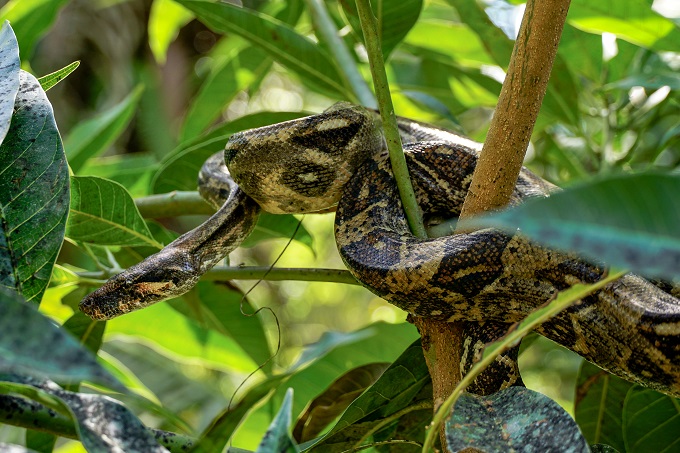 On the way back, once we reached the Caribbean Sea again, we were greeted by a dolphin who swam very close to our boat. Overall, this tour definitely justified its name 'Eco Tour' as we did indeed see a lot of wildlife and got to experience the jungle in its wild, undeveloped form.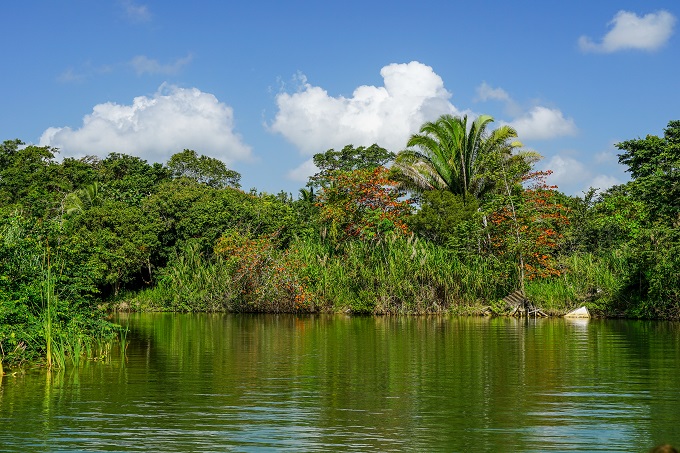 The boys, however, enjoyed it a little less than I expected. I think it was the combination of being tired from all the days before, as well as being contained to a tour boat for hours unable to move or run around.
Once back on the island, we decided to return to the ship for lunch, and then go explore Harvest Caye itself. It was just as I expected – a resort-type vibe with swimming pools, bars, shopping and restaurants.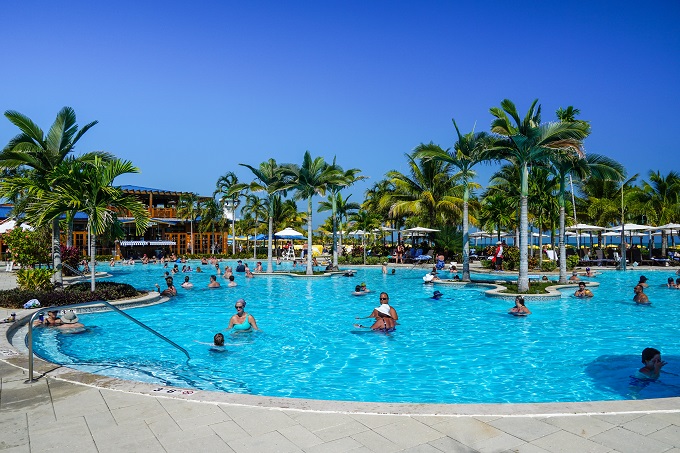 The boys were totally into it though, and spent their time between the kids splash pad area and the beach. They could finally have the run of the place and the calm waters of the beach were safe enough for them to swim in on their own.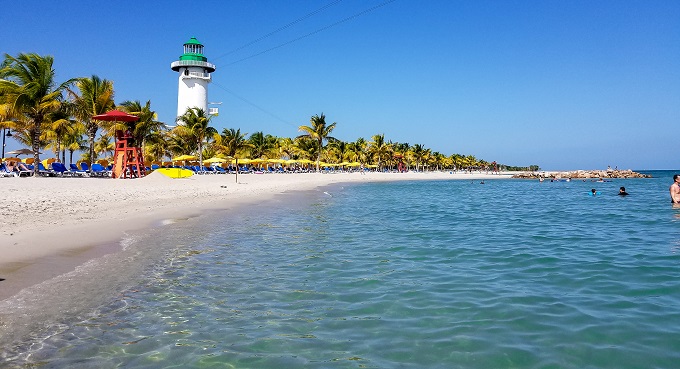 As the island is only a mile long (1.6km) and barely 400ft (120m) wide, it can be walked in its entire length within 30 minutes. There is also a lagoon here for paddle boarding or kayaking, a zip-line and wildlife experience (butterfly garden, several aviaries and smaller animal exhibits). While the boys were enjoying the beach under my husband's watchful eye, I took the opportunity to wander around and explore the island.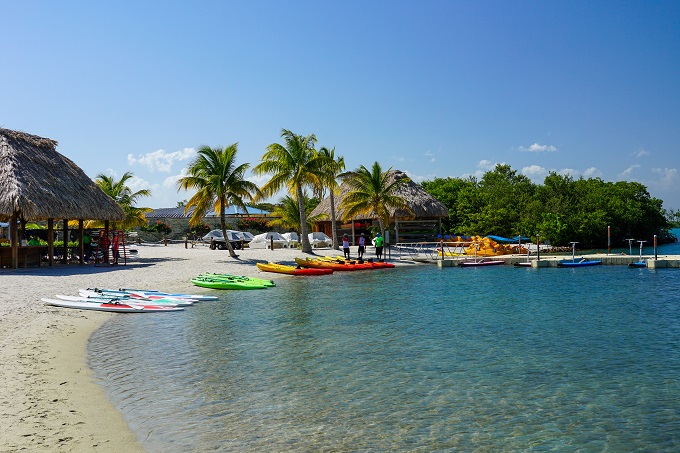 It is definitely a nice place to be for those wanting to just relax and do nothing for a day. I personally would have preferred we had an opportunity to experience the real Belize more.
As the day was nearing its end, we caught one of the last tenders back to the ship (along with many others lining up for it), and bid farewell to Belize. There was just one more port left to explore on this trip.
Day 8 – Costa Maya, Mexico
Our last cruise port was scheduled to be Costa Maya in Mexico. Although we had been to Mexico before, it was a different part of Mexico (Cancun and Isla Mujeres), so we were excited to see what Costa Maya had to offer.
The ship docked at the port very early and we were getting off just as the sun started rising. It made for a very pretty scenery!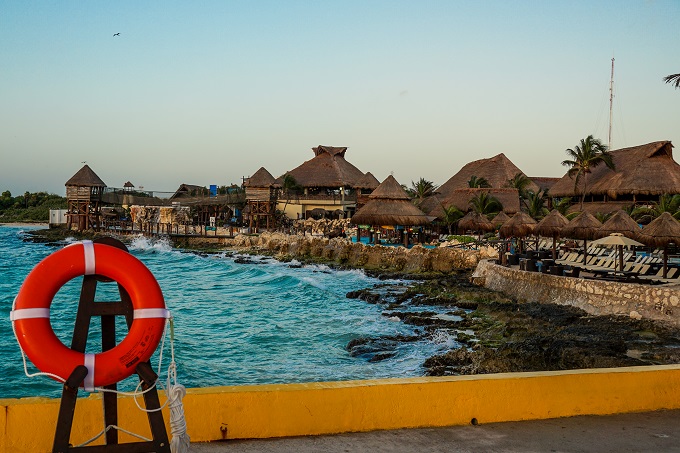 The port itself was one of the best we had seen on this trip – lots and lots of restaurants, bars, cafes and shops. Many activities right there at the port – swimming pool, beach games, street performers. Lots of photo opportunities – flamingo fountain, actors dressed as ancient Mayan people, Mayan ruin replicas etc.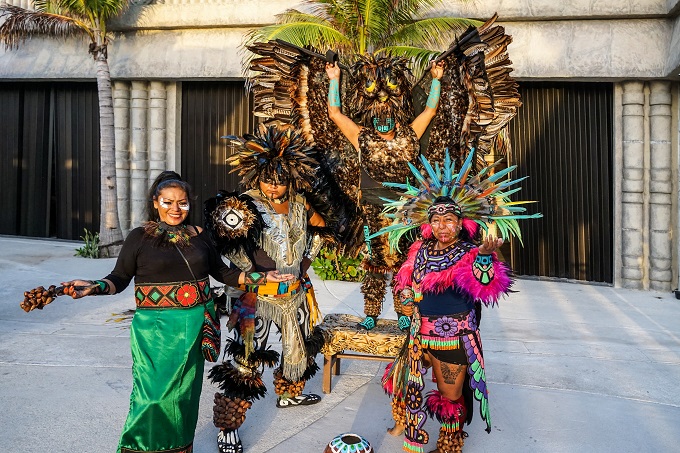 Although we had pre-booked a tour that we needed to get to, we constantly got side-tracked by everything that was going on around us. Everything was so bright, colorful and attention-grabbing!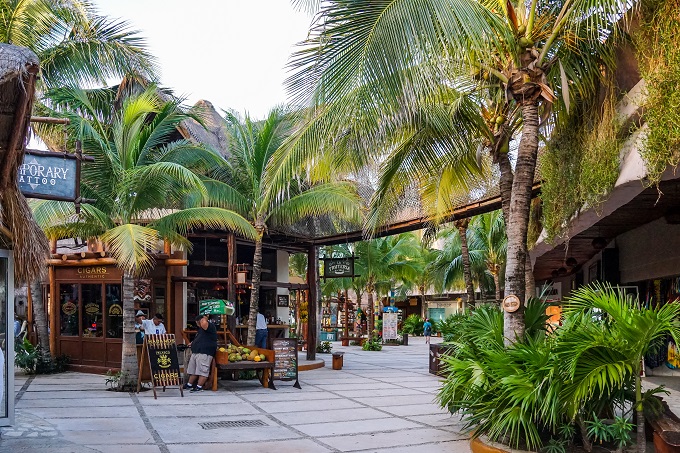 Eventually, we made our way to the tour office and shortly after we were on the way to our destination. For Mexico, I had chosen a tour to Chacchoben Mayan Ruins which are situated about an hour's drive from the port. These ruins were once a mighty city used on and off from 1000BC until 1000 AD. It lay dormant for nearly 1000 years and was found by a farmer wanting good land in 1942. It was not until 1972 when archaeologists began exploring the ruins and had it listed with the Mexican Government. Restoring started in 1994 and it was not officially open to the public until 2002. Because of the remote location, the ruins are usually very empty from tourists unless a cruise ship is in port.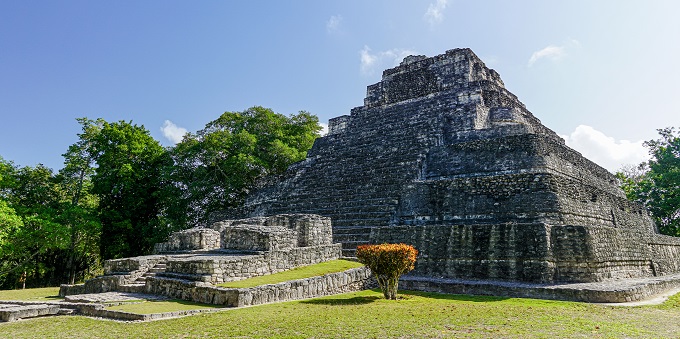 The ruin complex is only partially restored, and many buildings are still completely covered with 1000-year old vegetation – moss and tree roots deeply embedded into the stone structures. The guide said this is one of the natural ways of preservation – the tree roots wrapping themselves around the buildings prevent them from collapsing and preserve the historic look and significance.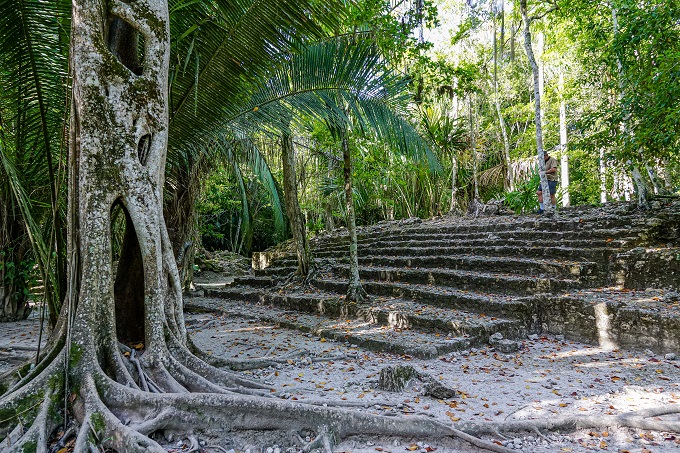 Several other buildings, however, were fully restored and the boys had a ton of fun climbing them and playing with the rocks they found on the ground.
The whole complex felt like a magical place – it was far out in the middle of nowhere, hidden by a lush forest and spider monkeys playing in the trees. And then there were the magical Mayan pyramids standing high above the tree canopy, as well as yet uncovered parts of the ruins engulfed by vegetation, leaving it up to our imagination as to what we think it might have looked like back in the day…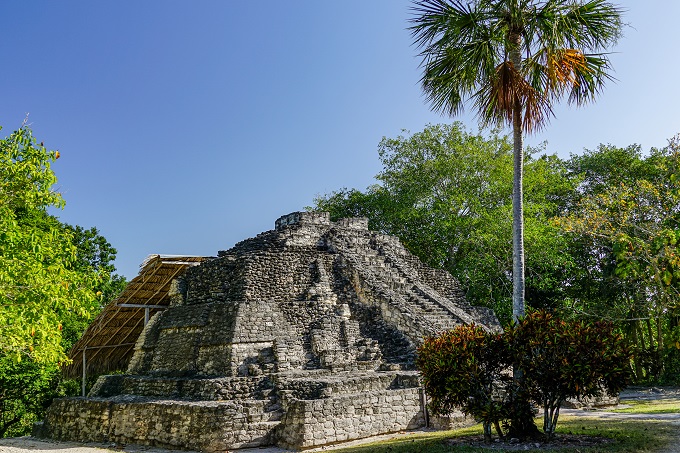 And although we had been to 3 other Mayan ruin sites during our previous trip to Mexico years ago, seeing one again just wowed us all over again. There is just something supernatural about these sites that leaves you wondering…
Upon returning, for those interested there was an option to spend some time at a local village, Mahahual, before going back to the cruise port. As we still had some time, we chose to visit the village. The beach was lined with restaurants and souvenir shops meant for tourists, but a few hundred feet inland the real villagers' life could be seen.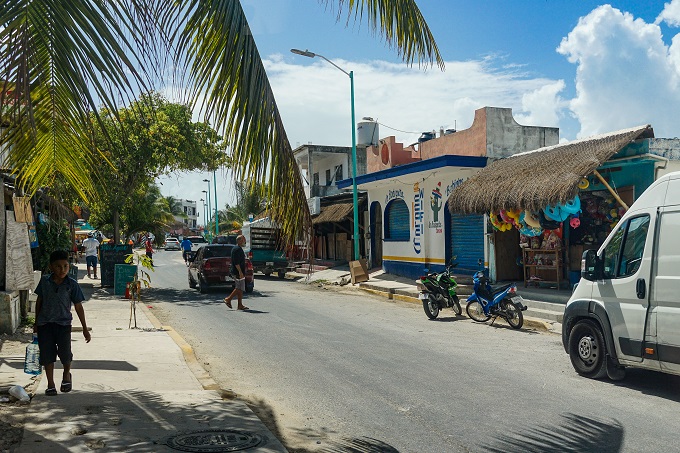 As our time was very limited, we only walked along the main street, grabbed some coconuts to quench thirst and played on the beach with our boys for a while.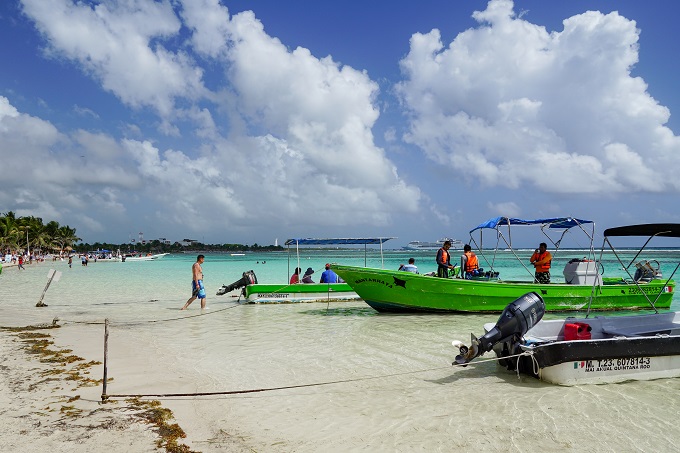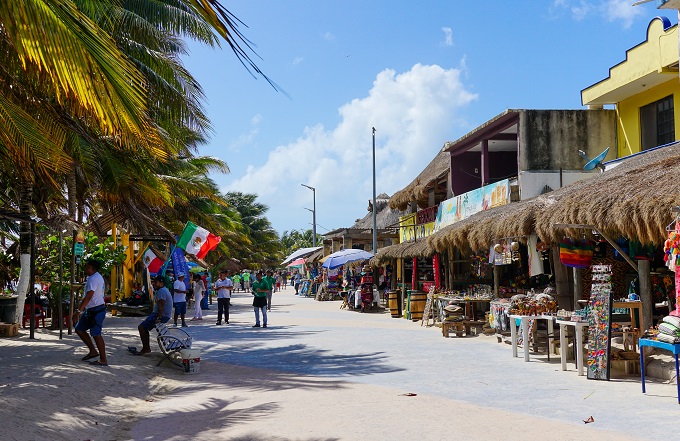 As we were cutting it very close to the ship's departure time, there was no more time left to explore the port area, and we almost literally had to run to our ship to make sure we made it on time. Apparently, many others enjoyed Mexico as much as we did, and shortly before departure we heard 16 names being called out over the ship's loudspeaker – 16 people had not yet made it back to the ship. I am not sure what happened to them as we sailed away shortly after. I just hope they made it and did not get left in Mexico! This was one of those ports I truly wished we had more time to explore as Mexico has so much to offer!
Day 9 – At Sea
After 5 days of busy sightseeing, we finally had a full day to relax again. We slept in, ate, ate some more, and enjoyed many of the ship's activities – ping pong, swimming pool, mini golf, splash pad, climbing wall etc.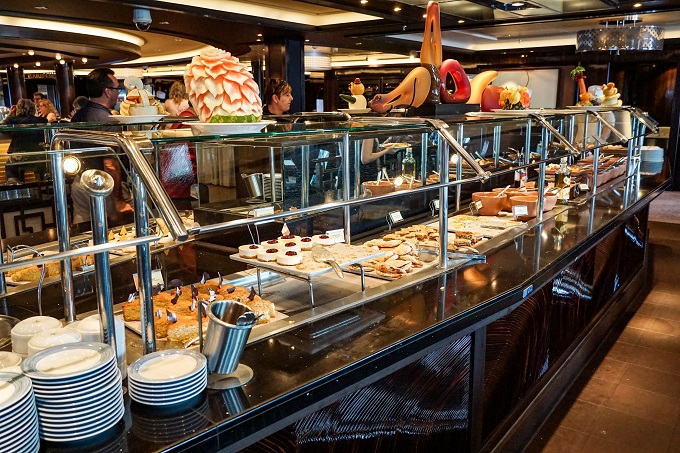 Only on this last day did we find out that the rope's course had a little kids section where even a 2-year old could try it. It was so adorable and our boys had a blast here. I wish I had discovered this at the beginning of our trip! This only shows you how big the ship is – 9 days spent on it and we still discover new things to do!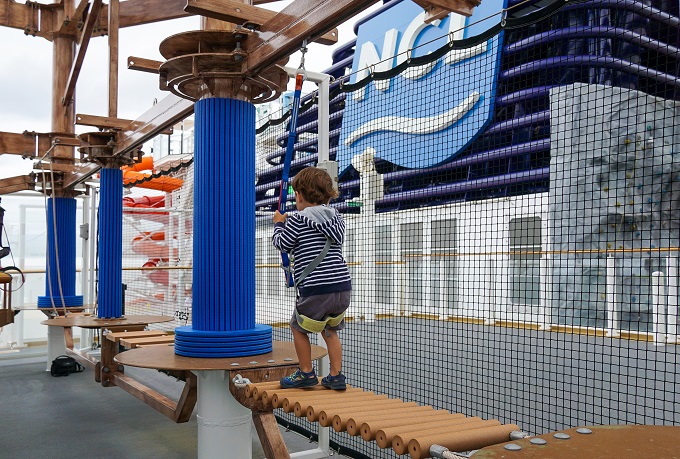 After we put the boys down for the night, I had to face the sad truth - it was time to pack up our luggage as this was the last night we were going to spend on the ship. Tomorrow would bring us back to reality. However, I could still enjoy one last, beautiful Caribbean sunset from our stateroom's balcony...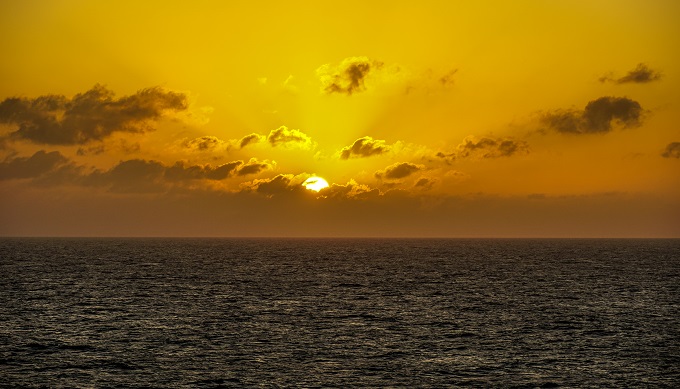 Day 10 – Disembarkation and New Orleans
As we opened our eyes in the morning, gray skies, wind and rain greeted us through our balcony window.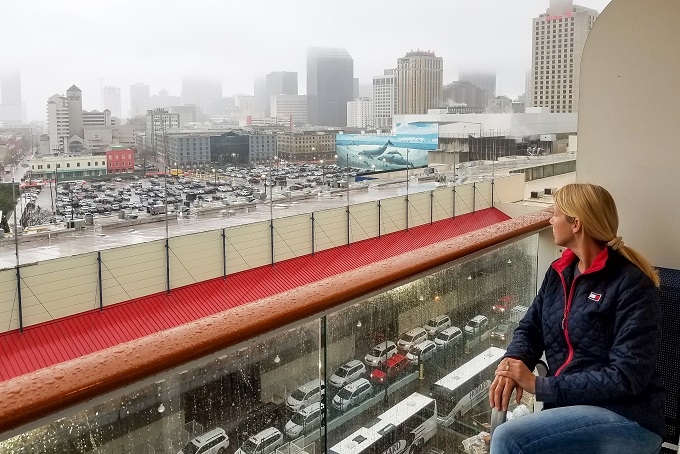 Our previously jolly walk to the breakfast buffet was wet, rainy and cold. The pool chairs were neatly packed up and empty and not a soul could be seen in the usually crowded top deck area. We were back into long pants and rain jackets.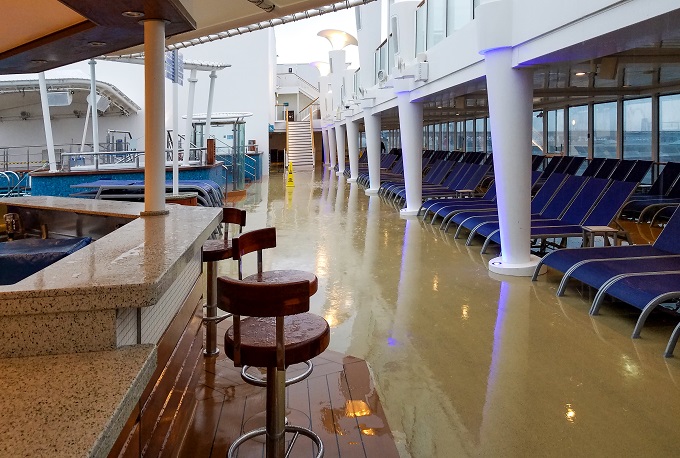 We were in no rush to leave the ship, so we took our time eating breakfast and talking over our adventures. We wanted to linger here just a little bit longer, just a little bit longer…
As it was Mardi Gras time in New Orleans, we had planned to watch some parades after getting off the ship; however, the weather was so unwelcoming that we decided not to stick around. The boys were tired, my husband and I were wet and cold, so the decision was made to just get in the car and start our 7-hour long drive back home. On our way out, however, we did manage to catch a glimpse of some of the big parade floats parked and ready for their show.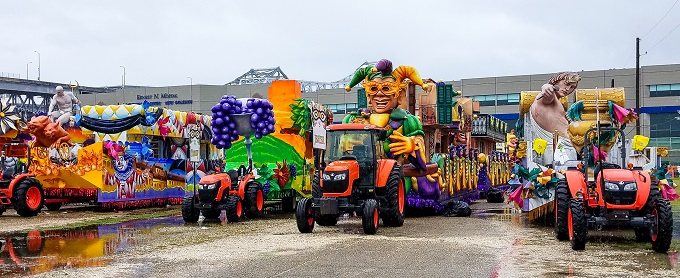 And it was not just rain and cold that welcomed us back home, but also a flat tire! About an hour into our drive we got a flat tire that ended up being un-repairable, so we had to find a shop and get a spare just to get home. Yes, the carefree vacation was over indeed!
*So, how was it to go on a cruise with 2 little kids? *
It was definitely different from our 1st cruise experience, that's for sure. We really had to pick and choose our activities while on-board. There were a lot of things we would have loved to see or do, but it was just not feasible with 2 young kids. Although I had things like dueling pianos, comedy shows, trivia shows and the like on my list to possibly see/do, we never ended up doing any of those because the boys just would not have had the patience to sit through any of them. Instead, we spent a lot of time by the pool, splash pad, ropes course, sports complex, mini golf etc which gave us the freedom to come and go as we pleased.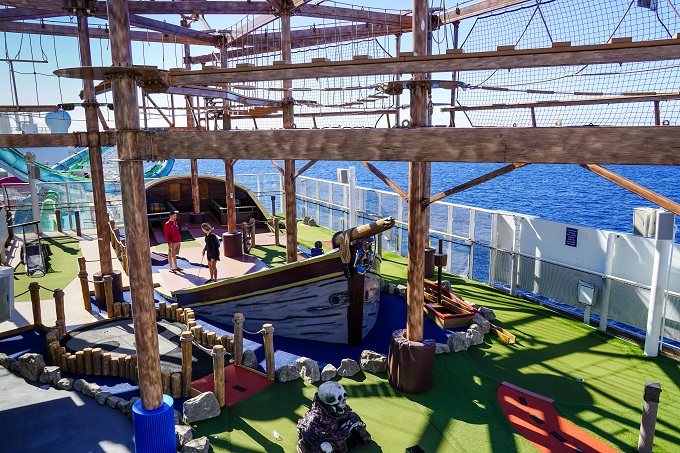 Our meals were 90% at the buffet. We gave restaurants a shot a few times, but the hassle of keeping the boys still and quiet was just not worth it.
Also, because of the busy days, most of the time the boys were asleep by 7PM, which kept my husband and I stuck in the room with them. If we got hungry, we had to take turns going to a buffet and eating alone because one of us had to stay back in the room with the sleeping boys. Not much fun, really. Thank God for the balcony room – we could at least sit and watch the ocean go by all evening long.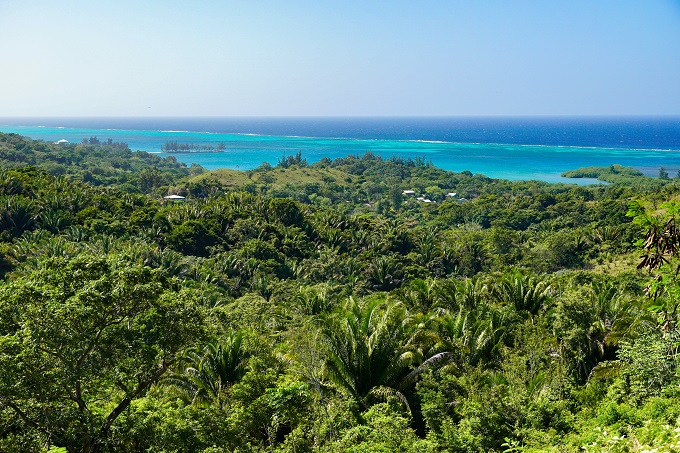 But to be honest, all of the above-mentioned things were what I expected, so it did not come as a surprise. I know my kids and I knew exactly what we were signing up for. Overall, we all had a great time as a family – nobody worried about work, and we were all together which was the most important thing. We enjoyed our time on the ship, and we enjoyed seeing new countries and experiencing new things. In the end, fun was had by all – small and big, young and old.
Our tours:
Jamaica: ''Blue Hole, Secret Falls and Dunn's River Falls'' by Excursions in Jamaica. $60 adult; $55 child; 3yrs and under free.
Grand Cayman: ''Two-stop Stingray / Snorkel Tour'' by Capt. Marvin's. $40 adult; $30 child; 3yrs and under free. + ''Hell and Turtle Farm Island Tour'' by Capt. Marvin's. $30 per person; 3yrs and under free.
Honduras: ''Roatan Garifuna, Mangrove Tunnel & Iguana Farm Tour'' by Island Marketing Ltd. $45 per person; 3yrs and under free.
Belize: ''Monkey River Eco Tour'' booked through Norwegian Cruise Line. $99 adult; $79 child.
Mexico: ''Costa Maya Chacchoben Mayan Ruins Excursion'' by Tucan Tours. Adults $50; child $44; 2yrs and under free.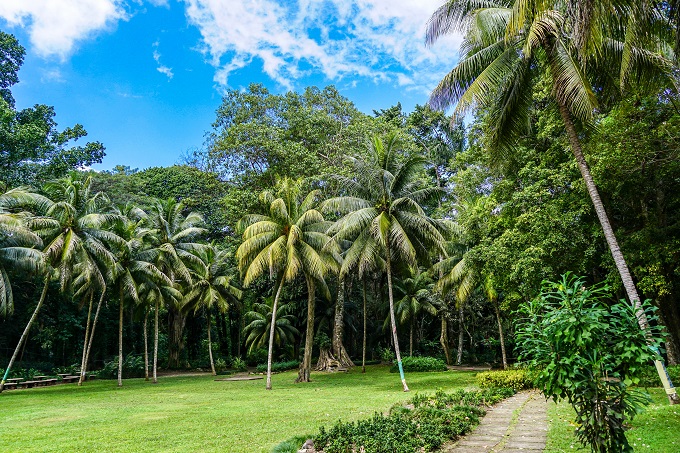 More photos from the trip can be seen in the following galleries:
Grand Cayman, The Cayman Islands