WASHINGTON DC CHERRY BLOSSOM FESTIVAL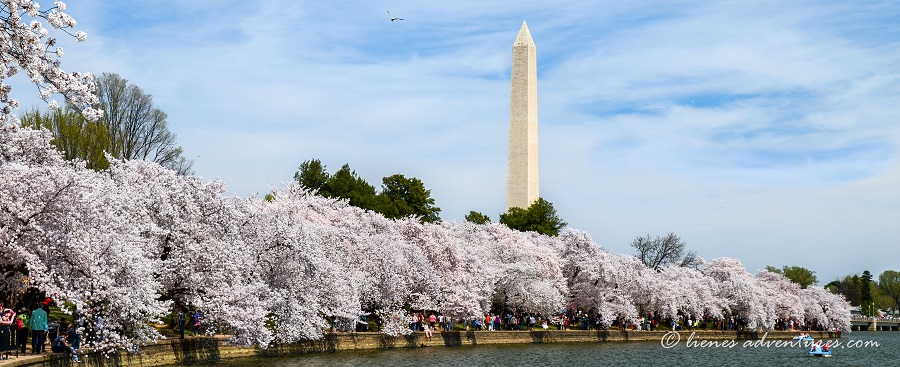 Late spring is surely not the most popular season for a vacation - the weather is unpredictable and not really all that warm yet; the rain can come and go; and many tourist activities are still not operating. So why is Washington flooded with a million tourists every March, both from the USA and other countries and continents?! No, it is not to see the White House or the Capitol. It is something much more modest and down to earth (literally and figuratively) – the Tidal Basin cherry trees and blossoms!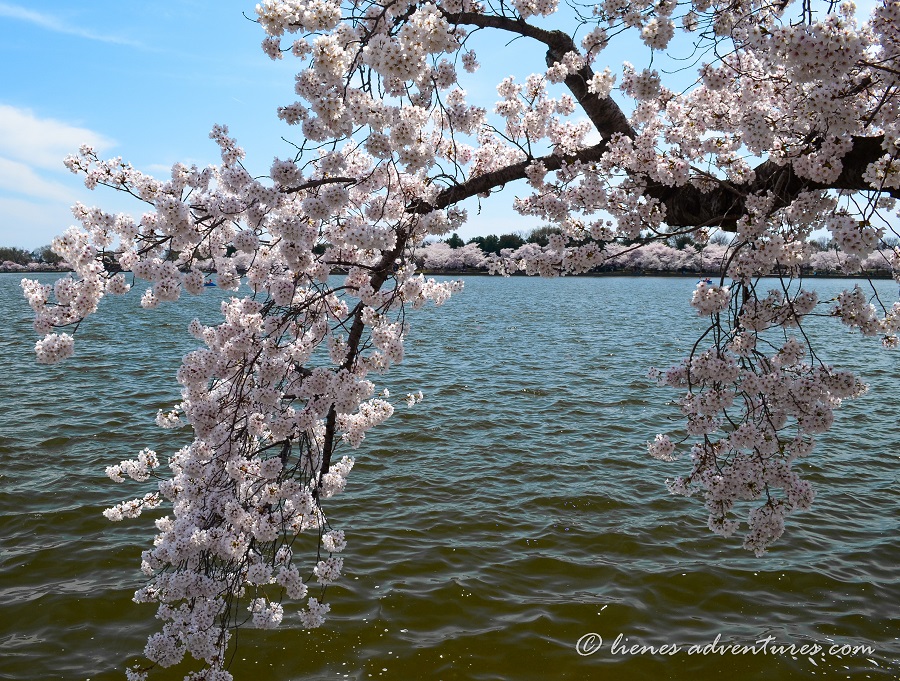 The Cherry Blossom Festival takes place in Washington DC at the end of March / beginning of April and lasts for exactly 2 weeks. It includes various cultural events, festivities and of course the blooming cherry trees themselves.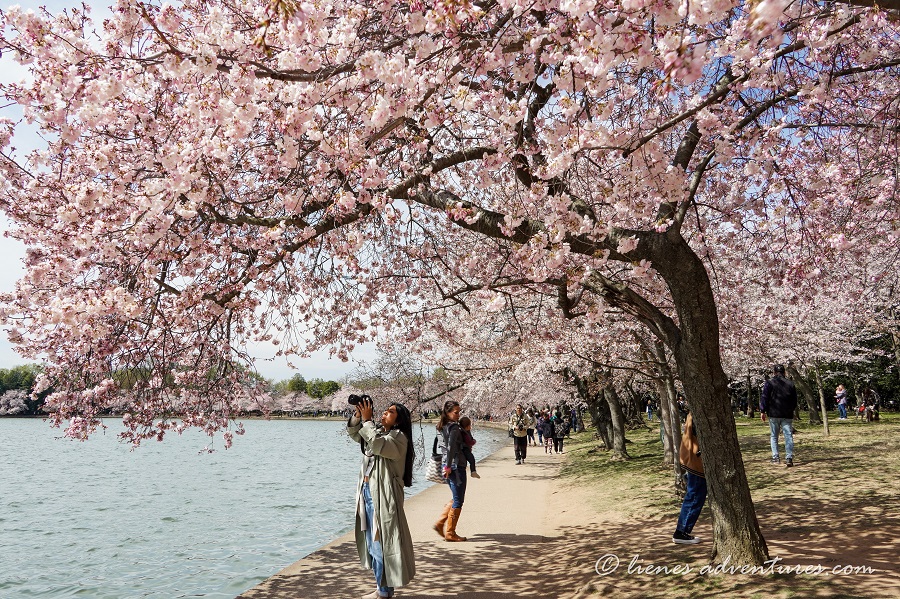 A brief history is that in 1912 the Mayor of Tokyo presented these flowering cherry trees to Washington DC as a symbol of friendship and cooperation. The trees were planted mostly along the Tidal Basin (an artificial body of water in the center of Washington DC) as well as various other near-by places around the city. Now there are nearly 4000 of these trees to be seen and they bloom with purple, pink, yellow and white flowers and come in different varieties. A fun fact - these trees will not produce any berries in autumn.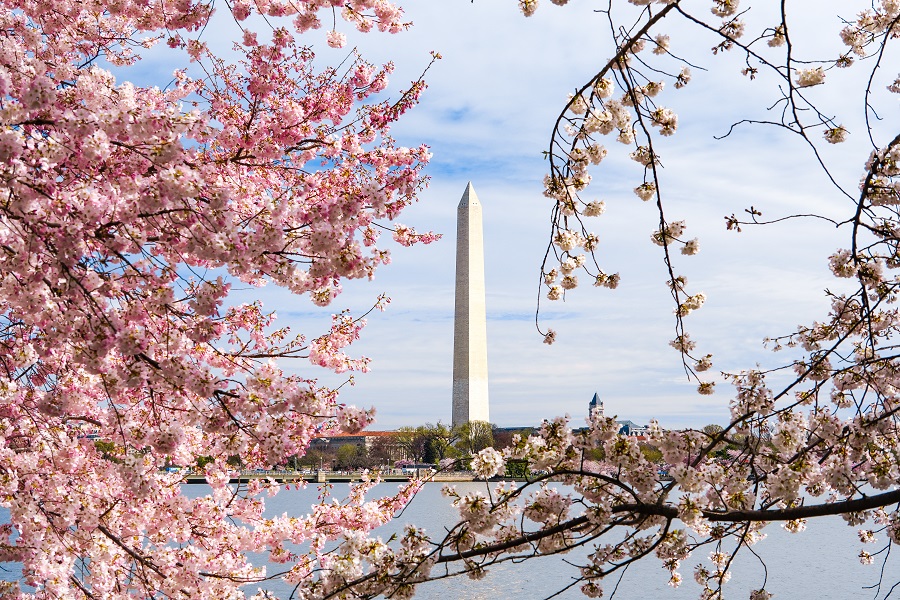 But how could one possibly know when the cherries will bloom? As it turns out, the National Cherry Blossom Festival has its own set of botanists and scientists whose job is to determine (ahead of time) when exactly the cherries will reach their bloom. The Peak Bloom prediction is the date every visitor is waiting to hear about.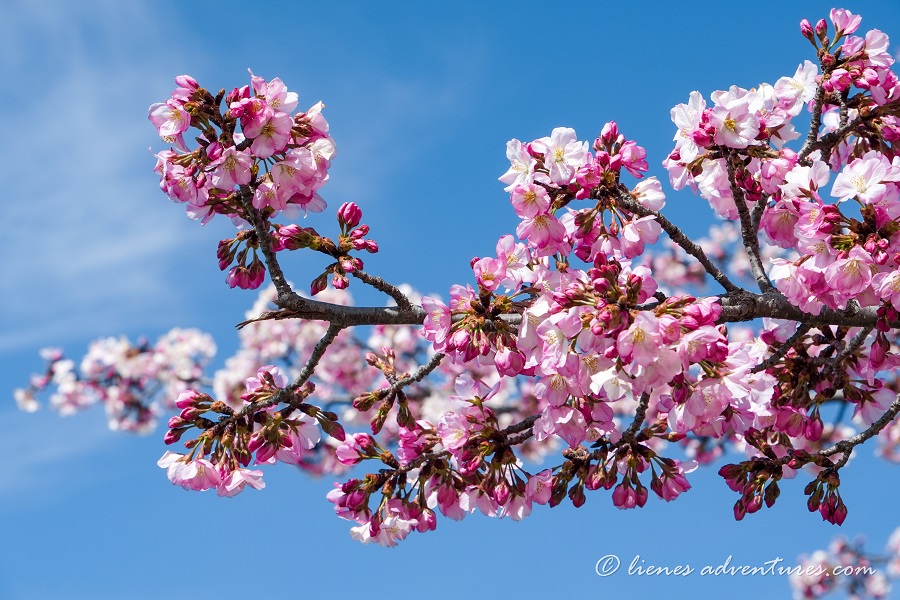 Peak bloom, or the time when 70% of the cherry trees are flowering, lasts only 72 hours so tourists rely on this information to book their flights to Washington. The first predictions are usually released in early February. However, cherry blossoms can often be affected by the weather and sometimes the predicted date can change. The festival traditionally lasts for 2 weeks because that is how long it takes for the first cherry tree to bloom and for the last petals to fall…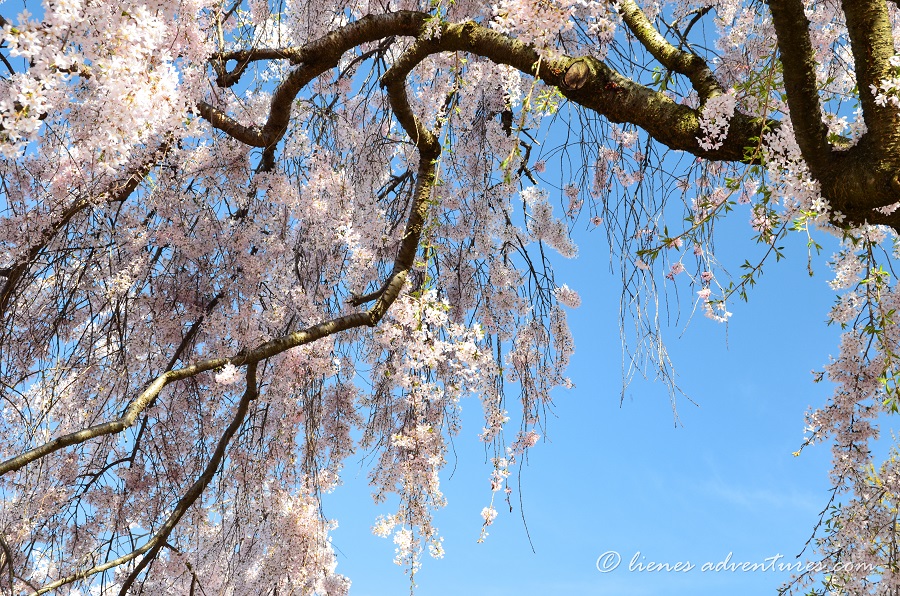 We have visited Washington DC Cherry Blossom Festival many times, and each year we have had a different experience:
• One year the peak bloom coincided with an extremely cold weekend - I could barely take off my gloves long enough to snap a few photos.
• Another year the peak bloom was predicted to be March 26 but the unusual and erratic weather patterns messed with the cherry trees and the peak bloom date got pushed to April 3… then April 6… and then finally April 9. Needless to say, tourists who arrived on March 26 were not too happy.
• Yet on a different year after months and months of freeze and snow, the weather changed seemingly overnight. It was suddenly sunny with blue skies and 80 degrees. The plants couldn't resist and everything was blooming at once – the cherries, magnolias, forsythias, tulips… It was so colorful and magical.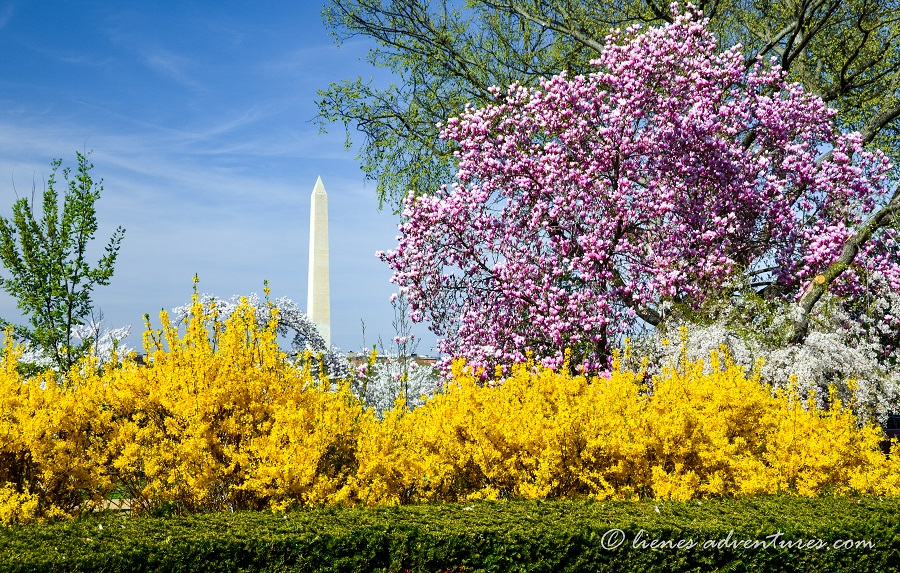 Our latest experience in March 2023 was that the peak bloom happened on a warm and sunny weekend. While workdays can still be somewhat manageable, if the peak bloom falls on a weekend it is just a complete chaos! There is no avoiding crowds – and not just right around the Tidal Basin but any walking distance around Washington DC. If you know that going in, you will still have a great time because hundreds of cherry trees in full bloom is a sight to see!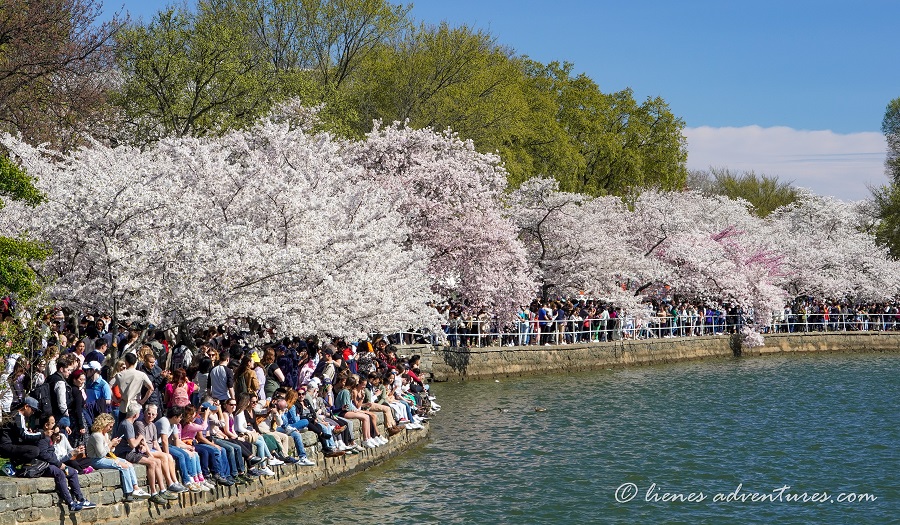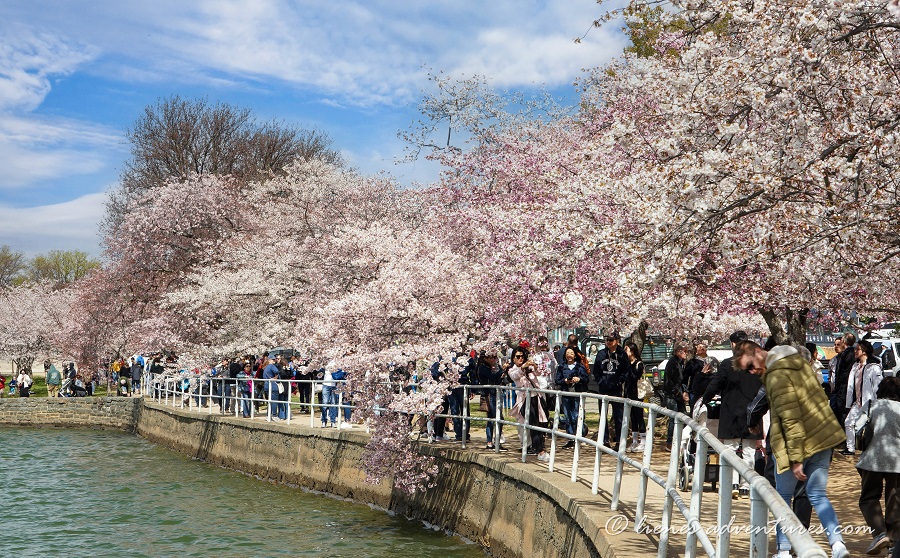 Apart from admiring the beauty of the trees, an array of activities and cultural events take place during the Cherry Blossom Festival - the Blossom Kite Festival; a sushi/sake celebration; classes about cherry blossoms; a bike tour of the Tidal Basin; cultural performances; kimono fashion shows; a fireworks show; Cherry Blossom Ten Mile Run; ceremonial lighting of the 360-year-old Japanese stone lantern and much, much more.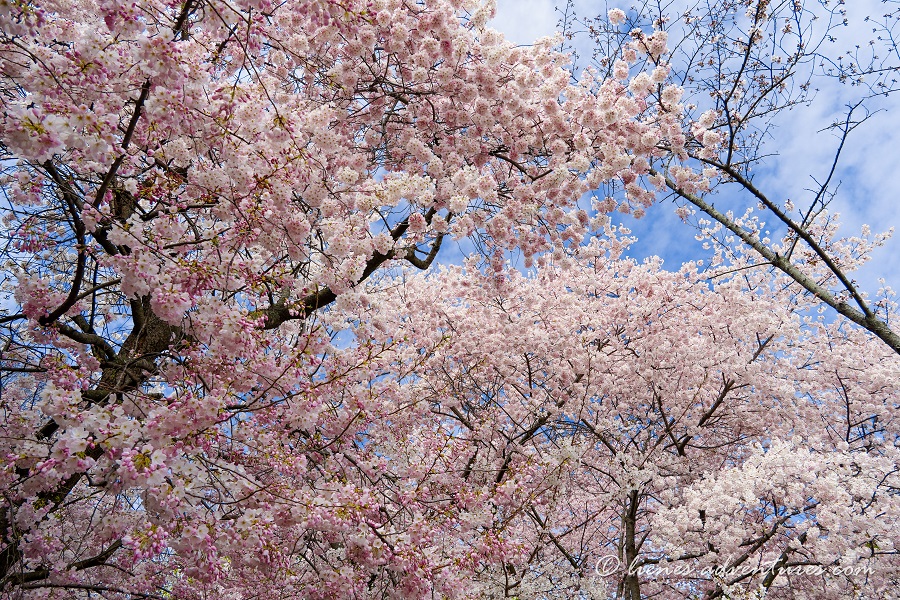 Another popular ''activity'' is literally to just do nothing! People bring their picnic baskets, blankets, and just simply enjoy the day sitting under the trees watching the world go by.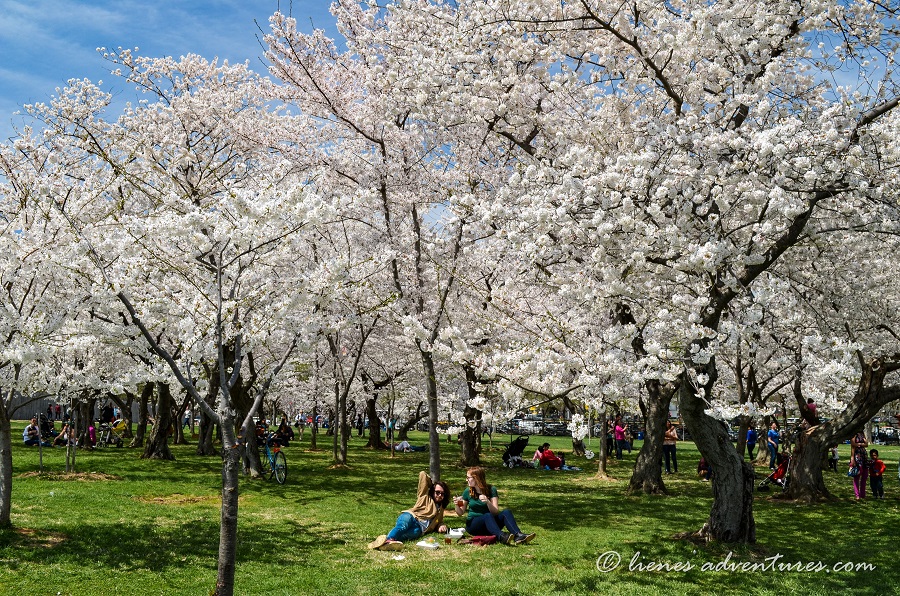 My boys were especially excited about the opportunity to earn their Cherry Blossom Junior Ranger badges. The National Park Service runs their Junior Ranger programs at many national parks but they have a special program created specifically for the 2-week Cherry Blossom Festival. And the Cherry Blossom Junior Ranger Badge can be earned only during these 2 weeks. So, if you have kids – pick up a junior ranger book from a park ranger, complete the tasks and earn the badge which also serves as a great souvenir!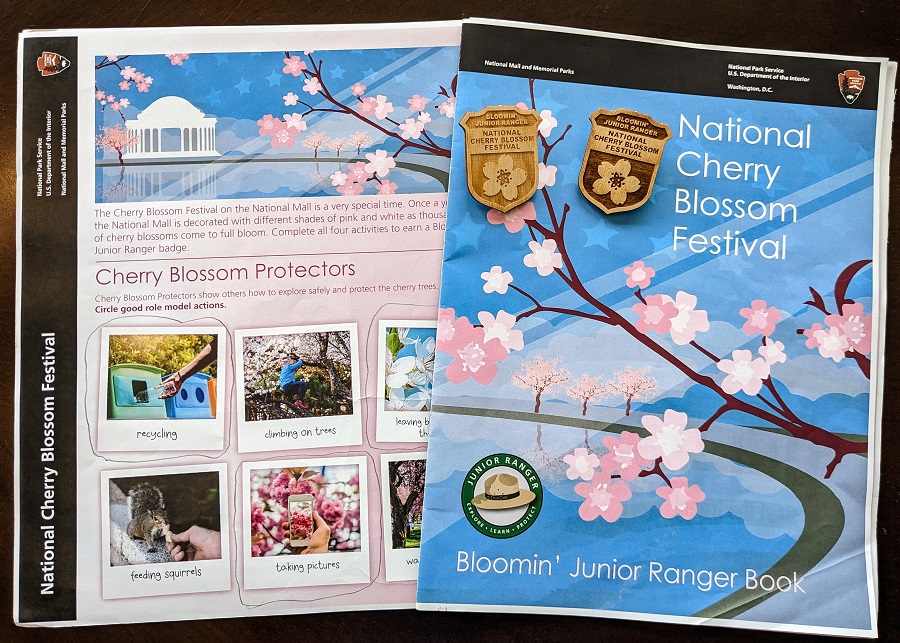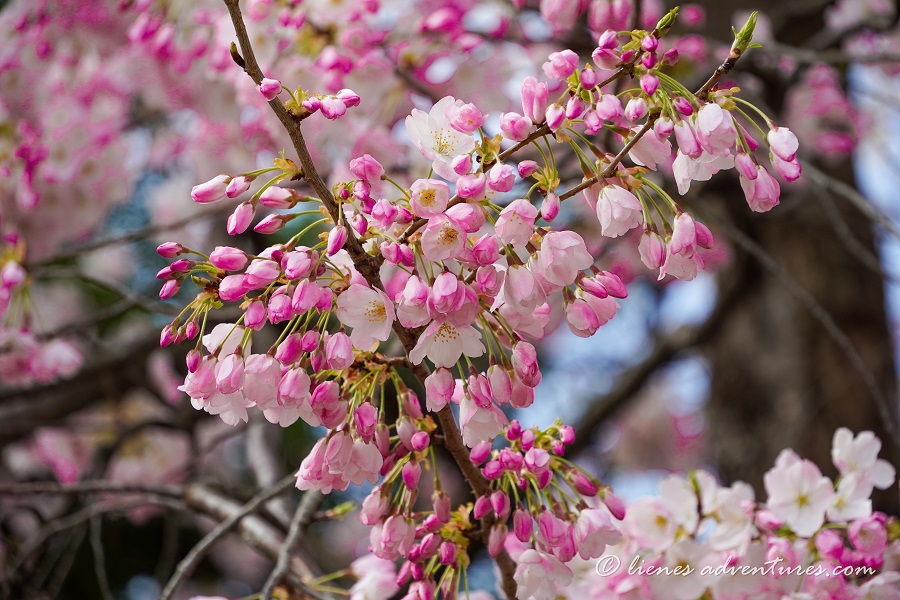 Another fact worth mentioning is that the Tidal Basin is within walking distance of many of the memorials. You can easily walk to the Jefferson Memorial, Roosevelt Memorial, Washington Monument, World War II Memorial, and even places like the White House, the Capitol and Arlington Cemetery. So, if any of these are on your to-see list you are in luck – it will just require comfortable shoes and a lot of walking.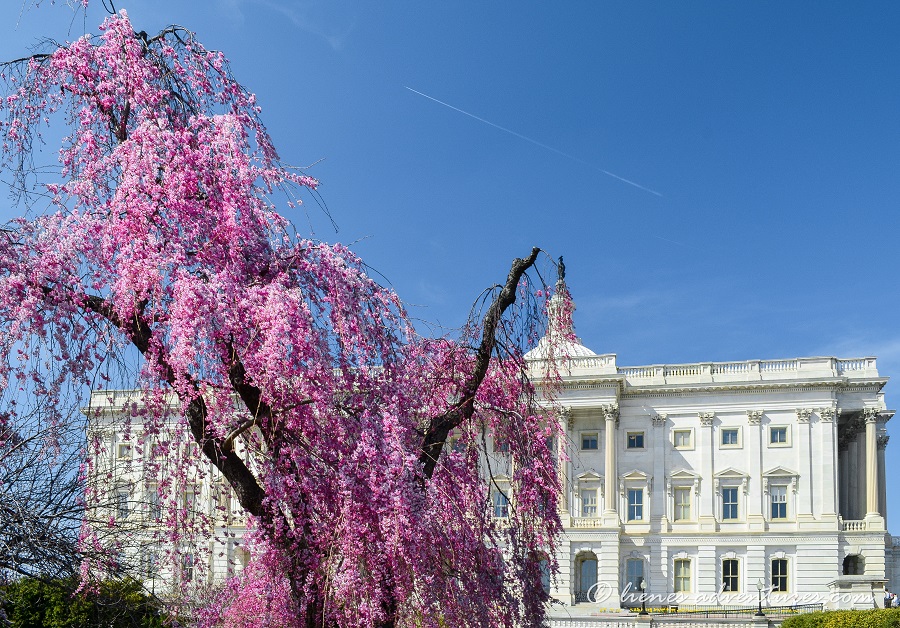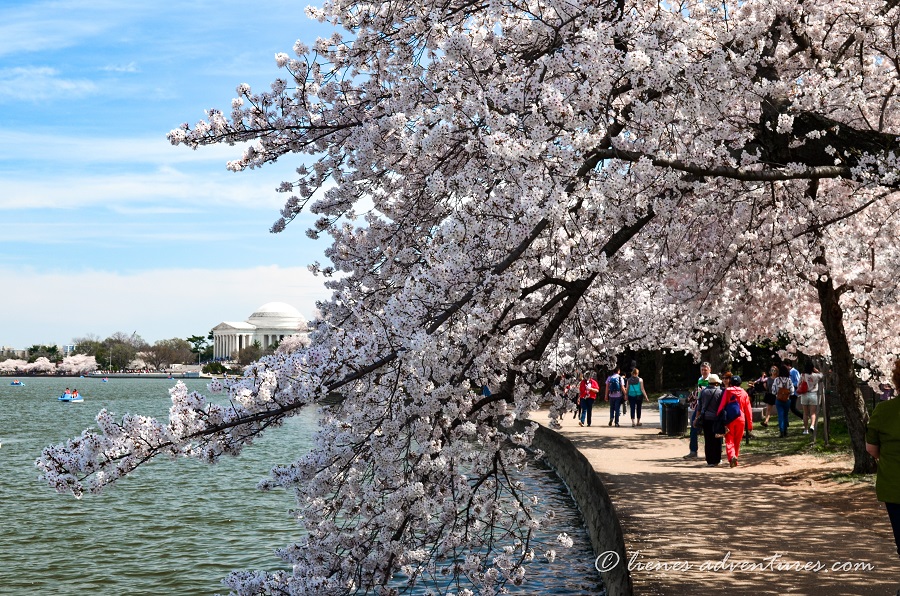 A frequent local resident you will encounter here is going to be the famous Washington squirrels. They are so friendly and brave that they will eat nuts right out of your hand if you let them.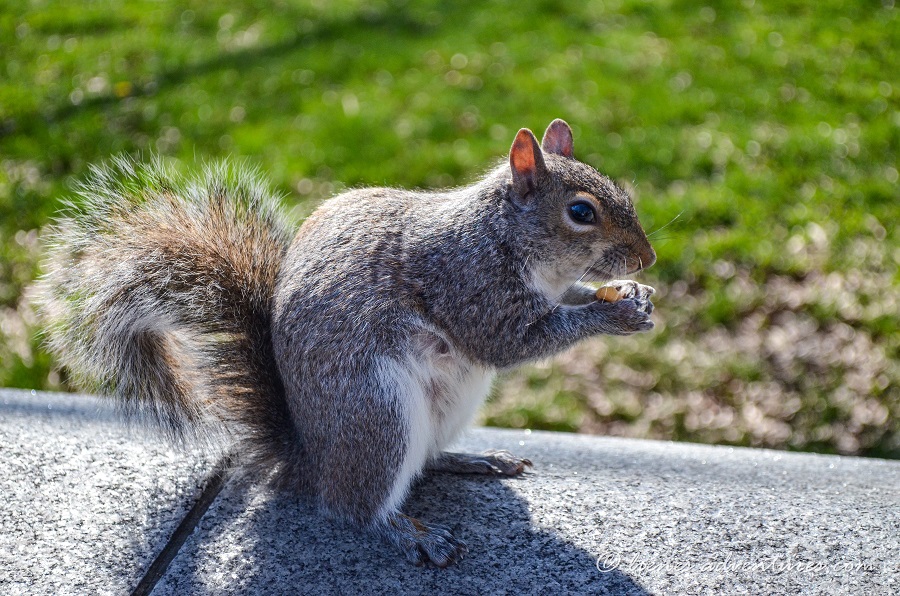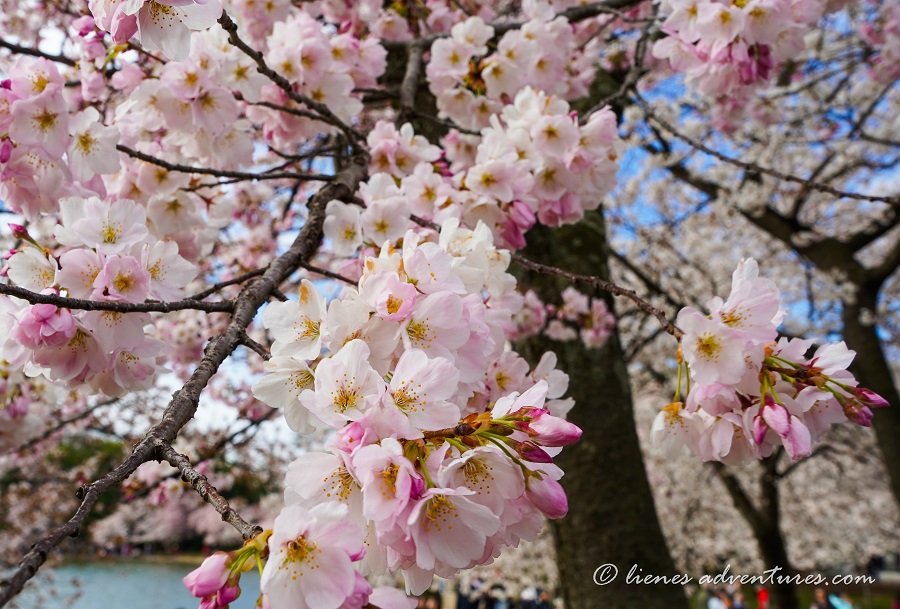 To conclude, I will answer the question that many might ask: Is It Worth Seeing Washington DC Cherries? I guess that depends. If you plan a trip to Washington DC in spring and have the opportunity to be flexible with your timing, the cherries are definitely worth seeing. However, if you despise crowds (imagine a jam-packed outdoors concert where you need to elbow your way through) and it will ruin your experience then peak bloom time might not be for you. As a matter of fact, my favorite time to see the cherries is about 2-4 days AFTER the peak bloom when some petals have started to fall and cover the ground in pinks and whites but there are still plenty left on trees. The crowds have started to thin (especially on weekdays) but the views are still as beautiful.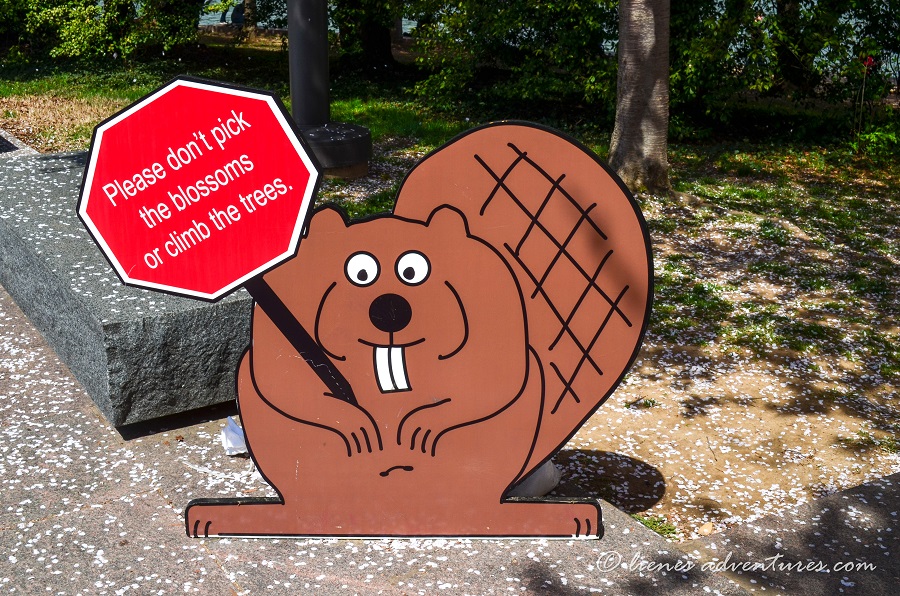 No matter how many times I have seen Washington DC cherries, I still return here every single spring for as long as we have lived in the Washington DC area. And every year I tell myself that next year I won't come back... however once the spring comes - you will find me in the cherry blossoms yet again!