The Space Coast of Florida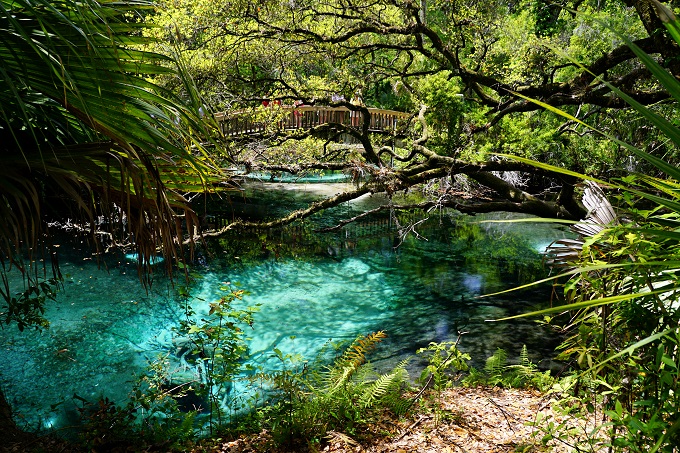 As crazy as it might sound, we were packing for our 4th trip to Florida, all having taken place within the last year and a half. But I am not complaining as Florida is one of my favorite US states and as luck would have it, each one of these 4 trips for one reason or another has taken us to a different part of Florida. The reason behind the trip this time was a co-worker's wedding; however, it wouldn't be us if we didn't take an opportunity to make a little mini vacation out of the event. Armed with a few extra days we headed out on our little adventure.
During my 1st visit to Florida we went to Ft Lauderdale and Deerfield Beach area, the 2nd trip was to Key West, Miami and the Everglades, and the 3rd visit was Florida's Emerald Coast. This time we were heading to Orlando and Daytona Beach trying to squeeze in as many other sights as we could possibly manage given the limited amount of time.
Upon landing in Orlando Int'l airport, we got our rental car and headed straight for the Kennedy Space Center.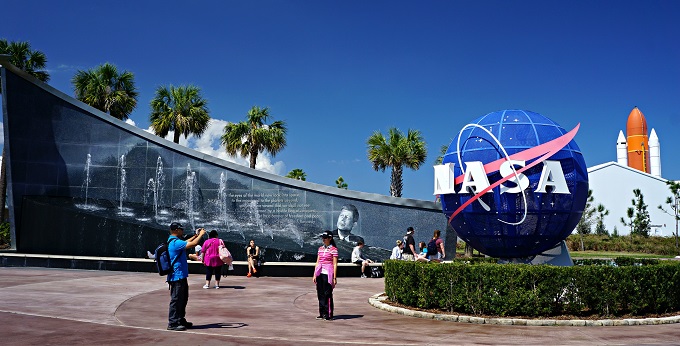 I had both heard and read great reviews about the exhibits at this Center but honestly speaking, I was quite underwhelmed with what I saw. Though the complex included some great stuff, like travels to the Moon exhibit, Heroes and Legends, 3D movies and more, we were pretty much done seeing everything in a few hours. I am not really sure what people do here all day (as some reviewers online had suggested one needs a full day to see everything…). We really stretched it out and spent 4 hours at the complex, which included sitting down for some food (twice), watching a movie, letting the kid play in the fountain, and spending a good amount of time at the kids playground there. If not for these ''extra'' activities, we would have been gone hours earlier.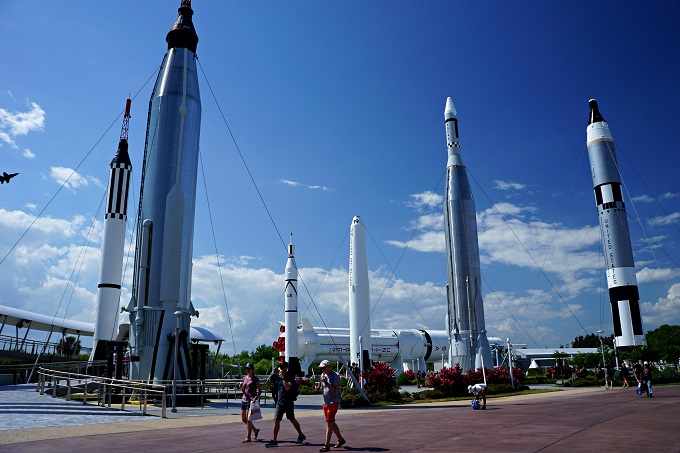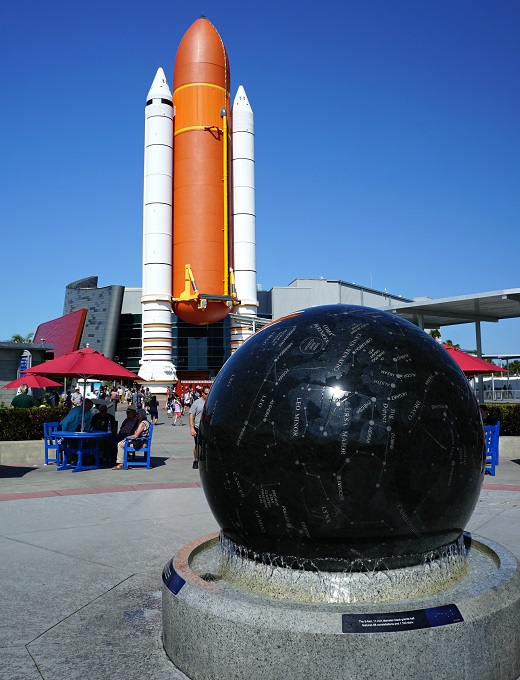 Though, another reason for our ''lingering around'' till the evening was to see the rocket launch that took place in the evening. Apparently it is a quite rare event and we just got lucky to visit the complex on the day of the rocket launch. Overall, if the hefty admission price of $50 per person is not an obstacle, I would say go ahead and visit! Would I include this place in my itinerary again? Probably not as once was enough.
After the Kennedy Space Center, we were ready to call it a day and drove straight to our rental house in Daytona Beach as the early flight and hot Florida sun had exhausted us all. Besides, it was already evening and not much left to do anyway. The guest house itself was a real treat – a cute beach cottage with palm trees all around and just steps away from the ocean.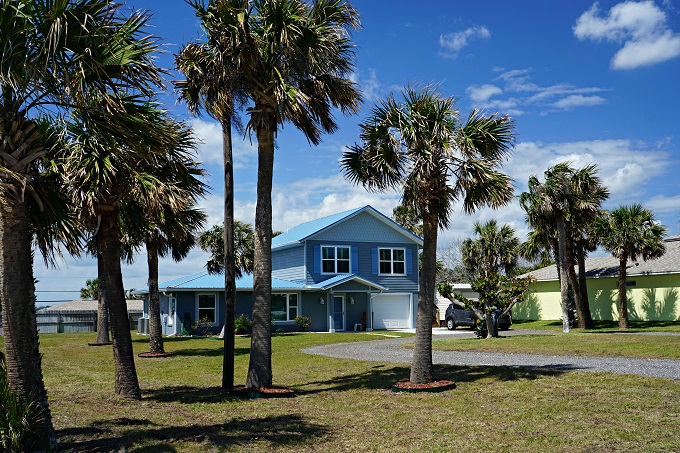 We were really enjoying our time here and the next day was spent enjoying the beach, sand, sun and not-so-warm water.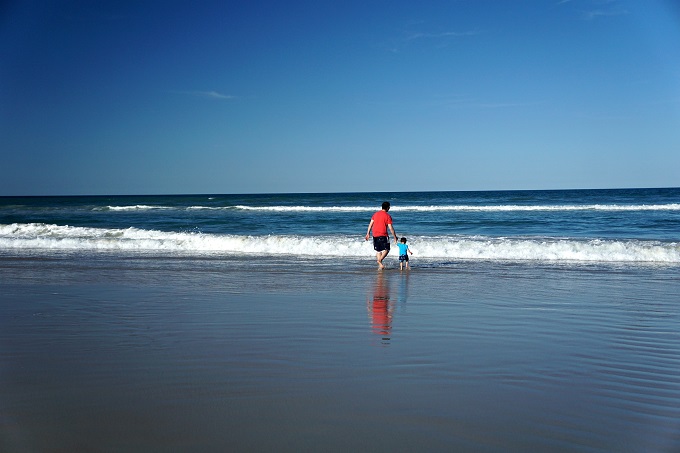 Having absorbed some vitamin D, we packed up and decided to go explore Daytona Beach boardwalk. Though not very much to do here apart from the usual souvenir shops and restaurants, we enjoyed the walk along the coast and sat down for a seafood filled lunch right on the pier.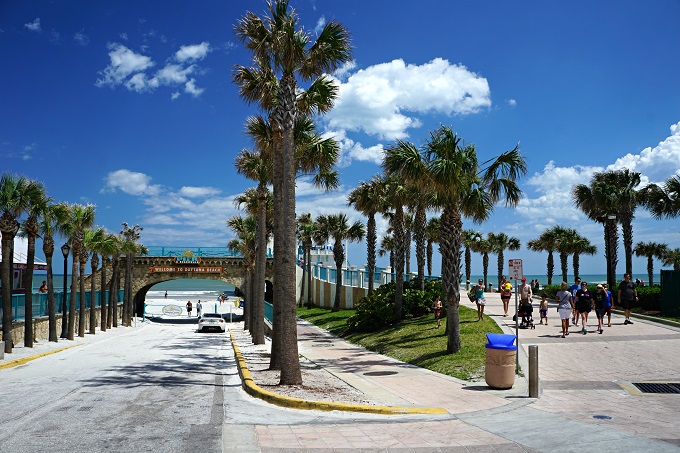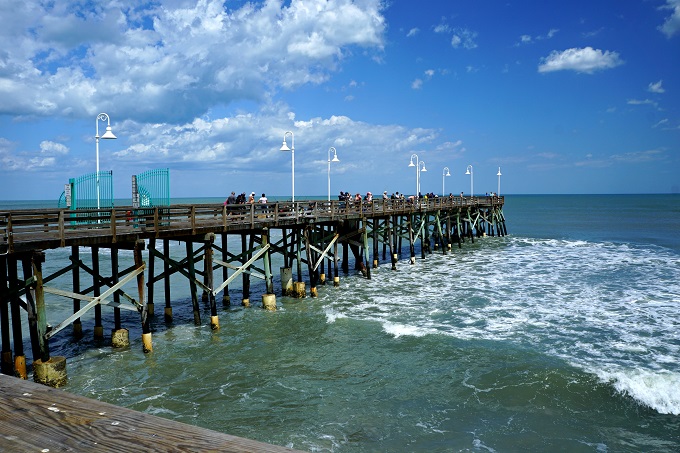 The views from the pier to the beach and ocean were quite pretty and we spent a considerable amount of time here soaking up the warm weather.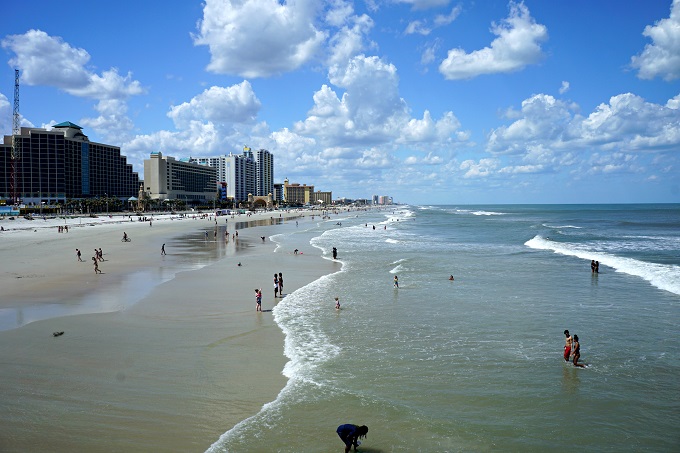 Our next little outing was a visit to St Augustine – a city considered to be the first settlement and the oldest city in the United States. We started the day with a walk around the Castillo de San Marcos – a 17th century Spanish style fortress with views of St Augustine Inlet.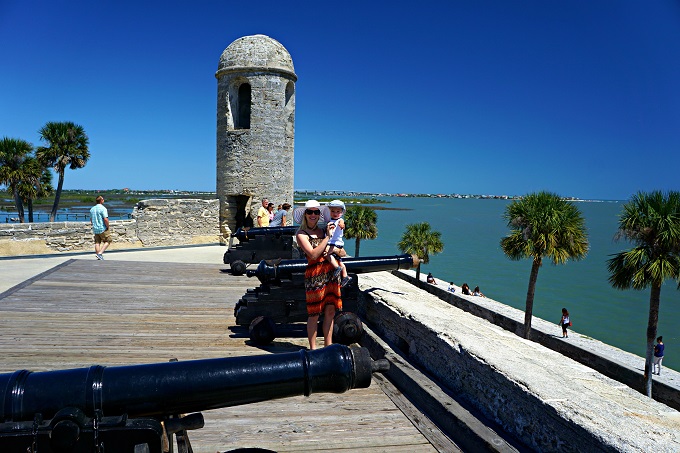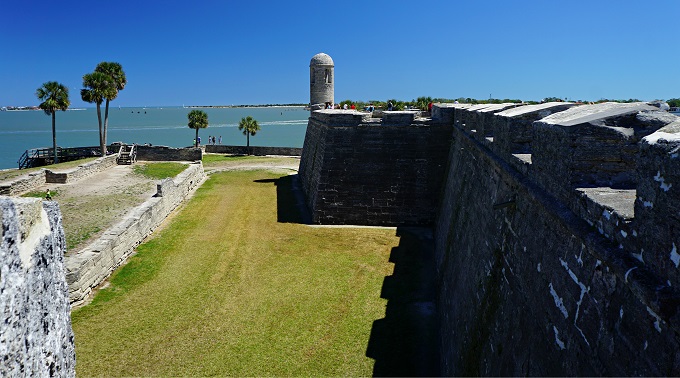 Over the years I have discovered that almost all the fortresses in the US are pretty much the same, regardless of where they are at, as most of them are influenced by the old Spanish architecture. However it is still nice take a leasurely stroll and enjoy the views.

After the fortress we headed into the old part of the city, wandering around the narrow cobblestone streets, through mossy green trees in parks and along some pretty buildings.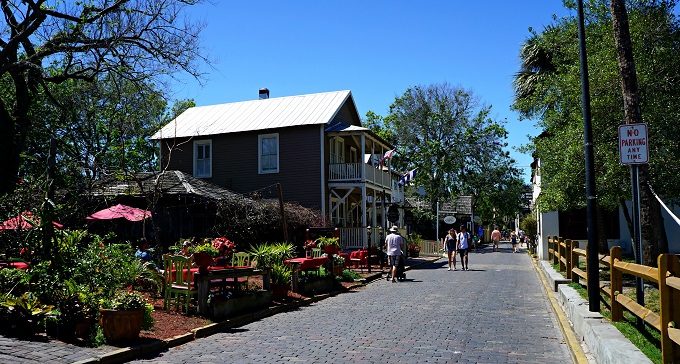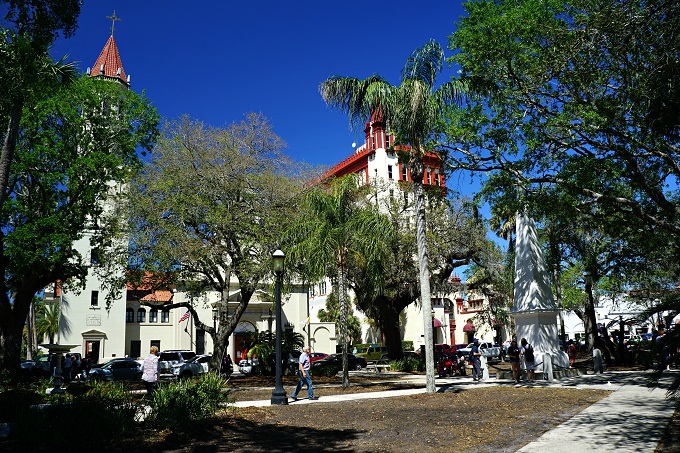 Touring St Augustine took us all day and by evening our legs were numb and skin could feel the effects of the hot Florida sun. Nonetheless, it is a beautiful town to visit if you get a chance, and very pedestrian friendly!
Our last full day in Florida was reserved for some wilder outdoor activities. During my itinerary research of this part of Florida, I had stumbled upon some beautiful photos online of crystal blue springs, tropical forests and wild alligators. It was Ocala National Forest, and the Juniper Springs recreation area to be more exact. As it was just an hour's drive from our guest house, this is where we decided to go for our last adventure.
Juniper Springs is one of the oldest recreation areas on the East Coast, showcasing sparkling springs in a subtropical setting, an oasis within the heart of the desert-like Big Scrub. It also features several hiking trails and a several mile long canoe run which I would have loved to do, but unfortunately no 1.5 year olds are allowed in the boats, so we had to scratch this off our list. Despite this little disappointment, our day was filled with other exciting and beautiful things. We started off by going on a little hike with lush vegetation and palm trees all around us.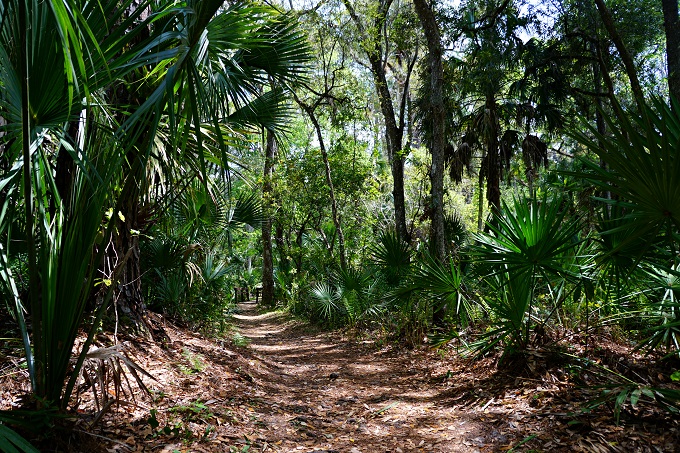 At the end of the trail we were rewarded with a bright blue spring fed ''lake''. The color of it was just magical and the water so clear we could see fish, turtles and even underground springs bubbling at the bottom of the lake. To top it off, there was a real, wild alligator peacefully taking a nap right at the side of the trail completely disregarding the hikers. So we got an opportunity to stand and watch him there for a while.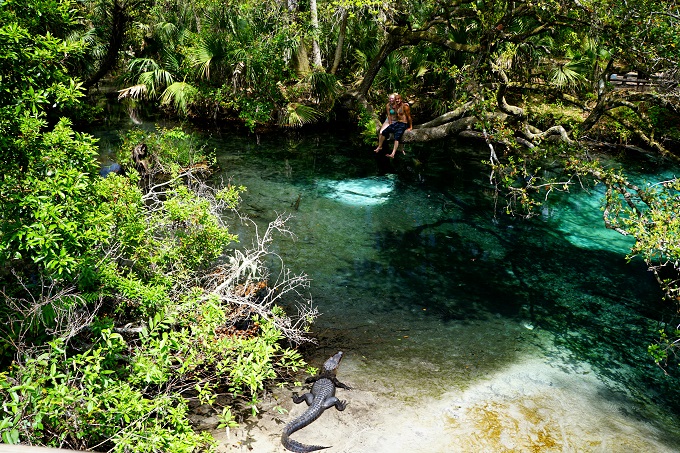 After the hike we retruned to the recreation area to take a dip in the ''spring pool''. The water in this lagoon is underground spring-fed and is very, very cold despite the fact that the temperature outside was over 90 degrees! Our baby couldn't care less and was in with all fours, however my husband could not brave the cold and get into the water past his waist. And I didn't even make it that far! It was just much too frigid for me!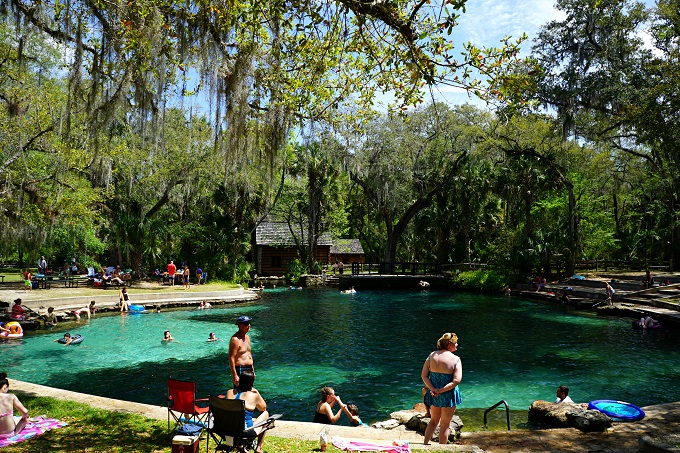 It was yet another day spent admiring what Florida has to offer and making me like it just that much more every time I visit.
The morning of our 5th and last day was spent hopping over to the beach for the last time to let the little one play in the sand, and then it was time to pack our bags and drive back to Orlando to catch our afternoon plane back to Pennsylvania's cold and unfriendly winter weather.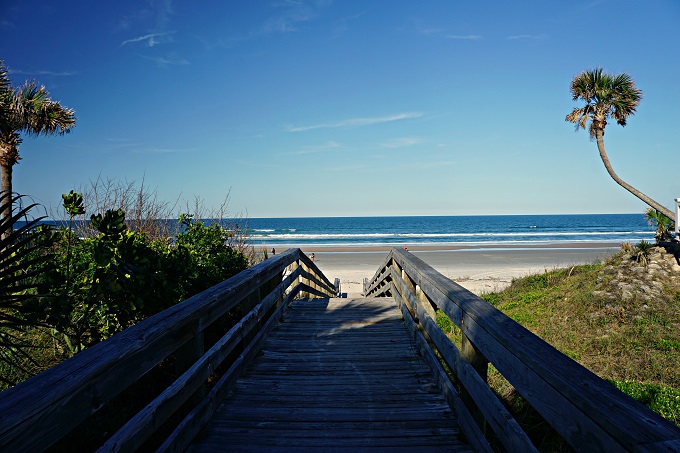 I know many will wonder and ask why we did not visit Orlando itslef… Orlando really is mostly an amusement park city, which is what it is famous for. I am not big into city-seeing so I did not care to visit or walk around Orlando itself, giving preference to other things as our time was limited. Secondly, amusement parks are expensive to visit and a 1,5 year old would neither appreciate nor remember any of it, so we decided to wait a couple years before immersing oursleves into the world of Disney, SeaWorld or Universal Studios. But the time will come and I am sure we will be back to give Orlando and it's world-known amusement parks their proper attention!