New Orleans and Louisiana - the world of Cajun and Creole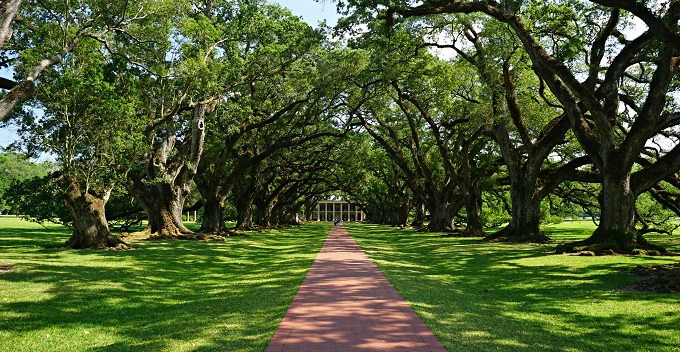 ''I will have a conference in New Orleans next month. Want to come with?'' asked my husband coming home from work one day. And just like that we broke our own vow to never travel again until our kids are 18 and out of the house! Yes, our last trip to the Dominican Republic was far from relaxing; however, the bad memories had already faded and it felt like we were ready to conquer new places again! Besides, since our move to Memphis I have been eyeballing New Orleans as a possible fun destination to visit, and this was a perfect timing for several reasons. Generally, nothing much else was going on in our lives this very moment. Besides, May is a great shoulder season to visit when the summer heat and humidity has not quite kicked in 100% yet. But most importantly of all – who can refuse a company paid for hotel and covered travel expenses?! This was a no-brainer, and a big fat ''YES'' from me!
New Orleans and Louisiana (just as much of the rest of the South) has a very complicated and somewhat dark history. Founded by the French in 1718, ruled for 40 years by the Spanish and bought by the United States in the 1803 Louisiana Purchase, New Orleans is known for its distinct Creole culture. Slavery was a norm here and significant battles of the Civil War were fought over the city. Due to its marshy land the life was tough here, and it was even harder for the slaves. For the most part Louisiana has always been a struggling place and even in its last hundred years the key struggles of New Orleans have been social (poverty, racial strife) and natural (hurricanes, floods and slowly sinking land).
To better prepare for our upcoming trip and immerse ourselves into the past events, we watched the Academy Award winning movie based on true events ''12 Years a Slave'' which was filmed in New Orleans and within its close proximity. It portrays a life of a kidnapped free black man forced into slavery at various plantations. So, to honor this story, we decided that our first stop of the trip will be a plantation house tour to see everything for ourselves and hear the stories of times past.
Day 1
As the drive from Memphis to New Orleans is about 6 hours, the morning started early. And though I anticipated a whiny, annoying, long 6 hours in the car with a 10-month-old and a 2.5-year-old strapped in their seats in the back, most of the drive coincided with the kids' lunch naps and with nothing better to do they gladly fell asleep. Yay!
There are many plantation house tours available to choose from and our choice ended up being the Oak Alley Plantation. We reached the plantation early afternoon and though the parking lot seemed very full, inside the territory the crowds could not be felt as people had scattered themselves around different areas of the property. The plantation grounds and gardens can be seen without a guide but the main house requires you to join a tour at a scheduled time (which is already included in the ticket price). As we still had about 30 minutes until our tour time, we decided to walk around the gardens. The first thing we noticed was the huge oak trees lining the walkways. After all, the name of the plantation is Oak Alley and the trees were planted here 250 years ago.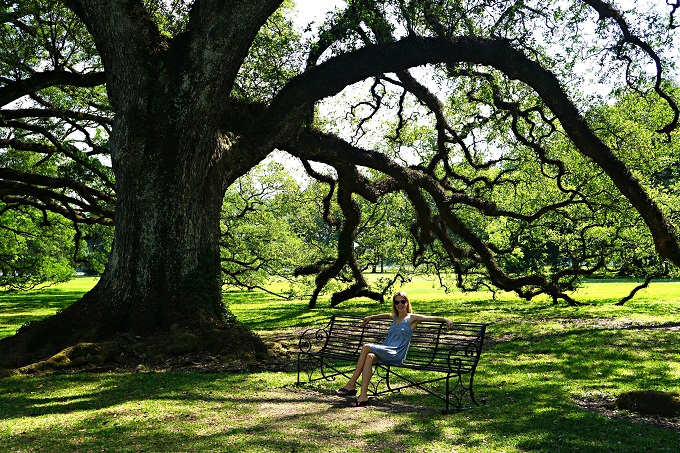 The best view requires a short walk down the paved walkway which has given the plantation its name. Once you turn back around, the house itself seems engulfed by the long reaching branches of the oak trees. And it is crazy to think that these very same trees have stood here for centuries and have witnessed the slavery, the Civil War and the modern times…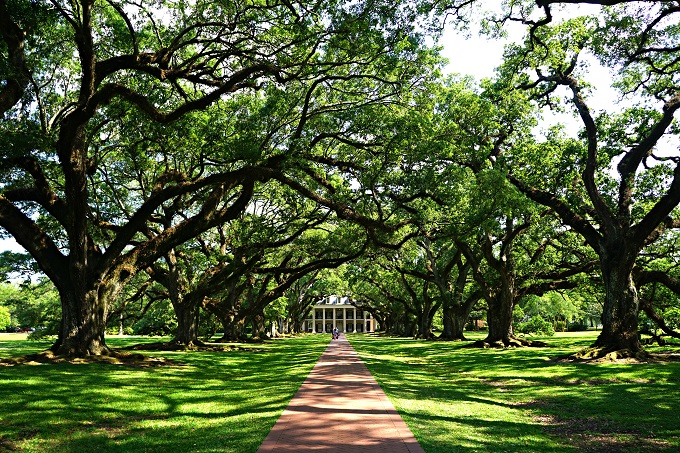 Our next visit was to the slave ''quarters''. Though the huts themselves are replicas, they stand in the exact same spots they stood over 200 years ago. One hut could house roughly 5-10 slaves and at its peak Oak Alley had about 120 slaves. Due to Louisiana's marshy land, it was difficult to grow cotton or tobacco so the much more labor-intensive sugarcane was the crop of choice which is why Louisiana developed a reputation along the eastern seaboard as a death sentence for any slave unlucky enough to be sent here. Life on a sugarcane plantation for a field slave was difficult, often violent and short, and Oak Alley was no exception. When harvest time came, exhausted slaves swung machetes and operated dangerous sugar house machinery for up to 18 hours at a time, and it included everybody – men, women and children. It is definitely a dark time in America's history and the slave huts are like a little memorial for all the slaves that have ever worked on this plantation – with their names engraved on walls and some of their life stories written up for others to read.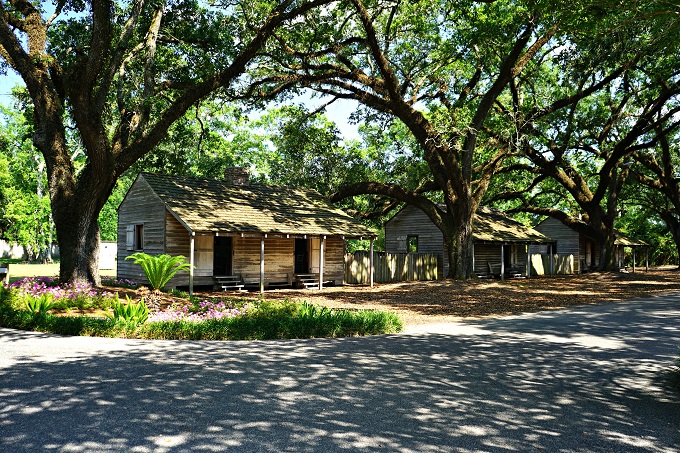 Once we were done walking the grounds, it was time for the house tour. It was just as expected – big rooms, elaborate furniture and as dark of a history inside as it was outside. The house itself was again, of course, built by slave labor and once complete, the owners were served by slaves. On the plus side though, the life of a house slave was better than that of a field one. House slaves completed tasks such as cooking and serving dinner, cleaning the house, watching children etc. Secondly, they were the ultimate proof of the family's incredible wealth. While some plantation owners had to put all their slaves at work in their fields, others (Oak Alley owners included) enjoyed the ability to have a large number of men and women serving them directly. It was the ultimate statement of wealth. Oak Alley house slaves were dressed to reflect this role and accompanied the family as they traveled, with as many slaves as one per family member.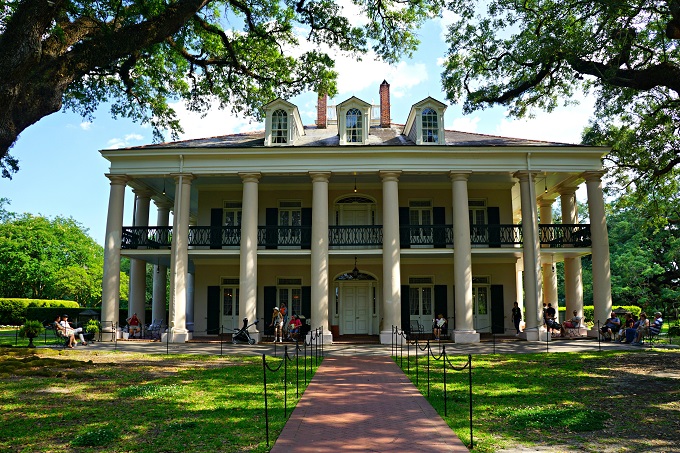 Unfortunately, photography was not allowed inside the main house so there are no pictures to show.
After the plantation tour was complete, we were looking forward to a leisurely evening at the hotel enjoying the rooftop pool and sky-high views over New Orleans.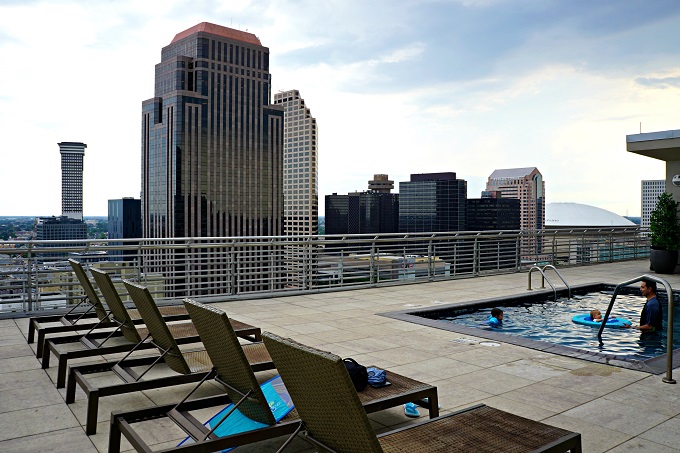 Day 2
As the next two days were reserved for my husband's work conference, I decided to leave the big touristy sights for the days when he's available to see them too. So, me and the kids were on our own for the upcoming two days but we were not about to just sit at the hotel. There is a lot to see in New Orleans, so we decided to start off by visiting the Audubon Aquarium as my toddler had been asking to see the 'fishes' for days (I might have casually mentioned at some point that we could go to an aquarium when in New Orleans and he has remembered it every day ever since… Lesson learnt.) The walk to the aquarium took us straight down the famous Canal Street so we had a lot of fun stopping and looking at all the historic cable cars passing us by…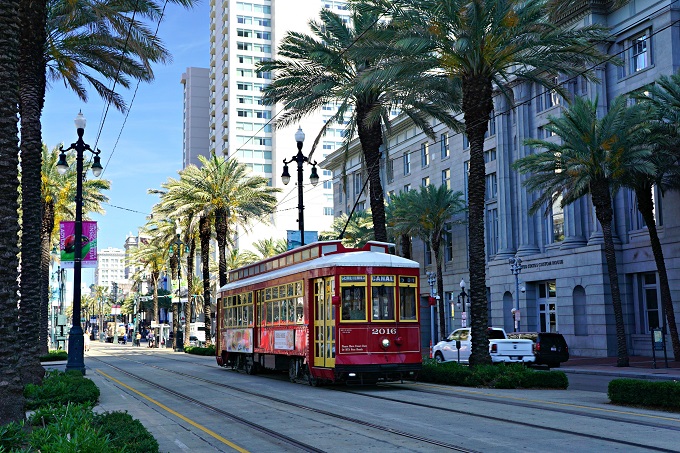 Surprisingly, there was no line at all to get into the aquarium, and in no time, we were thrown into the world of Nemo and Dory! There are several exhibits at the aquarium, including the local area Mississippi River gallery (with a rare white alligator) and Gulf of Mexico exhibit.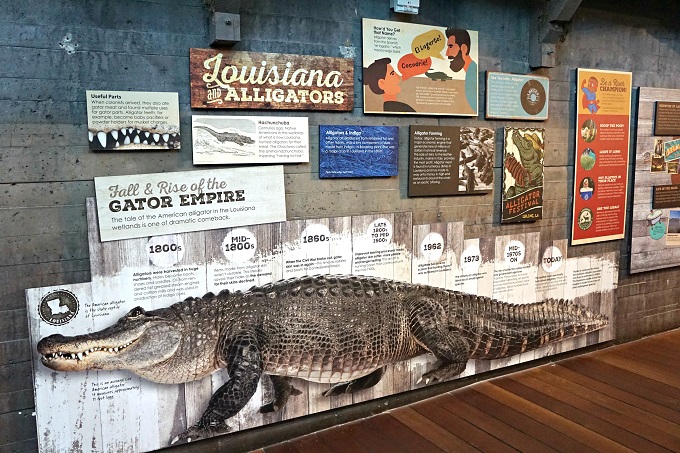 Some more exotic exhibits are Amazon and Caribbean Reef sections. All were wonderful, exciting and very clean. One of the biggest hits with the kids was probably the tunnel. Just as we were walking through, some divers jumped in to feed the fish and do some cleaning. And not just my 2-year old was amazed at the sight but I was as well! Pretty cool!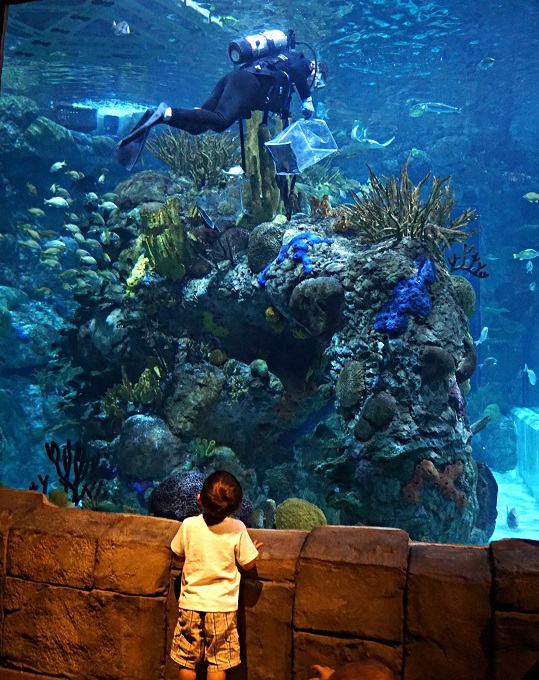 The second floor of the aquarium consisted of smaller exhibits, including stingray touch-pool, penguins, seahorse exhibit, kids play area, cafeteria and souvenir shop. The entry ticket also included a 30-minute 3D movie showing, however, by the end of our visit my 10-month old was asleep in the stroller (and strollers were not allowed in the movie theater). Unwilling to wake the baby and take him out of the stroller, I decided to skip the movie. But even without the movie, we had had an amazing time and had already spent a few hours here wondering around looking at the fish, alligators and some birds. Even though not huge, it is definitely a very nice aquarium worth a visit!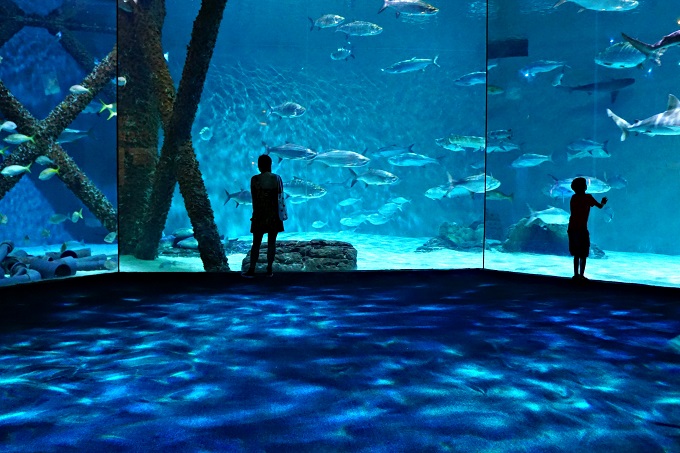 Just as we walked outside of the aquarium, we noticed a little square with fountains. And what do kids do? They play in water! And mine, of course, was no exception. Shoes, shorts, shirt still on and off he went! But it was so hot outside that wet clothes were not an issue at all – they'll be dry in no time! Playing in the fountains with other kids was so much fun that time just flew by and soon enough it was afternoon already. It was time to get back to the hotel to meet up with my husband and go out for some dinner.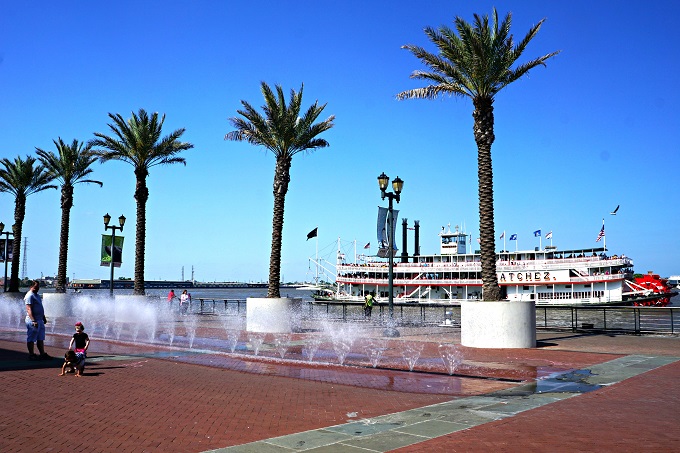 When researching typical / traditional Louisiana foods, seafood etouffee was one of the first things that popped up on the list. Etouffee is a dish found in both Cajun and Creole cuisine typically served with shellfish over rice. The dish employs a technique known as smothering, a popular method of cooking in the Cajun areas of southwest Louisiana. And although my husband is far from a seafood fan, we decided to give it a try. Etouffee from cheap products and pre-frozen meats was definitely not what we were looking for, so we opted to go to a place called Bon Ton which was named as one of the top places in New Orleans to try this dish. Though very pricey ($27 per plate) we attributed it to a ''cultural experience outing''. And it was definitely fun trying out something truly local as I have never seen etouffee on a menu anywhere else.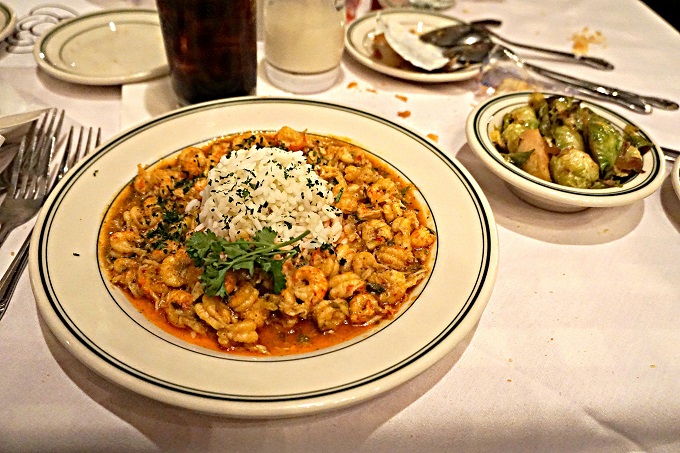 ** As a little side-note I have to mention what Cajun and Creole really means. Unfortunately, there is no simple explanation. A vastly simplified way to describe the two cuisines is to deem Creole cuisine as "city food" while Cajun cuisine is often referred to as "country food." While many of the ingredients in Cajun and Creole dishes are similar, the real difference between the two styles is the people behind these famous cuisines as Cajun and Creole are two distinct cultures. In New Orleans Creole means fancy (people born in colonies from European / French descent) and Cajun means rustic (immigrants of Acadian decent). However, of course there is much more to it, but that could be a separate article on its own.
The dinner was the conclusion of our first full day in New Orleans and there are many more yet to come.
Day 3
As this was yet another day of meetings and conferences for my husband, the kids and I were still on our own. We decided to head out and take a look at the New Orleans Children's Museum. It was surprisingly empty once we arrived, and my boy was mostly left playing alone and on his own. Also, in comparison to other big city Children's Museums we have been to (Philadelphia, San Antonio, Memphis…) the New Orleans one was pretty plain and seemed ''tired'' – many toys had seen better days, shelves and drawers were not closing and were missing handles etc. Despite this fact that we as adults notice, the kids had lots of fun though – playing in the ''restaurant'' making sandwiches and pizzas, shopping at the market, steering a ship and driving construction trucks. The baby area was great for my 10-month old.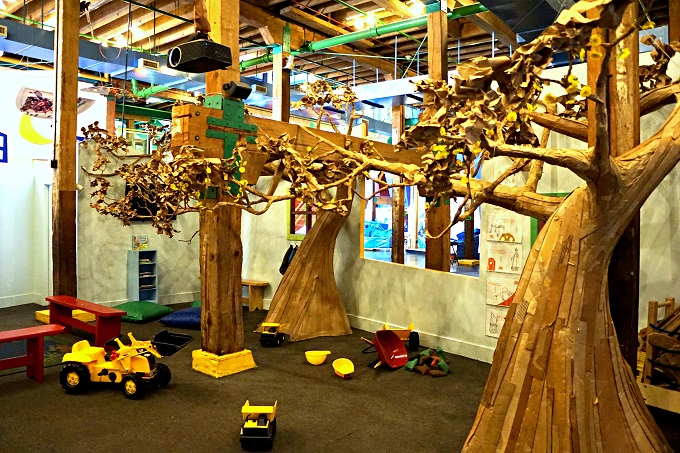 Upon leaving I saw a notice that in mid-2019 the museum will move to a new site in the New Orleans City Park with both indoor and outdoor play areas. Possibly, this is another reason why its current location is not getting renovated or updated. And according to the description on the museum's website, the new museum will be a pretty impressive one with several new exhibits, on-site café, literacy and parent / teacher center and outdoor activities.
After the museum we decided to just take it easy as the day was very hot and humid, and the next few days were planned to be quite busy with sightseeing. So, we returned to the hotel for a relaxing afternoon by the pool. And as the sun set and night approached, the views from the rooftop over New Orleans were quite amazing…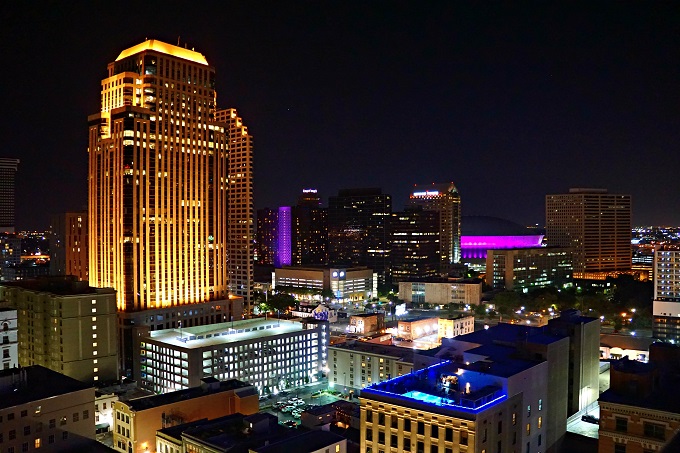 Day 4
The first half of the day was all planned out to be about the wild side of Louisiana – bayous, marshlands and alligators. A few days before our trip I saw promotion tickets on Groupon for Jean Lafitte Swamp Tours. It was $31 for a 90-minute tour (for 2 adults, kids free). And with so many highly rated swamp tours to choose from, I went the easy route and decided to go with this company solely because of the offered promotion price. And we definitely do not regret our choice.
The tours are run in Jean Lafitte National Historical Park and Preserve, about a 30-minute drive outside of New Orleans. And while I was wandering around the parking lot waiting for our tour time and reading a sign that warns about alligators, one was looking right at me about 10 feet away from where I was standing. Good thing alligators don't care much for people.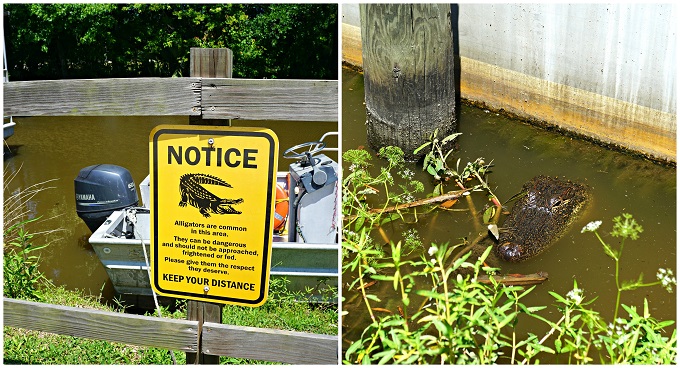 The tour itself took us through a man-made canal into the Louisiana bayous. And even though we did not get to see any huge gators this time around (saw several smaller ones), I was thoroughly enjoying the scenery. Big cypress trees grown over with long, hanging Spanish moss, palm trees, and water plants – a whole different sight from what I am used to seeing back home. And as there is no road access into the swamps, the only way to see this part of Louisiana is by a boat, which alone (in my mind) is totally worth the ticket price!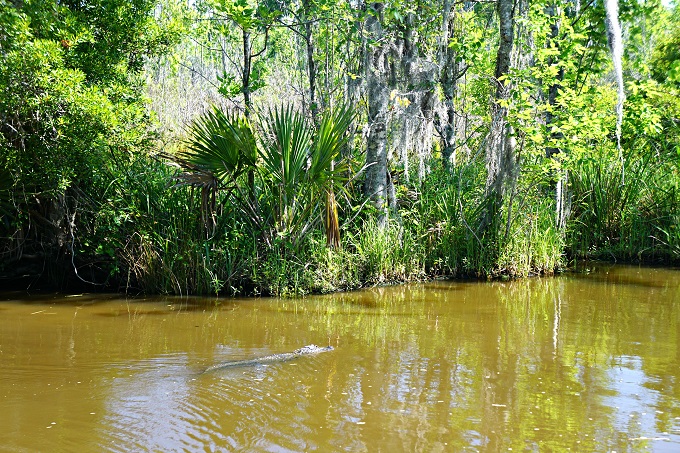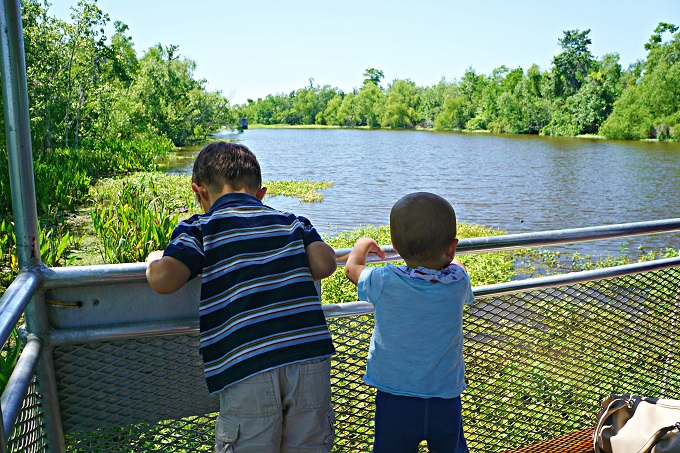 After the swamp tour we decided to head deeper into the preserve and go on one of the several hikes offered at Jean Lafitte National Park. As most of the park is swamp and marshlands, many of the trails are actually boardwalks built over marshy land. According to the visitor center ranger, the best trail to see the alligators in wild was Marsh Overlook trail in Barataria Preserve (approx. 2-mile round trip there and back from the parking area). Another big plus for us was that the whole length of the trail was either gravel or boardwalk so it was fully maneuverable with our asleep 10-month old in his stroller (the exception was one set of stairs up and down over a bridge where we just had to pick the stroller up and carry it a few steps up / down). Already at the very start of the trail within the first few minutes we saw 3 alligators poking their heads out in the swamp.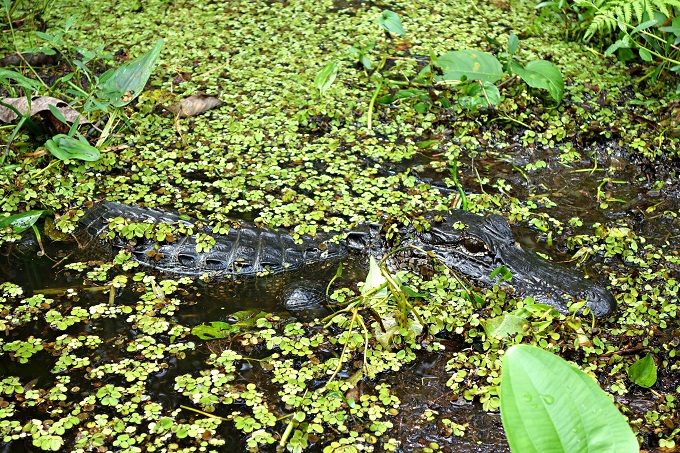 And the deeper and further in we went the more beautiful the scenery became – cypress trees, Spanish moss, palm trees and bushes with thick water grass all around. It was so surreal that no picture can truly portray it. And to know that you are deep into the alligator country without any safety fences or barriers made it just that much more adventurous.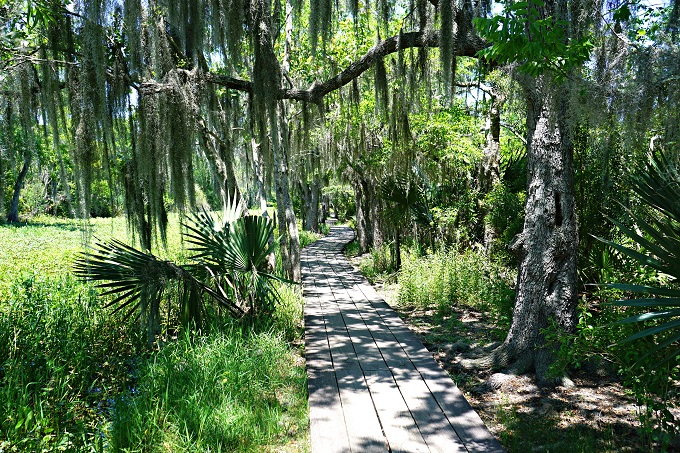 There were too many alligators to count – from baby ones lounging in the swamp grass to big ones sticking their heads above the water looking for some lunch to catch. And they are so well adapted and masked that you might walk by one 5 feet away and never even notice. That's why we took our time and walked very leisurely paying close attention to any movement in the water or bushes. And other hikers were a big help too giving each other information on where and when an alligator was spotted so others would get a chance to see it too.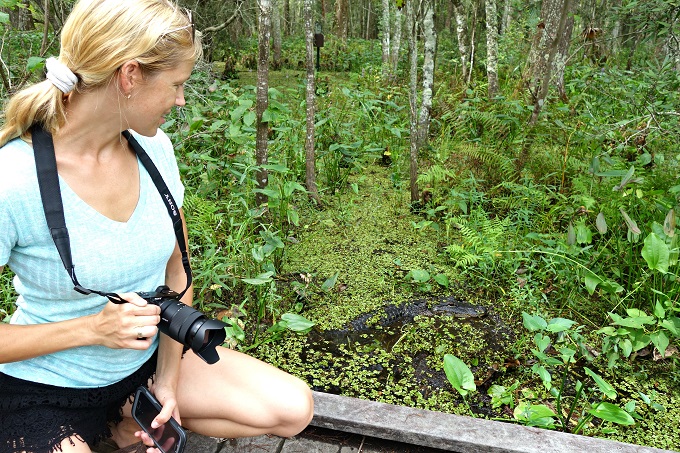 Besides the Marsh Overlook trail which is suggested as the main alligator sighting spot, there are 2 other shorter trails - Visitor center boardwalk and Palmetto trail boardwalk. Though alligator sightings are not as frequent here, we saw 2 alligators on these trails, both hanging out right next to the boardwalk, close enough to even touch them! And the scenery on these trails seemed a little different than that of the Marsh Overlook trail, so if time allows, I would suggest making one big, long hike out of all 3 of these trails!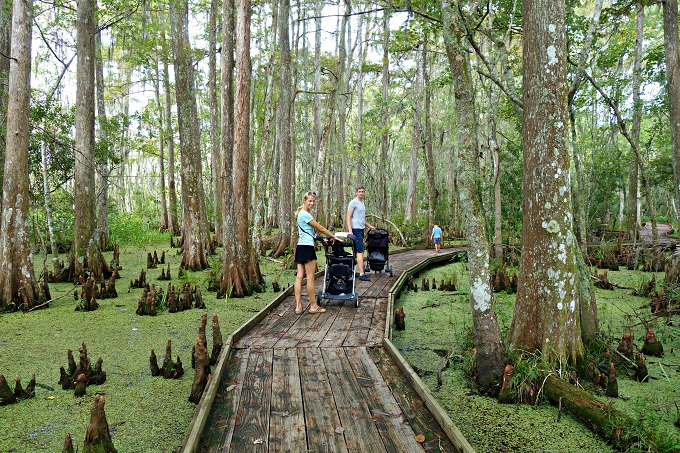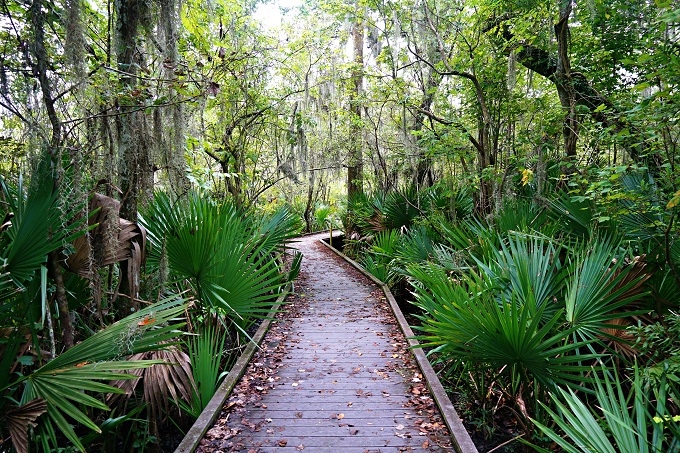 Besides the alligators, we got to see different water birds, turtles, spiders, lizards and snakes (including venomous ones).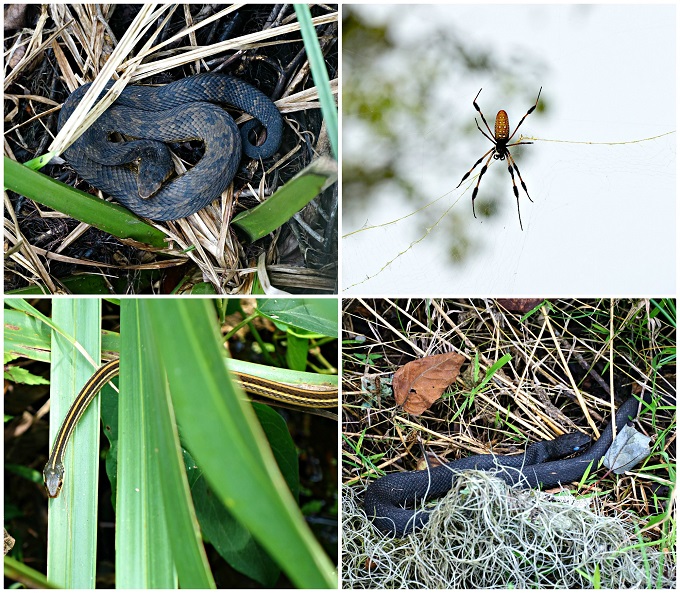 I think these trails are an absolute must-do for anyone who loves nature. Our toddler loved it so much he walked all 3+ miles on his own absolutely refusing to get into the stroller at all. And even though we were all sweaty, sticky and hot from the 90+ degree weather and high humidity, this hike and the amazing wildlife and scenery has remained as one of the highlights of the whole trip to me.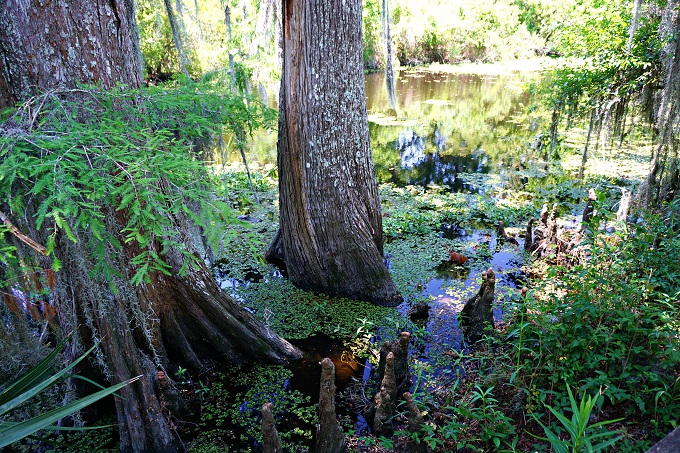 As my husband's work conference ended last night, so did the free benefits – it was time to check out of the company paid for hotel. We decided to head over to our new rental in Algiers Point neighborhood (which we had booked for the remaining 2 nights) before heading into town. A quick note to the homeowner and they assured that the place is ready for us which we were very happy about as the sweaty hikes and muggy swamps required some showering so others wouldn't run away at the sight (and smell) of us. Cool showers and clean clothes felt great and soon enough we were ready to go explore the French Quarter. This time we left the car parked and headed for the ferry which connects Algiers Point to the French Quarter for just mere $2 per person showing beautiful views of New Orleans shoreline along the way.
We walked the Riverfront all the way to the Jackson Square. The square was declared a National Historic Landmark in 1960, for its central role in the city's history, and as the site where in 1803 Louisiana was made United States territory pursuant to the Louisiana Purchase.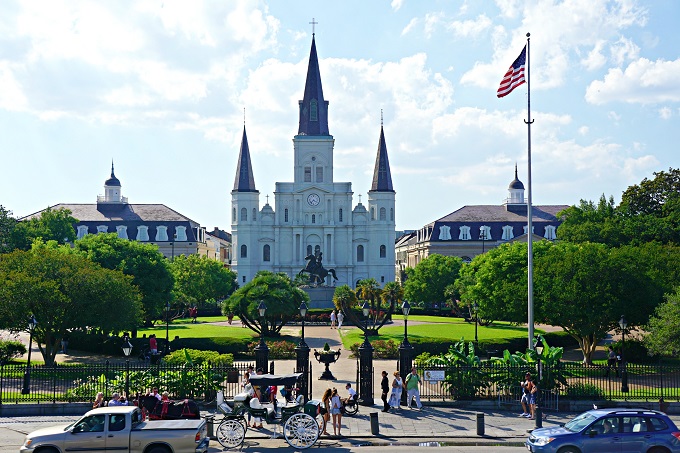 Apart from its history, the square is very recognizable by the white Saint Louis Cathedral and it is a place were various street musicians, artists, comedians, acrobats, magicians and other entertainers gather to amaze tourists, spectators and simple walkers-by like ourselves.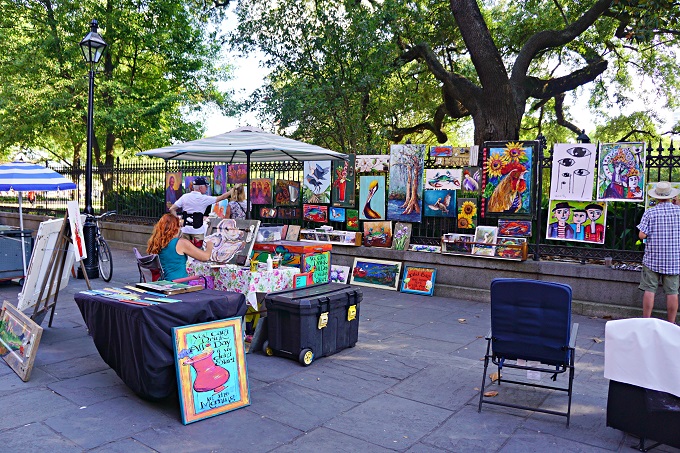 And who could pass up a café au lait and some beignets at Café du Monde?! This little open-air coffee shop was one of the first to ever open in New Orleans and has been working here since 1862! The menu at Café du Monde includes only dark-roasted coffee with chicory (served black or au lait) and beignets. Beignets are squared pieces of dough (similar to doughnuts) but with no hole in the middle and are most often covered with powdered sugar. According to the Café du Monde's vice-president, the beignets remain the only food item on the menu; and Café du Monde is committed to "keeping things the way they've always been: recipes have gone relatively unchanged for over 150 years." And boy oh boy were they delicious!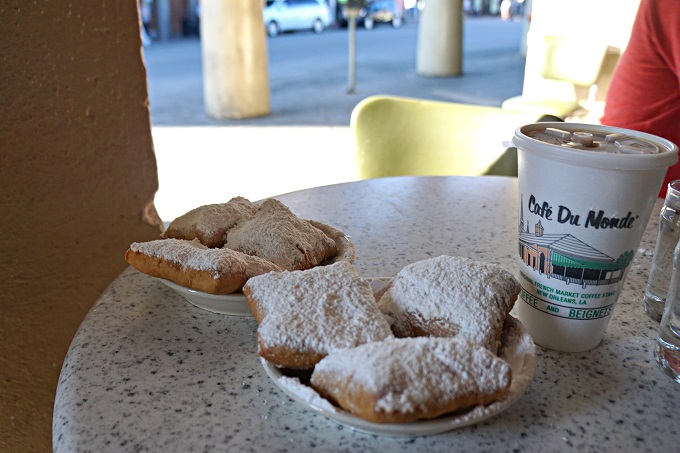 Although I am not much into all sorts of creepy things, I did want to see St Louis Cemetery #1, which is one of the oldest cemeteries in New Orleans, founded in the 18th century, and was featured in the movie Easy Rider. It contains a labyrinth of highly decorated tombs, and holds the remains of several historic figures, including generals, and Voodoo Priestess Marie Laveau. Unfortunately, we came to find out that since about 2 years ago, touring the cemetery is allowed only though a registered tour company, and the cemetery is locked up outside of the tour hours as there have been too many acts of vandalism. So we only got to see it from the outside...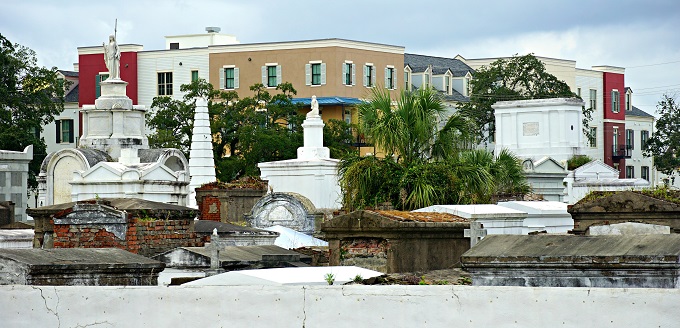 After this short pit-stop, we moved on towards the French Market. Unfortunately, it was already late in the afternoon and many of the sellers were starting to slowly pack up. Nonetheless, we still managed to get a good look at various items available here. It was everything from local to international arts and crafts, clothing, and souvenirs as well as alligator meat products and Mardi Gras related items. If not for the stores closing, we probably could have spent much more time here wandering through all the booths and maybe even purchasing something.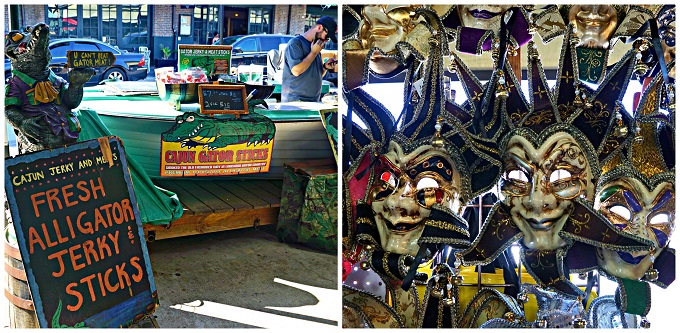 Towards the entry of the market there is also an area of various cafes, smoothie kiosks, food stalls and fresh produce.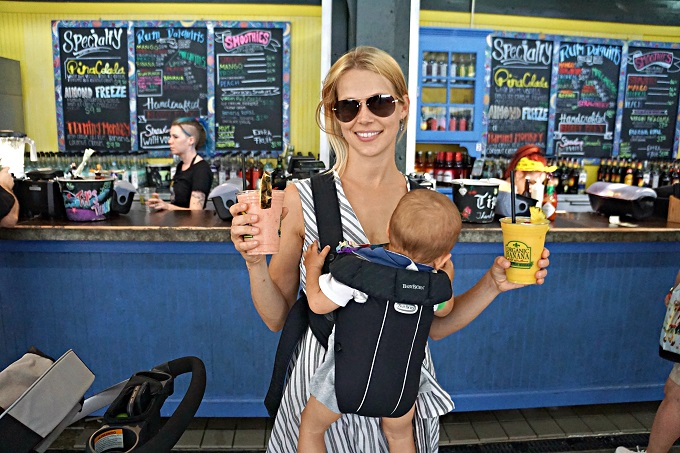 Having cooled down with some icy smoothies, we set out to explore more of the French Quarter. Its architecture is famous for the ornate ironwork. You don't really need a specific map or route as it is all around you – balconies are the most noticeable but visitors can spot ironwork used also in fencing, gates, door insets and even downspouts.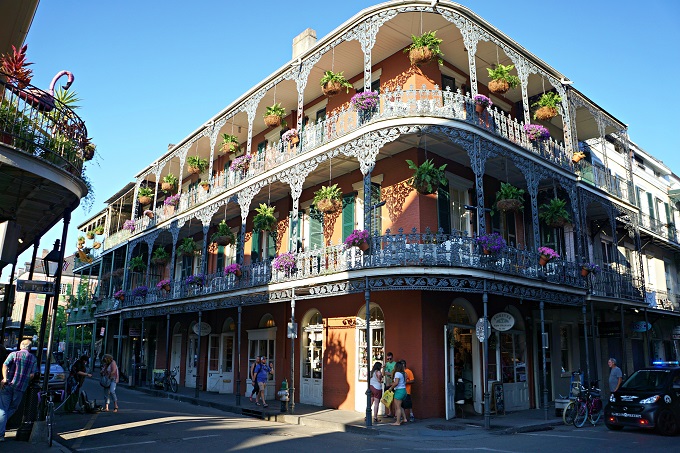 Garden District in New Orleans is said to be another area where to wander around and see the amazing ironwork, however we never got a chance to make it there.
It was quite fun browsing the little French Quarter streets, peeking into the souvenir shops and reading restaurant menus. Busy admiring the sights, we had slowly made our way to the famous Bourbon street. It dates back to 1798, when New Orleans was founded. It is the street where party never stops – full of bars, restaurants, hotels, gentlemen's clubs, live music and entertainment. Bachelor and bachelorette parties are a big thing here, and no matter the time of day there are drunk people all around. And every morning after the bars close, the city sends a big street washing truck through the Bourbon Street to wash away all the yucky mess people have left behind (and it is not trash I am talking about)…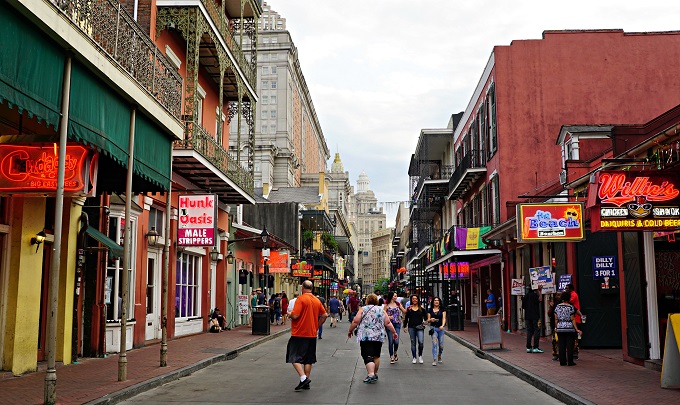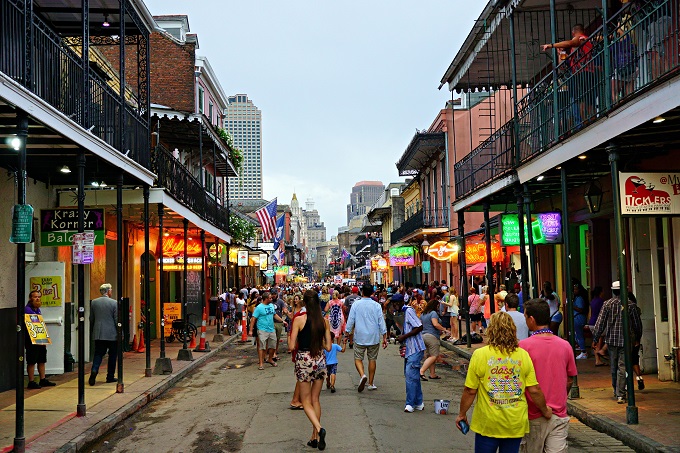 Have to admit that with a toddler and an infant in tow we felt a little out of place but we were definitely not the only family there. However, the only thing one can do with kids on Bourbon Street is sightseeing and window shopping as all the places here serve alcohol and won't allow minors. But with the huge crowds, loud music and drunk people all around we really had no much desire to go into any of the bars there.
It was fun to look at various street performers though and it seemed like few residents on Bourbon Street celebrate Mardi Gras all year long with decorations and beads hung all around their balconies.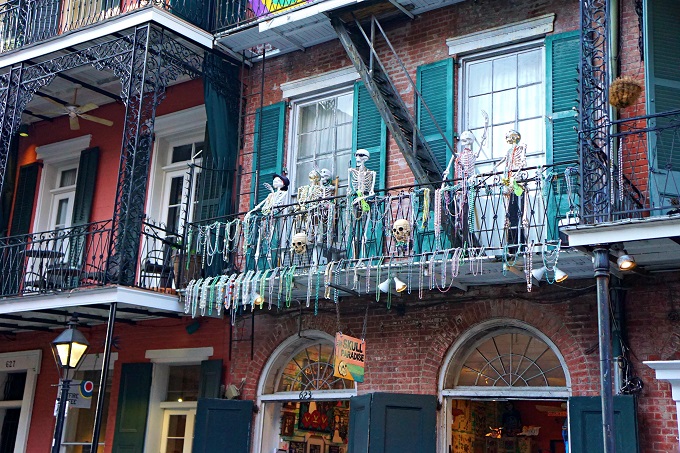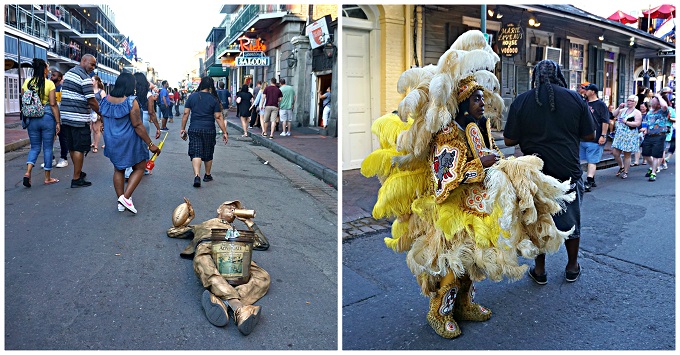 As it was getting dark already, it was time to make our way back to the pier to catch the ferry back across the Mississippi river to our rental in Algiers Point neighborhood. By the time we got there, it had already turned dark which made for a very pretty New Orleans skyline views from the ferry.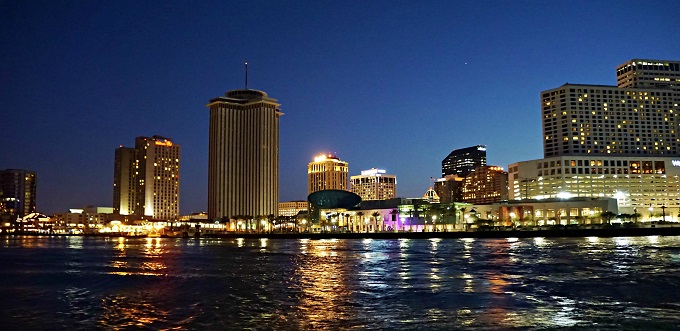 This was definitely the longest and most activity-filled day so far and everyone was very tired. Even sitting down for dinner at a restaurant felt like too much work so we just opted to heat up some leftovers and go to bed.
Day 5
To balance out yesterday's hot, sweaty and busy day, it was time to let everyone relax a little bit, especially the kids who have been real troopers. They have really been taking everything in stride on this trip no matter what sights or activities we threw their way, so today was a lazy fun day – we are going to a zoo! And not just any zoo! New Orleans Zoo has a separate big area called Cool Zoo and it is a splash park with countless water slides, sprayers, lazy river and much more.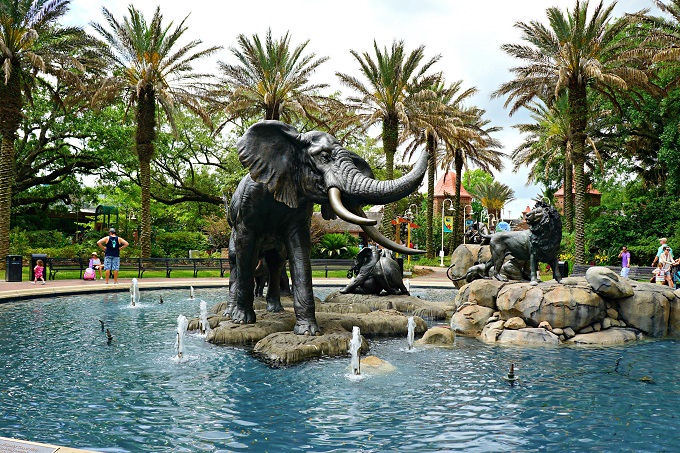 We knew however that if we started off with the waterpark we would never get the kids out of there, so we decided to walk around the zoo and look at the animals first before heading over to the waterpark. Overall, we were somewhat underwhelmed by the zoo itself. Though there were some fun exhibits and many play areas for children scattered all around the zoo, there were also several enclosures that had no animals in them; some other areas were under construction, and very many animals could not be seen due to them hiding away from the hot sun. And no matter how we tried to walk around the enclosures to find the right angle to maybe see them, it was just not happening. So, after an hour or so we decided to head over to the main attraction (to us) – the Cool Zoo!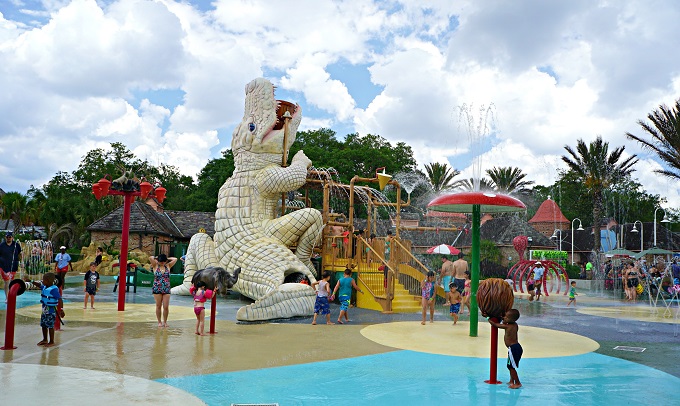 If not the zoo itself, then this park is definitely worth coming here for! Our 2-year old started running circles in excitement at the sight of it. And with blazing hot sun, 90-degree weather and high humidity, this was the perfect place to be to cool off and relax! A very fun thing is that the waterpark is built inside the zoo territory with animals' enclosures right next to the splash park. For example, the elephants' swimming pool was right on the other side of the baby pool area separated by a small glass wall (picture below). At one point, the elephant walked right up to the edge of the pool and was watching all the people in the splash park.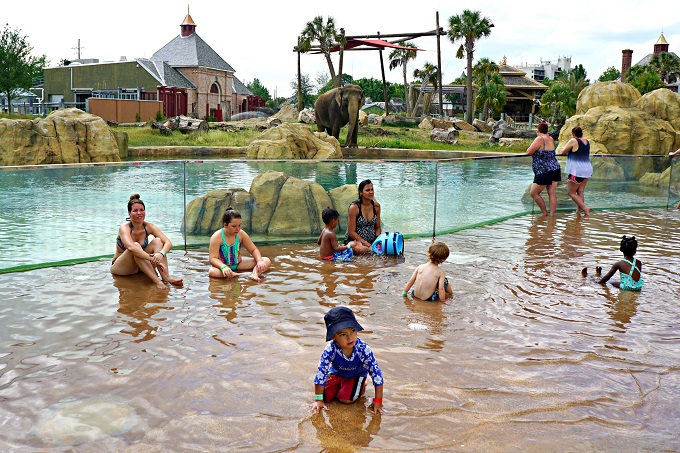 Though the area is not very big, there is plenty to do. There are ankle deep pool areas for babies, various water sprayers, bigger and smaller slides for kids of all ages, even a lazy river and a sand bank to go build sandcastles at. All the other amenities – changing rooms, bathrooms, lockers, cafes, lounge chairs, picnic tables etc. are right on-site as well.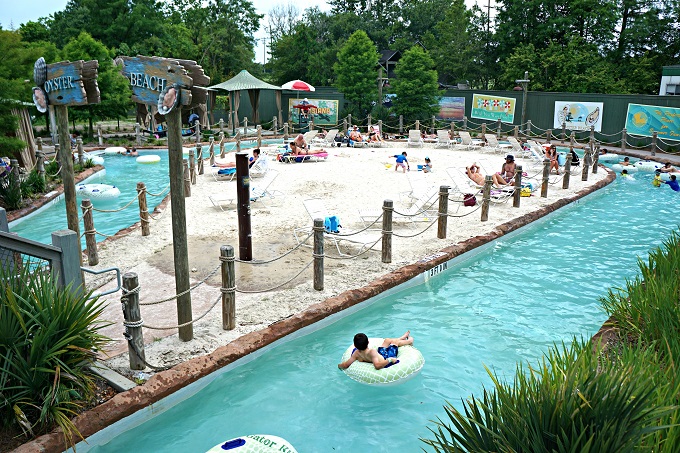 And though we planned to be here for just a few hours, it was so much fun that 4+ hours flew by just like that and it was approaching the park's closing time. And even then, there were some tears shed when we explained it was time to say 'bye-bye' to the park.
Having made our way back to the rental, I decided to take advantage of the beautiful evening and head out on my own to walk around and explore the Algiers Point historic architecture. There are actually several tour companies that offer tours to this neighborhood for its architecture - Greek Revival, Italianate and Craftsman are some of the styles on view. I figured I had to use the opportunity to explore it as we were lucky enough to have a B&B right here and there was no need to pay for a tour. And it sure did not disappoint. And although I am not a historian and could not tell you which house was what style, they were very beautiful, brightly colored and different with various ornate wood carvings, columns, and decorative porches.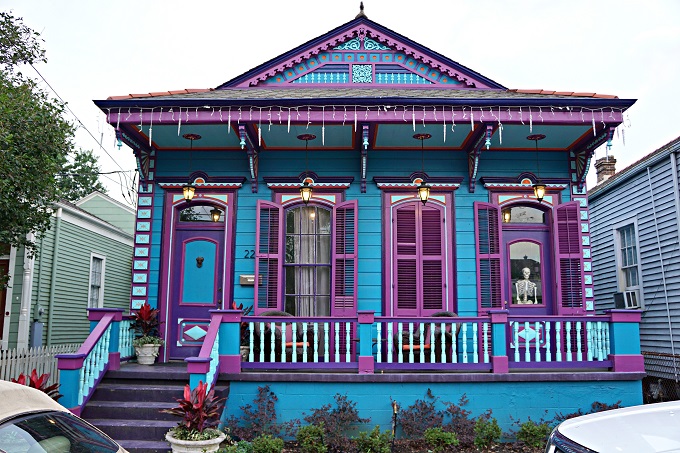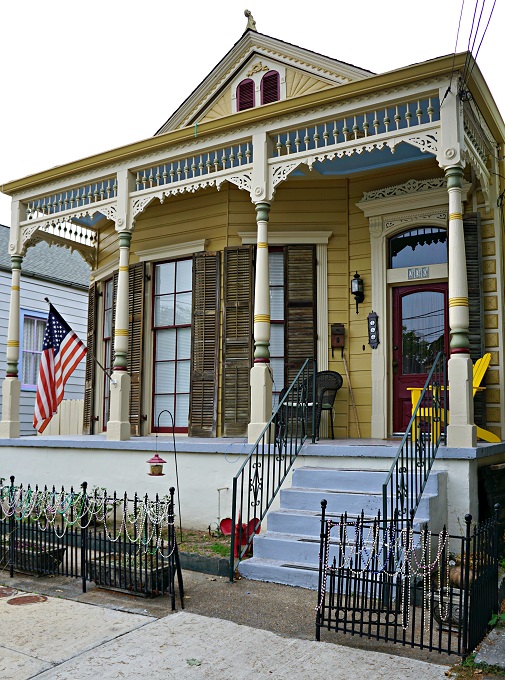 Day 6
Today was the day we were heading back home, so the morning was spent packing up our things (which always takes longer than expected). Before jumping in the car, we walked down the street to a local cafe for some hearty southern breakfast with scrambled eggs, potatoes, ham, toasts, pancakes and coffee. I think the name of the place was Tout de Suite and we wished we would have had breakfast here every morning!
Shortly after we were ready to get on the road; however, not without one last stop. Before leaving New Orleans, we went to a place called Mardi Gras World. So, what really is this Mardi Gras? Officially, Mardi Gras, or Fat Tuesday, refers to events of the Carnival celebration, beginning on or after the Christian feasts of the Epiphany and culminating on the day before Ash Wednesday. However, for most spectators and tourists, Mardi Gras is about music, parades, picnics, floats and excitement. It's one big holiday in New Orleans! And it's very big! The most recent season included 54 parades and featured 1,061 floats, 588 marching bands, and more than 135,000 participants. The combined parade routes covered 301 miles and the processions were on the street for 204 hours. Here is a picture of what the actual Mardi Gras Parade looks like (photo credit: theadvocate.com):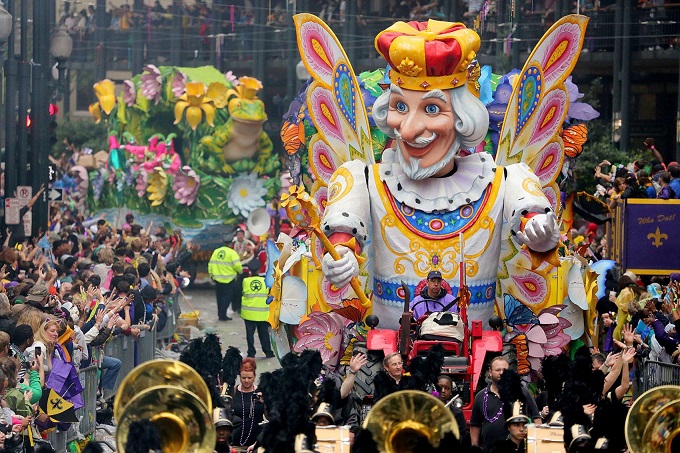 Although we did not visit New Orleans during its Mardi Gras season, Mardi Gras World gave us some great insight and backstage views of this celebration. The place is actually a huge warehouse where the parade floats are being made. The tour started off with a movie and overview of the history of Mardi Gras in New Orleans. Afterwards, we were taken ''backstage'' by a tour guide and got to witness artists at work creating huge masterpieces for the upcoming year's parade.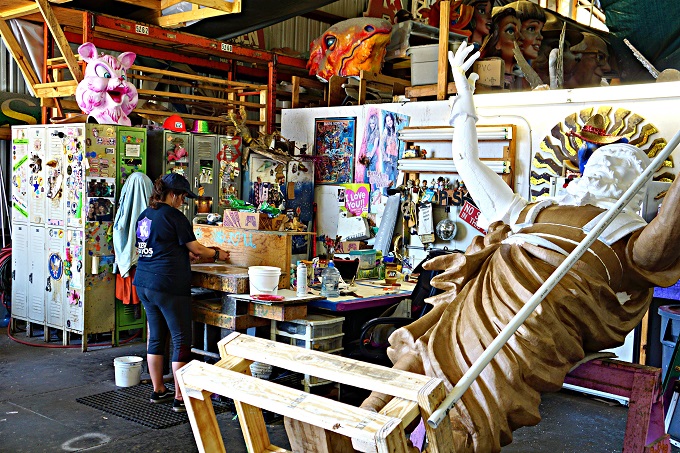 These spectacular floats and props are being made year-round as the delicate work is a very labor-intensive and long process. And there were so many themes: Alice in Wonderland, Superheroes, King Kong, Circus etc. And I could swear some of those props looked like they were actually alive! They looked so real! If I am not mistaken, I think the guide said that one of the most expensive floats that was ever ordered and that they had had to make cost half a million dollars!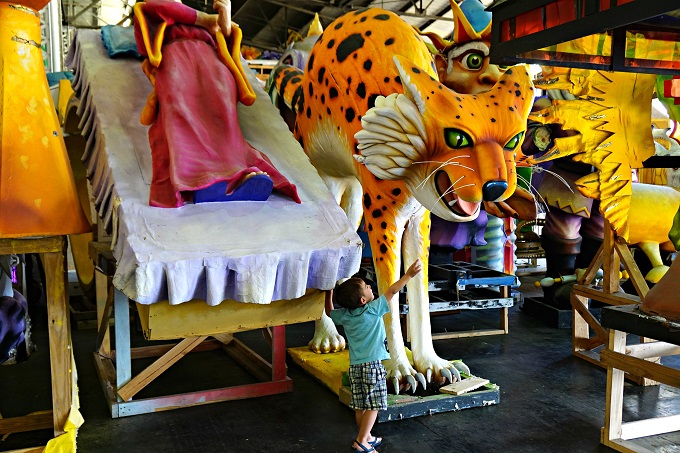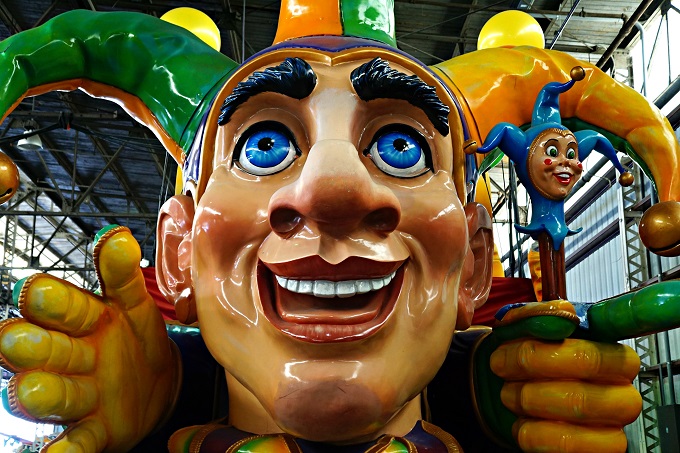 I had a lot of fun here and the tour and different facts told by the guide were very interesting. My husband, however, said that knowing and having seen now how all these huge floats are actually being built takes a little magic out of the event for him. Not me though, I am happy I got to see it, especially as I am doubting the fact that I would be willing to fight the crowds to ever make it to New Orleans during the actual Mardi Gras.
As we still had at least a 6-hour drive ahead of us to get back to Memphis, it was time to finally get on the road. Luckily, the drive once again coincided with the boys' lunch naps so most of the trip was fairly calm and peaceful. End even though a few months ago we swore to never travel with children again, this trip proved us wrong and we had a great time with new memories made. And I am sure we will be back in New Orleans again one day!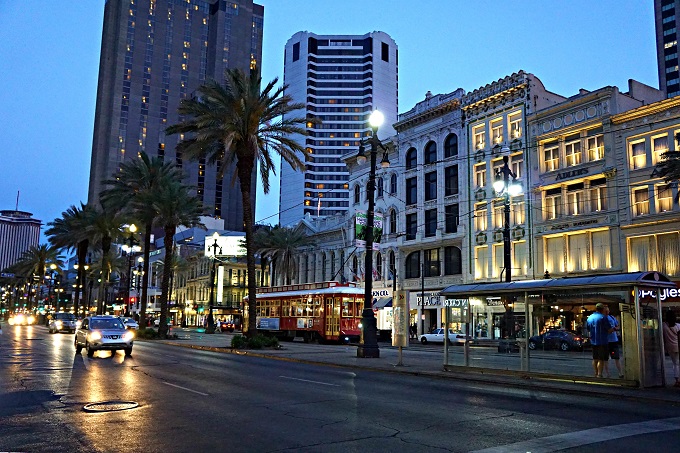 More photos from this trip can be seen in the following galleries:
Louisiana's bayous, swamps and preserves
Related article: Back to explore more of New Orleans