The Dominican Republic - our return to the Caribbean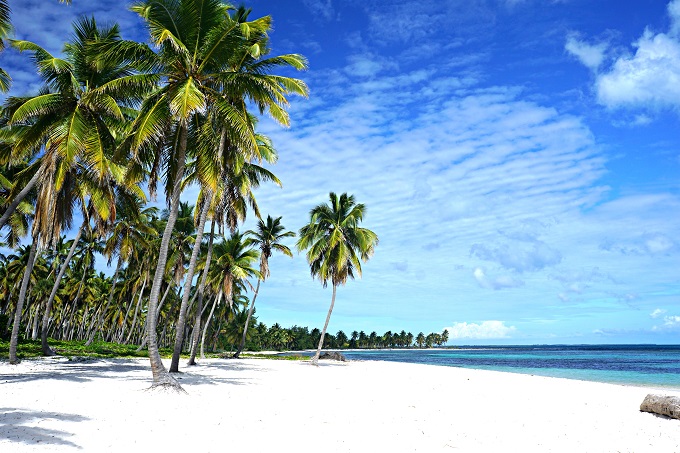 It has been quite a few years since we last went to the Caribbean. And although every cold, dark and snowy winter I wished I was walking on the white Caribbean sand again feeling fresh ocean breeze it just never happened. The reasons were various (mostly because different other vacation destinations crossed our path); however, this year was finally it – the year we were going to return to the part of the world with an endless summer. The only problem was – which Caribbean island to pick? It took a little research. I wanted to go to a green, tropical island (vs dry desert type); it had to be an island we had not visited before; the island had to have enough for us to go, see and explore as just lying on the beach is not our thing; and the flights from the US had to be reasonably priced along with the available accommodations. Everything combined, my choice ended up being the Dominican Republic.
Day 1 – Monday, Feb 19
The day started very early with our flight leaving Memphis airport at 7:30 in the morning. That means the kids (and husband) had to be dressed, fed and out the door by 5:30am! Surprisingly, with just a 10-minute delay we were in our car and rolling to the airport just as scheduled. To save on parking fees we got an off-site parking for just $35 for the 10 days. A great deal! However, we started re-considering our choice when the shuttle bus seemed to have trouble starting… After some negotiations between the driver and the shuttle bus it finally decided to start and we got our ride to the airport. The check-in was painless but the security check line was not. It was the slowest, most annoying process I have ever experienced. Don't misunderstand me, I am all about airport security, but having just 1 lane / scanner open for all terminal C flights was just a nightmare! And apart from the traditional laptops and electronic devices that have to be taken out of the bags to pass through the scanner, the conveyor belt lady wanted all sorts of other random items to be taken out of passenger carry-on bags and laid out separately as well (including but not limited to snack baggies, sandwiches, stacks of paper, books…). Literally, almost everything had to be laid out. Can you imagine the amount of time it took for each passenger to unload and then pack up every item they had with them?! I have no idea how long we stood in this line but it was long enough to where we heard a ''final call'' for our flight or it would leave without us. It was just our luck that the flight was delayed 20 minutes (awaiting some final paperwork to be delivered to the pilots) otherwise we would not have made it. The first leg of the flight was just an hour long before we had to catch our connection in Charlotte. At least that went smoothly and without any issues, and after many months of impatient waiting we could finally see those amazing turquoise blues starting to appear though our airplane window. We had arrived – ready to have an amazing vacation in the Dominican Republic!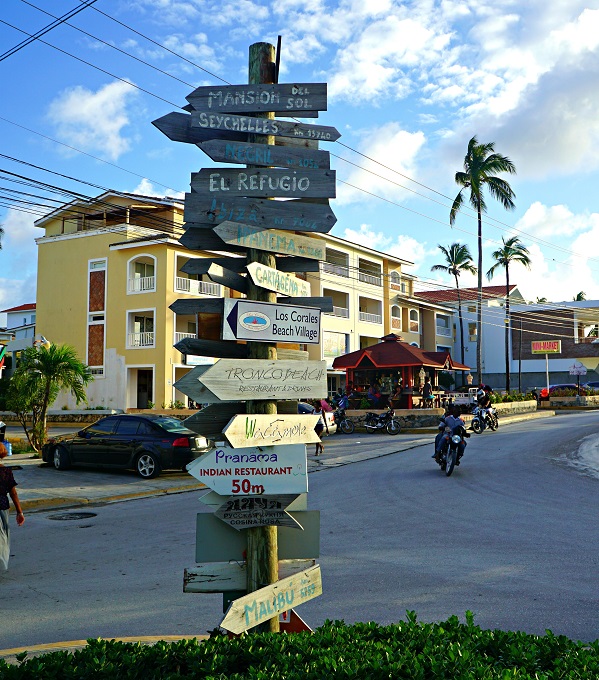 Upon exiting the airplane, we could already feel the muggy, humid air. Yes! We are in the tropics! Just a little problem – entry into the country will cost you $10 per person. Oh, as luck would have it there is a currency exchange booth conveniently located right next to the customs. And they are definitely not into business of ripping people off… ha ha, wrong! Somehow (upon checking the bank account later in the evening) it seems like we paid a magical $140 fee to get some money withdrawn... Still working on getting this resolved. Luckily, all our bags arrived untouched and in one piece (and with no extra fees attached) so we were on our way to get the rental car. I had pre-booked the car online, so it should be simple, right? Wrong again! There were several papers passed to us for signing, lots of fast Spanish talking, credit card statements and pesos, pesos, pesos. I stopped the ''rapido Dominican guy'' and took my time to convert the pesos he charged us back into dollars. He didn't seem happy, and no wonder – he had charged us $337 when my rental agreement print-out clearly showed the total of $274. When I asked of the $60 difference, he said he ''had made a mistake'' and will correct it. At this point it almost seems like the locals are trying to take advantage of tourists hoping they won't catch the conversion rate rip-offs they try to work into their ''deals''. Not a great feeling but I don't quite want to judge this country already as we still have many days ahead of us to explore it. Hopefully our future dealings with the locals will be a little more honest.
All the morning rush and airplane hassles had left us with no decent meals (apart from airplane coffee and cookies), so our only goal for tonight was to find a restaurant and have some good dinner. Just a short drive from our rental we found a Mexican restaurant which we figured would suffice for us - weary travelers with cranky and tired kids, so we sat down.
The meal was really tasty but the service was the speed of … a snail. We actually saw several clients get up and leave their tables as they just got fed up with waiting to have their orders taken… or meal delivered… or drinks made… Yes, it was really slooooooow. And on top of that, we got cheated out of money again by paying with dollars and getting pesos returned for a change. Whatever exchange rate they were using, they made sure they got some extra ''fees'' worked in there somewhere. Whatever, we were tired and in no mood to argue, so we returned to our rental to unpack and put the kids down for the night. Tomorrow will be a new day!
Day 2 - Tuesday, Feb 20
Kids getting up at 8am felt almost like sleeping in for us! :-D We had no definite plans for today apart from settling in. We figured we should start by finding a grocery store. Our rental has a full kitchen so we should take advantage of it and cook at least some of our meals.
The closest little grocery corner store was just at the end of the street and though not much in it we managed to get some basics like cheese, bread, meat, water etc. What surprised me was that all of the milk and eggs were stored on a shelf (not refrigerator). My husband's logic was ''When the eggs come out they are not refrigerated, are they?! So, they should be fine in room temperature.'' Ok, we got some and I guess we shall see how it goes! For those who are looking for some more serious shopping, the best store to go to is ''Jumbo'' downtown Punta Cana. Apart from groceries and fruit in a much bigger assortment, there are all the other necessities - American and European brand toiletries, sanitary products, baby diapers, formula, food (and even baby bottles, toys and beds), some appliances, souvenirs, stationery, clothing and shoes... ''Jumbo'' was definitely our go-to place for most of the needs.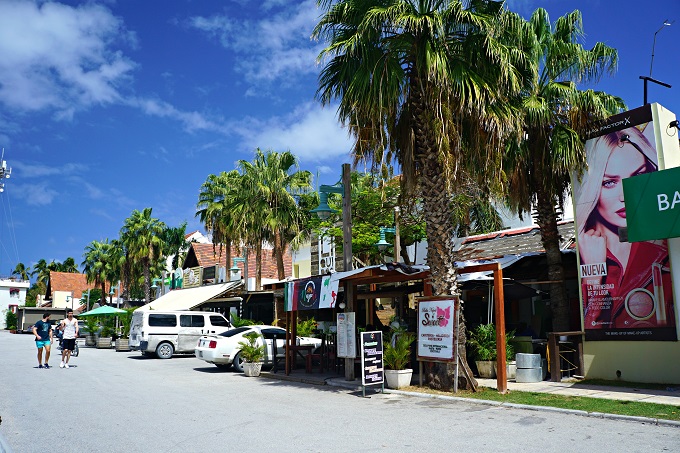 The next trip was to the bank to get some cash as not all places accept cards, and some of the tours we had reserved for the upcoming days required cash payment.
Having finished our little errand run and having unpacked and settled in, we were finally ready to get out and enjoy what we came here for – some sun and sand! To the beach we go! It was just a short walk across the street and right before reaching the beach there was a cute little area with bars, little cafes and souvenir shops. This time around we did not enter any of them but will surely have to come back again to see what they offer.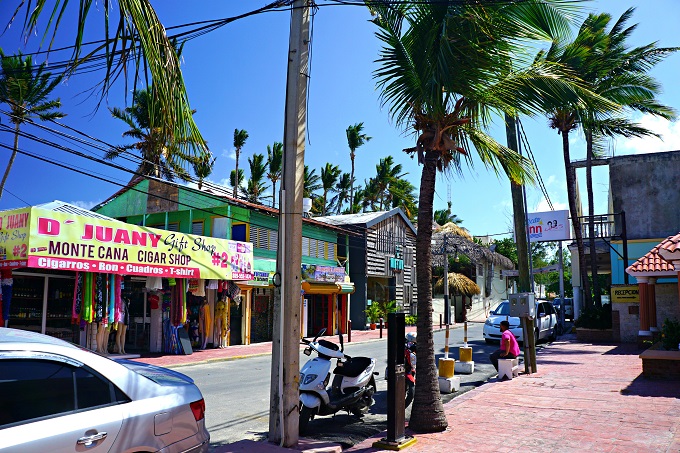 Our area of the beach (Cortecito beach) consisted of 2 parts – to the left of us there were lots of resorts with all of the amenities that come along with it, and to the right of us there was a stretch of little beach huts offering drinks, souvenirs, some food and what else not.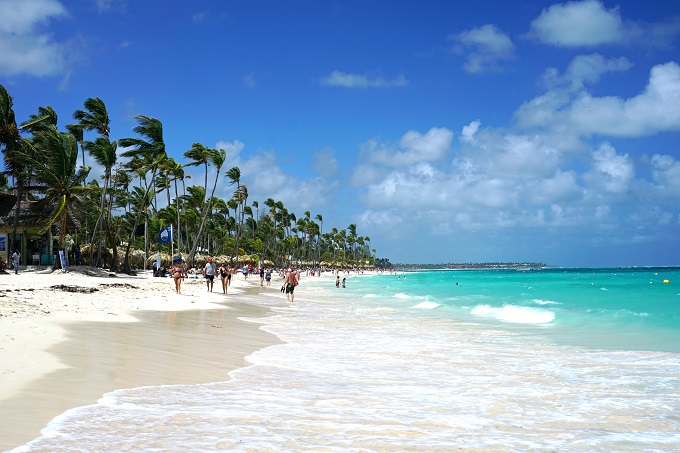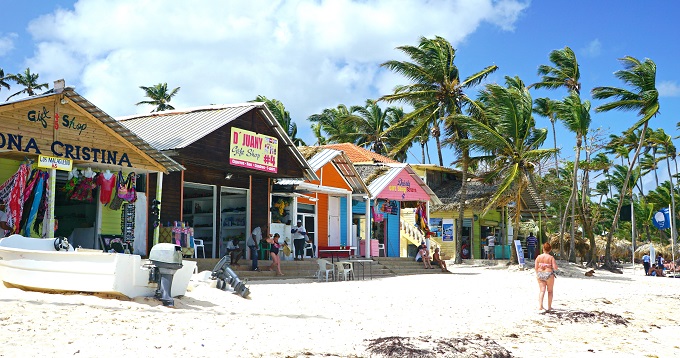 We parked ourselves right between the two areas and spent the upcoming hour playing in the waves, building sandcastles and hiding from the sun in the palm shade. As neither one of us wanted to take a chance of getting sunburnt, we decided an hour was enough for the first day and it was time to head back to the rental.
Apparently, our toddler had different desires and upon seeing the swimming pool at our condo, he was very clear about his wants: ''Wanna go ocean!'' As we found out, any body of water no matter the size is good enough for him to be 'the ocean'. So, my husband got stuck at the swimming pool while me and the baby went home to look for some dinner.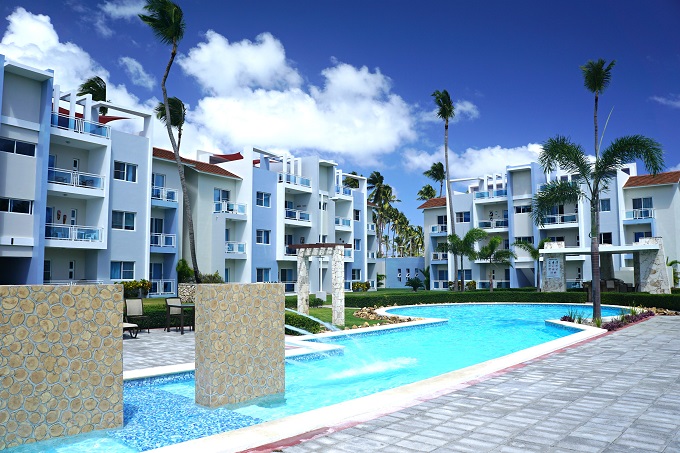 The evening was short and sweet and everybody was in their beds fairly early as the next day was planned to be full of exploring.
Day 3 - Wednesday, Feb 21
Today is our first big adventure – a full day trip to the Dominican Republic's capital Santo Domingo. From our rental in Bavaro beach area Santo Domingo it is about a 2.5-hour drive. And though leaving quite a bit later than I originally planned, at least we were all packed, loaded and on the road which in itself is quite an achievement (if you know what traveling with a toddler and an infant can entail).
For those who might drive themselves from Punta Cana to Santo Domingo – there are 4 tolls payable in cash (Dominican pesos) only. Three of them are 100 pesos each and one is 60 pesos (which totals roughly $7 US). The road is great and the drive happened without issues.
Our first sightseeing spot was the Three Eyes National Park (Los Tres Ojos). The park consists of a series of three lakes (or 'ojos' = eyes) and the site is currently one of the most visited tourist attractions in the Dominican Republic. It took us a little driving around in circles to find the entrance as GPS isn't quite exact, nonetheless – we got there! Only the adults had to pay the fee and kids 2yo and under were free (which is the case in most attractions in the DR). Right as we entered the gate, we got offered guide services which we politely declined. The locals will try to attach themselves to you as a ''guide'' trying to earn money that way. I am sure many of them are knowledgeable and provide great info; however, we decided to just take a look around ourselves.
Steep rocky steps take visitors down into the underground caves where the pools are. The caves are fed by water from an underground river and they are surrounded by stalactites and stalagmites. The composition of the water varies. The two smaller ponds are made of sulphurous water and salt water, while the large lake is composed of freshwater, and their various depths give rise to different colored reflections: blue, green, and sometimes yellow.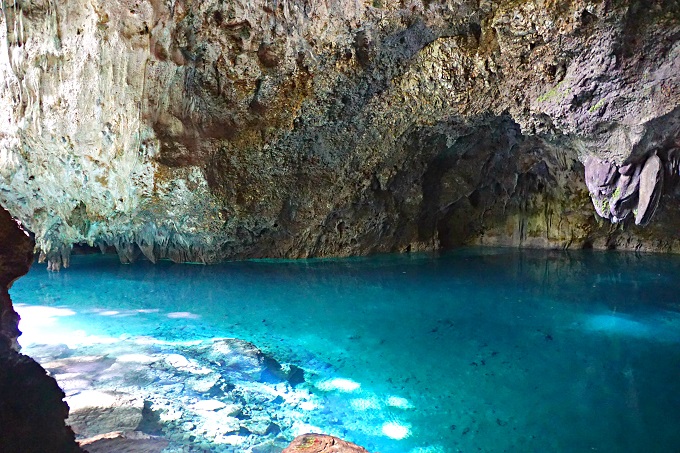 There is also the 4th lake which can be accessed via a barge that will tug people over for 25 pesos ($0.50) ad it is definitely worth it. The 4th lake was much different from the other 3 with lush vegetation and turtles and fish swimming at arm's reach.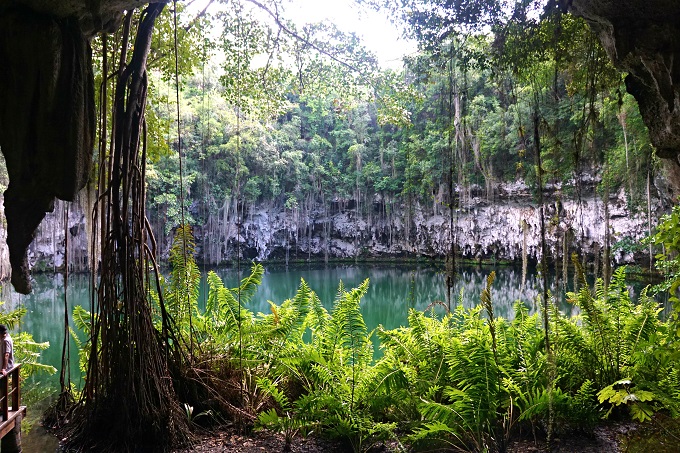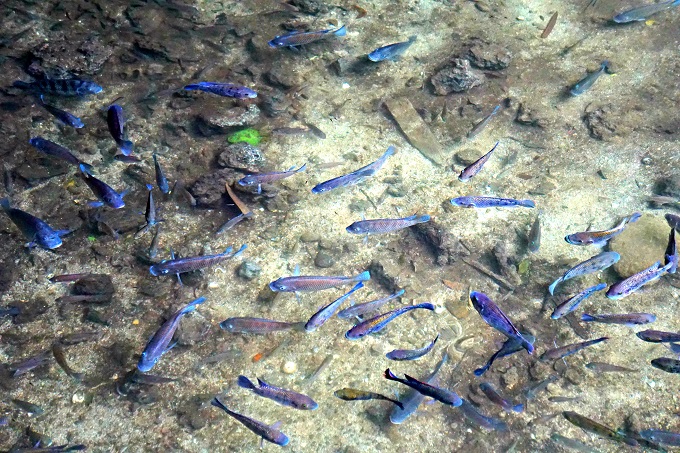 Overall, it was a great stop and worth a look. Our toddler seemed to enjoy it as well, though he mostly wanted to go swimming (which is not allowed) and collect the rocks… fine with me. And the 7-month old had his fair share of excitement as well, especially when all the other visitors gave him big smiles and lots of baby talk when passing by. He seemed to take all the attention in stride.
The next stop was the National Aquarium (Acuario Nacional) which I mainly put on the list because of the kids. The aquarium is pretty small and can be seen in less than an hour. There are fish tanks, some turtles, 2 manatees and a pretty neat walk-through tunnel. Just enough to see to keep a kid's attention but not overwhelm.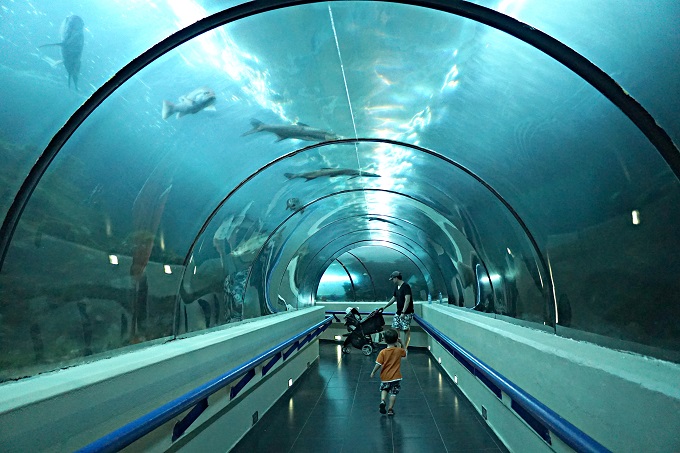 And as the complex is situated on the ocean cliff, it gives some amazing views of the coastline.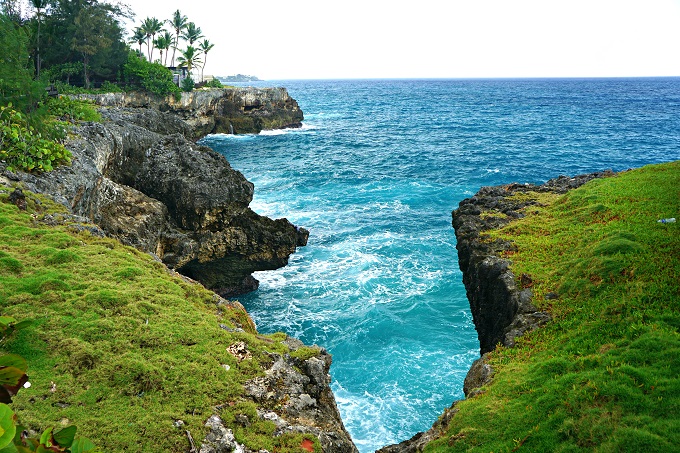 A very exciting part for me was seeing the iguana indigenous to primarily this island. The 'rhinoceros iguana' is a threatened species of lizard and the name derives from the bony-plated pseudo-horn or outgrowth on the iguana's snout which resembles the horn of a rhinoceros. There are very few places to see them around the Dominican Republic and we got lucky that one had decided to make its way up the ocean cliff and wander into the aquarium territory.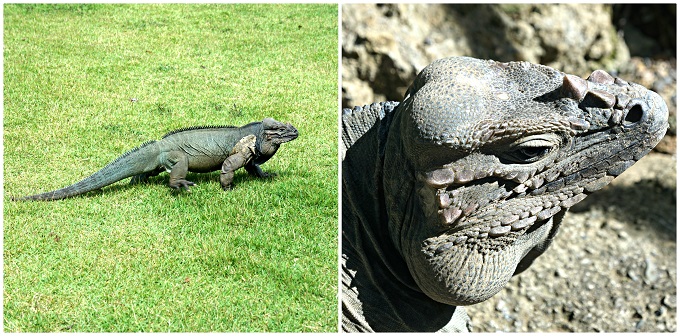 I had also read that the aquarium had a nice kids playground so we decided to let the toddler roam and have some fun and exploration of his own.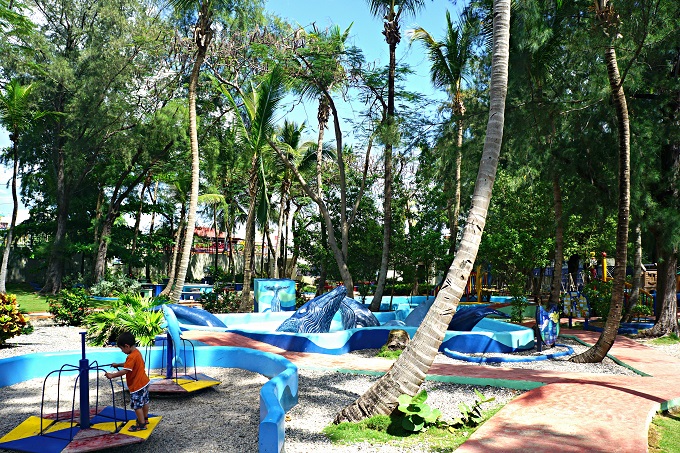 Unfortunately, that didn't go over as intended. We had already noticed that our boy had not been quite himself the past few hours and seemed tired and uninterested in most things. You can never get him to leave a playground but this time around we could not get him to play in one… So, we figured the early morning, long drive, and hot sun had exhausted him and missing his nap did not help either. Our hope was that he will take a short nap in the car as we drive to Santo Domingo's Zona Colonial and will wake up refreshed and in a better mood.
After my husband's masterful negotiation of Santo Domingo's crazy drivers and traffic, we had reached the main attraction – Zona Colonial. Colonial City is the oldest urban core of the city of Santo Domingo. It was the first permanent European settlement in America, founded in 1502 by the Spanish colonizers. This area of Santo Domingo has colonial buildings and streets with old cobblestones.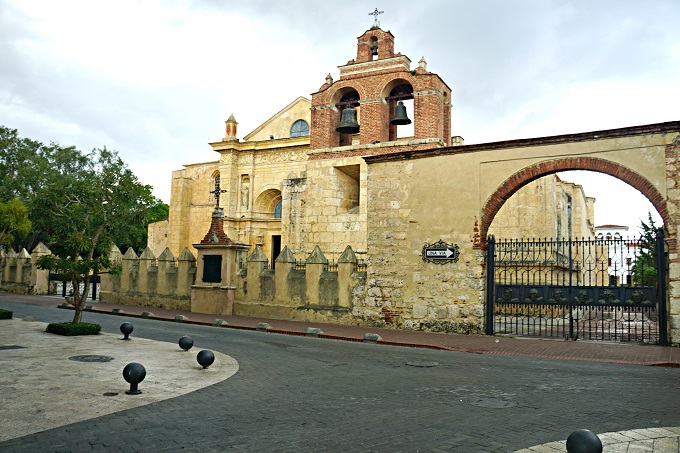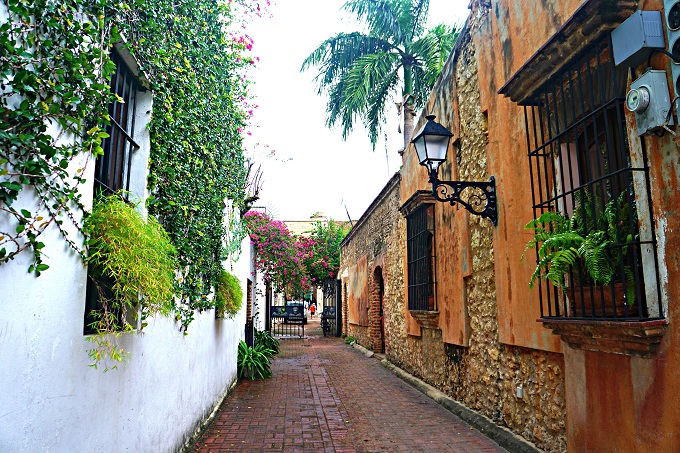 It was clear to us that our usual mode of transportation (on foot) might not be the best choice given the still grumpy toddler situation, so we opted to take a horse carriage ride. You can have one with or without a guide but just to get a little more insight into the history and events, we hired a guide for our carriage ride (there are guides all around offering their services so you don't even need to specifically look for one).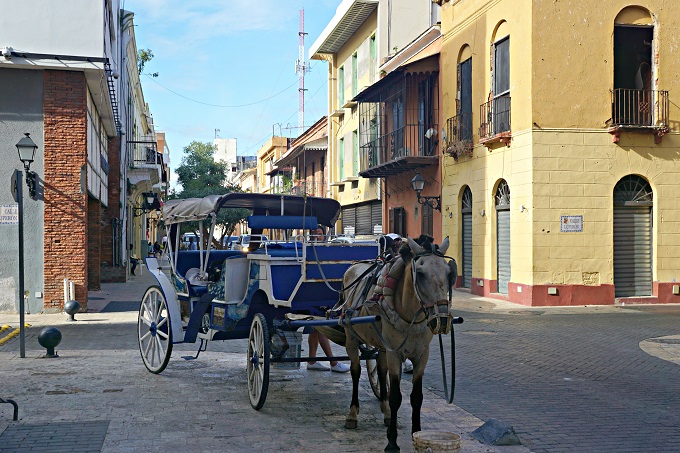 This time, it was not money well spent as the guide's English was barely understandable and he did not have much info to give us either. To ''expand'' his story, he repeated the same thing at least three times as we passed something: ''This was the house of the first president of the Dominican Republic. The house of the first president…of the Dominican Republic. The first president of the Dominican Republic lived here in this house.'' Sort of like that. The horse and carriage cost us $30, and the guide was additional $30. However, I do have to admit that the plus side was that we got to cover and see a much larger area of the city than we would have ever been able to negotiate walking with 2 little kids.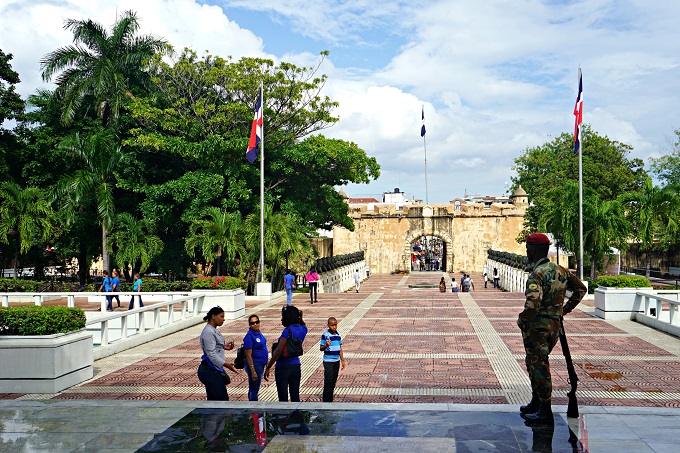 The last order of the day was getting some decent dinner as neither one of us had had anything to eat all day besides some snacks in the car. Our carriage guide suggested a nice restaurant with local food. ''Best local food in town,'' he said. We were starving and happy to receive our beautiful and delicious looking food plates put in front of us right as our toddler had a total meltdown of inconsolable crying. I did not want to admit it out loud but in my mother's heart I knew all along that he had not felt himself for the most part of the day. He was getting sick and that is just not something you want to happen at the start of your vacation. There was no dining happening, so we had our food packed up as we braced for a long 2.5-hour drive back to Punta Cana.
We did survive the car ride but the night was going to be long – the boy had a fever. We were hoping some medication will help him through the night and tomorrow will be a better day.
Day 4 – Thursday, Feb 22
It's a good thing that we did not have any tours nor trips planned for this day as the toddler still woke up feeling sick. We decided to just take this day easy and stay local; no long drives. First off, we headed into the local shopping strip looking for some fruit smoothies as we felt like something tropical and cold. There were several restaurants, cafes, souvenir shops, food trucks, and fruit carts.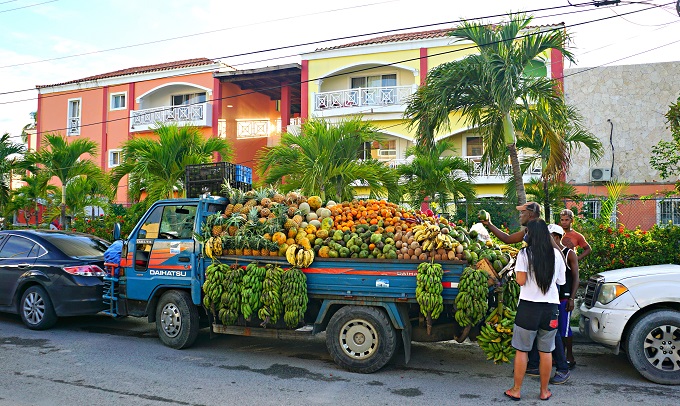 There was also what seemed like a fruit juice / smoothie kiosk. Bingo! We headed there and were trying to figure out all the drinks noted on the board in Spanish. The lady inside just kept ignoring us, and kept washing blenders, cutting fruit, talking to a local guy sitting on the other side etc. Either she was just plain out rude or simply avoided addressing us as she did not speak English, yet whatever it was we did not feel welcome and decided to leave without our smoothies.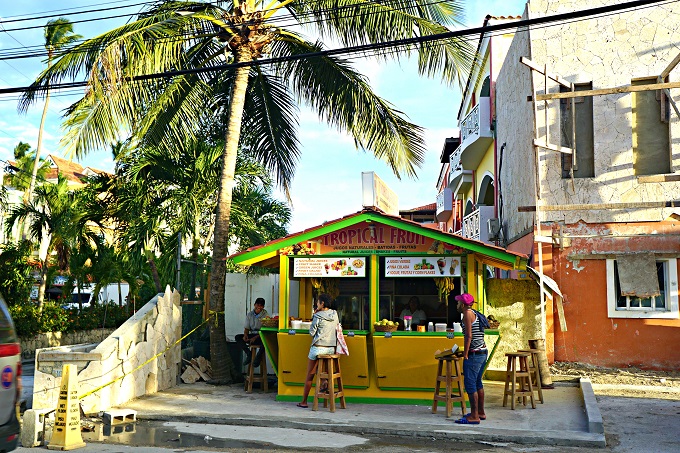 The day had just started so we were thinking of some other local things to do. I had read about 'Indigenous Eyes Ecological Park and Reserve' (Reserva Ecologica Ojos Indígenas) which was only about a 20-minute drive away from Punta Cana. The park is a forest reserve that has twelve freshwater lagoons and some tropical hiking trails. It was said to be very beautiful so we decided to head that way. Unfortunately, the GPS was not our friend again and took us all over, including trying to take us to an adventure park. It took some talking to the locals to finally find the right road to the reserve. As we were getting ready to start our walk, another family returned from the lagoons and we started chatting. It appears, there are 2 lagoons in which visitors can swim and they said the experience would not be complete if we did not swim (nor it would be worth the $25 entry fee). As we had not planned on swimming (nor knew it was an option) we decided to leave and come back another day with all the appropriate swim gear. On our way out, I stopped at a local rancho to snap some photos…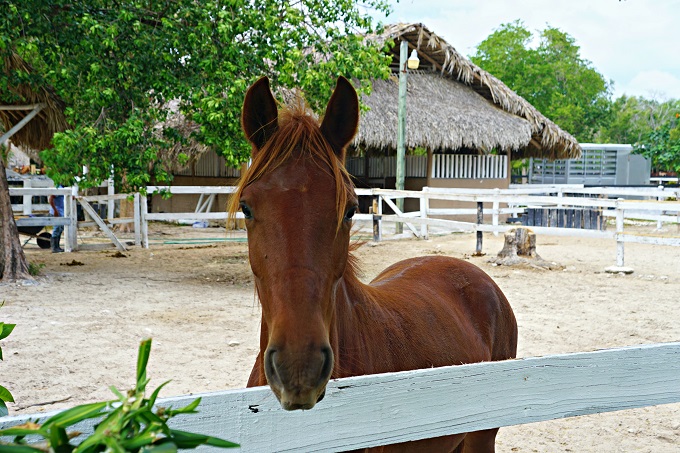 The remainder of the day was spent at the rental just resting and relaxing as tomorrow was our first pre-booked tour which promised for an adventurous day cruising down the Chavón River.
Day 5 – Friday, Feb 23
The meeting time for our tour was at 11:45am at the travel company's booth which made for a fairly easy and relaxed morning. The tour (Seavis Tours) is about an hour's drive away in the town of Bayahibe (which is also where all their tours start) and for a $25 fee they offer shuttle service from the Punta Cana / Bavaro resort area to their office; however, as we had a rental car, we decided it would be much easier, faster and practical (with 2 kids) to drive ourselves at our leisure than go on a bus stopping all the time while picking up many other people along the way.
We reached the office right on time and from the looks of it, this is a place where almost all of the tour companies in the area start their tours. There were many travel agency booths, lots of yachts and boats, lots of local hustlers, restaurants, souvenir huts and beach boys. It was a different yet very pretty scene.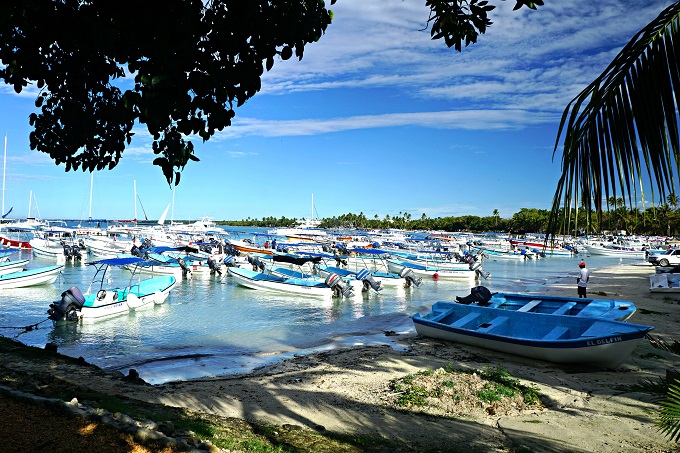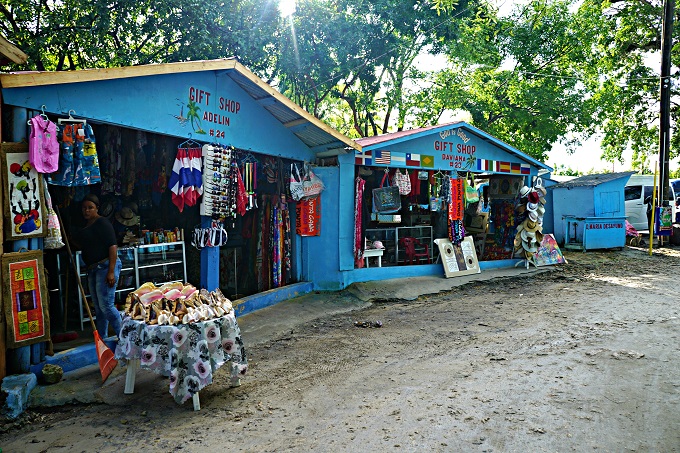 Once all of our group had arrived, we were ready for our 'Wonders of Nature' tour. A shuttle took us all to the Chavón River where we would start our journey. We got on a big pontoon boat (equipped with tables, chairs, a bar and music) and started cruising up the river which had weaved its way through the Dominican rainforest.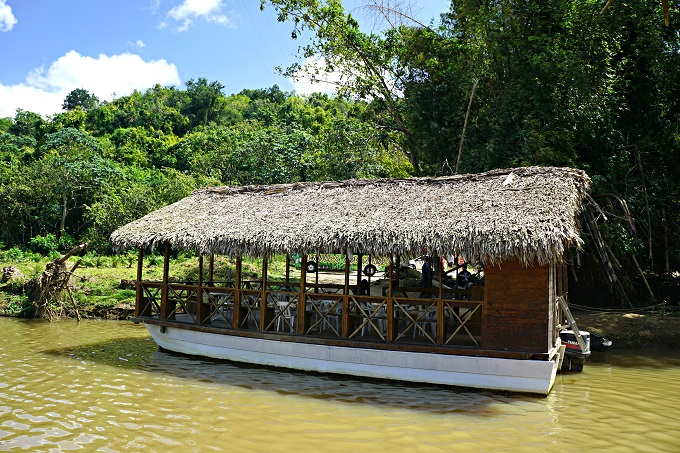 It was very beautiful with many tropical and exotic plants and mountains on both sides. The Dominican Republic rainforest is very similar to that of the Amazon, so many Hollywood movies have been shot here (instead of going to the actual Amazon jungle). The most popular ones are Rambo 2 and Apocalypse.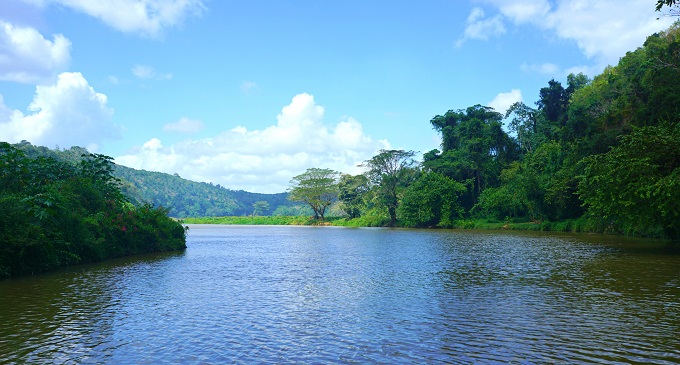 The cruising up the river took about 45 minutes until we reached a farm where we would have our lunch served and would have a tour of the property. The lunch consisted of Dominican rice and vegetables with pork, chicken and fruit for dessert. It was probably one of the tastiest meals we have had here in 5 days. After lunch we started our tour of the farm with the butterfly garden and the conservation efforts followed by some animal exhibits where we got to feed a vulture, pet iguana, and hold a snake, tarantula and a native to the Dominican Republic – Hispaniolan amazon parrot. Kids of course had the most fun touching and petting all the animals (and yes, me too!) :-D.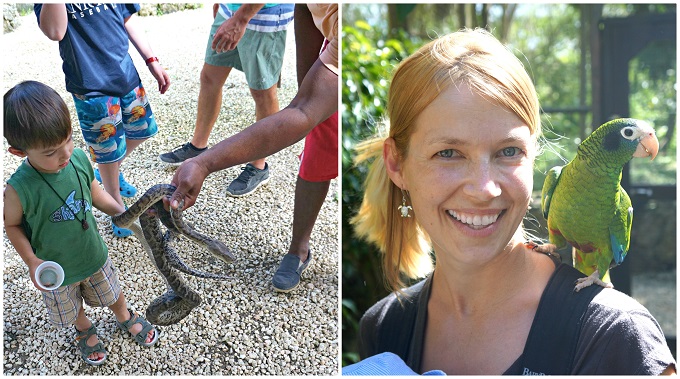 The farm tour also included a short walk through the rainforest explaining its importance and role in the ecosystem. Overall, we spent a few fun hours here enjoying the fresh air, greenery and just relaxing by the riverside while all the kids of the group had the run of the place playing with rocks, sticks, grass and whatnot. This is a great tour for families with kids of different ages and it was my husband's favorite tour of the whole trip.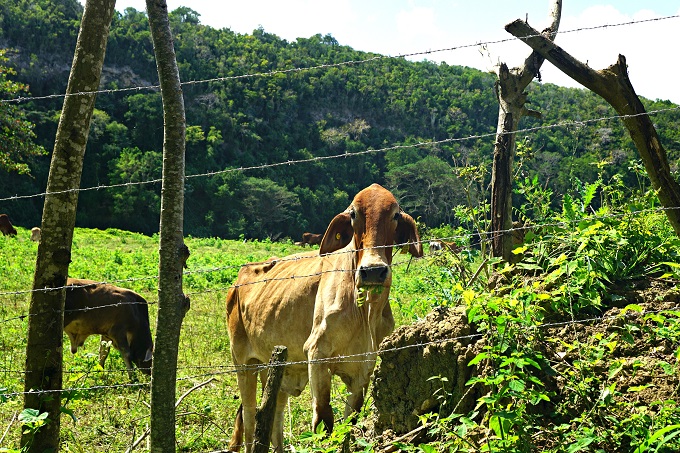 The cruising down the river took only 30 minutes and soon enough we were back to our shuttle which took us to the travel office. There was also a photographer accompanying the tour for the day and for $30 we were offered to buy all the pictures of the day which we decided to do despite the fact that I took many myself. The more memories the better!
Tired but happy we did the hour drive back to our condo looking forward to tomorrow for which I had scheduled another tour with the same company.
Day 6 – Saturday, Feb 24
We were woken up at 2am by our toddler's awful coughing and crying. His forehead was hot and he was all sweaty. We had had a good day yesterday with everybody feeling great, and just as we thought he had gotten over whatever had struck him, it was back again! The night turned long and by the time the morning came it was clear to me that the little boy was in no condition to endure a 10-hour tour on a boat out on the Caribbean Sea. It was a painful realization as this boat tour to Saona Island was supposed to be the highlight of our trip. I contacted the office to see if we could re-schedule for a later day but all their tours were fully booked. They said they would put me on a waiting list in case someone called in with a cancellation of their booking but the chances were slim. I almost wanted to cry as this vacation has been nothing but constant worries about the upcoming day – how sick will the kid be, will we be able to do anything, will we need to cancel our activities, should we just book a flight home… I guess all this is just the ''perks'' you get when traveling with children. My husband and I were longily looking back to the days when it was just the two of us on a vacation because this was definitely not a vacation; this was A LOT of work!
The little man slept in after being up half the night, which gave us an opportunity to at least eat a little breakfast and tidy up. As we had cancelled our tour for today, we had no other plans; nor I knew if we would even be able to leave the condo. It was always a guessing game as to how the toddler will feel. But just as unexpectedly as the sickness had come at night, it had left by afternoon. The boy was running around like an energizer bunny ready to explore again and impossible to contain indoors. So, we decided to give Ojos Indígenas ecological reserve another shot. It was local, short drive, not a lot of heating up in the open sun, so it worked for everybody. This time we armed ourselves with all the appropriate swimming gear so that we could enjoy a refreshing swim in the lagoons.
The pay system for the park is quite odd. If you are a guest of certain hotels, your entry is free. For a different list of hotels the entry is $10 per person. And for everybody else the entry fee is $25. As we were not staying at a hotel at all, we fell into the 3rd category of $25. Kids free of course.
It is about a 10-15 minute walk through a jungle-like setting with several other lagoons along the way (in which you cannot swim) until we reach Laguna Guama, the first one of the two lagoons allowed to swim in. There are quite a few other tourists already there taking a dip in the refreshing water and it is a bit too crowded. Luckily, the big group that's there is getting ready to leave, and once they are gone there are maybe just 8 -10 more people left. I wish we were alone but of course that's an unreasonable request! First in are my husband with the 2-year old and they are having a blast! The water color is beautiful and I am trying to catch as many photos as I can. Several people are jumping in from a platform made specifically for this reason. Looks fun! I will have to try as well!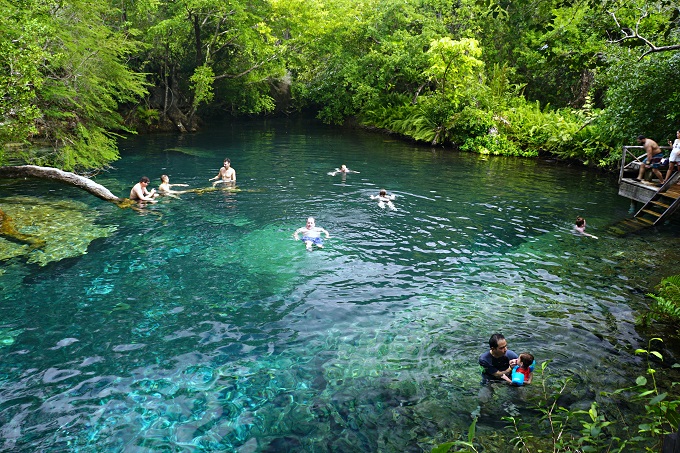 After both boys have had their share of fun, it is my time! The water feels quite chilly in comparison to the hot, humid air, but once I am in and have got used to it, it feels nice! And yes, I did try to jump in from the platform – it was as fun as it looked!
Unfortunately, the clouds gathered up and it started raining, so we did not get a chance to go and see the second swimming lagoon. Nonetheless, we did not feel too disappointed as we have had fun time here and the kids had behaved themselves which many parents will know can't be taken for granted!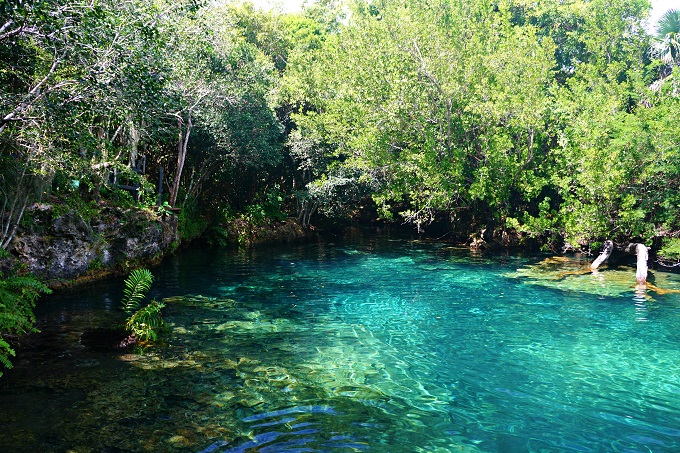 After the park we decided to drive downtown Punta Cana to just walk around and get some early dinner. Have to say, there really isn't much of a downtown here – a bank, a movie theater, a gas station, some shops and some restaurants. Nothing to do really, so we just sat down for dinner at what was described as 'local flavors' restaurant. We are all about local! The food was tasty but my fish with the whole head and tail caused some disgust in my husband, ha ha! A whole prepped fish is just one of those things he cannot stomach; I guess we each have our kryptonates.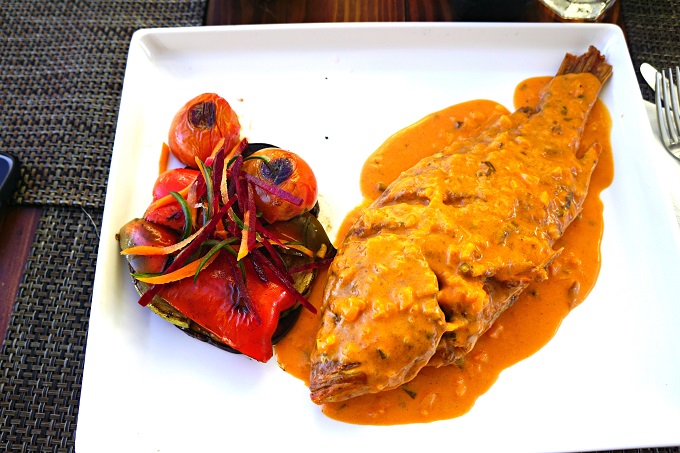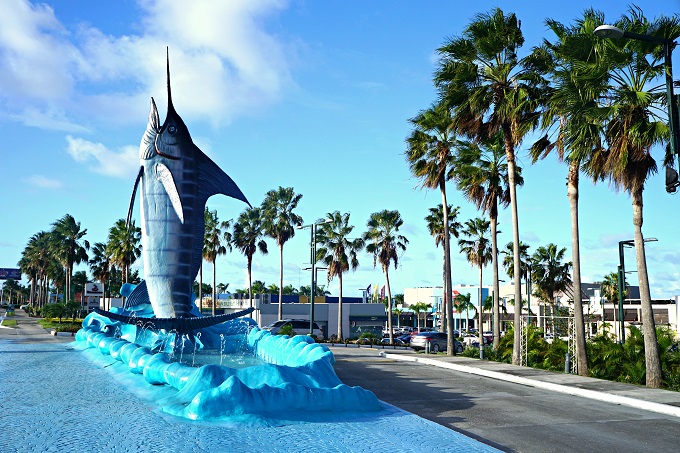 As it was still early enough, we decided to head to the beach and check out some local arts, crafts and souvenir huts. We have been here for 6 days already but had not bought the traditional fridge magnet yet, so it was about time! Another traditional Dominican Republic ''thing'' is Taíno Indian art. Taíno Indians inhabited the Greater Antilles (comprising Cuba, Jamaica, Hispaniola [Haiti and the Dominican Republic], and Puerto Rico) in the Caribbean Sea at the time when Christopher Columbus arrived to the New World. There are souvenir Taíno figurines, paintings with their art, as well as jewelry. The souvenir booth guy was very nice and gifted our son a little necklace with a wooden Taíno figurine.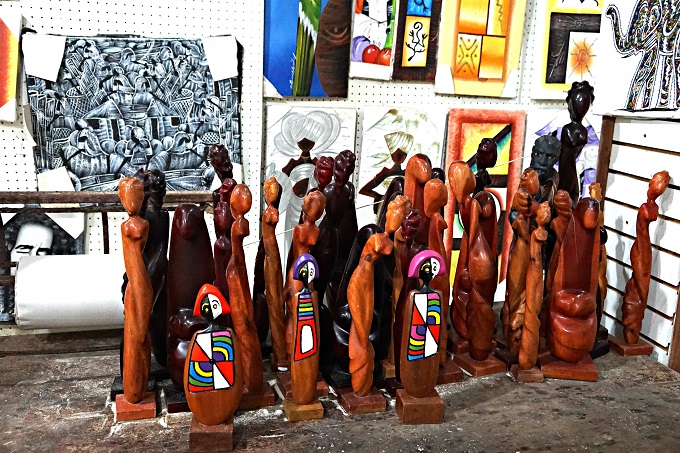 **As a little side note, I would like to mention that there is a cave half-way between Punta Cana and Santo Domingo (Called, Cave of Wonders or Cueva de las Maravillas) where visitors can see actual Taíno Indian art and writings on the cave's walls dating back to before the 15th century. The cave is one of the sights on my list to go and see if the time allows.**
After our souvenir shopping was complete, it had gotten dark outside and the wind had picked up, so it was time to walk back to the condo. And although last night it seemed as if today would be a day spent at home trying to console a sick child, the luck turned and we had a wonderful afternoon swimming, eating and shopping!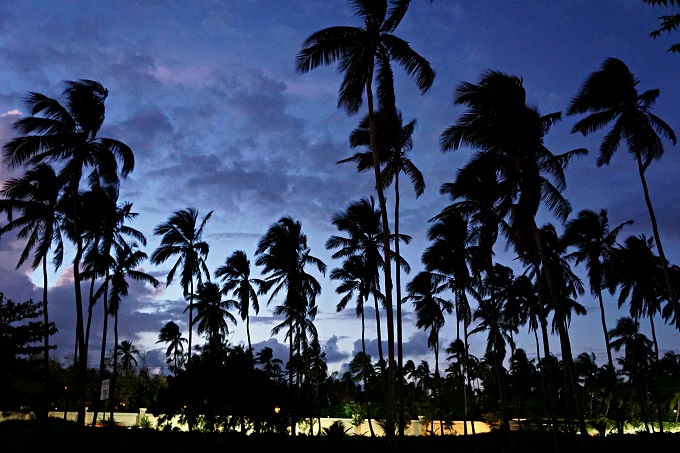 Day 7 – Sunday, Feb 25
I had left this day open for us to use as we please – whether it would be a day at the beach, a day at the pool, a day just spent watching TV or relaxing at home, a day of shopping and eating… whatever. But once everybody was up and we started thinking what we felt like doing, it appeared that we longed for some adventure. As we had to cancel our boat tour the day before, we were trying to think of some ways to get us on a boat. Unfortunately, most of the good local boat tours were either fully booked or closed on a Sunday so we were left on our own. There are no local boaters in Punta Cana as it is just too commercial, so we decided to go on a little adventure and drive an hour away to the fishing town of La Romana / Bayahibe to see if we would be able to catch a private boat there for some sightseeing.
We packed the bags, packed the kids and off we went. As a little side-trip, I wanted to stop at Altos de Chavón in La Romana which is a replica of a 16th century Mediterranean village and an internationally recognized culture center. It is said to be very pretty with beautiful views of the river down below. However, once we turned off the highway, a security gate emerged in front of us. Apparently, the village is in a resort territory and to enter the resort it costs $25 per person (which includes the use of resort's facilities). We did not care for the resort, so we decided to drive around it looking for another way to get to the village. Unfortunately, every street we found eventually ended in a new security gate. There was just no way around it. It's a shame really as it costs nothing to see the village itself, but the resort charges a fee to access their property… We decided it was not worth the $50 as we would not use any of their facilities, we just wanted to look at the village. So, we left.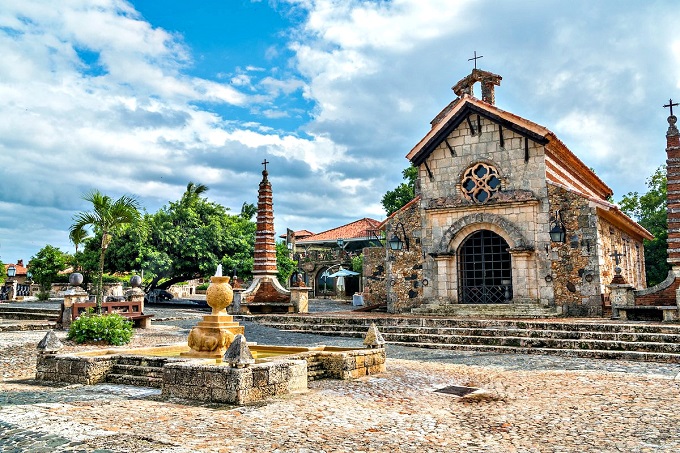 /Photo source: Life in the Caribbean by Edina/
I had also thought about visiting Cueva de las Maravillas with the Taíno Indian paintings on its walls (which was just a 15-minute drive from La Romana) but unfortunately, we had wasted too much time trying to look for an entrance to Altos de Chavón and if we ever wanted to have any luck finding us a boat today, we had to move on and drive to the Bayahibe beach. And so we did.
As soon as we parked our car and propped the door open we were already engulfed by local hustlers: "Where are you from?" ''You looking for a tour?'' ''Where do you want to go?'' ''Any souvenirs?'' ''Good restaurant here!'' This is how we ended up at a shady, not very official looking boat tour booth (or so they said).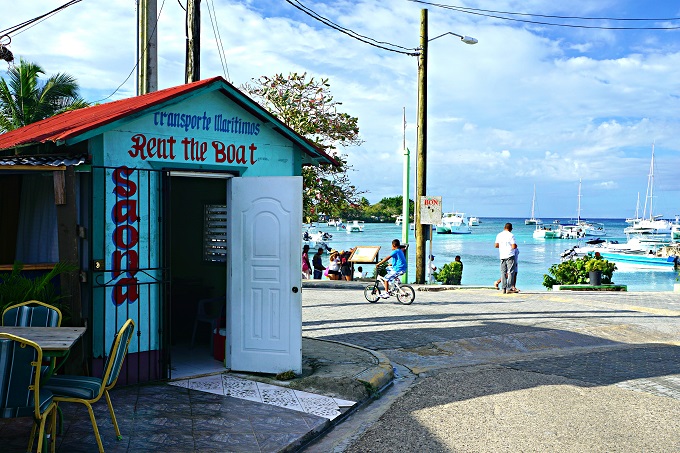 There are 2 main islands that are visited from the mainland – Saona and Catalina. I was still holding out hope that maybe, just maybe, we will get a call from the tour company saying that someone cancelled their Saona Island tour and we will be able to take their spot, so my interest right now was in seeing Isla Catalina instead. It lies about 2 miles west of Bayahibe and getting to it requires crossing open ocean which can get pretty bumpy in a small boat. Fortunately, the winds were calm and the see smooth for sailing so we agreed on a private boat tour to Isla Catalina for $150 which included dropping us off at the island to give us a few hours for photos and exploration and then coming back to the mainland.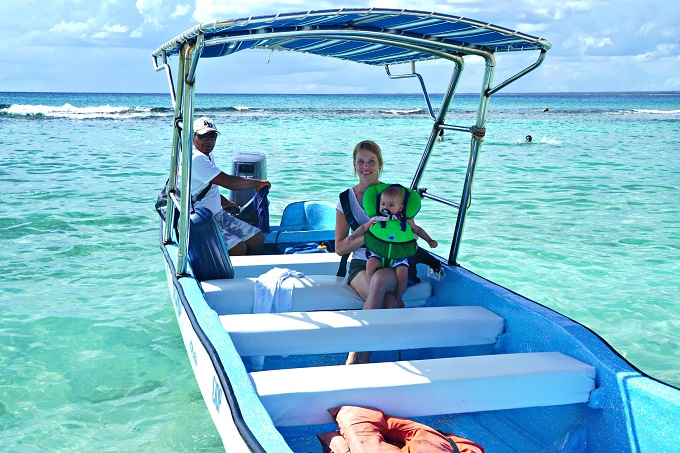 I was actually a little surprised how smooth the sea was and the closer we got to the island the more turquoise blue / green the water became. The sea has corals very close to the shore here which attract people willing to spend their leisure time snorkeling. With 2 little kids snorkeling was not an option for us, but we did want to at least walk on the fine white sand and hug a few tropical palm trees! And we did get to do just that! And there was almost nobody else there besides us and our boat!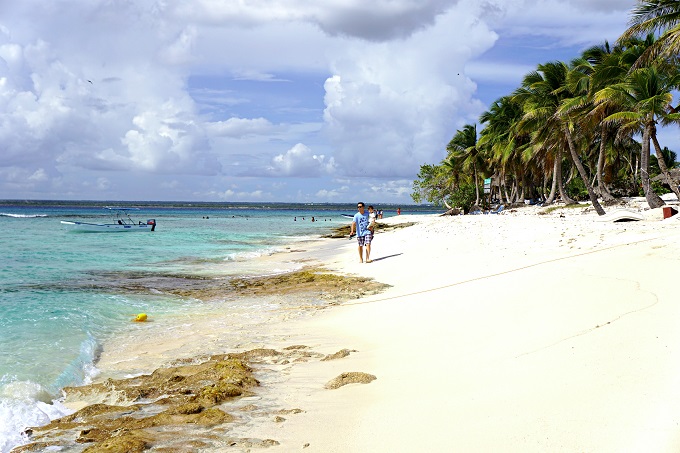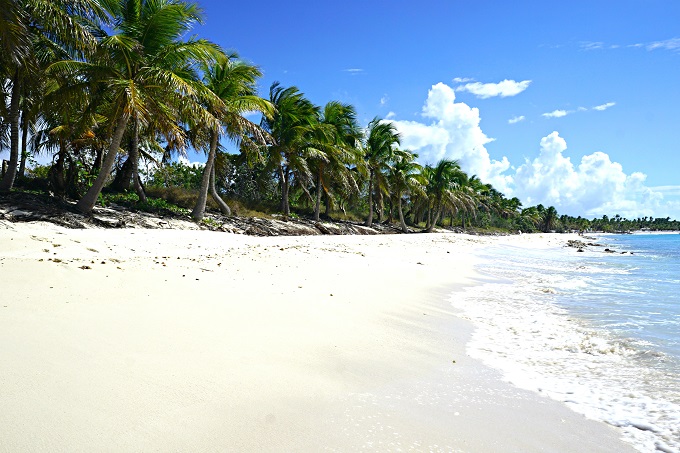 As our trip here happened so spontaneously, I had forgotten to pack a sunblock which meant it was not very wise to spend too much time hanging out on the beach. But we did stay enough to walk up and down along the shore, take a ton of photos and let the kids play in the sand. However, although pretty, Isla Catalina did not give me quite that picture perfect beach I was looking for. There was quite a bit of trash washed up on the shore in spots making for an unattractive sight. But who's to blame for it? None other than just us – humans.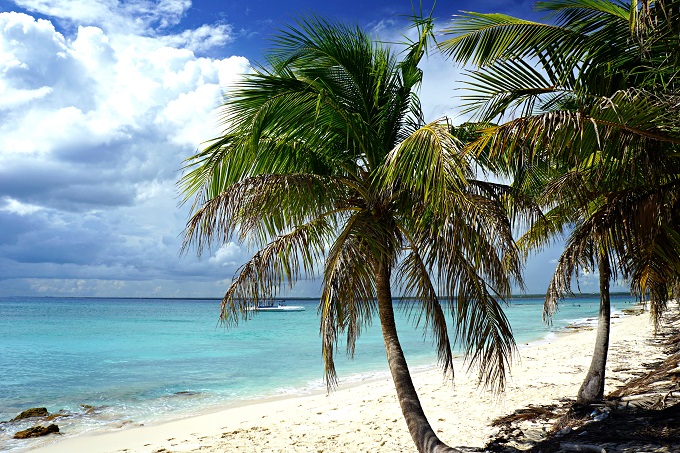 Our ride back was a lot bumpier – the winds had picked up and we were going against the waves which caused some serious jumping of the boat and huge splashes. We (the adults) enjoyed it, the baby was not impressed and fell asleep but the toddler was having none of it – I guess he won't be a sailor when he grows up! The captain made a few additional stops along the way showing us La Romana town harbor and some expensive villas along the ocean shore.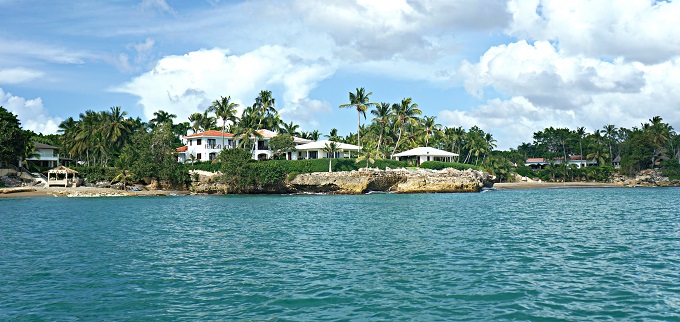 Overall, we were very satisfied with our impromptu boat charter tour and happy yet very tired made our 1-hour drive back home just as the sun started going down below the horizon…
Day 8 – Monday, Feb 26
With alarms set for 6am we were up bright and early ready for yet another adventure. I had booked a Monkeyland tour – a chance to feed and interact in close proximity with the beautiful and friendly squirrel monkeys in their natural environment. I was looking forward to it also because we would get to explore a whole new (and different) part of the Dominican Republic. The monkey preserve is nestled in the mountains of Anamuya – a part of the country we had not seen yet.
The agreed pick-up time was 7:30am. A deal is a deal and we were at the side of the street waiting right at 7:30am sharp. 5 minutes go by, 10 minutes, 15 minutes, 20 minutes… We are starting to get worried that there might be a mix-up or oversight and the tour company has forgotten about us (happened to us once in Antigua). A quick call to the office confirms that they indeed do have us on their list, however the shuttle is still en-route. Finally, after 30 minutes our buggy is here to pick us up. We should know by now that everything here happens on ''Dominican time''. As we were informed by a Dutch couple who lives here in the Dominican Republic now – ''Dominican time'' is a real thing. Even when it comes to such important events as a doctor's appointment, don't expect the doctor to necessarily be there. An hour, two or even three late is completely normal an acceptable; and nobody will give you a courtesy call to inform about it either. That's just how it goes in the Dominican Republic and takes some getting used to for always punctual Americans or Europeans.
Either way, we were up and running towards the monkeys. Shortly after leaving the resort area, the bus left the main road and turned on a small country road leading into the mountains. It is here that we could see the actual Dominican lifestyle. Small wooden houses lined the road with fruit stands and occasional ''cafe'' (which consisted of a cutout in wall for a bar and a wooden bench on a sidewalk for seating). Modesty all around.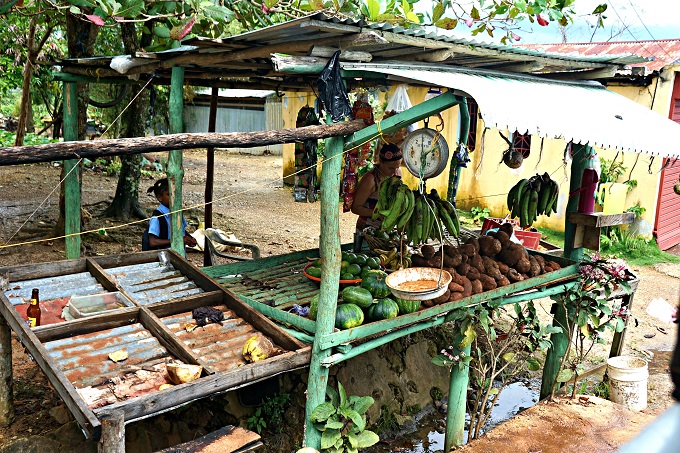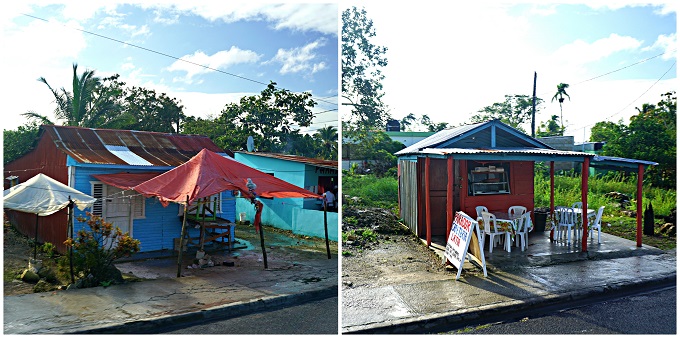 The closer we got to our destination, the greener and more mountainous the scenery became with many tropical trees and plants, like coconut palms, sugarcane, cocoa bean trees, coffee trees, papaya trees, and banana trees.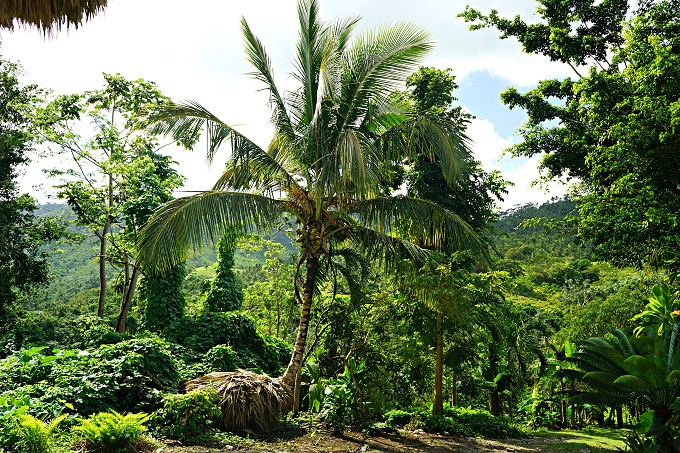 The first part of the tour consisted of a visit to a coffee and cocoa plantation and a demonstration of how coffee, chocolate and coconut oil is made in the Dominican Republic. We also got to sample their chocolate, coffee, coconut dessert and many other things which were all delicious. Lots of it was later offered for purchase. We also entered a typical Dominican house to see how local people live. And although the house was more of an artificial setup for tourists, I am sure it resembled a real Dominican house close enough.
The second part of the tour was finally meeting the monkeys! This meet-and-greet is based in 5 acres of a beautiful portion of land which monkeys have made their home. They have become totally trusting to human contact and climb down from the trees to sit on your shoulders and eat from your hands. Of course, a bowl of fruit and seeds helped some too!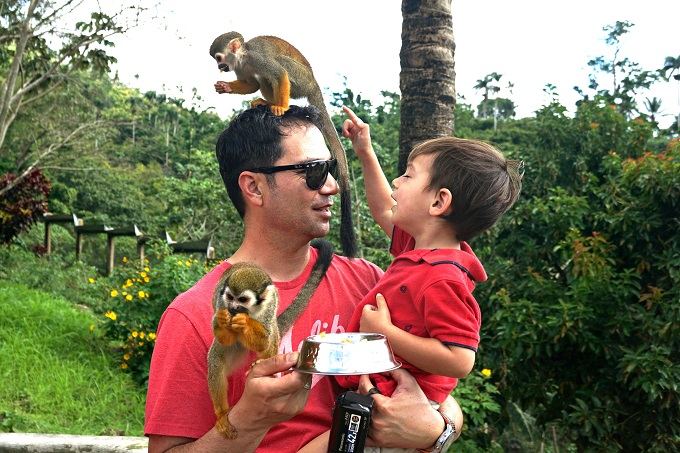 I just wish the interaction lasted a little bit longer to give more photo opportunities. And the ''monkey guard'' as I call him was very strict and did not allow anyone from the group to step away to a different area to get some more remote, uncrowded photos… They were very strict in how they ran the monkey interaction; but as long as it is for the safety of the animals, I am ok with it.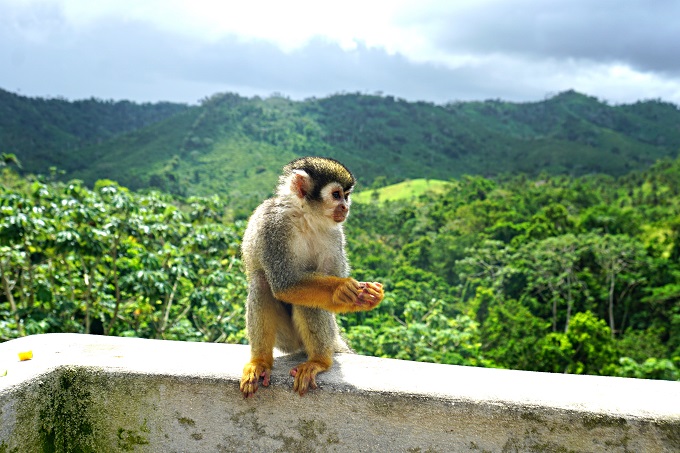 This completed our excursion for the day and we were ready for the ride back to the resort area. As there were several families on our bus (a diverse bunch consisting of an American / Latvian family, Russian family, French family and a German family), the ride back turned quite long as each one had to be dropped off at a different hotel and different locations. Though it was fun to see different resorts, it made for a slow and long ride especially after such an eventful day with 2 young, tired children. Actually, all of the kids (except 1 which was a little older) had fallen asleep on their parent's laps on the way back… This is one of the reasons why we chose to rent a car and drive at our leisure whenever possible.
Upon returning back to the condo and checking my email, I could not believe my eyes – I had an email from Seavis tours stating that they had had a cancellation for their Saona Island tour and 2 spots were available for us for tomorrow's tour if we wanted it. Yes, yes, we did want it!!! A quick email and we were confirmed!
As it was still early afternoon, the rest of the day was spent fairly lazily relaxing by the pool, stepping out for dinner and packing up our beach bag with all the necessities for tomorrow's tour.
Day 9 – Tuesday, Feb 27
This was another early morning with a 5:30am get-up as by 8:30am we already had to be in the town of Bayahibe again. The morning did not seem very promising – dark clouds were covering the sky to the horizon and it was just raining, raining, raining. There was no end in sight. This definitely was not one of those quick 10-minute tropical showers and it did not promise to clear any time soon. I checked my email to see if the tour company had informed us of a tour cancellation but there was nothing, so we decided to press on. The closer we got to Bayahibe the lighter the skies turned until there was no sight of rain! It was amazing how just a 100km distance made such a huge difference. As it was explained to us by the tour company – Punta Cana lies on the Atlantic Ocean and gets the rainier and much windier weather while Bayahibe and southern Dominican Republic is on the Caribbean Sea and gets calmer water, less wind and less rain.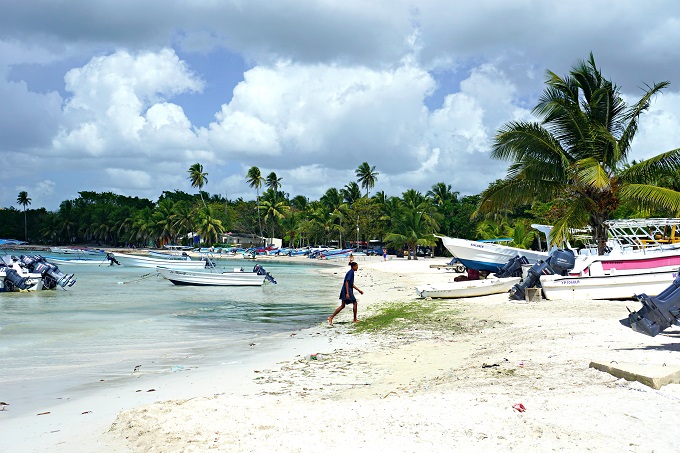 Our island tour started off by getting into motorboats and cruising the southern coast of the National Park of the East (Parque Nacional Del Este) with a short stop at the rocks of Penon which were once home to the Taíno Indians. The first big adventure is a stop at Piscina Natural which is home to the indigenous starfish who live here. Though we were very far from the shore, the water was only knee deep in some spots and so calm that even my 2-year old could walk around there on his own. And there indeed are huge starfish all around!!! Just until a few months ago visitors were allowed to pick these starfish up for some amazing photos; however, since November 2017 it has been forbidden to touch them anymore as constant disturbing was affecting the starfish and their population had started to decline (the starfish photo is taken from google images just for a visual reference).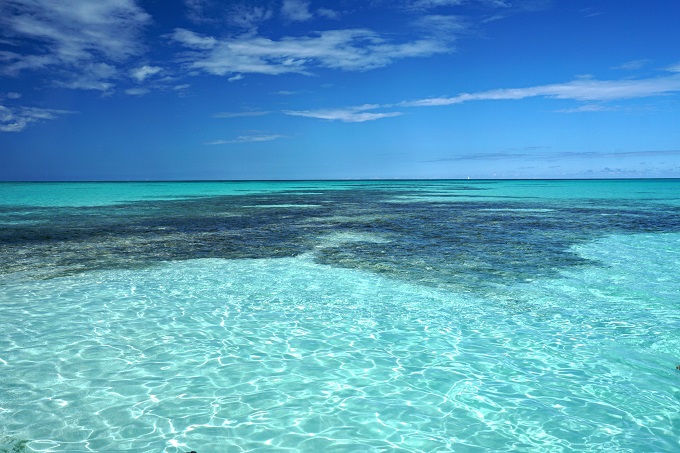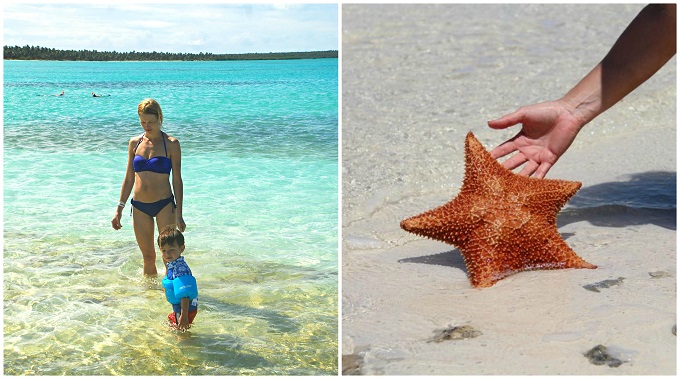 We were provided a snorkeling gear and could stick our heads underwater to look at the starfish in their natural environment. 'Bahama starfish' is one of the biggest ones and can reach up to 50cm (20in) wide and they indeed looked huge underwater.
Apart from the starfish, people were enjoying the views of the palm-lined coastline and turquoise waters. It was very pretty here!
Once everyone was ready, we got back into the boat to cross the channel and finally reach the Saona Island. This island is known for its beaches, and has been used on a number of occasions by film-makers and advertisers looking for a stereotypical "tropical island" setting for their film or product. It is promoted amongst European visitors as the setting for the Bounty chocolate bar advert. And once we see Saona emerge around the corner, it is clear to me that this has been the island I was looking for for so long – endless palm trees with white sand and turquoise waters. And no resorts or houses ruining the coastline views because Saona is a government protected nature reserve and is part of the East National Park.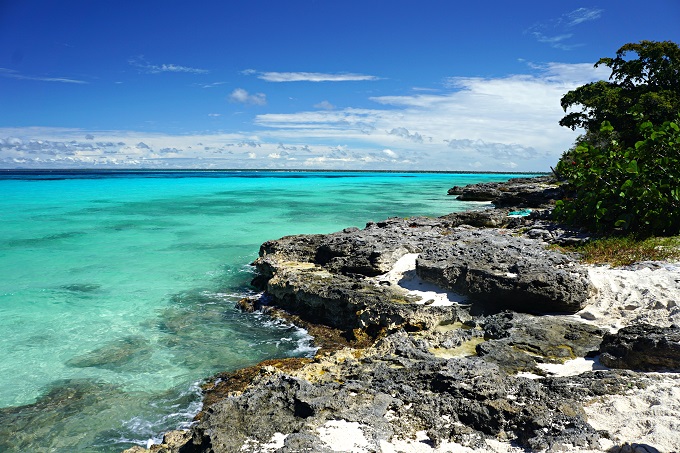 The first stop is Catuano beach where we have about 2 hours to relax, snorkel at the old pier, sunbathe, swim and have lunch and drinks which are included as part of the tour.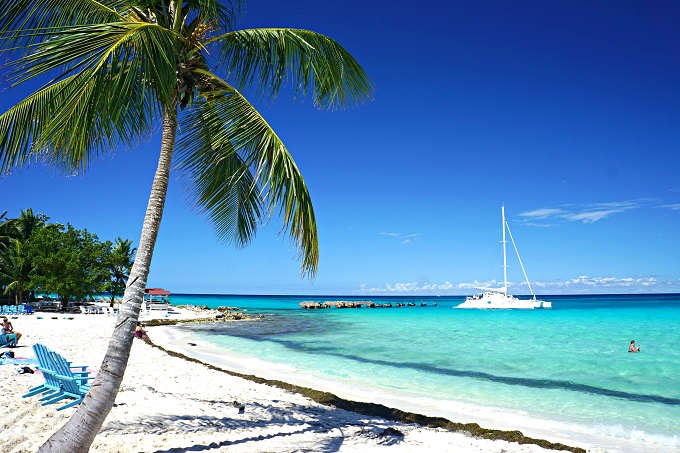 The 2 hours went by very quickly and we were back on the boat to continue our journey. A short ride away was our next stop – Mano Juan village. It is a picturesque fishing village on Saona Island with 300 inhabitants; no cars and only solar electricity.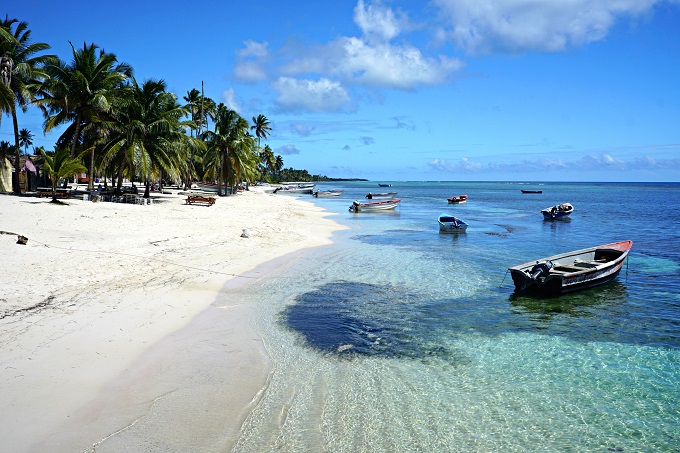 The guided tour shows how people live here with very limited resources.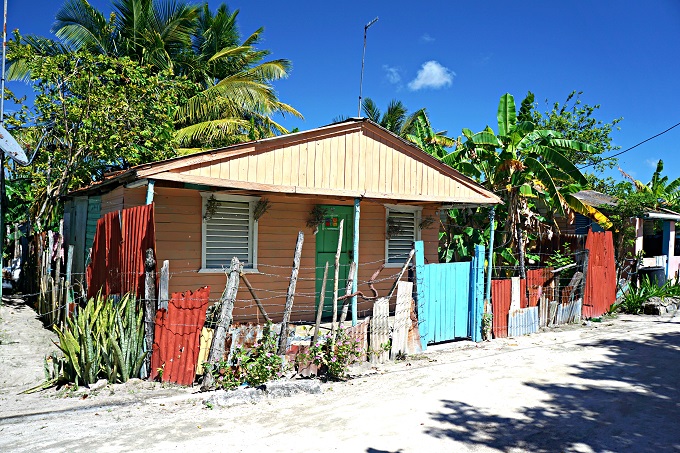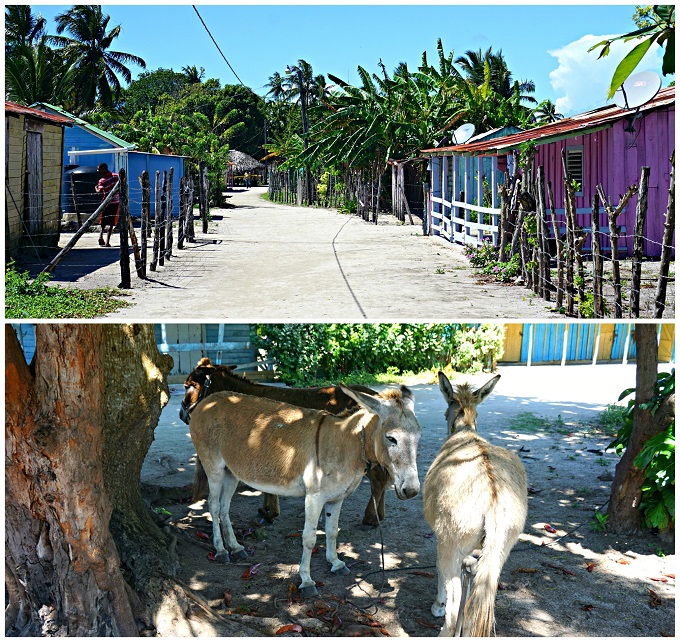 We also visited the sea turtle preservation project in Mano Juan. Seavis Tours is the sole sponsor of this project and the purpose is to increase the survival of sea turtle hatchlings from nests found on the beaches of Saona Island. Unfortunately, it was not quite nesting season during our visit so we did not see any hatchlings but were given lots of interesting information about the turtles and their project.
On our way back, we passed a section of the beach where locals had set up their souvenir huts for anyone who was interested in purchasing something.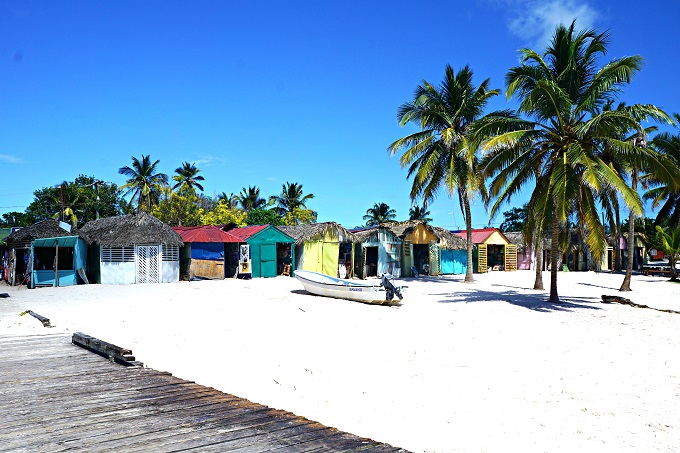 The day was quickly nearing its end and the last stop of the tour was the highlight of the excursion for many - the untouched Caribbean beach Canto de la Playa. There were no beach chairs, umbrellas, or any other amenities, just all white sand and crystal-clear water in its most beautiful colors. The bay around the beach is protected by the reef barrier and the water is no more than 5 feet / 1.5 meter deep, making it ideal for beginner snorkelers or swimmers.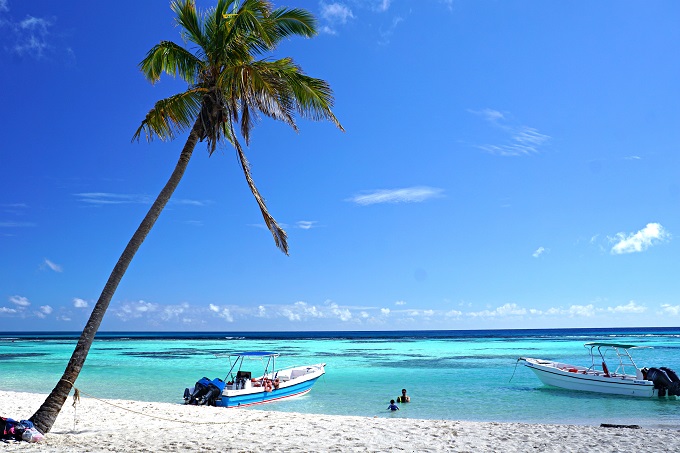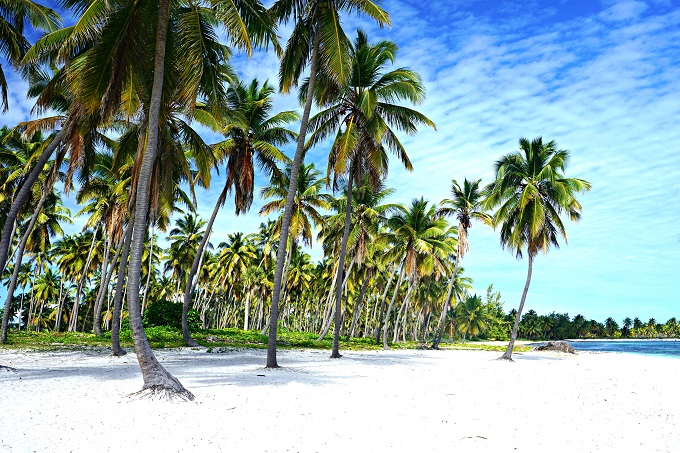 It had been many hours since the start of the day and its effects could be felt – the kids were starting to get cranky with the oldest one either running around like a mad man and throwing sand on everyone's towels or just wanting to go swimming. And the youngest one just wanted to finally get a good sleep but could not find himself comfortable with sand all over his face, eyes and mouth (which was partially thanks to his older brother). It felt like we had 10 children to look after at this point, not 2. One of our guides decided to come to our rescue and took the 2-year old swimming so me and my husband could just enjoy some peace and quiet. We really appreciated this kind and helpful gesture from the tour company, so thank you, SeaVis!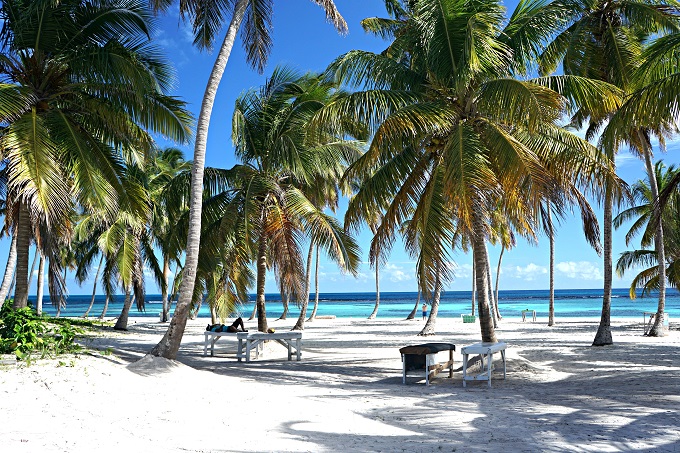 While my husband sat down with the baby (along with a glass of rum and cola, and a slice of rumcake), I used the opportunity to go snorkeling. While further out by the reef barrier one can sometimes see even turtles or seahorses, I decided to just stay closer to the shore which still gave me a great view of the underwater life.
Soon after it was time to bid farewell to this beautiful island and everyone got back on the boat for a thrilling 45-minute speedboat ride back to the mainland. Looking back, I think Saona Island tour was probably my favorite; however, it was a very long day to endure with little kids, and beach proved to not be our best friend – the kids love sand so much that it ends up everywhere (hair, face, eyes, on towels, in bags, in food…). It can get annoying very quickly and just as you wash their hands and tell them to keep them clean for lunch (50 meters further up from the shore), they manage to fall down and roll around the sand and get up looking like wet sandpapers again. As of right now, I think a beach vacation might not be the next one on our list…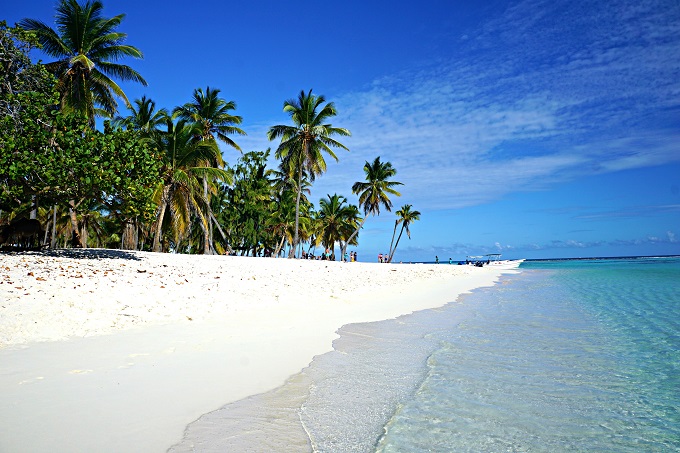 The already accustomed 1-hour drive home was uneventful. Once back, throwing our wet bathing suits and sandy towels in the wash was the only thing I was capable of doing. Though we are leaving this beautiful island tomorrow, I decided to leave all the packing for tomorrow as our plane only leaves at 6pm which will give us all day to get packed and ready. The kids were already asleep and we were exhausted, so we called it a night.
Day 10 – Wednesday, Feb 28
The night did not go quite the way I would have liked it. This time, the little baby was uneasy, waking up, slowly increasing his coughing intensity and I could hear his mildly labored breathing through stuffy nose. He had picked up whatever ''bug'' the big brother had during the first half of this trip. We were really hopeful the rest of us lucked out, but unfortunately no – whatever this was, it was back to strike again! It got worse by morning and the baby decided he wanted nothing to do with food or his formula. There was no talking him into it. It was just a waiting game. At this point I was almost happy that we were leaving as I was all out of energy to deal with another sick child on our vacation. Both me and my husband were just tired of it. On the other hand, a sick baby on an airplane is no walk in the park either.
As we got approved for a late afternoon check-out, we took our time packing. My husband even decided to still go out to the pool and ''even out'' his tan.
With plenty of time to spare until our flight, we were loaded and rolling towards the airport. The vacation was officially over. My feelings were mixed - on one hand, it is always sad to leave the careless and worry-free vacations and return back to the stress and work awaiting back at home. On the other hand – this vacation had been far from worry or stress-free for us and I was just happy to return to the land again where we have top doctors and hospitals if such need arises.
I was still pondering over this thought while awaiting for our boarding passes to be printed, when the American Airlines ticket agent at the check-in desk informed us that our connecting flight from Charlotte to Memphis had been cancelled and there were no flights going to Memphis today. And to top it off, our flight leaving from Punta Cana got changed to 3:30pm (from 6pm) and it was already 4pm. Our flight had already left. Somehow someone somewhere didn't do their job and didn't inform us of the flight changes, and we were completely stranded. American Airlines blamed orbitz.com (through whom we booked the tickets) saying they informed them of the changes but orbitz failed to inform us. Whatever this was, it was just a complete mess. I had a sick baby, a half-sick and tired toddler, 2 exhausted parents and nowhere to go. Finally, American Airlines decided to put us on a flight to Charlotte leaving at 5:20pm but there was no connection to Memphis for us once we landed. It's like this vacation just did not want to end!
My husband had just had it with this vacation and he called Orbitz customer service. We were transferred to 3 different people and they all initially insisted that they sent us a confirmation email with the changed flights; however, neither one of the 3 could locate any such emails ever being sent to us. Finally, after countless 'holds' and transfers Orbitz got back on the phone and admitted their failure to inform us. They agreed to cover our hotel expenses in Charlotte for the night. Though I much rather would have wanted to just get a connecting flight home, there was no such option, so at least a roof over our heads and a bed to sleep in was the next best option.
The flight from Punta Cana to Charlotte was 3.5 hours long. It was an uneasy, stressful flight full of efforts to get the baby eat anything at all as it had been almost 24hrs since he had anything decent in his tummy. I was very happy to have tricked 4oz of liquids into him just to see it all come back up a few seconds later all over my husband's shoulder and shirt. I felt horrible for my husband but was secretly relieved it wasn't me this time. We just gave up and decided to get some tasty Pedilayte instead after we land; hopefully that will do the trick.
It was almost 10pm by the time we got through the USA customs and out of Charlotte airport. With all the luggage, car seats, stroller, 2 kids and 2 adults getting a taxi was not an option. Besides, we still needed to look for some dinner and find and open pharmacy to buy some Pedialyte for the baby. So, we rented a car. Unfortunately, not an expense Orbitz was authorized to reimburse us for; however, at this point we didn't even care. We just wanted it all to be over.
By the time all was said and done, it was well past midnight. The one good thing that came of it was that the baby was totally into his Pedialyte, drank a lot, got re-hydrated and was happily asleep. It didn't take much time for everyone else to fall asleep as well. It had been a long stressful day…
Day 11 – Thursday, Mar 1
Originally, at this time we were already supposed to be back home, yet we were still in Charlotte and headed to the airport to hopefully finally get our flight back to Memphis. This time everything seemed to be in order and going smoothly. We got sent through a priority lane at the security check which made for a pretty painless and short wait there, and soon enough we were at our gate ready to board for the flight home! It was a quick 1-hour flight and the wheels touched Memphis Airport runway. We were officially back home and the vacations was over.
Was it everything we thought it would be? No, far from it, but we survived! We had traveled internationally with one kid several times before and it was no big deal. Two? That's a whole different ballgame! When it's just one, you can pass the little one around and split the ''babysitting'' 50:50 (which means you get a break 50% of the time)! With two you are on 24/7 watching after one while your partner chases after the other. It sometimes felt like we could barely catch our breath, not to even mention any kind of relaxing or resting. It was constant, round the clock work. And add a sick toddler and a sick infant to the mix and it makes it just that much more ''fun''! My husband swore that the next vacation we go on will be when the kids are 18 and off to college. However, as I am back home and looking back at our time spent in the beautiful Dominican Republic, the unslept nights, the stuffy noses, the headaches, the stress… all of that has slowly faded away. What has remained are lifelong memories of new adventures, ocean breeze, white sand, picturesque beaches reached by a boat, monkeys jumping on our heads, and refreshing dips in secluded lakes… Was it worth it? I would definitely say ''YES'' despite everything! And I am more than certain that soon enough we will be off on our next adventure!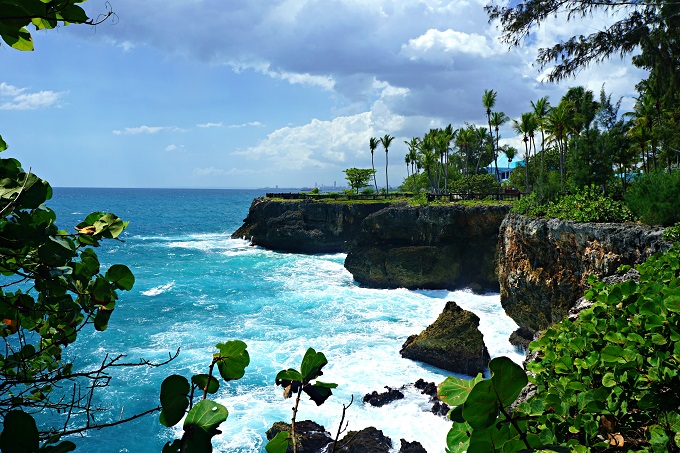 Tours / companies we used and pricing:
'Tanama Wonders of Nature Tour' by SeaVis tour company. Cost $49 / adult (kids 2 and under free). Tour length about 5 hours.
'Saona Crusoe VIP Tour' by SeaVis tour company. Cost $95 / adult (kids 2 and under free). Tour length 8-9 hours.
**If you book 2 tours with SeaVis they will give you a 20% discount on the 2nd tour**
'Monkeyland Tour' by Runners Adventures tour company. Cost $67.50 / adult (if booked at least 10 days ahead) otherwise $75 / adult; kids 2 and under free. Tour length about 5 hours.
Catalina Island private boat charter from Bayahibe $150. Length about 3-4 hours.
More photos from our trip can be seen in the following galleries:
Santo Domingo, Dominican Republic
Dominican Republic sightseeing
Isla Saona, Dominican Republic
Isla Catalina, Dominican Republic
More about our other experiences in the Caribbean can be read in the trip reports about Aruba as well as our adventures while on a 13-day Caribbean cruise.