Our Pacific Northwest Road Trip - Ocean Blues and Mountain Greens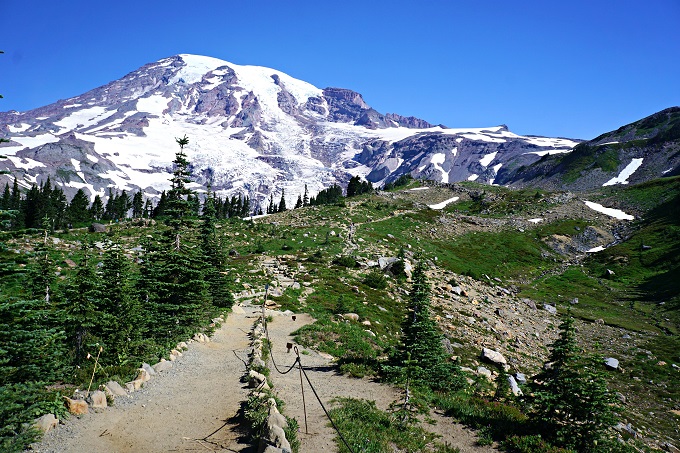 Last time I visited Seattle and Washington was back in 2006. It was for a family event, and we had a pretty limited time due to work schedules. Though we did manage to see a few touristy things, my most vivid memory was having to ask people for a winter jacket (!) in mid-June just to walk along the beach. It was sooo cold and windy! I don't like cold, I don't like rain, and I don't like grey skies, so after this experience I did not have much desire to return here. The unfortunate fact is that my husband considers Seattle somewhat his home-town, so my unwillingness to go back there for another vacation caused an occasional friction. Forward 12 years, and we receive an invitation to a family member's wedding near Seattle. There is really no way around it this time and we will have to go, so I decide to make the best of it by expanding our wedding weekend into a whole 2-week long road trip around Washington (and also Victoria, British Columbia in Canada) to give this state a fair chance to make me change my first impressions from 2006. And, oh boy, was I impressed – it was absolutely breathtaking!
SEATTLE
As most travelers coming to Washington, we landed in Seattle and decided to spend the first 2 days here and be just like all the other tourists – with a map and a photo camera in hand, browse the streets, markets and coffee shops exploring what there is to see here.
Pike Place Market
Being hungry from our very early morning flight from Nashville, we decided to head towards the Pike Place Market first. It is probably one of the most famous marketplaces in the US when it comes to fresh seafood. And why not – the ocean is literally a hundred yards away!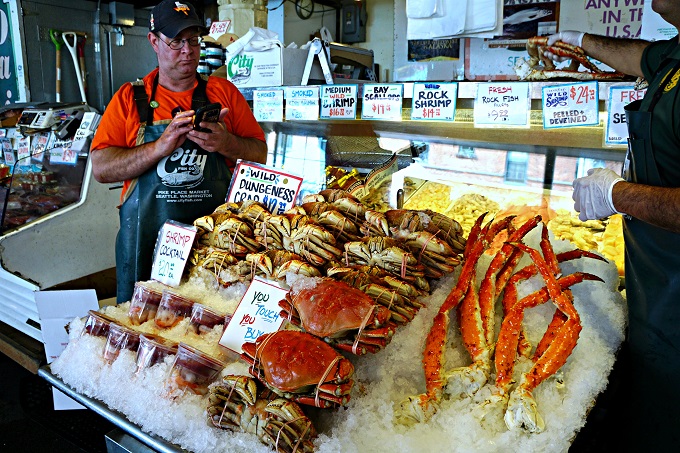 Apart from the fish, lobster, crabs, ousters and other sea animals, there is plenty of other fresh produce – farm grown and freshly picked berries, apples, peaches and other fruits and vegetables. We decide to get some fresh raspberries, blueberries and blackberries to go with the big cups of home-made yoghurt we had just bought! The boys sure are excited about such breakfast choices!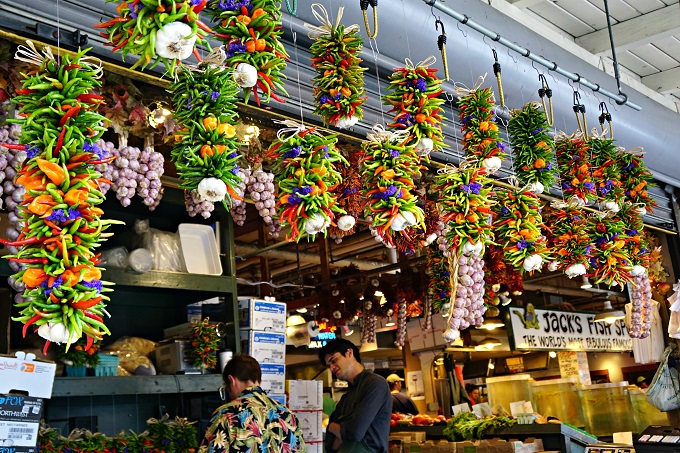 Right next to the market, one can find small downtown streets lined with seafood restaurants (yummm, the seafood chowder and lobster bisque!) and coffee shops.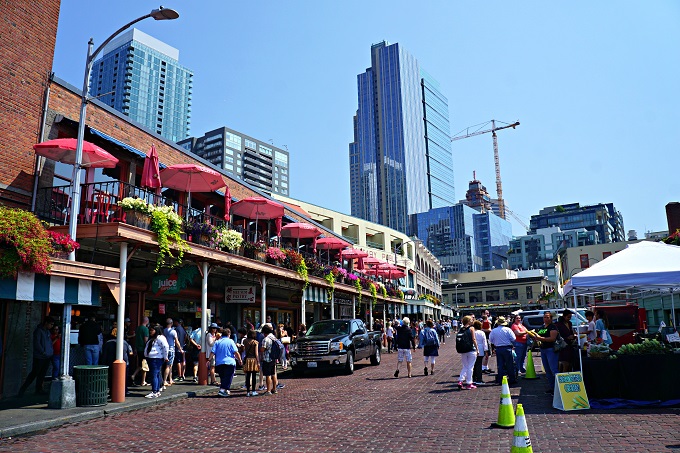 Even though the famous Starbucks originates in Seattle and you can find it all around, the coffee tradition is very much still in full swing here, and we tasted lots and lots of delicious cups of coffee from various local coffee shops found only here. If you are a hard-core Starbucks fan though, the very first Starbucks coffee shop opened exactly here next to the Pike Place Market, in 1971. However, the line to get in it was so long we had no desire to stand in it.
Seattle Waterfront
After the market, we start walking towards Seattle Waterfront area which is situated on the Elliott Bay and offers various restaurants, shops and tourist activities. On a clear day, the views from the pier of the bay and the surrounding islands is very pretty. It is no wonder people just sit on the benches listening to the waves and seagulls - it's so calming.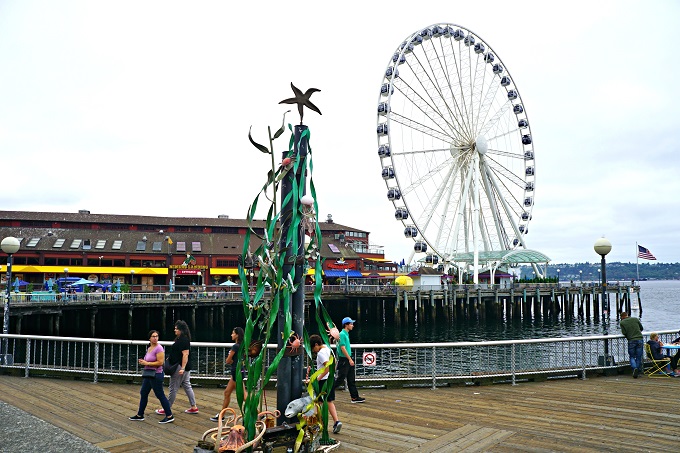 Having walked the pier up and down, we decide to go up in the Great Wheel. With an overall height of 175 feet (53.3 m), it was the tallest Ferris wheel on the West Coast of the United States when it opened on June 29, 2012. It has 42 climate-controlled gondolas, each able to carry up to eight passengers. The ride extends 40 feet (12.2 m) out over Elliott Bay. And though I have fear of heights, I cannot let this opportunity pass, and have to say that after the first go-around I am pretty comfortable, as long as the gondola does not swing around. It is a little funny to watch my 3-year old who does not know what to make of this ride and keeps asking me to hold his hand, just in case!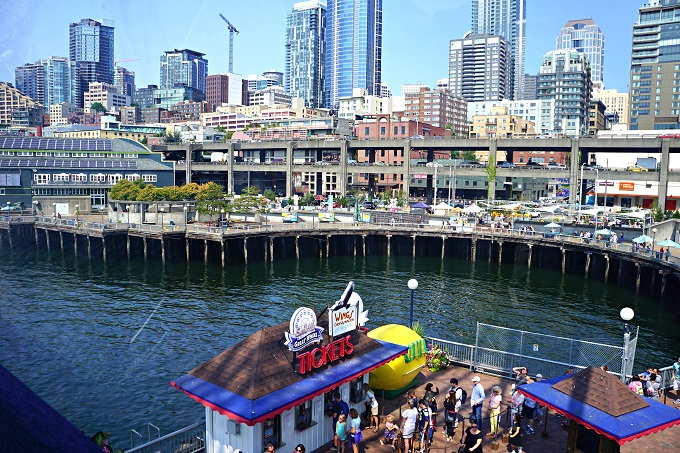 Another stop we decide to make in this area is Seattle Aquarium, mostly for the kids' enjoyment, and to give them an opportunity to get out of the stroller and run around a little bit. The biggest hit was definitely the touch-pool with various anemones, star-fish, sea urchins etc. The Aquarium also included some exhibits of seals, water birds, an octopus tunnel and various smaller aquariums. I was the most impressed with the underwater dome which was like a huge glass room in the depths of the ocean.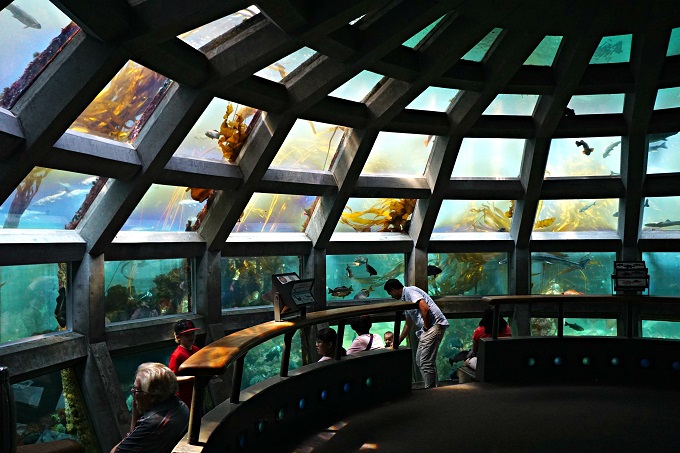 Overall however, I was a little disappointed and expected more from an aquarium that sits literally on the ocean in a city surrounded by water. I think unless you have kids, it might not be worth the entry fee.
Chihuly Gardens
Once the Marketplace and Waterfront areas of Seattle have been explored, we hop in the car to make a short drive over to the world-famous Space Needle. Entries to the Needle's viewing platform are timed to avoid overcrowding, and we have about an hour and a half left until our scheduled entry, so we decide to visit the adjacent Chihuly Gardens. Chihuly Garden and Glass is an exhibit that opened in 2012 and is showcasing the studio glass and artwork of Dale Chihuly. What we though would be just something to see to ''pass time'', was a truly inspirational and memorable exhibit with several indoor rooms and outdoor glass gardens.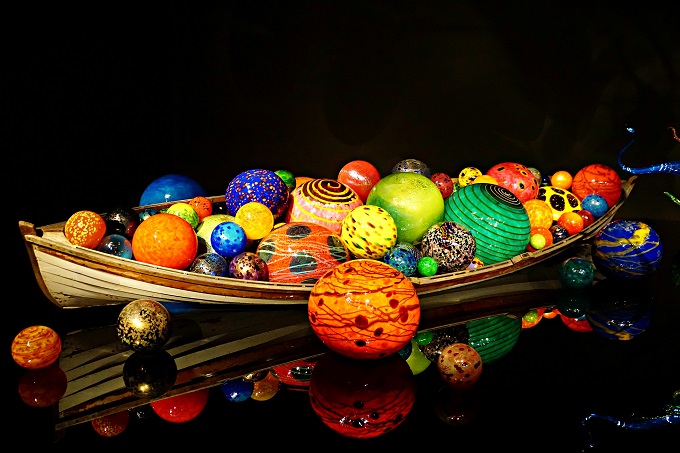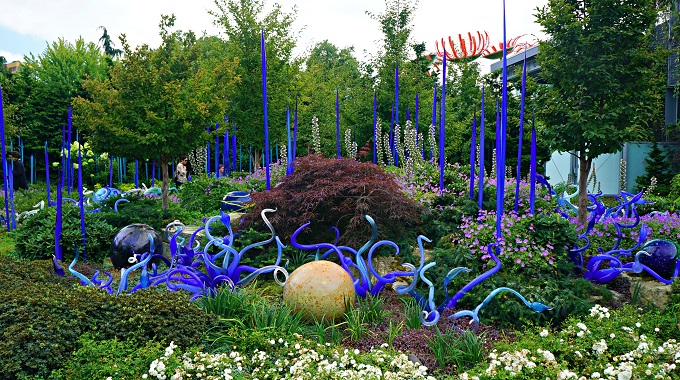 Definitely a new thing on my list and something I had not seen before. I can only admire the patience and attention to every intricate detail of this artist's work.
Space Needle
After Chihuly Gardens, it was time to head over to the Space Needle.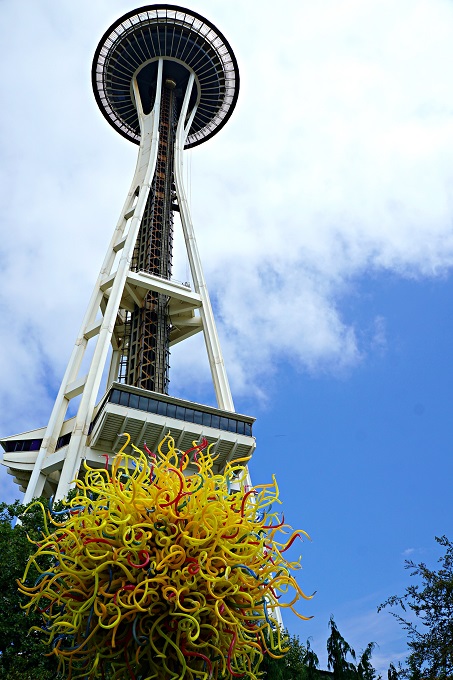 Though the viewing platform is currently undergoing renovation (replacing the old metal bars and wires with big glass walls for panoramic, unobstructed views all around), most of the work was completed by our visit and we did not feel like we missed out by not seeing the part that was blocked off from tourist access. The scenic bay and downtown view areas were already open to public and did not disappoint!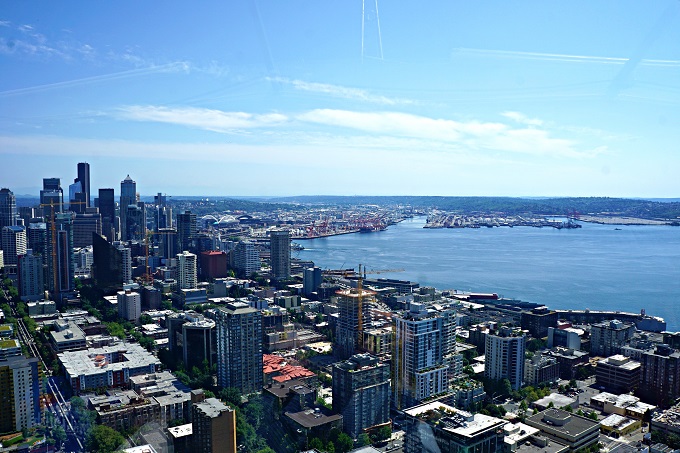 If I had to choose whether the view was better from the Space Needle or the Great Wheel, then, unfortunately, I have no answer to that as each one shows Seattle from a different point of view and each attraction is a different experience.
The famous Space Needle concludes our 2-day visit to Seattle, but there is so much more to come and I am eagerly looking forward to it all! Off to Mt Rainier we go!
MT RAINIER NATIONAL PARK
Want to touch and walk on the snow in the middle of summer? Then head over to Mt Rainier! The highest point of the park is the iconic glacier-capped, 14,410-ft (4392m) Mount Rainier which is actually an active volcano currently at rest between eruptions. The peak tourism season at Mt Rainier is very short – just 2-3 months during July, August and part of September, after which many of the roads and trails in the park get closed due to ice and snow hazards. This means you can expect crowds, busy hiking trails and no available parking, along with long lines at entrances. The trick is to enter the park and start hikes early. To improve our chances, we rented a cabin at the base of Mt Rainier NP just a short 5-minute drive from the entrance, and arrived the night before so we could be up bright and early. By 8am we were at the park entrance with just 6 cars in front of us (which later in the day can stretch into several miles).
Skyline Trail
We want to start off our wilderness adventures with a bang, and have chosen to hike the 5.5-mile (9km) long Skyline Trail which is also one of the most popular trails in the whole park. It takes on average about 4-5 hours to complete the loop, which gains about 1450 ft (442m) during its course, with its highest point being at almost 7000ft (2133m). It is classified as a ''Strenuous hike'' (3 out of 3, according to the US National Park trail classification) both because of the high altitude as well as the big elevation gain. On top of that, we were going to attempt this hike with a 1-year old and a 3-year old strapped to our backs, which adds just that much more extra ''fun''!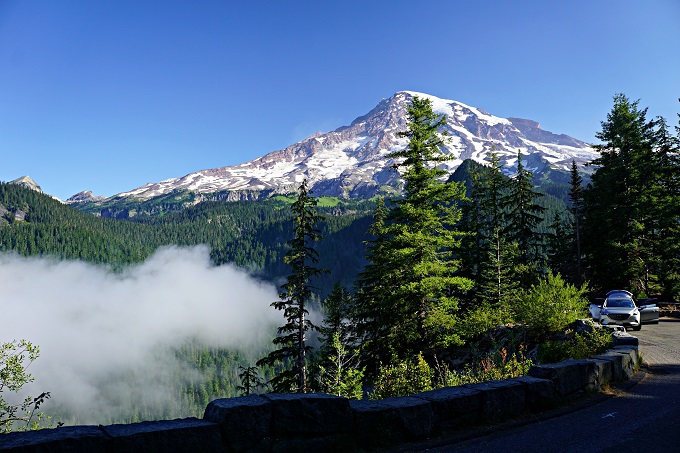 The drive from the park entrance to the Paradise Visitor Center (the starting point of the trail) takes about 40 minutes, and the higher we get the better the weather becomes. If at the base of the mountain we had gray skies and some drizzle, then by the time we reach the visitor center (which stands at an altitude of 5,400ft (1645m) ), we have driven through clouds, fog and have come on top of it all to have completely blue skies, bright sun and 75 (24C) degrees! So, don't be fooled by the weather and don't drop your plans just because it is raining at the base of the mountain, as you might have a whole different world up top!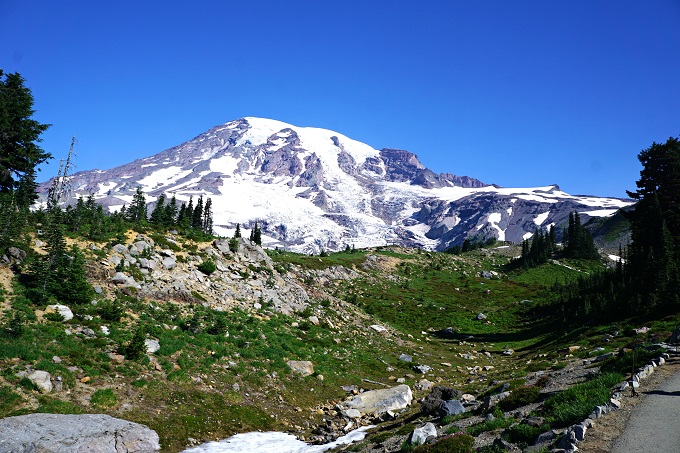 We have prepared for the hike with lots of water, snacks and extra layers for when we get higher up. Big smiles, determination and off we go…but after the first few hundred yards we are all panting like marathon runners, and taking breaks just to catch our breaths! And I am not kidding! Just a few hundred yards!!! It is a combination of 2 things – we have not adjusted to the altitude yet, and secondly, the starting part of the trail (about half a mile / 1km) is the steepest part of it, which is a complete killer for many hikers here. It literally crushes your determination in no time. If you can't make a hundred yards without wanting to just call it quits, how will you make the almost 6-mile (10km) trek??! But soon enough the amazing views make us forget about it all, and the trail starts to level out (although it still only goes upwards and is never flat, it is a more forgiving climb). The first part of the hike is through beautiful sub-alpine meadows where flowers are in bloom in July and August.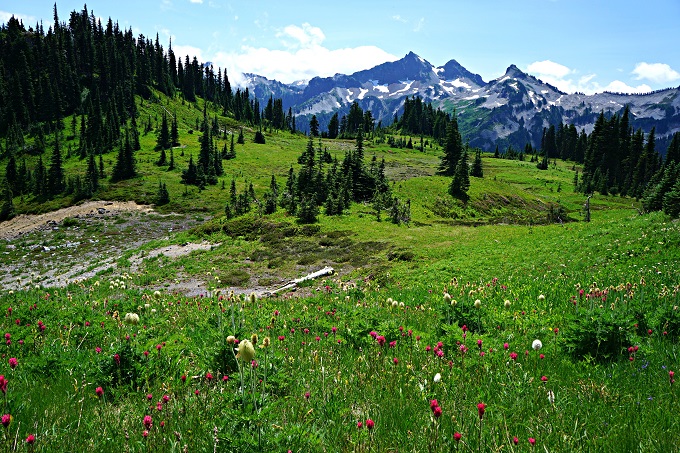 As the elevation increases, the greenery slowly disappears and the fields become covered with moss and an occasional snow patch. At 6,300ft (1920m) we have reached the Glacier Vista point, which is an unofficial turnaround point for many hikers who do not want to take on some of the more strenuous hiking that lies ahead.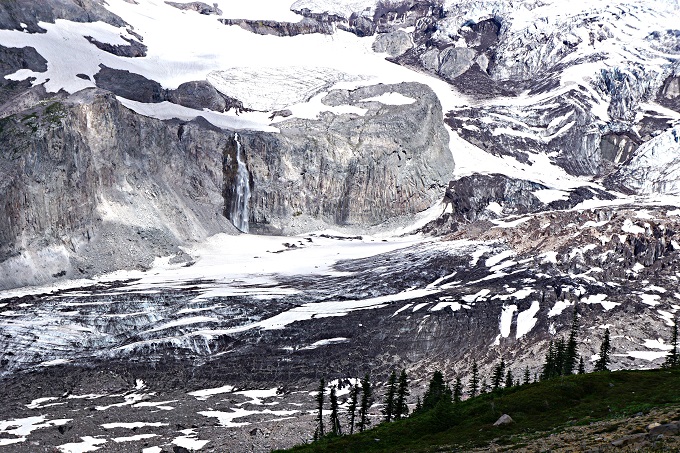 We decide to take a break here to absorb the views, grab a snack, and get better acquainted with the friendly marmots who reside here.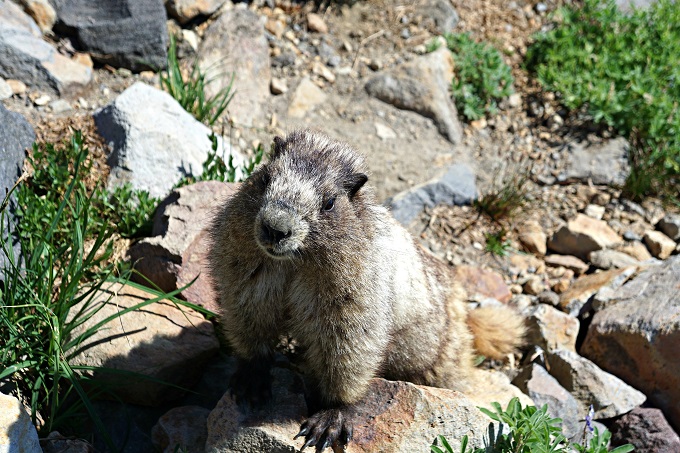 As we press on, the landscape and weather changes drastically. There is no sight of anything green anymore – just big volcanic rock fields and cliff edges.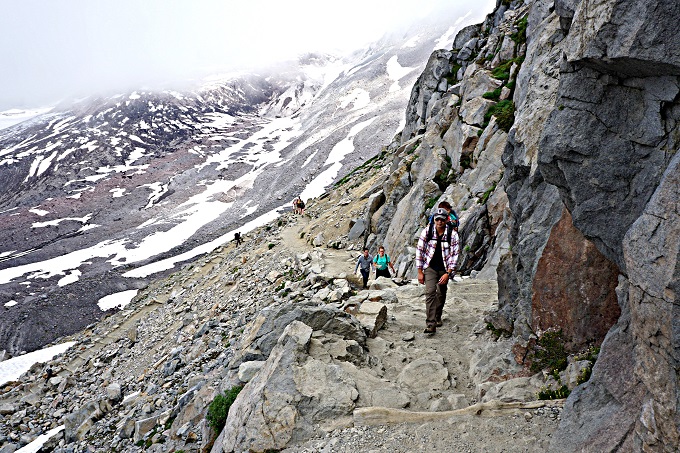 The fog and wind start to roll in and it suddenly becomes really cold. It is just a little above freezing. And there is snow! Snow everywhere! We even have to hike over some snow fields that are crisscrossing our trail, and at one point the mountainside is just an endless wall of snow! It's pretty magical. This is also the highest part of the trail standing just a tad under 7000ft (2133m) elevation.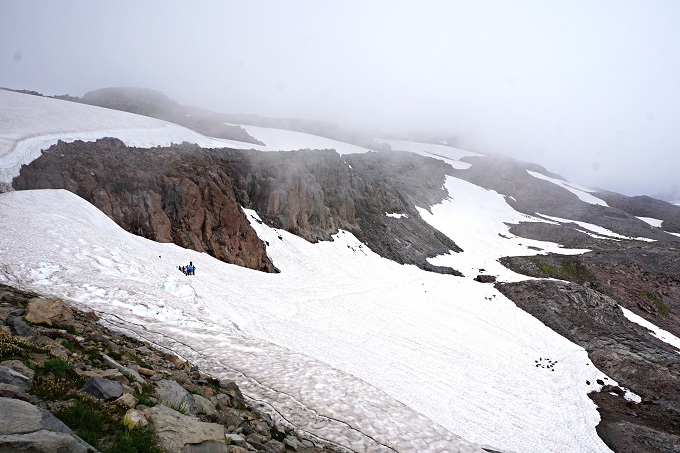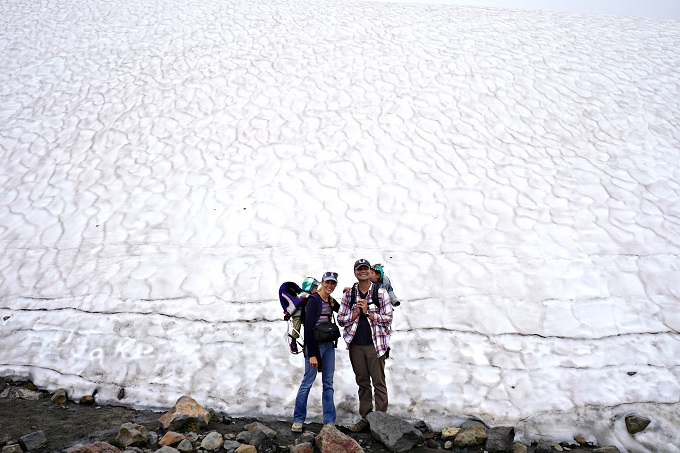 Unfortunately, the famous Panorama Point overlook was completely engulfed in fog, and there was nothing to be seen more than 20 yards out, but we were not upset as all the other scenery around us had completely mesmerized us.
At this point, the trail starts its descent. And even though it still takes a good amount of ''rock hiking'', we eventually emerge from the fog and clouds, and start seeing some unfrozen streams and greenery around us once more. It feels great to feel some sun on our skin again after several hours of frozen fingers and shivering! And at the subalpine level, there are beautiful wildflowers again!
Towards the very end of the hike, a little detour takes us to Myrtle Falls lookout.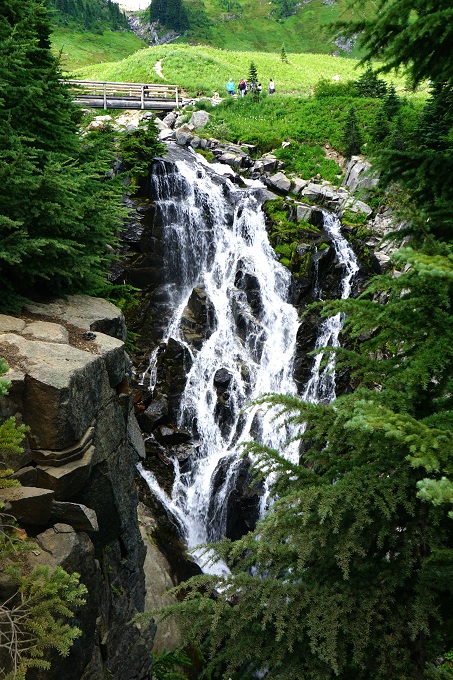 The last few yards, and we have made a full loop in just about 4.5 hours! This hike has been nothing short of amazing to everyone involved. There are so many different worlds – from green Alpine meadows to a tundra-like setting, volcanic rock covered fields, and snow crossings. This hike is definitely one of the most amazing things I have ever witnessed (and I have seen a lot)!
Reflections Lake
On our way back, we decide to stop at the Reflections Lake; however, it is a little too windy and there are little waves in the lake, preventing a clear reflection of Mt Rainier to form.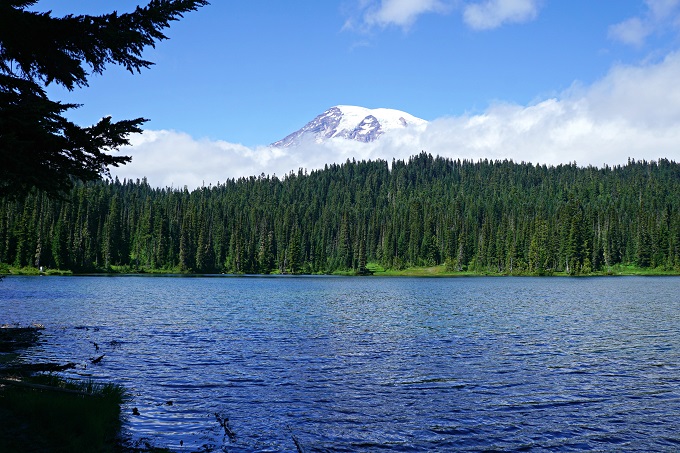 Believe it or not, but by 5:30pm everyone (big and small) was sound asleep in their beds, not to wake until next morning! There goes our game night, ha ha! The hike took it out of everybody.
Grove of the Patriarchs
The next morning starts out foggy and misty again. It eases deeper in the park, so we decide to stop and hike the Grove of the Patriarchs trail. It is a fairly easy hike to a small island of behemoth old-growth trees, some almost 1000 years old.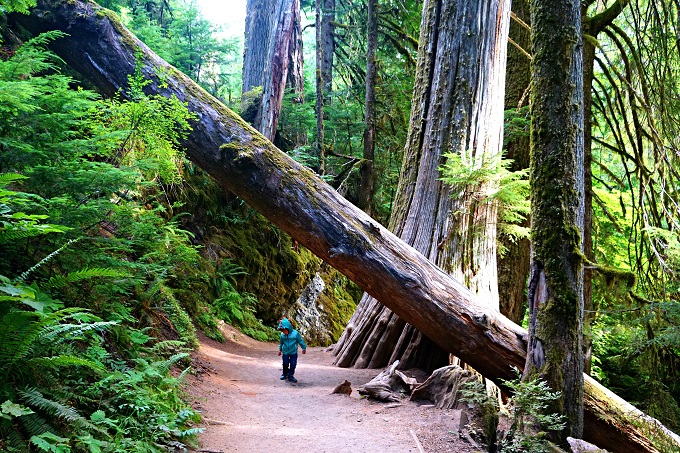 The massive Douglas-firs, hemlocks or cedars, are nearly 40 feet (12m) in diameter and more than 300 feet (90m) tall. It is definitely a much different scene from what we saw on the Skyline Trail the day before.
Glacier Overlook
Soon enough we press on to our next destination – the Sunrise Visitor Center on the other side of the Mt Rainier National park. At an elevation of 6,400 feet (1950m), Sunrise is the highest point that can be reached by vehicle at the park. Unfortunately, today the fog and clouds are not giving in and keep their presence even as the elevation increases, which prohibits us from seeing much of the scenery along the road.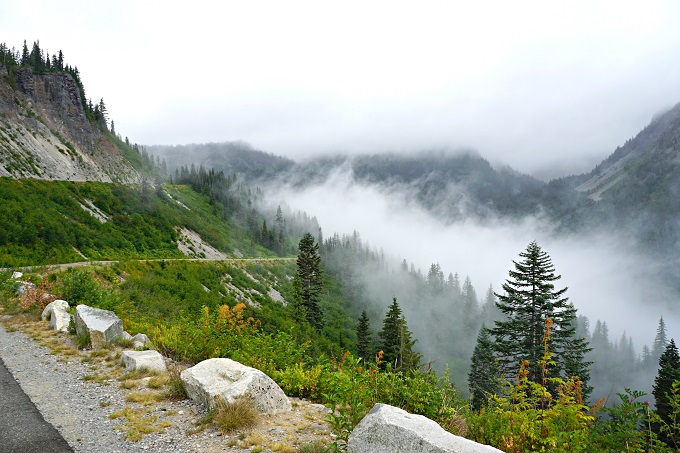 But then, just like magic, as we go around the last turn at the very top nearly reaching the visitor center, the sky opens up, the sun comes out and we are presented with the snowy peaks of mountains again! I guess you can just never predict the weather here!
Not to waste our time, we head out on another hike using the break in the weather that has presented itself. We decide to hike the Sunrise Rim Trail. We start off with a stop at Emmons Glacier Overlook.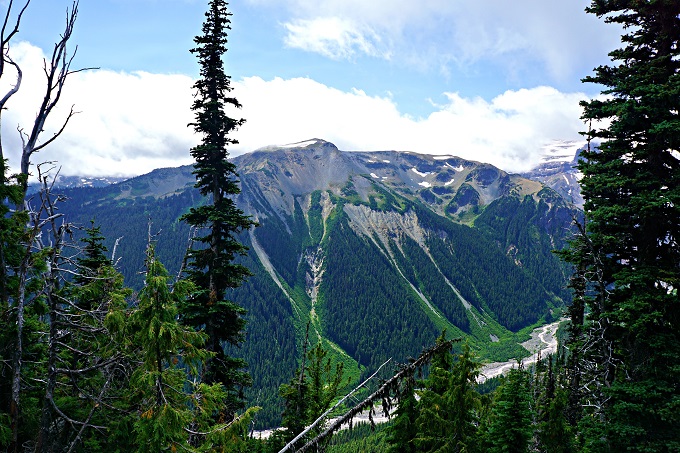 Further along, the trail is very pleasant with slight ups and downs but constantly holding its beautiful views on our left side.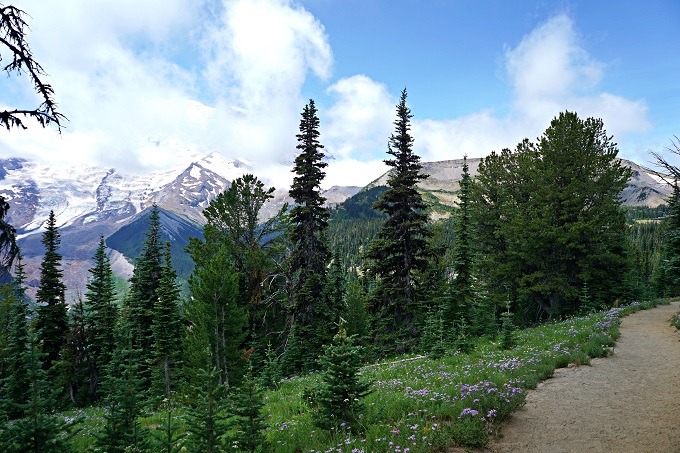 About 2 miles (3km) in, we finally reach the point that starts the climb to the Glacier Overlook. It is very steep but fairly short, and soon enough we are on top of the world! As the clouds give way, we can see the snowy top of the glacier with giant snow and ice towers and deep crevasses.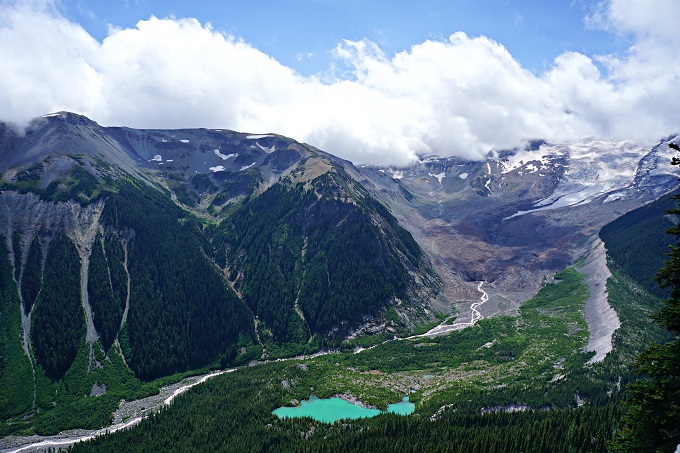 We are in no rush and spend a good amount of time here just admiring the beauty before starting our climb back down the mountain. Once we are out of the ''danger zone'', we let the 3-year old out of his hiking backpack and give him the freedom to hike the trail back himself, which he absolutely enjoys!
One the way out, we stop for a few other scenic views along the road; however, it is time we move on and make the long drive to yet another national park.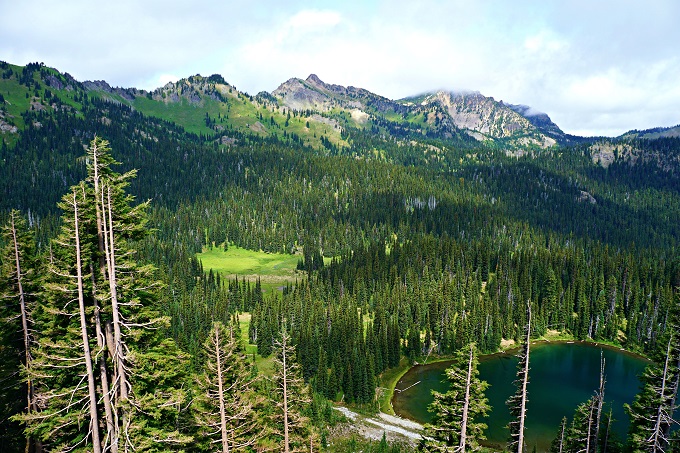 OLYMPIC NATIONAL PARK
Although at its highest peak of 7,980ft (2432m) Mt Olympus, Olympic National Park is only half the height of Mt Rainier, it has other things to impress with. Olympic National Park is probably as diverse as it gets. It has four different and distinct ecosystems: lowland forests, temperate rainforests, mountains, and 70 miles (112km) of beaches / coastline. Encompassing nearly a million acres, the park protects a vast wilderness and thousands of years of human history. There is a lot to explore and we are ready to embrace it all!
Hurricane Ridge
Based on the fact that we decided to make the drive around the Olympic peninsula counter-clockwise, our first big sightseeing stop was a spot called Hurricane Ridge. It is a mountainous area inside Washington's Olympic National Park, and it can be accessed by a single road from the town of Port Angeles. If most roads at Mt Rainier NP are closed 8-10 months out of a year due to snow and ice, then the road leading to Hurricane Ridge at Olympic NP is open to hiking, skiing, and snowboarding all year long, as it stands at an elevation of 5,242 feet (1600m) and does not get near as much snowfall as Mt Rainier National Park.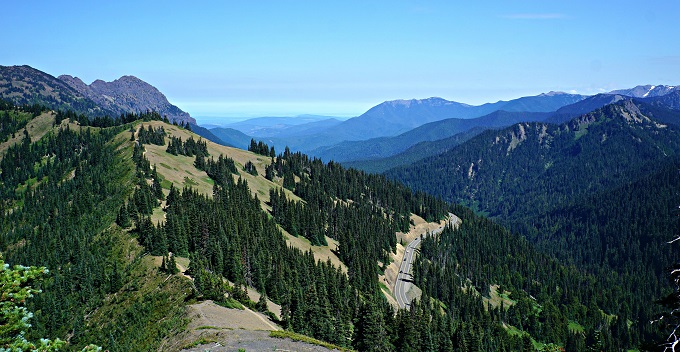 After having spent 3 hours on the road to get here, upon entering the park we find out that the access road leading up to the ridge is having some roadwork done, and the usual 40min drive up the mountain to the parking lot area and the visitor center can take much longer. The ranger at the entrance told us they have no information on any major delays, so his guess was it would take us about an hour or so. We figured we can do an hour, so off we went. Oh man were they wrong! I really wish it was an hour, but unfortunately, we were at a complete standstill for nearly 2 hours straight! Imagine a 1-year old and a not-yet 3-year old sitting strapped in their car seats for nearly 5 hours straight! It was really, really bad! There were many cars ahead of us quitting and turning around. Just as we were about to give up and do the same, the line started moving and we were finally free to go up. What a relief it was! And once reaching the top, I was so happy we stuck it out – the views were amazing! It is not even necessary to hike anywhere as all this beauty could be seen right here from the parking lot.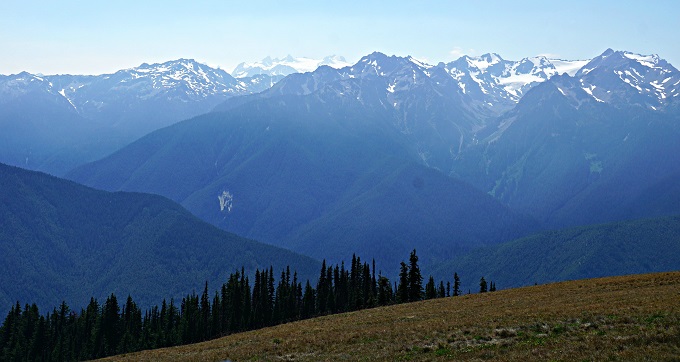 There are a few hikes though that we wanted to do for various reasons - to enjoy more of the scenery, and also to finally get out of the car, stretch our legs and get some physical activities in. We started off with Cirque Rim Trail, which (on a clear day) gives beautiful views across the Strait of Juan de Fuca all the way to Canada's Vancouver Island and its capital, Victoria.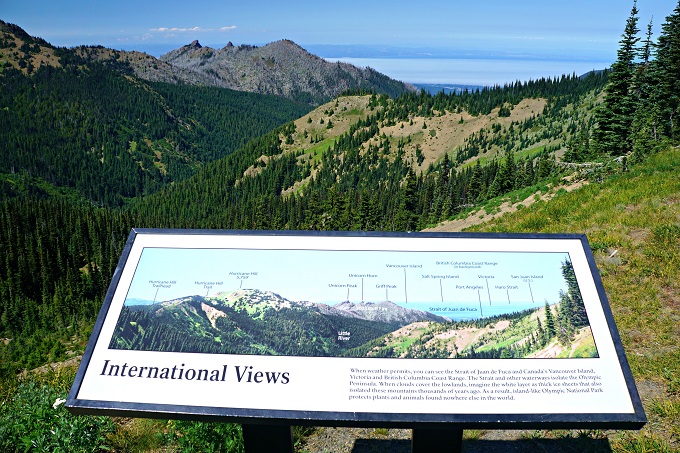 **We also visited Victoria on this trip, and my travel review about our adventures in Canada are posted in the article A hop, skip and a jump away - Victoria, British Columbia.**
After the Rim Trail, we pressed on to the Sunrise Point. It is a pretty steep yet relatively short climb, and probably didn't take us much longer than 20 minutes to reach the top. The view from up here is impressive. It is literally a 360-degree view all around, starting with the Strait of Juan de Fuca, Vancouver Island, and Port Angeles to the north and the snow-covered Olympic peaks to the south, with everything else in between!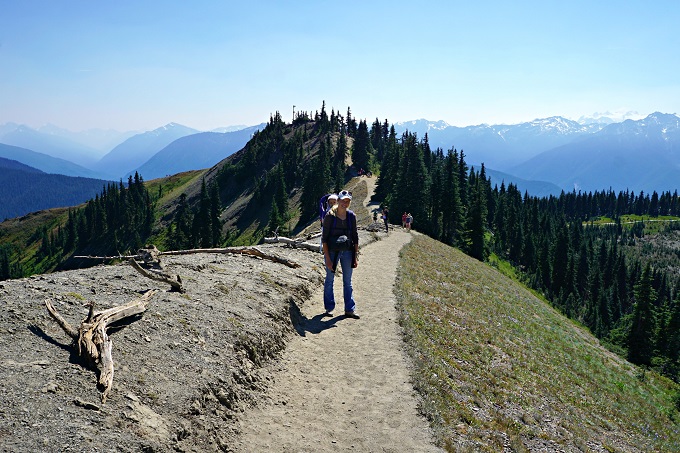 While standing up top and absorbing all the views, we overheard some other hikers chatting about the beautiful, clear day that we were having, as they are regular hikers here and very often the scenery is covered in fog and mist. Views like these (to the horizon) are quite rare. Talk about lucky!
Marymere Falls
After a well-deserved break and ''leg-stretch'' at Hurricane Ridge, we are back in the car and heading towards our next destinations – the 90ft (27m) tall Marymere Falls. It is a fairly easy 1-mile (1.6km) hike though old-growth lowland forest. Already at the start of the trail we start noticing the famous Olympic National Park scenery – big ferns and huge trees covered in hanging moss, which is a typical feature of this region.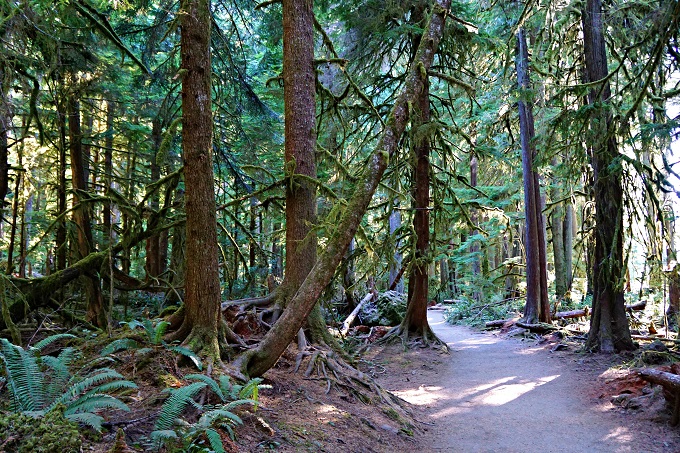 As this trail is the first time during our trip here that we actually come eye-to-eye with the thick, green hanging moss, we are quite impressed!
The falls are a nice sight as well, and with not many other people around, we feel like we have them all to ourselves!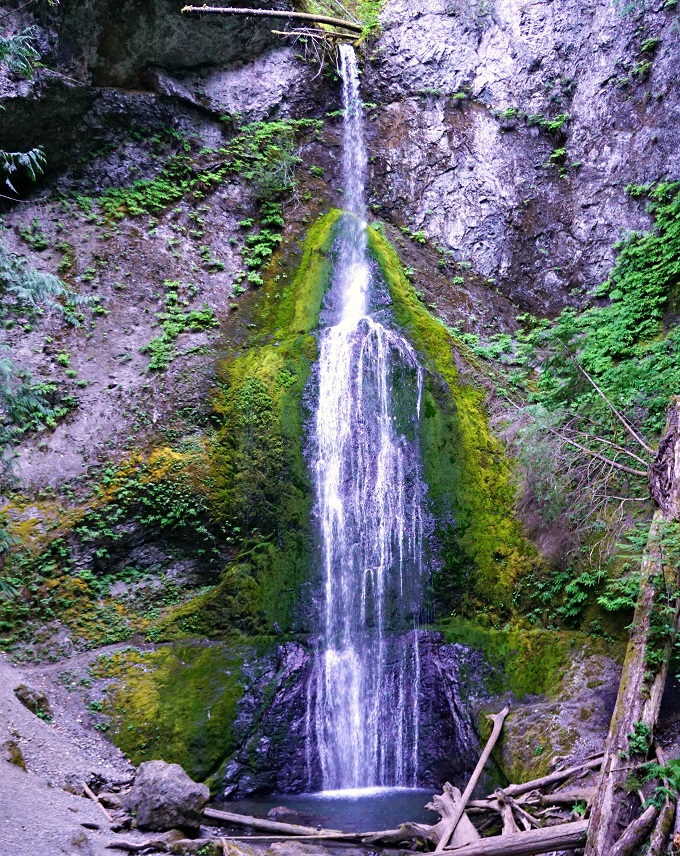 Lake Crescent
Lake Crescent actually does not require a separate trip or hike to see, as it is stretched along the Rt 101 for several miles. So, if you are driving around the Olympic Peninsula using Route 101, you will pass it whether you plan on it or not.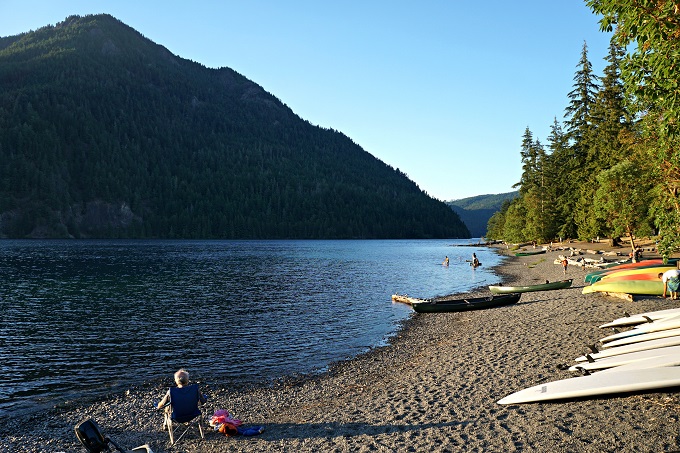 Right across the Marymere Falls trailhead there is a cabin / resort area called Lake Crescent Lodge. It also has a restaurant overlooking the lake, and it is one of the very, very few restaurants in the area. Knowing that we would be hungry after such a long day, we planned on having our dinner here, while letting our boys just run around the shore and have fun. Unexpectedly, our dinner happened to coincide with the sunset which was just stunning! So, instead of a quick dinner stop we ended up lingering here for several hours, walking the shore and skipping rocks while waiting for the sun to slowly disappear behind the mountains… Definitely unplanned yet unforgettable.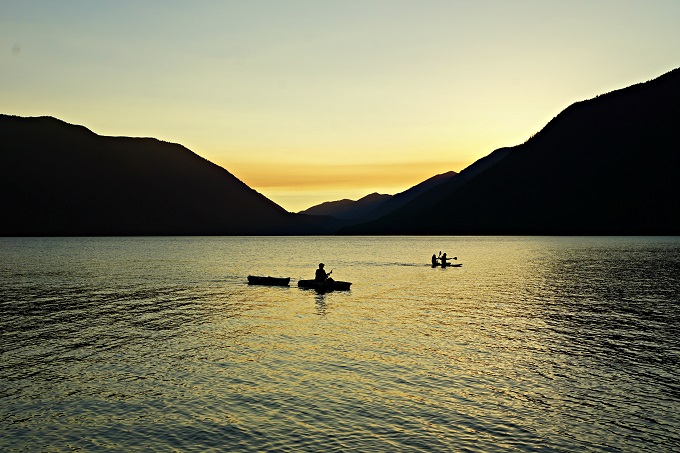 It is also possible to go kayaking, boating, fishing, water-skiing and swimming here, so plenty of activities to enjoy for any size, age and / or interests. At one point I even looked into renting a cabin here for a night, but they are reserved as far as a year out…
Sol Duc Falls
Sol Duc Falls is another trail amid the lush Olympic National Park rainforest full of old-growth trees. Depending on water volume, Sol Duc Falls split into three or four channels as it cascades 48 feet down into a narrow, rocky canyon. There are various viewpoints of the waterfall, both upstream and down—as well as on the bridge that crosses the river.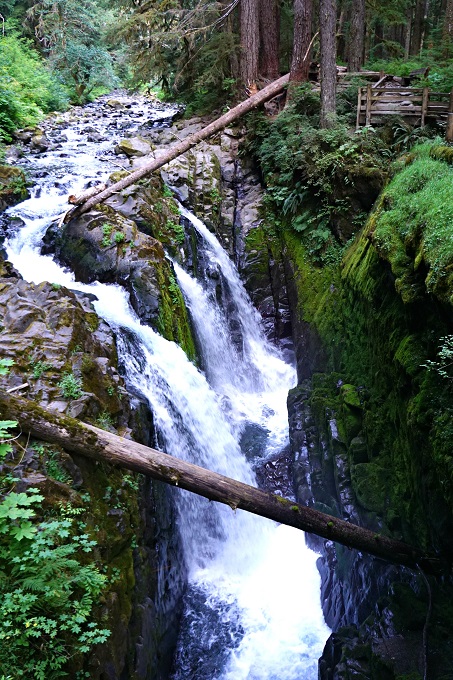 As it is fairly late when we reach the trail (7pm), there are no other people there which means the wildlife is coming out!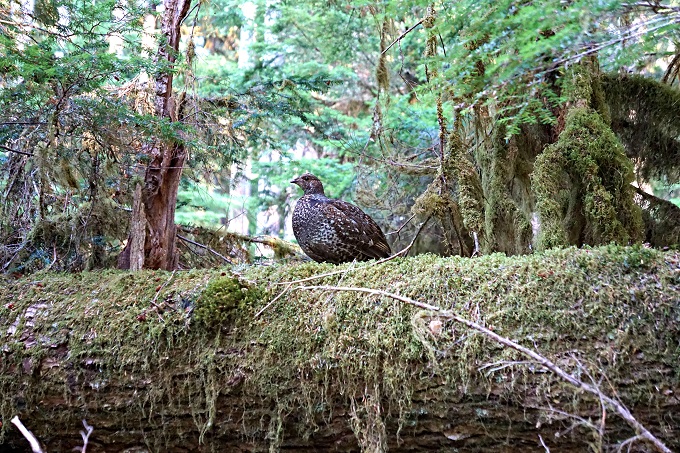 On our way back, the sun is so low it is lingering just around the horizon making the trees light up so bright they almost seem to be on fire!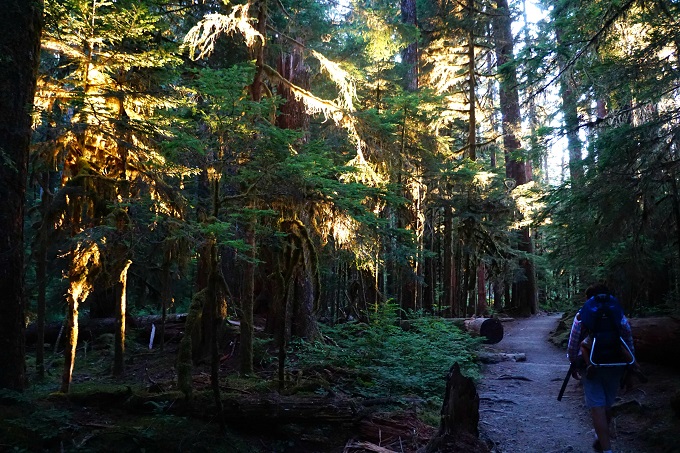 Forks
Which Twilight movie fan has not heard of Forks? It is a little town with just a few thousand residents, located between the Olympic mountains and the Pacific Ocean beaches. It is the actual town where author Stephanie Meyer based her Twilight novels. And it goes without saying that everything here is about Twilight. Even the menu at a local restaurant has a special Twilight menu section.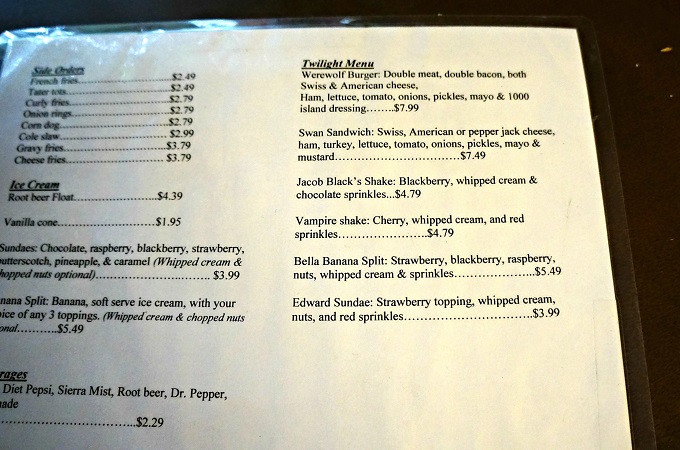 And there are tours offering fans to see the actual Forks high school, the Swan house, the Cullen house, the town police station and many other places portrayed in the movies. I also took the opportunity to wander around the fog and mist covered woods where the movie was filmed, however no luck finding any vampires or werewolves this time around.
2nd Beach
There are several beaches to choose from in Forks area for those interested in wildlife viewing and just beach-walking and relaxing. One of the prettiest was said to be 2nd beach as it has beautiful views of cliffs and sea stacks, as well as plenty of sea life to be seen during low tide. The only problem was that during our visit the low-tide happened to be at 6am (it changes daily and there are many charts available online with tide schedules). While my husband had no desire to go hike to a beach at 5am, I was determined to do so as I really wanted to see wild Pacific starfish. Unfortunately, all the hiking from the days before had had some effect on me and I slept right through my alarm clock and got up only at 8am. I still decided to go to the beach, but in combination with the hike to it, I only reached the beach around 9am which meant the tide was already coming back and it was too late to see the starfish, as they were already covered underwater by the incoming tide.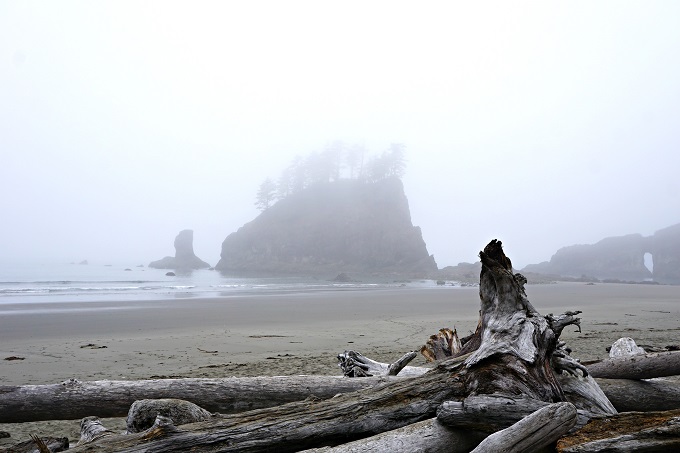 Though a little disappointed, my mood quickly improved because the fog covered ocean, cliffs and sea stacks looked so magical and out of this world! Besides, I still got to see some of the wildlife – some crabs, barnacles, funky seaweeds and bright, colorful sea anemones.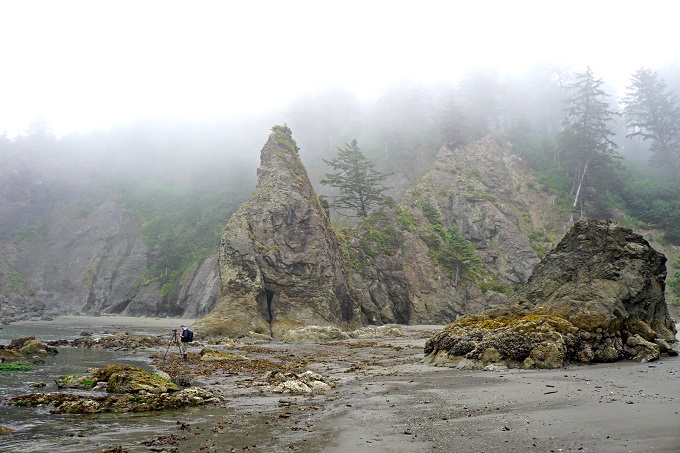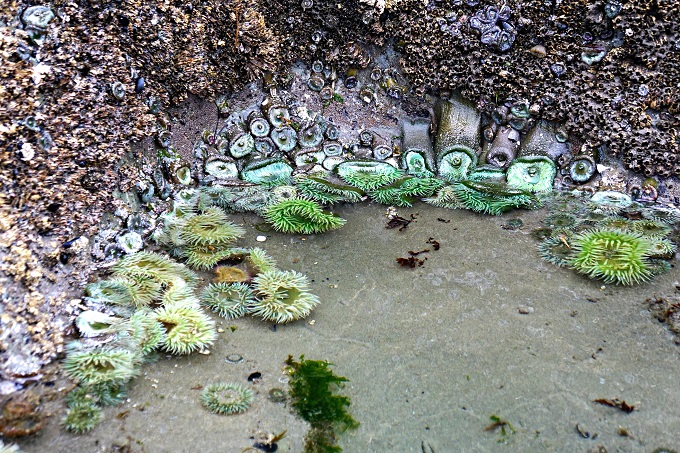 And it was also a nice change of pace to not have the little ones with me, and I could just enjoy the peace and quiet... all by myself!
Hoh Rainforest
When it comes to the Olympic National Park, Hoh Rainforest is probably the place on most people's bucket list. It is the rainiest place in the continental USA, receiving as much as 14 feet (4.2m) of rain every year! So why would anyone want to go here? The Hoh Rain Forest is one of four rain forests on the Olympic Peninsula. However, it is the only one that has been awarded the distinction of being a World Heritage Site and a Biosphere Reserve by UNESCO. Its unique ecosystem has remained unchanged for thousands of years and it is now the most carefully preserved rain forest in the northern hemisphere.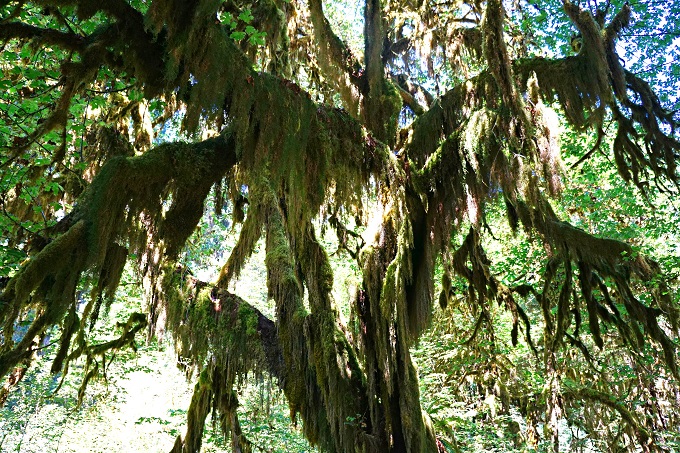 It is also popular because of the easy access – the trail to see it all is not even a full mile long and brings you into a magical world of green, called 'The Hall of Mosses'. Huge, old trees are covered in moss and ferns which are ''epiphyte'' – a plant growing on another plant without harming it (as opposed to a parasite).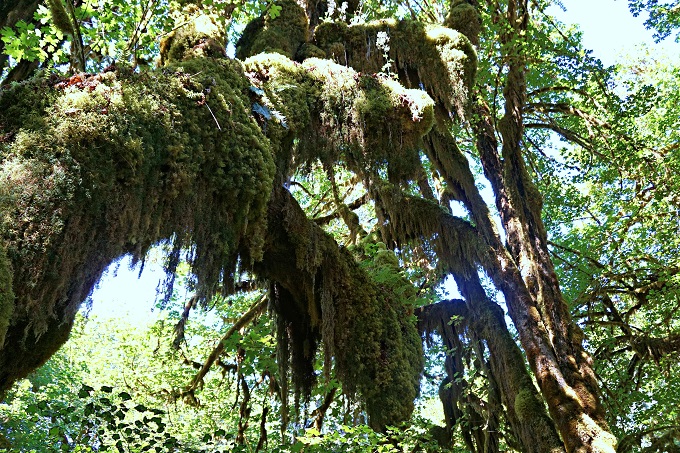 As we were lucky enough to get a beautiful and sunny day in one of the rainiest places in the whole country, without any hesitation we decided to go on another trail, the 1.2-mile (2km) long Spruce Nature Trail, which also has the mossy trees (yet not as rich and impressive as the 'Hall of Mosses'), fern covered ground and it leads all the way to the river which is a nice change of scenery.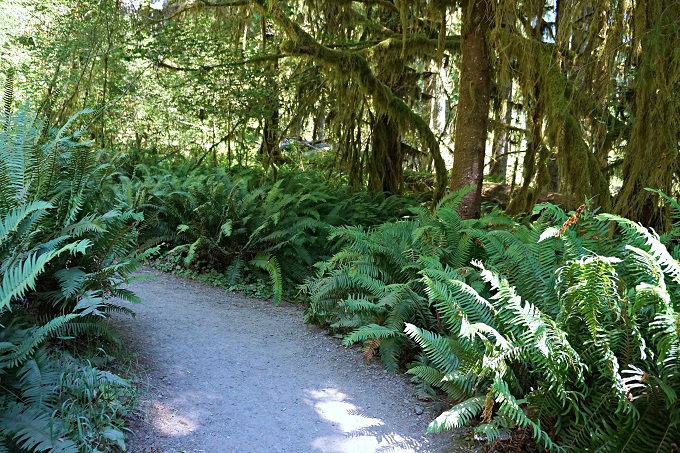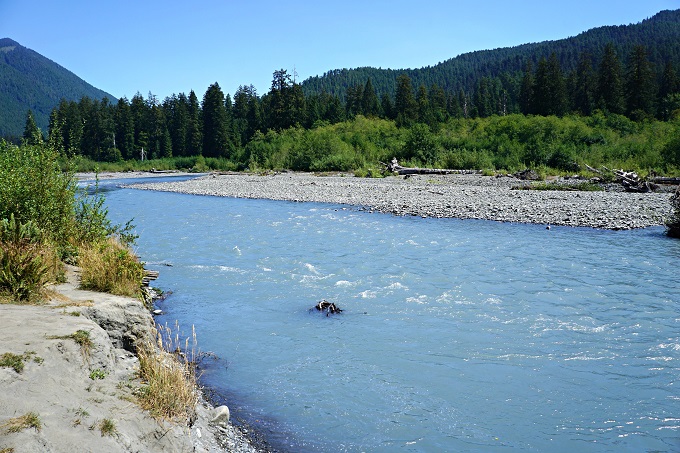 Even though I was really looking forward to seeing the Hoh Rainforest, I think my expectations were exaggerated. There is so much hype around it that I was almost expecting to see fairies and unicorns, but that of course did not happen, so the result was a little underwhelming. Not that Hoh is not pretty or impressive… it definitely is! But I think 10 days of non-stop travel, visiting and seeing amazing places and scenery every day, had somewhat dulled our senses and it was all just still processing in our minds…
Ruby Beach
Ruby beach was somewhat an unplanned stop along the way from Hoh Rainforest to Quinault rainforest area. I had read about it a few weeks before our trip, and figured ''we will stop if the kids are up for it and if we feel like it''. Well, the kids were up, and we felt like it, so we pulled over and went down the wooden steps leading to the beach. Oh man were we impressed! Though it was covered in thick, white fog, in my opinion, it made the scenery even that more mystical.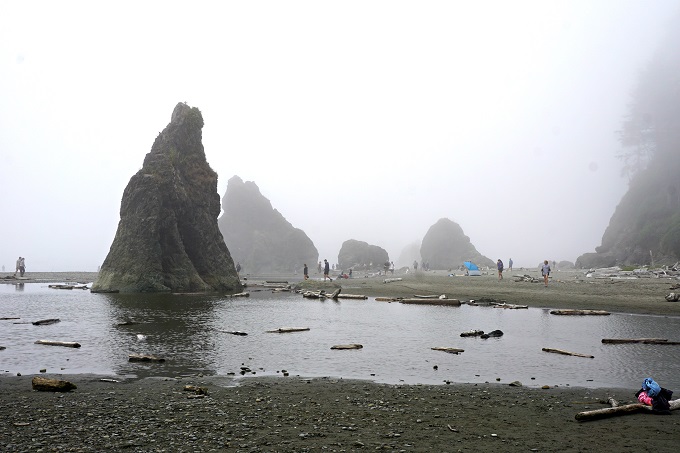 And as luck would have it, completely by chance we had stopped here right during the low tide. A little information placard showed where to go look for starfish, and I could not let this opportunity pass by. We just kept walking and walking and out of nowhere this humongous sea stack appeared out of the fog right in front of us, with many tidal pools at its base full of various sea life. And the starfish! So many of them – big and small, orange and red, purple and green….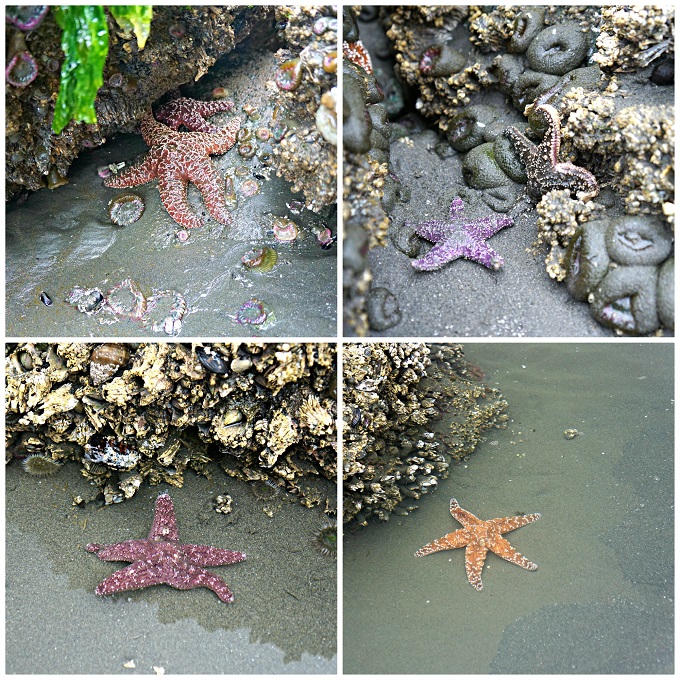 We spent a long time here walking the beach and looking behind every rock for starfish, anemones, crabs and other fun stuff. Almost like a treasure hunt! And the boys sure enjoyed playing with the sand, rocks and just having the run of the place.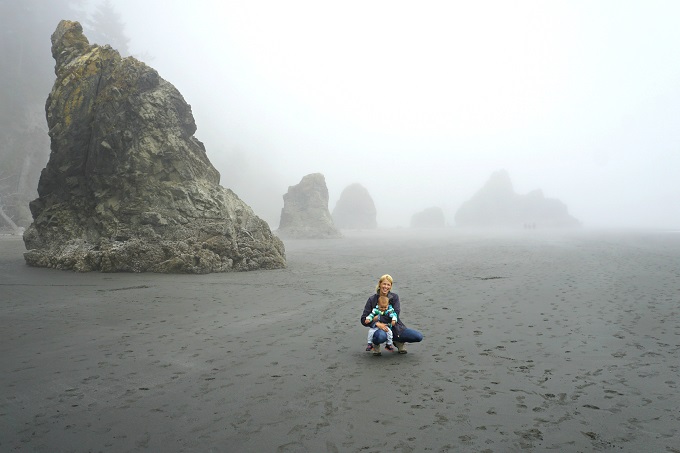 The only downside I would say is that because of the very easy access to this beach (right by the main road with no hiking required) and the popularity of it, there were a lot of people! Definitely no privacy here or feeling alone with the nature. But it still is an absolute must stop, in my opinion!
Quinault Rainforest and Lake Quinault
Quinault rainforest area was our last stop on this trip before returning back home, and as we have had almost 2 weeks of daily hiking, all of us felt too tired for any major challenges. However, we did gather up enough energy to go see the World's Largest Spruce tree (with a circumference of 58ft 11in (18m), diameter of 18ft 9in (5.7m) and 191ft (58.2m) tall).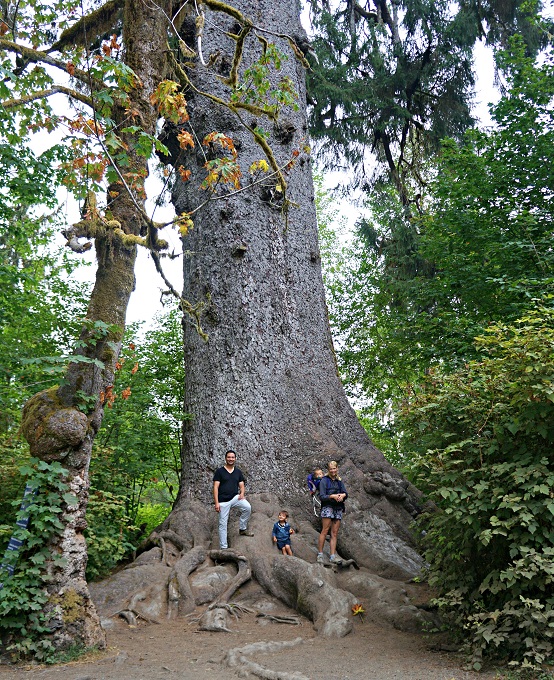 Another popular and short trail is Rain Forest Nature trail which is just 0.5 miles (800m) long and is a fun trail for kids (whom we saw a lot here). And our 3-year old indeed did walk the whole thing by himself. The trail is very lush and green and gives views of the river down below.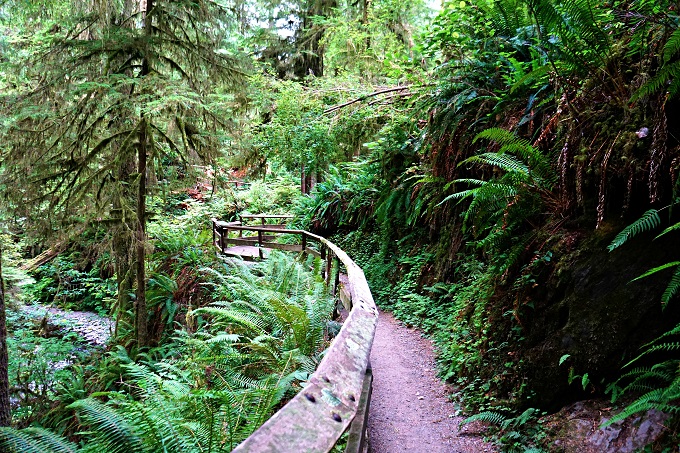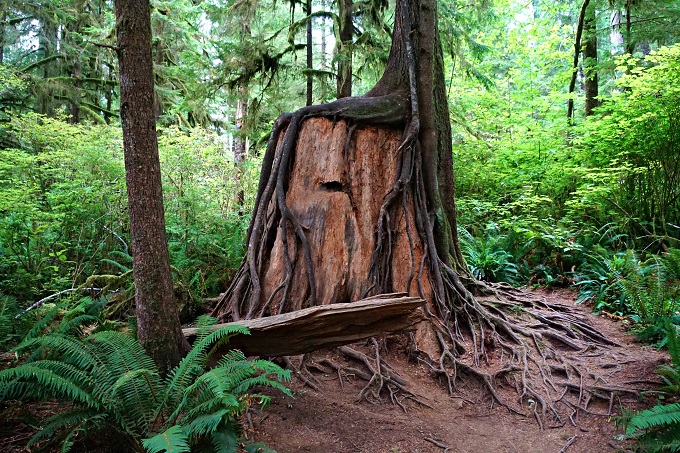 As this was one of our last nights of the trip, we had booked a room at the Rain Forest Resort Village. The cabins are nothing fancy but have amazing views over the lake.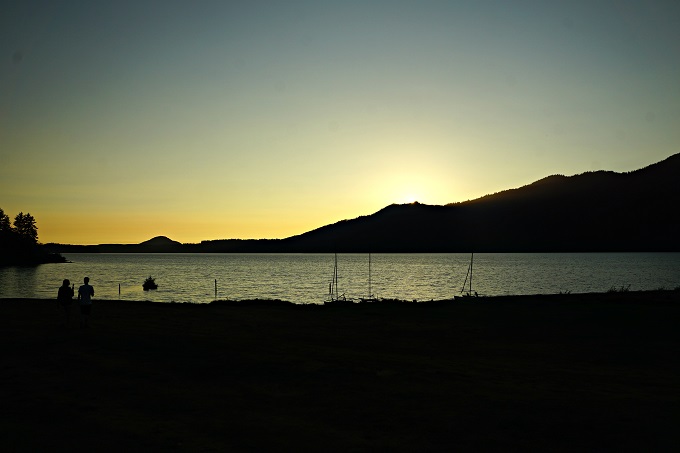 As the location is fairly remote, they have an on-site restaurant too, overseeing the lake. And as the name Salmon House suggests, they serve lots of great seafood! So, our last evening here was spent enjoying good food and sunset views over Lake Quinault.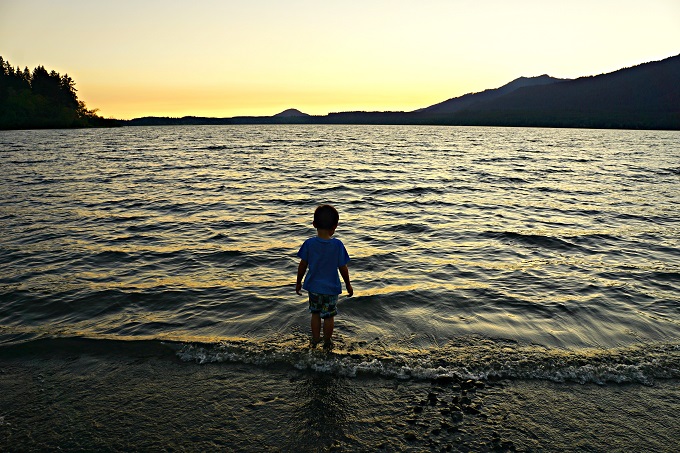 There is another small resort area about half a mile back down the road, called Lake Quinault Lodge, and they also have an on-site restaurant; however, the prices were much steeper than Salmon House where we dined.
In my opinion, Quinault area of the Olympic National Park should be visited not so much for its hiking opportunities, but rather the relaxing atmosphere and leisurely evenings by the lake boating, swimming and sunset viewing. And as it is not quite as touristy as many other spots we visited, there are a lot less people here, making it more enjoyable.
AFTERTHOUGHTS
Before our trip, there were quite a few worries, one of them - the weather. Because all of our activities were planned outdoors, bad weather could have completely wrecked all of our hiking plans with no real substitute options. However, despite the fact of how infamous Seattle / Washington is about its large number of rainy days, we only had a drizzle on one or two of the days out of 14! The weather was as great as it gets, with blue skies and plenty of sunshine allowing us to enjoy the trip and sights in all their glory.
Secondly, this was actually the first big weeks-long road-trip with 2 toddlers in the car. We have traveled a lot before with them locally and internationally, but were usually based at the same place for the duration of the trip, and just doing daily drives for day-trips and sightseeing. This time, however, we were on the road every day, staying at a different place almost every night. And I was stunned as to how well they adapted to it – nap when you can, get out for the sights / hikes, eat what's available, and sleep anywhere there is a bed! :-D And although they themselves are too little to remember the trip itself, mommy and daddy have memories to last a lifetime!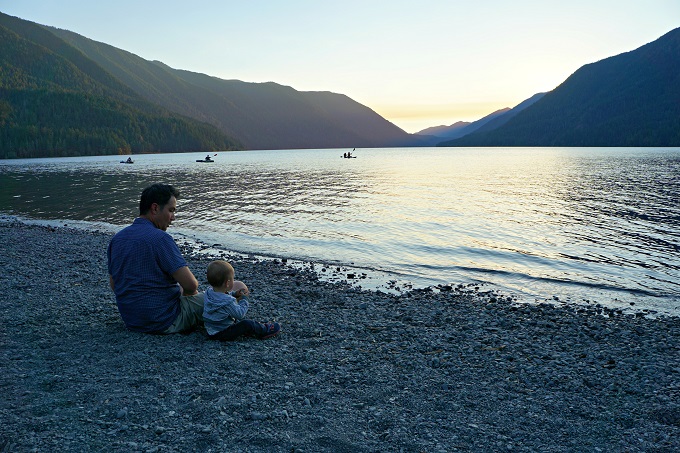 And I do have to admit – Washington is as beautiful and diverse as they come! The ocean blues, the forest greens, the snow-capped white mountains, the smell of fresh ocean breeze and just the opportunity to get away from the sounds of a roaring city. Yes, I did change my mind and I was impressed by what I saw. And though I do believe that the winters here are long, dark and wet, I love Washington in the summer!
My only regret about this trip was that we did not have more time to explore it.
If I had to make a 'top 3' list of my favorite sights on this adventure, then they are as follows:
1) Skyline Trail, Mount Rainier National Park
The beauty and diversity of this trail was just indescribable.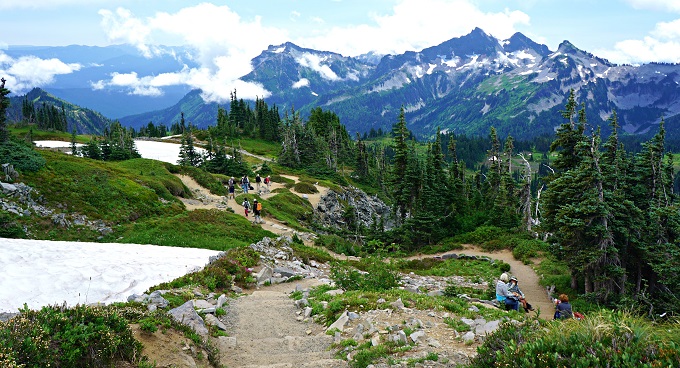 2) Ruby Beach, Olympic National Park
It was the sea stacks and the starfish that did it for me!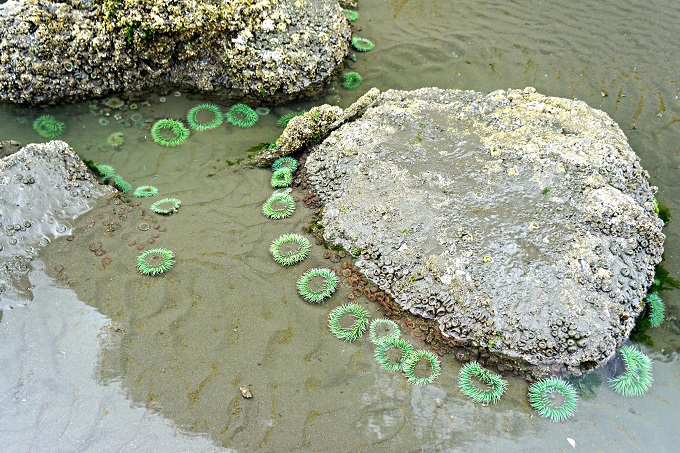 3) Glacier Overlook, Mount Rainier National Park
A beautiful hike to a dramatic overlook where it feels like you can touch the sky…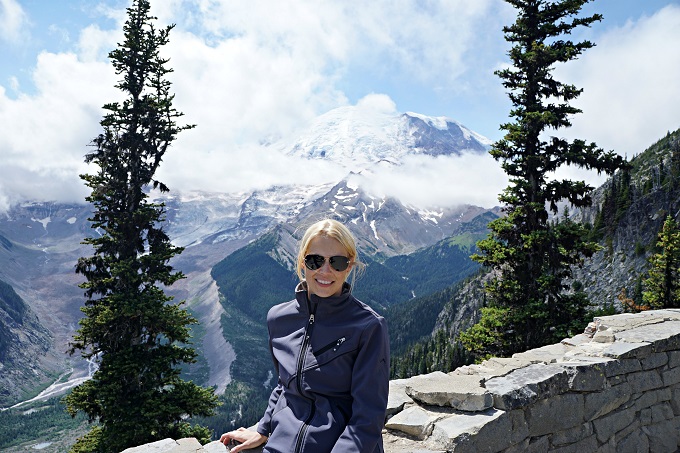 More photos from this trip can be seen in the following galleries: