A hop, skip and a jump away - Victoria, British Columbia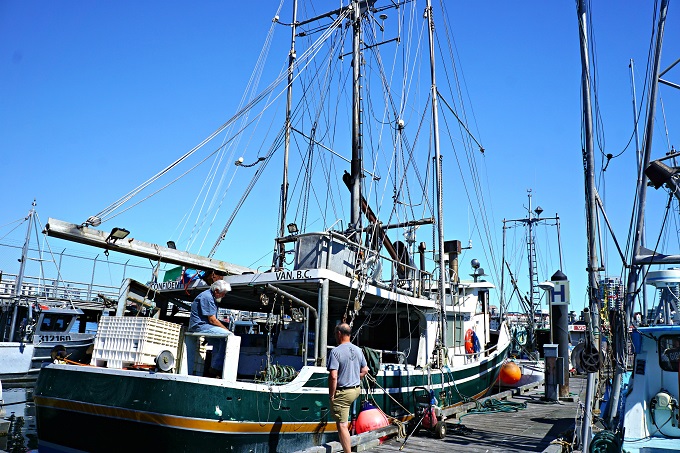 Victoria, the capital city of the Canadian province of British Columbia, lies on the southern tip of Vancouver Island off Canada's Pacific coast. Named after Queen Victoria of the United Kingdom, Victoria is one of the oldest cities in the Pacific Northwest, with British settlement beginning in 1843. The biggest tourist draw is the downtown area with its historical British Victorian architecture and an island vibe that is a lot different from that of busy Seattle or Vancouver just 60 miles (100km) East.
While planning our road trip around the state of Washington, we were debating for quite a while whether or not to include Victoria in our plans. My husband had been there before and was the one insisting I should see it too; however, as Victoria is located on an island, the only reasonable way to get there would be by a ferry. There are several trips a day one can take to Victoria from Seattle (by Clipper Ferry); however, the prices seemed absolutely outrageous: $155 per adult and $75 per child (1-11 years old), which would have cost us $460 for our family of 2 adults and 2 kids. Besides, Clipper is a passenger-only ferry which caused some issues on their own – there would be a lot of additional charges for parking a car in Seattle for 2 days, and once in Victoria, we would be stuck without a car and would have to use taxis or pay for tour companies if wanted to go anywhere further out of the downtown area. Everything combined, the mounting unreasonable costs for a 2-day trip just seemed inadequate, and we decided not to go there.
As I continued our Washington road-trip planning and researched sights to see, places to go and towns to stay at, I stumbled upon a small town along our route on the Olympic Peninsula, called Port Angeles. And upon further looking into it, I discovered there is a ferry line called BlackBall Ferry, which operates several trips a day to Victoria and back. Besides, BlackBall is not only a passenger but a car-carrier as well, for the third of a cost of Seattle's Clipper Ferry!!! Putting a car on the ferry would cost us $128 (roundtrip + driver). Kids 0-4 years were free of charge and I was the only person requiring additional ticket which was only $37 for the round-trip! The whole trip to Victoria and back for our family + car, would cost us only $165! I almost felt like I had hit a jackpot, after being scared off by Seattle's Clipper Ferry astronomical prices. This time we did not hesitate and reserved our spots on the ferry to visit Canada's city on an island.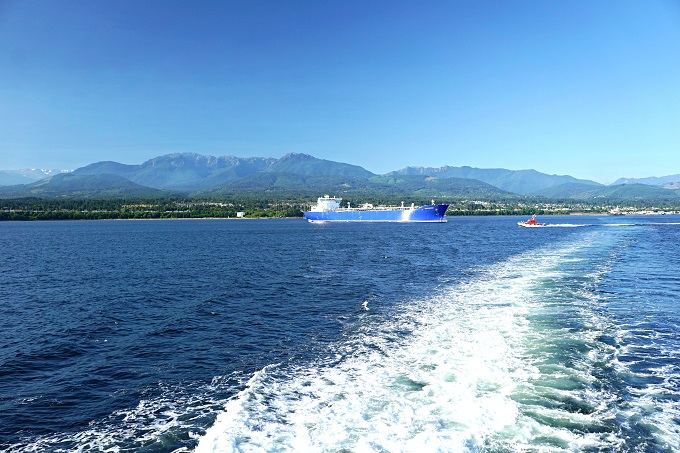 We decided to dedicate 2 days to Victoria – one to the downtown area and the other to the famous Butchart Gardens. We had booked the earliest ferry leaving at 8am, and it was required to arrive an hour early for passport control and border control check. The ferry ride across the Strait of Juan de Fuca from Port Angeles takes about 90 minutes and gives beautiful views of the mountainous Olympic Peninsula on the USA side.
There is a café onboard, and we used the opportunity to get some strong morning coffee to wake ourselves up (as this had been a 5am get-up morning).
Once we disembarked on the Canadian soil, our first stop of the day was Fisherman's Wharf. It is a fun destination where one can wander down the docks of a working harbor and watch fishing vessels unload fresh catch of the day; or admire big private yachts moored in the dock. There are several food kiosks and restaurants where you can buy seafood fresh off a boat. We enjoyed this warm, peaceful morning with a calamari and fried clam seafood basket breakfast.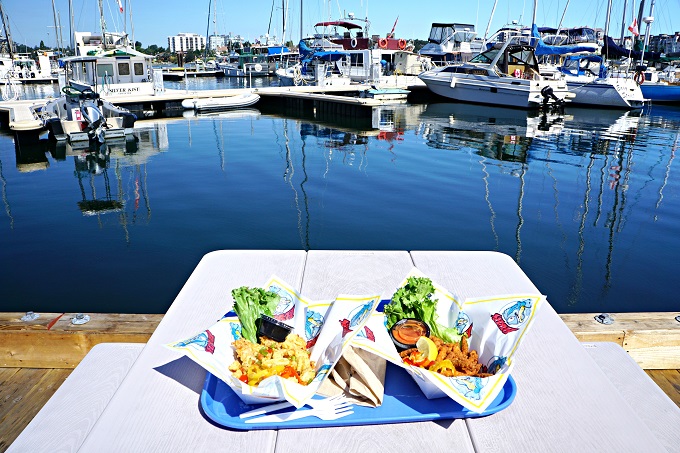 On our way out, we passed several brightly colored floating homes, some of which were actually vacation rentals.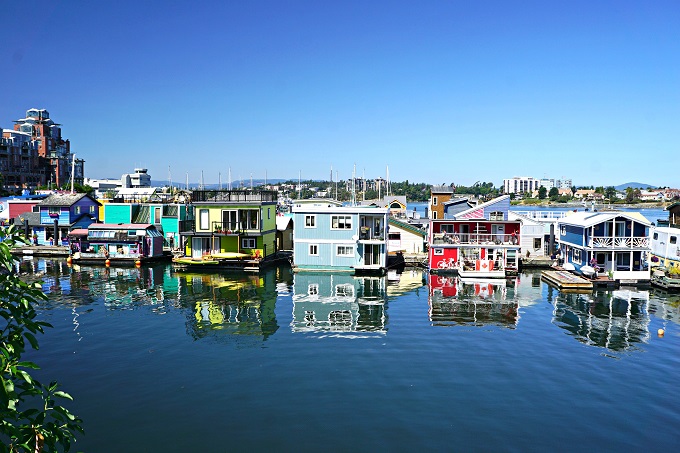 Continuing up along the inlet, we were slowly making our way towards the downtown area. It was a lot of fun watching the non-stop traffic on the water as we were walking – funny little water taxis in all colors, yachts, tour boats, sea planes coming and going… This scene was a hit with the kids!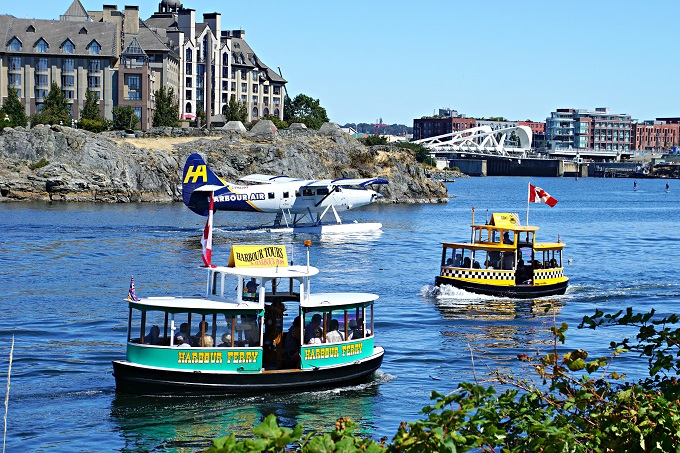 At a leisurely pace, we made our way into downtown and Inner Harbour. This is probably the most recognizable part of Victoria, with its opulent Parliament building and Empress Hotel.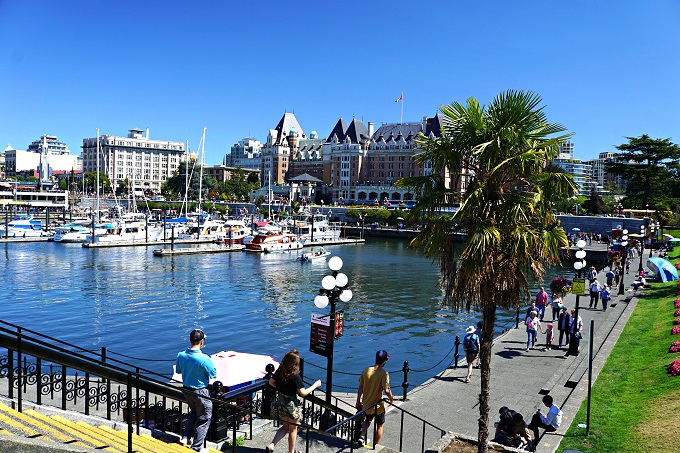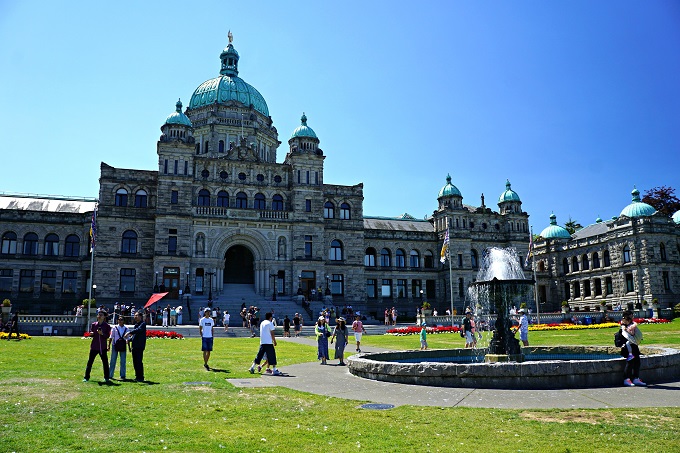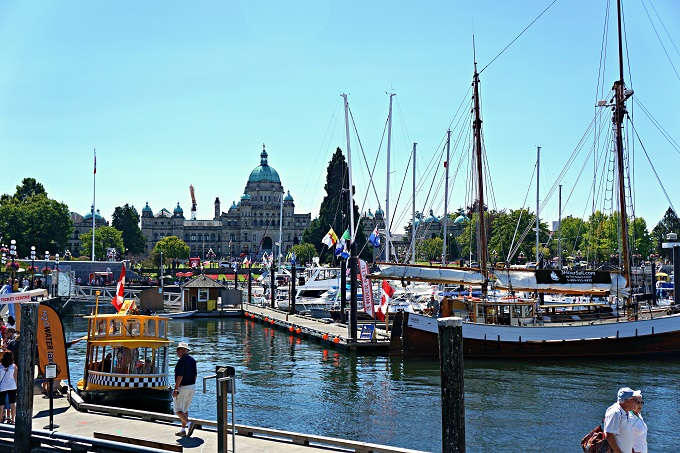 The Harbour itself just stays busy non-stop with boats, planes, ferries and ships just coming and going… And the whales! While we are here during prime whale watching season, going out in the cold ocean winds on a rubber speedboat is just not something we want to do with a 1-year old, so the Orca statue will just have to do it for now…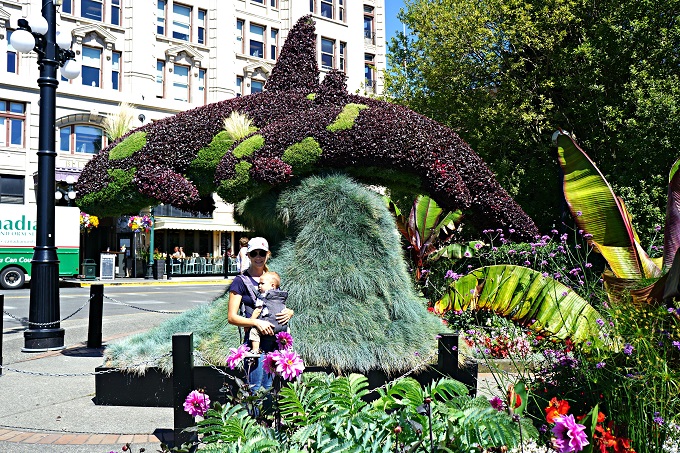 After all the main sights had been visited, we headed deeper downtown, walking the little streets up and down admiring the colorful flowers in their parks and peeking into souvenir shops, when we started noticing both of the kiddos nodding their heads in the stroller… They were falling asleep. And my husband and I felt tired too, so we decided it was time to head over to our rental and take well deserved naps. Of course, as it usually happens – the kids and husband got to nap while mom was unpacking… Nonetheless, it was peaceful and quiet!
After everyone was up from their naps, we decided to head over to one of the most visited places on the island – the Butchart Gardens. The gardens have been designated a National Historic Site of Canada and receive over 1 million visitors a year. This 55-acre property gets lit up with thousands of lights and lanterns once darkness arrives, and we wanted to use the opportunity to see it during the day as well as in the evening light.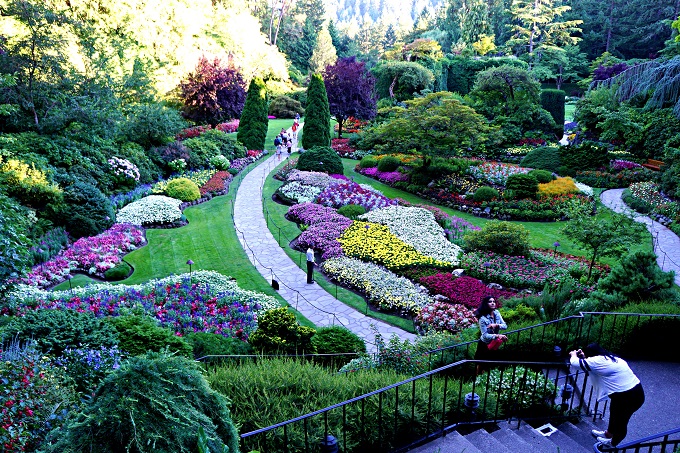 Like other botanical / floral gardens, they are separated into sections, e.g., Rose Garden, Italian garden, Japanese garden etc. In August, almost everything was in bloom and all the gardens were brimming with color.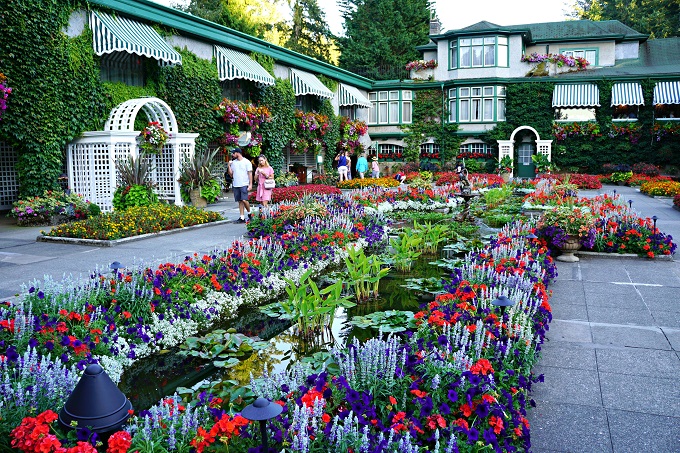 And although I am not a florist by any means, I did enjoy a leisurely stroll through the property, listening to a live music performance in the distance (which takes place here almost every night during summer). Once the darkness took over, the gardens started to light up with thousands of lights…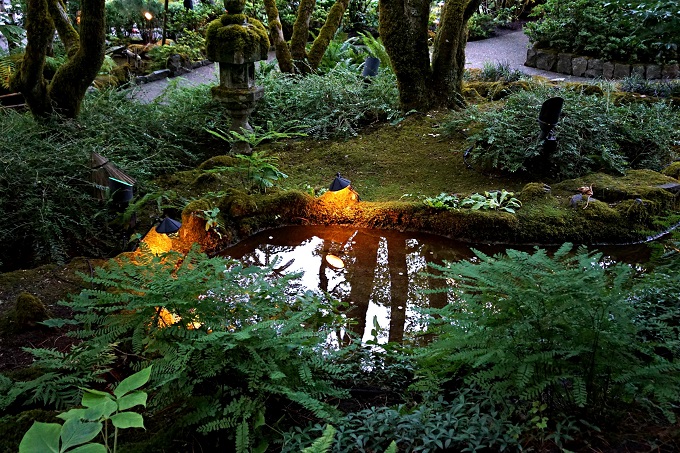 After our long evening spent in fresh air, everyone was starving and we were hoping to find a nice local restaurant for a late-night dinner. Unfortunately, that did not go over that well and we soon found out that almost everything was closed at this hour (10pm). Unless we wanted to drive it all the way into downtown, we had to eat what was available. Unfortunately, it was not the tasty island seafood we were hoping for but rather a take-out pasta place which we had to eat in a parking lot because the restaurant was closing… A little disappointing, but these are the ''sacrifices'' you make when you have 2 hungry and tired children! If it was just me and my husband, we would have definitely driven downtown for the seafood!
The next day, we had a few hours available until we had to queue up for our 3pm ferry ride back to the USA. So, we decided to go and explore the Beacon Hill Park, which spreads over 185 acres (75ha) near downtown Victoria. The park dates back to 1880s and is the biggest green space in the city encompassing manicured lawns, flowerbeds, hiking / biking trails, big trees, ponds with fish and ducks, a petting zoo, picnic areas, children's playgrounds, and many other family friendly features. While my husband stayed back with the kids letting them get busy at the playground area, I headed out to explore the park.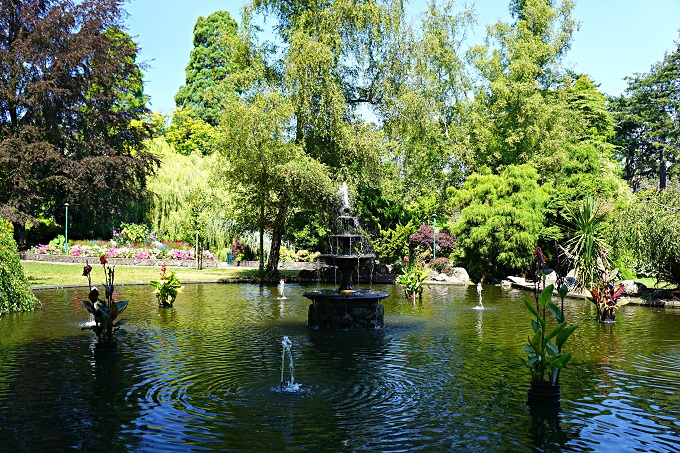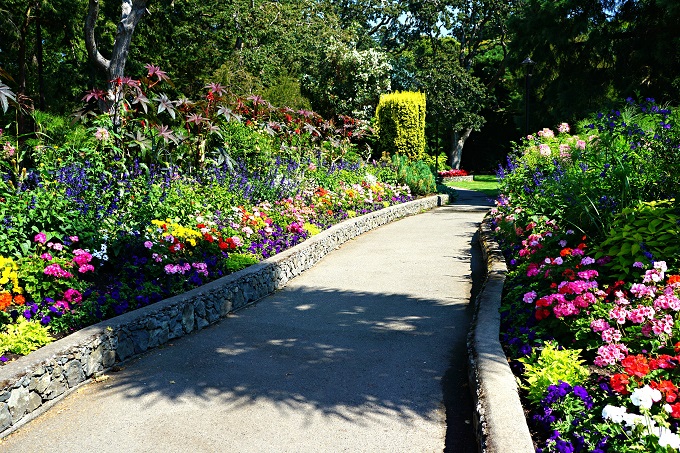 As our ferry was leaving at 3pm, we were required to arrive at the port an hour and a half early to process through the customs. This was the only downside of bringing a car on the ferry – if walk-on passengers can arrive 20minutes before the departure, cars need to arrive 1,5hrs ahead of time, so it's a long wait in the car.
On our way back, we enjoyed the views of the Strait Juan de Fuca again and even managed to see an Orca! It was far in the distance yet close enough for us to see it spout water! After about an hour, we started to se the fog-covered Olympic peaks starting to appear as if announcing that our Canadian adventures are over.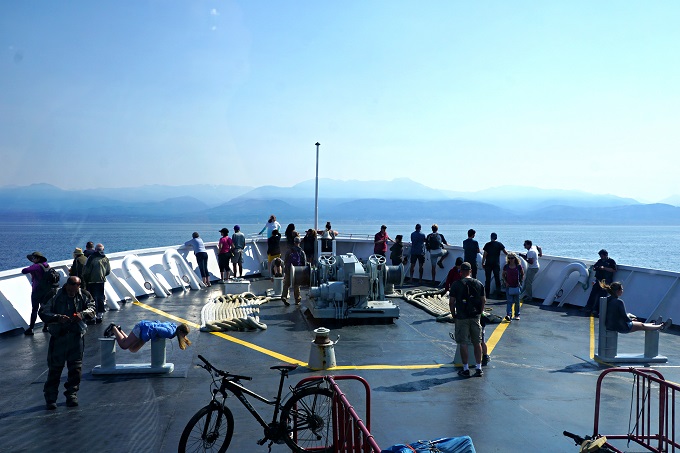 We had great 2 days visiting Victoria. Yet, I have to admit that I did not do enough homework beforehand, and mostly relied on the information my husband gave about the sights to see. I did not think about venturing more inland as I did not think there is much to see. However, when leaving Victoria, I was browsing through one of the magazines on the ferry and saw some beautiful mountains and lakes, and only then I realized what we missed! Places like Strathcona Provincial park or Tribune Bay Provincial park are just too pretty to be missed!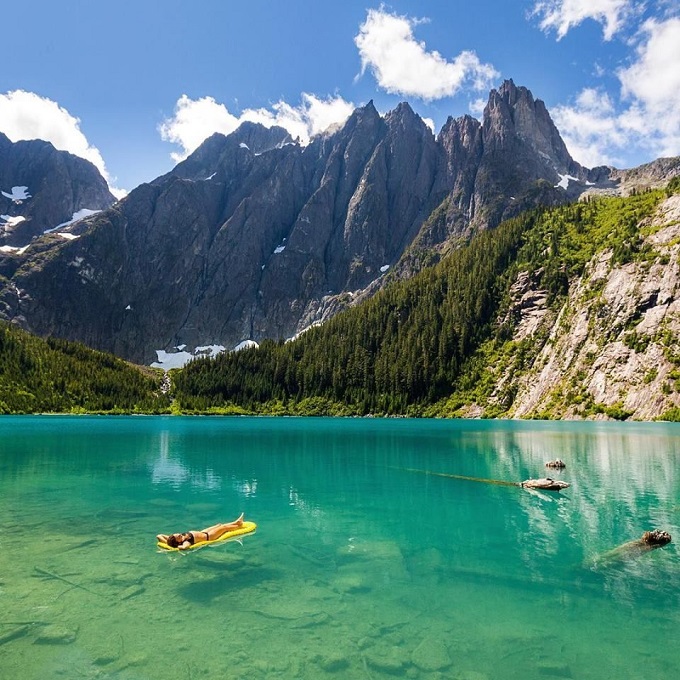 /Image credit: Taylor Burk Photography/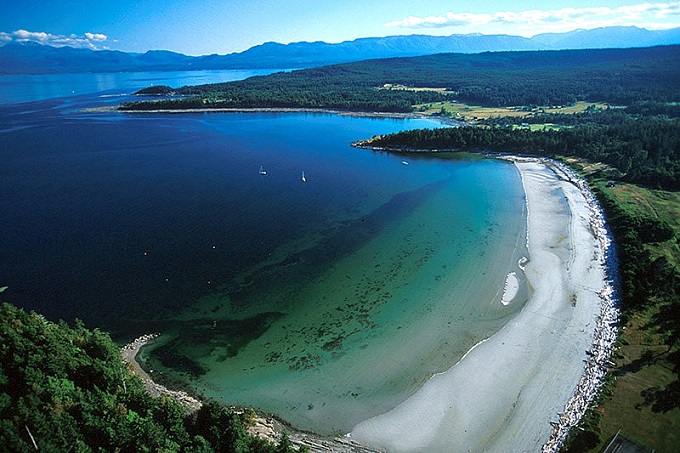 /Image credit: vancouverisland.com/
But maybe that means we will have to return here someday again?