Kauai - the Grand Canyon of the Pacific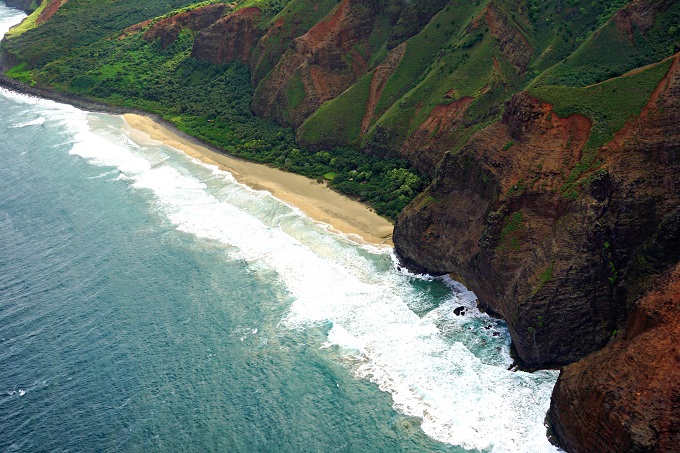 As I was planning our Hawaii vacation, I realized that it would be a shame to spend full 2 weeks in Hawaii but only see one of the islands. Most of our time was allocated to the island of Oahu; however, we absolutely wanted to use the opportunity to see at least one other island. The choice isn't easy though as there are 6 major islands to visit in Hawaii: Oahu, Kauai, Maui, Molokai, Lanai and the Big Island (Island of Hawaii). Each one has its distinct personality, adventures, sights and experiences. We visited Maui on our last trip to Hawaii, so after some thought we decided that this time we would visit the oldest and northernmost island of the Hawaii chain – Kauai, or also called ''The Garden Isle''.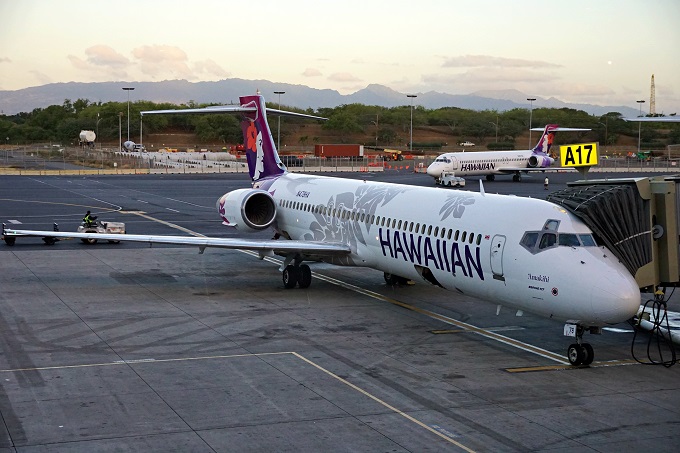 Flights between the islands are mostly dominated by 1 carrier – the Hawaiian Airlines, with departures every hour (or even more often). 3 days seemed enough time to manage to see the island without it becoming too expensive as car rentals and lodging costs are fairly high anywhere in Hawaii, including Kauai. Adding more days would mean adding more expenses. Because we wanted to see as much of the island as possible, the sightseeing schedule was very tight from morning till late evening – it is not easy to try to cramp the whole island into 3 days! And as many beach days were included while we stayed on Oahu, Kauai was mostly active sightseeing that involved hikes, helicopter ride, waterfalls, coffee plantation tour, and other exploratory type adventures.
Day 1
I wanted to make the most of our stay on Kauai, so I booked an early morning flight leaving Oahu at 8am and arriving on Kauai at 8:40am. Early arrival would give us a full first day to explore the island.
Blue Hawaiian helicopter tour
The very first tour we booked for this day was also the biggest splurge during the whole trip! It was a helicopter ride over Kauai. Helicopter tours are very weather dependent, so it is suggested to book it for the first days of the planned stay, so that in case there is a weather cancellation, there are enough days left to re-schedule the tour to a later date.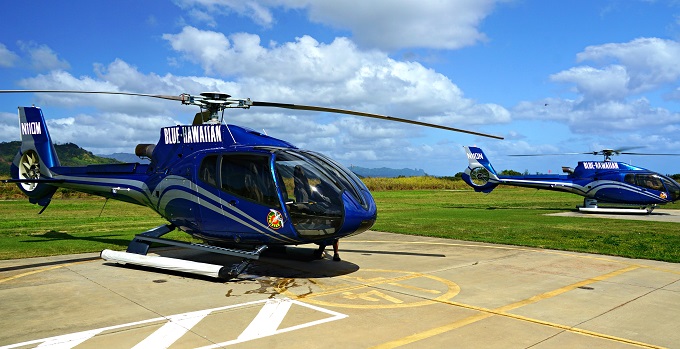 After our arrival to Kauai, we went to pick up our rental car, grabbed some breakfast and were right on time for our 11am Blue Hawaiian helicopter tour. It is by no means a cheap entertainment, and helicopter / airplane tour companies must follow the FAA guidelines which regulate that anyone over age 2 need their own seat (which means a FULL ticket price)! So yes, our 3-year old had to pay a full tour fee. Ouch! At least the 1-year old could still ride on our lap.
After a short briefing, we were assigned our seats and ready for the 1-hour adventure! The reason why helicopter tours are so popular on Kauai is the island's terrain – Kauai with its Waimea Canyon is called the ''Grand Canyon of the Pacific''. Many parts, including the dramatic Na Pali Coast, can only be seen from air - there are no trails, roads or any other way to get to see its sharp mountain spires, emerald valleys, and jagged cliffs carved by time and elements.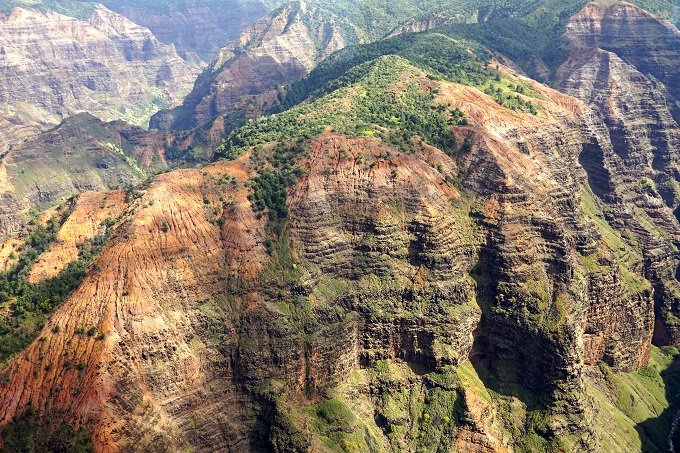 Even though the day was quite windy, we were lucky enough to get very little overcast skies which otherwise would limit a lot of the views. Just a few minutes after the helicopter took off, our 1-year old was sound asleep – the vibration of the engine and rotor blades put him right to sleep (good thing we did not have to pay for him, lol)! The 3-year old got the window seat and could enjoy all the views even without turning his head. I do have to admit that he put on a very brave face and showed thumbs up during the whole ride, yet he seemed a little scared and unsure about the whole ordeal. In the end though, he was very proud and excited about the experience and never admitted being scared.
During our ride we flew over the spectacular Hanapepe Valley, Manawaiopuna Falls (commonly referred to as "Jurassic Park Falls"), up the Olokele Canyon before moving on to the eye-popping Waimea Canyon, the famed "Grand Canyon of the Pacific" where we could see and explore many hidden waterfalls.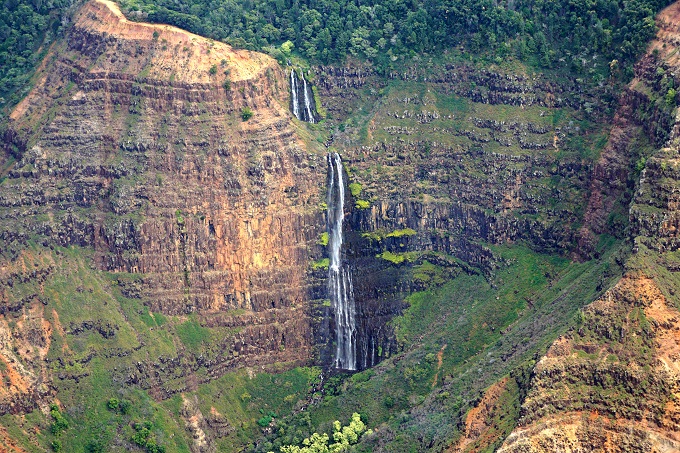 Then, the sculptural masterpiece of the Na Pali Coast gives way to the Bali Hai Cliffs, and the pristine blue waters of Hanalei Bay. During summer, Na Pali can be also seen from a boat; however, during winters the waters are usually much too rough to safely access this part of the coast.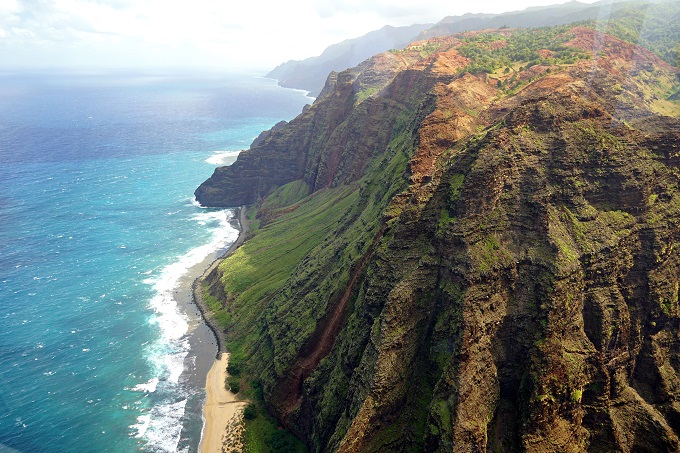 And just as I thought I had seen it all, the helicopter took us to Mt Waialeale, the heart of the ancient volcano. This is the wettest spot on earth, with an average rainfall of 450-500 inches (11,5 – 13 meters) annually! Flying into the center of the crater with its 5000-foot (1525m) walls towering above and its 3000-foot (900m) waterfalls surrounding you, is truly awe-inspiring.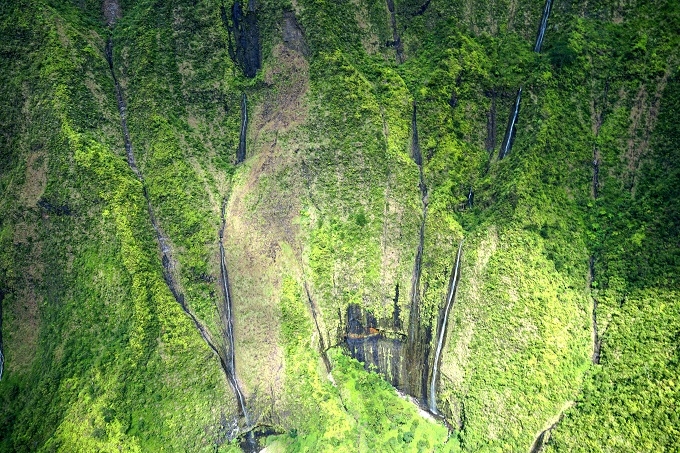 We were a little sad when the tour was over; yet there was still a lot we needed to see on the island, and we were looking forward to it all.
Maha'ulepu Heritage trail
After such a grand adventure, it was time to stretch our legs, so we made the short 30min drive to the town of Poipu to hike Maha'ulepu Heritage trail. It is a fairly long in-and-out trail along the ocean cliffs with mixed cliff rock / limestone and sand footing, so going is fairly slow, especially with a 3-year old. Just like when hiking on Oahu, he wanted to do everything himself, so we had to be pretty weary and watchful of him as the trail passed some very steep drops in spots.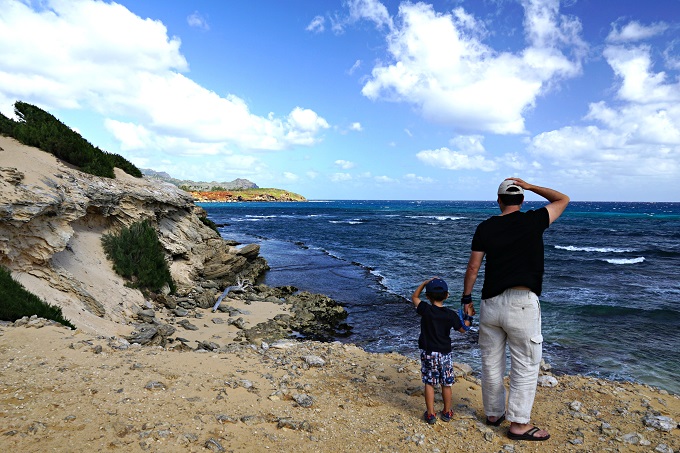 And even though we did not make it all the way to the end of the trail before turning around, we did get a good insight into its diverse beauty. If we had not come with small children, I would absolutely love to hike this trail in its full length!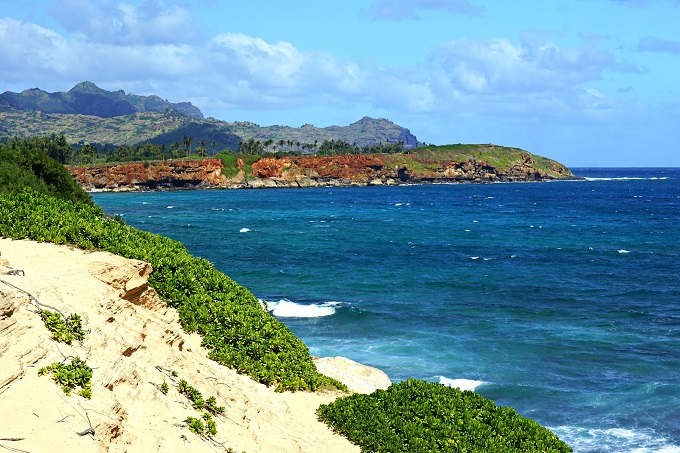 Another hope of mine was to see the endangered Hawaiian monk seals which are relatively frequent visitors in this part of the island; however, no such luck this time.
Makauwahi cave and Tortoise sanctuary
Just a short drive up the road from Poipu was another fun spot – Makauwahi cave which is the largest limestone cave in Hawaii. Finding it; however, gave us a little trouble as there was very little signage. This, in return, gave my husband a good enough reason to take our Jeep off-roading a little bit. I let him have his fun. Eventually, we came to a spot where we could not drive further and had to hike.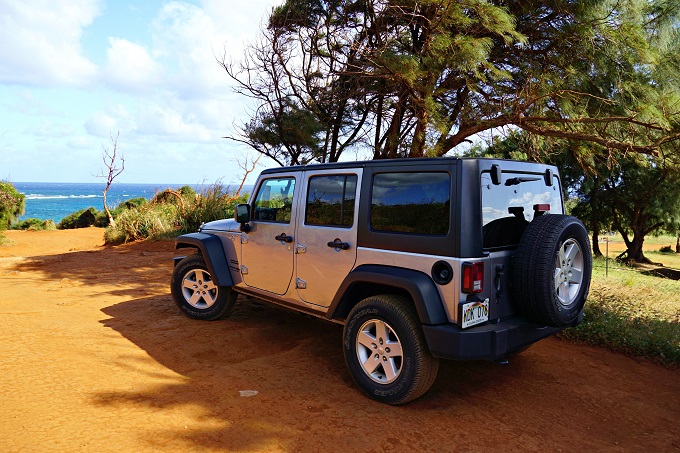 Once we reached the cave, it was only 2:30pm but the cave had already closed for the day! A little disappointed we turned around and decided to go see the nearby tortoise sanctuary. It is a very casual place with a short fence all around it and a ladder over the fence with signage ''Please, feel free to climb the fence and come in.'' So, we did. We saw several tortoises around the property and the boys had a lot of fun finding and watching them slowly walk around, bathe or chew on some lettuce.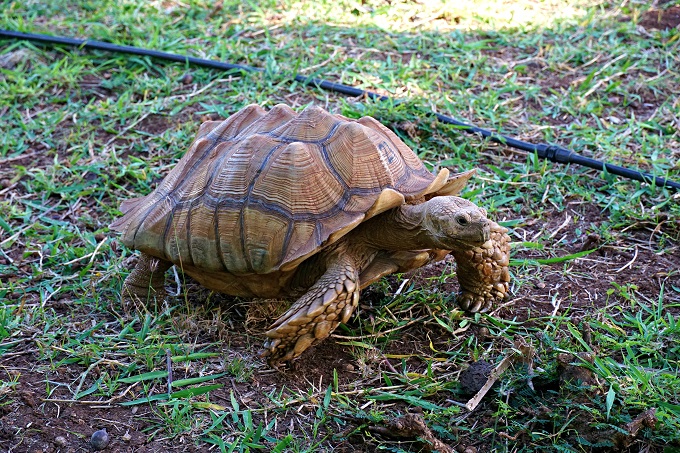 Spouting Horn
After the tortoises, we made a short stop at a nearby beach and then headed back to the car to go see the Spouting Horn. It is just like the one on Oahu – the bigger the waves in the ocean, the higher the spout of water will thrust. The lookout area was fenced off from the coastline which was safe for the kids, so we stood there for a short while watching the Horn in action.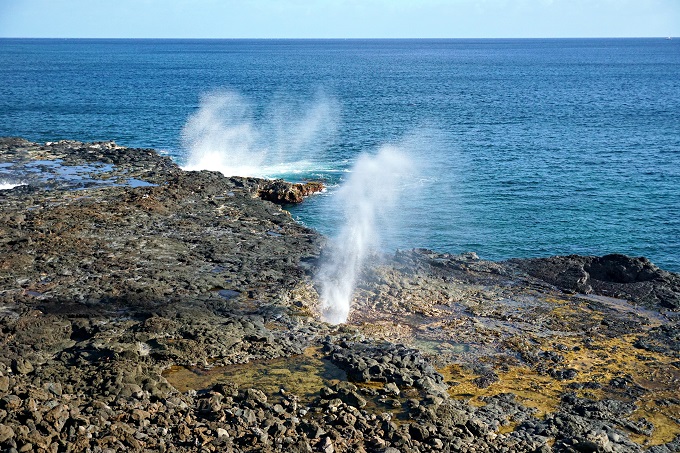 Afterwards, the boys had a lot of fun running after all the chickens and roosters who had taken over the grassy areas by the parking lot. For those interested, there are also several stands and kiosks with various types of local (and probably also not so local) souvenirs and gifts.
Just as we were getting ready to get in the car, my husband noticed a couple whales breaching and spouting out in the ocean, not too far from the shore. All the people at the lookout stood excitedly watching them until they could no more be seen.
Wailua Falls
As it was starting to get quite late already, we quickly strapped the boys in their seats to get on the road again and make one last stop before calling it a night. I wanted to see the Wailua Falls. It is one of the most popular waterfalls on the island as it is pretty impressive in size, 173 feet tall (53m), but requires no hiking to see, as the lookout area is almost next to the parking lot. With only about 10 parking spots, finding a place to park can become a big issue; however, this late in the evening there was only 1 other car there besides us. It was definitely very beautiful and also quite unusual to actually be so close to the falls as many of them in Hawaii can only be seen from quite a distance away. We could hear the water roaring right next to us.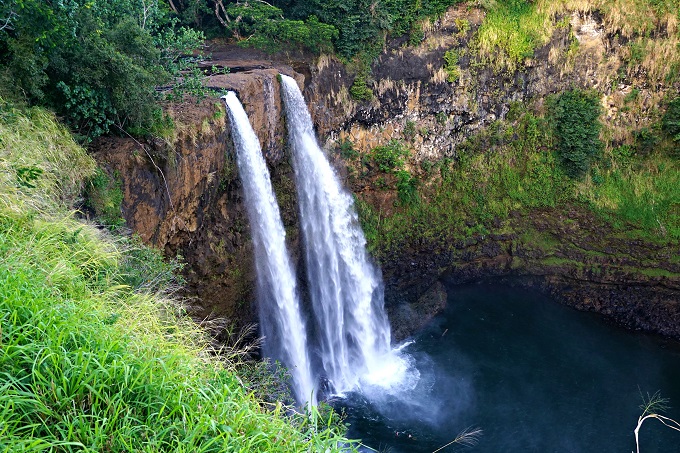 There are also trails leading down the cliff to the base of the Wailua Falls; however, they are unofficial, unmarked trails and can become very treacherous – people have lost their lives trying to make their way down. State officials have put fencing around these trailheads, yet people still manage to climb the fence and attempt the descent.
As there is nothing else to do here apart from looking at the falls and taking some photos, we were quickly back in the car. On the way to our rental, one very last stop was a grocery store run to get some necessities for breakfast and a few snacks, and after that it was time to finally tuck the boys in for the night. We still had 2 full days of exploring ahead of us.
Day 2
Just as expected, the boys were up bright and early, and having woken my husband and me along with them, we were all up and ready to hit the road by 8am.
Opeaka'a Falls
The second most popular waterfall on the island is Opeaka'a Falls. And with it being just a relatively short distance away from our rental, we started the day by making the quick drive to see it. Opeaka'a is a 151-foot (46m) waterfall that flows over basalt from volcanic eruptions millions of years ago. Even though the falls are very scenic, the lookout is actually very far away and there really is no safe access to get closer to the falls. Therefore, a good zoom lens is needed for any close-up photos.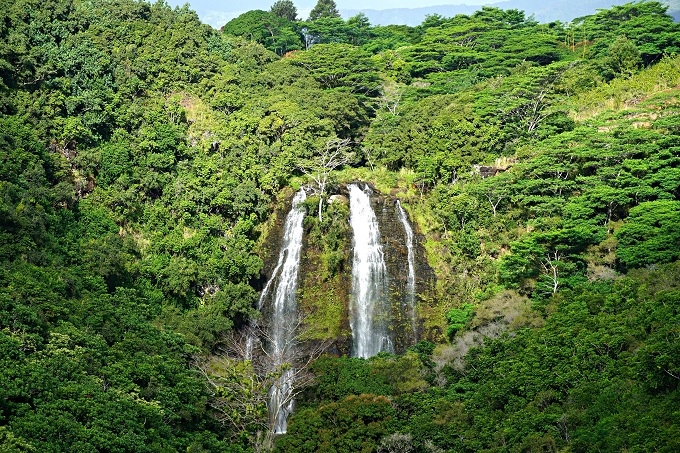 Here, just like in most other places, apart from checking out the sights, both boys enjoyed chasing around the roosters. They really are everywhere in Hawaii!!!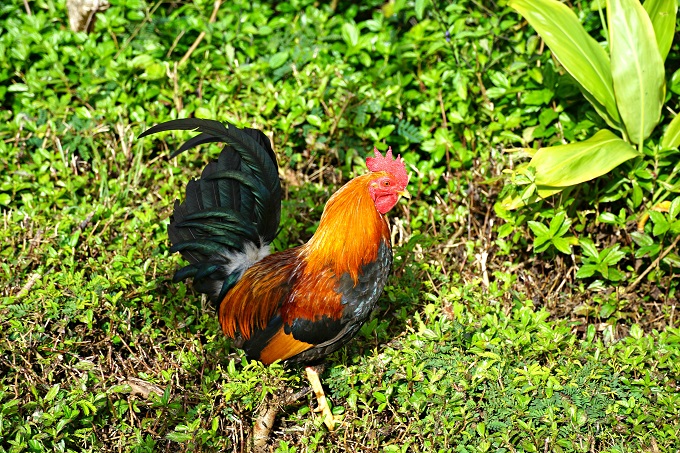 Kamokila Hawaiian Village
Just across the Opeaka'a Falls lookout, a windy road leads down into the valley to the Kamokila Hawaiian Village. Even though I had not found much information on it, I decided to check it out as we were so close to it. And I am glad we did!!! It definitely became our boys' favorite spot on Kauai! Kamokila is a traditional Hawaiian village recreated on an authentic site, and many of the original markings were still here from hundreds of years ago.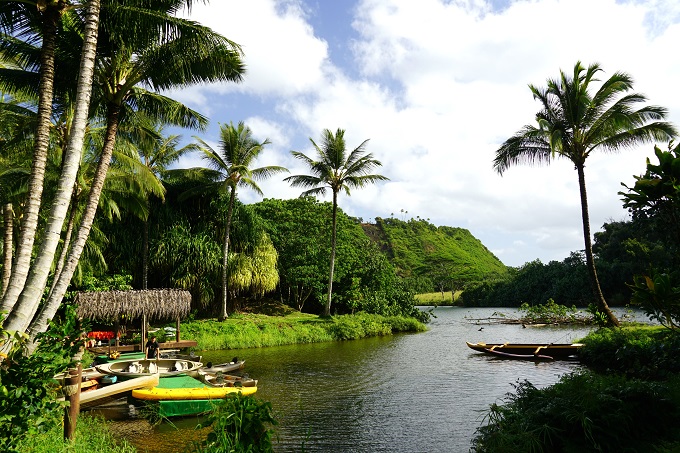 The entrance to the village is just $5 and right at the start we were greeted by big flocks of peacocks, roosters, hens and chickens (with some smaller wild birds in the mix). The visitor center sells big bags of corn to feed the birds and for two toddlers who have been chasing after roosters the whole trip, this was an amazing experience – to get to feed them! Those big smiles on their faces said it all!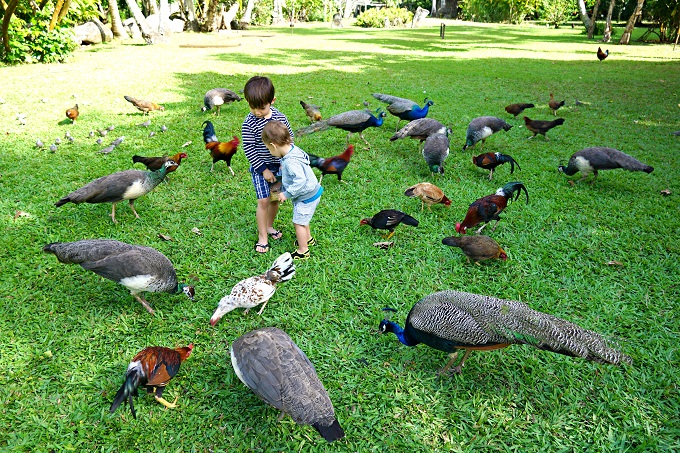 After we got the boys past the birds, we could finally make our way deeper into the property to take a look at the various buildings – chief's quarters, birthing room, dining room, family house, gathering place etc. They were all built in traditional old Hawaiian style with useful and interesting information about each of the buildings. Having the ability to safely roam around and explore was by far the favorite part when it came to a 1 and 3-year old!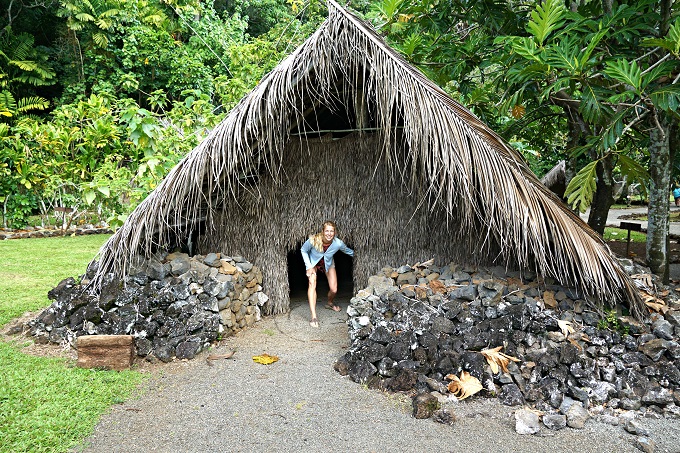 The village itself is backed by mountains, tropical forest and a river at its side, which gave us a very peaceful and relaxed sensation. We ended up spending much more time here than I expected, and for the most part we were the only visitors in the village (which I see as an added bonus)! Unfortunately, there was still a lot on our list for the day, so it was time to leave.
Kauai Coffee Plantation
Our next stop was Kauai Coffee Plantation. There are several guided walking tours throughout the day that are offered free of charge. Our schedule was timed perfectly and we made it to the plantation right on time for their 12pm tour. The tour itself is about 30mins long and leads through a plantation telling the history of how Kauai grew from sugarcane to coffee bean island, it tells about different stages of coffee bean growing, drying, harvest equipment and coffee making. It was definitely a very fun and informative tour without becoming too overwhelming. The below picture shows drying coffee beans with coffee bean trees in the background.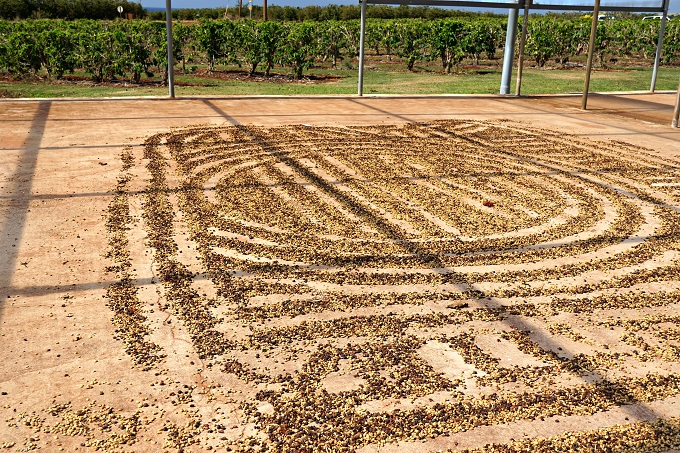 After the tour, everyone gathered in the tasting area to sample lots and lots of free coffee. And even though it was only barely past noon, me and my husband were very happy about the unlimited amounts of coffee supplies as we really felt we needed it. The day had just started and we already felt like we have been up for 12 hours straight! Go figure! Of course, the boys did not want to be left out and requested their fair share of coffee… To include them in the experience, we poured some water in their cups and let them proudly walk around ''sampling their coffee''! :-D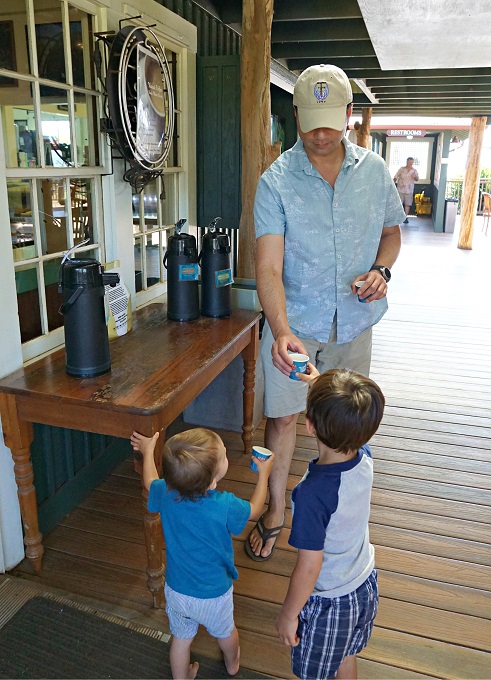 Waimea Canyon State Park and Kōke'e State Park
Filled up with lots of coffee, we were finally ready to conquer the main attraction of the day – the Waimea Canyon. Even though we saw it from the air during our helicopter ride, driving the winding canyon roads with many lookouts along the way is a whole different perspective. The lookouts are well marked, and we made sure not to miss any of them. The further up we went the clearer it became to me why it was nicknamed the ''Grand Canyon of the Pacific''. The resemblance and similarities with the actual Grand Canyon could definitely be seen.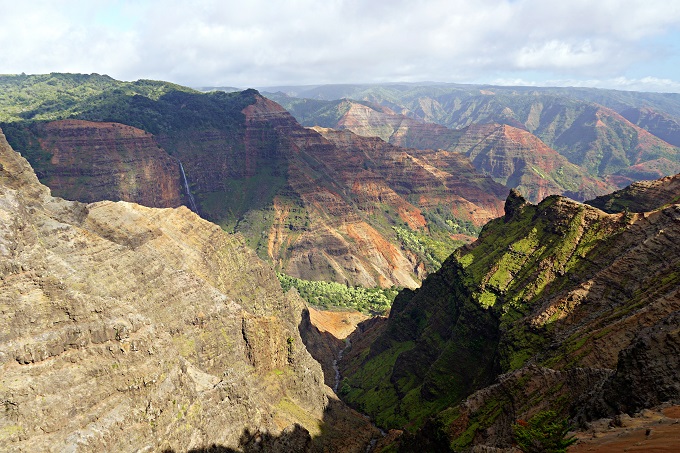 It takes about an hour (or longer, depending on how much time is spent at the lookouts) to get to the very end of the road at the top of the canyon. The road dead-ends at the amazing Pu'u O Kila lookout which offers views of the Na Pali Coastline and the ocean. Unfortunately, it was very overcast at this part of the canyon and the clouds shifted just enough to give little peekaboo views. I can only imagine what it would look like on a sunny day!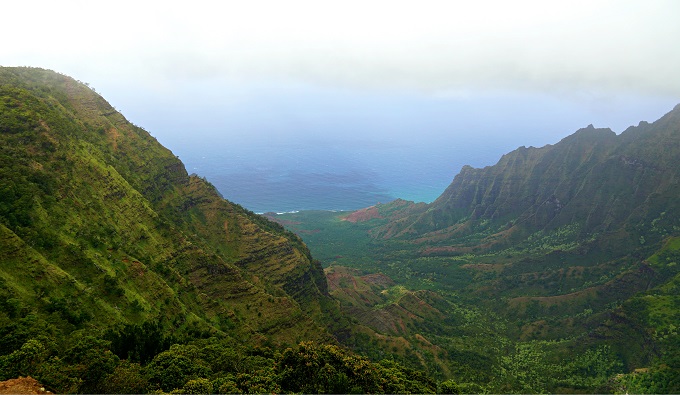 On our way back down, we noticed an area along the side of the road with the typical Hawaii red dirt fully exposed, and a waterfall and small stream flowing right through it. Of course, I had to stop! It was so, so red all around it almost felt like I am walking on another planet. Hawaii red dirt is also used to dye a popular souvenir – Hawaii Red Dirt Shirts. The red dirt stains anything it touches, and washing clothes in its water will permanently stain them red, which is how Red Dirt Shirts are made.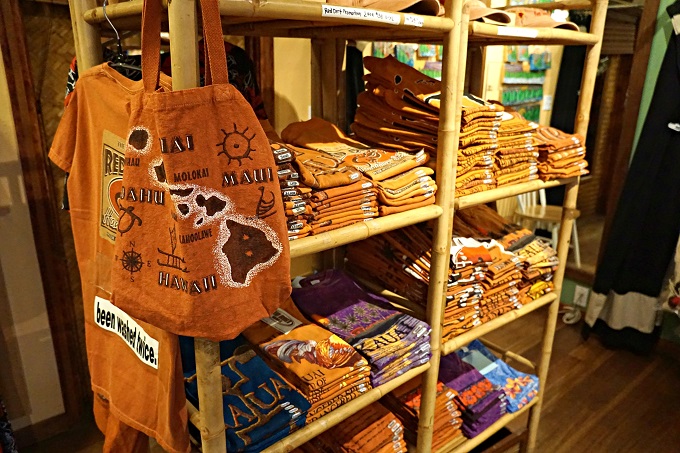 There are also countless trails one can take in these canyons, ranging from just a few hours to several days long. However, even the shortest of the trails often encounter tough, slippery, steep and muddy terrain which requires a hiker's full attention to avoid injury or even death. It was not something we could even attempt to accomplish with 2 toddlers in tow. And although some hiking would have been nice, we did not feel like we missed out – the helicopter tour over the canyon in combination with driving our car through it and stopping at the lookouts gave us a very good insight in this part of Kauai.
Polihale State Park
One last thing on the day's itinerary was the drive to the Polihale State Park for sunset viewing. However, when passing through the town of Waimea, we could not resist the roadside shrimp truck. It was calling my name! Besides, we really hadn't even had a decent meal all day, so we decided to stop and try something truly local. While I got some shrimp tacos, my husband chose coconut crusted shrimp. With both boys sound asleep in the car, we got their battered catch-of-the-day fish ''to go'' for when they would wake up.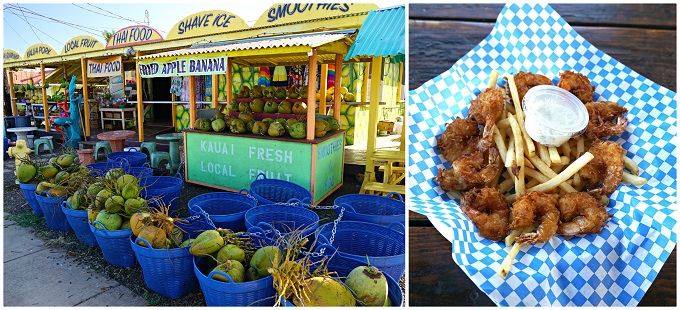 With sunset time quickly approaching, it was time to hit the road. Polihale is a remote wild beach and the most western publicly accessible area in all of Hawaii. The park is miles away from any closest town and is accessible only via dirt sugarcane road with a 4-wheel drive car recommended. Our Jeep sure came in handy and cruised through all the potholes, rocks, sand and pits with ease.
Polihale State Park is also the beginning point of the wild Na Pali coast mountain ranges. We drove all the way to the end of the road, right at the start of the Na Pali cliffs.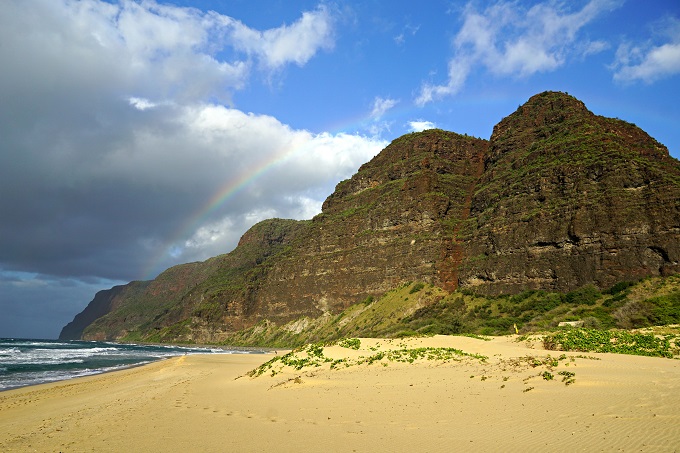 With the usual activities like swimming, snorkeling and surfing being too dangerous on this beach due to unprotected waters and underwater rip currents, the beach is most known for its sunset views. This is what we came here for.
While awaiting sunset, we saw some distressed Japanese tourists who had taken their rental Jeep for a drive on the beach and got stuck in the sand. They could get neither forward nor back as they had dug themselves too deep into the sand by spinning the wheels, and with the incoming tide, the ocean was just inches away from starting to wash onto their car. It was like a thriller happening right in front of our eyes. My husband and some other men awaiting sunset on the beach decided to go and help them out as it was clear the couple had no clue what they were doing. All together they finally got the car out (by letting the air out of the tires for more traction, and putting all the weight of people towards the back). It just proves that fancy cars won't take you places if you don't know how to drive them. Moral of the day. :) The couple was so distressed and ashamed of what had just happened to them, that they left the beach as soon as their car was free of sand. Sunset was not on their minds anymore.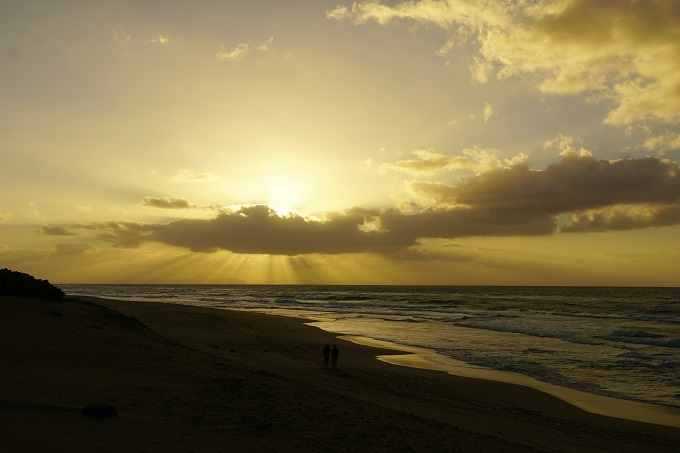 We, on the other hand, stayed at the beach all the way until the sun was fully below the horizon and it started to get dark. And although the sunset on this particular night was not as impressive as I expected it to be, it was still a fun adventure and a beautiful stop which we were glad we made.
In complete darkness we made the 1.5hr long drive back to the rental only to jump in a quick shower and join our sleeping boys in the bedroom. It had been a long day.
Day 3
Even though our flight was leaving at 6pm, we had to check out of the condo by 11am, so the morning part of the day was spent gathering and packing up our belongings. Once that was done, there was only one part of Kauai that we still had not seen – the North, so we pointed our Jeep north-wards and off we went.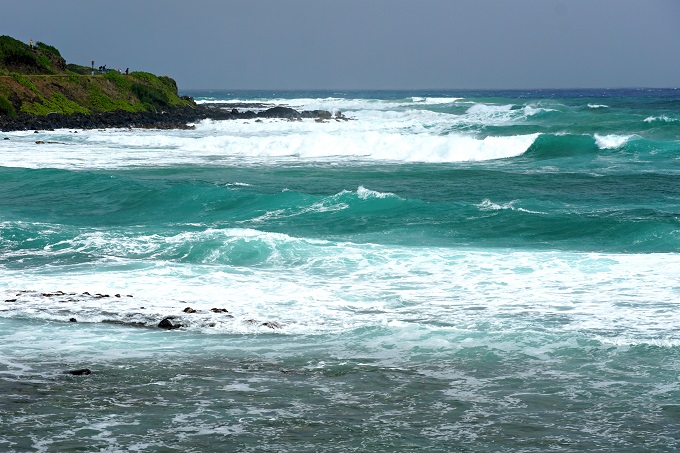 Kamalani playground
The boys had been awesome this whole trip, so we decided to reward them and make a stop at a playground for their enjoyment. The one that was suggested the most on travel forums was Kamalani, so that is where we went. The playground is actually a big wooden castle with several levels, bridges and slides.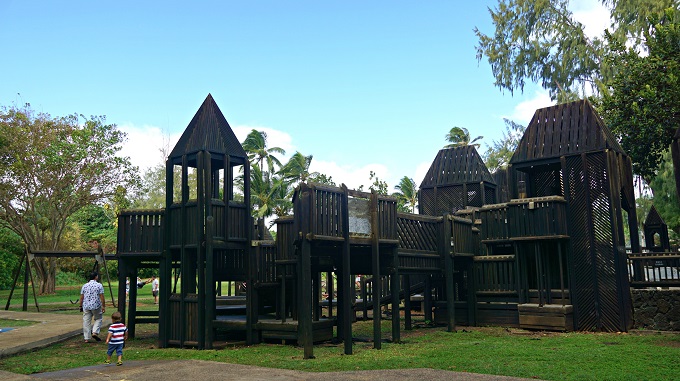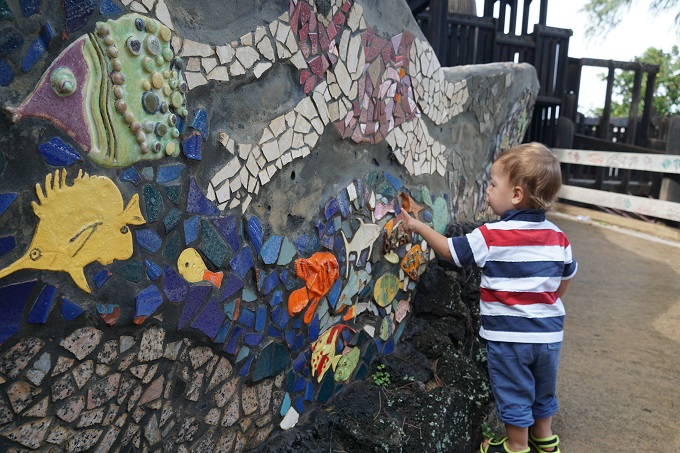 Unfortunately, it was on and off raining, so parts of it were slippery and the ground was wet. Of course, the boys had zero objection to getting dirty and wet.
Coconut Marketplace
Once everybody started getting hungry, we got back in the car to go look for some late breakfast / early lunch. Coconut marketplace seemed like a good option and there was also a coffee shop which, yet again, came in very handy for the tired parents!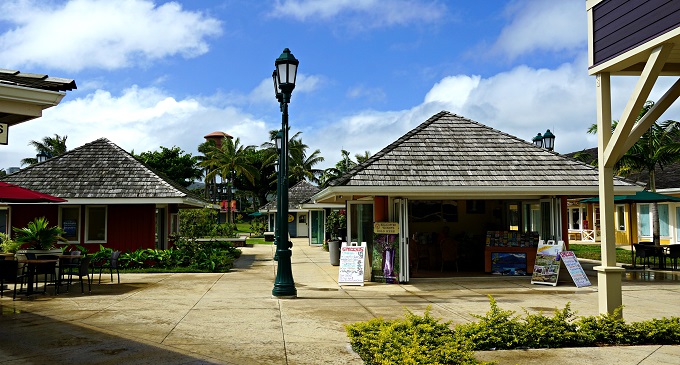 In general, the place is an open-air shopping village with a mix of various shops and dining options; however, during our visit it seemed very empty and many of the stores were either not open yet or possibly out of business. We wished for some live music, hula dancing and just generally a livelier atmosphere. Once that gets going, Coconut Marketplace would be a great place to visit.
Kilauea Lighthouse and Wildlife Refuge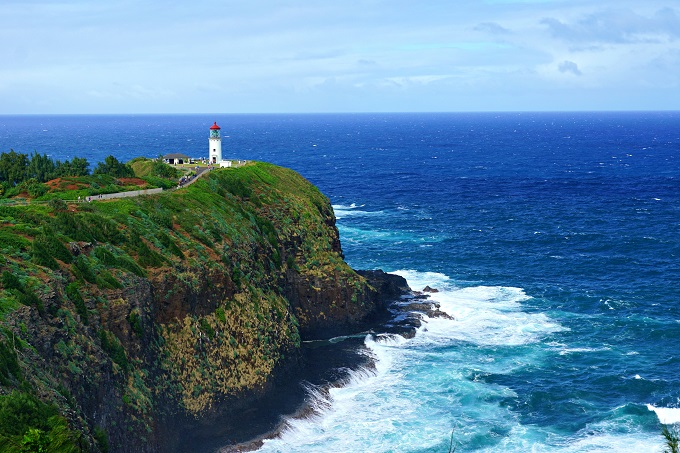 A must stop on the north shore, in my opinion, is the Kilauea Lighthouse. A short, paved path from the parking lot leads to the lighthouse with dramatic views of the rugged coastline. The cliffs are a refuge for many seabirds, and the waters below harbor turtles, seals and whales. During our visit, the sea was too rough for the seals to come ashore, so we did not see any; however, on calm days visitors can spot them sunbathing on the cliffs down by the water.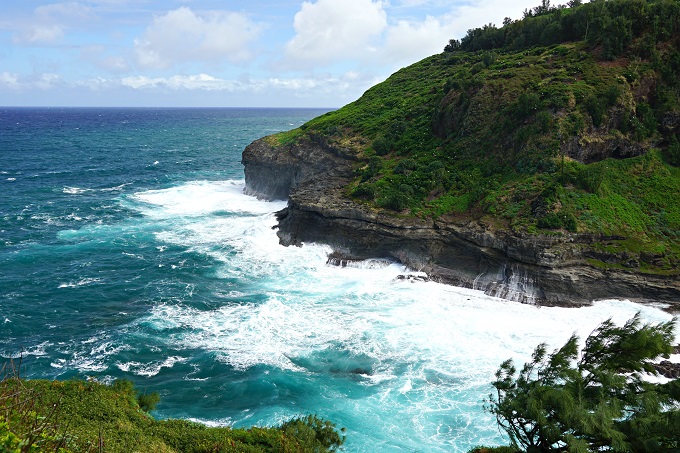 Hanalei National Wildlife Refuge
With still some time left to spare until we had to be at the airport, we decided to make the drive even further up north to see what else we can see. We pulled into the Hanalei Wildlife Refuge and made a slow drive between the taro fields. Lots of birds have made this place their home and we got to see the Hawaii national bird – the endangered Nene goose (one of the rarest geese species in the world) and it is found only on the islands of Hawaii.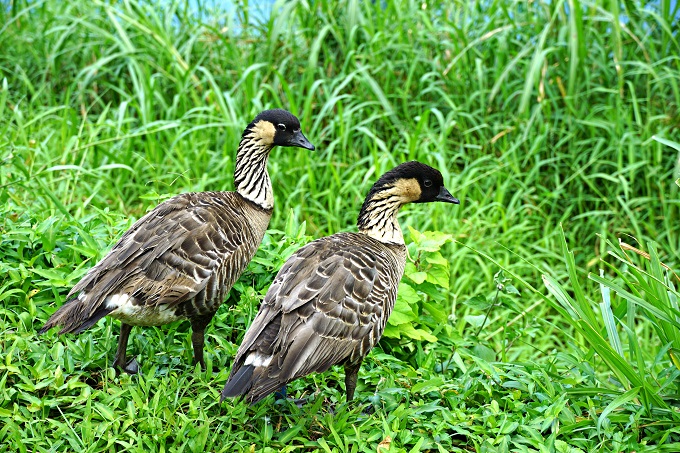 Anaina Hou playground
With still a few short hours left until our departure, yet not enough time to head deeper inland, we were in a little bit of a limbo – should we already head back towards the airport, or maybe still find something fun to do on Kauai before we leave? While we were discussing our options, we noticed what seemed to be a playground in a little park not far from the road, and decided to give it a try. It would be a perfect way to make two toddlers tired before putting them on a plane.
The playground seemed to be newly constructed, and while all the play structures were already safe to play with, little jobs like fencing, access ramp, grass planting etc. were still in full swing. To be honest, this was probably one of the coolest playgrounds I have seen in Hawaii. It told the story of Hawaii through different play structures - a volcano for climbing, replica of a sailing canoe, multi-level ahupua'a-themed structure, and replica of a sugarcane train. Great for all ages!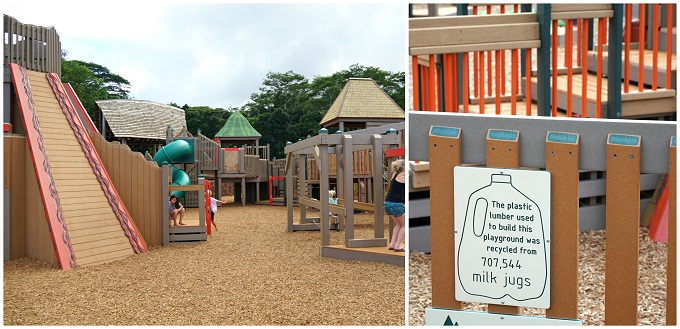 And what made it even more amazing – it was made from 707,544 recycled milk jugs! That's 707,544 less pieces of plastic in our oceans and forests!
Needless to say, it was not easy to get the kids in the car and back on the road again… Yet, it was time to catch our plane despite the fact we would have loved to stay on Kauai longer and explore it even more.
Just like on Oahu, Kauai also bid its ''farewell'' to us with an amazing rainbow which we, literally, had to drive through!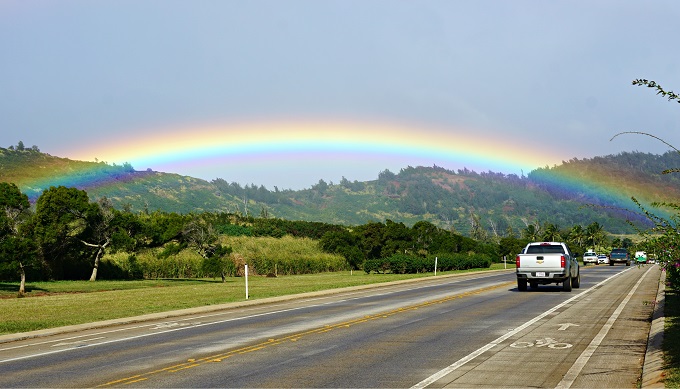 Kauai was the 3rd of Hawaii Islands I visited, and I do have to agree that each island has left a different impression – Oahu is the most touristy one with its famous Waikiki and nightlife options; Kauai is the 'Garden Isle' hiding within itself the ''Grand Canyon of the Pacific''; and Maui surprises its visitors with Haleakalā dormant volcano peak which even sees occasional snowfall. With 3 more islands left to explore, I am sure we will be back again someday!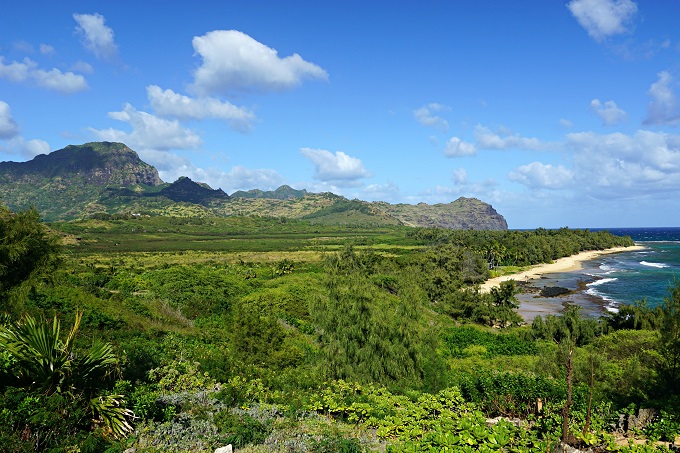 Expenses
Flights
Round trip airfare Honolulu – Lihue – Honolulu, $180 per person. The flights are dominated by Hawaiian Airlines and there are no bargain prices to be found, really. During the month of January when we were there, all the flights for this route regardless of time of day or day of the week were around $180.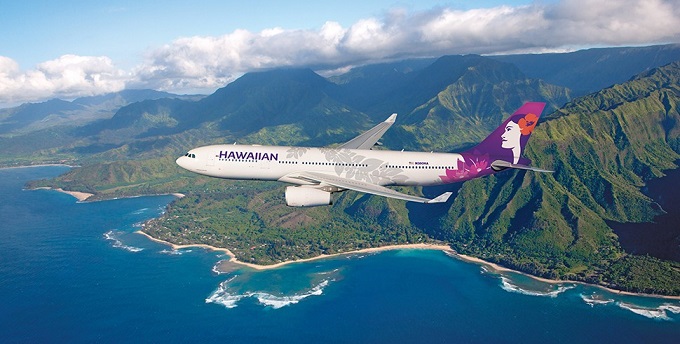 /Photo: www.hawaiianairlines.com/
Lodging
Hotels are expensive. We chose to rent an AirBnB because having 2 little kids required more than 1 hotel room, and a kitchen always comes in handy too. A 2 bed 2 bath condo (with 2 outdoor lanais connecting to a backyard) cost us $560 for 2 nights. It included the use of resort's amenities (gym, heated pool, BBQ areas etc.) but we did not have time to try any of them.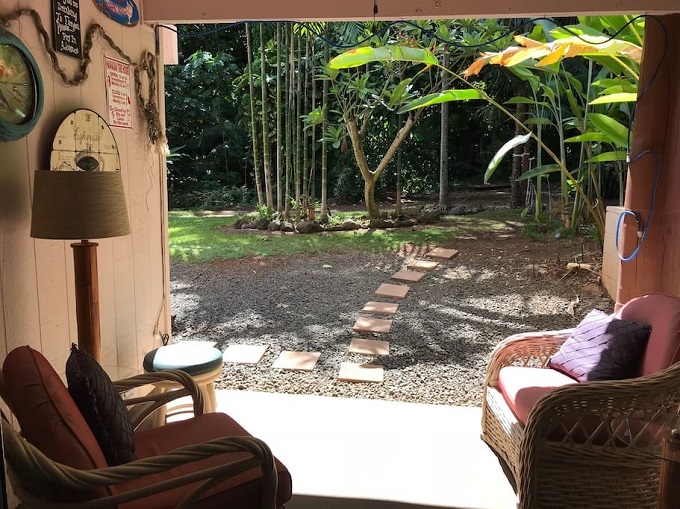 Car rental
Car rental is one of those aspects where, given enough patience and determinations, tourists can save some money. We paid $172 for 3-day rental of 4-door Jeep. At the start of my search, an economy car cost about $180 and 4-door Jeep around $360. The cheapest deal I found was through Costco Travel and I booked the Jeep for $225. A week later I rebooked it for $202. A few weeks after that, the price was back up to $280, then it dropped again... In the end (after 4 or 5 re-bookings) the final cheapest price I got was $172. However, in order to make this work, you have to make sure cancellations are allowed without penalty fees because every time you see a lower price, you need to make a new reservation for the lower price and then cancel the old one.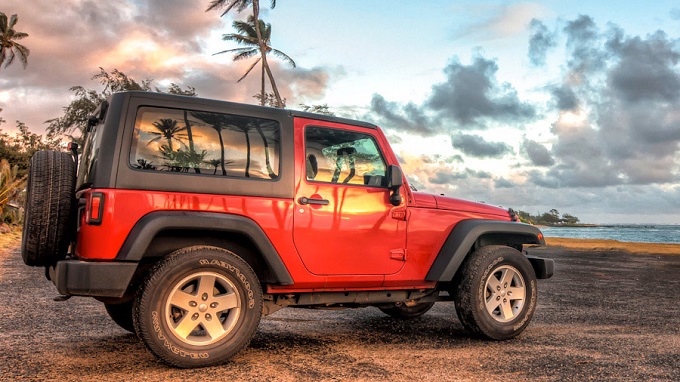 /Photo: www.hawaiijeep.com/
Helicopter tour
Very expensive. We chose Blue Hawaiian, and after adding several discounts we found, the tour cost us $223 per person. Besides, anyone aged 2 and above will need to pay a full fare and have their own assigned seat. Only 1-year olds and below are allowed as lap riders free of charge.

/Photo: www.bluehawaiian.com/
Food
It can be made as expensive or cheap as one wishes. Food trucks, in my opinion, are the best choice – always tasty, has local vibe to it and are one of the cheapest options. Roadside fruit stands were a hit too. But there is also no shortage of expensive sit-down restaurants if that is what you're going for.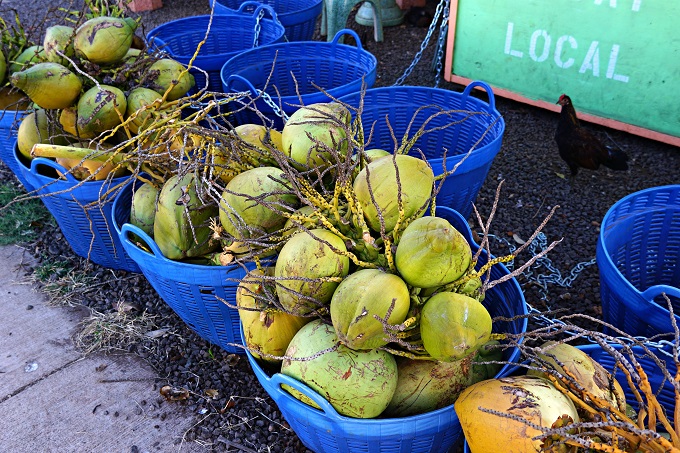 **More photos of the trip can be seen in the Kauai, Hawaii gallery**
Trip report about our adventures on the island of Oahu can be read here: Hawaii (Oahu) with 2 toddlers in tow
In 2020 we moved to live in Hawaii. To follow our daily Hawaii diary, start here:
365 Days of Hawaii - Our Hawaii Diary (Days 1 - 60)