365 Days of Hawaii - Our Hawaii Diary (Days 1-60)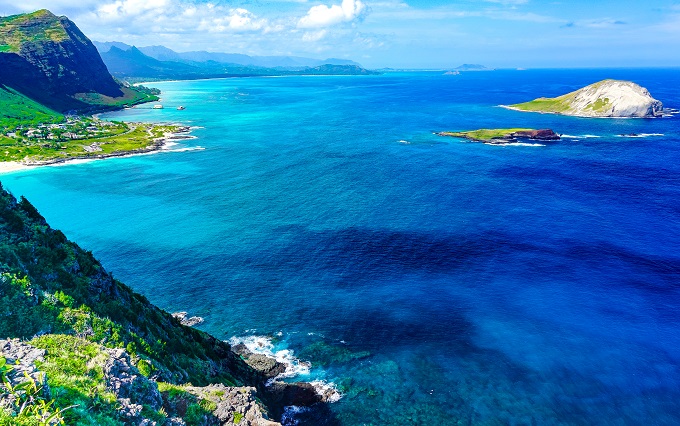 Hawaii! Never in a million years had I thought I would ever get to LIVE in Hawaii! It has always been this far-away magical island full of wonders and fairies. And although I have been lucky enough to visit and enjoy Hawaii and its islands several times during our travels, actually living it and experiencing it as a ''local'' will give a whole different perspective.
This article will capture 365 days (or exactly 1 year) of our island life in photos from the moment we land in Hawaii and start our magical adventure here. There will be lots of beautiful scenery, beaches, mountains, wildlife, crazy adventures and little local secret spots. So, follow along and get to know Hawaii inside and out!
JUNE
DAY 1
After many chaotic days (and weeks) of arranging car shipments from Tennessee to Honolulu; after packing up our household items and furniture in a million boxes; after dealing with a home sale, inspections and closing... we had finally closed our Tennessee chapter. On a sunny, warm June afternoon we landed in Hawaii with our 2 boys and a cat. We were ready to embrace Hawaii! One of the first things I noticed was all the greenery and the beautiful flowers. This one (called Plumeria) is one of my favorites and is one of the flowers traditional Hawaiian leis are made of.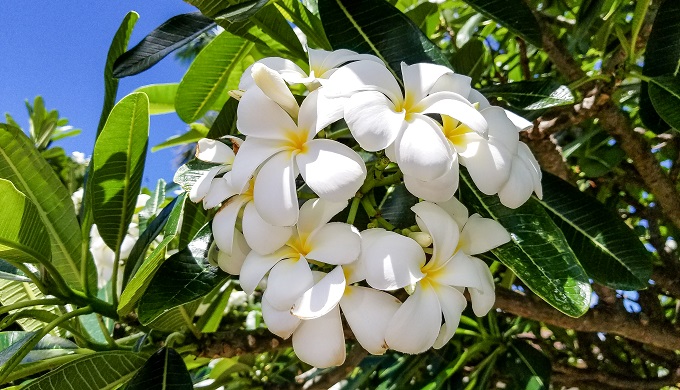 DAY 2
After being landlocked in Tennessee for several years, one of the first things we did when we woke up the next morning was go and check out the ocean. The boys were ecstatic, and I think we have little surfers on our hands. This is a private little beach on Hickam AFB accessible only to the military.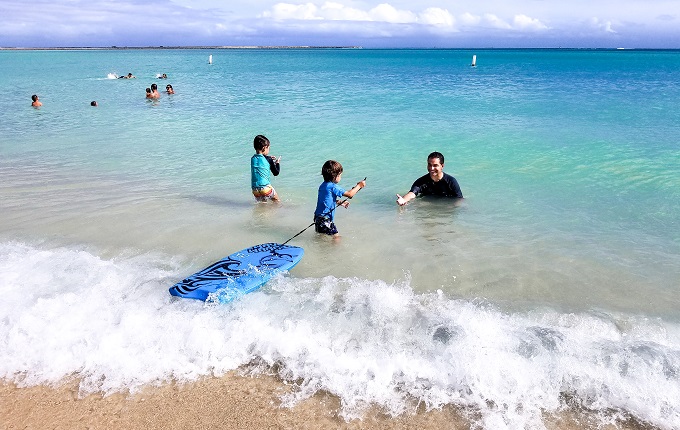 DAY 3
As we started our house-search, we crisscrossed the island from one end to the other. Although the ocean is the main attraction in Hawaii, you just can't not be impressed with the mountain ranges here. They are so unique you won't see sights like these anywhere else in the world. Views like these can be seen driving on Pali Highway or H3.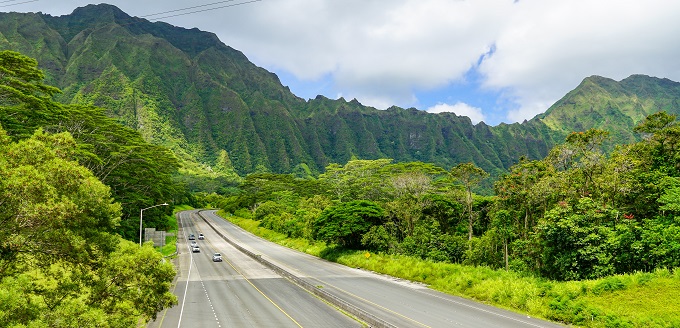 DAY 4
I am not sure what our boys' obsession with coconuts is, but they have always requested one in every tropical place we have visited. Luckily for them, there is no shortage of coconuts in Hawaii, and as we were driving through a little town of Haleiwa we stopped by the coconut truck to get a refreshing drink.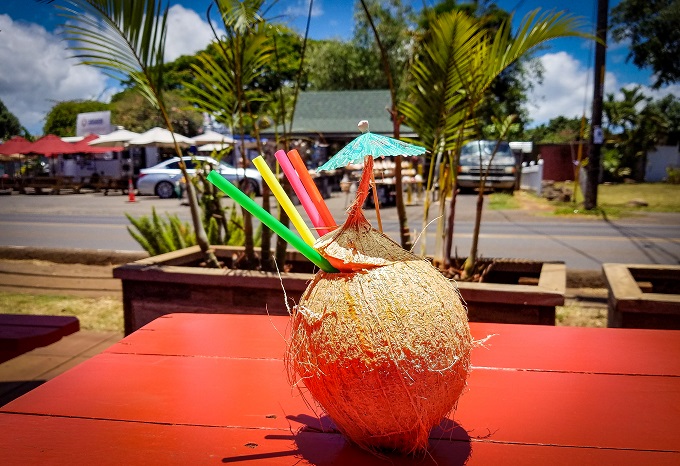 DAY 5
Today we went to look at some houses in Kailua. It is a beautiful area with one of the prettiest beaches on the island. Although we weren't dressed for swimming, we made a short stop here to check it out.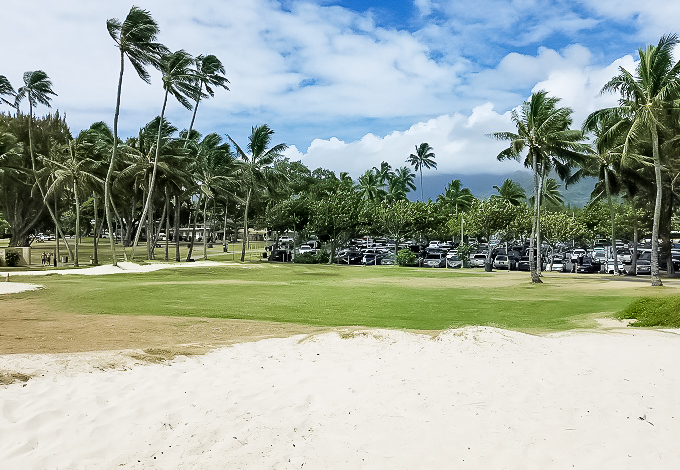 DAY 6
As we continued our house-search, the road took us along Oahu coast on the Windward side. The roadside views here are just incredible! This is Kualoa Regional Park with Chinaman's Hat Island in the distance (or officially - Mokoli'i). We did a short stop to walk along the beach here...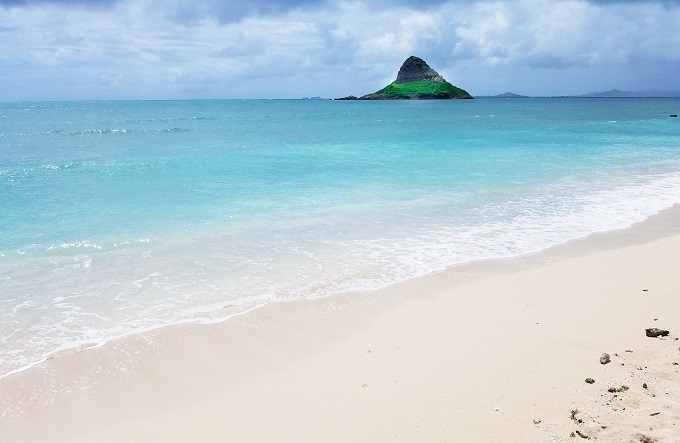 DAY 7
What would be Hawaii without Hawaii shave ice?! An island treat for our boys! First shave ice we have tried since we got here, and it sure is refreshing on a hot day. It is made by shaving a block of ice and adding flavored syrup over it. Matsumoto's in Haleiwa - rated #1 shave ice in all of Oahu!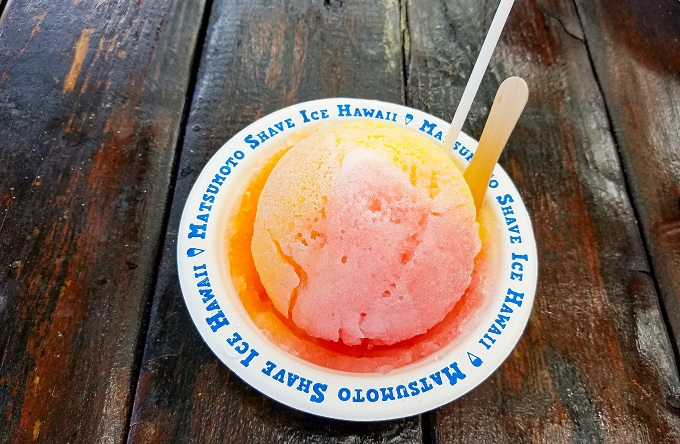 DAY 8
Turtles! We had to make a special trip just to get a chance to see these majestic creatures. The best chance to see them in wild is Laniakea Beach on the North Shore. As we parked and walked down to the beach, I was in for a huge surprise! A group of them had swam up to the shore to come feed on the seaweed. There were SO many of them! We got to about 20 and eventually stopped counting because more and more of them just kept popping up all along the shore. Several of them made an effort to climb on the slippery rocks and were rewarded with lots of seaweed all to themselves. We spent a long time here just watching the turtles in their natural habitat - definitely a sight to remember.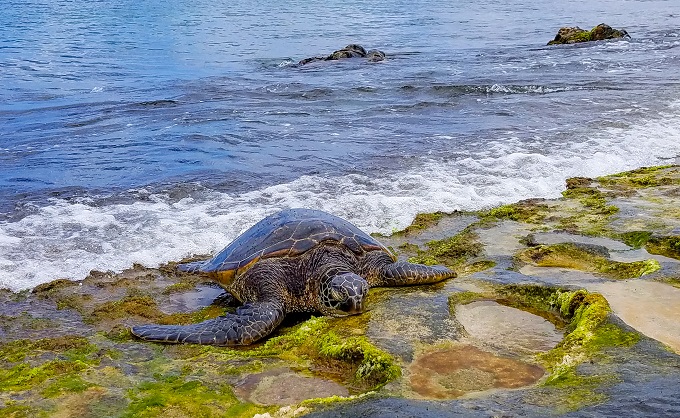 DAY 9
Today was spent running errands and doing chores, so a picture is a throwback from yesterday - Laniakea Beach along the North Shore.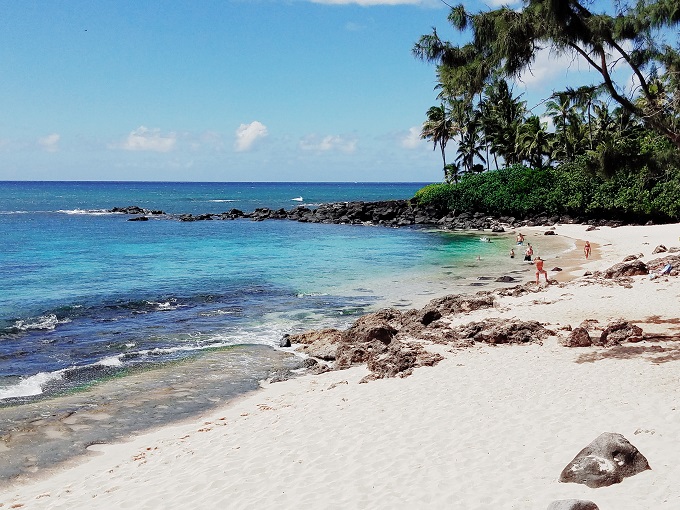 DAY 10
After all the stress of moving, house sale, house search etc, my husband and I felt like we needed a little bit of pampering and relaxation. So, we booked massages at Vasa Thai Massage in Honolulu. We had this beautiful view of Honolulu and the mountains to enjoy while getting our massages...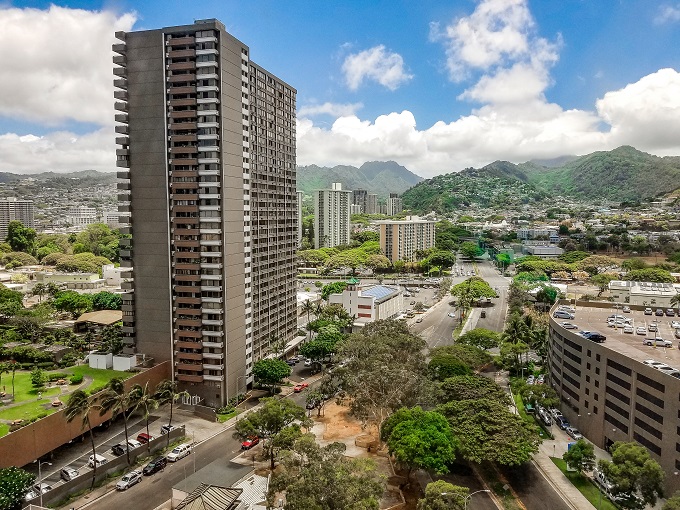 DAY 11
Hawaii Islands are full of tasty local foods. The most authentic ones can be found at road-side food trucks - Hawaiian BBQ, seafood, desserts, fruits etc. If you are hungry and see one, definitely pull over and grab a bite to eat, even if it is just to sample some local flavors!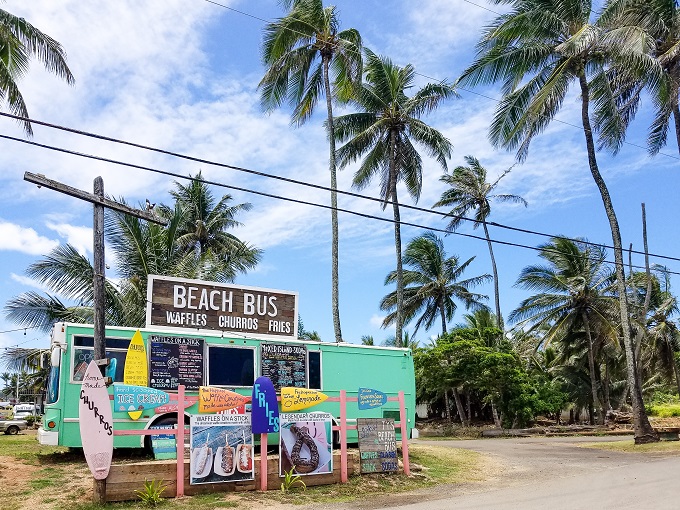 DAY 12
Having adjusted to the time change and with most of the arrival-errands out of the way, we decided to spend some time exploring this beautiful island and go on a little hike. On Schofield Military Installation, there is a short trail called Kolekole Trail, which is about 1.5-2 miles long (to the lookout) and offers beautiful views. We figured a short trail like this would be perfect for testing our boys' limits. 2 miles was nothing for them, so next time we will up the game!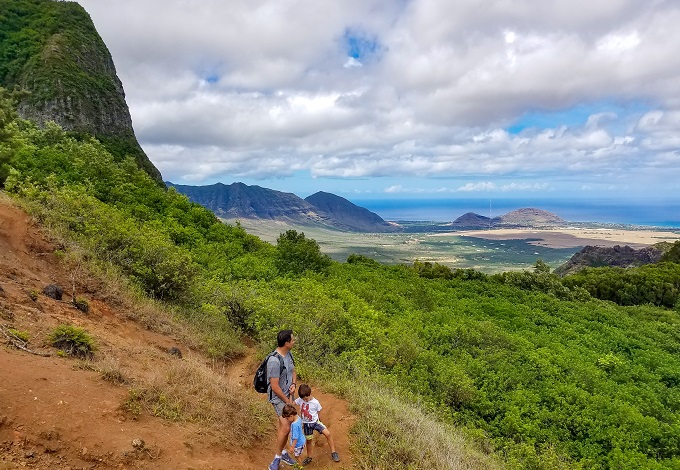 DAY 13
There are so many fruit trees all around the island - coconuts, bananas, mangoes, papayas, pineapples... And all so fresh and tasty!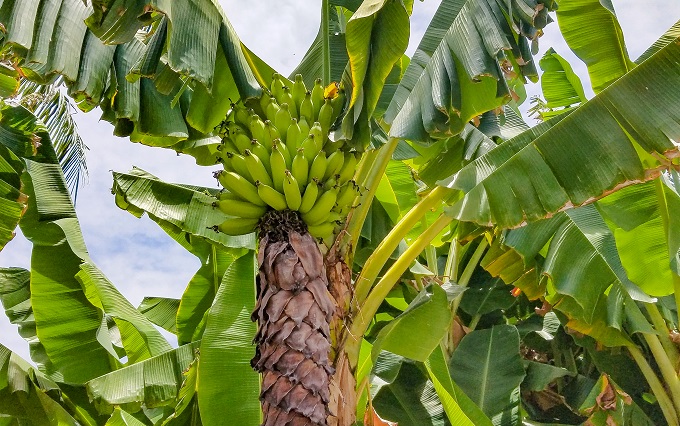 DAY 14
After exploring the beauty of Oahu on Kolekole Trail, we were eager to see more! So, we decided our next trail on the list would be Lanikai Pillbox Trail. It is about 2-miles long (out and back) with 650ft elevation gain. It was a little more difficult than I anticipated from the trail description, and took quite a bit of scrambling over rocks with some spots of ropes to grab on to help hikers not fall / slip down. This definitely got our hearts pumping, however, both my 3 and 4-year old boys did the trail by themselves. And those views!!!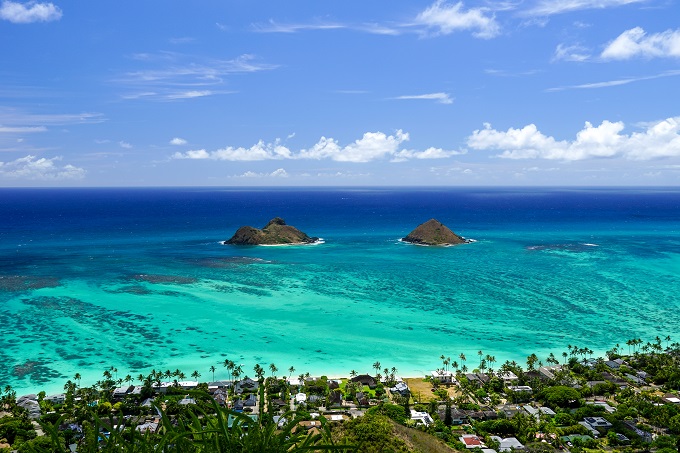 DAY 15
One of our go-to treats on the island has become boba tea (also called milk tea) with tapioca balls. There are so many varieties of this tea on the island, however, the basis of all of them is iced tea with milk added and a flavor of your choosing. And the more tapioca balls the better! Our favorite flavors are honeydew melon, strawberry and chocolate-coconut.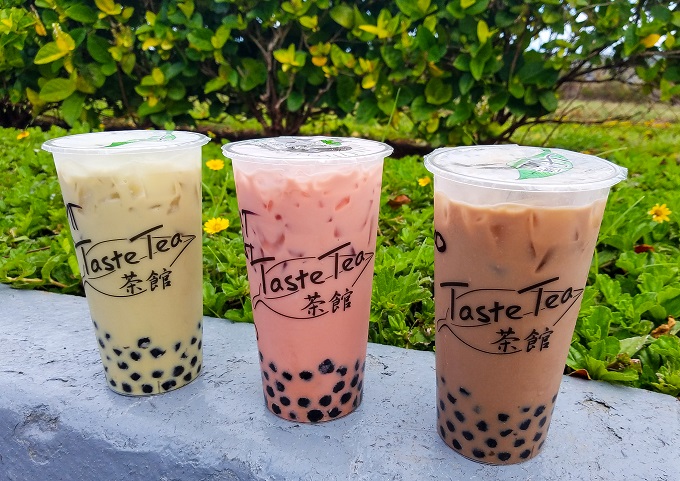 DAY 16
Watersports and water activity choices in Hawaii are endless - everything from just swimming to diving to kayaks and body boards. Many beaches have rental stations where visitors can try out various activities.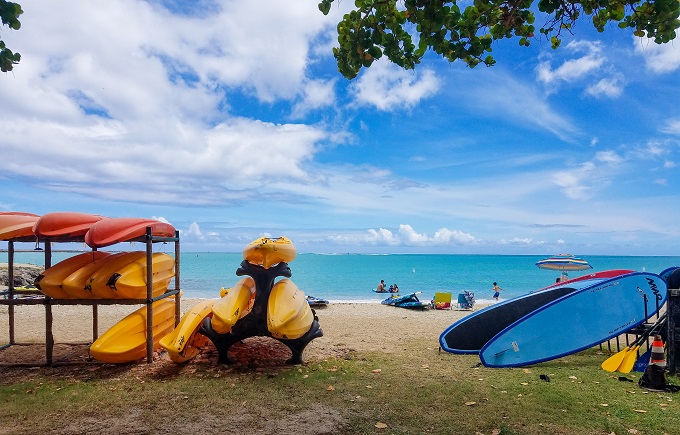 DAY 17
What would Hawaii be without rainbows?! As it is dry season right now, we haven't seen quite as many rainbows yet as we did on our previous trips to Hawaii (during rainy season in winter); however, the rainbows are still here even during summer months. And when they show up - they are so bright!! We saw this one near Dole Plantation.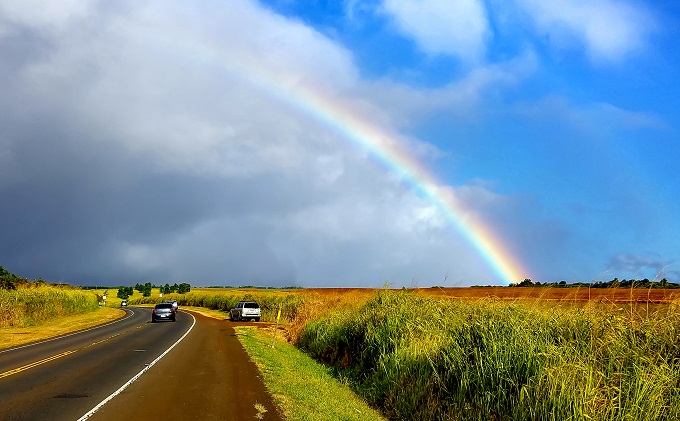 DAY 18
Hawaii offers endless opportunities for outdoors explorers. One of the things we were looking forward to when moving to Hawaii was all the hiking trails we would be able to go on. With a relative of ours offering to babysit our boys, my husband and I got up at 4am to make the drive and hike up the Koko Crater Head trail for sunrise. It is actually less of a hike and more of a step workout as the way up consists of deserted railroad ties with over 1000 steps. It is very steep with almost 1000ft elevation gain. A pretty strenuous leg and cardio workout! Although I am happy we did it, I don't think I will repeat this hike any time soon!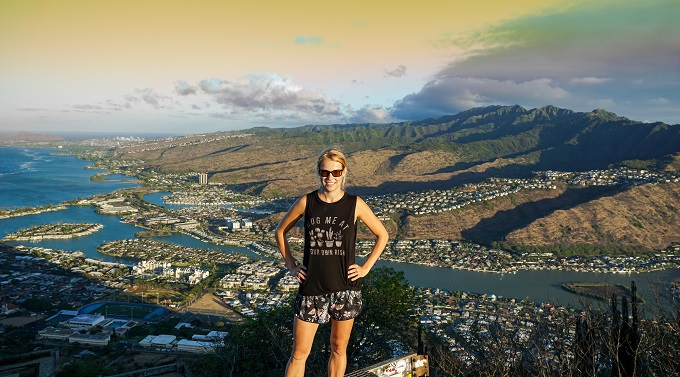 DAY 19
As our furniture and other items have not arrived from the mainland and we are not able to move into our house here quite yet, we ended up renting a temporary condo while we wait for our stuff to show up. And although I consider Ko Olina to be a very touristy area, it offers plenty of opportunities to stay entertained. We sure enjoy our pool here and will make use of it every chance we get!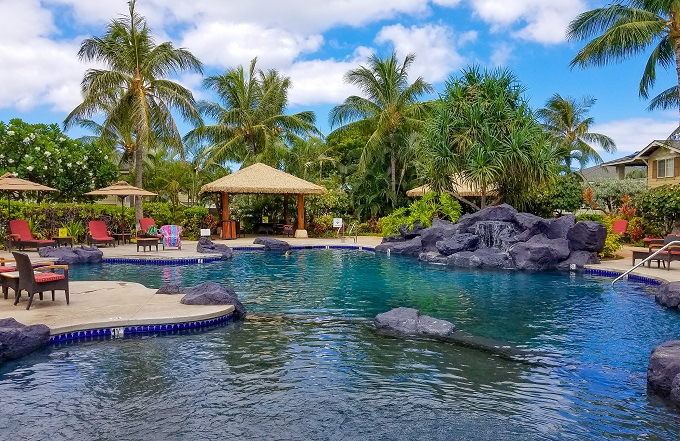 JULY
DAY 20
While going on our evening walk with the boys, we walked down to the Ko Olina lagoons and happened to be there right for the sunset! I think we have found one of our favorite sunset spots on the island so far!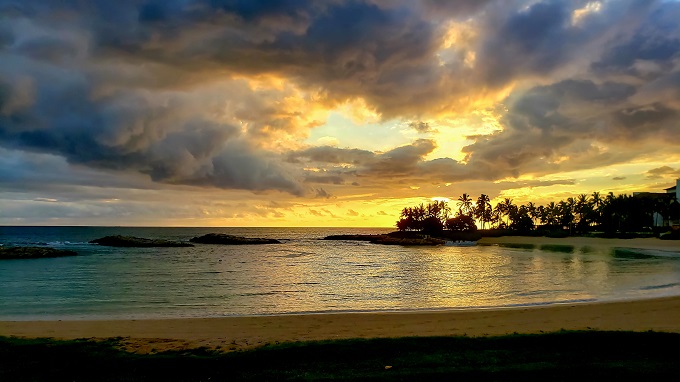 DAY 21
Although most people imagine Hawaii to be very lush and green, it actually has 2 very distinct sides. The Windward side is, indeed, very green and tropical and gets a lot of rain. The Leeward side, on the contrary, is pretty much a desert with drought conditions, dry heat, dried shrubs and grass and cacti. Normally, not at all one's image of Hawaii. But even here beautiful things still manage to grow!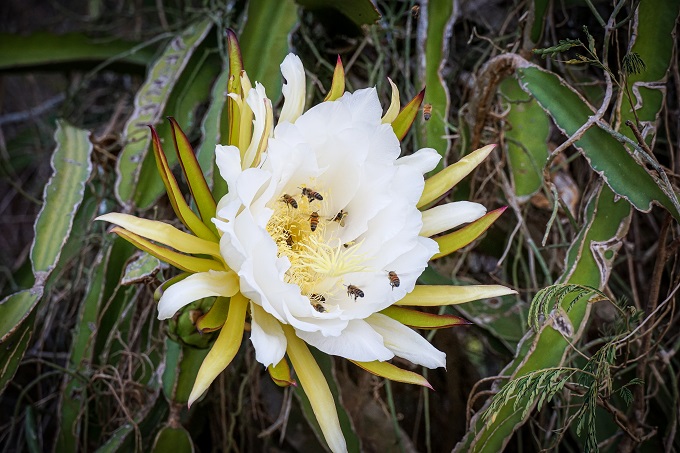 DAY 22
Even regular grocery shopping feels magical when you're surrounded by palms and other tropical trees!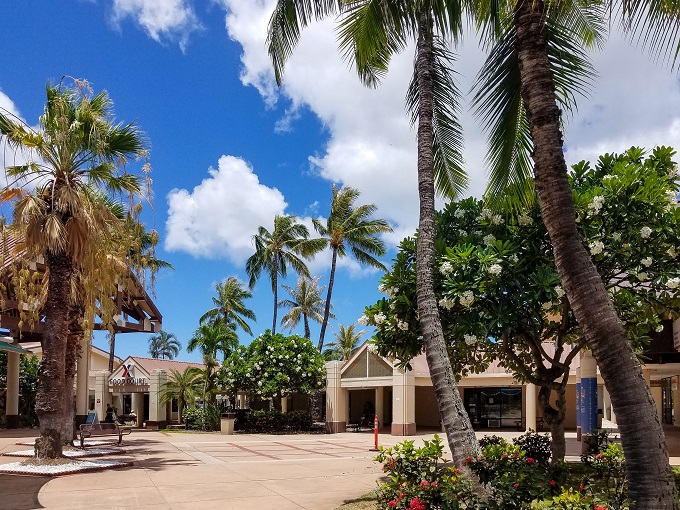 DAY 23
Happy birthday, America! Although there were no public events, gatherings, parades, or fireworks happening the way we were used to celebrating July 4th all the years before, we still had a good time getting together with relatives and enjoying the day grilling some American staples, like brats and hamburgers. Only this time - our burgers had a little Hawaiian twist of teriyaki sauce and pineapples!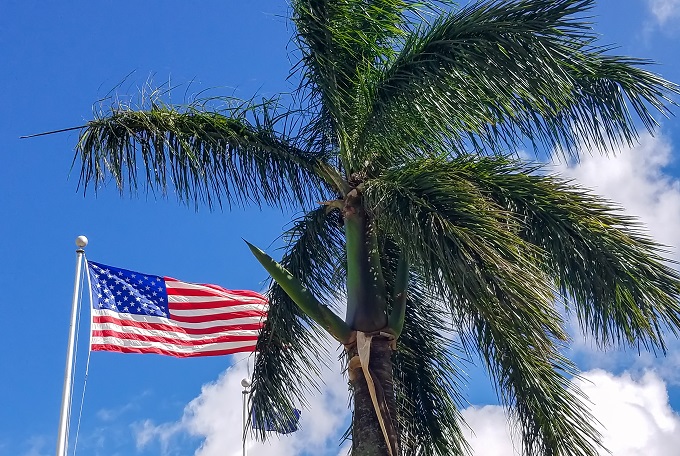 DAY 24
We had a stunning discovery today - Ho'omaluhia Botanical Garden! It is a beautiful garden in the amazing Koolau mountain range setting on the Windward side of Oahu (in Kaneohe). It has several walking trails of various lengths. The garden can also be explored in a car (stopping at various designated parking lots); however, we decided to walk and ended up seeing lots of beautiful plants on our 3.2-mile loop around the garden. And it is also completely FREE! Certainly worth a visit! This will definitely be a spot I will take my guests to when they come to visit.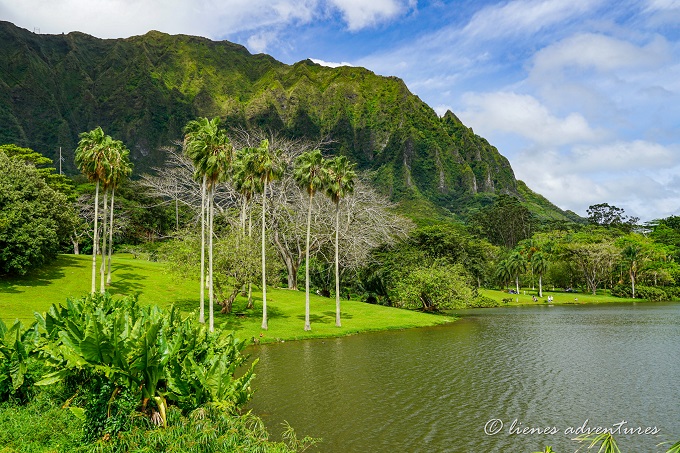 DAY 25
Although we had planned on going on another hike today, my husband had a dental emergency. So, instead of hiking, the boys and I decided to explore Honolulu while my husband was at the dentist's just a few blocks away. Who would have thought dental appointments could be this much fun?! ;-) This is Waikiki Beach in downtown Honolulu. It was very peaceful without all the tourist crowds! We loved it!
DAY 26
We see this little guy every evening while taking our walks around the golf course. He likes hanging out by the pond. Occasionally, some of his other buddies are there as well. It is one of the native Hawaiian birds (not an invasive species or introduced by people), called black-crowned night heron.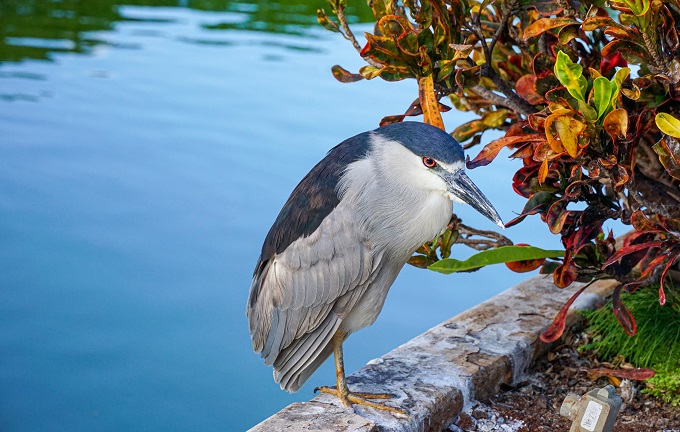 DAY 27
Hawaii's Leeward coast - a little piece of wilderness with lava-jagged coastline, Waianae mountain range, and some tropical greenery to complement the scenery. Have to admit that we have not had a chance to fully explore this part of Oahu yet since we have moved to Hawaii. But I am eagerly looking forward to it - I have already picked some hikes and I am sure they won't disappoint. Photographed from Ko Olina lagoons facing North.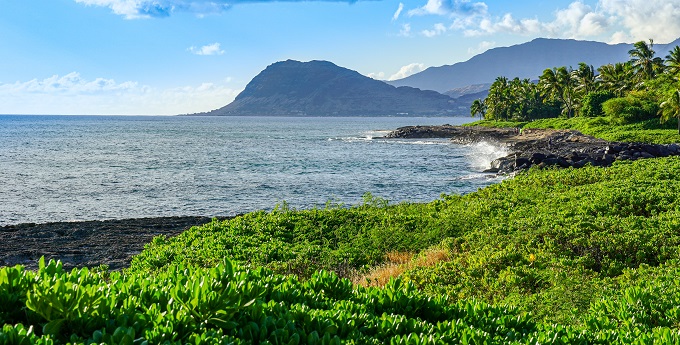 DAY 28
We are enjoying lots of freshly picked mangoes from our neighbor's backyard. Their mango tree is so huge it has what looks like more than a thousand mangoes in it. So there is plenty to go around for everybody! Apart from eating them fresh, we have started to expand our ''mango-menu'' by blending them in smoothies, adding them to yogurts, and baking mango bread! Next experiment on the list - mango cobbler!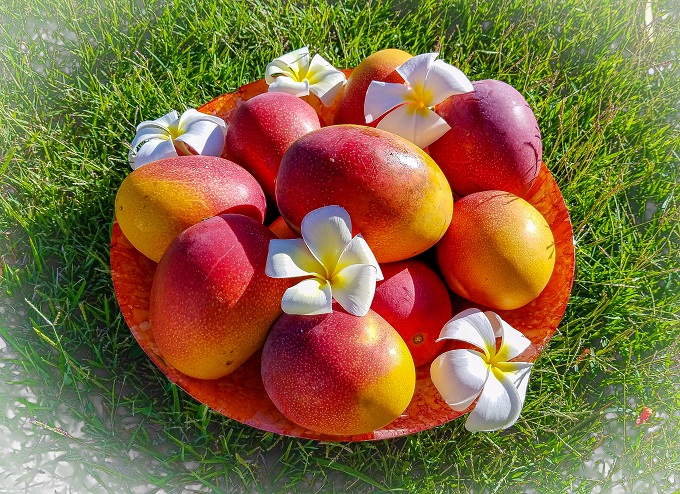 DAY 29
Hawaii sunsets do not compare to any other place we have ever visited. They are simply stunning and (almost) never disappoint! Another amazing evening watching the sun slip below the horizon while my boys enjoyed playing in the sand and splashing in the warm lagoon water.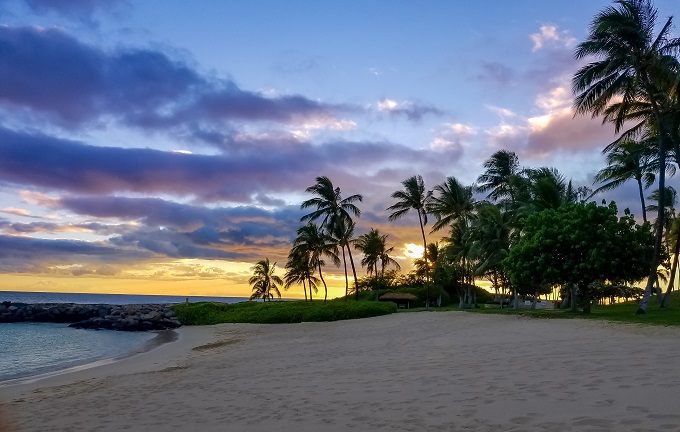 DAY 30
It has already been a month since we arrived in Hawaii! Out of all the things Hawaii offers, there is one we have enjoyed the most - lack of tourists! The beaches are empty, the streets are quiet, the hikes are peaceful, turtles and fish are crowding the ocean shores once again... Until August 1, Hawaii still remains relatively closed to tourism but after that slow re-opening of tourism will begin. Until then, it is still a peculiar sight to see big resorts and beaches completely deserted. This is Aulani, A Disney Resort in Kapolei. Not a soul in sight for what would usually be the high-season with rooms fully booked and not a spot available to set down a beach chair...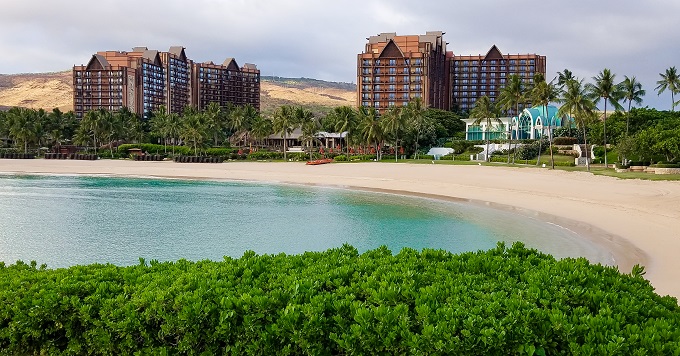 DAY 31
I finally got to go snorkeling! A month on the island but I just had not had a chance to immerse myself into the world of Nemo and Dory up until now. Today was the day and I didn't even notice as time flew by and my husband said I had spent over an hour in the water and he had started to worry... I snorkeled at one of the Ko Olina lagoons and there were plenty of fish to see of all sizes and colors, including some sea urchins and sea cucumbers. I should definitely do this more often!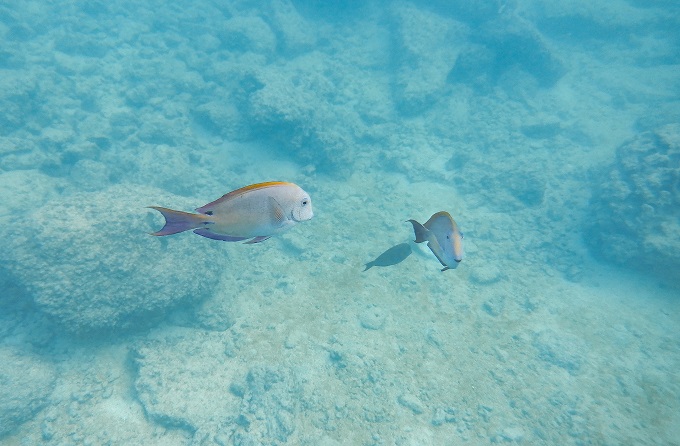 DAY 32
Just a simple beauty of Hawaii we get to witness here every day...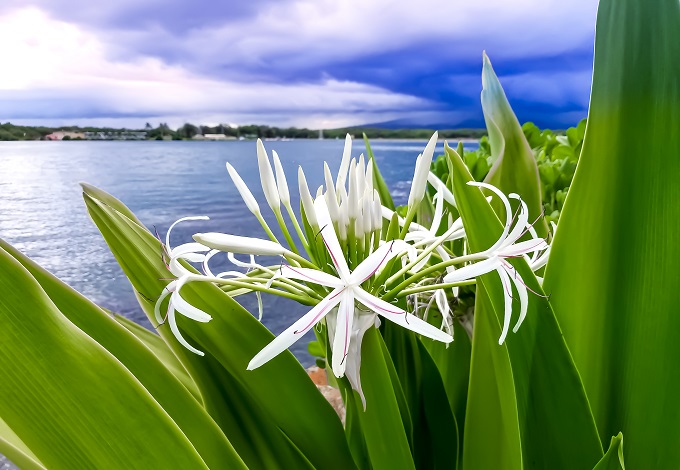 DAY 33
An amazing evening with some absolutely mesmerizing colors! The pastel sky even reflected in the pond below! This was just a chance sight on our walk home from the beach, and it lasted for just a few minutes before all the colors disappeared and it got dark.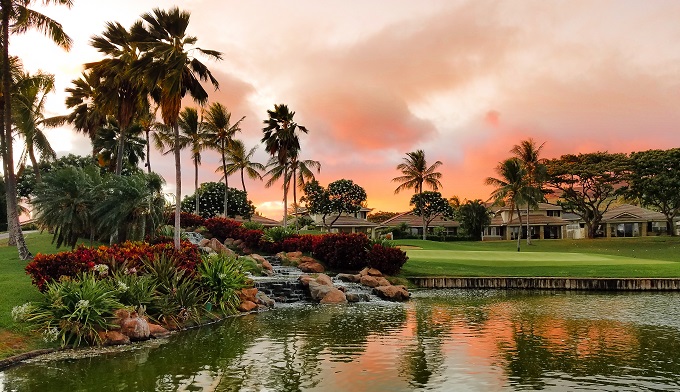 DAY 34
Today our baby turned 3 years old! He himself thinks he is a big boy now but to us he is still a baby! One of the ways we celebrated was an outing to one of the North Shore (Haleiwa) ice-creameries. The boys even got to pick their own flavors! From the left - chocolate, mango, dragon-fruit, macadamia nut. A whole rainbow! Happy birthday, little man!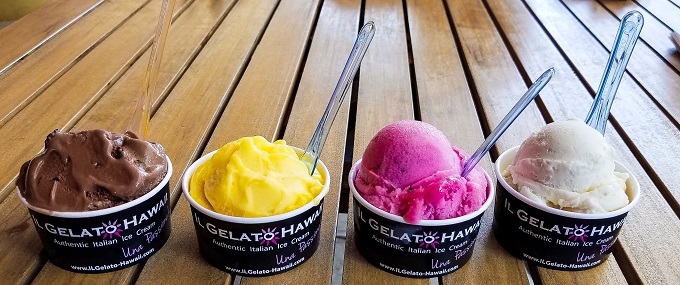 DAY 35
After getting a little taste of snorkeling last week at Ko Olina, I was very eager to try out one of the top 2 snorkeling spots on Oahu - Shark's Cove. So, we packed up our gear and headed out to the North Shore. The sea conditions were perfect and on a weekday there were very few people at the Cove, which made for a very clear water and lots of fish. I think I spent hours underwater - it was absolutely amazing and indescribable! Life under water has a soul of its own! And my biggest wish came true - I saw a wild turtle and got to swim with it for a little while!!!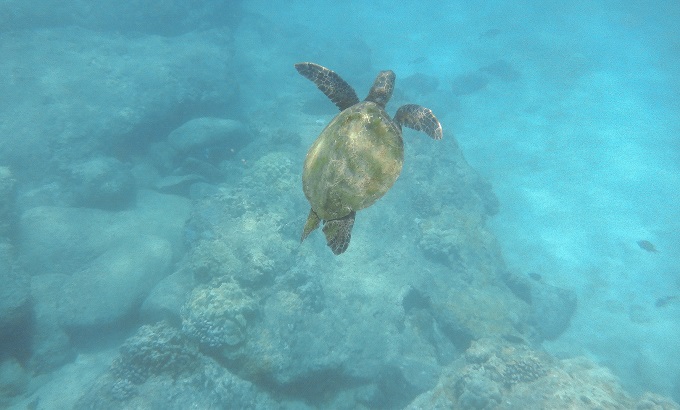 DAY 36
After a little break, it was time to drag my family out on another hike. I chose the Old Pali Road trail which is a deserted highway that used to be one of the main roads on the island decades ago, but is now being claimed back by the wilderness. It was an amazing hike with rainforest and mountain views. The hike is about 3.4-miles long and has 1500ft elevation gain. The boys could complete it all by themselves and I am very proud of them. This will definitely be another spot I will bring my visitors to (as long as they don't mind a 3-hour hike).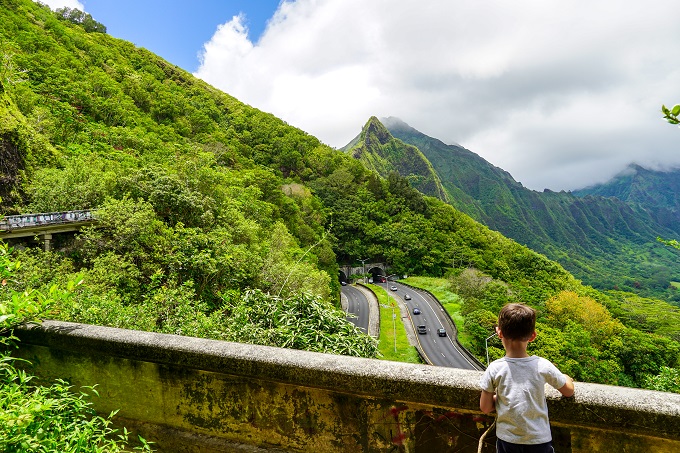 DAY 37
Today we were running around town doing some car-related errands and had a short stop in Honolulu. This is a view from Waikiki Beach looking towards the Diamond Head. The mountain lookout is still closed due to Covid-19 but once it opens, we will definitely make the trek up to it - coastal views of Honolulu from there are stunning!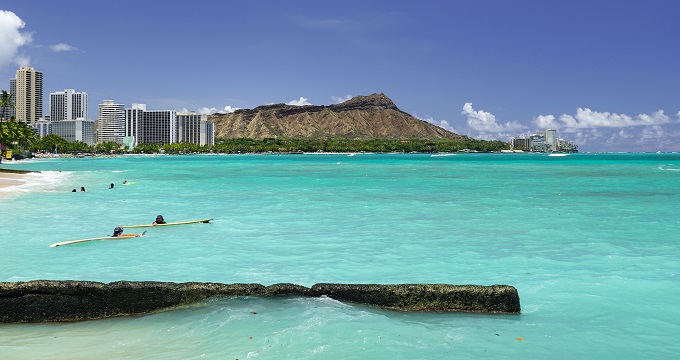 DAY 38
One cannot miss all the chickens in Hawaii - especially now, in the summer, with lots of fluffy, cuddly little chick babies running around. They even hang around towns, public parks, and tourist areas. But why are there so many chickens in Hawaii?! The story is that the hurricanes of 1982 (Iwa) and 1992 (Iniki) destroyed domestic coops, releasing the chickens into the jungles. These domesticated birds then mated with the wild red junglefowl (brought to the islands by the Polynesian) resulting in the feral chickens we see today. They are literally everywhere! And even more so - they are a protected bird in natural areas, so don't mess with the chickens!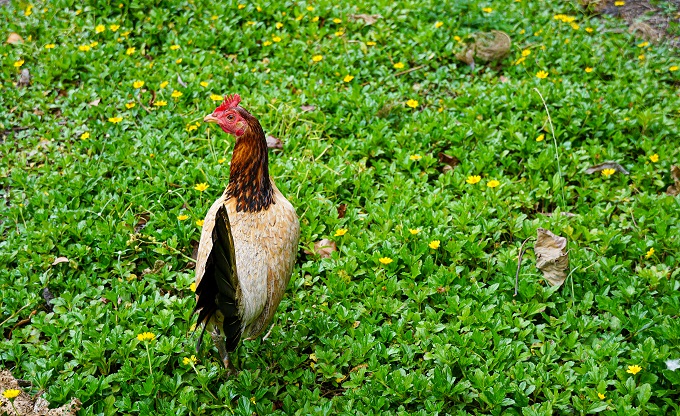 DAY 39
Today was another beautiful day to go on a hike. On our way to the trailhead we stopped by the Tantalus Lookout. Just 1 other person at the lookout besides us, and we had amazing views over Honolulu and the Diamond Head crater all to ourselves.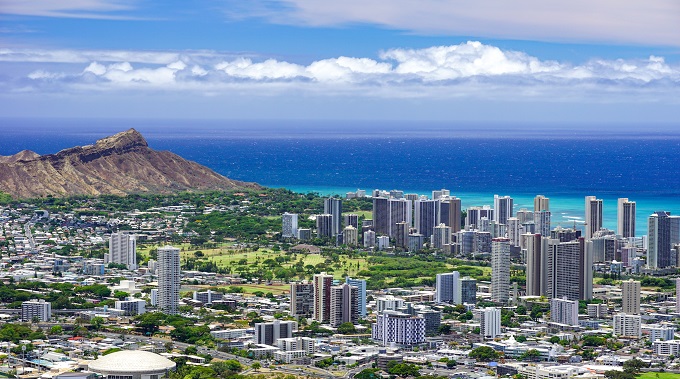 DAY 40
Hiking trails in Hawaii are truly amazing, there is almost everything one can imagine - mountains, rainforests, volcanic craters, ocean beaches, rocky desert, caves, waterfalls, coastal views... We encountered this vast bamboo forest while hiking Manoa Cliff trail in Pu'u Ulaka'a State Wayside Park. I felt as if a panda bear was about to jump out in front of us any minute!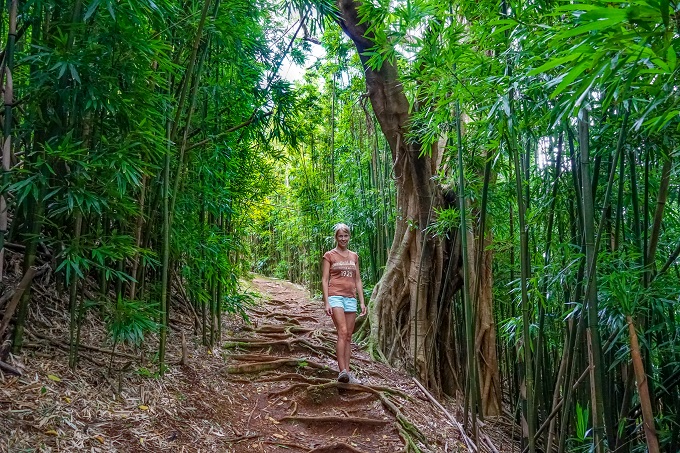 DAY 41
I truly love the North Shore - it has a very relaxed and laid-back vibe. This is where you will find all the cute little local restaurants, many food trucks, local farm stands. Some of the biggest waves for surfing are found here. The reefs are great for snorkeling and if you want to see wild turtles and seals then North Shore is the place to go! And to top it off - plenty of tropical greenery to come with it all! No matter how many times we see the North Shore, I am always amazed by it as if I see it all for the first time again! This is a quick snap of Shark's Cove beach.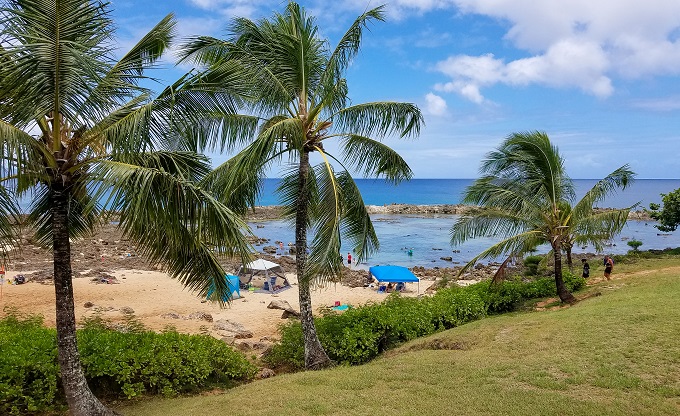 DAY 42
Today I was very upset at some tourists. We stopped by a beach and I walked down by the shore to see if there were any turtles out. Sure enough, there were a few and also a few people looking at them and taking photos. There was a group of ladies who were doing photos of each other with a particular turtle who was resting on the beach. Although warning signs asking not to disturb the turtles are all over the island, the ladies just kept getting closer and closer. The turtle was very patient and kept still, so these ladies used it to their advantage until they were only a foot away from the animal. The turtle was still trusting enough and stayed still. If the ladies would have just kept taking pictures, that would have not been an issue really, however, suddenly one of the women decided it would be ''fun'' to try to poke the poor animal's fins. The turtle got completely spooked and scrambling over the rocks dashed for the safety of the ocean. It was like the trust of this turtle was completely betrayed. People are just such clueless creatures! I witnessed it all and my blood was boiling. Those who know me, know I have no problem stepping up and speaking my mind, so this group of ladies got to hear everything I had to tell them. They were embarrassed and left the beach. The unfortunate thing is that instances like this one happen daily... PLEASE, respect the wildlife and let them be!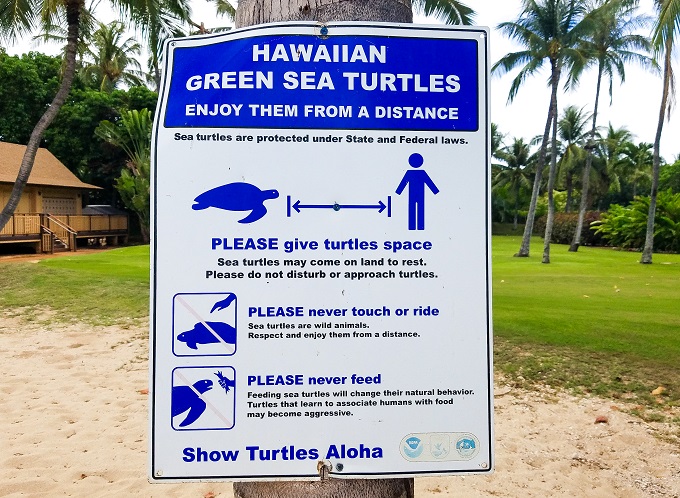 DAY 43
Bird of Paradise flower. Although native to South Africa, these flowers grow and bloom all over the Hawaiian islands.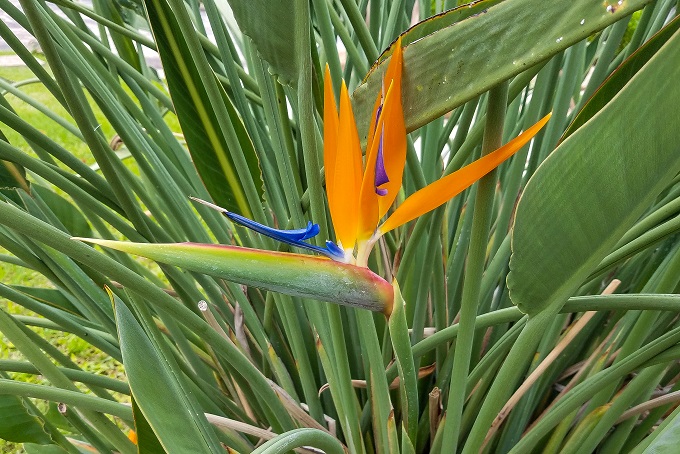 DAY 44
Who wouldn't want a view like this while having their dinner? The photo is taken literally from our table - it overlooks the mountains and Haiku garden. For those interested, the restaurant is called Haleiwa Joe's in Kaneohe (they have another location on the North Shore as well). We came for dinner and witnessed this sunset. Apart from the view, the food and drinks were really good too!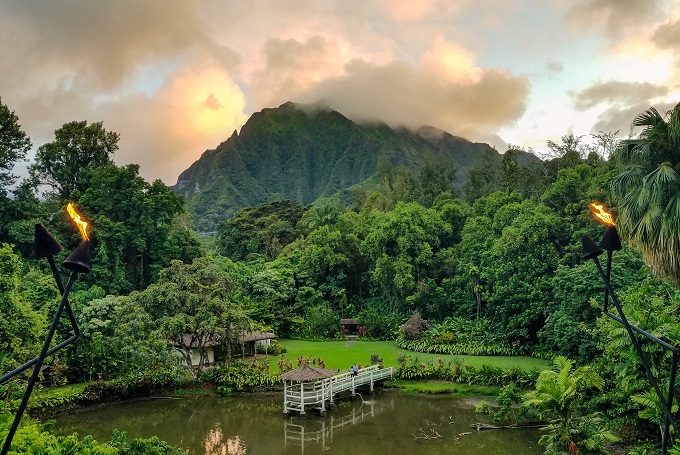 DAY 45
Just a casual day with the boys - riding kick-scooters around Ko Olina Golf Course and feeding all the birds in the pond!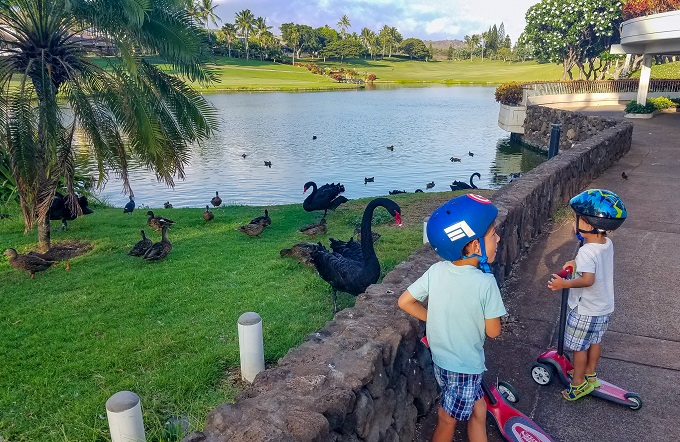 DAY 46
Another sunny weekend and time for another hike. This time we picked Pu'u O Hulu (Pink Pillbox) trail on the Leeward side of Oahu near Waianae. Although relatively short (only 1.6 miles long out and back), it is a steep trail with 670ft elevation gain during its ascend. Good thing we started early in the morning before the heat kicked in as the trail is on the sunny side of the mountain and it gets extremely hot during mid-day sun. At the top of the cliff, there are several pillboxes to sit on, have some snacks and enjoy the view! P.S. The start of the trail is down where the houses are... Our boys rocked it again and earned fresh, cold fruit drinks from the food truck after the hike.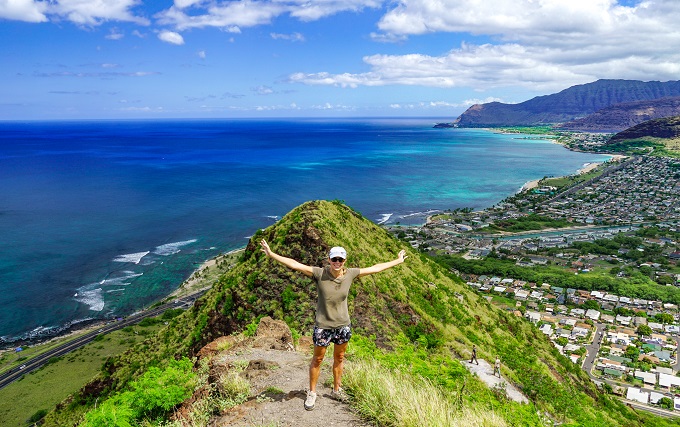 DAY 47
Hawaii islands are under hurricane watch (hurricane Douglas) which is supposed to hit Oahu later in the afternoon, therefore all public parks and beaches are closed and people are asked to shelter in place. So, we didn't venture out to explore and instead just went for an early morning walk around Ko Olina lagoons. Everything seemed so calm and peaceful - nothing at all to suggest there is a hurricane approaching.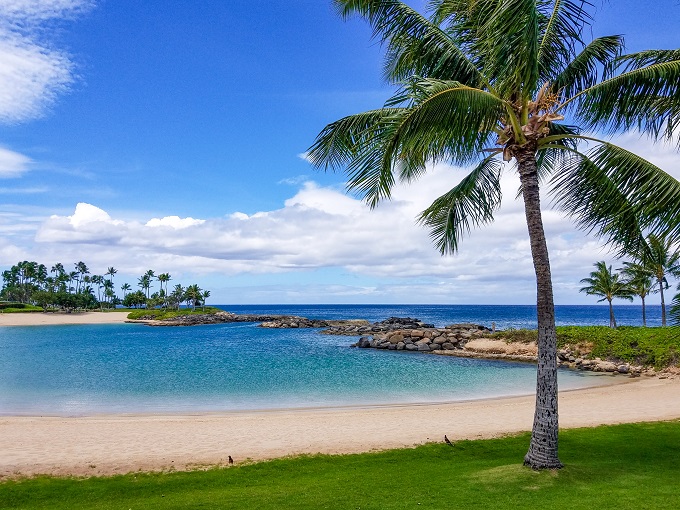 DAY 48
Hurricane Douglas never paid a visit last night, and the closer to the islands it got the more it turned north and passed Hawaii island chain several miles off-shore (basically, far enough not to cause any damage). Luckily for us, our first Hawaii hurricane of the season was just a little scare, however, the hurricane season is just starting so I am sure there will be many more to look out for. We took the opportunity to use one of our last days in our temporary rental to take a walk down to the Ko Olina lagoons again. These daily walks have become a habit of ours and I will miss them when it's time to move away.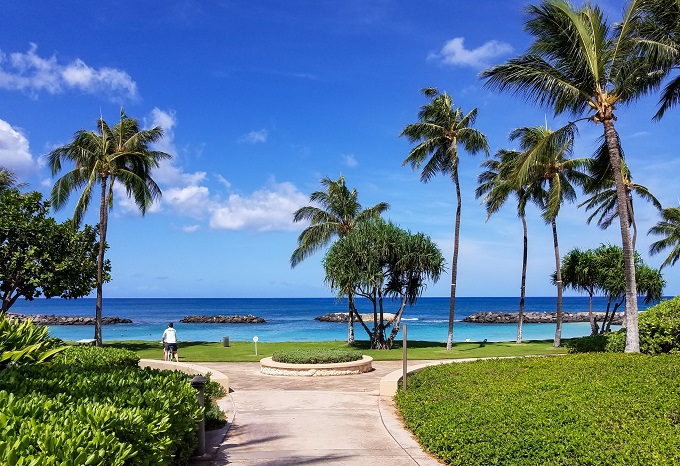 DAY 49
Today is the last day in our temporary rental ''home'' - Ko Olina Kai Golf Estates. Our household goods have arrived from Tennessee and it is time to settle into our own place which we will call home for the next 3 years. This has been our backyard for the last month, along with the swimming pool and daily walks to the ocean and the golf course. Our boys have made friends with local birds, snails and lizards. We are very happy to have had the opportunity to stay here, even if just for a month!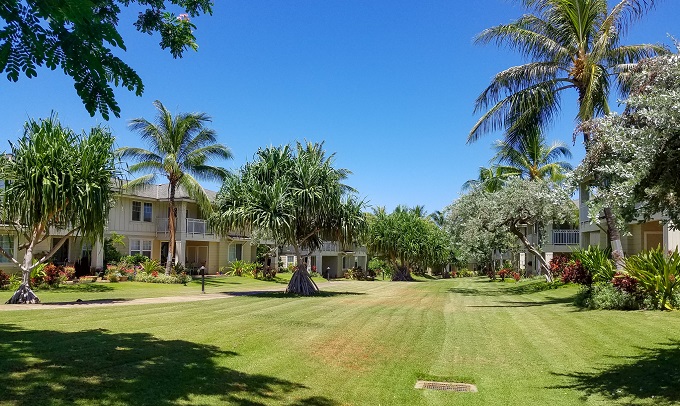 DAY 50
Today was the first day since our arrival, that we actually spent in our own Hawaii house. It took a while for our household goods to arrive, but we are starting to finally settle in. And getting to sleep in our own beds makes it feel like we ARE HOME at last! And every day I am lucky to enjoy this beautiful view of Oahu, the ocean, mountains and Pearl Harbor Monument! This is our backyard now!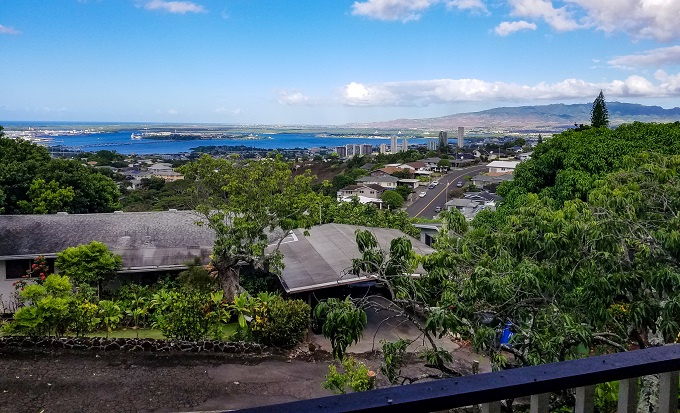 AUGUST
DAY 51
One bonus of unpacking household goods and settling in is that it keeps us so busy we don't have time to cook; which means we get to try local eateries. Luckily, there is no shortage of tasty local grabs for a quick bite. We really enjoy Hawaiian food (especially from food trucks) - Hawaii BBQ, Kalua Pig, long rice, lumpia, noodles... they all have Polynesian flare to it attributed to the period when Polynesian voyagers (400-600 AD) first came to the islands and introduced their culture and customs.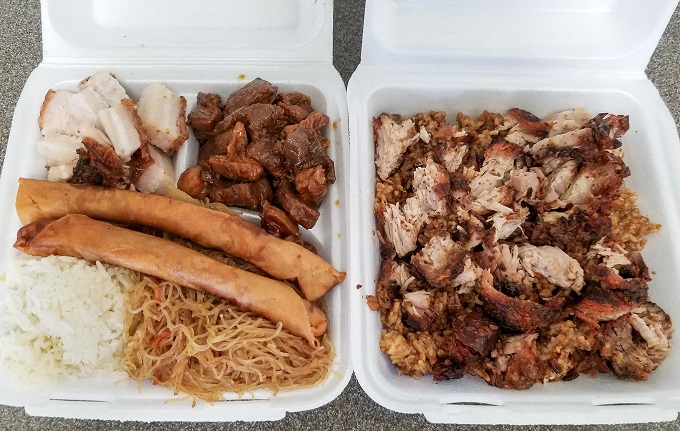 DAY 52
If we speak about history and culture, there is something else that still has presence on the islands since the first day Polynesians arrived here. They are called 'Hawaii Outrigger Canoes' or wa'a in Hawaiian. Wa'a is a type of canoe featuring one or more lateral support floats (known as outriggers) which are fastened to one or both sides of the main hull. The canoes can be small enough to fit 1 person or large enough to fit 80 people and some cargo. Tourists can give these boats a try, and several Outrigger Canoe Clubs exist across Hawaii islands for boating enthusiasts.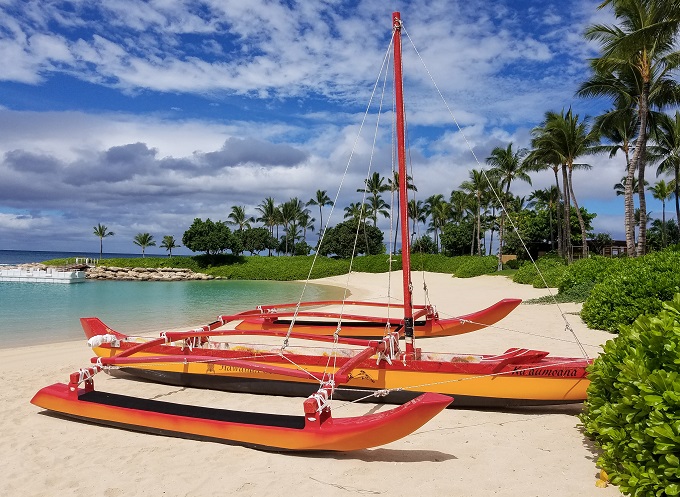 DAY 53
Just like everywhere else in the world, Hawaii tourist hot-spots have no shortage of traditional souvenirs - magnets, postcards, towels, key chains and the like. I used to collect these souvenirs from places we visited, however, over the years I have learned that I cherish my memories (along with photos and videos) more than any items I buy, so my souvenir shopping has been eradicated almost completely. But for those who like this kind of memorabilia, there is plenty to choose from!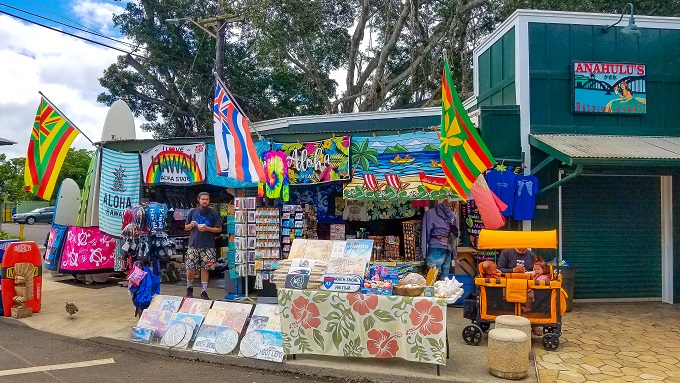 DAY 54
Tonight I was absolutely blown away by the sunset. I have rarely witnessed a sunset so pink / red. And I got to watch it from our own backyard deck while sitting and sipping on a cup of tea. Does it get any better than this?!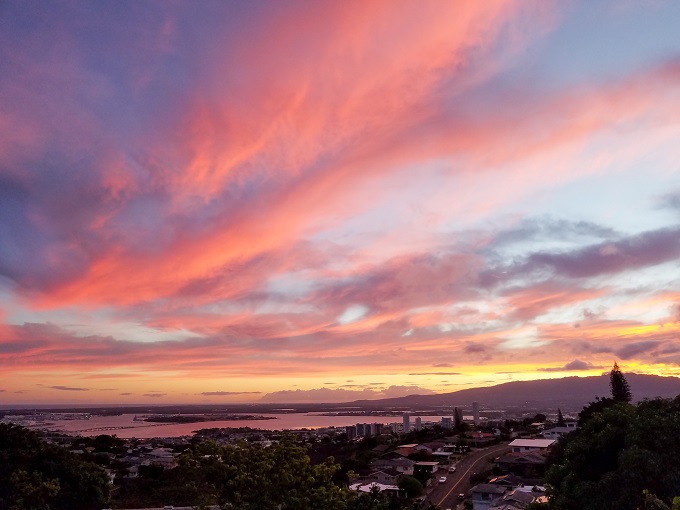 DAY 55
The Hawaiian Islands offer some of the best sailing in the world - crystal clear water, diving, snorkeling, fishing... And although we do not own a boat ourselves, we always have fun walking along one of the many Oahu marinas exploring all the boats - from small fishing boats to huge multi-story party yachts. And to add to the fun, we pay attention to the boat names. Some are real gems, like 'Kids Inheritance', 'Seas the Day', 'Ship Happens' etc. Some people really have a funny imagination!
DAY 56
With all the craziness of the past 2 weeks and moving from one house to another, packing, unpacking, settling in, and also prepping for a hurricane hit, I never realized it had been almost 2 weeks since we last went to a beach. And not just for a walk along the beach, but TO the beach - swim, tan, play in the sand kind of beach time. So, I decided we were long overdue for some R&R, I packed up the boys and off we went. We are so lucky to have this little beach (Hickam beach) just 10 minutes away from our house!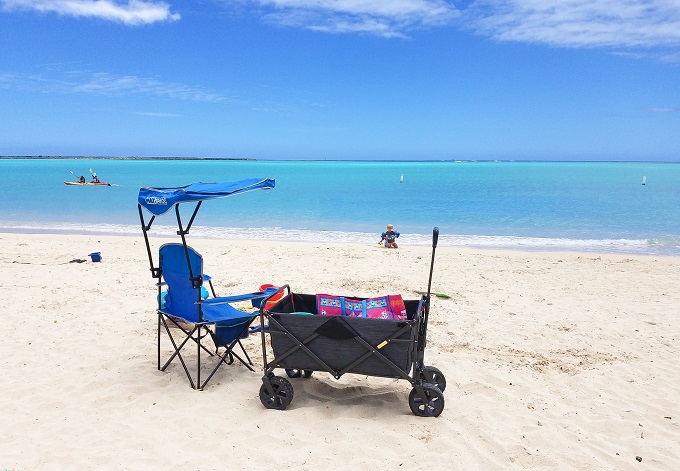 DAY 57
Look who decided to visit us this morning! When we first noticed this parrot sitting in our tree, my husband and I both initially thought it must be someone's escaped pet. But upon consulting Google, we came to realization that these parrots are wild in Hawaii. Although they are an invasive species and cause problems to local birds and crops, they are, nonetheless, very pretty and exotic! The species is called a ring-necked (or rose-ringed) parakeet, native to Africa and Asia. We are definitely looking forward to seeing our new, green neighbor more often!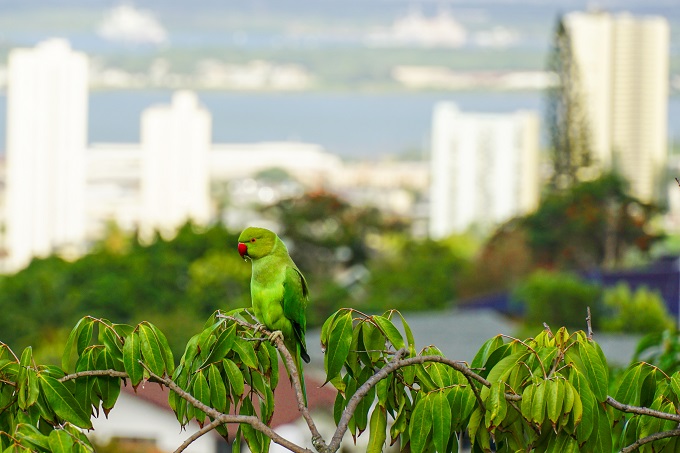 DAY 58
It was announced today, that starting at midnight all Hawaii beaches will be closed again due to rising Covid-19 numbers. There will be no playing in the sand, tanning or just going for a walk. Beaches, along with many other public spaces like botanical gardens, playgrounds, mini-golf, parks etc, will be off limits for the next 30 days. At that point the situation will be re-evaluated. With only 12 hours left until the shut-down, I decided to take my boys to one last beach adventure before we have to hunker down again. We went to Kailua Beach which has beautiful turquoise water and white sand. The boys had a blast and we spent almost 3 hours enjoying the saltwater and sun!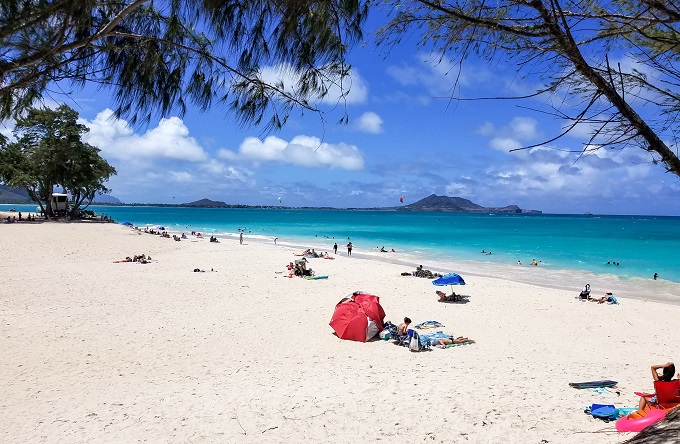 DAY 59
One silver lining of the newly announced shutdown is that water sports and water activities (like surfing, snorkeling, body-boarding, swimming, kayaking and the like) are still allowed as long as there is no lingering on the beach. It was great news as we had booked a scuba diving tour to celebrate our wedding anniversary. I had never scuba-dived before and was very much looking forward to it. My husband is scuba certified so it was nothing new to him, yet exciting nonetheless. Due to almost non-existent tourism, my husband and I were the only 2 people on the tour which we thought was fantastic (for us)! As excited as I was, breathing underwater is not a natural human behavior, therefore getting used to it, as well as learning all the underwater emergency procedures, took a little while but soon after we were under water and loving the experience! We saw many turtles, fish, eels, corals, a reef shark, octopuses, jellyfish and many other ocean creatures. This was also the first paid activity we did since our arrival to Hawaii, and we chose wisely! We highly recommend Hawaiian Diving Adventures to anyone interested in diving tours!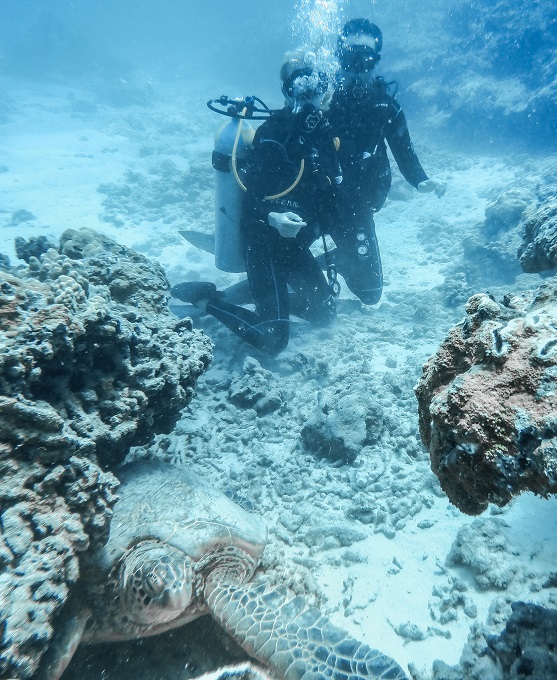 DAY 60
Most of the Hawaii state parks and hiking trails within them are closed due to the shutdown, so it took us a little effort to find a hiking trail that would be legal to go on and would not incur a fine if we got caught. In the end we settled on the 2.5-mile long Ehukai Pillbox trail on the North Shore. We haven't been on it before and really enjoyed it - it had beautiful views of the coastline, lava rocks, 2 pillboxes, pine forest, and the 600ft incline gave us a good workout as well! Our boys, on the other hand, did not seem tired one bit and were running faster than we could keep up with them. Isn't it great to be young?!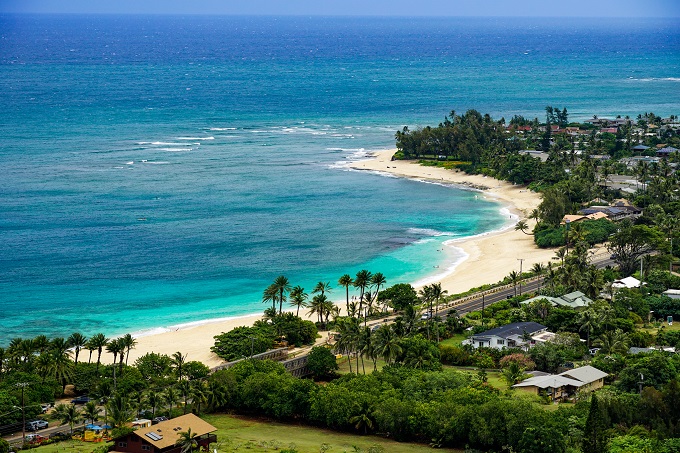 Continuation of our journey:
365 DAYS OF HAWAII (DAYS 61 - 120)
365 DAYS OF HAWAII (DAYS 121 - 180)
365 DAYS OF HAWAII (DAYS 181 - 240)
365 DAYS OF HAWAII (DAYS 241 - 300)
365 DAYS OF HAWAII (DAYS 301 - 365)
More photos of Hawaii (including from our previous trips) can be seen in the following galleries:
Hawaii Volcanoes National Park
Wonders of the Big Island, Hawaii
Black Sand Beaches, Big Island Hawaii
My travel reviews of our previous Hawaii vacations can be read in these travel stories:
Our COVID Vacation to the Big Island of Hawaii
Hawaii (Oahu) with 2 Toddlers in Tow
Kauai - the Grand Canyon of the Pacific