A Different Kind of Getaway - Camping at Bellows and Ho'omaluhia in Hawaii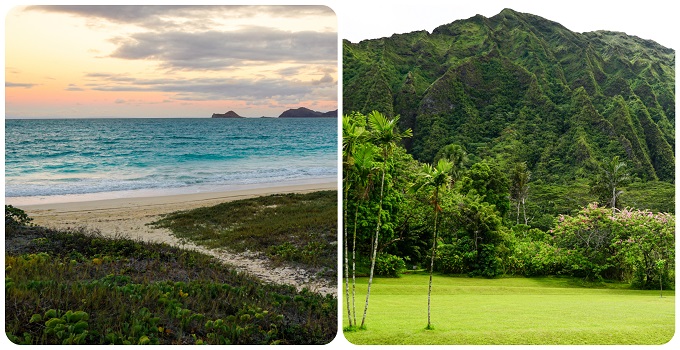 Although COVID finally seems to be on the downwards trend around most of the world, it still has its big, fat paw lingering over us. And while mainland USA is starting to have some easing up on travel restrictions across the states, it is much more complicated for us living in Hawaii. Our only way off the island is by an airplane and that, immediately, comes with its own set of rules like Covid tests and quarantines. And with all the international destinations to our West still completely off limits, we stared to feel a little island fever. So, to feed our desire for some adventure, but being extremely limited in our options, I decided to step outside my comfort zone.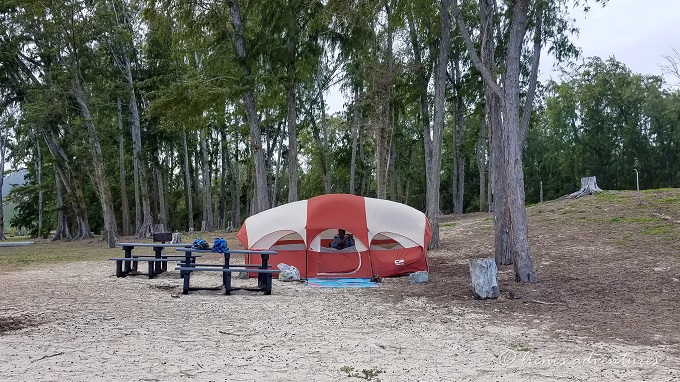 Let me tell you, tent-camping has NEVER been a thing I have wanted to do as all I can think of is: no basic amenities, lots of mosquitos and dark woods. And as much as I grew to love RV camping and am really looking forward to a day when we can go road-tripping in an RV again, tent-camping was where I always drew the line. I guess you can see how desperate I must be for some travel to sign up for something I had said 'no' to for the last 20 years! My only satisfaction was in the fact that I knew our 2 boys would absolutely love this experience and this little adventure would also give us an opportunity to spend time as a family – away from the temptations of TVs, IPads and phones. And after all, it is camping in Hawaii, so how bad can it be really?!
BELLOWS BEACH
The first campground I picked was Bellows Beach campground on Bellows AFB. As expected during low-season in February, I did not have much trouble reserving a spot, and soon enough we were proud owners of an ocean-view patch of land for 2 days. Our boys, of course, were anxious for days waiting for our camping trip to start, and were absolutely ecstatic when we finally got here!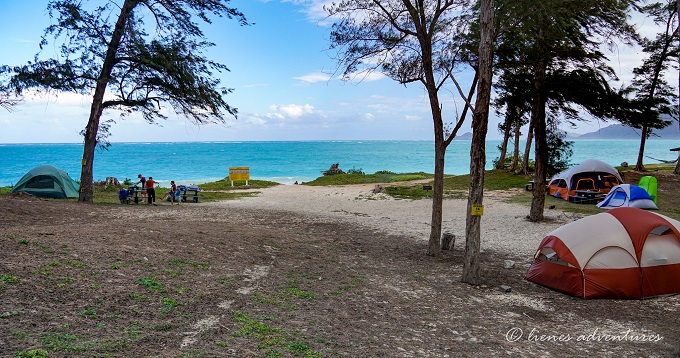 The oceanview campground here is truly amazing and offers an unobstructed view of the ocean from each tent as the camping spots are spread very far apart from each other (we had campsite #14). And how do you not love a view like this straight out your front ''door''?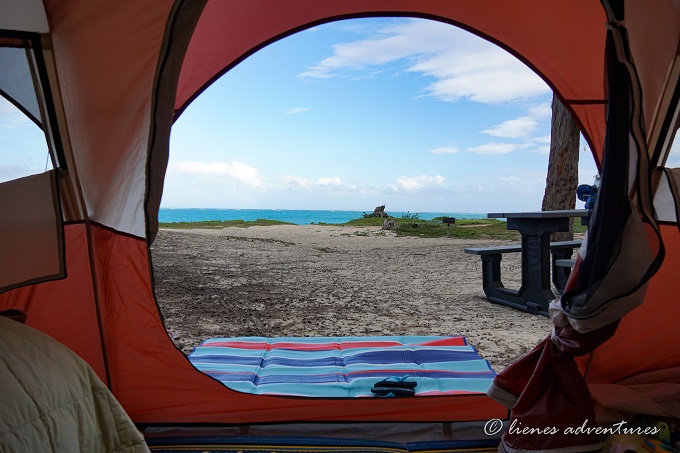 After some slightly frustrating attempts at putting together our giant house of a tent, we were finally set up and ready to enjoy our time here. Of course, the first order of the day was to go and check out the beach. The water was a little too chilly and waves too rough for us to want to go swimming, but that did not hold our boys back from spending their time playing in the sand. Meanwhile, I enjoyed a leisurely walk along the beach.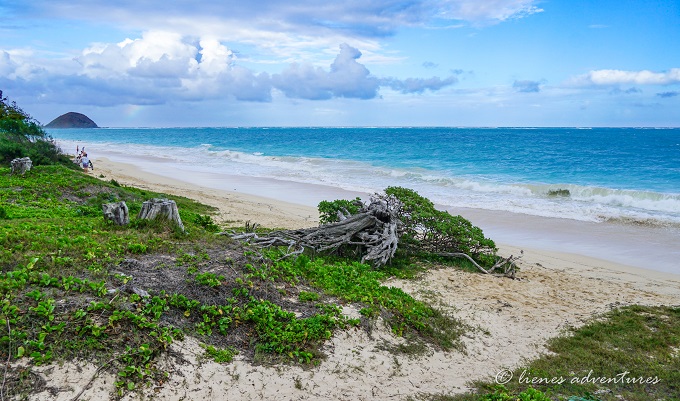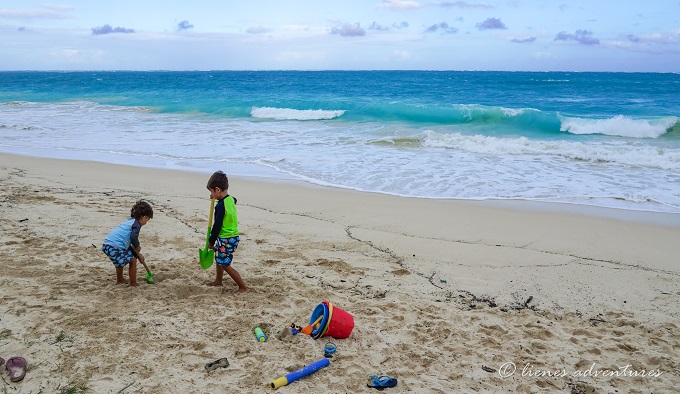 A big plus to modern-day campgrounds is the fact that many actually have bathroom facilities and even showers with hot running water – not quite what I remember from my childhood camping days in Latvian woods. A pleasant surprise, nonetheless. So, we washed up our sandy boys and decided to head out for an afternoon round of mini-golf right next to the campground. Of course, there were no rules followed or score-cards kept, but we all had fun. So much fun, that it already started to get dark, so it was time to head back and grill up some food for dinner.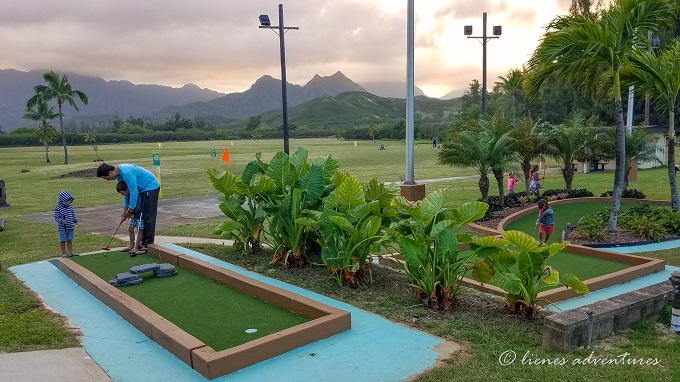 Unfortunately for us, our camping trip here coincided with a severe wind advisory which was tearing across the islands for many days. While we could feel the wind gusts during the day, they really picked up after the sundown and my husband had trouble lighting the grill. We saw some other campers bringing their portable camping stoves behind shower building walls just to keep the wind from blowing the flames out all the time. Nonetheless, we successfully managed to grill our hot dogs and have some dinner. Afterwards, they boys wanted to play some card games but the flashlight we had hung up from the tent ceiling to serve as a light source was getting tossed around by the wind like a disco ball and made everyone dizzy. So, we decided to just call it a night.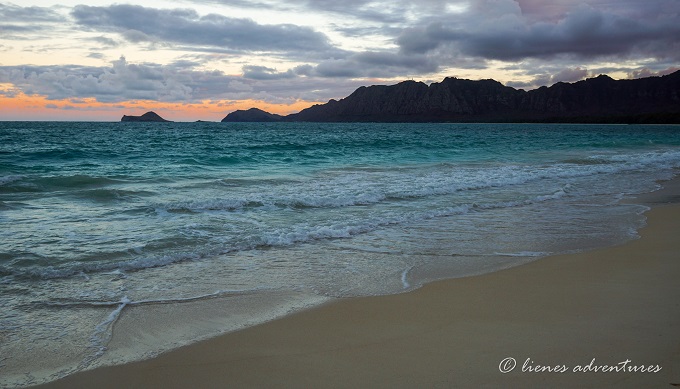 I will be honest and admit that I barely slept – the wind outside was ruthless and was tossing the tent fabric around with no regard. The forecast called for 25-30mph winds all night. I was afraid that either the tent would get ripped to shreds or we would end up being blown out into the ocean with the whole tent. Eventually, I drifted to sleep only to be woken up at 4am by my son who needed to go to the bathroom. Armed with a flashlight we slooowly made our way towards the bathroom. Slowly, because we had to watch where we put our feet not to step on a wandering centipede on its nightly hunt. And as luck would have it, one of these suckers, about 10'' long did indeed cross our path. They are nasty, big and extremely venomous and their sting can land you in hospital. They got introduced to Hawaii by accident long time ago and have spread all across the islands now. I will not put up their picture here, but if you care to see one you can google 'Giant Vietnamese centipede' and you will see what I am talking about – it is not something you want to run into in the middle of a dark night. My husband was actually stung by one at this very same campground about 25 years ago and his leg turned black and blue, and he couldn't walk for days. He still has a bite scar on his ankle from the event.
Now, let's get back to camping… As we were on the beach, I did not want to miss the sunrise and set my alarm for 6:30am. I was so exhausted from the half-slept night that I overslept my alarm a little but still got a nice morning photo.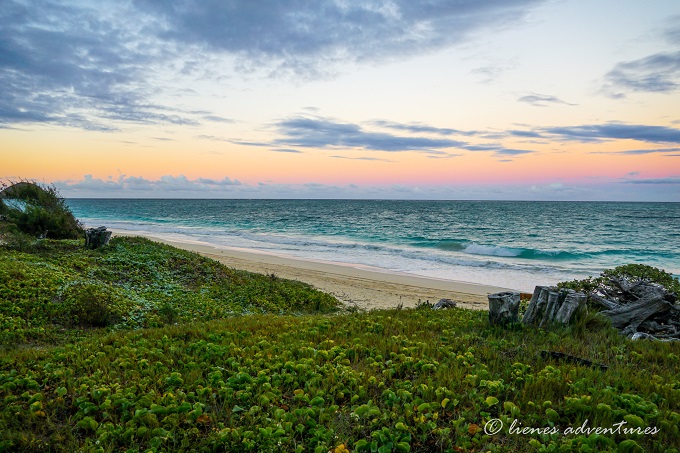 Soon enough the boys were up as well and requested to go play more mini golf and also some soccer. We also went for a kick-scooter ride around the campground territory and then stopped at the café for some hot morning coffee and light breakfast snacks.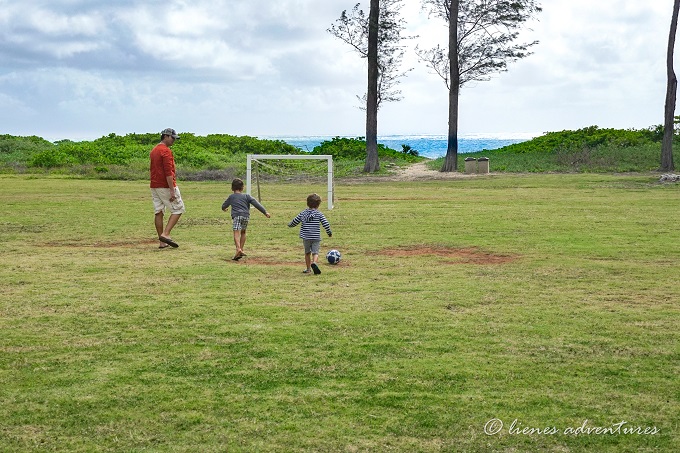 With wind still blowing like crazy, we opted not to go swimming and it was coming close to check-out time anyway. So, we packed up our belongings and decided that we will definitely have to come back here again soon, hopefully on a less windy weekend so we can enjoy the ocean activities as well.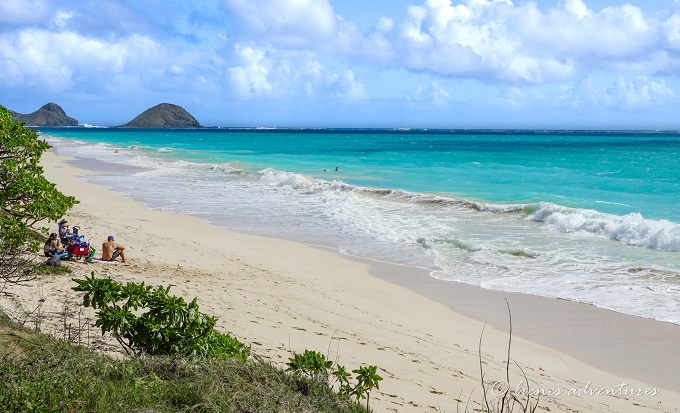 Practical information:
Bellows beach consists of 2 sections – a public beach (Bellows Field Beach Park) accessible to everyone, and a military reservation beach (Bellows Beach) available only to military ID card holders. Both have campgrounds. We stayed on the military reservation.
There are 3 separate campgrounds at Bellows Beach. Only 1 is directly oceanview with other 2 being set further back in the woods. All have beach access within 2 minutes (walking).
Tent camping cost $27 / night during our visit and each spot had 2 picnic tables and a grill. No open ground fire allowed.
No cancellations / refunds allowed and check in / out is at 3pm and 11am.
There are toilets and hot shower facilities (both indoor and outdoor) designated for each separate campground section to void overcrowding.
There are lots of amenities on the reservation – a store, gift shop, gas station, restaurant, café, as well as game fields (soccer, volleyball, tennis, mini golf, disc golf) and various equipment rentals (bikes, SUP boards, surf boards, kayaks and the like).
Apart from tent camping, there are also 1 and 2 bedroom cabins available for rent (with a full kitchen and bathroom in each), a hotel-type lodge, and even RV spots with hook-ups. Pricing is based on sponsor's military rank.
Please note that the public beach campground has NO access to any of the above mentioned amenities - they are strictly for the military campground with military guards checking everyone's ID at the entrance. But don't fret as the public campground still offers the same beautiful turquoise ocean views and white sand beach as the military campground section.
Reservations for the military campground happen through MWR reservations desk (Turtle Cove), while public campground spots can be booked through State of Hawaii Campgrounds Reservation System.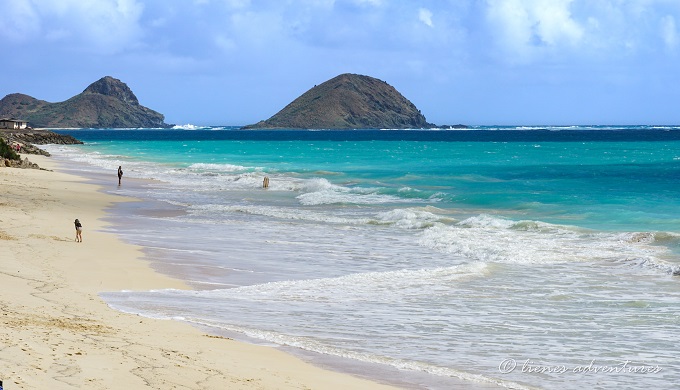 HO'OMALUHIA BOTANICAL GARDEN
Our second camping adventure promised to be completely different from our first experience at Bellows Beach as this time around there was no ocean involved. Even more so, we headed in the opposite direction and into Hawaii's rainforest and Ko'olau mountains. Ho'omaluhia is actually a 400-acre botanical garden with limited overnight camping spots offered on weekends. It is also the only city campground on the whole island that is not on the beach; therefore, it offers a vastly different experience and is a very sought after adventure. And who wouldn't love to spend a weekend in a setting like this?! It's so magical it almost does not look real.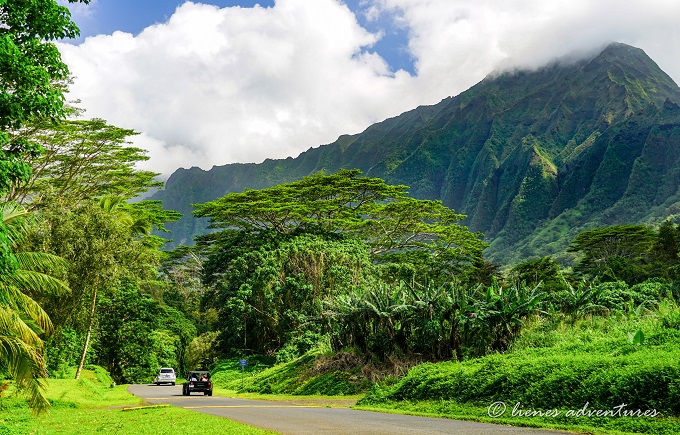 As it should be in a rainforest, rain is a common occurrence at Ho'omaluhia gardens, however, flooding is a once in a decade event. This is what happened during our reservation weekend at the beginning of March. All the islands of Hawaii were flooding from weeks of rain and our campsite was just mud and swamp, so we decided to forego camping and try our luck at snatching up a campsite for another weekend. I lucked out and got a spot for the last weekend of March at Kahua Nui-Makai campground (campsite #29) which was perfect timing - no rain, no wind, warm, and even occasional blue skies, so needles to say we were very happy with our choice to give it one more try!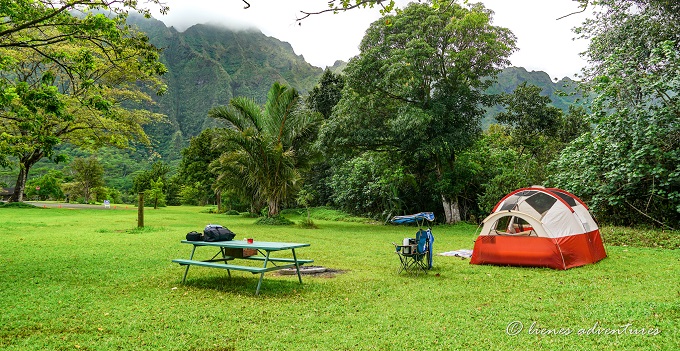 We started off by setting up and arranging our little campsite and then headed out into the garden to explore. With over 400 acres, there are numerous trails through various habitats and many beautiful lookouts! This gorgeous view was just right in front of our campsite!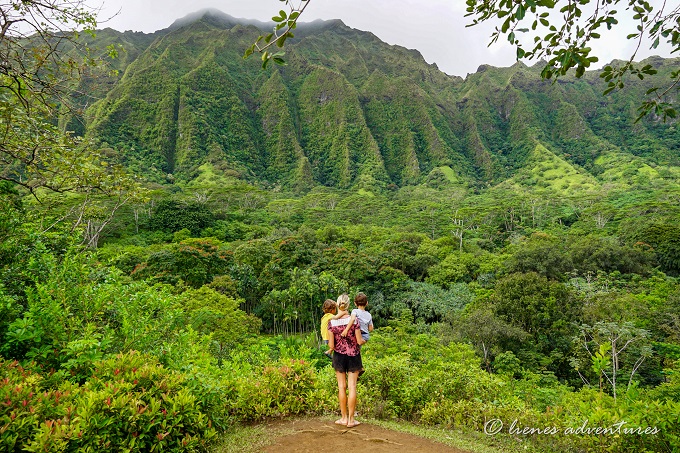 The main park road that leads through the garden can we driven by car, biked or even walked, and it is about 5 miles long out-and-back with several significant hills to go up and down. And no matter whether you choose to take the main road or explore the little paths within the gardens themselves, the scenery will be truly spectacular any way you turn! And this being a rainforest, you are guaranteed to see many beautiful tropical flowers of various shapes and colors all around.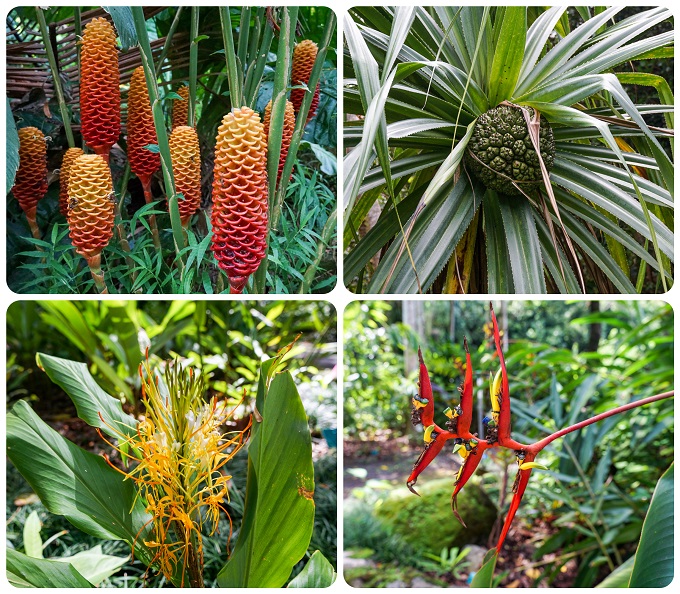 After we had spent a good amount of afternoon walking around the garden, we got back to the campsite for some early dinner. Not much cooking was needed as we just heated up the Thai noodle-dinner we had prepared at home, and after finishing it we all craved some dessert. So, we headed into the town of Kaneohe just 10 minutes away to buy some ice cream (the boys were in heaven!) and rushed back to the campground before the garden closed. It is important to note that Ho'omaluhia Botanical Garden closes at 4pm for general public and campers with a permit have access into the garden until 6:30pm. But after that the gates get closed and there is no entry / exit possible.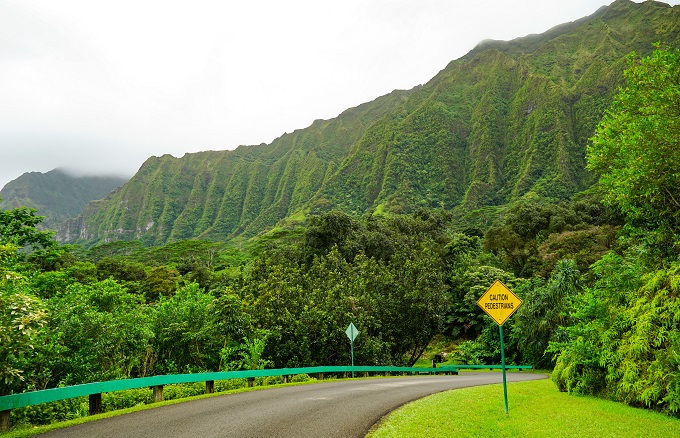 The rest of the evening was spent by the firepit playing kids card games and kicking a ball around, and some frisbee... And once we eventually put the kids to bed, my husband and I even treated ourselves to a late night movie (under starred skies).
When we woke up the next morning, we were greeted by the Ko'olau mountain range right outside our tent. And as there were no visitors yet (garden opens at 9am), we could hear all the birds all around us singing their morning tunes. I have to admit - I loved having the whole garden to just us and a handful of other campers - it was very peaceful and relaxing, and something you can experience only when doing overnight camping here.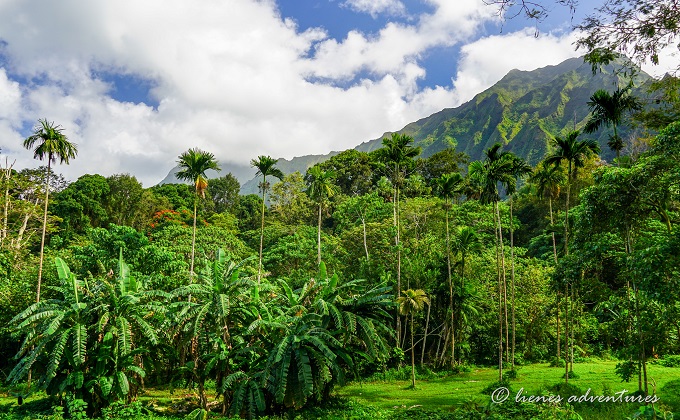 Although I had planned on quick crackers-and-cheese kind of breakfast, my husband had snuck a package of coconut pancake mix with him, which I will admit was a genius idea. Hawaii made coconut pancakes were the perfect breakfast!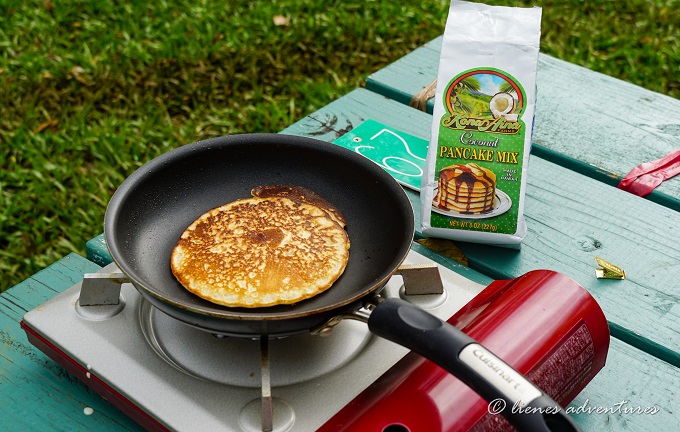 After getting some much needed coffee, we headed deeper into the garden again to explore it even more. We walked over to the visitors center, but unfortunately, it was still closed to public due to Covid. A fun activity for kids on weekends is catch-and-release fishing with bamboo poles in the park pond, but this activity has also been suspended due to Covid. So, we just grabbed a loaf of bread we had brought for the fish and headed to the pond. Koi gather here by the hundreds, and ducks are also frequent visitors, so there is always something to see and do!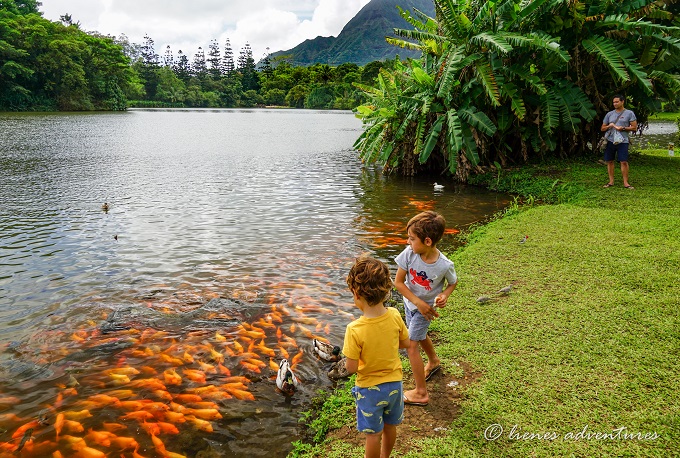 The loaf of bread disappeared in no time, so we went for a little walk around the pond. The view from the other side of the water back towards the mountains is absolutely gorgeous and there are several benches set up for people to sit down and just enjoy the view.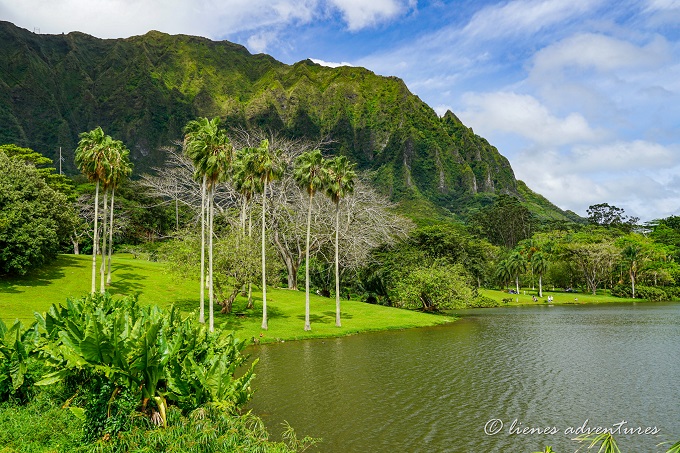 Although each camping reservation allows 4-day / 3-night (Fri - Mon) stay, 2 days were enough for us (or should I say - ME?). I can ''tough out'' a few days of camper-stove meals and blow-up tent beds, but eventually I want my modern comforts - hot shower, comfy bed and a movie night on my cozy couch with a hot cup of tea in my hand. That said, I am certain we will be out camping again as we have already made campsite reservations for Bellows in September and will definitely be back to Ho'omaluhia one day again.
Practical information:
Campground reservations are offered only up to 2 weekends ahead, so no booking months in advance.
Campsites can be booked through State of Hawaii Campgrounds Reservation System and reservations open at 5pm on Fridays for the spots 2 weekends ahead. When I was making our campsite reservation, all the spots were reserved within 4 minutes of the reservation system opening.
Camping at Ho'omaluhia is for a set block of days / times only: check-in at 9am on Friday and check-out by 4pm the following Monday. The cost is $32 for the duration of the 4-day stay (there are no reservations allowed for just 1 or 2 nights, and no camping during rest of the weekdays). But if you choose to stay just 1 or 2 nights (like we did), that is fine, however no pro-rated refunds will be given.
Main park gate closes at 4pm for general public and campers are allowed to exit / enter until 6:30pm. After 6:30pm the park gate is closed and there is no entry or exit.
All reservations are final - no cancellations or refunds.
There are 3 separate campgrounds here, each offering a different view - Kahua Nui-Makai, Kahua Lehua and Kahua Kuou. We picked Kahua Nui-Makai campground because of its open mountain views.
Each campsite has a picnic table and a fire pit. No grills.
There are toilet and shower facilities for each campground, but no warm water. The shower stalls are open with no privacy, so if you are shy - putting on a bathing suit might be helpful.
Main activities include exploring the garden and its trails, as well as checking out the park's visitors center and feeding the fish and in the lake.