Latvia with Kids or How We Spent 6 Summer Weeks in Latvia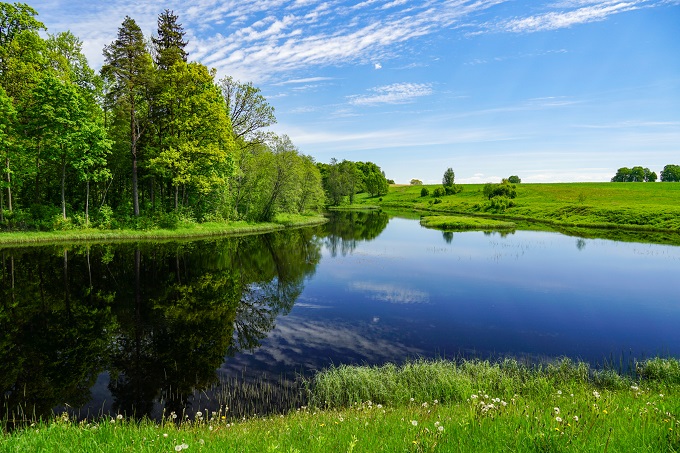 As many of you might know, I was born and grew up in Latvia. Although I do not live there anymore, I have made it a point to teach my kids the Latvian language and to teach them about Latvia. And with many countries still closed (or restricted) to travel due to Covid, spending a prolonged summer vacation exploring my own home-country and showing it to my kids seemed like the perfect fit. It was my youngest son's (he is 3) first trip to Latvia, and my eldest's second (he is 5). However, he was so little when we visited Latvia last time that he has no recollection of it; therefore, I truly consider this to be the first real trip to Latvia for the both of them, full of memories that will last.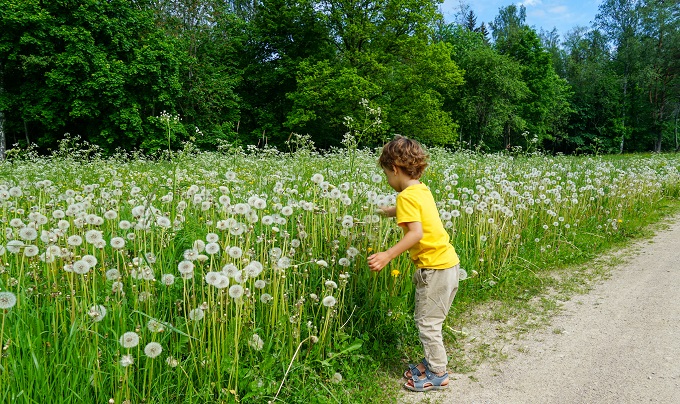 Logistically, flying across the globe during this Covid-era was a nightmare with cancelled and changed flights, missed connections, expired Covid tests, unplanned overnight layovers and many other mishaps. And when chit-chatting with other random travelers we crossed paths at the airports, not many of them were any ''luckier'' than us. I guess it's the way it goes at least for now. Yet, we persisted and after 4 (!) days of flying from Hawaii to Latvia we finally made it!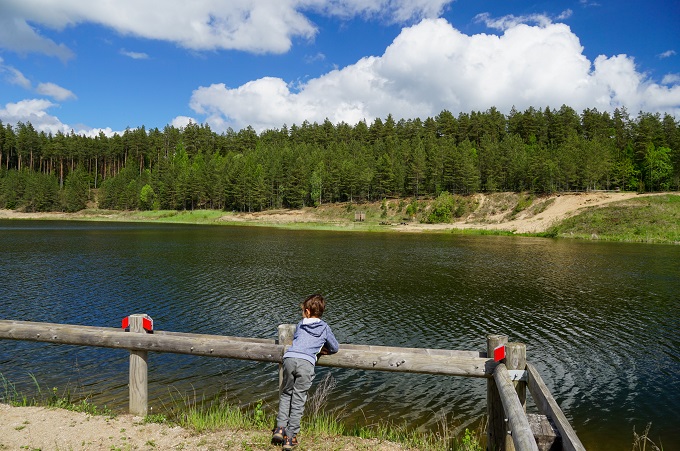 As it often happens when going back home, lots of time was spent meeting friends and relatives and just getting together with the family. My boys have cousins their age in Latvia, so it was a gang of boys ready to create trouble anywhere they went. In order to keep the boys entertained and to show them around, my family had pre-planned countless activities and sightseeing for us to do during these 6 weeks. The following is a look back at all the wonderful places we visited.
But before we jump right in it, here is a short introductory video made by the Latvian Institute giving you a little insight into what Latvia is really all about and what it is like.
SIGHTS AROUND VALMIERA
(our home-base)
Valmiera
Valmiera in itself is a wonderful place to see. It is especially dear to me because this is where I was born and grew up. I took quite a few walks around town with the boys, and we saw the old St Simon's Church, the medieval castle ruins and even took a little boat ride on the river Gauja (which flows right through the middle of Valmiera).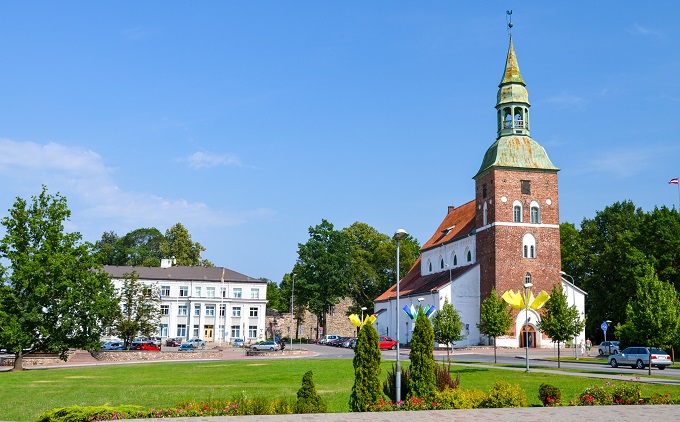 As we followed down along the river, we watched kayakers negotiate the rapids and eventually made our way to the Daliņš beach.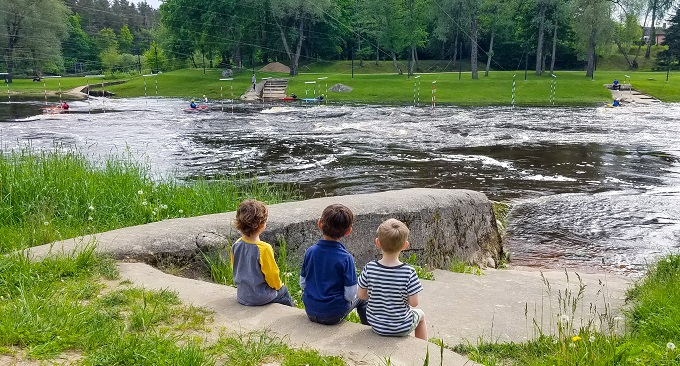 It was late May and the weather too chilly for swimming, yet it was the perfect season for all the dandelions – I showed the boys how to blow the dry seedheads and that's what they wanted to do for the rest of the day!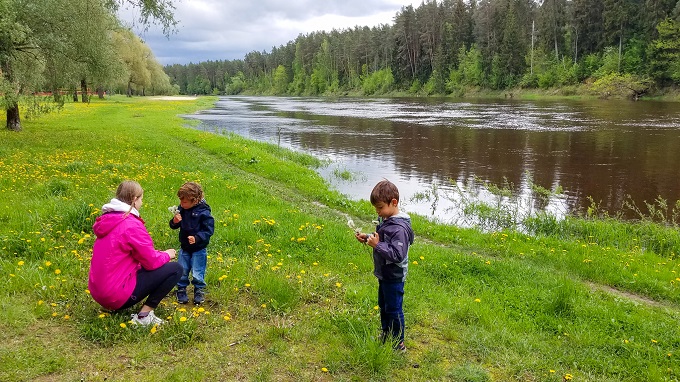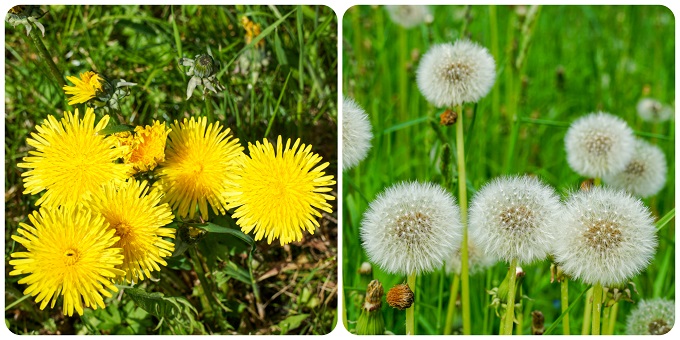 The little obstacle course near the beach was also a hit for the boys! It included various climbing and balance exercises and was completely free to take part in.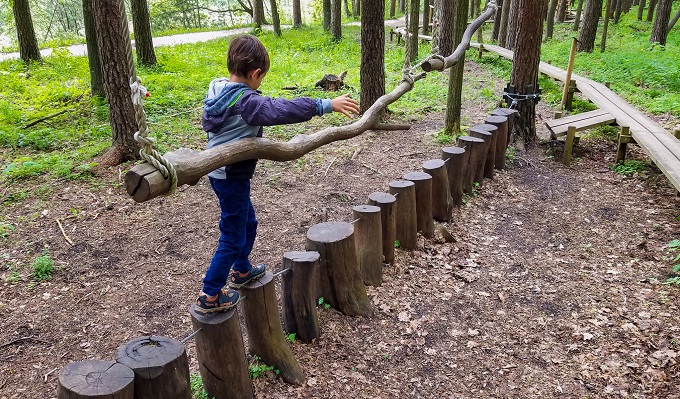 Mini Zoo Mežiņi
Just a short daytrip from Valmiera, there is an animal farm Mežiņi which many farm animals and birds here call their home. Visitors can buy a little bucket of carrots and feed the bunnies, sheep, goats and alpacas. It was incredibly fun for the kids as it was allowed to enter many of the enclosures and pet the animals as well.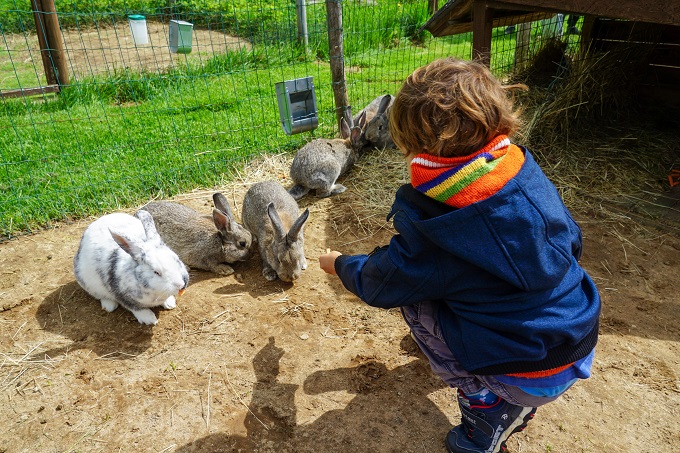 Most of the animals were very friendly and eager to interact, yet they weren't pushy which made kids very comfortable around them. Although the majority of the animals here are various types of super cuddly and fluffy bunnies of all colors, there are also quite a few birds – different types of chickens, geese, ducks and pheasants, some of which were freely roaming the property. Even though we purchased each boy a bucket of carrots to feed to the animals, the carrots disappeared very quickly, so we had to go re-supply… twice.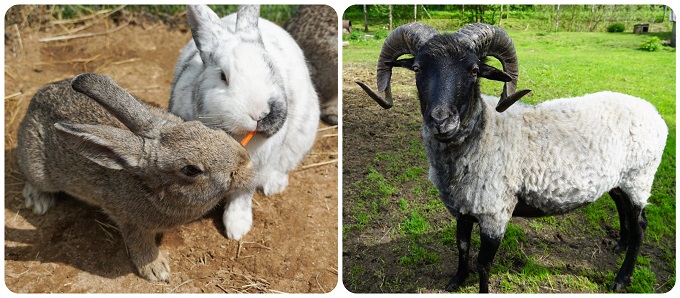 What we thought would be a quick stop along the way, ended up taking up most of the day as kids just did not want to leave. Plus, we decided to sit down at one of the picnic tables and have lunch here surrounded by all the animals.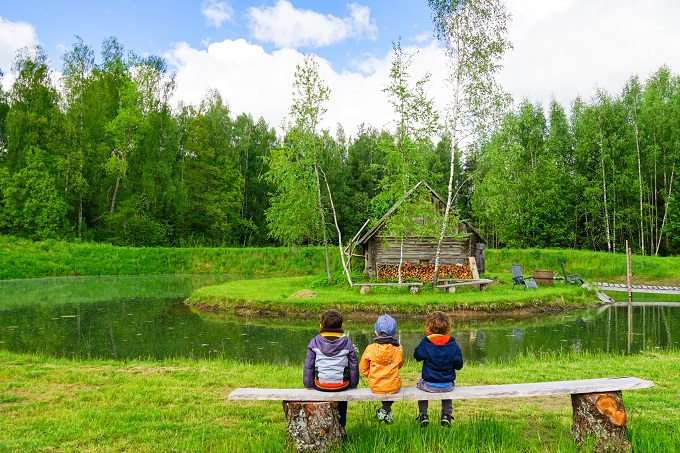 On some days, the local workshop is also open where you can see the wool being sheared and processed into warm, fluffy hats and scarves.
Niedraju – Pilkas Mire Nature Reserve
Latvian: Niedrāju-Pilkas purva taka
This swampland can be visited by walking on the short 1km (0.6mi) long boardwalk that has been built over it. Of course, our boys could not grasp the concept of a swamp as they had never seen one before. Overall, to them it looked like a soft, mossy field suitable for running around. So, we let them try stepping in it and they could feel how the ground got squishy and their feet were slowly sinking. Real life lessons are always the best!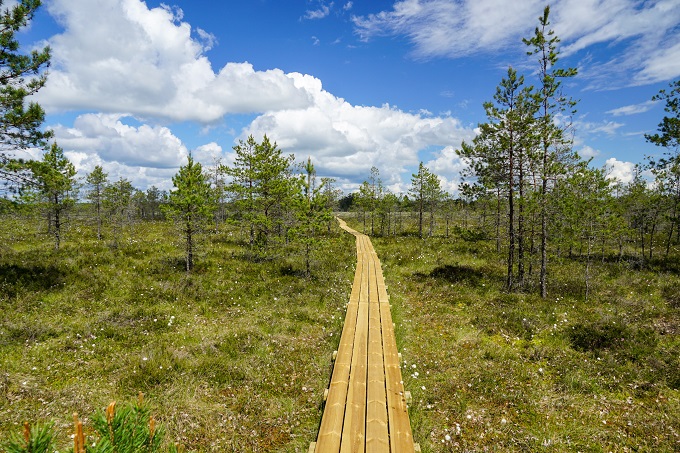 At the end of the trail there is a small lookout tower from the top of which you can see all the little marshy lakes, wetland flowers and little pine-groves that have established themselves here.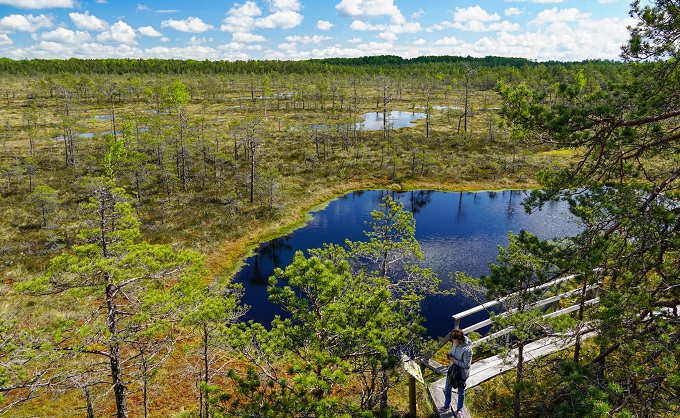 The mire is also a popular nesting place for storks, cranes and many other endangered wetland birds, therefore, it is a part of a nature reserve.
Tuja – the Baltic Sea Beach
Latvian: Baltijas jūras pludmale Tūjā
As 500km of the Latvian coastline is washed by the Baltic Sea, there is no shortage of beautiful sandy beaches. During our 6 weeks in Latvia, we visited the sea twice. First time we went to Ainaži Northern Jetty which is half a kilometer long stone wall stretching into the sea. Although we had tons of fun walking and exploring the area, the day itself was too cold and windy to go swimming.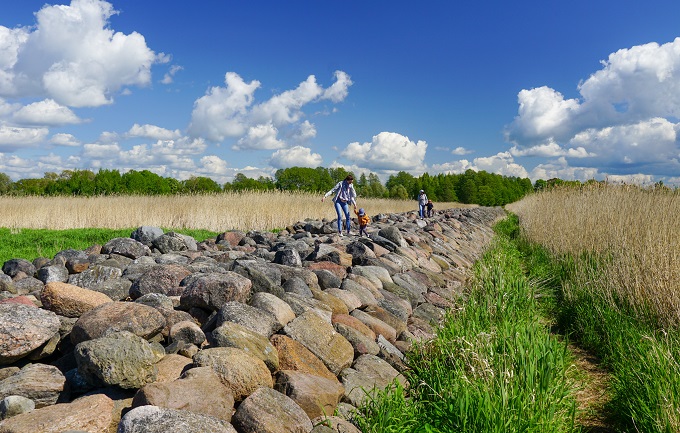 A few weeks later, when Latvia was getting record heat temperatures, we went to Tūja – one of our favorite beach spots since I was a little girl myself. It was a day full of sand and water and everything in-between. And the seemingly cold Baltic Sea water (in comparison to Hawaii) did not seem to be an issue for the boys at all – they did not even hesitate to get in! I guess water is never too cold for kids to get in.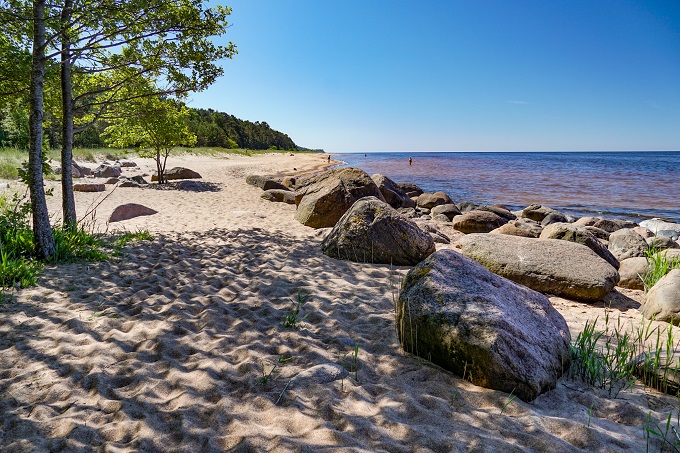 We played ball and frisbee; dug sandpits and pushed sand-piles; looked for shells and pretty rocks to build castles and made lots of other crazy memories.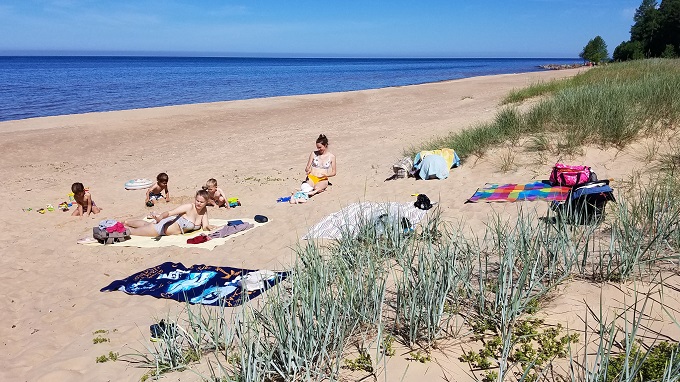 And while going on a little walk along the coast, we wandered into some sort of a duck territory, or so it looked like. They had taken over the rocks and seemed to be right at home here. These are definitely not the kind of ducks that were hanging out here during my childhood.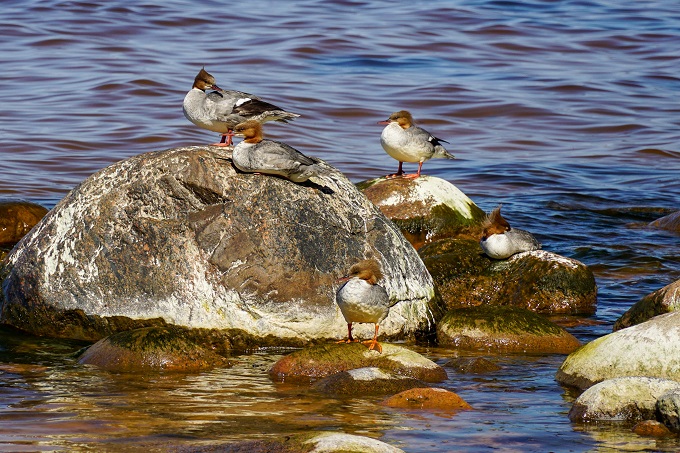 Wooden Sculpture and Game Park 'Beverinas Labyrinths'
Latvian: Koka skulptūru un spēļu dārzs 'Beverīnas Labirinti'
An outdoor paradise for kids – a huge park with over 370 various wooden sculptures and over 80+ games. Here you can meet characters from many kids cartoons like the Flintstones, the Simpsons, Minions, Peppa Pig, the Pooh Bear and many, many others.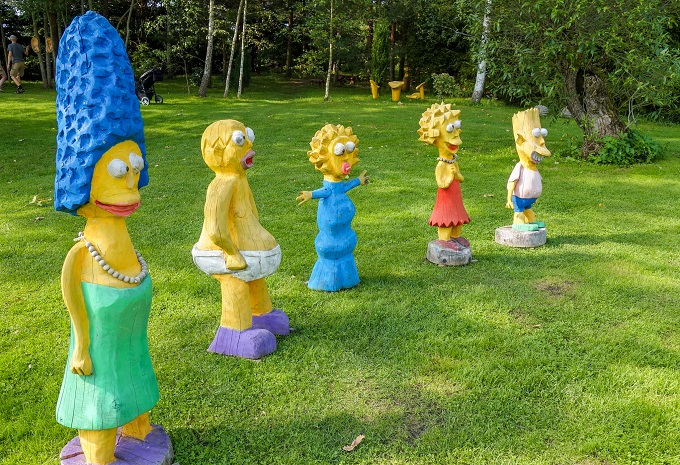 The various games trigger kids' imagination and curiosity – wooden bowling, checkers, ring toss, swings, ball fights, cannons, balance games and on and on. The owner himself has carved all the sculptures and games here and is the one who will greet every visitor at the entrance first-hand.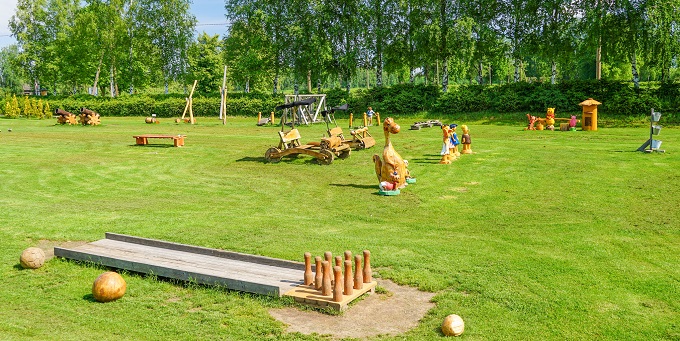 I think it goes without saying that this park was a little wonderland for the kids, and it was funny to see how they did not know which direction to run, where to start and what to choose first. Too many exciting choices, I think!
Dikļi / Ozolmuiža
Ozolmuiža (Ozoli) is where my childhood days were spent during summer breaks as this is where my grandparents' country house was. Although there isn't too much to see, I wanted to bring my boys here to show them where I spent my childhood when I was their age. Although a lot has changed in the last 30 years, the house and the lake is still here – in the mornings, I would run from the house to the lake every day and jump right in for a swim!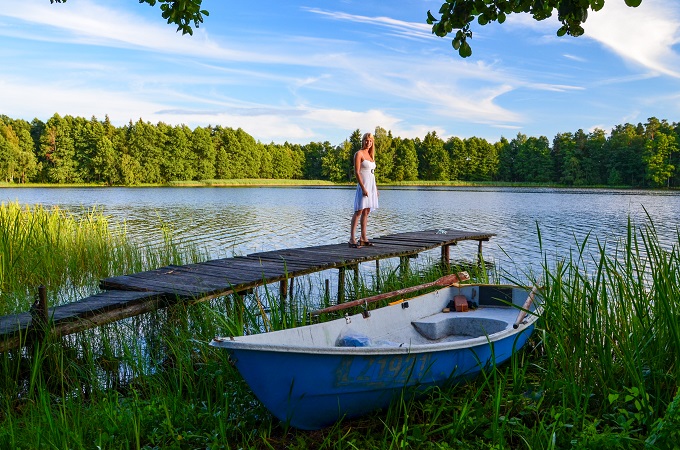 The current owners have also made a zip-line from the house to the lake, which my boys absolutely had to try out! And then they wanted to try it some more... and just one more time... and maybe JUST one more?!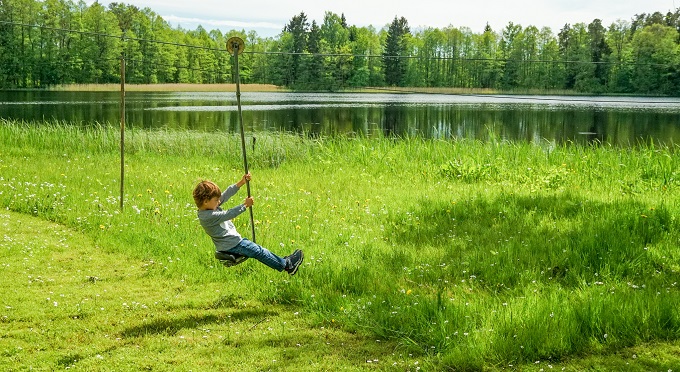 We also walked down to the Ozolmuiža manor and park and took a walk around. It was very quiet and we did not meet any other people. This used to be a bustling village with its own trade school and busy cultural life, yet people have moved away to bigger cities over the decades and the place has stayed deserted and mostly empty. It was a little sad.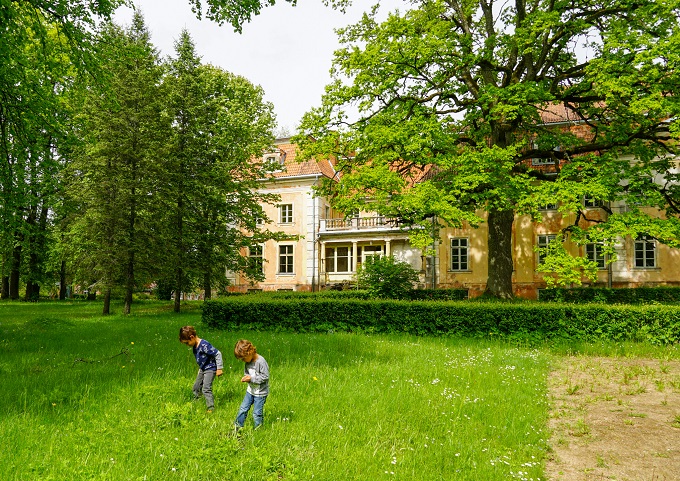 On our way back home, we stopped in Dikļi to walk around a few of their nature trails and checked out their renovated open-air theater stage.
Purezers Nature Trail
Latvian: Purezera dabas taka
Purezers in Latvian means 'marsh + lake' which precisely describes the trail we were about to set on. Purezers and its surroundings are a part of a biosphere reserve which includes large sections of bogs, mires and a lake in the middle. A 3.5km (2.2mi) long wooden boardwalk raised above the wet, mossy grounds takes hikers all the way around the lake.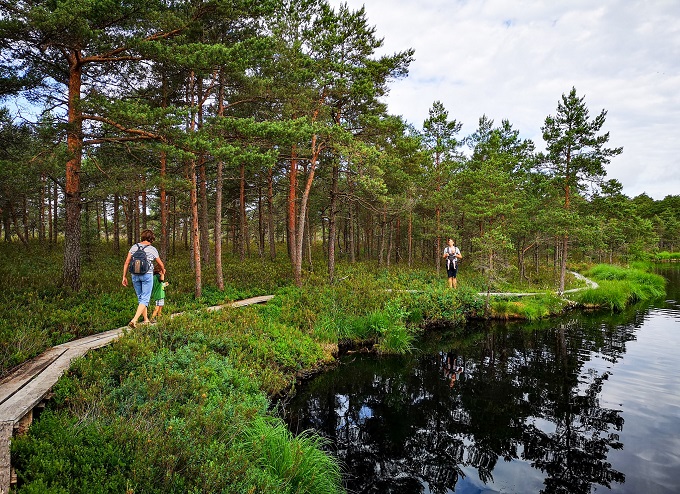 We saw many dragonflies and big, colorful caterpillars. There were some blueberry bushes and even cloudberries which have become a very rare find! I was so excited to see these berries as they are one of my favorites.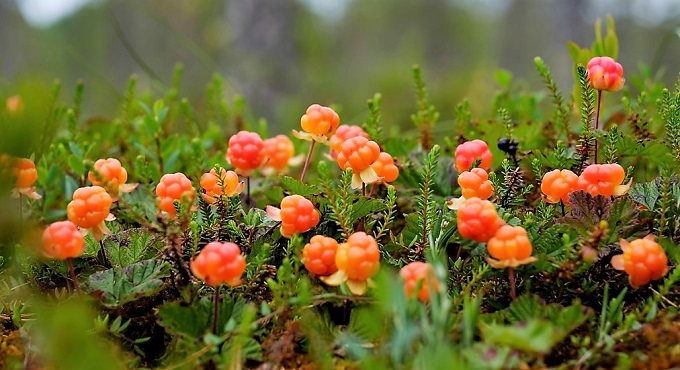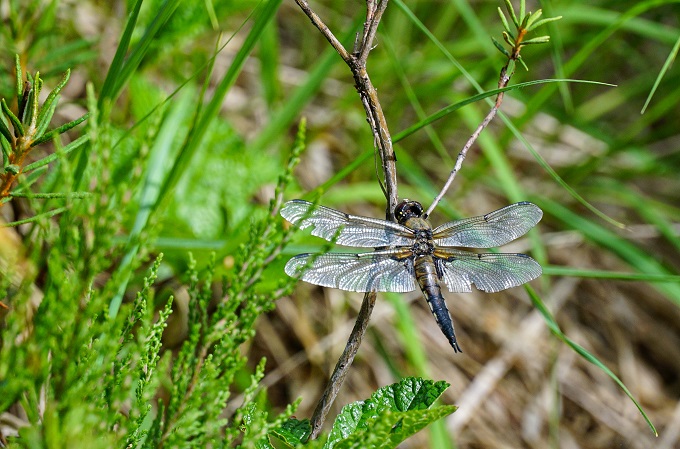 Halfway through, we stopped at one of the wooden pavilions to have a little picnic before finishing up our hike. While it took us several hours to complete the hike (the kids wanted to see and explore everything in their way), we did not meet one other person here. It was so peaceful and relaxing - just the sounds of nature... and occasional ''Mom!'' Mum!'' ''Moooom!!''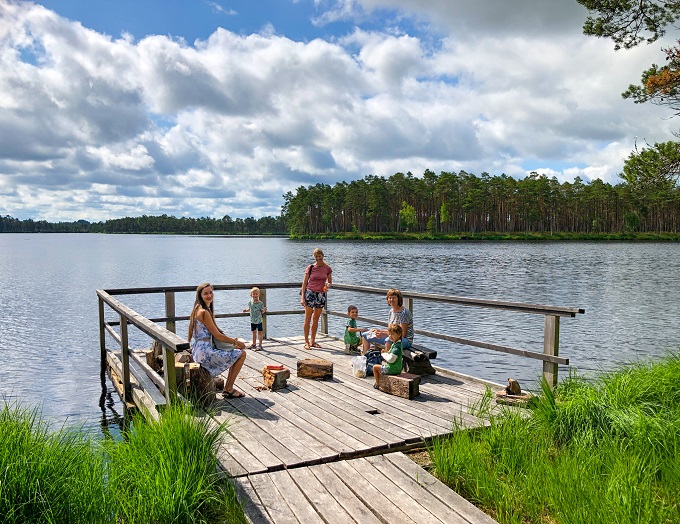 Sietiniezis Rock / Cliff
Latvian: Sietiņiezis
Sietiņiezis Rock is one of the highest white sandstone outcrops in Latvia, being 15 meters (50ft) high and around 0.5 kilometers (1640ft) long. It can be seen by walking on the wooden walkways and steps made alongside the cliff. You will find small caves and grottos, as well as gullies and pillar-like formations here.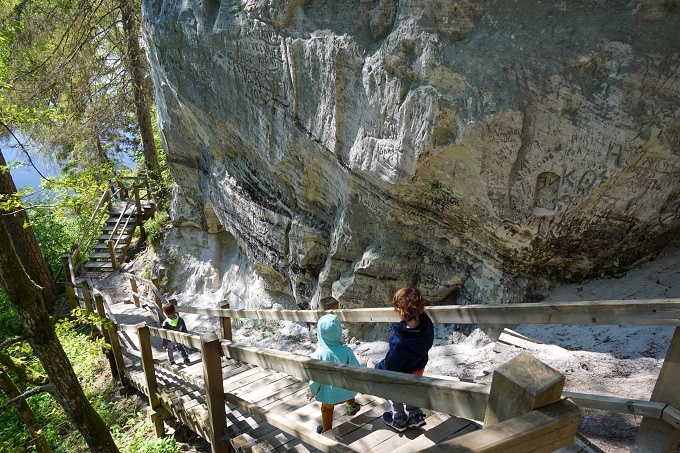 There are numerous insect aisles dotting the rock, making it look like a sieve, hence its name ('sietiņš' is the Latvian word for a 'sieve').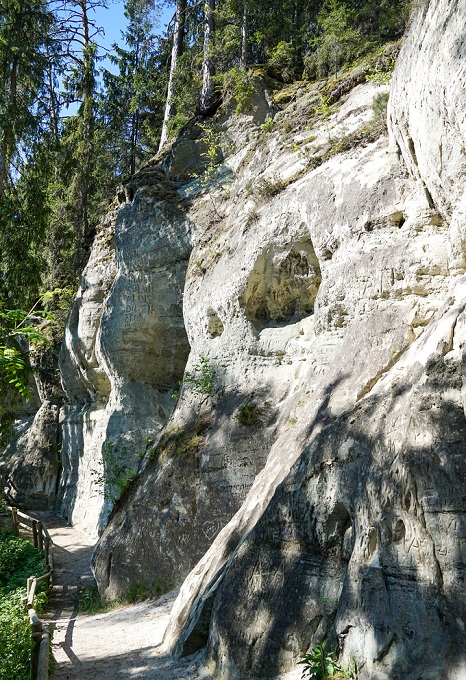 There are scenic pine forest surrounding the cliffs where we found some blueberry and cranberry bushes (which were not quite ready for picking yet though).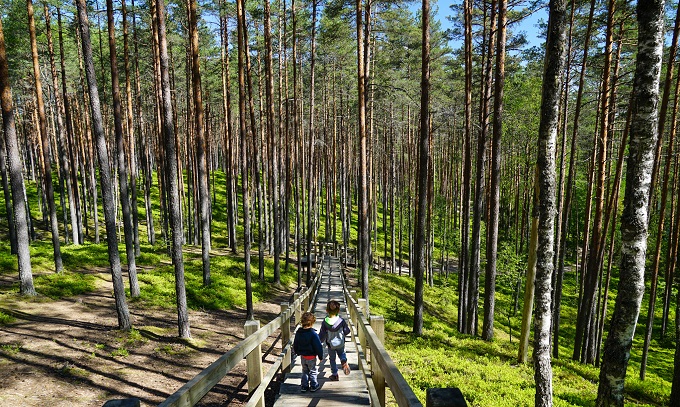 Lake Ungurs
Latvian: Ungura ezers
Out of all the places we went swimming, I liked Ungurs the best. Mostly, because the shore was shallow and gradual – perfect for the boys to play in without me having to worry about their safety. And with the bottom being soft sand, they could carelessly run and jump around. It is also very idyllic with just forests surrounding it from all sides and no urbanization in sight.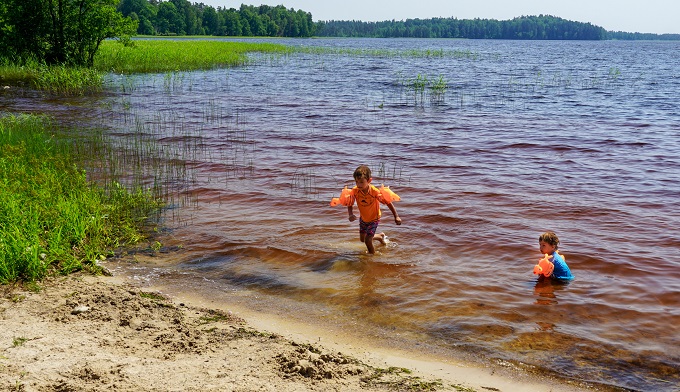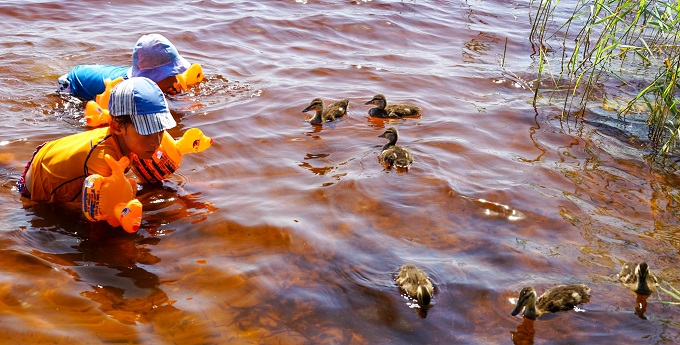 We spent several hours here, and even met a momma duck with ducklings who were so interested in my boy's swimshirts that they swam up and pecked at them. Of course, the kids loved it!
Skanaiskalns Nature Park
Latvian: Skaņaiskalns
Although you can reach most of the main attractions by driving a car along the park's main road, we chose to hike the 6-kilometer-long (3.7mi) trail. It gave us the opportunity to enjoy the nature and see all the sights along the way – the caves, riverbanks and rest areas, kids' playgrounds and sculptures, the witch's house and lookout decks etc.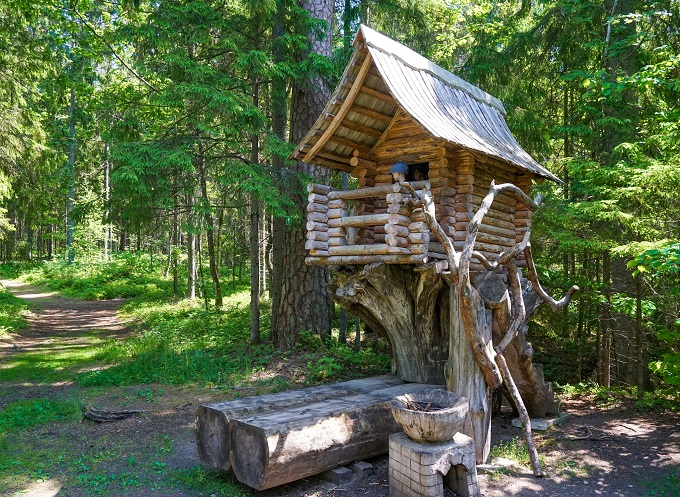 Even though the trail is quite lengthy, it keeps kids entertained as there is always something new waiting ahead behind the next turn. We even found a zipline and a slide! The trail weaves along the river Salaca and ends at the park's main attraction – the colorful sandstone cliffs.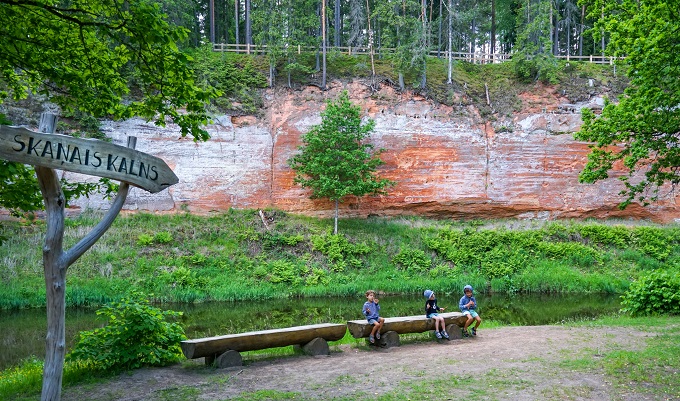 Once we reached the far end of the trail, we had a picnic lunch near the cliffs before starting our walk back to the car. Before leaving, though, the boys had to try out the echo that is extremely pronounced here – if you say something towards the cliff, it echoes right back, hence the name 'Skaņaiskalns' which translates as 'sound hill'.
Lustiņdruva
Lustiņdruva was a quick outing with my dad and boys to a wooded trail with various activities along the way for kids. I think by now you have noticed that Latvians like to use woods and nature as their playground! All these places are not just fun but also educational, with placards explaining about animal and bird life in the woods, the various trees and plants that can be found in the area, as well as many hands-on activities.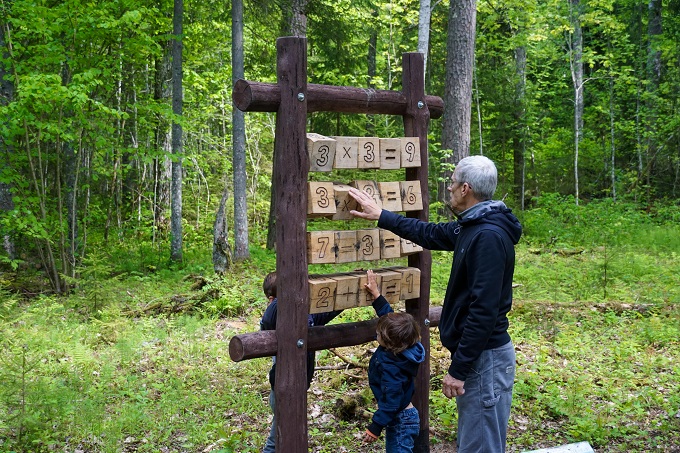 The part that I personally enjoyed the most was the huge Latvian-style wood swing we found here! Believe it or not, but back in the day I have seen some crazy teenagers do a full 360 loop in these types of swings. I have never had the guts myself, though.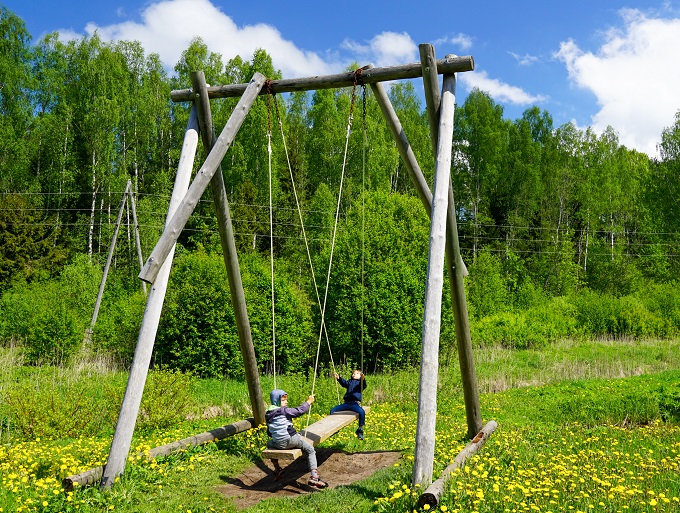 Lake Niedrajs
Latvian: Niedrāja ezers
Our initial plan for coming here was to complete the hike around the lake, which is a few kilometers long. Once we set out, we discovered how beautiful this lake was – a well-worn path led all the way around the lake through a forest full of wild strawberries and blueberries.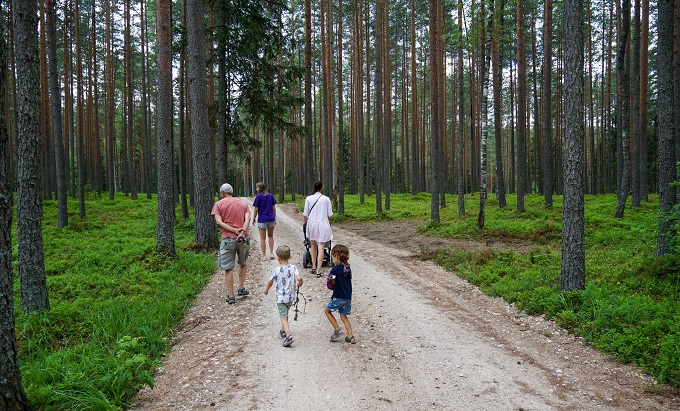 The going was sloooow because kids dashed into the woods every time they saw ripe berries ready for picking. And we didn't hold them back. When else would they get to enjoy berries straight out of the wilderness?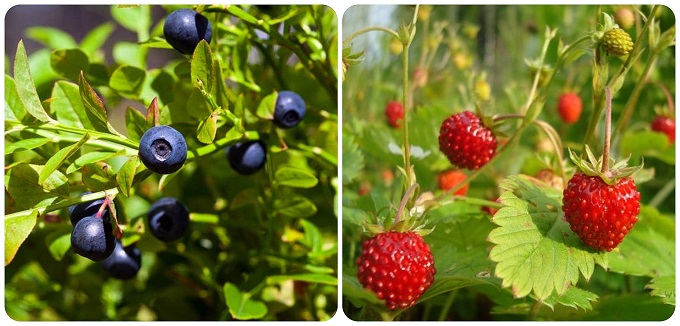 As we continued, we found many well-maintained swimming areas along the lake with changing rooms, playgrounds and picnic tables. Although swimming was not in the plans, how could we say 'no'?! Once we completed the hike around the lake, we let the boys have at it and enjoy the place to their heart's desire! The water slide took the top honors!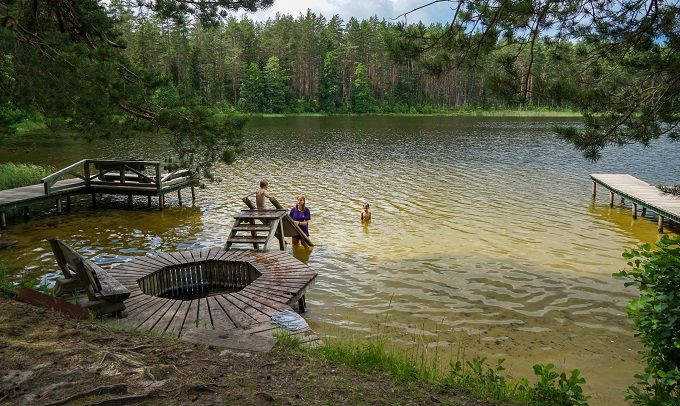 On our way back home from the lake, we happened to pass rye fields with thousands of wildflowers growing alongside them. In Latvian, these bright blue flowers are actually called rye-flowers because they only grow in or near rye fields. I had never seen so many of them together, so we had to make a stop and everyone got out of their cars to go pick some flowers. Even the boys helped!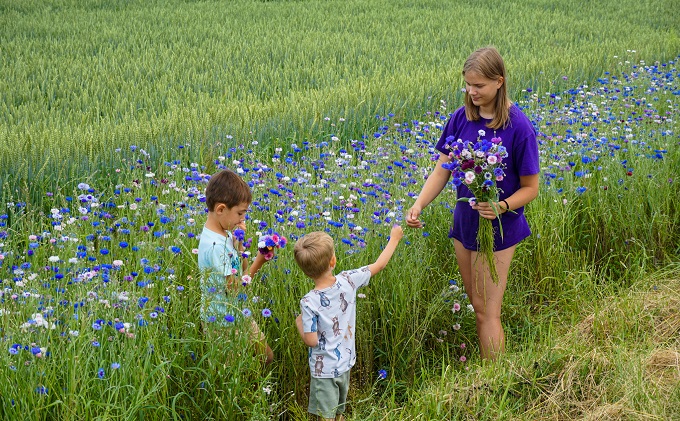 Burtnieki
Burtnieki town was another place I spent a lot of time at back in the day. This is where I learned how to ride horses as Burtnieki has one of the biggest horse stables in the country. Of course, we had to go take a look at some horses!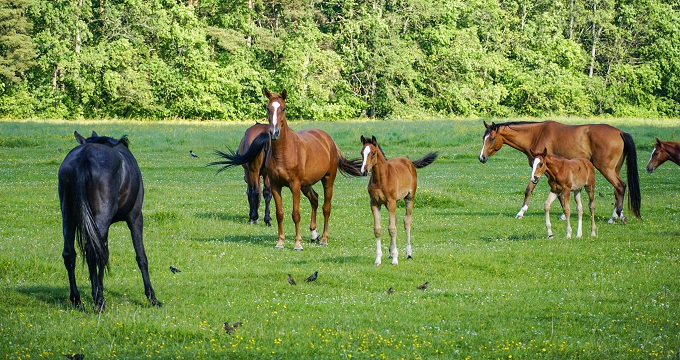 Another attraction Burtnieki is famous for is its lake which is the 4th largest in the country. Popular activities here are swimming, paddle boarding, boating, fishing, kayaking etc. We walked down to the beach and the dock and took the short drive to the lookout tower which gave a great view of the vastness of this lake.

Overall, Burtnieki is a great spot for outdoors activists as you can get horseback rides here, camp or go fishing on the lake.
Restaurant Mazais Ansis
Latvian: Restorāns Mazais Ansis
Although this is not quite a tourist site, I would still like to mention it as an awesome place to go when in or near Valmiera. Mazais Ansis is actually a restaurant; however, it has the most awesome activities of any restaurant I have ever seen. Their huge territory is full of wooden cars, swings and playhouses for children to explore. Everything can be climbed on, tried out and investigated.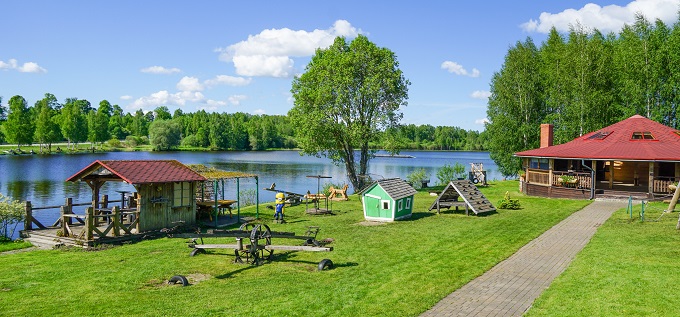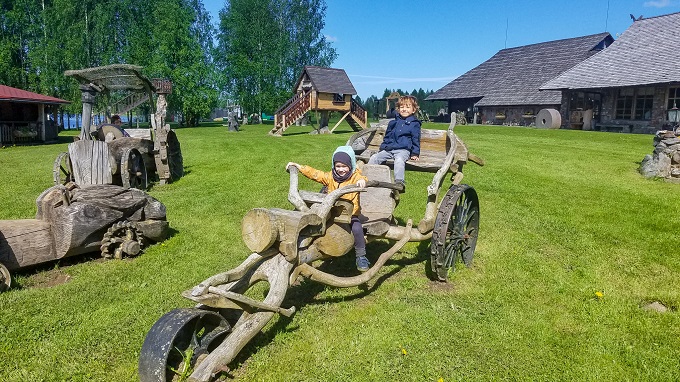 Needless to say, when we came here, kids had no interest in eating and we, the parents, could sit down and spend a peaceful couple of hours enjoying our lattes and desserts with kids preoccupied with all the amazing things to see and do. It was so relaxing not to have to deal with kids at the table that we came here to eat 3 times – all while just watching our kids play!
CĒSIS AND VICINITY
Cēsis
Cēsis is one of the oldest cities in Latvia, dating back to 1200s. Its historical center is well preserved and is a great place to walk around and look at the architecture. Many cafes and restaurants can also be found here.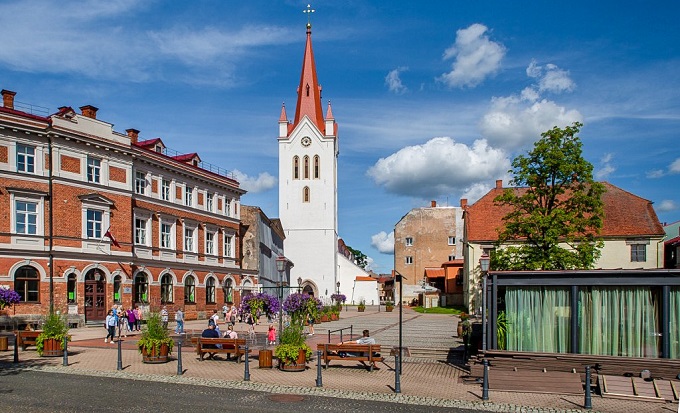 Our main focus was to go see the Cēsis Castle Ruins. The ruins and castle museum can also be visited by going inside, but as we did that during our last trip to Latvia, this time we just walked around the outside and explored the castle gardens.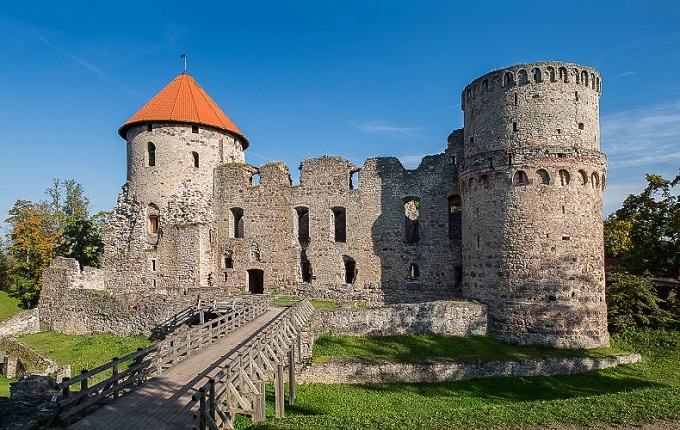 Līču-Laņģu Cliffs
Latvian: Līču-Laņģu klintis
These protected cliffs stretch the length of about 1km (0.6mi) along the banks of the River Gauja. To get to see these cliffs, we embarked on a 7km (4.4mi) long hike along a quarry, through the woods, fields and hills. The trail, however, is well marked and easily manageable even by our 3-year-old. There are about 20 streams that flow out of these cliffs towards the river and over the years they have caused various bigger and smaller caves to form. Nowadays, there are about 9 caves here some of which we found to be quite impressive!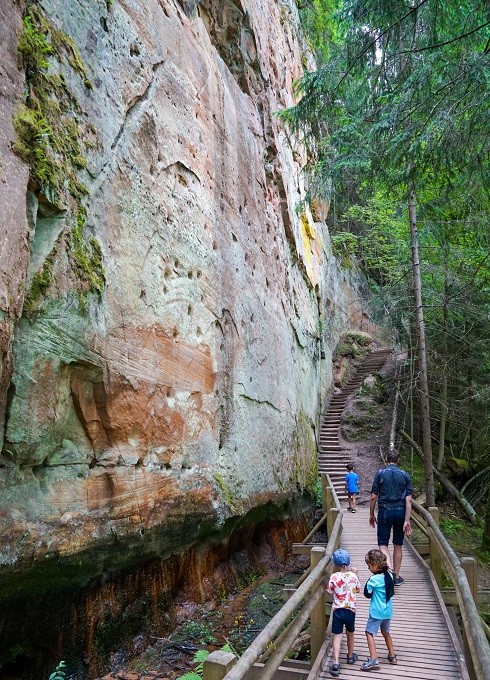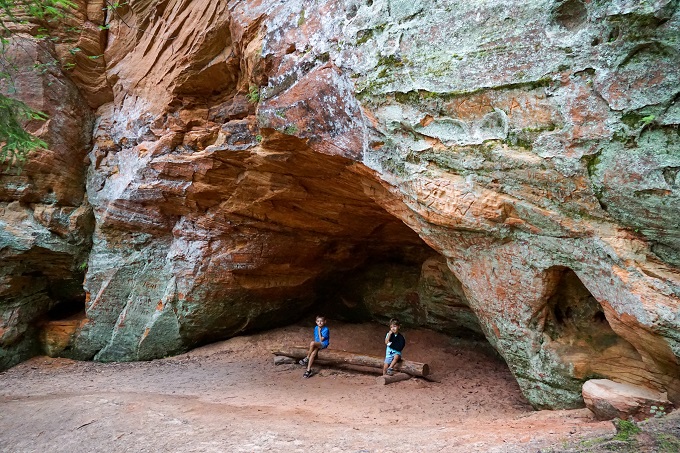 Although 7km might seem like a pretty long way to go with small kids, all the fun things to see and explore along the way (especially near the cliffs) kept them entertained and motivated. And some snacks helped too...
SIGULDA AND VICINITY
Turaida Castle Ruins
Latvian: Turaidas pilsdrupas
Of course, a trip to Sigulda would not be considered complete without paying a visit to Turaida Castle Ruins. Construction of this castle was started in 1214, and partially reconstructed it still stands today. There is a museum and an exhibit hall here portraying various artefacts and history of the place.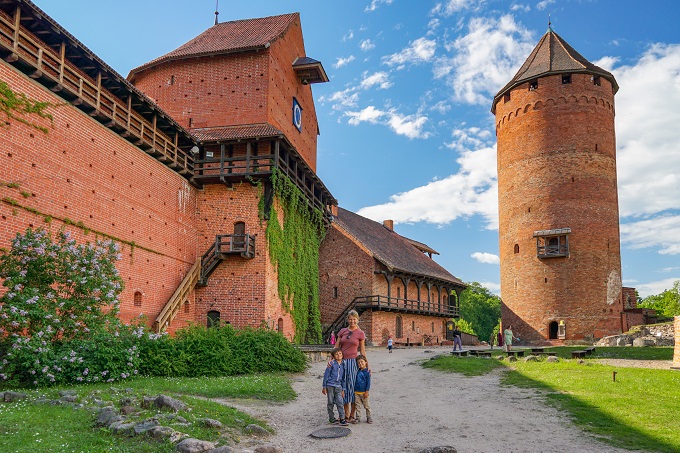 We also got up the extremely narrow medieval stairways all the way to the tower's lookout deck. You can see the River Gauja and Gauja National Park valley from here.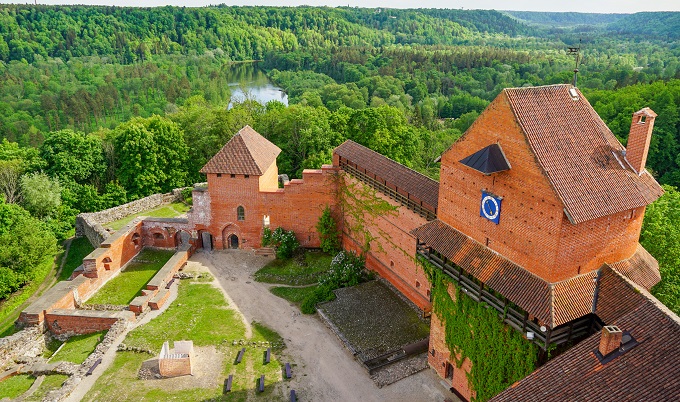 The castle grounds also include many other attractions – an old church, sculptures, various farm buildings, and walkways / trails… Although extremely tired, we did find enough energy to also check out this less visited part of the park.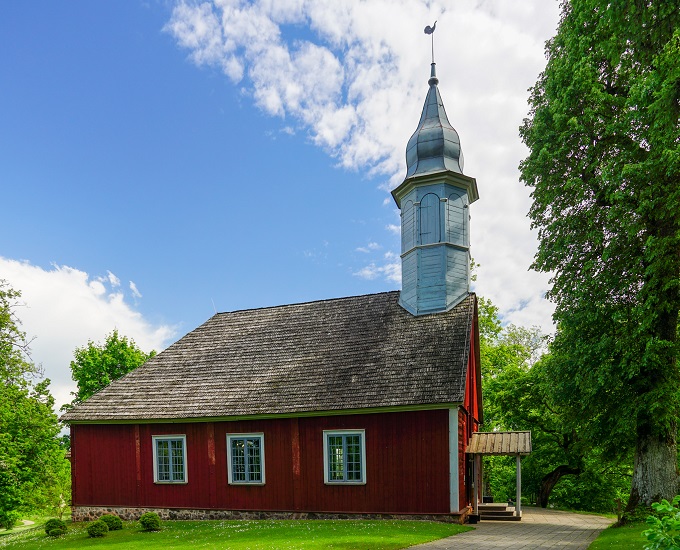 Adventure Park ''Tarzan''
Latvian: Piedzīvojumu parks ''Tarzāns''
This was one of those places where we ended up spending the whole day and then some! And no surprise, as ''Tarzāns'' is the biggest adventure park of its kind in the Baltics. It has an obstacle course for various age groups, toboggan track, trampolines, panoramic chair lifts, tube slides, catapult swing, bumper boats, jungle trek, safari jeep rides and much more! A big plus was that each attraction had its own entry fee; that way we could pick and choose which attractions our kids wanted / could do and skip the ones that they were too small for. Maybe because it was a weekday, there weren't too many people here, so our boys could ride all the attractions over and over again without standing in lines. The kids zipline was their favorite!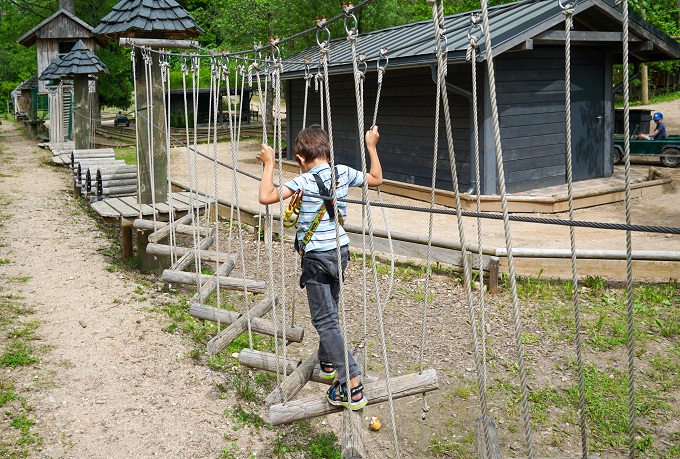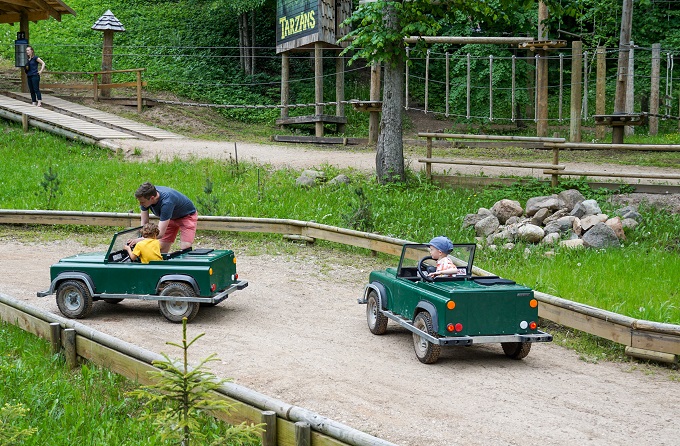 Should I even say that we could not get our boys away from here? However, it is worth mentioning that this park is not meant just for kids – there are a lot of attractions that are suitable only for adults, so even the parents can have some fun here.
Gutman's Cave
Latvian: Gūtmaņa ala
Gutman's Cave is the widest and highest cave in the Baltic countries, located near Sigulda, Latvia. It started forming more than 10 000 years ago when meltwater eroded the sandstone rock after the Ice Age. Although I have been to this cave many, many times, it is still always on my must-see list whenever we are in the area. Especially, as it is the oldest tourist attraction in Latvia and inscriptions on the cave's walls date back to the 16th century.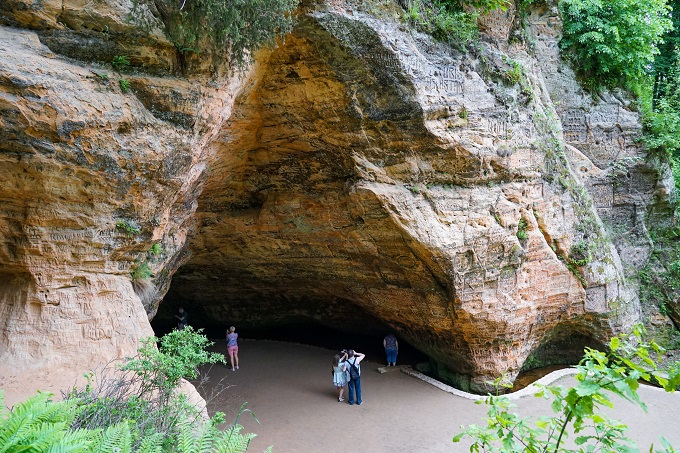 And of course, also my boys enjoyed exploring the cave and seemed to be quite impressed with it.
Sigulda hike – Ceasar's View
Latvian: Ķeizarskats
To add a little more nature, we headed out on a hike, which started near a place called 'Ķeizarskats' or Ceasar's View. It is an overlook across Gauja Valley all the way to Turaida Castle Ruins. Afterwards, we headed down the steep hill and walked along the river with a wild cow herd grazing along the woods and a fox sitting and watching them. We saw some caves near the river and walked across the swinging pedestrian bridge.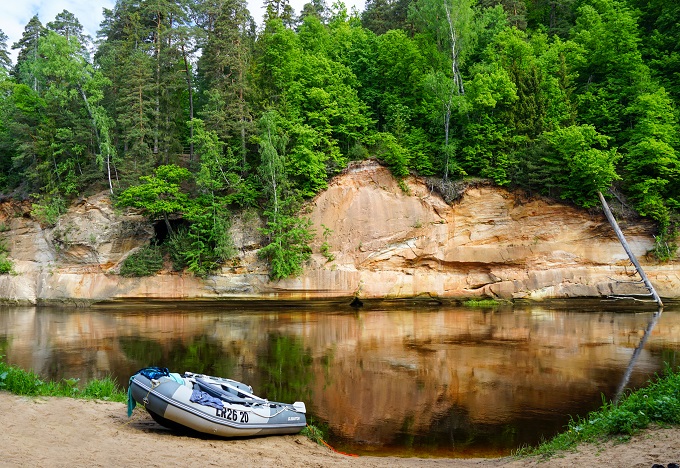 But most of all we enjoyed all the nature, the beautiful Latvian woods and fields with wildflowers of all colors!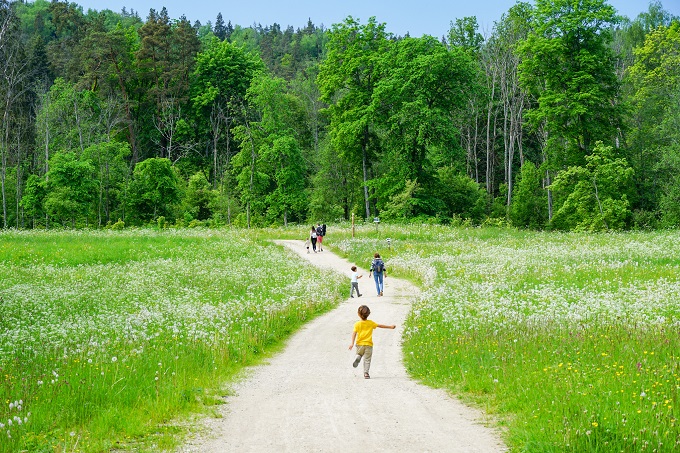 Net Park in Līgatne
Latvian: Līgatnes tīklu parks
A net park is exactly as it sounds – a labyrinth of nets strung high above the ground in a tree canopy. It is essentially an above the ground playground with tunnels, rooms with balls, swings and ropes. Although I was a little concerned about letting my 3-year-old go on it by himself, it proved to be very safe, and the kids had a ton of fun.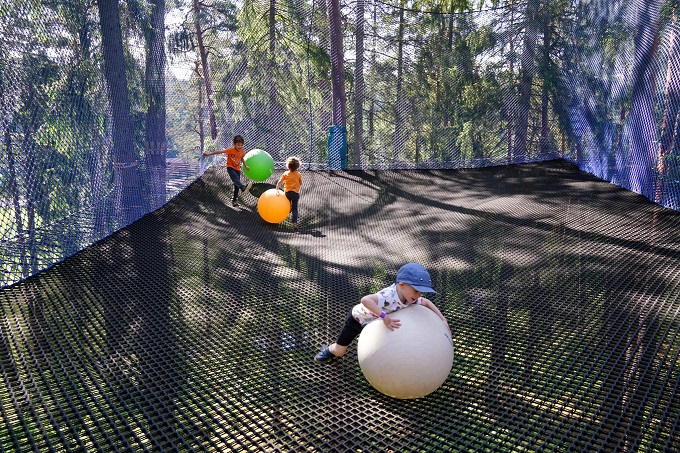 Needless to say, after our designated hour was up, the boys were quite a bit exhausted as running around these nets also require quite a bit of effort and balance. Goal acchieved!
Līgatne Nature Trails
Latvian: Līgatnes dabas takas
Līgatne Nature Trails are a well-established network of trails (about 5km (3.1mi) in length) in the traditional forest landscape of Gauja National Park where everyone can observe and get to know wild animals of Latvia in conditions almost completely identical to their natural habitat.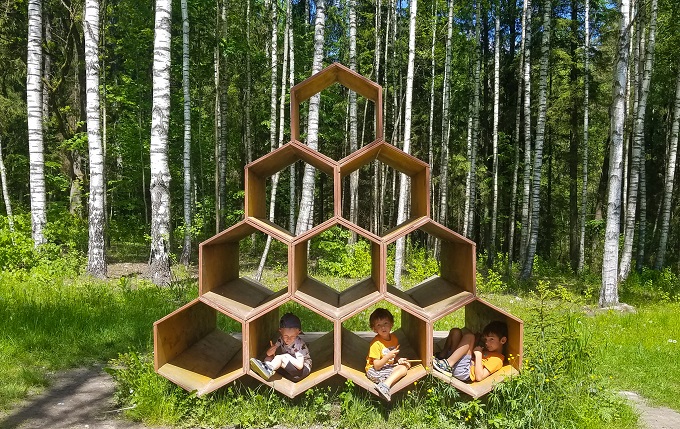 Already before setting out on this little adventure, I knew that it is not a zoo, and because animals live in huge natural enclosures, seeing them is not always a guarantee. Some of the Latvian animals you can see here: lynx, hare, fox, deer, elk, wild boar, badger, squirrels and others. We were lucky enough to spot quite a few animals, especially the Latvian brown bear!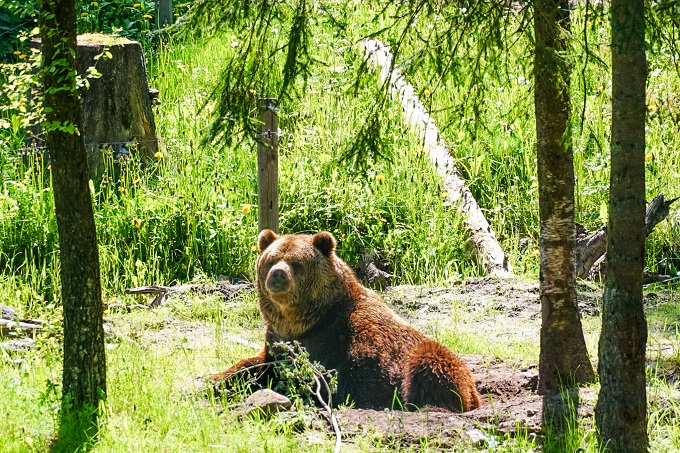 But part of the adventure is just the walk itself, as along the way there are many educational stops and placards, as well as playgrounds and even an ice cream shop!
Safari Park More
Latvian: Safari parks ''More''
This was definitely one of my top 5 attractions during our travels in Latvia. Maybe it was because I had never been here before and it was something new even for me, or maybe it was just because of all the adorable animals… The park is actually a 170-hectare (420-acre) big property full of friendly, noble deer of all sizes and colors – altogether about 500 animals.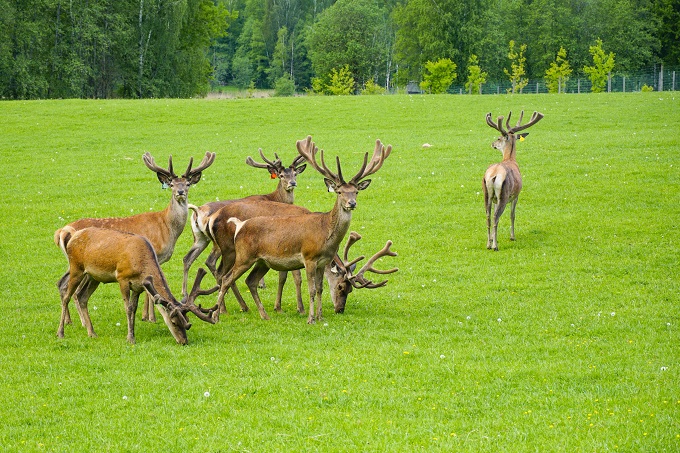 This is the oldest deer-breeding farm in Latvia, and they offer self-guided tours around the property to families or guided tours for larger groups. The part that is accessible to visitors is via a 2-kilometer-long (1.2mi) trail, and before setting out, we bought some deer feed to get the animals come closer. It seemed that the deer already knew the drill, and as they saw us approaching with the buckets, they galloped right up to the fence expecting some hand-outs (which we were not shy to offer to them). And it was not just the kids, but all the adults as well who tried hand at feeding the deer to feel their soft, velvety lips.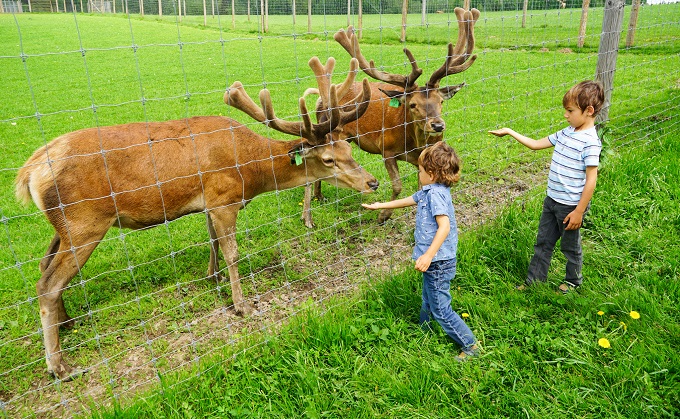 It took us a couple hours to complete the walk, and afterwards we hung around to take photos with deer antlers and have a picnic near their kids' playground. The safari park also has a guesthouse for those willing to spend a night here.
Rāmkalni Recreation Park
Latvian: Atpūtas parks Rāmkalni
Conveniently located along one of the main highways in Latvia, we made a stop here on our way back from Sigulda. Even though there are several forms of entertainment here, we were interested in their toboggan track which is nearly half a kilometer long with seven curves and a whole lot of fun! It is the longest toboggan run in the Baltics, therefore we had to try it out!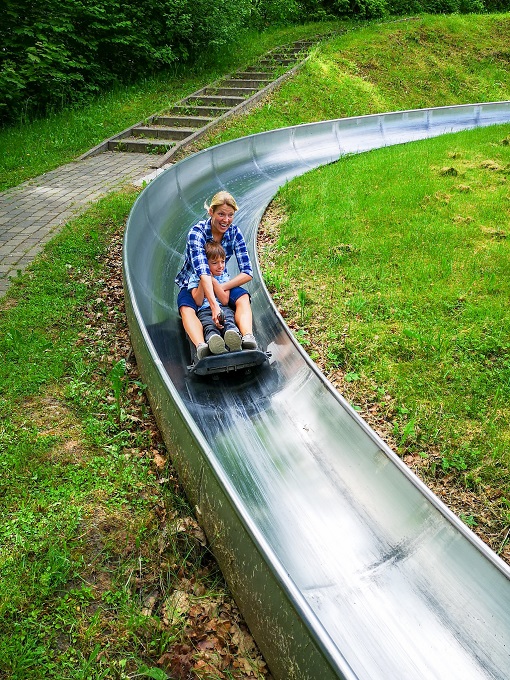 I had never gone down a toboggan run, so I was as cautious at first as my kids. But soon enough, after a couple runs, my boys just kept excitedly yelling ''Faster! Faster!'' and we obliged! A whole lot of fun, indeed!
RĪGA AND VICINITY
Rīga Old Town
Latvian: Vecrīga
Rīga is the capital of Latvia and was voted the European Capital of Culture in 2014. As it usually happens when you live somewhere, you do not always fully appreciate the place. Although I spent 4 years living in Rīga when going to university here, I always rushed through its streets to get from one place to another. It was pretty, yes, but I never fully appreciated it… until I left. Now, as I return to Latvia every few years, it is a must for me to make a trip to Rīga and just walk its cobblestone streets with gorgeous Medieval-era buildings and unique sacral structures dating back centuries.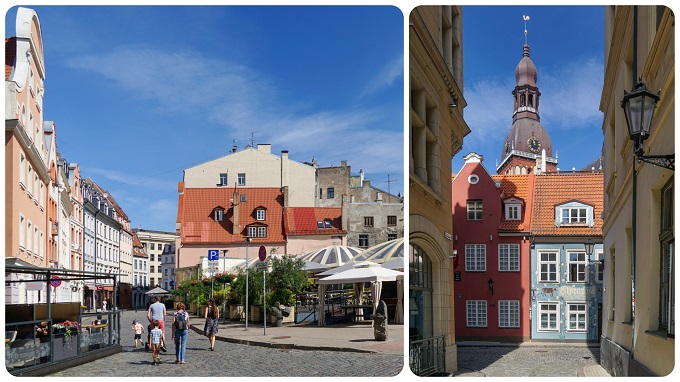 The buildings in Old Town are varied and constructed during different periods of history. Old Town features over 500 buildings built in various architectural styles – Romanticism, Gothic, Mannerism, Baroque, Eclectic, Modernism, etc. – showing that it was a mighty port and an important merchant city for many hundreds of years.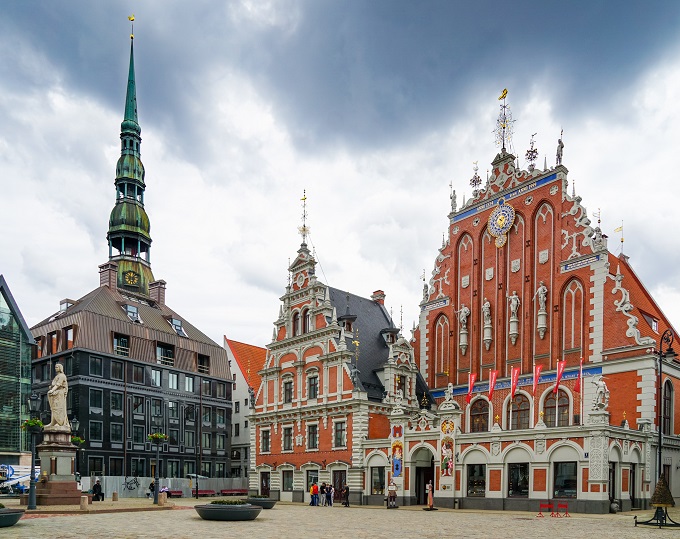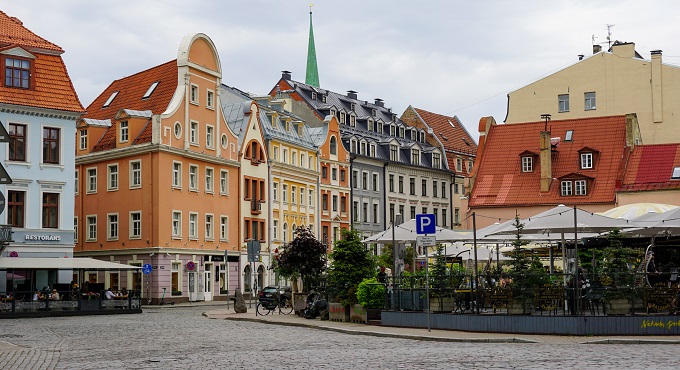 Although my kids did not have much interest in history or architectural styles, they enjoyed all the medieval touches left here – a cannon with balls, tall church spires, uneven cobblestone streets, big sidewalk chains with engraved dragon heads, and even an antique car show we stumbled upon completely by accident.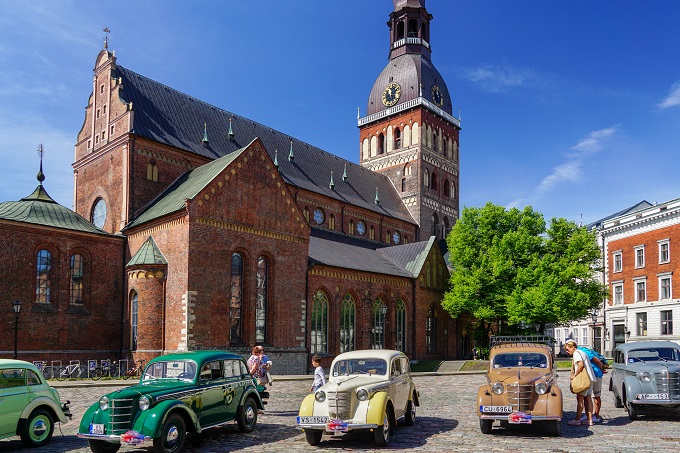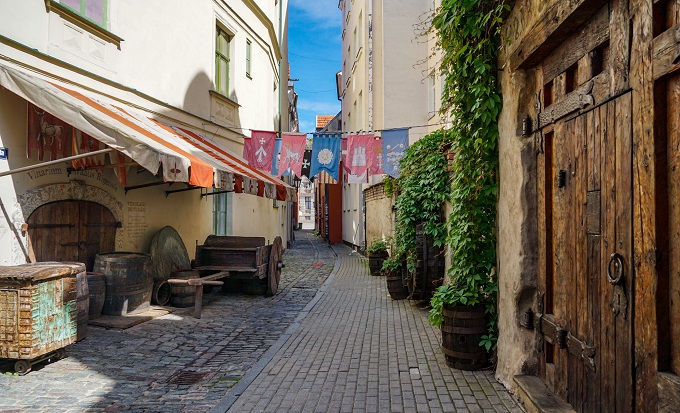 To make things even more fun, we decided to take a little boat tour through Rīga canals and on River Daugava to take in the sights and panorama of Rīga from a different vantage point.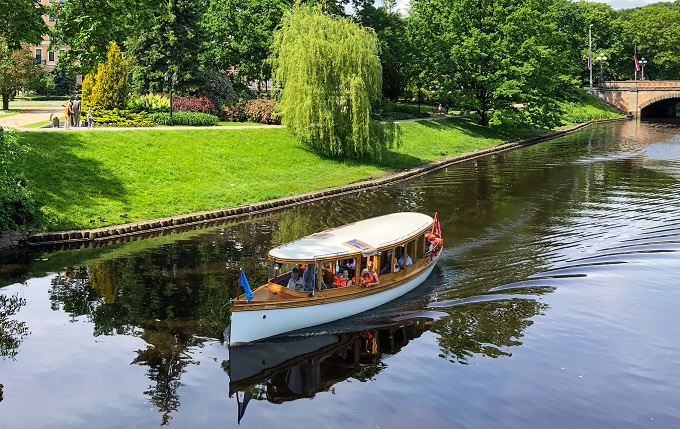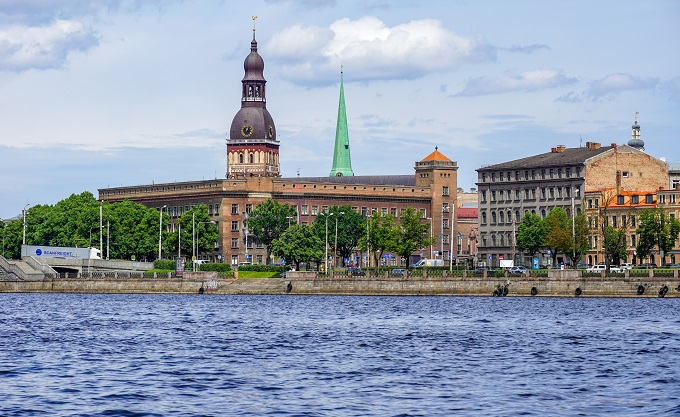 Rīga Zoo
Latvian: Rīgas zooloģiskais dārzs
Back in my childhood, Rīga Zoo had become like a tradition for us - our family together with all our cousins would visit the zoo over a summer break. It was like a big summer reunion for the kids. We did it year after year until we finally outgrew it, yet the memories of these summer trips have stayed with me to this day. It has been decades since I last visited Rīga Zoo, but I definitely wanted to take my boys here. They love animals, so I can never go wrong with a zoo.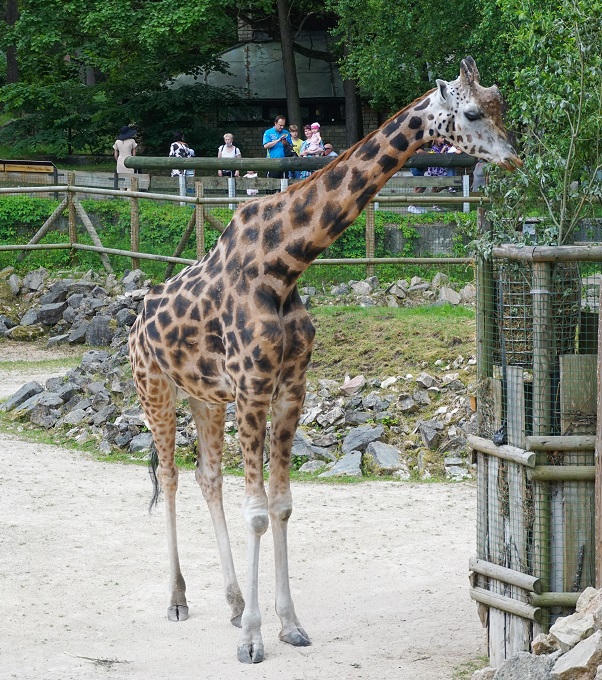 A lot has changed over the years, so much so that I almost did not recognize the place. The enclosures have gotten much bigger and more modern with plenty of entertainment options for the animals. Modern playgrounds for the kids and many interactive exhibits.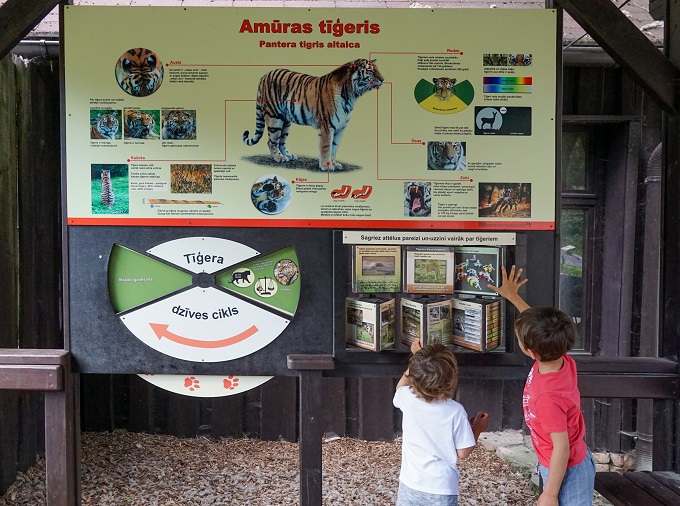 And although my heart often aches for wild animals in contained enclosures, it was great to see all the positive changes.
Kemeri National Park
Latvian: Ķemeru Nacionālais Parks
Ķemeri is the third largest national park in Latvia. The territory of the park is mostly occupied by forests and mires / bogs, the most significant of them being The Great Ķemeri Bog which is also the part of the park that we visited. We chose to walk the longer 3.4-kilometre-long (2mi) boardwalk through the bog which leads to an observation platform.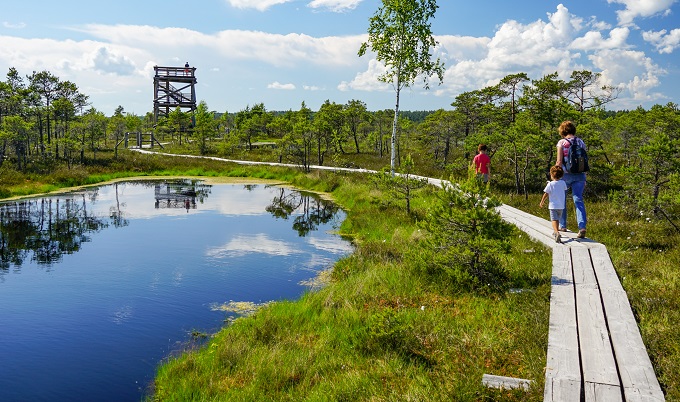 The most popular times for photographers to visit the park are at sunset and sunrise (for the stunning colors and scenery); however, with many small kids in tow our only option was a day-time visit. Even then, the views were gorgeous with all the little lakes and lagoons scattered around and its peculiar wetland fauna. The lookout platform gave a great perception of just how vast this park is.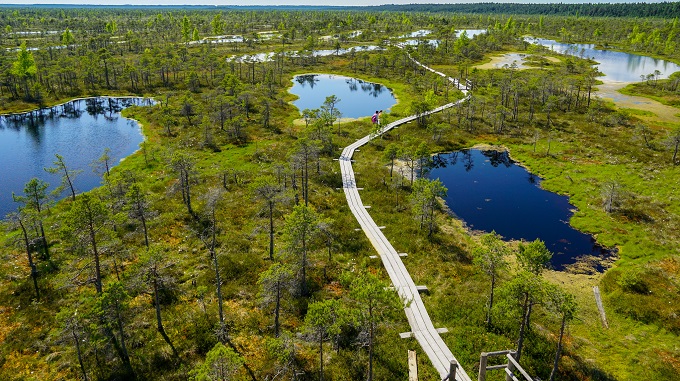 We even found several sundews – the only bug eating / carnivorous plant in Latvia. It attracts bugs and flies and then when they get stuck, absorb them using glands covering their leaf surfaces. Of course, the boys had to stick their fingers to this plant to see if it would eat them… Oh man, boys will be boys!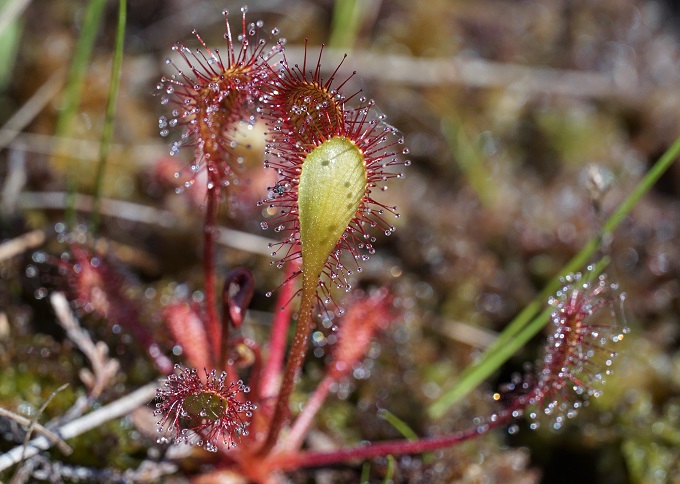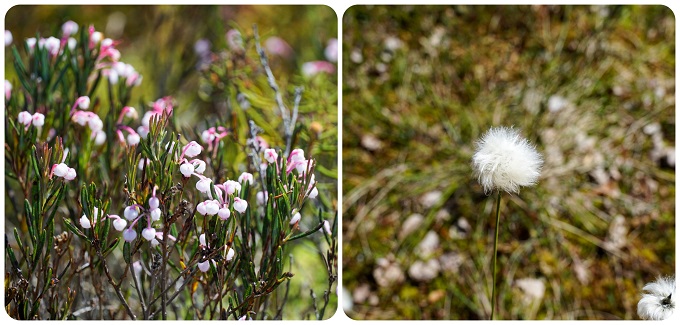 This park also protects the famous natural mineral-springs, sulfur-springs and muds, used for centuries because of their therapeutic nature. As I had never been to this place myself, I was quite mesmerized by everything around – almost as much as my kids!
ALŪKSNE AND VICINITY
Alūksne
During one of the days, we decided to take a day trip to Alūksne. My mom had visited there recently and said the city had made a lot of improvements with many pretty public spaces and walking trails along its lake shores. We are all about the outdoors so off we went!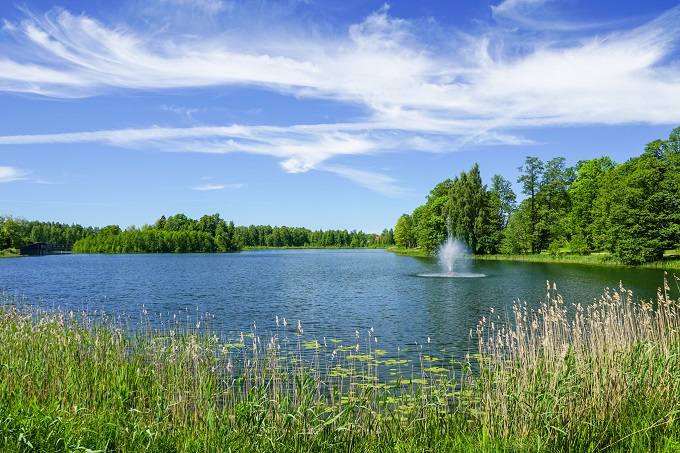 After arriving in Alūksne, we parked by the shores of the lake and took the pedestrian bridge to Marijas Island. There are no cars allowed on this island, but it has a lot of entertainment for visitors – a beach with water activities, boat rentals, kids playground, an open-air theater, café, and a sports complex and even a castle complex with ruins.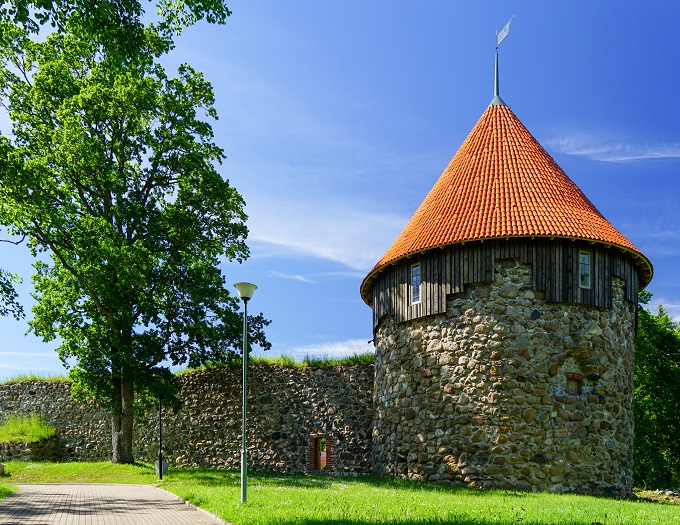 Unfortunately, although the boys really wanted to jump in for a swim, we had not brought any swim clothes, so instead we let them play at the playground and promised some ice creams for later to ease their pain.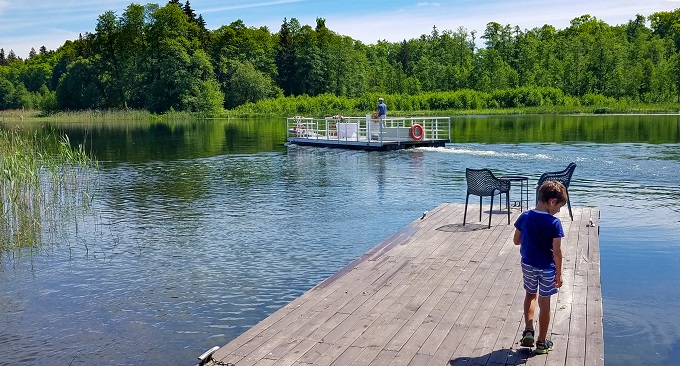 After that, we crossed the island on the other side and went for a walk to the Temple Hill and along the lake. We also made our way to a lookout tower, but unfortunately it was closed. Boat tours are also offered here which seemed like a whole lot of fun, but due to time constraints we decided not to do it. It will be on our list next time we travel to Latvia!
Korneti
Korneti is actually the name of the village, yet all the attractions are in this area – a watchtower that we climbed to the top of; many trails of various lengths; vast fields with blue lakes; and Drusku pilskalns (Drusku Castle hill).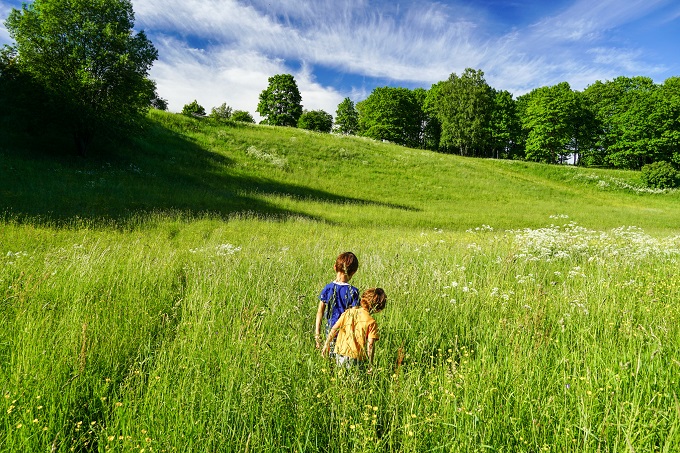 Nothing is left of the castle here anymore, yet the hill still stands, so we hiked to the top of it and spent quite some time admiring the panoramic views all the way to the neighboring Estonia. Boys noticed some freshly mowed hay / grass and decided that it would be awesome to start a hay fight… somehow also grandma got drawn into it and it was grandma against the boys. Boys won!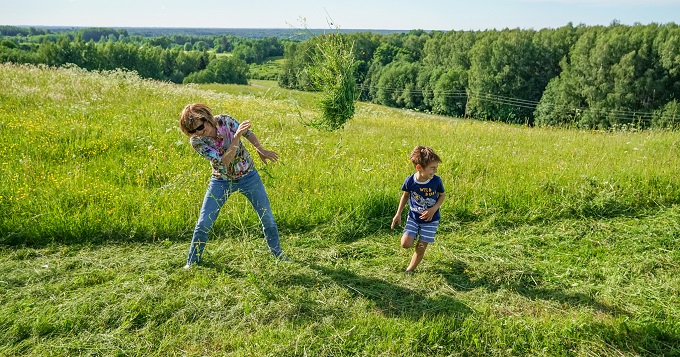 It was so much fun for them, which only proves that no expensive toys or fancy IPads are necessary to keep a child entertained – just a field and some cut grass will occupy them for hours! And Latvia has so much to offer in that regard as green fields, dense woods and blue lakes are abound!
OGRE AND VICINITY
Amusement Theme Park ABpark (Emergency Brigade)
Latvian: Avārijas Brigādes parks (ABparks)
We didn't tell our kids that we are going to an amusement park until we were on the road. And I am glad we didn't because the ''are we there yet(s)'' just didn't stop the whole way. They were so excited to spend a day at an amusement park! The Park is actually named after the Latvian animated film series for kids ''Emergency Brigade'' and you can meet all the cartoon characters here as well.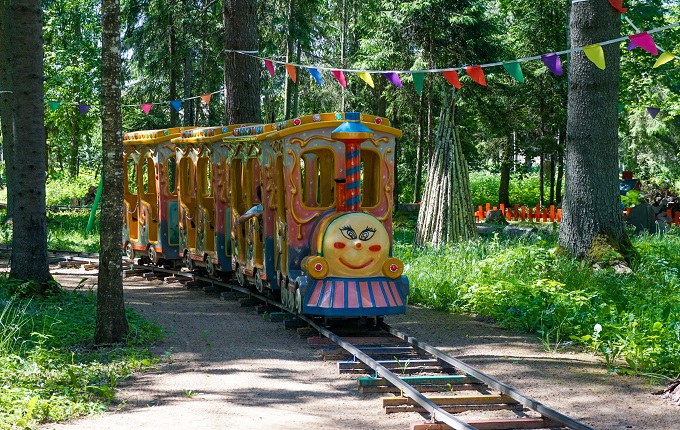 The park is definitely aimed at younger-aged customers and it does not have any American-type upside down rollercoasters for adrenaline seekers. Yet it has tons to offer to children which was what we were looking for. Just some of the attractions here included an autodrom with electric bumper cars, tube slide, twister carousel, laser tag, rope course, train ride, go karts, minigolf, jumping trampolines and so much more!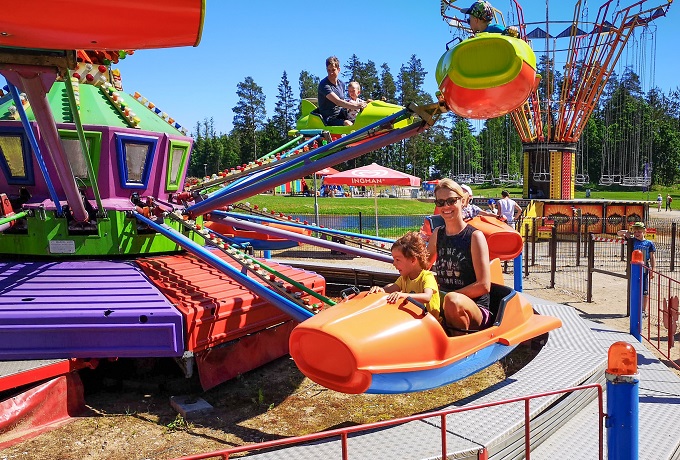 To let the kids calm down a little bit after all the crazy (for them) rides, we set out on the park's 1km (0.6mi) long dinosaur trail. These dinosaurs looked as real as they get and were moving and roaring! It took a few minutes for the boys to get comfortable around them but once they did, they were so amazed by what they saw! They discussed each dinosaur's teeth, and spikes and size… and as a result, now my eldest is all into dinosaurs.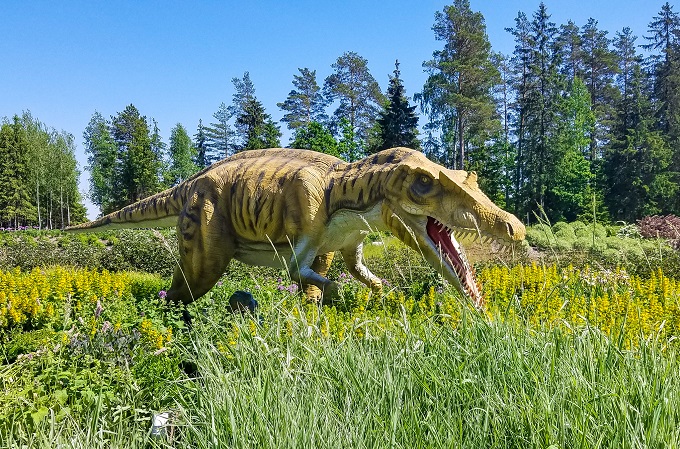 To end the day, we headed to the park's water playground to cool off. There were water cannons and water slides, water fountains and waterfalls. I almost wished I was able to join in the fun myself!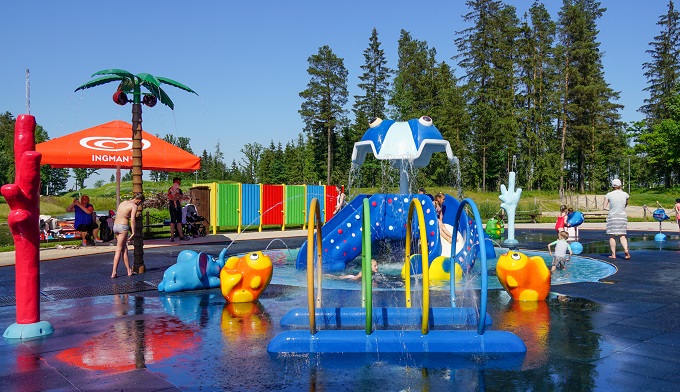 We spent a full day at the park, from its opening to closing, and the kids were still ready to stay longer, no matter how exhausted they actually were. That means they truly had an awesome day!
Campsite cabins Sniedzes
Latvian: Kempings 'Sniedzes'
As we had spent all day at the amusement park and planned to spend the next day in this area as well, we had booked a log cabin for our accommodations, so we do not have to make the 2+hr drive home and then back the next day. The campground included tent sites as well as log cottages. We stayed at one of these cottages and the boys were very excited about the bunk beds they got to sleep in. All of them chose top bunks, of course!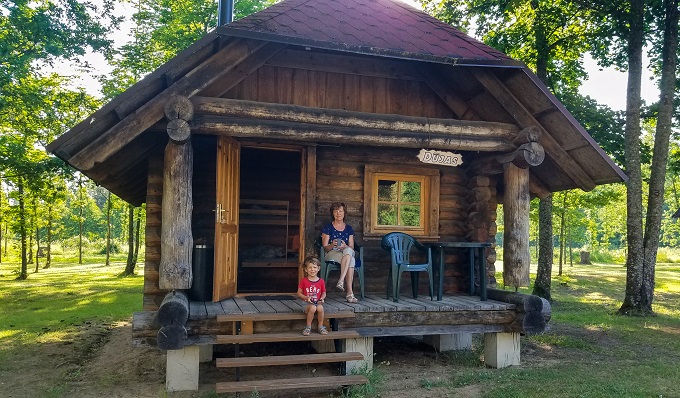 The area was very scenic – surrounded by woods and right on the shores of Daugava River. We got to witness a stunning sunset over the river and through the woods.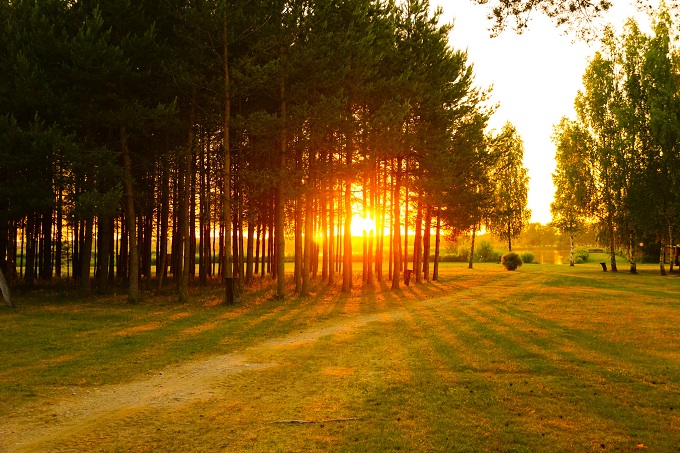 And the next morning we were up early enough to see the dawn, accompanied by chirping birds and buzzing bees…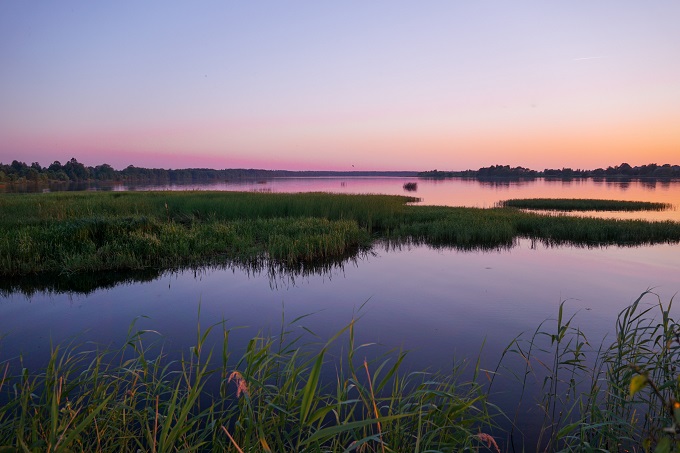 Ogre Blue Hills Nature Park
Latvian: Ogres Zilie kalni
This area is an EU protected habitat – a coniferous forest growing on the esker ridge of the Ogre Blue Hills – covers most of the nature park's territory and is home to several protected plant, bird and insect species. In the summer, there are walking trails, educational trails and cycling trails in the park. In winter, if there is enough snow, cross-country ski tracks are maintained in the park. Or you can go downhill or dog sledding.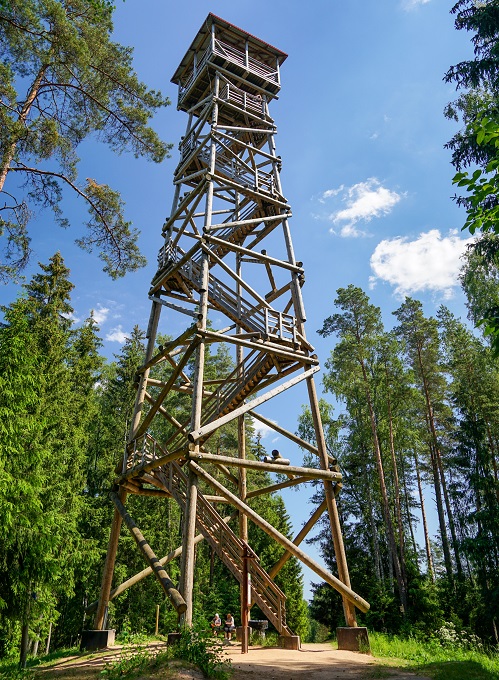 A splendid view opens from the 30-meter-high (100ft) observation tower on the highest of the hills. I must admit that I was too chicken to get to the top of this tower. I am afraid of heights and only got 1/3 of the way up before my legs started shaking. My kids, on the other hand, walked all the way to the top (accompanied by my brother) and had no care in the world! Those boys scare me sometimes!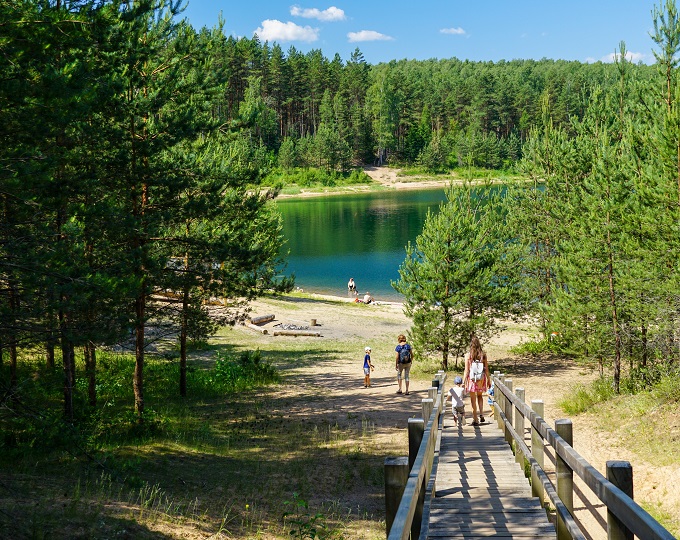 As we continued forward on our chosen trail, we got to the Dubkalni Reservoir. The water here is clear and transparent which makes it attractive to divers. Besides, there are several swimming beaches around the shores of this reservoir. It looked so inviting! Unfortunately, no swim outfits for us yet again, so we could only let the kids wade in the water. Needles to say, they still got partially wet… Good thing the day was so hot they dried off very quickly!
Animal Park Zoo Rezidence
Latvian: Zoodārzs un atpūtas komplekss 'Zoo Redidence'
The last attraction in Ogre area was a little family farm zoo, where kids got to pet and feed various animals again – sheep, goats, horses, alpacas, lamas, deer and even a camel! The property also had a big bird exhibit as well as smaller animals like adorable squirrels and bunnies.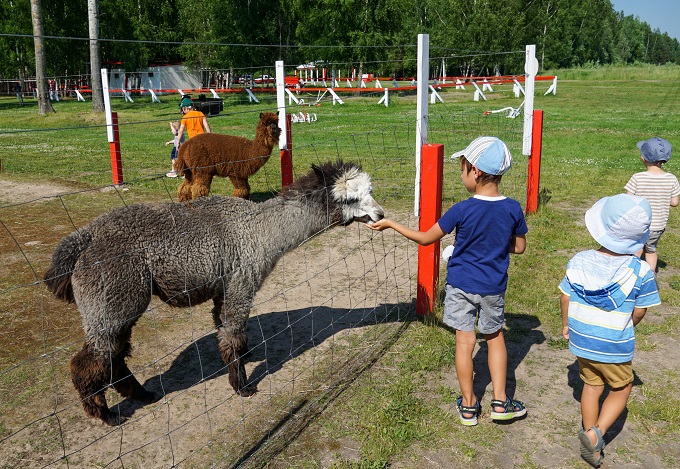 And this fancy peacock showed off all his beauty to us!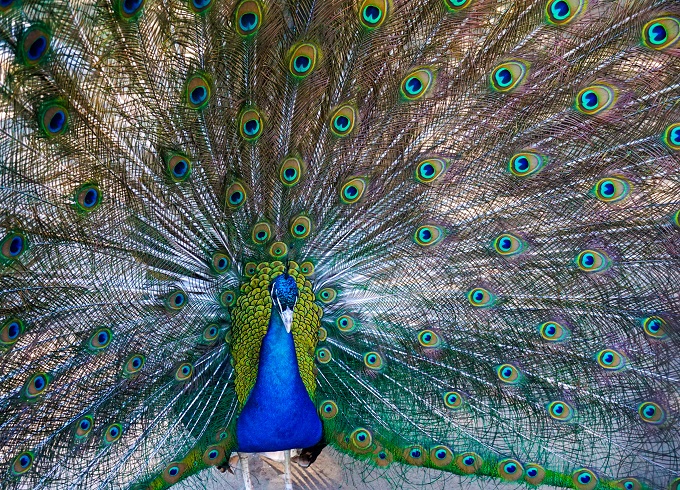 The boys were also extremely excited about all the old vehicles on display here – some of which were allowed to be climbed on and ''driven''.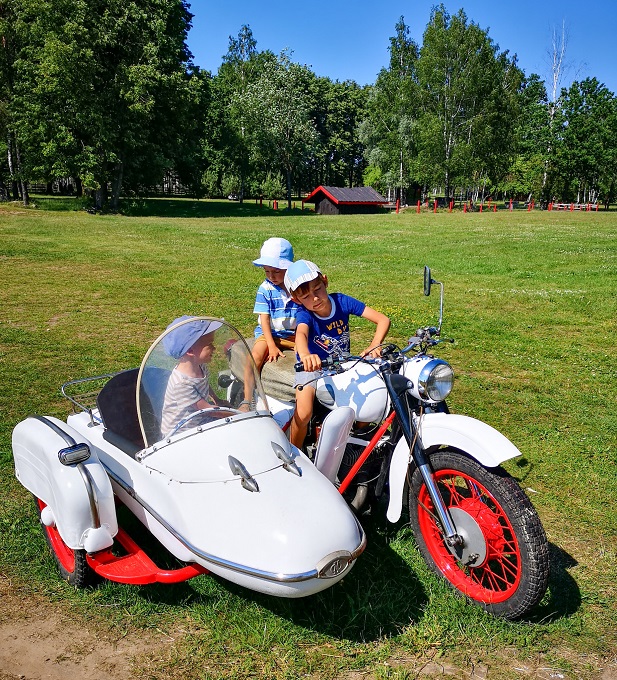 FAMILY TIME
And although we did a lot of sightseeing and traveling during these 6 weeks, we also managed to have a lot of good ole fashioned family time. Countless hours were spent at grandma's garden waiting for strawberries to ripen or helping grandma with weeding and flower-planting. We also played cricket, volleyball, football and everything in between (sometimes with no rules whatsoever), and the boys made sure they bugged everyone around them to join in the fun!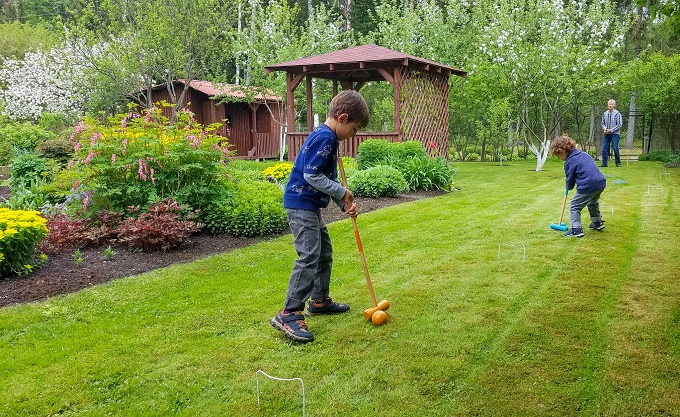 We also barbequed, drove a tractor around the farm, went on boat rides and played with kittens. We celebrated Midsummer's (or Summer Solstice) with all of our relatives - danced and ate till late night around a bonfire. This beautiful shot below is what a Midsummer's Night looks like in Latvia (photo credit of this amazing shot goes to our boys' Godmother).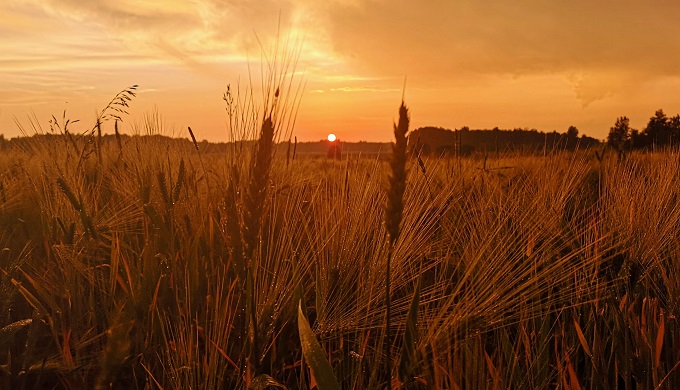 And my hope is that the boys will treasure all these memories and hopefully soon enough we will be able to meet everyone again. Until then, we have thousands of photos and videos to remember this amazing summer by!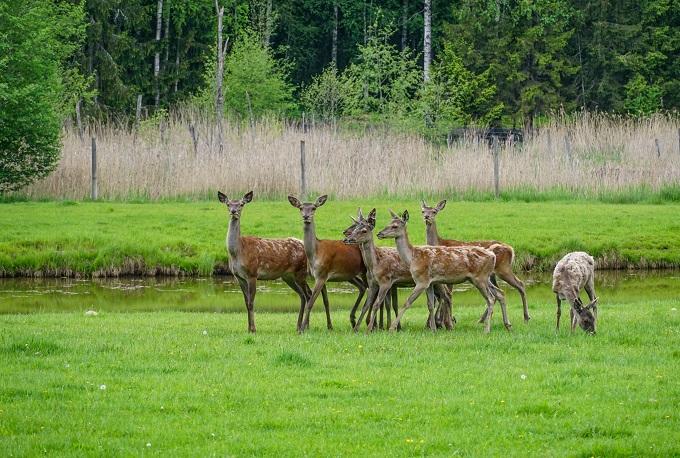 And despite all the many places we got to see, this was just an exceedingly small part of everything that Latvia has to offer. There are hundreds of experiences and sights still left for us to visit and explore, so plenty of adventures left for our next trip to Latvia!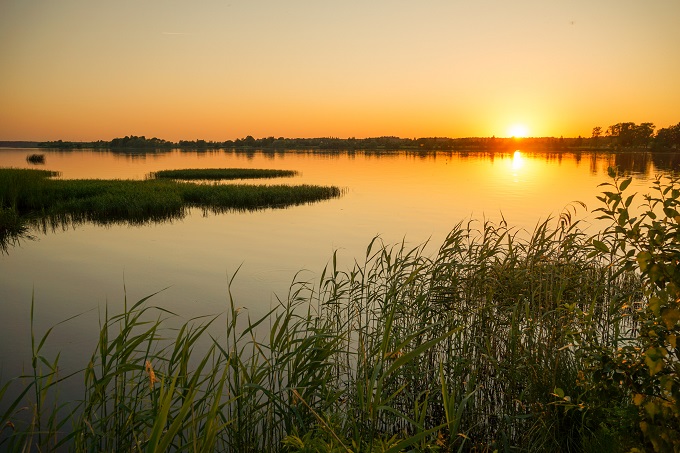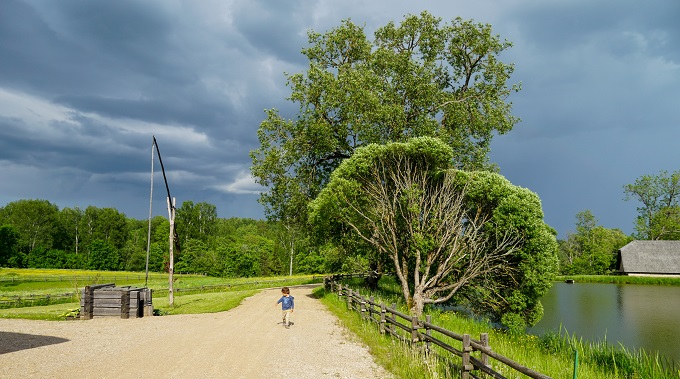 More photos of our trip can be seen in the following galleries:
More travel stories about our previous visits to Latvia can be read here:
And about another Baltic state, Estonia, you can read here:
Tallinn and Tartu in Estonia? Why not?!