CAMPING TRIP IN SEARCH OF HAWAII - ONSLOW BEACH, NORTH CAROLINA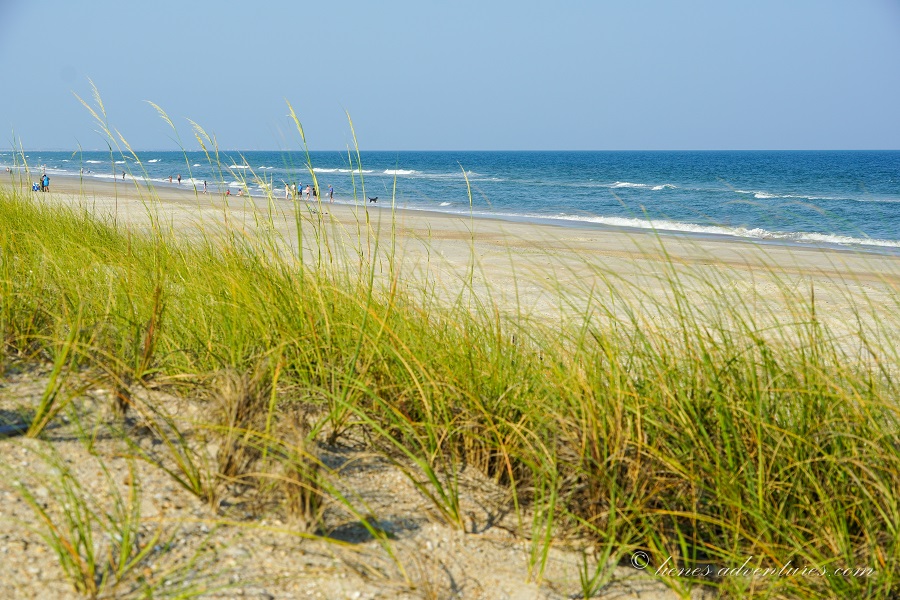 This was the day I had been looking forward to for so long! As magical and amazing as Hawaii was during the 3 years that we lived there, I missed road trips! True, wide-open-road all-American road trips! And before we had moved to Hawaii, I had also discovered exactly how I liked to road-trip – in an RV! Such a cliché American thing to do, isn't it?! Oh well… One of the very first purchases after our move to Virginia was an RV. It had been a few busy months since then but on a hot, humid July weekend we were finally ready to test out our new ride and go on a little adventure.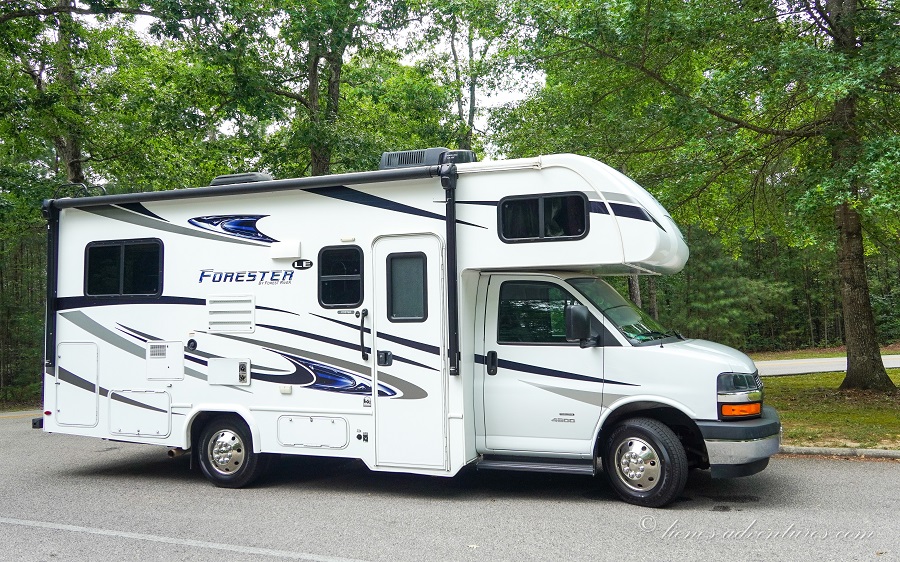 The destination came about in a very unusual fashion. My husband and his colleagues were chatting about our 3 years living in Hawaii and they mentioned how there are no beaches like Hawaii here in the continental US. Maybe the closest thing to the color of the water would be around Emerald Isle in North Carolina… That piqued my curiosity right away. Can we get Hawaii here on the East Coast?! I had to go and check it out for myself! And Emerald Isle was just the perfect distance away – far enough to be a road trip but not too far where it seemed too daunting of a task for our inaugural trip.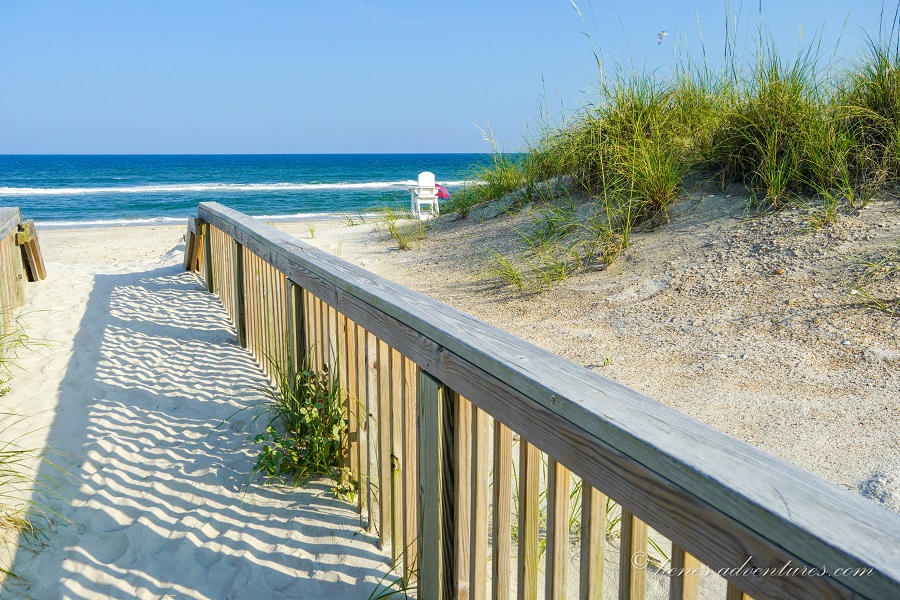 Once I started looking around for RV campgrounds, I stumbled upon a military Onslow Beach RV Park at Camp Lejeune. Not quite the Emerald Isle, but close enough to check all the boxes, and the price could not be beat! When public beach campgrounds in the area charged over $100 / night, we got 3 nights reserved for just $37 per night. Done and done! The destination was set, the campground was booked, the RV was loaded up and we were ready to hit the road – all 350 miles (560km) of it!
DAY 1
Most of the time, US East Coast drives aren't overly exciting – flat and wooded with long, boring interstates. The kids and I played a few rounds of I Spy and Road Trip Scavenger games; dug into our snack stash; and did some coloring…
To break up the long drive, about 1/3 of the way in we decided to do a little side trip to Pocahontas State Park which is one of the largest Virginia state parks. First, we made a stop at their visitor center which also had some really amazing exhibits and hands-on activity rooms for kids. They even had a whole nature center with live animal enclosures – turtles, tortoises, snakes, a beehive, and other critters. It was a hit with the kids, for sure!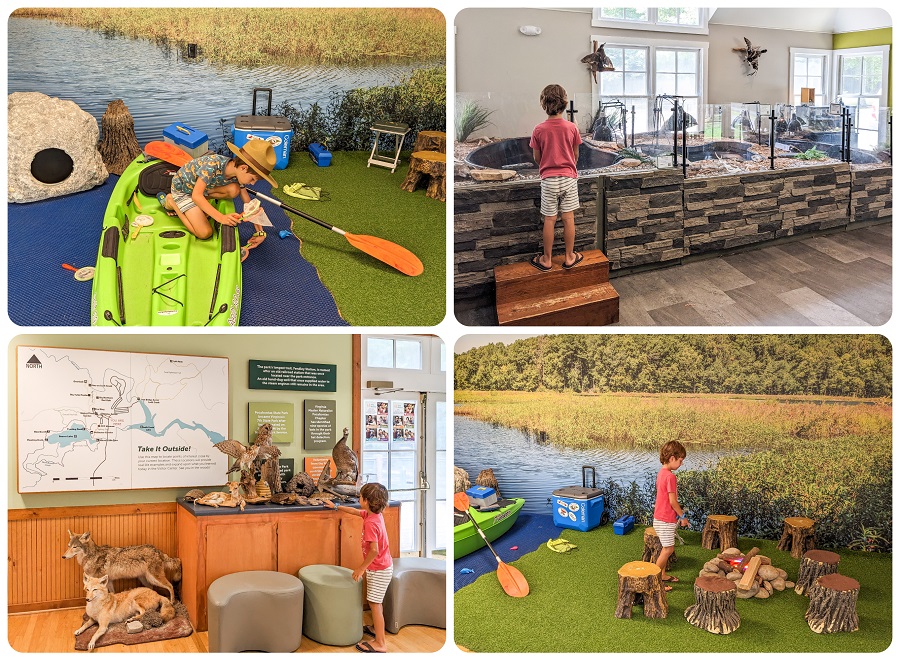 We also found out that the park participates in Virginia Junior Ranger program. So, the boys picked up their junior booklets and we spent about an hour here completing all the tasks and activities to earn Pocahontas Junior Ranger badges (and patches).
I guess one of the benefits of RVing is that your kitchen always goes with you… After several hours on the road and over an hour spent at the park visitor center, we were all hungry. Luckily, our home on wheels had all the necessities to complete this mission and we had a tasty lunch right there at the visitor center parking lot.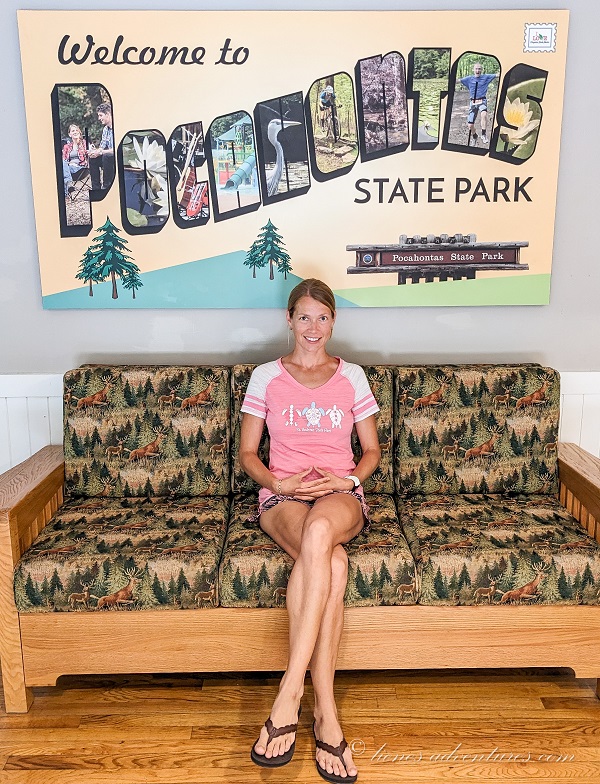 We were finally ready to hit the main attraction of the park – the aquatic complex! Pocahontas State Park is so big it even has its own aquapark complete with slides, several swimming pools, a splash pad, sprinklers and all the other fun stuff. Although it charges a minimal entrance fee ($8), it was definitely worth it, especially for the kids! Even I went down some slides a few times!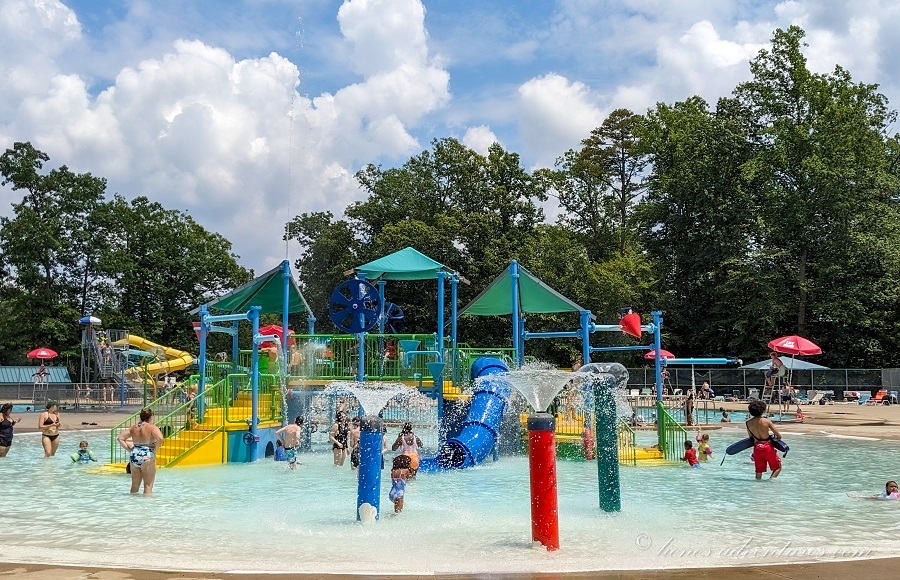 I don't think we would have been able to get our boys to leave the water but, luckily for us, the lifeguards blew their whistle – a thunderstorm was passing by dangerously close and everyone had to exit the water for the next 30+ minutes. This was the perfect opportunity to make our way back to the RV, change into some dry clothes and continue on with our drive.
The remaining few hours on the road were as uneventful as the drive before – flat fields gave way to some woods with lots and lots of corn fields scattered about…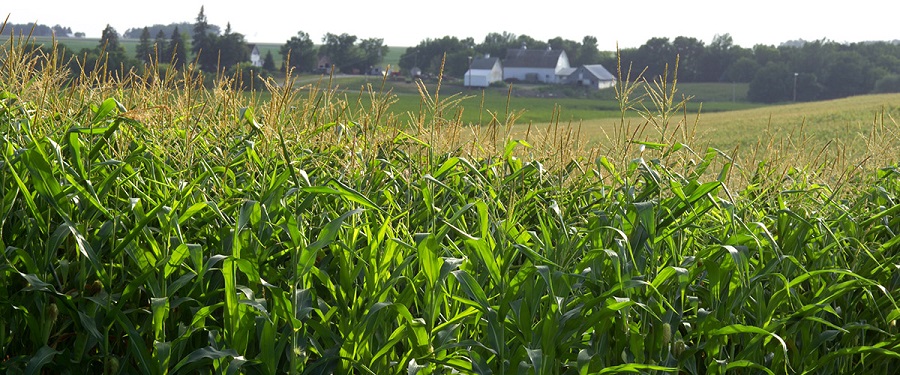 It was getting rather late when we finally reached Camp Lejeune and made our way to the campground. The office was already closed so we checked in with the night host who pointed us to our site.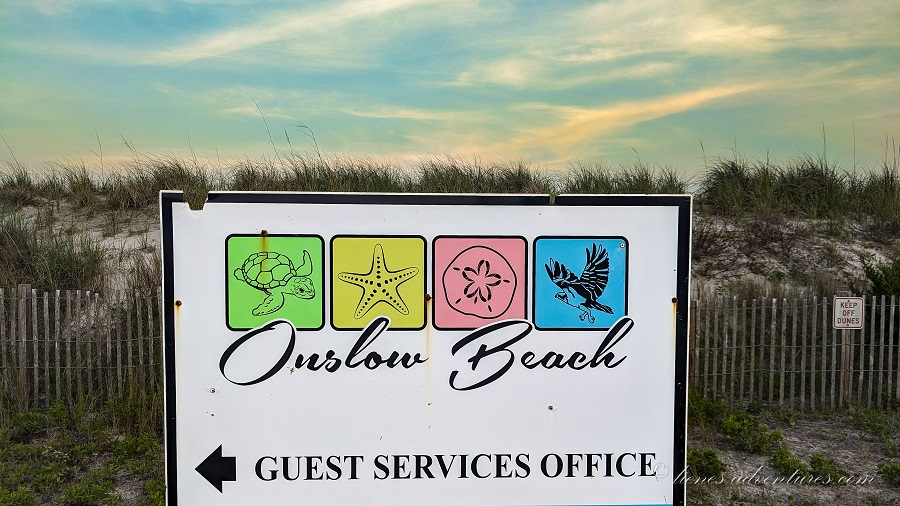 There wasn't much we could see anymore except for the amazingly colorful sunset right as we pulled in and settled down for the night. Exploring will have to wait until tomorrow.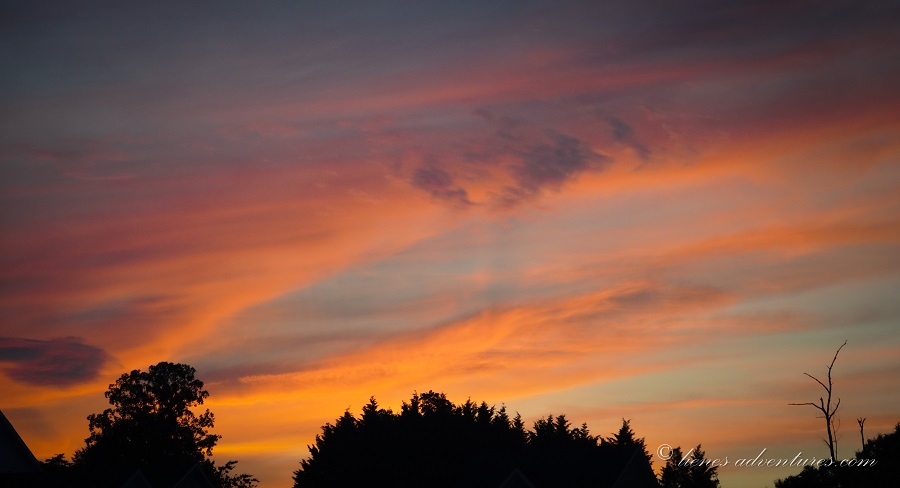 DAY 2
Of course, once the morning came the boys were awake before us, jumping up and down on our bed requesting breakfast and entertainment. We got a really nice campsite right by the canal, and how do you not love a green view like this outside your bedroom window?!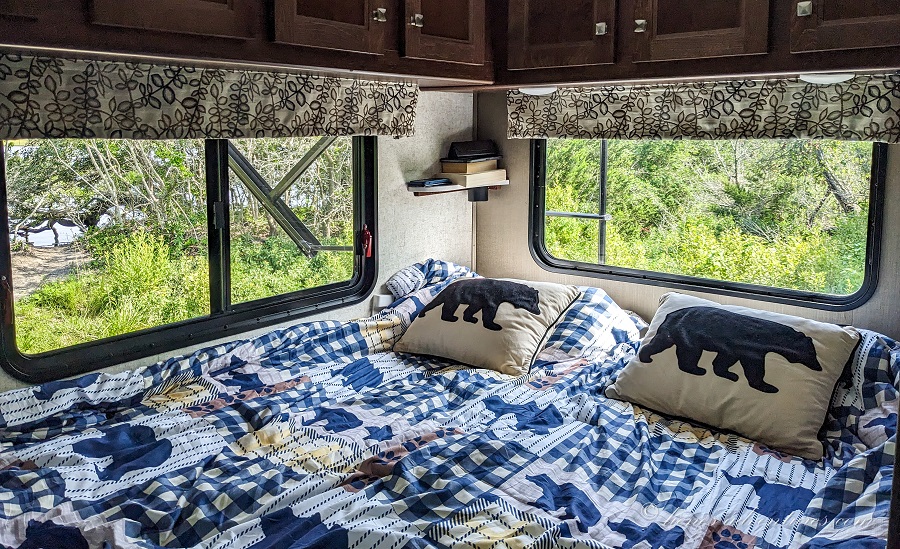 While my husband was working his magic on breakfast, I decided to go out with the boys and explore our surroundings.
Seeing an alligator warning sign reminded me of the camp host's advice last night not to let kids run along or swim in the canal. Although alligator sightings along the shore here aren't too common, they do happen. Needless to say, we spent the next 4 days looking for alligators (not out of fear, but in hopes of seeing one) but had no luck this time around.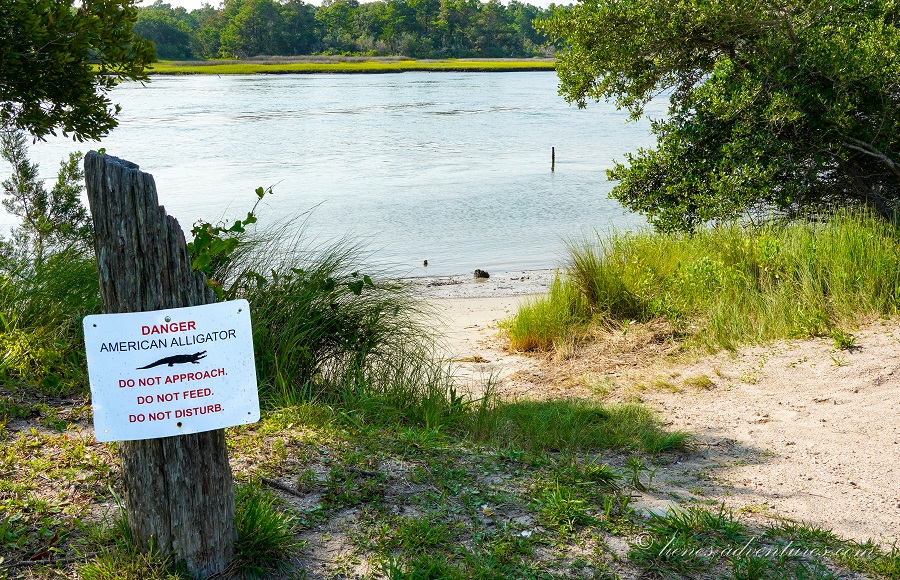 Low tide here also uncovered a muddy shore with hundreds of crabs and thousands of oysters scattered all over! Some of the crabs even made their way to our camping spot and hung out underneath our picnic table. The boys tried to ''rescue'' them and bring them back to the water.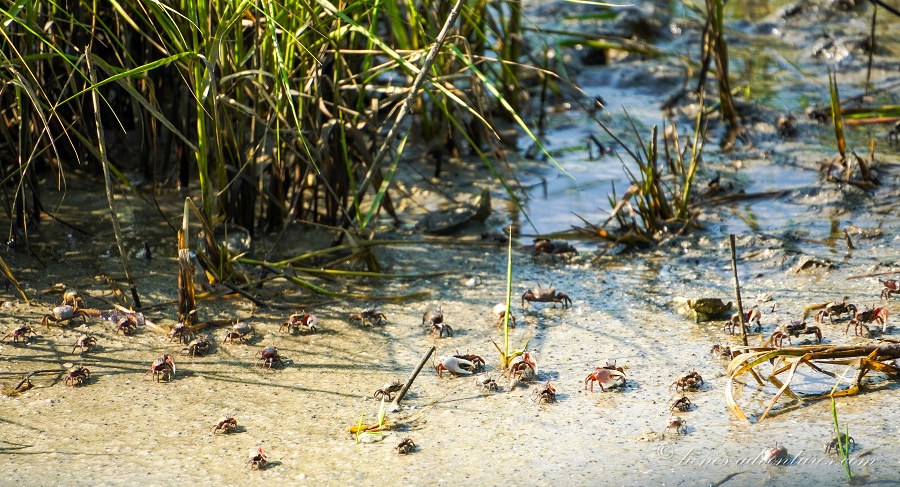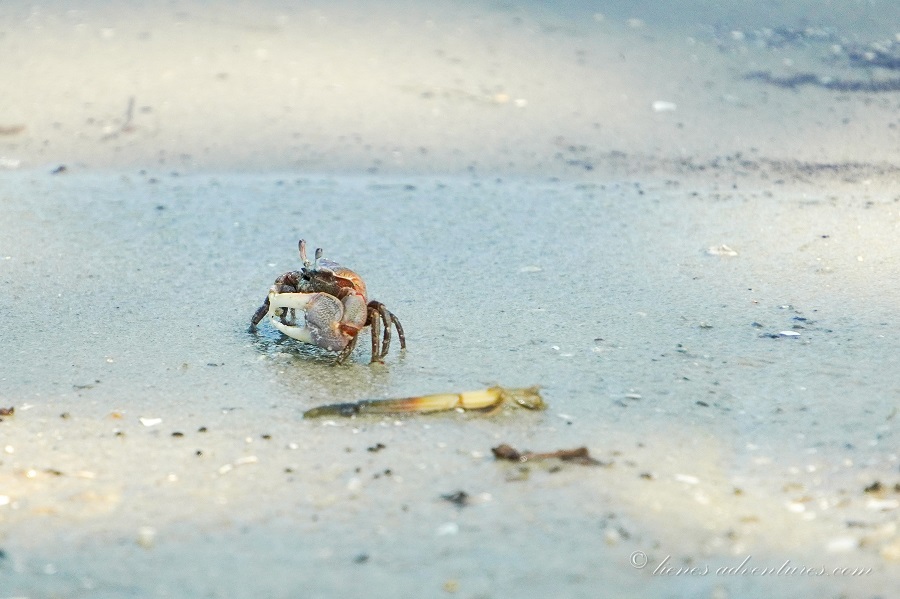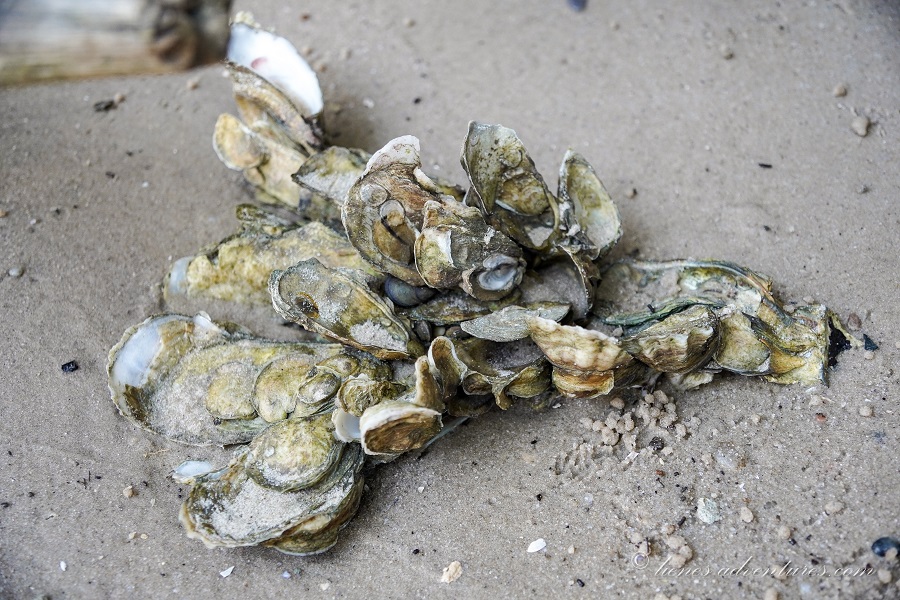 After breakfast it was time to finally go and see the beach. Along the way, we stopped by the camp office and were given shark teeth identification cards. Apparently, this area is famous for the large amount of fossilized shark teeth being washed ashore.
Once we reached the beach, it was indeed quite beautiful. Not exactly Hawaii, but still charming – with white, soft sand and emerald colored water. I guess that's where the name Emerald Isle comes from…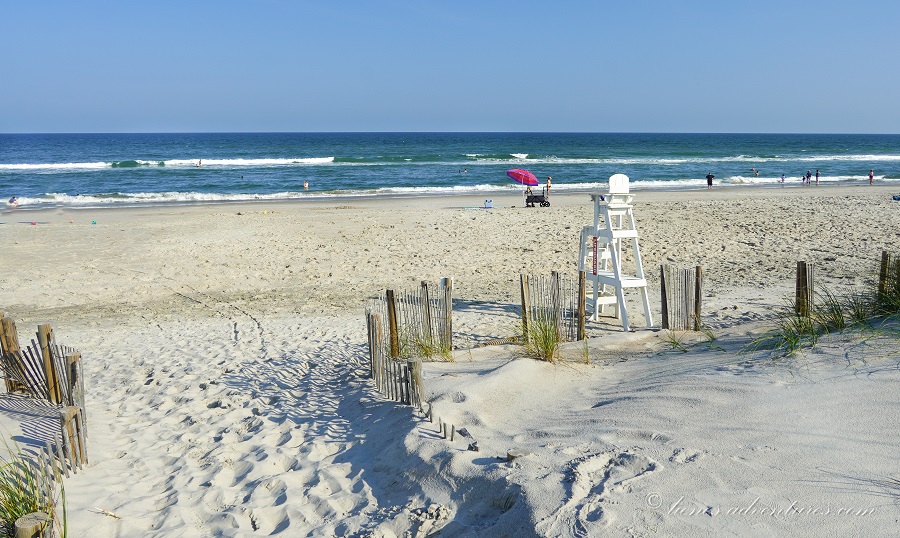 We set up our little beach shade area and spent the rest of the day here. The boys had brought along their Hawaii boogie boards and continued perfecting their boogie boarding skills… The waves were just the perfect size for them, and I was very glad they got to enjoy an activity again that they had been practicing for years.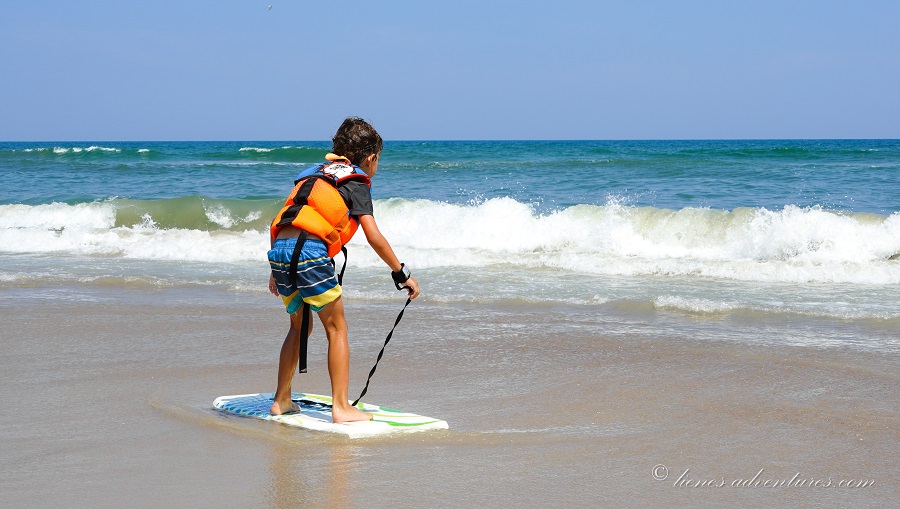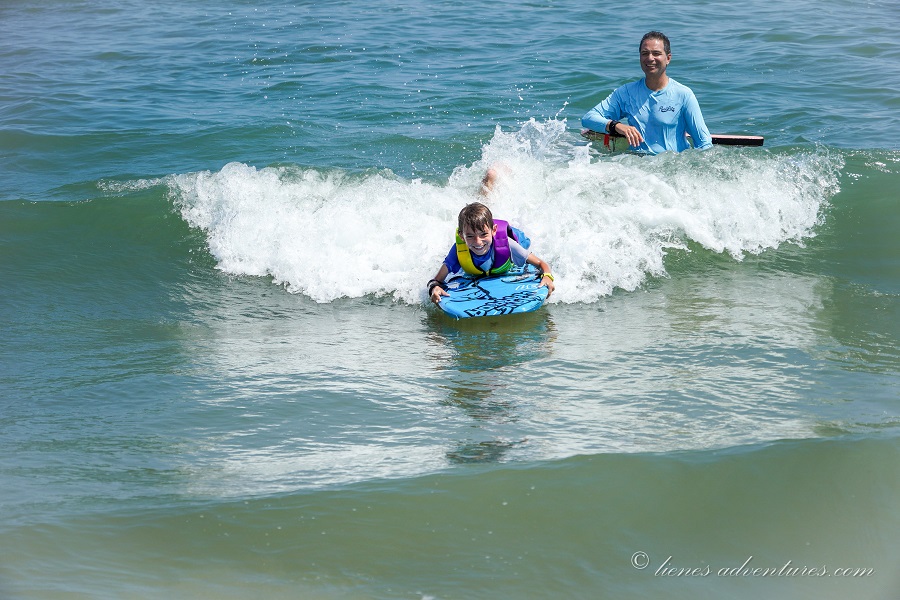 Once the boarding wore them out, they switched their attention to jumping in the waves, digging sand pits or simply fighting… My husband and I, on the other hand, could finally enjoy just doing nothing.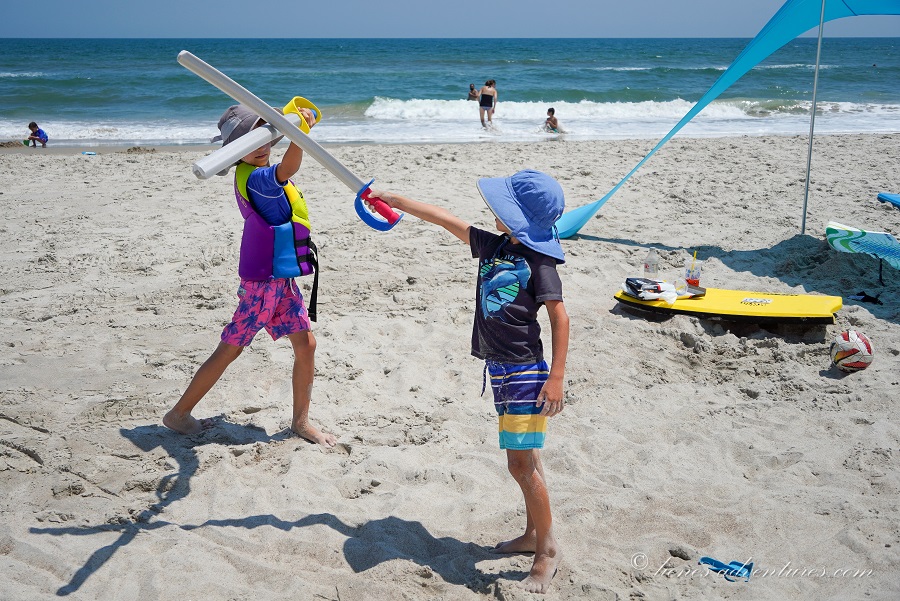 After countless beach hours, we made our way back to the campground to clean up, have dinner and prepare for a movie night. During summer weekends, the campground hosts various free events for their guests. And this week was Shark Week. On a big outdoor screen they played Shark's Tale. The kids could jump around a bounce house or play corn hole. There was free popcorn and several rounds of Shark Bingo. It was a very fun event that filled up our evening until late at night.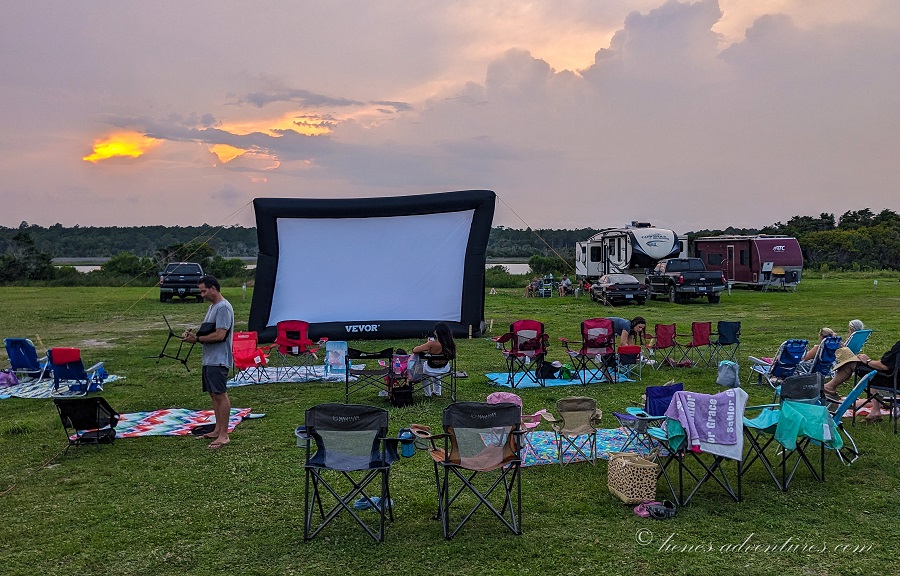 We made it back to our RV just in time – a huge storm was crossing the area with rain just pouring buckets! As luck would have it, we discovered that rain was making its way around not just outside but also inside (!) our camper! We had a window leak! And we had to stop it! Armed with flashlights, garbage bags and duct tape, my husband and I were standing in pitch black pouring rain, shivering, trying to plug the leak in the window until a more permanent fix could be made. Those are just the regular joys of RV living. And one of the goals of this trip was to get acquainted with our RV and see what did and did not work. I guess one leak is not too bad of a scenario, considering all the things that could potentially go wrong…
DAY 3
Next morning dawned hot, humid, and sunny again. Another gorgeous beach day! Just like yesterday, we packed up our beach gear and headed over to the water.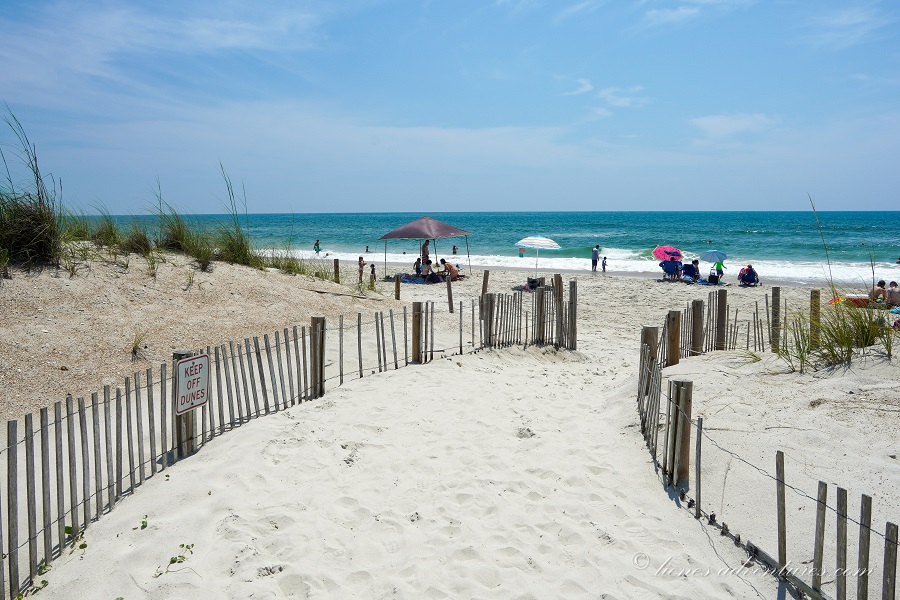 I spent many hours combing sand for shark teeth and by now I had quite an impressive collection. Pebble filled areas like these are the best for looking for shark teeth. But you have to pack some patience as sifting through every rock really tests one's determination.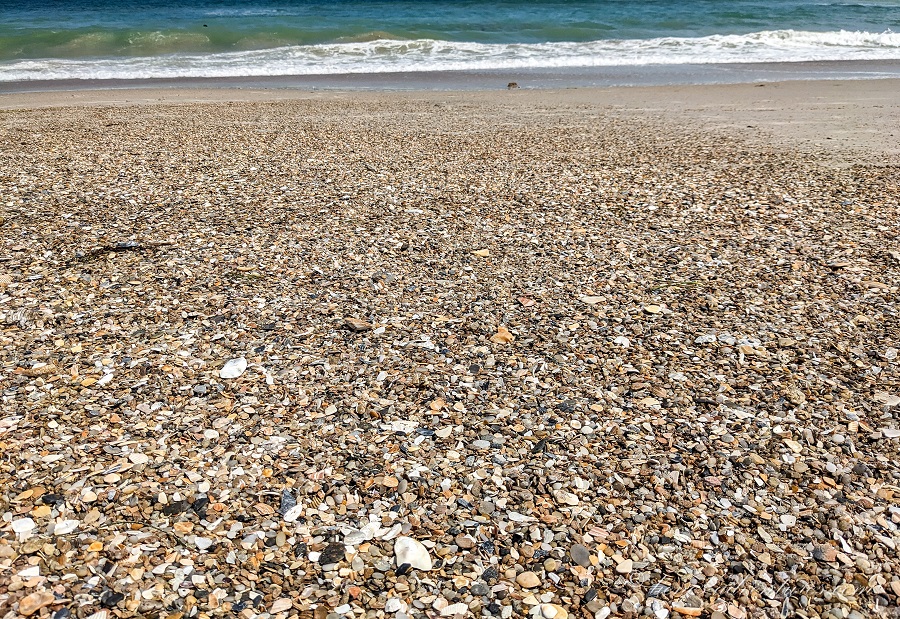 One thing that surprised me was that the teeth we found were dark gray! Apparently, shark teeth buried in sediments absorb surrounding minerals, turning them from a normal whitish tooth color to a deeper color, usually black, gray, or tan. The fossilization process takes at least 10,000 years, although some fossil shark's teeth are millions of years old! And I couldn't believe how many shark teeth there were if you looked carefully. Our 5-year-old was like a teeth radar – he would spot them just walking by… Part of our collection is his find!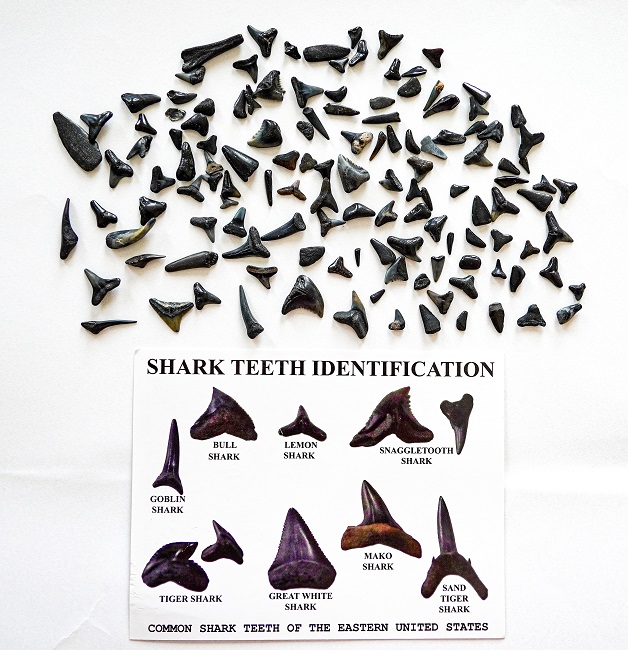 Towards the latter part of the day, a pod of pelicans showed up. They were flying back and forth along the shore in a perfect formation, occasionally diving into the ocean for some fish. It was pretty cool to see.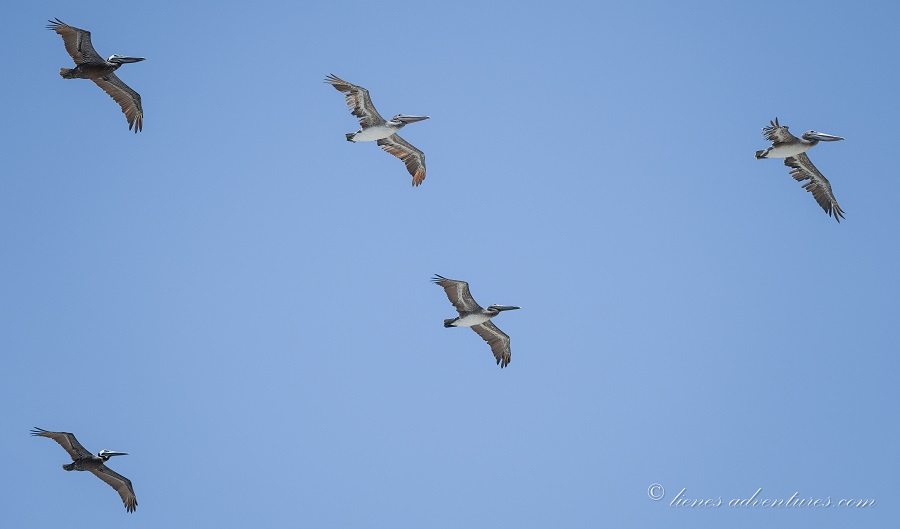 While we did not mind pelicans one bit, we were not that stoked about a shark showing up. The lifeguards spotted one in the area and everyone miles-wide was ordered to leave the water. We took this as a sign to call it quits for the day. And we were sunburnt, hungry and tired anyway, so heading back to the campground got a favorable vote from everybody.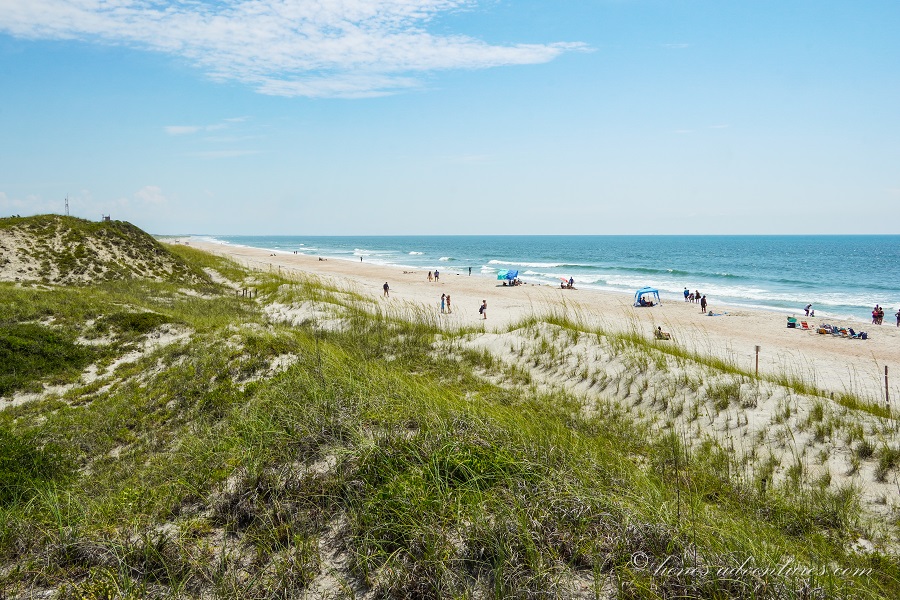 As we were winding down at our campsite after the long, hot beach day, my 5-year-old suddenly started yelling from his hammock: ''Look! Look! Look!'' The urgency in his voice freaked me out and I came running ''What?! Are we about to get hit by a meteorite or something?!!!'' No! There was a cute Eastern box turtle crossing our campsite making its way to the dunes by the shore. It was totally fearless and didn't even think of retreating to its shell when we approached. At first, I thought it was an escaped camper's pet, but no. Per all-wise Google, these turtles are wild along the US Eastern shore, and it is illegal to remove them from the wild and keep as pets (which used to be a common practice years ago). We admired it for a while and then let it continue on its merry way.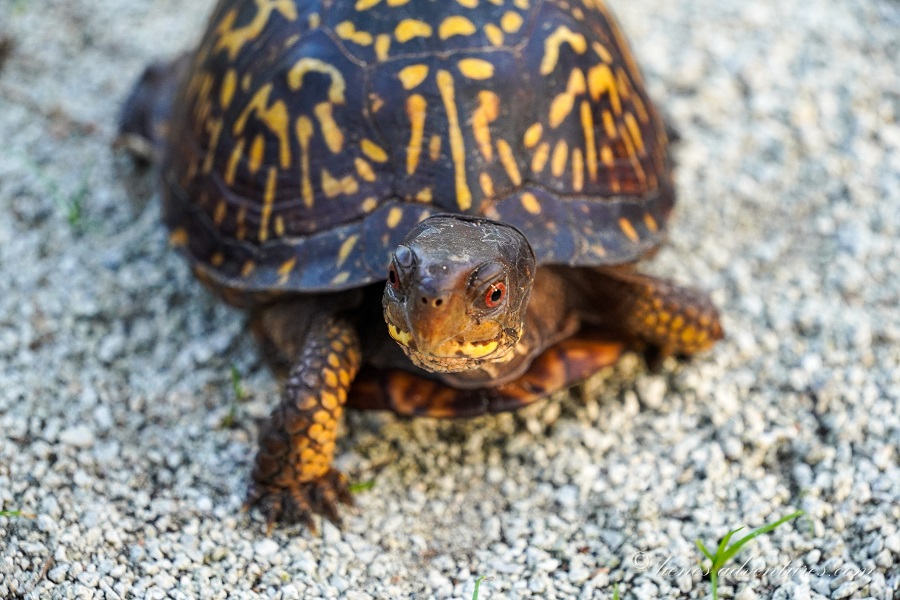 This was our last night at Onslow Beach. It was a perfect evening for swinging in the hammock, reading a book, scouting the canal shore for alligators and crabs, and just relaxing overall. Generally, our vacations are never this laid back, so my husband was absolutely ecstatic about being able to do nothing! I did warn him not to get used to it though, ha ha!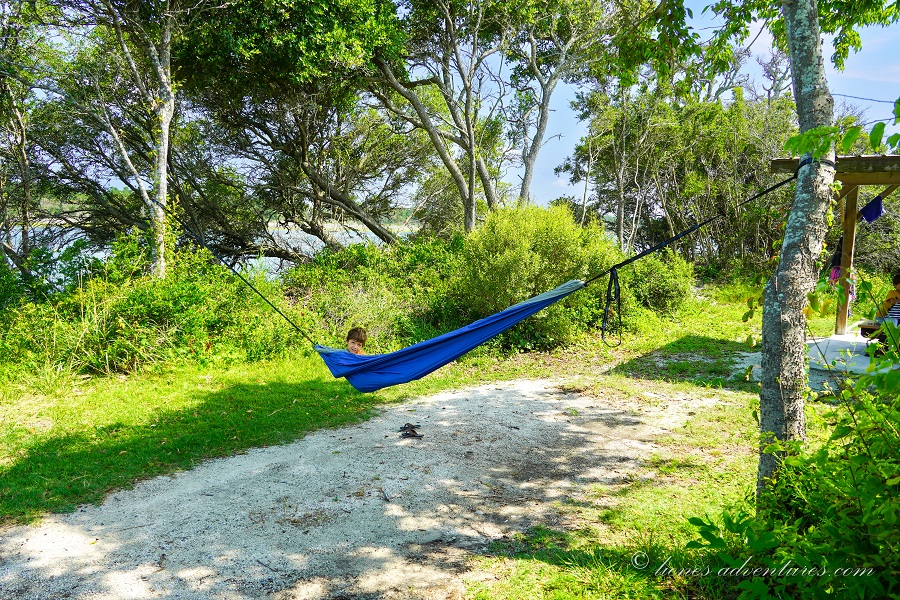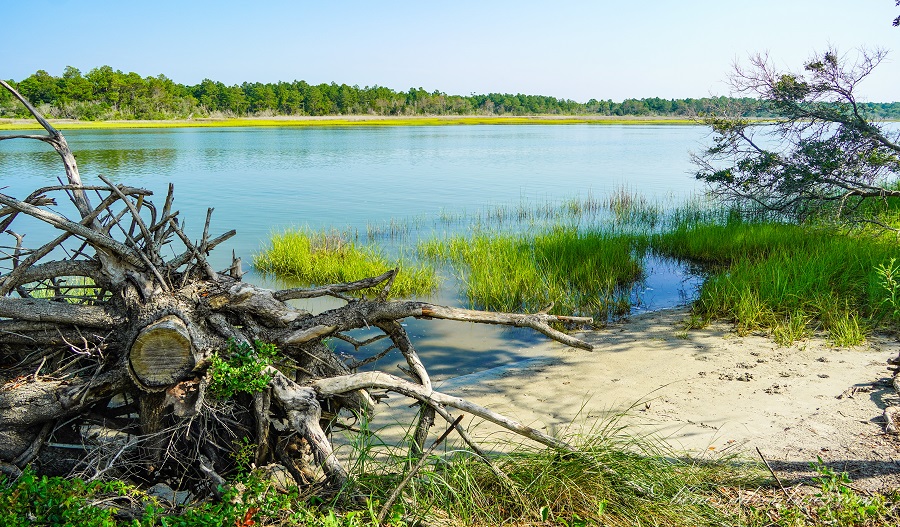 DAY 4
In the morning it was a little sad to bid farewell to our perfect, little campsite.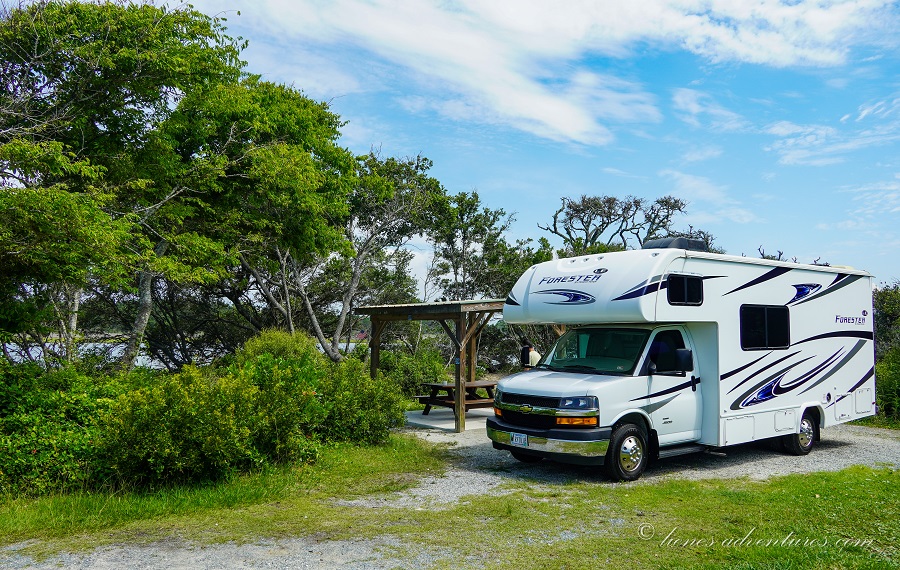 However, we had a long drive back home and an incoming storm along the way worried us a little bit. It actually got so bad that we had to pull over twice on the way home and and find parking because the sidewind was blowing the RV off the highway. It was probably one of the scarier rides we had experienced. Slowly but surely, we made our way home however, and marked another trip a success in our book.
Expenses:
• Campsite 3 nights: $111 (Onslow Beach Campground, Camp Lejeune, North Carolina)
• Gas: $200.55 (700 miles / 1125km)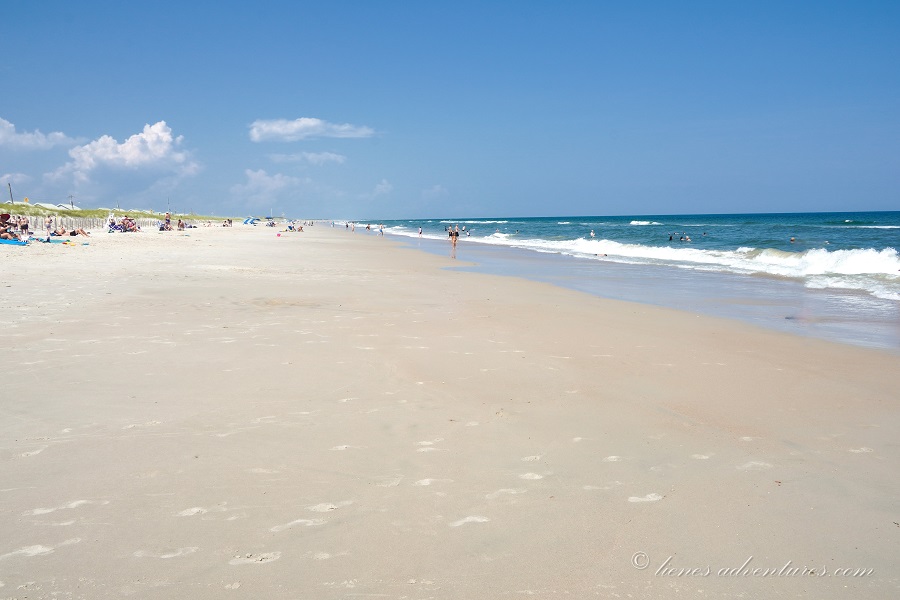 Our other RV travel and camping stories:
Our First RV Road Trip - Georgia's Southern Charm vs Colors of the Great Smoky Mountains
Escaping Thanksgiving - Fun and Sun in Florida
A Different Kind of Getaway - Camping in Bellows and Ho'omaluhia in Hawaii