WHAT TO SEE AND DO IN AND AROUND MEMPHIS & MEMPHIS DAY TRIPS

I have to admit, from all the places inside and outside the United States that we have lived in over the years, Memphis has been the most difficult one when it comes to finding new things to do. It has been quite challenging regardless whether it comes to half a day outing or a weekend day-trip. Over the course of the past 2 years since we have lived here, I have compiled a list of activities and places that I have found to be fun for me, my kids or guests who fly in to visit us.
I have already written a blog post about some of the most popular attractions downtown – Beale Street, Peabody Hotel, Bass Pro Pyramid, Mud Island etc. You can check out my suggestions for downtown Memphis walking tour HERE.
The below mentioned places are in Memphis but a short drive away from downtown.
GRACELAND
It would be only fair if I started the list with Graceland – The Home of Elvis Presley. This is the place that most visitors of Memphis come to see.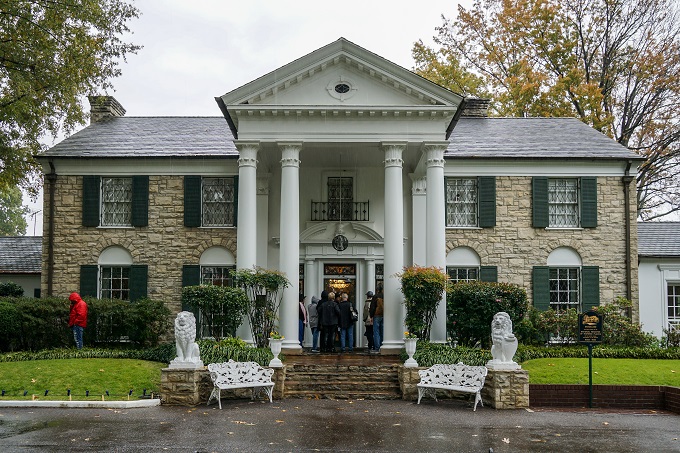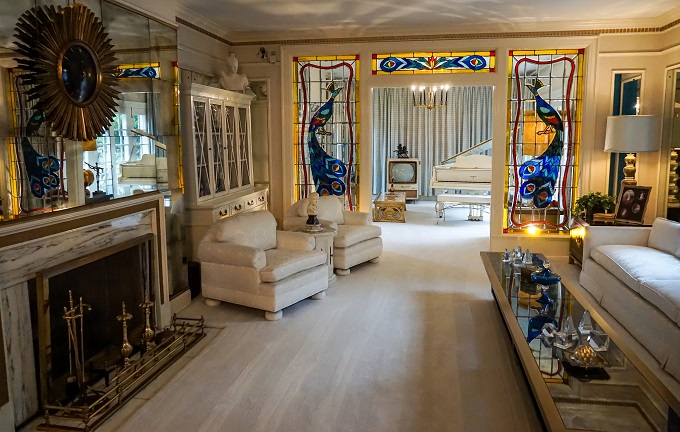 There are various tour options available, starting with simple self-guided Mansion tours to exclusive VIP options. We purchased 'Elvis Experience Tour + Airplanes' which included a self-guided mansion tour and gardens, plus exhibits showcasing Elvis' career, his automobiles, his show wardrobe, his Gold Records and much more from the Graceland Archives. It also gave us access to see Elvis' 2 private airplanes.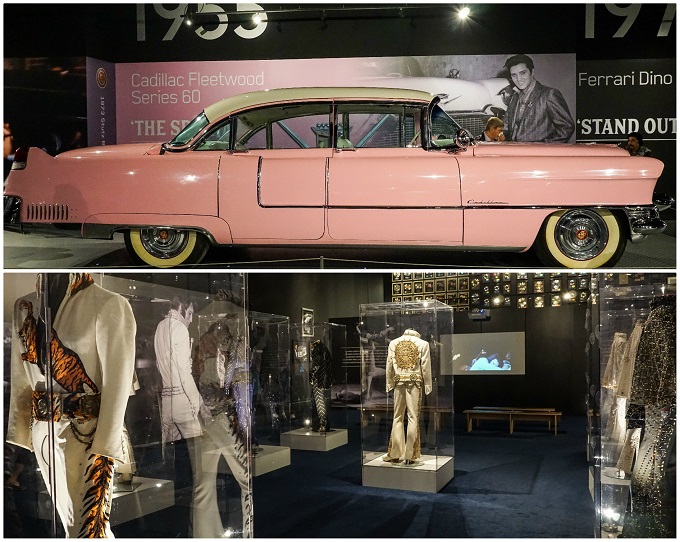 This tour cost about $70 per person and was the most ideal option, in my mind, when it came to the balance of cost and things to see. As I am not a hard-core Elvis fan, I had no interest in $200 and $300 VIP tours and private lounges, but that is an option as well. Even more, staying at the Mansion guest house or Graceland's RV park is a possibility as well.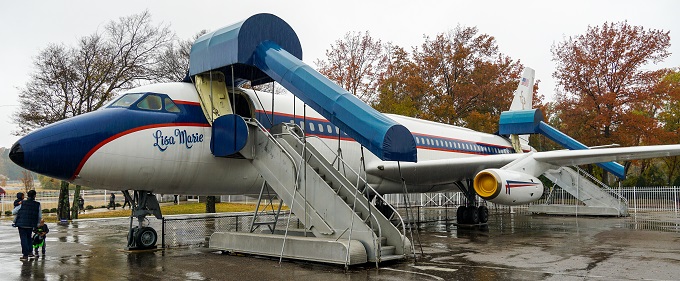 More about Graceland tours, visitation hours, exhibits or private events can be read on their website: https://www.graceland.com/
MEMPHIS ZOO
Memphis Zoo is home to more than 3500 animals representing over 500 species. In 2008, Memphis Zoo was ranked as #1 zoo in the United States. It has everything you would imagine a zoo to have – monkeys, snakes, lions, bears, aviary etc. They also host daily sea lion shows, camel rides, has a petting farm for kids, and seasonal activities like stingray, giraffe or parakeet feedings.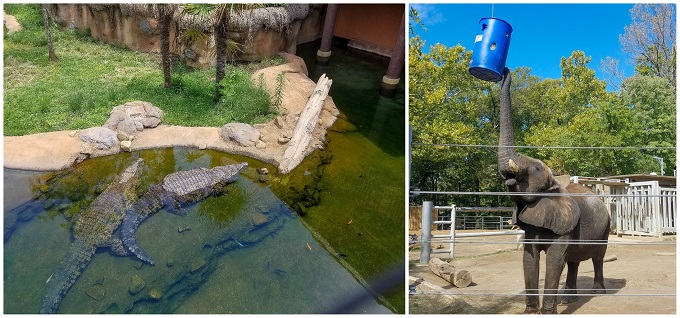 We have been members of Memphis Zoo for 2 years and there is always something to do – summers are the busiest and a fun activity for the kids is wading in the zoo's fountains, so make sure you grab a towel and change of clothes! During fall, the zoo is decorated with pumpkins, corn stalks, mums and hay bales. Very many photo opportunities for the family! Winter is usually the slow season and we enjoy it the most – sometimes there are barely any visitors and we feel like we have the zoo to ourselves. During Christmas season they also have Christmas light shows throughout the zoo as well as ice skating rink. The spring usually brings in temporary exhibits like Lego Art or Dinosaur Adventure. The zoo also runs kids camps during summer.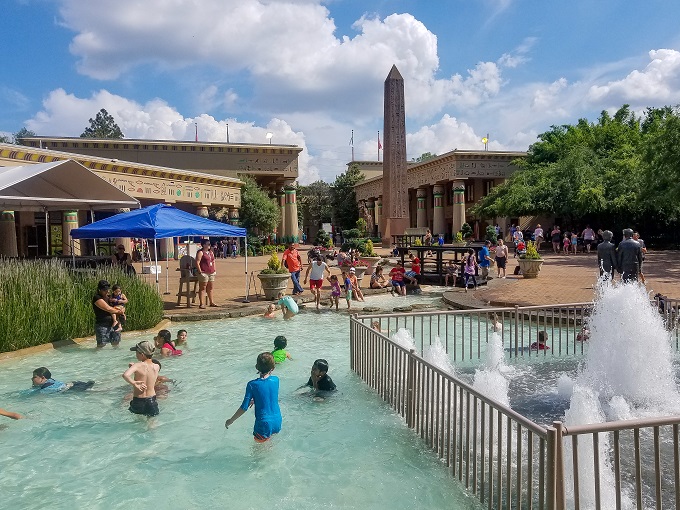 Overall, Memphis Zoo is probably the place we visit the most with our kids. We are here at least a few times a month, and it is always fun.
Link: https://www.memphiszoo.org/
MEMPHIS BOTANIC GARDEN
The Botanic Garden is an ideal place to take a long leisurely stroll on a nice day. There are Rose Gardens, Iris Gardens, Desert Garden, Herb Garden and anything else you imagine a botanical garden might have. Although not the most impressive botanical garden I have seen, it has saved us from boredom more than once. Our favorite spot is the Japanese Garden with koi fish. At the ticket office, you can also purchase fish food and feed the koi here (the geese and ducks will come to beg for it too)!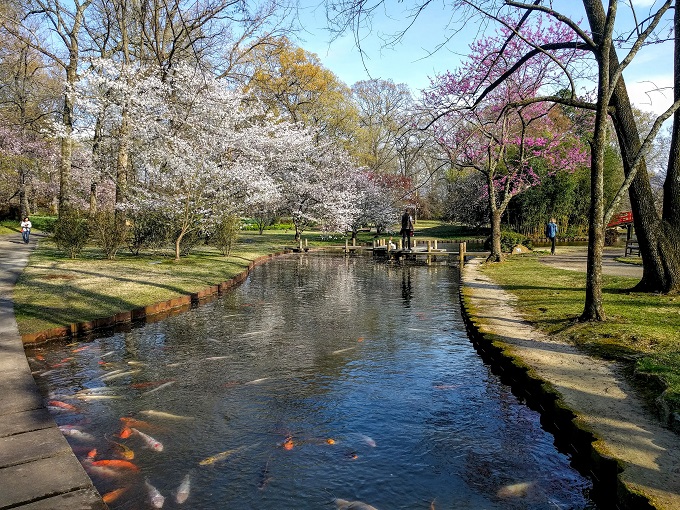 The hit for the kids and families is My Big Backyard. It is a children's hands-on section of the garden and features a tree house, several playhouses, slides, sandboxes, crawl-though tunnels, educational activities, and even a splash pad with a stream in the summer months.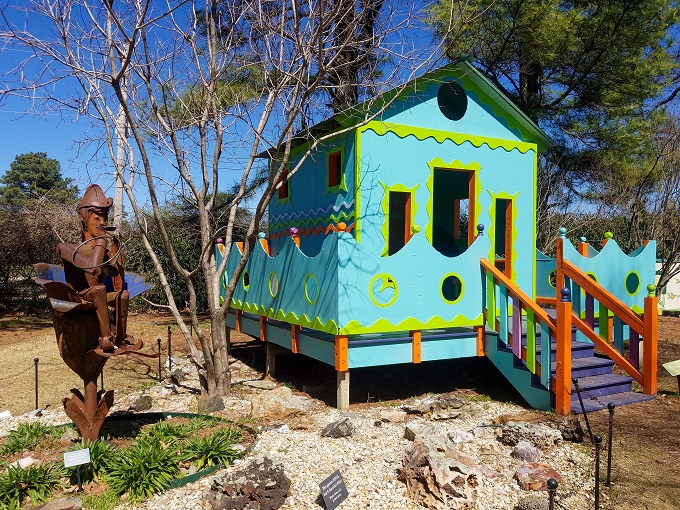 More about rates, events and blooming calendar you can find on their website: https://www.memphisbotanicgarden.com/
THE CHILDREN'S MUSEUM OF MEMPHIS
This place is, of course, all about children. Again, not the biggest nor most impressive Children's Museum we have been to; however, it has a lot of things to keep the little ones entertained. Many of the exhibits are what you expect at most children's museums – a shop, kitchen, doctor's office, bank, police cars and firetrucks etc. There is even a real airplane the kids can get into, and a crafts room with different projects for each day. A separate section is gated off for toddlers where they can roam freely without fear of being knocked over by older kids.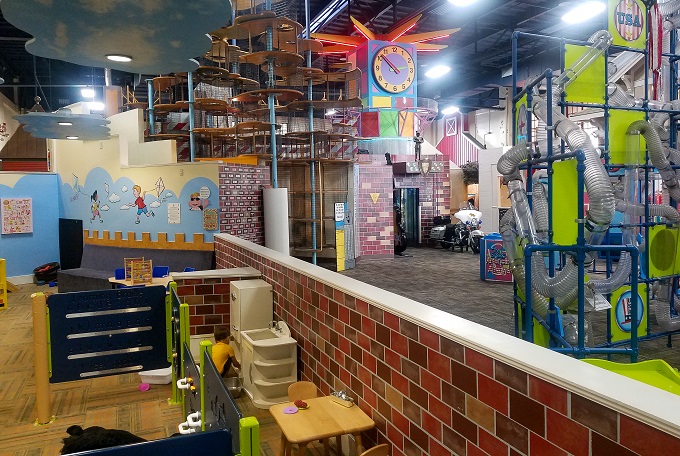 Outdoors section includes a playground with slides and basketball hoops. Memorial Day through Labor Day, the outdoors H2Oh! Splash Pad is open, which is a huge hit with the kids. It has 40+ different jets, sprayers, mists and geysers and everyone will get soaking wet, guaranteed! Right next to it is a huge sand pit for fossil digging and excavating.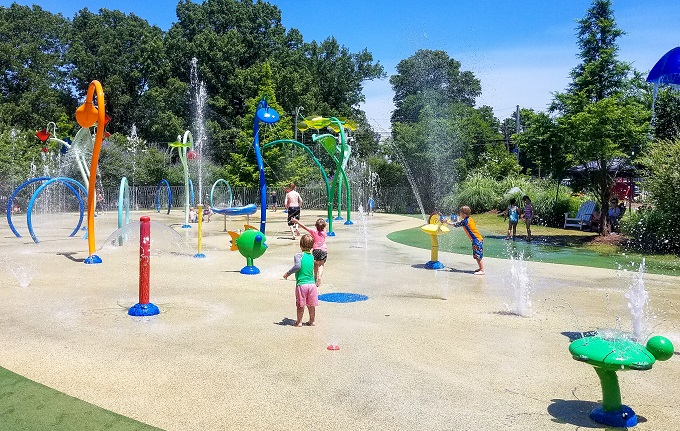 Another neat feature of the Museum is the Grand Carousel. We always finish our visit with a carousel ride. Even adults are allowed on it!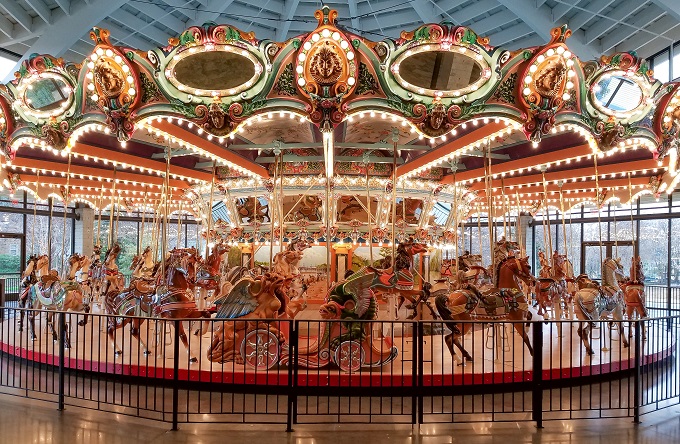 More about the Children's Museum of Memphis: https://cmom.com/
SHELBY FARMS PARK
Shelby Farms is one of the twenty largest urban parks in the United States. At a size of 4,500 acres, it covers more than five times the area of Central Park in New York City which is 843 acres. And it is just a 20-minute drive from downtown Memphis! Shelby Farms Park has it all – playgrounds, sand pits and splash pads for kids; trails for hiking, jogging and biking; wooded areas; big game fields; BMX track; several lakes for kayaking, boating and paddle boarding.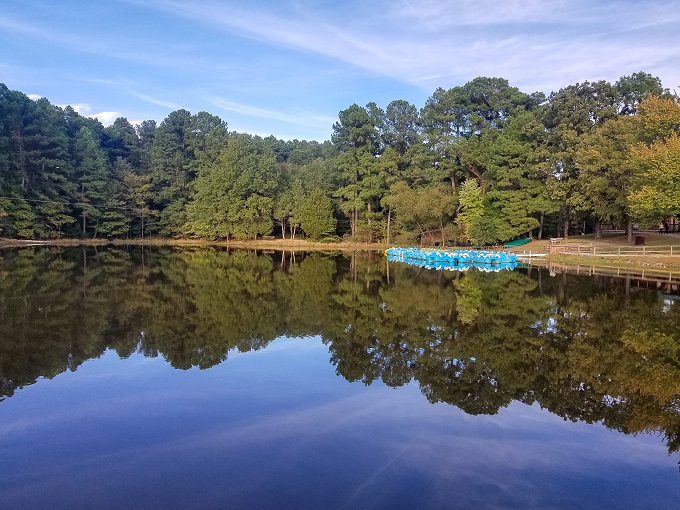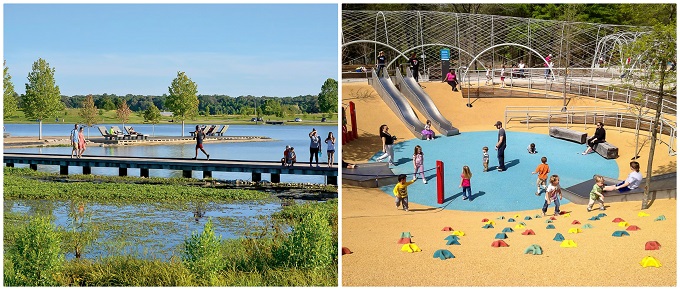 Animals welcome – from dogs to horses! They even have bison roaming their property whom you can often spot when entering the park. The park is very popular with locals and central areas can get quite crowded on weekends. The entry to the park is free, but rental fees will apply for boats, kayaks, paddle boards and paddle boats (unless you bring your own, then there is no launch-fee). Also, horse rides can be booked directly through the park as there is a horse stable on the property. Or, bring your own horse (free of charge) …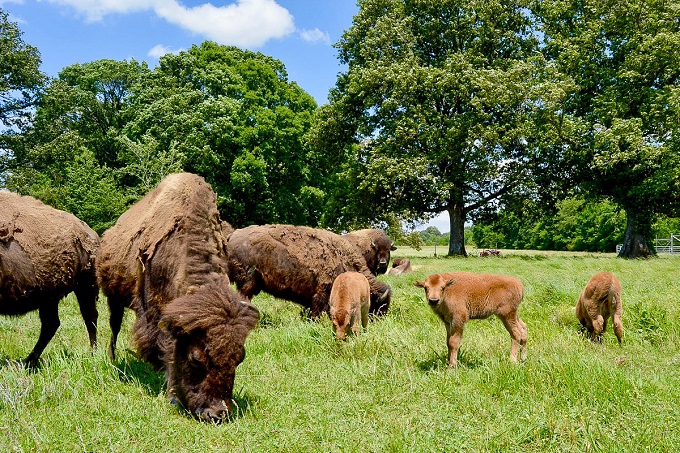 During Christmas Season, they have a drive-through light display.
More: https://www.shelbyfarmspark.org/
LICHTERMAN NATURE CENTER
Lichterman has both indoor and outdoor facilities for use during all types of weather. The Backyard Wildlife Center features live animals (turtles, snakes, fish and others), hands-on explorations, microscopic discoveries, a forest boardwalk two stories high, underwater viewing area and much more! Three miles of accessible paved and gravel trails wind and loop through a forest and meadows, as well as boardwalks and bridges across ponds with geese, fish and turtles.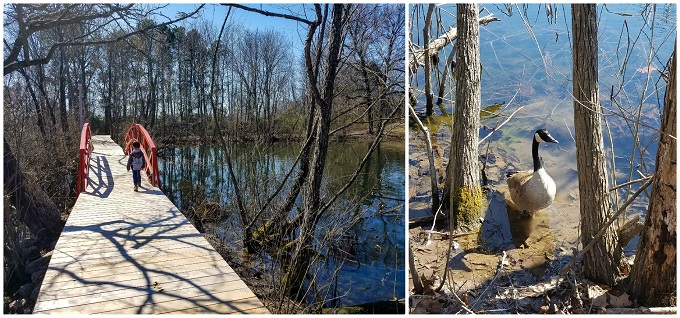 We visited the Center in early spring, and although the weather was warm and pleasant, there was no greenery yet. I would imagine the trails to be much more impressive when the spring and summer flowers bloom, or during fall foliage. The indoor exhibits were still very interesting and kept us busy for several hours.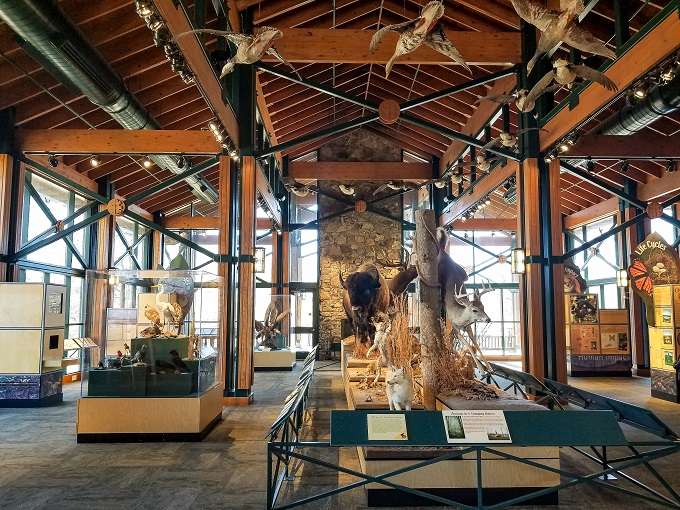 Information on rates, hours and events: https://www.memphismuseums.org/lichterman-nature-center/
ORCHARDS
During late spring, summer and fall season, one of the most fun ways to get your own fresh fruits, vegetables or berries is to visit an orchard! It is not just healthy, but is also a very fun activity, even for the adults.
There are several orchards in Memphis area, but our favorite one is Jones Orchard. They have over 600 acres of produce ready for picking. Depending on the season, you can pick peaches, nectarines, apples, pears, plums, strawberries, blackberries or pumpkins. Some of them even include a tractor ride out to the picking area! Produce is charged based on the weight you have picked, but it has always been very reasonable for us (and surprisingly much cheaper than the chemical-sprayed store produce)!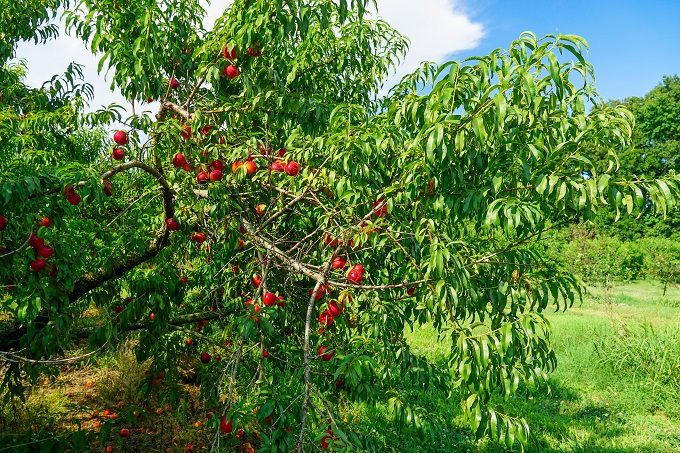 If you do not feel like spending your time climbing a tree for apples, you can always just stop by the orchard and purchase already picked and bagged fruits, berries or vegetables. They also sell home-made jams and jellies.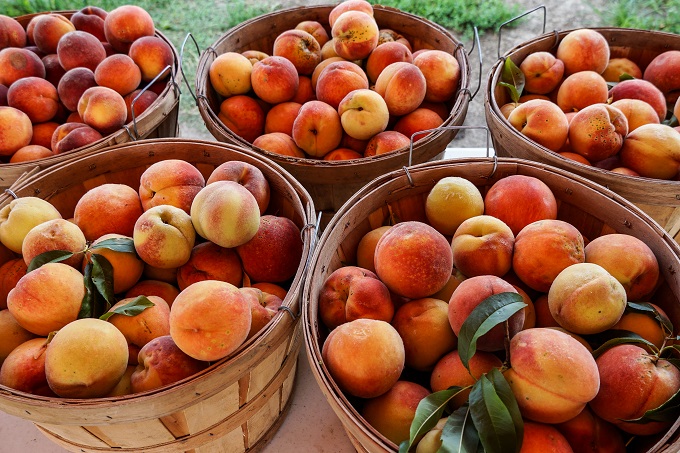 When the fall comes, pumpkin picking is the #1 activity here, and you can also go crazy in the corn maze or one of the haunted attractions.
The 'Ripening Calendar' and Jones Orchard hours can be seen here: https://jonesorchard.com/
WINERIES
Although neither Memphis nor Tennessee itself are world-known for their wine production, there still are quite a few local wineries scattered all around. And one such winery we stumbled upon was Delta Blues Winery. It is a very picturesque property with fields of grape vines, lakes with a fountain and wooden decks to relax on.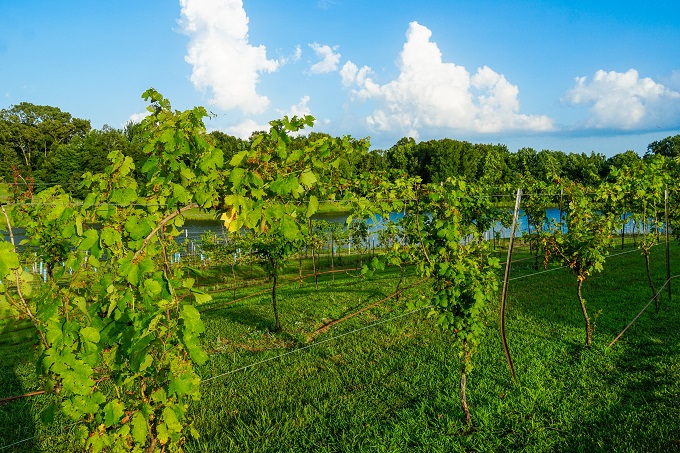 Once the weather gets warmer, they host live music nights on their outdoor patio (free of charge), and you can purchase samples of wine for tasting, sit down and enjoy live music and relaxed atmosphere. There is no charge to visit the property. The only charge is wine tasting fee.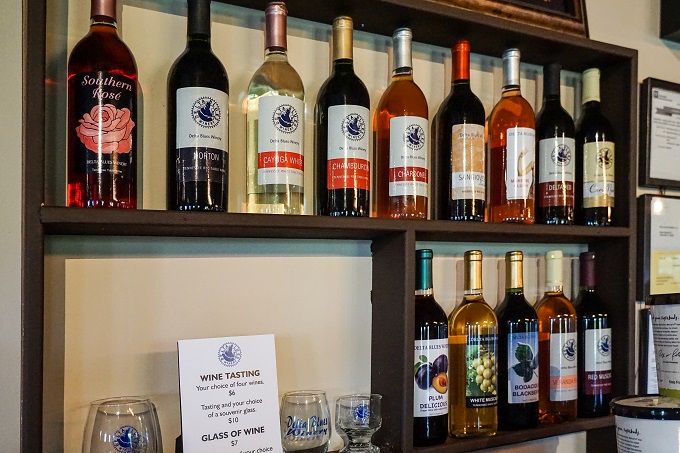 Children are welcome too and ours had a lot of fun running around and playing with others their age.
To read more about their wines or upcoming events: https://deltablueswine.com/
DAY TRIPS FROM MEMPHIS
TENNESSEE SAFARI PARK
Tennessee Safari Park has been a big hit with my kids, as well as all the guests who have come to visit me and whom I have taken here. It is literally a safari experience – visitors have to drive their own vehicles on the 5.5-mile long road leading through big fields of animals freely roaming around. Visitors can purchase feed buckets and many animals will approach cars in search of feed. Exiting the vehicle is strictly forbidden and feeding happens through an open window. Sometimes, the nosiest specimen decides to stick its whole head inside the car to make sure no extra feed buckets can be found.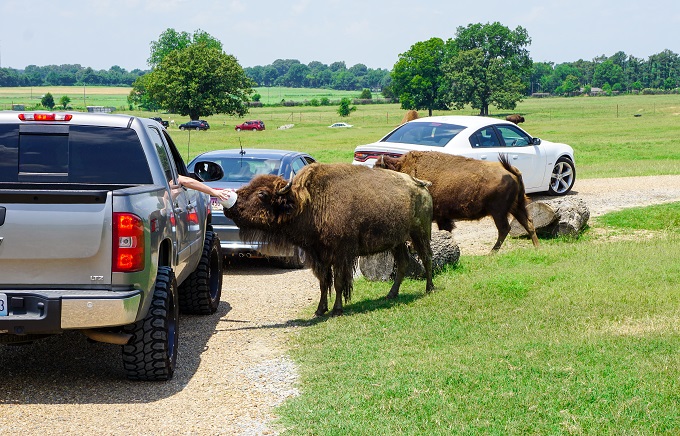 Animals range from zebras, ostriches and antelopes to camels and bison (and everything in between). The park also houses some endangered species which are fun to see. After the drive though, there is an option to go through the walk-through safari section, visit the petting zoo, or feed giraffes and parakeets. We usually spend several hours at the park.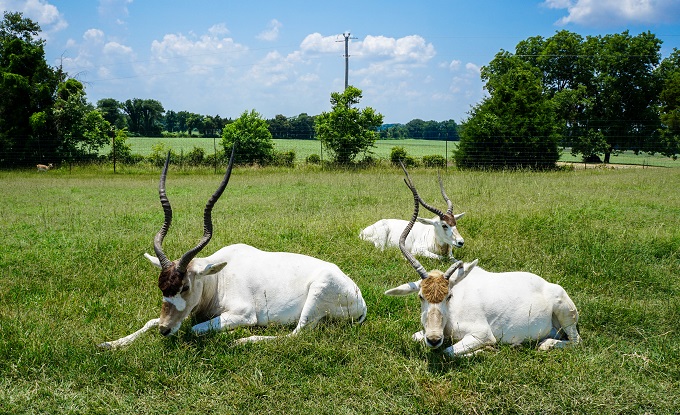 The Safari Park is located only 80 miles (about 1.5 hrs) away from downtown Memphis. The fee is $16 for adults and $12 for children (2-12). Feed cups can be purchased separately for additional $3. Please note, it is CASH ONLY.
For operating hours and seasons, as well as weather conditions please consult their website: https://www.tennesseesafaripark.com/
SHILOH NATIONAL MILITARY PARK
The park preserves 5.8 square miles of American Civil War battlefield and is part of the American National Park system. There are permanent exhibitions, films and displays at the visitors center, and a self-guided 12-mile auto-tour through the park. The park grounds also include Civil War era Shiloh National Cemetery, as well as preserved prehistoric Shiloh Indian Mounds Site (which is also a National Historic Landmark). The Indian site was inhabited during the Early Mississippian period from about 1000 to 1450 CE. For those interested in American history and especially the Civil War, this will definitely be an educational visit.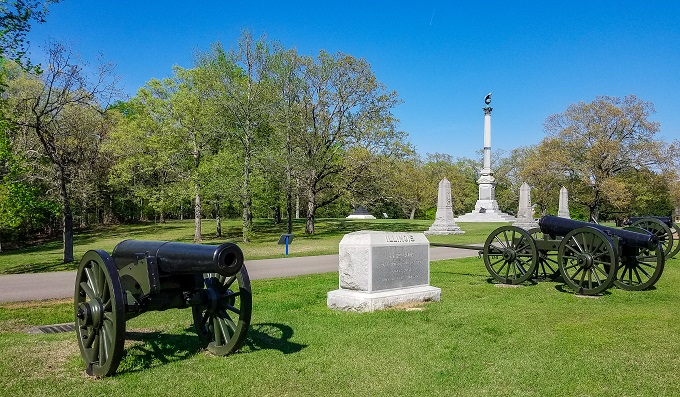 Although the park can be explored by car (with lots of parking around the main stops), we brought our kick-scooters with us and enjoyed the warm, sunny spring day exploring the park this way. We saw a lot of people either walking, jogging or biking the various trails and routes of the park. With 5.8 square miles there is plenty to explore! There is also a lot of open space and grass fields for families to have picnics at and play games with kids. And although we did not spend too much time reading all the historic facts and information plaques, we enjoyed the sunny outdoors and our boys had tons of fun checking out the cannons and all the other military arsenal on display along the park roads.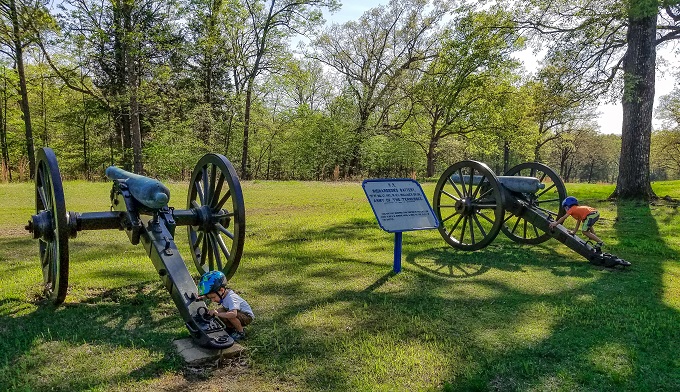 Shiloh National Military Park is located about 115 miles from Memphis and takes about 2hrs to drive to. There is no entrance fee for either of the exhibits or outside attractions / self-guided tours.
Visitor information can be found on the National Park website: https://www.nps.gov/shil/index.htm
DISCOVERY PARK OF AMERICA
Discovery Park of America is a world-class educational experience with a 100,000-square-foot museum and 50-acre outdoor heritage park. Indoor exhibits include dinosaurs, evolution and world history, vintage cars and military vehicles as well as space science and engineering. Outdoors heritage park has 1800s Settlement, vintage trains near the Train Depot, helicopters and airplanes, and many, many other exhibits.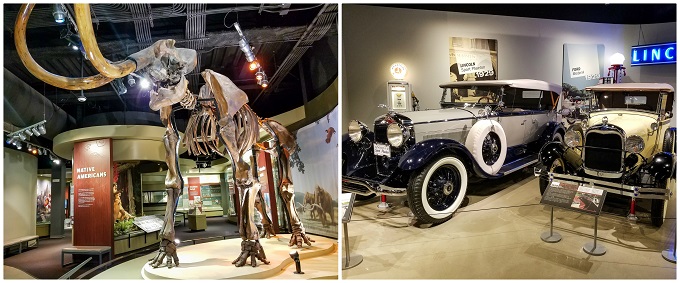 We have been to this museum twice, and both times we have spent almost a full day here and we still have not managed to properly see all of the exhibits! The place is truly massive! It was equally entertaining for a 2-year old, 7-year old, 35-year old and 46-year old. There is something for everyone here.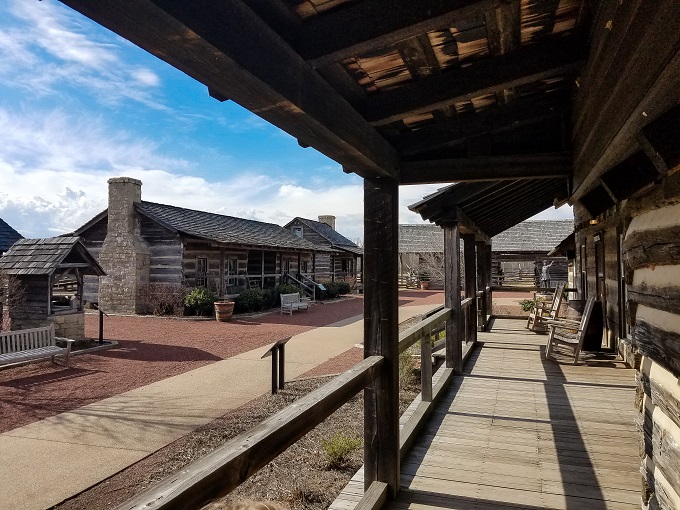 The Discovery Park of America is located 115 miles from downtown Memphis and usually takes about 2 hours to get there. General admission is $16 for adults and $13 for kids (4-17). There are various special attractions and traveling exhibits that often have a small additional fee, if desired.
Website: https://discoveryparkofamerica.com/
SARDIS LAKE
To escape the sounds and sights of a city, we often get away to spend a day at Sardis Lake. It is located only an hour's drive south of Memphis (in Mississippi) and offers a wonderful opportunity to spend a day on the lakeshore. Sardis Lake has 3 sanded public beaches with parking and bathroom facilities, as well as picnic and grill areas, trails, and children's playgrounds. For those, who want to spend a whole weekend here, that is an option as well, as Sardis has expansive tent and RV camping sites available. Boating and fishing on the lake is also allowed.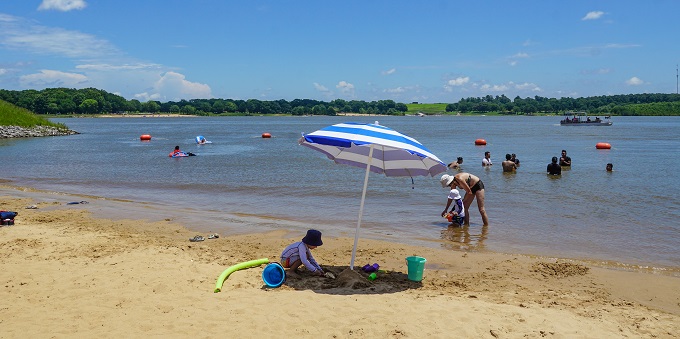 The cost is a minimal $5 per vehicle for access to day-use areas.
Sardis Lake: https://www.mvk.usace.army.mil/Missions/Recreation/Sardis-Lake/Sardis-Lake-Recreation/
Just outside the Sardis Lake Recreational Area is Clear Springs Nature Trail. It is a very short boardwalk trail over a cypress swamp. We have seen various wildlife along this trail – fish, frogs, racoons and even venomous snakes (cottonmouth), and overall it is just a fun short walk when in the area.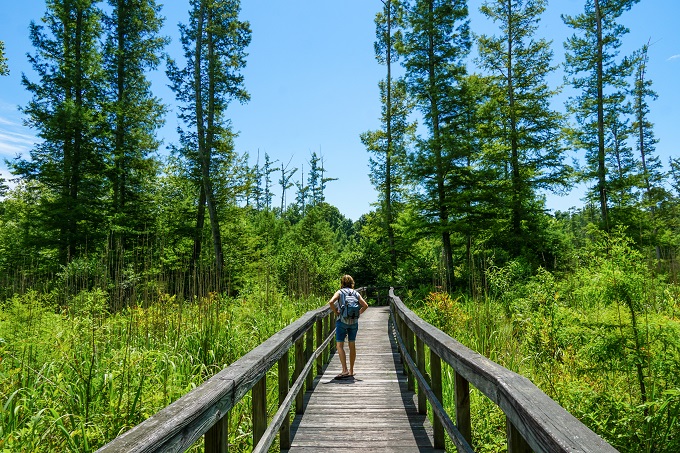 Sardis Lake, however, is not the only one that can be visited. There are many other lakes with beaches that can be made as a day-trip from Memphis. We have also been to Arkabutla Lake (Mississippi), Pickwick Lake (on the border between Tennessee, Mississippi and Alabama), and Greers Ferry Lake (Arkansas).
JACKSON (Tennessee)
Jackson, TN is located about a 1.5-hr drive east of Memphis. Although there isn't much to see in the city of Jackson itself, we visited 2 places of interest there. One was Casey Jones Home and Railroad Museum. It is a museum dedicated to the famous locomotive engineer, and is located next to his house (which can also be toured). The museum contains many exhibits dedicated to Casey's life and his famous last ride. There is a short film about the story of Casey Jones, three authentic rail cars, and even an original engine model Casey drove. Kids of all ages are welcome to climb aboard and explore the locomotive.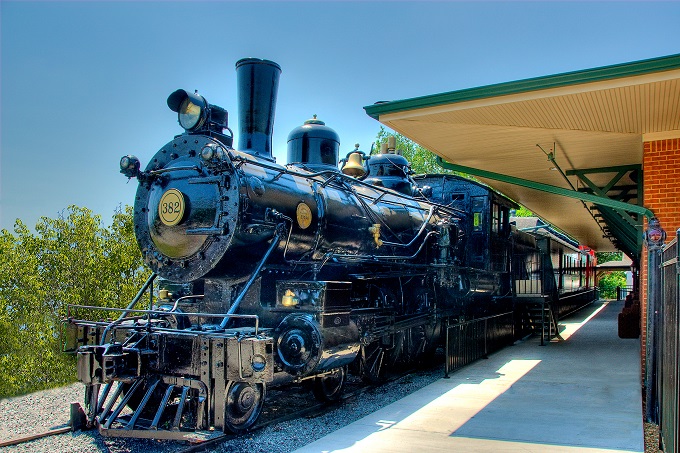 The souvenir shop also has several train-related activities to keep little kids entertained. The entry fee is just $6.50 per adults and $4.50 for kids (6-12).
Website: https://www.caseyjones.com/museum/
The second place we visited in Jackson was Rusty's TV and Movie Car Museum. It has over 25 iconic vehicles on display from TV shows and movies.

Many of the cars are actual cars used in the movies, and the owner himself has restored most of them. If he is around during your visit, take him up on his offer to show you around (free of charge), as he has lots of interesting information to share. We enjoyed our visit here! The admission fee was just mere $5 for adults.
Website: http://rustystvandmoviecars.com/
EXTENDED WEEKEND AND MULTI-DAY TRIPS
During our 2 years living here in Memphis area, we have made several extended road trips to various areas. Below are some of the ideas and itineraries we have done (click on the links below). All of these have been done (or can be done) as drives from Memphis, and can be adjusted to shorten or lengthen the trip as desired.
New Orleans (French Quarter, swamp tours and plantations)
Fall Road-trip (Atlanta, Savannah, Tybee Island and Great Smoky Mountains NP)
Thanksgiving Escape to Florida (Panama City and St Andrew's State Park).
The Space Coast of Florida (Kennedy Space Center, St Augustine, Daytona Beach)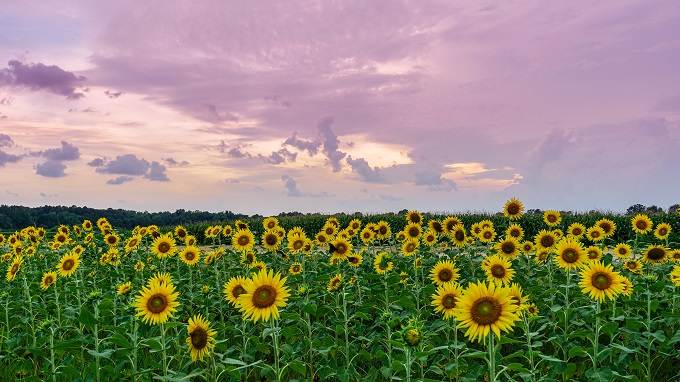 **The above sunflower image is taken at Memphis Agricenter (by Shelby Farms Park). Every spring they plant over 78,000 sunflower seeds which are in full bloom by mid-summer. Those are for public to enjoy and take family photos with.