365 Days of Hawaii - Our Hawaii Diary (Days 301 - 365)
You can read about the start of our Hawaii life here:
365 DAYS OF HAWAII (DAYS 1 - 60)
365 DAYS OF HAWAII (DAYS 61 - 120)
365 DAYS OF HAWAII (DAYS 121 - 180)
365 DAYS OF HAWAII (DAYS 181 - 240)
365 DAYS OF HAWAII (DAYS 241 - 300)
APRIL
DAY 301
After being closed for almost a year, Oahu's #1 snorkeling spot - Hanauma Bay - recently opened up to public again. However, in order to preserve the reef, lots of restrictions have been implemented - entry only with timed tickets; no more than 700 people allowed to visit per day; and no commercial or bus tours allowed. After a very hectic process of acquiring tickets (via standing in a car line on highway at 6:30am), we got our entry tickets for 12:10pm. The last time I was at Hanauma Bay was 10 years ago so I was very excited. The bay looked absolutely stunning from up top! And there was a good variety of various fishes as well as a turtle! Overall, we spent about 3 hours here and it was fun to get back in the water as the last time we snorkeled was at Shark's Cove in November before the winter swells came in.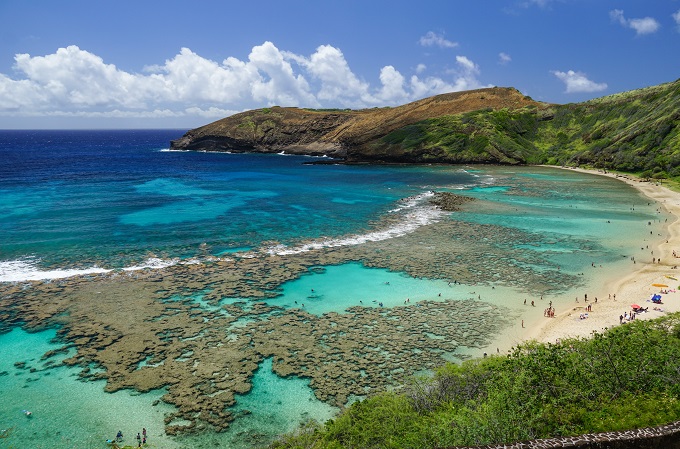 DAY 302
Speaking of Hanauma Bay, I am still thinking about this crazy fish who tried to kill me! While snorkeling, I saw this very pretty Picasso Triggerfish who was swimming towards me. I though that was very adorable - it wanted to be friends! But no, it had intentions far more sinister! The fish tried to bite me, then bite my camera, and as I turned to swim away it was chasing after me! I have gone free diving with sharks, and even those did not act like this little sucker! Apparently, triggerfish are one of the most aggressive fish in the reefs and are known to attack divers. After speaking with the park rangers, they said the fish probably had eggs somewhere near and it was guarding them and its territory. Although triggerfish are relatively small (approx. 12'' or 30cm) and couldn't do a person much damage, it was still a very interesting experience! It had the heart of a warrior!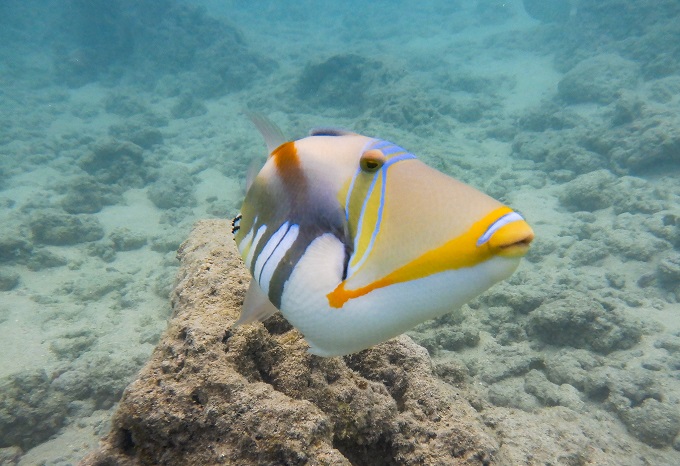 DAY 303
Went for an evening bike ride around Ford Island. It's a marked and paved 3.5-mile long trail around the whole island with various lookouts and historic markers along the way. From here, you can see the USS Arizona Memorial, USS Missouri Battleship, historic buildings, the Aviation museum, waterfront and lots more.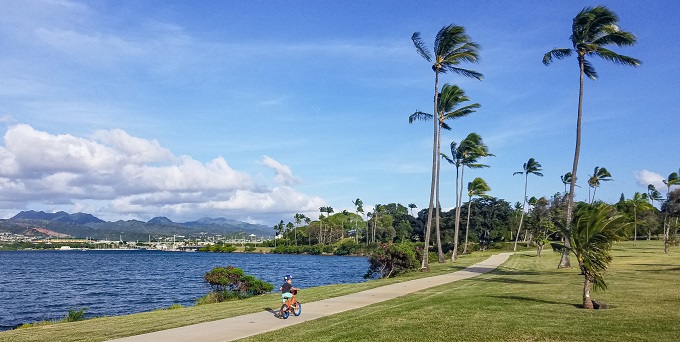 DAY 304
Our Hawaii-themed wind chimes... These are my Hawaii sounds on breezy afternoons or those occasional stormy days.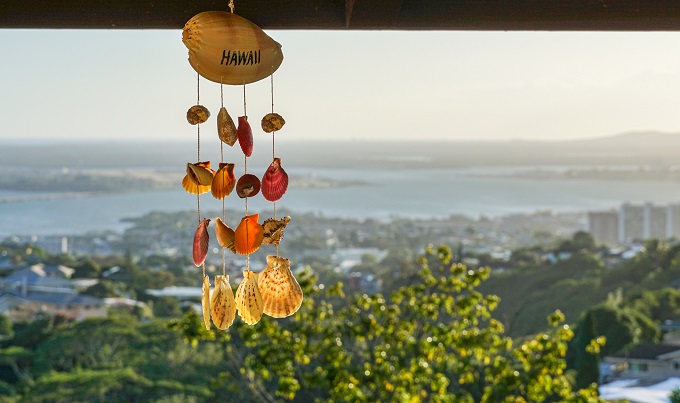 DAY 305
The best drink for a hot beach day is a cold bubble tea with fresh fruit. You can get them all over the island in many varieties and flavors. It is also our go-to drink after hiking, or just when we feel like treating ourselves. Every time someone visits us, we get them hooked on bubble teas, so be warned!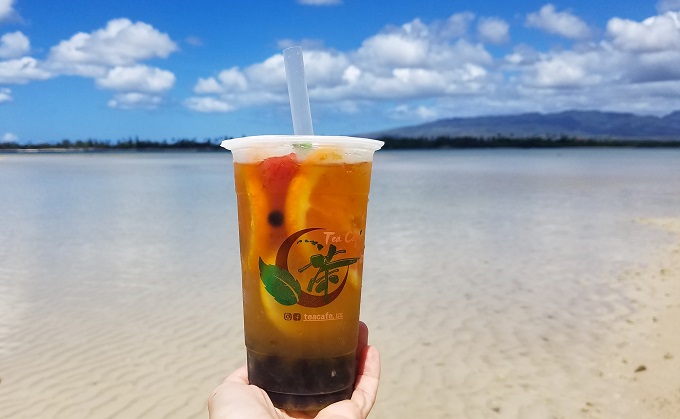 DAY 306
A flock of zebra doves enjoying a piece of bread we treated them with. These are the most common lowland birds seen around Hawaii, and they are considered urban birds - much like sparrows or pigeons in other big cities. Originally from Sumatra and Java, they spread to Laos and Thailand, then to Australia and finally Hawaii in 1920s. Zebra doves get their name from the striped markings around their necks.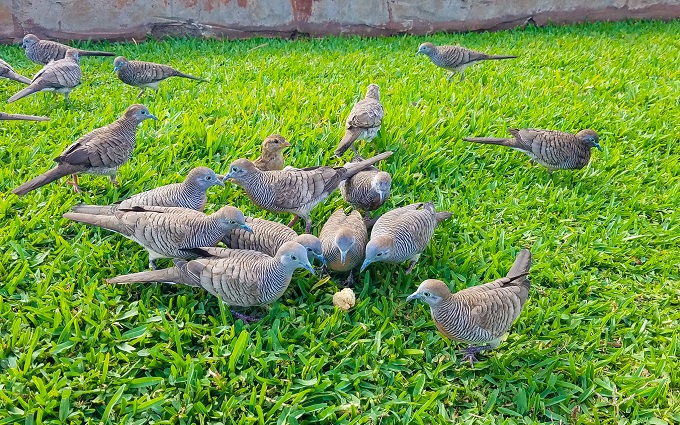 DAY 307
When I met my husband 16 years ago and joined him on his every-few-year job transfers around the world, my only request was that one day we get to live somewhere where palm trees grow big and wild. And he sure delivered! Hawaii has no shortage of palm trees - short and tall, fat and skinny, bushy and scraggly... No matter the shape or size, I just love, love, love palm trees! Every day in Hawaii is like a magical wonderland for me and I'm enjoying every bit of it!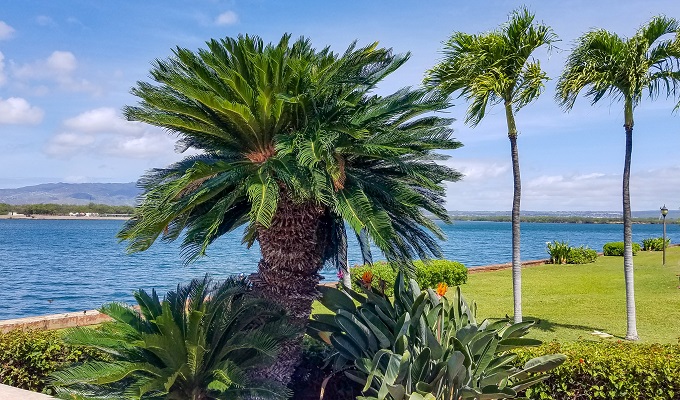 DAY 308
How would you like to receive a tropical bouquet like this for your birthday or anniversary? Although it is possible to buy roses and some other traditional flowers, amazing tropical florals like these are more common here in Hawaii and actually even cheaper. They are very unique and I absolutely fell in love with it when my husband game it to me for Valentine's day. Now I occasionally stop by a flower shop and pick up a bouquet like this for myself to bring home and have a little bit of the tropics blooming inside my living room.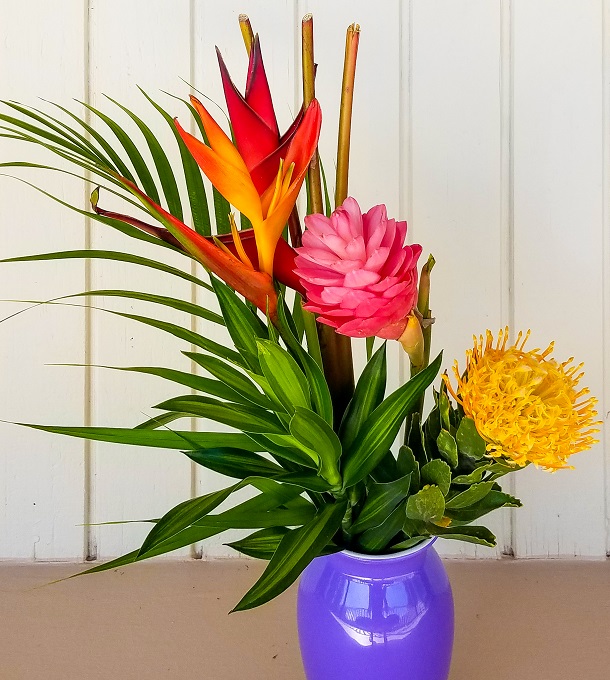 DAY 309
What a fun day with our boys today - we headed out on a 'Hollywood Movie Sites tour' at Kualoa Ranch. Ka'a'awa Valley here is nicknamed ''Hollywood's Hawaii backlot'' as many, many Hollywood blockbusters and TV shows have been filmed here. Often times, the props are left here for visitors to enjoy and see. We toured the sites of such movies as Jurassic World, 50 First Dates, Jumanji, Finding 'Ohana, Triple Frontier, Lost and countless others. This particular scene is the boneyard from the movie Kong Skull Island. And even if you are not a big movie fan, the scenery alone here is worth taking the tour for!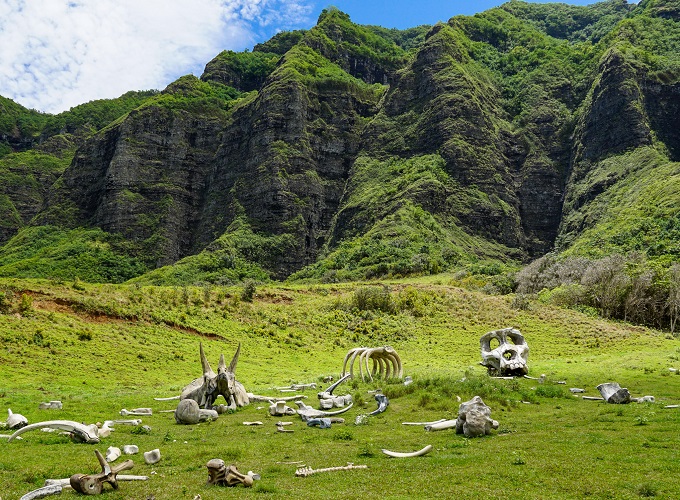 DAY 310
This is what Hawaii road trips look like! The coastal highway down below is Kamehameha highway and it weaves its way along the coast around the whole island of Oahu. We have made the drive (what feels like) hundreds of times but the scenery makes us gasp in awe each and every time over and over again. There is just no end to the beauty of Hawaii.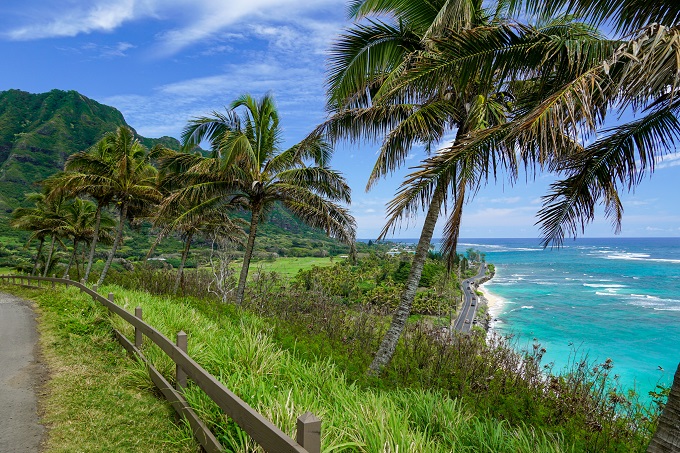 DAY 311
When we stopped by the beach today, the boys got excited about all the wood the high tide had washed ashore and they spent the whole time building stick beach houses in the sand. They never even stepped in the water. Kids need so little to be happy - some sand and wood sticks, that's all it takes.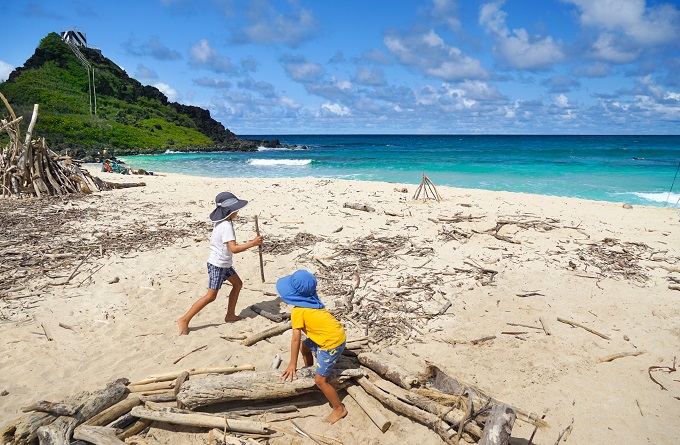 DAY 312
Today started with a very early alarm at 5am. I had booked a tour to go swim with wild dolphins in the ocean. With the boat tour leaving at 7am, this made for an exhaustingly early morning. However, it was all absolutely worth it when we finally got to jump in the ocean and see these wild animals in their natural habitat. Overall, we got in the water on 4 different occasions and saw spotted and spinner dolphins. They even did some spins for us, seeing which so up close and personal was absolutely humbling. What magnificent creatures! Later on we also got to go snorkeling at a reef and met several sea turtles there. Dolphin Excursions Hawaii was definitely a 5* experience worth every penny and a memory to treasure forever!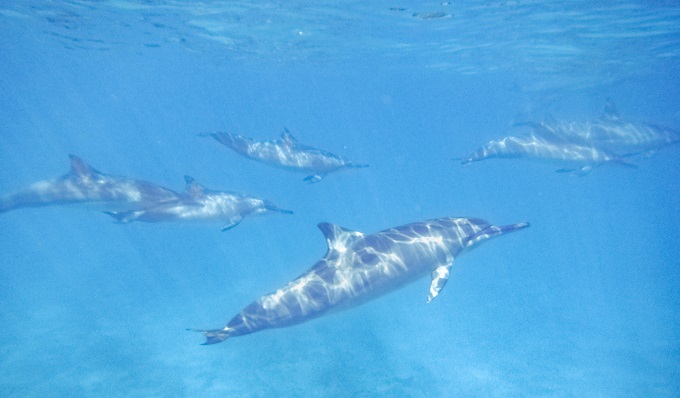 DAY 313
As we were passing along Dole Plantation fields, I just could not resist a short stop. The sweet smell of pineapples in the air was calling my name. There are hefty fines for stealing a pineapple from these fields, so don't even think about it! However, looks like they will soon be ready for picking and make it to all the local store shelves for anyone to buy and enjoy! Hawaii has the best and sweetest pineapples in the world, of that I am 100% certain!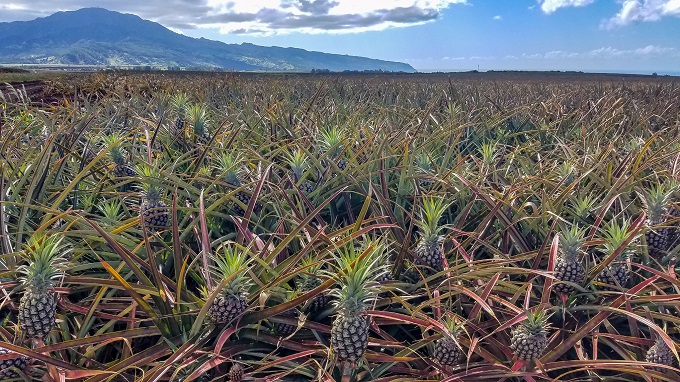 DAY 314
When we tried out the locally made coconut pancake mix during our camping trip at Ho'omaluhia Botanical Gardens, we got hooked. They were so good! Therefore, we decided to head back to the store and buy another pack of coconut pancakes to make at home. Once I got to the store, I discovered that this company makes several other flavors besides coconut, and being unable to make a decision, I bought them all! I mean, where else can you try guava, mango or pineapple pancakes if not in Hawaii? I guess we have several weekends of pancake-tasting ahead of us!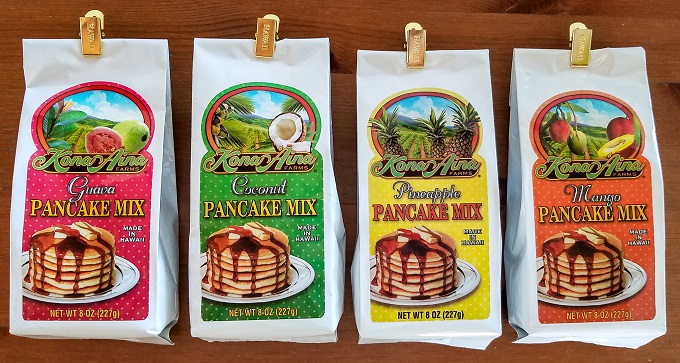 DAY 315
Today we packed up the boys' bikes and headed out to the 3-mile long Kawainui Marsh Trail near Kailua. It is a flat pathway leading along a stream and through marshlands with beautiful mountains in the distance. We saw many water birds here from more common ones like geese and ducks with little chicks to some rare and endangered ones like 'alae 'ula (Hawaiian moorhen), 'auku'u (black-crowned night heron), kōlea (Pacific golden plover), egrets and others. Definitely a great nature experience for kids.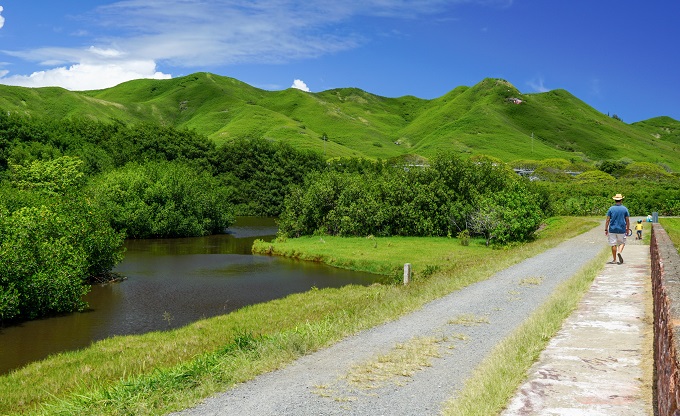 DAY 316
That's just me - being dwarfed by all the tropical Hawaii wilderness around me.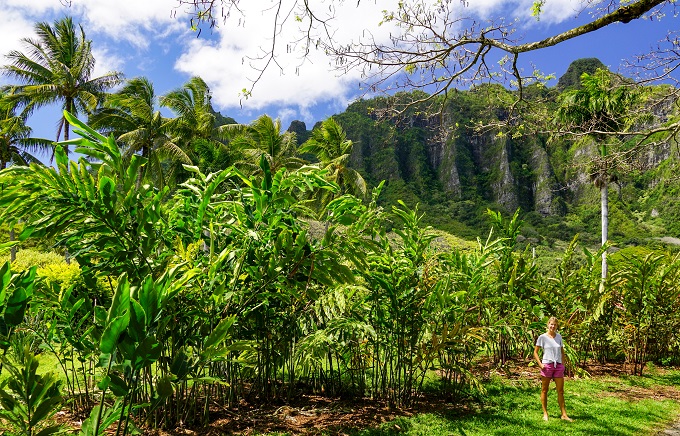 DAY 317
We headed out on a hike today. It has been one I have been eying for a while but due to mixed reviews about its difficulty I kept putting it off. Today we decided to take on the challenge and do the 2.7-mile long Friendship Garden and Oneawa Hills trail. To get to the final lookout, it required crossing 3 ridges which reached almost 60% incline at times and ropes were strung to help hikers pull up. It was definitely a very challenging and tiring hike, but the views were stunning the whole way through - from mountains to valleys, ocean and small towns tucked in between. And at the end of the trail we got a great overlook of Kapaa Quarry. Boys earned a big dessert of shave ice and fruit after the hike (thought of which is what kept them going without complaining)! ;-)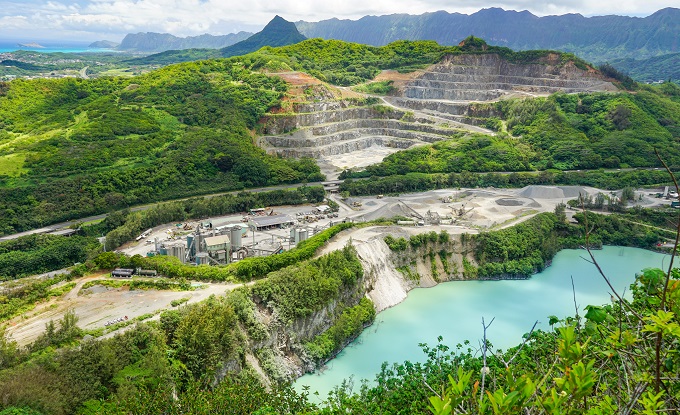 DAY 318
We all were quite a bit sore after yesterday's long hike, so we took it easy today. Although I really dislike shopping (of any kind), we needed to make a trip to the mall for a few things which, honestly, is usually just an excuse for me to get to my favorite coffee shop, Island Vintage Coffee... This is Ala Moana mall - a big shopping mall with no roof and palm trees growing in the courtyards. Kind of like an open concept indoor mall - typical for Hawaii. And who needs roof when you have all this natural sunshine 12 months out of the year?!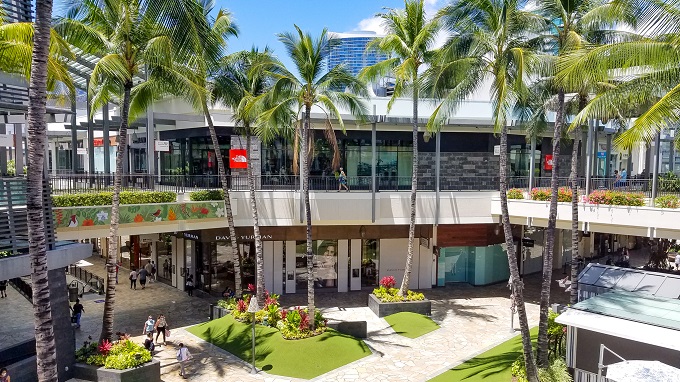 DAY 319
Plumeria trees look bare and naked for many months out of the year until suddenly they sprout hundreds of colorful blossoms and eventually green leaves come in. It is really odd to see a leafless tree here in Hawaii as usually that is a sight associated with snowy, cold and wintery countries.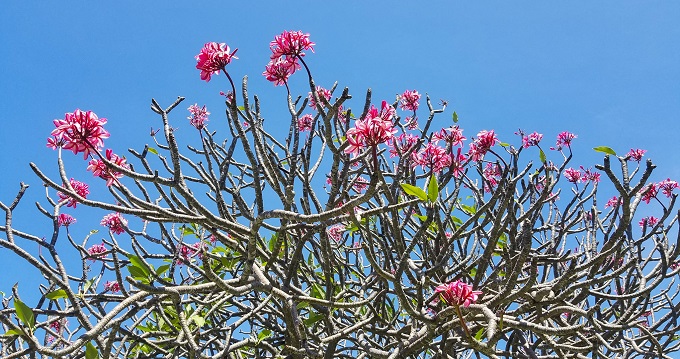 DAY 320
While taking a drive without a particular destination around the Windward side of Oahu, we decided to check out the Marine Corps Base Hawaii in Kaneohe which we had not explored much before. To our surprise, it had so many amazing recreational opportunities - cabin and campsite rentals; kayak, SUP and boat rentals; fishing pier; golf course and an amazing beach. Wow! No doubt we will be back here soon enough to try out all the fun stuff we have missed! But for today, we just enjoyed this stunning view of Pyramid beach!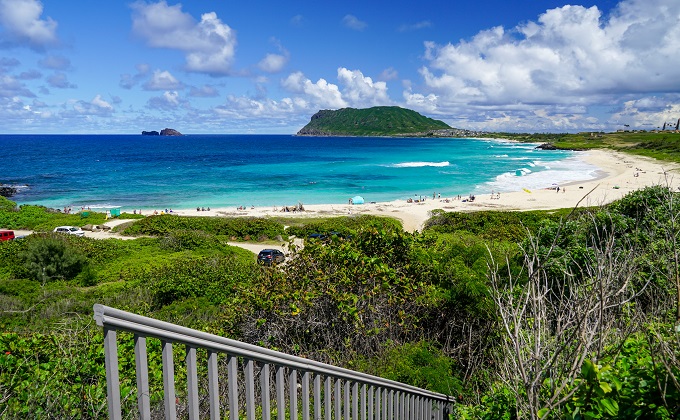 DAY 321
In the jungles of Hawaii... I wonder how many lonely years this bus has spent here... Jokes aside, illegal dumping is a big problem in Hawaii - from appliances to bed matrasses, furniture and even old cars! Locals dump garbage along roadsides, forests, in the ocean and even other people's yards! And although the state offers free once monthly large item pick-up per household, locals seem to have it more convenient to just dump it anywhere. It is sadly a big issue!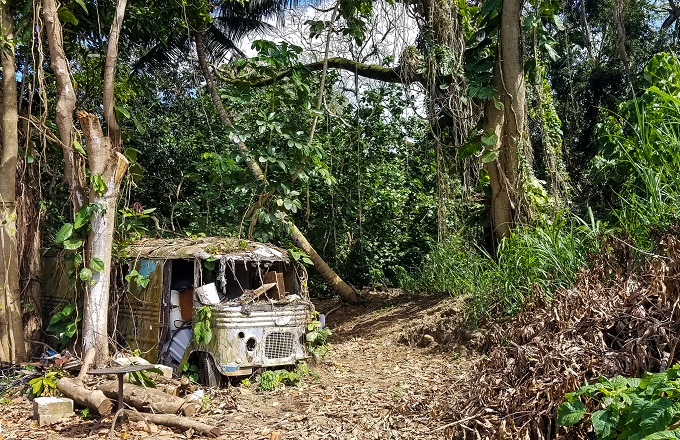 DAY 322
Our daily dose of saltwater, sand and sun! And with Honolulu airport just a few miles away, we get to see every plane coming in for a landing - full of eager tourists looking forward to enjoying their Hawaii vacations.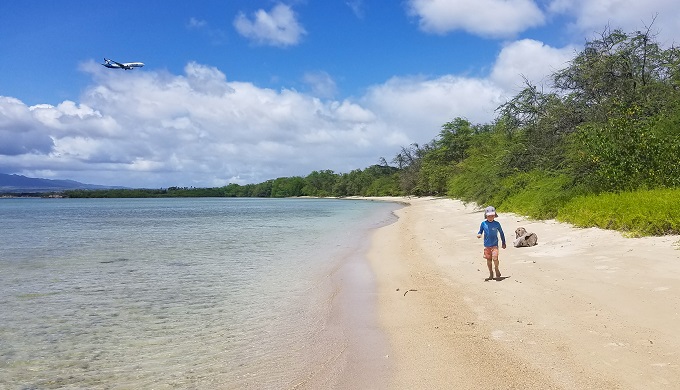 DAY 323
With some family visiting us for a few weeks, we are showing them our favorite Hawaii spots. Luckily, they are avid hikers, so I brought them to Oneawa Hills trail which we hiked with our boys just a week ago. We were impressed with all the views from this trail, so I decided to take our guests on it too. It was thumbs up all around!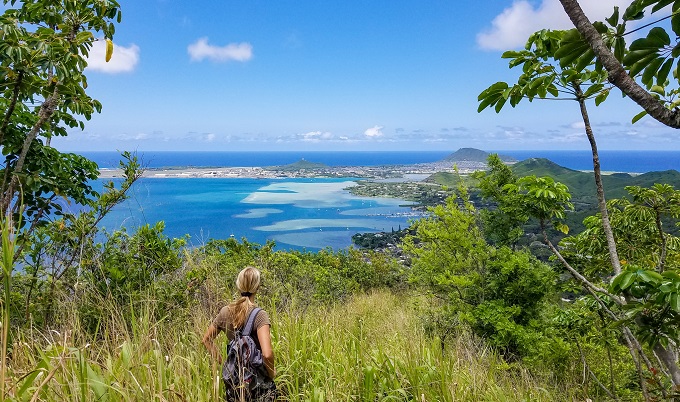 MAY
DAY 324
I got an early Mother's Day present today - a massage at an animal sanctuary. Aloha Animal Sanctuary is the first non-profit animal sanctuary on Oahu for farmed animals (pigs, sheep, ducks, goats etc). Each animal has a different story of why they have come here, and during farm tour we got to meet them all. Afterwards, I got a massage right there on the property which took place in their spa tent under a mango tree amidst lush tropical greenery. I could hear quacks, cook-a-doodle-doos, oink-oinks and baa(s) throughout my hour-long massage and it was very fun! Felt like a little safari experience!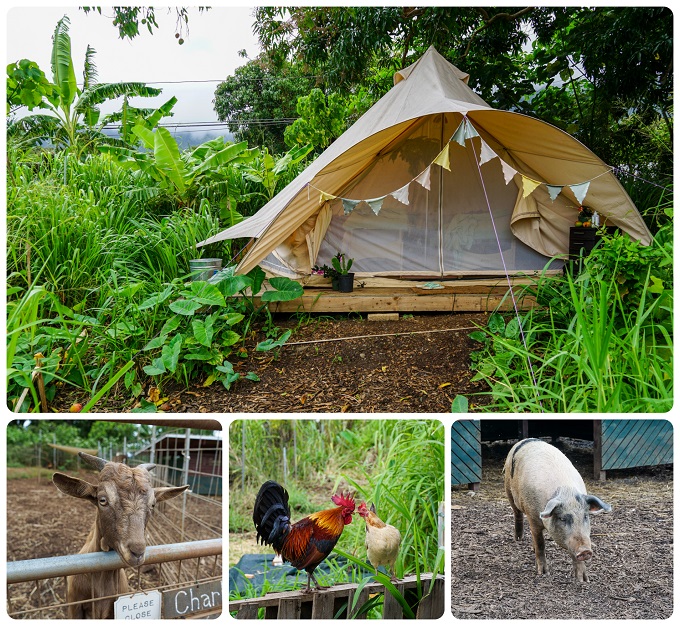 DAY 325
The 3000ft high Ko'olau mountain range in Hawaii is almost constantly engulfed in cloud cover even on sunny days. So when I saw this very rare sight of the mountains showing their peaks with no cloud cover, I had to make my husband pull the car over on the side of the road to take a photo. Everything just looked so incredibly crisp and green and you could see all the sharp V ridges very clearly!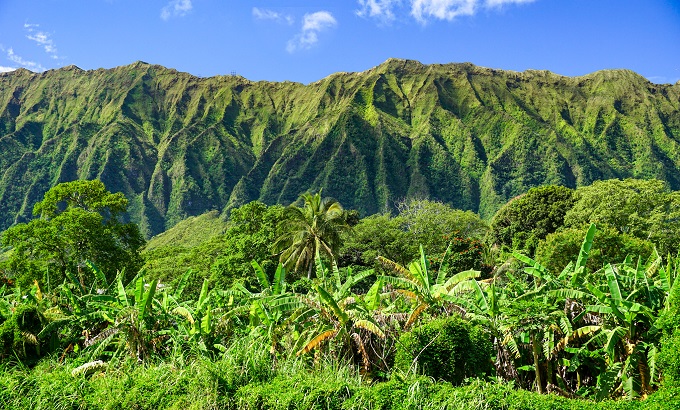 DAY 326
When leaving the parking lot of Aiea loop trail, we noticed this bird come out of the woods. At first we thought it was a wild female turkey, however, we were wrong. This is actually a helmeted guineafowl - a bird domesticated in Africa but now roaming forested areas around Hawaii.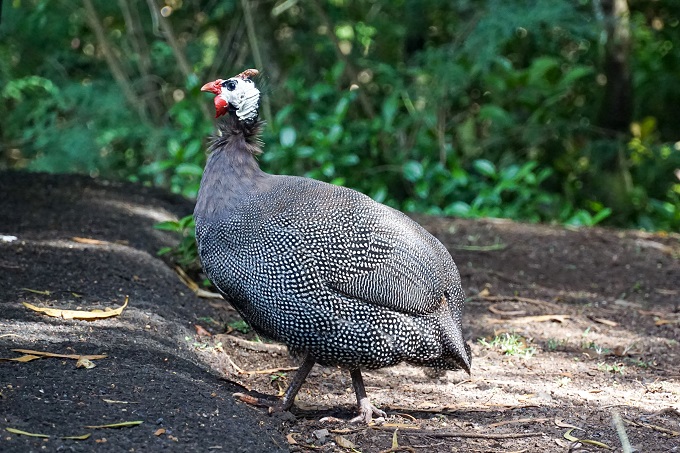 DAY 327
Big news around Hawaii - a little monk seal pup was born on a very busy Honolulu beach. Appropriate instances reacted very quickly and sealed off the beach letting momma and baby have their peace from humans. This is a 10-year old monk seal mom tagged (named) Kaiwi and this is her 4th baby. The baby is 2 weeks old in this photo. Momma and baby will stay on the beach for 4-6 weeks to nurse after which they will take off into the ocean and the pup will have to fend for itself.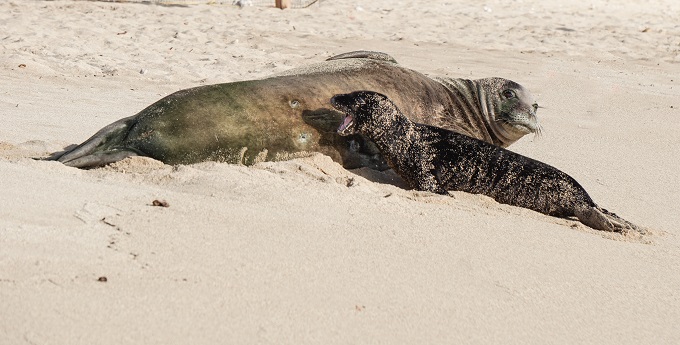 DAY 328
Took my guests on another trail today - the 5-mile long Kuaokala trail near Ka'ena Point. I hadn't hiked in this area before, so it was exciting for me to experience a new trail as well. It had beautiful ocean and mountain views and it did not feel overly difficult (although it has over 1000ft elevation gain). Quite a few guava trees along the mountain-sides, so we picked a full bag to bring home and enjoy.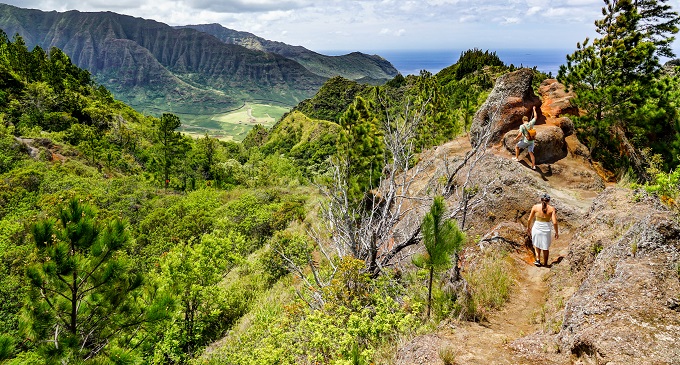 DAY 329
The Kaneohe Bay has the most amazing colors which are a combination of sandbars, coral reefs, ocean tides and even angle of the sun. It is so incredibly turquoise blue! We had set our minds on some paddle boarding and kayaking here, but the weather report predicted increased winds of up to 35mph, so we dropped the idea as the dock personnel told us they had already went out 3 times to save some kayakers incapable of getting back ashore themselves. We will wait for a less windy day and give it another go!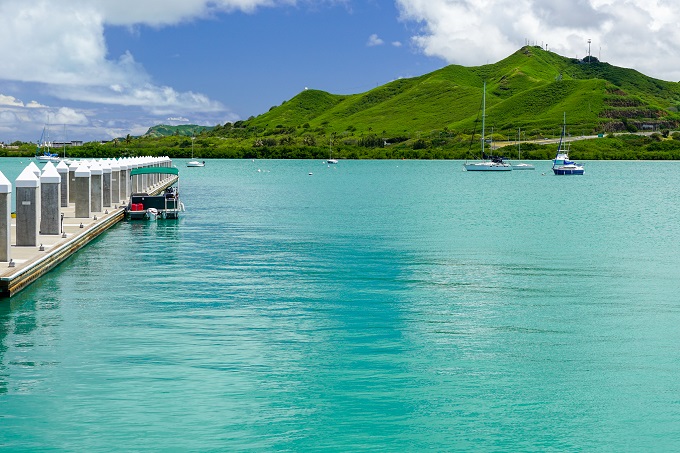 DAY 330
Fun times for kiddos! Team youth sports have been given the green light and after a year of silence and with increased vaccinations and less Covid cases, Oahu has deemed it safe to restart youth sports. So, our boys are happy to finally meet up with others their age to throw a ball around.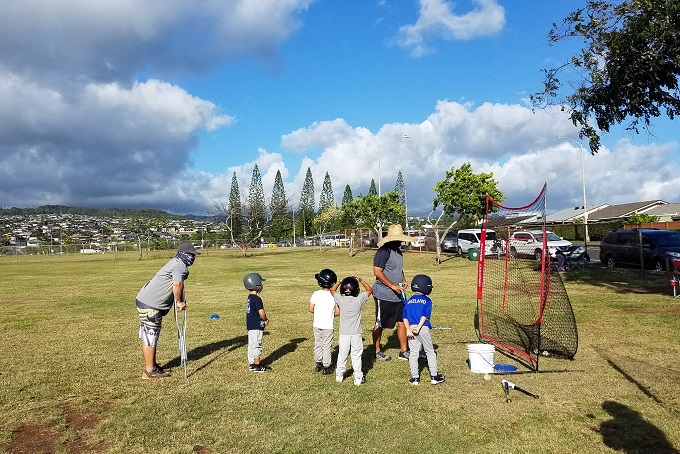 DAY 331
The oldest architectural structures in Hawaii were built by ancient Hawaiians and called heiau. This is Keaīva Heiau in Aiea and it is estimated to have been built by lava rock in the 16th century specifically as a medicinal or healing temple. The 4-foot high stacked rock wall encloses the sacred area that measures 100 by 160 feet. Within the enclosure was a halau (large thatched structure) built for the master kahuna to store the medicinal implements and train the students. Other features might include hale (small thatched structure) and a puholoholo (steam bath).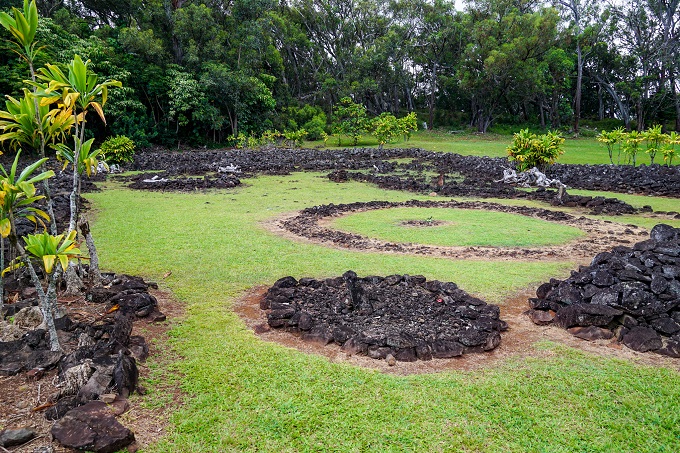 DAY 332
Although I have done the Diamond Head Lookout trail several times, it is a must-do for every tourist, so we took our guests to the lookout for some views of Honolulu and Oahu coastline. It was a sunny and hot day, so the cold smoothie truck parked at the end of the trailhead was the perfect way to cool off. I am sure we will be doing this trail many more times with all of our visitors who come to see us for as long as we get to live on this beautiful island.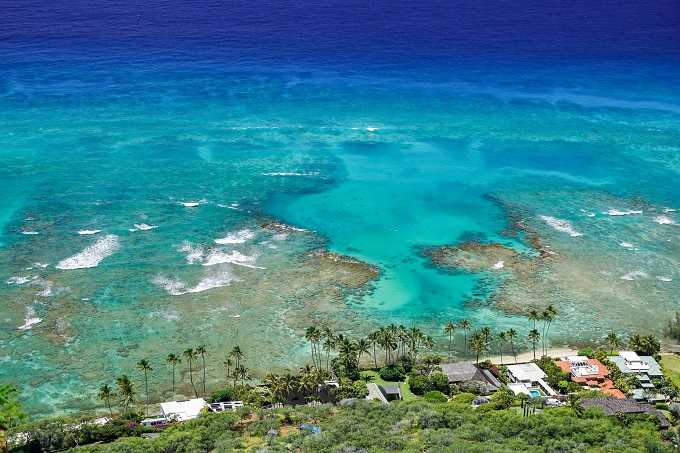 DAY 333
Without taking a break, we were back to hitting one of Oahu's many gorgeous trails again today. We hiked the Kuliouou Ridge trail with our boys many months ago and it took us about 5 hours. This time, I took our guests on this hike without the littles and we completed the hike in 3 hours. It was definitely much easier and quicker without having to drag the boys up and down this almost 5-mile long trail but I still kind of missed them... Out of all the trails we did with our mainland visitors, this one became their favorite one because of the fantastic views from up top.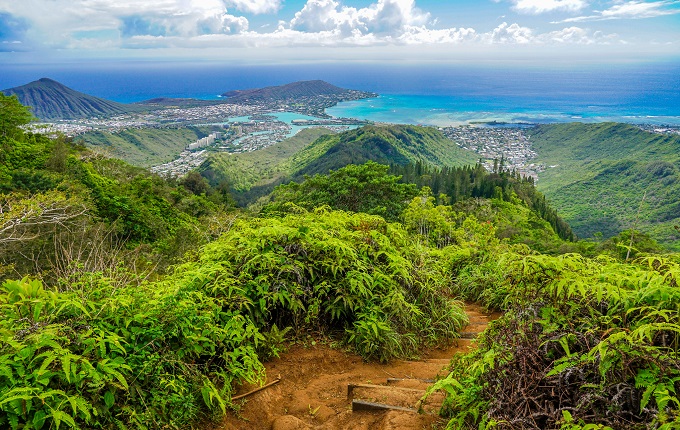 DAY 334
3rd time's a charm? We went back to White Plains beach this morning for some surf and fun. My first 2 attempts at surfing a while ago weren't that great, but I decided to give it a go one more time, regardless. Gotta admit that I was as unsuccessful as the first 2 times, however, even without standing up on the board it is still a really hard workout - paddling your own weight along with the board against the waves does make your muscles burn. And we had fun, so that's important too.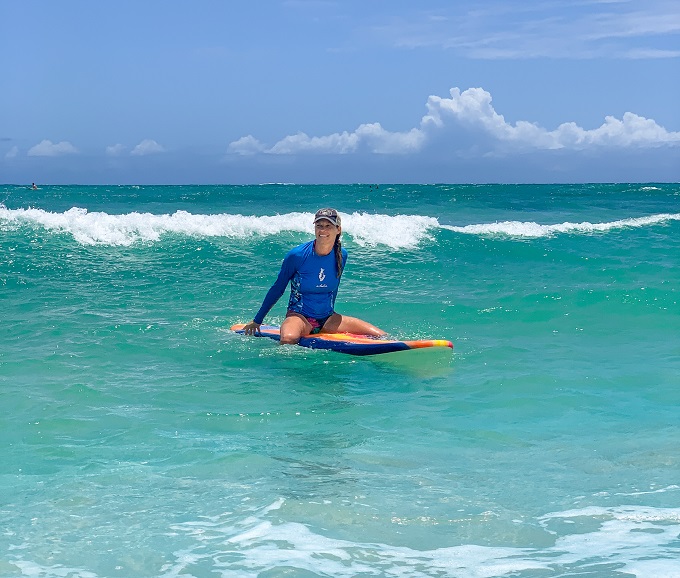 DAY 335
Not all days are always blue skies and bright sun here in Hawaii. We got tickets to go snorkeling at Hanauma Bay and although the weather forecast predicted clouds, it started pouring shortly after we arrived. We tried to wait it out for an hour, but the skies were white from the heavy downpour - we got completely soaked through and through along with all of our belongings. There was no end in sight to this misery, so we threw in the towel and ran to the car, turned up the heat and drove home. There will be another day.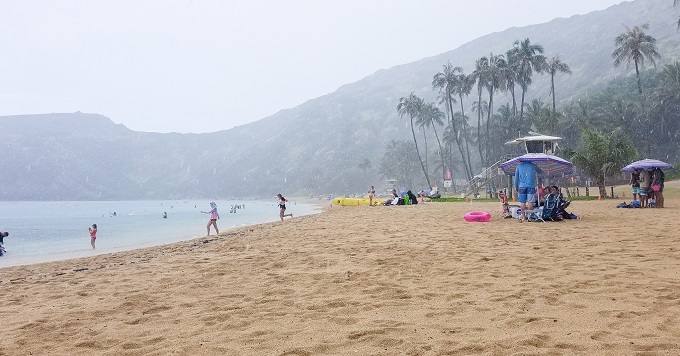 DAY 336
Roadside refreshment stands Hawaii style - pineapple smoothies in a pineapple. They are sooo good!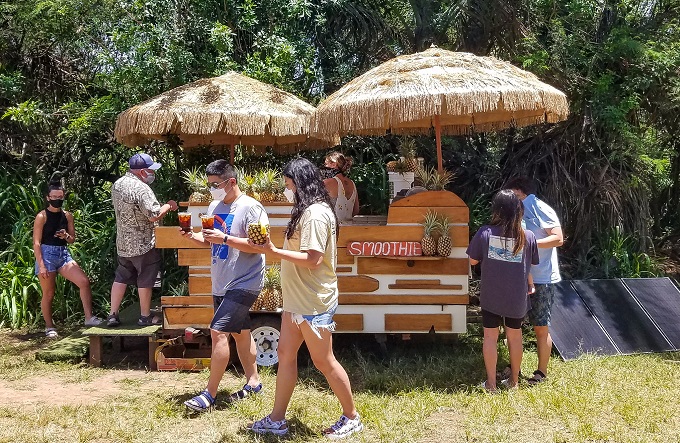 DAY 337
Lulumahu Falls was the last hike we did with our guests as tomorrow they are flying home. But we still wanted to squeeze in just one more hike, so we headed into the rainforest in search of the 50ft tall waterfall. I had done this hike before, so I was aware of what to expect - a few stream crossings, lots of downed trees, big boulders to scramble over and a muddy rainforest trail. But it is all worth it when you start hearing that roar of a wild waterfall crashing down a tall mountainside...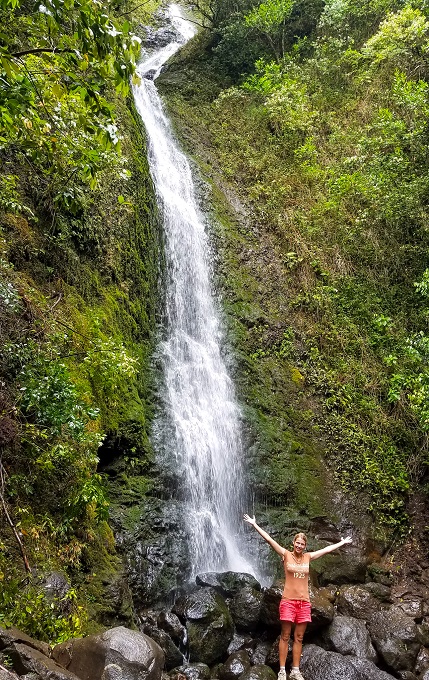 DAY 338
Just wow! During our breakfast, I glanced out the window and noticed a rainbow forming what looked like almost in our backyard. With the passing storm, it appeared out of nowhere, lasted just a handful of minutes and then very quickly faded away. It was the brightest, most insane rainbow I had ever seen! It was so bright it was almost difficult to look at it! I just got lucky to catch a glimpse of it at the right moment and had my camera handy.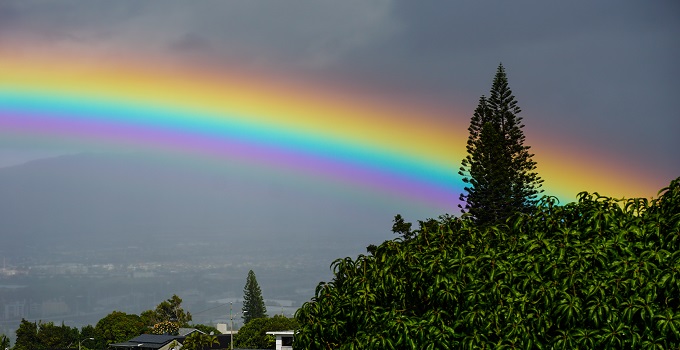 DAY 339
These are strawberry guavas - fruit we have tried for the first time only here in Hawaii. Hawaii hiking trails are something to look forward to not only for their amazing scenery but also all the tropical fruit we can eat along the way - regular and strawberry guavas, apple bananas, mangoes, coconuts and many others can be found growing along the hillsides and fields. Sometimes we get caught off-guard by the plethora of ripe, wild fruit during our hikes that we end up picking and storing them in our hiking backpacks as we have no other appropriate containers. But then we can bring them home and enjoy for many more days to come - for free!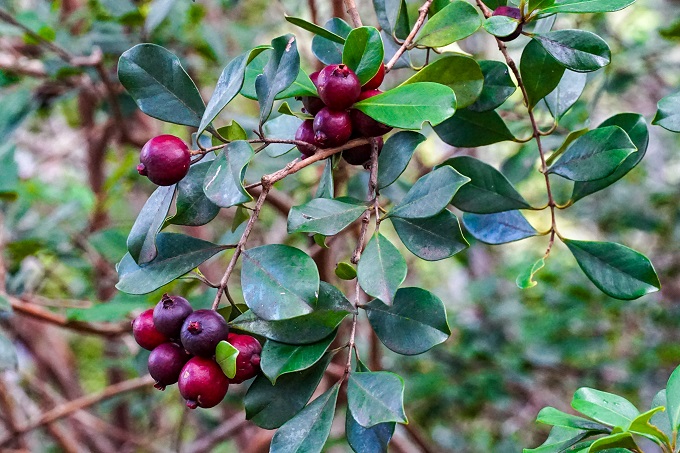 DAY 340
Sometimes I feel like I have no right to complain about anything. How could I possibly when my days look just like this - toes in the sand watching my kids play in these amazing Hawaiian waters for hours. Well ok, this not quite what every single day looks like, but more often than not, if I need an escape or a break, a beach is where we will go to relax and recharge.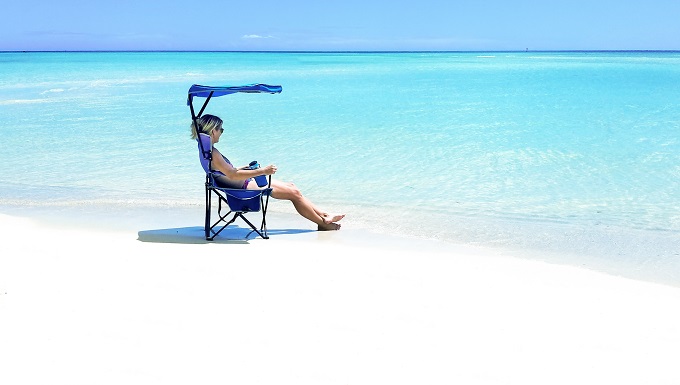 DAY 341
We stumbled upon this palm oasis when going to my husband's surf lesson at Pu'aena Point Beach Park in Haleiwa. We had never been to this beach area before and after parking our car in the lot and starting our walk to the beach, we were engulfed by tall palm trees all around. It sure did feel like a little oasis!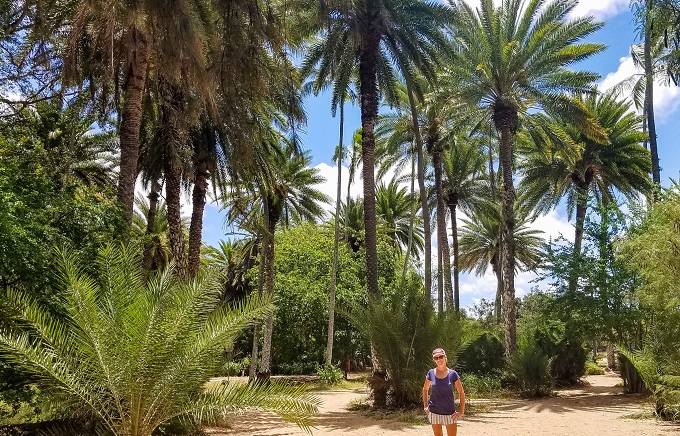 DAY 342
Ocean creatures on the loose! This is one of the weirdest animals we have encountered on our beach during the low tide. It looks like a slug, feels like a jellyfish but has floppy side wings like a stingray. It got washed ashore and my kid picked it up - which looked like big blob. I freaked out as initially I thought it was a jellyfish, but apparently this is just a relatively harmless sea hare who feeds on plants and algae.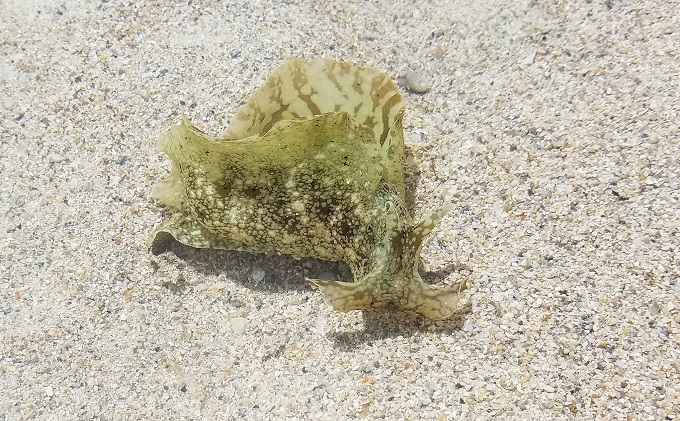 DAY 343
Waianae Harbor on the Leeward side. It is not too often that we pass along this coast as it is a dead-end out-of-the way part of the island. So whenever we do come this way, there is usually a reason - a hike we want to do or a tour we have booked. This was one of the days we spent cruising along the Leeward coastline and caught this view of the harbor and Waianae mountain range.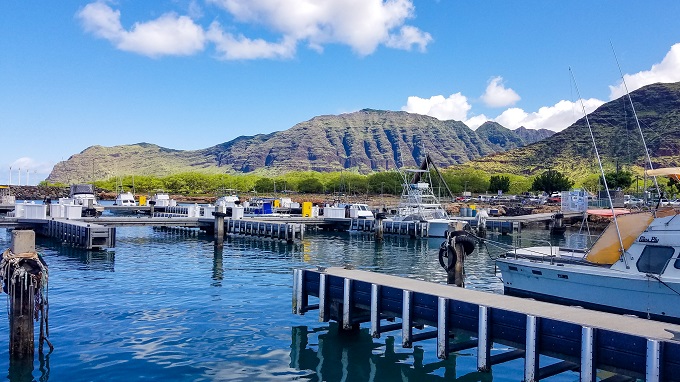 DAY 344
This scene brought some flashbacks of our Caribbean vacations. Caribbean beaches are often lined with colorful boats of all shapes and sizes, not so much Hawaii. This is, apparently, the docking spot for Waikiki Outrigger Canoe Club. Definitely makes for a fun photo stop!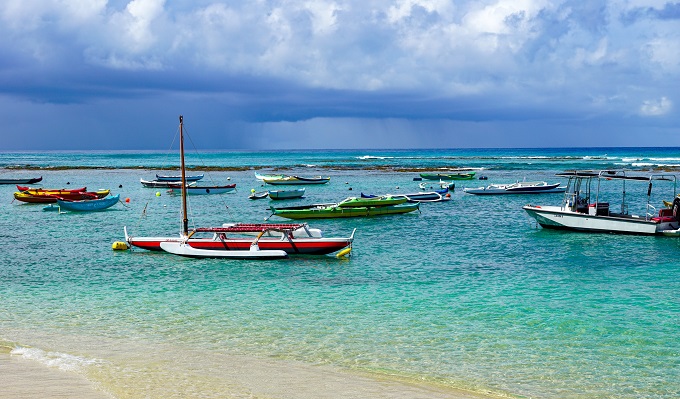 DAY 345
Kōlea (in Hawaiian) or Pacific Golden Plover is considered to be an indigenous bird to Hawaii. It is a migratory bird who arrives to to these islands around August / September and leave end of April. Although they used to be hunted for food by ancient Hawaiians, their protected status has brought the species' numbers back up and they can often be spotted around marshy wetlands and other water sources.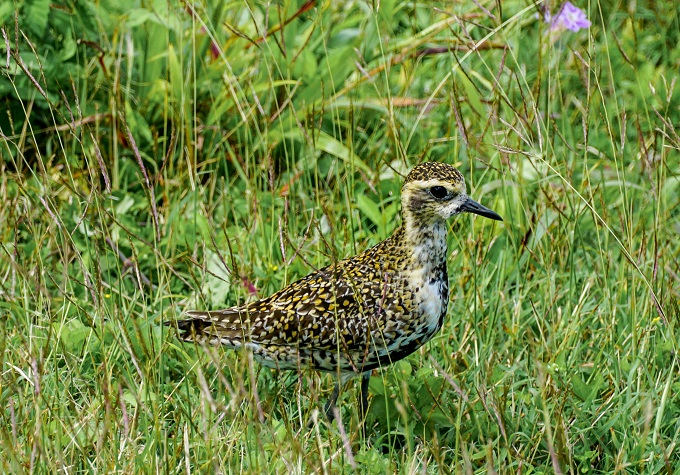 DAY 346
Koko Crater Botanic Garden is always an amazing place to go for a walk. So many plants, and something is always in bloom. This time we happened to be there right around cactus blooming time.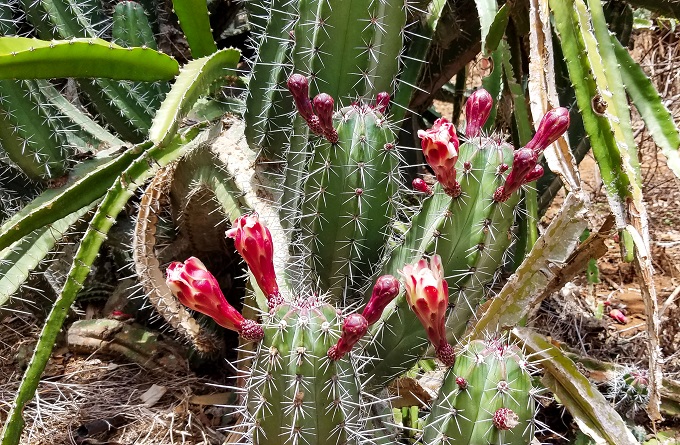 DAY 347
Old Pali Road hike can't be beat if you want peace, quiet and tranquility. This old road has been taken over by jungle, and you can hear birds high up in the trees. Many hanging vines along the road give kids an opportunity to try their hand at being Tarzan. You can choose to follow the road all the way up to the Pali lookout, or turn around sooner for a shorter hike. Either way, a fantastic rainforest experience is guaranteed!
DAY 348
I have noticed that the last few night we have had some particularly colorful and bright sunsets again. I am not sure if it has to do with the time of the year or just the weather itself, but we have sure been enjoying these evening views!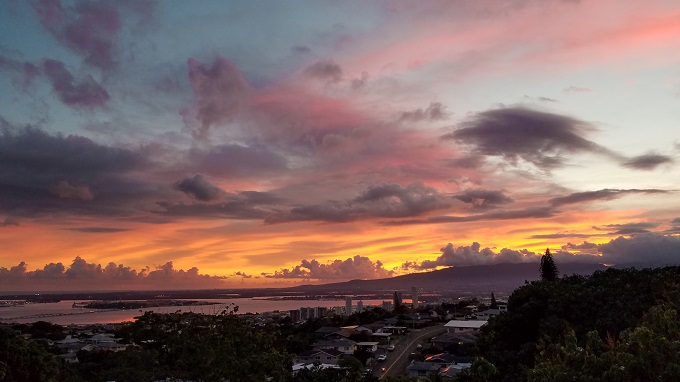 DAY 349
This is a papaya tree. Unfortunately, it is our neighbors' down the street and they are not very keen on sharing, so our boys have given them a nickname ''mean papaya people''. Then just a few days ago while scouting our backyard for anything new, I noticed that we have a little papaya tree growing - just a foot high, but it is surely there. No idea how it got there in the first place, but I guess we will have our own papayas in about 8 months, as papaya trees grow very quickly and can produce fruit in as little as 6-8 months. We are eagerly waiting as we all love papaya!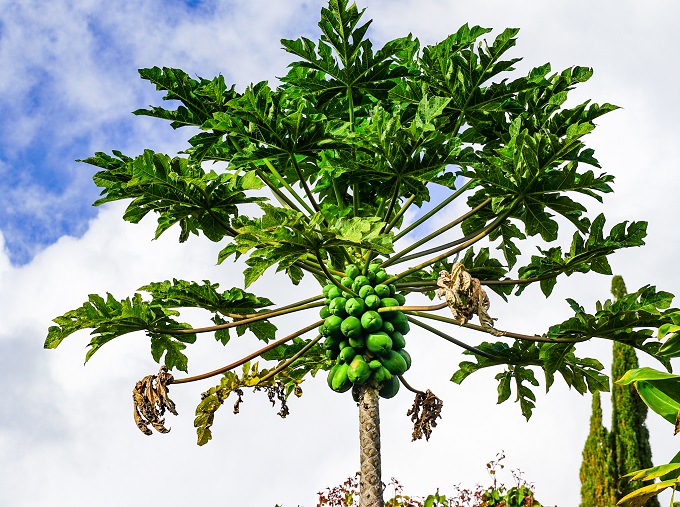 DAY 350
Turtle Beach never disappoints us. Today there were 2 turtles on it, but it was the first time I have seen one with a transmitter. His name is Wooley-Bully (or Lopeka O Kolokai (Roger the Seafarer) in Hawaiian). It is a 45 year old male who weighs 245lbs. Wooley-Bully made 1,000 mile round trip migration to the breeding grounds at the French Frigate Shoals in just 25 days. He is distinguished by a shark-bitten left rear flipper. The other turtle behind him is Hao - a 32 year old, 180lb female. Hao first arrived to this beach in 2010. She was struck by a boat in 2015 and suffered severe damage to both sides of her shell. A NOAA rescue team took her to a veterinarian who fixed her shell with dental epoxy and antibiotics. She was released 3 days later.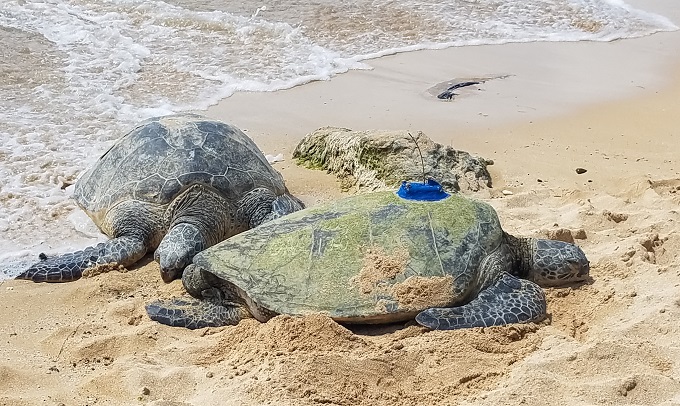 DAY 351
Just a quick snap of a street view in Hawaii as I was going on an afternoon bike ride around Hickam AF base with the boys. Military bases are great for biking, jogging, riding kick-scooters, strollers and many other activities as they have paved sidewalks which is not often the case is regular Hawaii neighborhoods.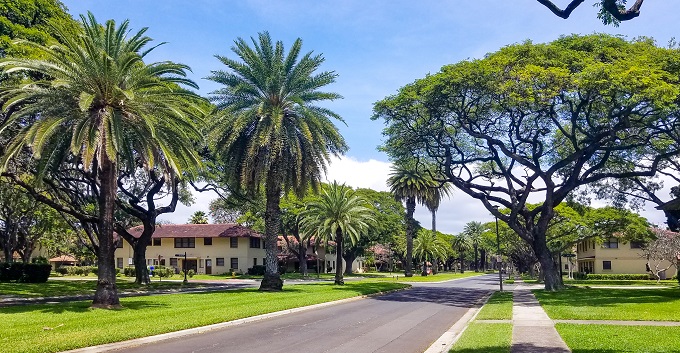 DAY 352
This quaint little spot is a stop just outside Haleiwa, called North Shore Macadamia Nut Company. They have grown their own macadamia nuts on Oahu for over 44 years and once they are harvested and packaged, they get sold here along with many other locally made products (like our favorite pancake mixes). If you are in the area, this is definitely a fun shop to stop at to check out locally made products and treats.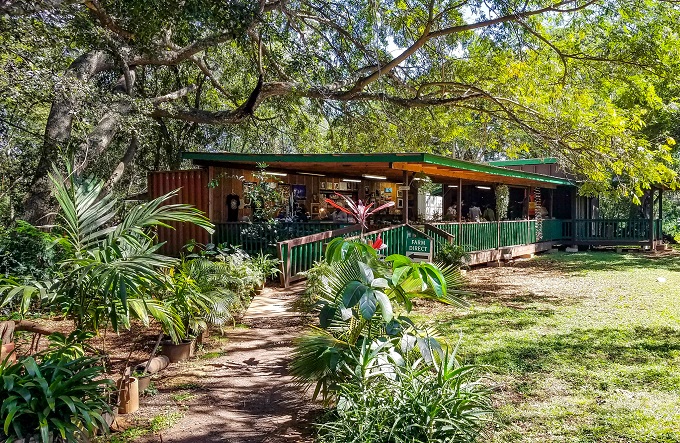 DAY 353
The Hawaiian tropical rainforest! Huge trees, hanging vines, tropical plants covering the ground and green ivies engulfing the tree trunks...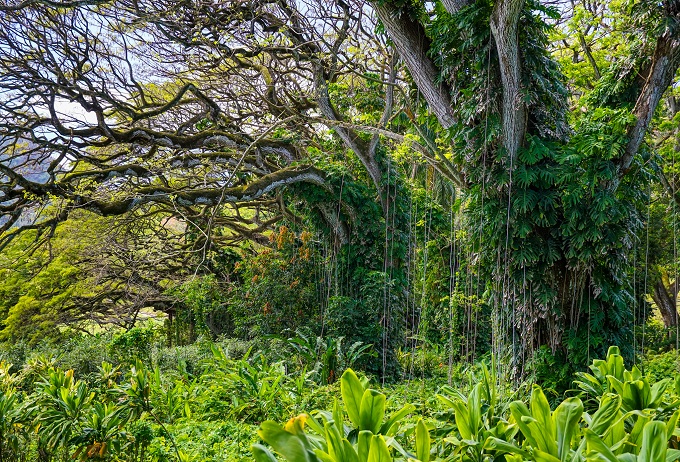 DAY 354
As we were walking along a beach, I noticed these little animals all grouped together on a floating stick. After long research I discovered that they are a type of mussel, and many of them can be invasive, toxic and destructive to other water animals as they latch on to their shells (like on a stick here) and parasite them. They can also damage and clog water filters, drains, boats and harbors. To me, they did not look all that horrible here swinging up and down with the waves...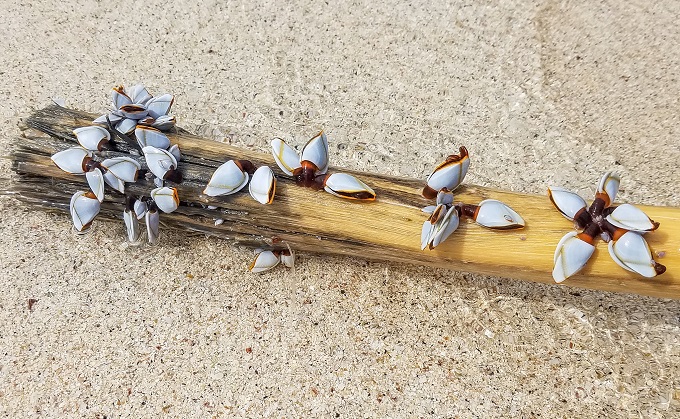 JUNE
DAY 355
I had seen this leaning palm tree in quite a few Hawaii Instagram photos but never really knew where it was until I was looking through some of our old hiking photos and noticed it in one of my distant scenery shots from up in the mountains. So I knew exactly where to go look for it! This is at Sunset Beach Park, and apart from the Instagram-able palm tree, it is also one of the top spots for sunset watching (as the beach name suggests).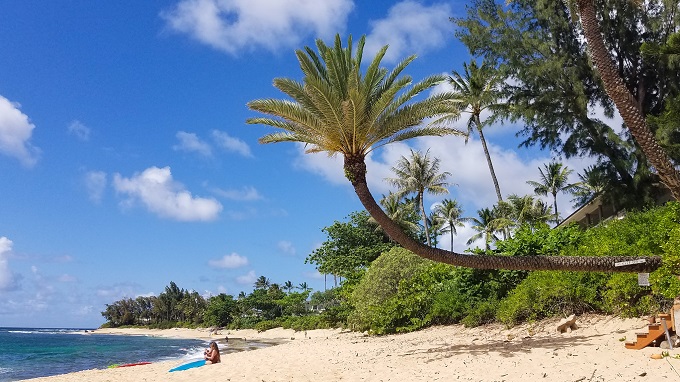 DAY 356
Although I have not seen very many ''regular'' bananas growing on the islands, these little apple bananas can be found in almost any backyard and they are sold all over - from stores to farm stands. They look short and chubby in comparison to their big brothers and has a slightly tangy flavor and more sturdy texture. They are great for using in desserts and baking / frying as they do not fall apart. One of our most favorite island desserts - banana lumpia - is made with this type of banana.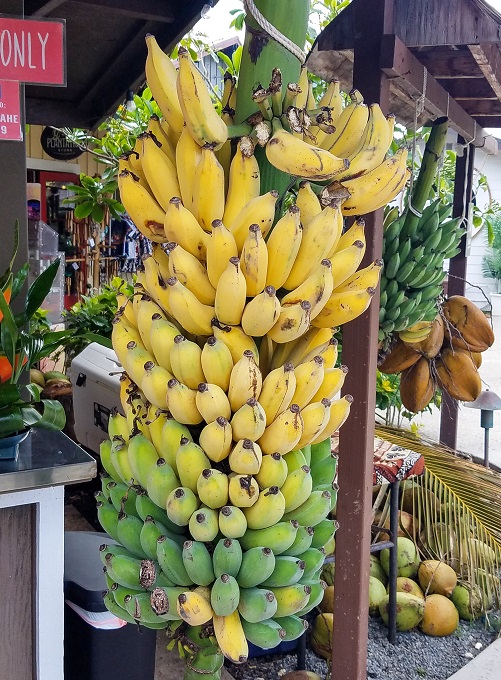 DAY 357
We finally got to head out on Kaneohe Bay (Kāne'ohe in Hawaiian)! Although boat rentals were fully reserved, we got ourselves some kayaks and headed out to some sandbars by the close side of the bay (near Kaneohe MCBH marina). Even right there by the marina we saw some turtles and several fish at the sandbar. The water at the sandbar was just knee deep and the kids had a ton of fun! I cannot wait to finally rent a boat so we can ride out to the big sandbar named Ahu O Laka which is the largest saltwater sandbar in the world - 3 miles long and 1 mile wide! Kayaking to it is not allowed as it is too far with the ocean currents and winds too strong.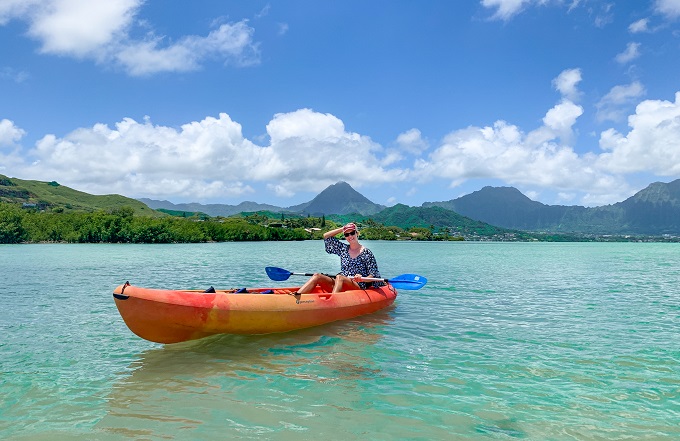 DAY 358
A few more of the tropical Hawaiian flowers the diversity and abundance of which never cease to amaze us here!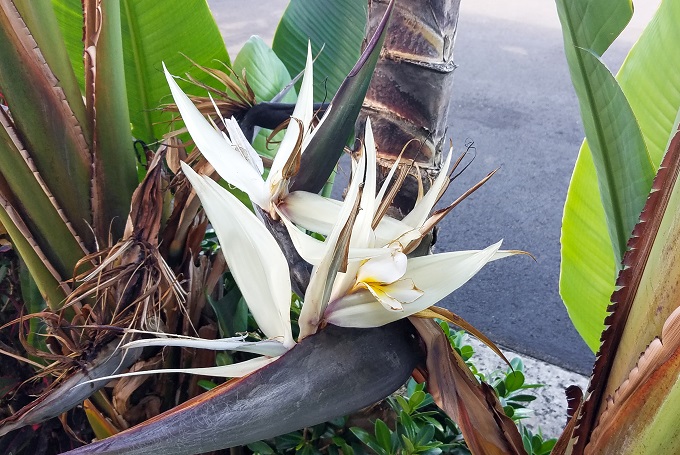 DAY 359
I think elsewhere in the world the saying goes 'All roads lead to Rome'. However, in Hawaii it goes along the lines of 'All roads lead to another stunning scenery'... I mean, how do you not fall in love with this? There is nothing a man can create that will ever supersede the beauty of nature!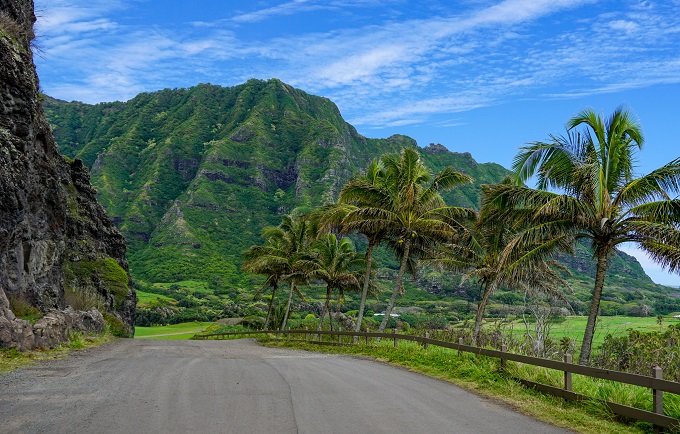 DAY 360
Whenever I gaze at the beauty of Hawaii, somewhere there is always a reminder of just how much human impact is actually there, and not in a good sense. I have already mentioned the garbage and junk-dumping problem before, but even my walk on this fairly remote beach turned out to be a big let-down. From afar, it was blue ocean and white sand, but once I actually got here, beneath my feet were thousands and thousands of pieces of microplastics, all washed out from the ocean. All these little colorful (blue, green, white...) pieces are the result of plastic pollution. And since living in Hawaii and experiencing this problem firsthand, our family has become much more environmentally conscious and we try to use as little plastic as possible (recycle and re-use)!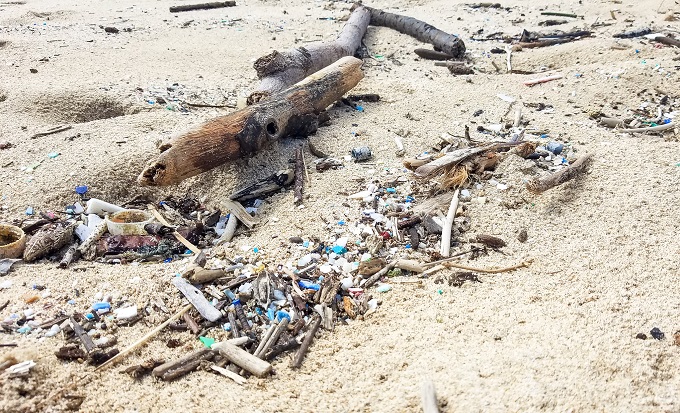 DAY 361
One of the more popular surfing spots for beginners near Haleiwa - Pu'aena Point Beach Park. Even during winter months when the North Shore gets flooded with pro surfers catching the ''Big Ones'', this little protected area is usually manageable enough for total amateurs like ourselves. And if surfing is not your thing, you can take a long walk on the sandy beach that starts just around the corner.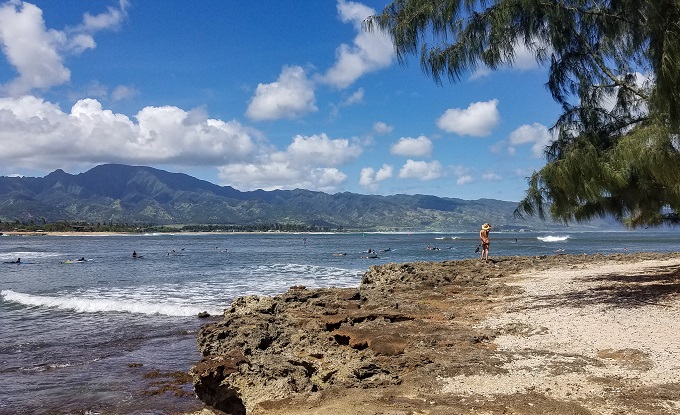 DAY 362
These Hawaii Gold trees really seem to be popping up all over again. We had them bloom around our area (in the mountains) several weeks ago and then they slowly faded away. But now it looks like the lower areas of the island are starting catching up just now. Once the petals start falling, they cover the whole area underneath the tree with a bright yellow carpet. You can see this particular scene in downtown Haleiwa.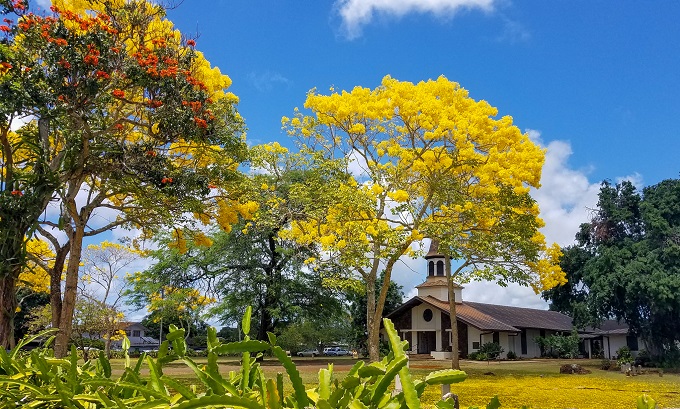 DAY 363
I am not sure if by choice or unintentionally - but we do find ourselves in the Kaneohe Bay area quite often lately. Maybe we are drawn to it because it is one part of the island we have not yet fully explored. This little shallow beach is perfect for kids snorkeling as coral reef starts almost as soon as you step in the water. We did not have our snorkeling equipment with us today, but we will have to make another trip down here fully prepared for exploration!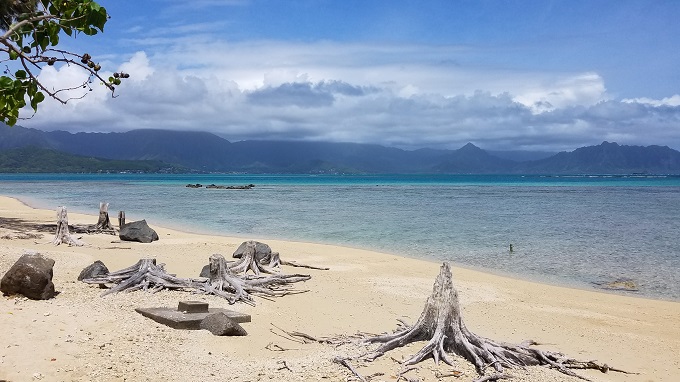 DAY 364
View of Honolulu. Surf, sand and no care in the world...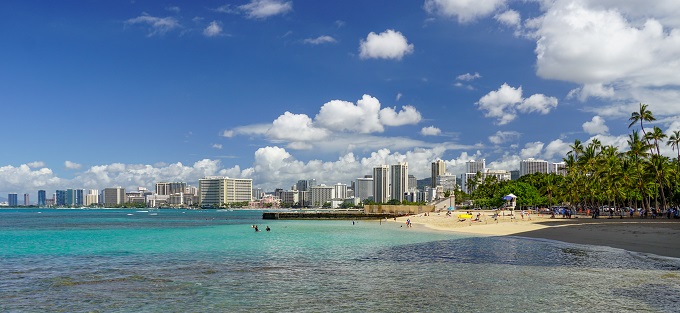 DAY 365
Wow, I cannot believe that it has actually been a full year since we moved to Hawaii! Despite all the craziness that has happened in the world over the last year, these 365 days have ran by so fast for us! It feels like we have seen and experienced so much, yet so much is still out there for us left to explore. And I am so happy I have several more years to look forward to and spend in these beautiful Hawaiian Islands! And although my daily Hawaiian blog of our 1st year in Hawaii has been completed, I am sure I will have plenty to write about again in the future!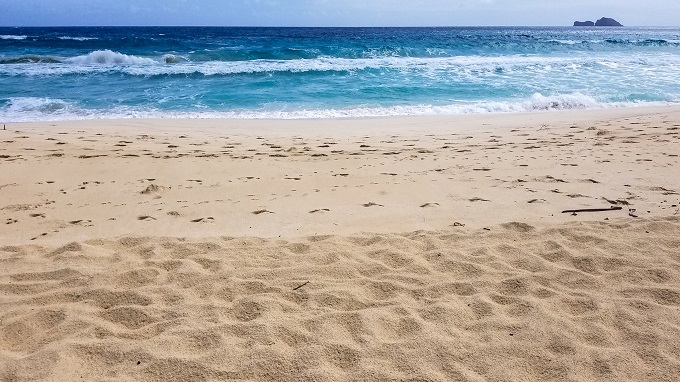 More photos of Hawaii (including from our previous trips) can be seen in the following galleries:
Hawaii Volcanoes National Park
Wonders of the Big Island, Hawaii
Black Sand Beaches, Big Island Hawaii
My travel reviews of our previous Hawaii vacations can be read in these travel stories:
A Different Kind of Getaway - Camping at Bellows and Ho'omaluhia
Best Family Friendly Hikes on Oahu for Toddlers and Young Kids
Our COVID Vacation to the Big Island of Hawaii
Hawaii (Oahu) with 2 Toddlers in Tow
Kauai - the Grand Canyon of the Pacific