365 Days of Hawaii - Our Hawaii Diary (Days 121-180)
You can read about the start of our Hawaii life here:
365 DAYS OF HAWAII (DAYS 1 - 60)
365 DAYS OF HAWAII (DAYS 61 - 120)
OCTOBER
DAY 121
With Hawaii's reopening for tourism rescheduled and pushed back several times, it was finally announced that mainland USA tourists will be welcome to Hawaii starting October 15 (with a proof of a negative COVID test). While it is great news for all the local businesses, restaurants, tour operators and the like, we will surely miss the quiet, tourist-less Hawaii we have fallen in love with and got to know in these past few months. When else will anyone get to see Waikiki beach this peaceful and quiet?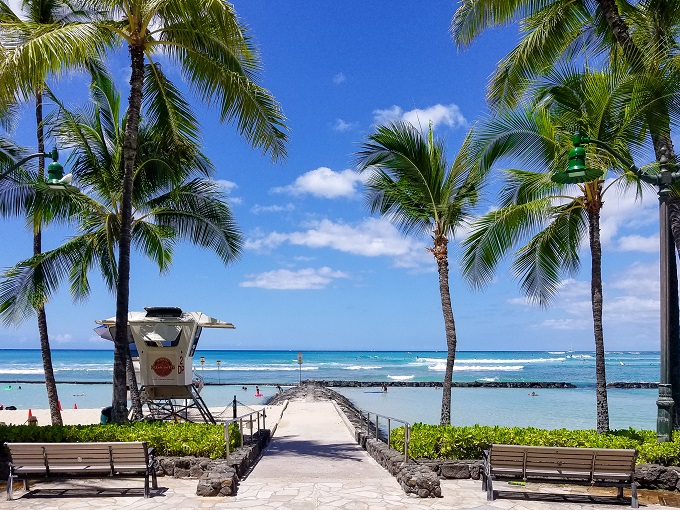 DAY 122
Today we went to explore another new place - Lyon Arboretum. It is a botanical garden and arboretum spread around 200 acres. I was truly impressed with this place - it had many walking paths to choose from; amazing lookouts; lush, natural tropical rainforest feel; and it is backed by a mountain range of Manoa Valley. A 1.2-mile short hike even takes visitors to Aihualama Falls. Unfortunately, as it is dry season right now, the falls were just a trickle which means we will have to come back during winter-time to see the waterfall in its full glory! After we got back home, I looked at our photos and noticed how tiny my boys looked in comparison with the huge tropical foliage all around... And this is exactly what I liked the most about it - the arboretum is located in a natural rainforest and visitors are given the opportunity to experience it. A truly magical place and we will definitely be back here again.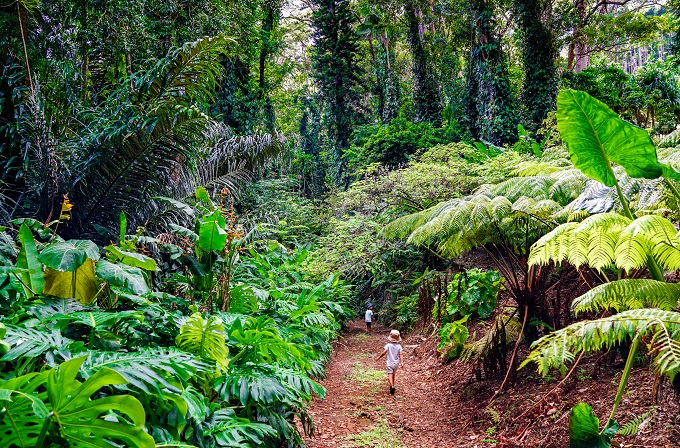 DAY 123
Impressed with Lyon Arboretum, we decided to visit another botanical garden - Wahiawā Botanical Garden. Although it is much smaller than most others we have visited on Oahu and can be easily seen in about 30-40 minutes, yet it is still a great place to let kids roam around and explore. Our boys had fun spotting banana trees, ''panda trees'' = bamboo, guavas, coconut palms and many other plants they have already learnt to recognize. And it is also completely free to attend! We even saw a few families doing a homeschooling outing with their kids here.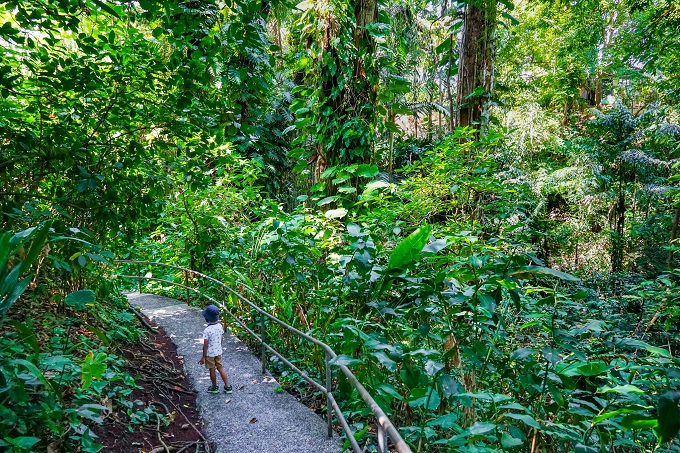 DAY 124
The last time we did a tour of Pearl Harbor Memorial was back in 2011 when I had my first trip to Hawaii. It is a sad part of US history and, to be honest, not one I want to relive over and over again. However, we decided to take a little exploratory trip to Historic Ford Island, and it had a viewing platform of USS Arizona Memorial, so we stopped here. Sad to think about all the sailors who died here - so close to the shore, yet too far to ever make it home again...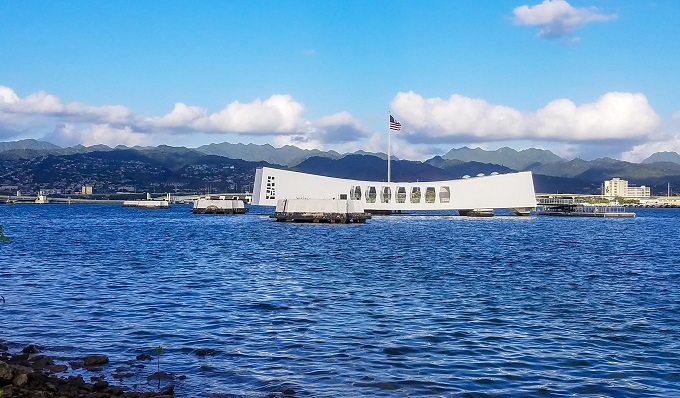 DAY 125
With Hawaii's tourism reopening day quickly approaching, we decided to visit Honolulu Zoo before the crowds kick in. Although the zoo is quite small and we already saw it a year ago, I still decided to go ahead and purchase a family membership as it was only $100 for 2 years, and while living in Memphis we were very frequent zoo visitors there. My kids love animals, so I am sure we will get a good use out of it here in Hawaii as well. For better or worse, there were a ton of Covid restrictions at the zoo - playgrounds closed, children's zoo closed, aviary closed, petting zoo closed, masks to be worn even outside, many pathways restricted for one-way walking and so on. It did get a little annoying and reminded me how much I wish the world just returned back to normal!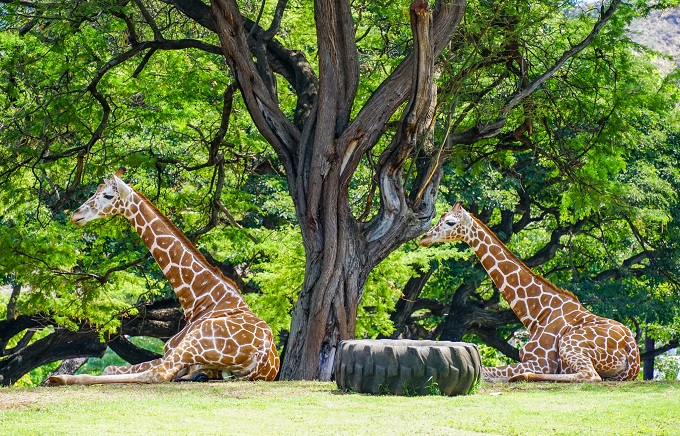 DAY 126
New day, new hike! Today's pick was the 2.3-mile long Kahuku Point trail. Kahuku Point is the northernmost point on Oahu and an area of undeveloped coastline which was (and is) of significant importance to native Hawaiians. It was a beautiful hike along the coast with the ocean by our side at all times. There are little secluded beaches, lava-jagged areas and it is also a turtle nesting area and a place where endangered monk-seals come ashore. We were lucky to see one of the seals near the Point and he was actually pretty entertaining - my boys had a good laugh at its antics! Please note that the seal picture was taken with a 200mm zoom lens (like all of my other wildlife photos) - never approach wildlife neither in Hawaii nor elsewhere. Let them be!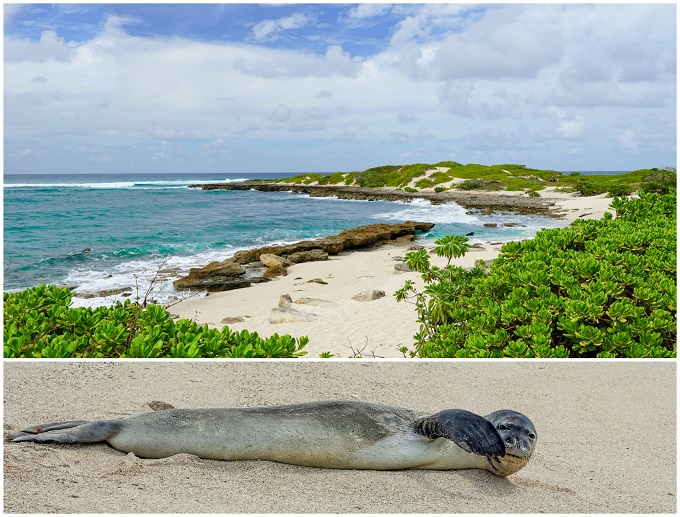 DAY 127
This is the last day before the official October 15 tourism opening date, so we decided to make a short trip downtown Honolulu to take one last glance at the quiet and empty scenery of Waikiki we have come to know... And although we have enjoyed our solitude, we are also eager to meet up and welcome our family and friends again from all over the world whom we haven't seen in months and even years. This will soon be a much busier scene!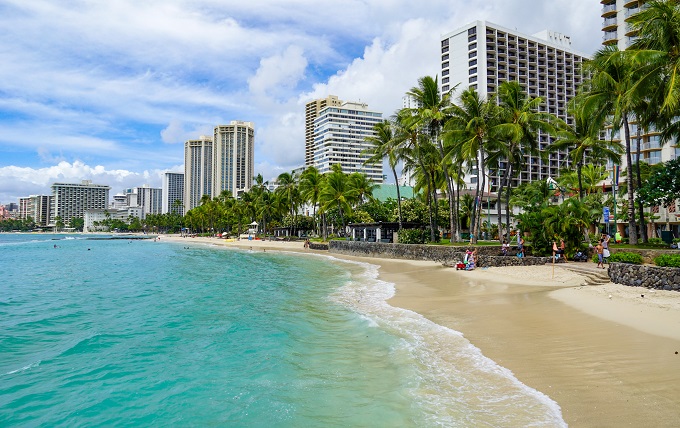 DAY 128
Foster Botanical Garden was another one on our list to visit. It is actually in Honolulu and comprises the size of about a city block - quite small and easy to explore even for those short on time. Along with a park map, the lady at the ticket office gave us a list of Hawaii birds and my boys spent the whole time trying to match the bird photos on the list with the ones they saw at the garden. It was quite educational and fun!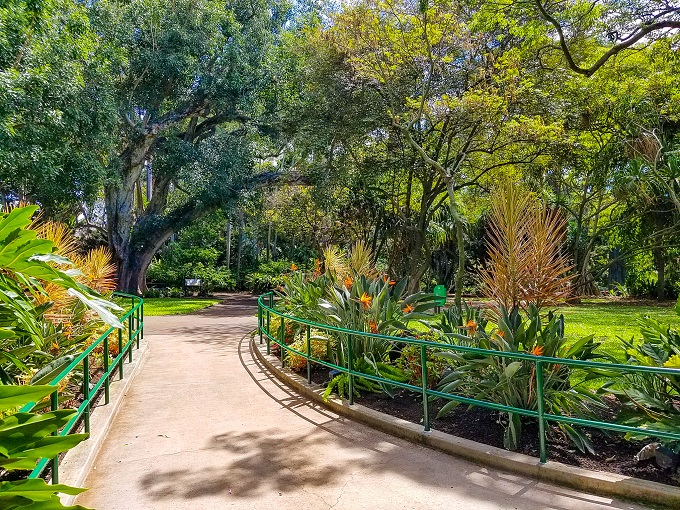 DAY 129
Out of all the water activities we have been able to enjoy here in Hawaii, I think body boarding has become one of my favorites. I love being out on the ocean and just waiting for that perfect wave to come along and then ride it all the way to the shore... Bellows Beach is the most perfect place for it - even on calm days there is enough power in the ocean to create waves big enough for body boarding. And the water is the most perfect color of turquoise here!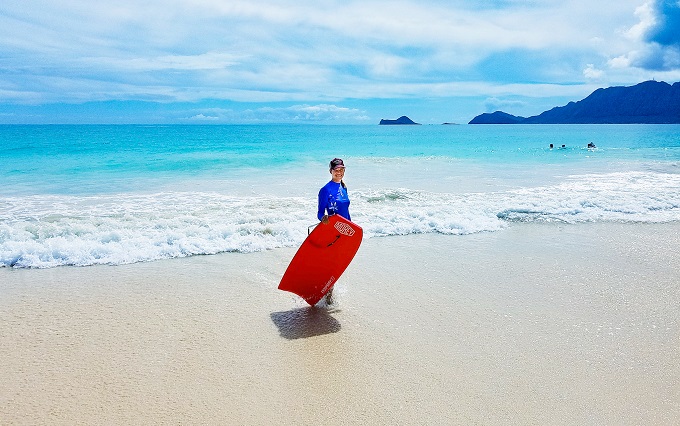 DAY 130
Today we finally got to ride on the Oahu historical railway train. I have wanted to do it for a while as I saw the train passing by many times when we lived in our temporary housing in Ko Olina, however, the train later stopped giving tours due to Covid shutdown. They have restarted running again, so we made the reservations. It's a 90-minute narrated train tour starting in Kapolei and going all the way to Kahe Point along the ocean. The kids had a lot of fun, especially when the train made an ice cream stop!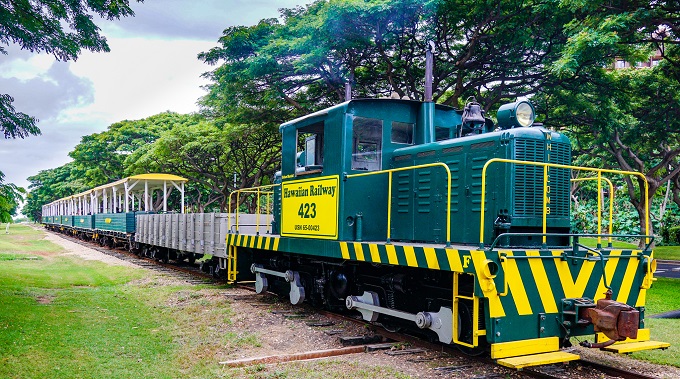 DAY 131
One of those days when I just did not want to do much at all and we stuck around the house. Good thing there is a little playground right around the corner from our place, and the boys got to expel some of their excess energy here!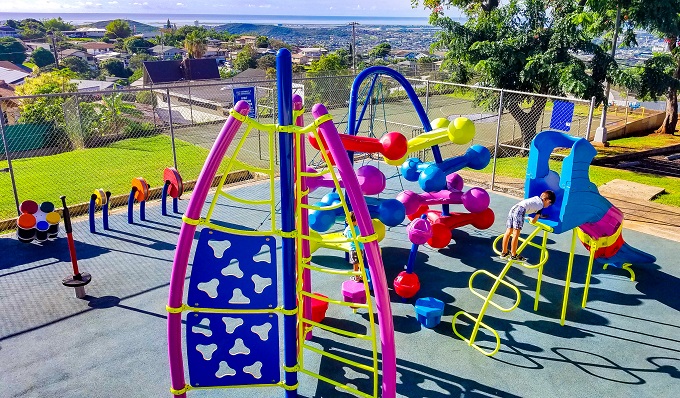 DAY 132
What a crazy and unforgettable day! After doing the shark cage diving a few weeks ago, we decided we wanted to try FREE DIVING with sharks, and today was the day! A boat took us out into the open ocean and dropped into shark infested waters! Well ok, it wasn't quite like that - our party of 4 ''tourists'' was assisted and watched over by a boat captain above the water and 2 safety divers in the water. They were there to make sure we had a fun and safe experience. And that it was! Also, free diving with wild sharks probably tops the list of all the crazy things I have done! Thank you, Hawaii Ocean Adventure Tours!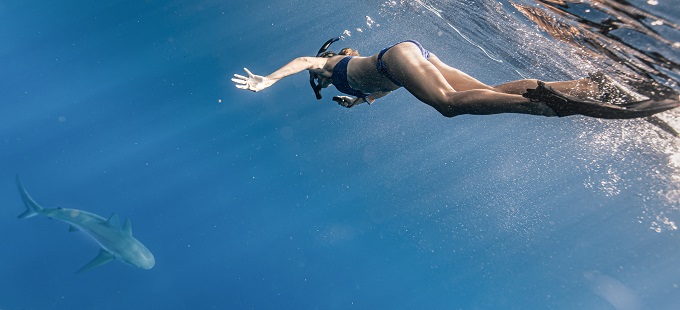 DAY 133
When visiting Honolulu Chinatown this afternoon, boys talked me into buying all sorts of fresh fruit for them at the Chinese market - mangoes, dragon fruit and rambutans. Rambutans are native to the Malay Archipelago and the name of this fruit is derived from the Malay word meaning "hairy," and you can see why. However, once the hairy shell is peeled back, rambutan reveals its sweet flesh, somewhat similar in taste to a jelly-like grape. We truly enjoy sampling all these tropical flavors!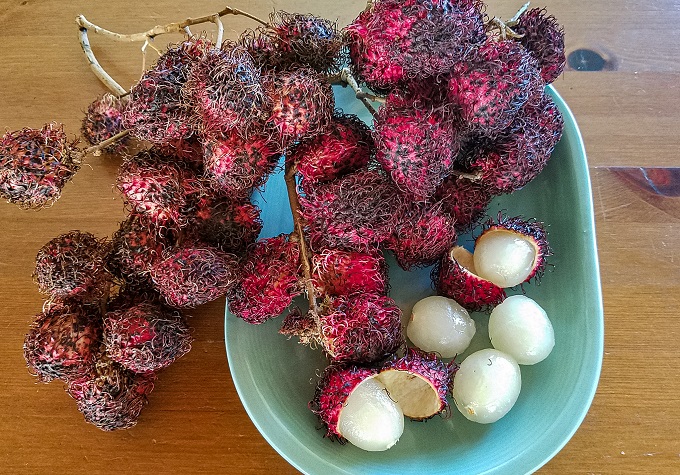 DAY 134
With so many colorful tropical birds around, we started regretting that we did not bring our bird feeders with us from Tennessee (we left them for the new home owners to enjoy). And who would have thought it is almost impossible to find bird feeders here in Hawaii!? After making many trips to several stores in hopes of finding one, we finally ordered it online. As soon as we received it, we put it up and these little java finches flocked to it right away!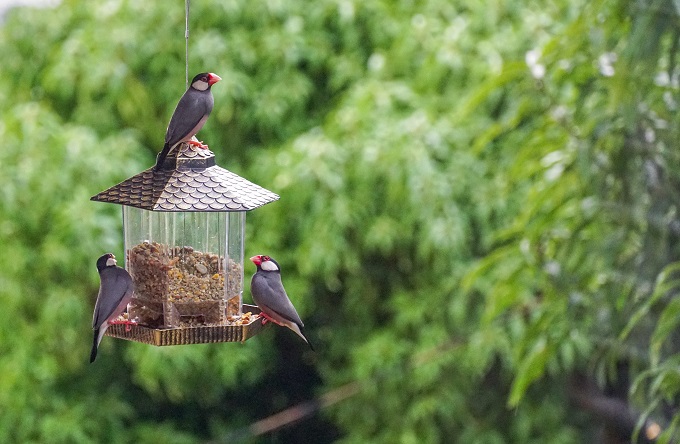 DAY 135
It has been a couple months since we last went to Shark's Cove. Last time we were there, some divers gave me hints on where to look for turtles, so I was determined to find them! And that I did indeed! I sought out this turtle, and spent good 30 minutes with it, following it through the cove, watching it swim, dive, go up for water and eventually eat some coral for lunch... It was so adorable and I totally fell in love! Also, another huge event - our 5-year old learnt to snorkel today as well, and is loving it! He has now discovered a whole new (under)world and earned his second $5! His next challenge - learn to boogie board for another $5!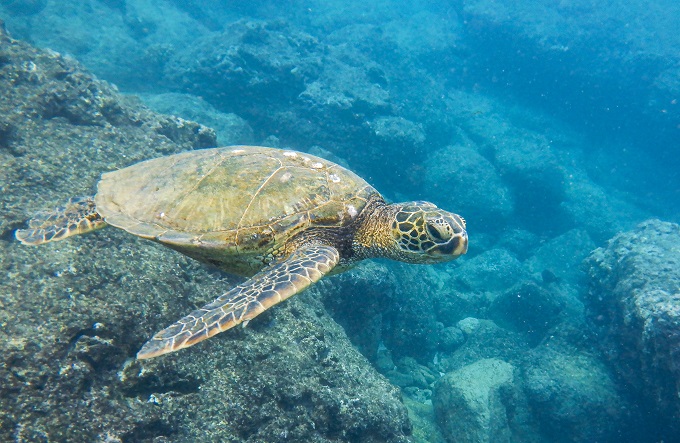 DAY 136
Another water day for us! If yesterday was snorkeling, then today was body-boarding at Bellows. The waves were the biggest ones we have seen here so far and we had so much fun! After 4 hours of getting beat up by the waves non-stop, I was so exhausted I could barely stand but it was worth it!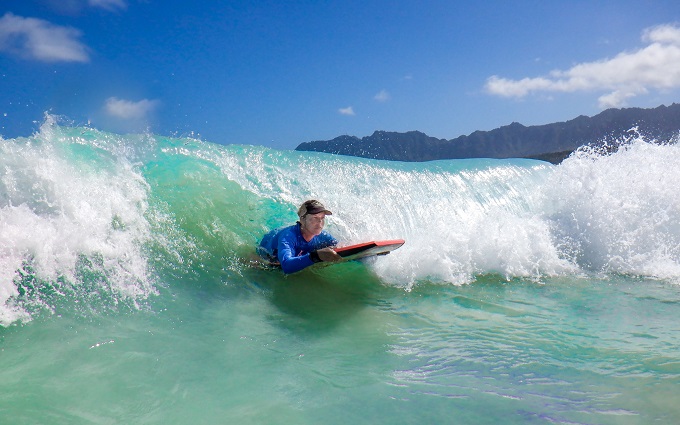 DAY 137
Just some tropical trees along our walk... No need to even go to a botanical garden.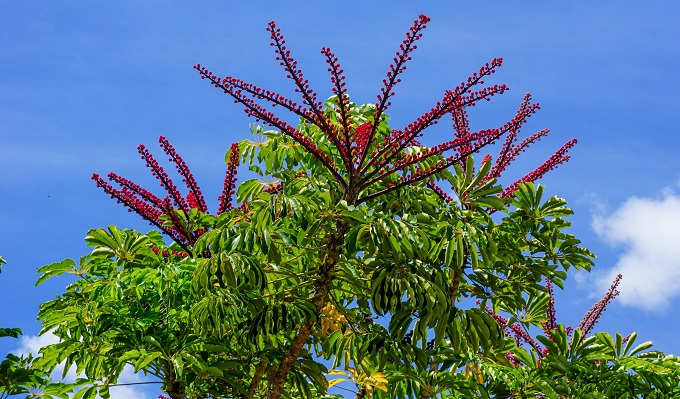 DAY 138
The North Shore has the best little food stops on the island. Whenever we drive though here, we always make a point to stop by the farm stands or food trucks to sample something new (or sometimes order proven old favorites). This is one of our favorite spots along the Kamehameha Hwy - food trucks in Kahuku. There are a lot of choices, however Marie's Baja Fish Tacos is truly something to look forward to!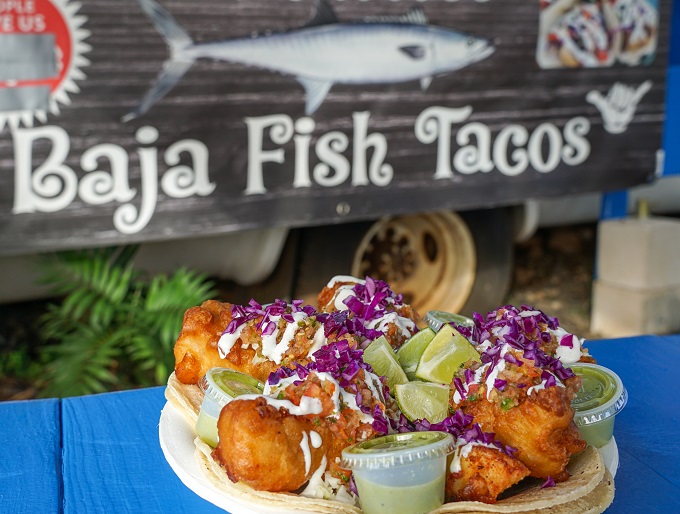 DAY 139
We used to go to Ko Olina lagoons almost daily back when we lived in our temporary lodging there. However, we had not gone back to the lagoons since we moved into our permanent home about 3 months ago. Today, however, we had arranged to meet up with some friends in Ko Olina, so we were very excited to go back and see the lagoons again. Since my boy learned to snorkel this past weekend, he insisted he wanted to snorkel at the lagoons, so I agreed. And I am glad we did! We saw some crazy creatures - a snowflake eel, as well as the elusive flying gurnard (which I, at first, thought was the poisonous lionfish). Who knew this little lagoon could be a hideaway spot for such amazing sea-life!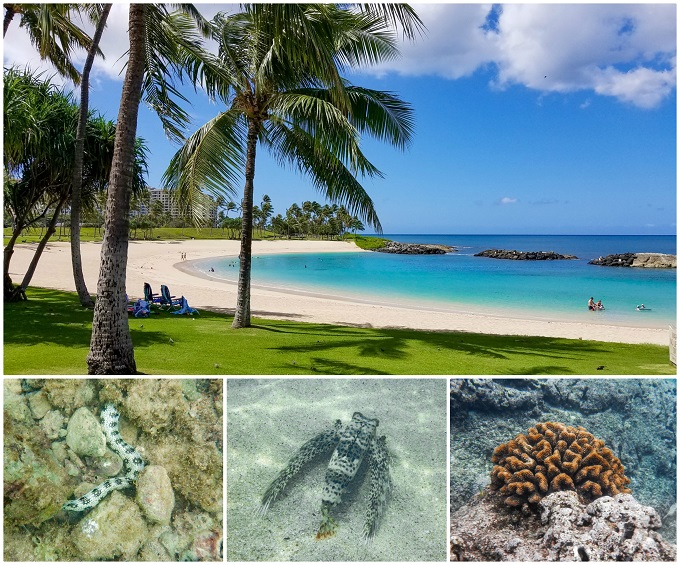 DAY 140
Banyan trees are common in Hawaii but they grow in a very uncommon way: their roots are in reverse - they drop down from the tree to make contact with the ground and eventually grow into additional tree trunks. Sometimes these trees can spread out so far and wide that it just seems like one endless maze! Banyan trees can be seen everywhere in Hawaii - on hikes, in parks, and even along Waikiki Beach. It is definitely something that will leave you in awe the first time you see it!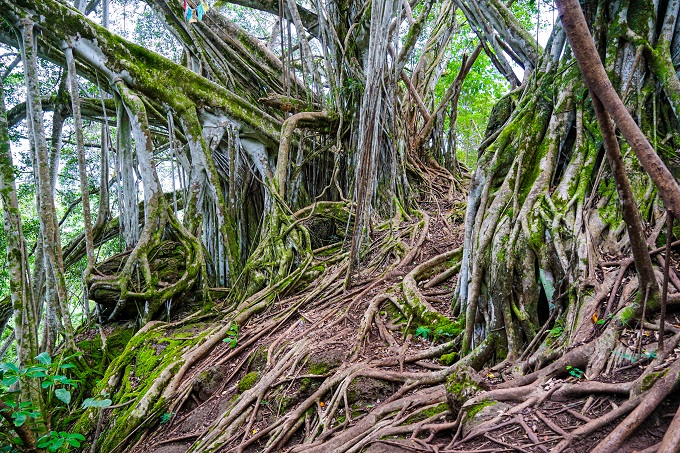 DAY 141
Hawaii's tropical warm and wet climate is perfect for coffee growing. Although the most ideal conditions can be found in the Kona region on the Big Island, other islands also have some smaller coffee plantations. This Waialua Coffee field can be seen along the road half-way between Dole Plantation and Haleiwa on Oahu.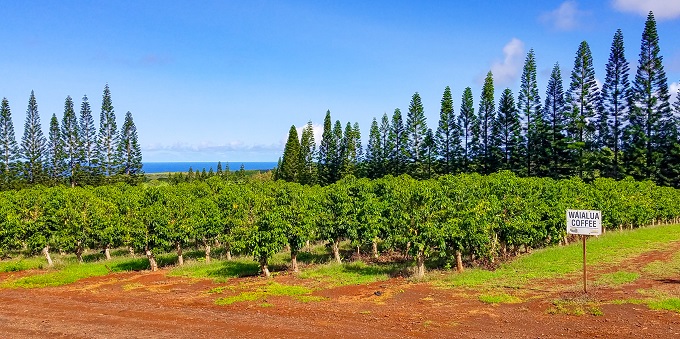 DAY 142
When in Hawaii, there is no pumpkin carving - there is pineapple carving! Happy Halloween!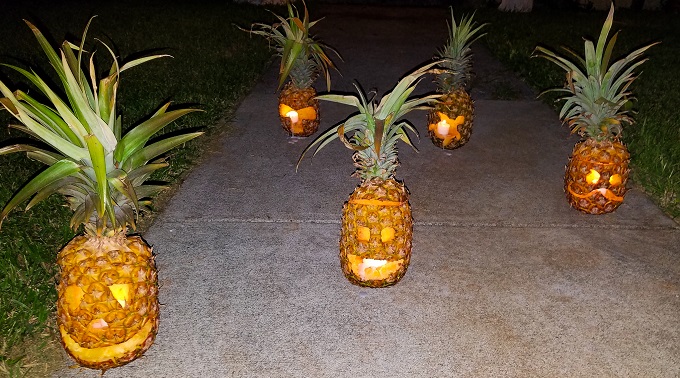 NOVEMBER
DAY 143
During our drives around the island, I have noticed that bland, boring walls of buildings and fences are often turned into beautiful murals of various Hawaii scenes - mountains, ocean, animals and even people. They are all painted by local artists. Just like this one we saw - it is actually a side wall of a grocery store along the parking lot in Waimanalo. Isn't it amazing?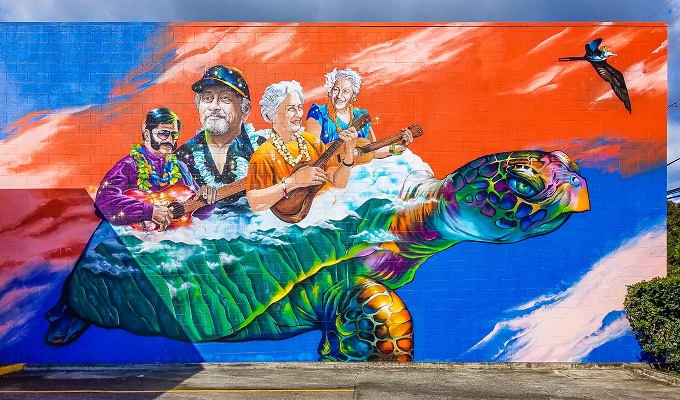 DAY 144
Also known as pua aloalo in Hawaiian, the hibiscus represents royalty and communicated power and respect. Native to the Hawaiian Islands, yellow hibiscus was chosen as the state's flower. Apart from yellow, you can see them growing here in various other shades and colors - pink, red, orange, peach and even purple.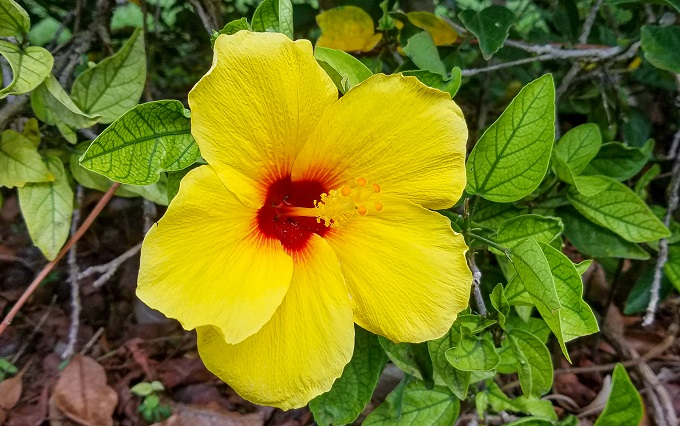 DAY 145
Today we had a lot of fun exploring another one of Hawaii's streams / rivers - Anahulu. It is located in Haleiwa and is a popular spot for kayakers and paddle-boarders, like ourselves, as it weaves its way amidst tropical foliage, starting from the ocean and heading deeper inland. Those who don't own a kayak or paddle board can rent one right here on the beach as rental stores are plentiful. I was very surprised to see many sea turtles swimming up and down this river in search of food. One of them surfaced so close to our paddle board I almost had trouble avoiding it. Eventually the river turns too shallow and rocky to paddle, which is when we turned back towards the ocean to paddle back. Altogether, we spent several hours here.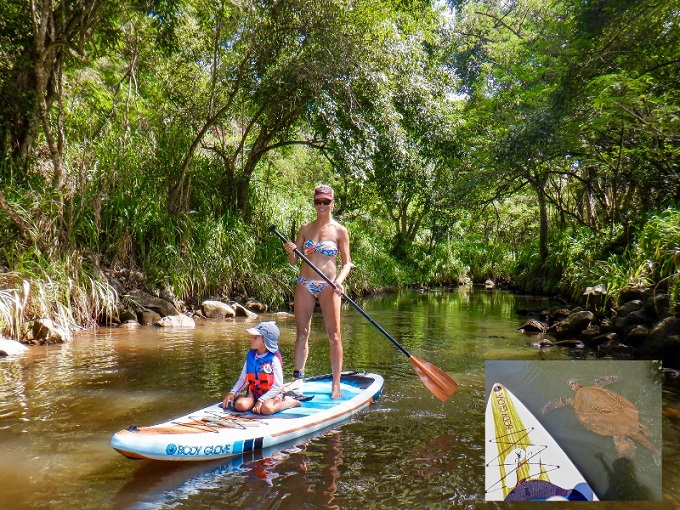 DAY 146
Today we finally welcomed our first visitors from the mainland USA. Because of the Covid shutdown and long quarantines, we had not been able to have anyone visit since we moved here, so we were very excited to make our first trip to the airport in over 5 months! A traditional Hawaii welcome is a lei. A lei is a common symbol of love, friendship, celebration, honor or greeting. In essence, it is a symbol of Aloha and is most often made of flowers. We chose these 2 leis to gift to our guests upon landing in Hawaii.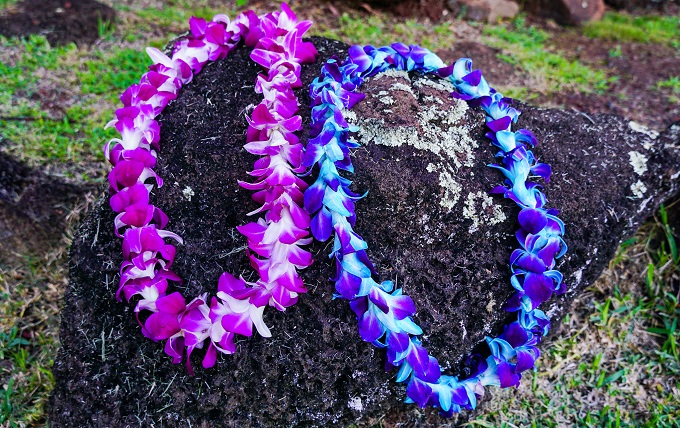 DAY 147
Along our drive around the island, we decided to make a short stop to visit the Byodo-In temple. It is a non-denominational Buddhist temple and was dedicated in August 1968 to commemorate the 100th anniversary of the first Japanese immigrants to Hawaii. The temple is a replica of a 900-year-old Buddhist temple at Uji in Japan. Around the temple there are koi ponds, Japanese gardens and it is set against the towering cliffs of the beautiful Ko'olau range. The temple grounds are a beautiful place for a short, relaxing walk.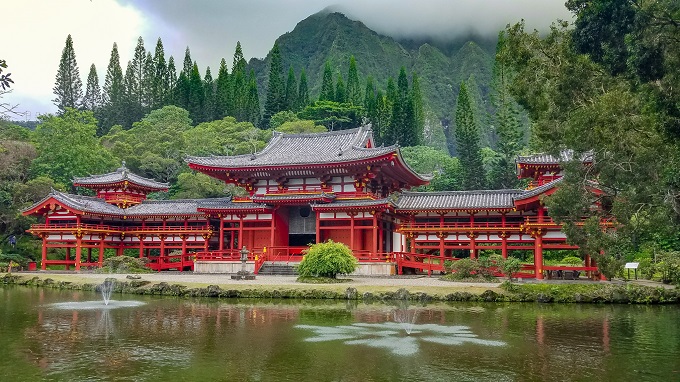 DAY 148
When cruising along the North Shore today, showing our guests the beauty of Hawaii, I just could not pass by this beautiful beach! This is Pipeline Beach - its rolling waves are perfect for surfers but can be too dangerous to swim in, especially during winter months. A perfect blue ocean with soft sand and pitch black lava rocks - just the way nature made it.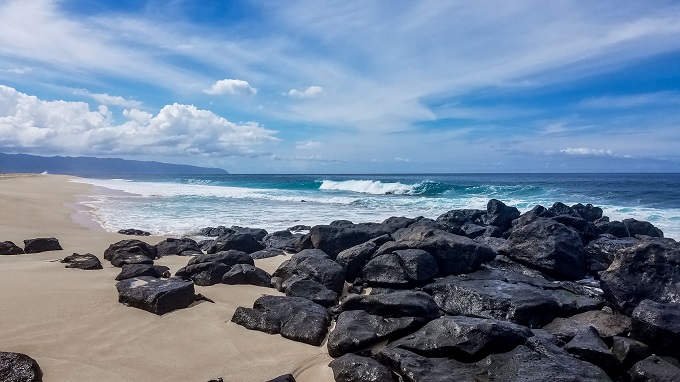 DAY 149
The last time I attempted to do the hike up Koko Head we missed the sunrise by about 30 minutes. This time, I made sure I got it planned right to allow plenty of extra time to get up this 1200ft mountain. I did not want to be late again! Getting up at 4am and starting the hike at 5:15am gave us plenty of time to be there for the sunrise at 6:38am. I had never seen a sky so purple! It was absolutely beautiful and definitely worth the early start and exhausting climb!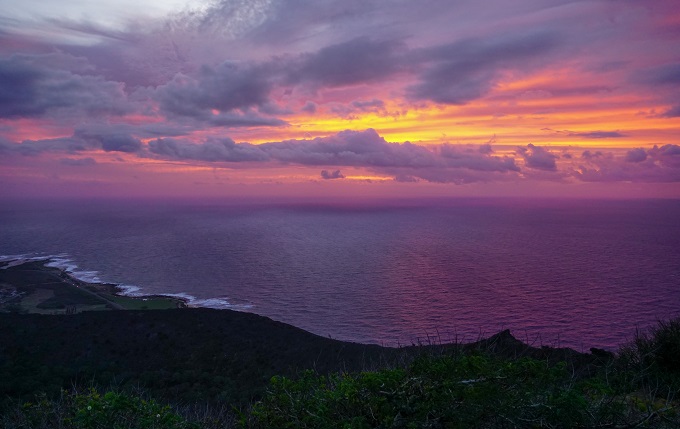 DAY 150
I knew about stars in the sky and starfish in the sea, but this was the first time I saw a star on land! It is actually called a 'starfish cactus' because of its star-like flower. Looks like November is this flower's blooming time here on Oahu, as we have seen them around the island in several spots in these past few days. A very unique flower, indeed!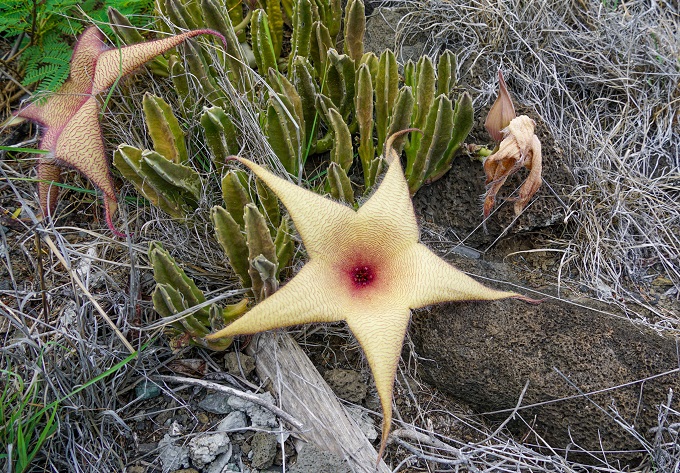 DAY 151
What a fun morning - we had reserved a 30-minute long traditional Hawaiian outrigger sailing canoe tour around Waimanalo Bay. While men were busy pushing, paddling and sailing, I just relaxed on the outrigger deck enjoying the views! Our captain gave lots of information about tricks of sailing and traditional outrigger itself. This was the only mode of sea transportation for the Polynesians back in the day, and Hawaiians are still keeping this tradition alive!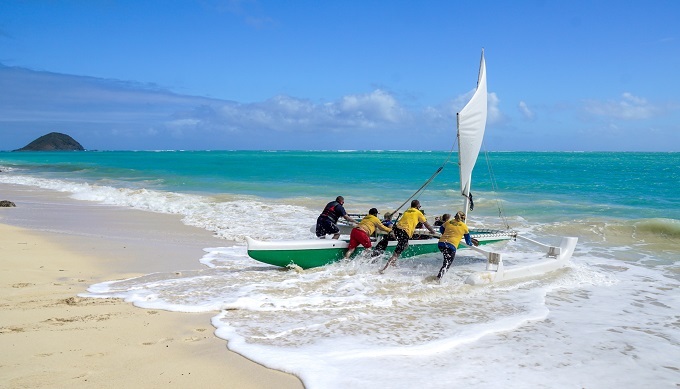 DAY 152
As many times as we have passed Hālona Blowhole lookout in these past months, there was never really much water spouting. With winter coming, the seas have finally ''roughened-up'' and we had a chance to see the blowhole in action. The Hālona Blowhole is one of Hawai'i's natural wonders, created thousands of years ago when molten lava tubes were formed from volcanic eruptions. During the winter months, strong currents and big waves send waters rushing into the molten lava tubes below the lookout, sending geysers as high as 30ft through the blowhole. The bigger the waves, the higher the geysers.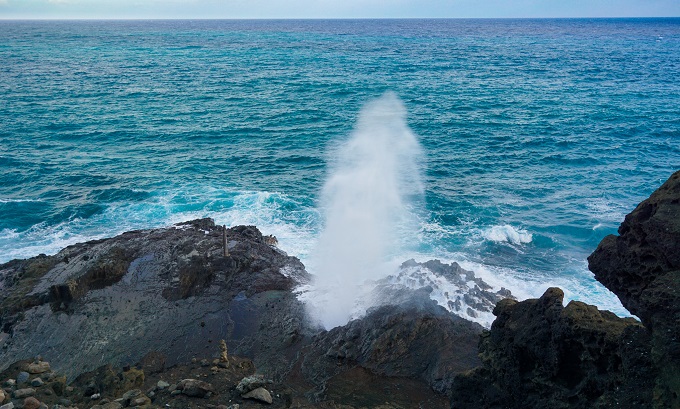 DAY 153
With the wet season finally here (lasting November - April), we have noticed a lot more rainbows popping up all around the island. This one we saw from our window early in the morning. There is even a little hint of a double rainbow in the upper left corner... A couple days ago we counted 5 different rainbows in various spots along our drive to the North Shore. I guess we can say the Rainbow Season has arrived!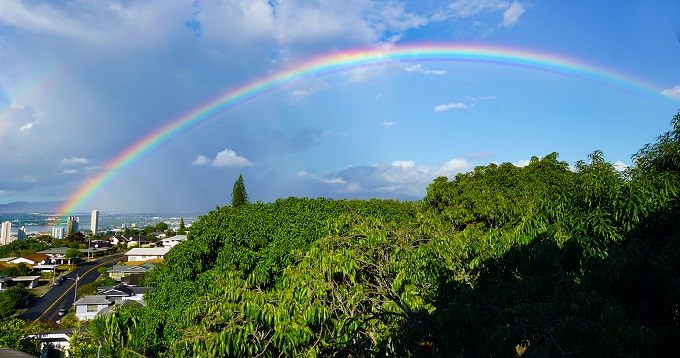 DAY 154
Although we have already done Lanikai Pillbox hike before, it is a really picturesque trail, so we decided to take our guests on it to show them what Hawaii has to offer. Once at the top, there are 360 degree views all around of Waimanalo Bay, Kailua Beach and the mountain ranges in the back, and they are just stunning! Not sure that I will ever get tired of these views... Besides, making this climb in November was much more pleasant than the first time when we did it in June (hot and dry).

DAY 155
Our #1 go-to spot for any snorkeling needs on Oahu is Shark's Cove, hands down. One has to be careful during winter months though, as surf can get rough here. We made a trip out here a few days ago, but had to ditch our snorkeling plans as waves in the cove were too powerful and dangerous. Better safe than sorry! Our patience paid off as when we arrived here again this morning, the seas were as calm as one could hope for during winter months. And besides all the colorful fish, we saw 3 turtles swimming together. Although we kept our distance, they were curious ones and approached us just an arm's reach away. It was such a magical moment!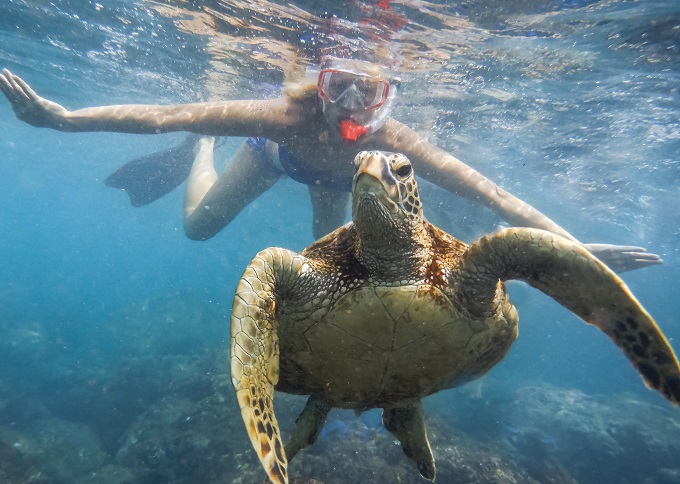 DAY 156
As I came to discover - it is not just boring walls and fences that have been turned into beautiful murals all around the island, but even old, broken cars have been painted with colorful Hawaii scenes. Now, instead of a rusted eyesore dumped along the side of a road, it is a piece of beautiful art that everyone wants to stop and take a photo with. What a smart idea, and what a talent!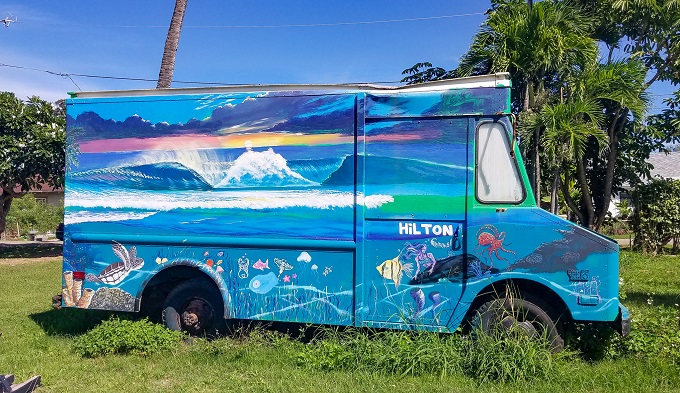 DAY 157
During our drive around the south side of the island, we made a short stop at the Makapu'u Beach Park for a scenic photo of the majestic cliffs and the lighthouse. It is another beach that gets too dangerous to swim at during winter months, but it s always worth a stop for its amazing scenery. Just a few hundred yards up ahead is the starting point of the Makapu'u Lighthouse trail, which leads hikers to the viewing platform next to the lighthouse. Definitely worth the effort!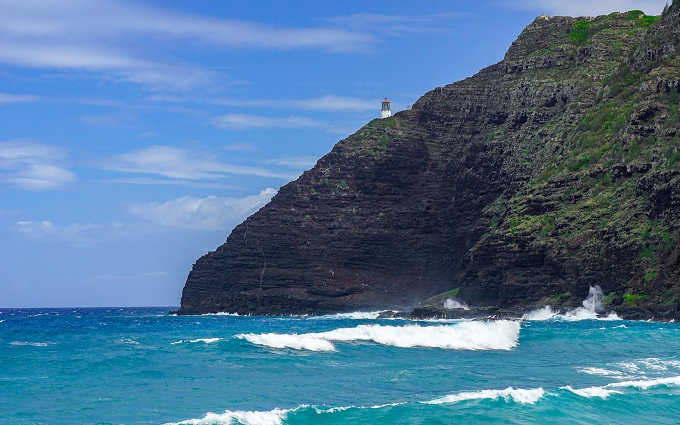 DAY 158
When our guests asked me today about some Hawaii specific wildlife, it reminded me of the albatross. It has an incredible capacity to stay at sea for up to five YEARS without ever touching land. Laysan albatross is truly an expert glider as it can glide for hours without ever moving a wing. These magnificent birds with an almost 7-foot wingspan do come ashore to breed though, and mostly do so in the uninhabited Northwestern Hawaiian Islands. If you are lucky, you might spot them on the north shore of Oahu at the Kaena Point Natural Reserve. July and August are the best months to see the chicks in their ground burrows (NOT nests in trees), and we were lucky to spot several babies when we did our 6-mile hike to Kaena Point in September. Now, with our guests in tow, we did this hike again, and the little babies we saw about 2 months ago looked much more grown up this time around. Looks like they will be ready to leave the nest soon! Pic 1 is from September and pic 2 is from today (Nov 16).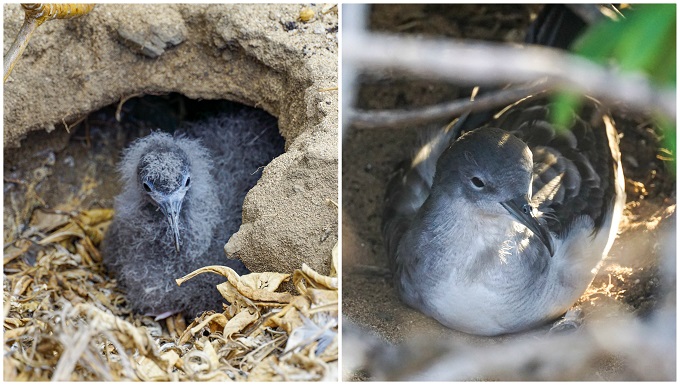 DAY 159
We were very impressed with our yesterday's hike to Kaena Point, so I decided to post another picture from it. Not only we saw baby and adult albatrosses, but we also were lucky enough to see 3 of the endangered Hawaiian monk seals lounging on the sandy beaches along the hike. There was a single younger seal at 10-minute beach and 2 huge ones at the Kaena Point tip. Of course, that meant the beach at the Point was off limits to us, but we were not upset. It was fun watching these 2 seals pictured below. From afar, they almost look like just 2 big (grunting and sneezing) logs washed ashore!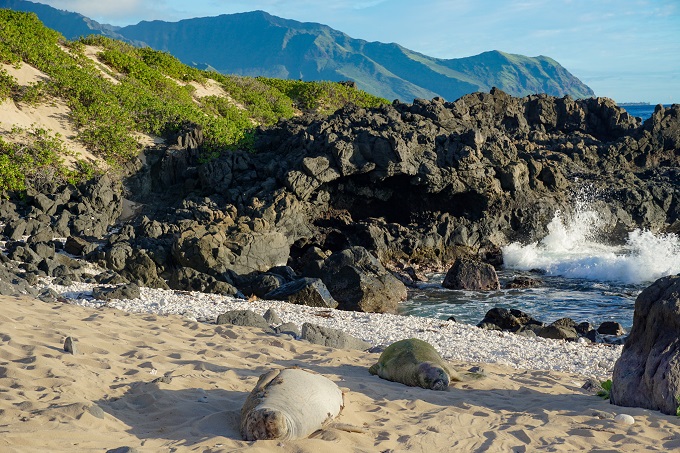 DAY 160
That typical cliché tropical sunset with bright sunset skies over the ocean and palm trees swaying in the breeze... For sunset views like these, head to the Leeward (West) side of Oahu.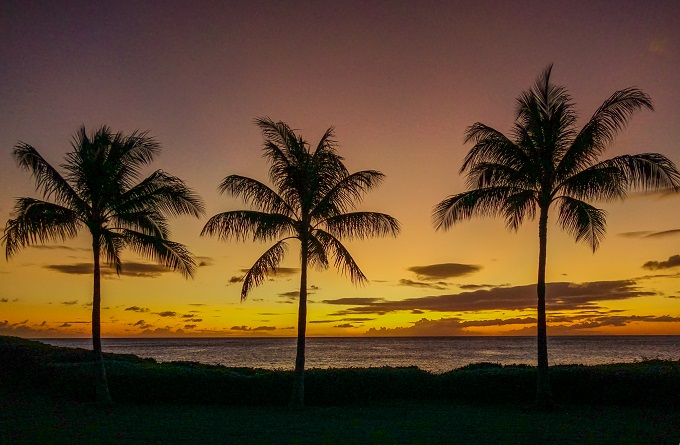 DAY 161
One thing that Oahu lacks in comparison to other Hawaii islands is accessible waterfalls. Most of them are either on private lands or too far into the mountains / jungle. One of the few ones that is actually open to public, and even more so - allowed to swim in - is in Waimea Valley. And although it is a tourist attraction (Waimea Valley is a botanical garden), there were surprisingly few people there, and even less at the waterfall itself. Most just opted to look at the falls, not swim, as this mountain spring water felt quite cold. When we went swimming, we had the falls all to ourselves and there was not a single other person in the pool. Even our boys braved the cold water and jumped in with us. FYI, life vests are mandatory and get issued before entering the water.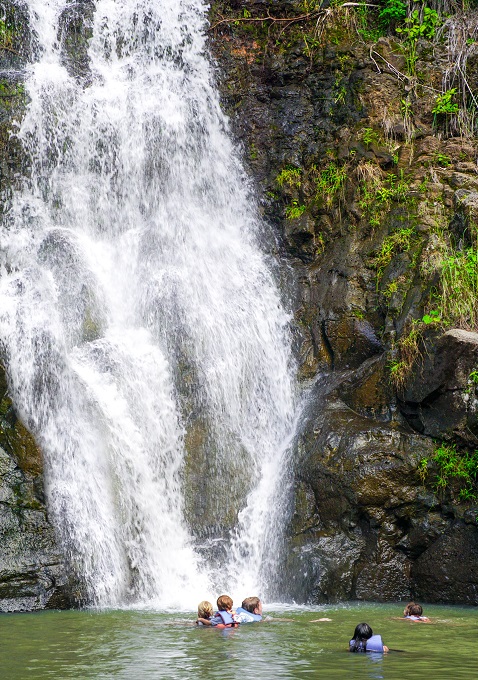 DAY 162
Took our guests on another hike today. It was a trail we ourselves had already done before, so we knew it would have pretty views. This is Pink Pillbox trail on the Leeward side of Oahu. I have to admit - this time around it looked much different from when we did it in July. With the rainy season having started, the mountains and valleys were lush and green as opposed to the dry shrubbery and dead, yellow grass we saw mid-summer (dry season). It was still pretty even then, but now everything was just much more vibrant!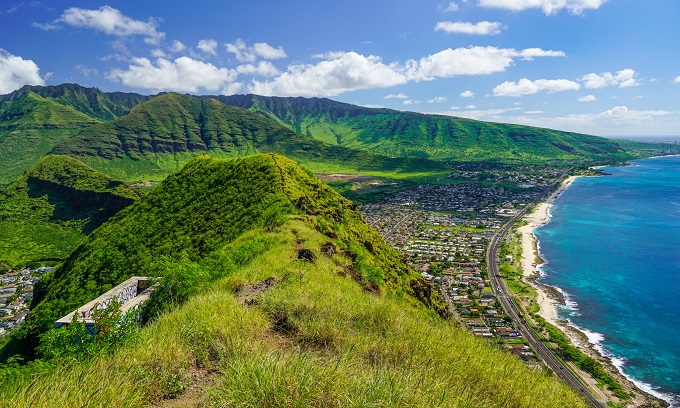 DAY 163
You cannot live in Hawaii and not be in love with the adorable turtles. No matter how many times I have seen them, I always tell my husband to slow down when we pass by the Turtle Beach so that I can see if any turtles have come ashore to bask in the sun. Today there were 5 of them!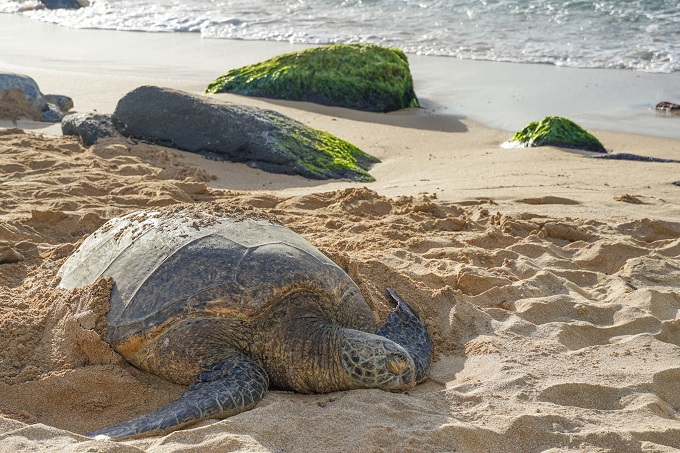 DAY 164
As we were seeing our first set of guests off at the airport, I noticed this tile mosaic of the Hawaiian Islands on the airport wall. What a nice way to greet / bid farewell to the visitors!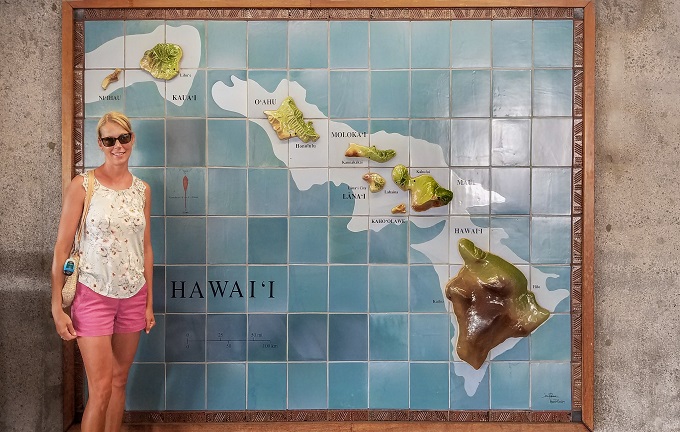 DAY 165
With the weather being a little crazy all across the island this weekend, we decided to head to the non-rainy part of Oahu and go for a little hike near Makapu'u Lighthouse. Ka'iwi Shoreline trail shares the same parking lot as the more popular lighthouse trail, however, instead of heading up the mountain, Ka'iwi heads down to the shoreline and weaves its way along the beaches, lava jagged coastline, mangrove swamps and tidal pool areas. It can be anywhere from 1 to 5+ miles long, depending on how far one chooses to go. We walked about 3 miles of the coastline enjoying the views, skipping rocks, and letting the boys splash in tidal pools. This is a fun, flat trail for kids of any age!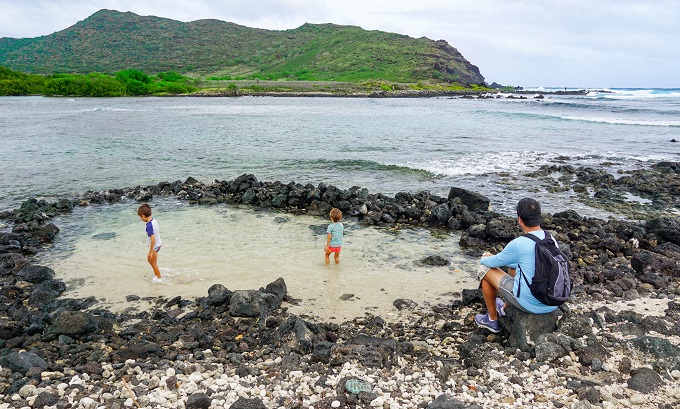 DAY 166
Just look at this little cutie we stumbled upon today! Usually we see the gray / brown geckos and lizards running around, but this one is just something else! The species is called Gold dust day gecko and it has been introduced in Hawaii from Madagascar. Originally, these little flashy geckos got smuggled into Hawaii illegally, and a very interesting fact is that all of the current Hawaiian populations of this gecko stem from just eight (!) lizards intentionally (and illegally) released by a student on the University of Hawaii campus in 1974. The tropical environment here was great for them, so they found a way to populate and are now part of the ecosystem. Although they are illegals here, they are just so darn adorable!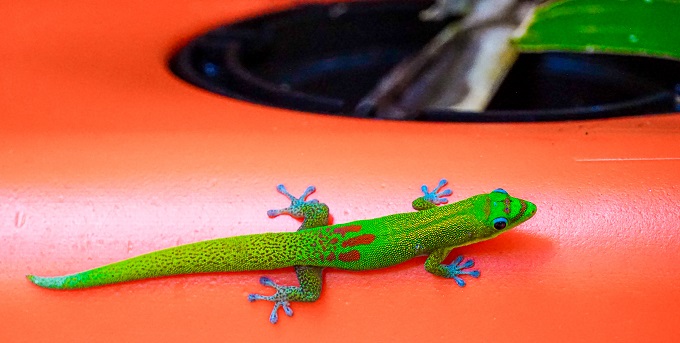 DAY 167
Passing through the little North Shore town of Haleiwa is always fun. Although there is a more direct and quicker way leading around the town for those in hurry, we always choose to take our time and drive through this quaint yet bustling tourist and surfer hotspot. We enjoy all the little restaurants, cafes and coffee shops, as well as souvenir markets and boutiques. The beach and harbor here is also the launching location for most of the snorkeling, fishing and diving tours. It is also the place to come surfing, paddle boarding, kayaking or do just about any other water activity. A true beach-lover's paradise!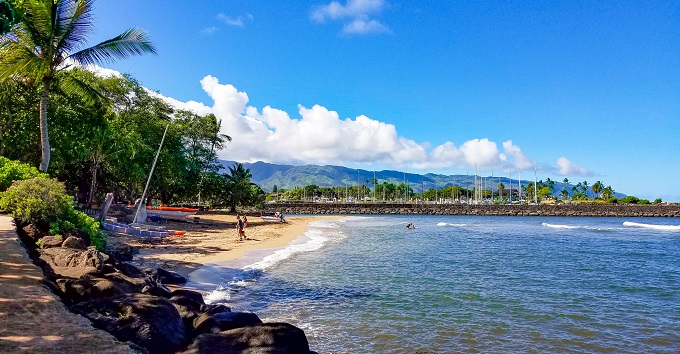 DAY 168
We have really come to love our ''Dog beach'' (or officially, Kamehameha Beach) on Hickam AFB. We come here for paddle boarding, kayaking and swimming. But most of all, our kids love it during low tides when the water level is just ankle deep and we get to explore all the little sand islands and exposed corals. It is also a great ''mommy'' time - the boys can safely play here for hours while I just get to sit back in my beach chair and relax.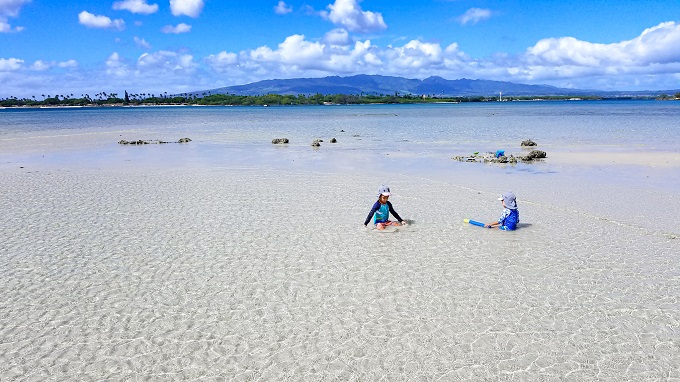 DAY 169
Just looking out my window tonight...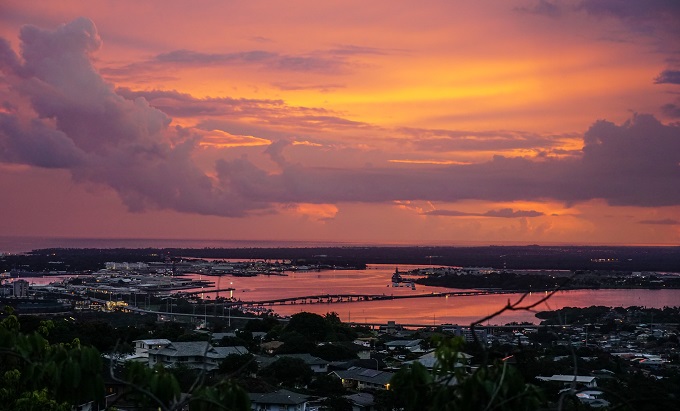 DAY 170
When driving in the mountains, I have always admired Kaneohe Bay down below with its sandbar and coral islands scattered all around, and I always wondered how I could get a good photo of it. One can't see these little islands when standing down on the shore - you have to be up above it. Then one day while browsing for another hike to go on, I stumbled upon Pu'u Ma'eli'eli trail in Kaneohe. It was listed as about 2.5 miles long with 600ft elevation gain, which was very doable for our boys, so we waited for a sunny day and set out to explore it. Once we reached the top of the mountain, WOW, what a sight! The whole bay was down below us with the sun exposing the amazing blue water and all the little sandbar islands and reefs!
DAY 171
Many tourist related activities got closed here in Hawaii in spring when Covid hit. One of them was Pearl Harbor Aviation Museum. And although it was originally announced that the museum won't open until January 2021, we were very surprised and happy to see that the museum had actually opened up for visitation again. With my husband being an aviator, this was a must-see on our list, so we drove out to take a look at it. Although small, the museum had an exhibit hall about Pearl Harbor events, an outdoor section, and an additional hangar with various other airplanes on display. They ran a special for just $50 annual membership, so we bought it and my boys will be able to come back here any time they want!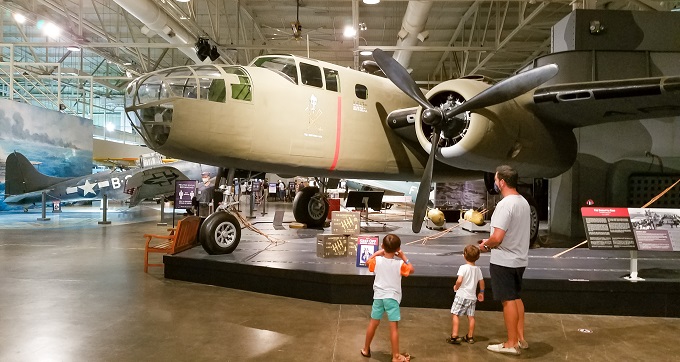 DAY 172
Do you know many 5-year olds, whose answer to a question "What would you like to do today?'' would be ''Go on a hike!'' Really?! Out of all the things we could do on a weekend, the boys wanted to hike. My husband said we have created two little monsters! But the request could not be ignored, so on a hike we went. Again. Good thing Hawaii does not have shortage of beautiful trails. This time I chose the 3-mile long Hau'ula Loop trail, and its almost 900ft elevation gain took us to a beautiful overlook of a mountainous valley! One the way down, we had to walk through a pine forest, which seemed so out of place here in Hawaii and reminded us of some coastal rainforest trails we did in the Pacific Northwest. With Norfolk pine trees all around us, we started singing Christmas songs!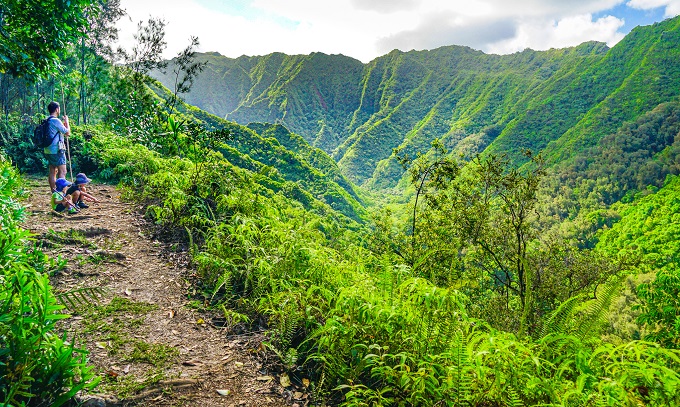 DECEMBER
DAY 173
Just a fun spot we noticed along the road, and with no other people around, we decided to make a short stop - sand, ocean and a little beach swing. There are actually quite a few beach swings like these around the island that locals have set up for their entertainment. So, just as long as you keep your eyes open for beach areas with trees, there will be a swing like this hidden somewhere.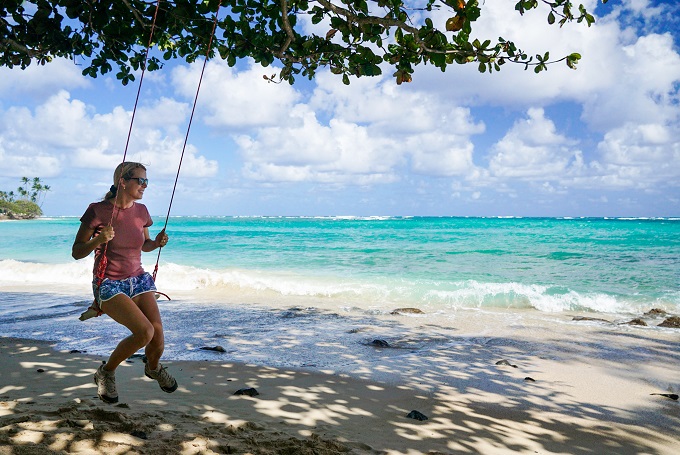 ***Travel to the Big Island of Hawaii***
Read the travel story about our Big Island trip HERE
DAY 174
Having successfully passed all 4 of our COVID tests 2 days ago, we were generously allowed to take our vacation to the Big Island as a quarantine free trip. Yay! We will have a wonderful week on the Big Island of Hawaii with some change of scenery and just extra time to enjoy all the beautiful things Hawaii has to offer. Although the Hawaii Island chain is considered as one whole, each of the islands is actually very different from one another, so there is something new to see and discover on each one of them. This was our view of Oahu as the plane was taking off at Honolulu airport for its 55min flight to the Big Island.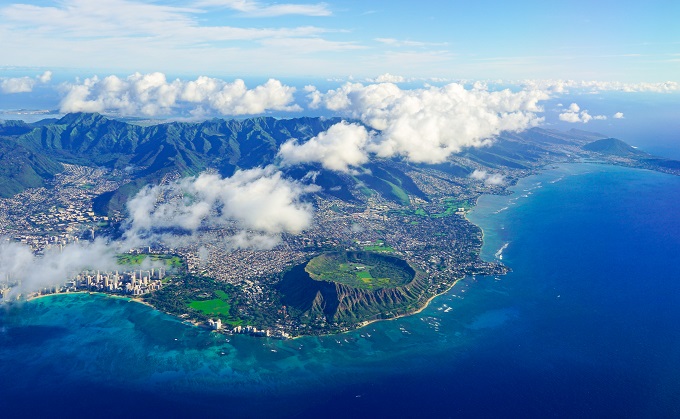 DAY 175
One the first day of our trip we made a drive to the Waipi'o Valley. There is an overlook (which is where this picture is taken from) and a narrow one-lane road carved along the side of the cliff that leads down to the valley floor and the black sand beach that can be seen below. It is the steepest road in the USA, and one of the steepest in the world, as it can reach 45% grade at points. Therefore, hiking down / up is the only option for many. As the Big Island is a volcanic island (with several active volcanoes, one of which erupted as recently as 2018), one of the attractions here is all the black lava sand beaches. We went down to the valley floor and spent some time playing in the black sand and checked out the waterfalls.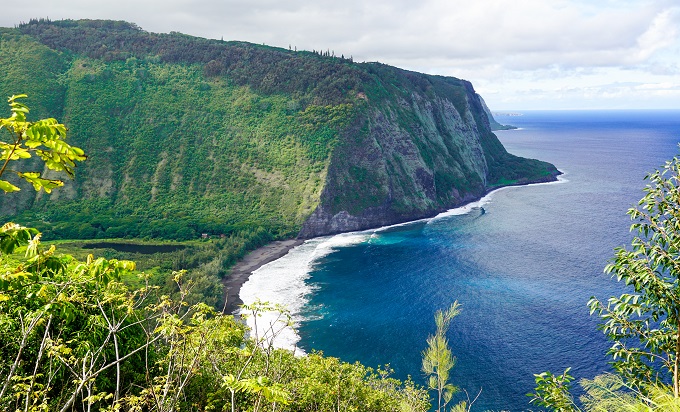 DAY 176
Lava dominates the Big Island's landscape. As we were driving through the Volcanoes National Park, vast black lava fields stretched to the horizon in all directions. It is allowed to get out, touch the lava, walk on it and there are even several trails through the park where one can go hiking in this lava landscape. Can you imagine that there are 5 volcanoes on this small island, 2 of which are still active and ready to erupt any time?!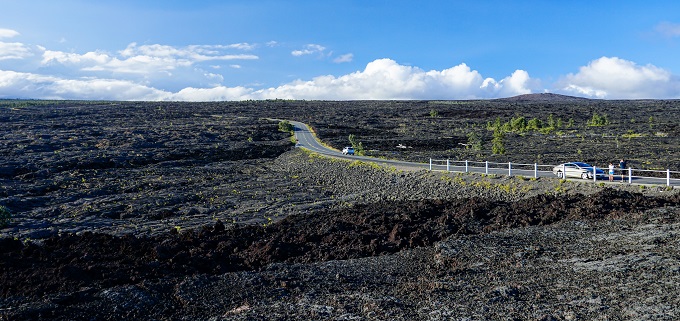 DAY 177
A very remote beach, several hours' drive away from any bigger town, is Punalu'u black sand beach. It is popular for 2 reasons - its pitch black yet amazingly soft lava sand, and endangered Hawaiian green sea turtles that come ashore here. Of course, I made sure I put this beach on my must-see list. And wow, was I in for a surprise of a lifetime - as we pulled up to the beach, there were 14 sea turtles that had come ashore to soak up the last warm sunrays before the sun set. How lucky were we to see a sight like this?! We spent several hours here until it was so late and dark that we had to rely on stars for any light. I bid farewell to all the turtles before we drove off, yet the memory of this amazing experience will last forever!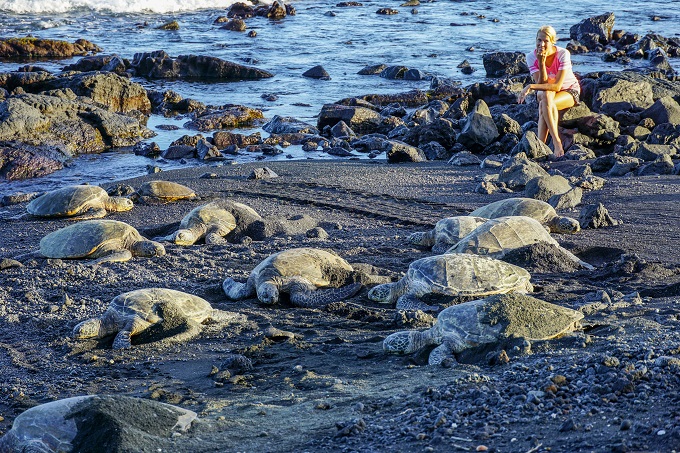 DAY 178
Today was a little lesson in Polynesian and ancient Hawaiian history, origins, traditions and beliefs. We visited the Pu'uhonua o Hōnaunau National Historical Park - a location that possessed an extraordinary spiritual power and was Royal grounds for the ancient Hawaiians. It contains ruins of their buildings, courtyards, pathways, fishponds that they built, as well as several artefacts have been found here. Lots of ki'i (wooden images of Hawaiian gods) decorate the park grounds.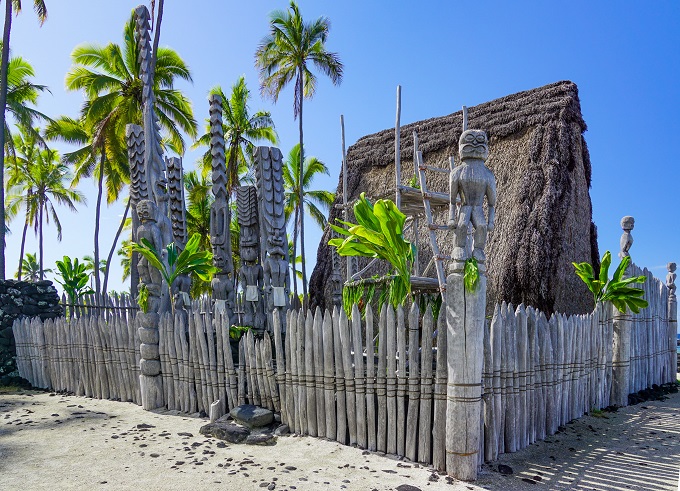 DAY 179
Today's big even was the drive up to the summit of Mauna Kea volcano to watch the sunset. It is a dormant volcano with its peak standing 13,803ft (4207m) above sea level making it the highest point in Hawaii. Already on the way up we could see the landscape starting to change dramatically - the road was weaving in between ancient volcanic cones and the vegetation got scarcer and scarcer until it was just all a Mars-like landscape with red sand and nothing else around us. It is so high up that it even snows here at the summit in winter months. It was around 36F degrees during our visit. We spent only 40mins at the peak, descending as soon as the sun set because the thin air and lack of oxygen at this altitude started making us all a little dizzy.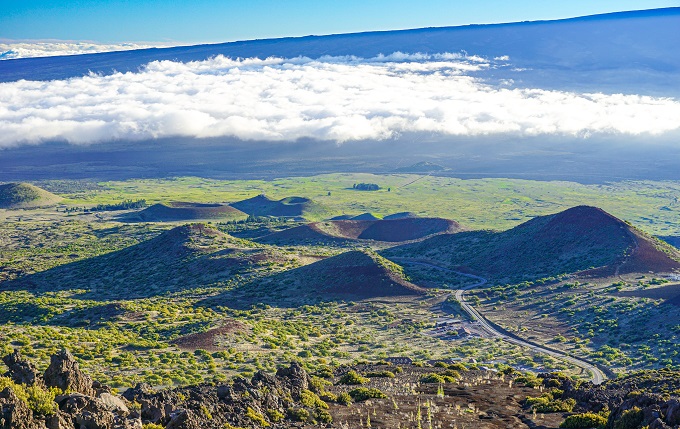 DAY 180
For the last day of our mini-vacation, we had reserved a snorkeling boat tour to Kealakekua Bay. It is considered one of the best snorkeling spots in all of Hawaii because of the established and vibrant reef that thrives here. Being protected by a rocky bay edge and a huge cliff, the water here does not get thrown around by the force of the ocean, so the reef can grow undisturbed and fish and many other creatures love it here. And it truly was impressive! Besides all the fish, the reef itself was something to admire - so many forms, shapes and sizes of corals I had not seen anywhere on Oahu. This was a great way to end our last day and trip to the Big Island!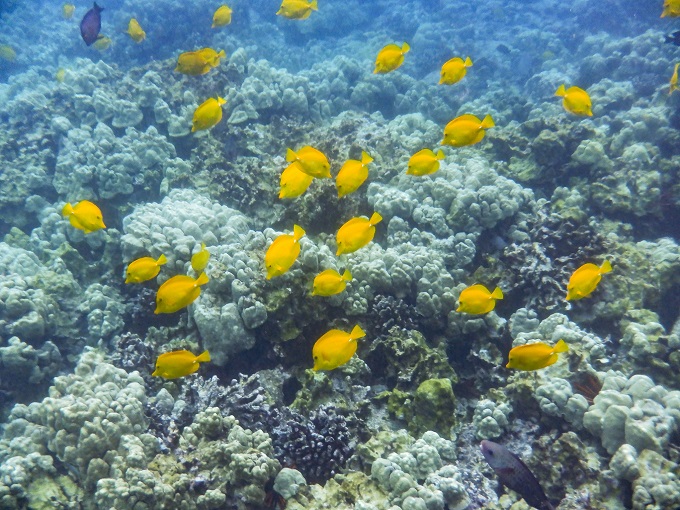 ***End of trip to the Big Island of Hawaii***
Continuation of our journey:
365 DAYS OF HAWAII (DAYS 181 - 240)
365 DAYS OF HAWAII (DAYS 241 - 300)
365 DAYS OF HAWAII (DAYS 301 - 365)
More photos of Hawaii (including from our previous trips) can be seen in the following galleries:
Hawaii Volcanoes National Park
Wonders of the Big Island, Hawaii
Black Sand Beaches, Big Island Hawaii
My travel reviews of our previous Hawaii vacations can be read in these travel stories:
Our COVID Vacation to the Big Island of Hawaii
Hawaii (Oahu) with 2 Toddlers in Tow
Kauai - the Grand Canyon of the Pacific