Our COVID Vacation to the Big Island of Hawaii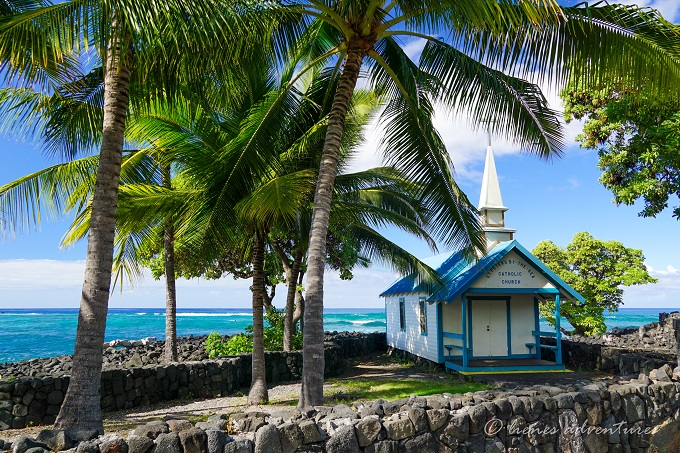 Many people think one has to be crazy to go travel right now, but my inner travel bug kept poking and poking at me until I gave in. It felt like it had been ages since our last true vacation… When we moved to Oahu (Hawaii), we had grand plans for trips to Australia, Japan, Thailand… but it all had to be cancelled when the Coronavirus pandemic shut all borders. Going to the mainland USA would be a big hassle at this point because of the mandatory quarantine upon return, so we decided to explore Hawaii itself.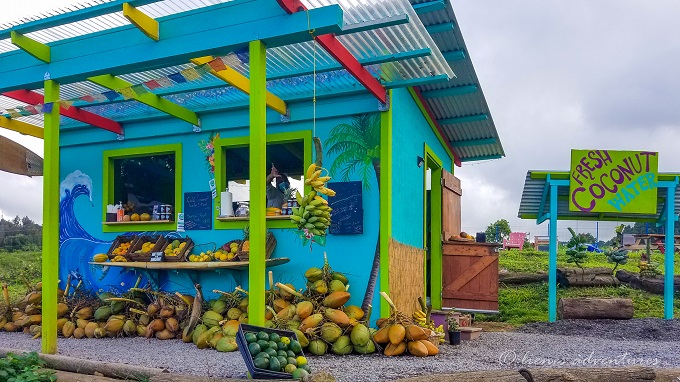 Hawaii Island Chain consists of 137 islands and islets, 7 of which are inhabited. Out of the 7, only 4 are big and varied enough to draw tourists (Oahu, Maui, Kauai, the Big Island) while the remaining 3 (Moloka'i, Lanai, Niihau) are small local community islands or are off-limits to visitors altogether.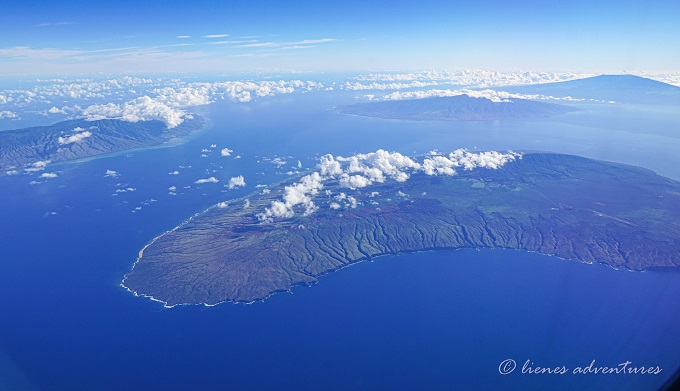 We live on Oahu, and had already visited Maui and Kauai before, so the obvious choice left was the Big Island. And how could we resist when the flights there cost only $39 with Southwest?!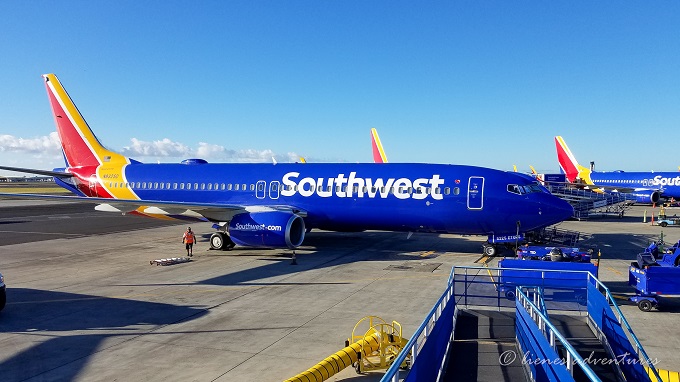 We made our reservations in September for a trip in December. Although we were hoping the travel restrictions would ease up by then, it did not happen. All of us (except the 3-year-old) still had to get our COVID-19 tests done before flying out. Yes, it is stressful because there is always that chance of a 'positive' result but luckily the travel industry has adapted and all of our flight, hotel and car reservations would have been fully refundable up until the last minute in case we could not get to go on our trip. Luckily, it was early Christmas in our house when all of our results came back 'COVID negative' and we were given the green light to fly to the Big Island without the need to quarantine.
Going to an airport always makes me happy – it is that sense of adventure that is about to come, the new destinations… I still felt that, however, the airport looked MUCH different this time around. We were the only people at the check-in line, we were the only people at the security checkpoint, and we were the only people in the long corridors of the airport terminals… It was truly a ghost town. The restaurants and stores were locked up, and the only noises were social distancing reminders over the loudspeakers. Luckily, I found an open Starbucks to grab a cup of coffee for our early morning flight. A little slice of normalcy…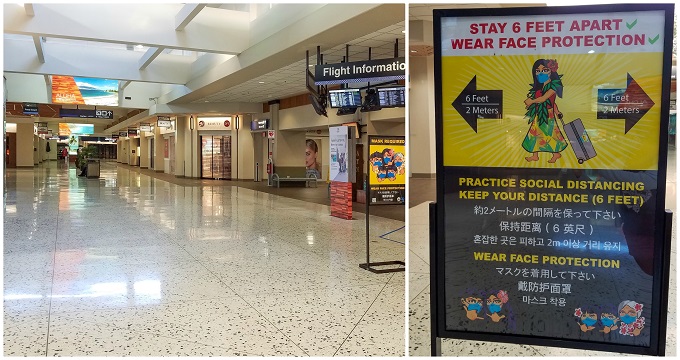 Once we were ready to board the plane, I glanced at our tickets and noticed that they said ''open seating''. When was the last time you have seen that?! The seating choice was totally up to us – first class, business class, economy plus, whatever.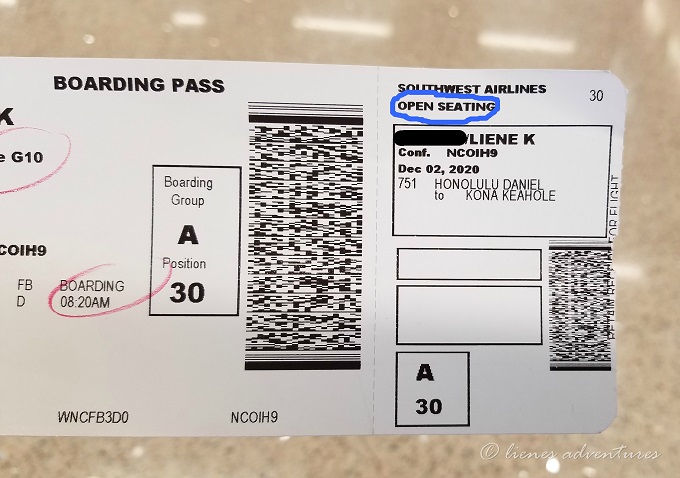 The stewardess confirmed that, indeed, we could sit wherever we pleased as the whole flight had a total of only 21 passengers. A Boeing for 21 people. Wow!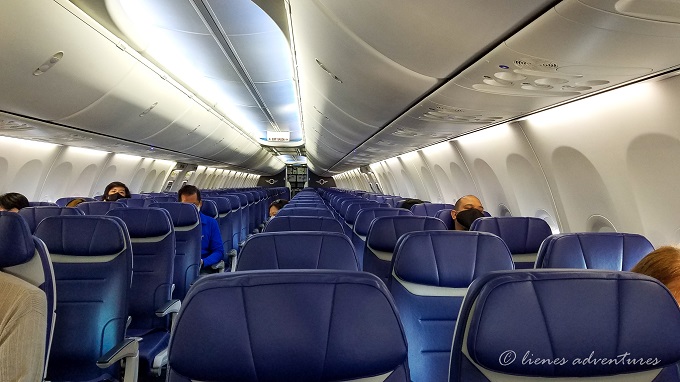 We grabbed the front row seats by the windows, spread out and watched the plane take off from Honolulu airport towards the Big Island. It was a very crisp morning and we could see all of the islands from up above very clearly – Oahu, Maui, Moloka'i and Lanai.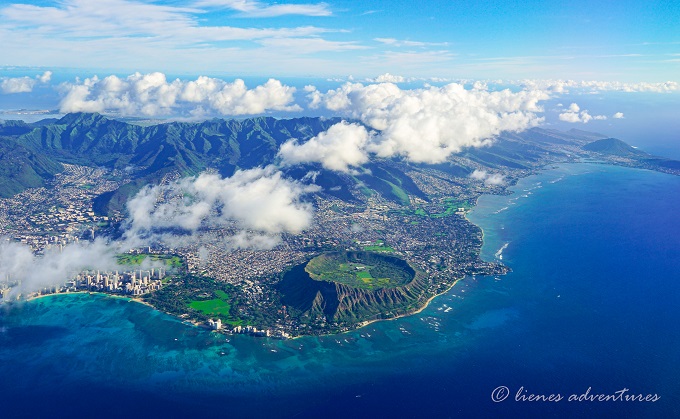 Day 1 – valleys, mountains and jungle roads
After a short 55-minute flight we landed in the Big Island's Kailua–Kona airport. Before exiting the airport, the COVID enforcement team checked our negative Covid-19 test results and made a note in the travel system that we have been screened successfully and do not require a quarantine. Proof of a negative Covid test result was also required even when picking up the rental car, as well as when checking into the resort. Covid tests rule the world right now!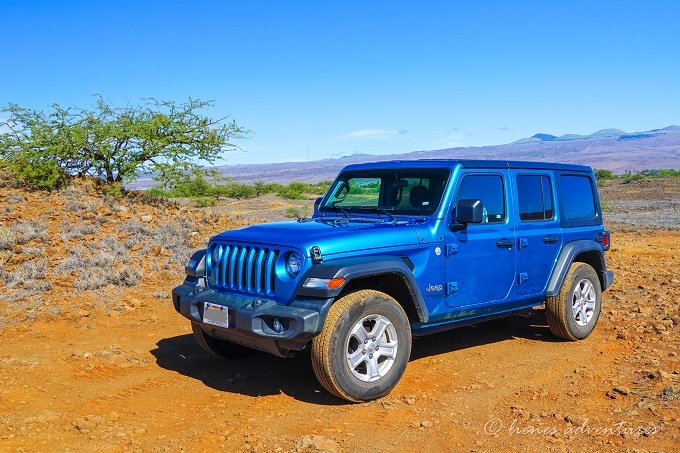 Once we left the airport, we were immediately surrounded by lava. Lava everywhere! It was the vastness of black lava all around with an occasional dry patch of desert grass poking through here and there. I was aware of the Big Island being a volcanic island, but this was not quite the scenery I was expecting to see to this extent. I thought I would have to go look for lava flow sites, but it was literally everywhere, right in front of our eyes no matter which direction we looked.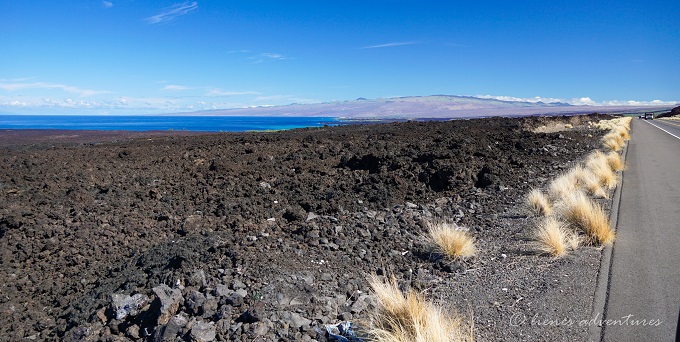 It even seemed like the houses were built by just pushing the lava aside to make enough space to lay foundation. Green lawns? Forget it, lava is just so much more easily accessible… and free!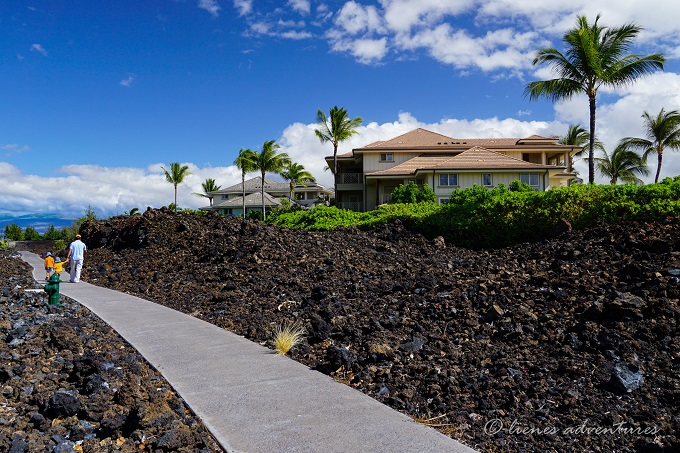 Our first main sightseeing spot on the Big Island was Waipi'o Valley. There is an overlook at the top of the cliff that gives beautiful views of the mountains and the black sand beach below. With the Big Island being a volcanic island, one of its attractions is all the black volcanic sand beaches. Being used to tourist crowds during our travels, it was odd to be the only visitors at the lookout.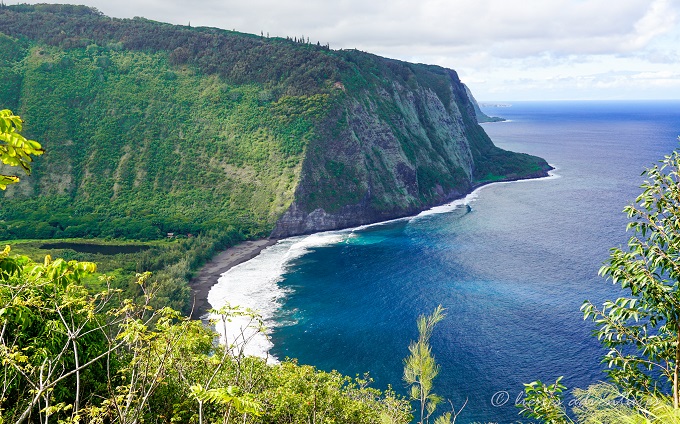 Past the lookout, a narrow one-lane road carved along the side of the cliff leads down to the valley floor to the black sand beach and several waterfalls. Only 4x4 cars are allowed to drive this road down to the valley floor as the road can reach 45% grade at points and can be full of very deep, water filled potholes. As a matter of fact - it is the steepest road in the USA and one of the steepest in the world. It is only ¾-mile long but drops 900ft (275m) in its short distance. Walking down / up on foot here is the only option for many. We successfully descended to the valley floor and reached our first black sand beach letting the boys finally spend some time getting dirty in the sand and play.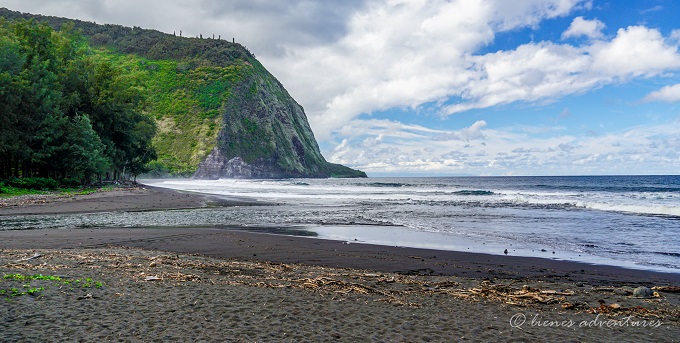 Another attraction of the Waipi'o Valley is Hiilawe Waterfall - one of the tallest and most powerful waterfalls in all of Hawaii. The waterfall drops about 1,450 feet (442m) which is over half a mile in height! Unfortunately, it can only be viewed from afar as it is located on private land and hiking to it is not allowed (many still do, but then it is trespassing).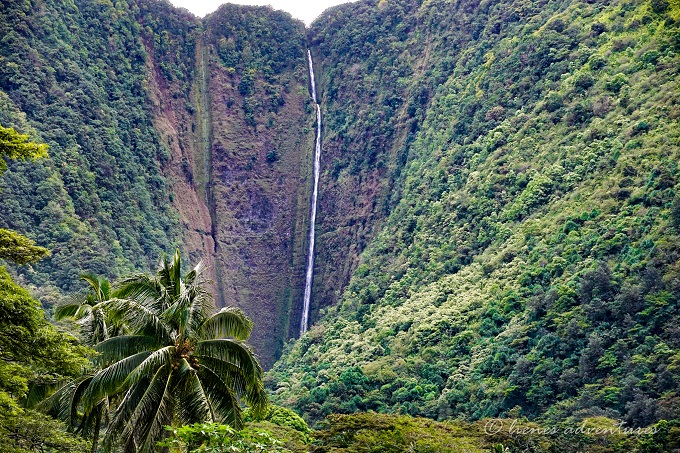 As it was approaching evening, we left the valley to head on to our next destination. Along the way we pulled into Laupahoehoe Beach Park to take a look at the ocean crashing into lava sea stack formations near the shore. It was quite a sight!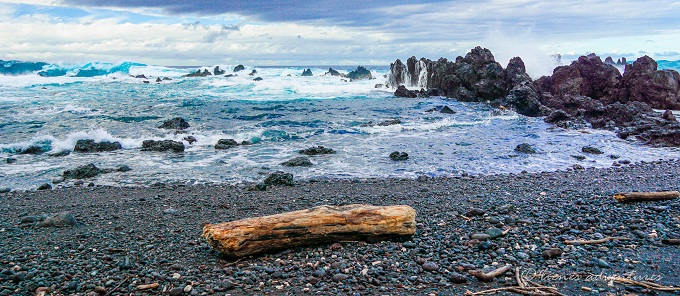 Just before park closing, we managed to make our way to the Akaka Falls State Park. Although there were no services available (due to Covid), the park and falls were available for viewing. There were just 4 other cars parked here besides us. Strict one-way directional signs took visitors for a walk on a paved loop through tropical gardens. We even came upon some guava which our boys eagerly ate up. They looove guava! Eventually, the path reached Akaka waterfall. It was very exciting to view a waterfall so up close as there aren't many of them available to see on Oahu.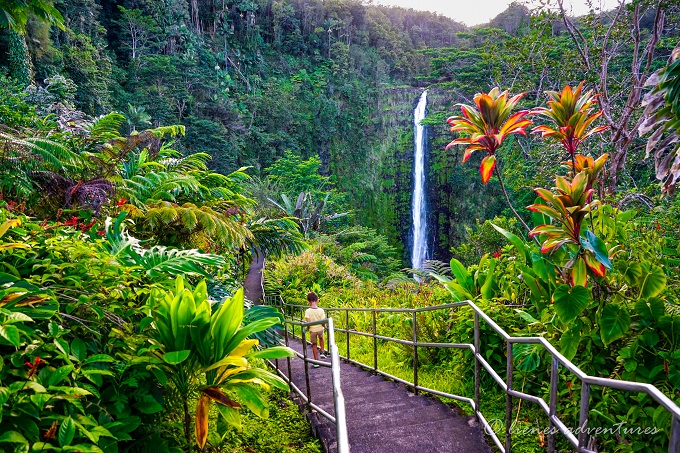 Per other travelers' suggestions, on the way to Hilo we took the Old Mamalahoa Hwy instead of the main road. And I am so glad we did! It is a narrow, jungle-engulfed road, also nicknamed the ''4-mile scenic road''. A hidden treasure that needs to be experienced, for sure! We crossed old wooden bridges and streams, saw waterfalls and awed about the jungle all around us! Our boys even insisted that we take the roof of our Jeep down for the full safari experience!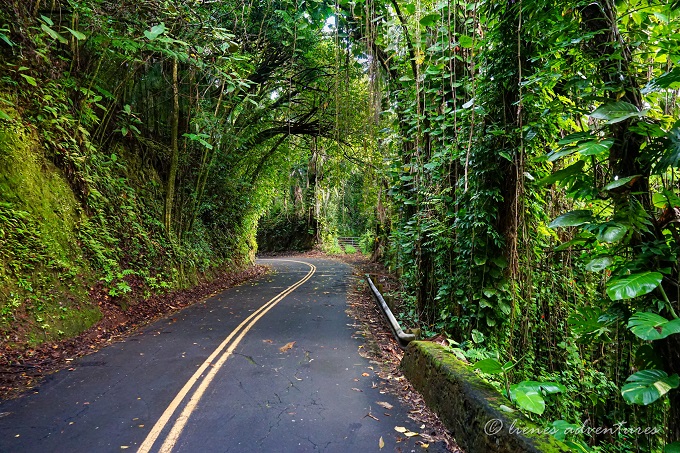 Once we finally reached our AirBnB in the town of Hilo, it was already late and dark.
Day 2 – volcanoes and lava
The second day of our trip was all devoted to what the Big Island of Hawaii is famous for – the volcanos. There are actually 5 volcanoes on the Big Island, 2 of which are still active and can erupt at any time. The last eruption happened just 2 years ago - in 2018, when the eruption of Kīlauea volcano lasted May through August, and large lava flows covered land southeast of the Volcanoes National park destroying over 700 homes and devastating residential areas. The park has been re-opened since then, so we headed out to explore it.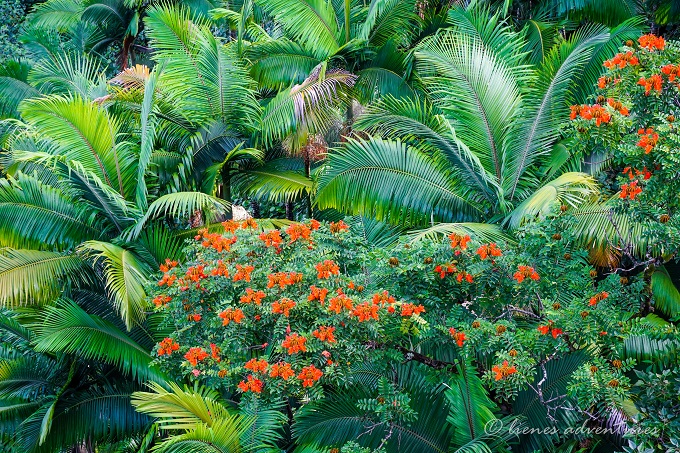 A very fun experience for me was seeing the changing landscape, especially as we entered an area known as Fern Forest. Here (as well as along the slopes of the Volcanoes National Park) you can experience the native ʻōhiʻa forest (type of rainforest native to the Big Island) which was also filled with beautiful lush ferns. They were as tall as some of the trees and created a shaded forest floor with their large leaves.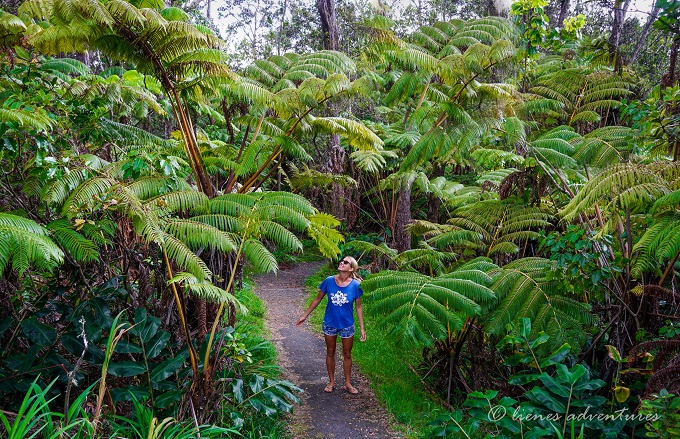 The first order of the day (before entering the park itself) was the 11.5-mile (18.5km) scenic drive up the Mauna Loa road. Mauna Loa is one of the world's most active volcanoes, with its last eruption in 1984. With no eruptions predicted in the near future, we headed up the ''hill''. Manua Loa road is very narrow but scenic.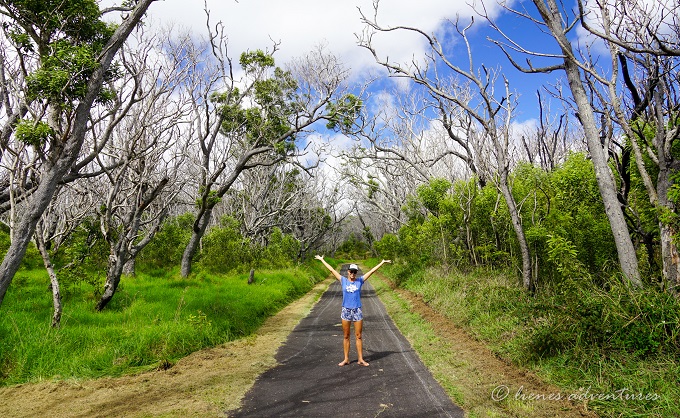 The higher up we went, the more we saw the landscape change. Here we could also see the koa trees which are endemic to the Hawaiian Islands and koa wood is one of the most valuable in the world. With no tourist crowds around, local wildlife was also showing their presence along the roadsides...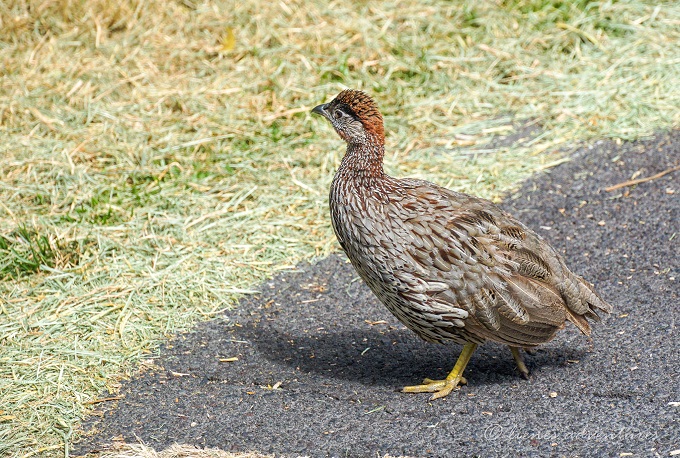 The paved road does not lead to the very summit but one can hike the remaining distance to it (another extra 12.9 miles or 20.7km), which we were not planning on doing. Instead, we took the short path to go see Mauna Loa silverswords. It is a very unique and endangered plant that grows only on the slopes of Mauna Loa volcano. It is only once in their lives and only after 10 to 30 years that it sends up a spectacular stalk of fragrant flowers as tall as 9 feet (3m). Within weeks it goes to seed and its life is concluded—the entire plant dies. All the silverswords we found were just few inches tall and they still have decades to grow to reach their magnificent 9ft length!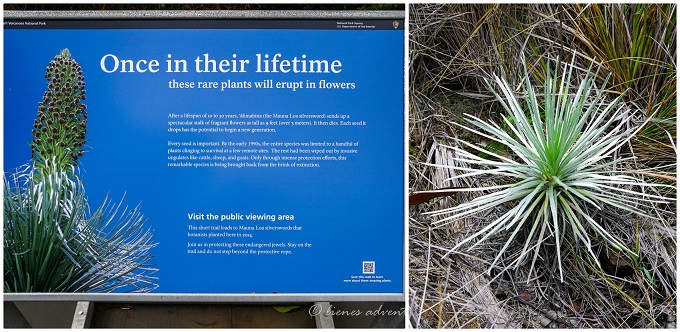 It took us about 2 hours to drive up and down Mauna Loa, and during this time we exchanged paths with only 1 other car!
After Mauna Loa, we finally entered the Volcanoes National Park.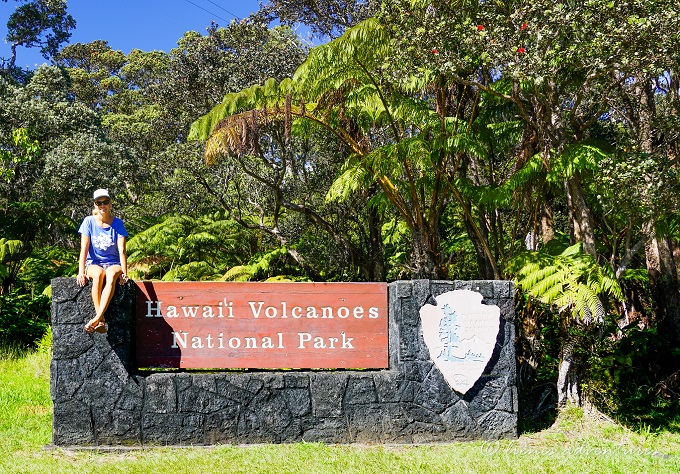 We started our visit with the Crater Rim drive. Our first stop was the Kilauea Overlook. It is here that you can see the caldera and the volcano crater. Before 2018 eruption, people could see orange, bubbling lava in the volcano's crater, but after the eruption the lava is gone and the caldera has closed up. There will eventually be lava again, but when, that remains to be seen…
UPDATE 12/20/20: Just 10 days after we left the Big Island, the Kilauea volcano unexpectedly erupted again creating a lava lake in its crater which has been empty since 2018 eruption (as seen in the above picture we took a week ago). This new eruption means the lava can once again be seen by tourists who visit the Volcanoes National Park. We are a little sad that we did not get to witness the actual lava and missed it by merely 10 days, but maybe that means we will have to visit the Big Island once again?! The below picture shows this very same above pictured crater but currently filling with orange, hot lava!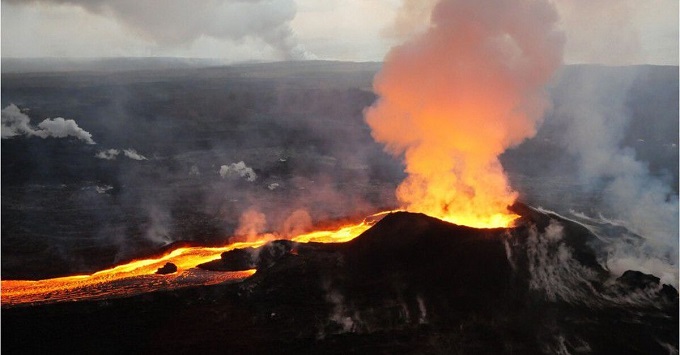 /Photo credit: KIRO7 Hawaii News/
Along the crater rim, a trail takes visitors to the steam vents – it is the true ''breath'' of the volcano as hot water vapor rises from underground steam vents.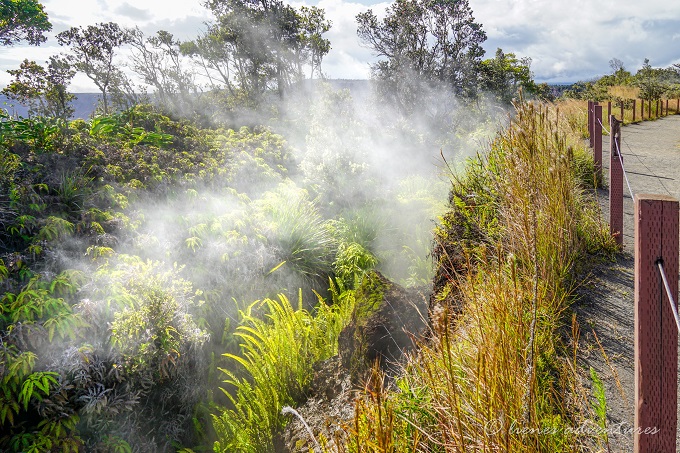 These volcanic steams felt like hot sauna mist and our boys enjoyed running through them. There are a few safe (paved and fenced) areas to do so near the parking lot.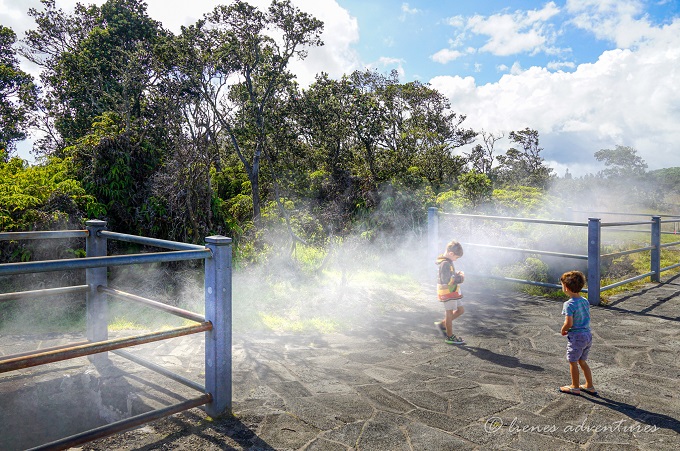 Sulphur banks and boardwalk is another popular attraction of the Volcanoes National Park. This short boardwalk takes visitors on a walk along the Sulphur banks where volcanic gasses have deposited colorful sulfur crystals and other minerals along the trail.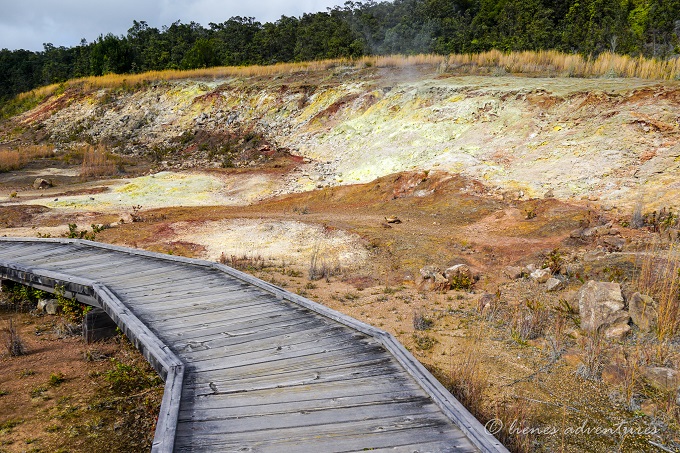 Once we looked the opposite direction of the Sulphur bank, it seemed like the forest was on fire! At first I got a little concerned, but apparently volcanic steam vents are scattered all around this area - no fire, just the volcano releasing its fury from the underground.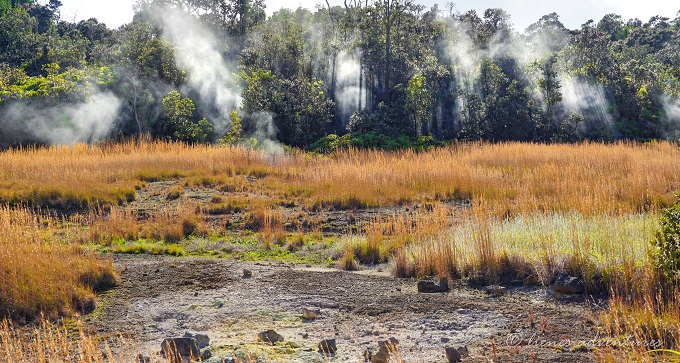 During our time here at the Sulphur banks (about 40mins) we did not meet a single other visitor. This is what parking lots looked like most of the time during our visit at the Volcanoes National Park!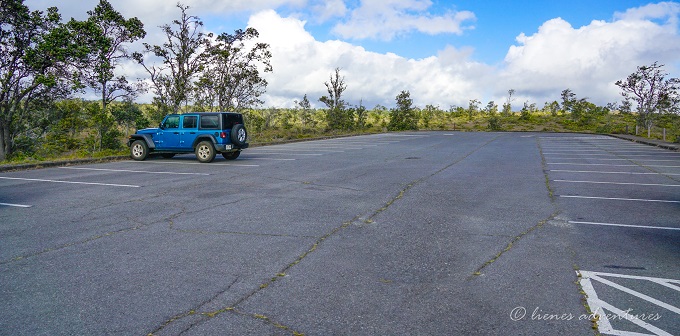 After we had seen all the sights on the Crater Rim drive, we headed out to the Chain of Craters drive. It is an exceptionally beautiful 19-mile (30km) one-way dead-end road leading to the ocean and passing several lava flow landscapes and overlooks. We made quite a few stops along the road and pull-outs to see and touch the lava, walk on it and just imagine the destruction that was happening when it was flowing.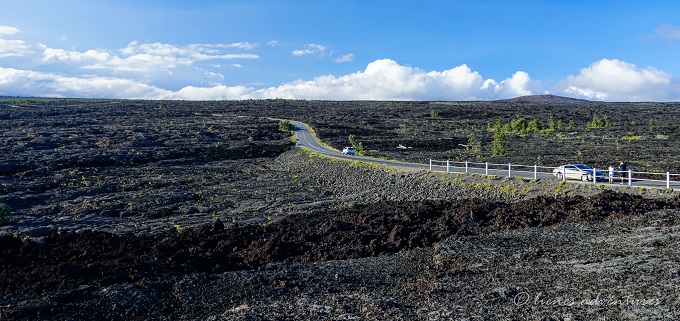 There are also several trails available for hiking these volcanic landscapes, but we did not have enough time for that.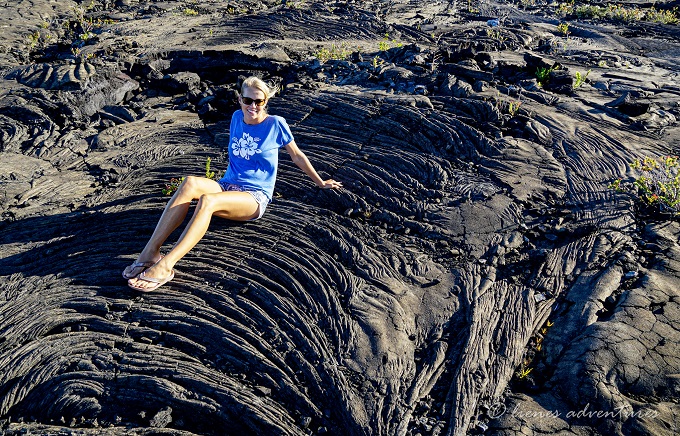 And as deadly and inhospitable as hardened lava rock may seem, the nature will just find a way!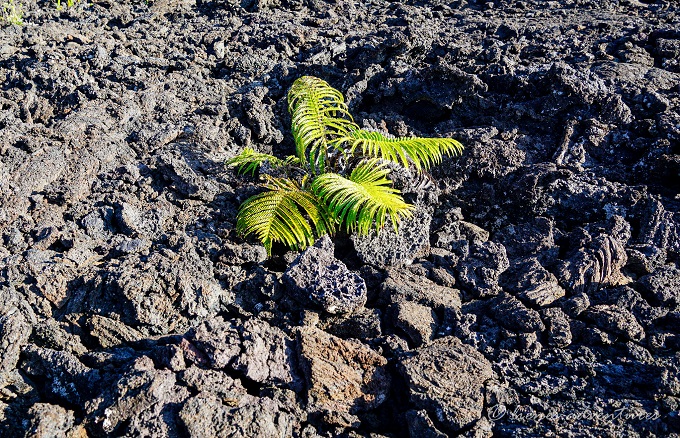 We reached the bottom of the road right at the last light and walked down to the ocean overlook to see the sunset.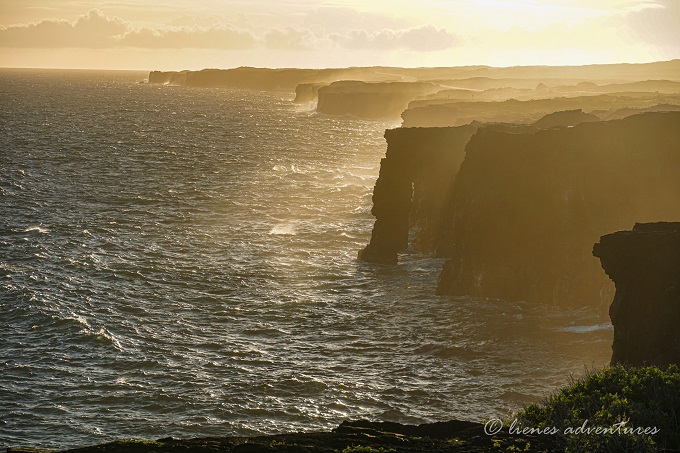 Here we were also greeted by the Hawaii State bird – nene (or Hawaiian goose). Nene is endemic to the Hawaiian Islands and their population in 1952 had reduced to just 30 birds. The goose has since been bred back from the brink of extinction and re-introduced into the wild. Today, with only 2,500 birds (each one is banded) it is still one of the rarest birds to see in the wild.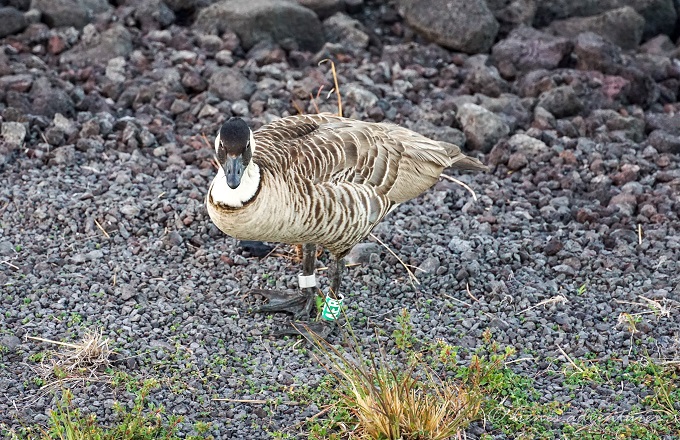 It was already dark and past 6pm once we started heading back to our AirBnB in Hilo 1.5 hours away. As we had spent much more time at the park than originally anticipated, I had not packed enough appropriate snacks, so we were starving! With all the concessions at the park closed (Covid!) we had spent the last 10 hours living on 6 bananas, nut bars and pretzels. My kids requested food, and my husband was hangry, so I will make sure not to make this mistake again!
Day 3 – waterfalls, beaches and turtles
With this being our last day in Hilo area, we did a little catch-up on the sights we had not managed to see in the previous 2 days. One of them was Rainbow Falls. This 80ft (24m) waterfall is part of the Hawaii State Parks system and it gets its name from rainbows that form in front of it in early morning hours. Although we visited the waterfall in the morning, unfortunately, we did not catch the right time for the rainbow viewing. It was pretty nonetheless.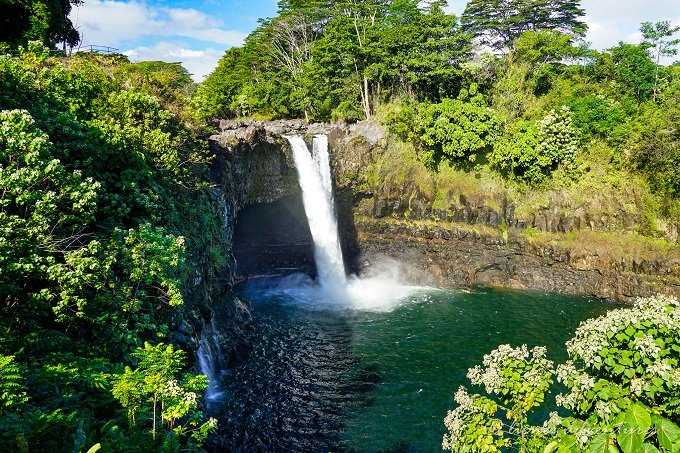 Just 5 minutes down the road is an area called Boiling Pots. There is a trail and viewing platform over this scenic part of the Wailuku river with several ''bubbling cascades''(which is where the name comes from) and an overall pretty scenery.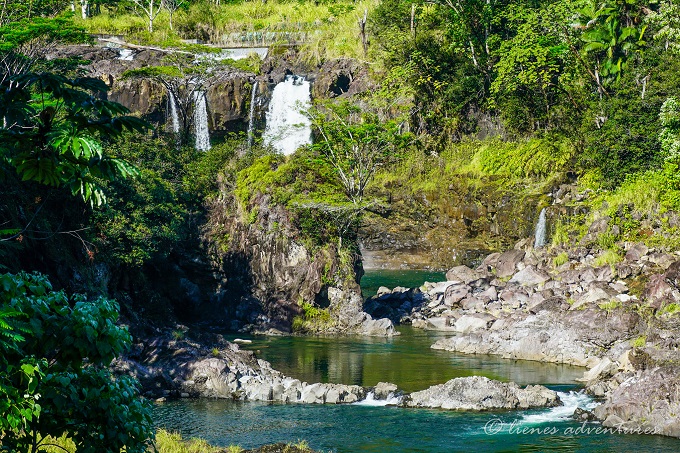 Again, it seemed like we were the only tourists at both of these attractions. There was a local jogger who stopped in at the Rainbow Falls while we were there, and a set of 2 local workers at the Boiling Pots who seemed to be there on their work break. That was all. No waiting in line for a parking spot, no fighting for the best view at the lookout, no other people's elbows in our pictures… nothing. Just the sounds of trickling water and birds in the trees.
Although we did not have time for swimming activities, I still wanted to take a look at 2 of the most popular swimming areas near Hilo. One of them was the Richardson black sand beach. I took a short walk down to the beach for a photo op and left all 3 of my men in the car as it would just be too much of a fight to let the boys see the beach but not let them play there. The volcanic lava was evident even here…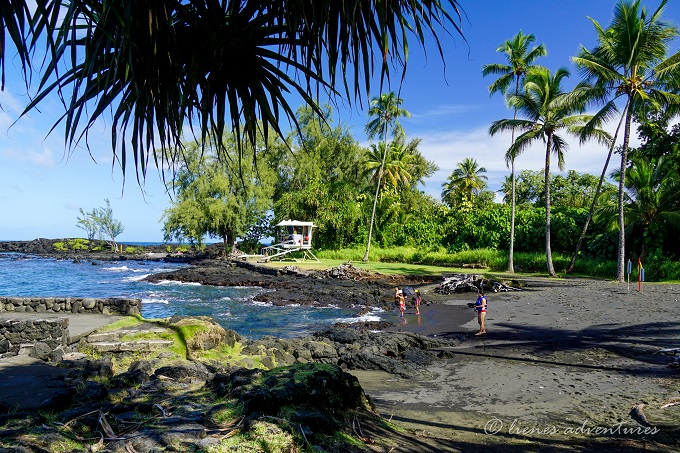 The other area was Carlsmith beach, which really isn't much of a beach but more of a lava tidepool area protected from the ocean by lava walls and reef with some of the most amazingly crystal-clear water! Oh, it looked so inviting!!! I was so tempted to drop our plans for the remainder of the day and just come here for a swim. It looked absolutely stunning! But with us needing to check out of our AirBnB this morning, and all of our wet bathing suits, no towels and all the other logistical aspects, going swimming just did not seem like the smartest idea.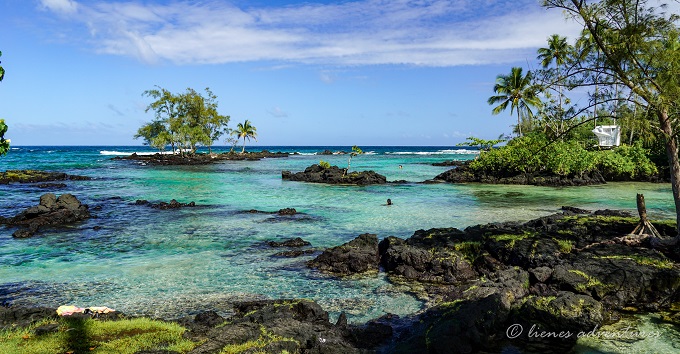 In order to not make the same mistake twice, before heading out on the road for the day, I took my men to a breakfast café to fill them up with food. I did not want to spend the rest of the day stuck in a car with hangry people (like yesterday). When their bellies were filled, we hit the road and headed to Isaac Hale Beach Park. Pohoiki Beach here is the newest black sand beach on the island due to 2018 eruption. When entering the park, evidence of the destruction is everywhere. Just 2 years ago, this road was leading visitors to a recreation area near the ocean. Now, it is forever buried under tons of miles-long unmovable, rockified lava.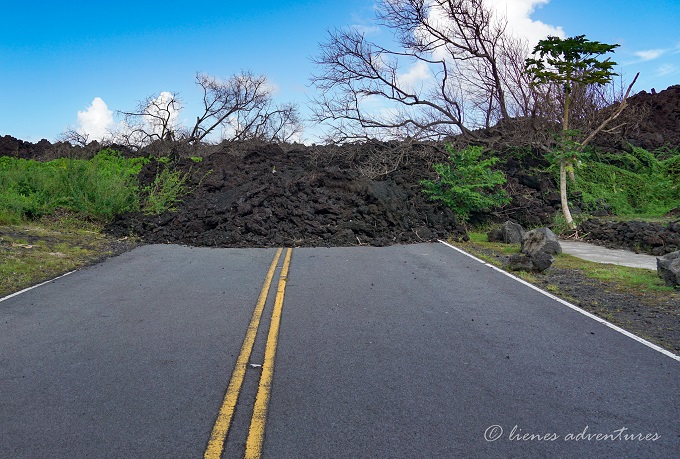 But this is also how the new beach was created - the incoming hot lava grinding against the ocean created 1.3 square miles of new land and beach. Can you imagine that this black sand and rocks were once a hot, red flowing lava?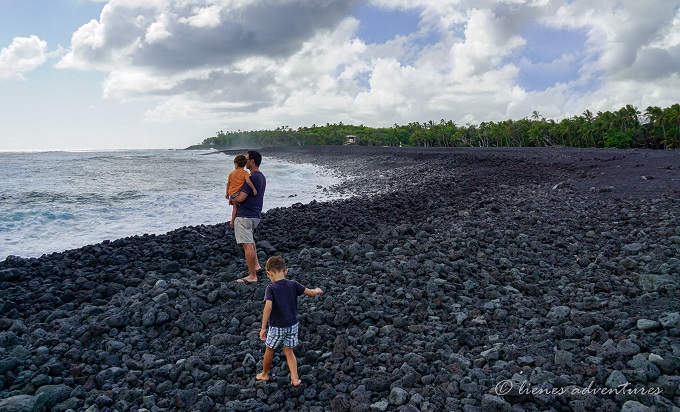 This was a good spot to let the boys play again while I walked the beach for some photos and just soaked up the scenery. There are also thermal ponds here with hot underground water creating swimming spots like a hot bubble bath. Definitely inviting, but it was time to keep on going...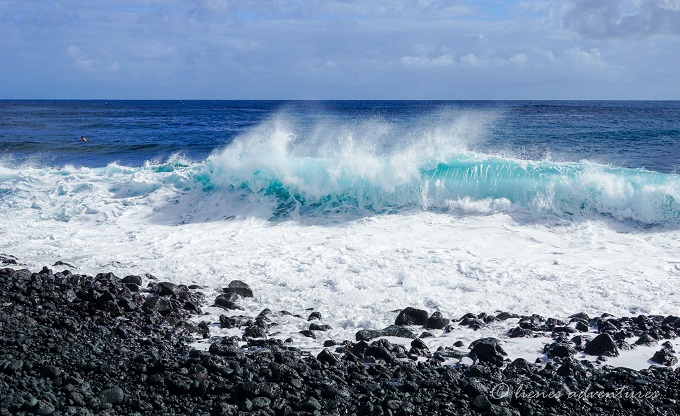 The 11-mile (18km) stretch of Kapoho Kalapana road leading away from the beach is considered to be one of the Top 5 scenic drives on the island. The narrow rainforest surrounded road weaves along the ocean with some amazing scenery along the way!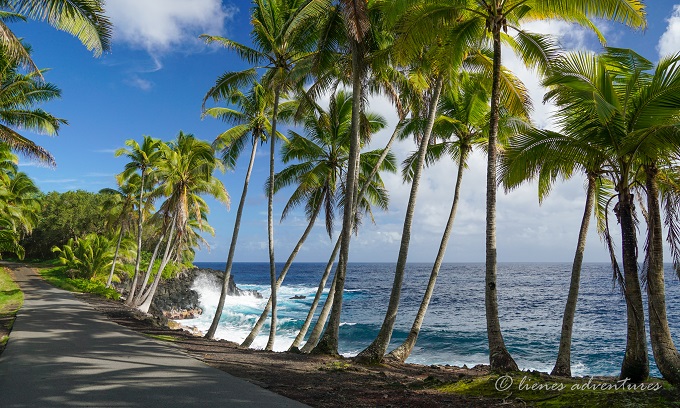 Our next destination was the remote Punalu'u black sand beach. It is several hours away from any bigger town, yet is popular for 2 reasons: one - its fine, pitch-black lava sand beach; and second – the green Hawaiian sea turtles that come ashore here. Naturally, I had to put this place on my must-see list. And wow, was I in for a surprise of a lifetime - as we pulled up to the beach, there were 14 sea turtles that had come ashore to soak up the last warm sunrays before the sun set. How lucky were we to see a sight like this?!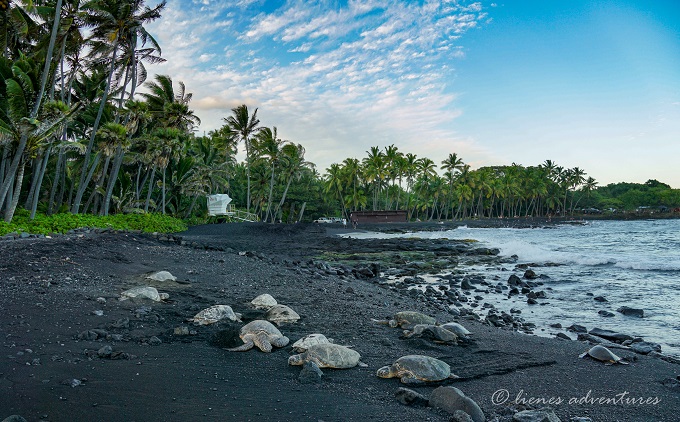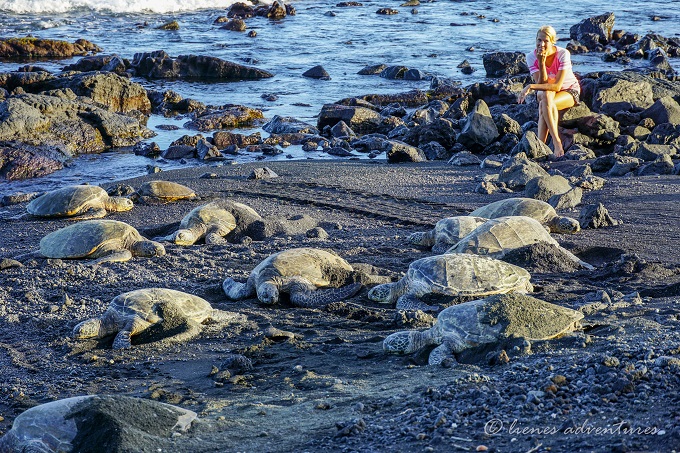 Our boys noticed that between all the big turtles, there was a small ''baby turtle'' (as they called it). It definitely wasn't a baby, but it was a young turtle – about 2x smaller in size than some of the big ones. I was happy to see that it had found its bale (pack) to hang out with and seemed to be doing well. Good news for the future of these turtles!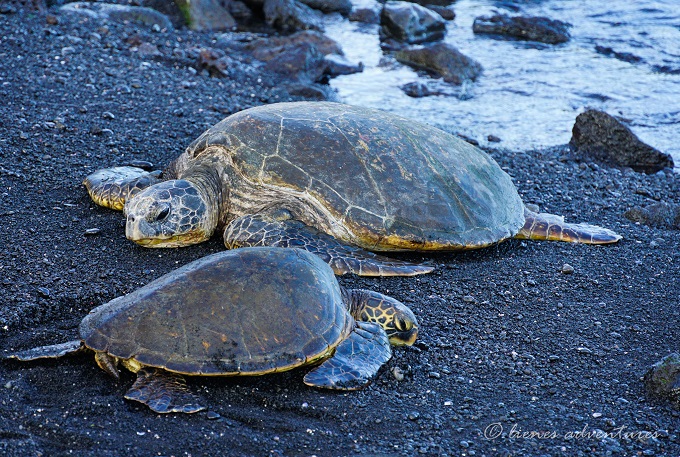 Although we originally did not intend for the boys to get wet, it just somehow happened. So, we let it be, settled down and spent 2 hours here watching all the turtles, letting our boys go crazy on the black sand beach, wading in water, making an impromptu picnic from all the leftovers, and watching the sun set.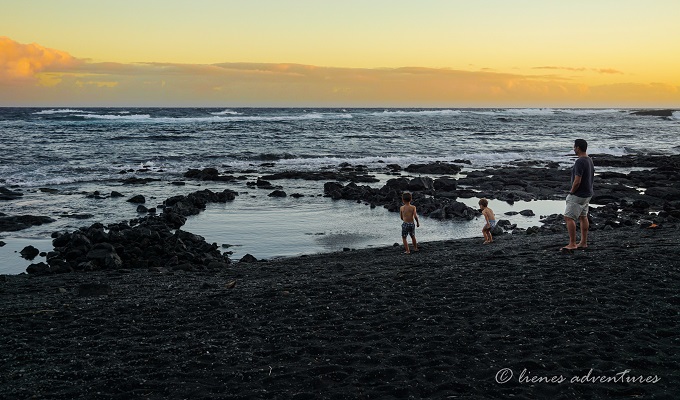 I was so hesitant to leave this place that eventually it got so dark we had to rely on stars for any light. It was time to leave. I bid farewell to the turtles before we drove off, but the memory of this magical beach will stay with us forever.
It was about a 2hr drive to our new resort in Kailua-Kona, and apart from some local music on the car's radio, the drive was quiet. I guess we were all processing what we had seen… and maybe we were also just a tad tired.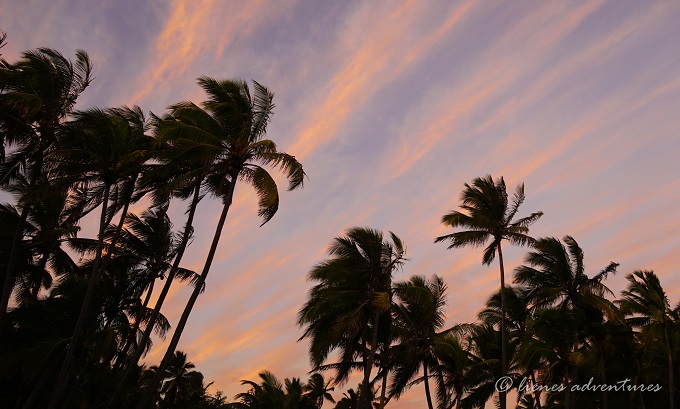 As a side note – not too far from Punalu'u, there is another beach – Papakolea Green Sand Beach (only 1 of 5 green sand beaches in the world), however, we did not have time to visit it, nor we were up for the 5-mile (8km) round trip hike to it at this point.
Day 4 – Hawaiian history and volcano summit
Having arrived at our resort in Kailua-Kona late last night, we all slept in a little and took the morning easy. Despite the lava-filled landscape of the Big Island, resorts are made to feel tropical with palm trees, green lawns and blue swimming pools. This was our view of the ocean and golf course.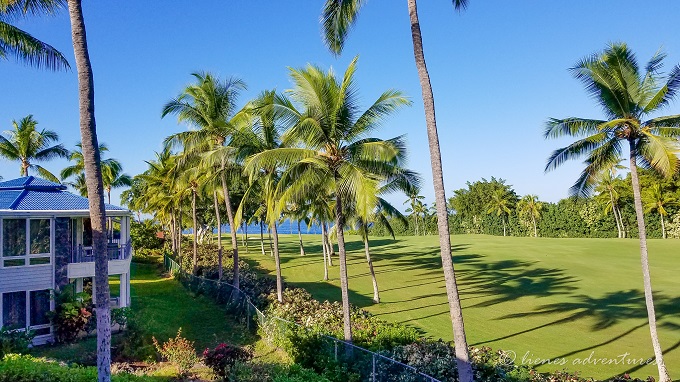 With a swimming pool and hot tub right outside our front door, the boys requested their share of entertainment. And why not? We could all use a little pool / hot tub break. The best part – we had it all to ourselves! During our 3 day stay here, we saw just a handful other guests walking around the resort and there were no people at the pool or any other amenities at all most of the time.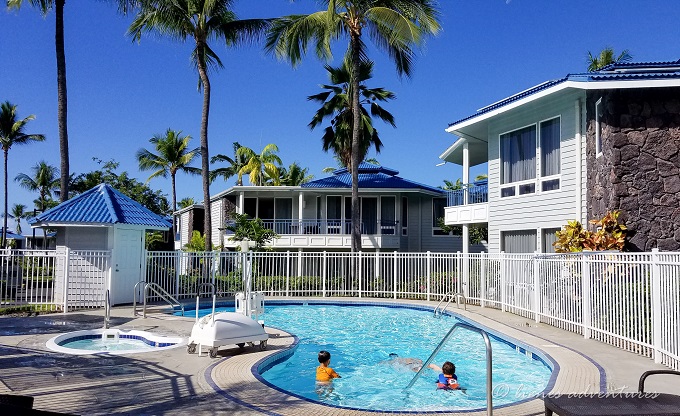 After our morning swim, it was time for little history, and Puʻuhonua o Hōnaunau National Historical Park is the perfect place to start! It was a site of ceremonial and religious importance to ancient Hawaiians, and is the best preserved and most dramatic one to day given the extent of its monumental architecture that can still be seen.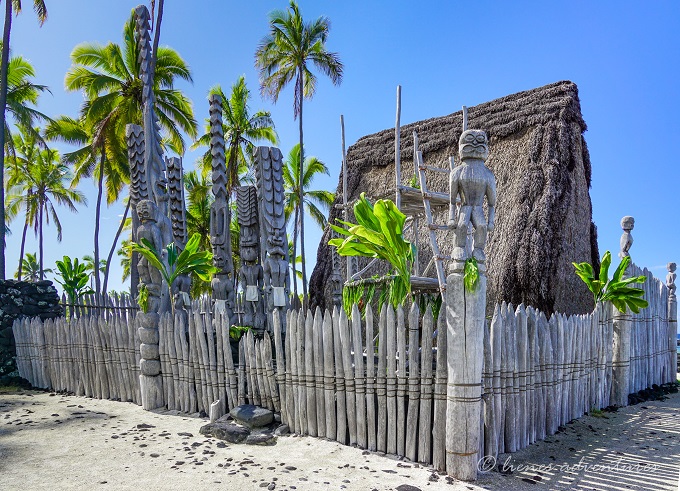 During our walk we could see several buildings and temples, wooden Ki'i (Hawaiian god statues), the Great Wall that was constructed over 500 years ago using lava rocks and dry stack masonry (no cement or any other adhesive used), as well as man-made fishponds where ancient Hawaiians raised fish for food. We could walk the complex ourselves with map in hand.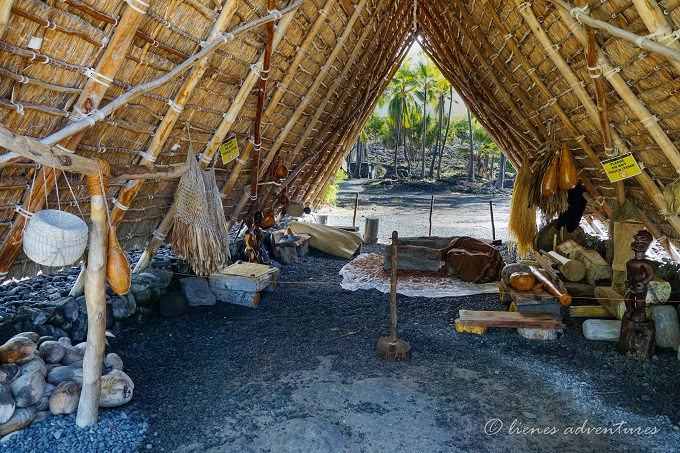 Again, due to Covid, there were no ranger talks or demonstrations, but we were happy we could at least walk and see the site and park personnel was still there to answer any questions.
After the park visit, we had to return back to the resort for some lunch and change of clothes. We had a special suitcase full of winter clothes and boots. Why would anyone need winter clothes in Hawaii, you ask? Well, our plan was to head up Mauna Kea volcano all the way to the summit for sunset viewing. Mauna Kea is a dormant volcano with its peak standing 13,803ft (4207m) above sea level making it the highest point in Hawaii (and the tallest volcano on Earth). It is so high up that it snows here in winter. Yes, only on the Big Island you can surf in the morning and go snowboarding in the afternoon!
The landscape heading to the volcano was again quite varied and we saw some wild goats running along the road.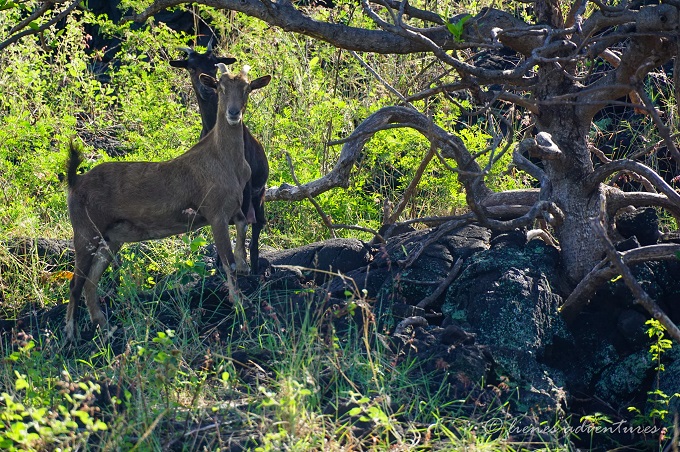 When heading up to the summit, it is suggested that visitors stop at the Onizuka Visitors Center for at least 30mins to acclimate to altitude. Remembering how sick altitude made us in Colorado when we headed up Mt Evans, we decided spending a little time at the 9,300-foot (2,800 m) elevation where the Visitors Center is located would be a smart idea. Although the center itself was closed (Covid), there were picnic tables and bathrooms available, so we sat down for some dinner. It was quite amazing seeing this alien landscape of volcanic cones and cylinders.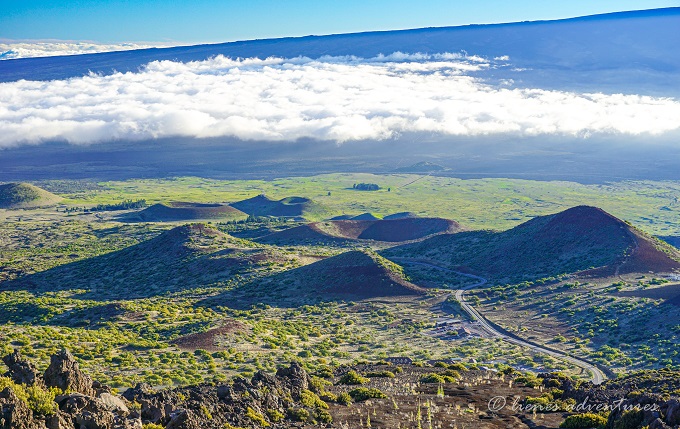 Once we were ready to conquer the summit, the park ranger stopped us to check that we had a 4x4 vehicle (no 2-wheel drive cars allowed on the dirt road to the summit) and expressed concern that we were traveling with young children. They do not suggest anyone under 13 to go up due to altitude sickness as oxygen saturation at the summit is 40% less than sea level. However, we had come prepared and had ordered oxygen bottles specifically for this trip. That put the ranger's mind at ease and he let us pass.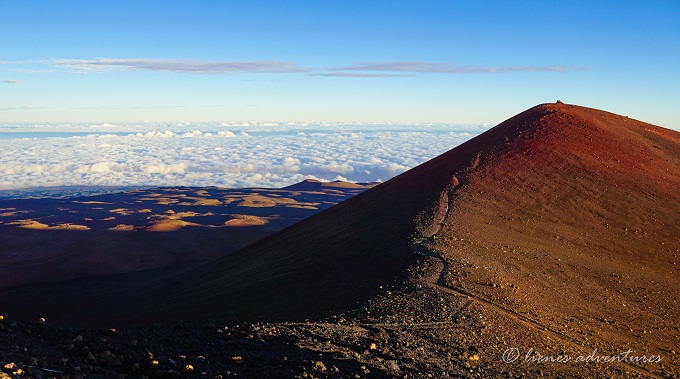 The landscape changed very rapidly and in no time we were surrounded by red sand, volcanic cones and no signs of any life form. It felt like we were on Mars! Although we would have loved to see some snow, there was none during our visit as the temperature was holding around 35F (2C) degrees. We were happy about our winter jackets nonetheless as we watched some other visitors wrapping themselves up in hotel blankets and towels.
The summit of Mauna Kea also hosts the world's largest astronomical observatory, including the world's largest telescope. Telescopes here are operated by astronomers from eleven countries.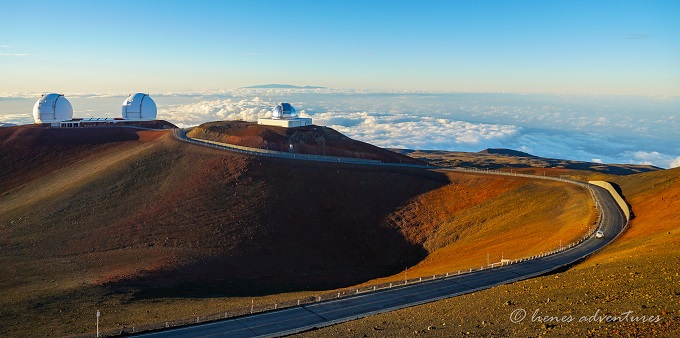 We spent about 40 minutes at the summit which was about exactly the amount of time that our oxygen bottle lasted. It was enough to witness the sunset and head back down the volcano before the park gates closed.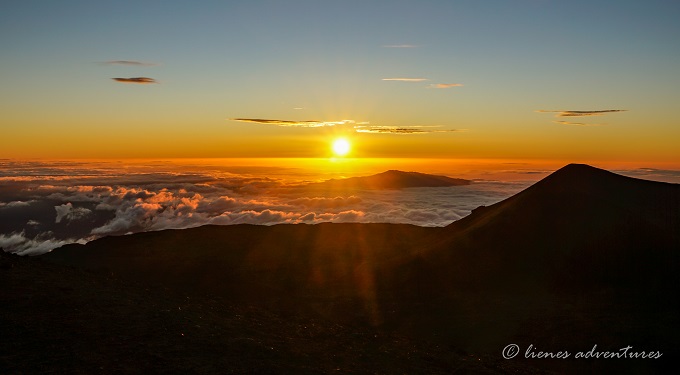 Day 5 – coffee and snorkeling
Some more swimming activities were requested by our boys this morning and we obliged. After that, it was time for mommy and daddy to head out in search of coffee. Speaking of coffee, the Big Island is famous not only for its volcanoes but also for its Kona Coffee. The Kona Coffee Belt is a strip of land running almost parallel to Kona's famed ''gold'' coast. This zone, approximately 30 miles (48km) long and 2 to 3 miles (3-5km) wide, has proven to have ideal coffee growing conditions. Coffee grows best here in the altitude ranging from 500 to 3200 feet (152 – 975m) above sea level.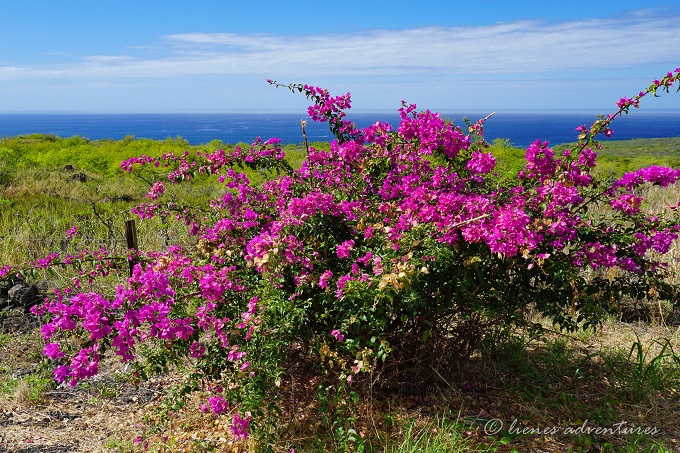 There are countless coffee plantations that offer tours and coffee tastings during normal times; however, Covid has forced most of them to close their gates to tourists. There are still a few plantations that offer free tours by reservation only (e.g., Heavenly Hawaiian Coffee Farm); however, as we had done several coffee growing and making tours on our previous trips both to Kauai, Hawaii and the Dominican Republic, so this was not something we were desperate to do again.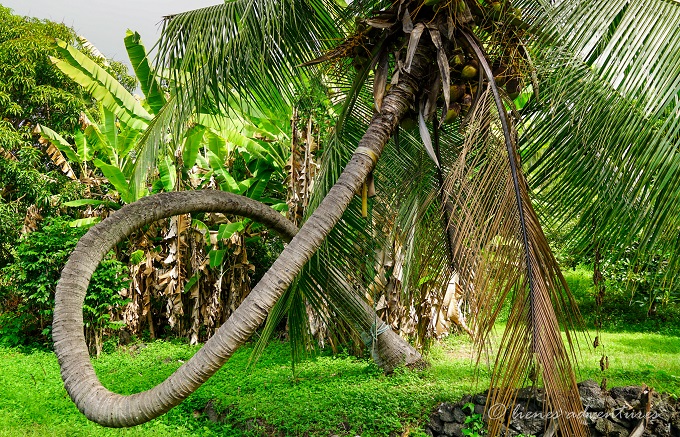 Instead, we headed into the Kona Coffee Belt and explored the area ourselves by driving past the plantations and stopping at various interesting spots. These are coffee beans ready to be picked.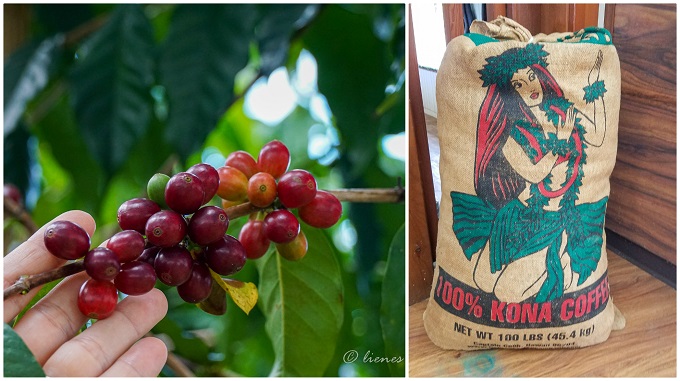 And as far as coffee goes, we had a tasty cup of Kona coffee during our trip here every day. There are plenty of little cafes offering it in various flavors. Our favorites were coconut and macadamia nut! I also bought 2 bags of ground Big Island coffee to send to my family in Latvia for Christmas! I hope they appreciate my exclusive gift!
For the afternoon, we had scheduled the only paid activity of this whole vacation – a snorkeling trip to the Kealakekua Bay (or most widely known as Captain Cook). The bay is a marine sanctuary for many tropical fish, turtles and spinner dolphins. It is considered to be one of the best snorkeling spots in all of Hawaii because of the established and vibrant reef that thrives here. Being protected by a rocky bay edge and a huge cliff, the water here does not get thrown around by the force of the ocean, so the reef can grow undisturbed and fish and many other creatures love it here.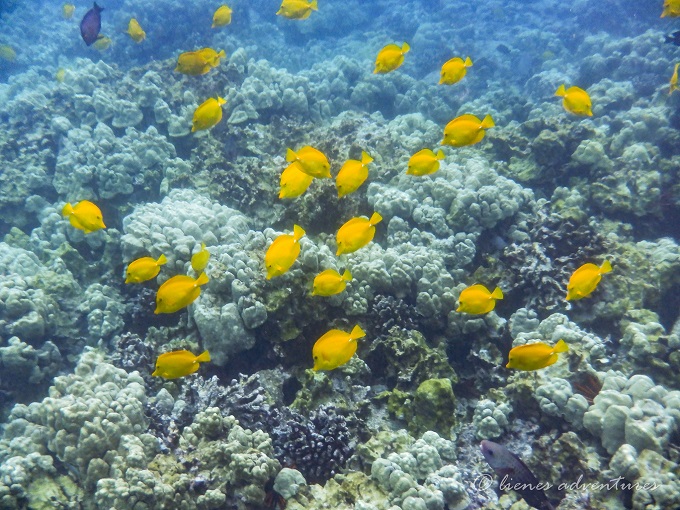 We chose to go with SeaParadise tour company because they offered the ride on their big trimaran which worked great for the boys as they could freely walk around without being confined to a boat seat for 3 hours. Also, Covid-safe (individually packaged) snacks and drinks were served during the ride. Although the boat is approved for 50 people, there were only 20 of us because of the social distancing requirements.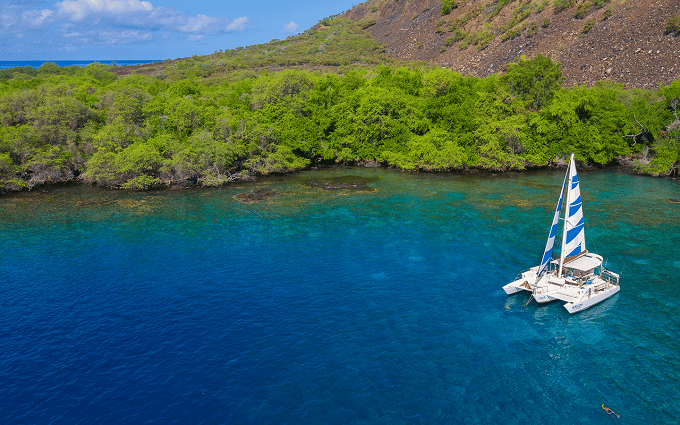 Once we reached the reef, they had prepared a small snorkeling equipment for our 5-year-old and a viewfinder board for our 3-year-old. This way we could all go in the water together. And it truly was impressive! Besides all the fish, the reef itself was something to admire - so many forms, shapes and sizes of corals I had not seen anywhere on Oahu even when diving.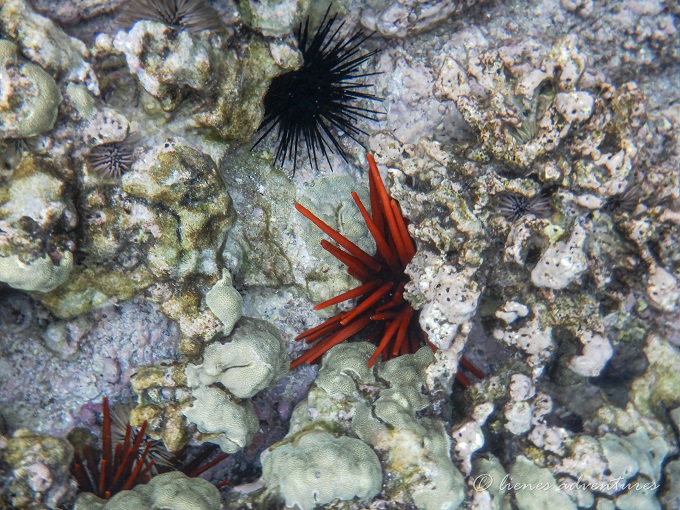 We were given an hour to snorkel which was plenty, and by the time the hour neared its end, I was shivering. It is winter, after all!
Unfortunately, although this is a popular dolphin gathering spot, we did not get to see any. The guide said that sometimes they have seen them swimming in pods of hundred, and a couple days ago they had even seen a whale. That is wildlife for you though – you just never know when they will show up… or not.
Day 6 – Kailua-Kona and petroglyphs
All good things come to an end, and this was the last day of our trip. However, on the bright side – with our plane leaving only at 5PM, we still had most of the day to explore the island. After gathering up our stuff and checking out of the hotel, we decided to head into Kailua-Kona. We had spent all of our trip focusing on nature and natural attractions, and we had not spent almost any time in any of the towns. So, we drove into Kailua-Kona area. Home to resorts, restaurants and shops, it was a quaint little place. We did not have any grand plans here, so we sat down for a cup of coffee, grabbed some shave ice for the boys and walked the waterfront. The town was quiet. Very quiet. Most of the places were still closed (Covid) and restaurants sat empty. Not many people to be seen anywhere either.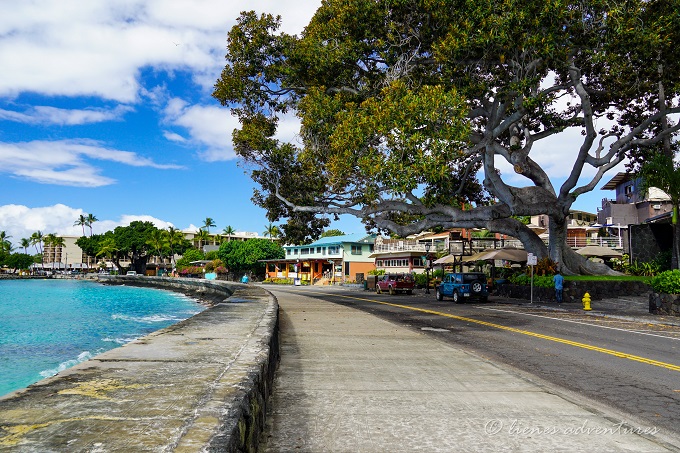 With still some time left until our plane, we made the trek to see Waikoloa Petroglyph Reserve. After a short walk on access trail, we reached the petroglyph field. The petroglyphs are scattered like graffiti everywhere you look, carved into the lava rock. Some are graphic (humans, birds, canoes, turtles) and others cryptic (dots, lines). Western influences appear in the form of horses and English initials. Our boys had a lot of fun trying to find them and decipher what was portrayed.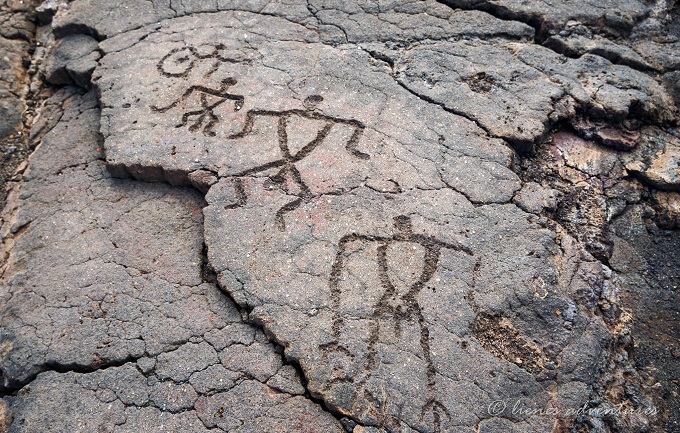 Some of these ancient Hawaiian petroglyphs date back to the 16th century – only one century after Columbus first landed on American soil!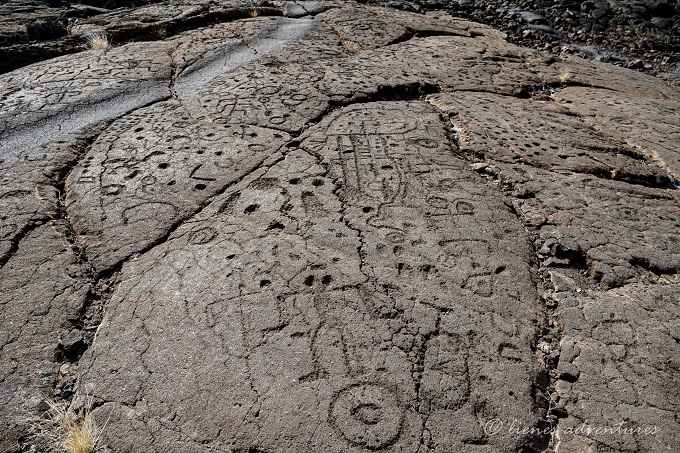 Not far from the Petroglyph Reserve was Queen's Marketplace – a resort-style mall with restaurants, shops, water fountains and ponds. We decided to stop here for a bite to eat before heading to the airport. Out of 8 restaurants at the food court only 2 were open. The cinema and most of the stores were closed too. If they were open, there were no shoppers anyway. Sad.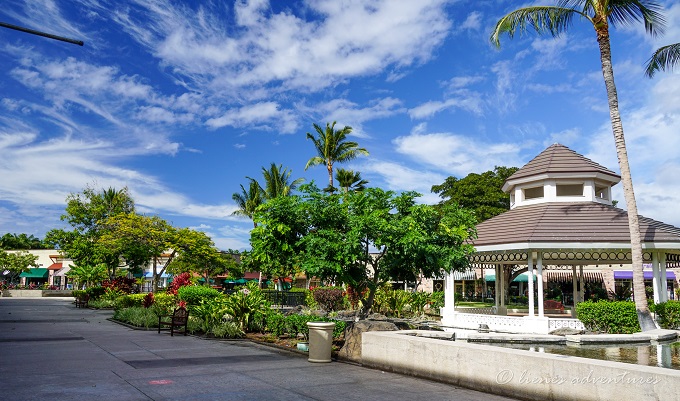 To uplift everyone's mood, they were playing Christmas songs over the loudspeakers and Christmas trees and decorations were hung all around. Can you believe it's almost Christmas already?! This has been a crazy year.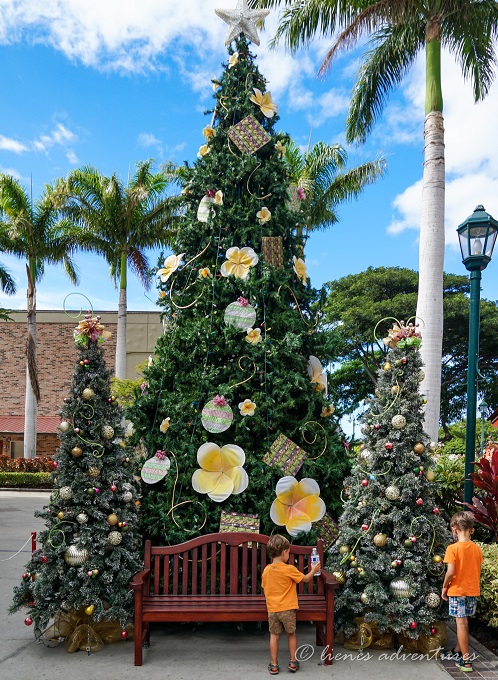 Boys got in trouble for trying to pull Christmas ornaments off the tree, so it was time to leave. After dropping off our faithful Jeep back at the rental place, we took the shuttle to the airport for a quick and easy check-in process. We were the only ones at the counter…again. Then we were the only ones at the security line… again. And the only ones at the airport terminal walkways… again. My attempts at getting a fresh cup of coffee before we leave were unsuccessful; nothing was open.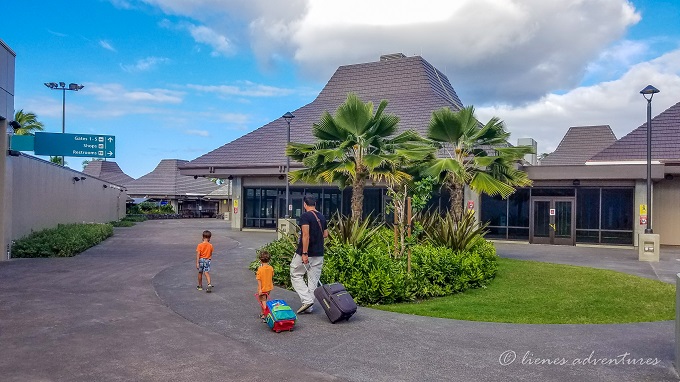 It was open seating again, except this time instead of 21 passengers on the plane, it was only 8 - 4 of us and 4 other people. I could basically say I flew a private jet around Hawaiian Islands!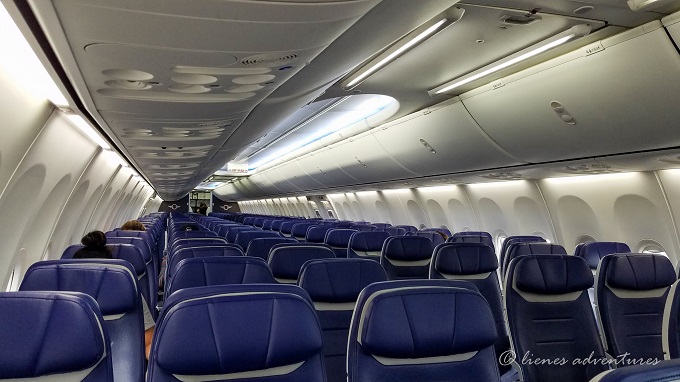 Upon landing in Oahu, the process was easy – there is no Covid test or quarantine requirement when arriving to Oahu from any other Hawaiian island, so we grabbed our luggage and headed straight home.
And just to sum up, a few quick fun facts I learned about the Big Island while visiting it:
Big Island is the youngest island in the Hawaiian archipelago, estimated to be 800,000 years old.
As its name suggests, it is also the biggest - the Big Island is twice the size of ALL the other Hawaiian Islands combined and is still growing.
And while the summit of Mauna Kea volcano (13,803ft / 4207m) is the highest point in Hawaii, it is also the tallest mountain in the world. Measured from the sea floor (as most of the volcano is under water) Mauna Kea stands 33,476ft (10.2km) tall which makes it nearly a mile taller than Everest!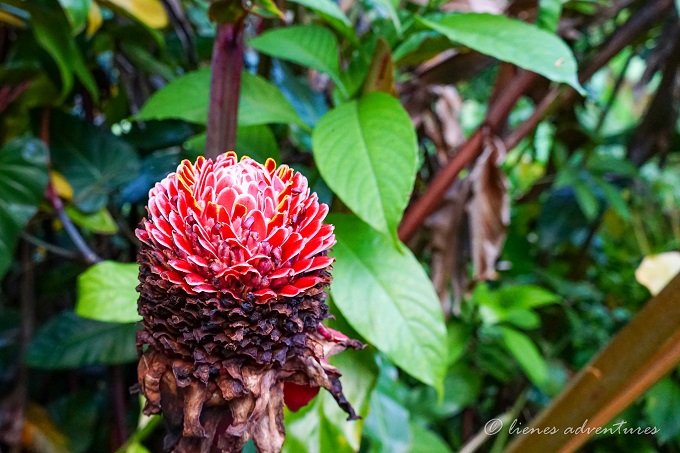 COVID impact
So, could the impact of the pandemic here be felt? Definitely, but in our case, I only viewed most of it as a positive. There were no lines at any of the attraction, no waiting for parking spots, no crowded beaches, no waits at restaurants and no overcrowded resort pools. Most of the natural attractions (National parks, State parks, beaches, lookouts, trails, waterfalls etc.) were all open at the time of our visit, as well as most of the commercial tours were operational with limited number of guests for social distancing. Although restaurant or lodging options might be limited, there is still plenty to choose from if you are willing to be flexible.
That said, there were a few places we did not get to see as they were still closed because of the Covid. Those were:
Thurston lava tube at Volcanoes National Park
Visitor center at Volcanoes National Park
Kamae'e Falls at Botanical World Adventures
Umauma Falls (they are actually open 3 days a week now but it did not align with our schedule)
Hawaii Tropical Bioreserve and Garden
Mauna Kea volcano Onizuka Visitor Center for stargazing
Coffee Plantation tours (some are open while some are closed)
But despite these few closures, we still got to enjoy it all – volcanos, lava, many waterfalls, beaches, saw the rainforest and coffee trees, watched turtles, drove to the summit of the highest peak in Hawaii and swam near a gorgeous reef. That's the great thing about Hawaii – you do not need anything to be open as most of the attractions here are just the nature itself.
Expenses:
Flights: $78 round-trip per person. Total $312 for 4 people.
AirBnB in Hilo: 2 nights $348
Resort in Kailua-Kona: 3 nights $510
Car rental: Jeep Wrangler for 6 days $270
Snorkel tour: $196 for 4 people
Total: $1636 for a family of 4 everything included. The only additional expense that we had was food, but as both of our rentals had a full kitchen, we could cook our meals there and pack snacks to-go while on the road. Therefore, it did not end up being any more expensive than just eating at home.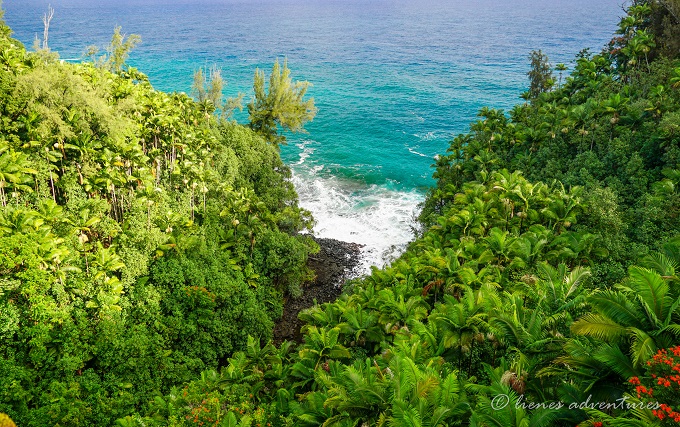 More photos of Hawaii (including from our previous trips) can be seen in the following galleries:
Hawaii Volcanoes National Park
Wonders of the Big Island, Hawaii
Black Sand Beaches, Big Island Hawaii
Our Hawaii diary can be read here:
365 Days of Hawaii - Our Hawaii Diary
My travel reviews of our previous Hawaii vacations can be read in these travel stories:
Hawaii (Oahu) with 2 Toddlers in Tow
Kauai - the Grand Canyon of the Pacific