45+ Best Family Friendly Hikes on Oahu for Toddlers and Young Kids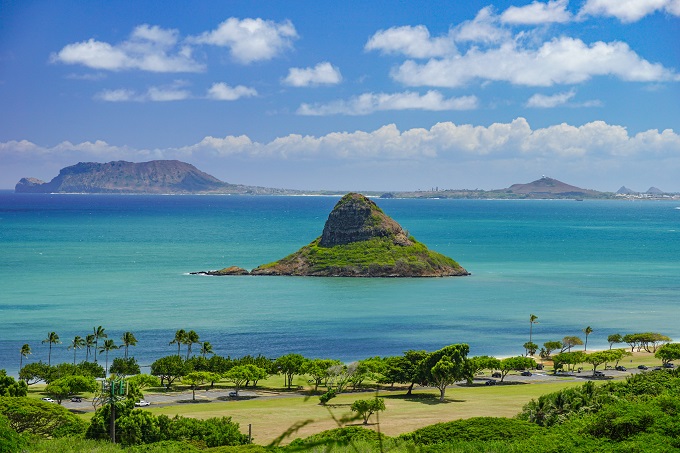 One of our favorite family pastimes here, in Hawaii, is the endless opportunities of hiking. Not only is it a great way to stay active and healthy, but many of the trails here also offer amazing views – be it ocean, rainforest, waterfalls or mountains. With hundreds of trail options to choose from, safety and manageability is one of the rules for our trail selections as we hike with our 2 little boys, one of whom is 5 and the other just 3 years old. We neither carry nor back-pack them, so all the trails described in this post have been physically completed and personally approved by a 5 and a 3-year-old. And since our move to Hawaii a year ago, we have completed almost 40 different trails (some twice or even 3x) with the combined length of over 140 miles (220km), so I guess you could say we love hiking...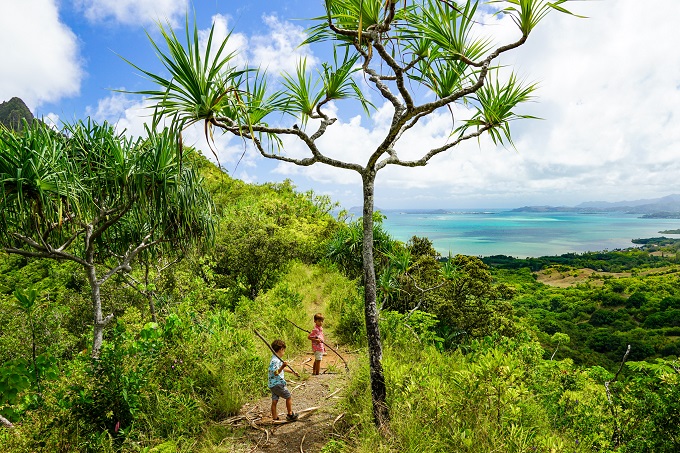 Of course, hiking with such little kids takes much longer, but the reward and their sense of accomplishment is worth it all. And if done right, hiking is fun also for them - we have seen endangered monk seals, albatross chicks, sea turtles, parrots and lots of other wildlife during our hikes. Our boys have learned to recognize different Hawaii plants and trees along the trails, and even finding walking sticks or playing with rocks along the way is part of the fun.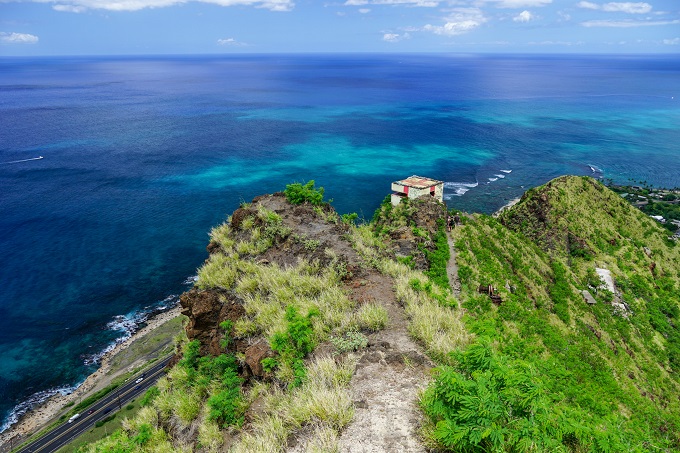 Wearing appropriate hiking shoes will also make a world of difference. And I just cannot stress enough how important appropriate hiking shoes are – the first time we did Lanikai Pillbox hike, our 5yo had regular sandals and he was slipping and sliding everywhere on the cliff rock– it got pretty dangerous. The 2nd time around he wore his hiking boots on this very same trail and the slipping was reduced by at least 90%!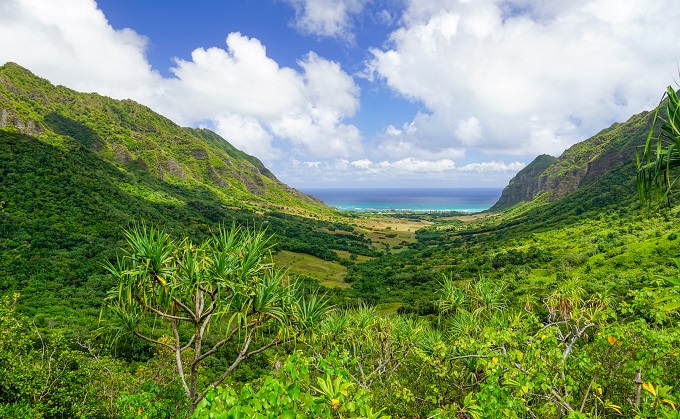 Also, don't forget to bring sun hats, and having snacks and drinks (or packed lunches for longer hikes) will make it a much more enjoyable and relaxed experience for all, especially kids (they always want snacks)!
And finally, an important piece of information to add for those out-of-state visitors - as tempting as it might be to swim in Hawaiian freshwater (waterfalls, pools at the base of the waterfalls, mountain rivers, streams...) it is very strongly discouraged because of the leptospirosis bacteria. Especially after heavy rains, this bacteria gets washed into the water and can make people extremely sick, including liver and kidney failure. Of all the cases of leptospirosis diagnosed in the United States, 50% are from Hawaii alone. Therefore, enjoy the views but save the swimming for the ocean.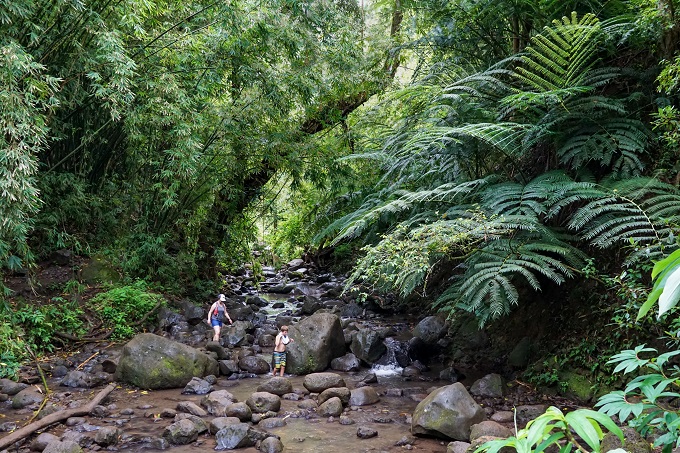 So, here is the list of all the trails we have found to be worth doing with small kids. The list will get updated the more trails we explore. I have also added a link of AllTrails map for each trail, which shows the start and end location of each trail, with terrain and distance indicators along them. And to make it more transparent, I will also include the rating of scenery and trail difficulty from *(low) to ***** (high). The trail difficulty rating will be based on how easy or hard it was for my children to complete the particular trail, not adults.
1 TO 2-MILE (1-3km) LONG HIKES
Pu'u Ohia Trail (Mount Tantalus)
1 mile (1.6km) long (out and back), 350ft (105m) elevation gain
This is a very short, slightly steep and often muddy trail even during dry summer months. Trails in Round Top Forest Reserve are generally known for being constantly wet and muddy, and this one is no exception. Our kids were sinking ankle deep in spots with no way around... so just be warned. Depending on how overgrown the grass is (or isn't), you might get some beautiful views of Honolulu and Diamond Head. But what we liked most of all was the vast bamboo forest. If you have never seen a bamboo forest, this is definitely a short and easy trail for that! Make sure to follow the trail directions as there are many other trails branching off in various directions and getting off-track is very easy. We actually did this trail as part of the much longer 2.8-mile Manoa Cliff trail. While Manoa Cliff trail can be too challenging for young kids, the Pu'u Ohia trail section was fun and simple, so aim for that.
Scenery: ***
Difficulty: **
Trail map and info: https://www.alltrails.com/trail/hawaii/oahu/puu-ohia-mount-tantalus?u=i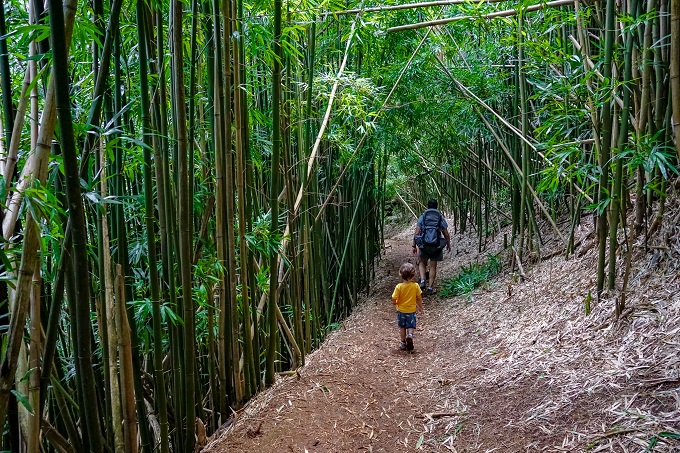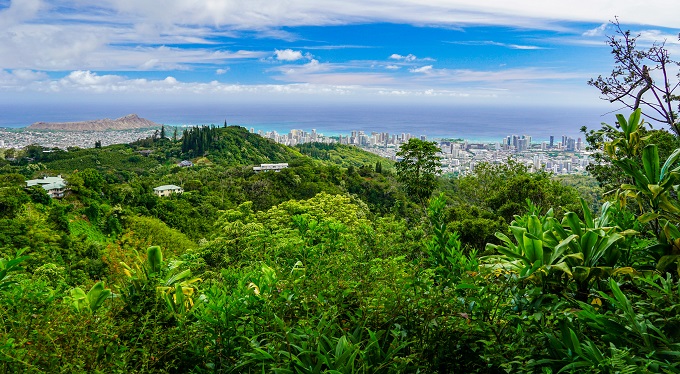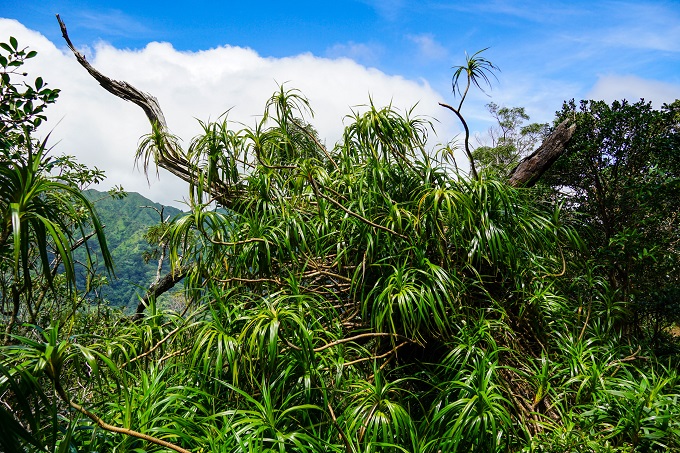 Aihualama Falls Trail
1.2 miles (2km) long (out and back), 250ft (76m) elevation gain
Aihualama Falls is actually part of the Lyon Arboretum and Botanical Garden. The entrance to this garden is free of charge, and it is a truly amazing place to explore – lots of beautiful flowers, plants and trees. The trail to the falls is only 1.2 miles out-and-back and is a great starter trail for any child – there is not much elevation to gain, no rock scrambling, and it is a wide, clear path (not stroller accessible, though). The falls can often be dry, so if seeing the actual waterfall is the goal, then one should go after heavy and consistent rainfall. We went in October and November and both times the falls were still dry, except for a little trickle. So, we tried again in March after several days of heavy winter rain downpour and the waterfall was back to its glory! For a longer distance, include some walking on paths around the arboretum and garden itself.
Scenery: ****
Difficulty: *
Trail map and info: https://www.alltrails.com/trail/hawaii/oahu/aihualama-falls-trail?u=i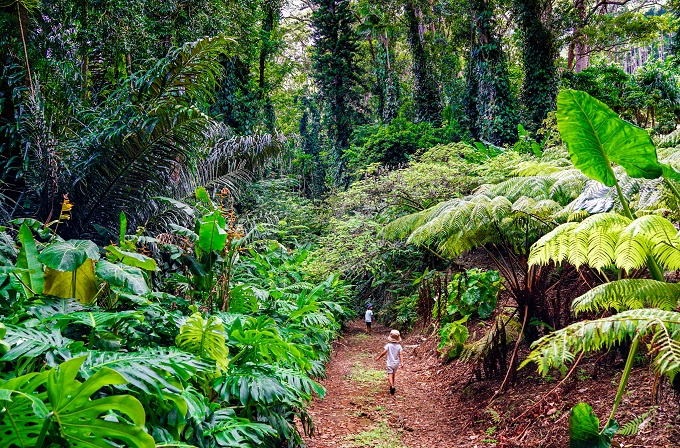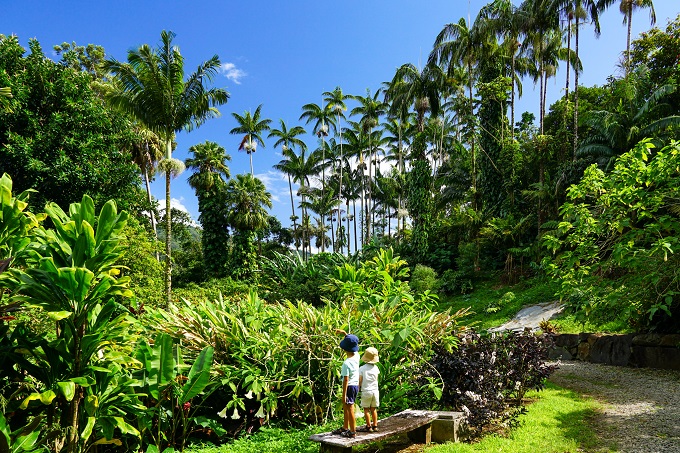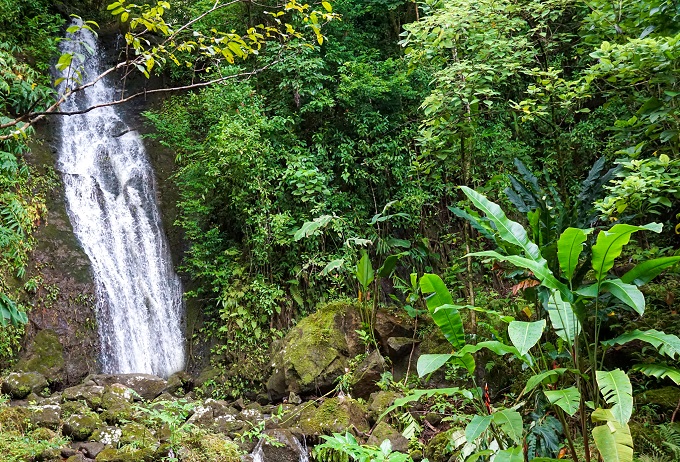 Likeke Falls Trail
1.2 miles (2km) long (out and back), 250ft (76m) elevation gain
This is another fun, short hike to a little waterfall suitable for beginner hikers. It has some elevation gain and a rocky path with occasional roots, yet nothing too strenuous. Our 5-year-old was literally running this trail. It can get muddy after rainfall, but that will also mean more water volume in the waterfall! Kids loved wading in the pool under the falls. It is also a beautiful jungle setting all around and we even saw a chameleon on this trail! In reality, the trail itself is just 0.8-miles round trip, however, since the closure of Ko'Olau Golf Club, their parking lot cannot be used for trail parking any more which means lower street parking will be required. It will add a little distance to get to the trailhead (via Old Pali Rd), but even as far away as we parked, it was just extra 0.4 miles, making this 0.8-mile trail a 1.2-mile total round-trip, which is still very easy and doable for anyone.
Scenery: ***
Difficulty: **
Trail map and info: https://www.alltrails.com/trail/hawaii/oahu/likeke-falls-trail?u=i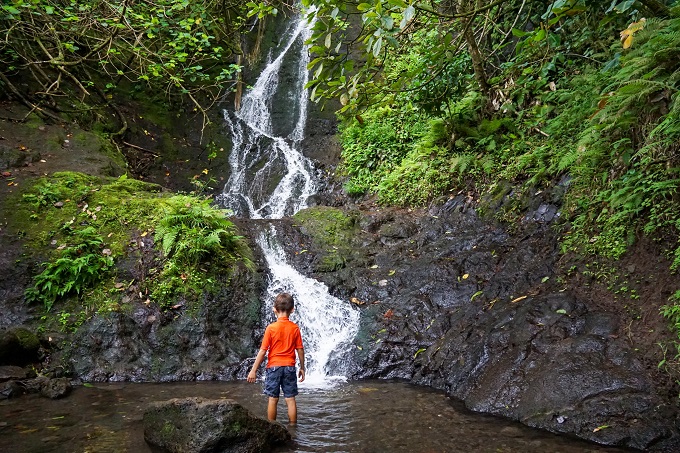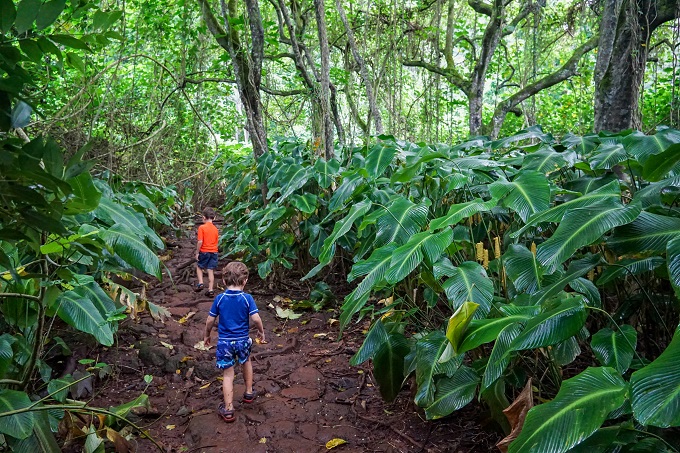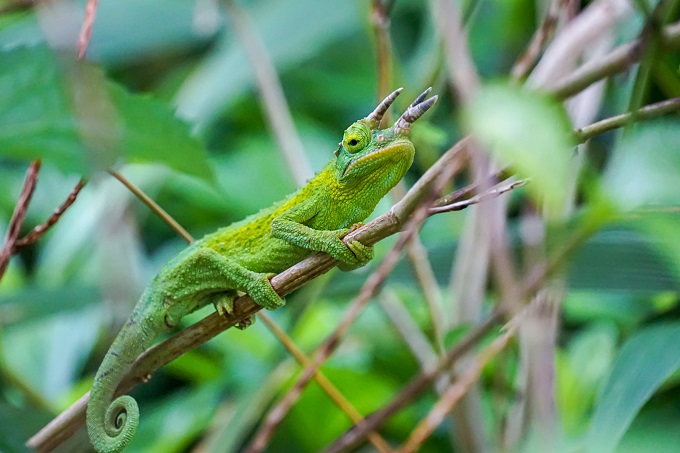 Kolekole Trail to Lualualei Overlook
1.2 miles (2km) long (out and back), 320ft (98m) elevation gain
This fun little trail will only be accessible to military ID card holders, as the start of it is on Schofield Barracks. The beginning part of the trail is fairly steep and will give a little workout but after you scramble up the initial hill, it levels out. Once you get to the bench, you have reached the Lualualei lookout with some amazing views. This is officially the end of this trail; however, you can keep going forward along the mountain (on the left) for some more views. For a little more workout, we went at least another half a mile more before turning back as the trail just goes on forever, wrapping around the whole mountain for miles. Use the below map for initial trail directions but only follow it to the lookout (as sections after the lookout go up ridges and get too steep and dangerous for kids).
Scenery: ***
Difficulty: **
Trail map and info: https://www.alltrails.com/trail/hawaii/oahu/kolekole-trail-puu-hapapa-via-honouliuli-contour-trail?u=i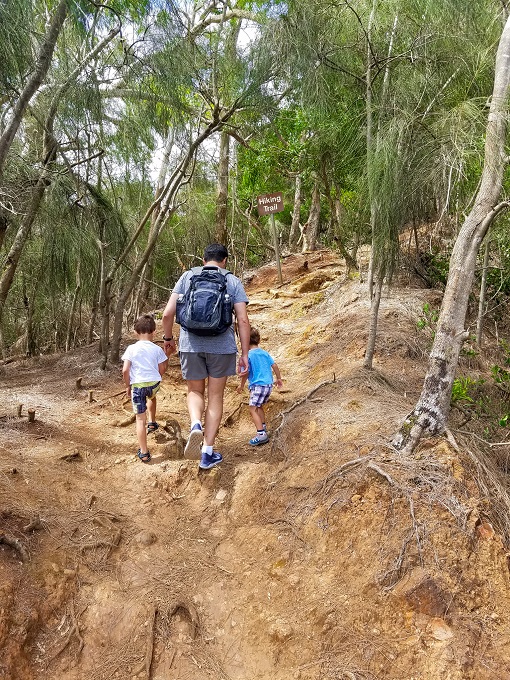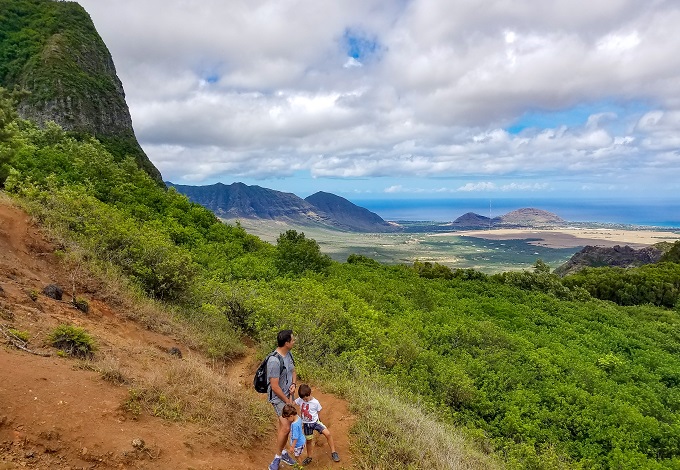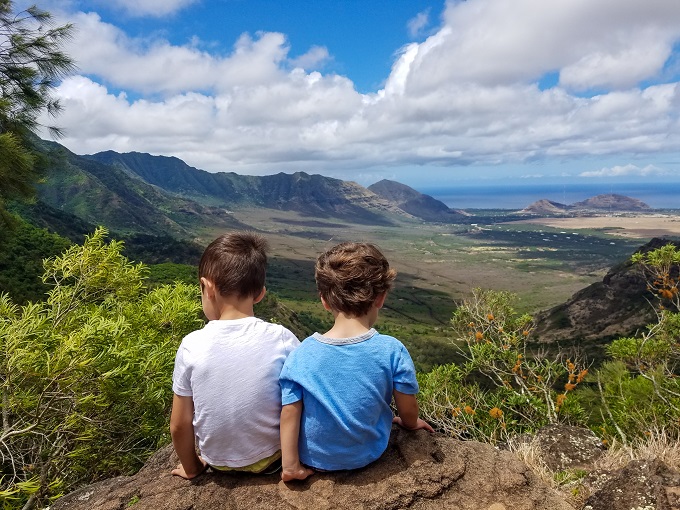 Judd Waterfall Trail
1.3 miles (2km) long (loop), 170ft (50m) elevation gain
Another short and popular loop trail to a waterfall and swimming pond. Although it is not suggested to swim in Hawaii freshwater, there were plenty of locals and tourists alike doing so. Even more so - the pond below is quite deep and locals were jumping in it from above. But be aware of where you do it - there are plenty of underwater rocks there. The falls themselves are only about 10ft tall, but the rainforest setting is very scenic. Getting to the falls will require crossing a stream (once on the way out, and once on the way back). We went after weeks of rain and water level was high and current strong - it reached up to our 5-year-old's thighs but the 3yo had to be carried across otherwise he'd be swimming. The stream is much more mellow during dry season, but that also means the falls will be much smaller. If you choose to do the loop, part of the trail goes through a bamboo forest, then a guava grove and finally a pine forest. Overall, a simple, relatively flat but often muddy trail. For a super short option, you can just turn right after the stream crossing, go to the falls and come right back (without completing the full loop) which will come out to only 1/2-mile total.
Scenery: ***
Difficulty: *
Trail map and info: https://www.alltrails.com/trail/hawaii/oahu/judd-trail?u=i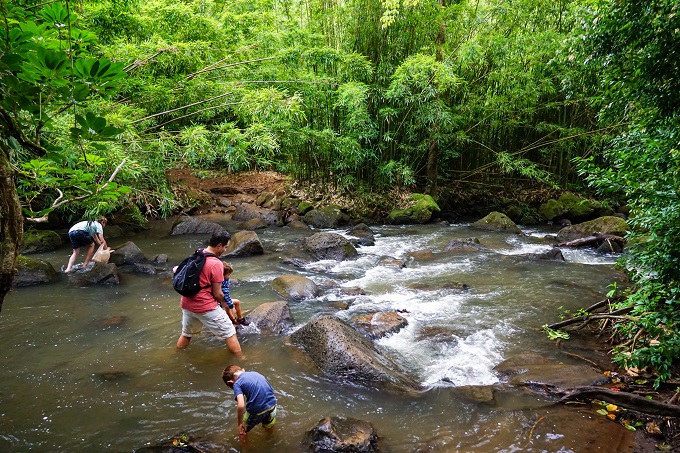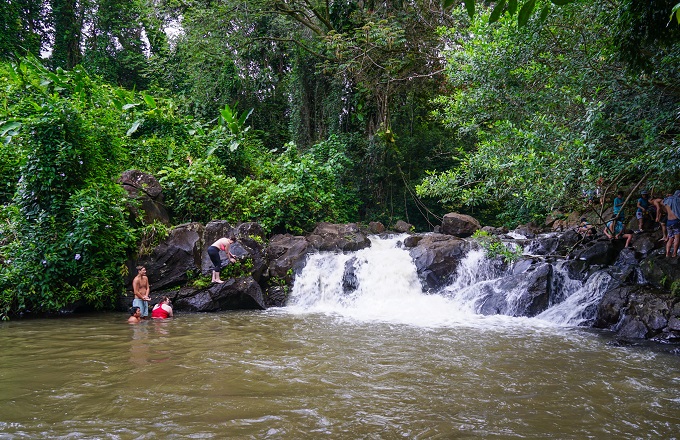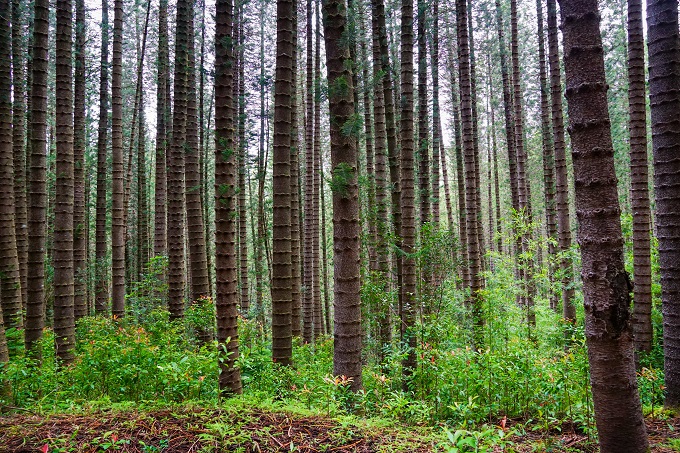 Puu O Hulu (Pink Pillbox) Trail
1.6 miles (2.5km) long (out and back), 680ft (207m) elevation gain
This trail is located on the Leeward side of Oahu and is a good workout for both big and small. It gains a lot of elevation in a relatively short period of time, so it is fairly steep and is truly a hike – it will make you break a sweat. While the older kid managed it all by himself, I needed to hold my 3-year old's hand almost the whole way up in order to help him get over and up the bigger rocks on the trail. During summer it can also get pretty hot with little shade, so plan on going early! Once at the top though, the views are stunning and there are actually 4 different pillboxes to explore both by climbing in and on top of them. Lots of fun for the kids. Please note, the ridge to the 4th pillbox is very narrow and I would not suggest taking a child on it. We only took our boys up to the 3rd pillbox, and I did the last (4th) pillbox by myself while my husband stayed back with the kids. Although there are some cliff edges / drops to be weary of, overall the hike is safe and we have done it several times.
Scenery: *****
Difficulty: ****
Trail map and info: https://www.alltrails.com/trail/hawaii/oahu/puu-o-hulu?u=i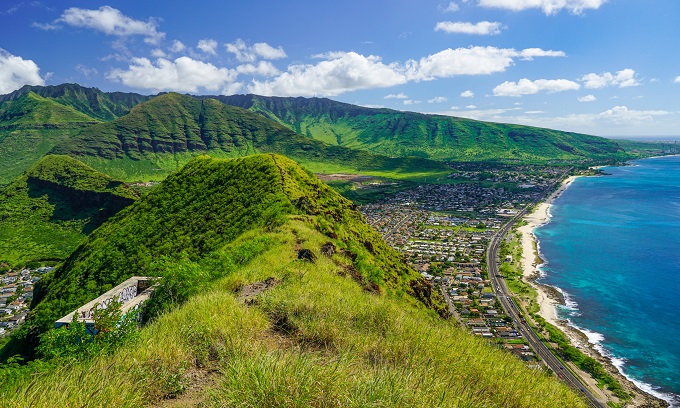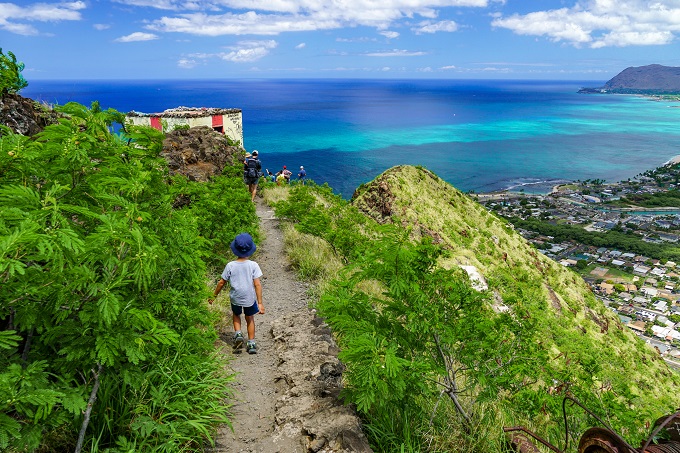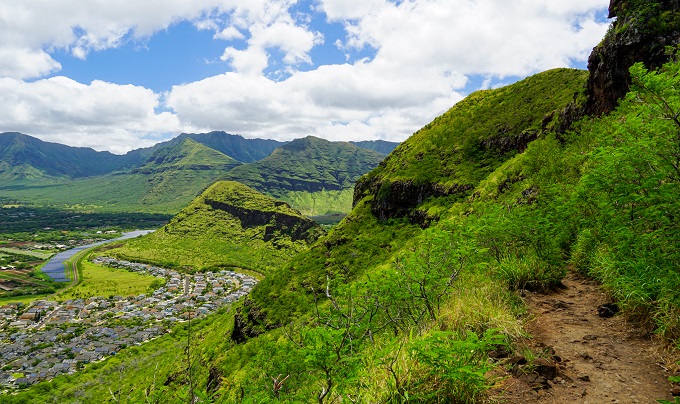 Manoa Falls Trail
1.7 miles (2.7km) long (out and back), 633ft (192m) elevation gain
This one, of course, is a classic but still worth it. Due to it being a popular tourist trail, it can get quite crowded, however, there aren't that many accessible waterfalls on Oahu, so you might just have to push forward with this one. The beginning of this trail is very lush and jungle-like, and about half-way through there is a fun little bamboo forest. It is shaded, but can be muddy after it has rained. Overall, it is a very straight-forward out-and-back trail with a steady, solid elevation gain throughout the hike and close-up waterfall views in the end. The trail got completely re-built and leveled in 2020 and a wide stone and gravel pathway now leads all the way to the lookout platform, so if you did this (then muddy and slick) trail before the reconstruction, you will be in for a nice surprise now! Paid parking, restroom and snack shop available at the trailhead.
Scenery: ****
Difficulty: **
Trail map and info: https://www.alltrails.com/trail/hawaii/oahu/manoa-falls-trail?u=i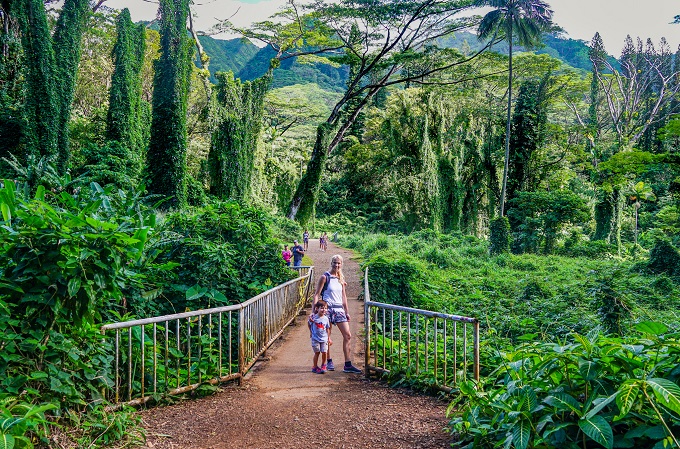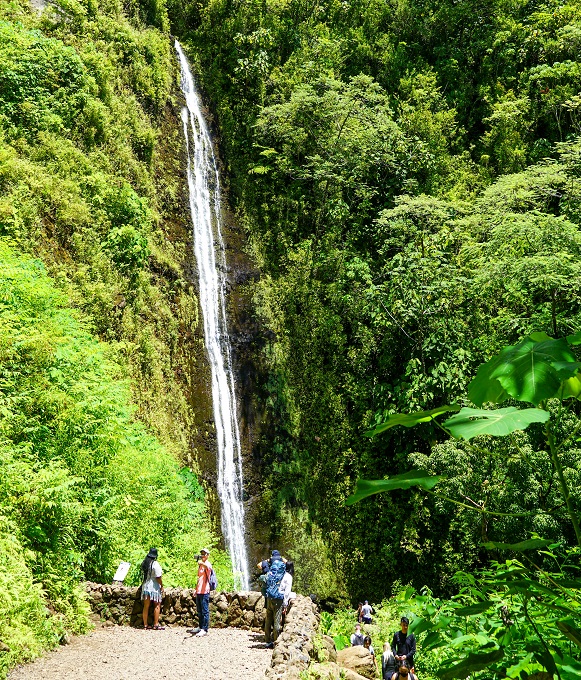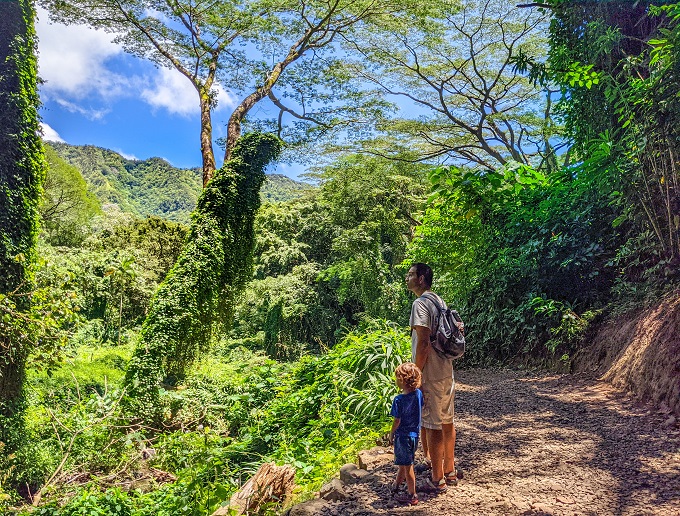 Lanikai Pillbox #2 Trail
1.7 miles (2.7km) long (out and back), 636ft (193m) elevation gain
Hot, exposed trail along the ridge. No shade, and sand and cliff-rock can be slippery even when dry, so wear appropriate shoes. The beginning part has some ropes to help up / down, but we did not have a need to use them. Boys did enjoy hanging on the ropes though – just for the fun of it. The rest of the trail is fairly steady and manageable. Although it is safe for the most part, there are a few areas up top that are too close to the edge for my comfort and we held boys' hands for safety. I wouldn't just let kids freely run around here. There are 2 pillboxes and I definitely suggest going to the 2nd pillbox as well, as views from there reach all the way from Kailua to Bellows Beach. It's a 360-degree scenery all around. The only negative is the parking situation - you will need to find a spot in the surrounding neighborhood which is often quite busy with no spots available quite a distance away. In those cases, my husband just drops me and the boys off at the trailhead and we slowly start our hike, with my husband later catching up once he finds parking.
Scenery: *****
Difficulty: ****
Trail map and info: https://www.alltrails.com/trail/hawaii/oahu/lanikai-pillbox-2?u=i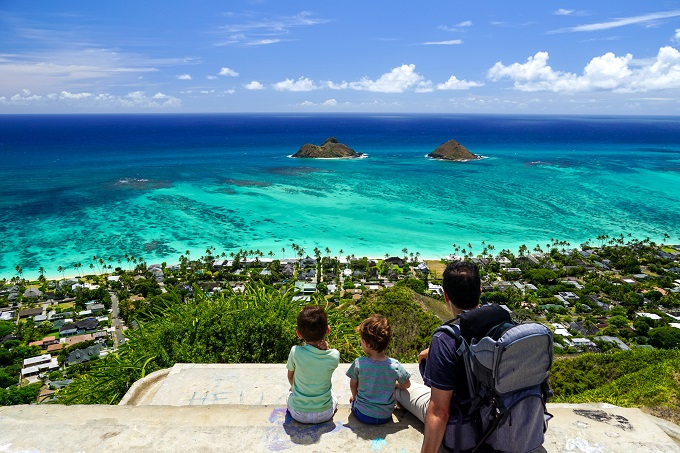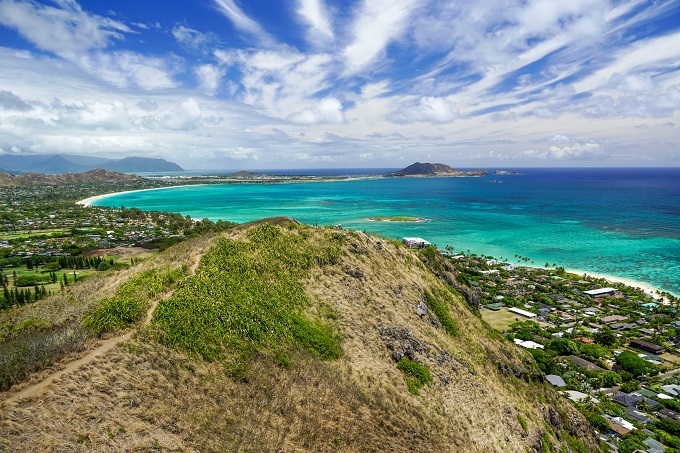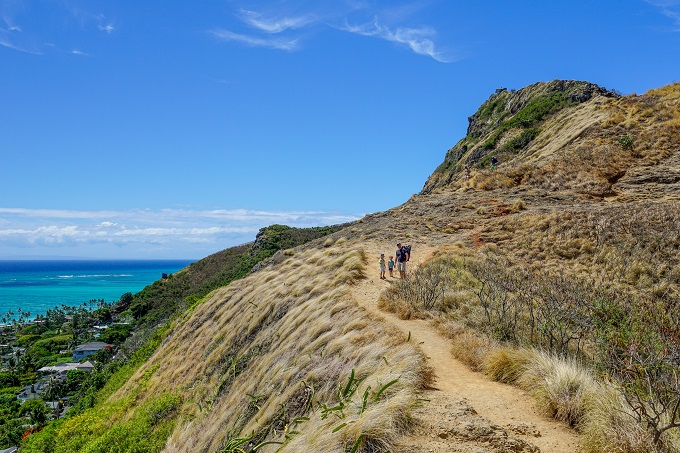 Diamond Head Summit Lookout Trail
1.8 miles (2.9km) long (out and back), 450ft (137m) elevation gain
This one is another tourist hot-spot yet rightly so! It has the best view of Honolulu and Waikiki Beach with the turquoise blue water all around. Although I would not choose this trail for a leisurely, peaceful Sunday stroll, it is definitely worth it making the trek up at least once just for the views. You will have to share the narrow path up with groups of tourists of all ages and abilities (we got stuck behind a slow group of German retirees) but be patient and just enjoy the experience! It is a safe but sloooow trail when lots of tourists are present. The kids will definitely enjoy the walk through the tunnel here – a section of the trail required to get to the top. Also, when you get back to the parking lot, there are always vendors selling pineapple drinks, shave ice, fruit smoothies and the like - a fun way to end this little hike.
Scenery: *****
Difficulty: **
Trail map and info: https://www.alltrails.com/trail/hawaii/oahu/diamond-head-leahi-summit-trail?u=i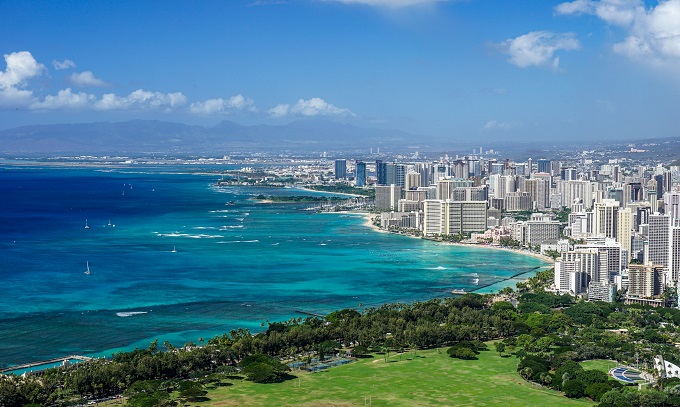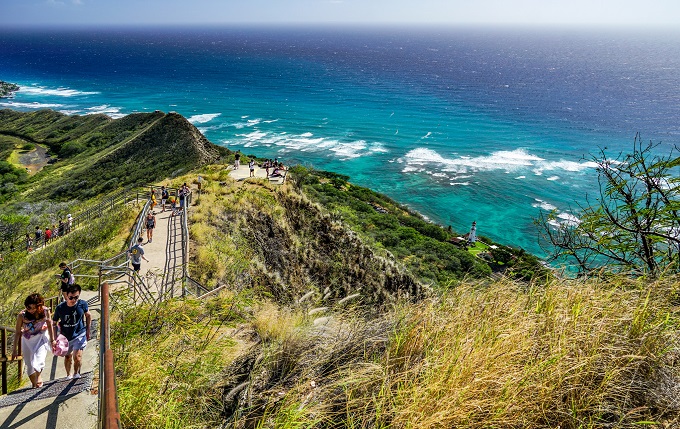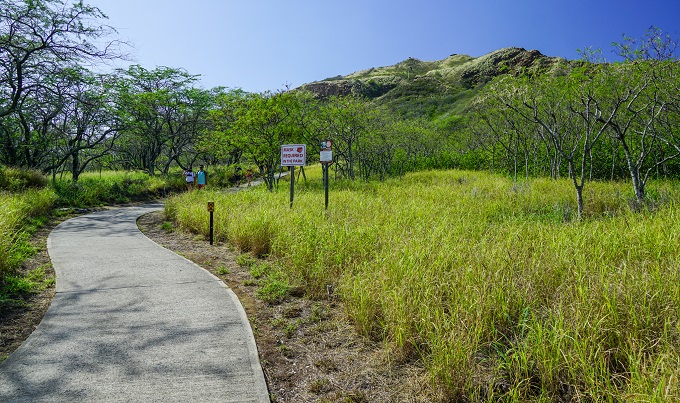 Koko Crater Botanic Garden Loop Trail
1.9 miles (3km) long (loop), minimal elevation gain
Koko Crater Botanic Garden is another cool, hidden little place that is free to attend. The garden is made literally inside a volcanic crater and once there, you are surrounded by the crater walls all around (which also means very little breeze). The main loop weaves its way around the whole garden where you can see Africa Gardens, Madagascar Section, Palm Oasis, Cactus Garden and other sections of this botanic garden. The trail is fairly rocky and primitive and definitely not stroller friendly, but with it being relatively flat with just few small ups and downs, it makes for a good and safe place to let kids roam and explore. There are also picnic benches and tables here along the loop. I would say this is definitely a good starter trail for any little future hikers.
Scenery: ****
Difficulty: **
Trail map and info: https://www.alltrails.com/trail/hawaii/oahu/koko-crater-botanic-garden?u=i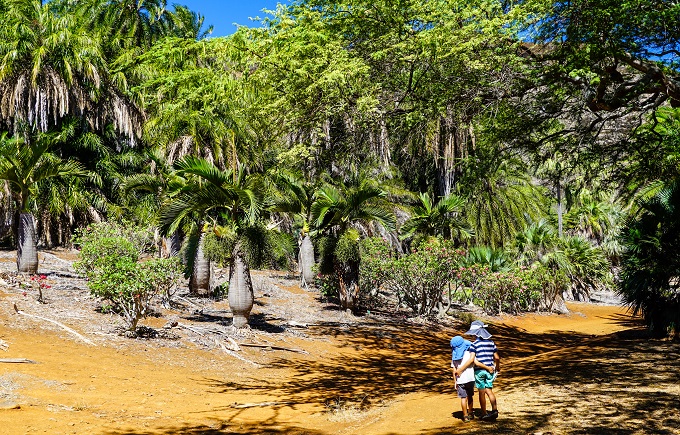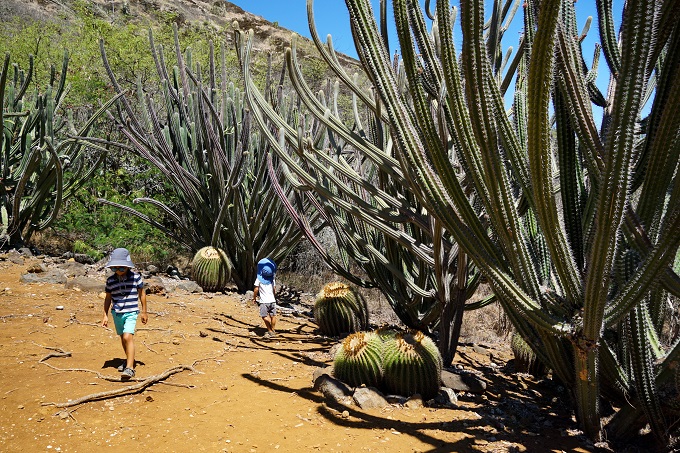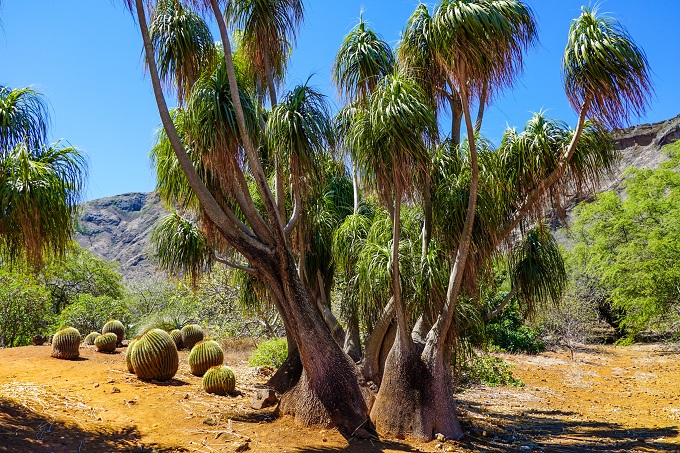 Pu'u Pia Trail
1.9 miles (3km) long (out and back), 721ft (220m) elevation gain
If you want a scenic crowd-less trail even on a sunny weekend morning then pick this one! On a summer Saturday, we encountered only 3 other couples during our whole hike, and we felt like we had the whole place to ourselves! The trail starts in a true rainforest setting with many tropical trees, plants and long hanging vines. In July, the wild tropical flowers were blooming everywhere and looked so amazing. Mid-way through, the trail transforms into a more forested setting and then turns towards a ridge with ferns and guava trees. There is a lookout over Honolulu in the end, but the views elsewhere along the ridge were quite awesome too - you will see the Manoa Valley from here, the Lyon Arboretum and the whole face of the mount range which will make you feel really small in comparison. Although the trail is overall kid-friendly, it is a rough walk over rocky terrain with roots and a decent steady uphill climb (nothing dangerous though), so good footwear is important. It can also get very slick and muddy in wet weather, so dry season would be best for this trail.
Scenery: ****
Difficulty: ***
Trail map and info: https://www.alltrails.com/trail/hawaii/oahu/puu-pia-trail?u=i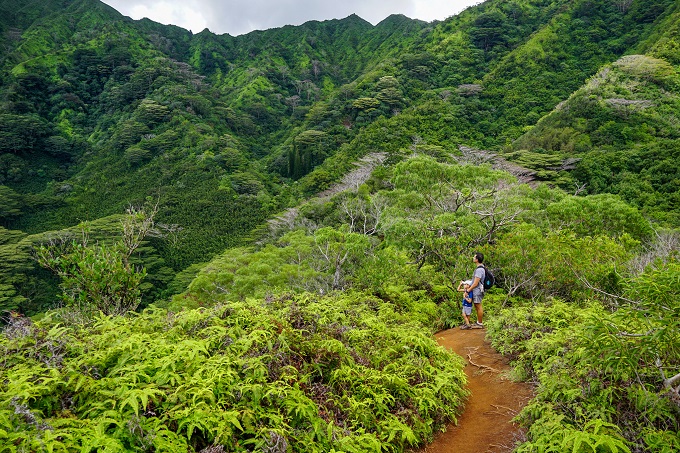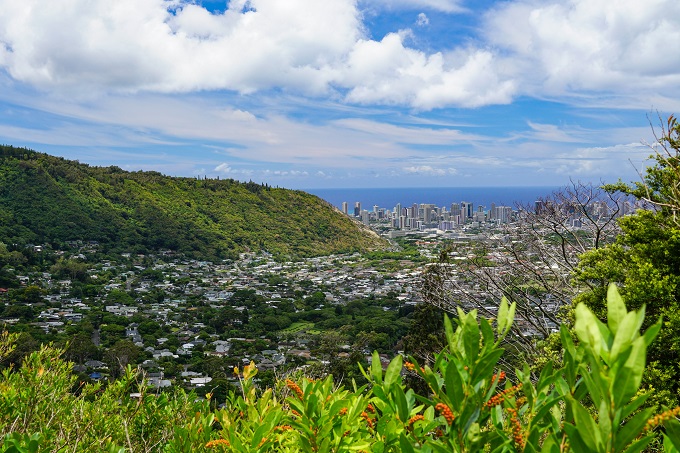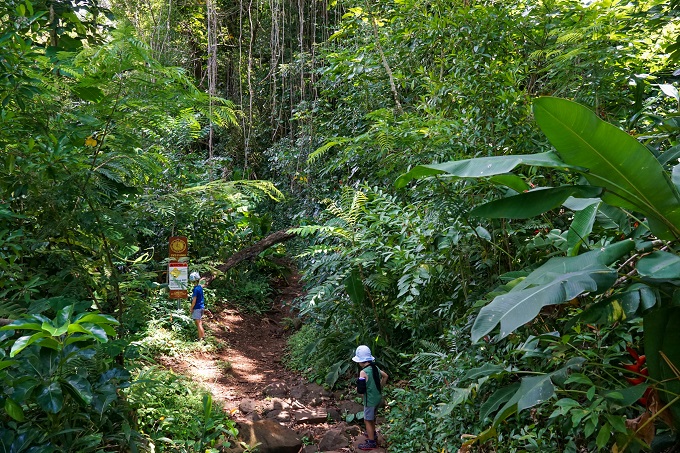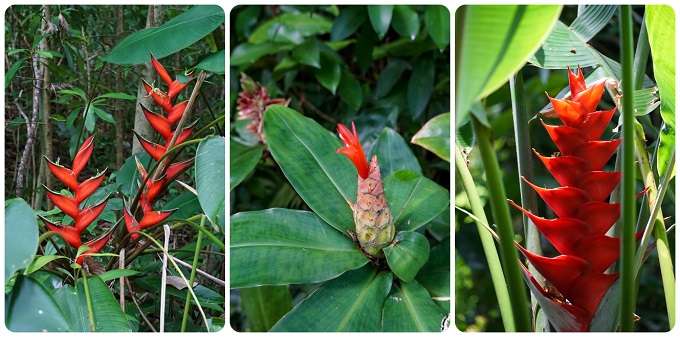 2 TO 3-MILE (3-5km) LONG HIKES
Ehukai Pillbox Trail
1.5 to 3 miles (2.5-5km) long (out and back), 700ft (213m) elevation gain
Ehukai Pillbox is also sometimes referred to as Sunset Pillbox because of the sunset views it offers. There is a fairly steep and rocky incline at the start that you need to get up (and it will get your heart pumping). It is not dangerous or exposed to drop-offs, but smaller kids (like our 3yo) might need a little help getting up and over the bigger rocks and steps. However, this will be the hardest part of the whole trail, because once at the top, the trail is almost flat for the rest of the way. Pine forest here is also a different scenery from many other trails on Oahu. There are actually 2 pillboxes here, with the 2nd one being hidden from the view. Once you reach the 1st one, just follow the unofficial path along the ridgeline, and after 5 or so minutes down a rocky, short descent you will reach the 2nd pillbox. The views from this one are more impressive. Both pillboxes can also be explored from the inside – more fun for kids. There are a ton of other trails in the woods to choose from if you would like to add more miles, therefore the length of this trail varies depending on how far and how much you want to explore past the pillboxes.
Scenery: ***
Difficulty: ***
Trail map and info: https://www.alltrails.com/trail/hawaii/oahu/ehukai-pillboxes?u=i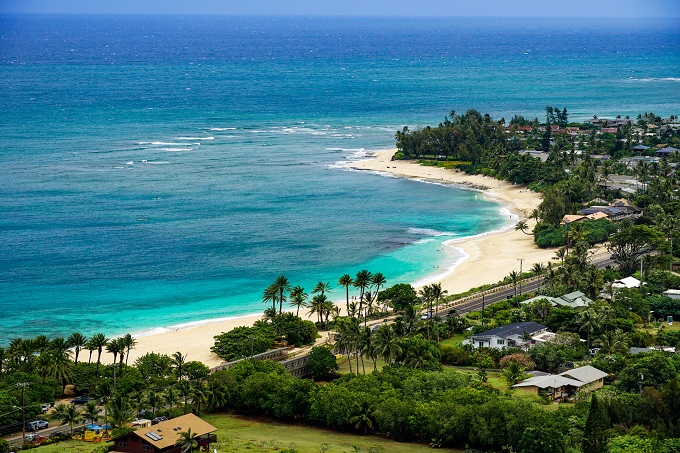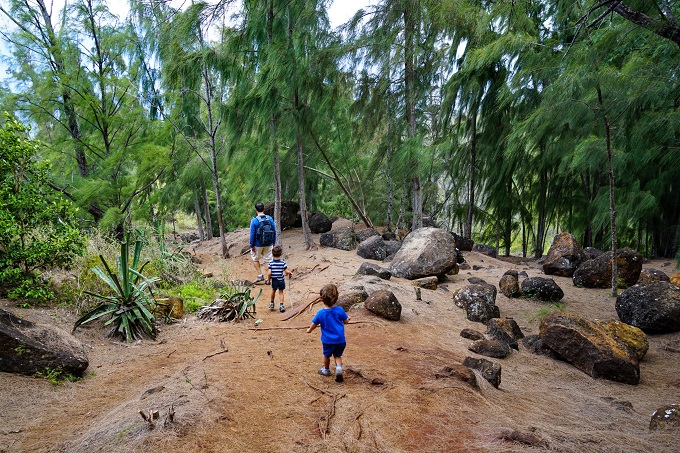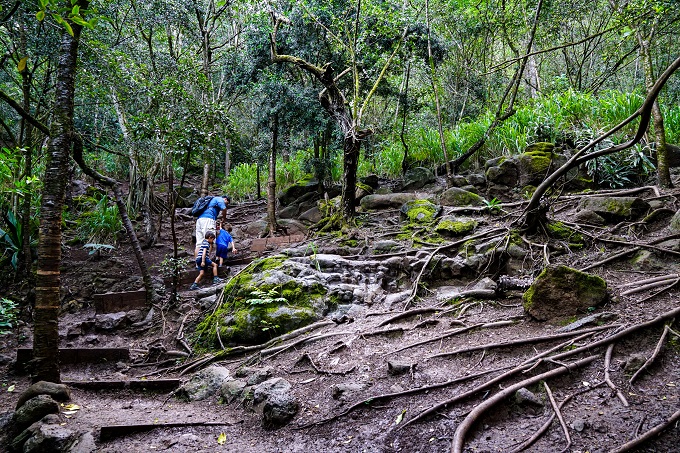 Waimea Valley Trail
2 miles (3.2km) long (out and back), 230ft (70m) elevation gain
Although it is another touristy spot, it is a great place to go with keiki as there is plenty to do on this trail. For moms with strollers – the path is fully paved, so strollers ok! Waimea Valley is actually a Botanical Garden (requires an entry fee), but the trail leads to a beautiful waterfall and a large swimming pool below it. It is one of the very few places on Oahu where one can (legally and safely) go swimming in a waterfall! Make sure to bring swim clothes and a towel. Life vests are mandatory and are issued free of charge before entering the water. Although the mountain water feels cold at first, both of our boys jumped in and swam with us to the bottom of the falls! What an experience! On the way back, you can explore the flower gardens and replicas of native Hawaiian houses along the path. During weekends there are also several organized activities for kids, so check out the park's website for events!
Scenery: ***
Difficulty: *
Trail map and info: https://www.alltrails.com/trail/hawaii/oahu/waimea-valley-trail?u=i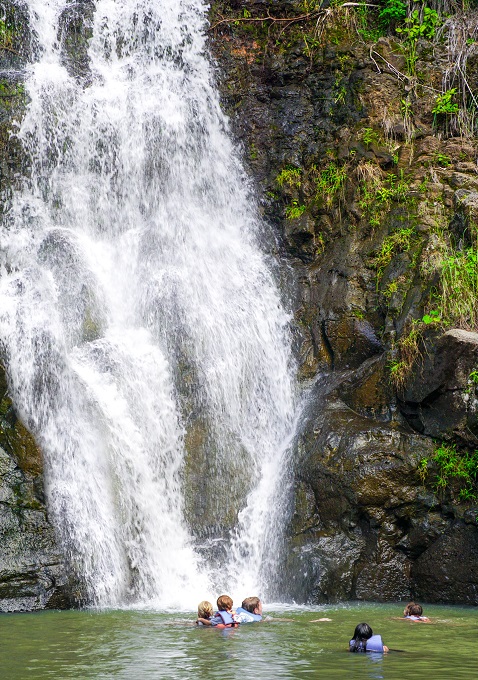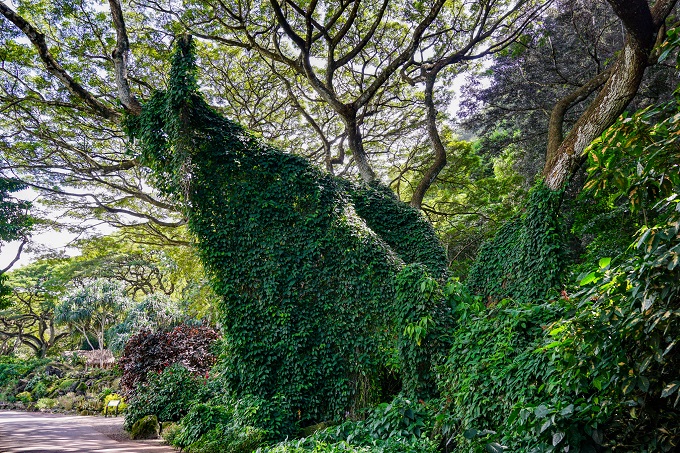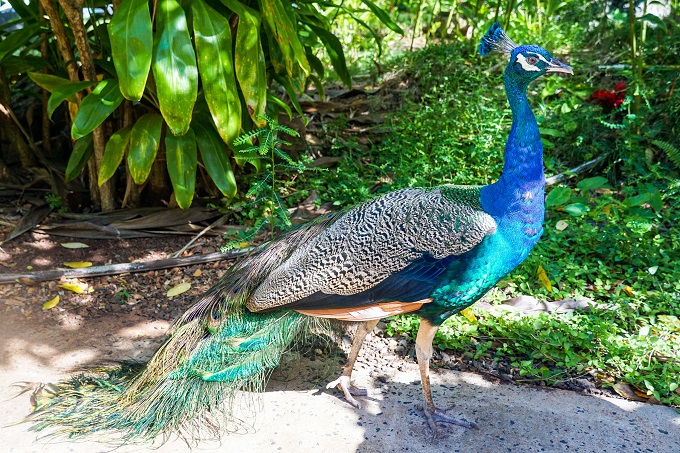 Pu'u O Mahuka Heiau State Monument Trail
2 miles (3.2km) long (out and back), 250ft (76m) elevation gain
Located on the North Shore, Pu'u O Mahuka Historic Site is the largest heiau on Oahu, covering over 2 acres of land. Until a few years ago, the road leading to the site was open to cars, however, since the start of the pandemic the car gate got locked and never re-opened. That means you will have to park your car outside the gate and then head on a nice, tropical and paved hike to the ruins which are just 1 mile away. The road is also stroller friendly and very doable as it has just 250ft of total elevation gain. Once you reach the heiau, there are several information placards as well as a little side path that leads to some amazing views of Waimea Bay Beach. As there are only 2 parking spots outside the gate, public access to the heiau is very limited; so if you are one of the lucky ones to get the parking spot, you will have the whole place to yourself once you reach it.
Scenery: ***
Difficulty: *
Trail map and info: https://www.alltrails.com/trail/hawaii/oahu/puu-o-mahuka-heiau-state-monument?u=i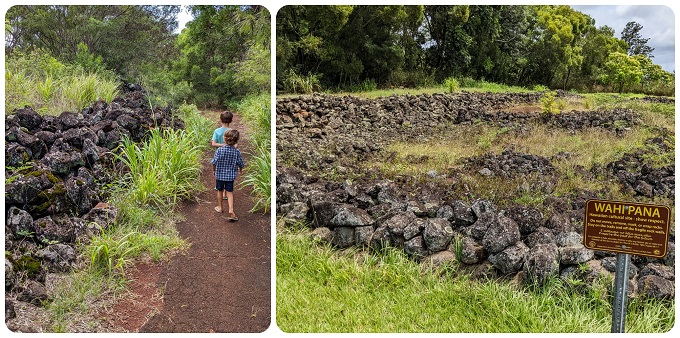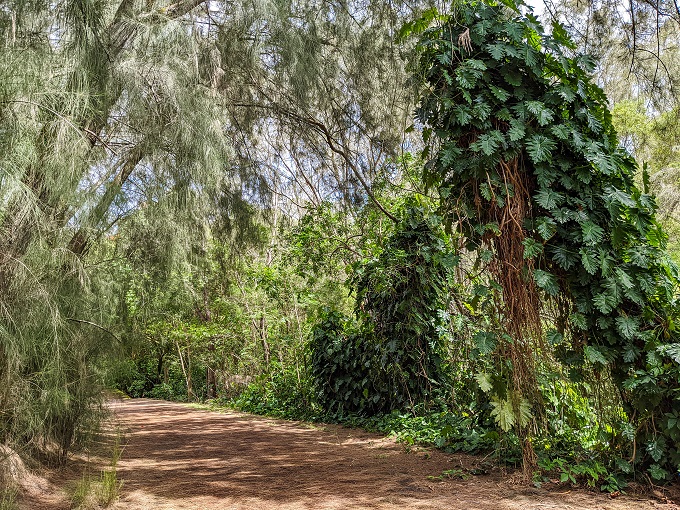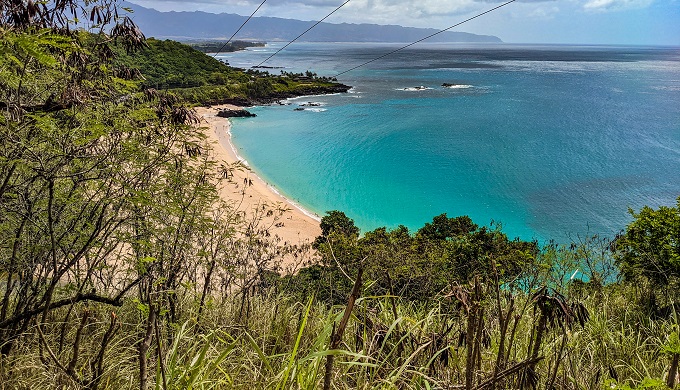 Lulumahu Falls Trail
2 to 2.3 miles (3.2 to 3.7km) long (out and back OR loop), 1000ft (305m) elevation gain
This trail is a little bit on the wild side - big boulders to climb up and over; downed trees across the trail that require climbing under or over; good amount of mud; several stream crossings knee-deep (or rock hopping if you do not want to get your feet wet); but at the end of it all there is an amazing, tall waterfall gushing down a steep cliff wall. This trail takes you right up to the base of the falls and you can go touch the falls if you like. The pool underneath is too shallow for any swimming (not suggested anyway) but is great depth for kids to just walk around. Pink and orange ribbons around the trees mark the trail, so it's pretty straightforward. Beginning part of the trail leads through a bamboo forest which is also very neat. This trail can be hiked as an out-and-back trail or a loop, which I recommend. Although the loop will add just a few hundred yards to the total distance, it will lead you to a clearing along the water reservoir which offers stunning views of the mountains. Definitely worth for the scenery! Another thing to note - the falls and trail are on a Board of Water Supply property and, technically, you are required to purchase a permit ($2.50 per group) to hike it. You can apply for the permit here: Lulumahu Falls Trail PERMIT. However, it looked like out of the 30 cars we saw at the trailhead, we were the only ones with a displayed permit. For the cost of $2.50 we decided to just better play it safe than risk a fine.
Scenery: ****
Difficulty: ***
Trail map and info: https://www.alltrails.com/trail/hawaii/oahu/lulumahu-falls-trail?u=i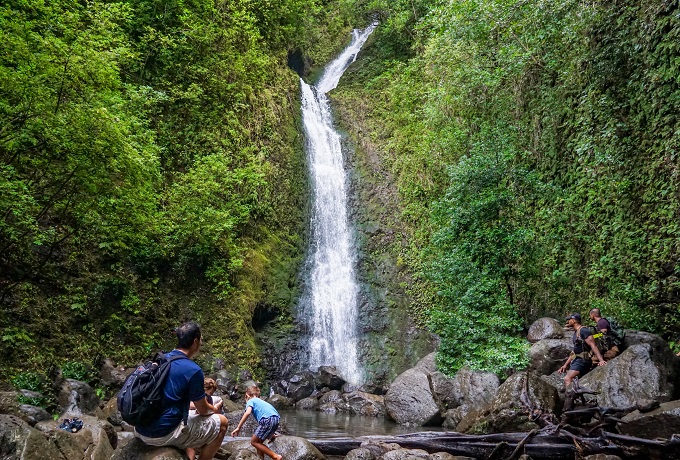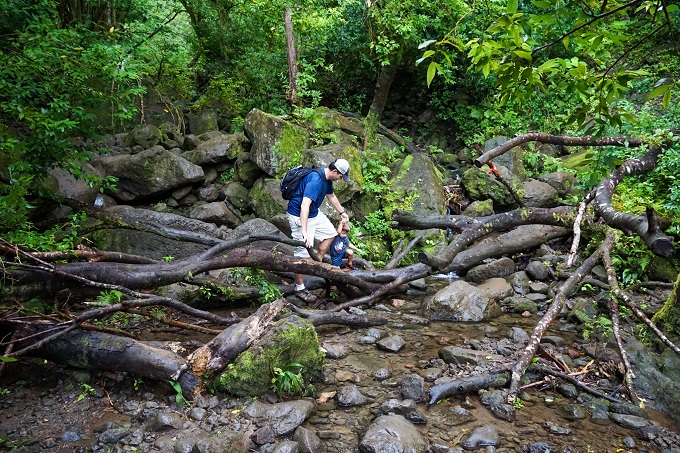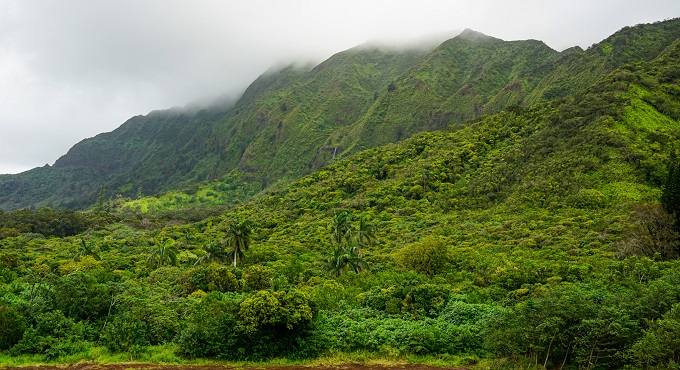 Turtle Bay Banyan Tree Route
2.1 miles (3.4km) long (loop), no elevation gain
This is another easy, fun trail for kids of any age. It starts at Turtle Bay Resort on the North Shore and follows the shoreline with virtually no elevation change. Most of the trail goes along the ocean and offers beautiful views. If you want to, you can walk part of it on the sand. This little trail has many attractions - at the beginning there is a stable where kids can see horses in their paddocks. If you follow the shoreline, you will also reach an old pillbox that can be explored which is always fun for kids. Once you get to the Secret Beach you can safely go for a swim here as water here is calm and protected by a reef with an amazing turquoise color and palm tree lined coastline. And eventually the trail will take you to a huge banyan tree with what seems like an endless maze of areal roots and trunks. But it is all just 1 tree! It is so special that this tree has been part of movie sets for ''Pirates of the Caribbean'' and ''Lost''. To top it all off, we saw some turtles lounging on the sandy shores here! Overall, this is more like a Sunday-stroll type of walk than a hike meant for a workout but it has tons to offer for little explorers.
Scenery: ***
Difficulty: *
Trail map and info: https://www.alltrails.com/trail/hawaii/oahu/banyan-tree-route?u=i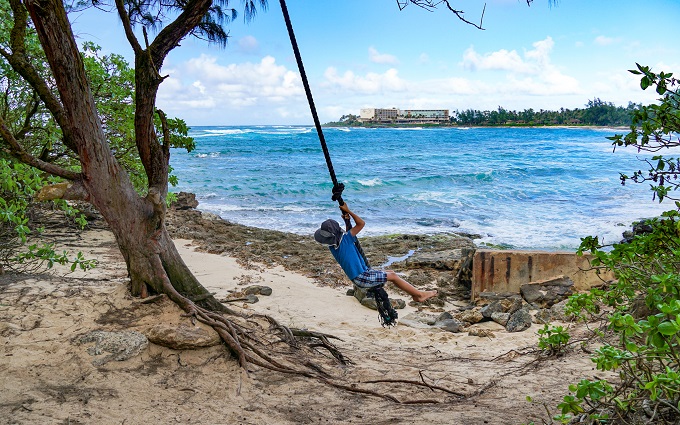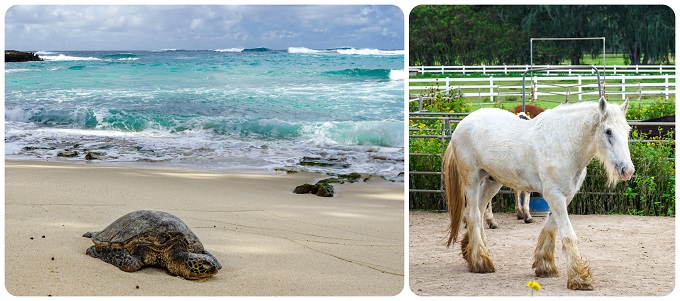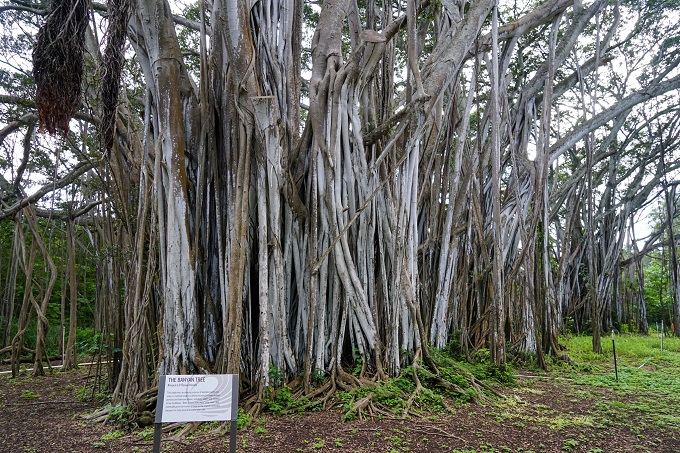 Turtle Bay to Kahuku Point
2.3 miles (3.7km) long (out and back), 130ft (40m) elevation gain
This is the second trail system that starts at Turtle Bay Resort. If Banyan Tree Route leads westwards, then this trail goes the opposite direction, east, and leads to Kahuku Point - the northernmost point on Oahu. It follows the shoreline and about half-way in, the Keiki Beach is a safe cove for children to splash around in, so grab a change of clothes. On the sandy beach near the Kahuku point we also saw one of the endangered Hawaiian monk seals lazily basking in the sun. During low tide, you can walk out quite far on the Point itself and check out the tidepools, however the lava jagged rocks are very sharp and would hurt if one tripped and fell on them, so be mindful of the kids.
Scenery: ***
Difficulty: *
Trail map and info: https://www.alltrails.com/trail/hawaii/oahu/turtle-bay-to-kahuku-point?u=i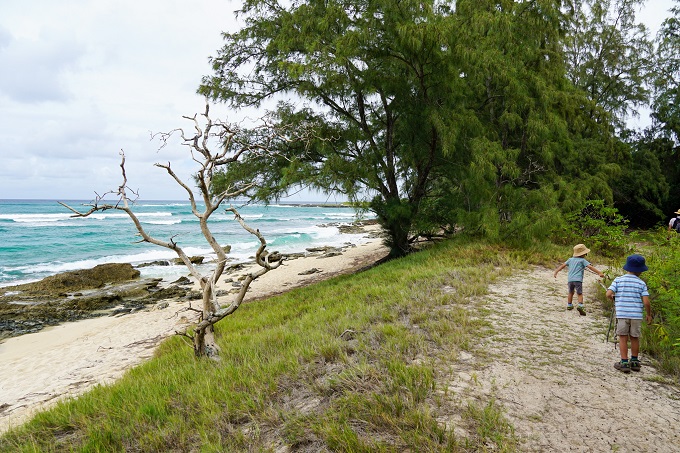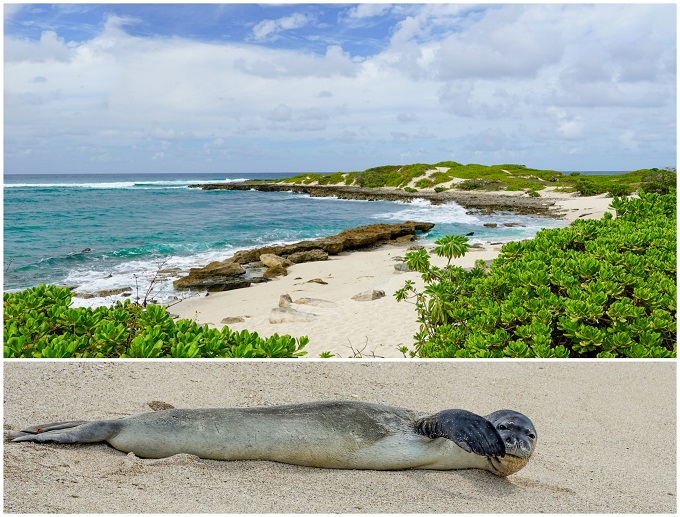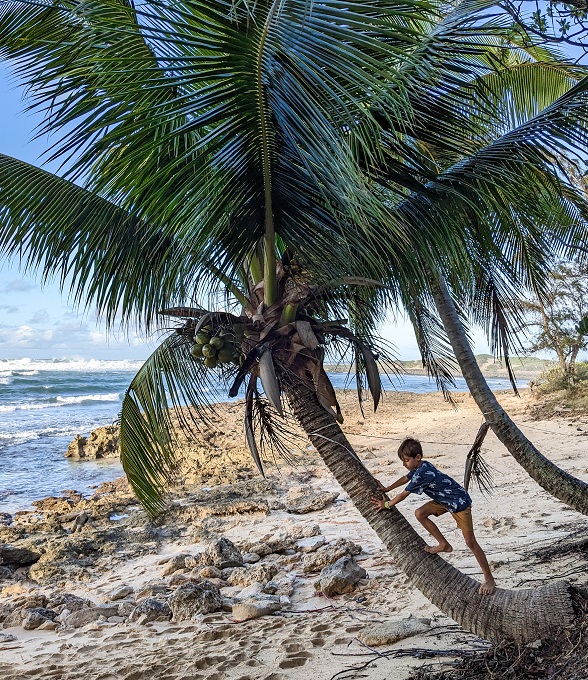 Moleka and 'Ualaka'a Trail Combination
2.3 miles (3.7km) long (partial loop), 498ft (151m) elevation gain
This is a combination trail in Round Top Forest Reserve near Honolulu consisting of the in-and-out Moleka Trail plus 'Ualaka'a Trail loop. Both together they create a 2.3-mile long, relatively easy hike. You can, of course, hike each one of these sections on separate days for a much shorter distance, but for us - the combination of both was the perfect length for a relaxing weekend stroll through a rainforest. This trail can be muddy after rain, and it does have an exposed, steep cliff section. However, the cliff-side hike portion was quite short in comparison, and we passed it with our kids just fine (you will actually have to pass this part 2x - once on the way out, and once on the way back). There will be a a warning sign informing you about the start of the cliff-side hike. The scenery here is that of a typical rainforest - tropical plants, flowers, banyan trees, eucalyptus, and even a fairly long stretch of a vast bamboo forest which was very much fun. No grand overlooks with the exception of occasional peekaboo views. When coming here, definitely make a stop at Tantalus Lookout before starting your hike. The views from here stretch all the way across Honolulu to the Diamond Head (which is the 1st picture below).
Scenery: ***
Difficulty: **
Trail map and info: https://www.alltrails.com/trail/hawaii/oahu/moleka-and-ualakaa-trails?u=i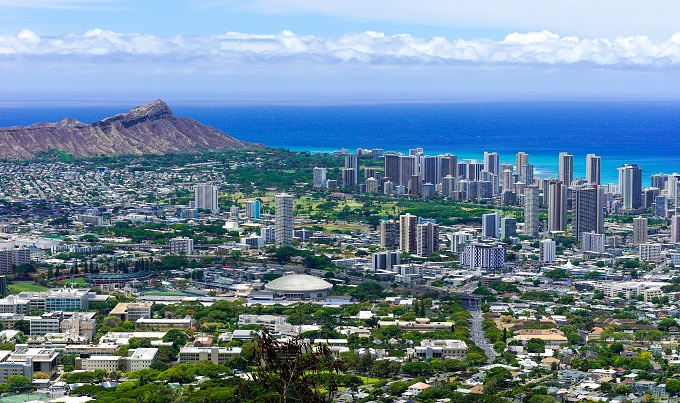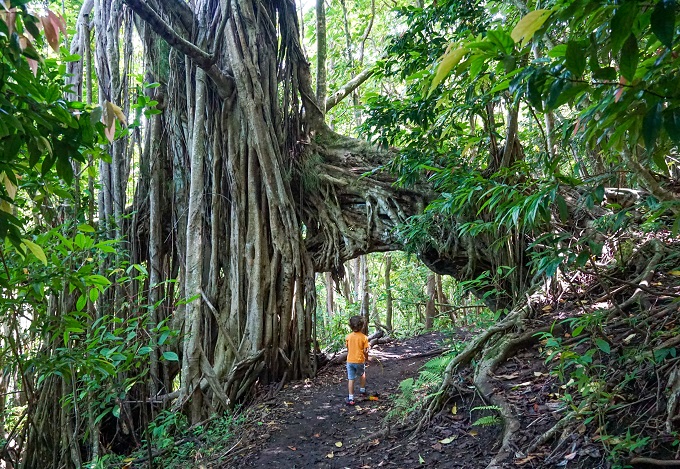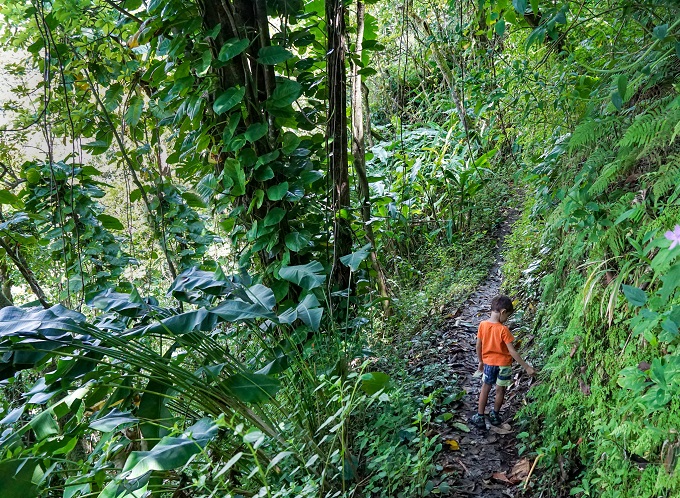 Pu'u Ma'eli'eli Trail
2.3 miles (3.7km) long (out and back), 600ft (182m) elevation gain
A very under-rated hike, in our opinion, as the views at the end of the hike, once you reach the pillbox, are just stunning. You can see from Kaneohe Bay, coral reefs and sandbars, all the way to the Marine Corps Base to the right and Chinaman's Hat island in the opposite direction. Also, it is a shaded hike all the way through, which is a huge bonus. The only negative is that the initial incline (about 0.2 miles) consists of clay-like soil and can get VERY slippery if you attempt to hike it after rain (there are ropes pulled along the side to help one stay on its feet). We saw a few people give up here right at the start and turn back, however, if you push on and get through the initial mud, the rest of the going is pretty steady and dry. During guava season, you will have your share of the fruit as the trail is lined with guava trees.
Scenery: *****
Difficulty: ***
Trail map and info: https://www.alltrails.com/trail/hawaii/oahu/puu-maelieli-trail?u=i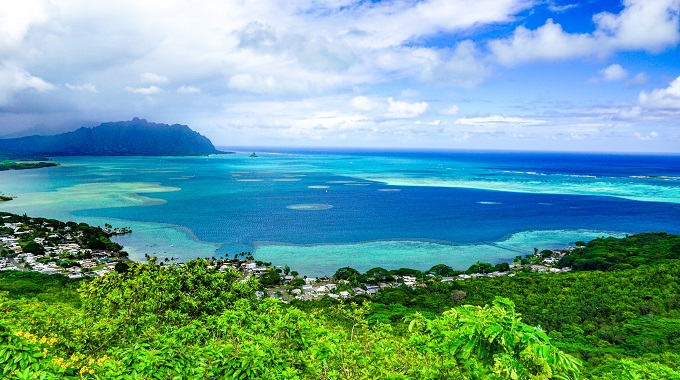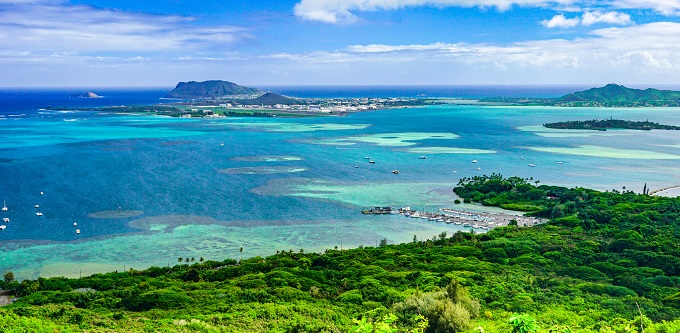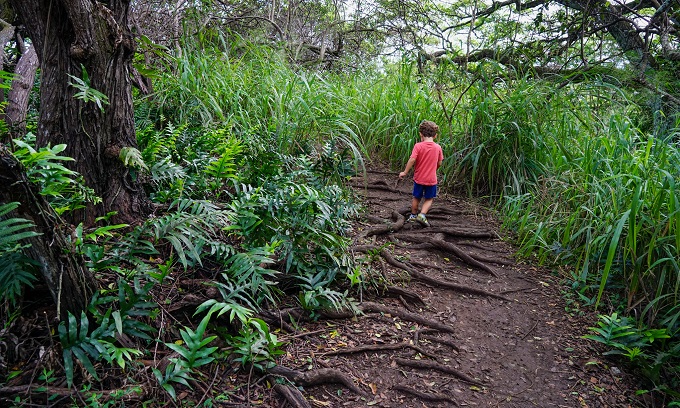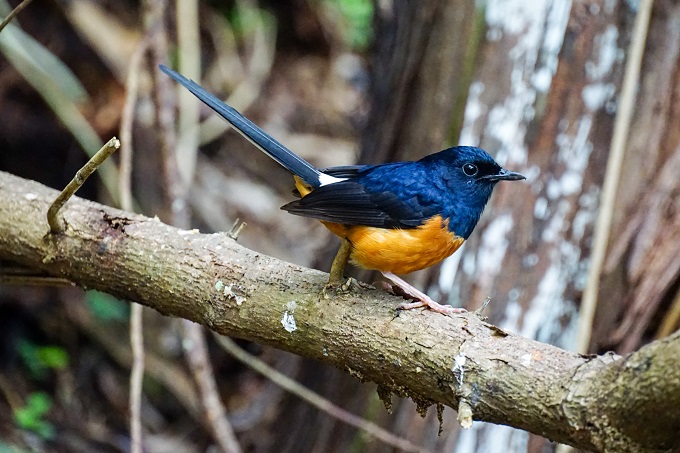 Nu'upia Wildlife Reserve Trail
2.4 miles (3.8km) long (out and back), no elevation gain
For those with access to military bases, this is a very simple yet fun trail on Kaneohe MCB. The Ponds, bracketed by Kaneohe Bay and Kailua Bay, are home to many endangered water birds, fish, crabs and even sea turtles (which have become frequent visitors here since 2018). The fish are so used to human traffic that they swim just an arm's reach away from the shore with no fear. The trail leads right along the water giving kids an opportunity to really see all the wildlife up close. The hard packed dirt trail is also suitable for bicycles. Not much shade, so the trail can get hot. Also, you don't need to go the full length of it and you can turn back around at any point - there will still be plenty to see. On the way back you can choose to take a little side-trail and go see the airplanes and helicopters on display in the field by the Ponds.
Scenery: ***
Difficulty: *
Trail map and info: https://www.alltrails.com/trail/hawaii/oahu/nu-upia-wildlife-reserve-trail?u=i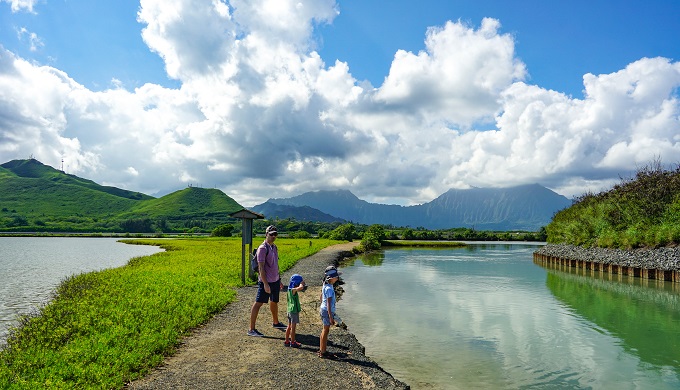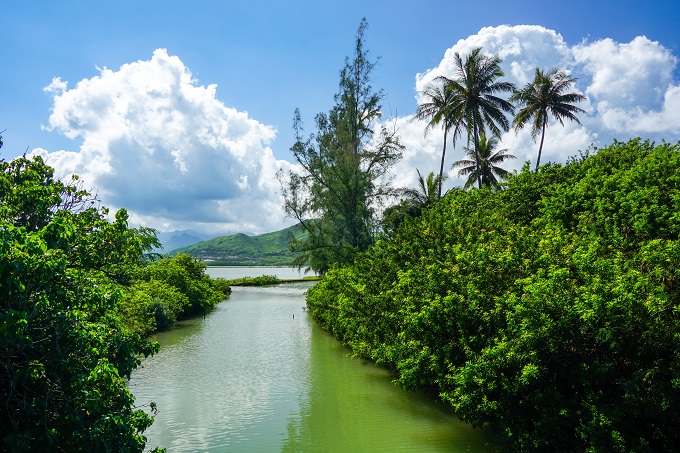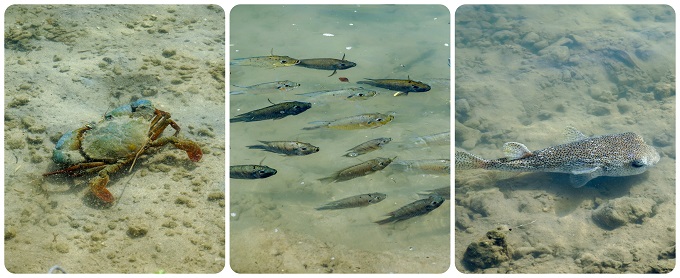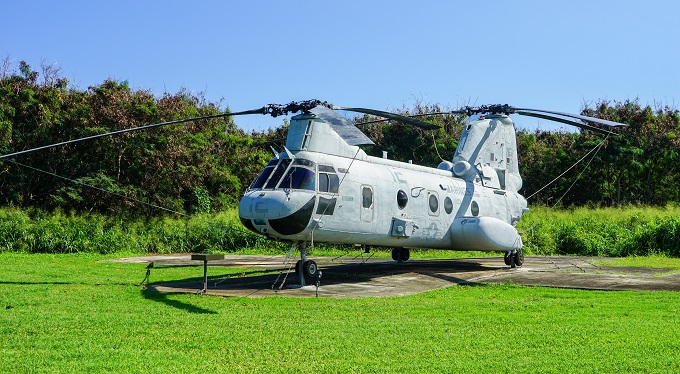 Kamehame Ridge Trail (aka Deadman's Catwalk)
2.4 miles (3.8km) long (out and back), 650ft (200m) elevation gain
Despite the somewhat scary name of this trail, there is nothing scary about it at all. On the contrary - it is a very safe and easy, fully paved walk up Kamehame ridgeline to an absolutely amazing lookout. It does gain over 600ft in elevation in its short length, so it does require a little effort and sweat to reach the lookout. As you walk up, you will have Hawaii Kai, Koko Crater Head and Hanauma Bay ridge behind you, so don't forget to glance back every once in a while. The trail gets its name from the long cement ''catwalk'' that was once used as a jump-off point for paragliders. It has since been removed for liability (supposedly) reasons and can't be accessed. However, about 3/4 of the way up to the right there is another smaller green catwalk which is still standing and gives the best views. It can get hot here as the sun is beating down on the asphalt with no shade, so bring water. Also, technically, the trail has been closed since 2021 with 'No Trespassing' signs and a gate blocking the road. The land belongs to Kamehameha schools and they decided to close the public access for liability (again!) reasons. But the unbeatable views and ease of access keep luring people back.
Scenery: *****
Difficulty: **
Trail map and info: https://www.alltrails.com/trail/hawaii/oahu/kamehame-ridge-trail--2?u=i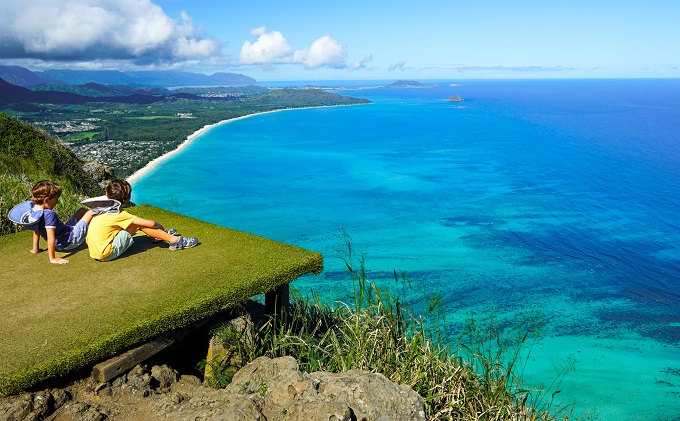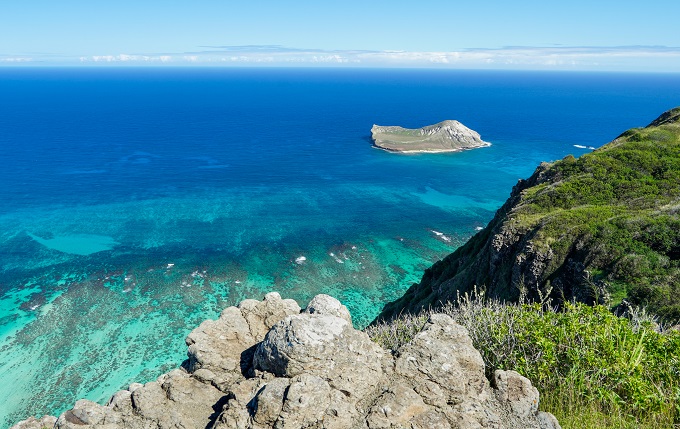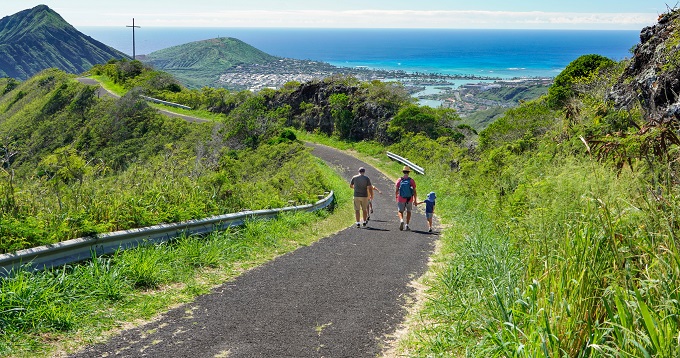 Hoomaluhia Botanical Garden Trail
2.5 miles (4km) long (loop), 500ft (152m) elevation gain
Another botanical garden free of charge to general public! It is backed by the mountain range and the views are spectacular. We even saw some wedding photos getting taken here. An easy start of the loop takes you through the garden to a lake where one can feed hundreds of fish. Please, no Cheerios or Lucky Charms like we saw some people do – it will kill the fish! You can continue on then with a little bit more strenuous walk through all the other sections of Hoomaluhia until you get to the lookout. It's an uphill climb to get there, but very worth it. Many paths crisscross throughout the garden, so you can make the whole 2.5-mile loop, or choose to cut it short. Maps are provided at the visitor's center.
Scenery: ****
Difficulty: **
Trail map and info: https://www.alltrails.com/trail/hawaii/oahu/hoomaluhia-botanical-garden-trail?u=i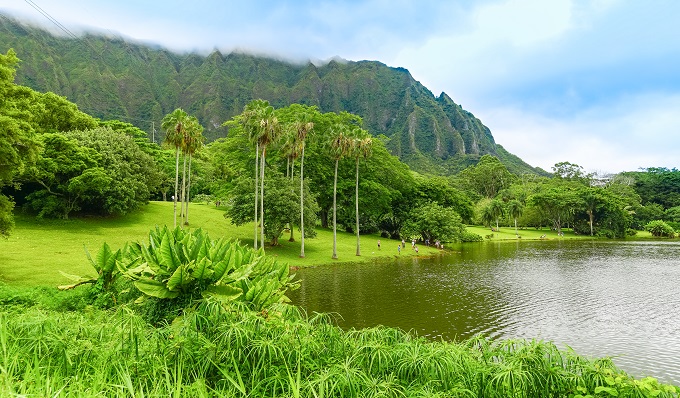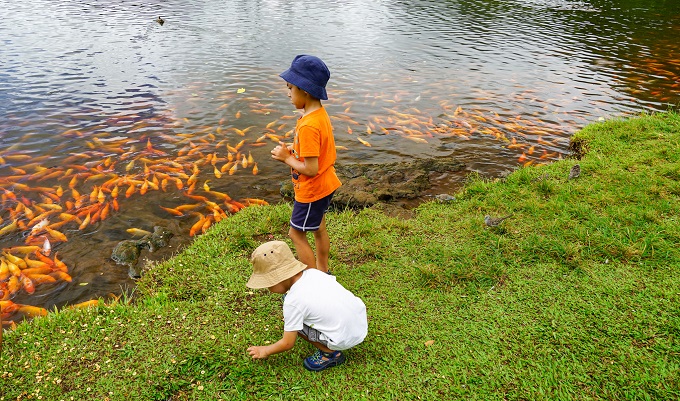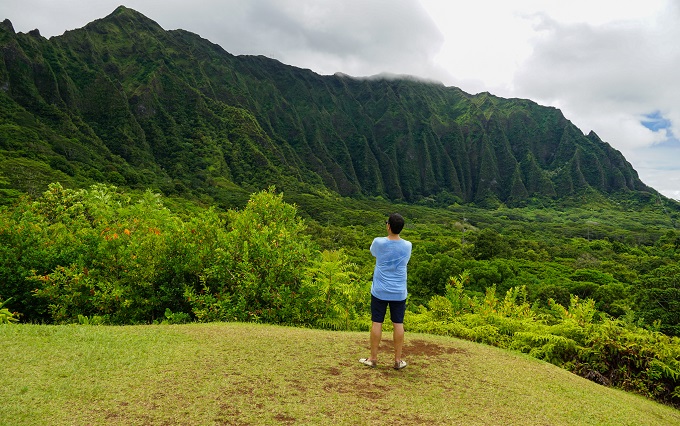 Makapu'u Point Lighthouse Trail
2.5 miles (4km) long (out and back), 505ft (154m) elevation gain
Makapu'u – another classic not to be missed! This fully paved, wide, stroller-friendly path will take you to the Makapu'u lighthouse and an amazing overlook of the south and east side of Oahu. The trail has no shade, so it can get very hot – choose the time of day wisely and bring plenty of water! During winter months, hikers can often spot whales in the ocean here. We have done this walk many times and it never gets old!
Scenery: *****
Difficulty: **
Trail map and info: https://www.alltrails.com/trail/hawaii/oahu/makapuu-point-lighthouse-lookout-trail?u=i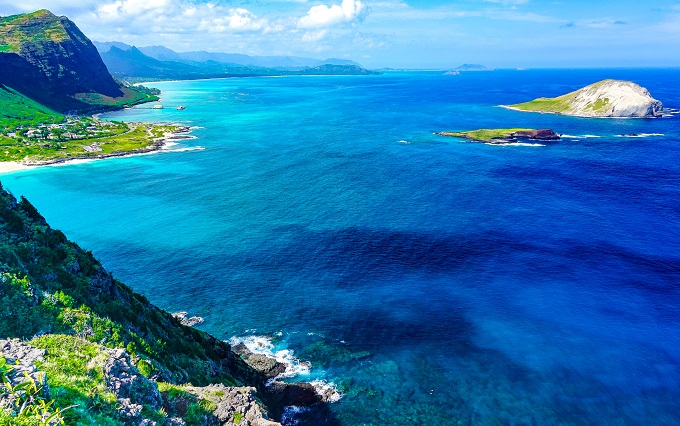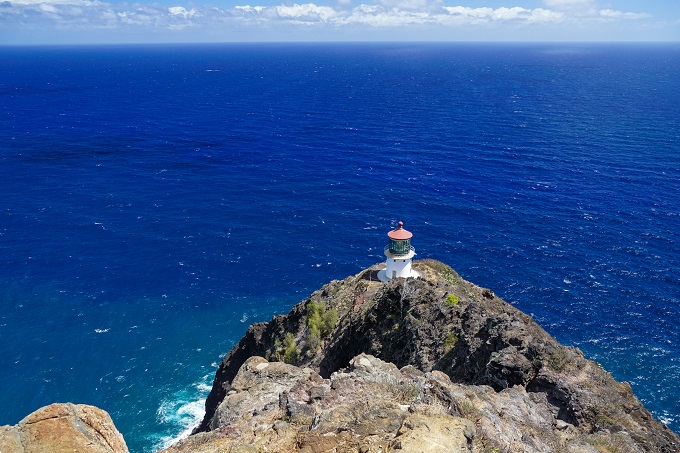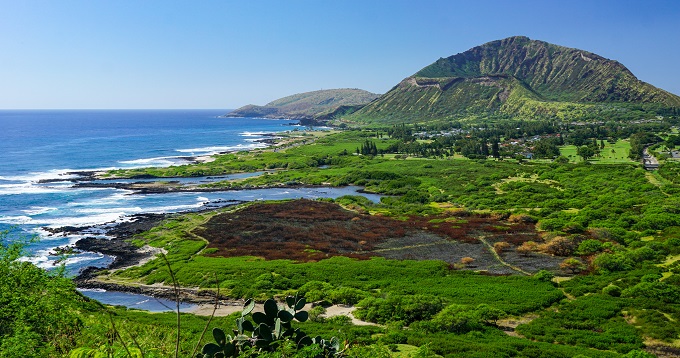 Lower and Upper Waimano Trail Loop
2.5 miles (4km) long (loop), 490ft (150m) elevation gain
A little lesser-known trail in the Pearl City area of Oahu. The Lower section leads through a forest floor and along a riverbed, while the Upper section goes along the ridge with overlook of the valley. There is a steep but short ascend that connects the Lower and Upper sections. The fun part of this loop is the 2 tunnels that kids can go into and explore. They are fairly long and require a flashlight – we are still not sure who or why these tunnels were made, but they sure were the highlight for our boys! This loop is often utilized by locals for exercise and dog walking. In general, this is probably one of the less scenic trails we have done, but works alright for a short weekend hike to get some fresh air.
Scenery: **
Difficulty: **
Trail map and info: https://www.alltrails.com/trail/hawaii/oahu/lower-and-upper-waimano-trail?u=i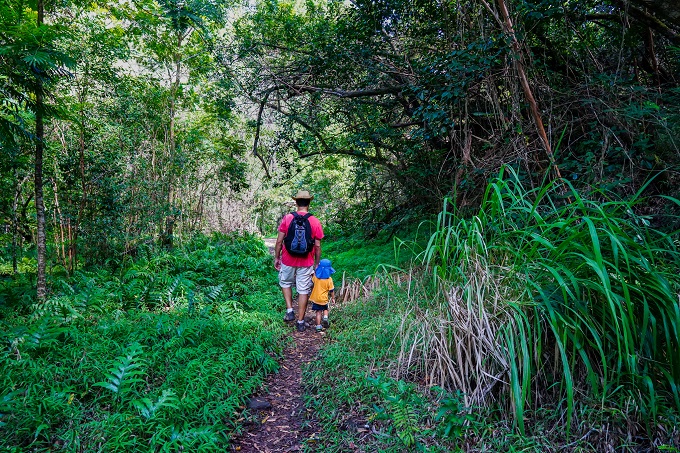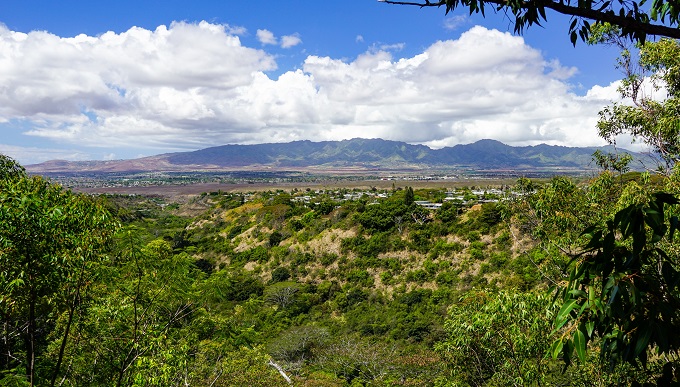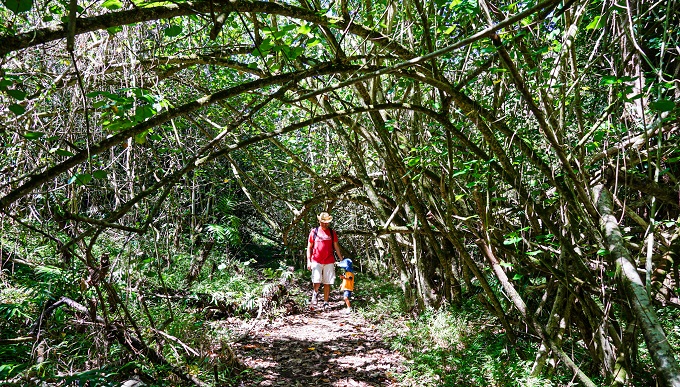 Friendship Garden and Oneawa Hill
2.7 miles (4.3km) long (out and back), 600ft (182m) elevation gain
This is definitely a trail with the most scenic and changing landscape and views. The beginning of the trail leads through a Friendship Garden which is a 10-acre rainforest park with lots of tropical vegetation, trees and flowers, including a small bamboo forest. Once you make your walk up and through the garden, there is a beautiful overlook of Kaneohe Bay, where we sat and had some snacks. This is where the ridge hike starts, and it is quite difficult. There are 3 ridges that need to be crossed (up and down x3), and although they are not exposed with dangerous drop offs, they are definitely steep. So steep, that all 3 ridges have ropes pulled alongside them to hold on and pull up. We went when the ground was completely dry and purely from the steepness of these ridges, we were still slipping. It was truly a scramble. I would not go this after rainfall. The grass along the trail is also very tall and was 2x taller than our 3-year-old, so it was like a big maze for him! But the views along the hike are absolutely amazing and change slightly the farther you go. You can see from Kaneohe Bay to Kailua beach and even spot the Makapu'u lighthouse in the distance. Farther up you will see the Ko'olau Mountain Range with H3 weaving along it. And at the end of the trail you will get a panoramic view of Kapaa Quarry which is the turnaround point to hike back. No shortage of amazing lookouts on this trail! The hike is mostly shaded but does have some exposed areas and we got a little sunburnt. Although the alltrails map marks this as 2.3 miles long, we recorded 2.7 miles round trip. For children, this is definitely a very challenging hike and requires a decent amount of hiking experience and stamina.
Scenery: *****
Difficulty: *****
Trail map and info: https://www.alltrails.com/trail/hawaii/oahu/oneawa-hills?u=i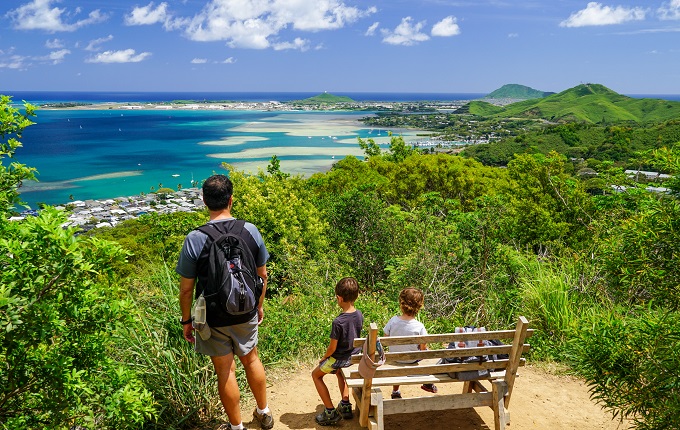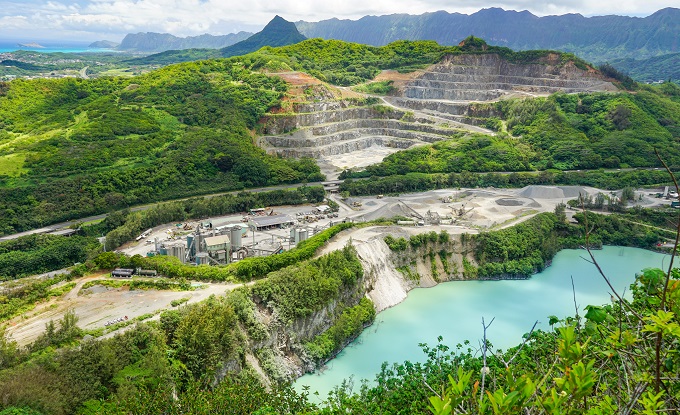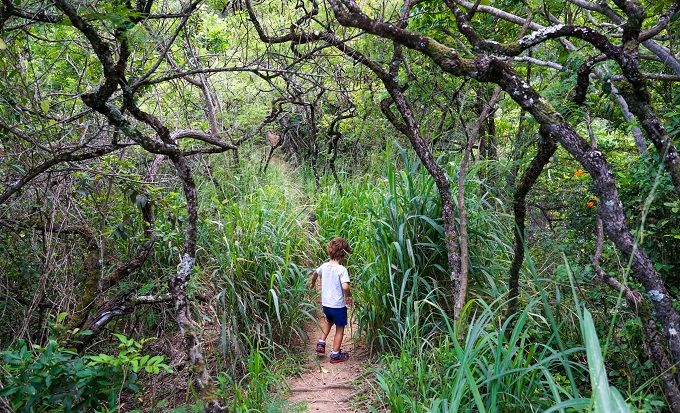 Hau'ula Loop Trail
2.8 miles (4.5km) long (loop), 900ft (275m) elevation gain
This is definitely one of the lesser used trails, partially because of its remote location along the Windward side of Oahu, but if you are up for a little drive, this is a fun trail to explore. Going clockwise, first half of the trail will be all steady uphill until you reach the valley overlook, and then all downhill from there. It will give a decent workout, yet is shaded all the way though, which is a big plus for hot summer days. The scenery will be very varied and will let kids explore and go on a little adventure – rainforest with small stream crossings, pine forest, mountain and valley views, and Norfolk pink grove which reminded us so much of the Pacific Northwest. The evergreens seemed so out of place here in Hawaii that we started singing Christmas songs while walking through this section of the trail. Overall, a varied and safe hike for kids. One thing to note though – this was a trail with the most mosquitos we have experienced so far. Bug spray is a must!
Scenery: ****
Difficulty: ***
Trail map and info: https://www.alltrails.com/trail/hawaii/oahu/hauula-loop-trail?u=i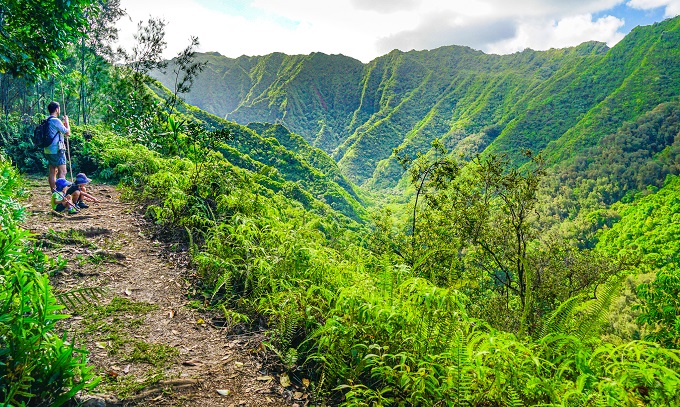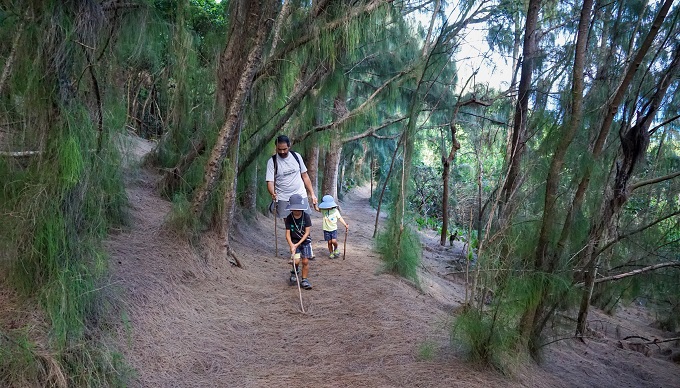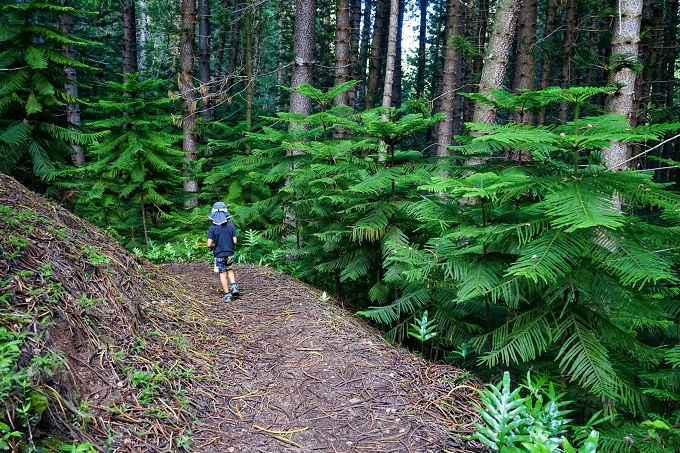 Kawainui Marsh Trail
2.9 miles (4.6km) long (out and back), no elevation gain
I would not call this trail a ''hike'' but rather a walk. It starts in a neighborhood park in Kailua and then follows along Maunawili stream through the marshlands. It is a flat gravel and concrete walkway all the way through, therefore, we took the boys' bikes with us and they biked the whole way out and back. You can also bring kick scooters, tricycles, baby strollers or anything else here with no problems. Lots of runners on this trail as well. The mountain scenery here is beautiful, and we saw a lot of different water bird species here from more common ones like geese and ducks with little chicks to some rare and endangered ones like 'alae 'ula (Hawaiian moorhen), 'auku'u (black-crowned night heron), kōlea (Pacific golden plover), egrets and others. Definitely a great nature experience for kids. There is absolutely no shade here and it can get very hot, so bring water!
Scenery: ****
Difficulty: *
Trail map and info: https://www.alltrails.com/trail/hawaii/oahu/kawainui-marsh-trail?u=i
------------
If you are looking for some other simple, and stroller / bike friendly paved walks, I would suggest these:
Diamond Head Crater Loop - Fort Ruger Pathway
Ford Island Historical Loop Trail
Aliamanu Military Reserve Loop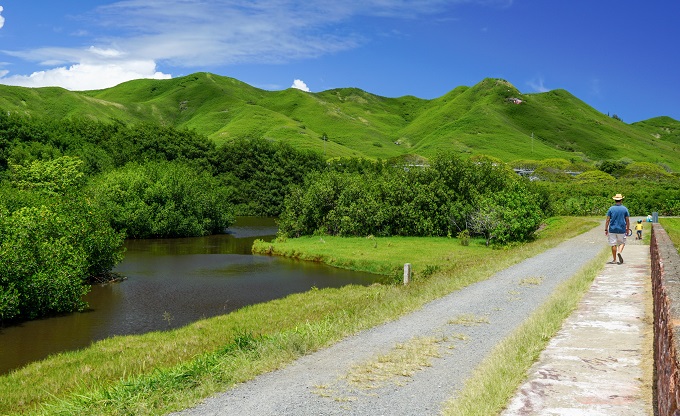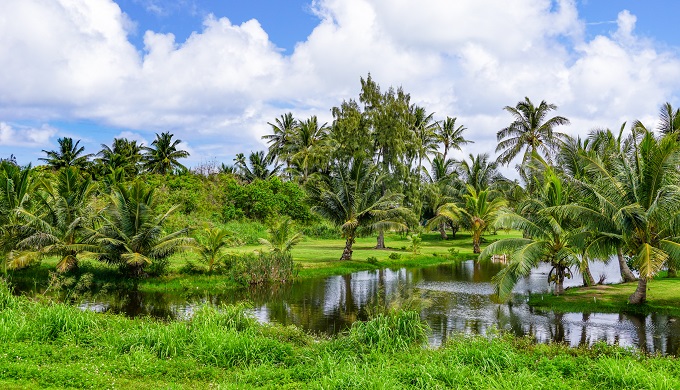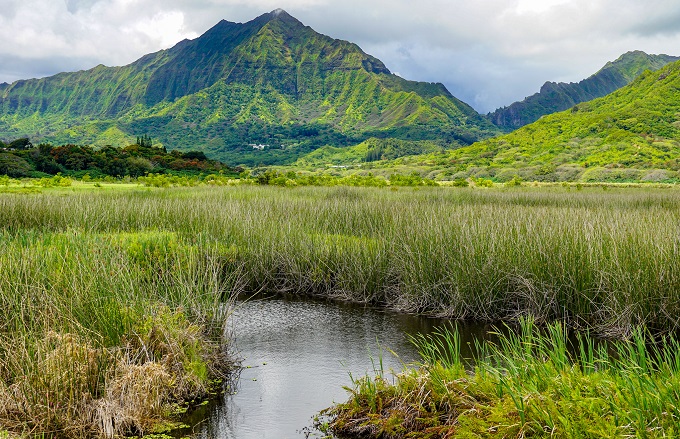 Maunawili Falls Trail
2.9 miles (4.6km) long (out and back), 1260ft (384m) elevation gain
This is an overall amazing trail with lots and lots of tropical beauty all around. The trail is easy to follow as it is heavily worn-in and basically follows along the stream almost the whole way. There will be several stream crossings along the way and the last 100 yards or so before the falls is just full-on going upstream to get to the falls, so keeping your feet dry will be impossible. This trail is also always muddy and slick, regardless of the season. But despite that, it is a very manageable hike even for kids - our 5-year-old could do it all completely by himself with no help at all. Although the elevation gain might seem like a lot, most of the incline was towards the last third of the trail when negotiating the uneven, steep steps which have worn down and shifted over time. You will also get some nice views of the mountains at the top (before descending into the valley to see the waterfall). The falls themselves are not as impressive by the water volume rather their tropical setting surrounded by cliff walls and tropical foliage. Cliff jumping into the pool below the falls is a big thing here, but it is not something I suggest - you just never know when there might be a fallen rock or tree hidden underneath...
Scenery: *****
Difficulty: ***
Trail map and info: https://www.alltrails.com/trail/hawaii/oahu/maunawili-falls-trail?u=i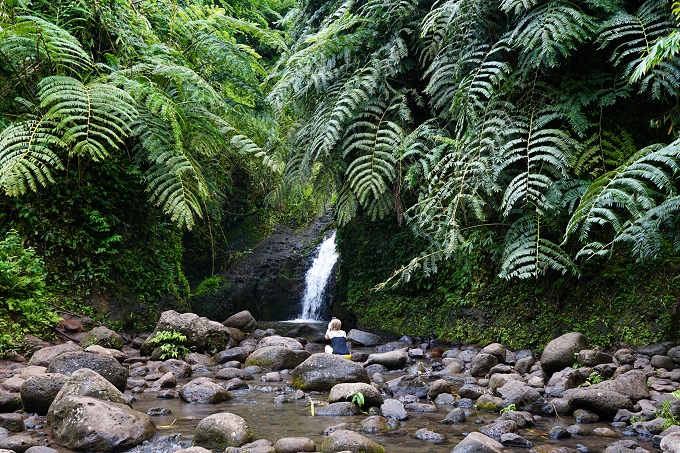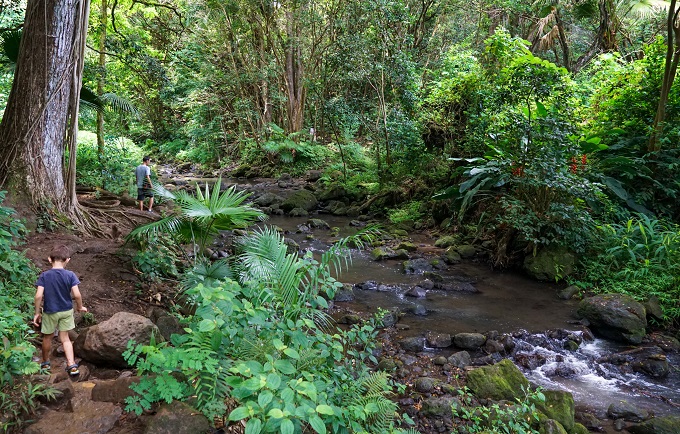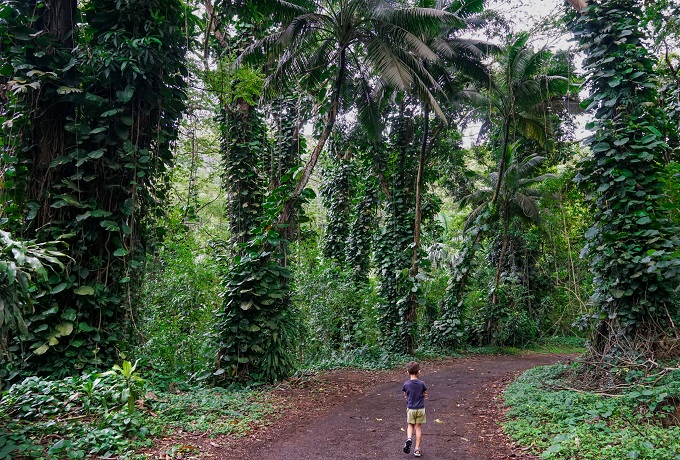 3 TO 4-MILE (5-6.5km) LONG HIKES
Ka'iwi Shoreline Trail
From 1 to 3.5 miles (1.5-5.5km) long (length can be varied), 150ft (45m) elevation gain
This trail starts at the same parking lot as Makapu'u lighthouse trail, but instead of going up the paved road, it goes down the dirt track on the right towards the ocean. There are several paths crisscrossing here, therefore the length of the loop can be adjusted as needed and desired. We walked the whole length of the loop along the shoreline and it was a lot of fun for the boys – there is a sandy beach, rocky beach, tidepools to play in, mangrove forests and small bays to skip rocks in. As it goes along the shore, there isn't much elevation change, making it a very peasant stroll rather than a workout.
Scenery: ***
Difficulty: *
Trail map and info: https://www.alltrails.com/trail/hawaii/oahu/kaiwi-shoreline-trail-and-makapuu-lighthouse-trail-loop?u=i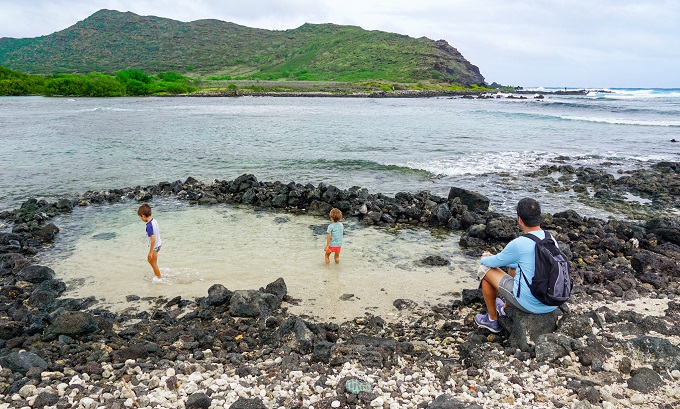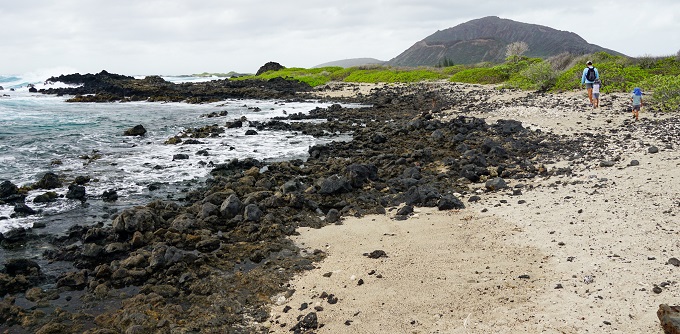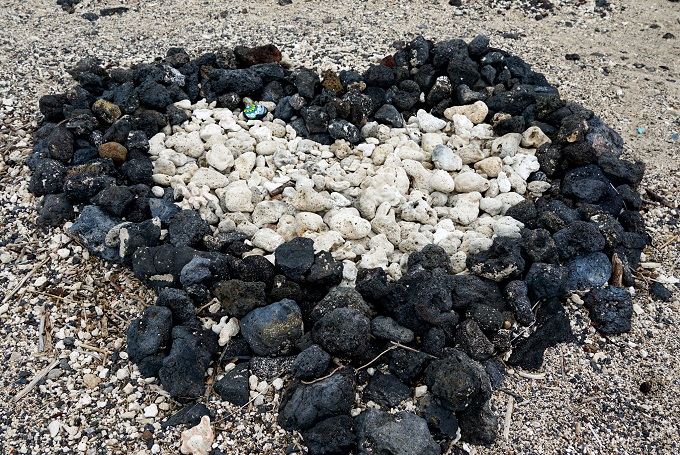 Wa'ahila Mountain Bike Path
3 miles (4.8km) long (out and back), 650ft (200m) elevation gain
A very kid friendly trail with a wide and clear path meant for mountain bikers. However, even on a Saturday afternoon we did not cross way with any bikers. It does not mean that they are never here though, so be cautious and let them pass if you see one coming. This is a mostly shaded trail with thousands of strawberry guava trees lining almost the whole first half of the trail. They were not quite ripe yet when we went in April, but I think mid May would be perfect here if you want to try them. The last 1/3 of the trail weaves through tall and perfectly trimmed back California grass and this is where you start getting some awesome views of Honolulu and the Diamond Head. Our turnaround point was once we emerged from the tall grass with Honolulu right in front of us. From here it is a relatively steep and hot zig-zag down the mountain (adding another 300ft to the elevation on the return trip), so we decided not to venture down as all the best views were right in front of us. An important note - all the elevation is gained on the way back to the car, as trail's starting point is at the top and you go only downwards on the way out. To our turnaround point it was about 3 miles round trip with 650ft elevation gain on the bay back. There are also many different side-trails to explore if you're up for it.
Scenery: ***
Difficulty: **
Trail map and info: https://www.alltrails.com/explore/trail/hawaii/oahu/waahila-mountain-bike-route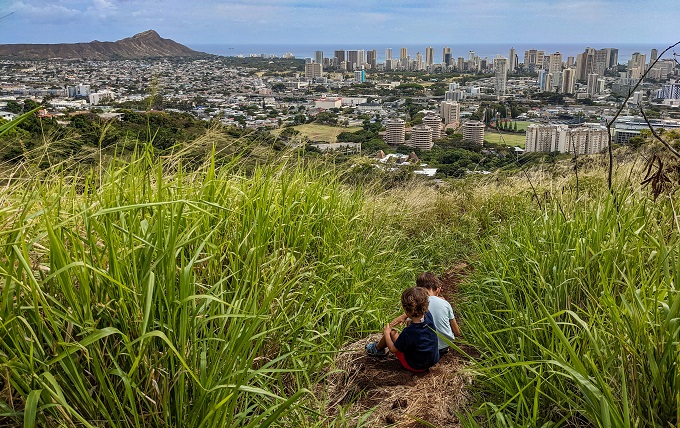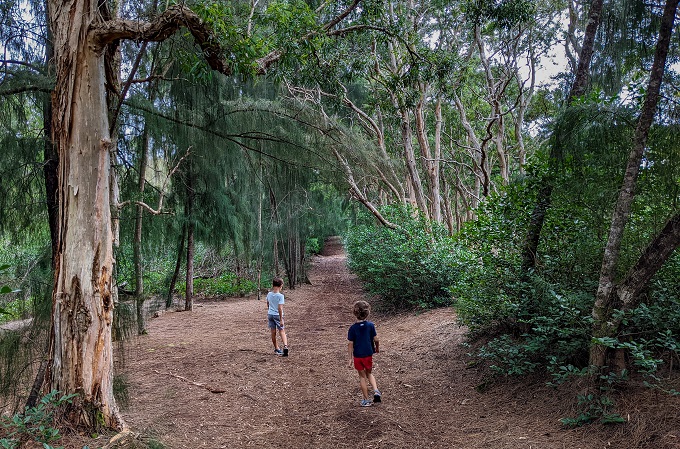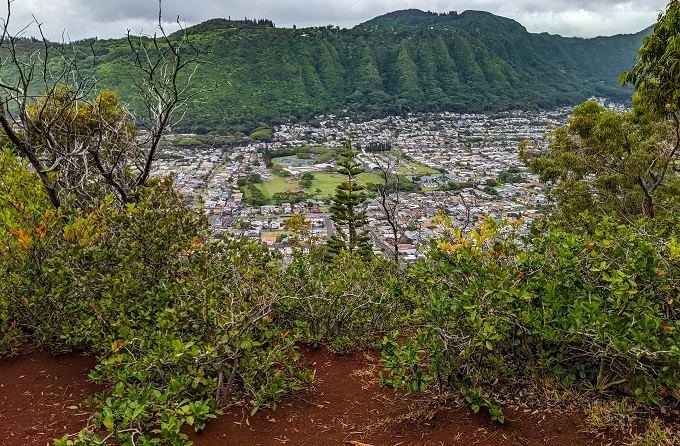 Tripler Ridge Trail (partial)
3.1 miles (5km) long (out and back), 900ft (275m) elevation gain
Tripler Ridge is actually a 9-mile long ridge hike, yet the beginning portion of it is suitable for a hike with kids, with some beautiful views along the way - from Honolulu to Waianae Mountain Range. Many people use the initial 1-mile paved road as their running track. It is a pretty steep incline though of about 700-800 feet in 1 mile - it will burn your muscles both on the way up and down. There isn't a lot of shade on the road. Once you reach the radio tower, the paved road ends. At this point, you can either turn back and go down (which would make this a 2-mile round-trip trek) or continue on another 1/2-mile to reach a little swing. The trail will become a dirt path with extremely tall California grass engulfing it for short sections - it was well over my 6-foot husband's head when we went in October. After that you will enter a guava tree forest. This has so far been the only place where we have seen wild lemon guavas, so we picked all the ripe ones we could find! After about 1/2-mile hike on the dirt path (with about additional 200ft elevation) you will reach a swing set. It's a fun picture taking spot and a cool activity for the kids. This is where we had a snack break and then turned back around for a total round-trip of 3 miles. Important to note: This trail starts on a military property, so military ID is required for access through the guard gate.
Scenery: ****
Difficulty: **
Trail map and info: https://www.alltrails.com/trail/hawaii/oahu/tripler-ridge-trail?u=i&u=i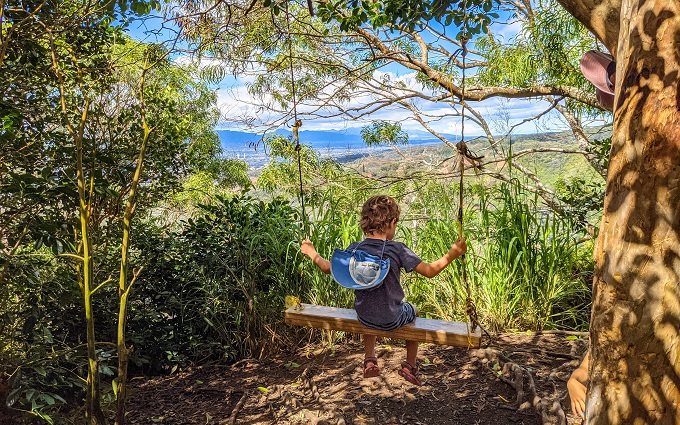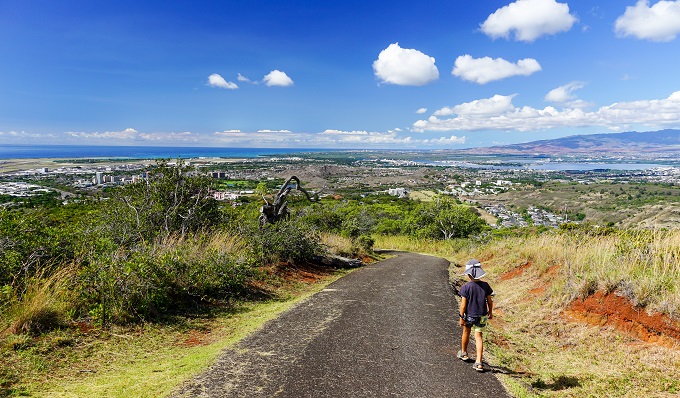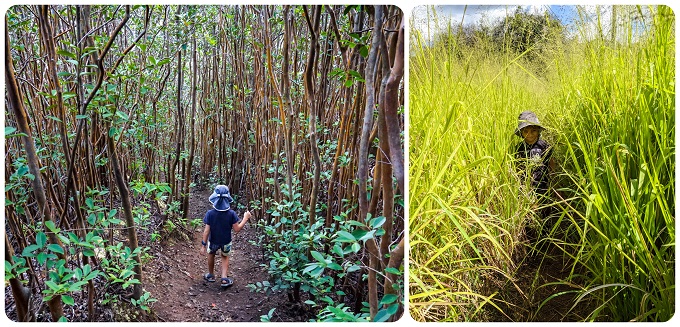 Old Pali Road (Ko'olau Golf Course to Pali Lookout via Old Pali Road)
3.1 miles (5km) long (out and back), 1500ft (457m) elevation gain
When I saw that this trail has 1500 feet of elevation gain, I was quite a bit concerned; however, it is evenly spread out over many miles, which actually makes it very doable and you won't even feel how you are steadily conquering the top. This is a wonderful workout of a trail for kids – it is actually an old, deserted road that has now been slowly claimed back by the jungle. It is lush, green and very tropical. Kids will feel like they are part of a Mowgli movie! At about mid-point you will have to use a ladder to climb up from underneath the highway and continue on until you actually reach the Pali Lookout (requires some squeezing through the fence). This is one of our Top 5 favorite trails as it offers both stunning views and jungle setting while being safe for exploration by our kids. It is also never crowded.
Scenery: *****
Difficulty: **
Trail map and info: https://www.alltrails.com/trail/hawaii/oahu/koolau-golf-course-to-pali-lookout-via-old-pali-road?u=i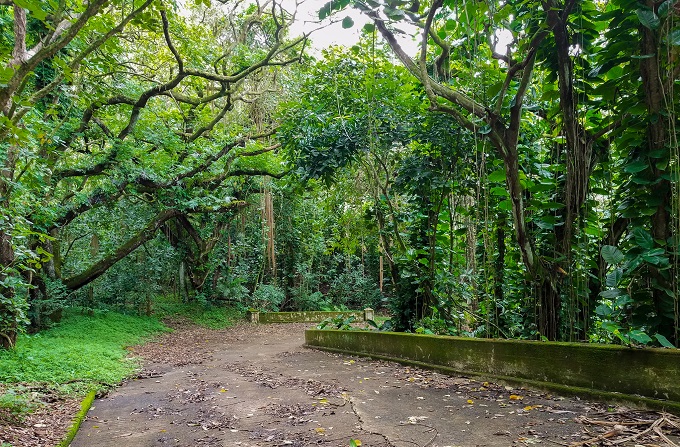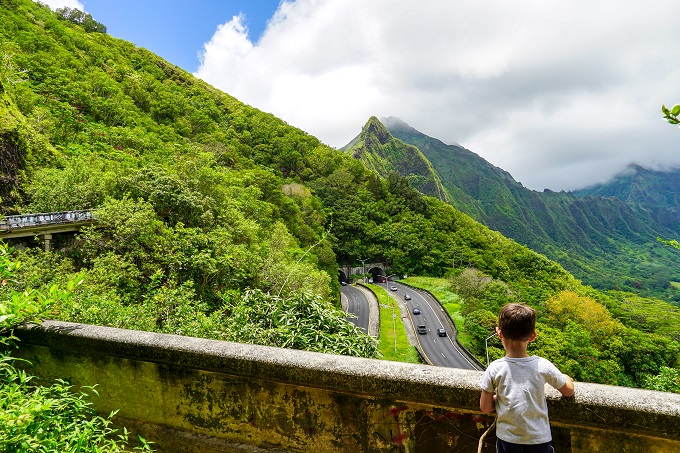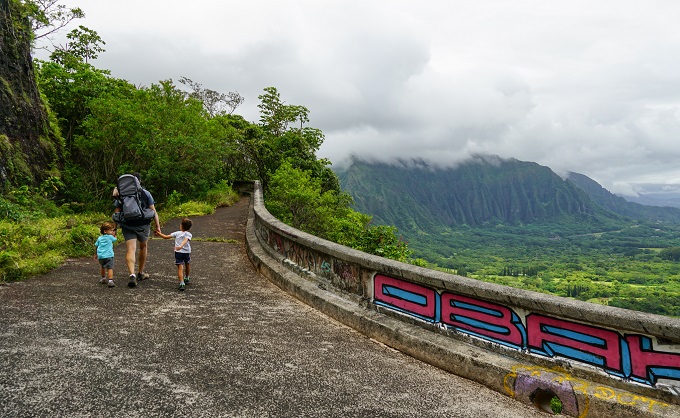 Nanakuli Overlook (+Pu'u Manawahua WW2 Bunker) Trail
3.3 miles (5.3km) long (out and back), 1200ft (365m) elevation gain
This trail is located on a private property but is open to public access. You need to e-mail Camp Pālehua with your desired hiking date and they will get back to you with waiver forms and all the necessary information to access the property. It costs $10 per adult and $5 kids (6 and older) to hike here which you will pay upon arrival. There are 2 trails here to choose from - Nanakuli Overlook Trail and/or Pu'u Manawahua WWII Bunker Trail. It is very easy to combine both trails into one, which is what we did. At the beginning, both trails follow the same path up a mountain and you need to follow white paint markers on the trees. Close to 1 mile mark you will come to a ''T'' split - going to the left will take you to the Nanakuli Overlook but going to the right will go to the bunkers. We started by turning towards the overlook. Just short 5-10 minutes down the hill we came to a stunning, unobstructed mountain, ocean and valley scenery. This is one of my husband's favorite hiking overlooks on Oahu. There is also a picnic bench here. If you decide to skip the bunkers, you can turn around here and walk back to the Camp which will make this a 2-mile round trip trail (Nanakuli Overlook Trail). We, however, went back to the T-split on the trail and opted to continue up towards the bunkers (follow pink ribbons around the trees). It is a steady uphill climb on an off-road dirt track, yet the distance is maybe just 1/2-mile before your each the bunkers. The main bunker has 3 levels (safely accessible) and our kids loved exploring them! The views here reach all the way to Honolulu. It took us 2 hours of hiking time to complete both trails with our kids and return to the Camp.
Also, the drive up to the Camp is very scenic on a winding mountain road with red dirt covered pastures and longhorns grazing in tall grass. Reminded us a little bit of Upcountry Maui. With many free trails available in Hawaii, I was hesitant for a long time to pay a fee for a hike, yet the $10 is definitely worth it here and also helps a local establishment!
Scenery: *****
Difficulty: ***
Trail map and info: NANAKULI OVERLOOK ONLY https://www.alltrails.com/trail/hawaii/oahu/nanakuli-lookout?search=true&u=i (follow the right side trail for in and out, NOT THE BOTTOM LEFT).
Trail map and info: NANAKULI + BUNKERS https://www.alltrails.com/explore/recording/afternoon-bird-watching-a424ed4--2 (follow the right side trail that forms the T-shape trail. At T-junction going left will be the overlook but going right will be the bunkers).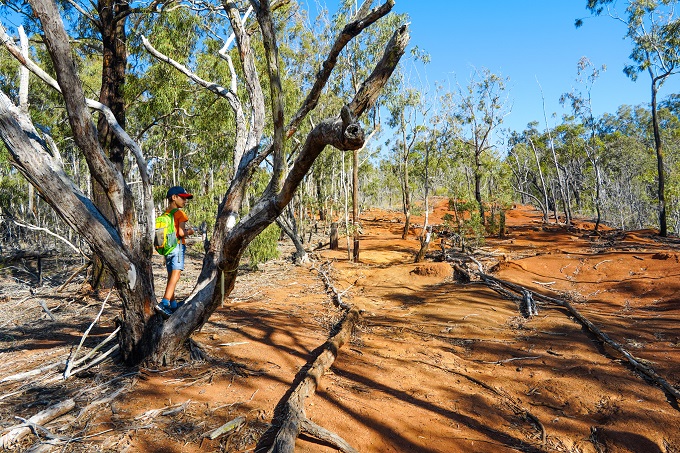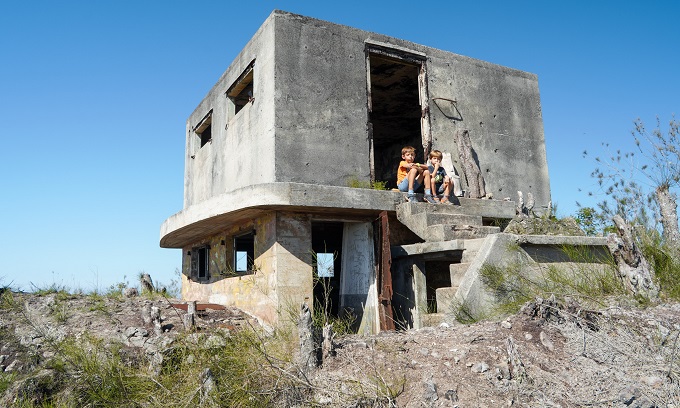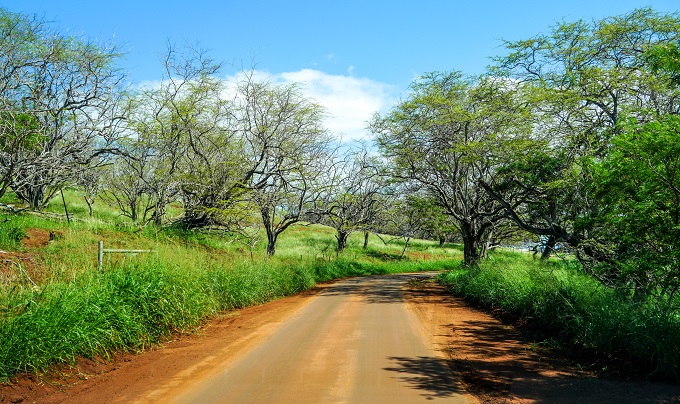 Hanauma Bay Ridge Trail
3.5 miles (5.6km) long (out and back), 900ft (275m) elevation gain
Although there are a few different ways to access the Hanauma Bay Ridge, the quickest one is by parking at the Hanauma Bay parking lot and then taking the stairs up to the start of the ridge. The trail is paved but it has no shade whatsoever which makes it extremely hot, therefore, we stared our walk at 8AM. Coming here for the sunrise would be very beautiful as well. Because the ridge is also completely exposed, the wind gusts up here can really take one by surprise, so be sure to tighten your hats! The views of the Hanauma Bay are amazing and you will have full 360 degree views of the rest of the area - from Koko Head to Hawaii Kai and Maunalua Bay. We walked all the way to the end of the paved road and also took a few dirt side-trails here and there for the views. It is possible to walk all the way down to the water (via steep dirt track) but it was not something I wanted to do with the boys (with kids, I would suggest sticking to the paved road for the most part). If you are not up for the whole 3.5 miles, you can turn back around at any point for a shorter distance as you can see most of the views in the first mile or so. And as a side note - it is a government property and ''No Trespassing'' signs have been posted; citations have also been reported at some point, yet we had no such issues and we saw several locals using this path for their daily workouts... Go at your own risk.
Scenery: *****
Difficulty: **
Trail map and info: https://www.alltrails.com/trail/hawaii/oahu/hanauma-bay-ridge-trail?u=i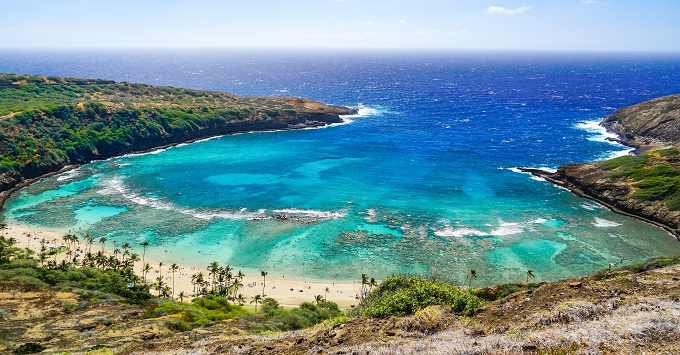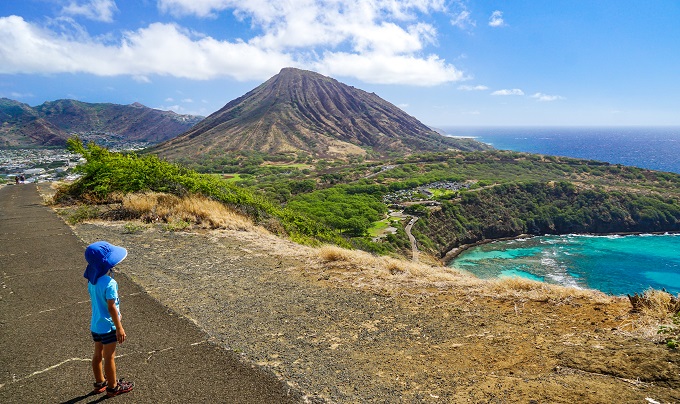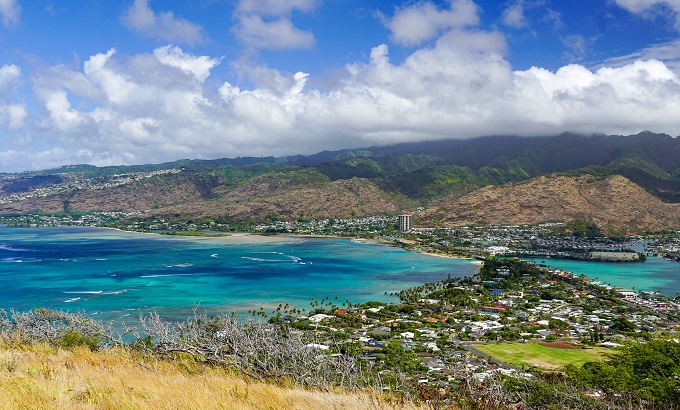 Pu'u'ohi'a Trail to Pauoa Flats
3.8 miles (6km) long (out and back), 940ft (286m) elevation gain
We really loved this trail! Although its main attraction is the end-of-trail Pauoa Flats overlook, our most favorite part was the gated section of Native Reforestation Project. The second we entered this area, we were transported into lush rainforest with dense tropical plants, flowers, big mossy lava rocks and bird sounds all around... an overall magical jungle atmosphere. This is the only place on Oahu where I, so far, have seen such diversity and amount of native Hawaiian plant growth. I think this hike is worth doing just to see this section in itself! Besides the Native Reforestation Project, you will also get to walk through a bamboo forest (in several areas) and get some nice panoramic views of the mountains here and there. Although the elevation gain is nearly a thousand feet (some of which you will gain on the way back), it felt pretty spread out and wasn't too taxing at all (even for kids). I think out of many trails that we have completed here at Round Top Forest Reserve, this hike definitely stands out as one of the most diverse and beautiful. And - always be ready for mud and mosquitos here!
Scenery: *****
Difficulty: ***
Trail map and info: https://www.alltrails.com/trail/hawaii/oahu/pu-u-ohi-a-trail-to-pauoa-flats?u=i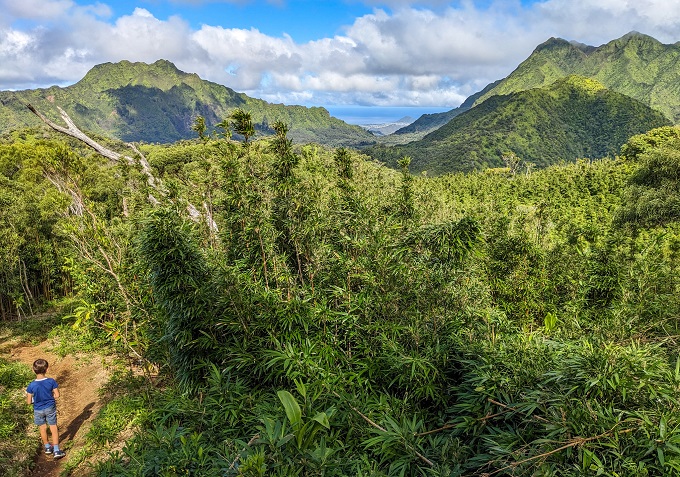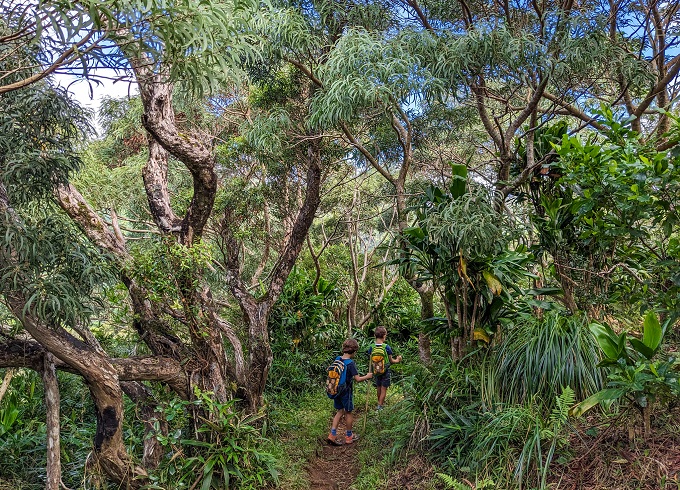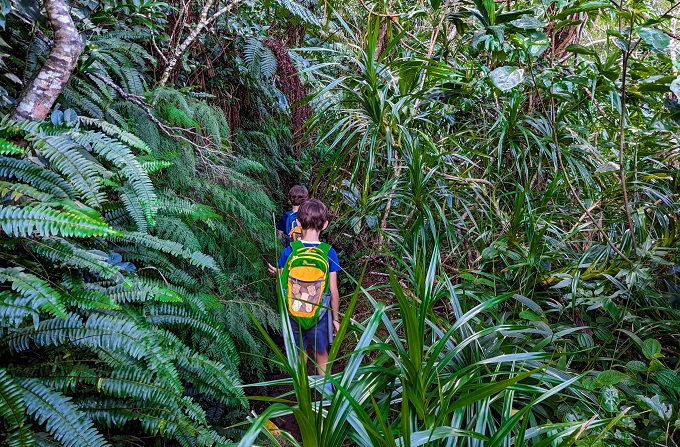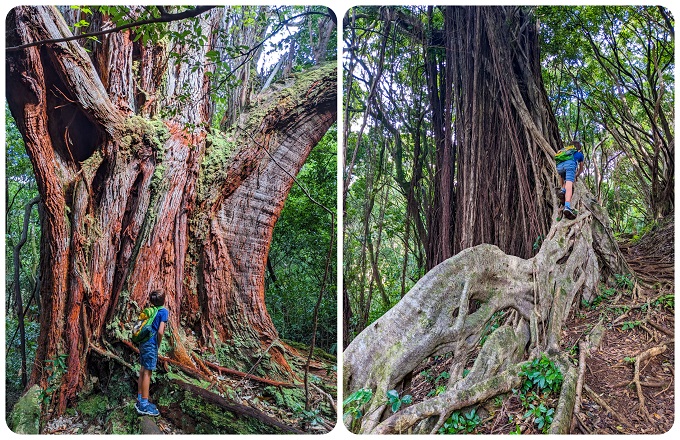 Makiki Valley Loop Trail
3.8 miles (6km) long (loop), 1115ft (340m) elevation gain
This is one of the few trails that does not offer neither grand lookouts nor exceptionally panoramic vistas. There will be some small waterfall views, stream crossings, and views of a lush tropical valley for a part of the trail (hence the name - Valley loop). But other than that, the trail is fairly average as far as the views go. When traveled counter-clockwise, this trail offers a pretty good workout as most of the elevation will be gained in the first third of the trail, and then mostly downhill from there. It is also quite rocky and full of roots which makes walking more labor-intensive. There were a few areas with steeper drops along the trail, but those were quite short and manageable. We saw several other families with kids doing this trail as well, and many dogs. A big plus is that the whole trail is shaded, but I would not pick this particular hike if scenery is your #1 pre-requisite. It is a good trail though if you have done most others on the list and are running out of ideas for additional kid-friendly hikes. On a different note - if you want to see the wild rose-ringed parakeets, this is probably the place for it. We saw big flocks of these parrots all around the valley and could hear their distinct screeching almost throughout the whole hike.
Scenery: ***
Difficulty: ***
Trail map and info: https://www.alltrails.com/trail/hawaii/oahu/maunalaha-makiki-valley-and-kanealole-trails-loop?u=i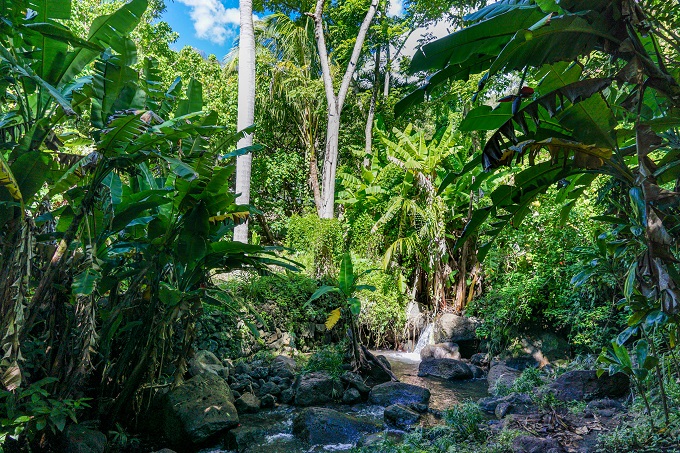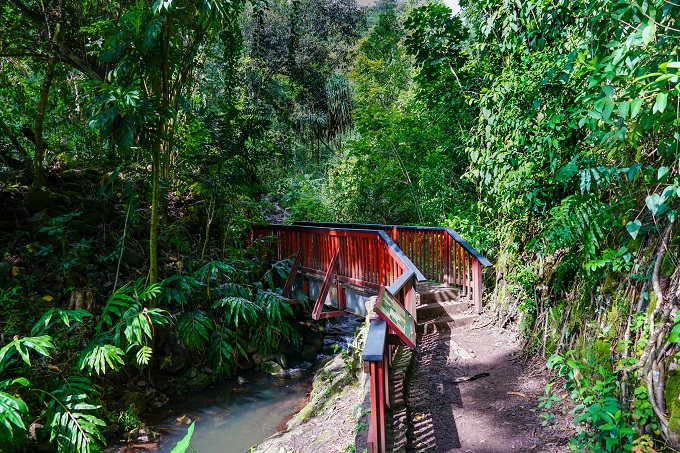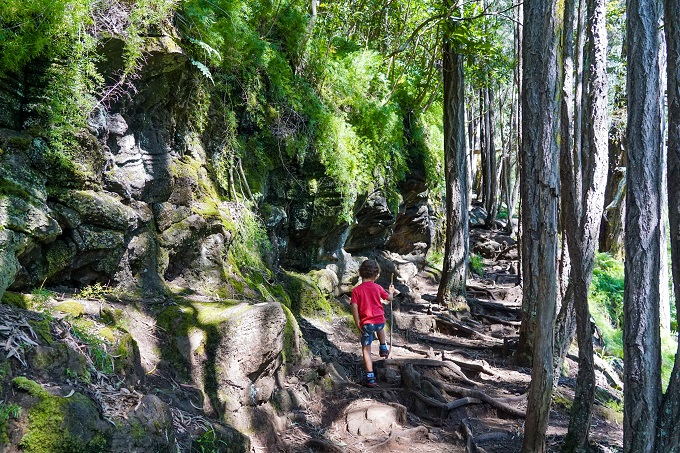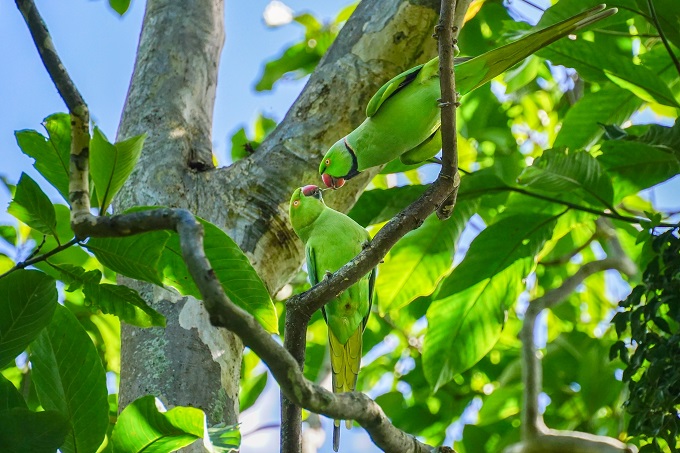 Kuaokala Trail
3.9 miles (6.3km) long (out and back), approx. 980ft (300m) elevation gain
Officially, Kuaokala is actually a 5-mile long trail; however, in our experience, all the most beautiful views can be seen up until the point where you reach the first fence with a pig gate and the clay overlook formations. You can continue on past this point but there will be a lot of rocky ups and downs with not many views. Good for someone wanting an extra work-out, but not worth continuing on with kids. Based on our tracker, going to the first pig gate and back totaled roughly 4 miles with about 980ft elevation gain (round trip). Part of the trail is through a pine forest and part of it is on a wide dirt road variating between shade and open areas. Apart from some short sections with steeper drops on one side, most of the trail was very safe for kids. We went in May and found tons of yellow/pink guava growing along the trail, so we picked a full bag! The start of this trail is at military Ka'ena Point Satellite Tracking Station and requires a permit to get through the military guard gate (no military ID required, however). Public permits can be acquired here: Kuaokala Trail permit and they cost $2.50 per vehicle.
Scenery: ****
Difficulty: ***
Trail map and info: https://www.alltrails.com/trail/hawaii/oahu/kuaokala-trail?u=i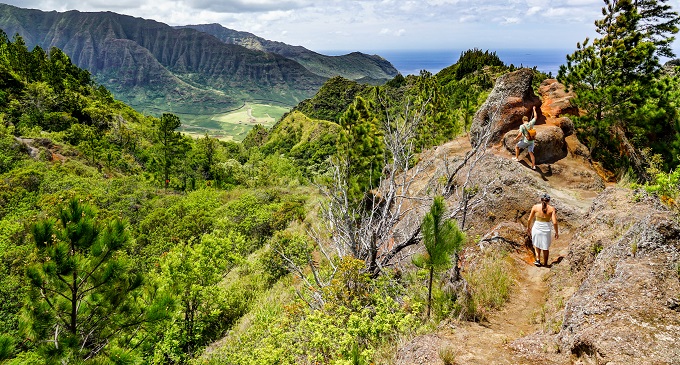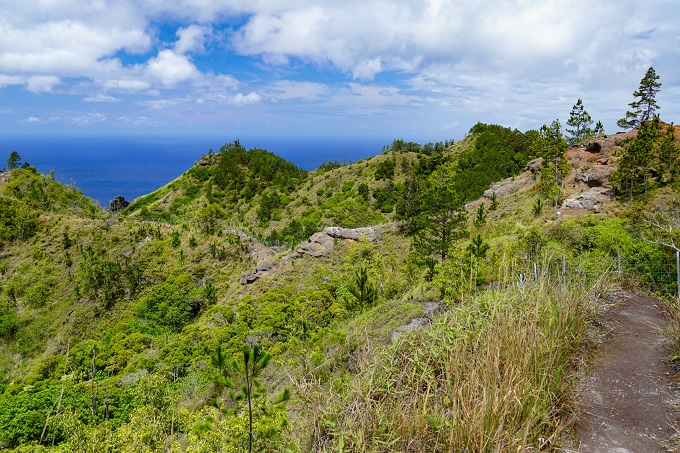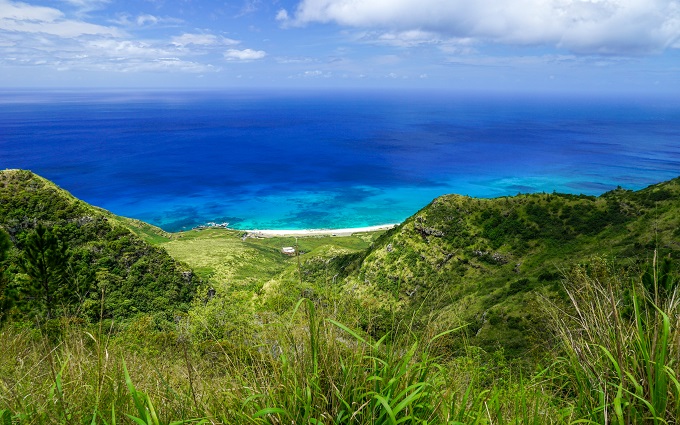 4+ MILE (6.5km+) LONG HIKES
Pauoa Flats via Kalawahine Trail
4.1 miles (6.5km) long (out and back), 705ft (215m) elevation gain
This is one of the many trails in Round Top Forest Reserve. Although we logged more than 4 miles (round trip), the trail felt fairly easy and flat as it only gains a total of 700ft. Most of the trail is in a rainforest setting, including a section of native snail habitat (although we tried to spot them, we had no luck). There are some areas with a steeper drop on the side, however, even then the trail was wide enough for our kids to manage it safely. To preserve the native o'hia trees, you'll have to walk on a boardwalk for a part of the trail, and then through a muddy bamboo forest before finally reaching the lookout. We had some picnic lunch at the lookout before starting our hike back. Overall, an easy and varied trail which kept kids entertained and interested. And fully shaded even on a sunny summer day.
Scenery: *** / ****
Difficulty: ***
Trail map and info: https://www.alltrails.com/trail/hawaii/oahu/pauoa-flats-via-kalawahine-trail?u=i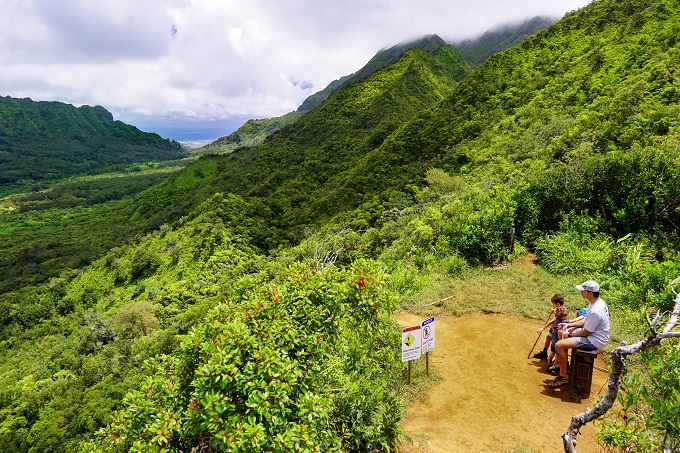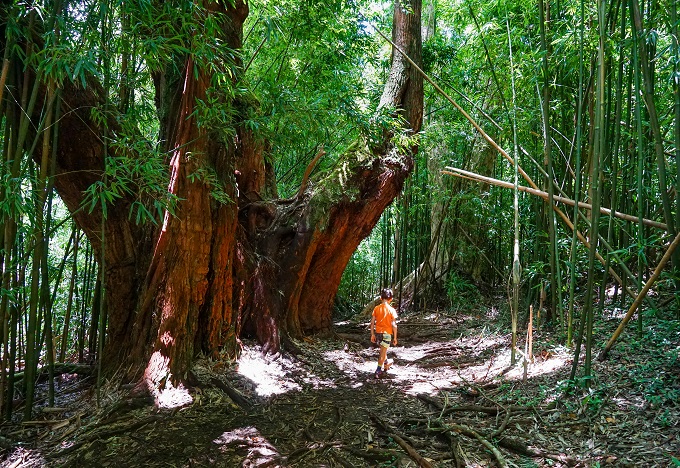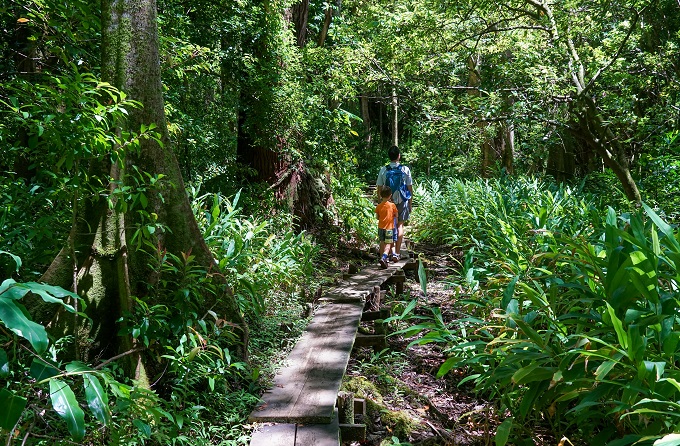 Kuliouou Ridge Trail
4.2 miles (6.8km) long (out and back), 1625ft (495m) elevation gain
What an impressive trail this is! It starts out with switchbacks through the forest until you reach the picnic shelter. The part after the shelter is the final stretch but also the hardest as it becomes quite steep until you reach the ridge and then there are several hundred steps still to climb to the lookout. Now, this is NOT a beginner trail - neither for children, nor adults, and the top section was challenging for the boys - climbing roots, walking the ridge and ascending / descending uneven steps. Before setting out, I told myself I would turn around if I felt it was too much for my boys to manage, but they did awesome! Even other hikers were cheering them on (and on the way down they still had energy to play chase with each other)! The kids should also be able to follow directions as it is a ridge hike, and crossing a narrow ridge (with drops on both sides) is part of the trail - lush grass and bushes on both sides can give a misleading impression of there being a footing where there is none. The lookout area is also a cliff-drop with no guardrails. But the view in the end is worth all the effort and overall the trail is safe enough and doable. Watch the weather and don't go in rain as the top section with the ridge will become slippery and muddy. It usually takes 2-3 hours for an average adult to complete the round-trip. It took us 2.5 hours at a 3-year old's pace going up (with some snack and water breaks) and another 1.5 hours going down with some 30 minutes at the lookout, for a total of 4.5 hours. The kids should be physically fit with many other long hikes under their belt in order to attempt to take this one on, but once they are ready for it, the views and amazing experience of this trail can't be beat! So far, this is the trail with the highest elevation gain that we have done with our boys.
As a side note - be weary of how you park your car here as parking is in the neighborhood and locals like to call the police if you park too close to their driveway. Don't park in front of the red sidewalk markers. We saw police issuing tickets for that.
Scenery: *****
Difficulty: *****
Trail map and info: https://www.alltrails.com/trail/hawaii/oahu/kuliouou-ridge-trail?u=i
-> There is also a ''twin hike'' called Wiliwilinui Ridge Trail which has almost identical length and elevation gain as Kuliouou Ridge Trail. Both are comparable in hiking difficulty and terrain but have just slightly different views from the top lookout. Both are 5-star hikes worth embarking on!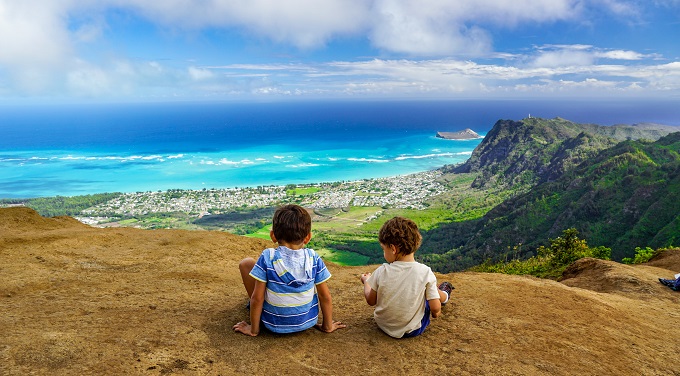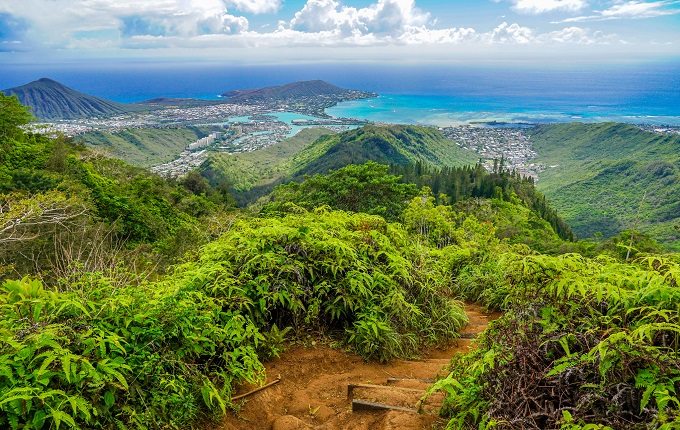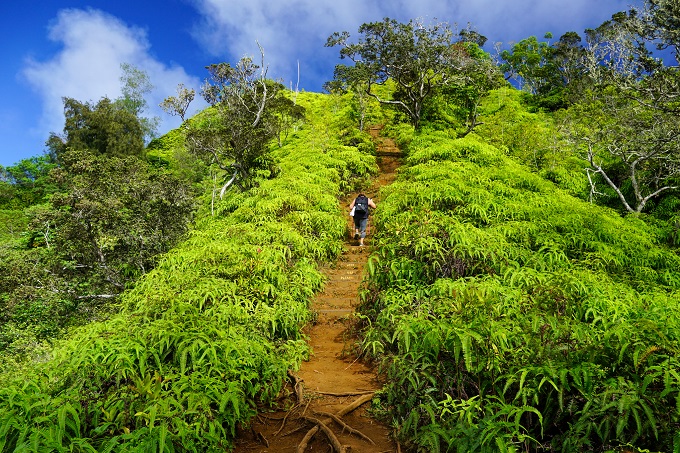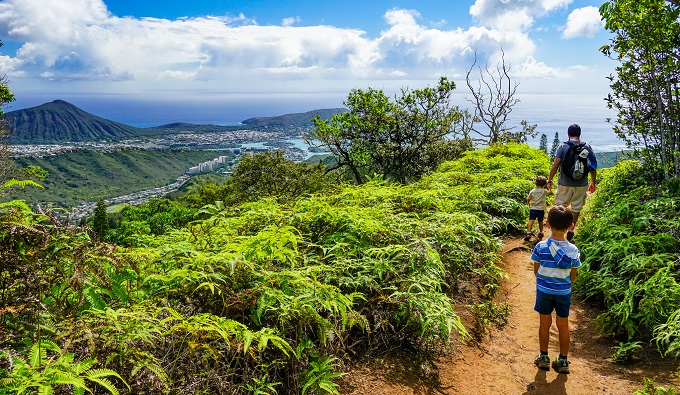 Nakoa Trail (Kahana Valley)
4.5 miles (7.2km) long (loop), 750ft (223m) elevation gain
This is one of the 3 maintained trails in Ahupua'a 'O Kahana State Park, therefore the path is well marked and easy to follow. The hike starts out on a roadway passing some local homesteads that are still remaining in this valley and then continues on through a forest with lots and lots of hala trees. The sharp, spiky fallen leaves of these trees entirely cover almost the whole length of the trail, so closed-toe shoes are required to avoid cuts. For the first third of the trail we chose to follow the old paved access road (that parallels the dirt trail) to the water reservoir before re-joining the official trail again. That let us enjoy roughly 1-mile on a nice paved road vs roots and mud of the dirt track. There are also several stream crossings, with the last one being a dam with a 40-foot long, narrow cement spillway (pictured below) over which you will need to walk across. The water depth here reached adults' thighs, so we had to carry the kids across part of the way. During our hike there was no rain, so the stream currents were light. The area is prone to flush floods though which would make the streams impassable. Due to all the water, there are a lot of mosquitoes here. A lot! So don't forget a repellant. The trail also borders wild bore hunting zone and we met a group of hunters with their pack of friendly dogs returning from a hunt. Overall, the trail is fairly easy, well marked but lacks panoramic views or varied scenery.
Scenery: **/***
Difficulty: ***
Trail map and directions: https://www.alltrails.com/trail/hawaii/oahu/nakoa-trail-kahana-valley-trail?u=i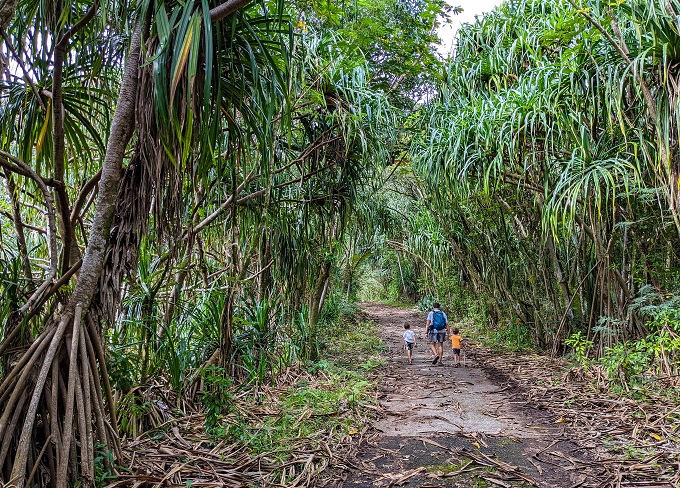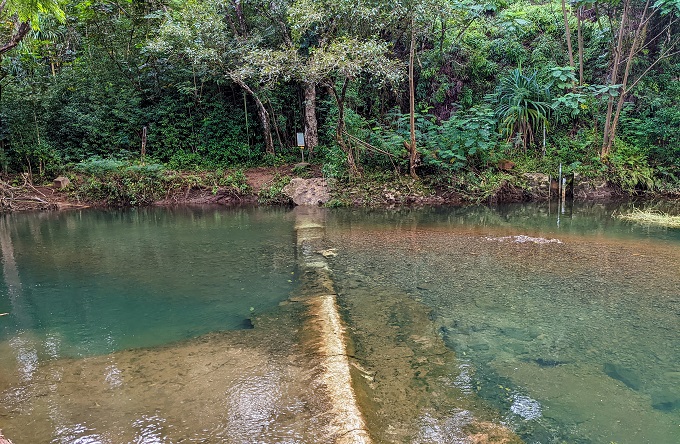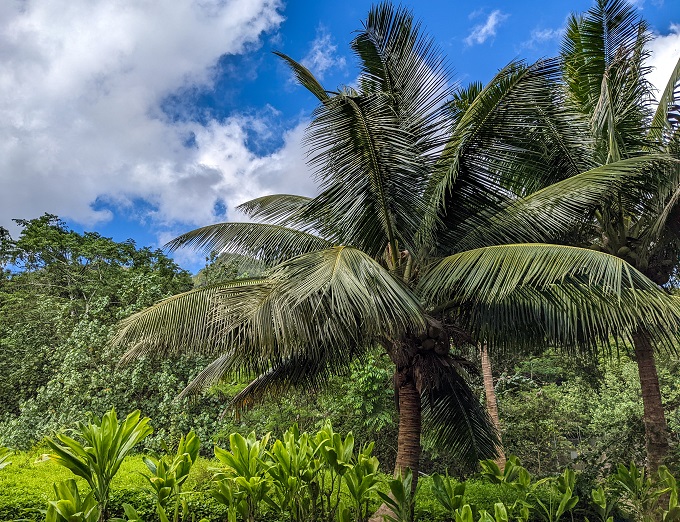 Aiea Loop Trail
4.8 miles (7.7km) long (loop), 1230ft (375m) elevation gain
The seemingly long length and high elevation gain of this trail held me and my husband back from taking our boys on it. However, once we did it and completed the hike, we both had to admit that these were probably the easiest 5 miles we have ever hiked! The trail did not feel neither that long nor hard. Lots and lots of families on this hike with many children. This is definitely a popular family weekend hike. The trail is wide, safe and easy to follow – no getting lost here. At the top - amazing views of H3 engulfed in the mountain range. The scenery is varied and beautiful throughout. This was also the only trail so far where we saw the infamous Hawaii wild pigs. A momma pig came out of the bushes to see what snacks my boys were eating. It was totally fearless and completely ignored my husband's attempts to scare it away. In general, it left people alone though, unless they were eating something. Of course, the boys were excited to see the piggy. One thing to note – Aiea Loop should be done in dry weather. The clay trail will turn slick and muddy after heavy rains which will not be an enjoyable experience. And it can rain in this area while it is sunny just a few miles down the mountain, so local weather check is needed. During our hike in April, the trail was lined with hundreds of ripe strawberry guava trees - a real treat for our boys, and we picked a lot of ripe, red guavas to bring home!
Scenery: ****
Difficulty: ***
Trail map and info: https://www.alltrails.com/trail/hawaii/oahu/aiea-loop-trail?u=i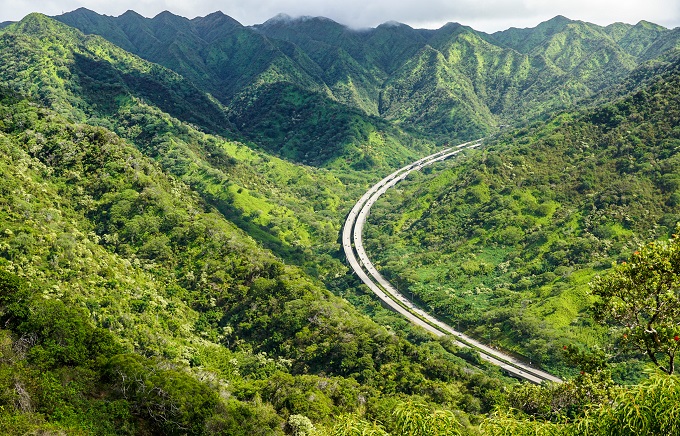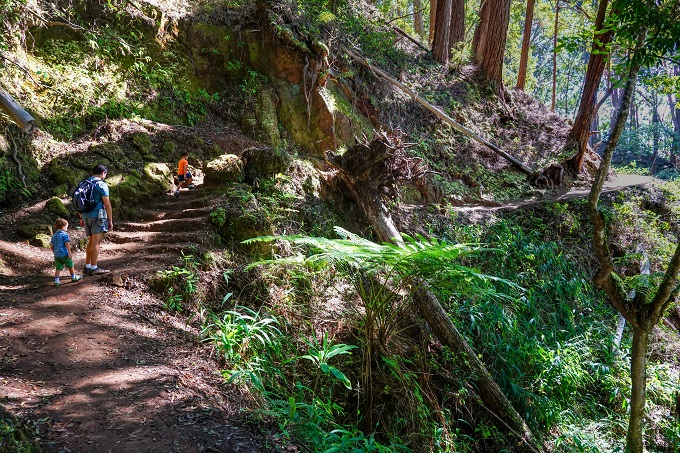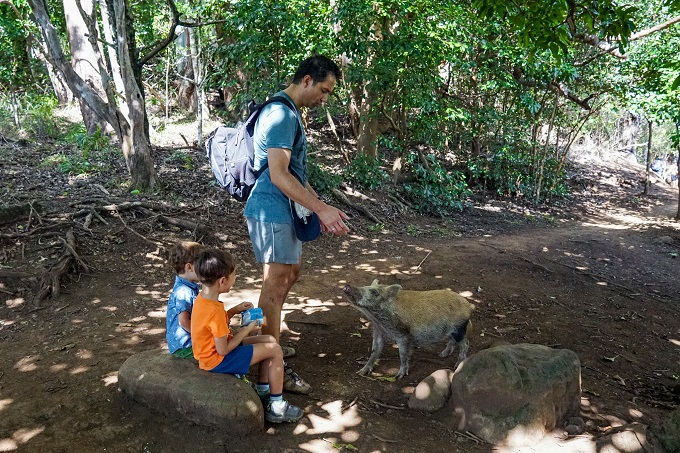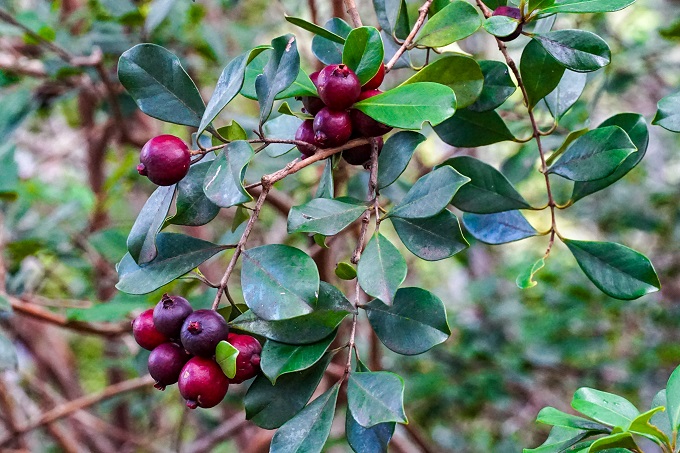 Kaunala Loop Trail
5.2 miles (8.4km) long (loop), 1205ft (367m) elevation gain
Although long, it was very manageable even for the 3-year-old. 1/3 of this trail leads through a shaded rainforest with slightly muddy yet doable trail conditions and can be narrow (but not overly dangerous); another 1/3 leads along a gravel emergency access road, and the final 1/3 stretch is a walk on a paved yet deserted forest road similar to Old Pali road. Even though there are a few nice views, this is not the most scenic trail. It is a good trail to get your miles in on varied terrain and enjoy the great outdoors. From what we could tell, many families with kids enjoyed riding bikes on the paved section of the trail as it is several miles long. You do have to be cautious though, as the road and sides of bridges have collapsed in several spots here leaving dangerous drop offs exposed. It was not a problem when walking, however, I would not want my kids riding their bikes here. Overall, an OK trail on the less hiked North Shore part of Oahu.
Scenery: ***
Difficulty: ***
Trail map and info: https://www.alltrails.com/trail/hawaii/oahu/kaunala-trail?u=i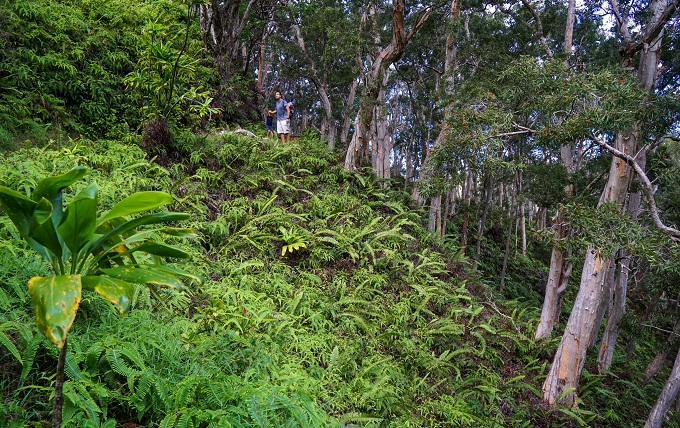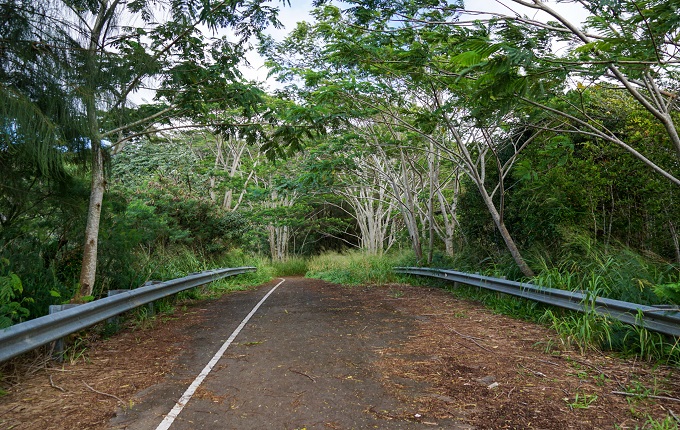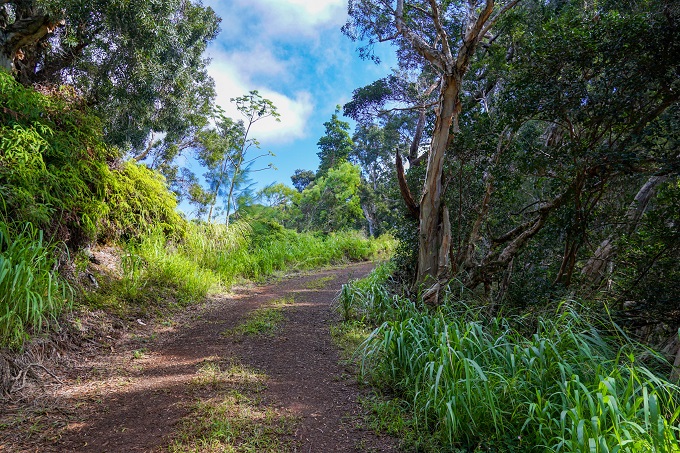 Manoa Cliff, Kalawahine and Makiki Valley Loop
5.5 miles (9km) long (loop), 1450ft (440m) elevation gain
If you want to challenge your kiddos a little bit, this would be the perfect trail for that. It's a loop trail, so you will not need to backtrack. And because the loop consists of a combination (bits and pieces) of 3 different trails, the scenery will be ever changing. If you follow AllTrails map, you will start with Manoa Cliff section which will give you some nice views of the mountains and valleys. This will also be the most challenging section when it comes to safety as there are a few short spots with the trail turning narrow along a steep drop. It will not be wide enough to walk side-by-side with your child, but in good weather (and trail conditions) it is still very doable. Soon after you will enter a lush rainforest and then slowly descend until you reach a boardwalk. The trail then turns left, but we headed straight and added an extra detour to Pauoa Flats overlook (about 1 mile round-trip add-on). It is definitely worth a stop if the extra distance is not too much. And you will get to walk through a bamboo forest! The rest of the trail will bring you through the mountain-slope forest and part of Makiki Valley. The trail had steady ups and downs which felt like a nice balance throughout its length - enough of a challenge but not exhausting. Shaded almost all the way though, yet can be very muddy and slippery after it has been raining. I rated 4 stars for difficulty not so much for the elevation issues, rather the length of it (especially if you add on the trek to Pauoa Flats).
Scenery: ****
Difficulty: ****
Trail map and info: https://www.alltrails.com/trail/hawaii/oahu/manoa-cliff-kalawahine-and-makiki-valley-loop?u=i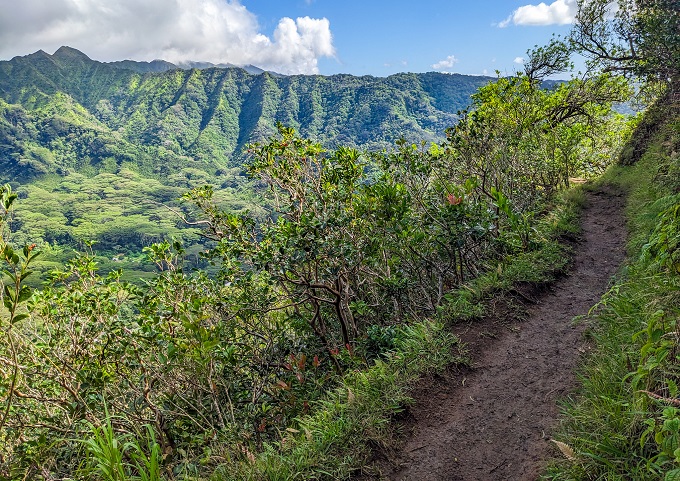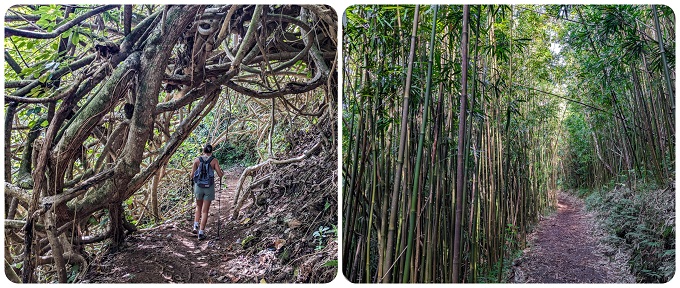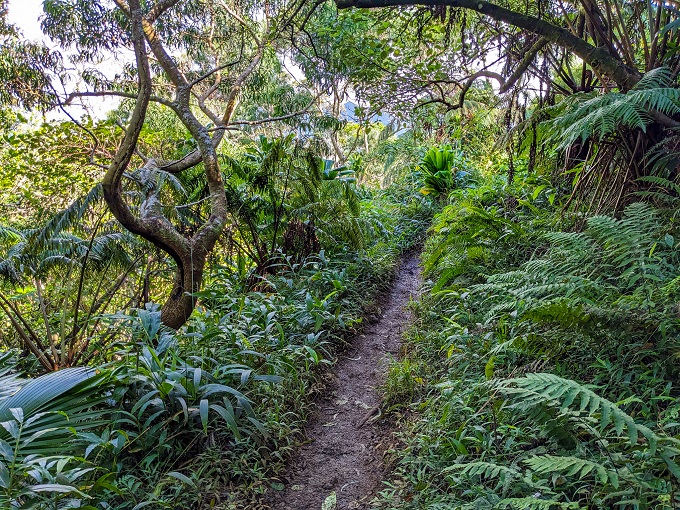 Ka'ena Point Trail (from North via Farrington Hwy)
5.5 to 6 miles (8.8-9.6km) long (out and back), no elevation change
Aside from the strenuous Kuliouou Ridge trail, Ka'ena Point is probably the 2nd hardest trail for our 3-year old purely for its length and constant sun exposure. It is a 4x4 dirt track weaving its way along the ocean all the way to the Ka'ena Point which is also a State park and Natural reserve. There is no shade here, at all, so early morning or evening hours are best. Overcast days are also fine, but do not choose blue skies and mid-day sweltering sun in summer as it can get pretty brutal then and nobody will have fun. When walking here, take the little side paths that go along the ocean and on beaches as you might just spot turtles or seals along the shore. At the Point, you will have to walk through a fenced gate into the Reserve where albatross make their nests in ground burrows. We have spotted several albatross chicks here (see pic below), therefore no dogs are allowed on this hike. The end of the hike is a very scenic spot with white coral beach and several tidepools for kids to paly in. We have also seen seals here every time we have come. Take a long rest and recharge with snacks for the long walk back… This is one of my favorite hikes because of all the wildlife we always see here, however, my husband on the other hand hates the grueling heat of this hike.
Scenery: *****
Difficulty: ** (5yo) / **** (3yo)
Trail map and info: https://www.alltrails.com/trail/hawaii/oahu/kaena-point-via-farrington-highway?u=i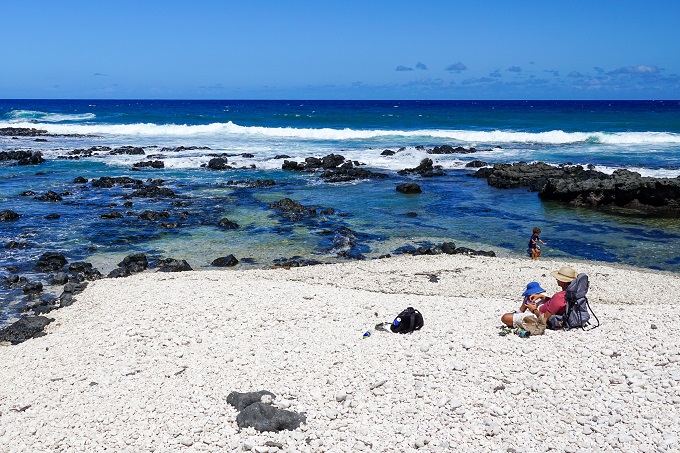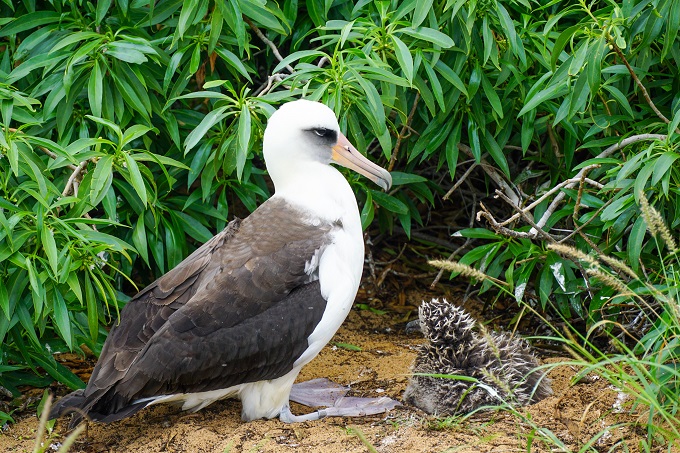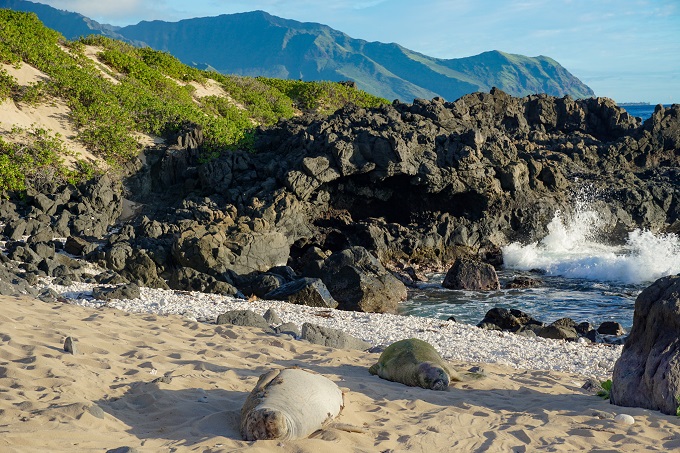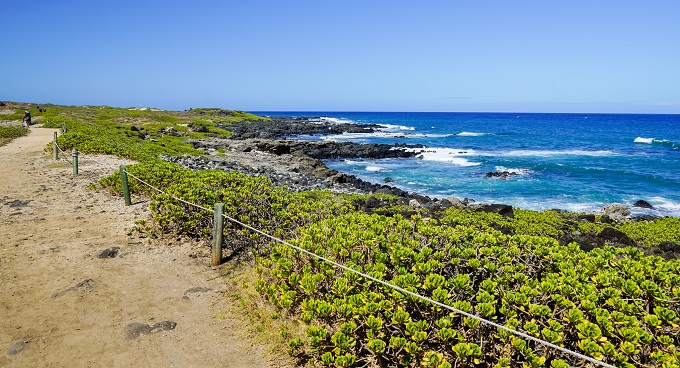 Ka'ena Point Trail (from South)
7 miles (11km) long (out and back), 400ft (120m) elevation gain
This trail takes hikers to the Ka'ena Point Natural Reserve just like the route from North, with the exception that this one starts on the opposite side of the island - the Leeward side. The paved road to the trailhead has been closed for a long time due to poor road conditions; therefore, this normally 5-mile long trail has become about 7 miles long round-trip, starting at Yokohama Bay. It is also exposed with no shade and tends to get hot - take more water than you think you will need. There are slight ups and downs throughout but we barely noticed them. This trail will feel more busy than its Northern counterpart because it is much narrower and is squeezed between the mountain range and the ocean, therefore, you will have to exchange paths with everyone who takes this route. Nonetheless, the scenery is absolutely amazing. Apart from the mountains and the ocean, the wildlife is thriving here. When we went in February, we saw whales breaching and spouting in the distance, 5 seals (3 along the rocks on the route and 2 at the Ka'ena Point), lots and lots of albatrosses and their chicks, as well as crabs, fish, mongooses and other critters. As much as we are used to hiking, we were, however, sore for a few days after this hike. But the magnificent wildlife here is so worth the effort and we will keep coming back!
Scenery: *****
Difficulty: *** (5yo) / **** (3yo)
Trail map and info: https://www.alltrails.com/trail/hawaii/oahu/kaena-point-trail-from-south?u=i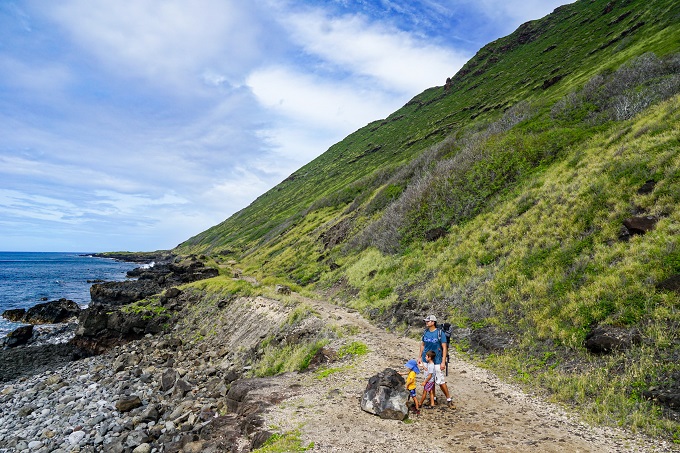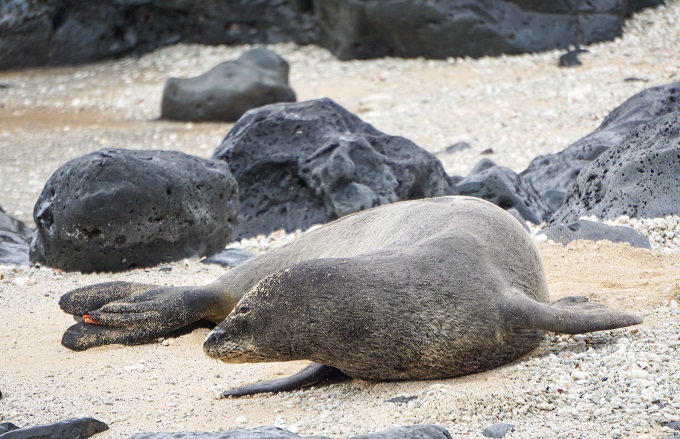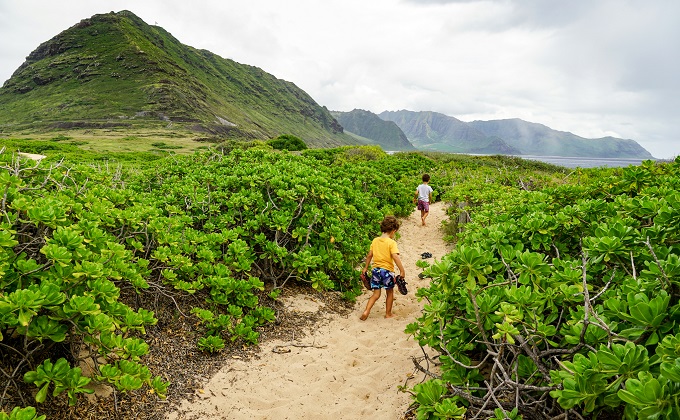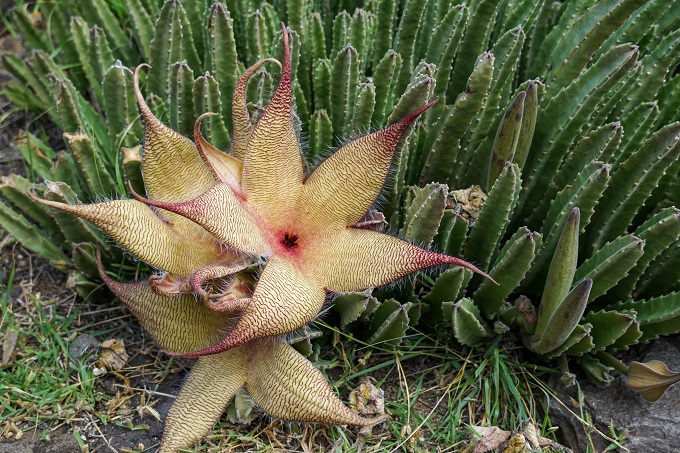 Ohana Trail
7 miles (11km) long (loop), 1025 feet (312m) elevation gain
* This trail can also be hiked as 5.5-miles long
We loved this trail! Even with all the rain in the mountains, this trail stayed very dry which is always a bonus when hiking in Hawaii. Most of the elevation gain is just steady ups and downs and did not exhaust us at any particular point. Although most of the path is through a shaded forest, it has some beautiful changing landscape and occasional views of the coastline. Ohana trail is maintained by Oahu Mountain Bike Club and used for mountain biking. So, whenever hiking here, make a note that mountain bikes have the right of way and always step aside to let them pass. Also, be careful around blind corners not to crash into an oncoming biker. When we hiked on a Sunday morning, we only exchanged paths with 2 bikers and 2 other hikers - we felt like we had this trail all to ourselves! It took us only 3.5 hours to complete all 7 miles with our 2 little boys, so this is definitely a good family hike despite its length. Be aware that the actual dirt trail is 5.5-miles long and the 1.5-mile walk back to the car will be along a road. If you want to skip walking along the road and stick just to the length of the trail (5.5-miles), then you could drive an extra car to the trail end point and park it there - waiting for you when you complete the hike. There is enough parking on both - start and end - points of this trail. We did not want to bother with 2 cars, so decided to hike the full loop, and I actually enjoyed the walk along the road as there were some beautiful houses to look at, and occasional views as well.
Scenery: ****
Difficulty: ***
Trail map and info: https://www.alltrails.com/trail/hawaii/oahu/ohana-trail?u=i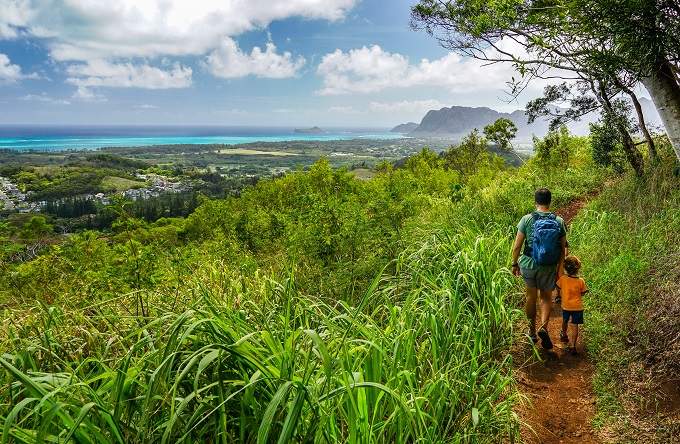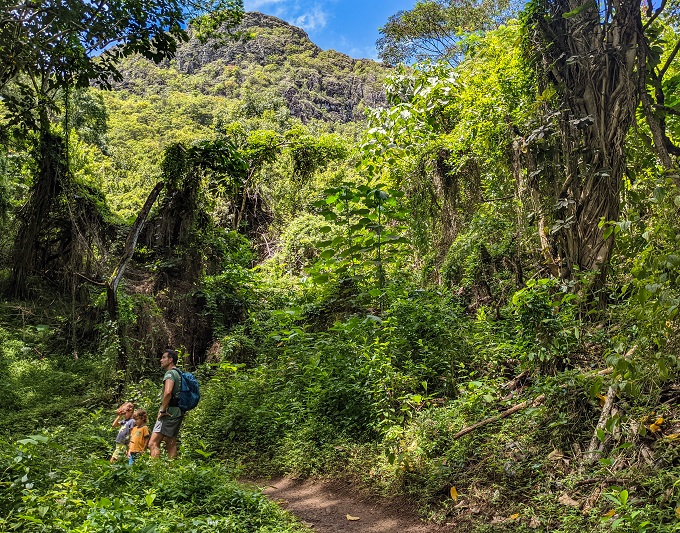 More photos of Hawaii can be seen in the following galleries:
Hawaii Volcanoes National Park
Wonders of the Big Island, Hawaii
Black Sand Beaches, Big Island Hawaii
My travel reviews of our previous Hawaii vacations can be read in these travel stories:
Rainforests, Volcanoes and Black Sand Beaches in Maui
One Day on the Island of Lanai
Our COVID Vacation to the Big Island of Hawaii
365 Days of Hawaii - Our Hawaii Diary
Hawaii (Oahu) with 2 Toddlers in Tow
Kauai - the Grand Canyon of the Pacific