Rainforests, Volcanoes and Black Sand Beaches in Maui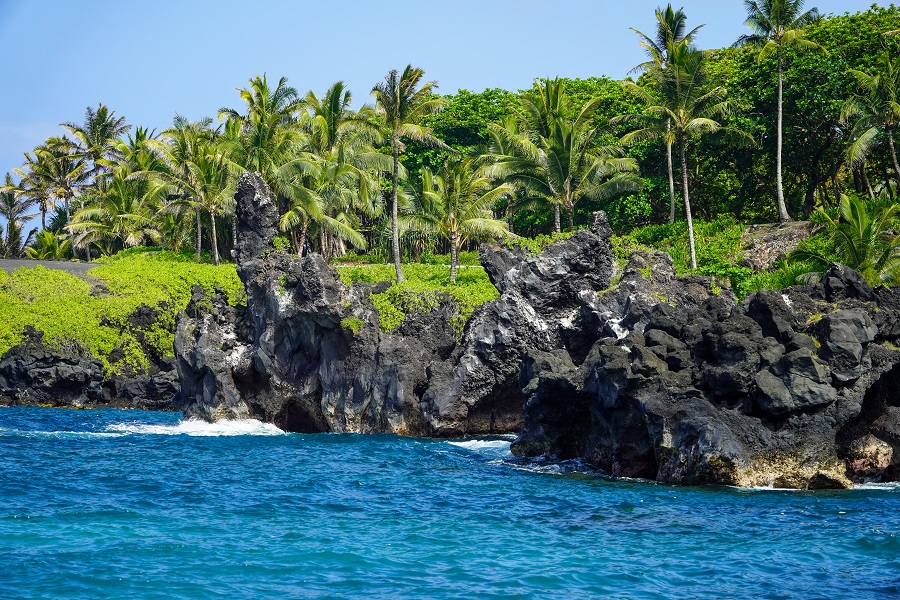 Our trip to Maui was a last-minute vacation that we booked just a few weeks earlier. I saw some Southwest Airlines flight deals for $39 Oahu – Maui flights and decided that this could be a great opportunity for a short 5-day getaway.
I didn't have to do too much research on Maui as we had been here once already. Although it was 11 years ago, I still remembered most of the sights pretty vividly.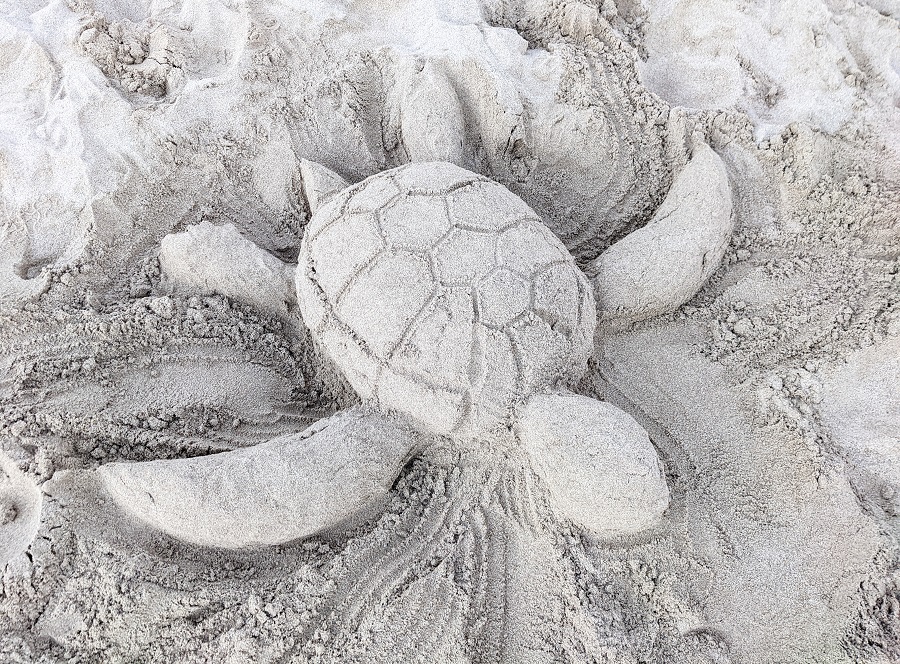 To mix things up a little bit and make this trip more interesting, I decided to include the old and tried classics like Road to Hana (which we had done before) with some sights and activities that we did not get to experience on our Maui trip back in 2011.
DAY 1
With our morning flight from Oahu being just short 45 minutes, we did not have to deal with jet lag or fatigue, so as soon as we got off the plane we were ready to jump straight into the adventure. With our plane arriving at 9am, we had a full first day to explore whatever we felt like.
The goal for this day was to drive and see Haleakalā National Park. It was a place we did not get to see on our last trip, so I was particularly excited about it. Haleakalā is actually a dormant 10,023ft (3055m) volcano and you can drive to the very top of it! How amazing is that?!
A little side note:
A new discovery I had made through some other travel bloggers was a GyPSy guide app. It is basically your own travel guide which tracks your location via GPS (even with no cell signal) and gives you pointers about interesting sights along the way as well as tells a lot of facts and stories about a place you are visiting. We definitely learned A LOT about Hawaii, Maui, volcanoes and what else not thanks to GyPSy's endless commentary. It also makes long drives much more fun and entertaining.
As we started heading towards Haleakalā, GyPSy suggested we stop in the local town of Pukalani for some supplies. That was a great advice as we had no food with us. Their local supermarket was fully stocked, and we got some pizza slices, sandwiched and drinks for the road. There was even a Starbucks which I always find useful!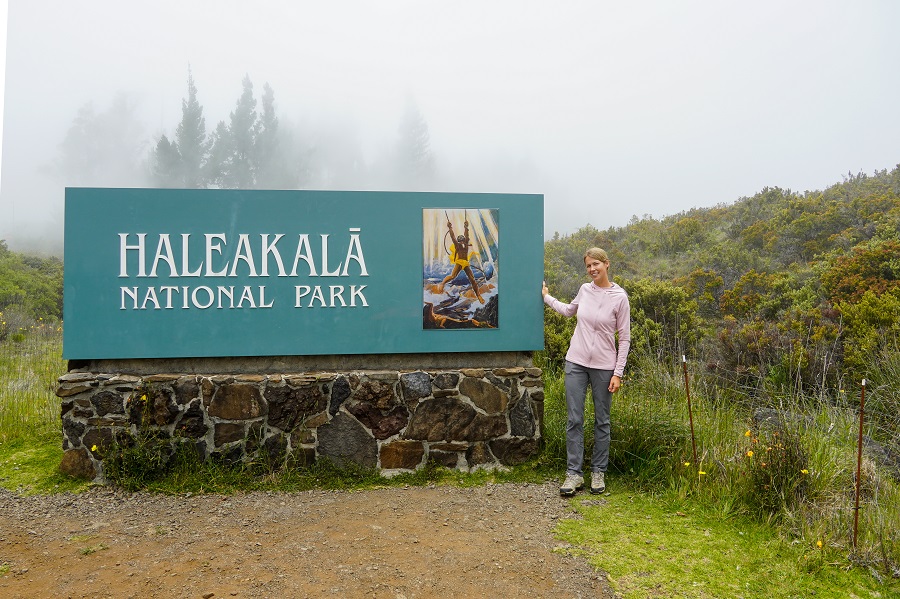 As we continued our way towards Haleakalā, it did not appear to be too promising – the top of the volcano could not be seen at all, and almost the whole mountain was engulfed in thick, dark clouds. It would be such a shame to make this long 2-hour drive up and then see nothing because of the weather. However, we were encouraged by GyPSy to keep going as apparently Haleakalā has several microclimates and most times what you see at the bottom is not what awaits you at the top… Hopeful, we pressed on!
It started to get noticeably colder, so we decided to pull over and put on some thicker jackets. Summer temperatures at the volcano summit range between 36-54F (3-12C) degrees. As I stepped aside for some photos just a few feet away, I glanced back and our white car had almost disappeared in the fog...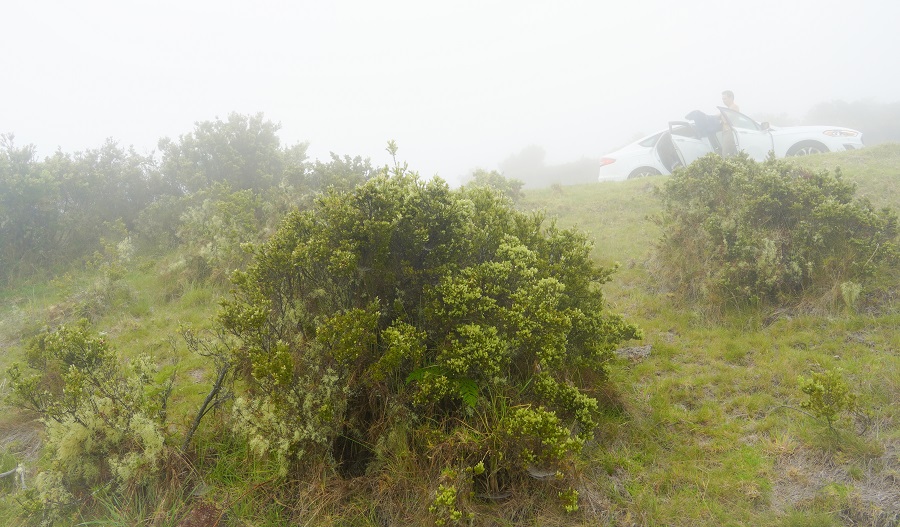 Although we could not see much on the lower sections of the mountain, the scenery was very beautiful, nonetheless. It was extremely foggy which made everything look very mystical.
As we continued our way up and up, we suddenly broke through the clouds and came above them. It was such a surreal sight! There was a road, and some cars, and blue skies… but the clouds were BELOW us, not above! As my 6-year-old looked at the scenery in amazement, he said: ''I want to go walk on the clouds!'' And I couldn't agree more – they looked so inviting and fluffy!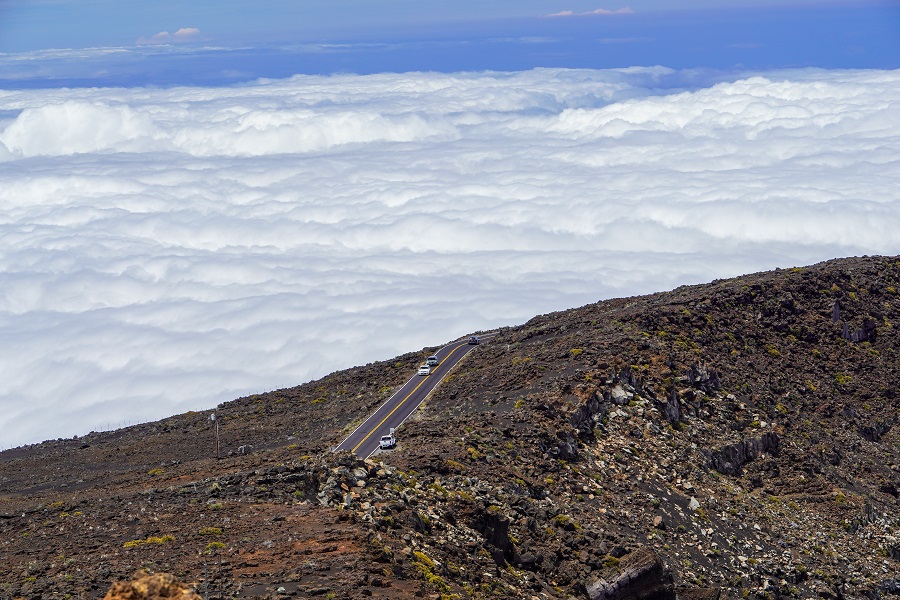 At almost 10,000ft (3050m) elevation, we finally reached the Haleakalā visitor center. There were some amazing views right by the parking lot with several lookout platforms offering views of the volcanic crater.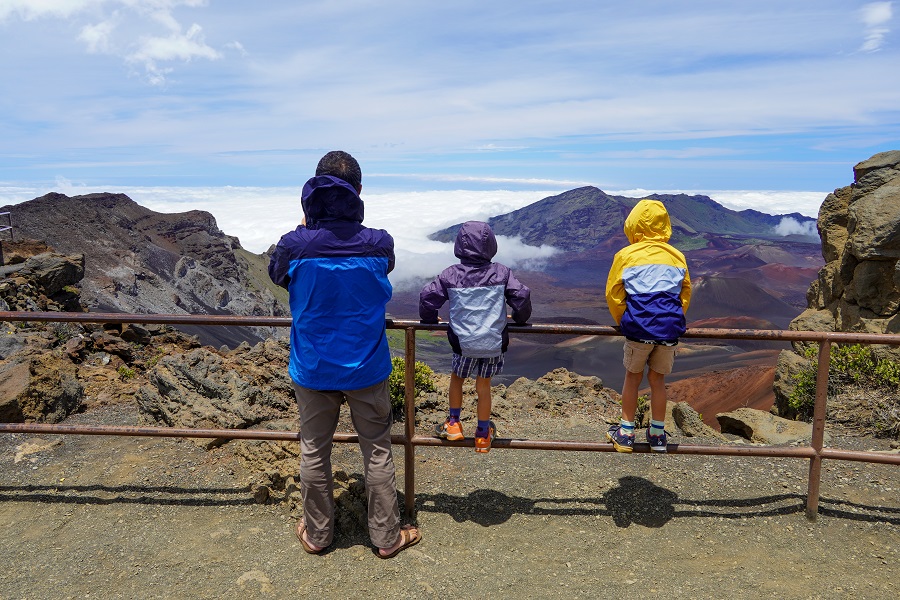 However, being young and active, we decided to head out on a few hikes. We started out with the shorter White Hill Trail which leads to another amazing overlook of the crater.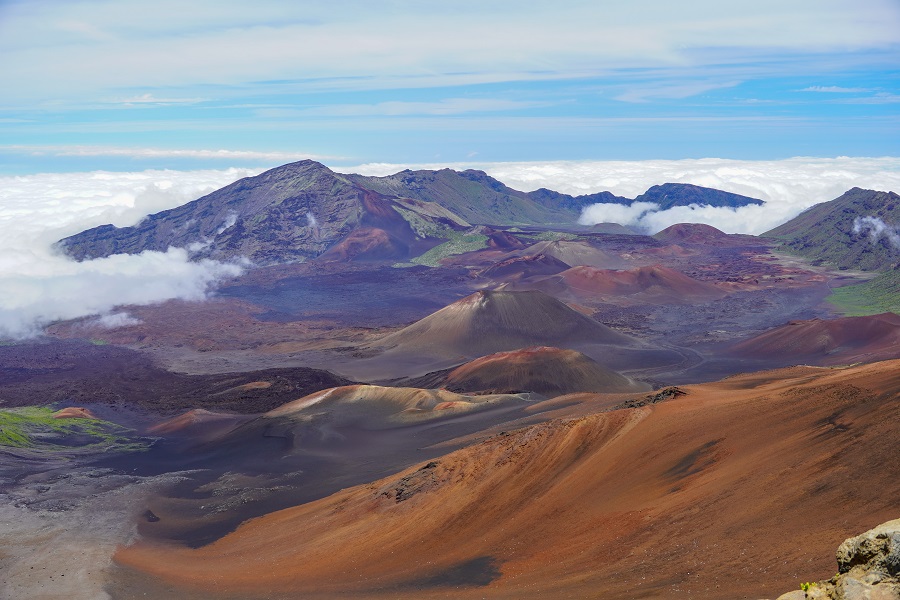 It also weaves past several rare Haleakala silverswords, which is a plant that grows only on the slopes of this volcano and takes 30 years to mature. It then produces a towering bloom up to 6ft (2m) high and dies shortly afterwards. Such is the life cycle of a silversword. Unfortunately, there were no silverswords blooming during our visit, but even the younger plants were still very unique to look at.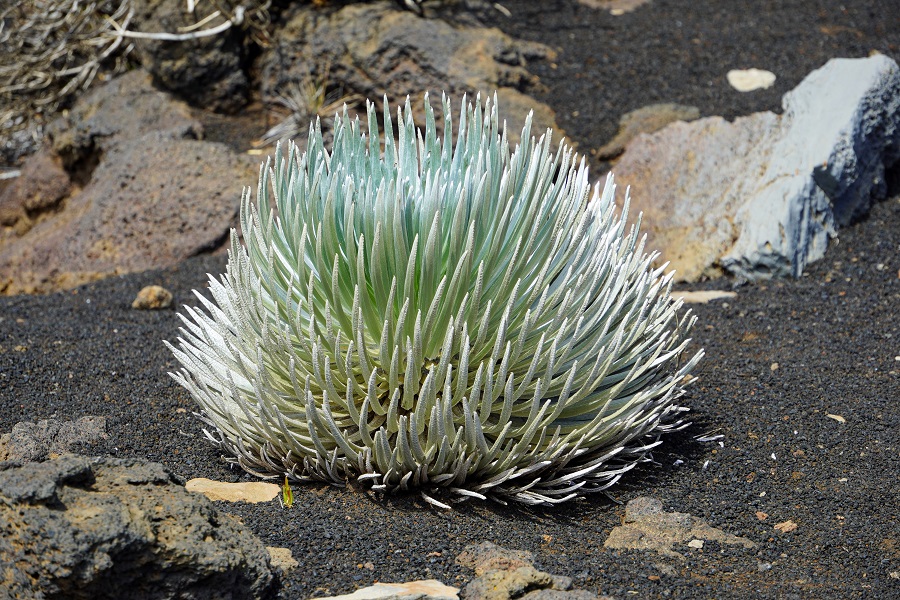 As there was still plenty of daylight, we (read: me) decided to hike part of the Crater Trail. Going the whole 10-mile (16km) length of the trail at this altitude would be an impossible mission for us, so we opted to explore as far and deep as we felt comfortable and then turn around. In all honesty, if it were up to my husband and kids, I don't think they would have hiked here at all but being ushered forward by me they had little choice. And although some level of altitude sickness (some lightheadedness and headaches) could be felt by all, we pushed forward.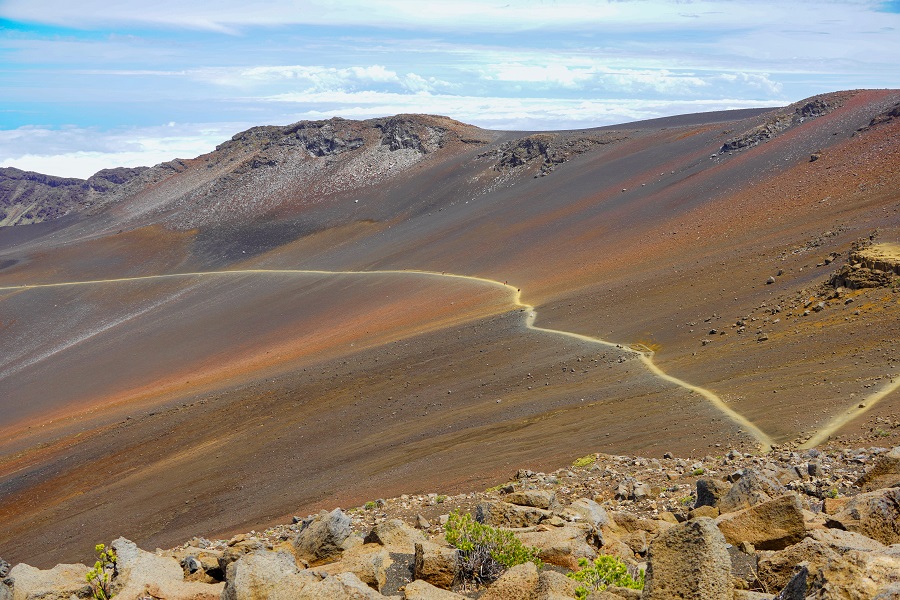 The landscape here was probably one of the most un-earthly places I have ever seen. There was no vegetation inside the crater, making the landscape look surreal and Mars-like with its red tones all around. There were several cinder cones – the remnants of past explosions, and barely any other hikers. A thick blanket of clouds was trying to break their way into the crater, yet some unseen force kept pushing them back…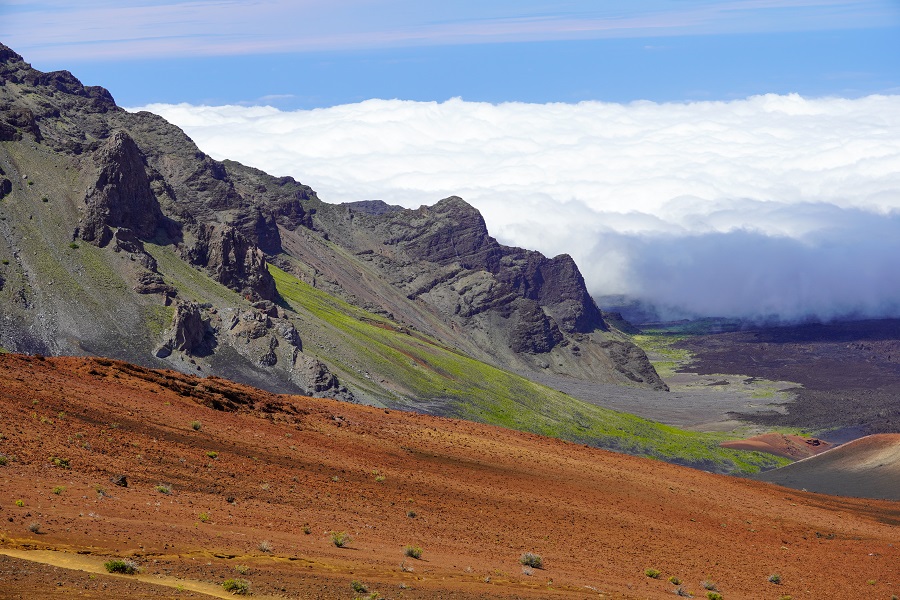 2.5 miles (4km) here was as far as we could get ourselves to go. The elevation started making its presence known, and my 6-year-old, although brave and full of determination, said his head started to hurt more and more…
It was evening anyway, so before it got too dark, it was time to get off the mountain and head to our condo in Kihei. This had been a long day.
DAY 2
Around 2AM, the 6-year-old walked into our bedroom crying that his ear hurt. This wasn't our first ear-infection rodeo with him, so it was clear to me that we won't get through this without a doctor and antibiotics. This also explained why he had such bad headache at Haleakalā the day before when everyone else was feeling quite alright. All these events gave me flashbacks of our Dominican Republic vacation when both our kids got very sick during the whole trip, and it was a complete nightmare! I was praying this wasn't the case again.
I was up until 3AM trying to find an available doctor to see my boy first thing in the morning. Clearly, our expected 7AM start time for Road to Hana drive wasn't going to happen…
I was lucky to get an open time slot for a near-by clinic at 8:30AM, and while waiting for our turn to be seen, my boy suddenly felt all better when there was an opportunity to chase around some local chickens...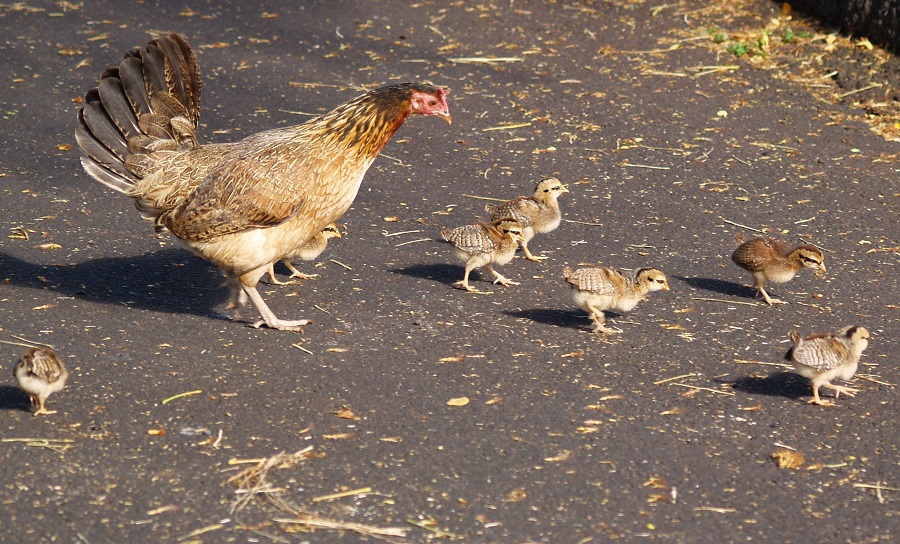 After about an hour, we walked out of the clinic with a diagnosis I already knew, and a prescription for antibiotics and ear drops. Another 30 minutes at the pharmacy, and around 10AM we were finally ready for Road to Hana. A start time that late made me reconsider our planned stops as, clearly, we were much too short on time at this point. Yet, we were determined to make the best of it. We trusted in our good old friend GyPSy to guide us and tell us where to go and point out the must-sees, and he sure did not let us down!
Our first stop was Ho'okipa Beach Park. Of course, the view of the ocean and surfers down below was beautiful, yet I was absolutely overjoyed about something else… From up top I noticed that dozens of Hawaiian green sea turtles had come ashore to bask on the beach. I jumped right back in the car and had my husband drive us down by the beach so I could go look at the turtles. There were so many! The most I have ever seen. I counted about 26 but most likely that was not an accurate number as many of them blended in and looked just like the black beach rocks. I heard some people talk that occasionally there can be as many as 100 turtles here! 100!!!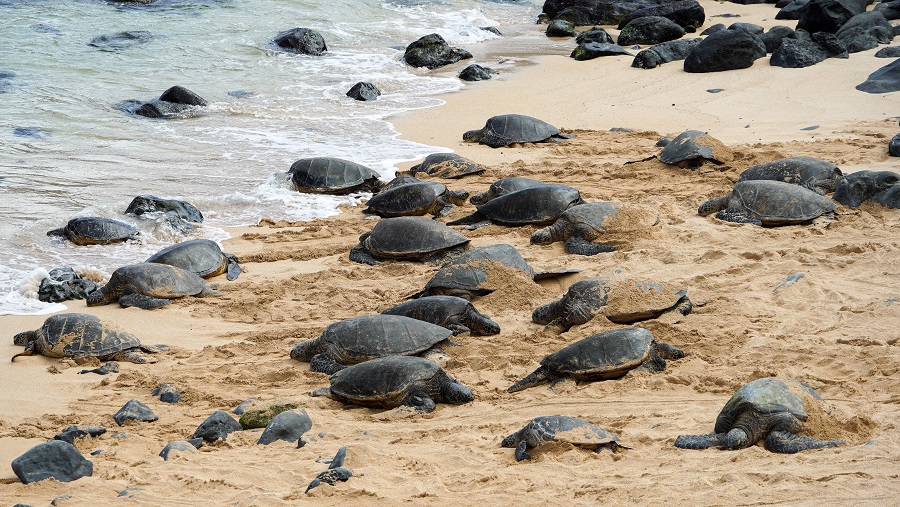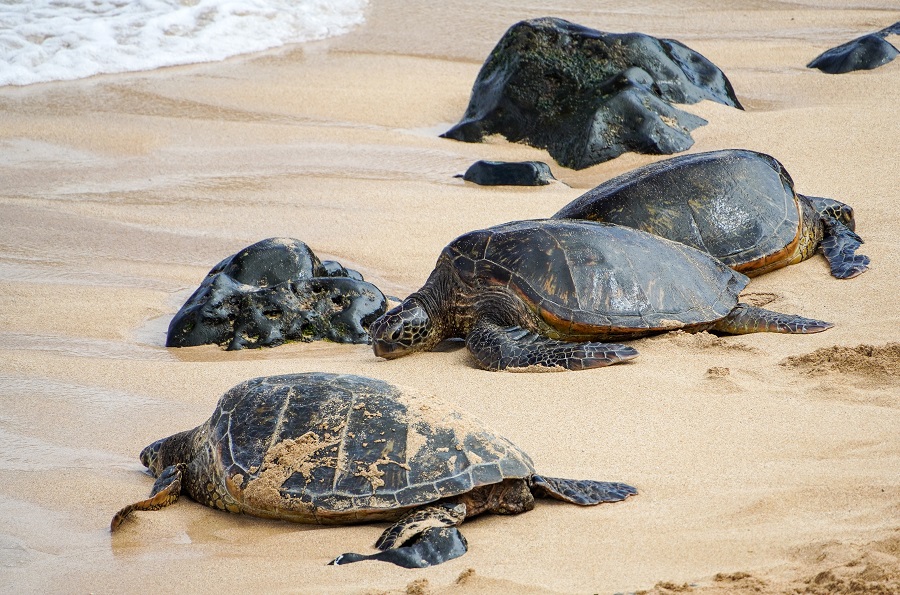 I took a LOT of pictures and probably could have stayed there all day yet being short on time we had to push forward.
Our second stop was Twin Falls. As we all were eager to get out of the car and stretch our legs, we decided to explore all three waterfalls on the property. The closest waterfall to the entrance is where the name Twin Falls comes from.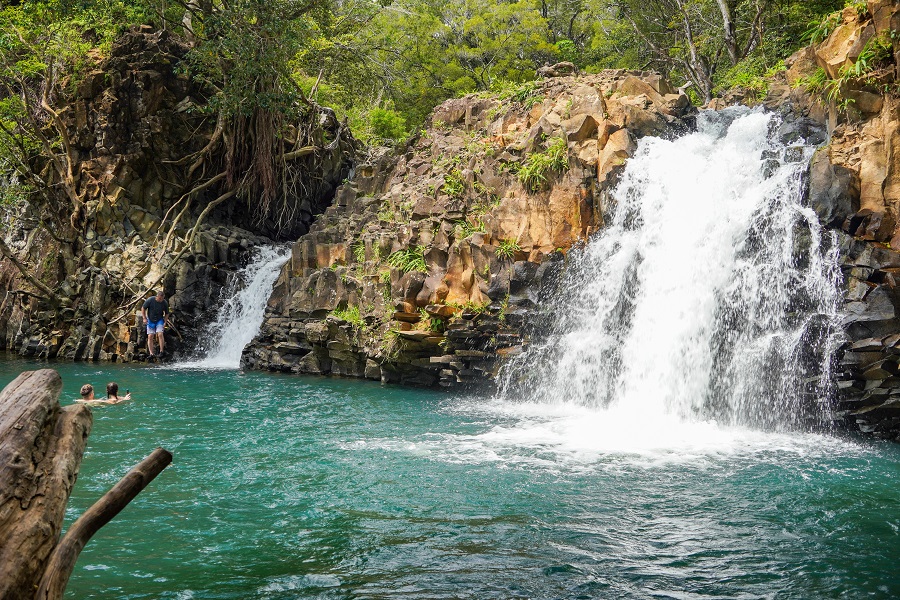 Here you can also go swimming in the pool below the falls – a fact we did not know but would have liked to do. But with no bathing suits, we didn't have much of a choice. The grounds here are beautifully kept and tropical.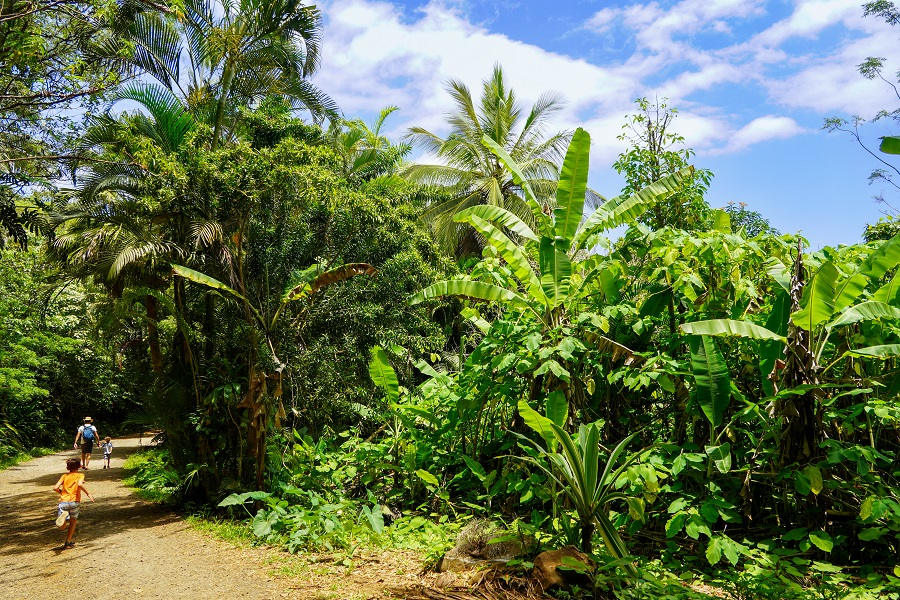 The walk to the upper fall is around a mile (1.5km) each way and brings you to a pretty 40-foot (12m) waterfall cascading down the edge of a cave-like cliff. We saw many brave souls cliff-jumping here yet it is not an activity I ever engage in.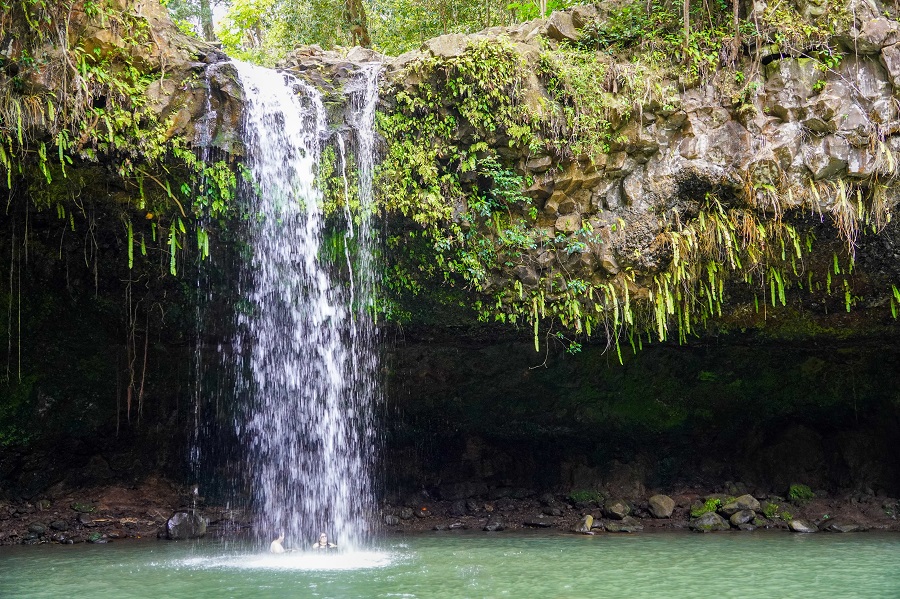 After the hike we stopped by the market stand and got some fresh cut pineapples, coconuts, banana bread and dried fruit to go.
A big stretch of the upcoming drive was… how do they say it? Ah, yes – it was more about the journey than the destination. And it was truly the case with us. Although I had planned several other stops and pullouts, most of them we skipped because of the late start in the morning. We handed our boys some coloring books and crayons to keep them occupied, while my husband and I enjoyed the drive with its many amazing scenic viewpoints, landmarks, waterfalls and endless winding curves.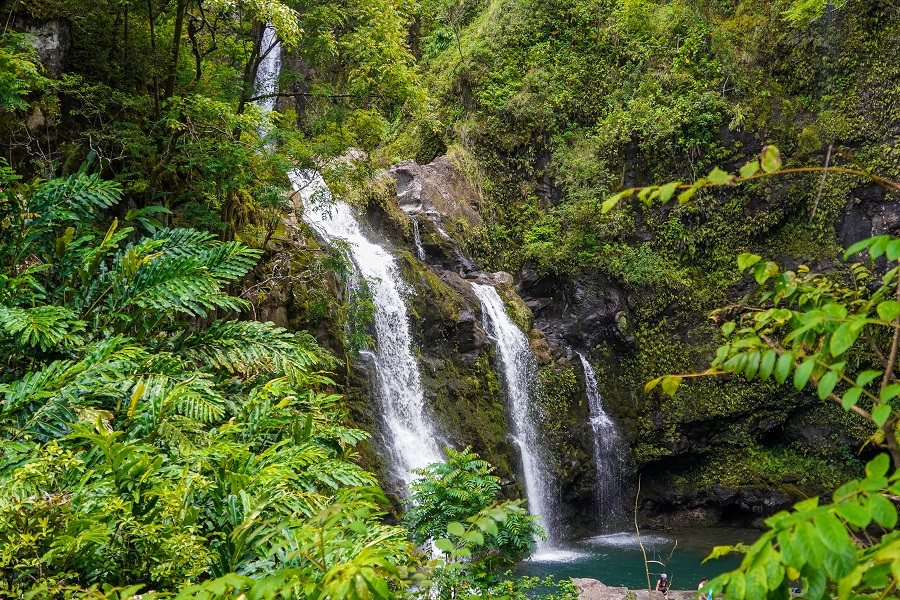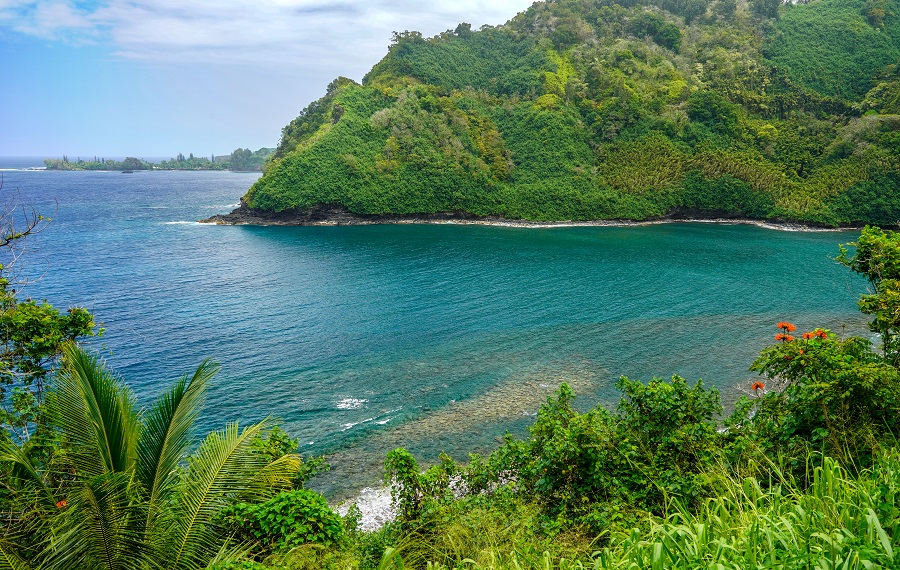 Our next major stop on Road to Hana was Wai'anapanapa State Park. Being members of the exclusive Hawaii resident ID card (or as my non-resident friends joke – ''Mahalo Discount Card''), we had the privilege of not needing to make reservations to enter this park. So, we just basically showed up and got waved right through which definitely felt very special (especially because the tourist car in front of us did not have a reservation and they got turned around).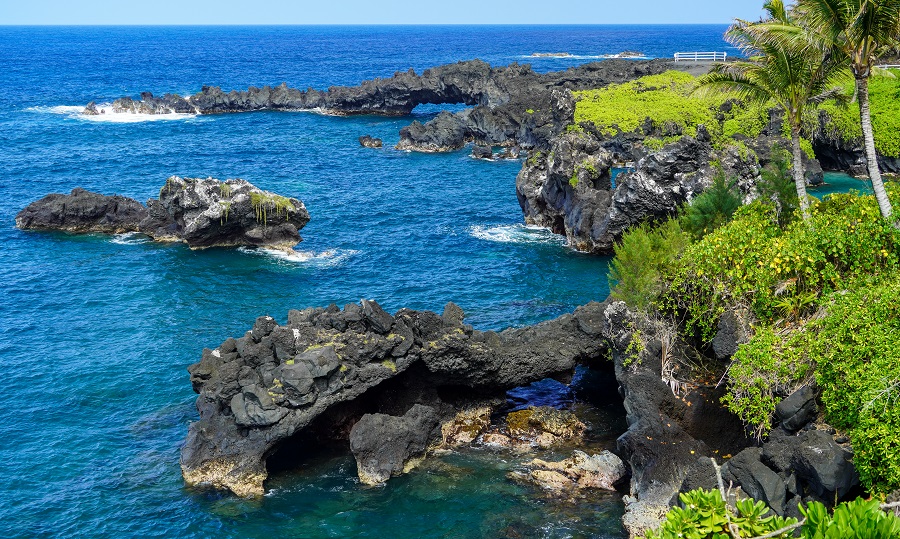 I had been to Wai'anapanapa before (11 years ago) and recalled it as something truly stunning. This time was no different. We were all amazed at the scenery here – the blue water, black sand beach and palm-lined coastline… Of course, my boys just wanted to run down to the beach and my husband was looking for an opportunity to lay down and stretch his back after many hours of driving, so I sent my men-crew down to the beach and set out to explore the park by myself.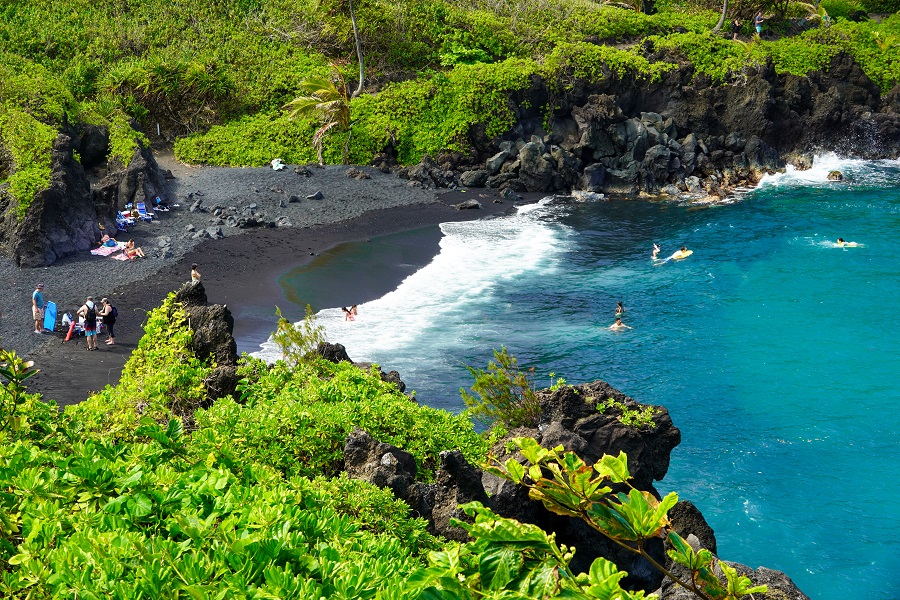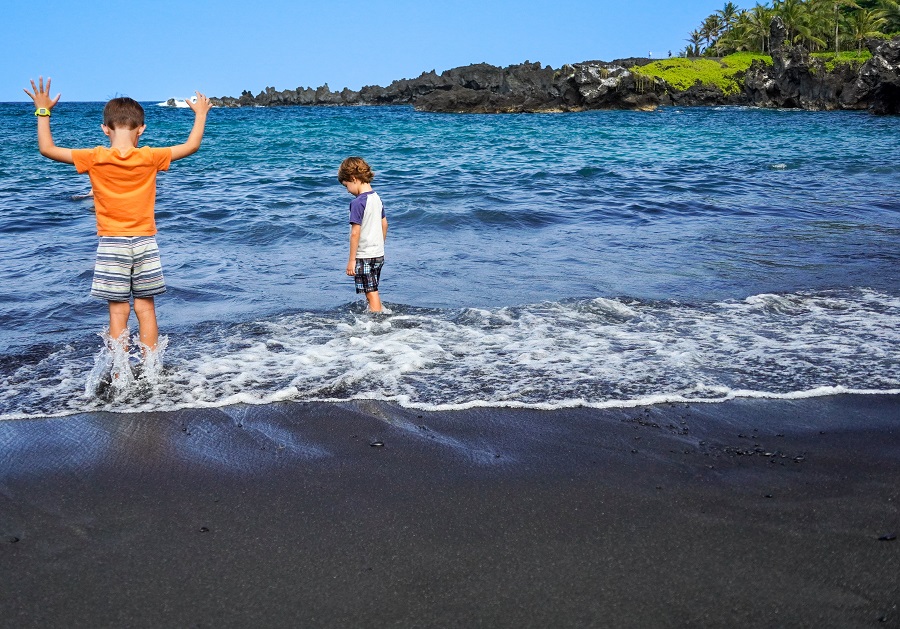 I started out by hiking the trail behind the beach which took me to lava jagged coastline with many hala trees dotting the path.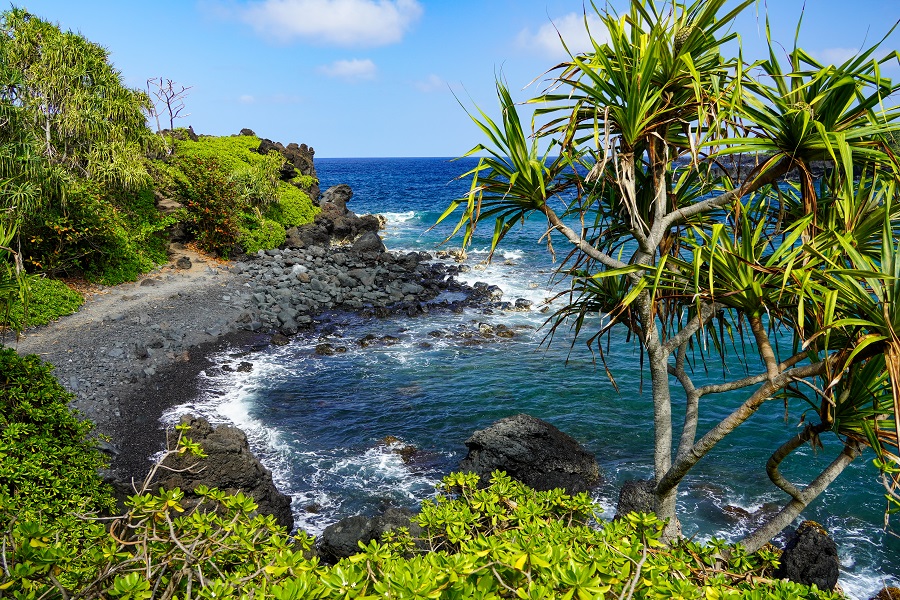 I decided to explore behind the next bend and got rewarded with an amazing hidden black rock beach with nobody there. I just sat down here and took in all the beauty. It was so peaceful and quiet.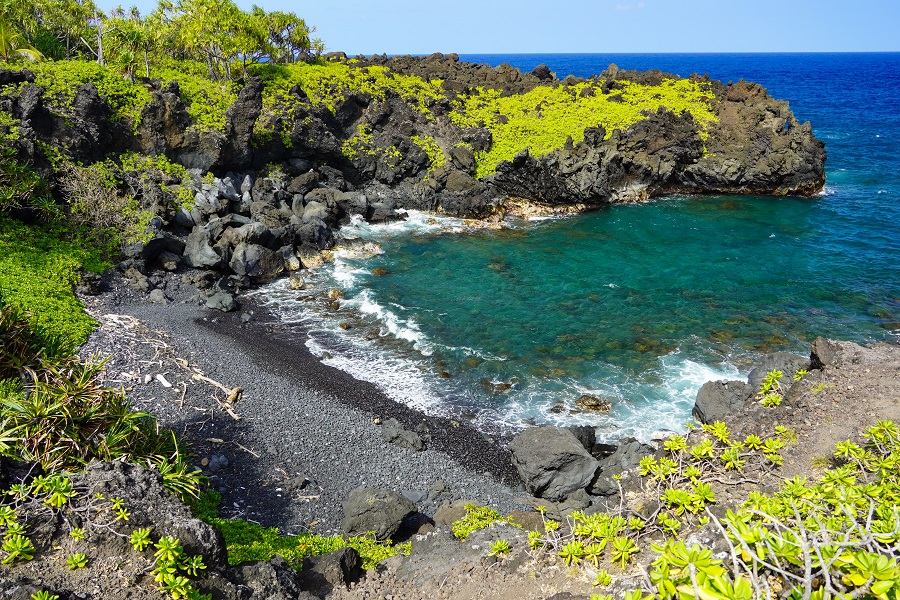 After my little outing, I gathered up the boys and we went to look at the blowhole and the arch. The landscape here was so beautiful it was almost impossible to leave… But no matter how we would have liked to stop the time, the clock kept ticking… At this point it was almost past 4PM, and we still wanted to make it to the Kīpahulu District of the Haleakalā National Park.
As it usually happens, the more the evening approached the crankier the kids started to get. They were tired from the car; the ear infection still made our 6-year-old's head hurt, and even the car snacks weren't cutting it anymore. So, I had one last ace up my sleeve – an IPad. And by this point, the boys had deserved it and we appreciated the silence in the car as we made our way to our last stop.
Although Pīpīwai Trail was originally on my list, it being so late already we decided to not hike it. Besides, my husband and I hiked this trail back in 2011 when going to the base of the waterfall and standing under it was still allowed. With that part now being closed to access, the trail did not seem as inviting anymore anyway… So, here is my throwback photo from 2011: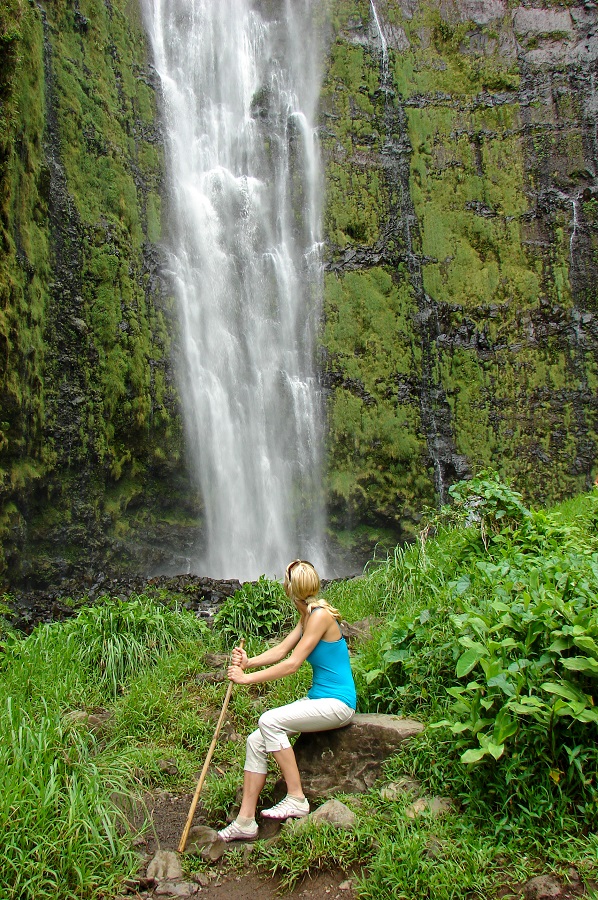 We did, however, stretched our legs on the 'Ohe'o Gulch loop and watched the sun starting to set behind the mountains.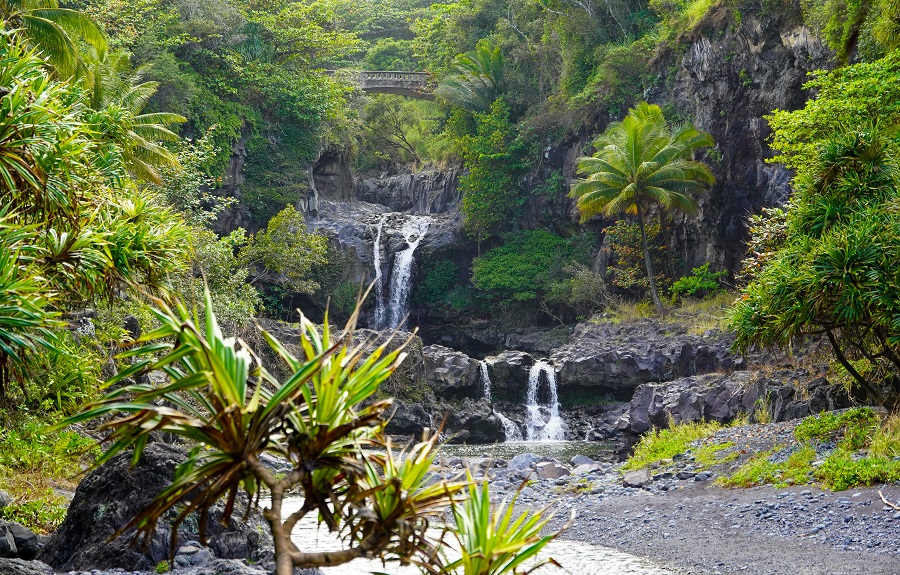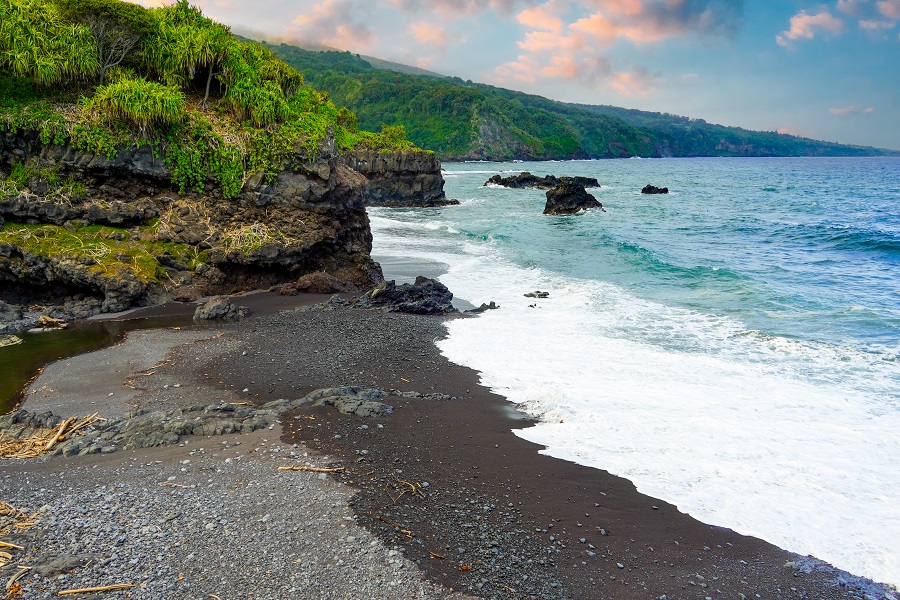 ''All'' we had left now was the long, windy, 620-curve road back to our condo in Kihei. With no additional stops, the driving was moving along quite well and once it got too dark to see anything outside, GyPSy entertained us with many stories about Hawaii history and culture.
DAY 3
Although we arrived home rather late the night before, our alarm woke us up at 4AM. For this morning we had booked a 7AM Honolua Bay Snorkel Tour with Pacific Whale Eco Adventures.
One of the reasons why I picked exactly this company out of many, many others was that Pacwhale is a 501(c) non-profit organization, and all financial gains from their tours are re-invested to directly support Pacific Whale Foundation's research, education and conservation programs to save whales, dolphins and our oceans. Also, they have a very impressive 40% kama'aina discount (which you have to request by booking over the phone) with kids under 6 riding on tours for free!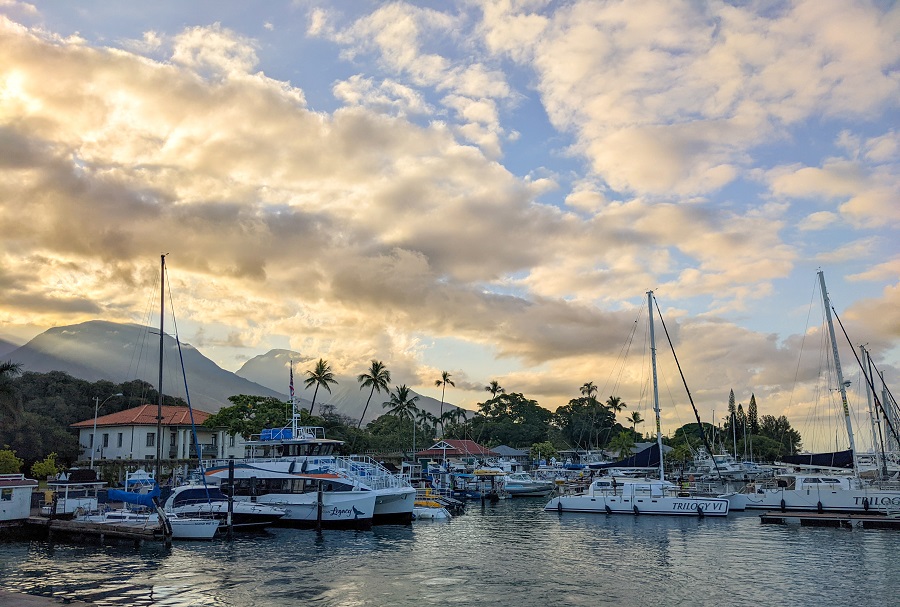 It was still dark when we left our condo and made the long 45-minute drive to Lahaina harbor. Good thing that so early in the morning there was no traffic at all. The harbor, however, was already full of tourists from various companies impatiently waiting for their departures even though it was so early the sun was just now starting to peak above the mountains.
As we set sail, we were greeted by a large pod of playful spinner dolphins who did exactly that – span and jumped. They were just an arm's reach away from our sailboat and it was a very memorable experience, especially for my boys.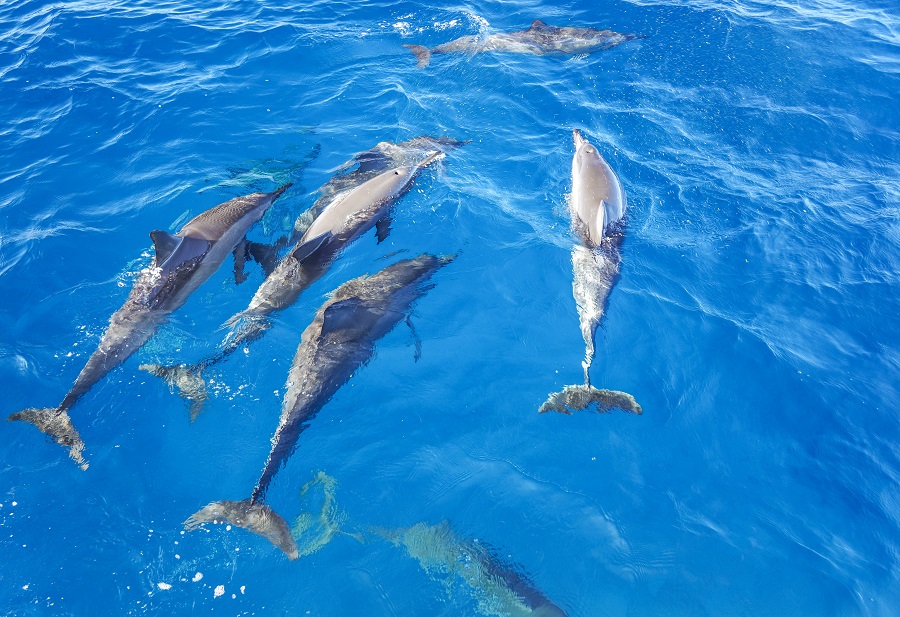 Our first snorkeling spot was Honolua Bay. The reef here was very pretty and colorful with quite an assortment of fish. We even got to see an eel. It also seemed like Honolua was a favorite spot for sea turtles as I saw several of them here – from small to big. And I also found a spot where several of them had wedged into the nooks and crannies of the rock – resting and letting fish clean up their shells. I was very impressed, indeed.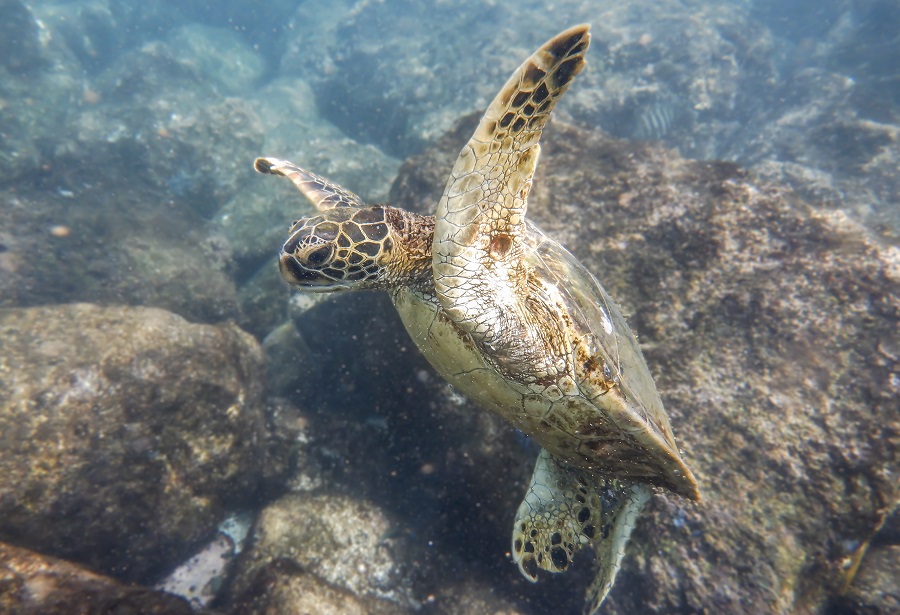 After about an hour the boat set sail for our 2nd snorkeling spot – Namalu Bay. We did not see too many fish here, however, the reefs here were very peculiar – the kind I had never seen before, with wide fields of grasses swinging with the ocean waves. Even my husband mentioned to me later that he had never seen such a sight before. Although not many fish, it was still very memorable.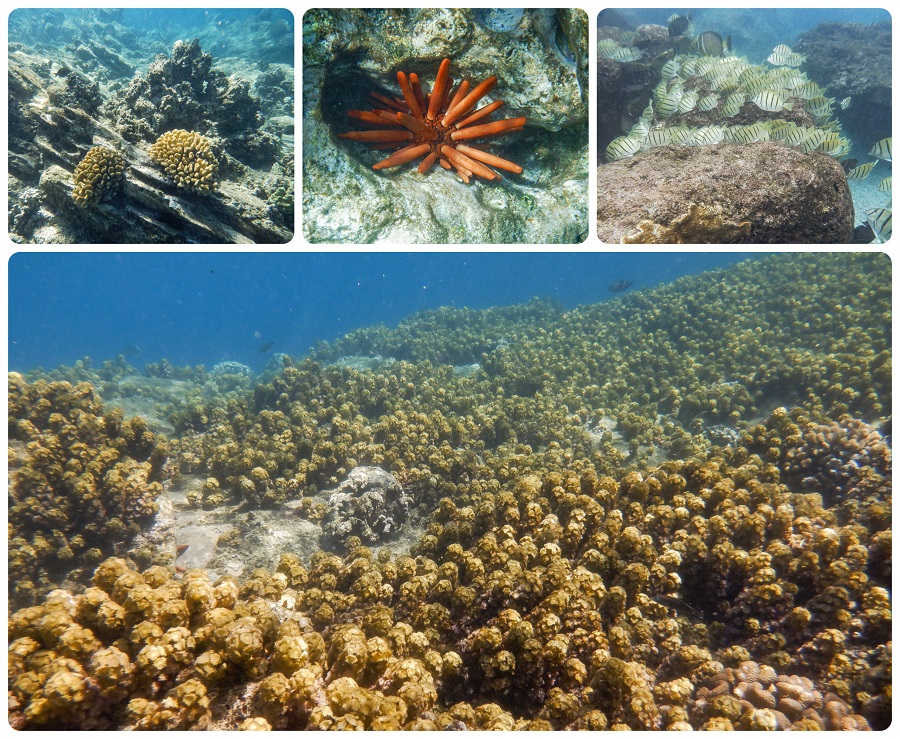 My boys, meanwhile, entertained themselves by going down the waterslide, riding a boogie board, and stuffing their faces with freshly prepared BBQ lunch (right there on the boat) which was all included in the tour price.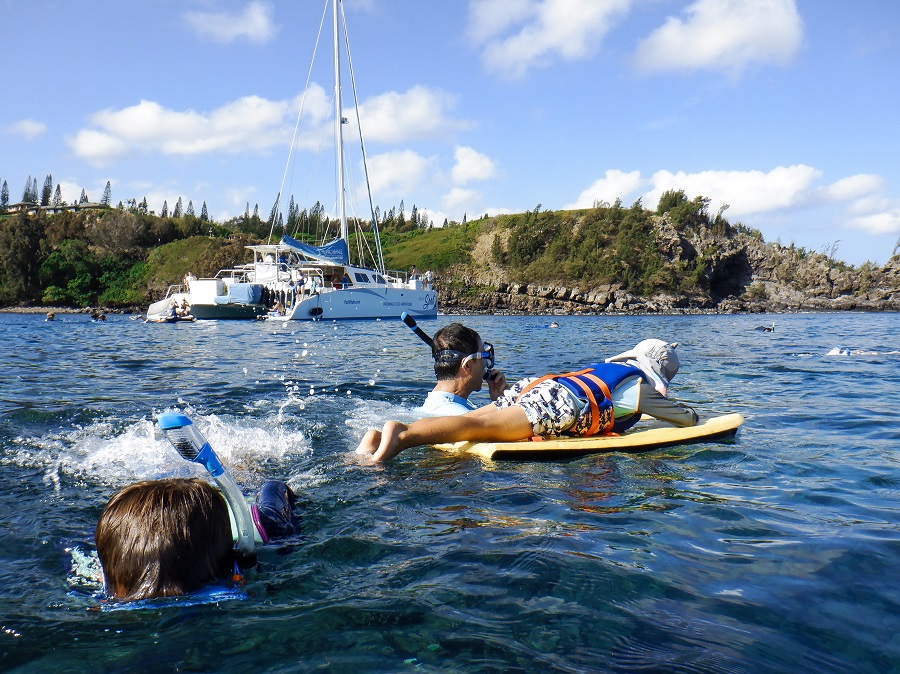 After exactly 5 hours (at 12PM) happy and with full bellies we sailed back to Lahaina harbor.
It had been an eventful day already, and it was just halfway through… As this was our first true day in Lahaina, we decided to explore the town itself. Overall, it is quite quaint and compact, so not too much time is needed to see all the main sights. We walked the Front Street, checked out the big banyan tree, and explored a few local shops and galleries.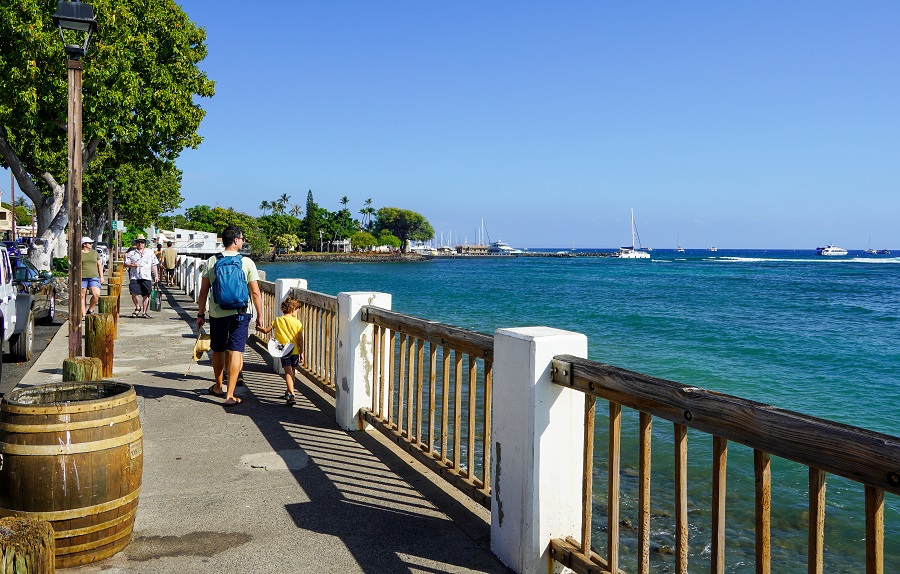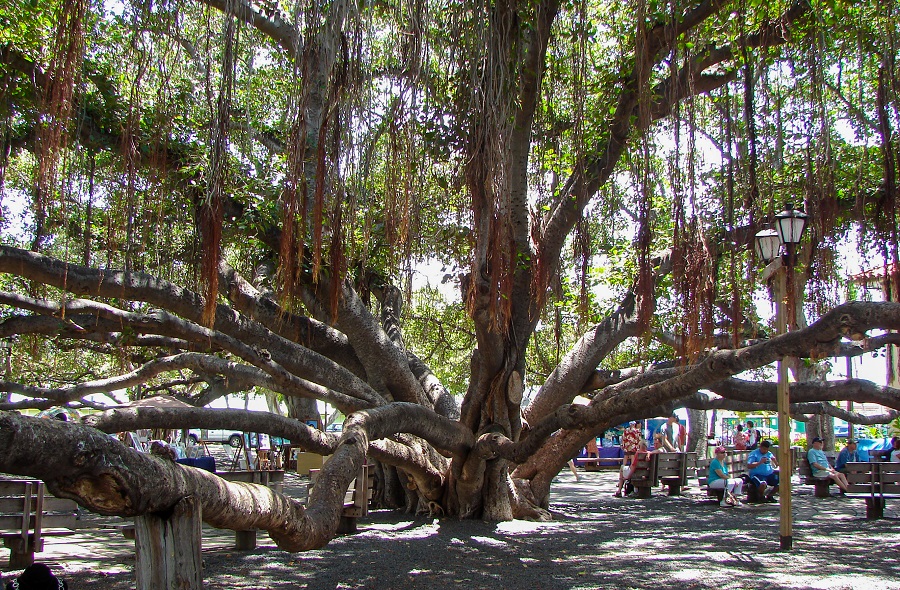 With still plenty of daylight left, we headed up the coast towards North. GyPSy was kind enough to guide us through our drive again, suggesting various detours and secret lookout points along the route.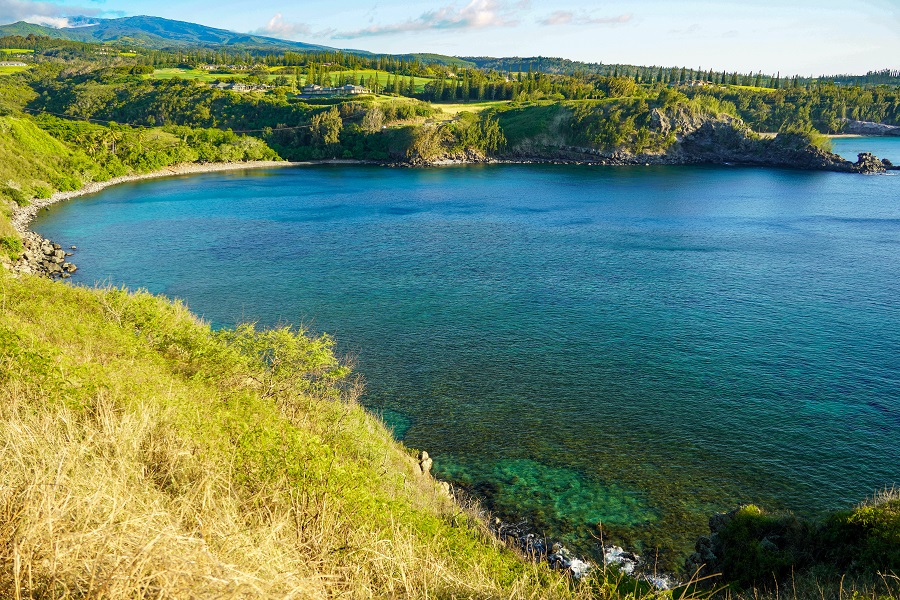 Eventually, we ventured as far out as Nakalele Blowhole. It was extremely windy here, so we had no ambition to make the hike down to the blowhole. Luckily, we could see it just fine from the top of the overlook.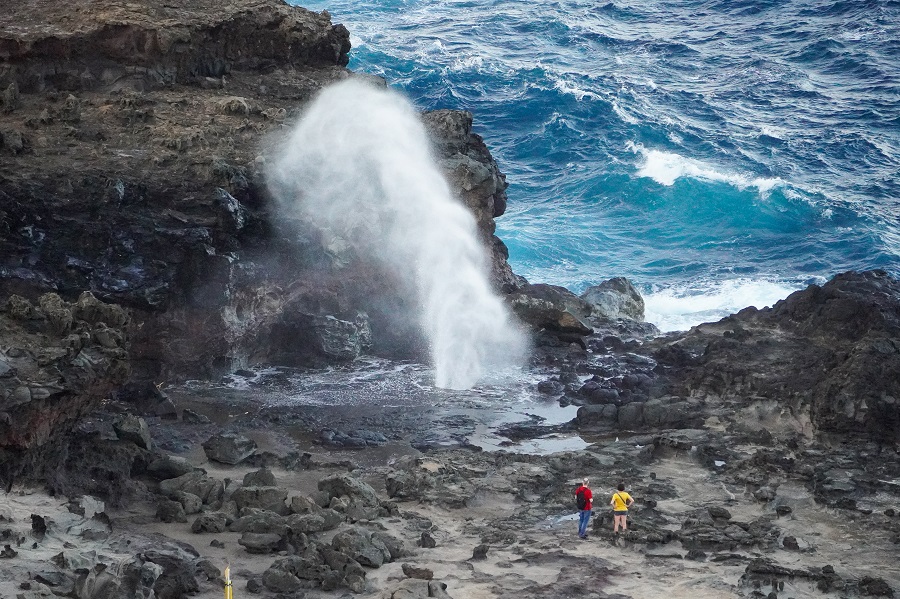 This spot also opened vast views over Maui's northern coastline…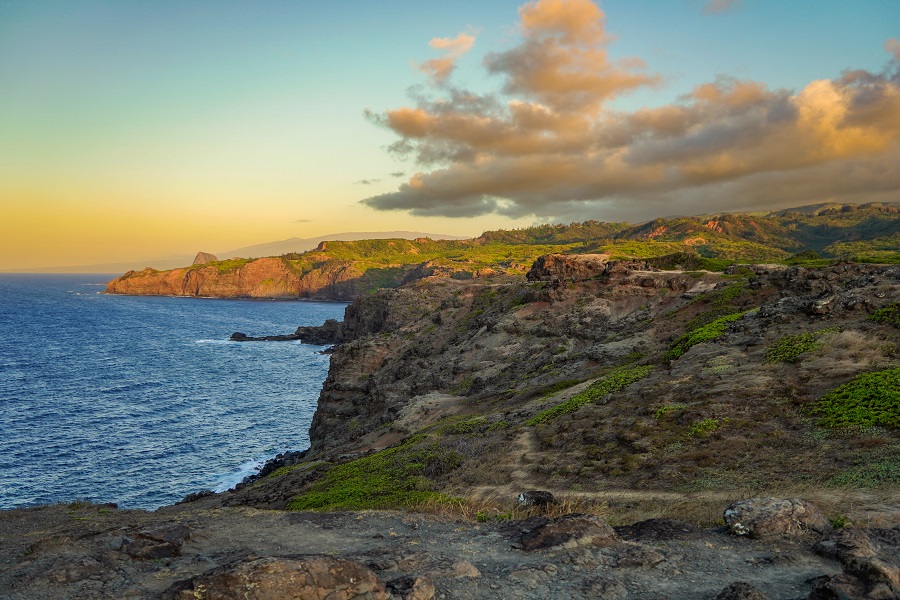 At this point, GyPSy announced that he would not suggest we continue forward, rather we should turn around and go back the way we came from. This was due to the upcoming section of road which rental car companies actually forbid renters to drive on – the road is narrow, in bad shape, and weaves high up on the cliff mostly wide enough for just 1 car. As it was starting to get dark, and our boys were showing signs of having had enough, we gladly obliged and agreed with GyPSy's suggestion.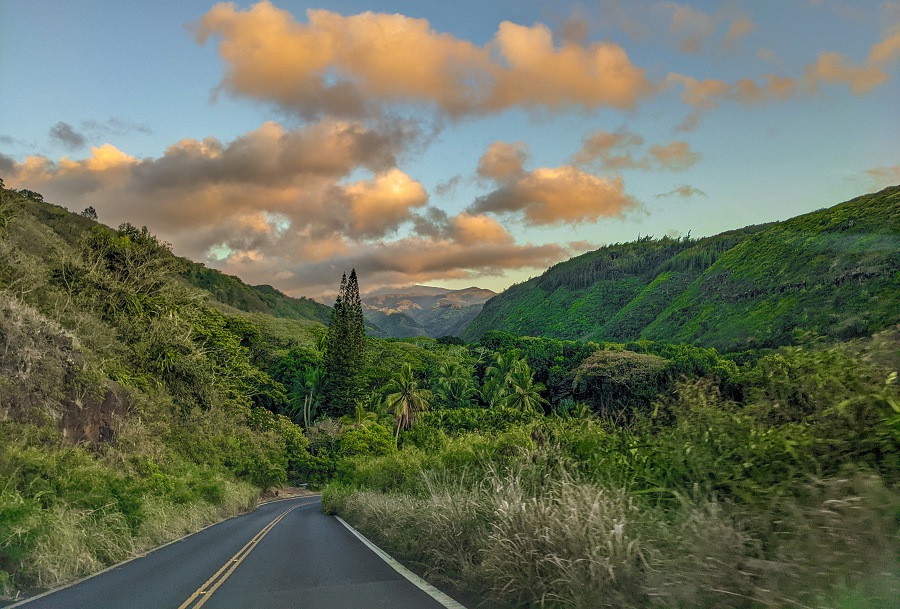 Drive back to Kihei was quite long and eventually the boys gave in and fell asleep in the car.
DAY 4
This was a very special day as we got to know and visit our Hawaii Island # 5 – Lanai! We took an early morning ferry to Lanai where we rented a car and explored all the sights – we hiked Koloiki Ridge trail, went off-roading to Garden of the Gods, met purrfect friends at Lanai Cat Sanctuary, played in turquoise waters of Hulopo'e Beach, and many other things. To read a much more detailed travel account (with all the photos) about this amazing island, click here: One Day on the Island of Lanai.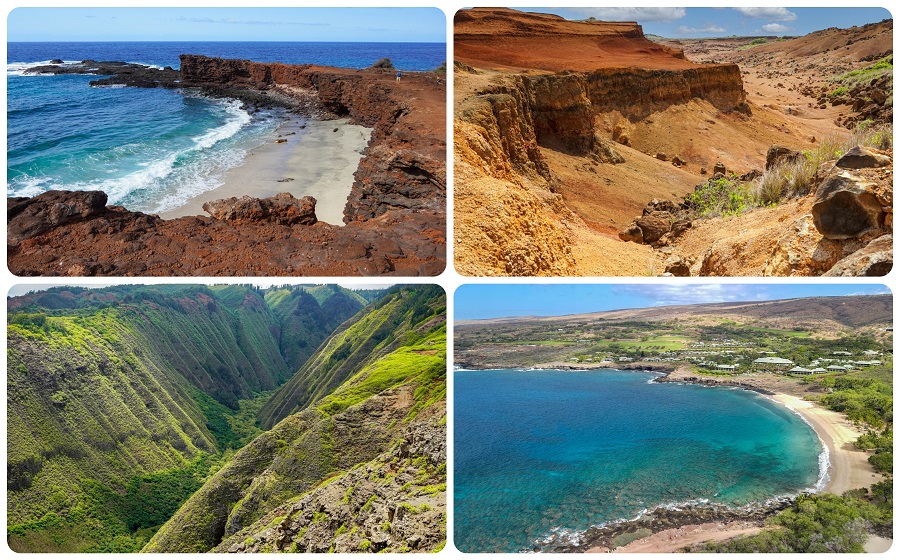 DAY 5
Although this was our last day on Maui, it wasn't going to be any less impressive than the ones before. Our alarm woke us up at 4AM yet again (I can literally imagine my husband's eyeroll as I type this) for another Pacific Whale Eco Adventures tour. This time I had selected Molokini Crater and Turtle Arches snorkel tour. I had read varying and opposing reviews about snorkeling at Molokini yet decided to try it for myself before making any judgement.
After we were provided light breakfast and morning coffee on the boat, we had arrived at our first snorkeling spot – Turtle Town. As the name suggests, one should see many turtles here. The first thing I noticed when I got in the water, however, was just how extremely strong the current here was! Even with full snorkel gear and large fins I had to work really hard to make my way forward. In my several years living in Hawaii, this was the strongest current I had felt, ever. It really made you feel small and weak in comparison. Due to the current and beat up water, the visibility was quite poor as well and we saw more turtles at Honolua Bay 2 days prior than we did here, at Turtle Town. My 6-year-old, however, was the first one to spot a big eel which he was very proud of!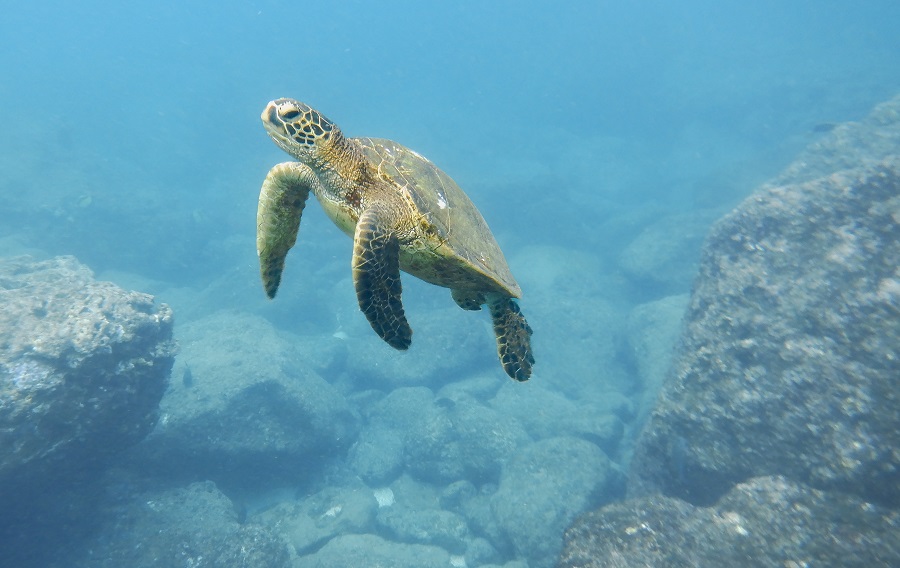 But I must say that having no turtles or having bad visibility is no fault of the tour company – nature does its own thing whenever or however she pleases. Most of the times visitors at Turtle Town see many, many turtles and have a good time. It was just not our lucky day here.
After everyone got back onboard, we started heading towards the Molokini crater. This was something I had high hopes for and was awaiting impatiently. Molokini is a crescent shaped partially submerged volcanic crater. Yes – it is an underwater volcano! The part above the water serves as a bird wildlife refuge and the underwater section is full of teaming reef life.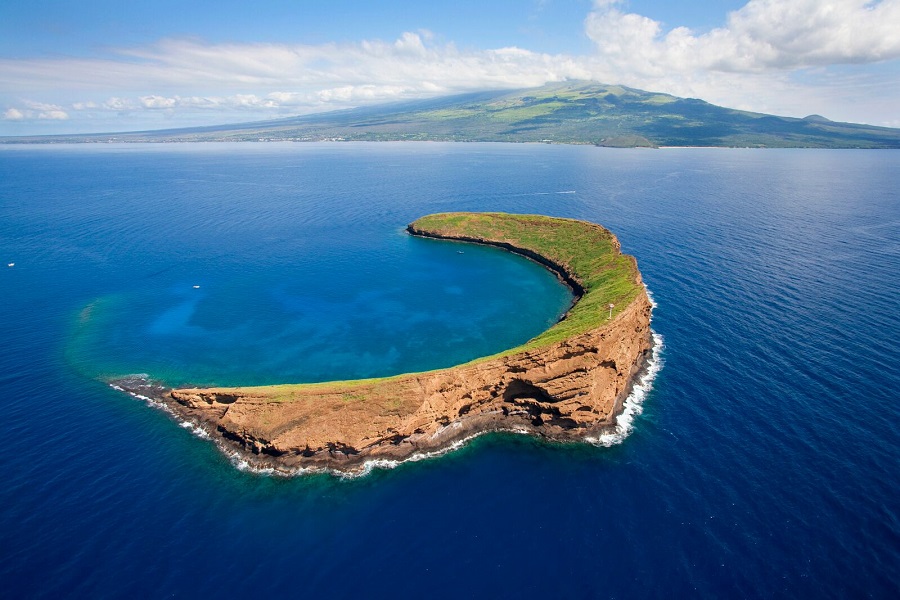 /Image credit: beyondhonolulu.com/
As we anchored and were given the green light to enter the water, the first second under water took my breath away! It was so, so, so beautiful. The water was crystal clear with visibility often exceeding 100ft (30m), and colorful corals of all shapes and sizes were all around. There were single fish, fish in pairs and schools of fish. There were sea urchins and sea cucumbers. There was even an octopus.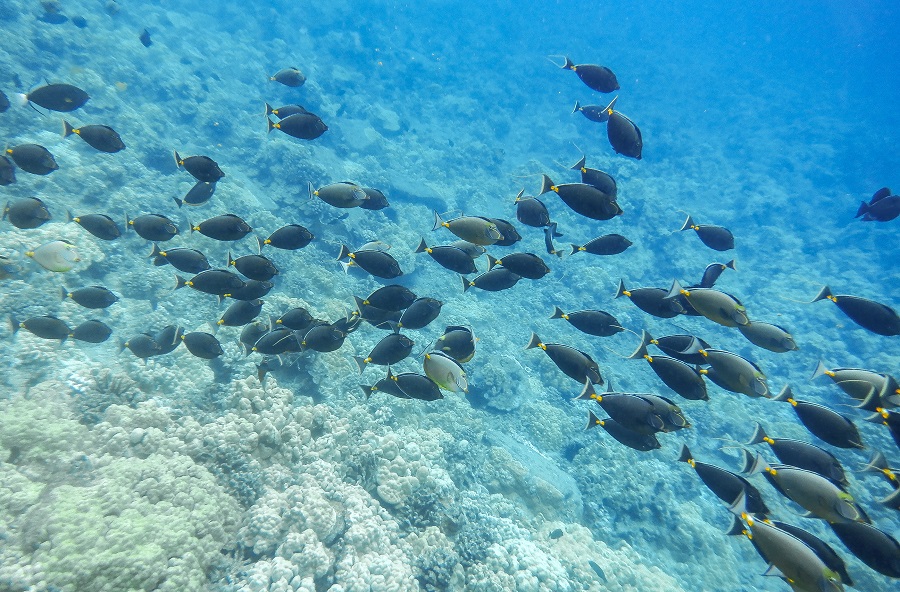 I was just so amazed! This was absolutely the most beautiful place I had ever snorkeled at. And even my husband, who is scuba certified and has had plenty of dives in his life, agreed that Molokini crater was very special. Unfortunately, my underwater camera is not professional / capable enough to capture all the colors of this vibrant reef, so the most vivid memories will just have to live in my head rather than camera roll.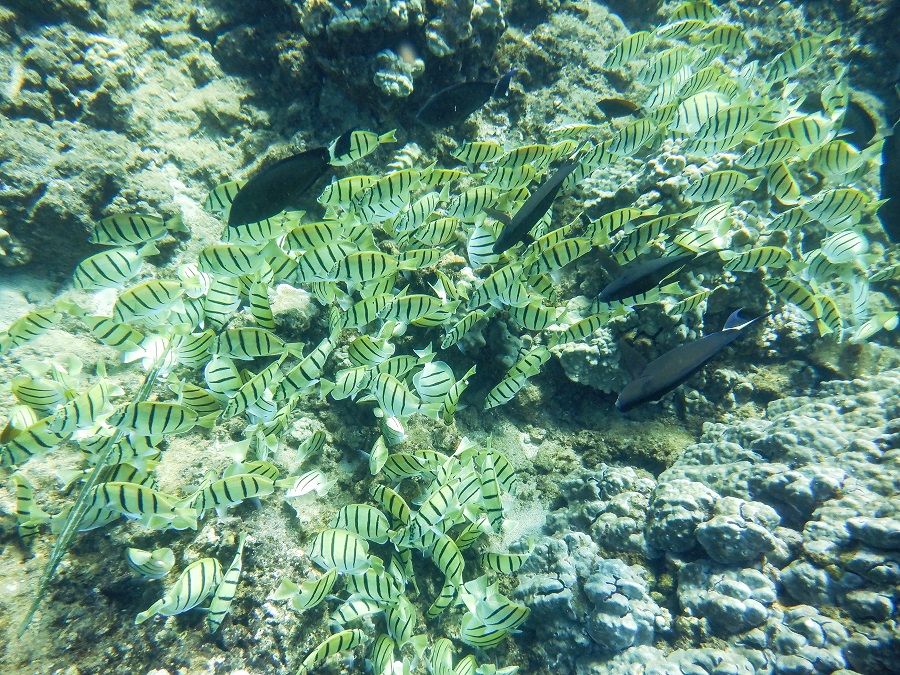 As far as negative aspects go - yes, you are limited because the tour company only allows you to go a certain distance, they don't let you get too close to the crater walls or cross into other boat's snorkeling area etc. But that should not be a reason for a negative review for the actual reef as the reef was truly magical. And I am just so happy that I did not let all the negative reviews impact my decision and booked this tour. Molokini is now my #1 snorkeling spot in Hawaii (with Honolua Bay in Maui and Captain Cook on the Big Island sharing #2 and #3 rankings).
All the kids (and the adults young at heart), meanwhile had a great time taking advantage of the boat's slide...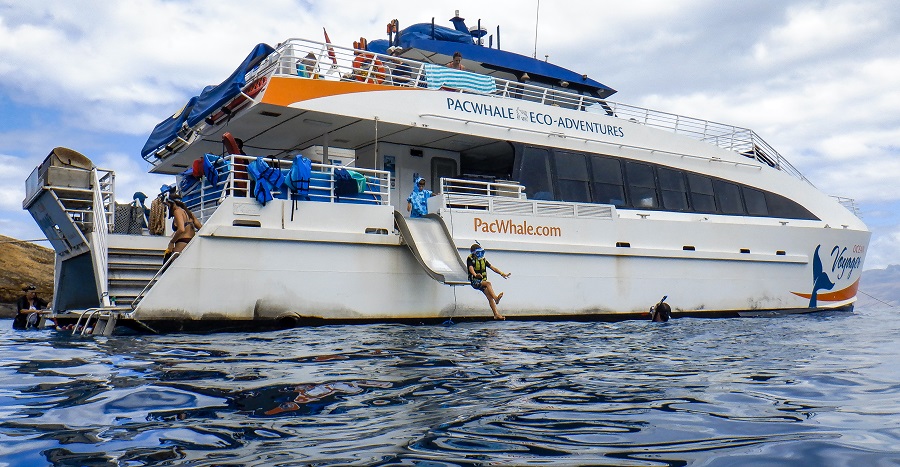 Just as on our first Pacific Whales Eco Adventures tour, we were served a tasty lunch onboard and then returned to the dock promptly at 12PM.
With our plane departing only at 7:30PM, we still had several hours left until having to go to the airport. Boys had been asking us for 3 days to see Maui Ocean Center and Aquarium. Although not something that was high on my priority list, we gave in and booked the tickets.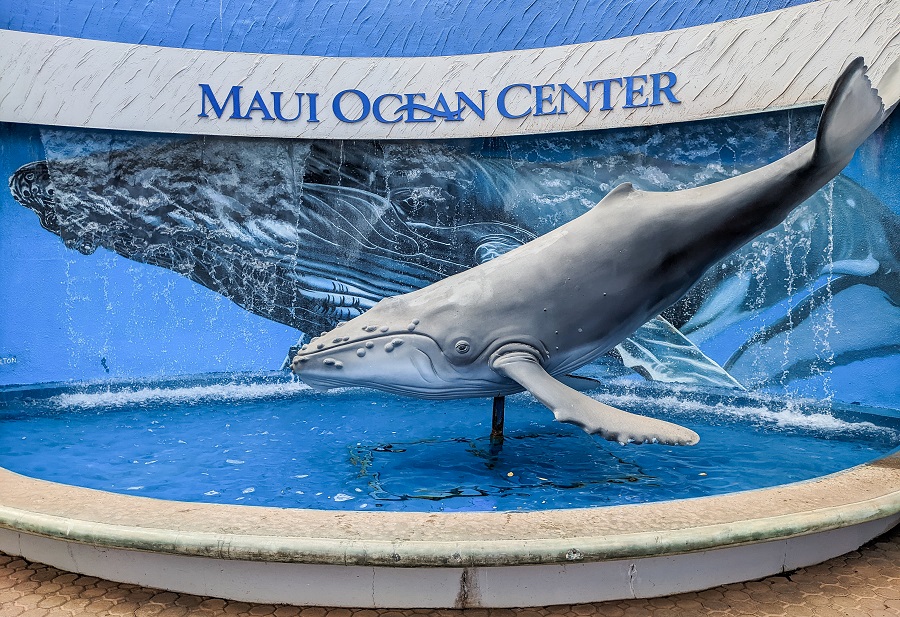 And I must admit that the Center was much bigger and more substantial than I anticipated. The many aquariums here were really impressive along with kids touch pool and several educational exhibits. In the end, what I thought would be just a quick in-and-out stop ended up lasting for over 2hrs.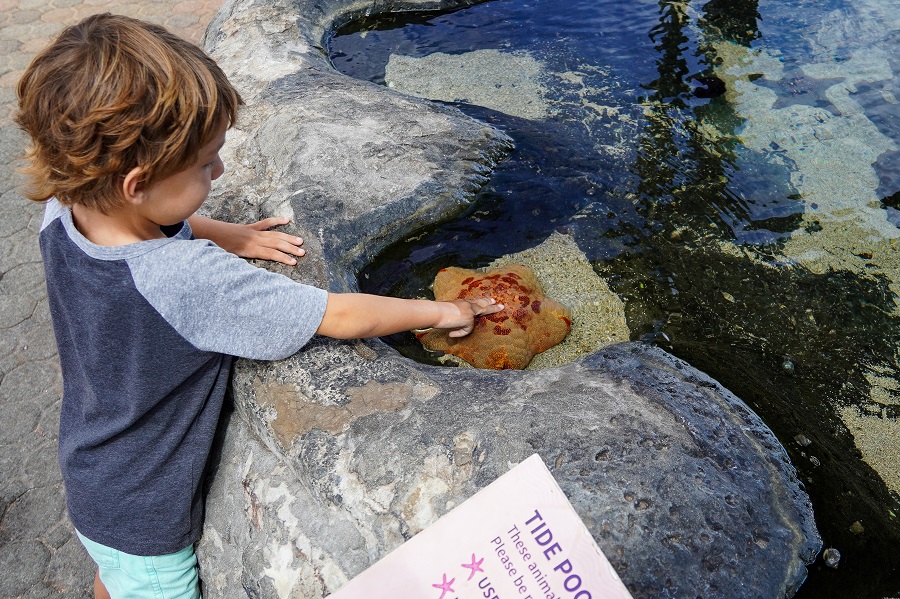 At this point, it was time to head towards the airport. We still had a few minutes to spare to make a quick stop at 'Īao Valley.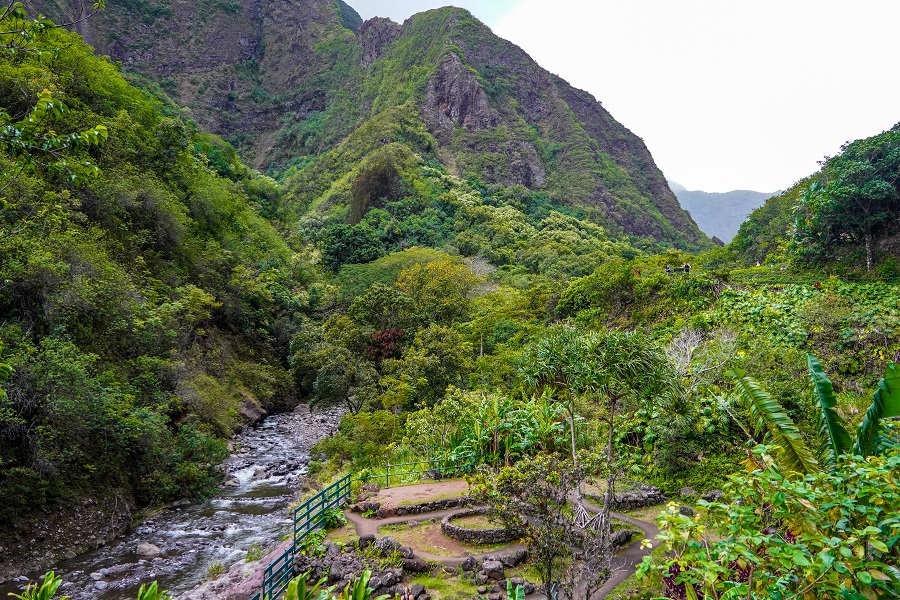 The weather was not the best here with thick, gray clouds covering the sky and occasional rain drops making their way down. So, we didn't linger much and soon enough were headed to the airport.
With all the recent news of long lines at the check-in counters, rental car agencies and security screenings, we gave ourselves 2 full hours to get through all this. However, the car drop off did not take longer than a minute; we were the only people at the Southwest check-in counter; and security check didn't last longer than 2 minutes… We were through it all in less than 30 minutes. Now we had another dilemma – what to do at this little airport for 1.5hrs until our plane's departure?! Soon enough, the boys found their own form of entertainment – they were riding the sliding walkways back and forth, making funny movements and laughing at their own antics. And they found a monkey to pester...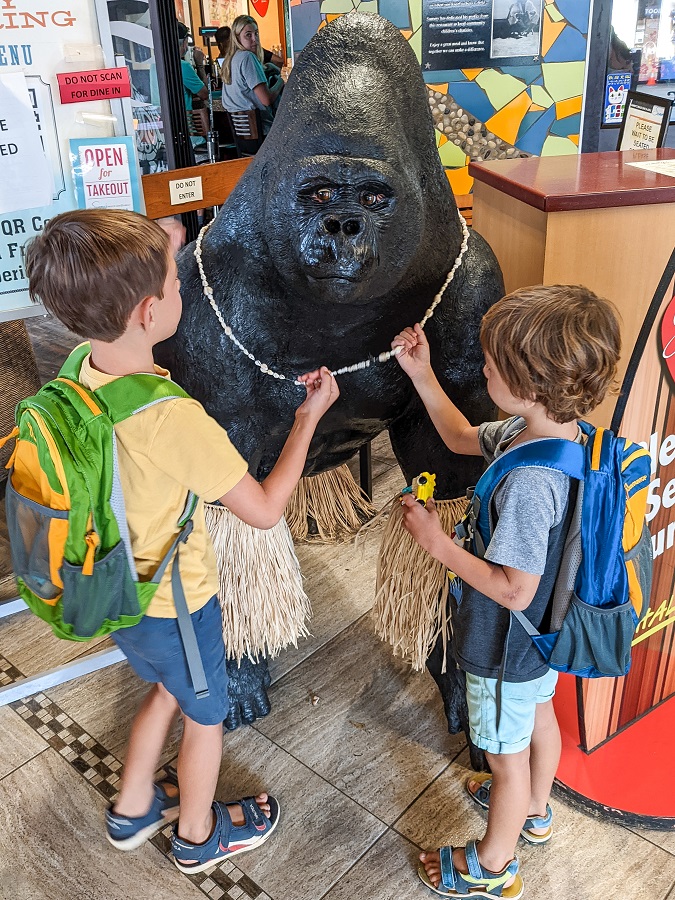 Eventually, it was boarding time for our short sunset flight back home to Oahu. Mahalo nui loa, Maui! Till next time!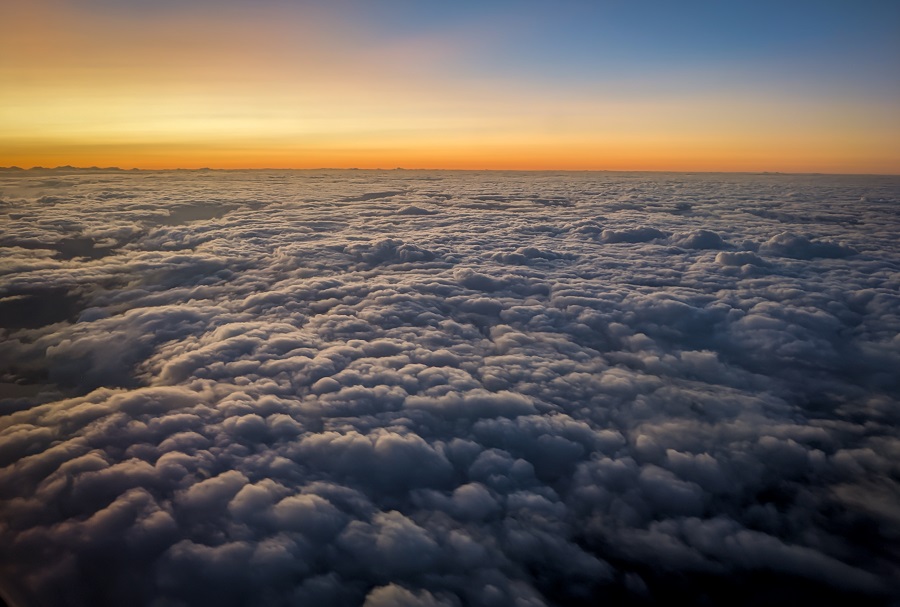 More pictures from our Maui trip can be seen in these galleries:
More about our travels and life in Hawaii can be read here:
One Day on the Island of Lanai
Our Covid Vacation to the Big Island of Hawaii
Kauai - the Grand Canyon of the Pacific
Hawaii (Oahu) with 2 Toddlers in Tow
A Different Kind of Getaway - Camping at Bellows and Ho'omaluhia in Hawaii
40+ Best Family Friendly Hikes on Oahu
365 Days of Hawaii - Our Hawaii Diary
More photos of Hawaii (including from our previous trips) can be seen in the following galleries:
Hawaii Volcanoes National Park
Wonders of the Big Island, Hawaii
Black Sand Beaches, Big Island Hawaii