The Contrasting Landscapes of Southern California - 5-day Road Trip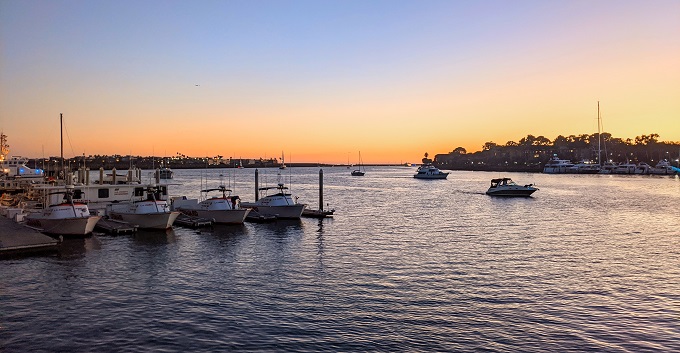 I almost feel horrible admitting this, but over the last year and a half spent in Hawaii, lately we started to get a little ''island fever''. Yes, we live in a paradise that millions of people only dream of ever being able to visit, yet we were looking for a way to get away from here, change the scenery - if just for a little bit. Isn't grass always truly greener on the other side?! Not to be mistaken though – I enjoy Hawaii and love many things about it, yet there is no escaping sun, sand, and surf here unless you travel off island. And we all were ready for a little vacation away from Hawaii.
With summer travel season over and schools back in session, many airlines were offering discounted tickets on their flights to boost sales. California is a very popular non-stop route from Hawaii, so we decided to fly to Los Angeles and explore the city, the coastal route, as well as southern California desert landscapes.
I visited Los Angeles once, 15 years ago, for just a short daytrip… and I did not like it. I wonder if 15 additional years of travel experience and wisdom will make me look at this place differently this time around?!
LOS ANGELES
Marina Del Rey
Upon landing in Los Angeles Sunday afternoon, we dedicated the first 2 days to exploring this city. Right after picking up our rental car, we headed to the Fisherman's Village. It is a waterfront mall and part of the world's largest man-made small boat harbor along with commercial boat anchorages, tourist attractions, shops, and other establishments. Everything combined under one name, this area is called Marina Del Rey.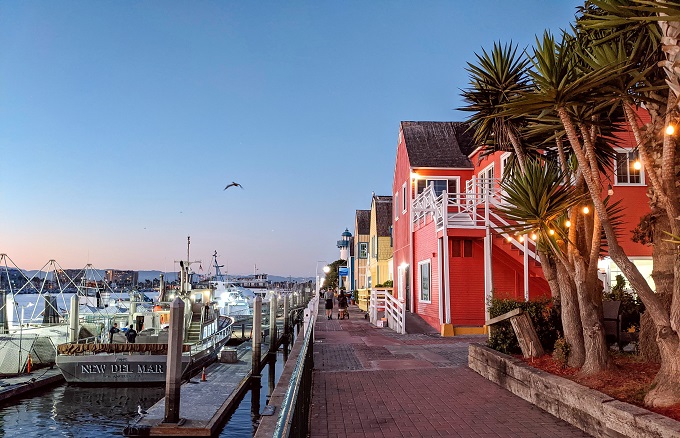 The main reason I wanted to make a stop here was to see the famous California sea lions. The 2 most reliable spots to see them are Dock 52 and the Fisherman's Village. We parked the car and started our walk. The Fisherman's Village is a very picturesque place with colorful shops and restaurants, rock pathways and waterfront views. I was just walking along the water keeping my eye out for the sea lions when my son started yelling: ''Look! Look! There is a seal!''. Our eldest has such a good eye for wildlife – he always spots all the animals first, from birds in the sky to little lizards in bushes. With us being used to seeing Hawaiian monk seals back at home, it was just natural for him to think that what we saw here were seals as they really look quite similar.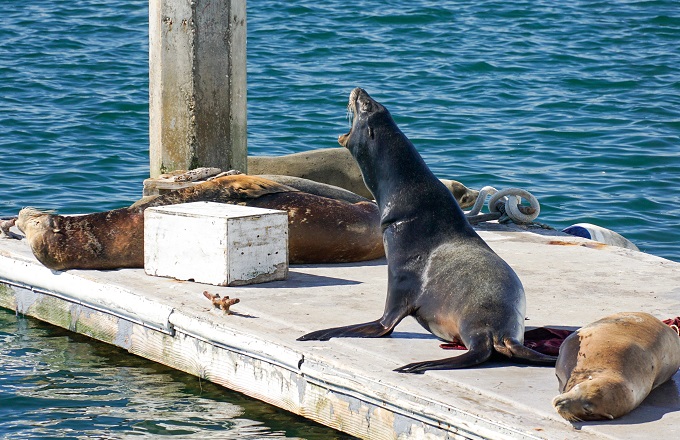 These, however, were massive California sea lions (twice the size of Hawaiian seals) that had climbed on the docks to rest. Their barks are extremely loud but also very entertaining for the boys who could not stop laughing.
After watching the animals fight and bicker for a while, we continued on to Dock 52 in hopes of seeing more sea lions, however, there were none. Instead, we spotted some pelicans who were waiting for some leftovers being tossed their way by fishermen…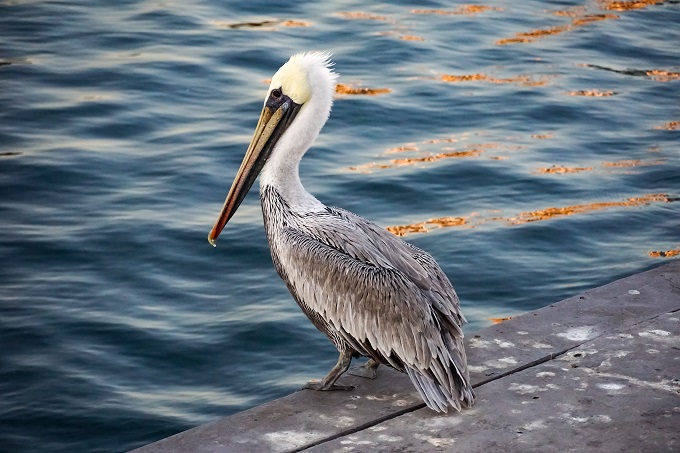 Santa Monica Pier
When you research best spots in Los Angeles for sunset watching, Santa Monica Pier will top the list every time. So, this is where we headed after leaving Marina Del Rey. Santa Monica is not just a pier, but a whole entertainment district in its own. It has not only some souvenir stands along it, but even an amusement park with rides, restaurants, street vendors, musicians, and a busy street food scene – all on a wooden pier!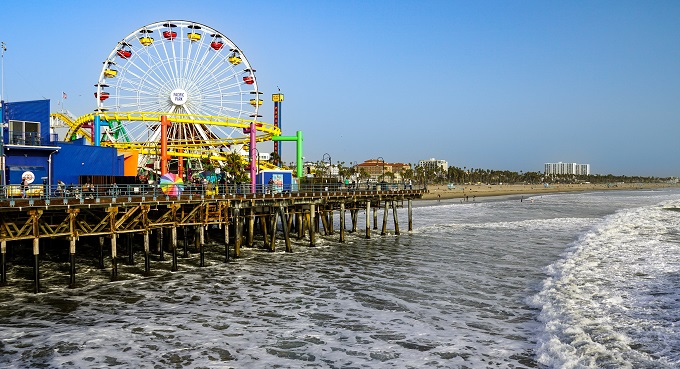 Our boys also got to touch a pet python that one of the vendors was walking around with! And after a little talking into, we also allowed them to pick one amusement ride each that they wanted to go on.
As we got here quite early, we still had time to sit down at a restaurant to try some local flavors. Clam chowder in a bread bowl was something I really looked forward to as I always associate it with California (the first time I tried it was during our trip to San Francisco in 2007). I had clam chowder 3 times on this trip – enough to last me for the foreseeable future.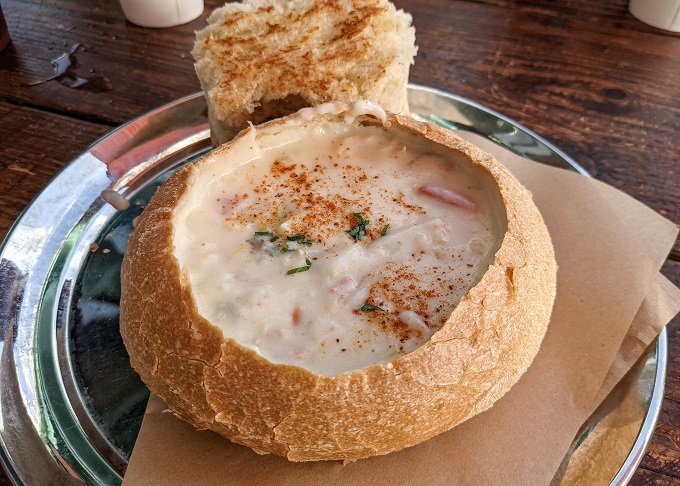 All the way at the far end of the pier there are raised wooden steps set up for sunset watchers to enjoy the scenery. We found a spot and sat down to wait for the sun to go down. The sunset wasn't very spectacular, but it was still a nice evening overall.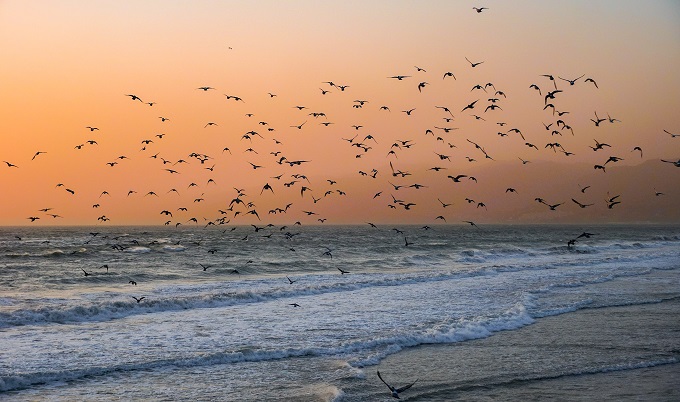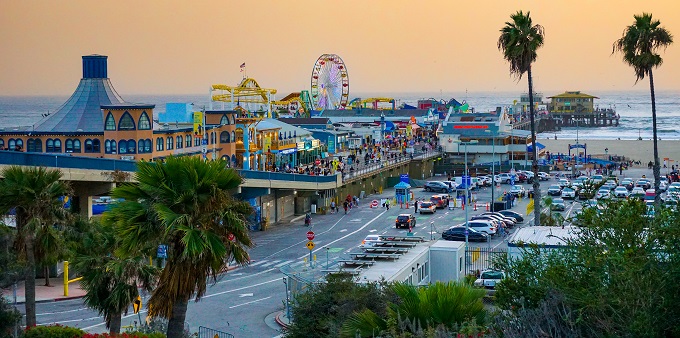 Shortly after, we were running to our car as the parking meter was expiring just 8 minutes after the sundown, so we had exactly 8 minutes to make it back to the car to avoid a parking ticket. We made it!
Griffith Observatory and Hollywood Sign
The next morning, we started the day with a trip to the Griffith Observatory. Although the Observatory itself has been closed since Covid started, the surrounding area, trails and parks are open. This is also one of the best spots in Los Angeles to see the famous Hollywood sign, which was our main goal.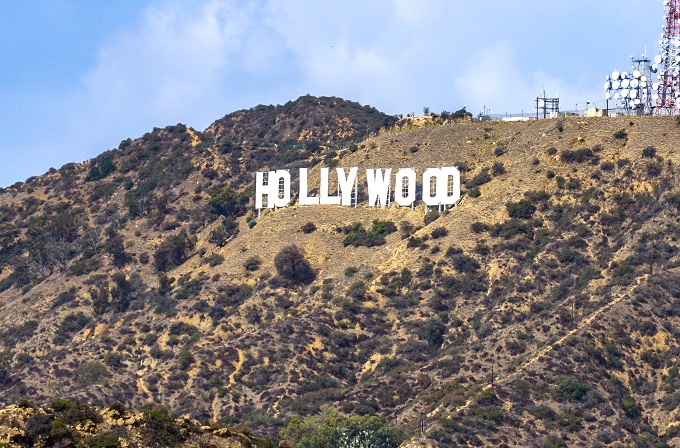 From here, you can also see the Los Angeles skyline. The view from the top of the hill clearly showed how bad LA's infamous smog is… The city looked like it was suffocating in gray exhaust fumes!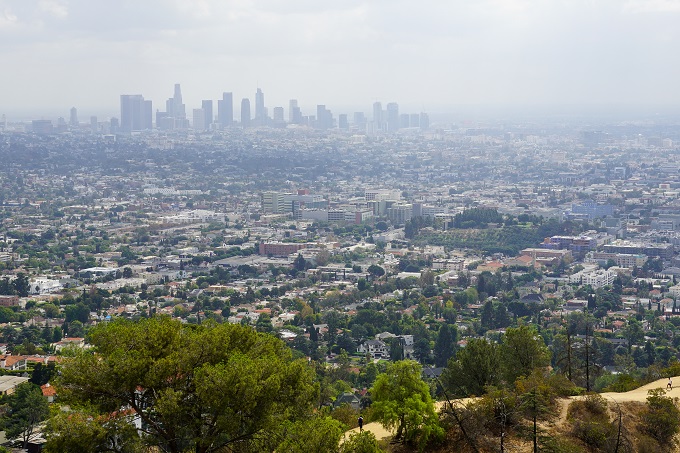 With the Observatory closed and trails not being on our list here, we snapped a few photos and soon after moved on…
Hollywood Walk of Fame
The Hollywood Walk of Fame comprises more than 2700 stars embedded in walkways across 15 city blocks to commemorate achievements of various entertainment industry figures from past to present – actors, musicians, producers, radio show hosts etc. It has been a tradition since 1960.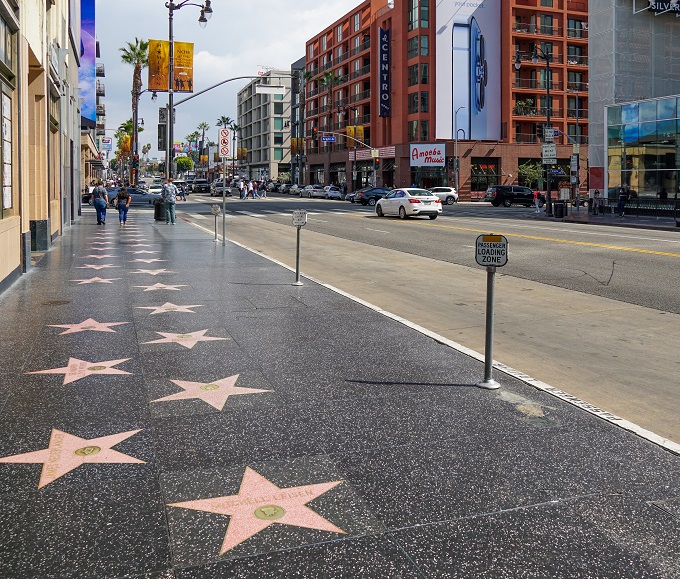 We were quite surprised to see that next to such stars as Marilyn Monroe, Sandra Bullock or Shakira we also saw Donald Duck, Winnie the Pooh, and the like. It was definitely exciting for the boys!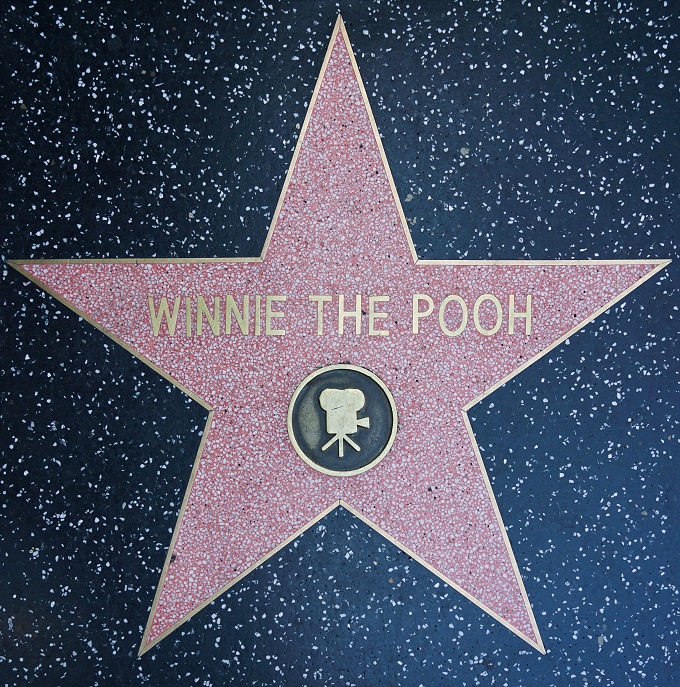 There is an online catalogue where you can look up where each star is located in case you want to find a particular person's star.
The streets around the area cater to tourist needs with endless souvenir shops and restaurants.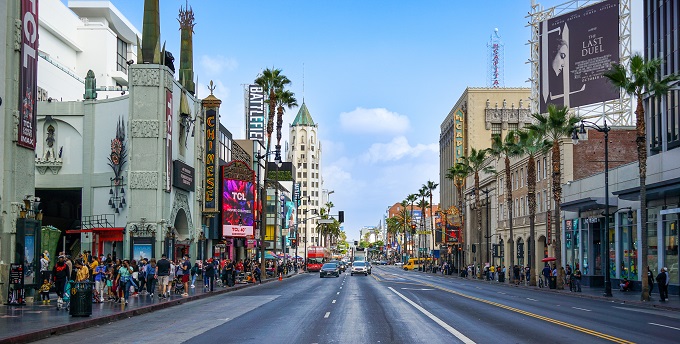 As much as we enjoyed exploring all the names on the stars, we were also slightly uneasy about all the homeless people laying and camping along the sidewalks. And the odor coming from them was not always the most pleasant one with long, wet pee puddles trickling down the sidewalks… After checking the Hollywood Walk of Fame off our list, we quickly left the area and were happy to do so, unfortunately.
Rodeo Drive and Beverly Hills
After we left Hollywood Walk of Fame we made a little side trip to cruise along the affluent Rodeo Drive, Sunset Boulevard and by Beverly Hills neighborhood. Houses worth millions and Louis Vuitton, Dior and Versace stores dominating the area was a stark contrast to most of the rest of Los Angeles we had seen so far.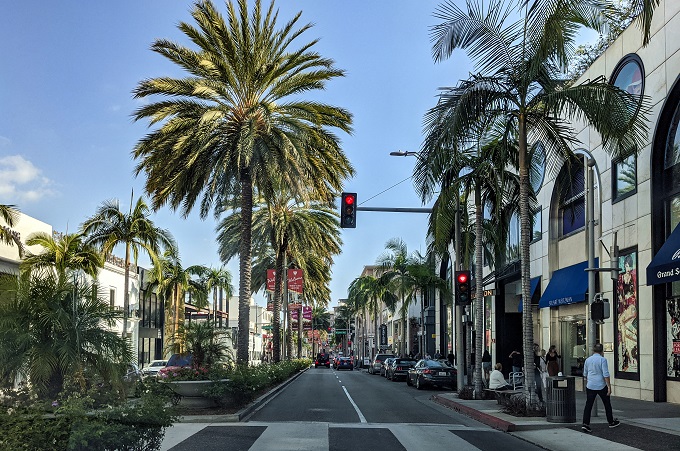 Venice
One of the last things on my list to see in Los Angeles was Venice. I was quite intrigued by this Venice look-alike in Los Angeles. The Venice Canal Historic District is noteworthy for possessing man-made wetland canals, built in 1905 by developer Abbot Kinney as part of his Venice of America. The canals crisscrossed several city blocks all connected by little bridges.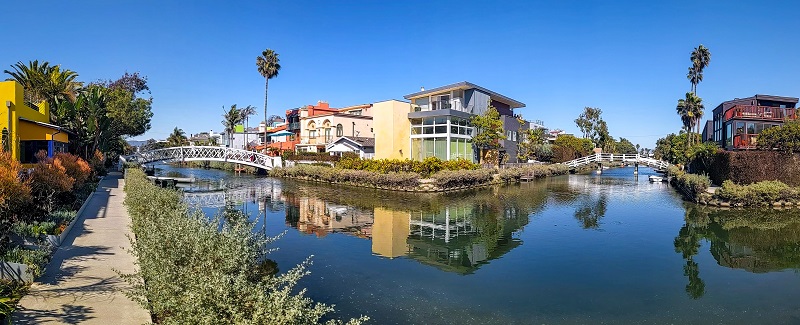 The canals were actually very shallow, so when my boys took off running along them, I did not get a heart attack in fears of them falling in and drowning. Despite its shallow waters, there were plenty of kayaks and paddle boards docked along the sides for the residents to enjoy.
Just a few minutes' walk away from the canals we reached the Venice Beach. With its funky shops, big wall murals and street hustlers it came off as a place of a different vibe – bohemian and free-spirited. This is one of the busiest areas managed by the Department of Recreation and Parks and include bike paths, kids' playgrounds, outdoor gyms, tennis courts, skate park, basketball court, and lots more.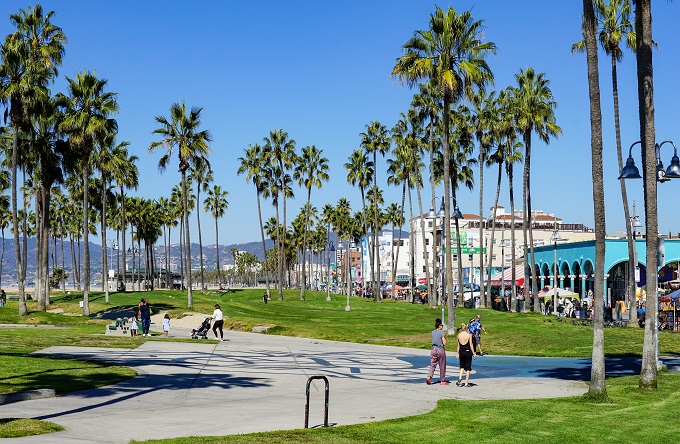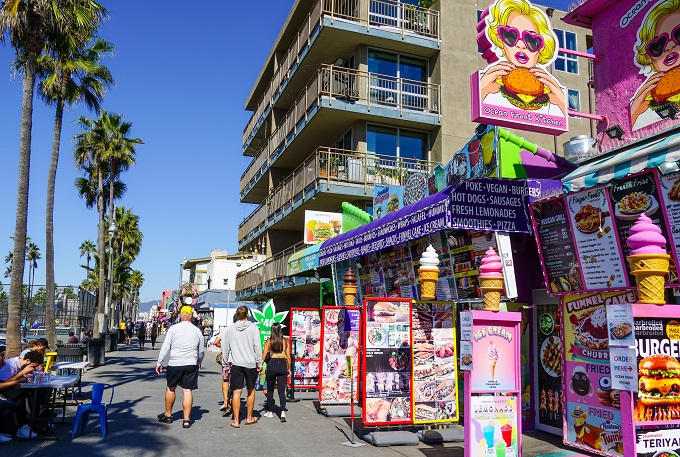 Café and shop areas were loud and proud blasting music and drawing attention any way they could. And the homeless – they were plentiful too. However, just a short 10-minute walk away from all the bustle we reached a much quieter area with a pier stretching into the ocean. The view from here gave a great perspective of the vastness of the beach, and we watched the surfboarders braving the chilly water in attempt to catch some waves.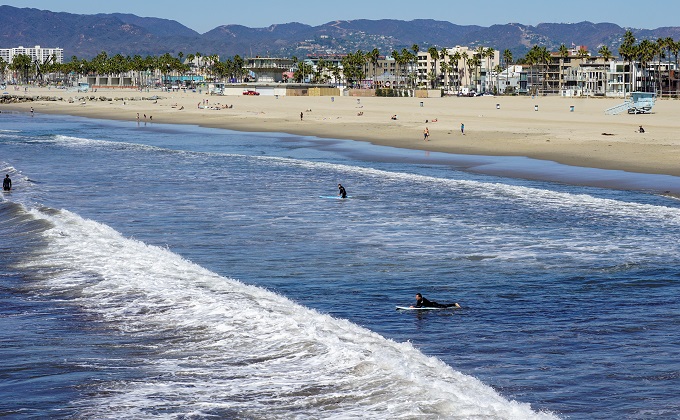 Venice Beach concluded our Los Angeles city tour, and I was very much ready to move on. Although I am not into city tourism, there have been a few cities around the world that I actually truly enjoyed seeing. Los Angeles wasn't it 15 years ago, and it did not get up my list this time either. I just did not enjoy it – the smog, the smell, the loudness, the dirtiness… it was just like I remembered it. So, I was very much looking forward to moving on to all our other California nature destinations yet to come!
JOSHUA TREE NATIONAL PARK
After leaving Los Angeles, we had booked an AirBnB in Palm Springs, which is an area about 2.5-hour drive east of Los Angeles and towards California desert. It was our home base for the next 3 days.
Although we had good intentions of reaching Joshua Tree National Park for sunrise watching, the plans got scratched after Santa Ana winds whipped up a storm of 60mph (95 km/h) winds and dropped the air temperature from usual 80-90F (25-32C) degrees down to 40-50F (4-10C) degrees! We decided to let the day warm up a bit and did not rush to get up at 4AM as planned.
Instead, we had breakfast and slowly cruised through local towns and stopped at some fun roadside attractions. One of them was this dinosaur-looking souvenir shop, called Cabazon Dinosaurs.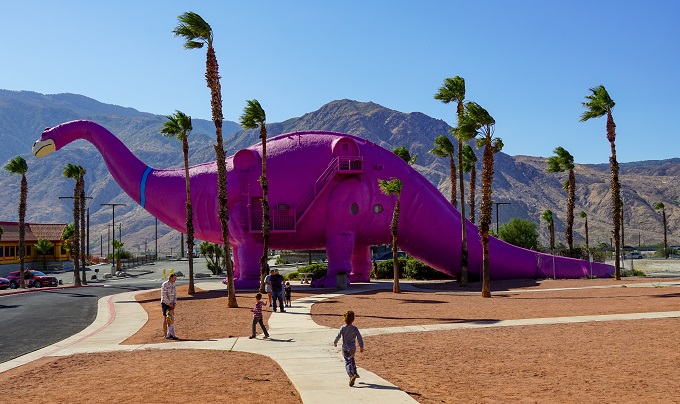 Yes, you could actually walk into the belly of Mr Rex the TRex, which my boys insisted we absolutely must do, of course! Dinny the Apatosaurus was also very photogenic and was free to take photos with. The boys loved this place!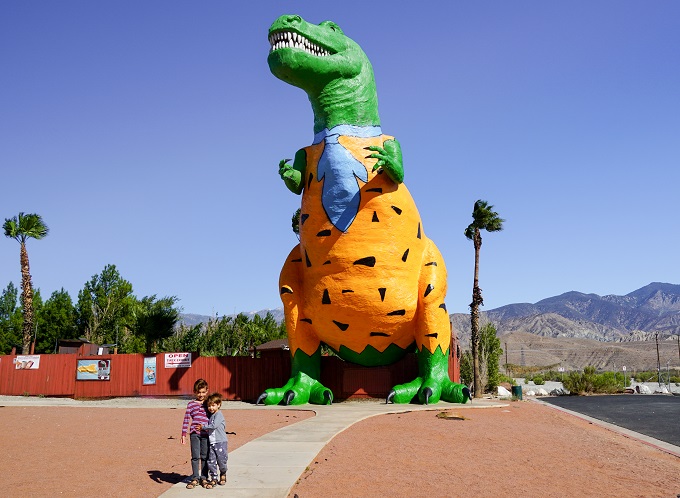 As we were driving through the area, we couldn't not notice all of the windmills. These megatowers were engineered with the help of NASA and with over 4000 of them set up all around the area, they now produce enough electricity to power Palm Springs and all of the Coachella Valley.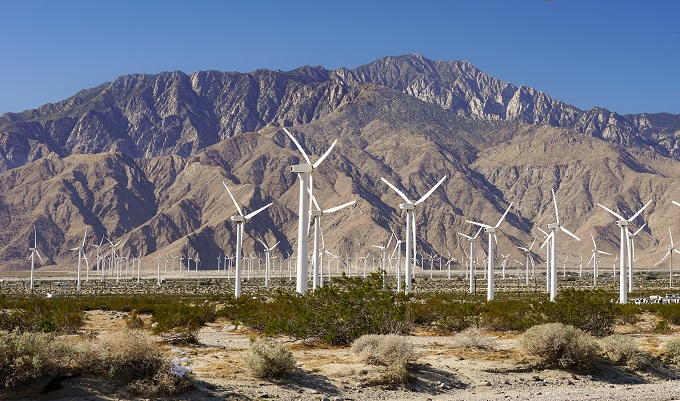 Shortly before reaching the Joshua Tree National Park, we made a stop at Joshua Tree town because their Old Wild West looking buildings could not be passed – they were just too cute. Some of them were even functioning as stores or offices.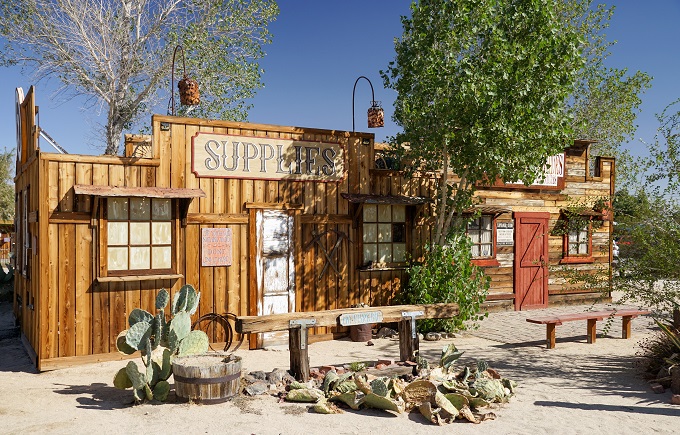 It was almost noon by the time we finally reached the park. Although the weather was still extremely chilly, the skies were blue, and the sun was shining which was all we could ask for. Long before the official park entrance, we could already see the majestic Joshua trees lining the mountains and roadsides, and they got more dense and bigger the deeper into the park we went.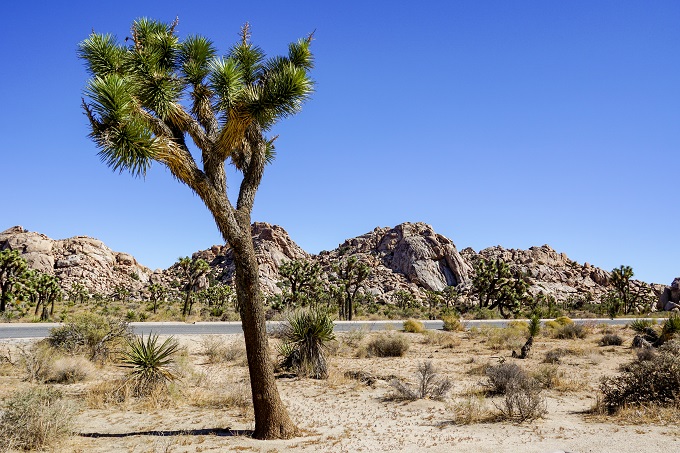 I had seen Joshua trees before during our road trips through Arizona and have been amazed by them since, always wanting to visit the actual Joshua Tree National Park. And now you know the reason why I chose this area for our vacation – it wasn't quite by chance but rather a dream I finally wanted to fulfill.
We love hiking, and it is one of the best ways to see the US national parks, so we had picked 3 trails and 2 short loops that we wanted to do here.
Barker Dam Nature Trail
We started off with Barker Dam Nature Trail which is about 1.3 miles (2km) long and is a frequent hang-out spot for bighorn sheep. After hiking in tropical Hawaii for a year and a half, it was a little surreal to see the cacti, dry sand, and other desert scenery all around.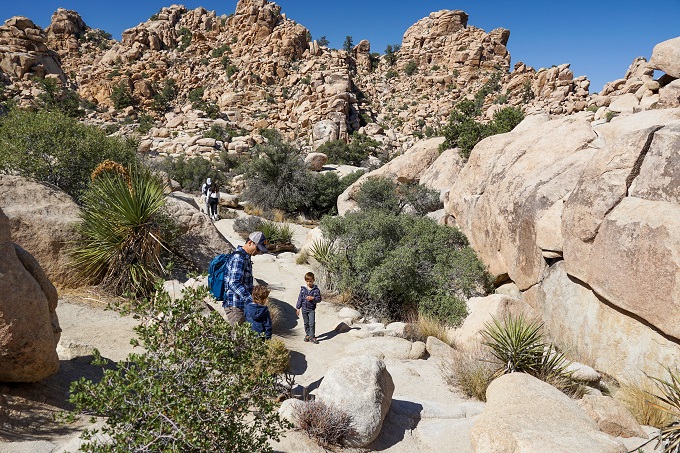 Big boulders and rocky cliffs engulfed the trail from all sides, which of course my boys saw as the perfect opportunity for some rock climbing. Unfortunately, we did not let them have as much fun as they would have liked because we were a little concerned about rattlesnakes trying to warm up on the rocks during this unusual cold spell. Joshua trees were of course part of the scenery everywhere!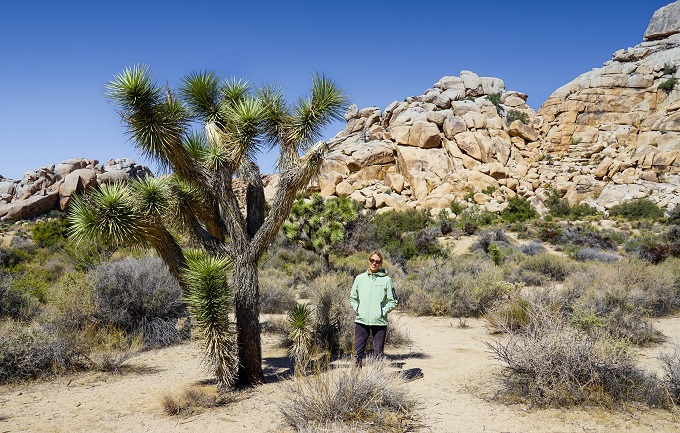 Towards the end of the trail, we also went to look at some pictographs and petroglyphs left on a cave wall by Cahuilla Indians back in the day.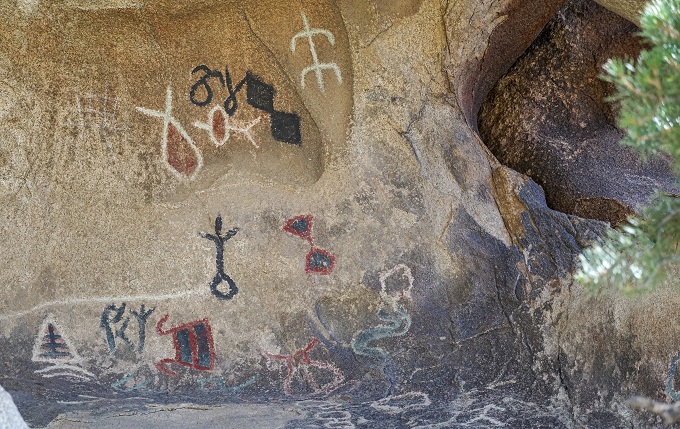 As we returned to the car, I was a little disappointed by not having seen a sheep as wildlife spotting is a big part of my travel goals. However, there is still a lot of the park left to explore…
Hidden Valley Nature Trail
Just a little distance away we headed out on another hike – the 1.2-mile (1.9km) long Hidden Valley trail. The landscape was similar to the Barker Dam trail, and we enjoyed it every bit as much.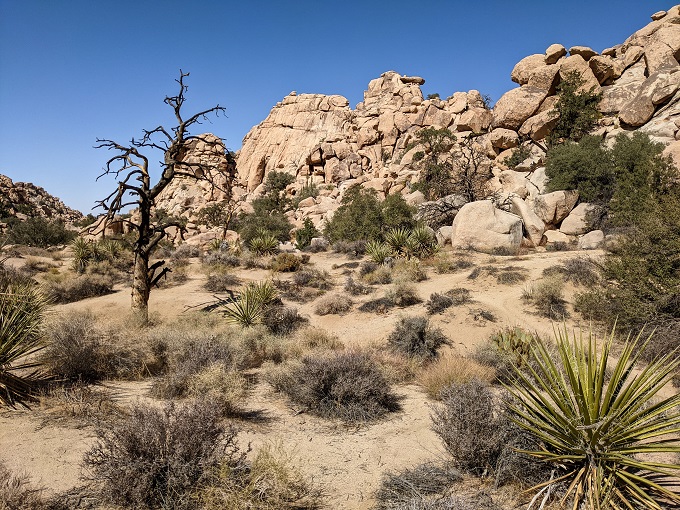 Our hiking party voted this as their favorite trail in the park and with many photo stops along the way it took us quite a while to complete it. The boys, of course, took every opportunity to sneak in a rock-climbing session or a fallen tree balancing exercise!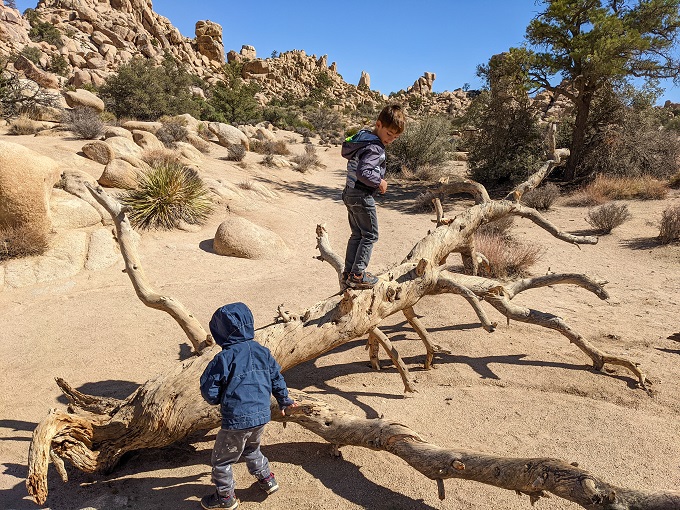 Arch Rock Nature Trail
The last hike of the day we set out on was the 1.5-mile (2.4km) long Arch Rock trail. This area of the park did not have Joshua trees anymore, so the main attraction was the rock arch that could be reached towards the end of the trail.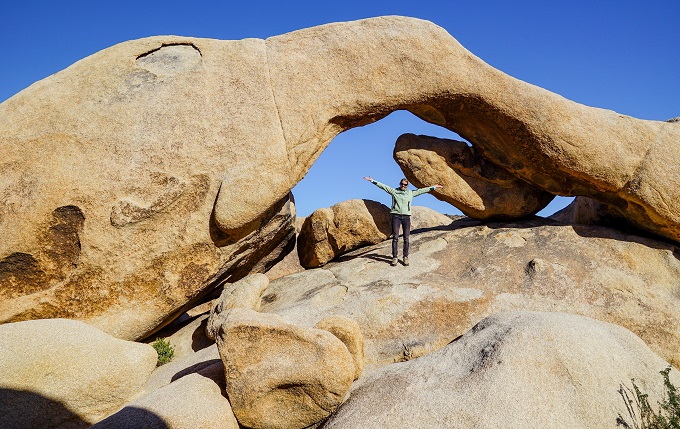 We were quite happy about our 50-degree (10C) weather as crossing hot desert sand with not an inch of shade in 100F (38C) degrees would not have been much fun! So, to an extent, the sudden change in weather worked in our favor. Also, the park in general was very empty, which I attribute to people fearing the cold, so we were the only visitors at the arch. Another bonus!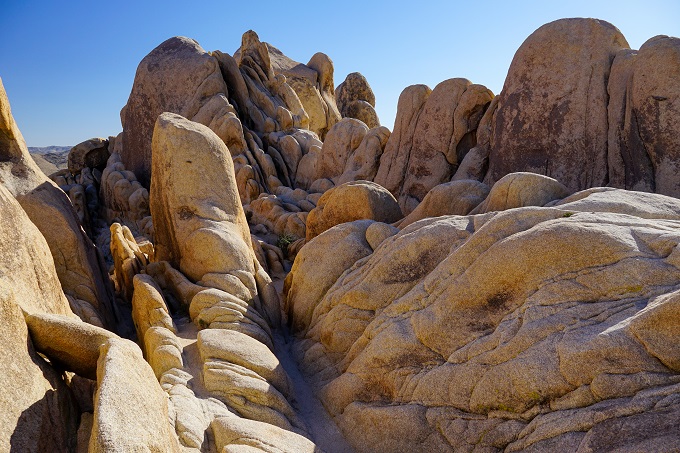 We snapped a few pictures at the arch, explored some hidden passageways in-between the rocks and headed back to the car as it was approaching evening, but we still had a few things on our must-see list.
Keys View
The popular Keys View overlook, perched on the crest of the Little San Bernardino Mountains, provides panoramic views of the Coachella Valley. The crisp weather had cleared up the air and we could see all the way to the horizon. Another colder weather benefit! We were told that on some days the smog from Los Angeles gets blown this way and when it reaches the park and the valley barely anything can be seen from this overlook.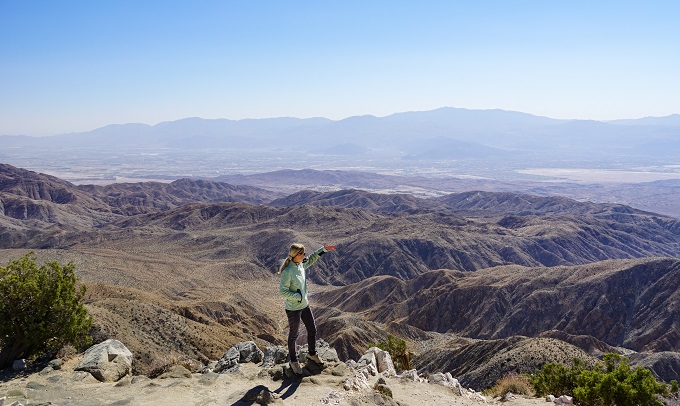 Cholla Cactus Garden
I absolutely fell in love with these cuddly, fluffy, adorable little Cholla cacti! Well, ok… they are not fluffy… nor cuddly. They are extremely sharp and dangerous, yet they look awesome, and they even have a nickname ''teddy bear cholla'' (so I must not be the only one who thinks these things are cute as a button).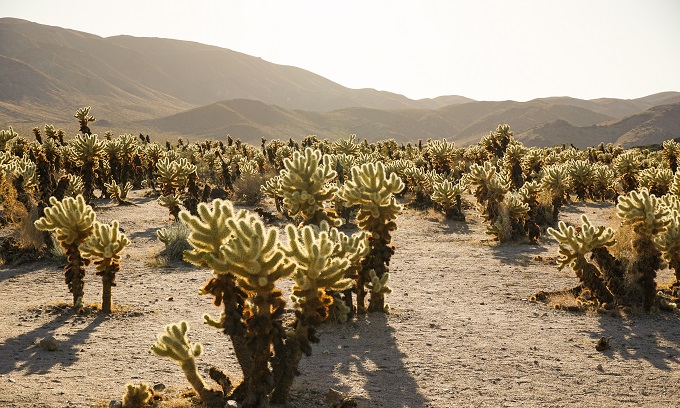 A ¼-mile (0.5km) long boardwalk leads visitors through this dense area with naturally growing cholla cactus. They are very picky about where to grow and need exactly the right conditions, and apparently this 10-acre big patch of dirt is where they wanted to grow.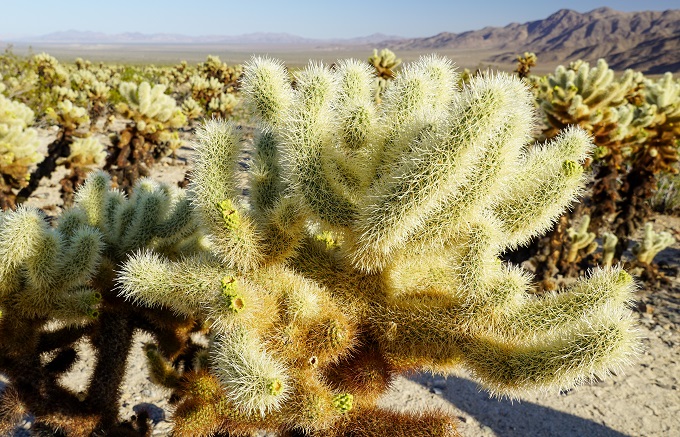 I just could not stop taking pictures, meanwhile, the rest of my party had already made their way back to the car and were sending evil looks my way to hurry up – it was approaching sunset and they were all as hungry as wolves (there are no concessions of any kind inside Joshua Tree NP).
Ocotillo Patch
On the way out of the park I made on last roadside stop at Ocotillo Patch. Ocotillo plant is often confused with a cactus, yet it is not one. It is actually a leafy, thorny bush indigenous to this area and can stand up to 33-feet (10m) tall!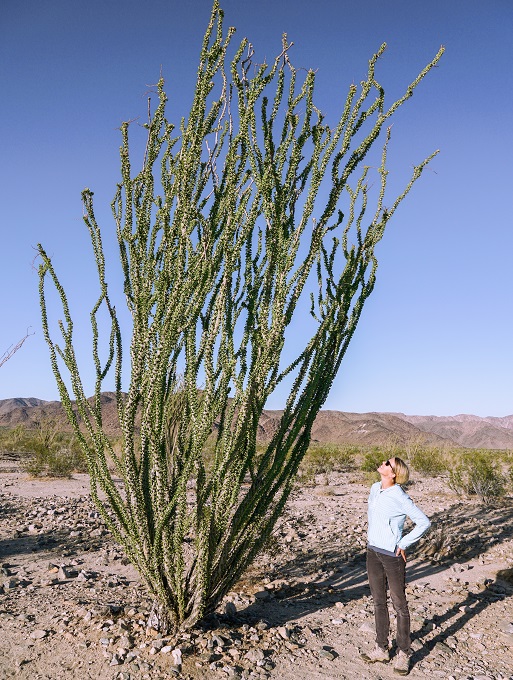 After a short stop at this pull-out, we made our way out of the park carefully scouting the mountain sides for one last chance to see a bighorn sheep. I guess luck cannot always be on our side and we had to accept our defeat: bighorn sheep 1, tourists 0. Although I was a little sad about not getting to see them, we left the Joshua Tree NP happy about all the amazing places we had had a chance to see!
MT. SAN JACINTO STATE PARK
For the next activity in the Palm Springs area, I had chosen a visit to Mt. San Jacinto State Park. With the mountain's peak standing at over 11,000 feet (3350m), it is a stark contrast and a completely different experience from the hot, sandy desert floor below it.
Aerial Tramway
Getting to this mountainous state park requires quite an unusual mode of transportation – an aerial tram ride. Now, I have been on quite a few aerial tram rides before in my life but let me tell you – this one took me completely by surprise! I had somehow missed the fact that this is the WORLD'S largest ROTATING aerial tram spanning over 2.5 miles (4km) of cable in between extremely steep Chino Cliff canyon walls. The tram ride starts from Valley Station at 2,643ft (805m) elevation and ends at Mountain Station at an elevation of 8,516ft (2600m). That is almost 6,000ft (1805m) of elevation gain in 10 minutes – suspended in air inside a rotating ball.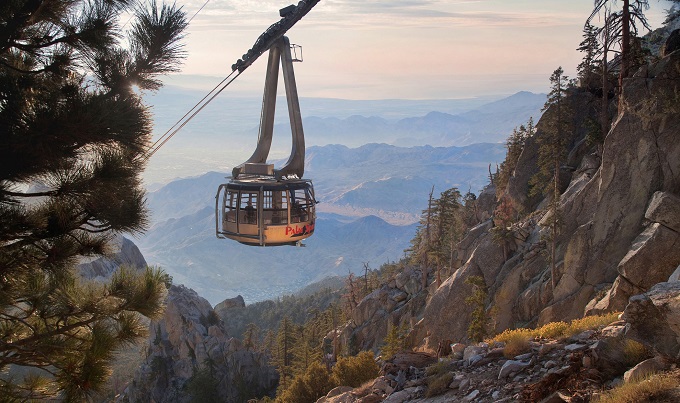 /Photo credit: visitgreaterpalmsprings.com/
Oh yes, everyone's heart skipped a beat once in a while, but what an experience! And the rotating cabin meant there were no better or worse spots to stand – everyone got full 360-degree views multiple times.
Desert View Loop Trail
Once we reached the top, the Mountain Station Visitor Center had 2 restaurants, a gift shop, observation decks, a little museum, 2 documentary theaters and several other activities. Many visitors never venture away from this area; however, we were set on exploring one of the parks trails – the 2-mile-long (3.2km) Desert View Loop trail. Once we stepped outside, the cool, crisp air hit our senses immediately. The temperature was just 40F (5C) degrees and there was snow!!!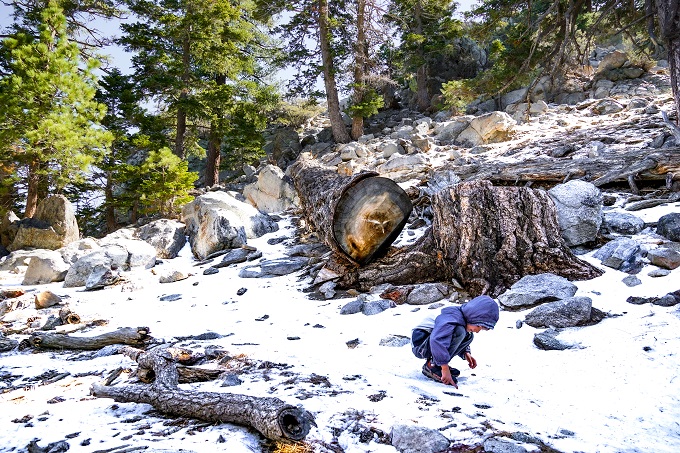 While we were sweating in 80-degree (27C) heat just 10 minutes ago, we were suddenly standing on snow and ice! The extreme elevation gain comes with an extreme drop in temperature and change in landscape. We had a huge, green spruce tree forest all around here while the desert below was not hospitable enough to even plant a flower…
Should I even say how extremely excited our boys were to get to play in snow?! They just could not make their way to the trailhead fast enough to stick their hands in a pile of snow! As a parent, it was truly amazing to watch them and see them absorb this experience. And although travel with kids might seem so burthensome sometimes, it is so worth it even for little moments like these!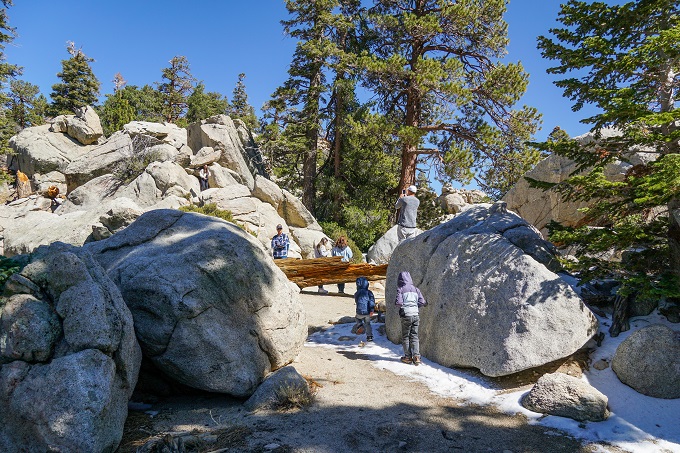 Overall, it was a very pretty trail with several amazing lookouts along the way, and very few other people. We even had to keep an eye out for mountain lions, bobcats, and coyotes who, according to a park ranger, like to snatch up little kids. It was our kids' lucky day I guess as we did not run into any wildlife except some squirrels.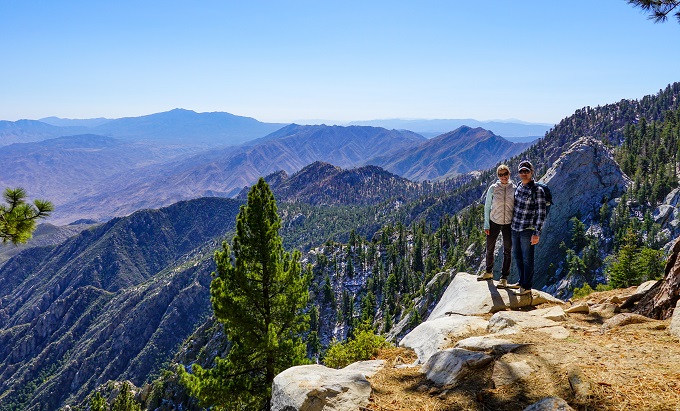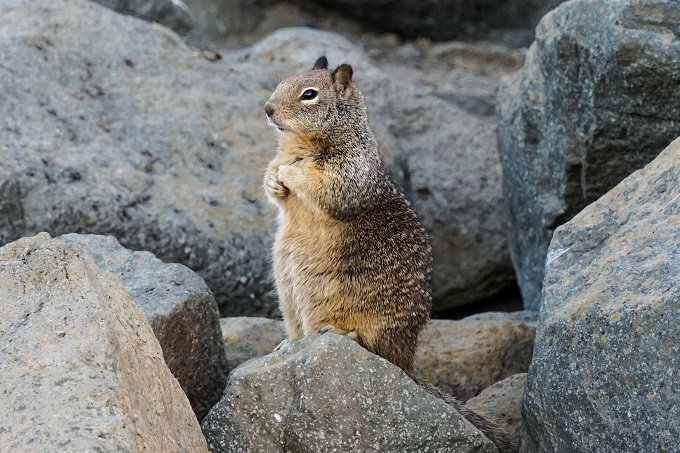 After we completed the trail, we returned to the Mountain Station for some hot chocolate and then took the tram back down to the sandy desert where we quickly had to take off our puffy winter jackets and long pants. Especially, because our next adventure was shaping out to be hot and sandy again – we were going to sand dunes!
KELSO DUNES IN MOJAVE NATIONAL PRESERVE
One of the more unique natural attractions in the Mojave National Preserve is Kelso Dunes, most of which accumulated 2400-9000 years ago.
Old Route 66
The drive from from Palm Springs to Kelso Dunes is quite long and partially overlaps the Old Route 66 near Amboy. Historic Roy's Motel and Café have been part of this landscape since 1938 and this was a frequent stop for travelers in the olden days. The historic motel-style accommodations have been preserved here and are available for viewing along the roadside.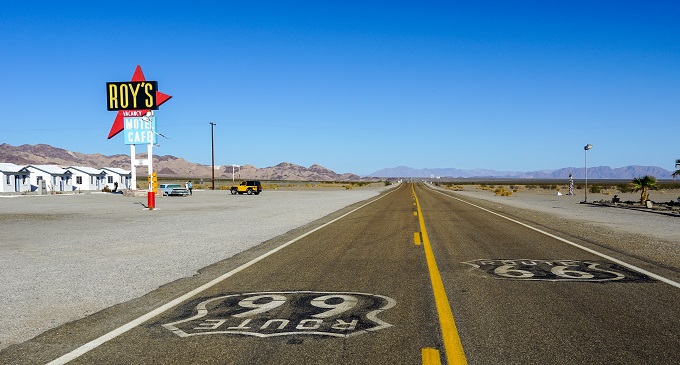 Doing the full 2448-mile (3940km) Historic Route 66 drive from Los Angeles to Chicago is a bucket-list trip for many yet driving even a small part of it felt very special to us!
Overall, the drive so deep into the uninhabited desert felt a little eerie and spooky. It seemed like there was almost no sign of life here and everything seemed old and deserted.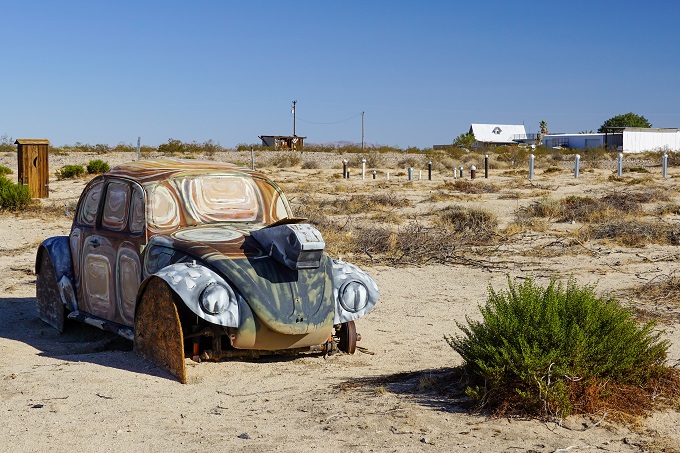 Kelso Dunes
Already when approaching the dune area, we could see the main dune standing over 600-feet (185m) tall above all others. And what do you think one can do with such a huge sand pile in the middle of a desert?! Climb it, of course! Indeed, making this 3-mile (4.8km) 600ft (185m) climb to the top of the main dune for sunset watching is, apparently, the thing to do here!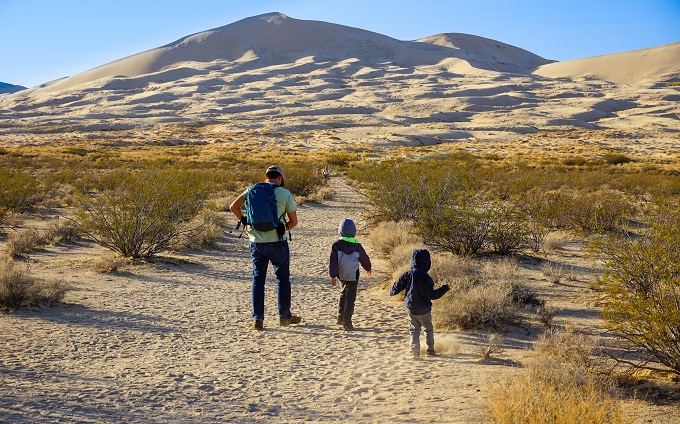 With all the unplanned photo stops along the way, we were cutting it really close to not having enough time left to hike up the sand dune for the sunset. Having attempted to climb sand dunes at Great Sand Dunes National Park in Colorado 2 years ago, I knew exactly how brutal it can be – sand is unforgiving even at a leisurely pace, but this time we were rushing against the clock.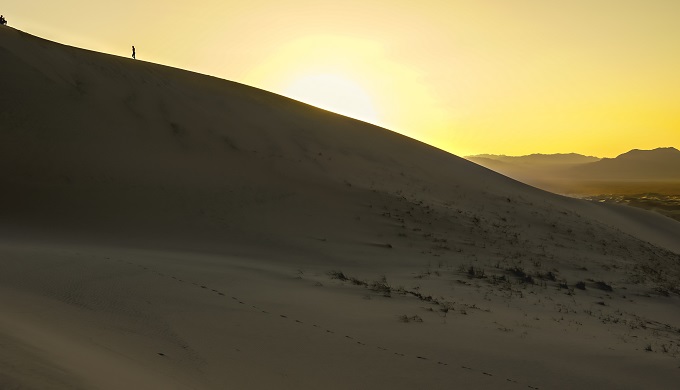 As much as my 6-year-old insisted that he wanted to climb up the main dune with me, I just knew that at the pace we needed to keep it would be too much for him. So, I left my husband and boys at the bottom of the dune to enjoy this vast sandbox, while the rest of our party and I attempted to scale the 600ft (185m) climb.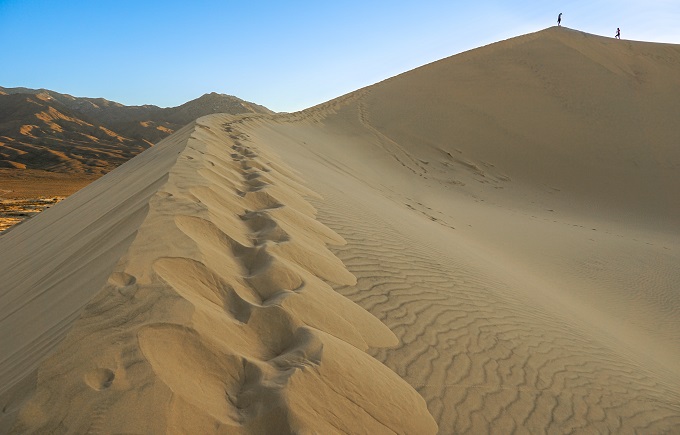 In between the feelings of a heart attack and amazement of the sunset colors, we actually made it to the top! Sweaty, sandy yet extremely proud and happy! The sunset-colored 360-degree view was nothing short of magical.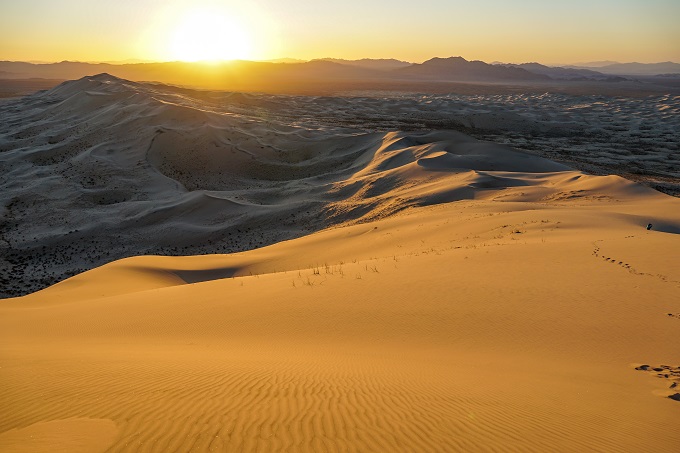 We had a very short window of light to get down the dunes and to the car, but the stunning sunset colors kept us stopping for more photos… It seemed like the color of the dunes was changing by the minute - from almost white to dark orange and everything in between depending on the amount of the last descending sun rays it got...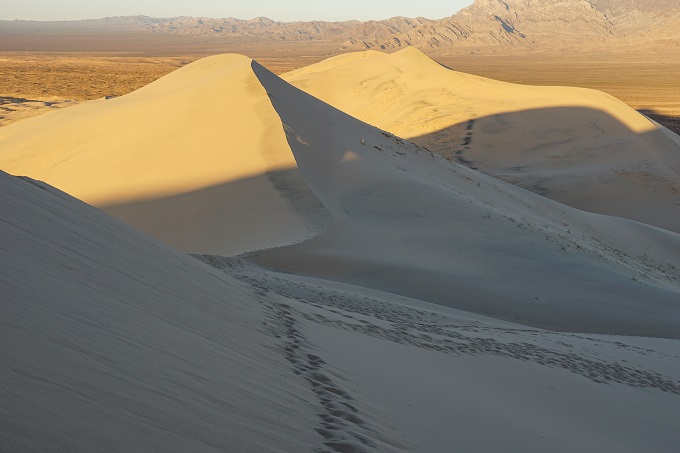 After the sun set, it got dark very quickly and the 3-hour drive to our new AirBnB was spent in complete darkness. It was almost midnight by the time we reached our beds, and needless to say – we were exhausted! This concluded our last day in California desert wilderness with an entirely different experience waiting us tomorrow.
CALIFORNIA PACIFIC COAST HIGHWAY
Although a little later than I would have liked, yet around 9AM we were all up, dressed, and ready to hit the road. Driving California Pacific Coast Hwy is an experience in its own with 656 miles (1055km) of scenic beauty stretching from Los Angeles to San Francisco.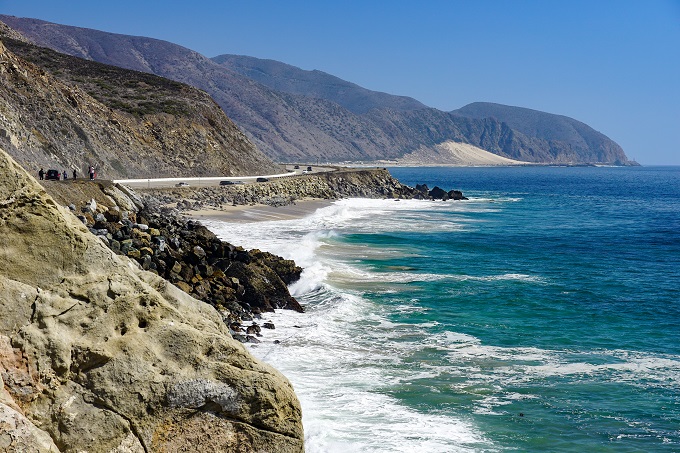 With just 1 day left on our trip, we did not have time to drive the whole length of the road, especially as we wanted to make several stops along the way. So, we set Morro Bay as our turnaround point.
Point Dume Natural Preserve
Our first stop along the route was a short walk on the trails of Point Dume Natural Preserve. They have wooden boardwalks and dirt trails leading both up to the lookouts as well as down to the beach. We chose to go to the lookout and the views here were absolutely amazing. We even saw a pod of dolphins whipping up bubble circles around schools of fish and then feeding on them. It was like a scene out of a National Geographic documentary!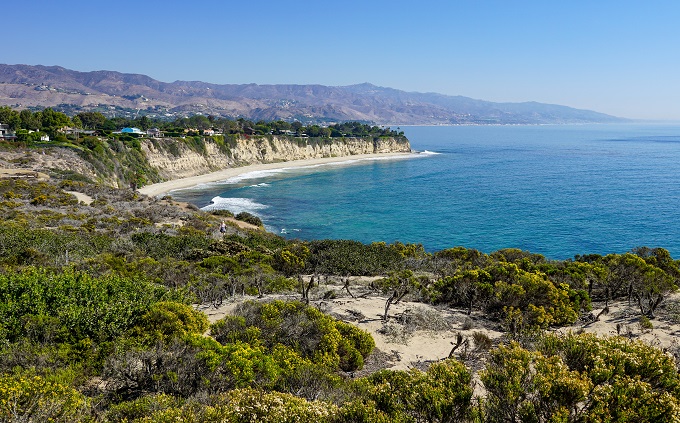 As we were standing there soaking up the views, we heard some familiar barks. Sea lions! Yet, where were they?! As we walked a little ways up along the cliff and peaked down – there they were! A large colony had gathered on some flat rocks underneath the cliff and were constantly arguing, bickering, and fighting with each other over the best resting spots. What a sight! With all this wildlife around the area, no wonder it has been designated a natural preserve!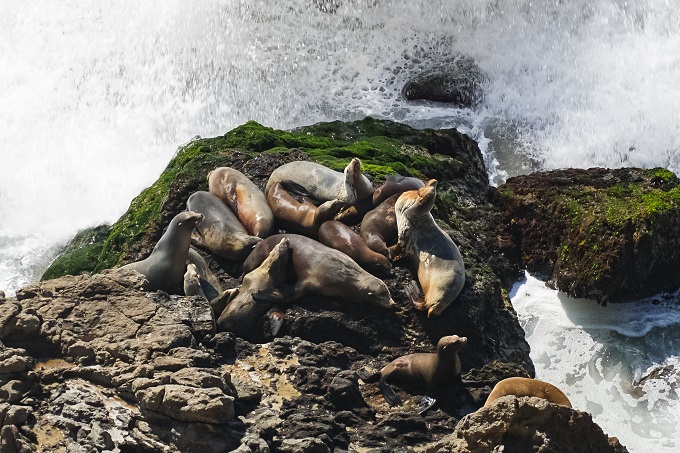 El Matador Beach
Just a short 10-minute drive further up the highway, we made a stop at another amazing natural site – El Matador. This beach is popular with photographers for its sea stacks, caves, and arches both on shore and in the water.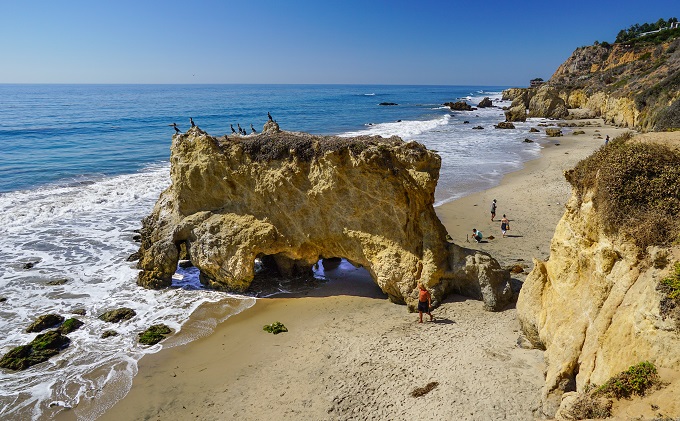 As the beach itself is below a cliff, it is, however, a very steep 150-foot (46m) descent (and incline on the way back) via narrow staircase. It would definitely be a challenge for people with mobility issues. Yet for our 2 boys it was a race of who will get down first! Once we got down, we took our time just enjoying the scenery and exploring the length of the beach.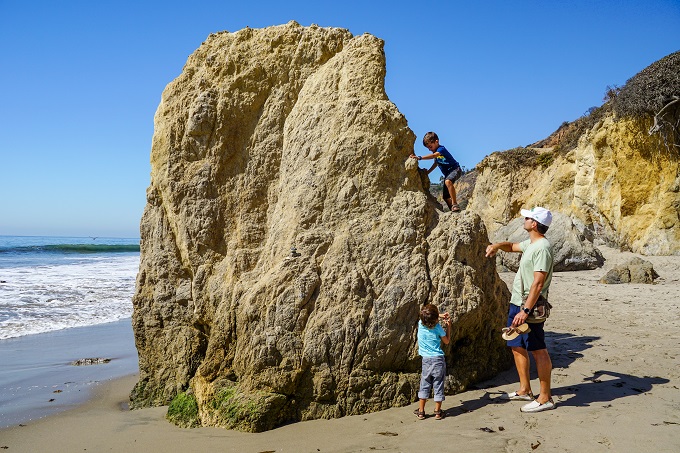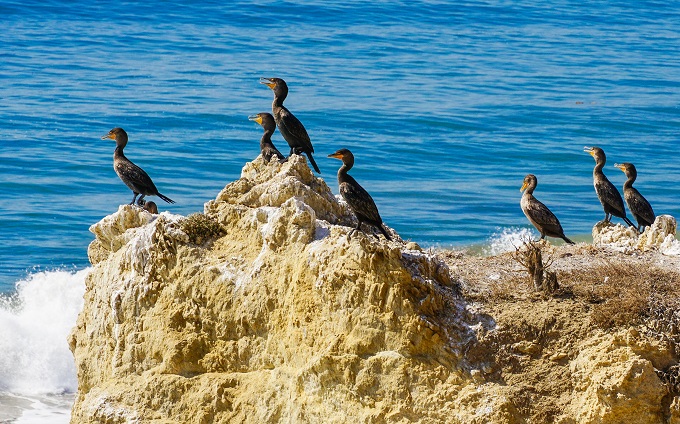 This was the best playground for the boys – they were climbing rocks (again!), exploring the caves and arches, and chasing after birds and crabs. I did not even notice how quickly an hour passed which meant our parking time was expiring and it was time to head back to the car.
Solvang
An issue beyond our control that changed our plans quite a bit was the Alisal wildfire that was ravaging through the area. It had started just 5 days ago and had spread to over 17,000 acres with almost no containment. Unfortunately, the flames had also engulfed a part of the Pacific Hwy which meant travelers had to be rerouted through smaller interior roads. This, on the other hand, allowed us to see an area we had not planned on – Santa Ynez Mountains. The steep, narrow mountain pass road with several connecting bridges was quite scary at times, yet offered some amazing scenery.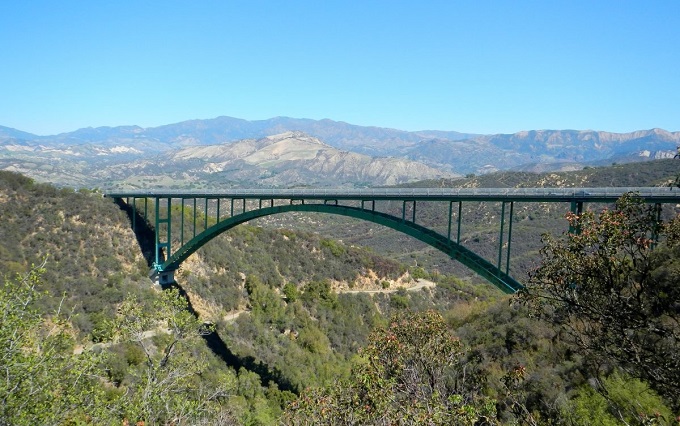 After this detour we finally returned to our planned itinerary and reached Solvang. It is a town founded by Danish immigrants in 1911 and boasts typical Danish architecture, including restaurants and cafes offering Danish and European foods and shops selling various Danish items and souvenirs.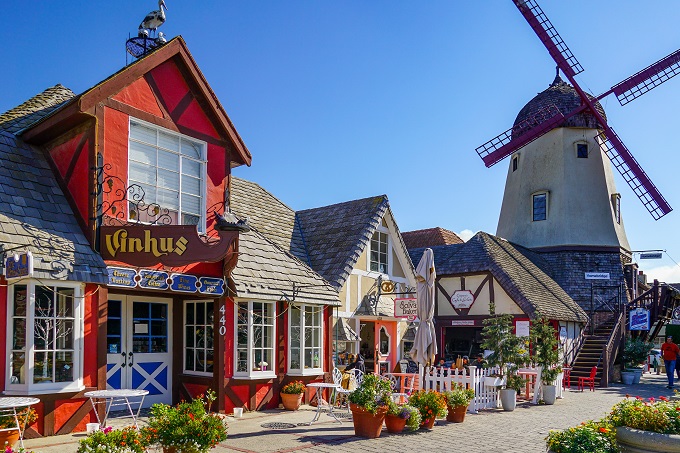 Yes, you can indeed buy clogs, ceramic Christmas ornaments and little windmills here like you would in Denmark. And the bakeries! You could not pass them without the aroma of freshly baked pastries making you turn around and walk inside. We tried quite a few items – pretzels, ice cream, bratwurst with cabbage, waffles… It was like a throwback to our years living in Europe.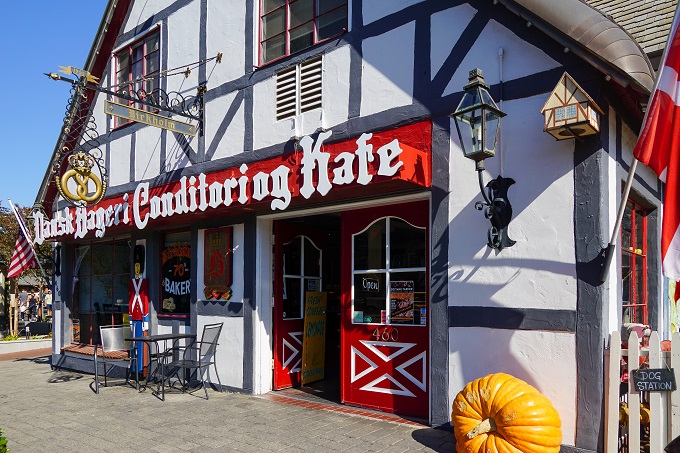 I truly wish we had more time to enjoy this town, yet we were just a few hours away from sunset which meant we had to hurry up and get going to reach our last destination before dark.
Wineries
As we set out on the road, we passed through an area near San Luis Obispo known for their vineyards and wineries. The vast grape fields were covering the hills on both sides of the road. Although I had originally looked into us visiting a winery and doing a wine tasting tour, we just did not have enough time for that. So, we enjoyed the views outside the car windows and continued on to our last stop of the day.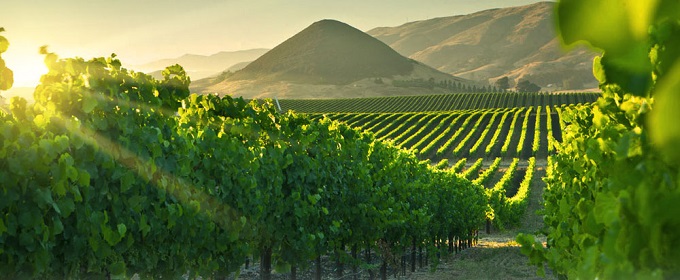 /Photo: SLO Edna Valley Retreat/
Morro Bay
Morro Bay is nicknamed the Gibraltar of the Pacific for its iconic Morro Rock dominating the landscape. It has an elevation of staggering 600 feet (182m) and it is protected as a State Historic Landmark.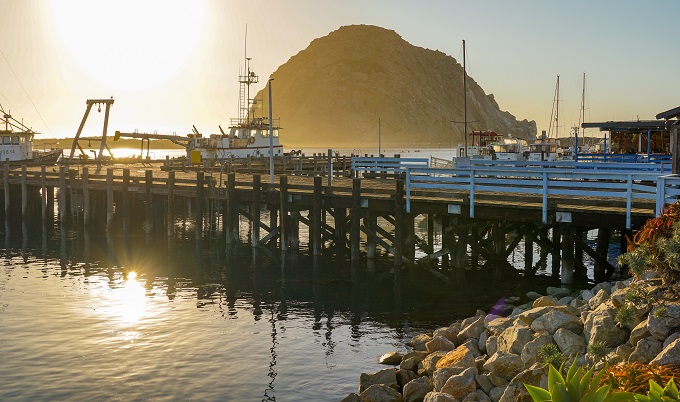 This huge rock could be seen from the moment we entered the area. Before going to it though, we stopped at the Morro Bay harbor to see something else – some cute, adorable otters! Indeed, the marina area here has an active sea otter population year-round and during our visit in October it was their pupping season when mommas and babies hang out close to the shore for everyone to see. As we approached the marina boardwalk, I could not believe how close these animals were – just a few feet away we had several otters and even a momma holding her baby, all just floating on the water. They did not seem to care much for people, fishermen, boats or anything else around them. I could have just pulled out a chair and sat here for hours watching them.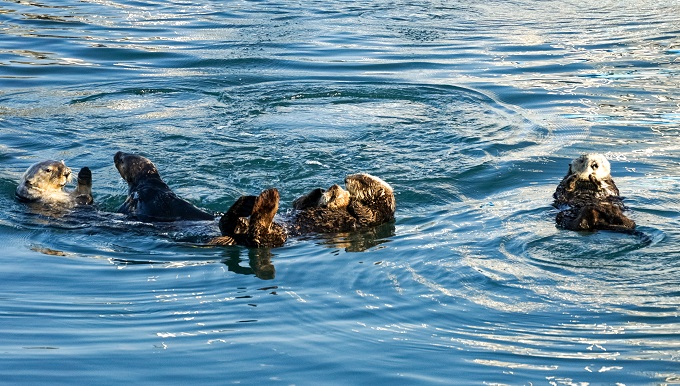 Eventually we did have to move on, as we wanted to go up to the Morro Rock and watch sunset. A thing to note – it was noticeably colder here barely reaching 50F (10C) degrees when it was 80F (26C) just a few miles back inland. It did not, however, stop the surfers who were braving this near freezing water in their wetsuits. Meanwhile, I was standing ashore wrapped up in all the jackets I could find in the car.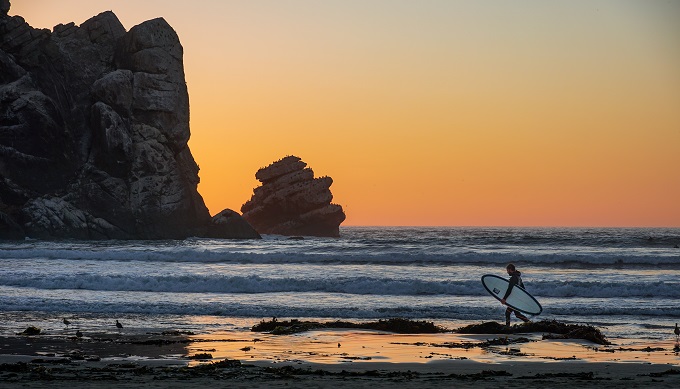 While I was patiently waiting the sunset with my camera in hand, my boys were charging around the vast beach enjoying their newfound freedom. The rest of my travel companions were hiding in the car from the chilling Pacific air, refusing to get out anymore.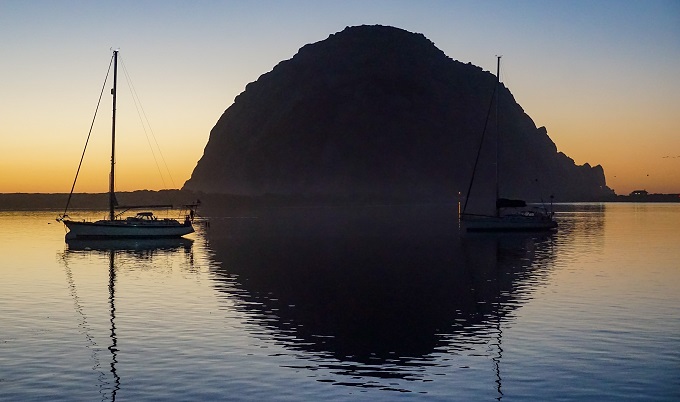 After the sun set, we returned to the marina for some dinner. As we were wandering around looking for a restaurant, we noticed sea lions swimming near-by. One had even climbed the rocks to come ashore barely a few feet away from the boardwalk. We could have reached out and touched it if we wanted to – that's how close it was!
As this was our last full day in California, we took our time at the restaurant just enjoying our meals and chatting about everything we had seen. The drive back to Los Angeles was long and dark and the boys fell asleep.
FLYING HOME
With us having to fly back home today, the morning was spent packing while the boys enjoyed our AirBnB's ''kids' facilities'' in the backyard. There was an airplane swing and a wooden playhouse with toys which kept them entertained and allowed us to pack up in peace.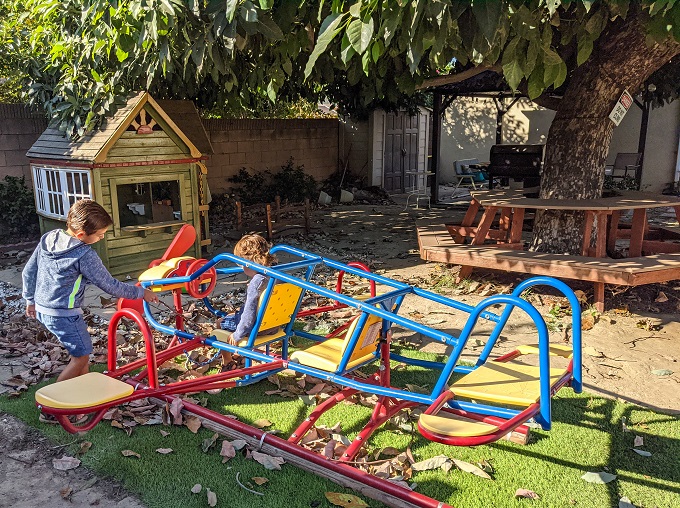 As we were driving to the airport, my thoughts wandered back to everything we had seen in these short 5 days. There was the dry desert with sand dunes and Joshua Trees; the mountains with snow and old-growth pine forests; as well as the Pacific Ocean coast with crashing waves and abundant sea life. So much diversity in such a small area! And as much as California is famous for its big cities like Los Angeles, San Diego and San Francisco, I think its nature and wildlife tops them all!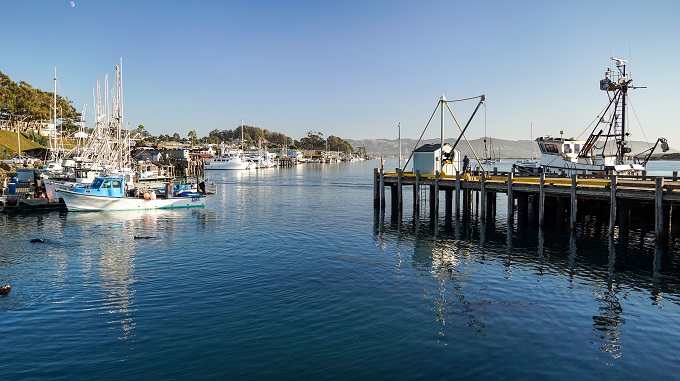 More USA road trip stories:
Our Covid Vacation to the Big Island of Hawaii
Down Memory Lane in San Antonio Texas
Escaping Thanksgiving - Fun and Sun in Florida
Our First RV Road Trip - Georgia's Southern Charm vs Colors of the Great Smoky Mountains
From Ice and Snow to Desert Sands - Our Colorado, New Mexico and Arizona Road Trip
Our Pacific Northwest Road Trip - Ocean Blues and Mountain Greens
Kauai - the Grand Canyon of the Pacific
Hawaii (Oahu) with 2 Toddlers in Tow
New Orleans and Louisiana - the World of Cajun and Creole