2-Week Grand Alaska Road Trip with Kids - Day 4: Our Favorite Day of the Trip
Start of our trip:
2-Week Grand Alaska Road Trip with Kids - Intro
Day 3: First Hike on a Glacier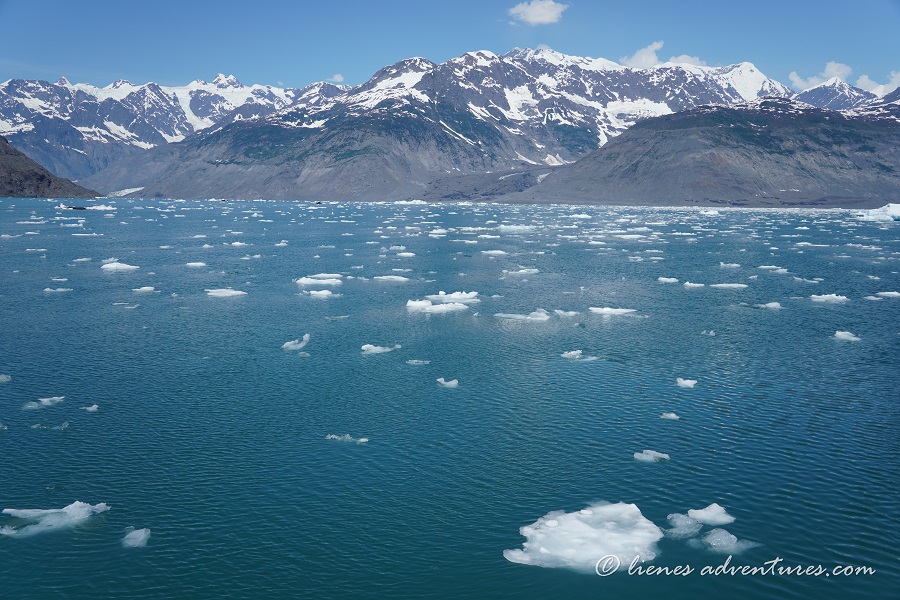 Since the start of the trip, I had been very impatiently waiting for this day. We were going on a boat tour to explore the magnificent Prince William Sound. I had high expectations for it, yet I kept my excitement low as I did not want to end up disappointed. We had booked the 6-hour Columbia Glacier Cruise with Stephens Cruises.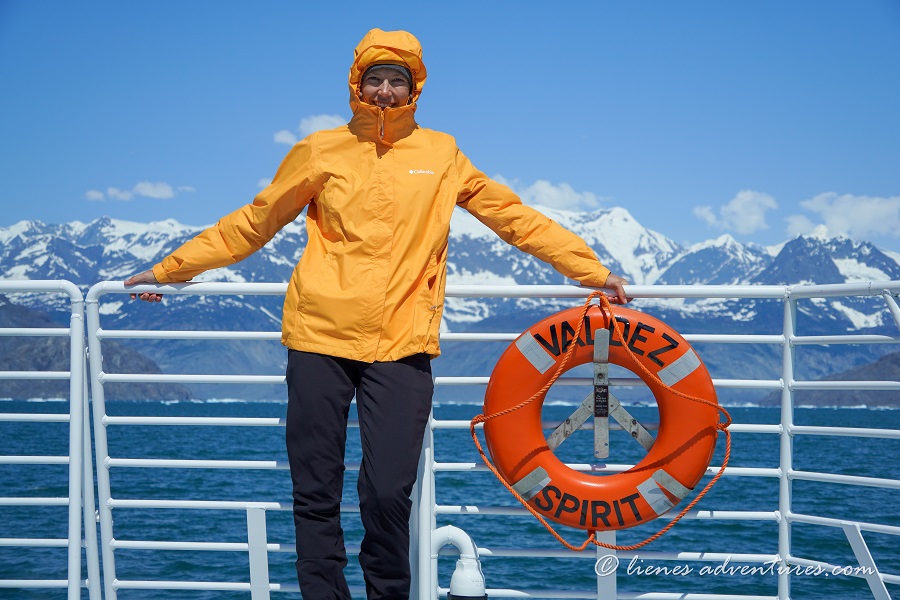 After some light hotel breakfast and loads of coffee, we walked over to the dock to check in for our cruise. The first thing I noticed was how low the fog was – last night we could see the tips of the mountains but this morning everything was white just a few feet from the ground. The boat crew informed us that it is nothing to worry about as we will be heading many, many miles into the sound and the fog will have plenty of time to lift (which is exactly what happened).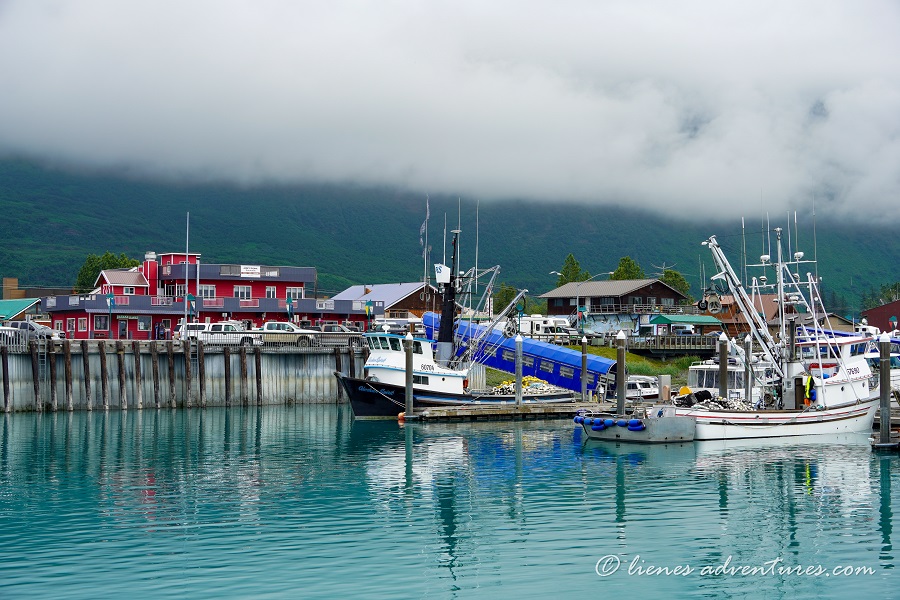 Having assigned tables was great as we had a designated place to put down our bags and the kids could pull out their coloring books and crayons. We were not, however, restricted to our seats and once the tour set sail we were free to move around the boat wherever we pleased.
Already just a few minutes outside the harbor the captain noticed several sea otters and pulled the boat up for everyone to see. Sea otters are actually quite vicious, yet their demeanor is such that I just wanted to cuddle them!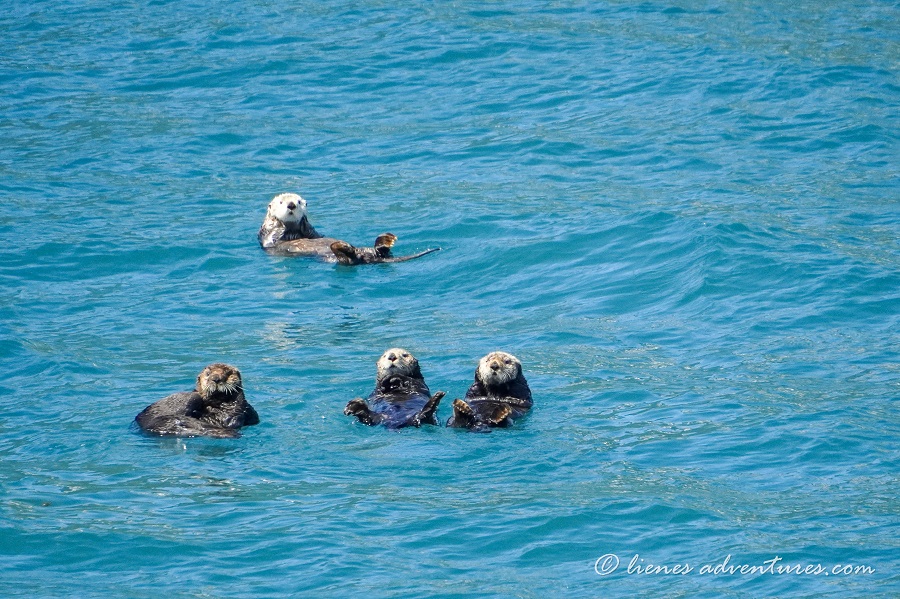 After everybody had snapped their photos, we continued on through the Alaska fjords. There were little islands scattered about with tall mountains lining the water passage on both sides. The water was perfectly still and reflected the deep green color of the surroundings. There were tall waterfalls gushing over the cliff sides and snow-filled valleys lining the coast. It was magical!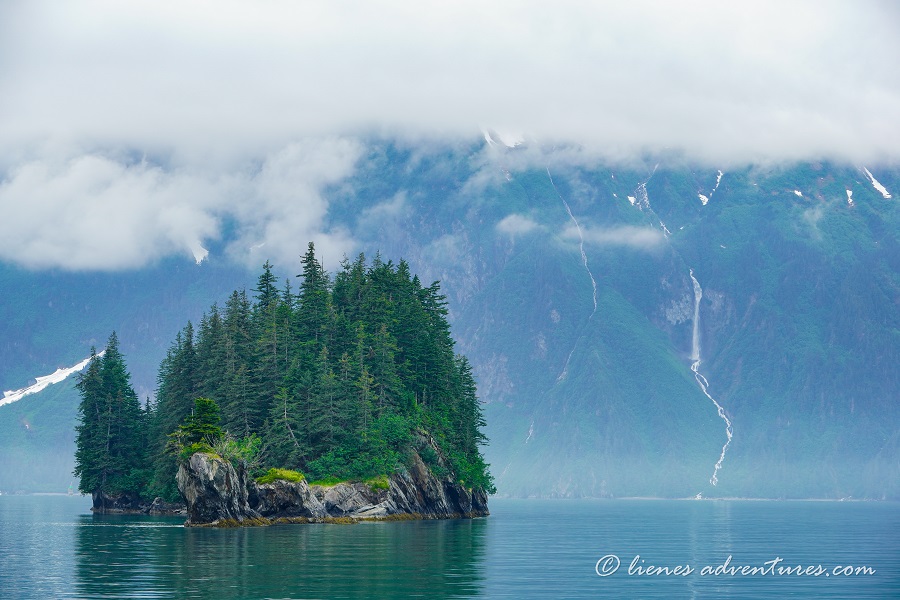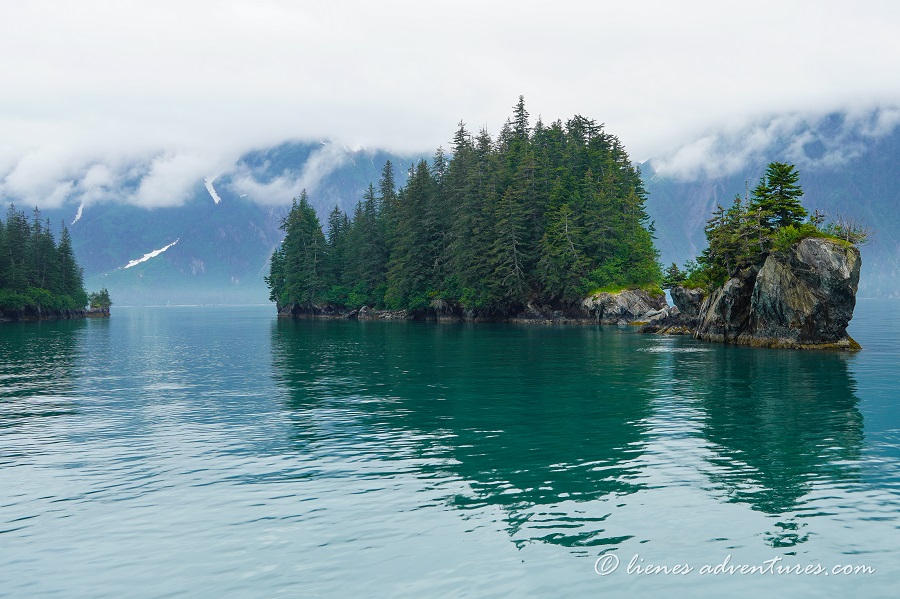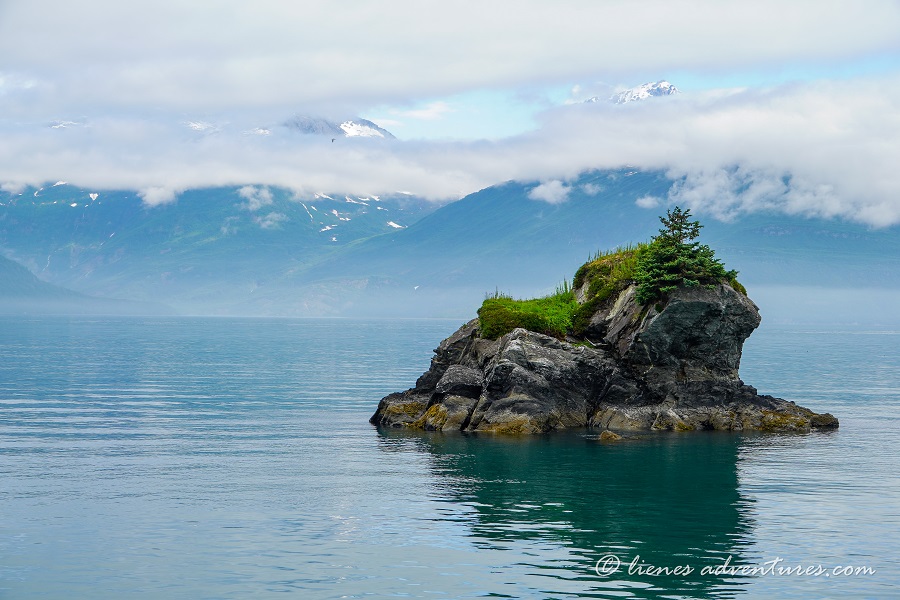 Shortly after the captain noticed his second wildlife sighting – a bald eagle nest with 2 eagles. One of them was sitting in the nearby tree guarding the nest but the other was standing on a small, floating piece of ice – fishing. Watching the kids and getting groceries - I guess that's parenthood no matter if you're a human, bird or animal.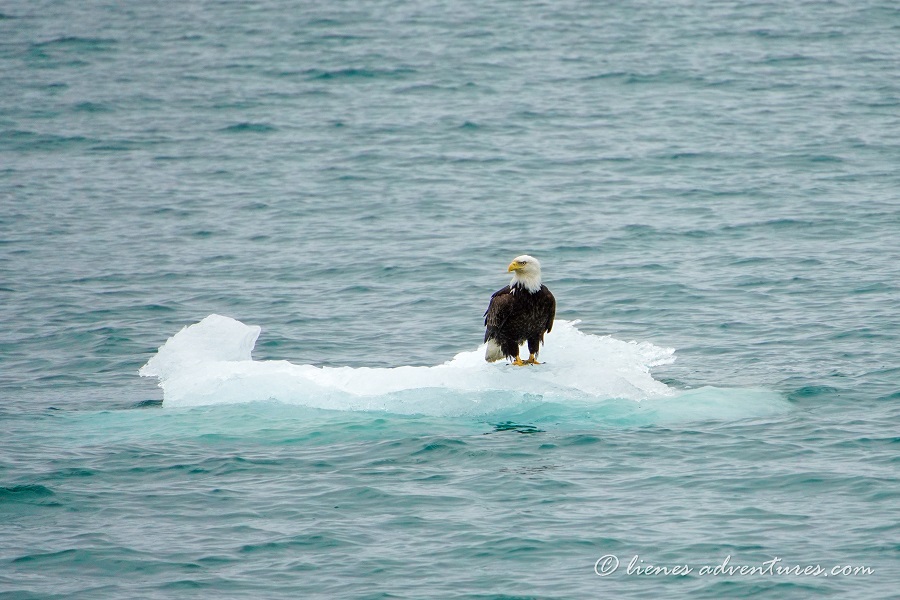 As we started to make our way closer to the glaciers, larger and larger pieces of icebergs started to appear. The captain said we had the perfect weather to see the deepest colors of the ice. Too much direct sun can make everything whitewashed but too cloudy and dark will make everything bland. We had just the perfect amount of subdued sunlight to bring out the deepest blues of the heavily compacted ice. I could not even believe these colors were real! I could not have imagined icebergs would look this deep blue.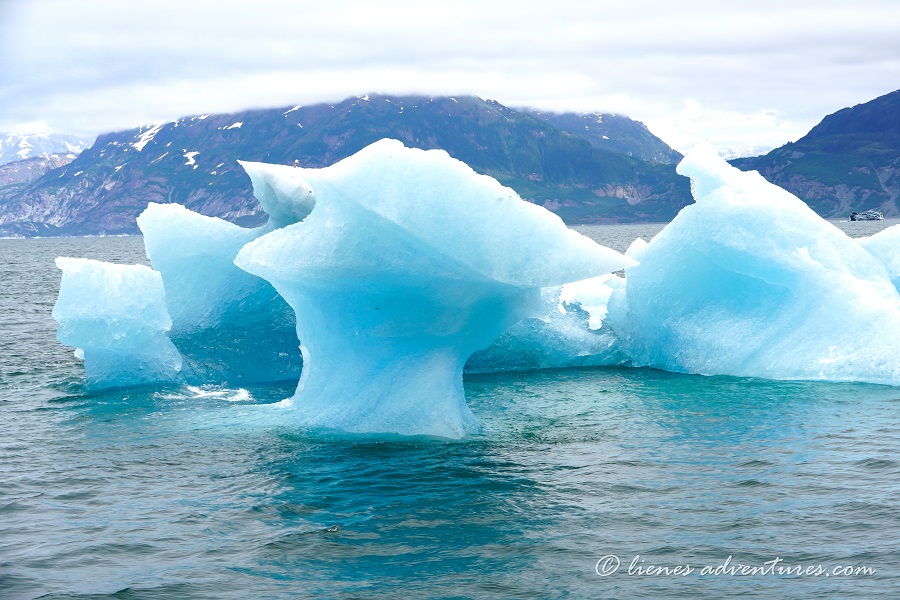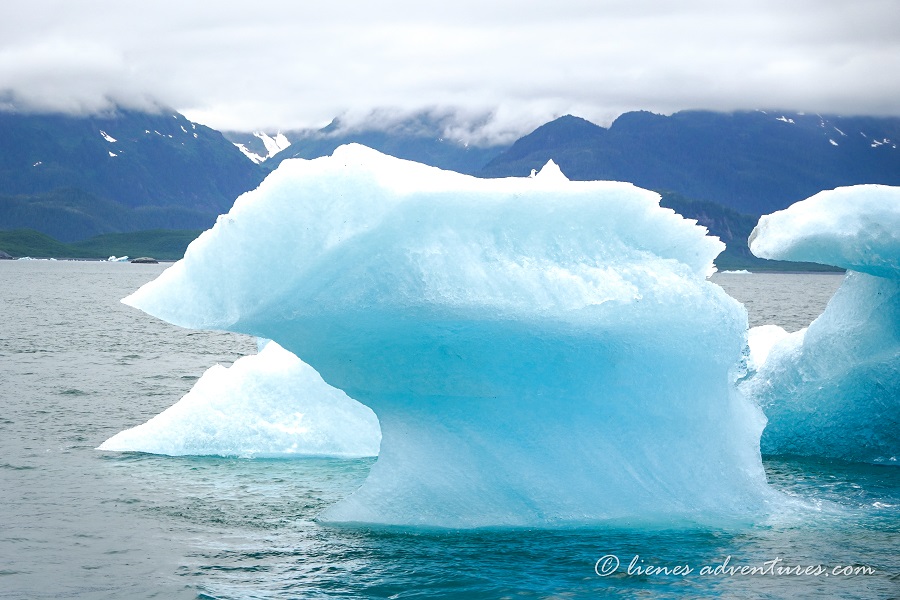 And as we were making a full circle around one of these icebergs, we noticed 2 harbor seals frolicking around and having fun.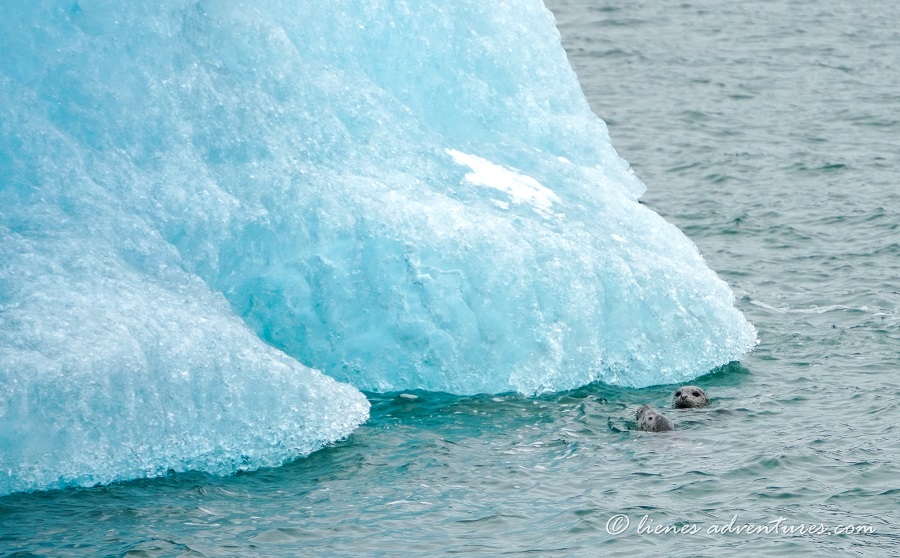 The deeper into the fjords we went, the more icebergs and ice pieces appeared all around us. A group of sea otters had decided to make one of these icebergs their personal floating island as they all had climbed up and laid out on it.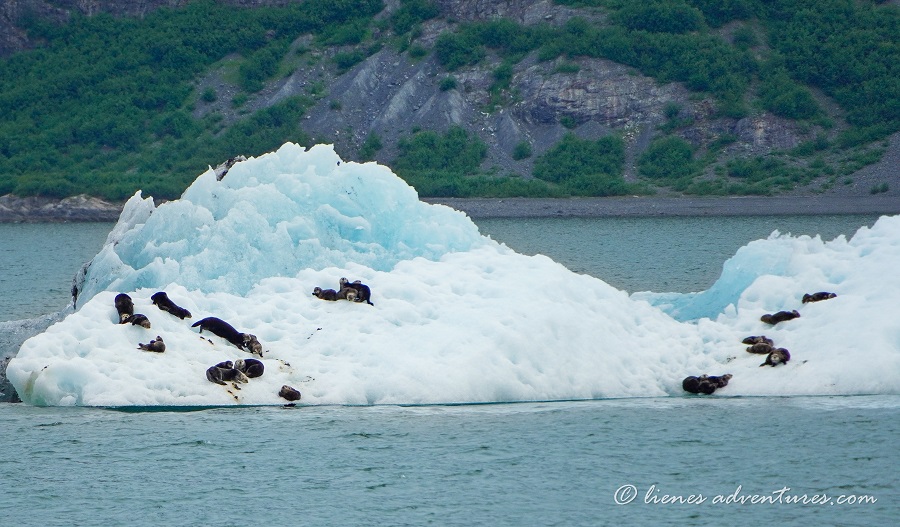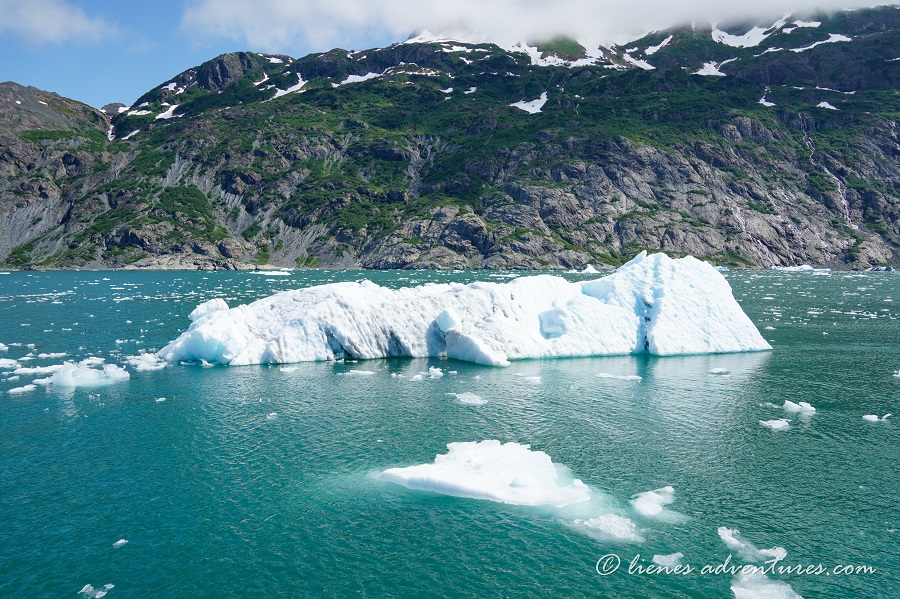 Eventually, after several hours of cruising the magnificent Columbia Glacier emerged in front of us. Its size was massive and overwhelming - it was several miles wide.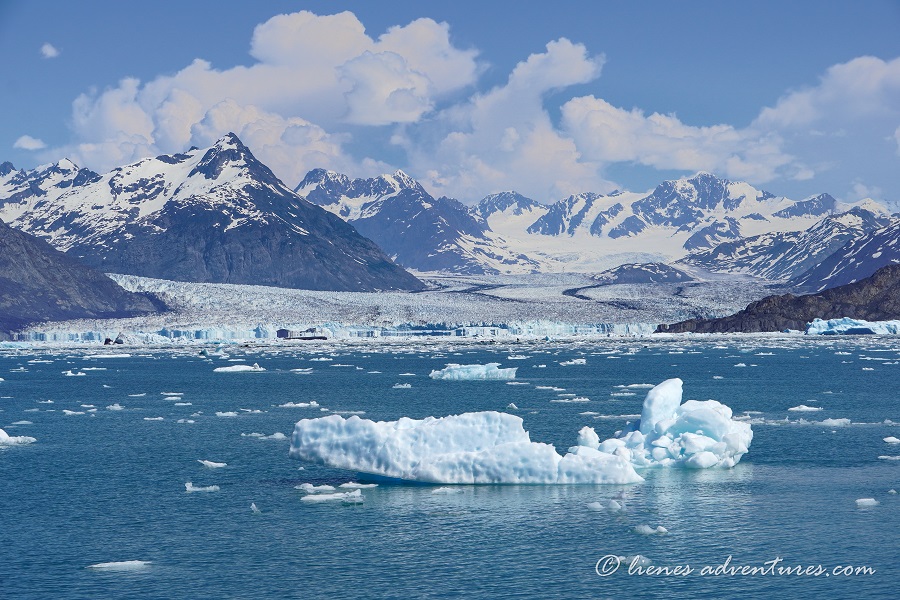 At the end of June there was still too much ice in front of the main glacier, so the captain steered the boat towards one of the smaller branches of the Columbia Glacier and parked the boat right in front of it for at least some half an hour. We had more than enough time to gaze at the glacier from all possible angles and take however many hundreds of photos we wanted. The weather was yet again absolutely perfect with blue skies and calm seas.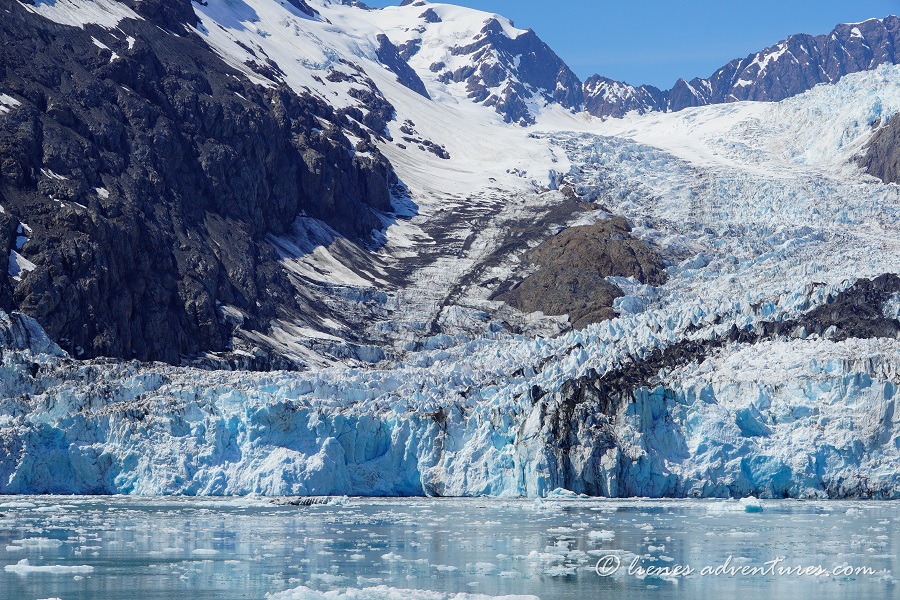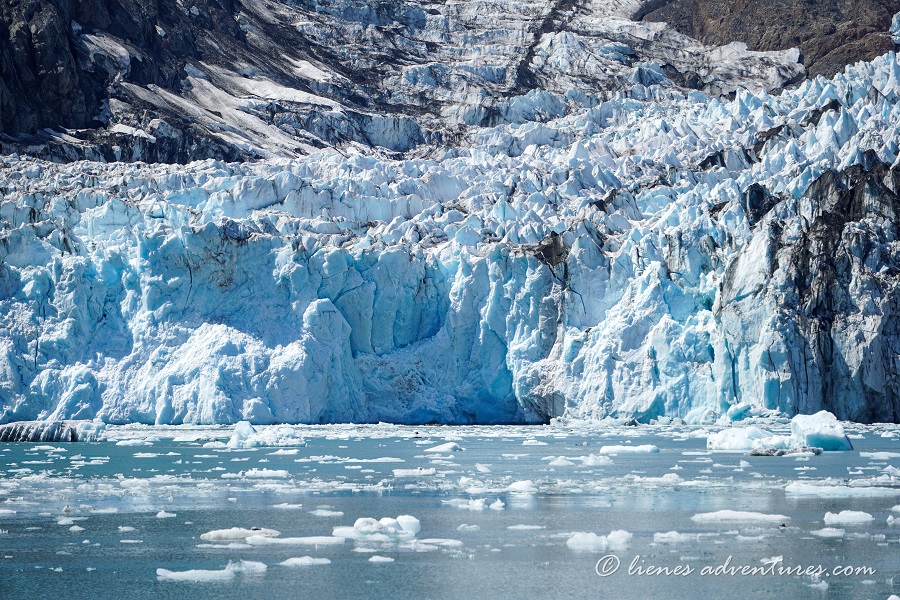 After the glacier stop, we were served some chowder and vegetable soup along with bagels, coffee, drinks and a dessert. All of it was included in the tour price. Someone from the staff had also picked a big piece of glacier ice out of the ocean and anyone interested could buy glacier ice cocktails. When else would you have an opportunity to have a tens of thousands of years old ice cocktail?! And we got to hold it too before it was cut up into smaller pieces!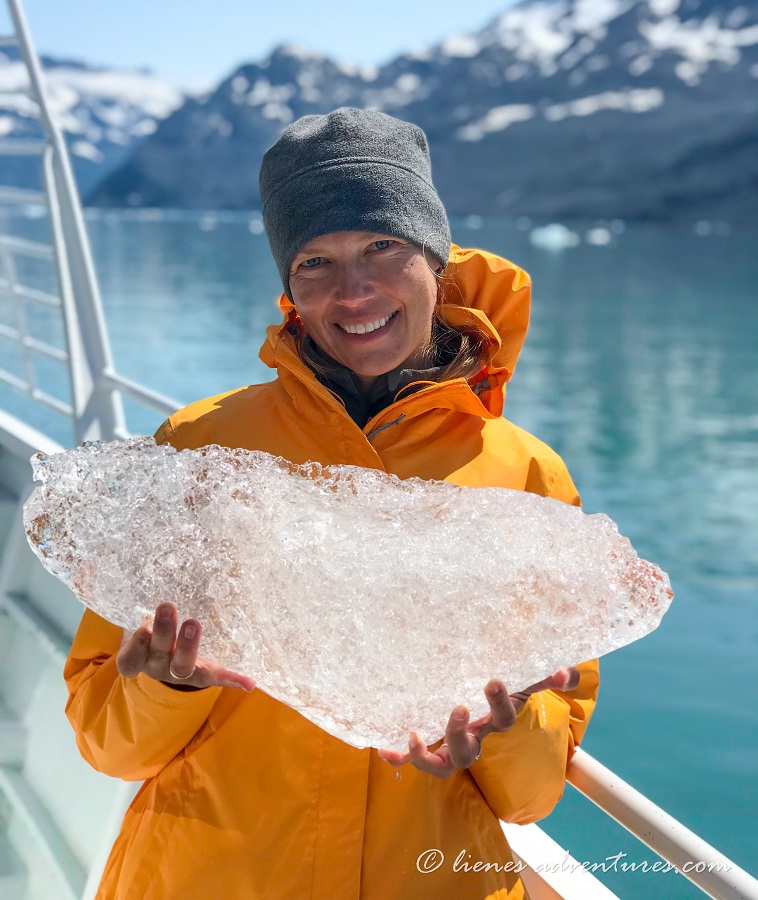 On our return journey we saw a few more sea otters, a couple more harbor seals and a handful of tufted puffins who were too quick for a good photo. Part of the route also included a stop at stellar sea lion colony. There had to be almost a hundred of them both ashore and in the water. While some were trying to rest, others were trying to pick fights. It was constant movement and bickering.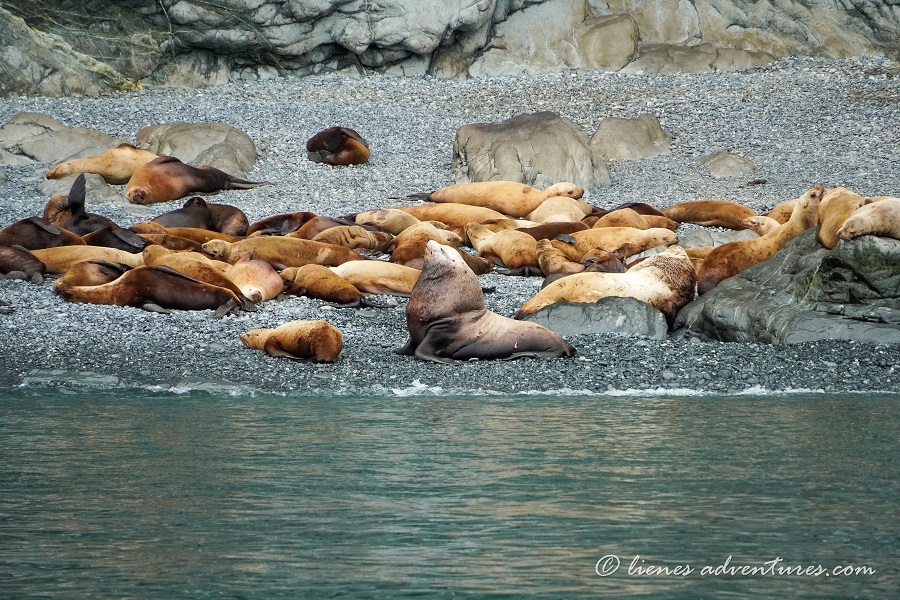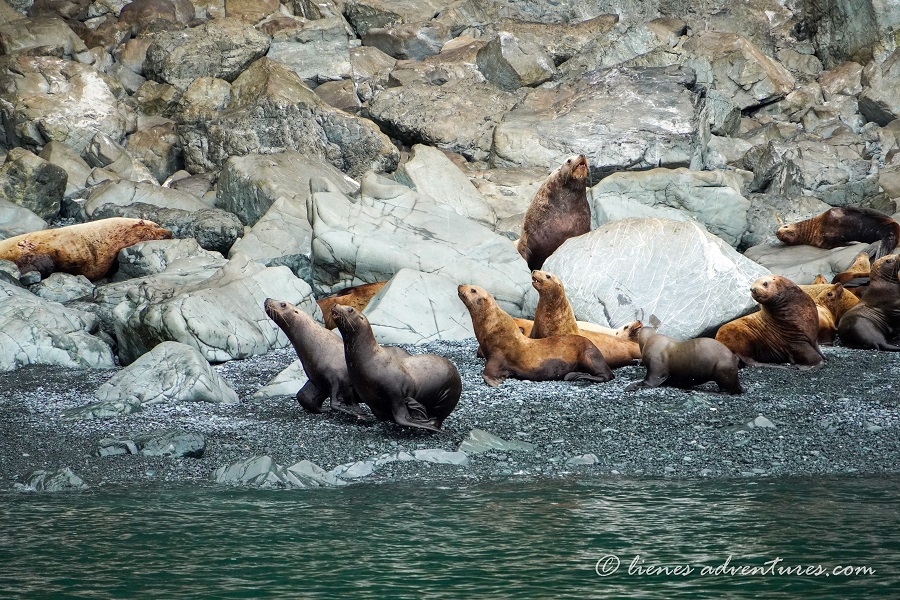 The whole ship sprung on their feet when the captain announced that an orca (killer whale) had been spotted. As a matter of fact, there were 4 to 5 orcas scattered about the area. Some were farther away yet one of them came quite close to the boat. Close enough to hear him spout water and see his white cheek patches.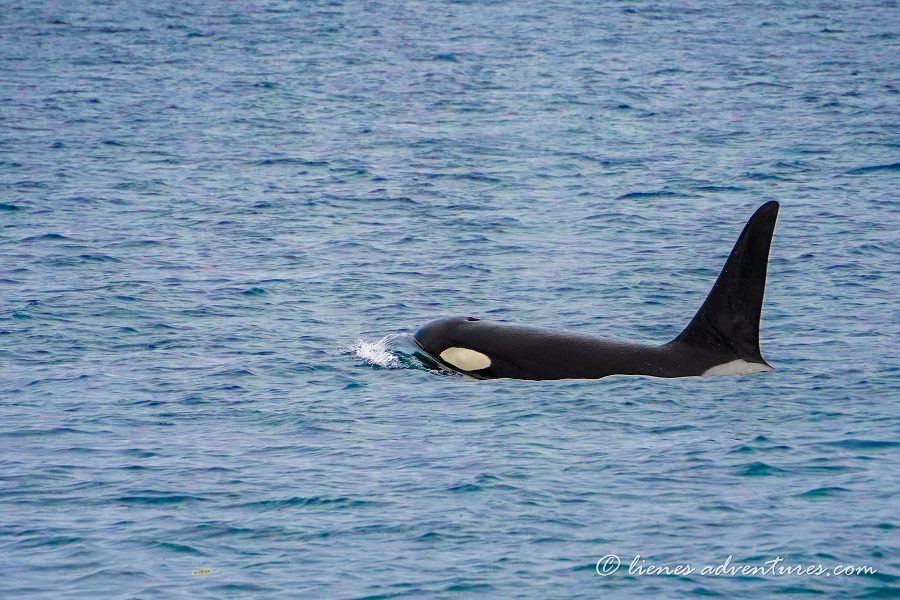 The rest of the ride consisted of steady cruising back to Valdez harbor with continuous stunning Alaska fjord scenery all around. Unlike in the morning, by afternoon the fog had lifted and we could see all the mountains and waterfalls along the Sound very clearly. It was a different scenery than on the way out, yet I equally liked them both.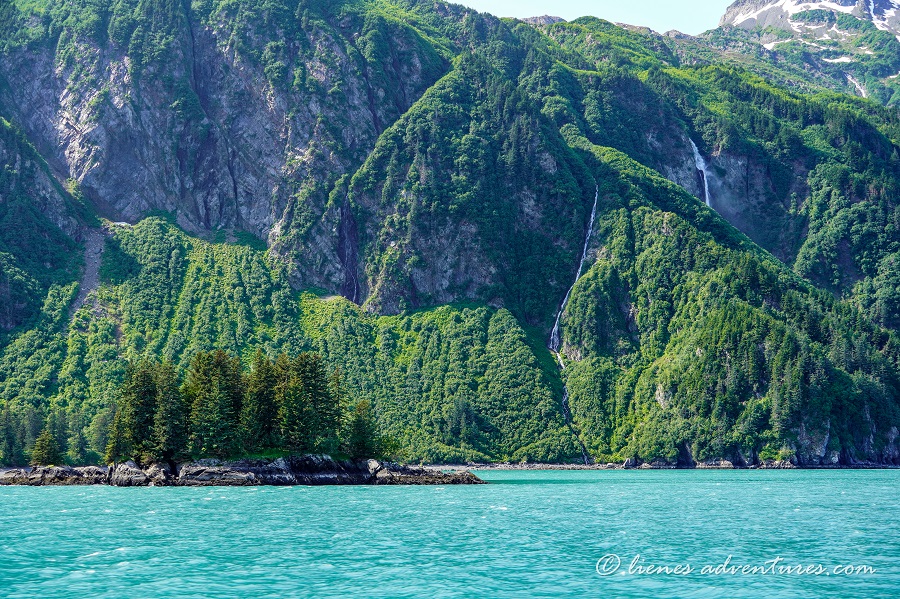 Much to my surprise, the kids coped with the long tour perfectly. Between spotting the wildlife; admiring the glaciers and waterfalls; getting lunch and snacks; and having their coloring books to keep them busy, they were occupied throughout the whole cruise. And once we pulled back into Valdez harbor they weren't even that eager to get off...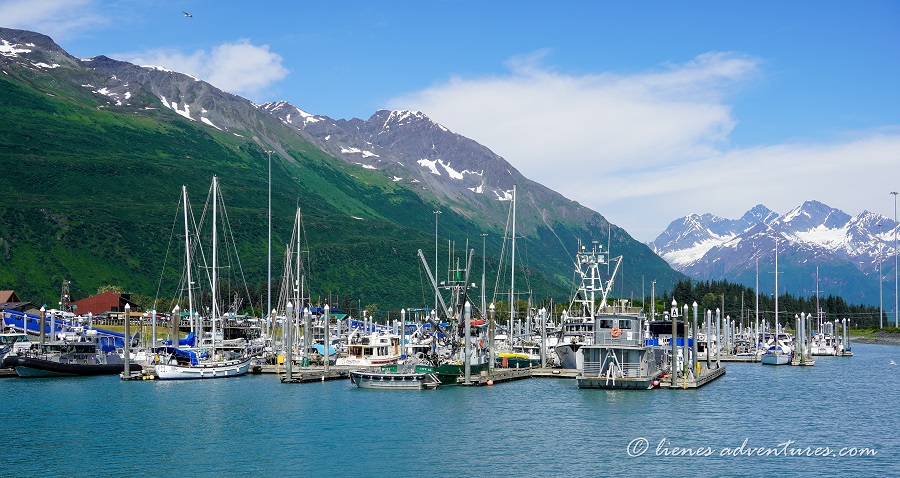 It was around 5PM when we disembarked the ship. The Alaska sun was shining brightly in the sky, and I suggested to make a drive to the nearby Solomon Gulch Fish Hatchery. Although it wasn't the salmon run time yet, I was keeping my fingers crossed for my first real bear sighting. I felt like this would be my lucky day.
As we pulled up, we were the only people there. We walked down the paved path towards the gulch and stream yet saw no bears. I was a little disappointed but then my husband noticed a harbor seal. It was right by the stream gate and seemed to be on a mission. The seal suddenly lunged forward, jumped and then a few seconds later popped its head out of the water with a huge fish in its mouth. Wow!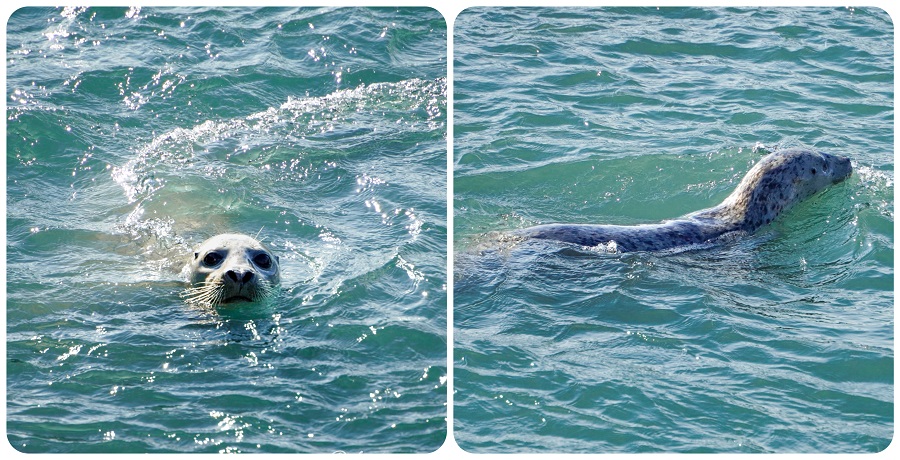 As I was still looking for bears, my 4-year-old shouted: ''Bald eagle'' Where?!? And there it was, right on top of a huge green spruce tree next to the water. It also seemed to be looking at something intently. We just sat there and watched. Suddenly the eagle lifted and plunged towards the water… The next I know, it is standing on a rock in the middle of the stream, and then heads back to the spruce tree. The eagle repeated this loop several times, clearly making an attempt to catch a fish.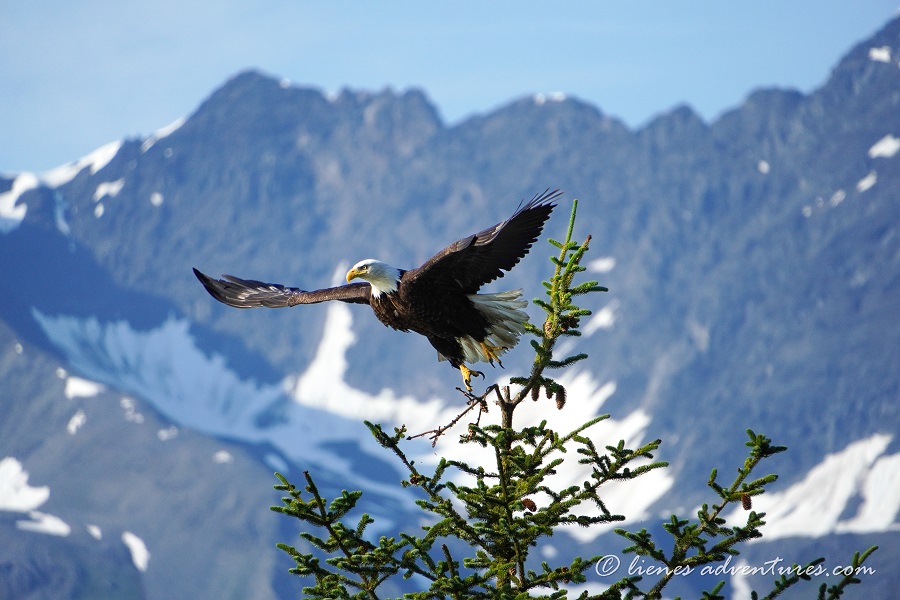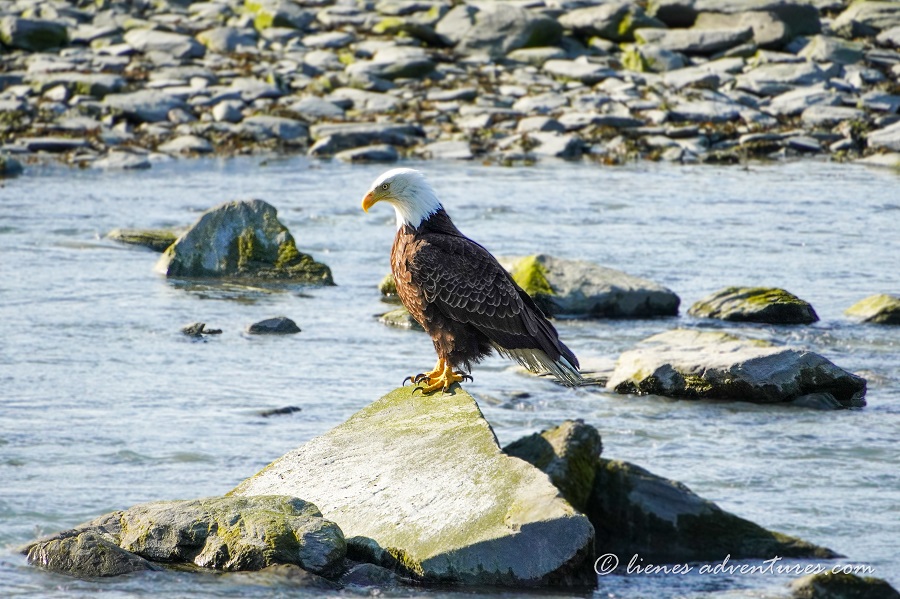 We spent over an hour here observing all the wildlife on their nightly prowl. And although I did not see a bear, I was more than impressed and grateful for what we had witnessed.
I would also like to make an honorable mention of all the black legged kittiwakes (gulls) that were in the area by the gulch. Although they are not the birds people usually make the trip out here to see, they were still a very big part of the scenery here. And a funny one per se, if I might add...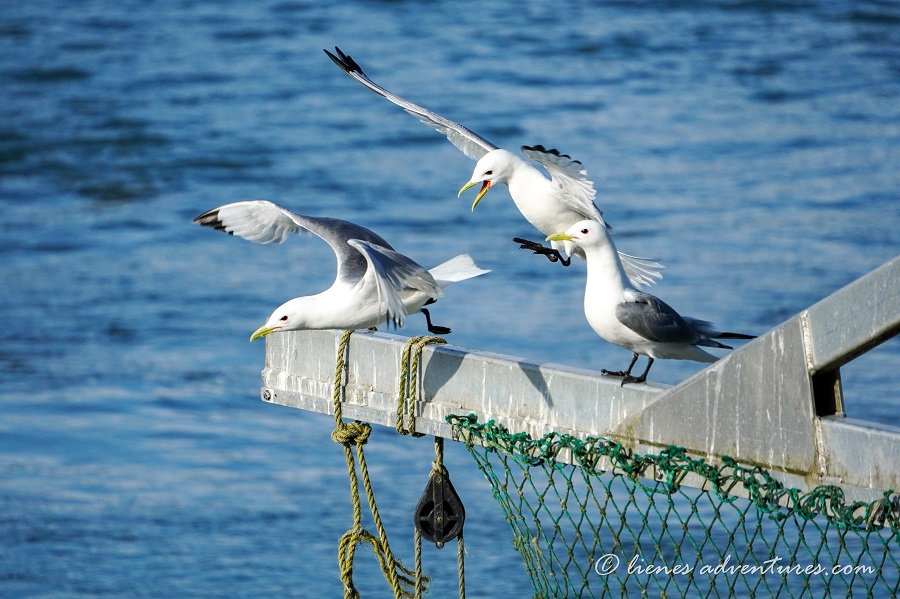 On our way back to town I talked my already exhausted family to make one last stop at Valdez Glacial Lake. Surprisingly, everyone agreed so we made the detour. I could not find much information on this place with the exception of a few blog post mentions here and there.
As we rolled up, we weren't exactly sure if we were at the right place or not… It wasn't quite the pictures I remembered from online. And we were somewhat unimpressed after all the majestic glaciers we had seen earlier in the day. Yet, as I mentioned before - glacier scenery is ever-changing and pictures that I might have seen from a year ago had nothing to do with what the lake looked like right now or what it might look like the at end of the summer... Ice comes and goes at its own pace and rhythm.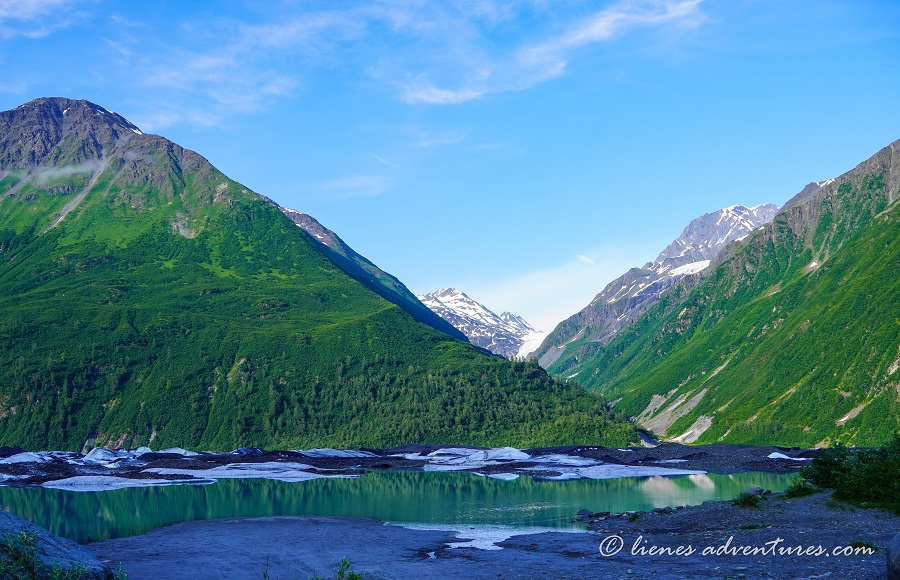 The mosquitos were making their presence known for the first time during this trip. And having no large icebergs to admire here in the lake this time around, we jumped back in the car and headed to the hotel.
It being almost 8:30PM we were too tired to go out again, so we just ate last night's leftover pizza and fish, and made hot cups of tea at the hotel's lobby. As you can see, we are not particularly picky eaters and prioritize time for experiences over food. I eat to live (not live to eat) – a concept my husband doesn't necessarily agree with…
That was it for us and yet another magical day in Alaska had come to a close.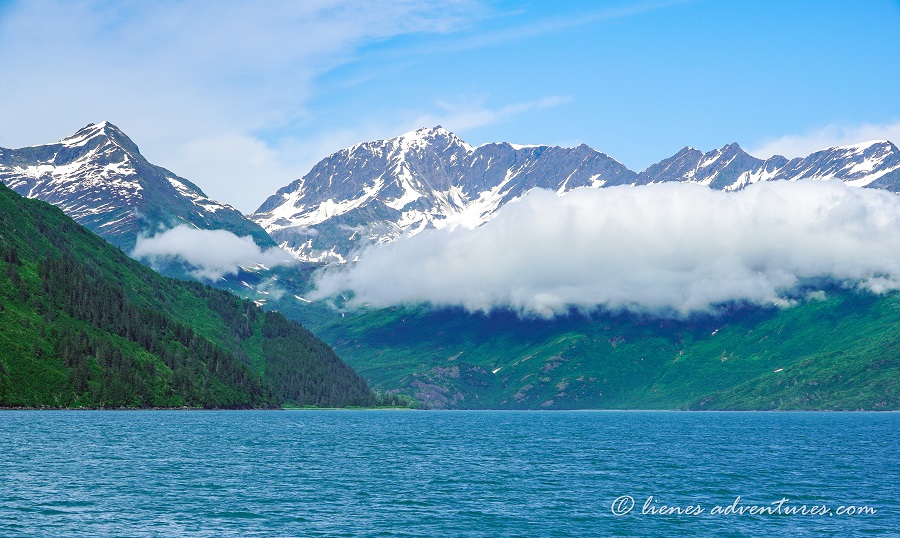 Continue reading:
Alaska - Day 5: The Longest Drive
Alaska - Day 6: Meeting Santa Claus
Alaska - Day 7: Denali River Rafting
Alaska - Day 8: Hiking with a View of Denali
Alaska - Day 9: I Finally Met the Bears!
Alaska - Day 10: The Magic of Fjords, Glaciers and Wildlife
Alaska - Day 11: There Can Never Be Too Many Glaciers
Alaska - Day 12: Mountains, Gold and Elves
Alaska - Day 13: The Moose are Everywhere