2-Week Grand Alaska Road Trip with Kids – Day 6: Meeting Santa Claus
Start of our trip:
2-Week Grand Alaska Road Trip with Kids - Intro
Day 3: First Hike on a Glacier
Day 4: Our Favorite Day of the Trip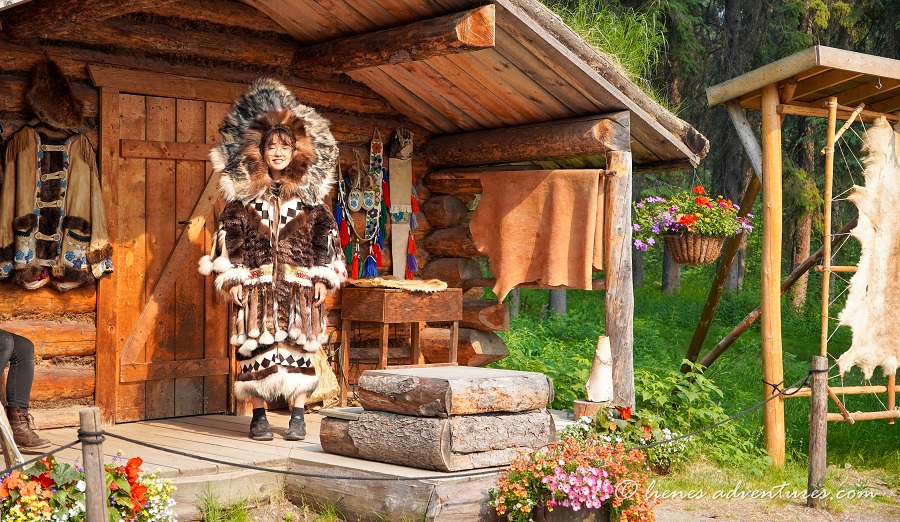 Although my laundry adventures ended only at midnight, this morning we were up with the alarm clock again. We had booked a 9AM Riverboat Discovery tour. This was something I had not originally considered to put on our itinerary, yet it came suggested by our neighbors who visited Alaska in 2021. I was going back and forth about booking it, however, as we were spending a day in Fairbanks anyway, I decided to give it a shot – we were there for all the experiences we could get!
Once we had parked and were waiting for our turn to board the boat, we noticed several large tour buses and organized groups of people from different hotels and cruise lines. This started to feel like a very structured event. Not that it made it any better or worse, it just promised to be different than the wild do-it-yourself Alaska we had experienced up until now.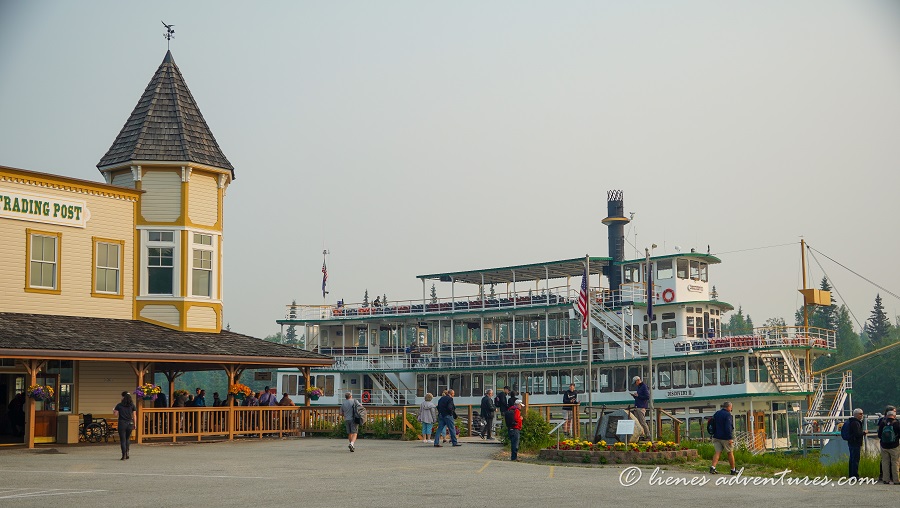 Another element we noticed this morning was the extremely thick, yellowish sky and the smell of smoke all around. Interior Alaska was battling some big wildfires and the wind had shifted in a way where Fairbanks was just engulfed in the wildfire smoke. It definitely made for a slightly apocalyptic scenery.
Once the boat was fully boarded, we took off down Chena River with hot coffee and doughnuts being served for breakfast. Perfect!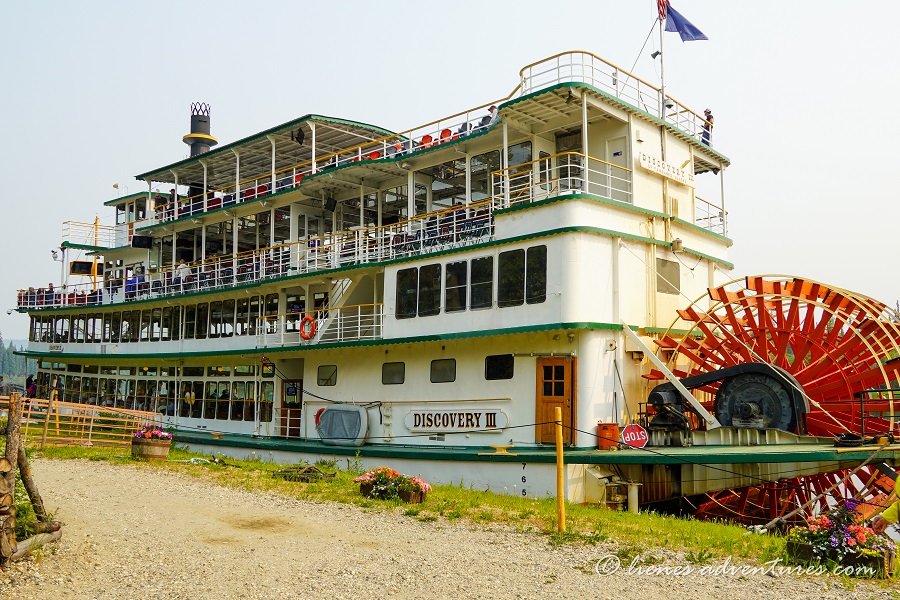 While my kids were running to the bar to get their 3rd serving of doughnuts, it was announced that the bush pilot had gotten his clearance to do the floatplane demonstration. I knew it was on the itinerary, yet I did not expect the plane to take off and land right next to our big boat. It was pretty cool and probably my husband's favorite part as he is a pilot himself. And planes are an extremely integral part of life in Alaska as sometimes boarding a plane is the only way to get from point to point. As a matter of fact, Alaska has the highest percentage of per capita airplane ownership in the country.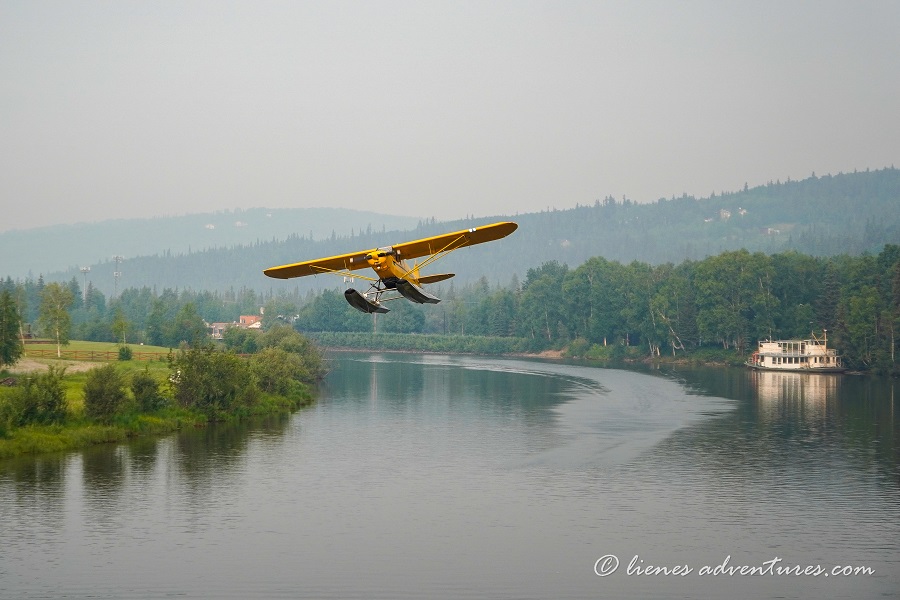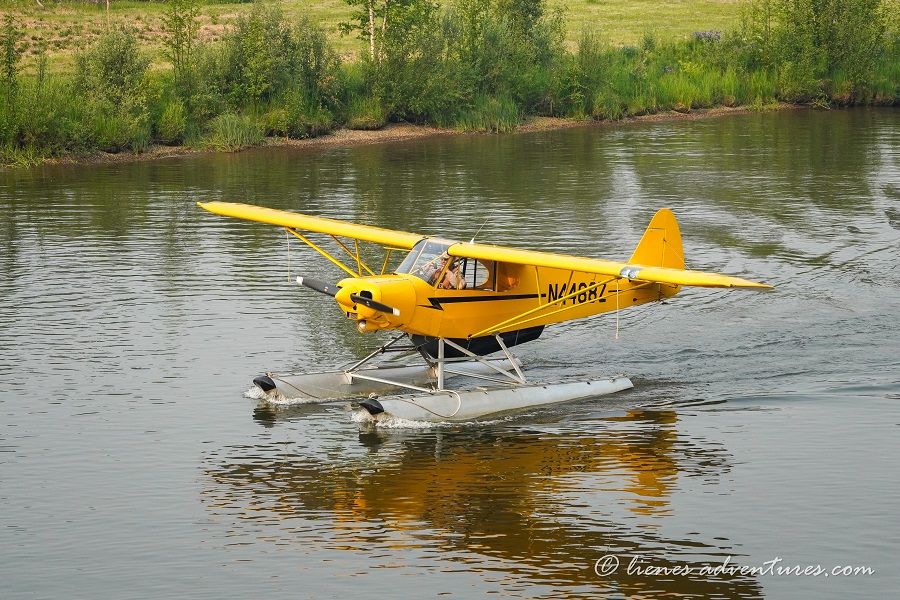 The next stop we made (without disembarking) was to see Iditarod dog kennels and see a short sled dog demonstration along with an informational narrative. As there is no snow in summer, the dogs were training by pulling a wheeled quad bike which my kids were still totally amazed about. Sled dogs were one of their fondest memories about Alaska in general (and we also got to see them in Denali NP on day 7).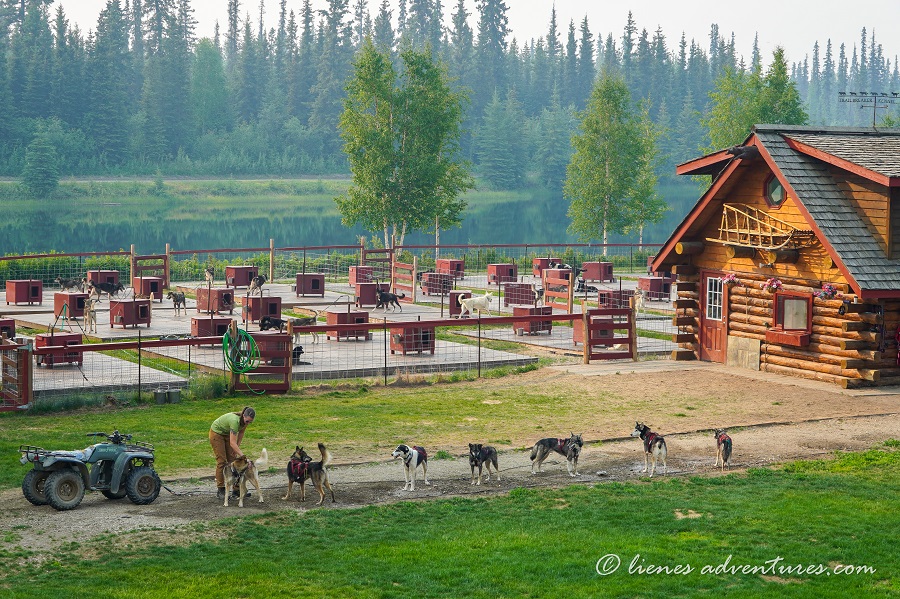 After about 40 minutes of cruising the river, we finally reached the Chena Anthabascan Indian Village Museum. This is where everyone got off the boat to go explore the village either on their own or by joining a narrated walking tour. The village consisted of many recreated spruce log cabins, huts and sheds including reconstructed primitive canoes and tools. The guides explained how the Anthabascan Indians skillfully survived for over 10,000 years by fishing, hunting and gathering and how they adapted to village life.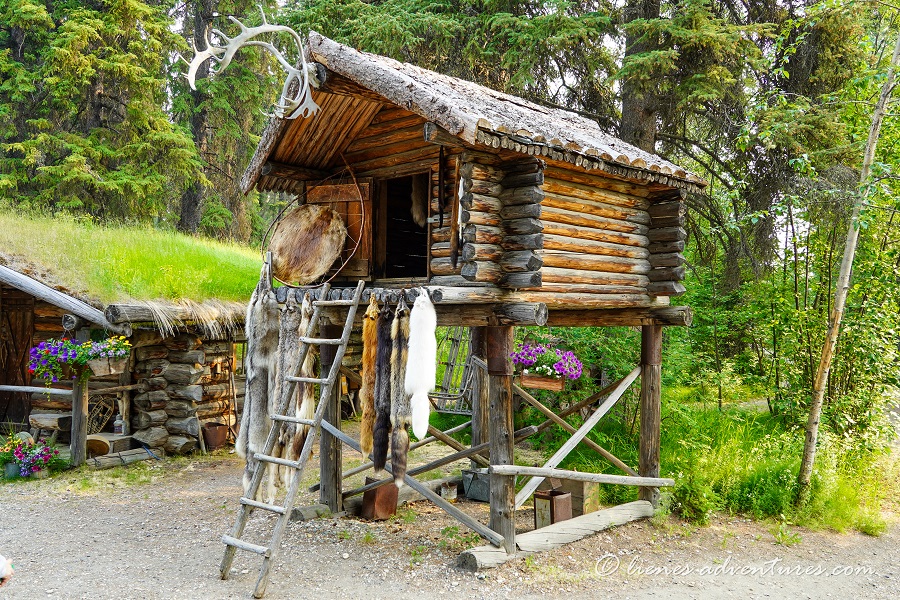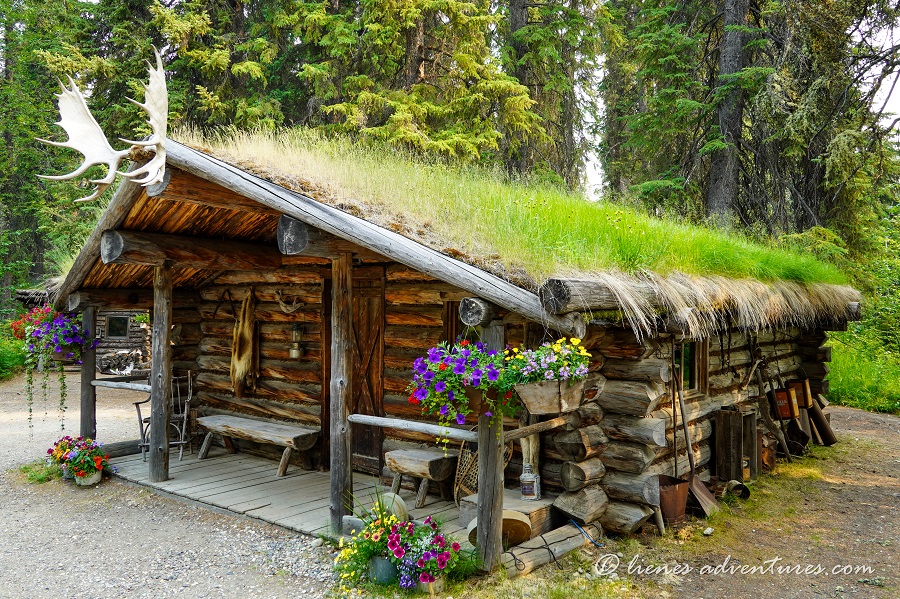 Not just my kids, but myself included, we really enjoyed exploring each and every house by walking in and seeing various items on display. My boys concluded they did not quite want to live the Anthabascan lifestyle.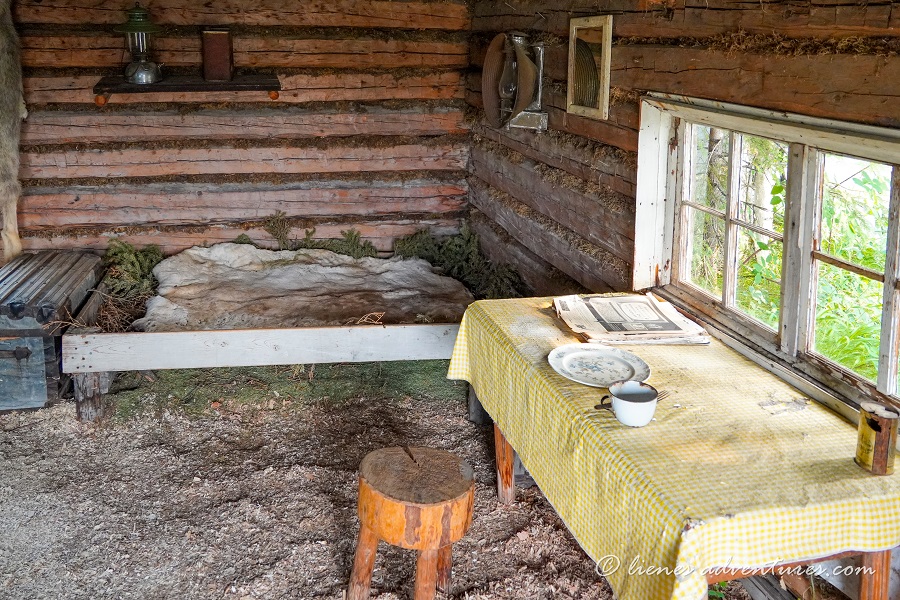 At the far end of the village, we could also meet a few sled dogs from the kennel we saw earlier. This was a nice surprise for the boys. Visitors could also ask their questions and learn a little more about preparing, training and running the Iditarod.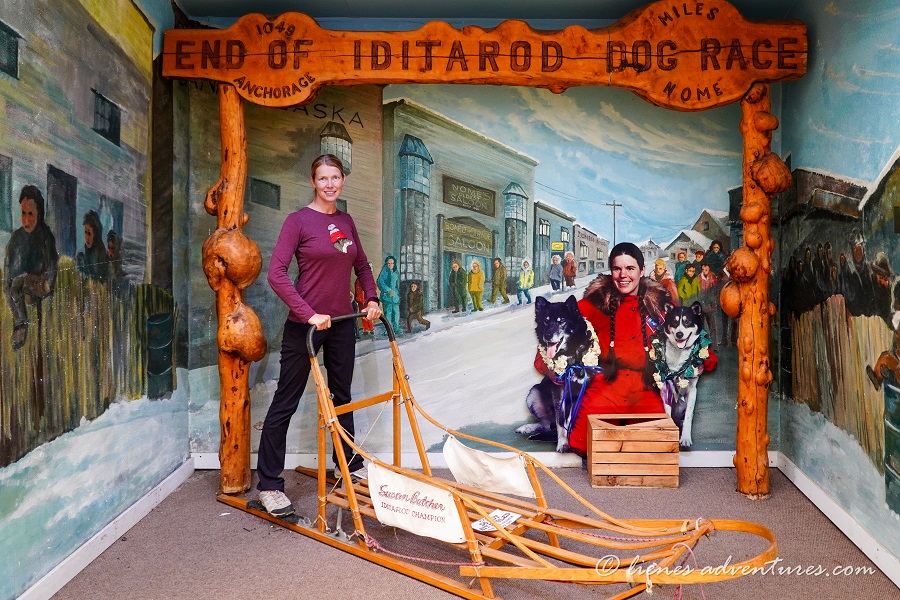 Right before embarking the riverboat again, we made a short stop by the primitive camp to see the salmon prepping and drying. I love the smell of smoked fish while my husband thought it stank, ha ha!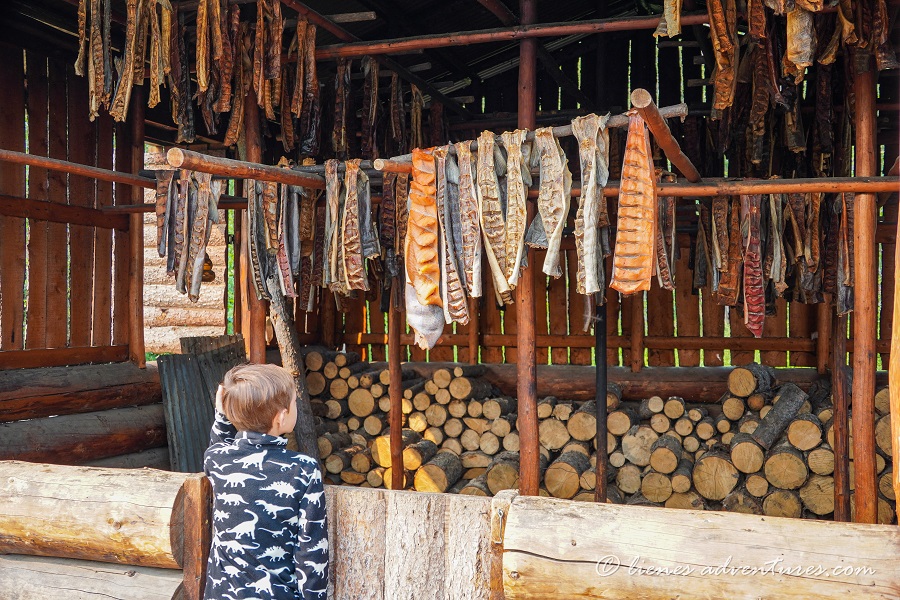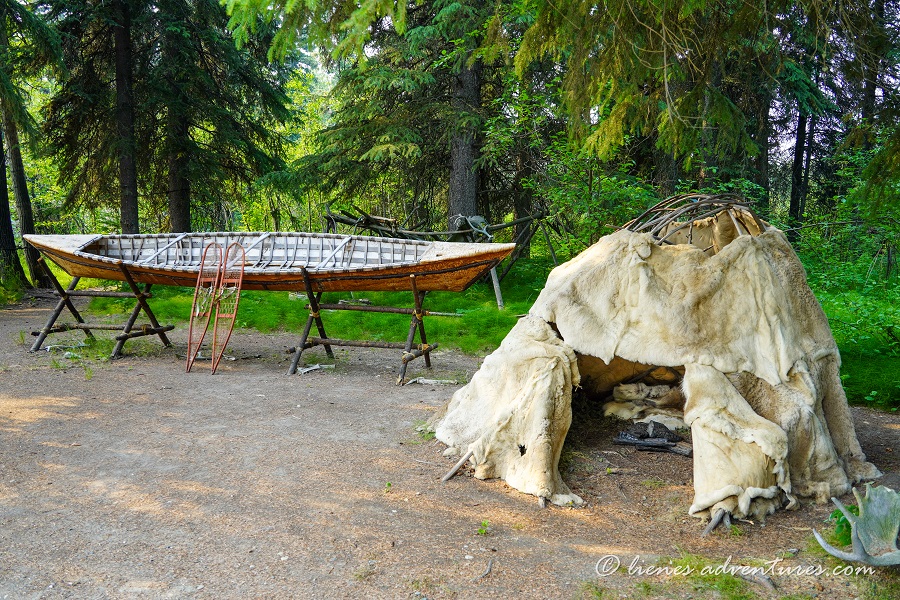 On our return journey, we were provided with more interesting information about the area and life in Alaska, as well as got to try some smoked salmon dip which was absolutely amazing. Unfortunately, they did not have any for sale as salmon season hadn't started yet. That was a bummer for me as I love freshly smoked salmon and it is not something we can buy in Hawaii.
Overall, the tour ran like a well-oiled machine (minus the lack of smoked salmon for sale). And although it felt a little touristy to me, my husband really loved it, so that's a big plus for me! And my kids loved the free doughnuts, so I guess we each found something dear to our hearts.
For our next sightseeing spot, we had to do a little backtracking. Due to our very late arrival in Fairbanks last night, we missed the opportunity to meet Santa Claus. So today we had to make the 20-minute drive back to North Pole, Alaska to visit Santa at Santa Claus House! Indeed, there is North Pole in Alaska, and there is Santa who greets children (and adults alike), and who you can take photos with!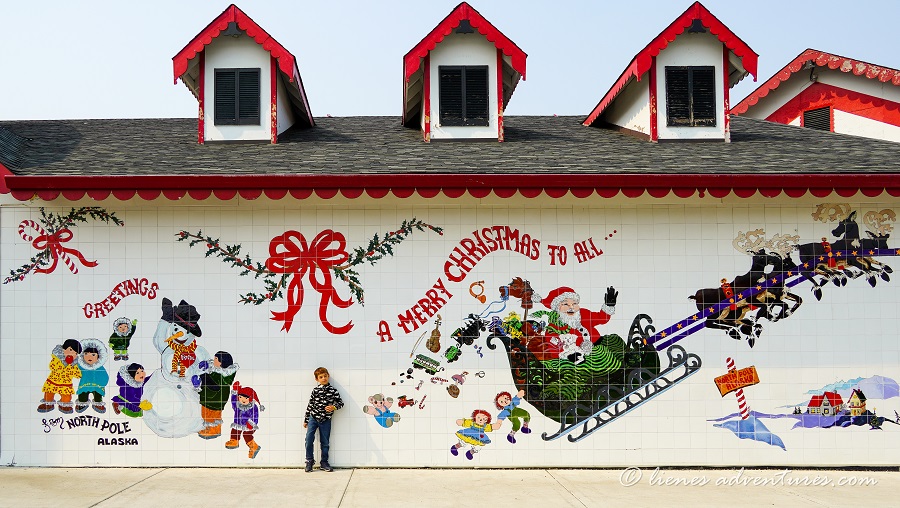 And of course, the Santa Claus House is all about Christmas no matter the season! You will see decorated Christmas trees, reindeer bells, Christmas presents and cards, and ornaments and much, much more here right in the middle of the summer! It is always Christmas at the Santa Claus House.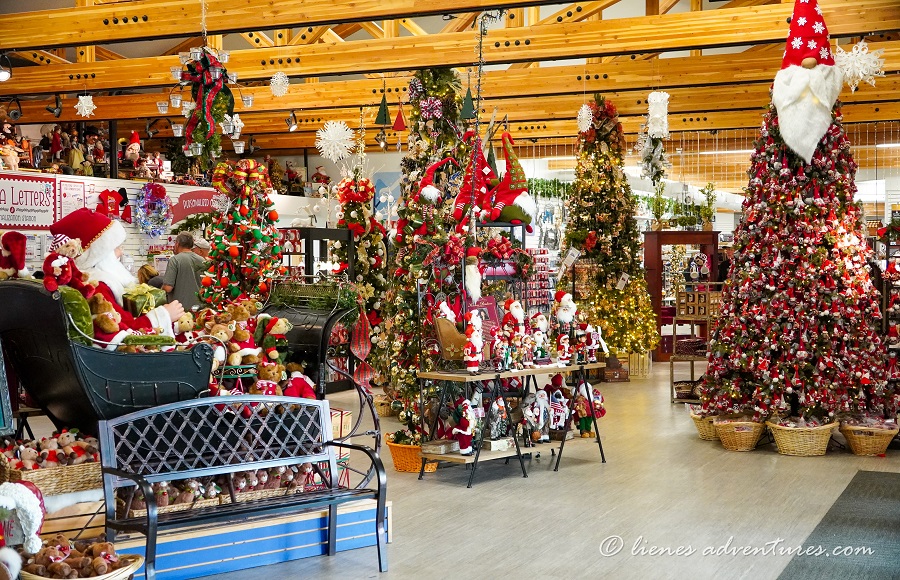 There is even Santa's workshop with letters from kids and a nice / naughty list. And you can take a little peak into it…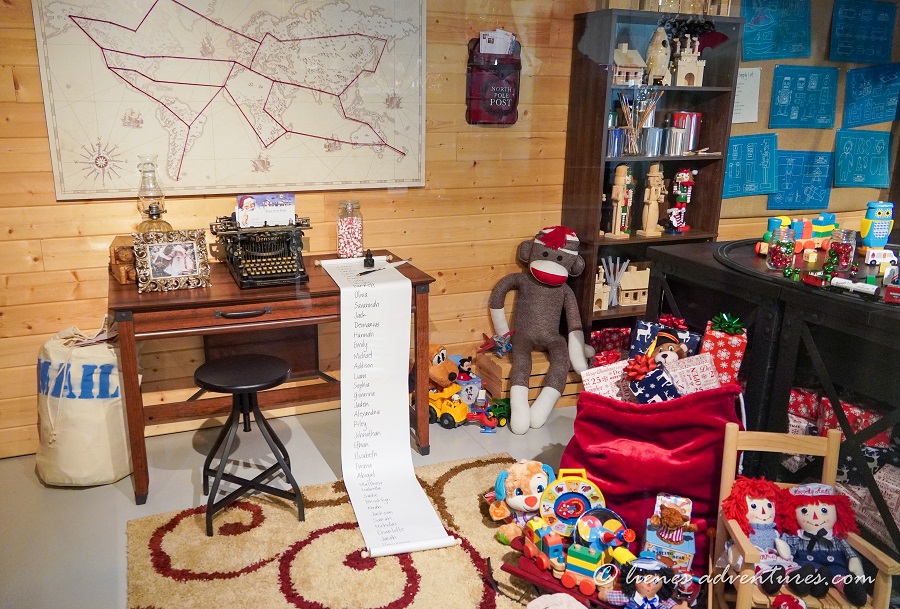 For whatever reason, my 4-year-old got very serious when meeting Santa. I think he knew he had been naughty all year! :-D
Of course, it can also be a little problematic with little kids at a place like this because everything is new and shiny, and they want to buy every little thing they see. So after our photo with Santa, we ushered them outside to walk over to the Antler Academy. This is where Santa keeps and trains his reindeer. You can even have a walking tour here to go pet and feed the reindeer, yet unfortunately it was not an option on a weekend (reindeer day off).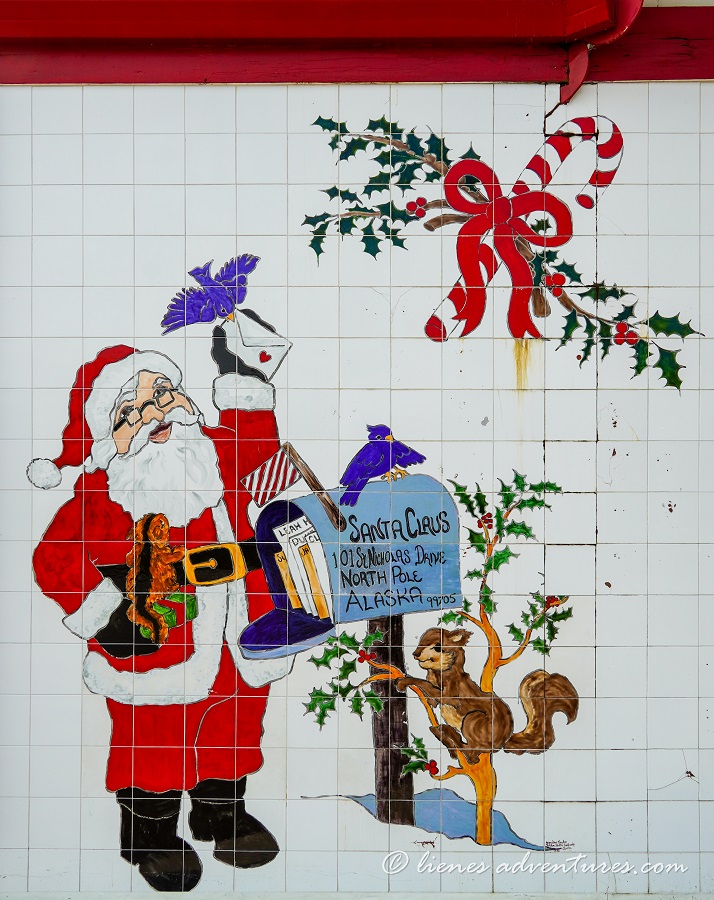 Before continuing, we made a short stop at a local North Pole grocery store and were surprised to see that everything was decorated in Christmas spirit – the light poles looked like candy canes; Christmas trees lit up bright inside a coffee shop; and streets had Christmas(y) names like Snowman Lane, Kris Kringle, Blitzen Street, North Star Drive etc. A true Christmas spirit all around! We were just missing snow!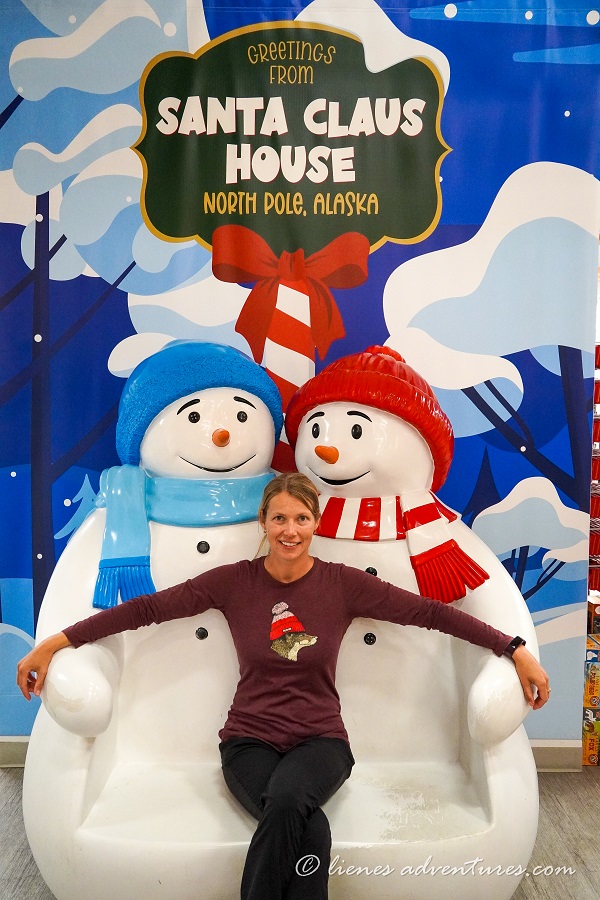 From here we had about 2.5-hour drive to Denali National Park, which in comparison to yesterday's 11-hour drive felt like nothing.
Before heading into Denali, we made a stop at our hotel in Healy to check in, get the keys and unload the luggage. As it was already 5PM, it became quite difficult to leave the comforts of our hotel room once we had settled in. Yet I was very eager to use every opportunity we had for wildlife spotting while here. And I was not about to waste the evening watching TV. We brushed off our laziness and headed out!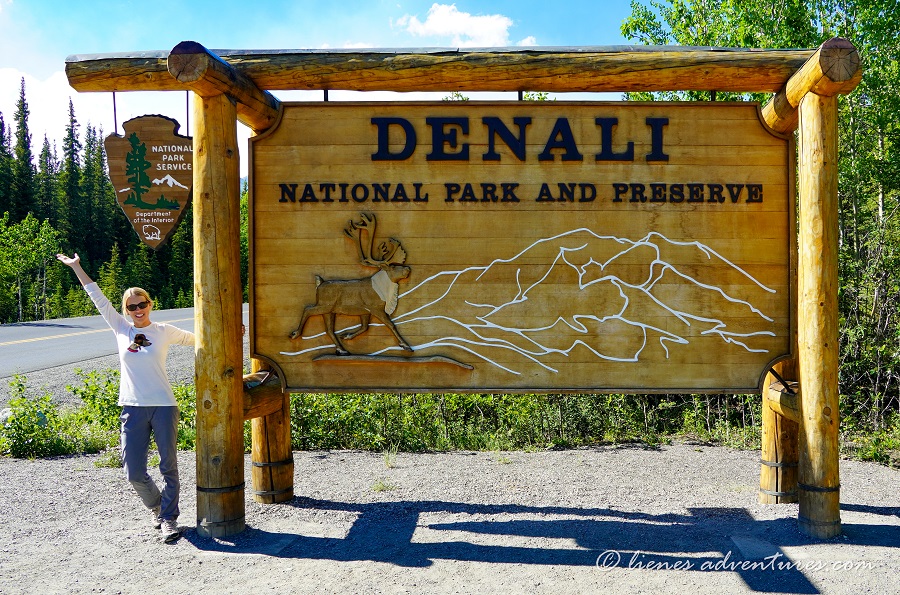 With visitor centers already closed for the day, our goal was to drive the first 15 miles of the Denali Park Road in search of wildlife. Much to my surprise, the road was extremely void of cars. There were a few here or there, but overall we felt like we owned the road. I expected almost bumper to bumper traffic knowing that the whole second half of the park is closed due to the landslide. Wouldn't that make all the visitors congregate in the first half of the park? Yet nobody was here. That was a shock to me!
Apart from that, we were also happy to have non-smoky, clear blue skies back in this part of the state!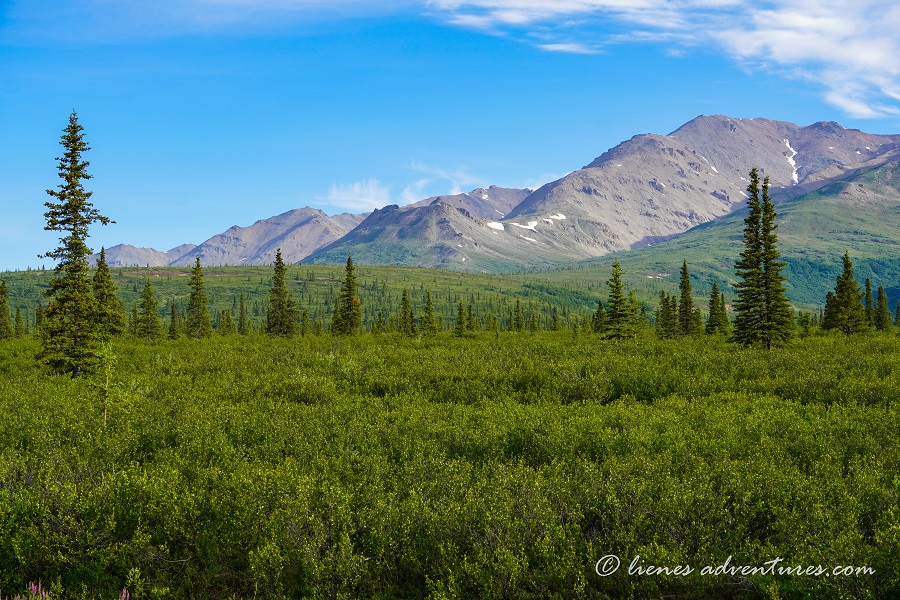 Unfortunately, despite the lack of cars and people, we did not see any wildlife along the sides of the road. That is until we reached the Savage River parking lot at mile 15. There was a lone caribou standing in the mud flats by the river. Of course, he got the attention from every visitor in the area, yet he seemed totally unphased by his own fame and undisturbed went about his business.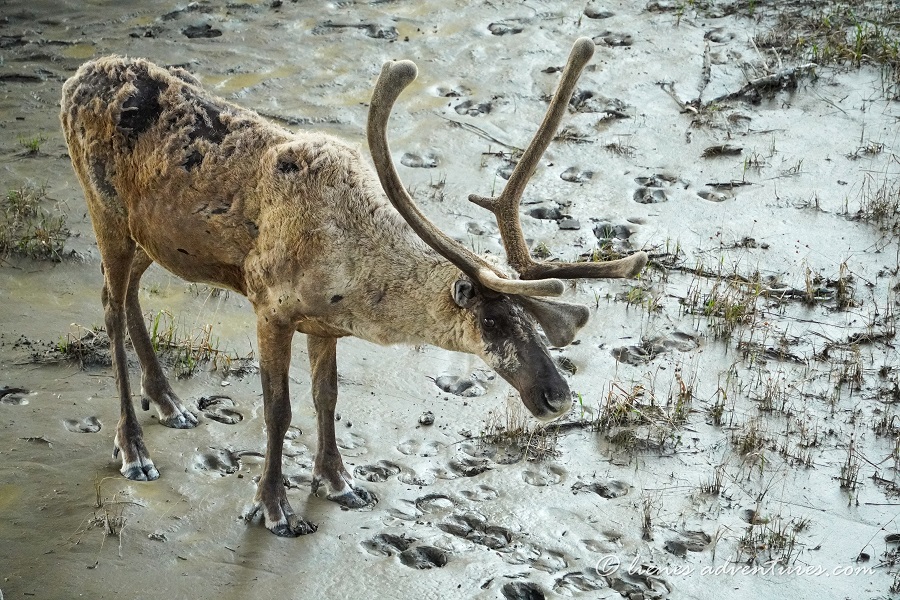 As we had made our way to the end of the road, we decided to stretch our legs on the 2-mile-long (3.2km) easy Savage River Loop Trail. Here we also got our first taste of Denali bear warning signs.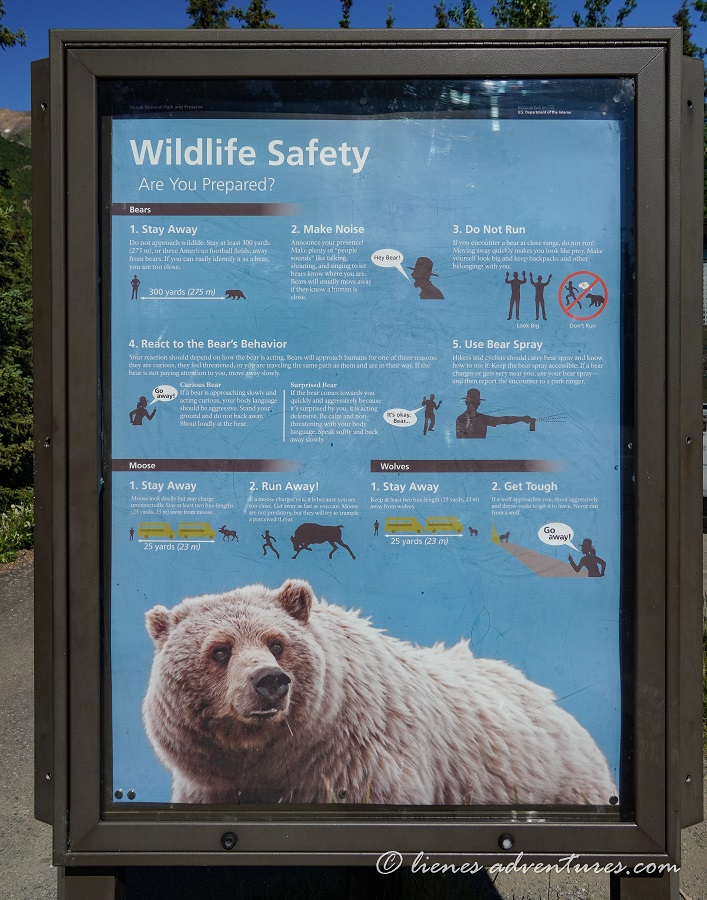 Of course, my husband made me hike holding bear spray ready for action at any moment! Needless to say, we did not encounter any bears here on this trail. But the trail itself was very pretty and gave us our first taste of Denali scenery. This is also what Alaska's summer nights (8-9PM) in June look like...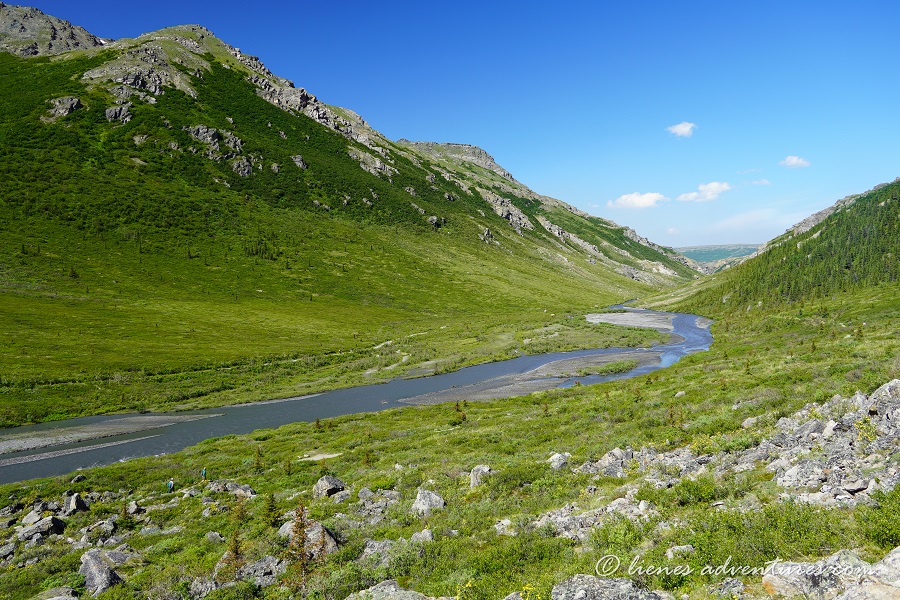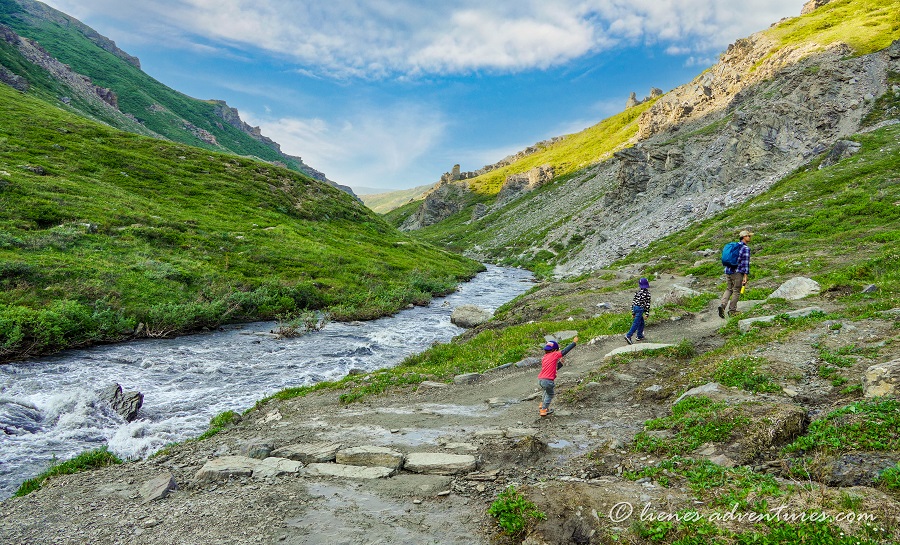 Shortly before reaching the parking lot, we noticed a hustle in the bushes – our caribou had grazed its way down the river and was chewing on some leafy twigs now. He was just a few feet away (yet at a safe distance). This was the closest caribou experience we had on the trip, so the late evening drive out here was definitely worth it!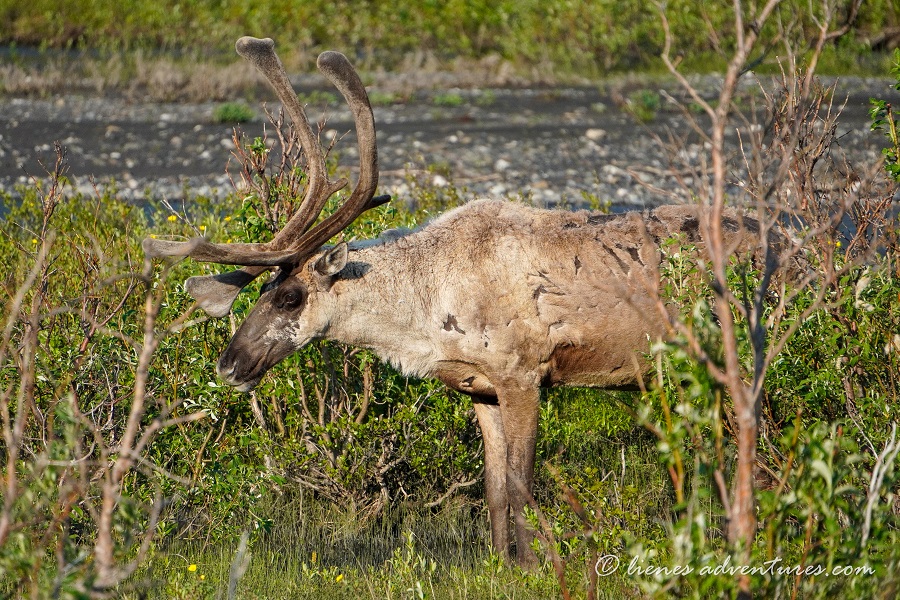 It was 9PM when we finally left Denali. And after some forgettable grocery store attempt at dinner, we headed back to the hotel for the night.
Continue reading:
Alaska - Day 7: Denali River Rafting
Alaska - Day 8: Hiking with a View of Denali
Alaska - Day 9: I Finally Met the Bears!
Alaska - Day 10: The Magic of Fjords, Glaciers and Wildlife
Alaska - Day 11: There Can Never Be Too Many Glaciers
Alaska - Day 12: Mountains, Gold and Elves
Alaska - Day 13: The Moose are Everywhere