2-Week Grand Alaska Road Trip with Kids - Day 8: Hiking with a View of Denali
Start of our trip:
2-Week Grand Alaska Road Trip with Kids - Intro
Day 3: First Hike on a Glacier
Day 4: Our Favorite Day of the Trip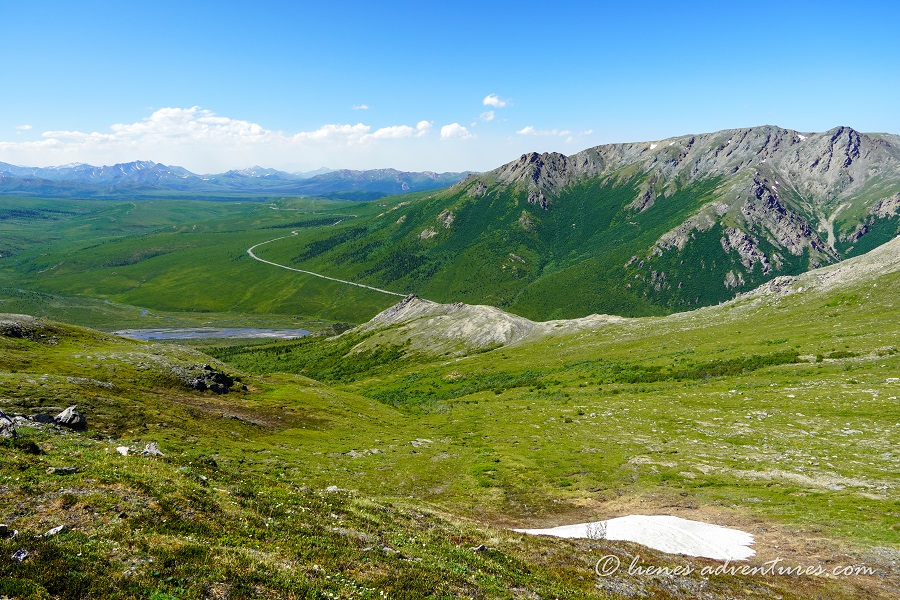 In comparison to the last several days, this morning felt pretty relaxed. We got up only around 9AM – just in time to pack, load the luggage and check out of the lodge. This was our 3rd and last day in Denali National Park. After some extremely overpriced avocado toasts and coffee that we found at a local breakfast place just outside the park entrance, we were finally ready to head into the park for one last time.
It was another exceptionally clear morning – even more so than yesterday. And we got to witness the Denali peak fully exposed yet again. Talk about lucky!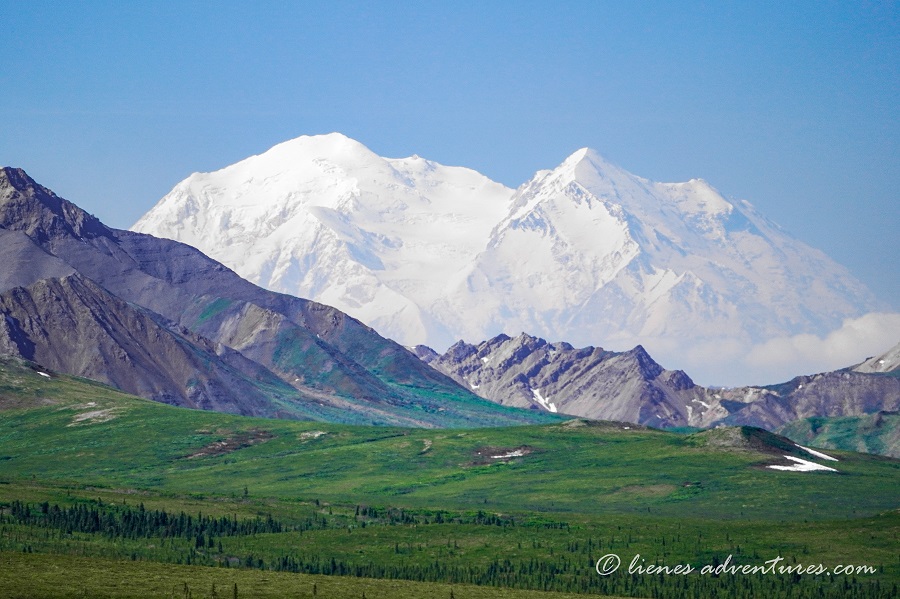 Today's agenda included hiking the 4.5-mile (7.2km) long Savage Alpine Trail. It can be hiked 2 ways and considering all the pros and cons we opted to start from the Mountain Vista side. That would allow for a more gradual incline across the length of the trail. Although ''gradual'' is a relative term here as the incline is still over 1500ft (460m) regardless.
The start of the trail weaved through a slightly wooded and bushy area along a stream. It was the perfect moose habitat and it showed – moose poop was all over the trail. During the middle of the day they were probably just sleeping in the shade, hidden, as we did not catch a sight of them here during our hike.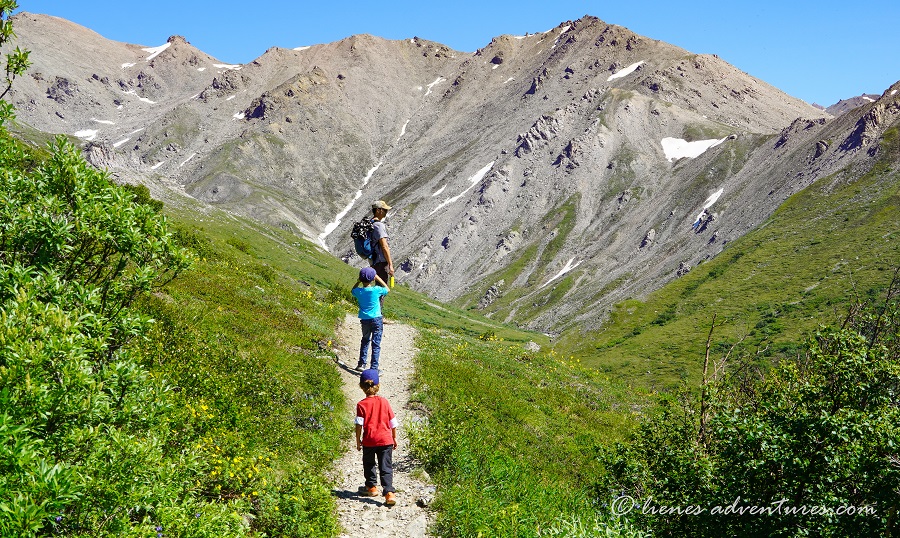 Once we gained some elevation, the trees started to part and more open views emerged. We had to remind ourselves to stop every once in a while and glance back. The spectacular views were not just in front but also behind us. An Denali was magnificent!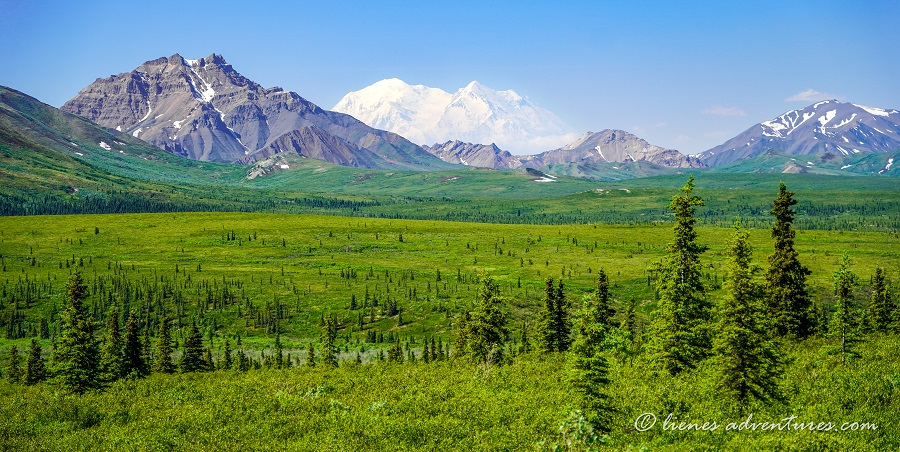 The mountainous Alpine tundra scenery was truly stunning. And in June we found several colorful wildflowers to be in full bloom.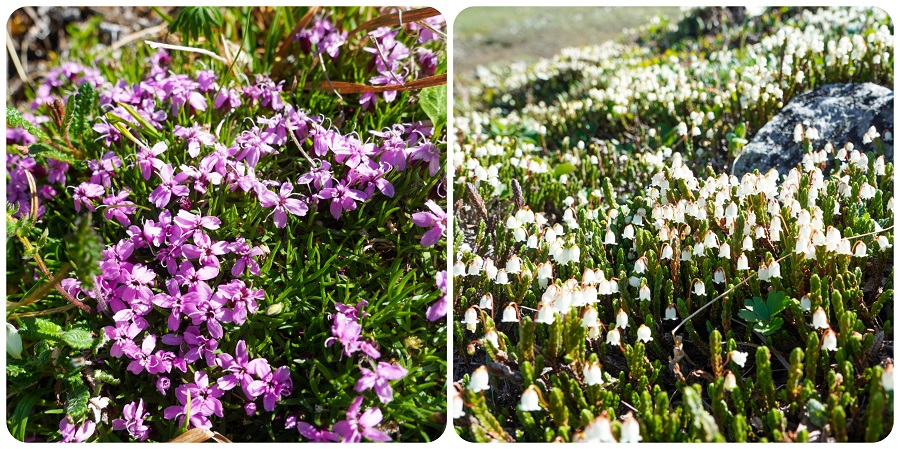 The higher we climbed the more wide open the views got. Unfortunately, by this time the clouds had gathered around Denali and its surrounding mountains, and the peak was not visible at all anymore. That just shows you how quickly things can change here.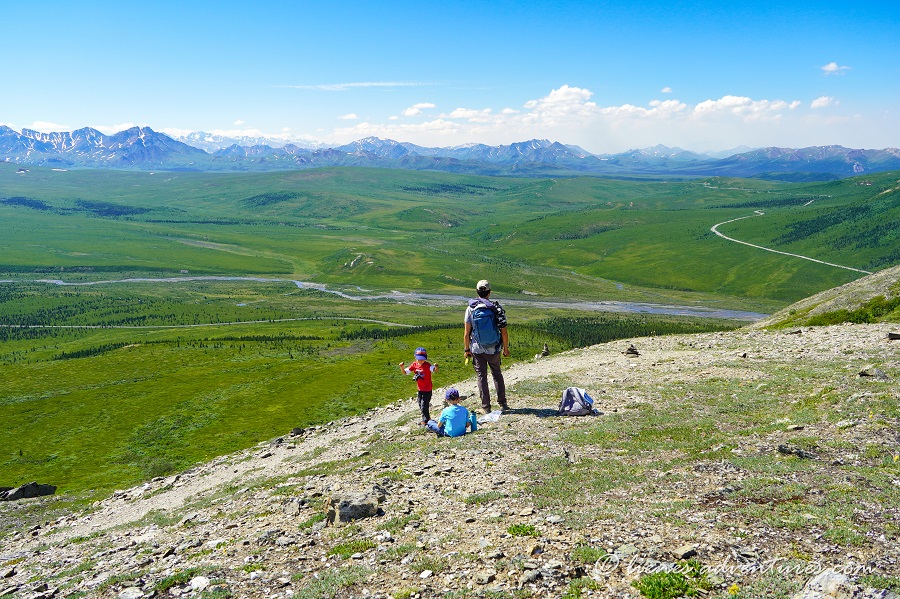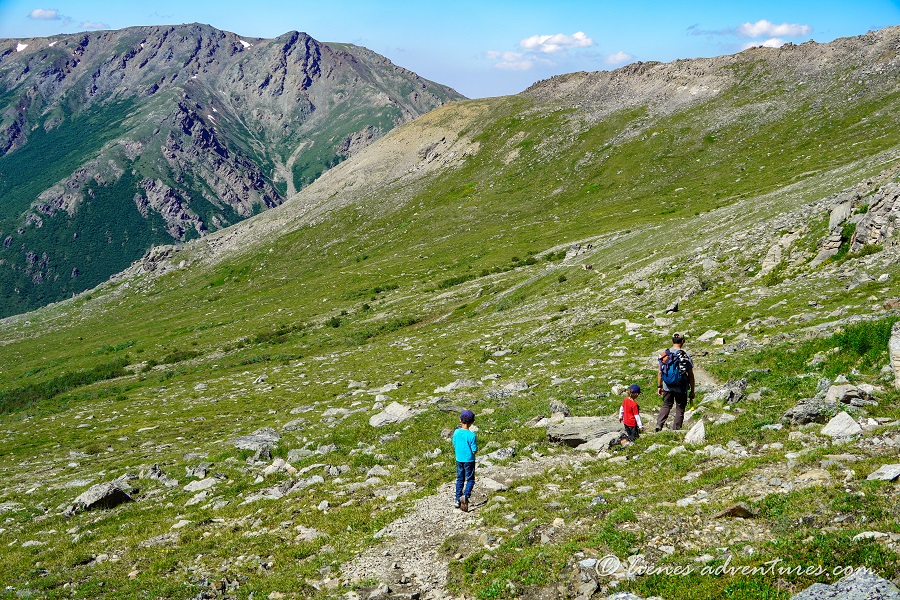 Once we had reached the trail's highest elevation, we noticed many small burrows in the ground. And then we saw their residents – cute and adorable Arctic ground squirrels. This Alpine tundra region was their preferred elevation. They are a truly unique animal as during their 7-8 months hibernation period a squirrel's body temperature drops below freezing. They basically freeze themselves just to emerge freshly thawed and young again once the spring comes around. Sounds like an insanity to me!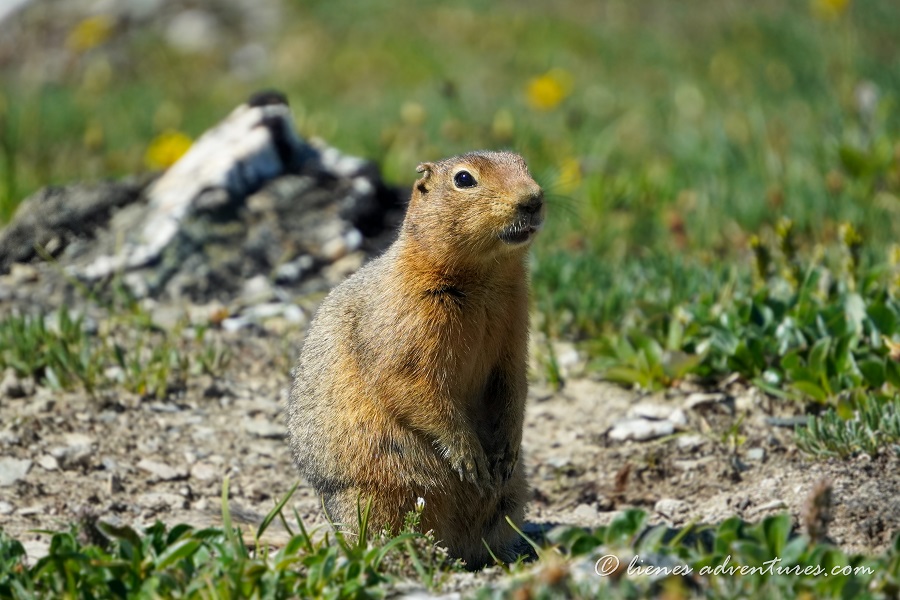 We sat down for a little snack break and the boys started playing with some rocks that looked like quartz or marble chunks. And there were so many of them! We laughed that if we could get those rocks home, we'd have a new kitchen countertop.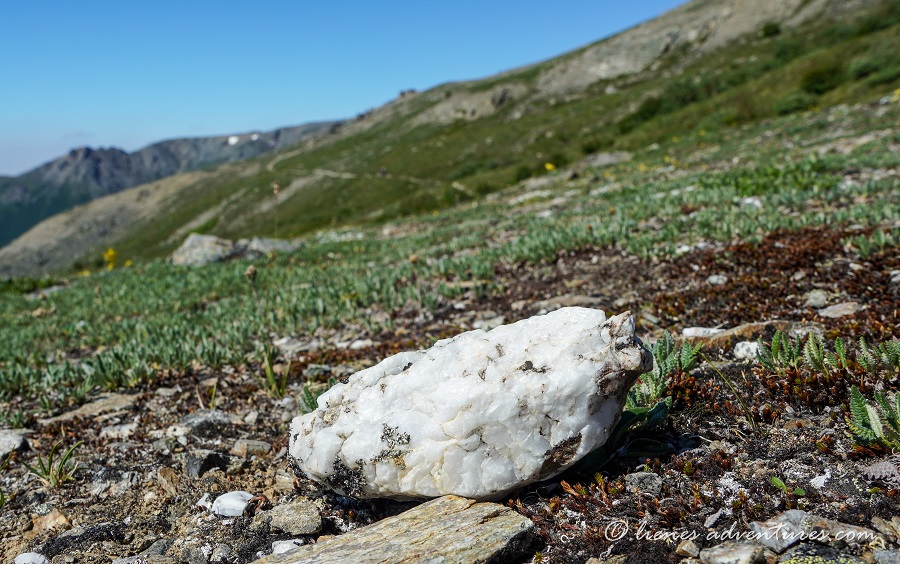 The higher elevation of this trail is also a grizzly bear habitat. And although we were looking for them intently, no luck yet again.
The last ½-mile of the trail was a steep descent off the mountainside using uneven steps carved out of the rock and cliff. This is also the reason why most people choose to hike this trail in the direction we went. Trying to walk up this section of the trail would be pretty brutal. Yet, some do it!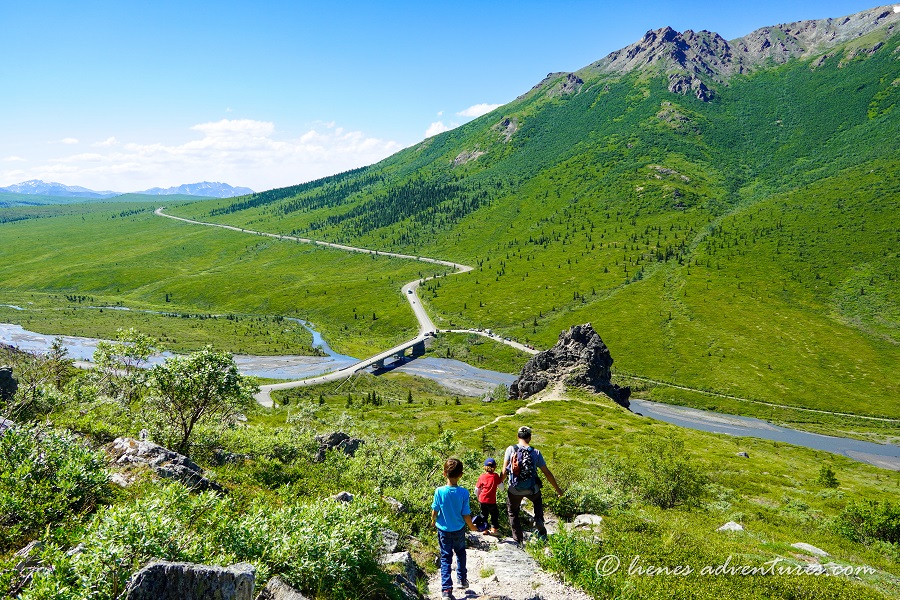 My FitBit logged 4.8 miles (7.7km), 1500ft (460m) elevation gain and 3 hours of hiking (with both kids doing the trail completely independently). And it was worth every minute! The trail was truly stunning and, in my opinion, should be done by anyone who enjoys hiking and visits Denali.
Once the trail was complete, we caught the free shuttle back to the Mountain Vista parking lot to return to the car. Our time in Denali was nearing its end.
We did need to make a stop at the Visitor Center just one more time. Our boys had completed their Junior Ranger books and had to be sworn in as Denali Junior Rangers. They even had to recite a pledge. They also earned their Denali badges that they proudly pinned on their hiking backpacks.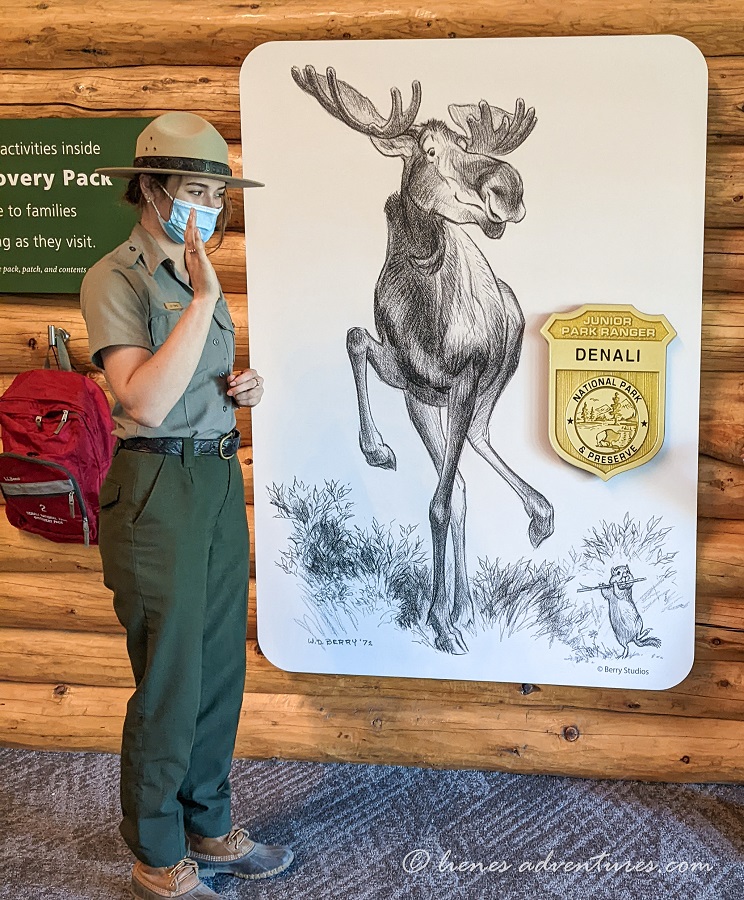 I think subconsciously we did not quite yet want to leave Denali. That's why we decided to have late lunch at a local café next to the Visitor Center and afterwards went to the Bus Depot to get one last cup of their coffee. We also filled up our water bottles with the spring water there. By now we were out of all the excuses and had to finally start making our drive to Anchorage.
With bittersweet feelings we left Denali. Bitter – because we would have loved to linger longer; yet sweet – because we still had many great adventures ahead of us yet to come.
The drive to Anchorage was quite long. And although I had a few stops noted on my itinerary, we skipped almost all of them including Talkeetna. We had even gotten too lazy to pull over for most of the roadside scenery photos.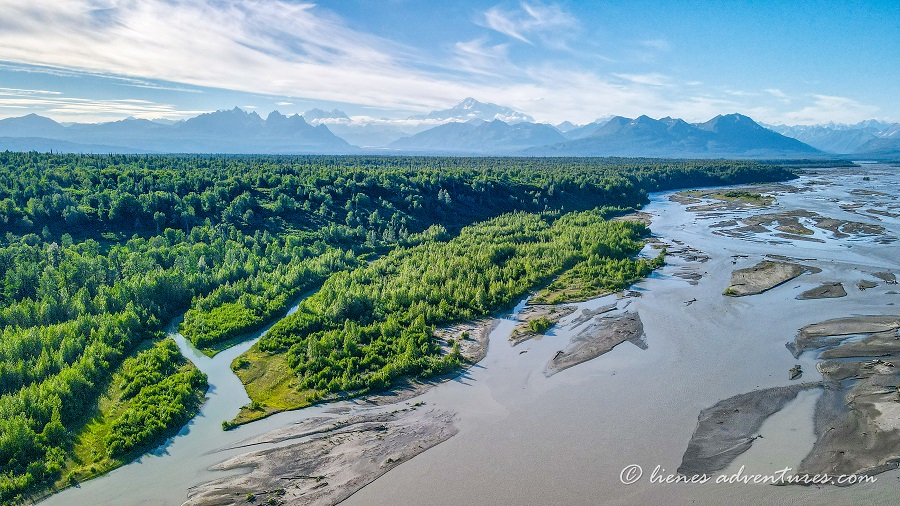 The one stop we did make was Denali Viewpoint South. Not so much for the view of Denali (as we had had plenty of chances to see it before), rather just to stretch our legs and use restroom facilities. However, the view itself was quite nice too!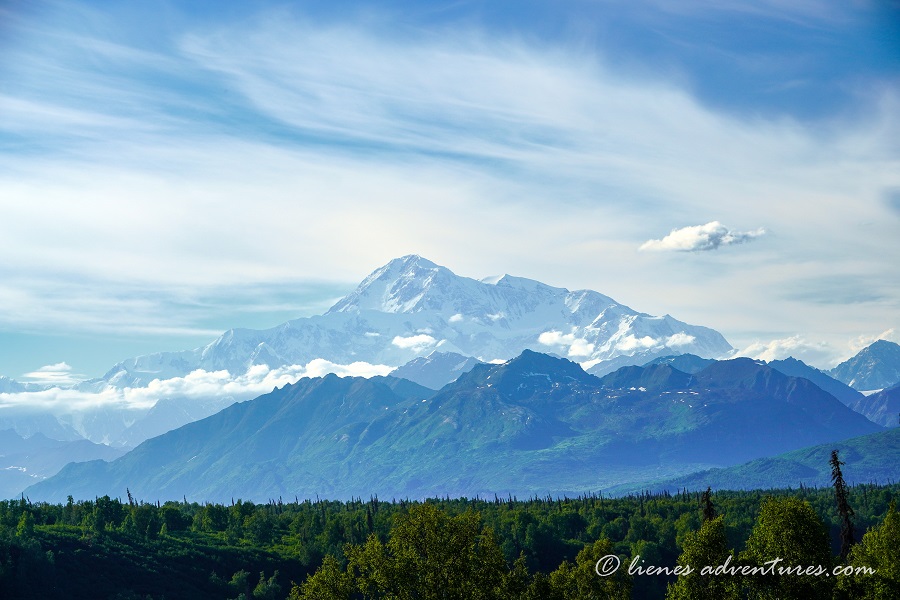 It was almost 10PM when we rolled into the driveway of our AirBnB. We brought in our luggage but never even unpacked as we were leaving again in the morning.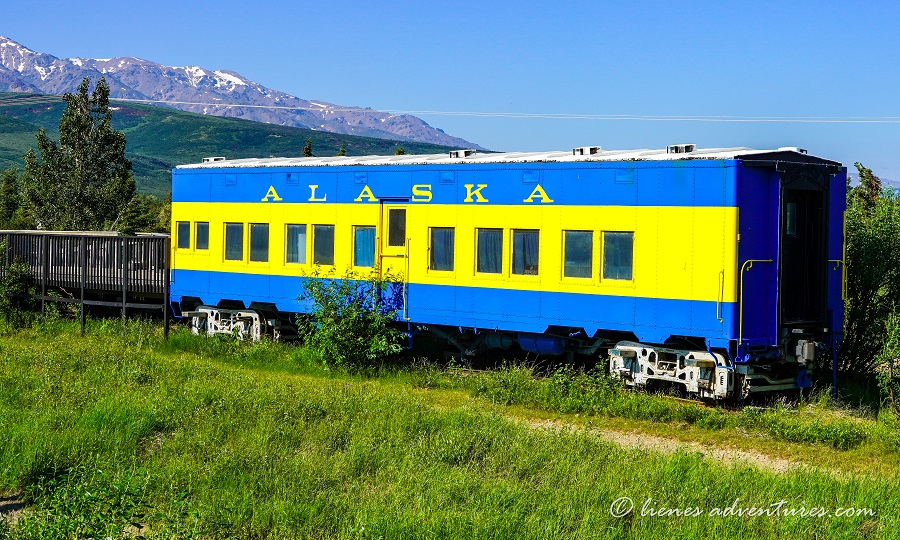 Continue reading:
Alaska - Day 9: I Finally Met the Bears!
Alaska - Day 10: The Magic of Fjords, Glaciers and Wildlife
Alaska - Day 11: There Can Never Be Too Many Glaciers
Alaska - Day 12: Mountains, Gold and Elves
Alaska - Day 13: The Moose are Everywhere