2-Week Grand Alaska Road Trip with Kids - Day 10: The Magic of Fjords, Glaciers and Wildlife
Start of our trip:
2-Week Grand Alaska Road Trip with Kids - Intro
Day 3: First Hike on a Glacier
Day 4: Our Favorite Day of the Trip
Day 8: Hiking with a View of Denali
Day 9: I Finally Met the Bears!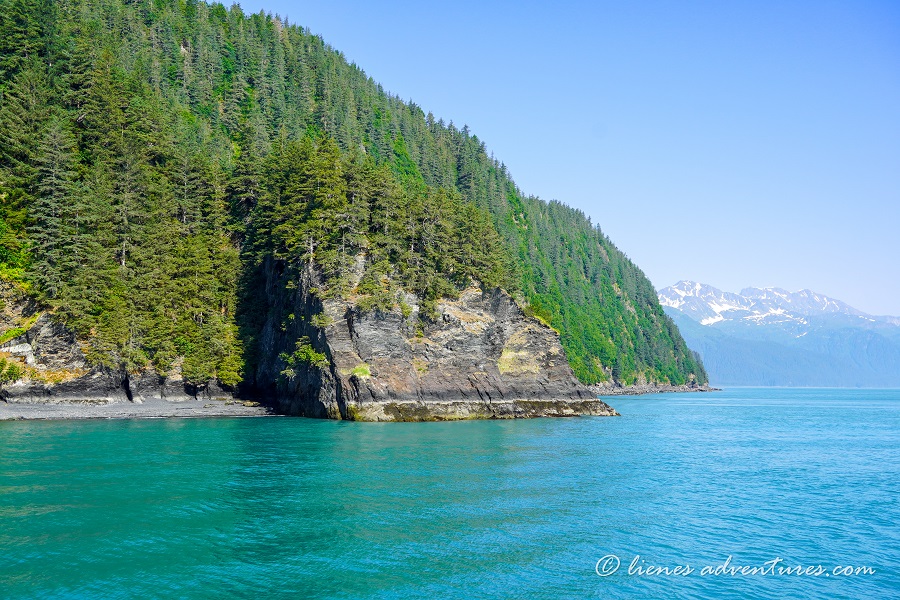 Today was another very exciting day! We were heading out on our second full day wildlife and glacier boat tour – 7.5 Hour Kenai Fjords National Park Cruise by Major Marine. Although we did a similar cruise in Valdez at the start of our trip, there can just never be too much of Alaska's stunning scenery. Besides, wildlife is unpredictable, and you never know what you might happen to see. Therefore, every wildlife tour is its own adventure that can't be compared to the one before.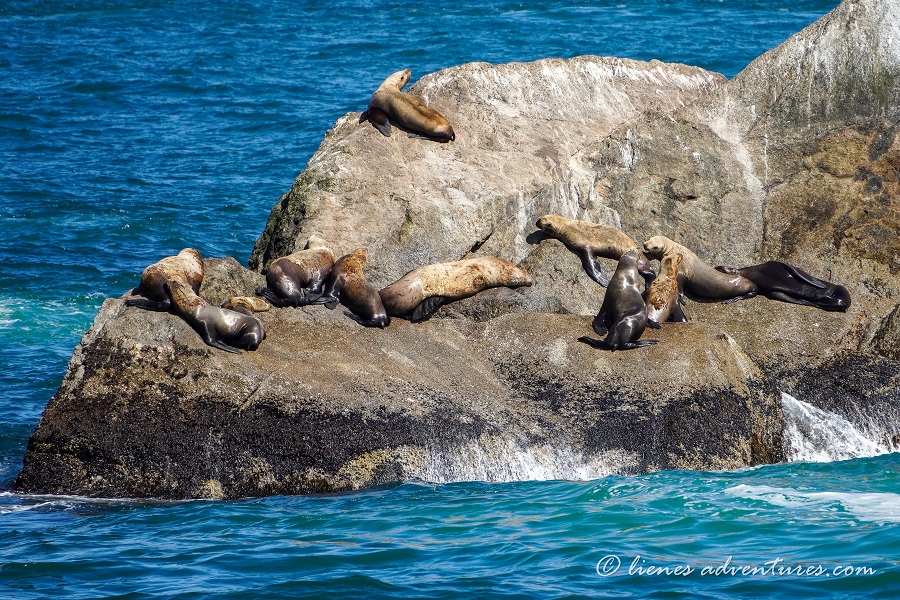 Our check-in point was at Harbor 360 hotel's lobby. Once we confirmed our booking and were waiting around, we noticed some tables and a juice / coffee bar. ''Oh, that's so nice of them to provide waiting customers with hot breakfast beverages'' we thought. And then we got cups of coffee for us and juice for the boys and sat down waiting. After a little while, the boys walked back over to us with a waffle and banana. What?! Apparently, along the back wall there was a whole breakfast buffet! I think we must have helped ourselves to the hotel guest's breakfast, and it wasn't for the waiting boat tour customers after all. Oops!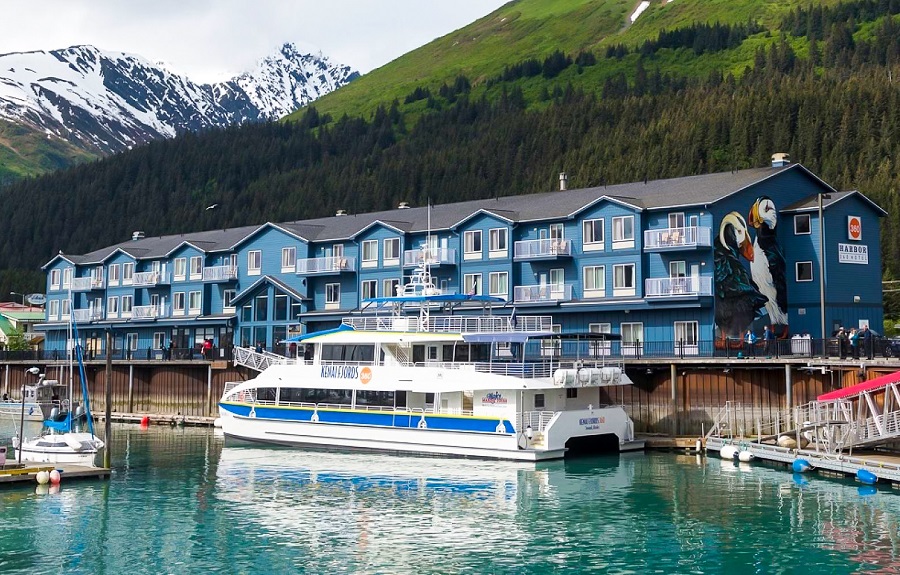 Not to prolong the embarrassment, we got our bags and walked outside to line up for the tour. The seating and tables were assigned just like the cruise we took in Valdez. And just the same - once the cruise started, everyone was welcome to move around the boat wherever they wanted. I think our table had the best location on the 2nd deck right by the big front picture window. The boys immediately claimed the little nook area as their clubhouse. And many other kids soon joined them.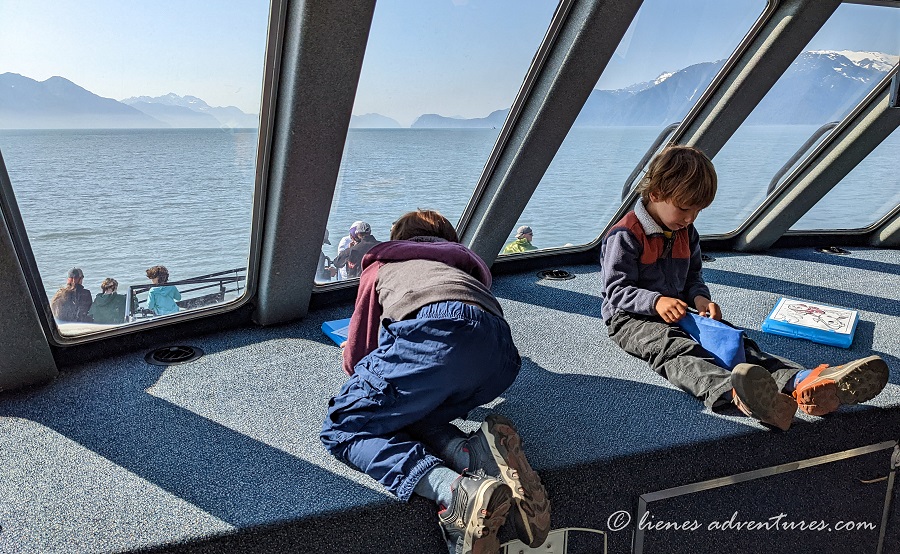 The boat started by making its way though Resurrection Bay with picturesque Alaska fjords scenery along the way...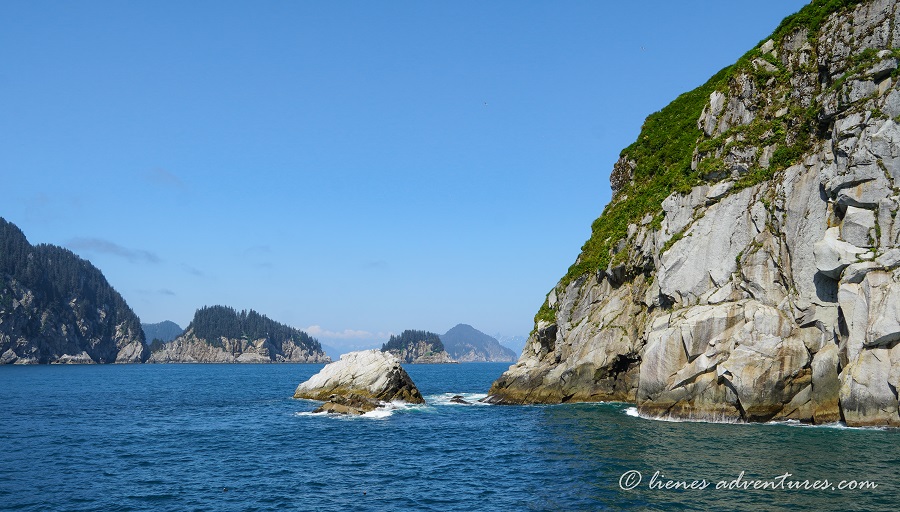 Juts as everybody had started to comfortably settle in their seats, the captain announced that he was informed of a nearby humpback whale pod. So, we set out on a search for them. And, boy, we found them indeed! It was a big pod with well over 10 individuals. And we got to witness up close something that rarely happens here – a bubble net feeding. The pod rounded up fish and then all at once leaped out of the water with their mouths wide open scooping up all the fish along the way.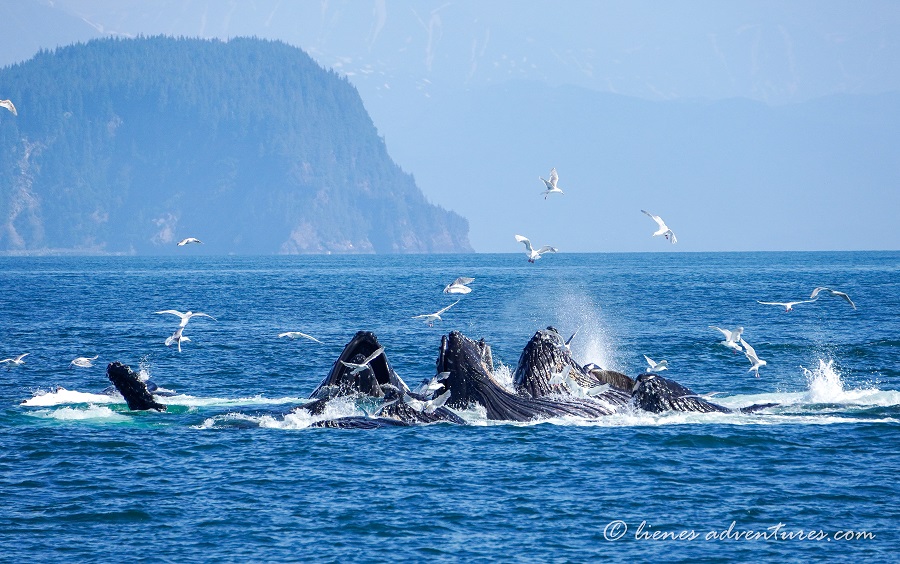 The captain said that bubble net feeding in Alaska waters happens only a few days out of the year, so to witness that was extremely, extremely rare. I have been on many whale watching cruises in many countries, yet I had never witnessed anything like this before. It was nothing short of a National Geographic wildlife documentary happening right in front of our eyes. Unedited live performance.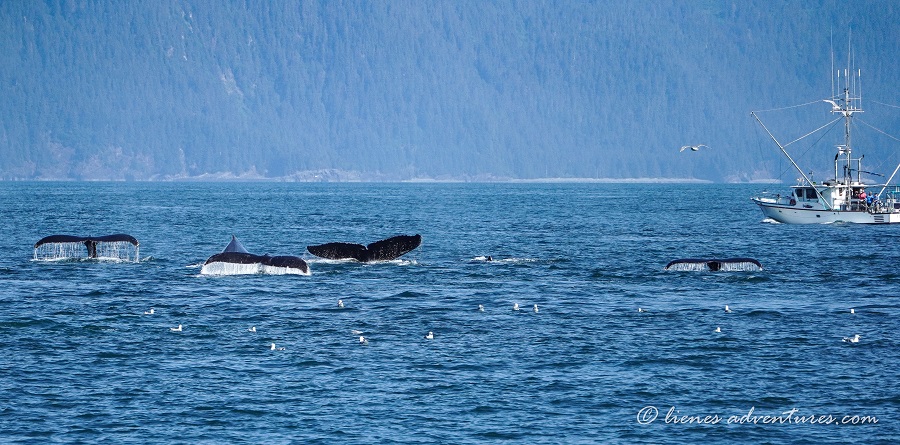 We also got a glimpse at a whale whose underside of the tail was completely white, which was very special. Many of the whales are often distinguished by their tail markings - a white spot, a tear or cut, a peculiar shape etc. And this white-tailed humpback clearly stood out! There was even a book on the ship with all the tagged whales and people could give a shot at identifying them.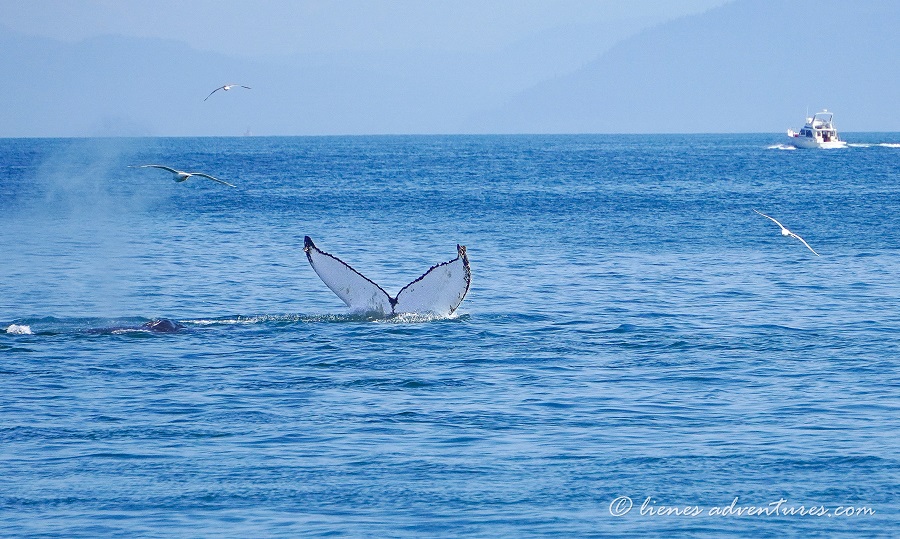 We followed the pod for maybe another 30 minutes before we had to continue on. At this point, we had left the Resurrection Bay and had entered the open waters of Gulf of Alaska. The seas got noticeably bumpier even on an exceptionally calm day like the one we had. A few not-so-well feeling individuals were standing on outdoor decks in search of fresh air and calmer ride. And even our 4-year-old who usually never has motion sickness issues, got seasick. After a glass of ginger ale though he was back to his old self. And by now we had also turned into a much calmer area, the Aialik Bay, which was surrounded by fjords, cliff formations, and little islands.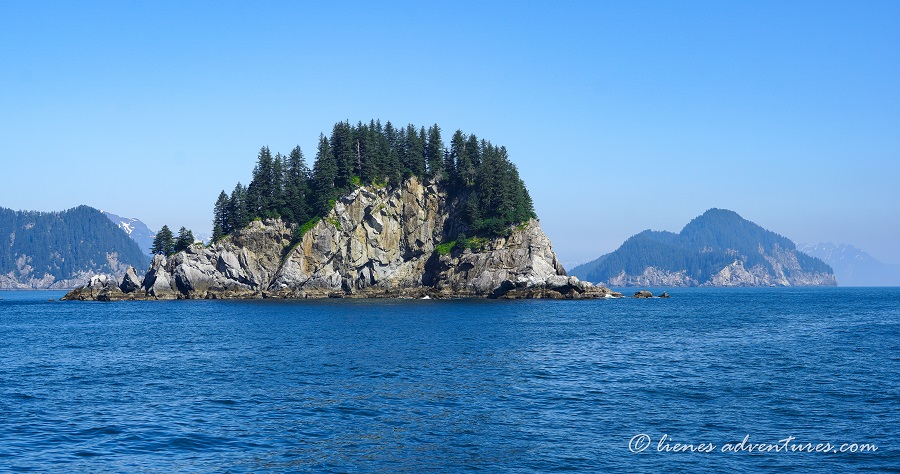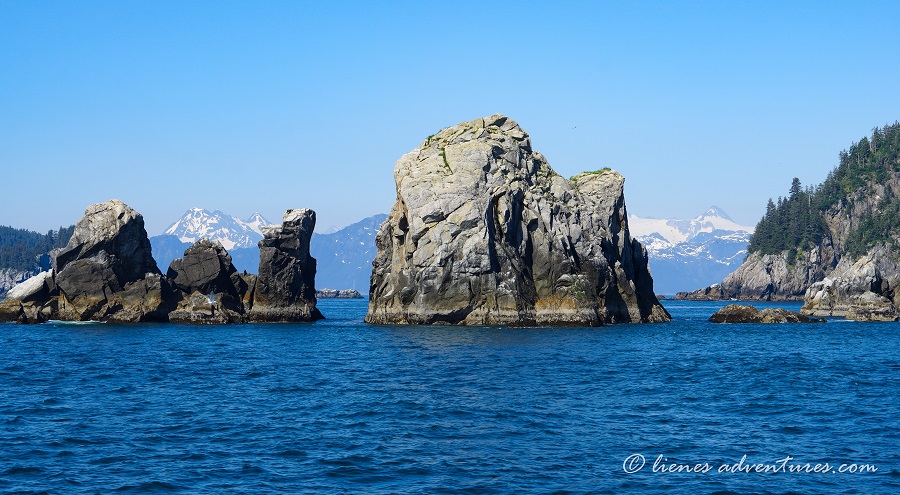 We were approaching our first glacier of the tour – Aialik Glacier.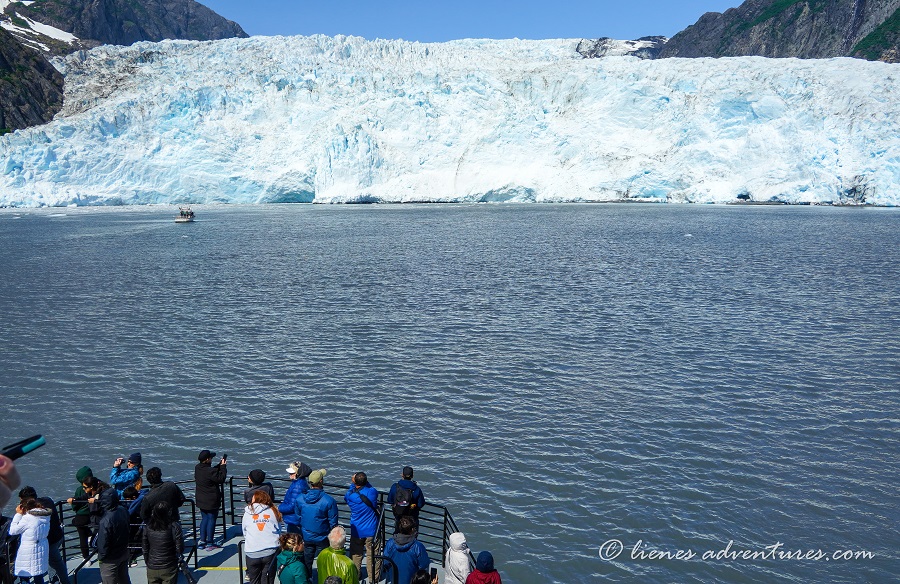 It was almost impossible to grasp the size of it until we noticed how miniscule the big fishing boat looked right in front of it.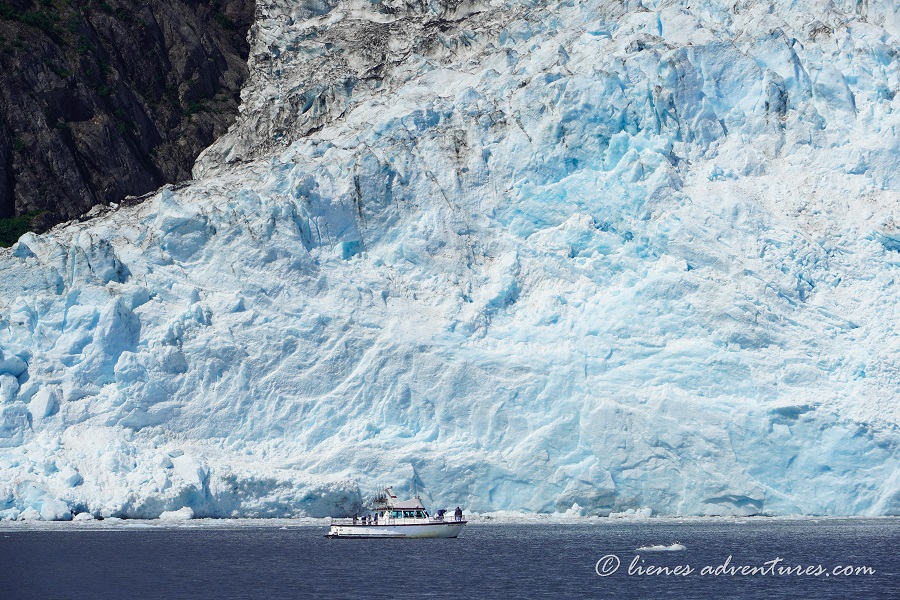 This glacier also had a pretty neat cave that had formed right at the face of it. The captain turned off the boat's engines so we could hear all the cracking, crackling, dripping and thudding noises that the glacier made. We could even hear the glacial water drip and echo deep within the cave.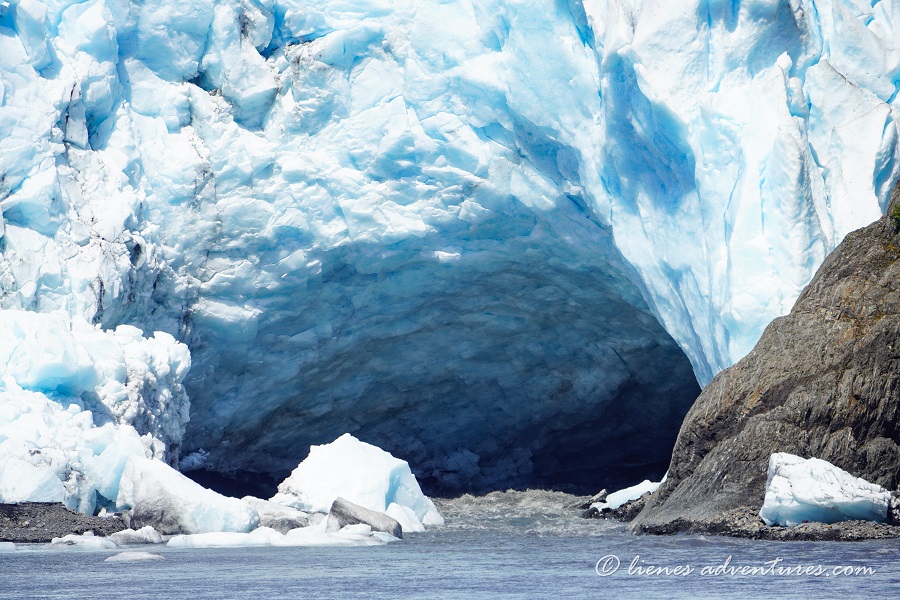 We had plenty of time here to enjoy the glacier from all sides and take hundreds of photos.
As we continued our journey to the glacier #2, we were greeted by some sea otters who leisurely floated by us.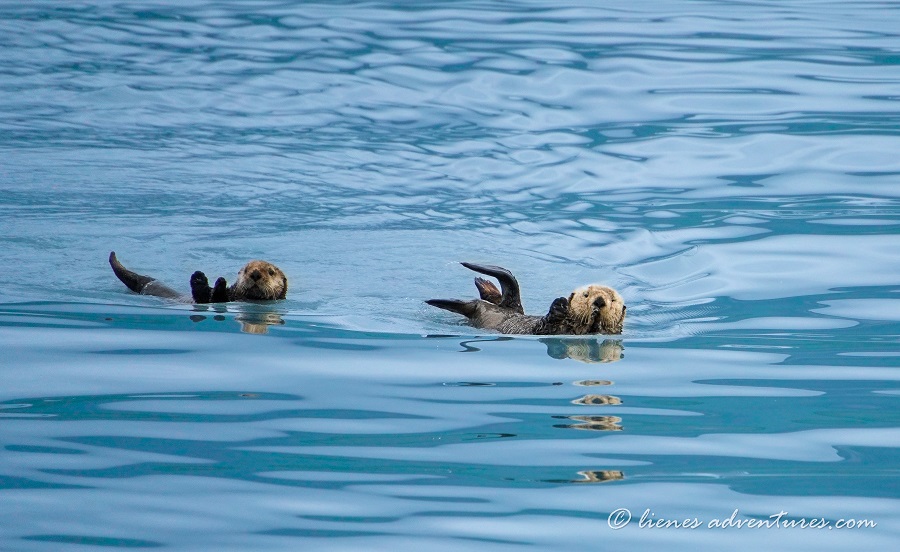 And we were enjoying all the amazing scenery around every bend and turn. Alaska is just so magical!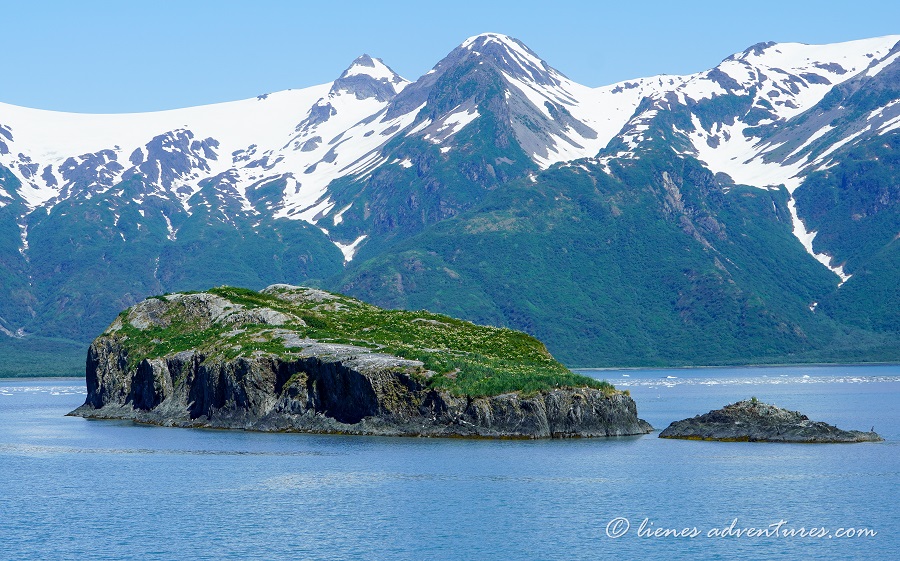 After a short while we reached Holgate Glacier.

The face of this glacier was so tall that a helicopter right in front of it looked nothing more than just the size of a fly.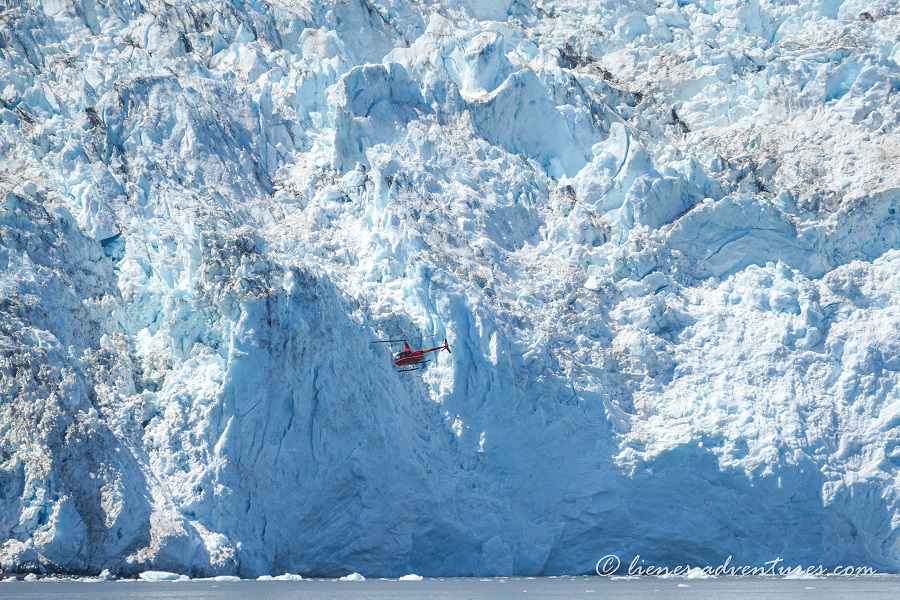 The personnel onboard also pointed out that all those hundreds of brown dots floating on ice pieces in front of the glacier are actually – harbor seals! Wow! There were literally hundreds of them scattered all around, just resting each on their own piece of ice.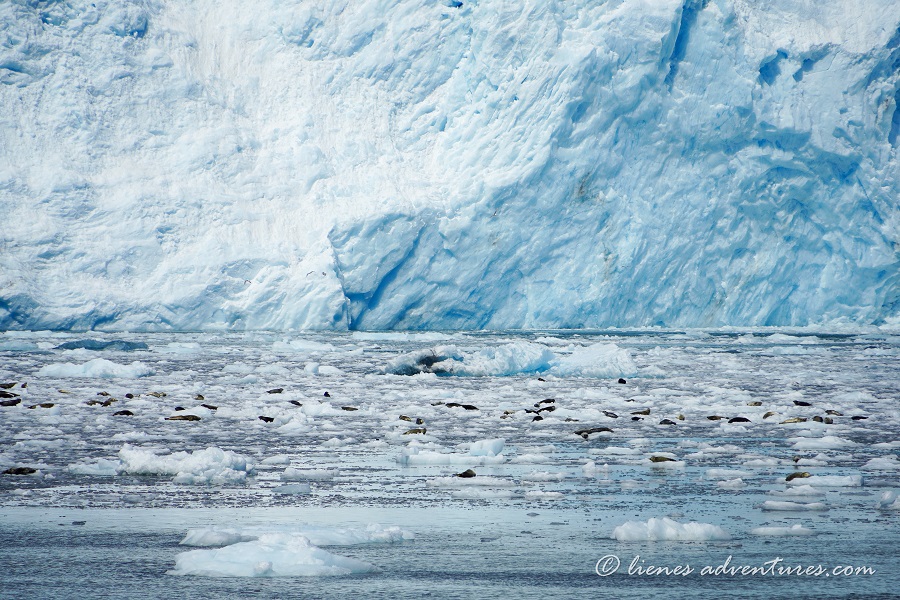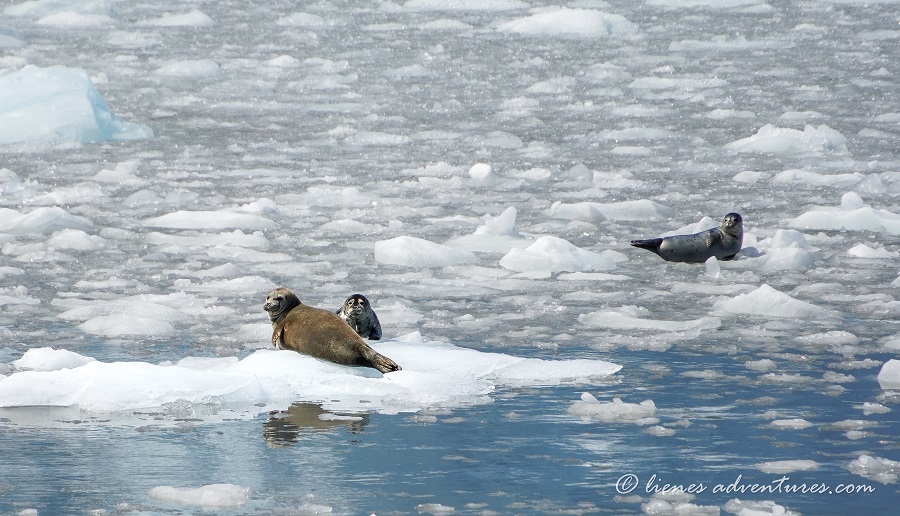 The captain positioned the boat sideways so that everyone would have a spot to stand or sit. We were waiting for glacier calving. You can't predict when or where it happens. And occasionally it might not happen for hours at a time. We saw about 3-4 smaller calving events before the big one hit right in front of the boat. A piece of glacier ice started falling down and somehow it took all the surrounding ice walls down along with it. It was like an avalanche that ended with a big boom when it hit the water.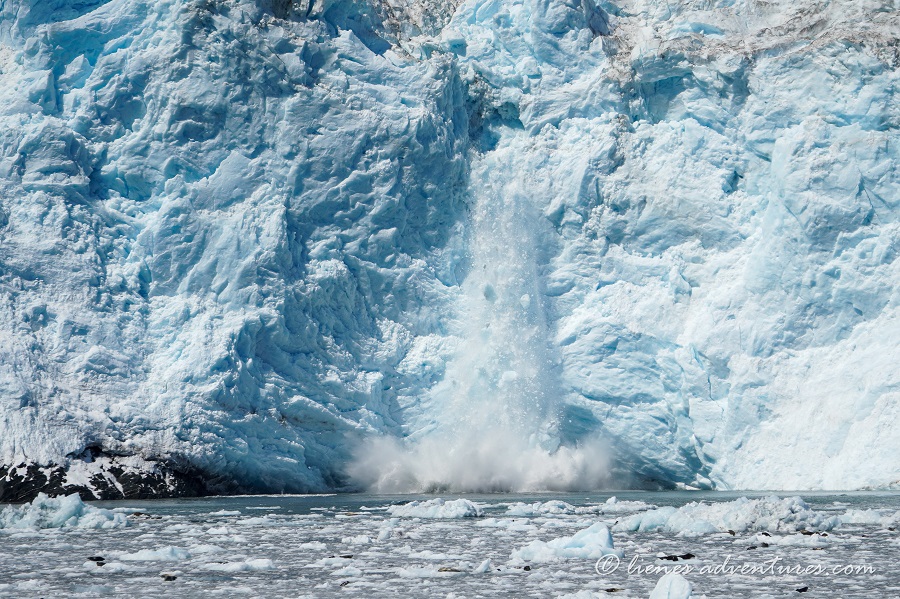 However, it was not quite over yet. The size and force of the impact created a huge after-wave that we watched come towards us until it passed under and rocked the boat like a mini tsunami. Quite impressive, indeed! The seals, however, weren't all that impressed and grumpily settled back on their, now rocking, ice pieces.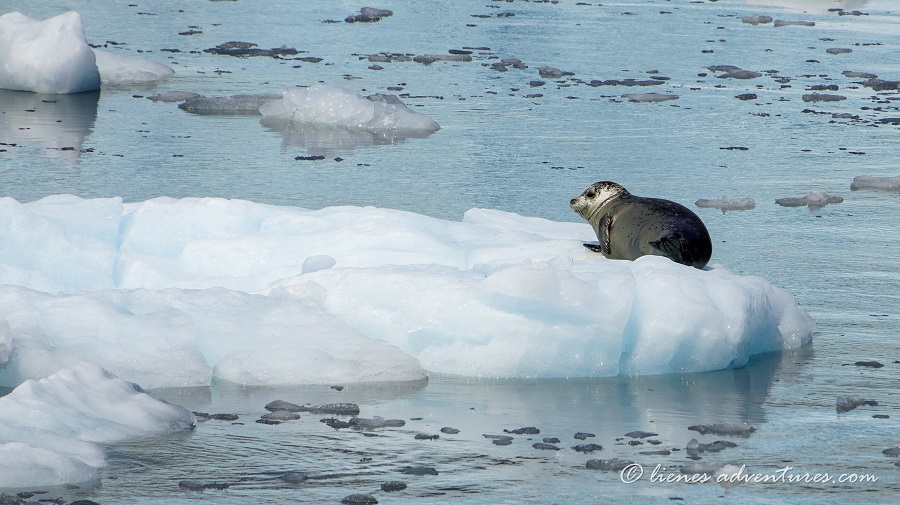 While here, the boat crew picked up a piece of glacial ice that was later offered for sale in their glacial margaritas. We couldn't resist and even got a virgin one for the boys. The bartender gave us a rhyme to go by. ''Remember – blue for booze!'' he said.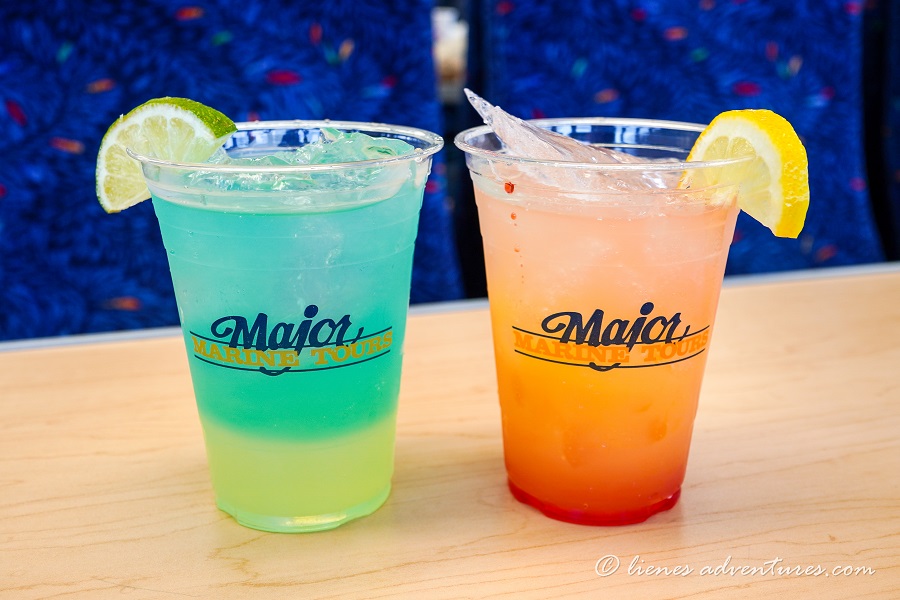 At this point we also got served lunch sandwiches with drinks and brownies for dessert. Perfect timing as everyone had started to get hungry by now.
The tour also included a stop at a stellar sea lion colony. Although not as many as we had seen on Valdez cruise, here they had picked quite a peculiar rock for their home base.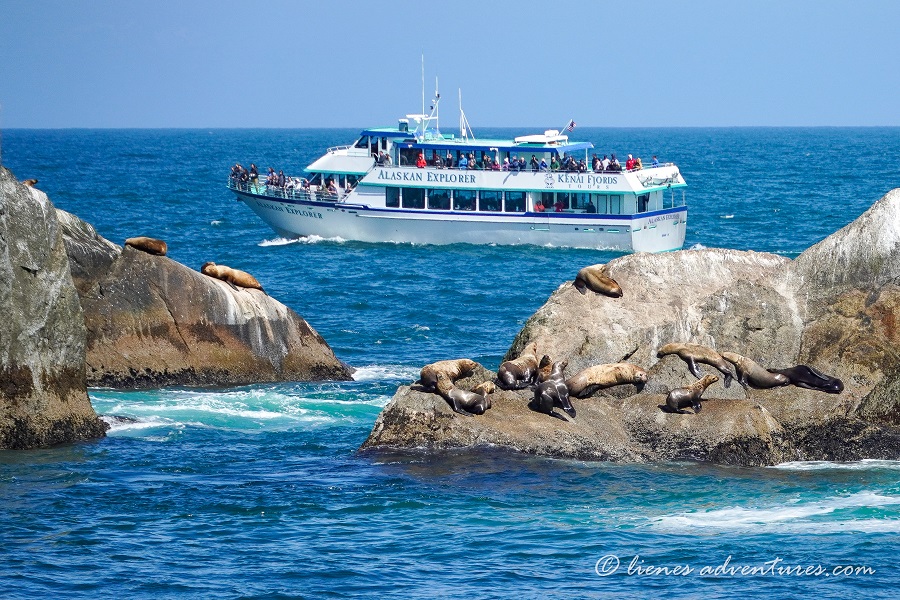 I had no idea sea lions were such proficient climbers – sitting right atop a huge vertical boulder.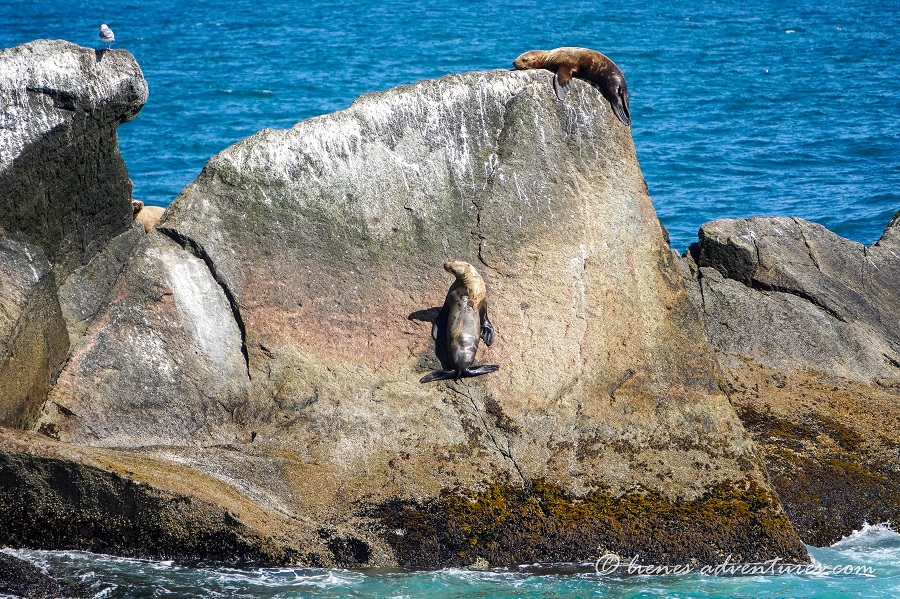 Around this area was also where we saw tufted puffins both in the water as well sitting along the edges of the cliff. Yet, just like when we spotted them during our Valdez cruise - they were just too quick, nimble and far away from the boat to truly get a good photo of them. Therefore, the below image is from ebird.org website, yet is the exact breed of puffins we saw during our tour.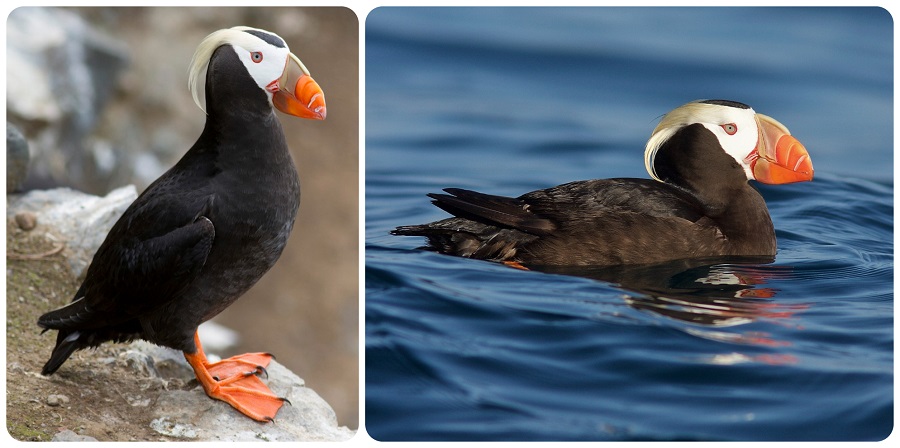 As our amazing cruise was nearing its end, we got an announcement about an orca pod. That got everyone back up on their feet again. It was a relatively large pod for the area – around 10 individuals. We even saw a little family swimming side by side consisting of mommy, daddy and a baby.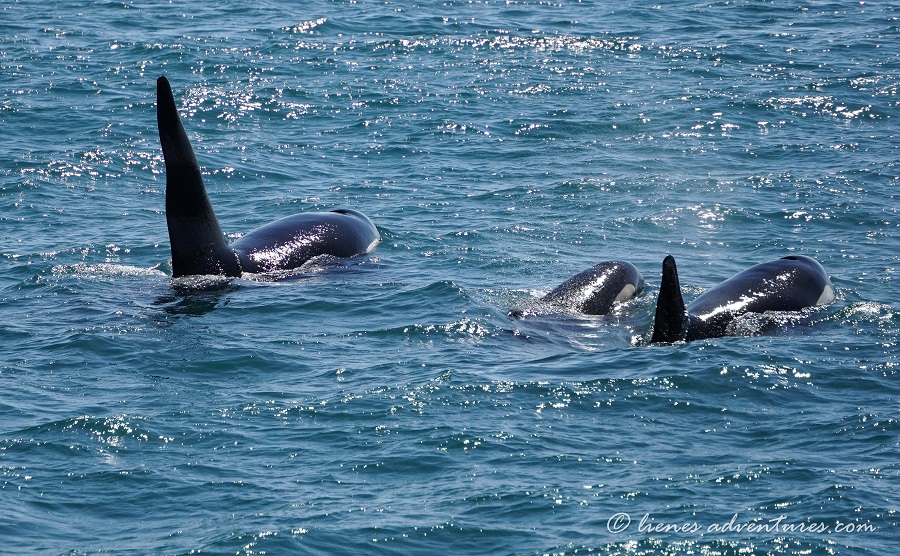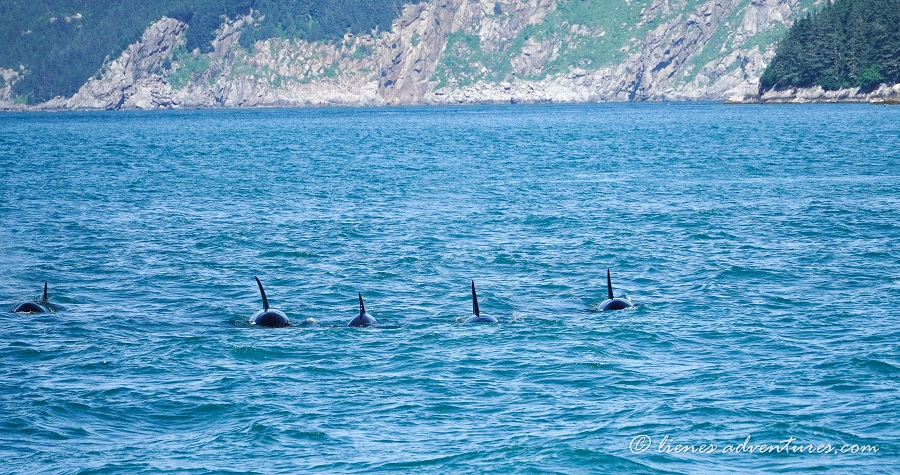 Orca sightings concluded our tour and slowly yet inevitably we were returning back to Seward harbor.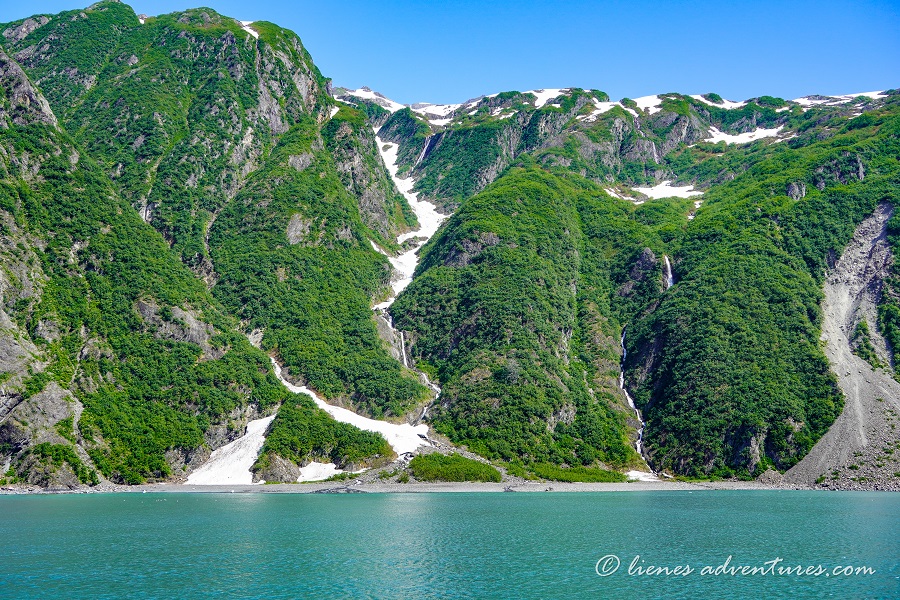 The boys did not have much interest in leaving the boat. They had gained many new friends with whom they spent last 7.5 hours playing games, coloring and reading books. The new gang of friends did not want to part ways. They would have been perfectly fine continuing on with the tour, yet it was over, and we were one of the last people to leave the boat (apart from the crew). We even got extra brownies handed to us upon leaving (which later became part of our dinner and breakfast the next morning.
Before calling it a night, I wanted to go and see Lowell Point. It is a small community just 5-minute drive past Seward along the shores of the Resurrection Bay area.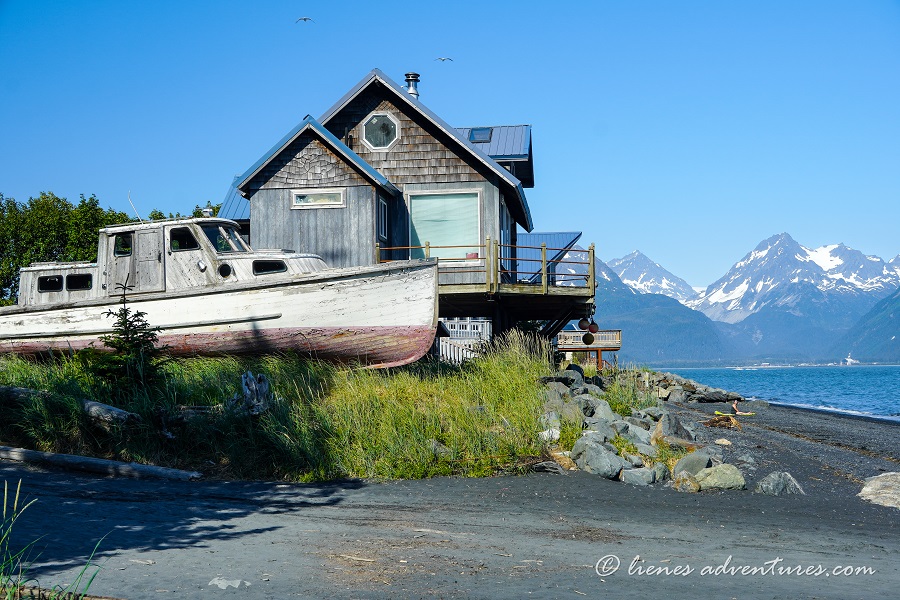 We left the car near the beach park and went for a walk. The sand here was almost black which I did not expect. Reminded me a little of the volcanic black sand beaches on the Big Island of Hawaii. It was so peaceful here! We only saw 2 other people and basically had the beach to ourselves.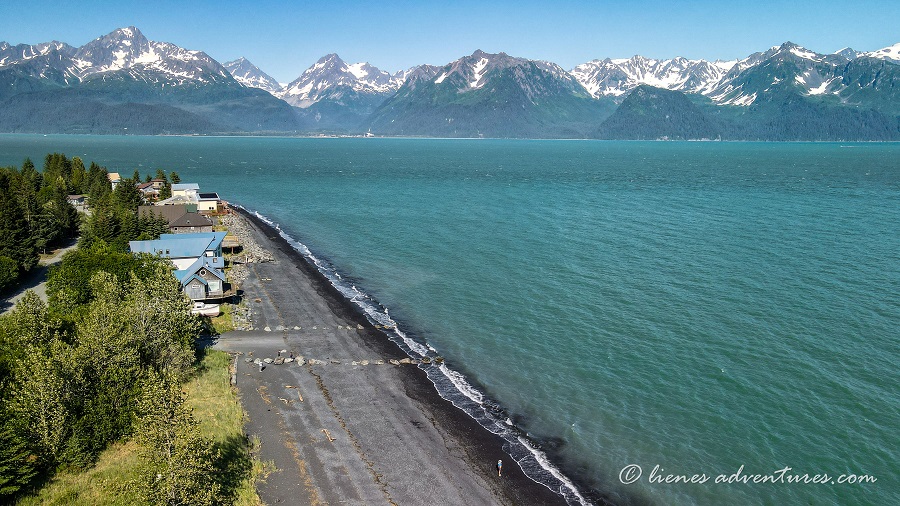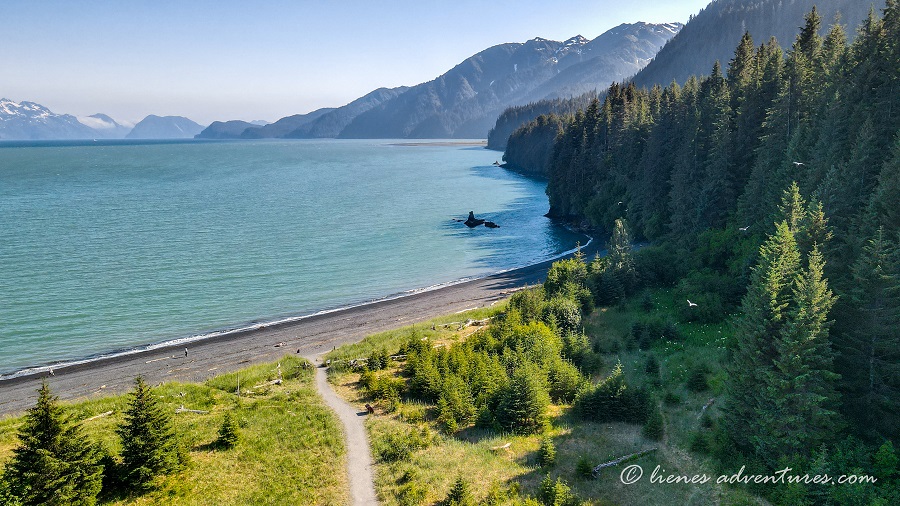 We let the boys run wild and enjoy themselves while I could not keep myself from taking another set of about one hundred photos.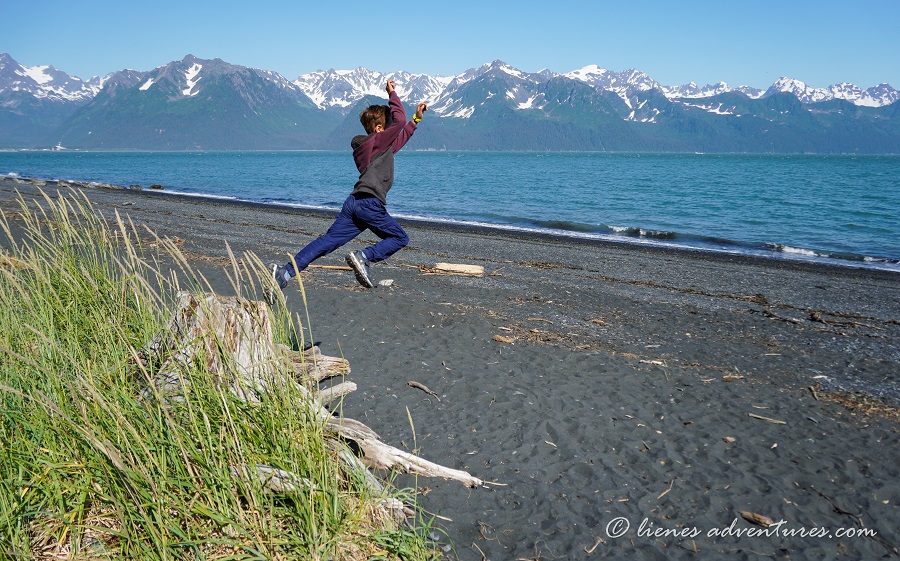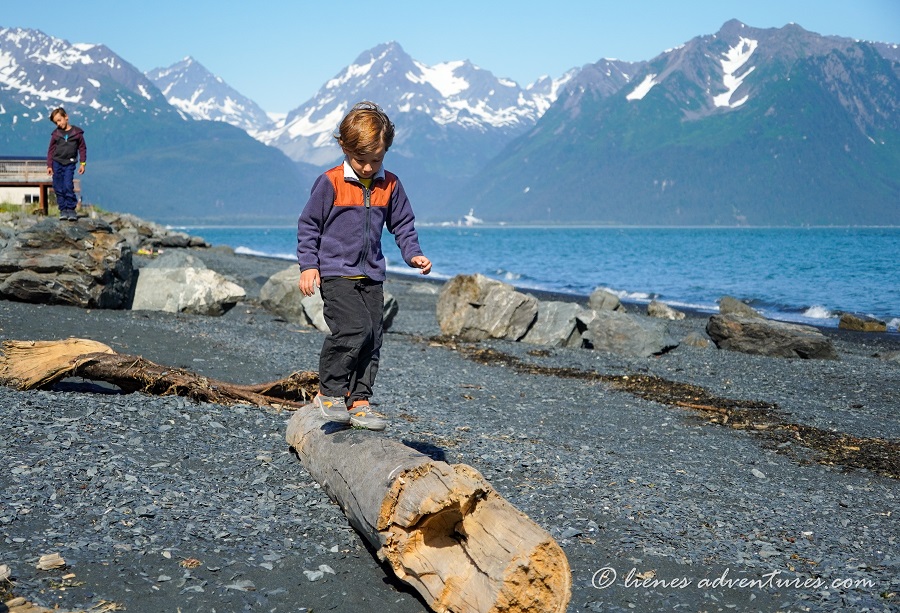 Once everybody started to get hungry, the decision was made to drive back to the hotel. We also made a short stop at a grocery store to pick up some easy meals and snacks.
It was now that we realized our fridge in the room smelled like raw fish the second we opened it. It was disgusting. The hotel offers free fish storage, yet previous guests apparently had decided to store their fresh catch in the room. The fridge was unusable at this point because even the water bottles we put in smelled like fish after we took them out to drink. Dear people, please use designated fish storage areas so other guests don't need to suffer the consequences of your actions after you leave! Because who wants to eat a piece of chocolate cake that smells like sushi?!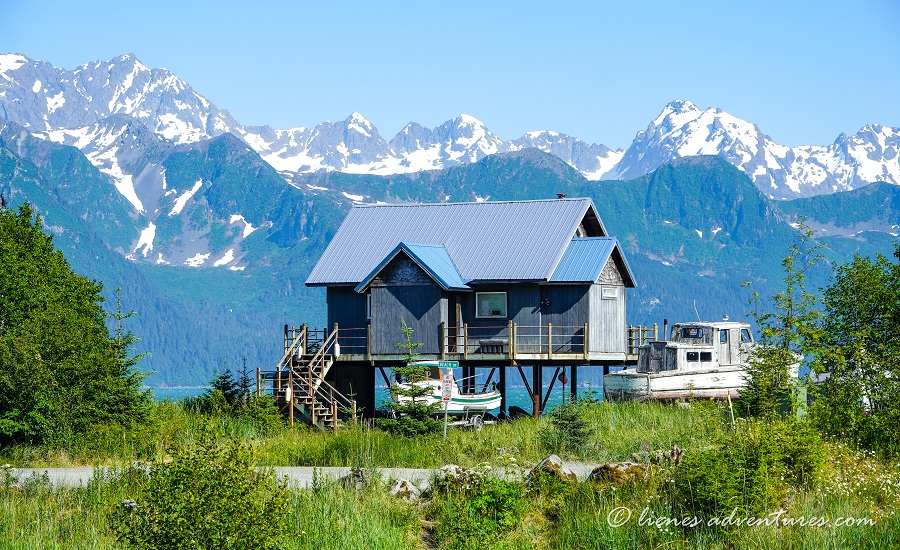 On that note, our day was nearing its end. After we put the boys to bed, I still had some time and energy to email friends and family some photos, and even watch a little TV. This had been another amazing day in Alaska!
Continue reading:
Alaska - Day 11: There Can Never Be Too Many Glaciers
Alaska - Day 12: Mountains, Gold and Elves
Alaska - Day 13: The Moose are Everywhere