2-Week Grand Alaska Road Trip with Kids - Day 12: Mountains, Gold and Elves
Start of our trip:
2-Week Grand Alaska Road Trip with Kids - Intro
Day 3: First Hike on a Glacier
Day 4: Our Favorite Day of the Trip
Day 8: Hiking with a View of Denali
Day 9: I Finally Met the Bears!
Day 10: The Magic of Fjords, Glaciers and Wildlife
Day 11: There Can Never Be Too Many Glaciers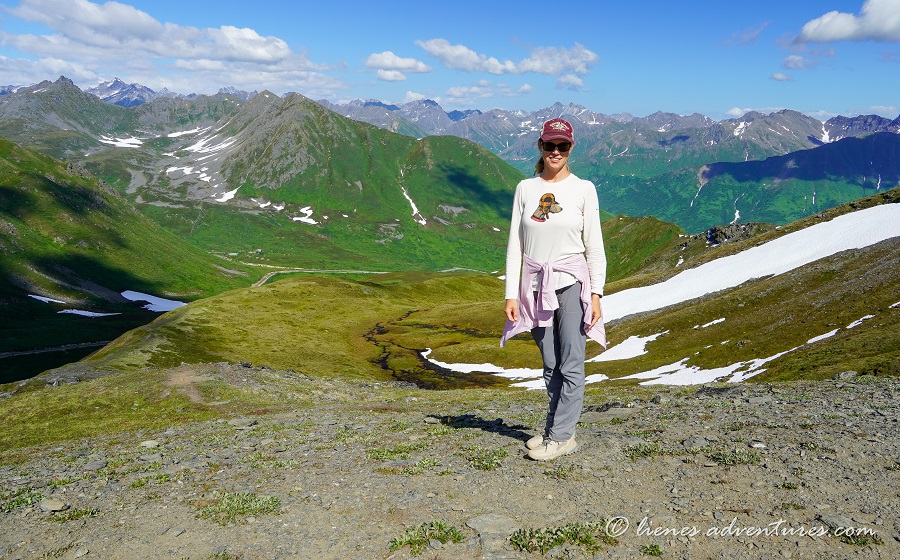 Based on my original itinerary, today was actually the day we were scheduled to fly back home. However, back in spring when Alaska Airlines cancelled our flights, I saw it as a great opportunity. I had wanted to extend our trip, yet the flights had gotten much more expensive than my original booking and it wasn't something I was willing to pay. When I saw the cancellation email, I called the customer service to rebook the flights and asked for an extended return date. Because the original flight cancellation was no fault of ours, Alaska Airlines rebooked us free of charge at the cost of our original flights. And - with the new return date we requested! That was very much appreciated, and we gained additional 2 days to spend in Alaska and didn't pay a penny more than when we booked the original flights a year ago! It all lined up perfectly as also our rental car and AirBnB were available for the 2 additional days! And we ensured we made good use of these 2 additional days!
Because we had pretty much ran out of our snack supply by now, we started the morning by stopping at Starbucks for coffees and breakfast sandwiches. That got us going and we were ready to enjoy our ''extra'' day in Alaska!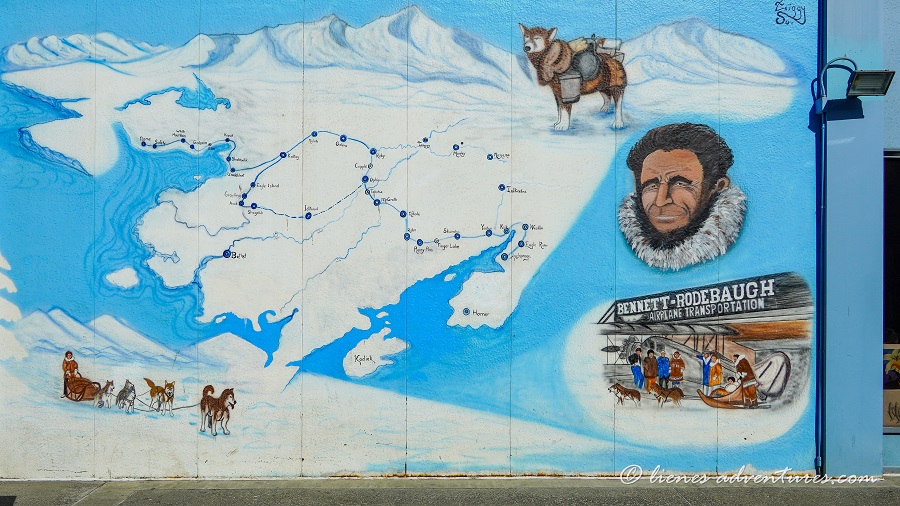 I was thinking of visiting the Iditarod Headquarters in Wasilla, mostly because I had heard they offered $10 sled dog cart rides. My boys would have absolutely loved that! However, when I called the office, they told me that their dog handler had retired during Covid, and they have been in the process of finding someone new. So, as of right now, the dog rides weren't offered. That was a big letdown. However, we did not let that spoil our mood and decided to head straight for the Independence Mine State Historical Park instead.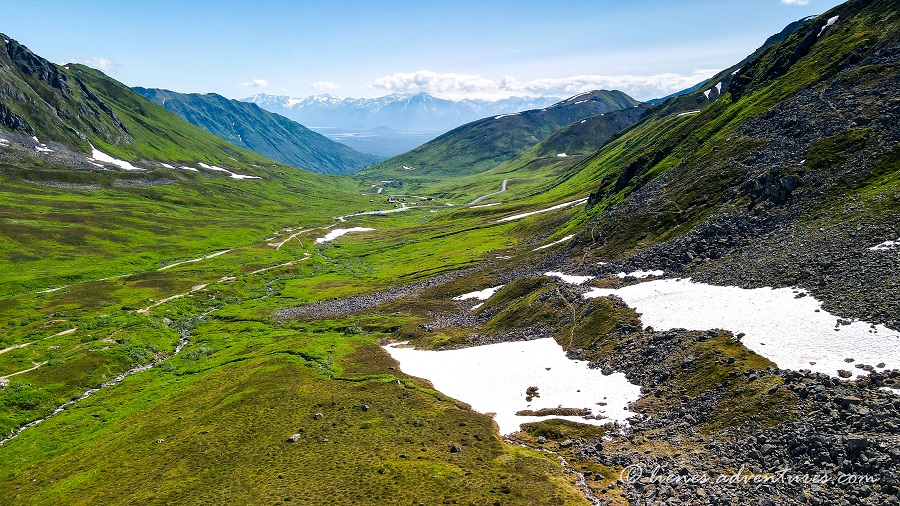 It was yet another very beautiful drive with mountains, valleys, rivers and forests - we were entering Hatcher Pass area. And as we made our way closer to the Independence Mine, we noticed these little houses dotting the landscape. They looked absolutely adorable – like little fairy or elf houses…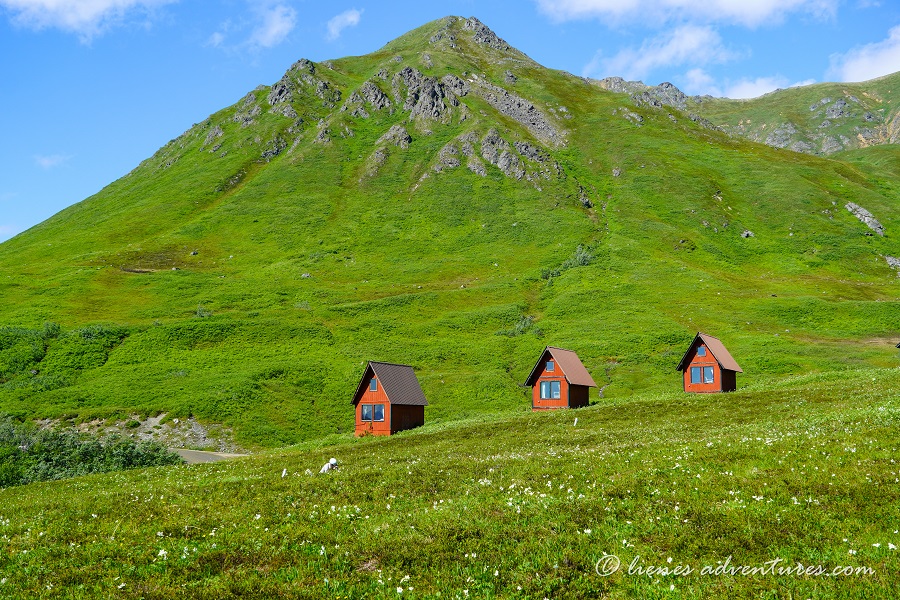 The first thought / comparison that came to my mind was the troll houses from Iceland. These little, red triangular houses seen below were the type of tiny troll ''living quarters'' we saw when traveling around Iceland. I mean - the similarity is undeniable, right?!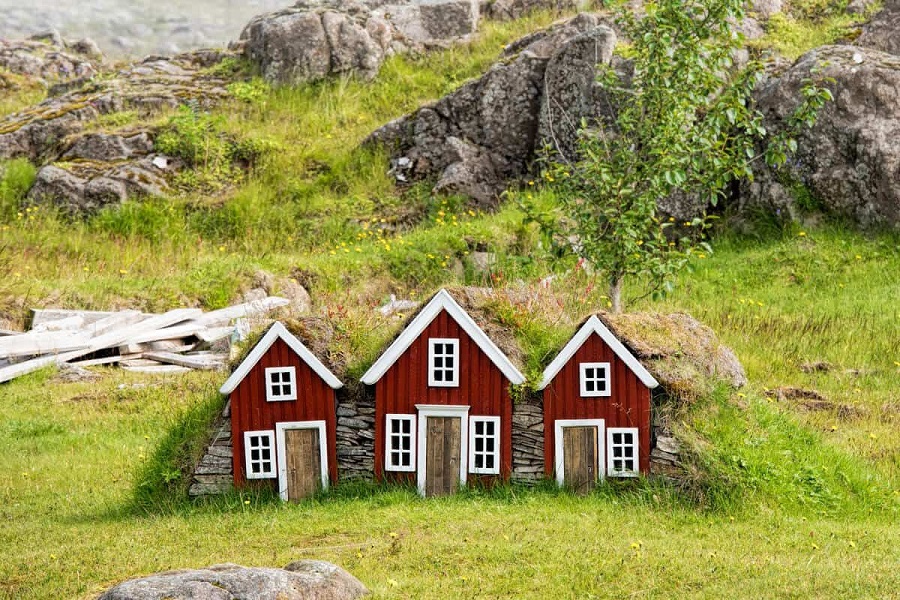 After our little trip down memory lane, we found ourselves entering the Independence Mine State Historical Park. We picked up a map at the visitor office and headed out to explore.
Independence Mine was of course a gold mining operation during Alaska's Gold Rush. And at its peak in 1940s it employed over 200 men with many of their families living on-site. There was even school for miners' children here.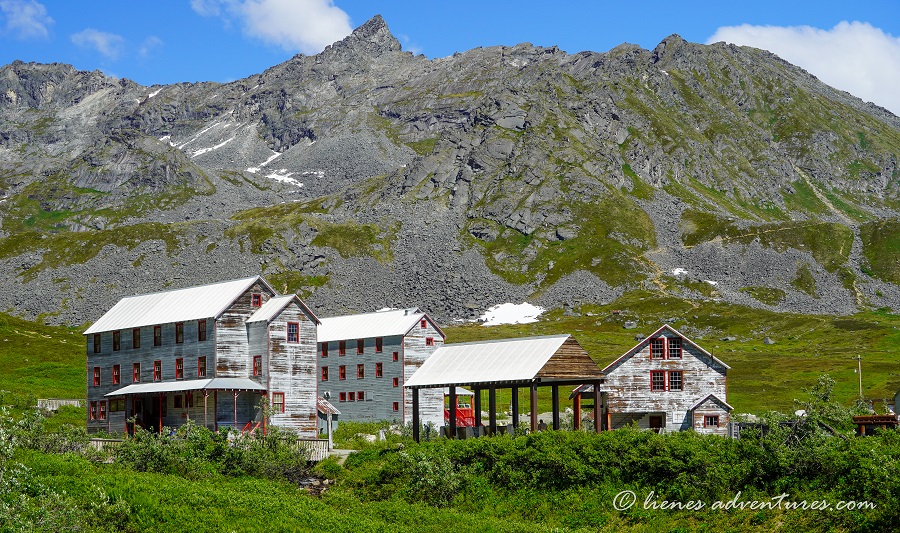 This was quite a large mining settlement with many buildings – from sheds and storage areas to family living quarters, mess halls and engine rooms. A few of the buildings were restored and open for visitation and others could only be seen from the outside. There were also quite many buildings that were pretty much just a pile of ruins – the time and weather had taken their toll on them.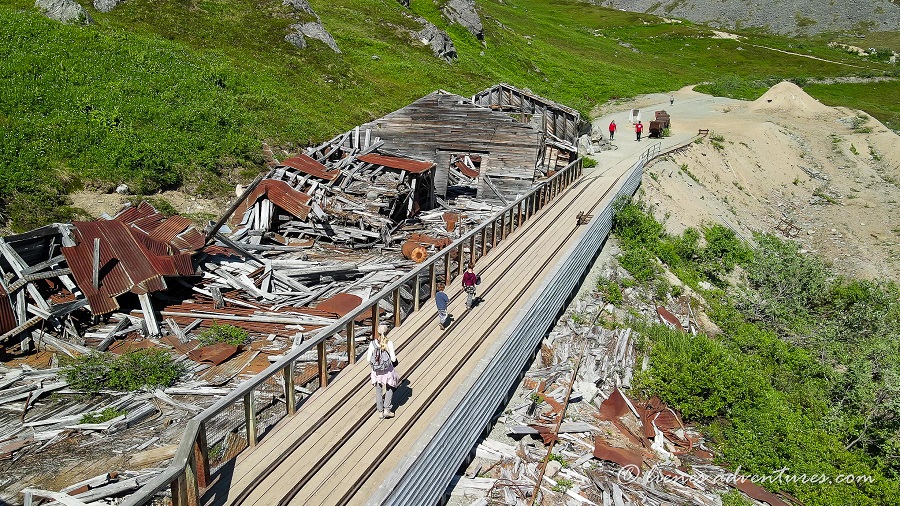 Of course, the boys were the most excited about all the train cars, train tracks and underground tunnels that were still left here to see.
And you could even try your luck at gold panning in the creek here! The visitor center rents all the needed equipment if you want to give it a shot. As it was something we had already done before, so we chose to forego this activity here.
As we were walking around looking at our map, we noticed that on the back side of the page there was a scavenger hunt game. We love those! It required us to find over 30 objects (around the mine and in nature) and then take a photo with ourselves and the object. Some were simple (like a red window frame) but some were very difficult – like a picture with a marmot or a sparrow. I mean – how do you take a selfie with a wild marmot or a bird?! But we did it!
This was more so a task that my boys set out to complete and after about 2 hours we had gotten all but 1 selfie.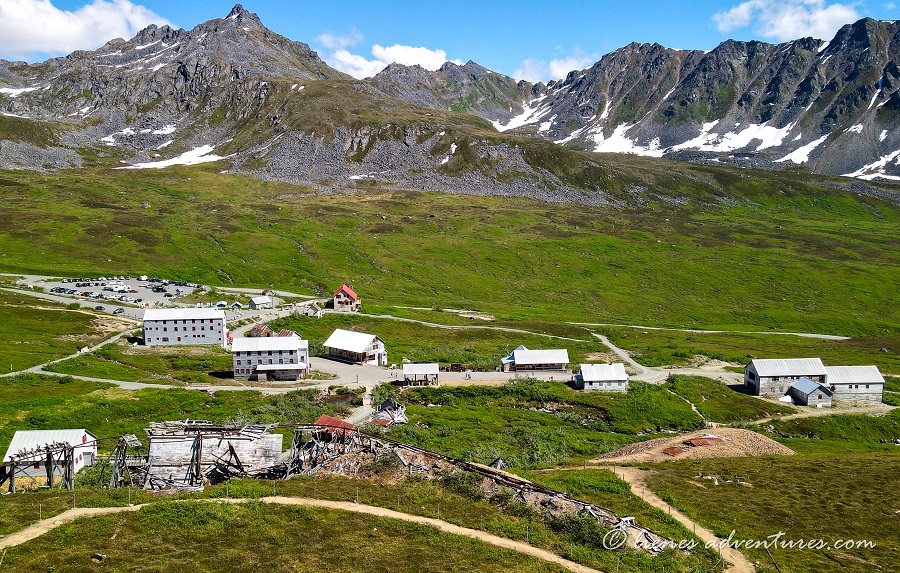 We walked over to the visitor center to talk to the customer representatives there, and we found out that this was the first time they ever heard of a scavenger hunt game on their maps! The people at the visitor office HAD NO KNOWLEDGE about it! They were literally just shrugging in confusion and had no idea about anything, let alone what the prize even was for completing the scavenger hunt. One of the younger girls behind the desk decided to call the manager. Apparently the prize was a little vial with gold flakes in it. Seemed appropriate (as it was a historic mine an all)… BUT… there is a but – they were out of these vials. They were just shrugging their shoulders again. So, we decided to purchase 2 chocolate bars at the counter and told the boys that was the prize for their 2-hour effort of scavenger hunting. Of course, 2 little boys were perfectly happy with their ''earned'' chocolate, but for my husband and I the whole situation was just a little bit bizarre.
That said, we still had tons of fun and it was a gorgeous sunny day, so the extra hours in fresh air came as an added bonus.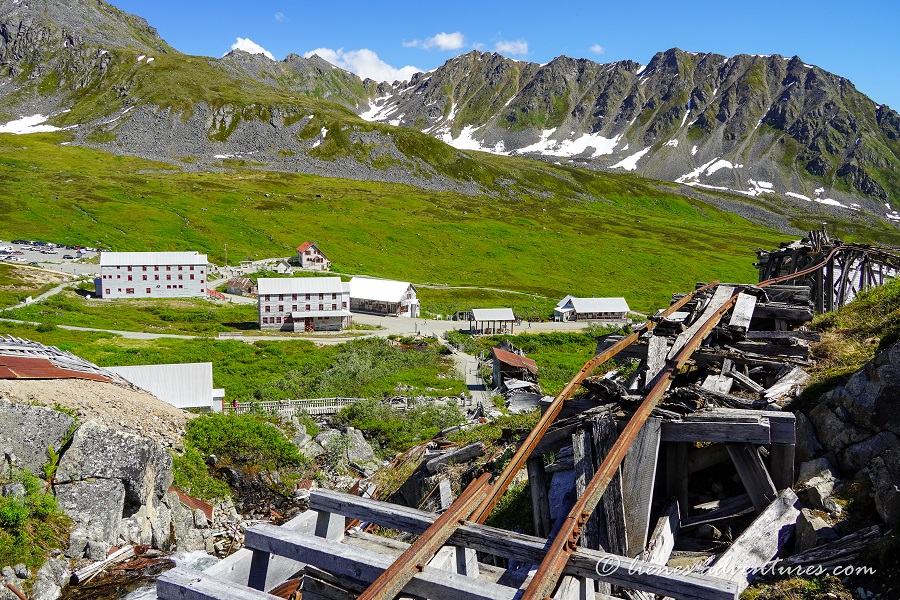 After several hours at the mine scavenger hunting, we were starving. Luckily, the little elf houses we saw earlier had a restaurant on their property. Joking aside, these elf houses were actually rustic cabins, called Hatcher Pass Lodge. It offers some of the best hiking in summer and skiing in winter. Their on-site restaurant was open during our visit, so we sat down at one of the outside picnic tables, enjoyed the amazing views of Talkeetna Mountains and Mat-Su Valley and had some grilled cheese sandwiches and tea to go with it.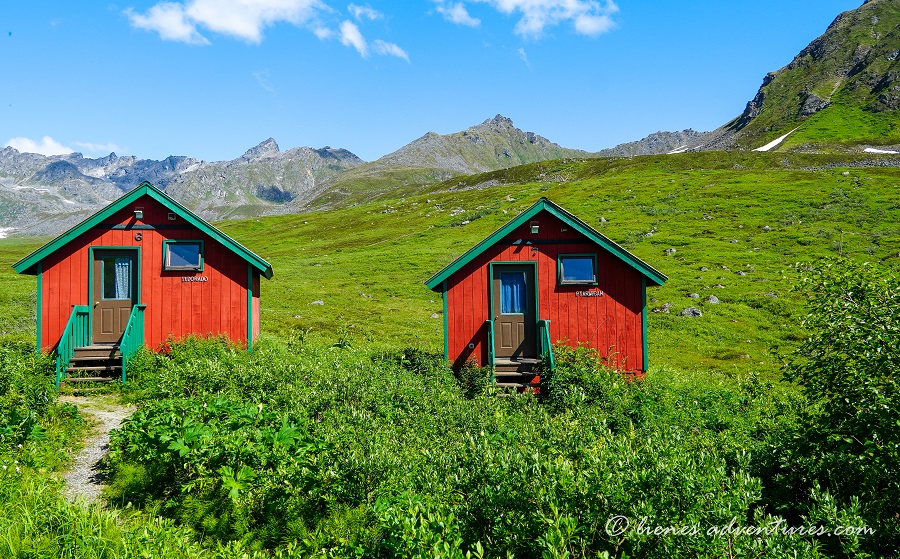 As we were sitting there, looking at the green rolling hills and mountains, and valleys with gurgling streams and wildflowers… it truly felt like a Hobbiton or troll land. I just could not get that image out of my head here. At any moment there could be an elf popping out from around the corner with spiky little ears and crazy hair...
It was a welcome and scenic pitstop, however our day wasn't over yet. Next on the list was another hike – the last one on this trip – the 2.5-mile (4km) long Hatch Peak & April Bowl Trail which had roughly 1000ft (300m) of elevation gain.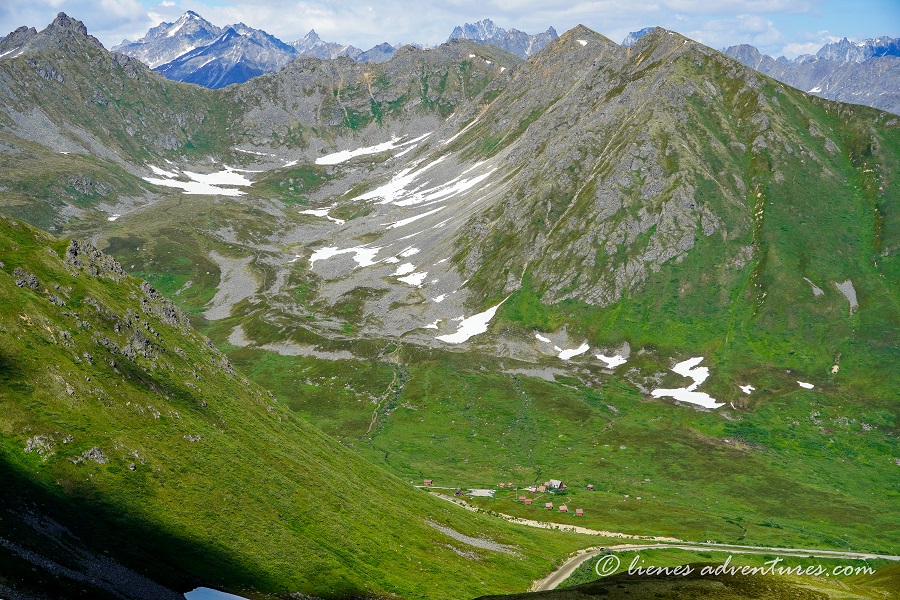 The trail was just a few minutes drive down Hatcher Pass dirt road from the Independence Mine. When we pulled into an open parking spot of the trailhead, I could not believe my eyes – it was so, so crowded! It was much more crowded than any trail in Denali National Park that we did! I couldn't believe it! We still decided to go ahead and tackle the trail hoping the crowds would disperse eventually…
The initial ½-mile was steep zigzags up a mountainside with wildflowers all around and a beautiful waterfall along the side.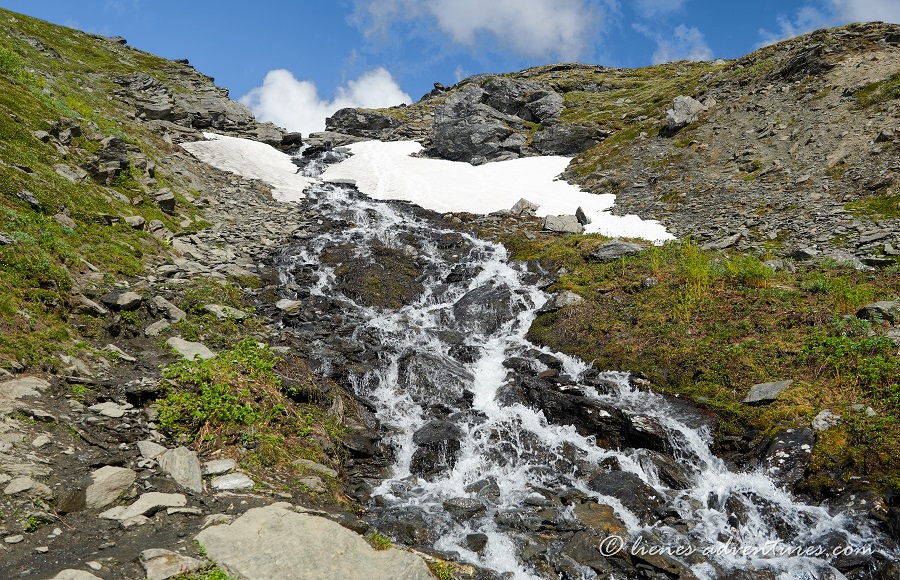 The first main sight was around halfway point when we reached the mountain lakes. Beginning of July, there were still some snow and ice patches here both on the lakes as well as on the ground.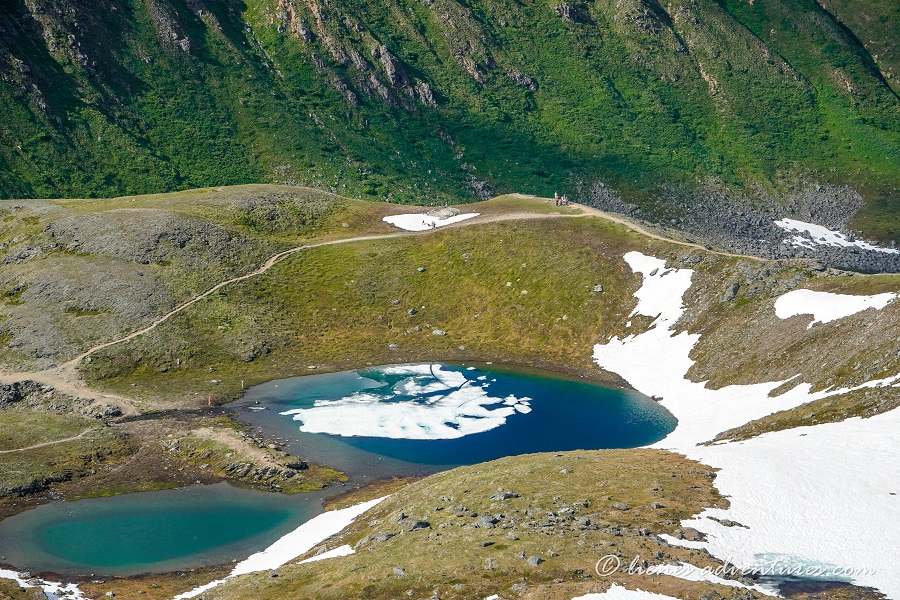 Once my boys saw snow, that was it – this is where they wanted to stay and play. They both had been so great this whole trip! They did all the challenging hikes with us and faced all the crazy activities with a positive attitude... so I decided to let them have their way and play here. It was settled that my husband would stay with the boys by the lake, but I would continue the second half of the trail to the summit by myself.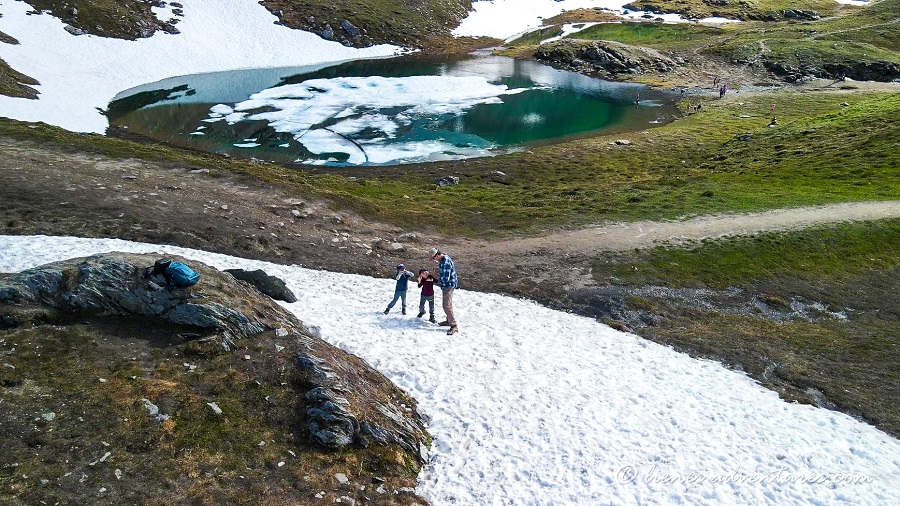 Just as I had hoped, most of the crowds only made the trek to the lake. Once I started the hike up the ridge to the summit, nobody was there and I had all the amazing views completely to myself!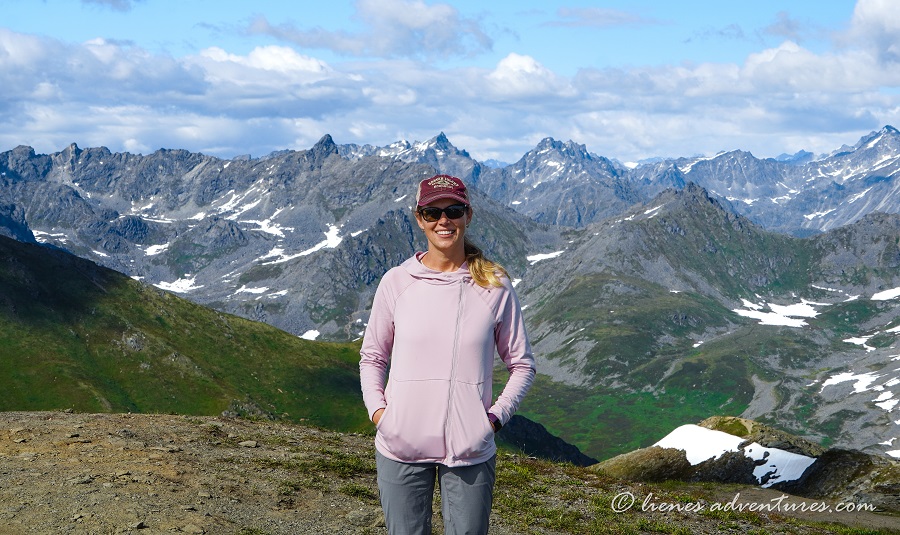 And wow, those were indeed some spectacular views – 360-degree views! There were mountains in all directions, and the weather could not have been more perfect – sunny with blue skies and 70 degrees! Alaska sure delivered!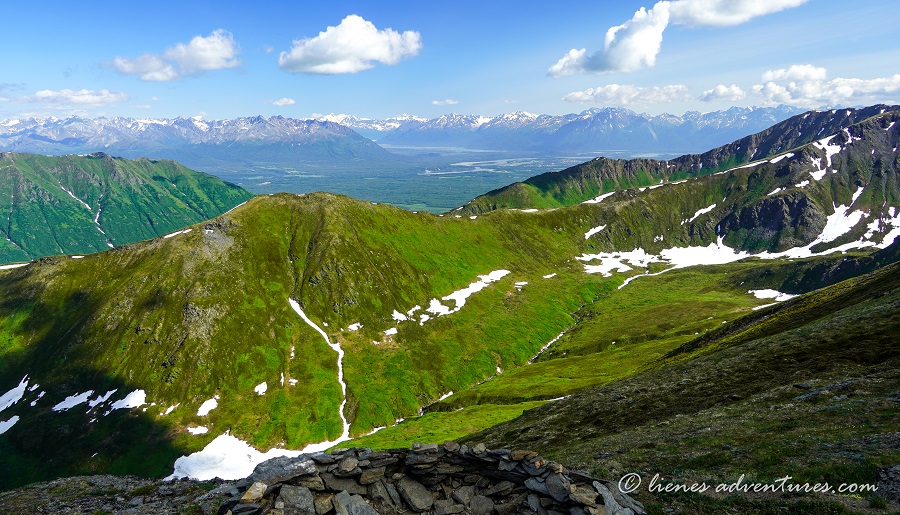 It was so hard for me to leave as I just wanted to sit here and soak up the scenery… which I did for a while… but it was eventually time to head down.
Once I rejoined my husband and kids, I was greeted with snowballs being thrown my direction. Someone was having too much fun! Also, the boys were soaked wet though and through because apparently, they also tried to roll in the snow, and slide on their butts… I was glad they enjoyed their time here.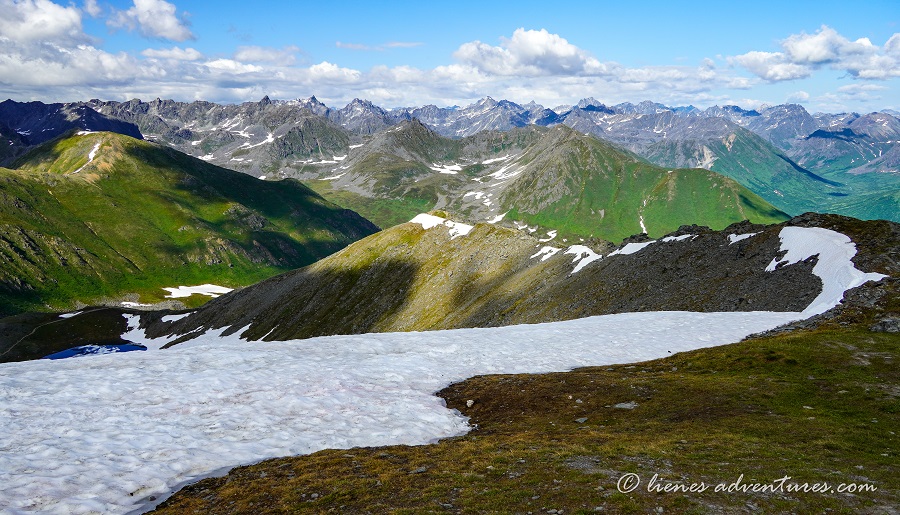 Going down was much easier than going up and soon enough we were back in the car and on our way to Anchorage. I was so glad I had opted to extend our trip as I would not have wanted to miss this day. It was full of amazing sights and new memories.
The evening was bittersweet. We were still in Alaska and still enjoying our time here, yet it was inevitable that tomorrow would be our last day here. We had seen and done so much in the last 2 weeks, yet it felt like the time just flew by. But isn't that always the case when you're having fun?! And we had been having non-stop fun, that's for sure!
Continue reading:
Alaska - Day 13: The Moose are Everywhere