2-Week Grand Alaska Road Trip with Kids - Day 13: The Moose are Everywhere
Start of our trip:
2-Week Grand Alaska Road Trip with Kids - Intro
Day 3: First Hike on a Glacier
Day 4: Our Favorite Day of the Trip
Day 8: Hiking with a View of Denali
Day 9: I Finally Met the Bears!
Day 10: The Magic of Fjords, Glaciers and Wildlife
Day 11: There Can Never Be Too Many Glaciers
Day 12: Mountains, Gold and Elves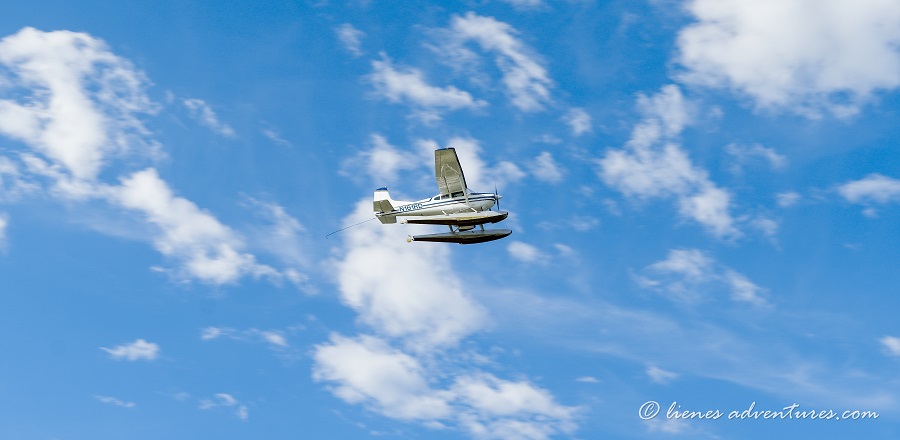 Although we were flying home today, we still had a full day and then some to enjoy Alaska. Our flight was scheduled to depart only at 11:30PM, so we had plenty of time to do whatever else we wanted and had energy for.
Our AirBnB host was extremely nice and let us store our luggage at his place until evening. That way, we did not have to keep it in the car all day and risk it being stolen. Also, because my boys had destroyed their last clean pair of pants at the snow patch yesterday, the host offered to do a load of laundry for us while we explored Anchorage. He wanted us to have a few clean pieces of clothing to put on for the return flight home in the evening. We were graced with meeting so many nice and helpful Alaskans on this trip!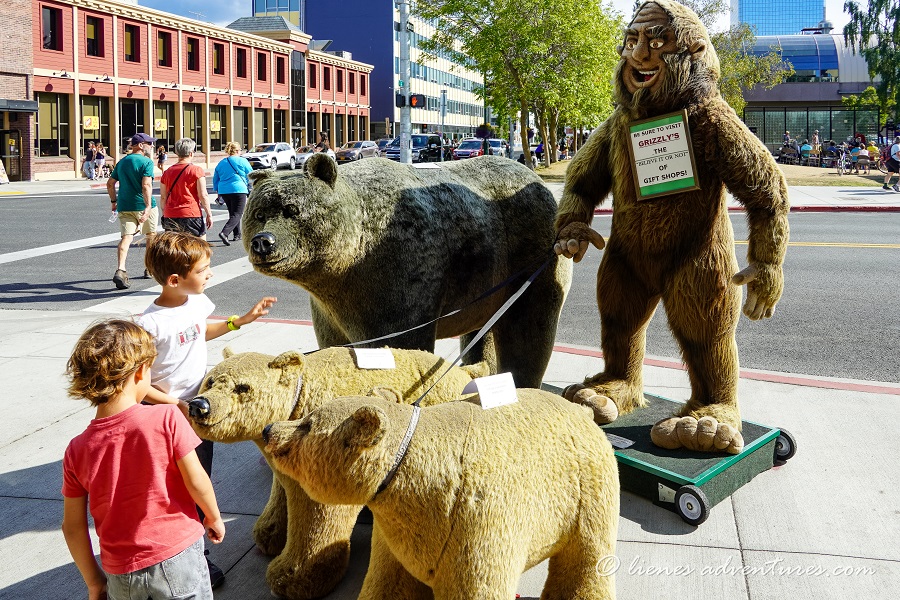 Because we were flying out this evening, we did not want to risk getting stuck on a road somewhere due to an accident or car troubles (Murphy's Law)! So, we opted to stay local and explore Anchorage. We had driven through here several times but never stopped to do anything more than just spend a night.
One of the main things on my to-do list was to rent bikes and ride the full length (22 miles (36km) round trip) of Tony Knowles Coastal Trail. It is open only to non-motorized traffic (walking, jogging, biking, strollers etc.) so we did not have to be worried about cars or traffic.
As we arrived at Anchorage Downtown Bicycle Rental shop, we were by far not the only people with this plan. It was a sunny 80-degree (26C) Saturday morning, so everyone wanted to be outdoors and many of the bikes were already rented. We wanted to rent 2 adult / child tandem bicycles so that our boys would get a workout too (no pull-along buggies for us). Just as the shop worker suggested we come back in an hour or two to see if any tandem bikes were available, a family returned from their ride and lucky for us – we got all the bikes we needed!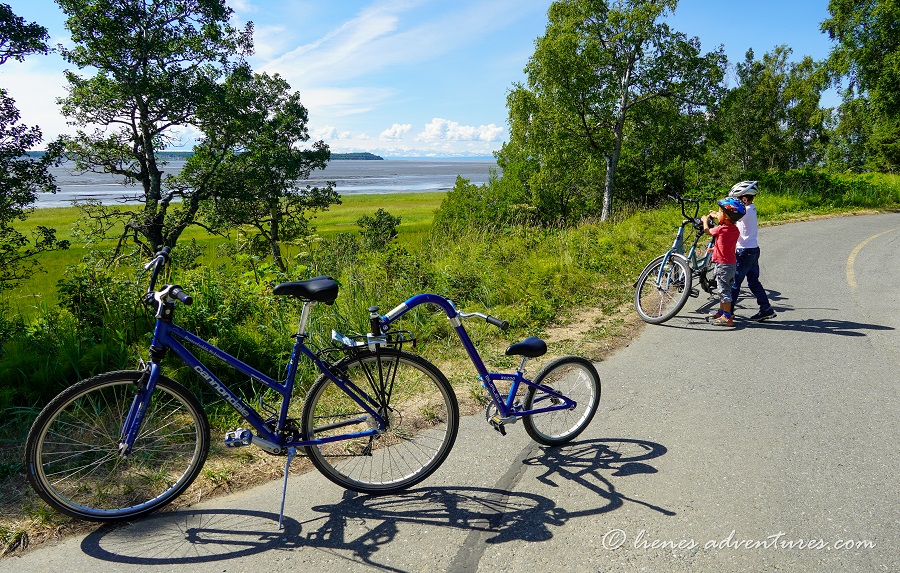 Of course, the ride ended up being somewhat of a race between the kids – each one wanted to be first and lead the way. Thankfully, my husband and I were in charge of each of the bikes, so we took control of the situation. Our 4-year-old expressed his winning plan to my husband: ''Daddy, you pedal up the hill, I will pedal down the hill, and we both pedal on the straight!'' He really put some thought into this!
The ride was beautiful with views of mountains, forests and the coast. We happened to be here at the peak of a low tide, so instead of water we had vast stretches of mud flats, which was very unique in its own way.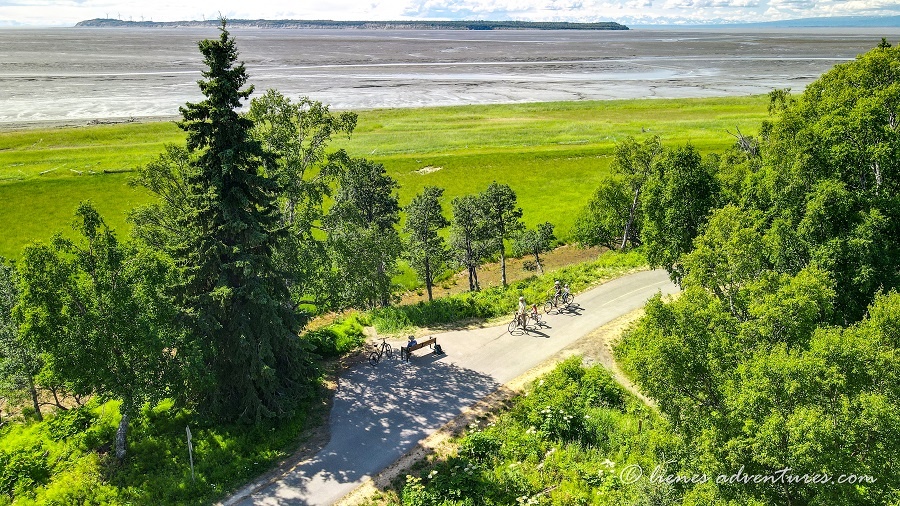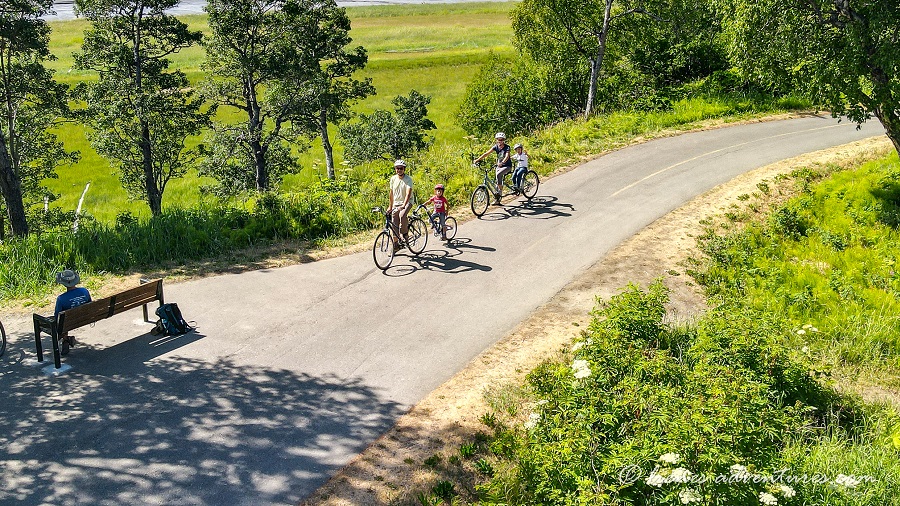 But to be fully honest, my #1 goal was to hopefully get to see a moose up close. And if it was going to happen anywhere, it was going to happen here! As we reached a more forested area of the trail, there was a moose right by the side of a trail – a cow. And then 5 minutes later there was another moose by the trail – a bull moose.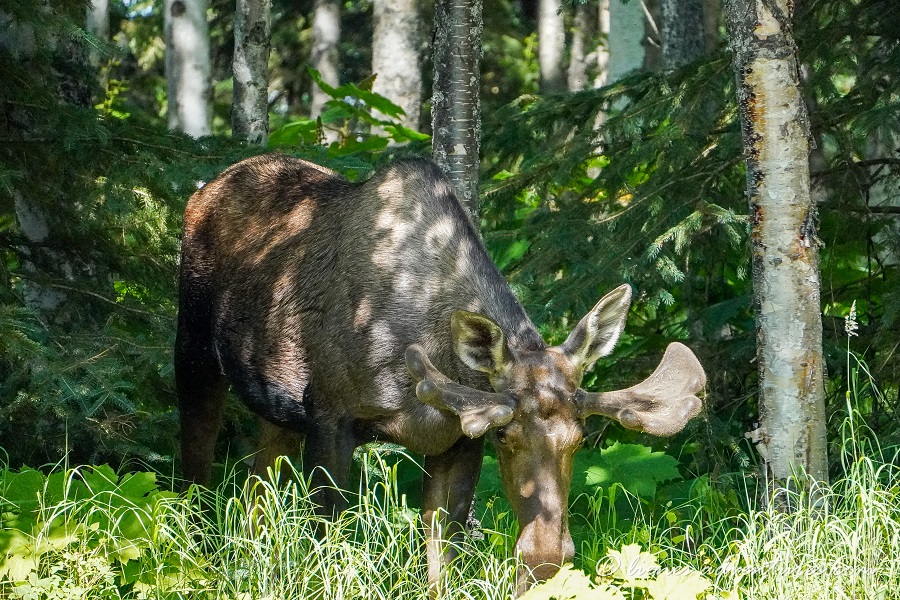 And then another cow moose. And on the way back we saw a momma moose with twin calves. And just a couple yards further we saw another cow with 1 calf… I mean, the moose were just everywhere, popping up around every other bend, literally. By the end of the ride, we did the count and had seen 9 moose! Surely, they were all out to enjoy this beautiful day as well.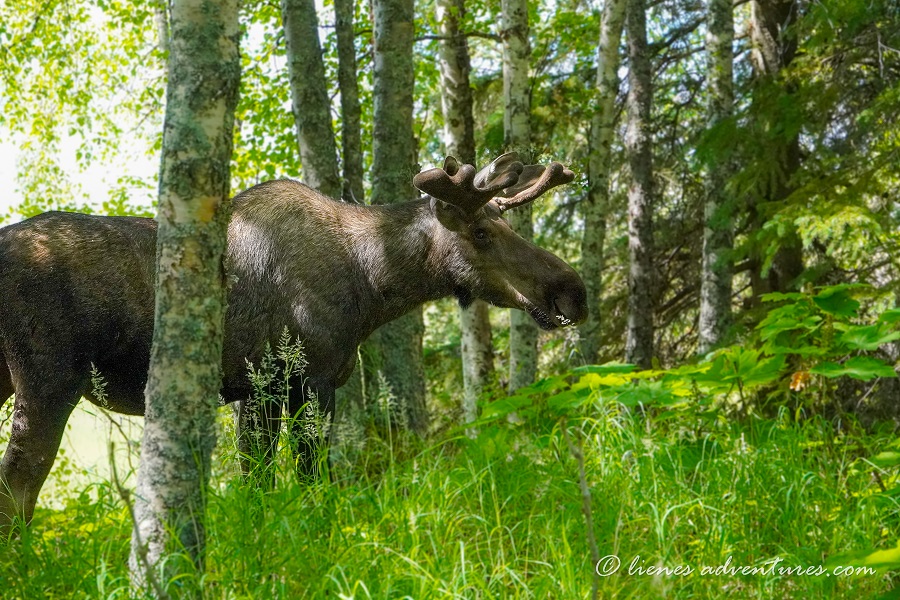 Although we spent more time on the trail than our rental agreement allocated 3 hours, nobody bothered to charge us anything extra. They were just happy we had a great time.
Right across the street from the bike rentals was a restaurant where we decided to have our last Alaska meal. And we made it count with local, fresh grilled salmon and bison burgers. We even ordered smoked salmon dip to go – as our airplane meal and a little consolation prize for the smoked salmon I did not get to buy during the Riverboat Discovery tour.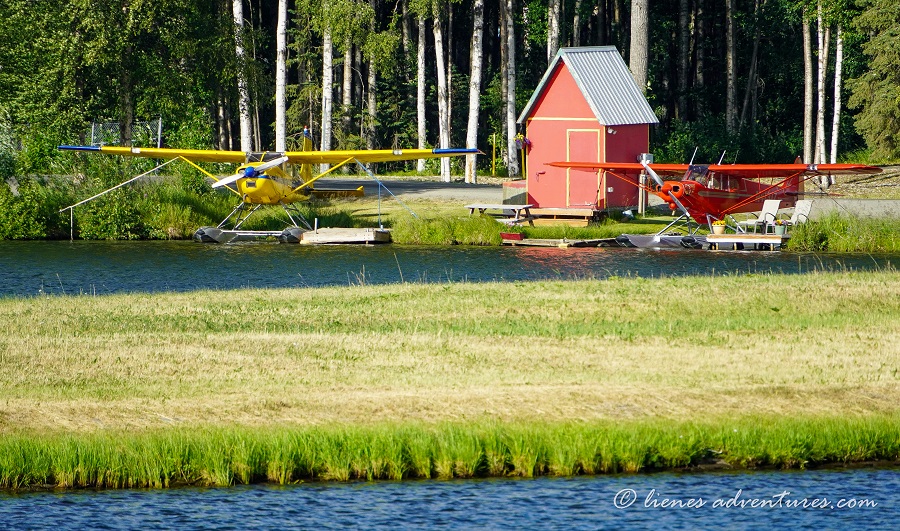 With still a couple hours to spare, I surprised my husband with an offer to go see floatplanes take off and land on Lake Hood. Lake Hood is the largest and busiest floatplane base in the world and is located right next to Anchorage International Airport!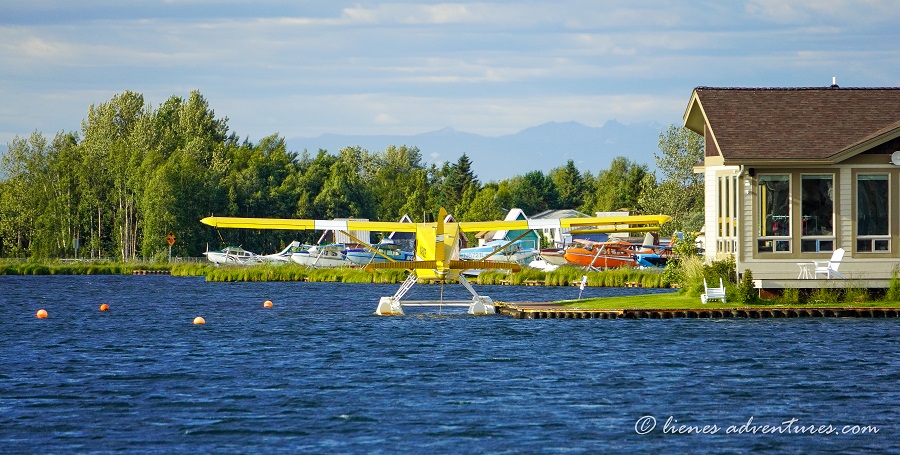 Being a pilot, watching airplanes was his dream ending to our trip. We drove out to the viewing area, settled at a picnic table right by the landing zone and waited… and watched… and waited… and watched. Many floatplanes came and went – red, white, orange, blue… It was a fun and fitting activity to end our Alaska trip with.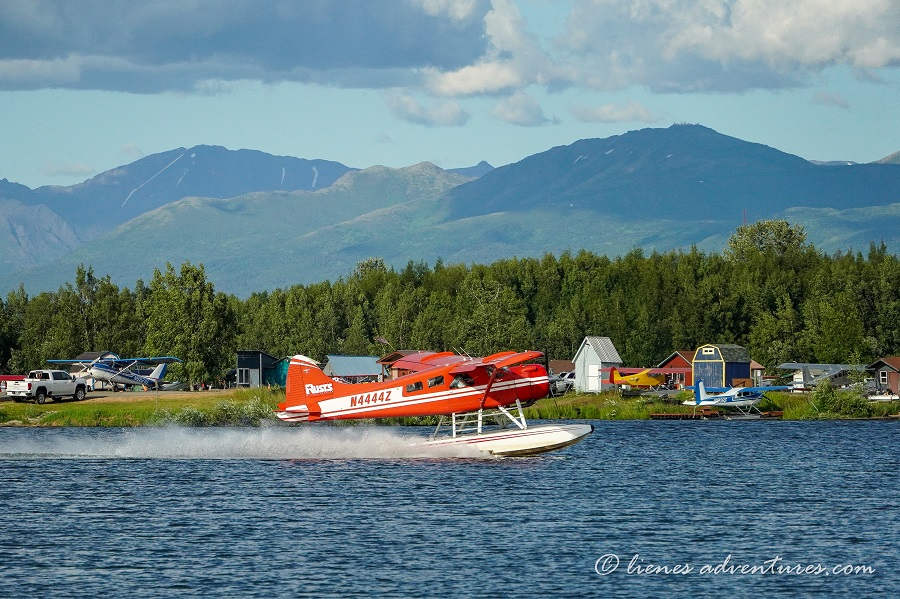 Around 8:30PM we went back to our AirBnB host's house to pick up our luggage and clean clothes that he had set aside for us. In exchange, we gave him our unused mosquito spray and kept the promise we made to our first gracious AirBnB host in Palmer. We left the unused bear spray here to pass along to any other future guests in need.
We had a little chat and then bid farewell to make our way to the airport. The Turo car owner met us at the airport's passenger drop off to pick up his car. All was well and we headed into the airport to check in for our flight. As we got through the line and walked up to the Alaska Airlines counter, my husband realized he had left his iPad in the car's glove box! A quick call and our Turo host turned the car around and drove back to the airport to return the forgotten items. Thankfully it was not a regular rental car left at a car lot because most likely that brand new 1-month old iPad would have disappeared forever…
The check-in and security were quick with no lines, and we had some time to kill before our flight. It was late, so we kept ourselves awake by checking out all the Alaska-themed exhibits around the airport terminals. There were many airplanes, as well as Alaska animals and birds. We even found an Alaskan Indian display.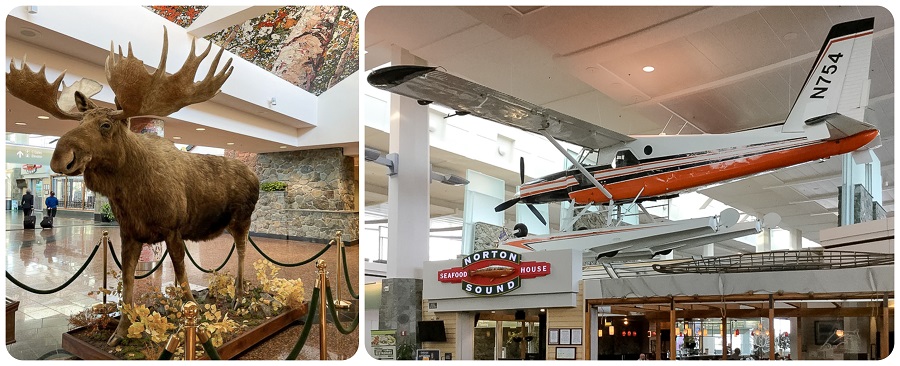 And then we sat down to enjoy the salmon dip we had taken to-go from the restaurant earlier.
It was close to midnight when we were finally rolling across the tarmac ready to take off.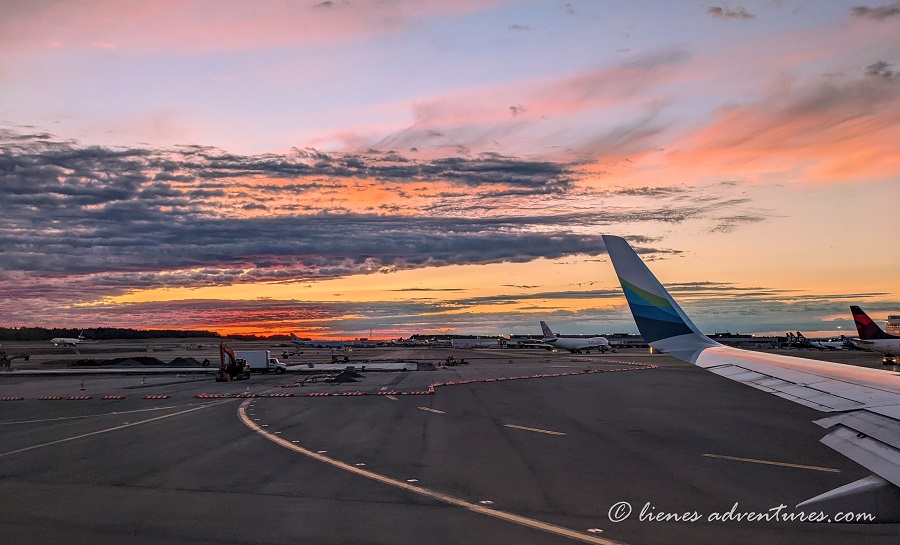 And we departed with Alaska's midnight sun setting in the distance… It was a perfect ending to our amazing vacation. And in my heart I had a feeling that this was not our first and last time in this beautiful state. Sooner or later, we shall be back as there was still so much left to see.